Last Updated on July 28, 2023 by Ewen Finser
Email marketing is one of the most effective (and cost-effective) ways to market your business to your target audience. When done well, your email campaigns will instill trust in your audience and customers; inspire people to visit your website; and turn leads into happy customers.
Your customers don't easily hand over their email addresses, but when they do – and when you use them creatively and responsibly – you can build your customer relationships as well as your profit margin.
Email marketing services are meant to help businesses grow their customer base while marketing their products and services. The software you choose should be able to produce professional emails and newsletters; have smart tools for updating contact lists; and allow you to create reliable workflows, all without requiring you to have any coding know-how.
Once you've pinpointed the business goals you want to achieve via email marketing, you'll create emails and workflows with an assortment of tools, including email templates, automation, and list segmentation.
In this article, we're going to start by explaining what email marketing is and how it differs from direct mail marketing. We'll then summarize the six types of business and marketing emails you can consider sending.
Then, we'll explain the pros and cons of email marketing, followed by a section that clarifies the difference between email service providers and email marketing agencies. We're also going to break down several features of email marketing software to look for, giving brief descriptions of each one plus some suggestions for getting the most out of these features.
Also, note that we talk about audience members, customers, and subscribers throughout this article, and we use those terms interchangeably to always refer to a person on your email list who you're reaching via your email campaigns.
One thing that we want to mention from the beginning: the reputation of your email provider will affect deliverability, so it's best to go with a well-known, established company instead of one that nobody's heard of before.
What is Email Marketing?
Before we go any further, let's clarify what, exactly, email marketing is. Without having a good grasp on email marketing itself, it'll be nearly impossible to determine what type of software is best for your business.
Note: Email marketing is generally considered as a subset of Customer Relationship Management (CRM) as a whole. Many enterprise CRMs have email marketing functionality and vice-versa, but not always. Learn more about CRMs here.
Email marketing is the online version of traditional, direct, "snail mail" marketing. Instead of sending hard copy coupons or fliers to a person's mailbox (which is still a type of marketing today), those and similar items are sent digitally to a person's email inbox.
The items and messages are usually sent via an email marketing program instead of from a basic email account like your Gmail account. You can set this up through either a do-it-yourself service, like MailChimp, or you can have a full-service agency handle everything for you.
Email marketing comes with a lot of perks – it's a great way to increase brand loyalty, and it can also help you to seek out new customers or encourage current customers to continue to buy from you. One of the best things about email marketing is how easy it is to track.
It's very difficult to assess the impact of direct mail marketing – you don't know who is actually opening the mail and acting on what they've received, and you don't always know if the mail is being delivered correctly in the first place. With email marketing, though, you can see everything from who received and opened the mail to which actions they took to increase your website traffic or sales.
6 Types of Business and Marketing Emails
While there are some variations based on the specific business, most of the time business newsletters are sent on a recurring schedule, like every week or month. Some businesses even send daily newsletters, but this is a tricky schedule to use without annoying your customers. Overall, email marketing is used to keep your audience and customers up-to-date regarding your business. Let's go over the different types of business and marketing emails you may want to send.
Catalog emails are intended to highlight specific products or services.
Invitation emails tell your audience about upcoming special events. In order to get customers to attend your event, send the invitation a few times during the weeks and days leading up to the event.
Lead-nurturing emails are meant to get a person interested in something you want to promote or sell. Often, these emails are sent out on a regular schedule until you're able to convert the customer.
Promotional emails inform customers about upcoming discounts and sales. It's a good idea to send promotional emails throughout the week or weeks leading up to the sale as well as when the sale is actually taking place.
Survey emails let you send questionnaires to customers. This can clue you into what your customers want or need, or simply gather feedback.
Transactional emails are sent post-sale to do something like say "thank you" or urge the customer to shop with you again. For example, you can send a coupon that can be used on their next purchase.
Pros and Cons of Email Marketing
There are several benefits to email marketing:
Email marketing is more likely to be seen by your audience than an organic post on social media.
You can see a ton of information about the emails you send, like which ones were received by the subscriber, if there are any disabled addresses on your list, which emails were opened, who deleted the emails immediately, and which newsletters did the best job of getting customers to click over to your website.
Online retailers can encourage customers to go back to an abandoned shopping cart in order to go through with a purchase they're on the fence about. They can also recommend discount or products to their customers that they'd be most interested in.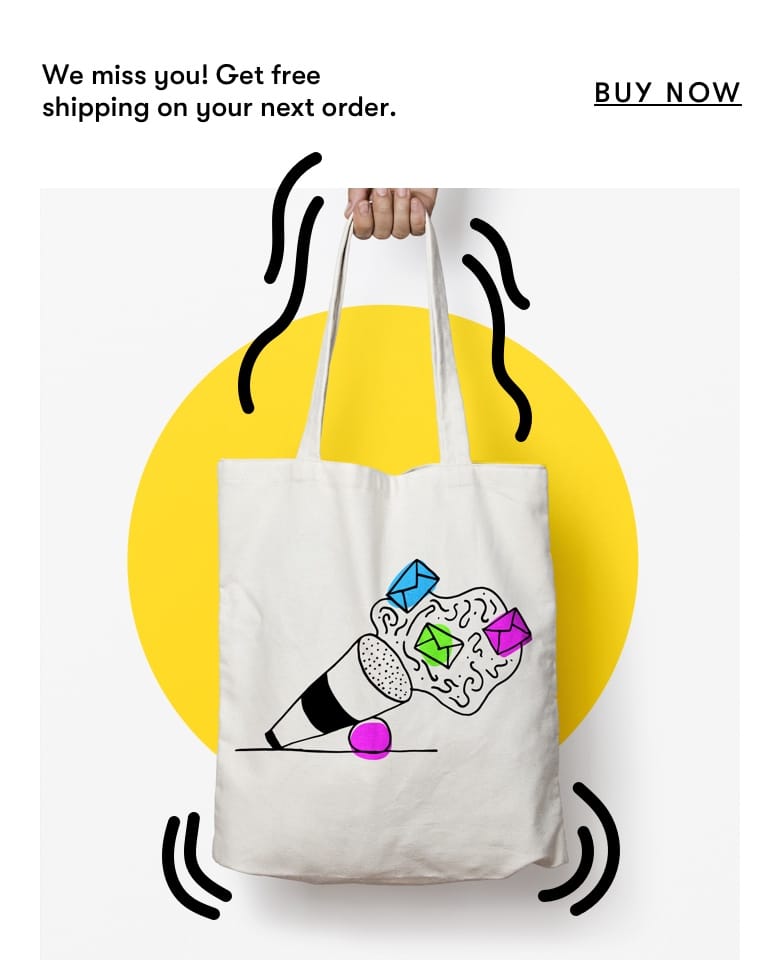 You don't have to pay costs for postage or printing.
There are some drawbacks, too:
Creating email campaigns and workflows can be time-consuming, and it comes with a big learning curve, especially if you've never worked with email software in the past.
If a customer considers your email to be spam-y, it could harm their opinion of your brand. You never want to bombard a customer with emails – they could end up not wanting to buy from you initially or you'll discourage them from becoming a repeat customer.
Even if the customer doesn't consider your email to be spam, they may receive so many emails on a daily basis that they don't give yours much attention.
Email Service Providers vs. Email Marketing Agencies
Even though this article mainly covers how to choose email marketing software, which assumes you're going with a service provider over an agency, we wanted to cover the differences between both options. This way, you'll know exactly what we're talking about in this article, and you can also determine if hiring an agency is the better option for you.
Email Service Providers
When you go with an email service provider, you access email software as a service (SaaS) from a vendor (and there are a lot of vendors out there to choose from). This software will come with the tools you need to create and execute email campaigns, including:
Templates that you can use as-is or tweak based on your preferences
Design tools to create attractive newsletters and messages
Contact management tools for collecting, storing and managing email addresses
Analytics to monitor the success of your campaigns
Once you have an email list and you've created a message to send, the provider will send the emails out from their servers.
While every provider will have their own pricing options, most of them charge based on how many subscribers you have, which means how much you pay will scale along with your business. Also, many providers offer a free trial so you can play around with everything before paying.
When you opt for email marketing software, you have control over everything and a bunch of tools at your fingertips, all for a relatively low price tag. You don't need design or HTML experience in order to create emails and manage your account, and you get a ton of data to dive into to figure out how successful your campaigns are.
On the other hand, you're going to be on your own, even if customer service can help you here and there. You can probably access tech support, but when it comes to designing and sending the emails, it's your responsibility.
Email software is best for businesses on the smaller side that don't have a big budget for marketing but that do have the staff to handle the work.
Email Marketing Agencies
When you decide to hire an email marketing agency, they will work with you to design the strategy that will best meet your goals. The agency will then handle pretty much everything, including designing and building the campaigns, sending the emails out, and analyzing the results to determine where changes need to be made. They'll also manage your contacts, which includes growing and segmenting your subscribers. The agency will have a staff that's trained in email marketing and that can handle advanced tasks, like A/B testing that determines which of two subjects lines perform better.
The cost of hiring an email marketing agency will be based on how in-depth a strategy you need, as well as how many campaigns you want to send per month. Prepare to pay hundreds or even thousands of dollars each month to have an agency work on your behalf.
The best part about hiring an agency is that they already have all of the experience needed to build and execute a successful email marketing strategy. However, you may not feel like you have enough creative control over your campaigns, and the service also costs much more than a DIY provider.
Email marketing agencies are better suited to medium and large businesses that have a large marketing budget, and also to businesses that don't have the staff or time to manage email campaigns.
Features of Email Marketing Software
There are a number of email marketing software features to consider and check for when deciding the best provider for you. Also, don't forget that a big part of choosing the right software is experimenting with it – it's nearly impossible to determine how user-friendly and intuitive a program is without getting in there to see how well it works for you.
A/B Testing
A/B testing also called split testing, lets you create and test two different versions of a subject line in order to see which one performs better with your subscribers. You can also differentiate the actual content of the email itself, like by using different images or messaging in the newsletters. Once you know which email performs better, you can send that to the recipients who didn't open the other email in the test.
Email Analytics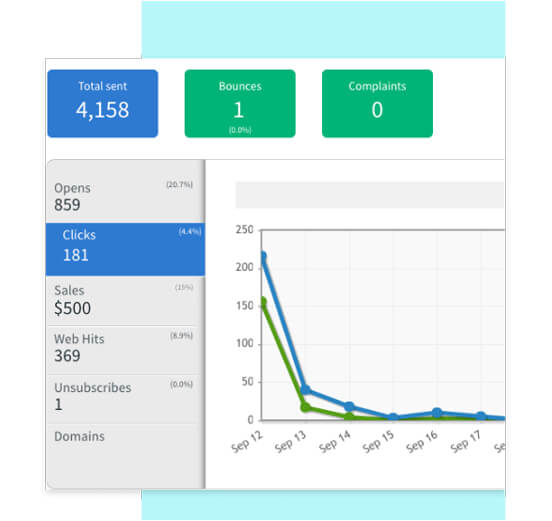 You're going to rely a lot on the analytics from your campaigns, so it's always best to choose a provider that offers in-depth analytics and reporting tools. You'll want to check the analytics after an email is sent – I like to wait a few days so that everyone has a chance to open the email. After a week, I assume I've collected all the relevant stats I'm going to get out of one email.
Analytics reports should including the following:
How many people received the email
Who opened the email and when
Who deleted the email
Who forwarded the email
Sales of products and services
Bounce rate
Click-thru rate
This just scratches the surface of the information that email software collects, too. You can dig into the reports to see the best days and times to send the email, as well as the demographics of the customers who most engage with your emails.
Email Autoresponders and Workflows
Autoresponders and workflows are two ways to set up a series of emails that will automatically be sent out. That way, you set up the campaign once, then sit back while the software takes care of the rest.
An autoresponder also referred to as a drip campaign, is an email series that's sent automatically at predetermined intervals once it's been triggered by an action, like when someone signs up for your mailing list or downloads an e-product.
A workflow takes an autoresponder a few steps further. Workflows consider the action a subscriber takes to then determine which emails they should be sent. For example, with an autoresponder, a new subscriber would get a series of emails regardless of what they do with those emails or how they interact with your brand. With a workflow, the subscriber will get specific emails based on their actions. So, if they make a purchase early in the series, they may be switched to a different workflow that specifically targets new customers instead of new subscribers.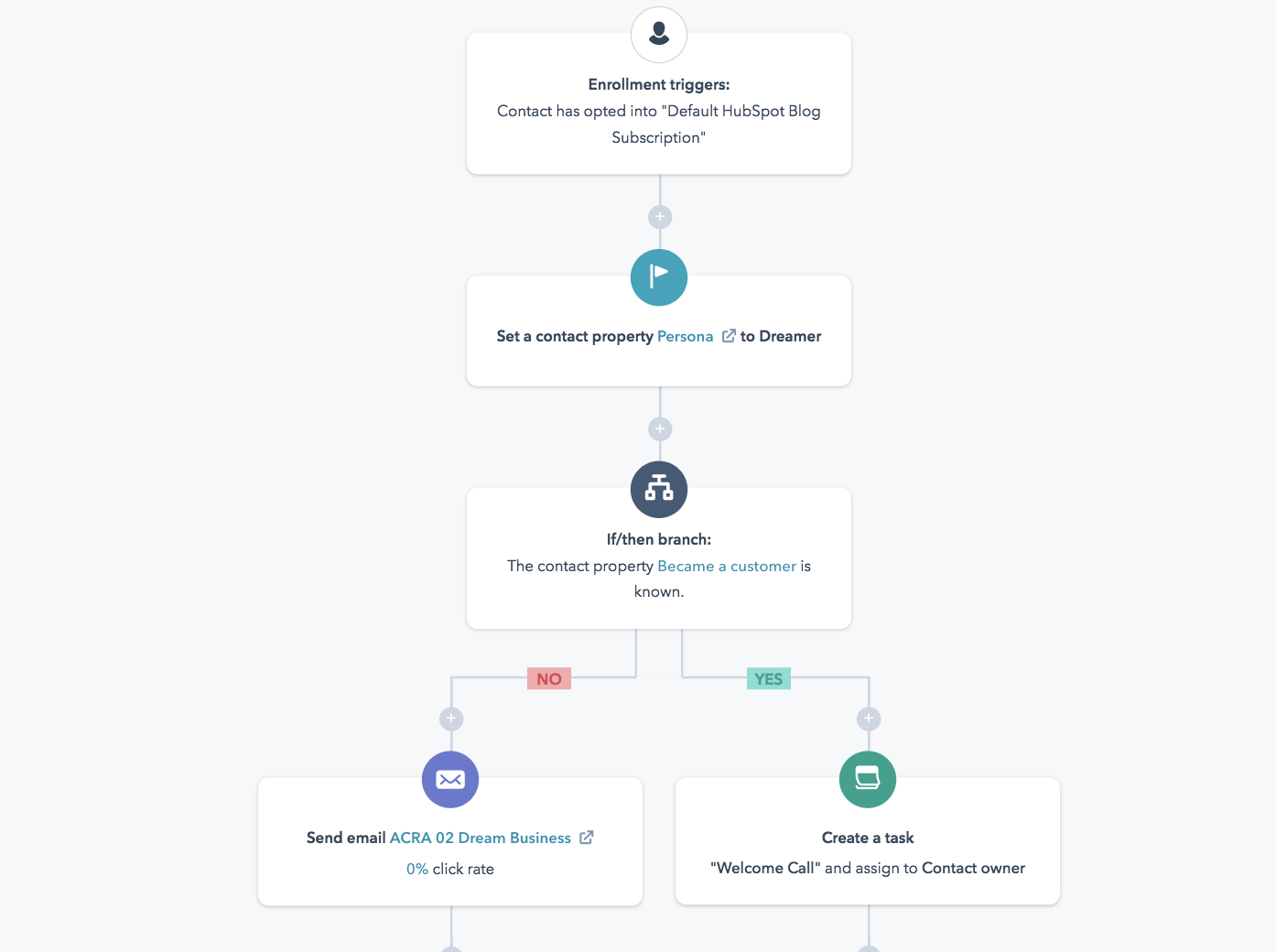 The main difference between an autoresponder and a workflow is that the workflow can change course based on the subscriber's actions.
Business App Integrations
If you use other business apps, such as Salesforce, Shopify or WordPress, look for email software that integrates with these apps. You'll save time by setting up things like automatic transfer of content between these apps and your email marketing platform.
Customer Service
Most email software providers offer some type of customer support, either through email, live chat or phone, but you may only be able to access advanced support if you're a paying customer. For example, I've used MailChimp with a small list of subscribers, which allowed me to use their features for free, but I could only access their knowledge base, not their actual customer service agents. That said, most email software providers have excellent knowledge bases filled with how-to guides, videos, and whitepapers with explanations of their features, plus case studies from other users.
Forms and Landing Pages
Depending on how deep you want to go with your campaigns, you may want a provider that offers tools for building forms and landing pages. This can help you create content that will convert people into subscribers or even customers.
Inbox Preview
With inbox preview, your email provider will let you see how the newsletter will look on a mobile device or with an assortment of email clients, like Gmail or Outlook. You can preview the email before sending it so you can make tweaks if needed.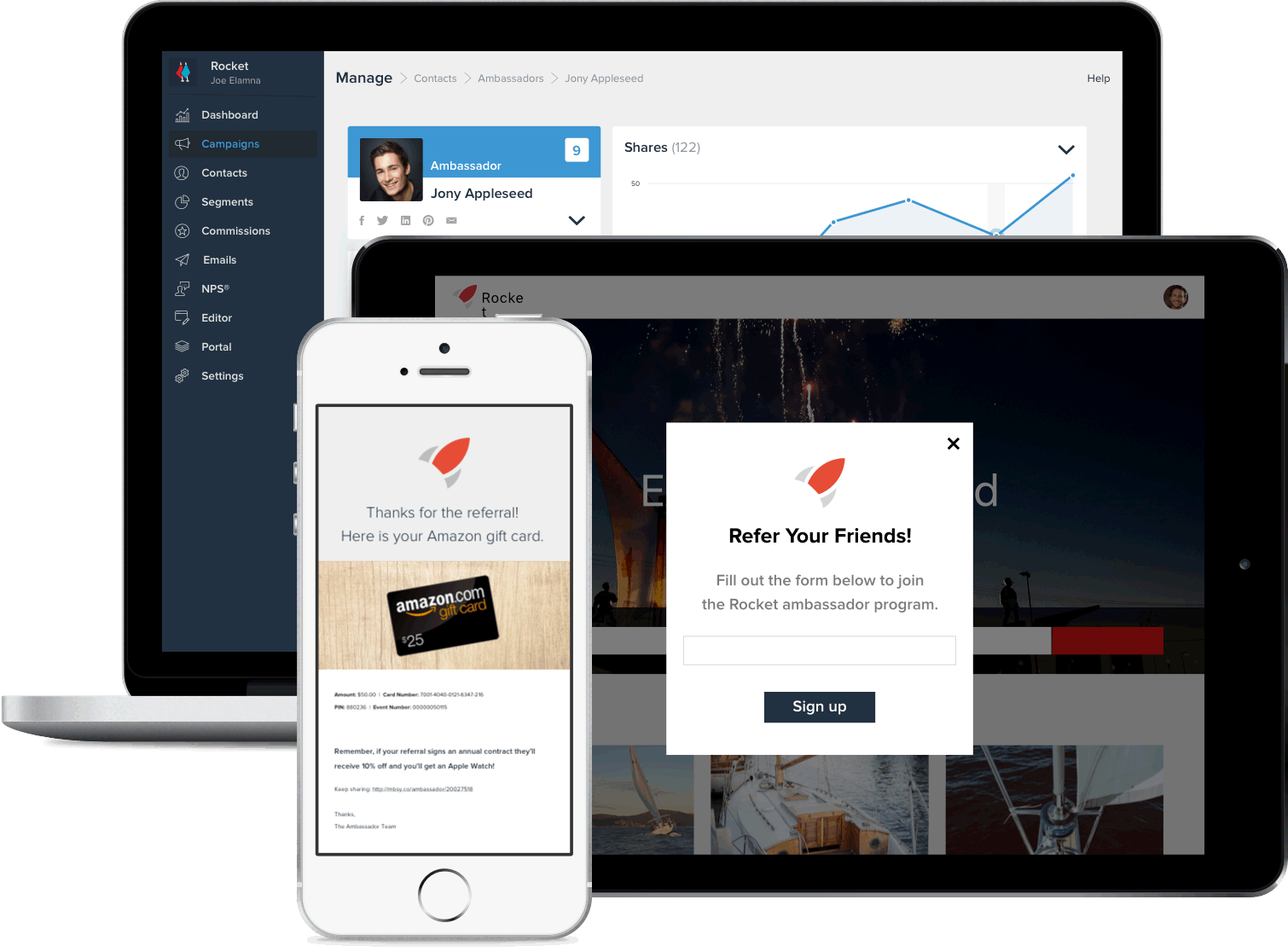 List Growth and Management
On top of being able to create email campaigns, your provider should also give you tools to grow and manage your list. Also, you should be able to integrate your account with your address book to import contacts, which is especially helpful if you're just getting your email list off the ground (just make sure that you have permission to add people to your email list).
Some providers also let you embed signup forms on your website or in your social media accounts, which can further help you grow your list.
After you've run an email campaign, the software may have tools that will automatically keep your list healthy by getting rid of addresses of those who unsubscribed or emails that are inactive.
Also, if a person wants to unsubscribe, there will be a link in the email that will automatically remove them. You can also sign up for regular notifications when people subscribe or unsubscribe from your list.
Mobile App
If you're going to be managing your email campaigns on-the-go, look for a provider that has a robust mobile app. You'll be able to perform a host of actions from your phone, like creating campaigns, checking analytics and updating the distribution list.
Pre-Designed Templates with Customization

If you don't want to design your emails from scratch, look for a provider that has a large library of pre-designed templates to choose from.
Not only will this save you design time, but you'll know that your emails will work on all email clients and programs – that's how most providers create their templates so that you're not limited by which email clients you can send to. Also, with the template editor, you can adjust things like the colors, fonts, and images in the template to make it your own, then save those designs as new templates to reuse in the future.
Regulations
Email providers follow the necessary regulations without you having to learn them or figure out how to adapt your campaigns to stick to the rules. These regulations include things like giving recipients a place where they can opt out of future emails and putting the sender's email address in every email.
Also, it's a good idea to use a provider that allows for double opt-ins, which forces the subscriber to confirm their subscription, which is a great way to collect only the best subscribers who are truly interested in receiving your content.
Segmentation
With segmentation tools, you can send different emails to specific sets of customers. For example, if you own a retail company you may want one email to cover women's fashion and the other to cover men's fashion. Then, you can send those emails to the correct audiences instead of sending the same email to everyone.
Additionally, you can segment your lists based on where the customer is in their customer journey. For example, you'd want to send one type of email to a brand new lead who doesn't know anything about your company than you would to a customer who's purchased from you several times in the past.
In addition to gender, look for an email provider with additional segmentation options, including:
Industry
Job title
Language
Location
Past engagements with your brand
Stage in the customer journey
Social Media Integration
Just like being able to connect with business apps, many email providers also offer social media integrations. For example, you can have your campaigns auto-post to Facebook, Instagram or Twitter.
You may also be able to collect email addresses via your social media accounts thanks to dedicated signup pages. Additionally, you could collect data on how well your email campaigns are doing on social media by seeing which ones have been shared by your audience members on various social media platforms.
Spam Filters
Spam filters work to ensure that your messages actually get into inboxes instead of going to the spam folder. The spam filter will examine the subject line and content of your message to see if it's possible it'll be flagged as spam. You'll then have the chance to make changes before sending the email out.
One Last Thought on the Best Email Marketing Services
When you decide to tackle email marketing on your own, it's a good idea to have reasonable expectations. It's unlikely that you're going to hit it out of the park with your very first campaign.
The good news is that your email provider will have everything you need to continue improving your strategy.
You'll have a huge range of tools for creating stellar emails, contact management features to grow your list, and the necessary analytics to figure out what you're doing well and where you need improvement.
The following is a full directory of ALL the top email marketing services AND our reviews, comparisons and guides publishing over the years (and updated regularly)…
Most Popular Email Marketing Platforms
Here's my recommendation on the top email marketing services out there:
MailChimp: Known for its easy-to-use interface, MailChimp is great for beginners. It offers automation, segmentation, and A/B testing options, plus a free tier for small businesses.
Constant Contact: This platform offers a wide range of templates and an intuitive drag-and-drop editor. Its standout feature is exceptional customer support, including live chat, emails, discussion forums, and a vast library of resources.
GetResponse: GetResponse stands out for its landing page and webinar solutions integrated with email marketing. It also offers advanced analytics and segmentation features.
ActiveCampaign: Ideal for small-to-mid-sized businesses, ActiveCampaign combines email marketing, CRM, and sales automation. It's known for its high degree of customization, automation capabilities, and flexible pricing plans.
AWeber: AWeber is appreciated for its excellent customer service and robust autoresponder capabilities. It also offers a variety of third-party integrations, making it highly versatile.
ConvertKit: Built specifically for bloggers and creators, ConvertKit offers powerful tagging and segmentation features. Its visual automation builder is a standout feature.
Drip: Known for its e-commerce marketing automation, Drip integrates seamlessly with many e-commerce platforms. It provides in-depth tracking information and a variety of engagement tools.
SendinBlue: SendinBlue is known for its SMS and email marketing services. It's appreciated for its automation, transactional emails, and affordability, especially for businesses with a large number of subscribers.
MailerLite: Ideal for small businesses, MailerLite offers a straightforward interface and a variety of modern templates. It also provides a free plan with generous features.
Benchmark Email: Benchmark Email stands out for its international support, with services in nine different languages. It offers a drag-and-drop editor, automation, and a variety of integrations.
Tinyemail: This is a simple, streamlined email marketing platform designed for small businesses. It focuses on simplified email marketing campaigns, automation, and analytics.
Flodesk: Known for its visually appealing newsletter designs, Flodesk is a great choice for creative businesses. It offers unlimited emails, subscribers, and workflows, regardless of the plan you choose.
iContact: iContact provides advanced features like automation, segmentation, and analytics. It also offers high-quality customer service and is particularly popular among small and medium-sized businesses.
Campaign Monitor: With its easy-to-use drag and drop builder, Campaign Monitor allows businesses to create personalized customer journeys, track performance, and send dynamic content.
Sendlane: This platform is designed for eCommerce businesses, offering deep data tracking and automation features. It also integrates well with various online shopping platforms.
Klaviyo: Specifically designed for eCommerce, Klaviyo offers data-driven campaigns, segmentation, automation, and integrates seamlessly with platforms like Shopify and WooCommerce.
Omnisend: Omnisend is an eCommerce marketing automation platform that goes beyond traditional email marketing, allowing you to fully automate your marketing messaging with SMS, emails, and push notifications.
Shopify Email: As a part of Shopify's suite of tools, Shopify Email offers customizable email templates and campaigns directly within the Shopify interface, making it a good choice for Shopify store owners.
SendX: An intuitive, feature-rich email marketing software for marketers and business owners. SendX prides itself on its simplicity, affordability, and 24/7 live customer support.
Keap (formerly Infusionsoft): Keap is a robust email marketing platform designed for small businesses. This platform provides a full suite of tools for email marketing, including automation, CRM functionalities, and sales pipelines. Its biggest strength is the ability to create detailed and personalized customer journeys based on email interactions.
SendGrid: Known for its scalability, SendGrid offers a cloud-based service that assists businesses with transactional email management while ensuring high delivery rates.
SMTP: Simple Mail Transfer Protocol (SMTP) is a service used for sending, receiving, and relaying outbound mail between email senders and receivers. It's not an email marketing platform itself, but a protocol used by them.
Mailjet: Mailjet is another developer friendly, scalable and flexible framework for creating advanced email automations and infrastructure. More geared towards developers than newcomers.
Mandrill: Mandrill is a transactional email API for MailChimp users. It's designed for sending data-driven emails, including targeted e-commerce and personalized one-to-one messages.