Last Updated on September 7, 2022 by Ewen Finser
Mailjet can be a great solution for customized email marketing campaigns and tech stack integrations, but is it really the best email solution? This is a question I asked myself as while knee deep in a technical site integration recently. The capability is amazing, but was this a classic case of over-engineering? Are there email marketing solutions out there that do it better?
The answer for me was "yes". That's not to say that Mailjet is a poor service. It's not. But, for many business use cases you CAN achieve similar functionality with a much more user-friendly interface for non-developers.
These were the options I looked at and tested in order of priority: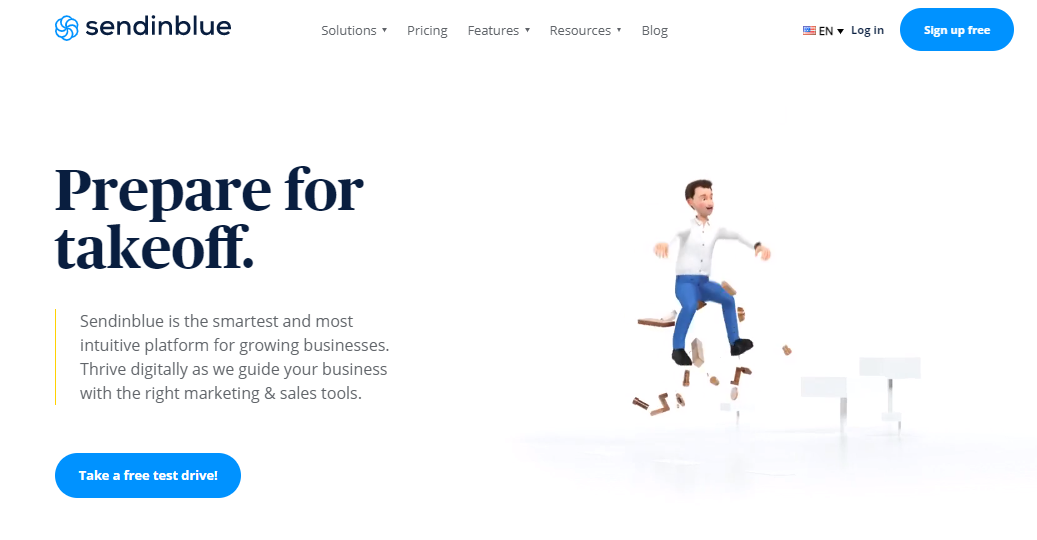 Summary: Sendinblue is one of the newer kids on the block, but they've come out strong with a robust marketing automation platform that gives Mailjet a run for it's money. Sendinblue is my top alternative here because it's 1) more affordable and scalable in terms of pricing, and 2) it's much more user-friendly compared to Mailjet.
Sendinblue Advantages
Offers a completely free plan for up to 300 email sends per day
Pay per send pricing model (all tiers) is very unique to the email marketing service space (vs paying for subscribers)
Targeted email automation templates for transactional, SMS marketing, CRM-style marketing, and more
Full landing page builder included (unlike Mailjet)
Email heat map included for advanced user analytics (typically not included in similar services)
Full SMS marketing automation
Lead scoring capability (unlike Mailjet)
Chat and phone support available regardless of pricing tiers (Mailjet only unlocks above 150,000 sends per month)
Optimized email sending time AI
More user-friendly and visual overall
Sendinblue Disadvantages
Less functional scope on transactional emails (Mailjet specializes in transactional)
Slightly more expensive compared to Mailjet
Less technical API customization (not as good for pure developers)
Sendinblue Prices: Free version for up to 300 emails/day, then $25/month for Lite Plan (up to 40,000 emails/month), then $39/month for Essential Plan (up to 60,000 emails/month), then $66/month for Premium Plan (up to 120,000 emails/month), with customized tiers and enterprise quotes beyond.
Further Reading: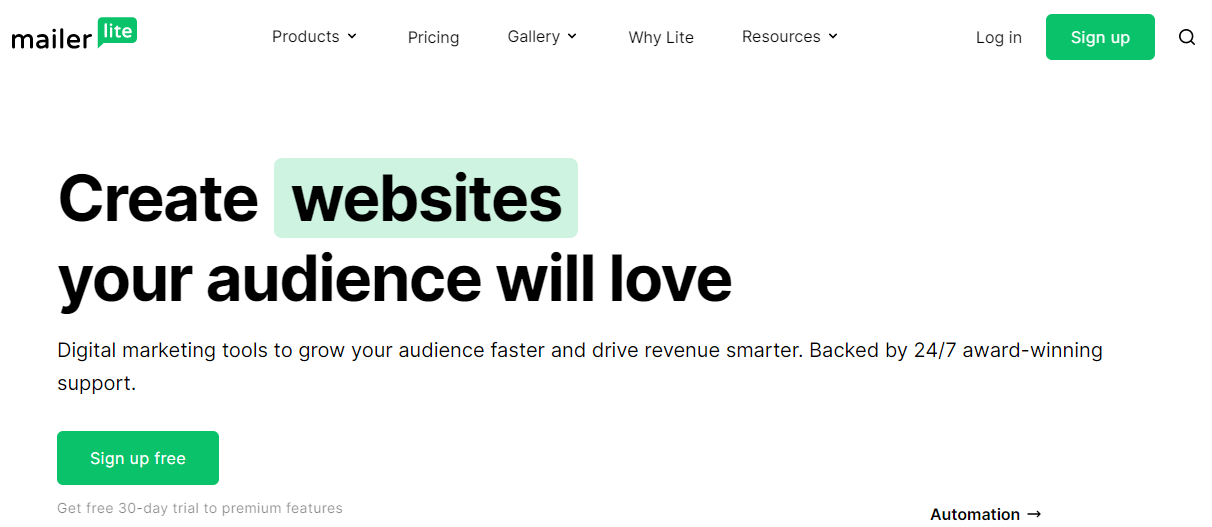 Summary: MailerLite mixes an approachable interface with extremely competitive pricing. The API customization is not as extensive as Mailgun, but if that was overkill for what you needed, MailerLite is the perfect functional automation and list builder that just executes the basics really, really well.
MailerLite Advantages
Much less expensive compared to Mailjet (each pricing plan tier)
Completely FREE version up to 1000 subscribers OR 12,000 email sends per month (whichever is highest)
Excellent in-app photo editing capabiliy and image resizing, great for business with a heavy visual emphasis
Simplet to use drag-and-drop email builer, with dozens of pre-configured templates so you don't have to start from scratch
Easier to use and more approachable than Mailjet
High email deliverability rates
MailerLite Disadvantages
Not suitable as CRM
Relative basic, with no advanced customization or API tools
Very low tolerance for spam, partly why their deliverability rates are so high
MailerLite Prices: Free version basic up to 1,ooo subscribers, $10/month for up to 1000 (fully featured), $15/month up to 2,500 subscribers, $30/month up to 5,000 subs, $50/month up to 10,000 subs, etc… see here for extended pricing.
Further Reading: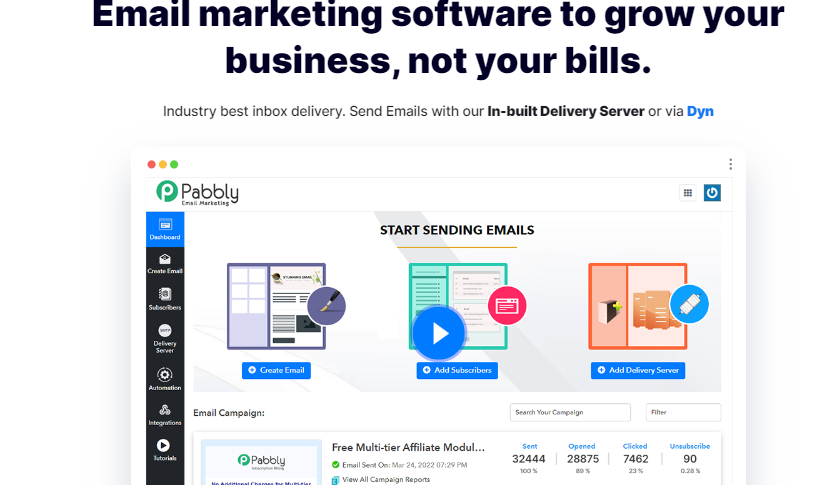 Summary: Pabbly offers many of the standard automation and segmentations offered by modern email marketing apps, but also features a robust "MailGet API" that can integrate with many third-party platforms and services. This makes it a great Mailjet alternative for more technically complex email marketing use cases.
Pabbly Advantages
MailGet API integrates with almost any SMTP provider like Amazon SES, Sendgrid, Gmail, etc… PLUS custom SMTP integrations (a bit more steps, but very doable)
Unlimited SMTP hooks
Supports Webform entries
No daily email send limits
Extensible to Pabbly's entire suite of products, including form builders, subscription billing software, and app connections (like a better Zapier)
Comes with free email marketing tutorials and guides to fully leverage their email marketing functionality
More cost effective per subscriber compared to market leaders like Mailchimp, Aweber, ConvertKit, etc…
Pabbly Disadvantages
Still a bit on the technical side for things like custom SMTP integrations (but there are really good tutorials if needed)
Less market share and name recognition (it may be harder to find third party technical or dev support here)
Pabbly Prices: 7 Day Free Trial Plan and up to 100 sends, then $29/month for the Rookie Plan (up to 5000 subscribers), then $49/month for the Pro Plan (15,000 subscribers), and finally $99/month for the Advanced Plan (50,000 subscribers, then upgradable by increments).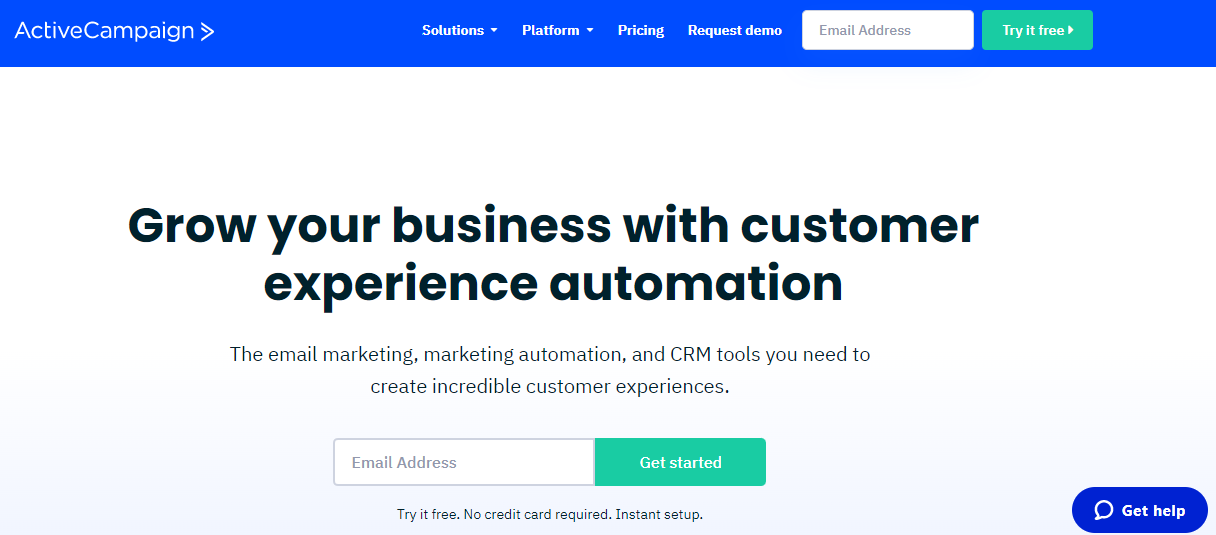 Summary: If you need something more polished and user friendly than Mailjet, but at the same time more capable and scalable, then ActiveCampaign is the answer. It offers everything from the most affordable entry level plans to full-on enterprise level automations, integrations, and conditional logic.
ActiveCampaign Advantages
The market leader and first-to-market for email marketing automation, big head start on conditional logic
Long history in the market, continues to grow with a well-supported team
Integrates with pretty much every sales, analytics, and technical stack
Robust Zapier ecosystem for any missing links
Deep bench of ActiveCampaign familiar and certified talent, including developers, marketers, and designers
Easy to import contacts from other sources
Excellent & responsive customer support
A pricing plan for pretty much everyone (agency, solo shops, enterprise)
Some lite-CRM functionality (can compete with a Hubspot, for example)
ActiveCampaign Disadvantages
The dashboard can get a bit messy if your aren't organized
Can get pricey at scale, but not as DIY as Mailjet
ActiveCampaign Prices: Get's started at just $9 per month for the basic plan, $49 per month for Plus plan (unlocks CRM features, advanced integrations), $129 per month for Pro Plan, and $229 per month for Enterprise Plan. Various pricing sliders on each tier based on # of contacts.
Further Reading:
5. SendGrid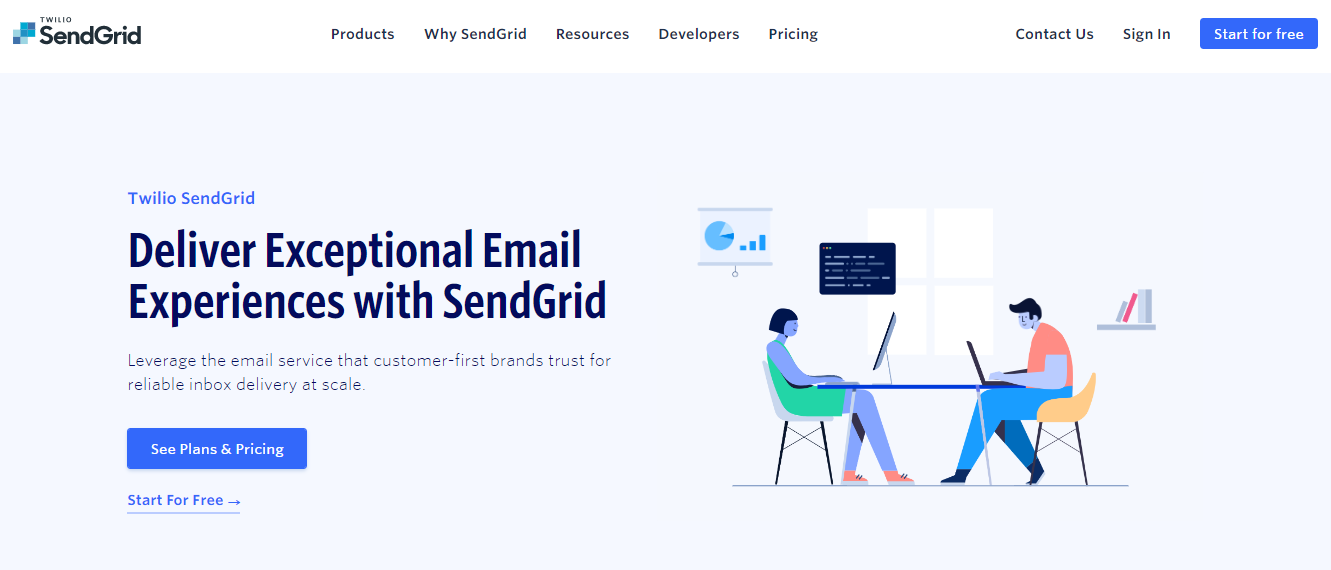 Summary: SendGrid is a powerful deliverability framework, with many similarities to Mailjet as well as a similarly steep learning curve and/or requirement for technical operators to maximize. If you need more customization and technical potential than Mailjet, consider SendGrid instead.
SendGrid Advantages
SendGrid is another "deliverability first" email sending platform, similar in many ways to Mailjet
Technical flexibility, custom hooks, rules, and advanced integration capabilities
SendGrid prioritizes email deliverability by combining IPs and deliverability protocols
Free to get started (up to 6,000 sends per month)
SendGrid Disadvantages
Similar to Mailjet, advanced technical implementations require experience or a dev team to fully leverage
Not ISO 27001 certified out of the box
SendGrid Prices:
Free Plan: Up to 6,000 sends per month.
Basic Plan: Cost ranges between $15 per month and $200 per month.
Advanced Plan: Cost ranges between $60 per month to $900 per month. Plus a custom plan for users with more than 200,000 contacts or 1 million email sends per month.
Further Reading:
6. GetResponse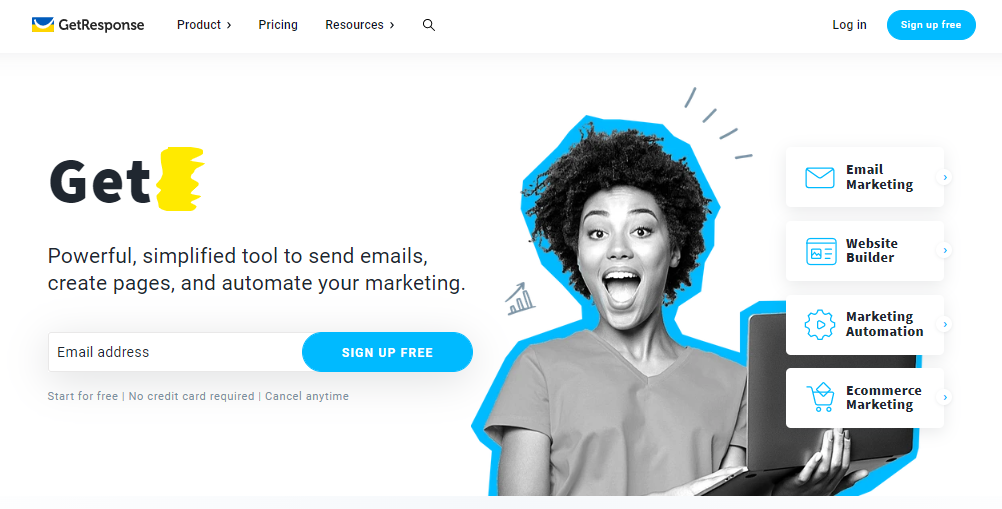 Summary: An older provider, but one of the "good ones", GetResponse was one of the first email providers to fully embrace true marketing automation. They've generally kept up with the types and offer a good alternative to Sendinblue, particularly if you do video or webinar marketing in your email campaigns.
GetResponse Advantages
Specific automations built around webinars (the only service providor I've found with this unique use case)
Amazingly in-depth data analytics, including advanced click tracking
Offers a fully featured 30-day trial offer
Long tracker record in business (isn't going anywhere), since 1998
Introduces lite-CRM features, particularly at the enterprise level
Extremly easy to use drag and drop email automation builder
GetResponse Disadvantages
Not as many API options and hooks compared to Mailjet
No 100% free tier (like Mailjet), just a free trial
GetResponse Prices: All plans start with an initial subscriber max of 1000. Price points are "starting at" depending on features. $15/month for Basic Plan, $49/month for Plus Plan, $99/month for Professional Plan, and $1,199/month for Enterprise Plan.
Further Reading: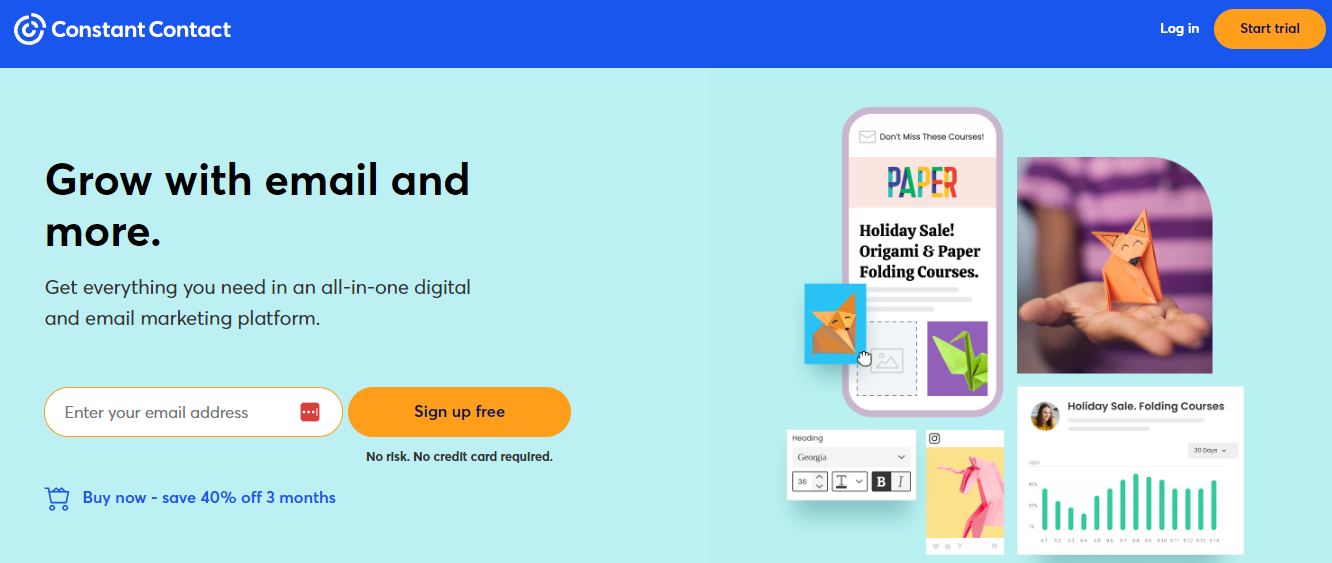 Summary: ConstantContact has been around for quite some time and for a while suffered the same fate as Aweber (gradually becoming outdated), but in the last few years they've revamped their entire offering. If you've written off ConstantContact in the past, it's time to check again.
Constant Contact Advantages
Easy to use drag and drop email template builder for email campaigns
Excellent for event based marketing
Built-in split testing capability
Large library of email templates to pull from
Above average email deliverability rates (marketing leading platform)
More responsive customer support with more contact methods (compared to Campaign Monitor)
Constant Contact Disadvantages
Relatively basic reporting and analytics tools
Limited ability to tag users based on behavior and triggers (automation and segmentation)
Not the cheapest Campaign Monitor alternative
Constant Contact Prices: Constant Contact offers a very basic service starting at $9.99/month for up to 500 contacts (and then scaling up) OR their new Email Plus option which starts at $45/month for up to 5oo contacts (then scaling up).
Further Reading:
So What's the Best Mailjet Alternative?
To put it simply, these are the best alternatives to Mailjet for specific use cases: