Last Updated on July 20, 2023 by Ewen Finser
If you are stuck deciding between Flodesk and MailerLite, you are in the right place! I've used both.
I've been around the digital marketing space for 10+ years. I've switched email marketing platforms 5+ times and even use different services for different use cases! There's a lot to choose from and no true "one size fits all".
In this comparison, I'll dig into the core differences and advantages of both platforms.
Flodesk and MailerLite Overview
Flodesk and MailerLite have both made a name for themselves in the email marketing industry.
While both platforms are lauded for their user-friendly interfaces and robust features, they cater to slightly different audiences and have unique pricing structures, making it essential to understand their offerings fully before making a decision.
Up Front Summary of the Key Differences
Here's a birds eye view of how I see the key advantages of these platforms relative to each other:
| Key Features | MailerLite | Flodesk |
| --- | --- | --- |
| User Interface | MailerLite has a more traditional, somewhat complex interface that offers extensive customization options. | Flodesk's interface is easier to navigate, more intuitive, and visually appealing, especially for beginners. |
| Email Design | MailerLite provides a wide range of templates and advanced design options, allowing for more complex and personalized email designs. | Flodesk offers a more streamlined approach to email design with stylish, modern templates and easy drag-and-drop functionality. |
| Analytics and Reporting | MailerLite offers robust analytics with extensive reporting options, including click rates, open rates, and bounce rates. It also provides geographic data and insights into subscriber actions. | Flodesk offers a more simplified analytics dashboard that focuses on essential metrics. It may not offer as much granular detail as MailerLite but is easier to understand for beginners. |
| Automation | MailerLite has more advanced automation features, allowing for complex email campaigns based on subscriber behavior. | Flodesk's automation features are more basic, focusing on simplicity and ease of use. |
| Integration | MailerLite offers more integrations, allowing it to connect with a wider variety of third-party services and platforms. | Flodesk has fewer integrations, but the ones it offers are straightforward and easy to set up. |
| Pricing | MailerLite's pricing is based on the number of subscribers and includes a free plan. It offers more features at each price point compared to Flodesk. | Flodesk has a simple, flat-rate pricing structure, regardless of the number of subscribers. It may be more expensive for small businesses but offers unlimited emails. |
| Customer Support | MailerLite provides 24/7 customer support through email and live chat. Their support is known for being responsive and helpful. | Flodesk offers email support and a help center with guides and tutorials. They may not offer live chat support, but their resources are comprehensive. |
Email Marketing: The Basics
Before we dive deeper into our Flodesk vs MailerLite comparison, let's take a moment to understand why email marketing is crucial for bloggers and small business owners.
Email marketing serves two primary purposes: building relationships with your existing audience and promoting sales. It's a way to keep your followers updated, especially if your website goes down. It also helps new followers remember your site name and stay connected with your content.
Remember, you cannot use Gmail/Yahoo/Your Email to send mass emails due to low deliverability rates. Hence, it's critical to use an email marketing service.
What is Flodesk?
Launched in 2019, Flodesk has quickly gained traction, particularly among female business owners and bloggers, thanks to its beautifully designed templates and easy-to-use platform. Despite being a newcomer, Flodesk's intuitive design and simple pricing structure have made it a compelling option for many.
Flodesk's key features include:
Automated workflow

Signup form creation

Stats and analytics

Eye-catching templates

Email builder
Flodesk's pricing is unique in that it charges a flat fee, regardless of your subscriber count.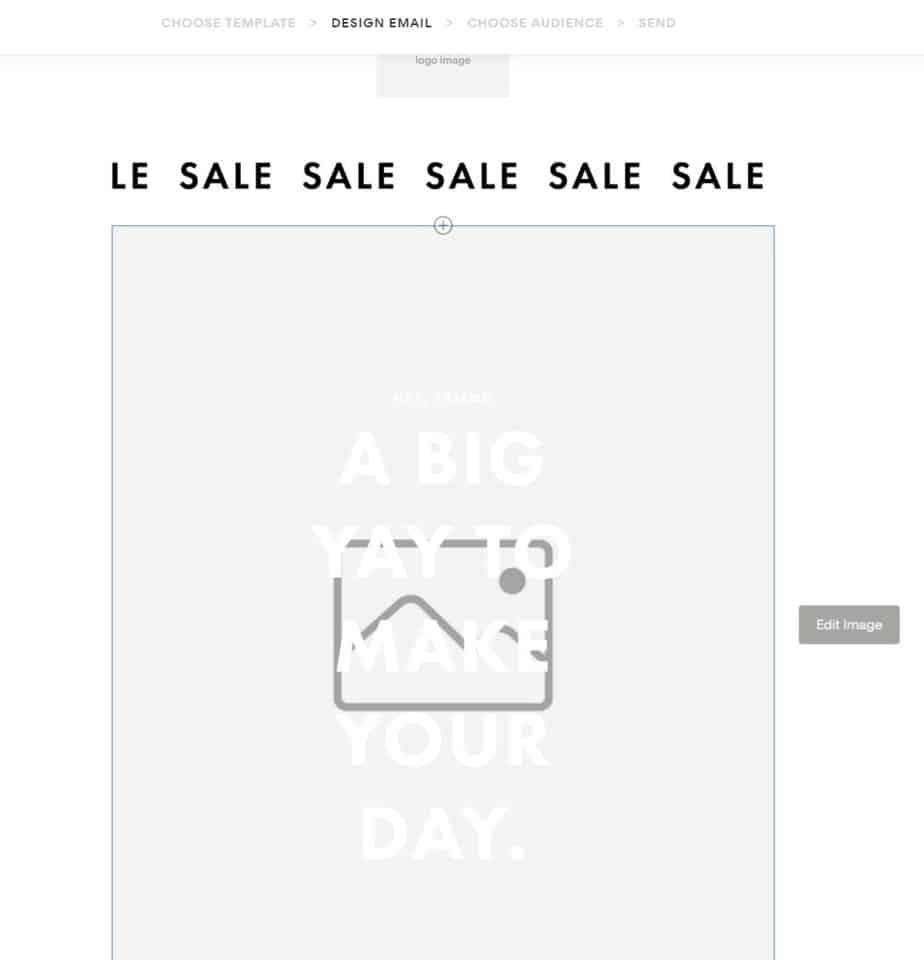 What is MailerLite?
MailerLite, a cloud-based email marketing solution, is favored by many small business owners and bloggers for its simplicity and affordability. Despite having a straightforward interface, MailerLite doesn't skimp on features, offering a suite of tools for creating and managing complex email marketing campaigns.
Key features of MailerLite include:
Email automation (drip campaigns)

Subscriber segmentation

Subscriber management (basic CRM)

Reporting and analytics

Drag-and-drop web form, landing page, and popup builder

Integration with other marketing tools
MailerLite's pricing is based on the number of subscribers, making it a cost-effective solution for businesses with smaller subscriber counts.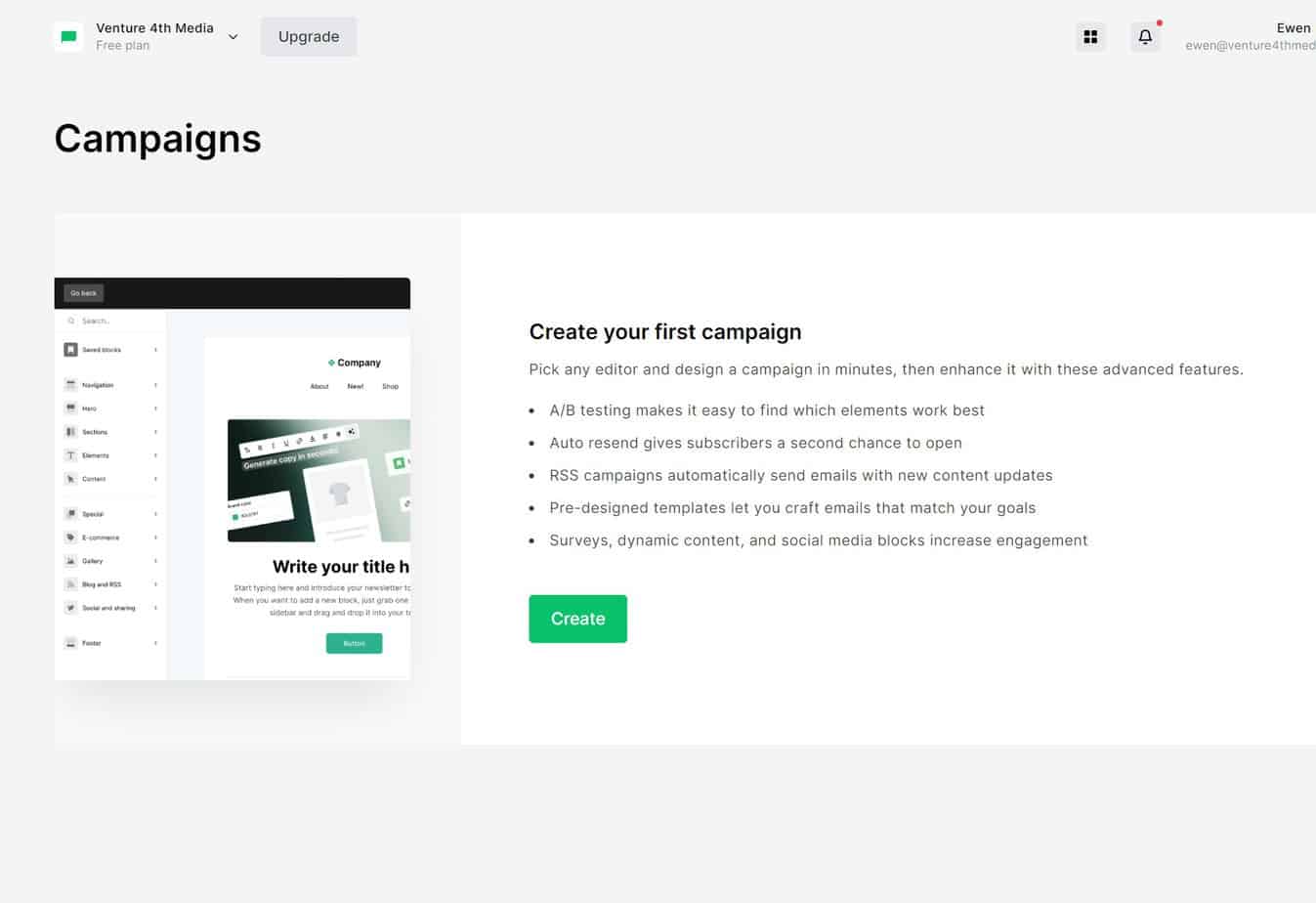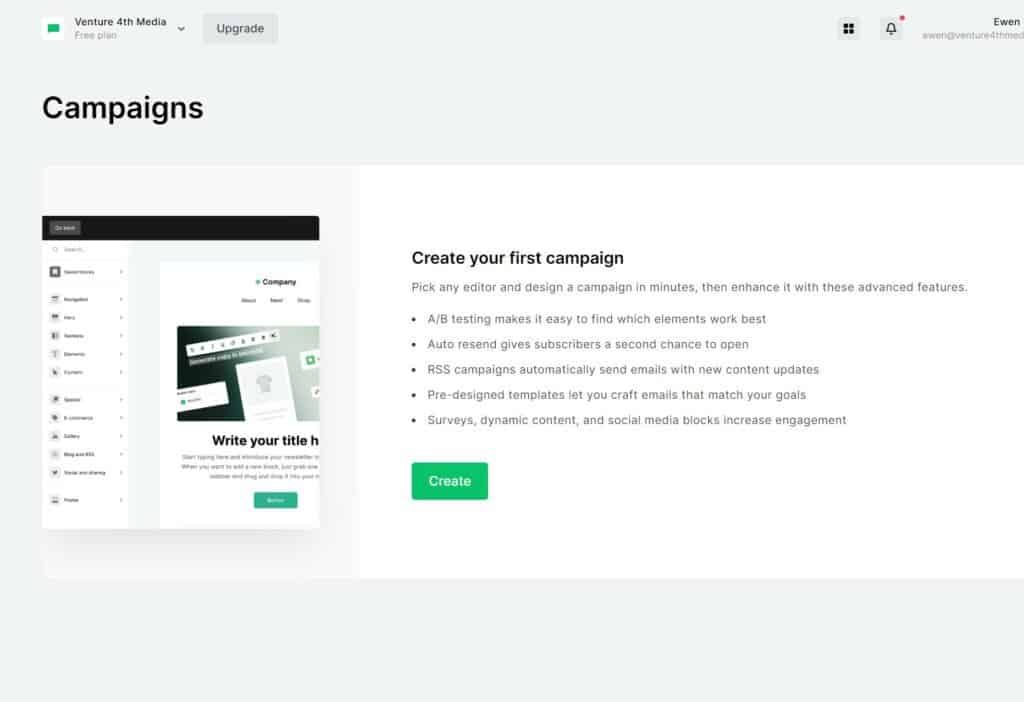 Pricing Comparison
Flodesk charges a flat fee of $38 per month, regardless of your subscriber count. However, if you sign up through certain links, you can get 50% off for life, reducing the monthly cost to $19. This pricing structure can be ideal if you have a large subscriber base. But, for small businesses with a smaller subscriber count, the fee might seem steep.
On the other hand, MailerLite's pricing is determined by the number of subscribers you have. The cost starts at $10 per month for up to 1,000 subscribers. MailerLite also offers a free version with limited features, which can be an excellent option for businesses just starting with email marketing.
Features and Functionality: A Side-by-Side Comparison
While both Flodesk and MailerLite offer essential features for effective email marketing, there are some significant differences between the two.
Newsletter Editor
In MailerLite, you have the option to select one of MailerLite's pre-made templates or build an email from scratch. You can use the drag-and-drop builder to customize your email designs with ease.
On the other hand, Flodesk offers slightly less flexibility in creating your email designs. You must select an email template, and then customize it. The editor isn't drag-and-drop like MailerLite, but it is user-friendly and intuitive.
Form Builder
MailerLite allows you to build embedded forms, popups, landing pages, and even entire websites. You can design these forms with the drag-and-drop interface and choose from numerous templates.
In contrast, Flodesk's form builder is more limited. You can build popups, inline forms, and full-page forms (essentially landing pages). However, the templates available for these forms are limited to "with image" and "without image" options.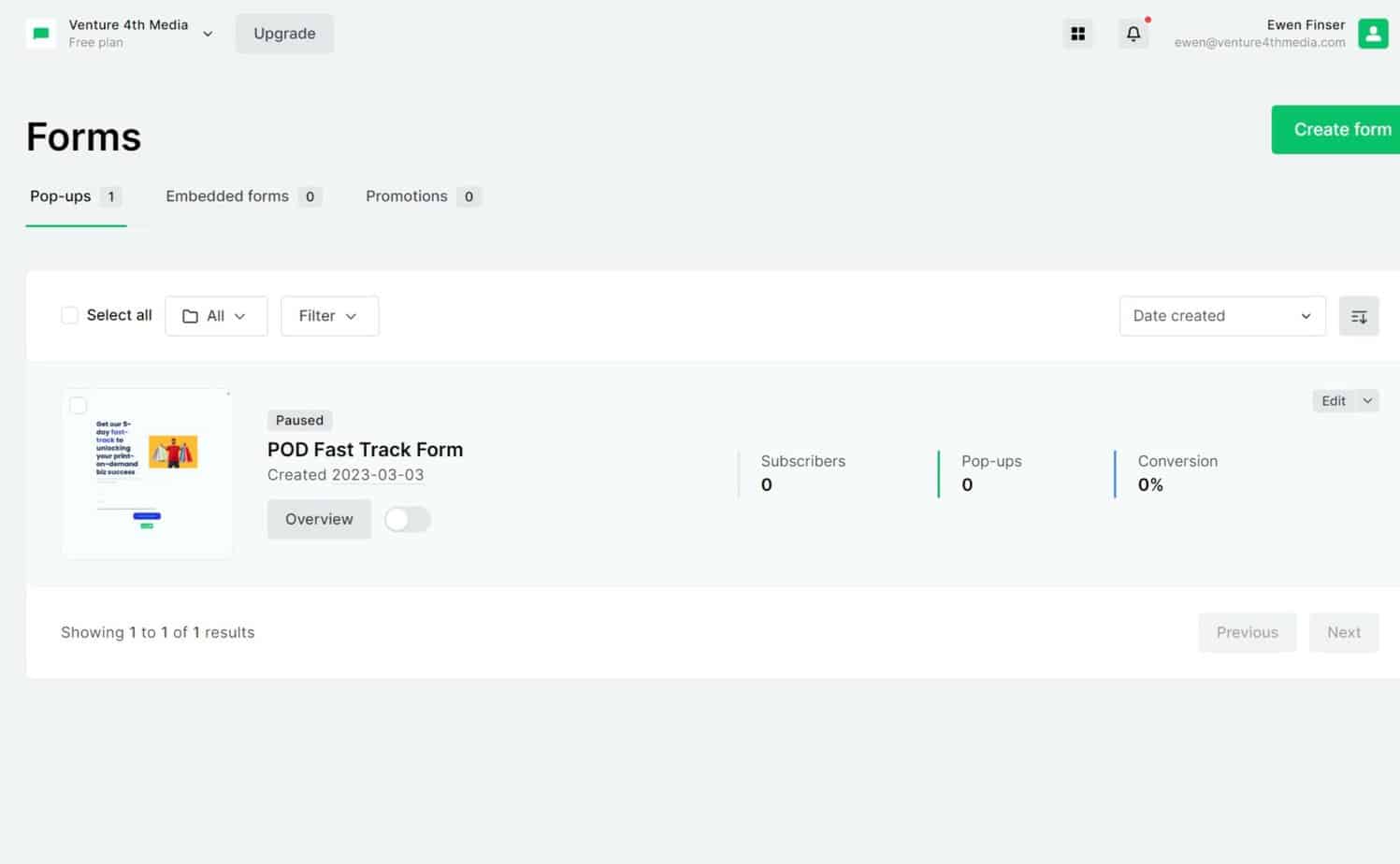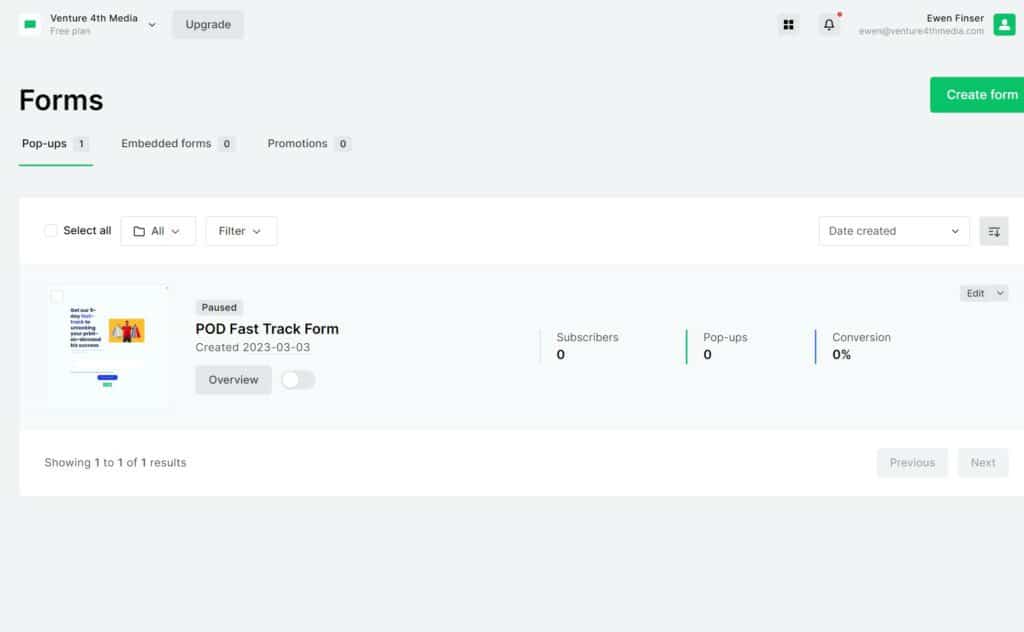 Automation Workflows
Both platforms offer automation workflows, but the triggers and subsequent actions differ.
MailerLite allows you to build complex automation series with multiple triggers, including when a subscriber joins a group, completes a form, clicks a link, or a date-based trigger.
Flodesk, on the other hand, only provides one trigger: when a subscriber is added to segments. However, once you select your segment, you can add a subsequent email, delay, condition, or other action, similar to MailerLite.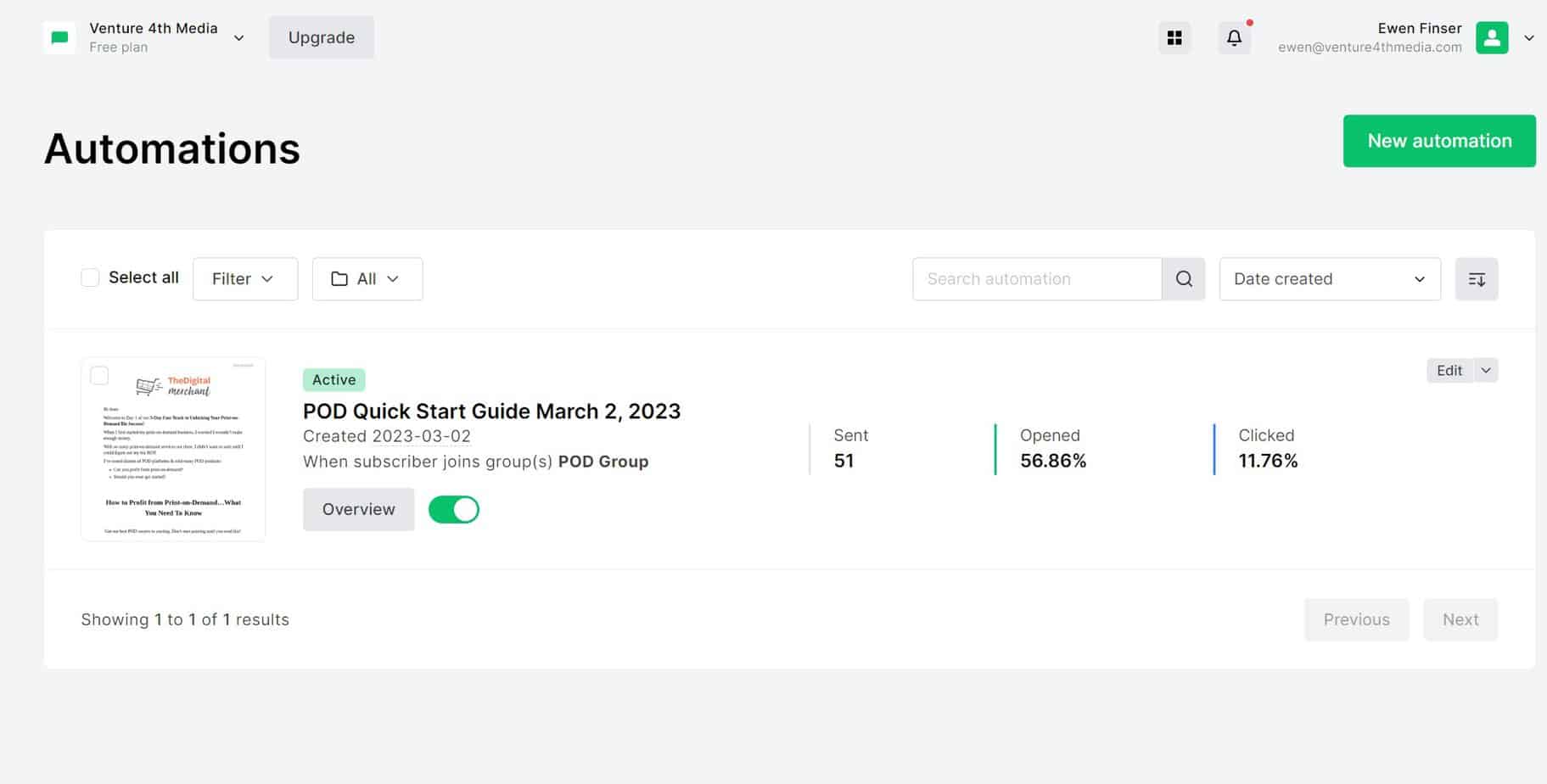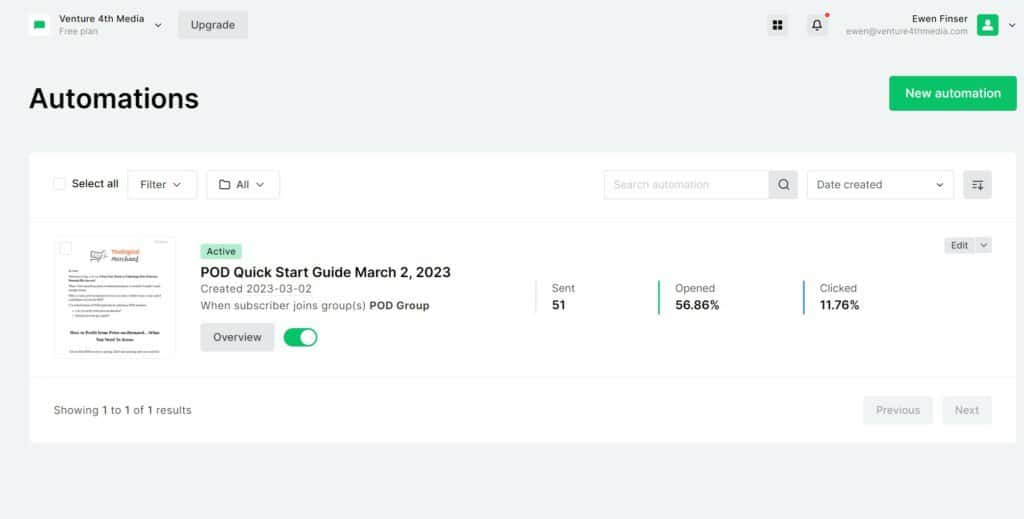 Statistics and Analytics
MailerLite's statistics and analytics capabilities are quite robust, providing users with a detailed breakdown of campaign performance.
It offers extensive reporting options, including open rates, click rates, unsubscribe rates, and geographical data. You can also track conversions and set up A/B testing to optimize your campaigns.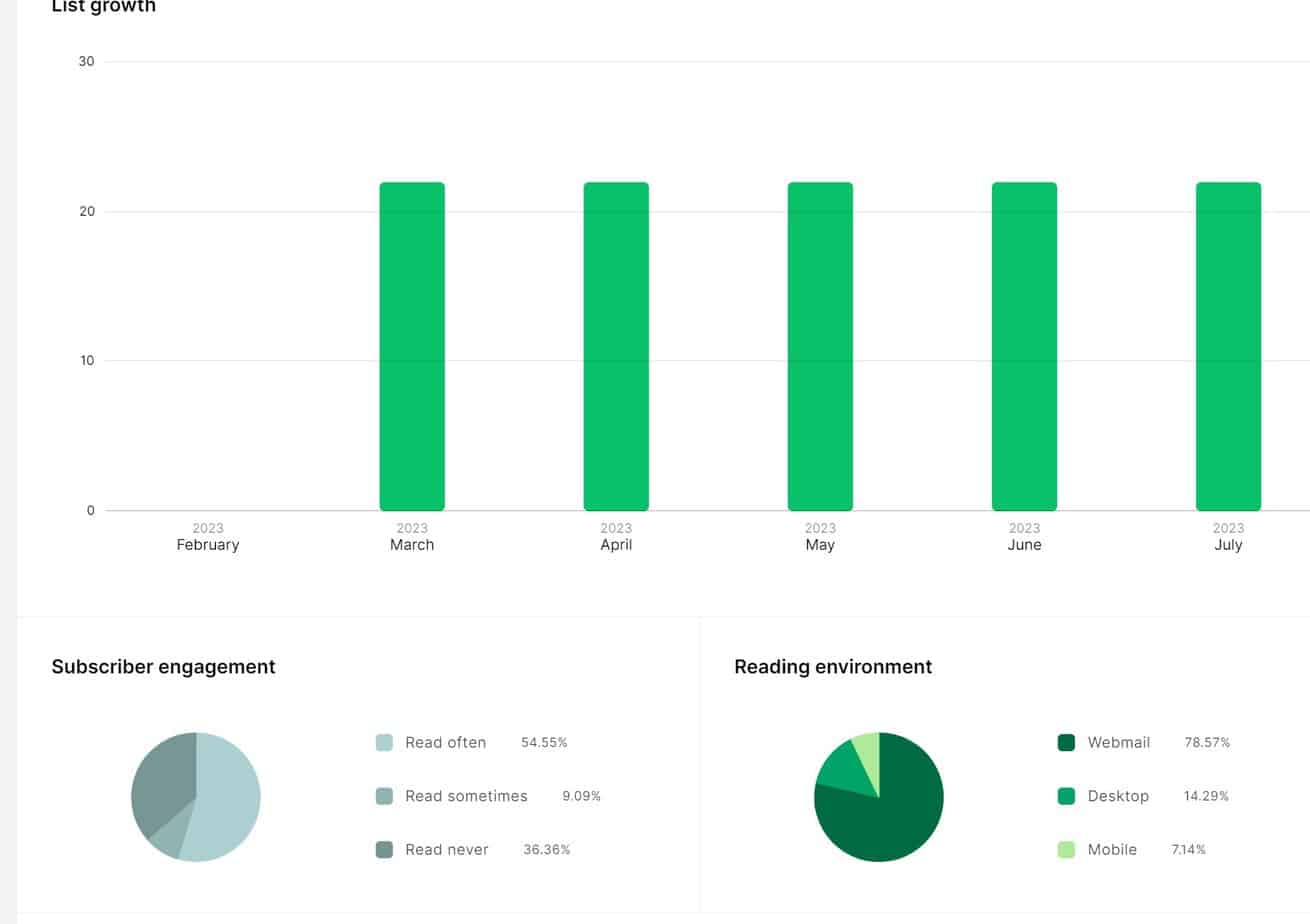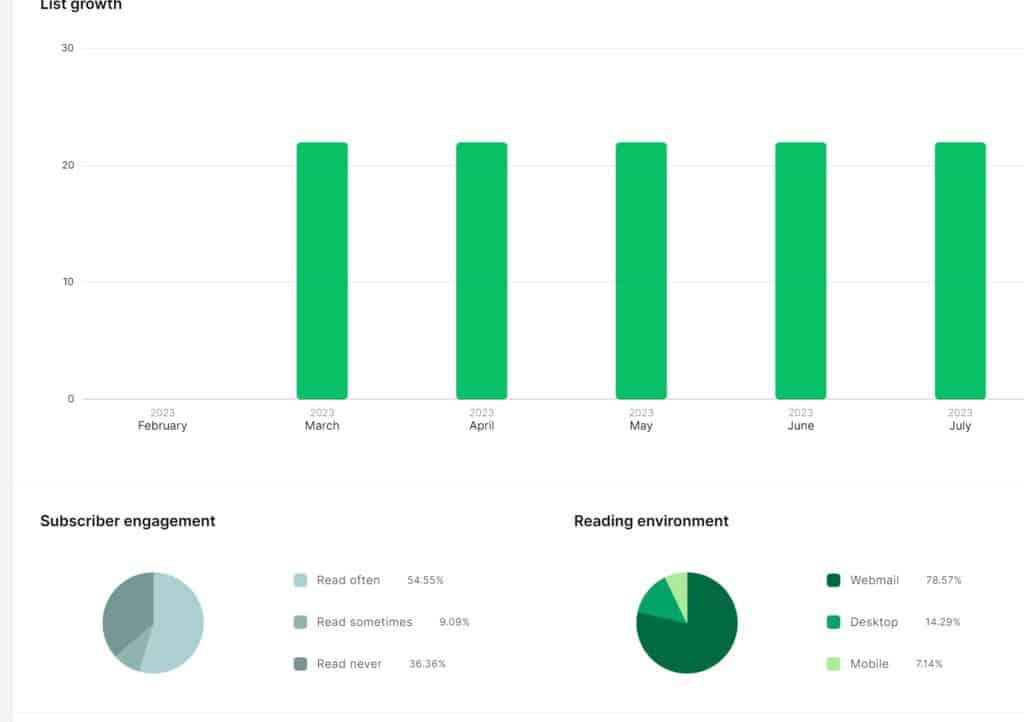 Flodesk, on the other hand, offers a more streamlined and simplified analytics dashboard. It covers the basics like open and click rates, but does not offer as in-depth analysis as MailerLite.
This makes sense because Flodesk isn't designed for data nerds. It's really meant for designers and brand builders.
Flodesk's interface is more user-friendly and visually appealing, making it easier to understand for beginners.
Which is Best for Me?
Choosing between Flodesk and MailerLite depends on your specific needs and goals. If you need a more flexible and robust platform, MailerLite might be a better choice for you. Its customizable email designs and complex automation workflows give you more control over your email marketing.
However, if you're after a simpler, more straightforward platform, Flodesk could be your best bet. It's easy to use, and its beautifully designed templates could save you a lot of time, especially if you're used to creating your own templates from scratch.
So Who Are They For?
To provide a more comprehensive view, let's compare Flodesk and MailerLite with two other popular email marketing platforms: Mailchimp and ConvertKit.
Flodesk: Design Emails People Love to Open
Flodesk's primary selling point is its beautifully designed emails. It offers a drag-and-drop block-like interface for creating emails, with many pre-styled blocks and customization options. However, it doesn't support RSS-to-Email functions, meaning you can't automatically publish from your WordPress site (or any feed) to email.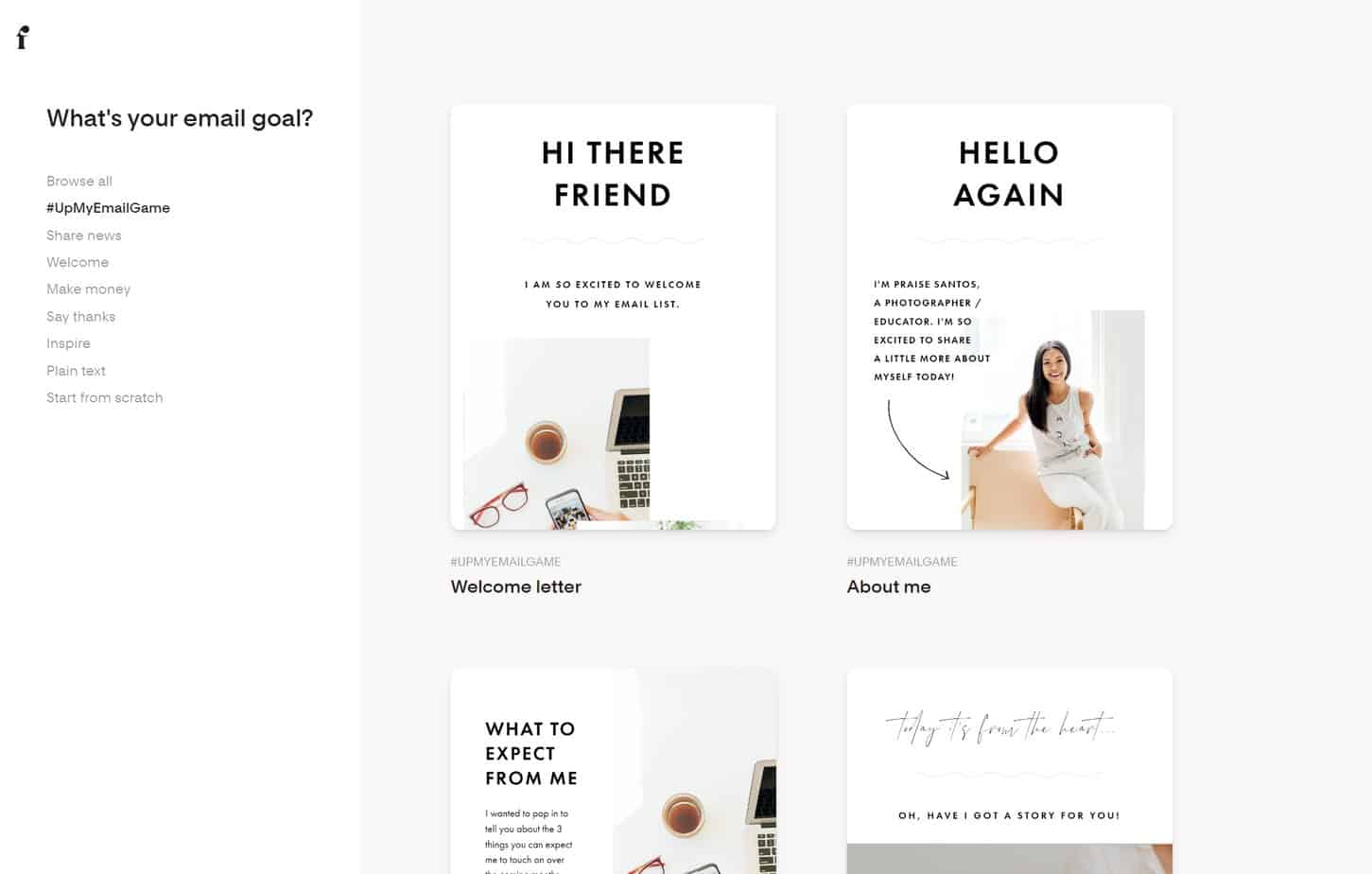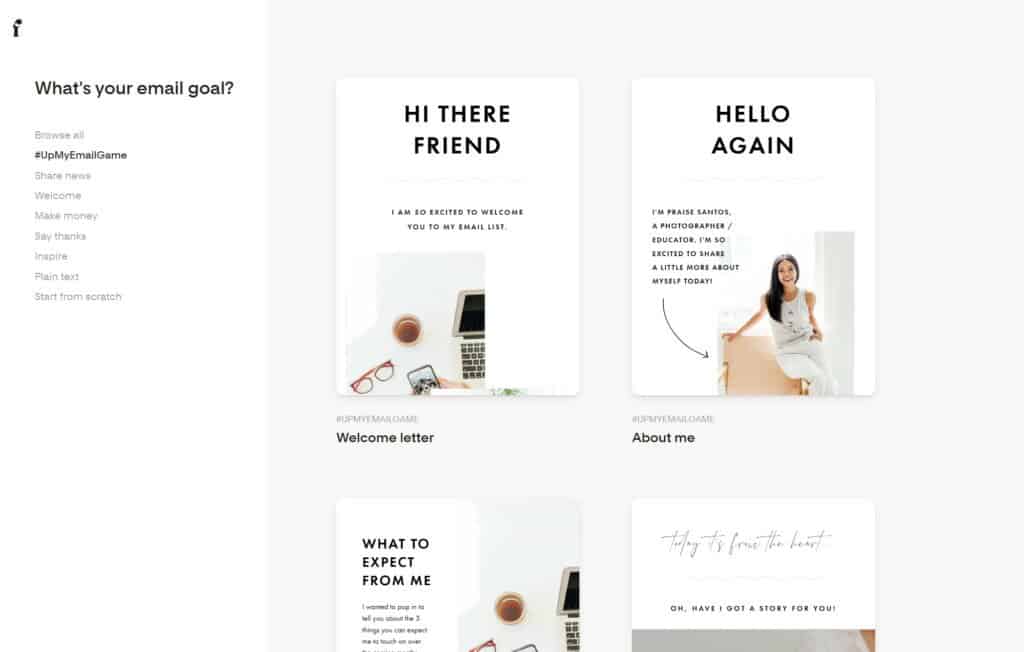 MailerLite: Email Marketing Your Way
MailerLite is beginner-friendly and offers a free version that includes unlimited email automations and personalization.
MailerLite's forms are basic and easy to create, and it allows for easy segmentation and personalization.
The automation capabilities are its strong point, making it easy to send opt-in incentive emails or welcome series emails.
Other MailerLite Competitors
Since I'm a long-time user of MailerLite AND it's been around for a while, we have a few additional comparisons worth considering here:
Conclusion: Flodesk or MailerLite?
Choosing between Flodesk and MailerLite ultimately depends on your specific needs and preferences. Both platforms offer robust features and user-friendly interfaces, but they differ in their pricing structures, some features, and – most distinctly – the aesthetics!
Bottom Line Summary: If you are a data nerd and depending on robust automations, go with the more traditional feeling MailerLite here. On the other hand, if you are a designer and brand builder at heart and have struggled with the PROCESS of building email campaigns, Flodesk is a refreshing "brand forward" approach.
Remember, the best email marketing platform for your business is one that aligns with your goals, fits your budget, and feels comfortable and intuitive to use.
Other Email Marketing Tools by Use Case
I tend to change my recommendation a bit depending on WHAT you are trying to do, particularly with respect to selling on specific platforms. Here are a few guides to email marketing our editorial team has published previously: