Last Updated on April 22, 2023 by Ewen Finser
In a digital world filled with endless email marketing options how do you know the right provider to choose?
Many claiming they can help you increase your reach, audience engagement, and, ultimately, conversions.
And all promise to help you ramp up your audience engagement, deliverability, targeted traffic and increased conversions. That you can use the best email marketing software to gradually nurture leads, deliver timely updates and upsell to current clients is commonplace now.
What's still coming up and perhaps the most powerful email marketing platform feature is email marketing automation.
Here's the thing…
…you most likely than not have little time to run all aspects of your small business than you wish you had.
So if you are a small business owner and you could get a handy email automation tool that only truly requires your input in the initial setup stage, then run on almost autonomously, why wouldn't you, huh?
That's what a ConvertKit vs MailerLite battle all about; which is the better email marketing automation tool (that won't cost you an arm and a rib, too)?
Bottom Line Up Front: I personally much prefer the user-friendly workflow automation with ConvertKit here particularly for a content creator or content marketing strategy, but if price is your primary concern, going with MailerLite is a good option for a very capable email marketing service.
Main Differences between MailerLite vs ConvertKit
The main differences between MailerLite vs ConvertKite are:
MailerLite offers drag-and-drop email templates, whereas ConvertKit does not
MailerLite does not offer advanced tagging of subscribers, whereas ConvertKit does
MailerLite offers a fully featured free version, whereas ConvertKit does not
MailerLite offers countdown timers, whereas ConvertKit does not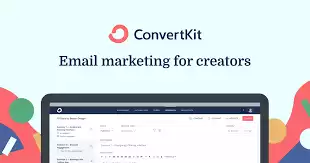 I Personally Prefer ConvertKit
ConvertKit was built for content marketers. That's me! Advanced email automation, sleek pre-built templates, and a dead simple user interface. Because of these factors, I highly recommend ConvertKit for MOST readers here.
Try ConvertKit First
Save 30% for Black Friday!
We earn a commission if you click this link and make a purchase at no additional cost to you.
An interesting thing to note right at the beginning, though, is both email marketing service providers offer a features set that's strikingly similar.
However, the devil (or angel) is always in the detail. And that's what ultimately matters; getting the details 'right' so you can easily, quickly, and profitably run your small business with the best email marketing platform.
Here's a breakdown of what matters most in this MailerLite vs ConvertKit comparison.
MailerLite vs ConvertKit

Update: Seva decided to keep the name ConvertKit after all.
We'll compare the two based on five features/benefits as follows:
Sign-Up and Initial Set-Up
Customer Support
Subscribers Management
Email Campaigns
Opt-in Forms
Automation feature
Integrations
Pricing
We know you are busy, though.
So to avoid turning this review into an e-book, we'll laser-focus on the differences between ConvertKit and MailerLite, so you can grasp which one's the best email software for your business in no time.
MailerLite vs ConvertKit: The Initial Set-Up Process
Need to sign up to ConvertKit? You are likely to be up and running in no time.
On the other hand, MailerLite keeps around for longer, and for a reason. To avoid hurting their customers' emails deliverability, MailerLite verifies every new user. Like SendLane, you get the feeling that signing up for a SaaS product should be less of a hassle. Ultimately, though, it does help for the aforementioned reason.
Most of the competition is now doing this. But MailerLite goes a step further:
It's a three-step process where you complete your profile with your company details, verify your business' email address and domain, and wait for MailerLite to review your application.
In the meantime, you can only access limited functions and contact up to 500 contacts on your email list. However, it doesn't take long after to get the approval you need to engage more than 500 contacts.
Here's the other thing (and it's a biggie): MailerLite doesn't offer a free trial. Instead, you'll get a free forever plan that you can use to engage up to 1000 contacts in your email list and meaning that you can easily spin up multiple lists on starter projects without having to worry about how to pay for it initially.
If that's not exciting, yet, then note you'll be able to use all MailerLite premium features with the free account. Compare that to ultra-popular MailChimp which offers the first 12,000 email broadcasts free-of-charge and you get how big this could mean if you need a good bargain to get started.
On the other hand, you can try out ConvertKit by taking up on their 14-day free trial before committing to one of four plans. In case you have more than 7,500 contacts on your to-do subscriber list, ConvertKit encourages you to request a customized demo.
And if you are wondering if you'll need paid training to learn how ConvertKit works or set up MailerLite, you most likely won't. Both platforms are quite intuitive to learn, and both beginners and email marketing software veterans will be on track to conversions fast enough.
Customer Support | Customer Service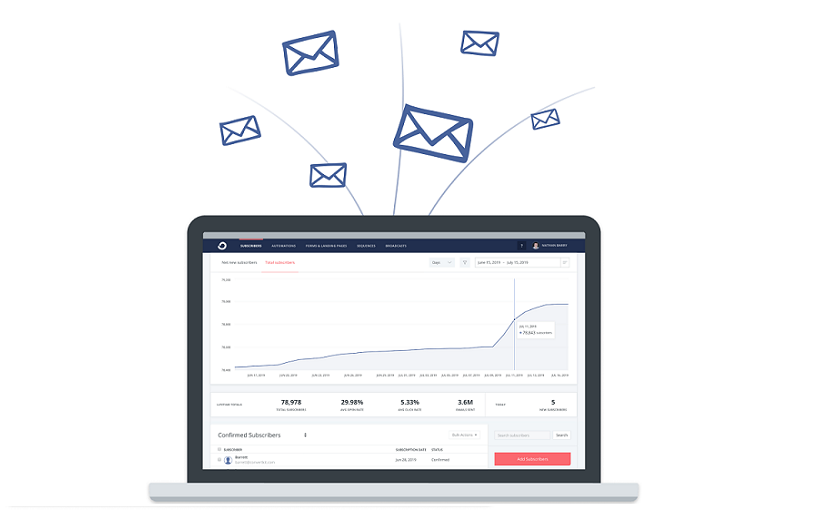 And speaking of hitting the conversion track soonest…
If you need help getting unstuck or to configure your new email marketing and automation platform, you can expect email and live chat support from ConvertKit. ConvertKit also organizes live workshops where users can learn the system and how to optimize their email marketing strategy in an hour or so.
You can even chat with ConvertKit customer support before signing up to learn what it would take to commit to the platform right off the gate. Plus, the firm has an FAQ section and knowledge base you can scrape to find a solution. Otherwise, you can also connect via your favorite social media channels.
But the live chat support is available between 7 AM and 6 PM compared to 24/7 by MailerLite. MailerLite is more generous, too. You'll get an email, live chat, and a packed knowledgebase to straight out any learning curves. The resource provides some 30 videos and a text guide to boost.
Unlike ConvertKit, you can reach MailerLite at any time of day or night. Do note that live chat support is available to paying customers, while free plan customers get 24/7 email support. Usually, however, you can almost certainly get decent support with either choice.
Subscribers Management Tool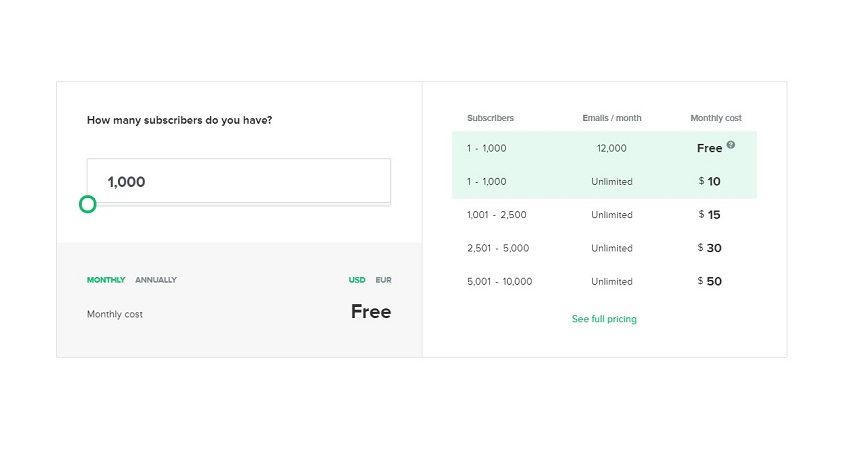 Right off the gate, both platforms will help you migrate your contacts from a competitor for free. You can do so using CSV, TXT, or Excel files. Whichever platform you choose will automatically scan your file type and process the data fields accordingly.
If you have over 5,000 contacts to import, ConvertKit does it on your behalf within the first few hours you request them to. But there's a catch…
…you'll need to have subscribed to ConvertKit's $79 per month plan to have this happen.
Now, you can also use either email marketing providers to easily process duplicate subscribers, bounces, and unsubscribes.
In fact, MailerLite offers a dedicated Unsubscribe Page Builder. You can use it to customize your unsubscribe page so you can at least encourage leaving subscribers to leave you feedback on what's made them want to cut ties with you. Or you can use persuasive copy on the page to convince the leaving subscriber to stick around for longer like this:
No hard feelings for sure.
You can even add a background photo/image to keep the page warm and friendly, too. This can be a powerful email marketing tool to help you learn what you probably should do better to keep your audiences more engaged and less likely to quit your community. Unfortunately, this is not something you can do with ConvertKit.
One of the best ConvertKit features is it is a subscriber-based system, unlike say Aweber and MailChimp which are list-based systems.
So you can use ConvertKit to segment and tag your audiences according to their interests, subscription channel, a special link they clicked, location, subscription type, and so on. You can also do that with MailerLite. It is just given a different name; Groups and Segments.
Find the subscription management tools under 'Subscribers'
So, what is the difference between MailerLite Groups and Segments?
While Segments are pretty much automation rules, Groups are essentially what other email marketing services refer to as tagging. Different approaches but almost the same route. Wondering where to use which?
MailerLite provides some help: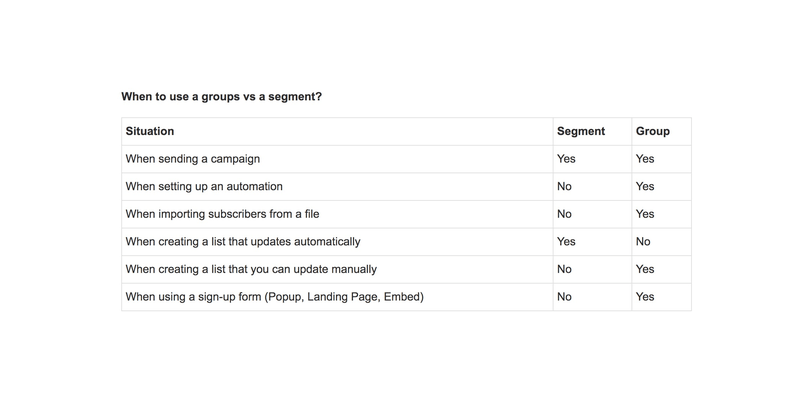 MailerLite Segments vs Groups Use Cases
Just like ConvertKit, the purpose here is to help you segment your audience to a point where you can easily send personalized emails that resonate with your subscribers—each depending on the 'tag' you have on them in your system.
Does ConvertKit make it less complicated here?
ConvertKit Segments function
Since it is not a list-based system, when you need to send emails ConvertKit will require you to use its filter feature to sort which emails land on which subscriber's inbox.
If you send a broadcast email without doing that first, you'd send the same one-time email to everyone on your email list —which is not helpful when your goal is to send personalized emails that increase conversions. Note that the subscription management features of either email marketing software form the basis of your automation drive (which we'll cover below in a separate section below).
MailerLite vs Convert Kit Email Campaigns
This one's a big deal. The two email marketing companies have similar features here but there's a difference.
The big differentiator here is while MailerLite will allow you to drag-and-drop elements into the email campaign builder built-in, ConvertKit does not. Instead, you'll need to use HTML and CSS to create emails, which non-techie users can find tough to get started with.
MailerLite also offers over two dozen email templates that are decidedly modern and easy to edit. While two dozen email design styles are quite stingy compared to the best MailerLite alternatives around, ConvertKit will not offer you any.
So if you are coming from MailChimp, you might have to consider that keeping in mind MailChimp is king of email marketing platforms when it comes to providing email templates.
There's more… Once you hit 'Create Campaign', you'll get five action options to make.
You can:
Create regular/broadcast campaigns
Like with ConvertKit, you can use MailerLite to auto-resend unopened broadcast emails—you can change the subject and body content compared to just the subject when using ConvertKit.
Use your website's RSS Feed to drip valuable information on a recurring basis—ConvertKit can also help you accomplish this
You can set the email up for A/B testing. Unlike using ConvertKit, MailerLite will let you use multiple email variations, different email content, subject line, and sender's name in split emails. And this is integrated right into the email builder.
With ConvertKit you will not be able to A/B test for aspects such as your automation effectiveness, delivery time, and email body content. Also, ConvertKit cuts the number of emails you can split-test at two at a time, so you might feel limited there compared to what MailerLite offers.
MailerLite's email builder is also sleek and easy to use. Another neat benefit is you can also use Rich text and HTML to build custom emails. If you go the email templates route, the platform automatically takes you to the drag-and-drop editor.
From the drag-and-drop editor, you can add different elements such as changing color and text font (which ConvertKit does not support) to further customize campaigns to match your branding. MailerLite combines a file manager and photo editor combined to make the entire process fluid. You can upload images from your computer or import them from a URL.
Ones you have done that, you can choose to save the new email as a template for future campaigns. In the future, you can then click on 'Recent Emails' to access and re-use that email. You can still decide to customize the email if you wish and MailerLite supports that, too.
Where ConvertKit really shines, though, is you can create an email right inside the ConvertKit automation builder—without slowing the builder down.
That means you do not have to exit one to edit the other. You can complete email building, automation building and visualize your marketing campaign and email automation from one clean interface.
A sidebar is rich in customizing blocks awaits. You can use the drag-and-drop editor to move blocks to add content such as product columns, videos, and social links to your email.
You can't add video blocks when using ConvertKit vs MailerLite. When you click 'Done Editing', you'll land on another page requiring you to select your groups or segments. After editing your recipients' options and click forward, you'll finally land on MailerLite's 'Schedule Page'.
The page gives options regarding when to send out the email; at a set time and date, right away, or according to your audience's local time—a neat advanced feature reminiscent of ActiveCampaign, Drip, and ConvertKit. And a handy one you will find missing in Aweber.
That means you can easily time your emails to arrive in your recipients' inboxes at opportune times when they are most likely to open, click, and convert.
And just before you leave the page, you can click on the mobile icon towards the top right to check how your email will appear on mobile screens—a nice feature to have although even if you wanted to edit how it looks there isn't anything else you can do rather than just retreating back to the email builder and re-crafting your email over again.
Once you are completely done, you can confirm so, MailerLite will add the email to your automation workflow so you can see how the email integrates into your plan.
With ConvertKit, you create emails within the automation builder, which makes it super-efficient because:
You do not have to exit one builder to work on the other like you have to contend with when using MailerLite
You can keep track of the context in which you want your emails to integrate into your workflow automation and what impact you can achieve. You'll get to see this in real-time, which is awesome
The dual function achieved through the ConvertKit automation builder is seamless and still feels more fluid than creating on MailerLite—although slightly.
Forms and Form Builder Tool
Creating forms is the way to onboard subscribers. And having the ability to create great webforms can help you convert more browsers to loyal subscribers, leads, and customers through opt-ins.
What ConvertKit will help you accomplish is to use several form building tools to create popups, landing pages, and more. You can also use MailerLite to create popups and landing pages, useful for any marketer.
Popup Marketing Tool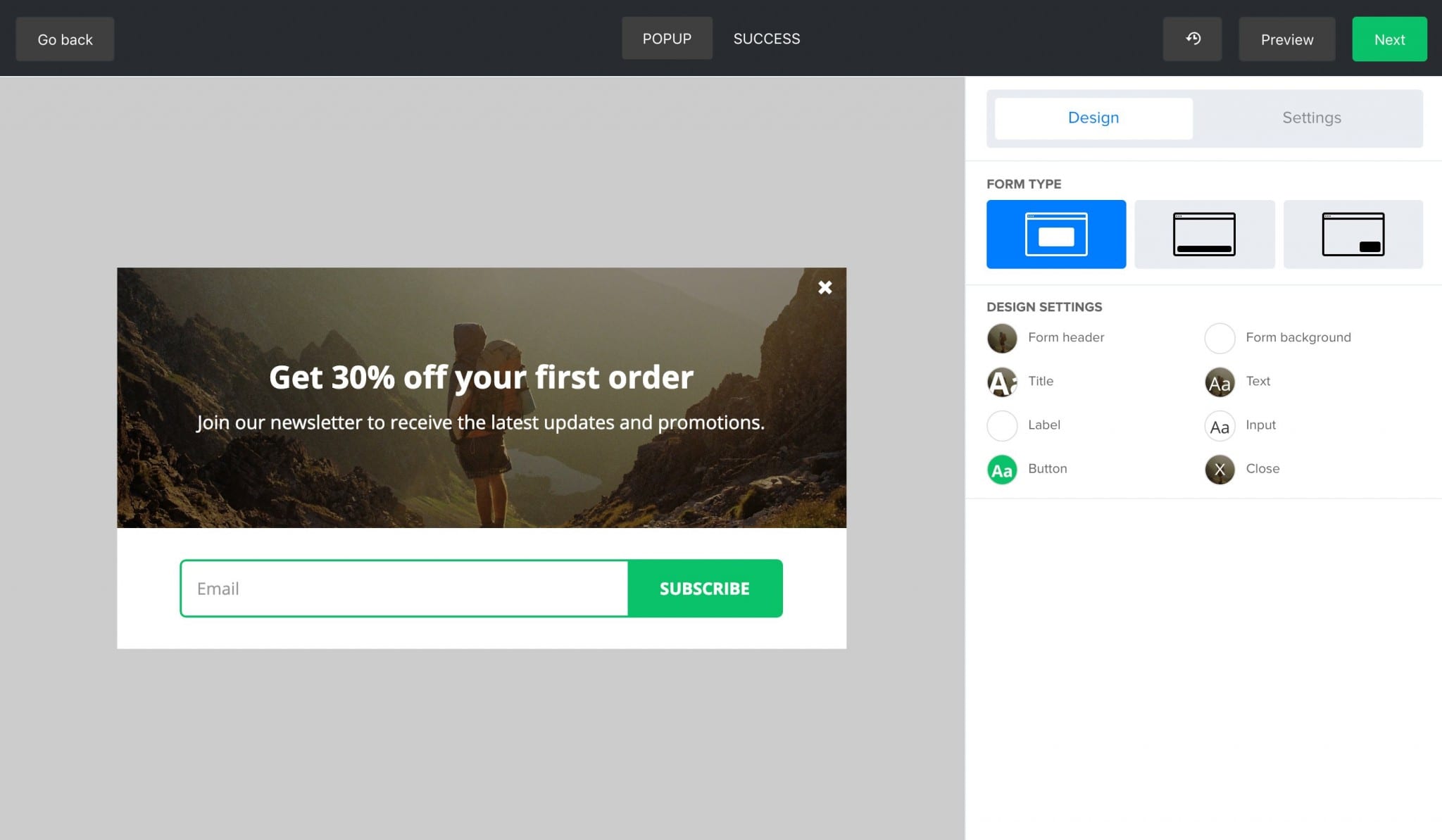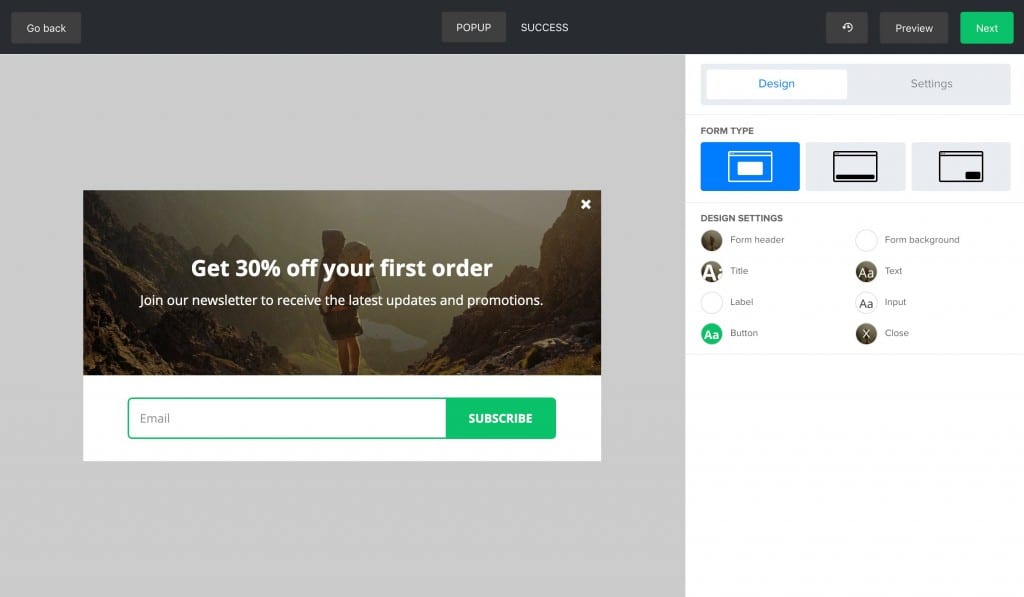 But ConvertKit provides three simple form email template options (Full-screen, Minimal and Simple) as opposed to no embedded form templates at all by MailerLite.
If you depend on templates to make crafting your embedded opt-in forms easy and fast, you might not like that about MailerLite vs ConvertKit.
Where MailerLite provides a couple of modern email design styles is popups. You can use MailerLite to create clickable email popups. You can choose one out of four email design styles; e-commerce, travel, design shop, and full-screen. MailerLite popup forms are customizable beyond what ConvertKit will allow you, too.
You can change their background image, color, close icon/mechanism, text, label, button, title, and input. If you want to customize ConvertKit form templates, you can. But you'll need to tinker with CSS, which not everyone can or wants to deal with. And while you can change colors, you are stuck with the same text font for all forms.
MailerLite also uses a similar prompt if you use the free plan. Upgrading to a paid plan will eliminate it, though. You can use both email marketing automation providers to create bog-standard embedded forms, though. Still, you can add or change various elements such as subject/form title, input fields, button, and background.
Both email services also added GDPR compliance prompts that you can use on your forms to encourage sign-ups. And you can also design a custom subscription page in either platform to welcome your new signee.
With MailerLite, you'll be able to create a success page (confirmation page) that replaces the embedded form so you can keep your new subscribers from redirecting. A sleek ConvertKit hack you can use is its double-opt-in for lead magnets.
Here's the thing:
When you want to convert more visitors to subscribers, the last thing you'll want to do is make it tough for them to get over with entering their contact details—by 'demanding' too much information right out the doorstep of your developing relationship.
Instead, you'll want to reduce the number of form fields on the lead magnet opt-in popup.
But because asking a few more questions means you'll learn more about your subscribers, you know that a few more fields can lead to better quality subscribers. To strike a balance between subscribing and bouncing, ConvertKit automatically handles it by making it possible to opt-in a new subscriber when they enter their email address to download your lead magnet.
Another good thing about this is, unlike Aweber and MailChimp, you will not have the system register an individual subscriber as two subscribers because their action has set off two automation triggers. That also means you can save more in quota/subscription money when using ConvertKit.
You can achieve a lot with just the email marketing platform instead of having to subscribe to a dedicated, third-party tool like Thrive Leads to get your popups working in decent splendor.
Landing pages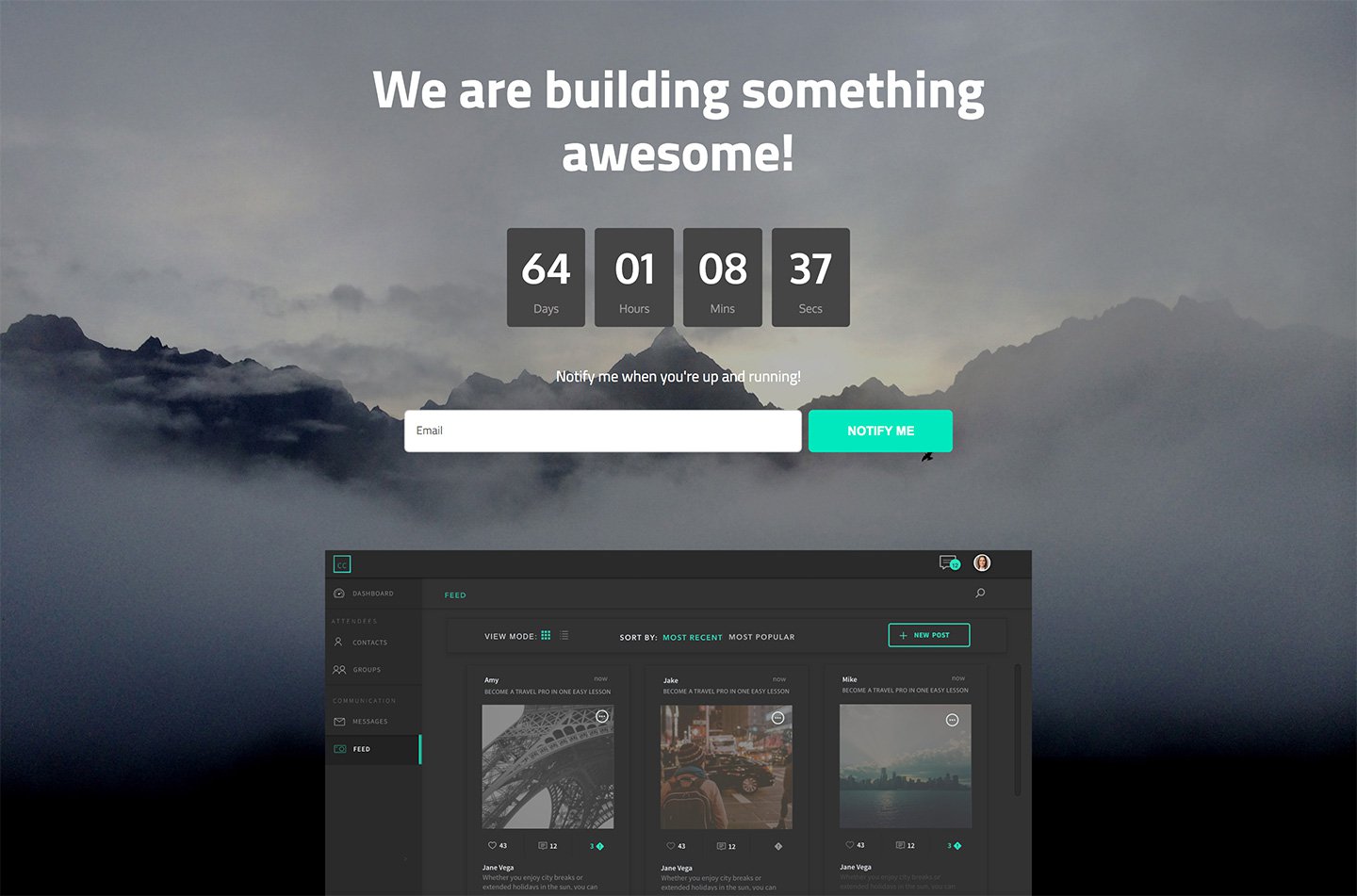 Unlike the likes of Aweber and Sendlane, you can use ConvertKit or MailerLite to create custom landing pages for specific campaigns to encourage more conversions.
Like it does with its email builder, MailerLite will help you create landing pages aimed to convert. It does that by enabling you to add conversion-oriented email tool options such as demos/videos, social media links, and countdown timers right on the page.
You can use the landing page however you want. So if you are running a time-sensitive offer, launching, or cementing your PPC campaigns' base, you can.
You'll have 10 sleek landing page templates by MailerLite. Expect 17 sidebar blocks you can use to customize your templates and make them irresistible to your target audience. The blocks include adding a gallery, dividers, and videos.
While ConvertKit offers fewer landing page templates than MailerLite, the landing pages are customizable to a good extent—compared to the two landing page templates MailChimp now offers. You can change the templates' colors and styles to match your branding. Otherwise, customization is limited here.
So if you are just getting started, and do not need to chip into your pocket to clear a third-party landing page builder subscription, you can use this for some time. But if you already reached a point where you need specialized landing pages and conversion tools, you can look beyond MailerLite and ConvertKit to the likes of LeadPages, Instapage, or GetResponse.
MailerLite vs ConvertKit Automations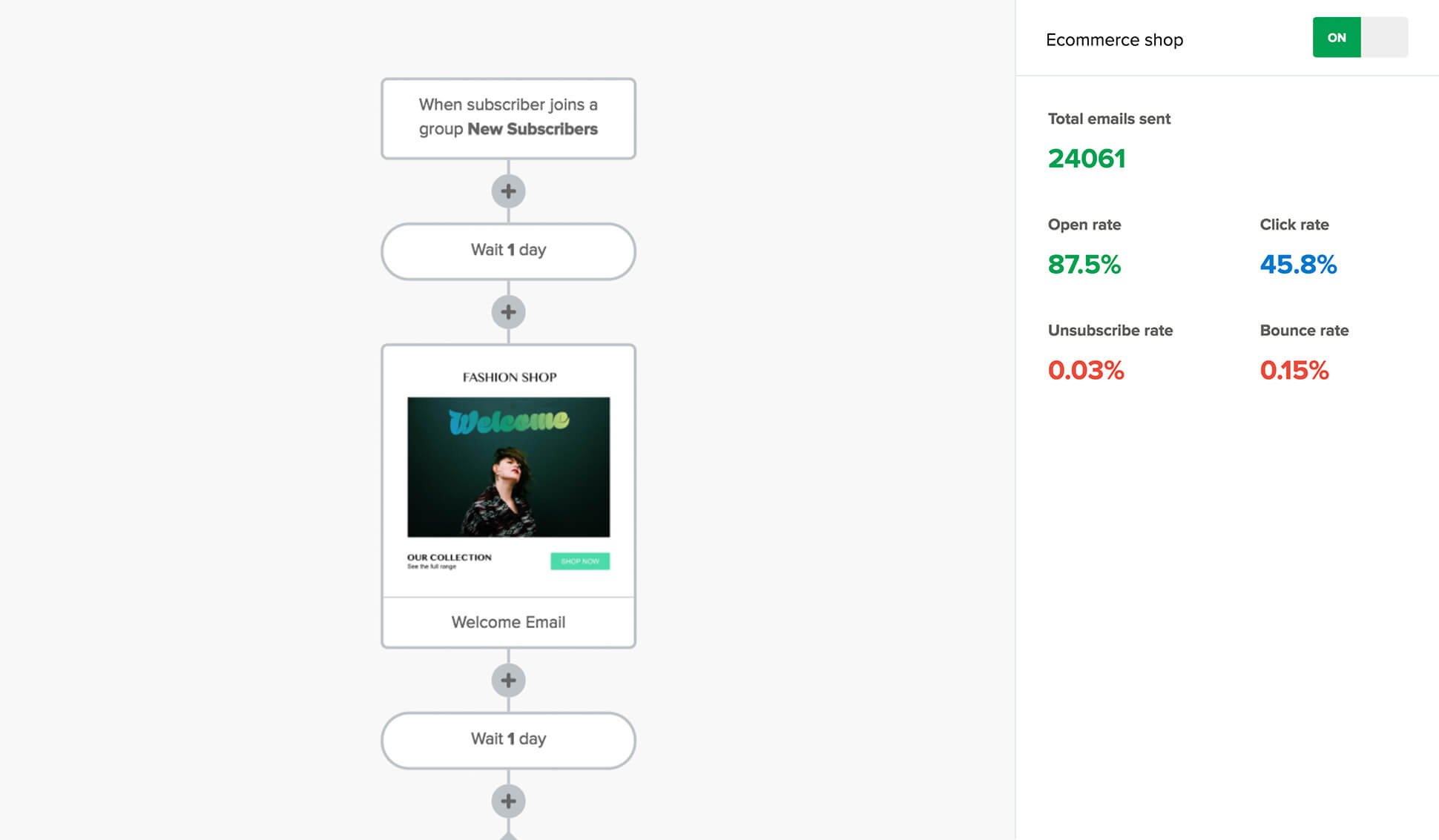 As reviewed earlier, you can use MailerLite's Groups and Segments or ConvertKit's Tagging and Segments to create the basis of your email marketing campaigns. Whether you are just getting started with workflow builders or coming from a sophisticated visual workflow builder, you'll find MailerLite and ConvertKit visual automation feature easy to learn and use.
The secret to that is that both are clean and simple. You'll just need to set up triggers so you can start to add steps to your workflow. Now, if you are coming from a more sophisticated email automation service such as ActiveCampaign or Drip, you might feel MailerLite and ConvertKit are lacking.
For example, here are the four triggers you'll get to exercise if you choose ConvertKit to create autoresponders and more: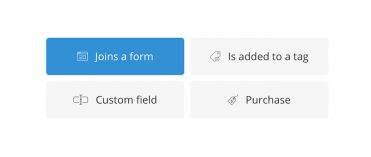 Compare that to ActiveCampaign:
ActiveCampaign monster tagging and segmentation tools.
Now compare ActiveCampaign again to MailerLite: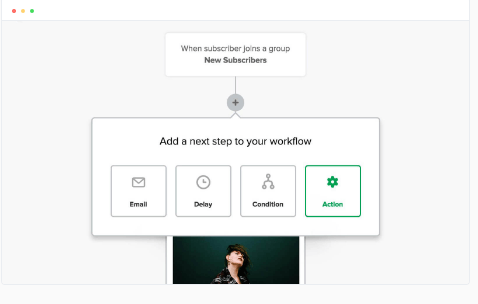 There are four steps to get your email marketing automation campaign pumping here: Email, Condition, Delay, and Action. And now check out this example MailerLite automation to see if it may fit your needs: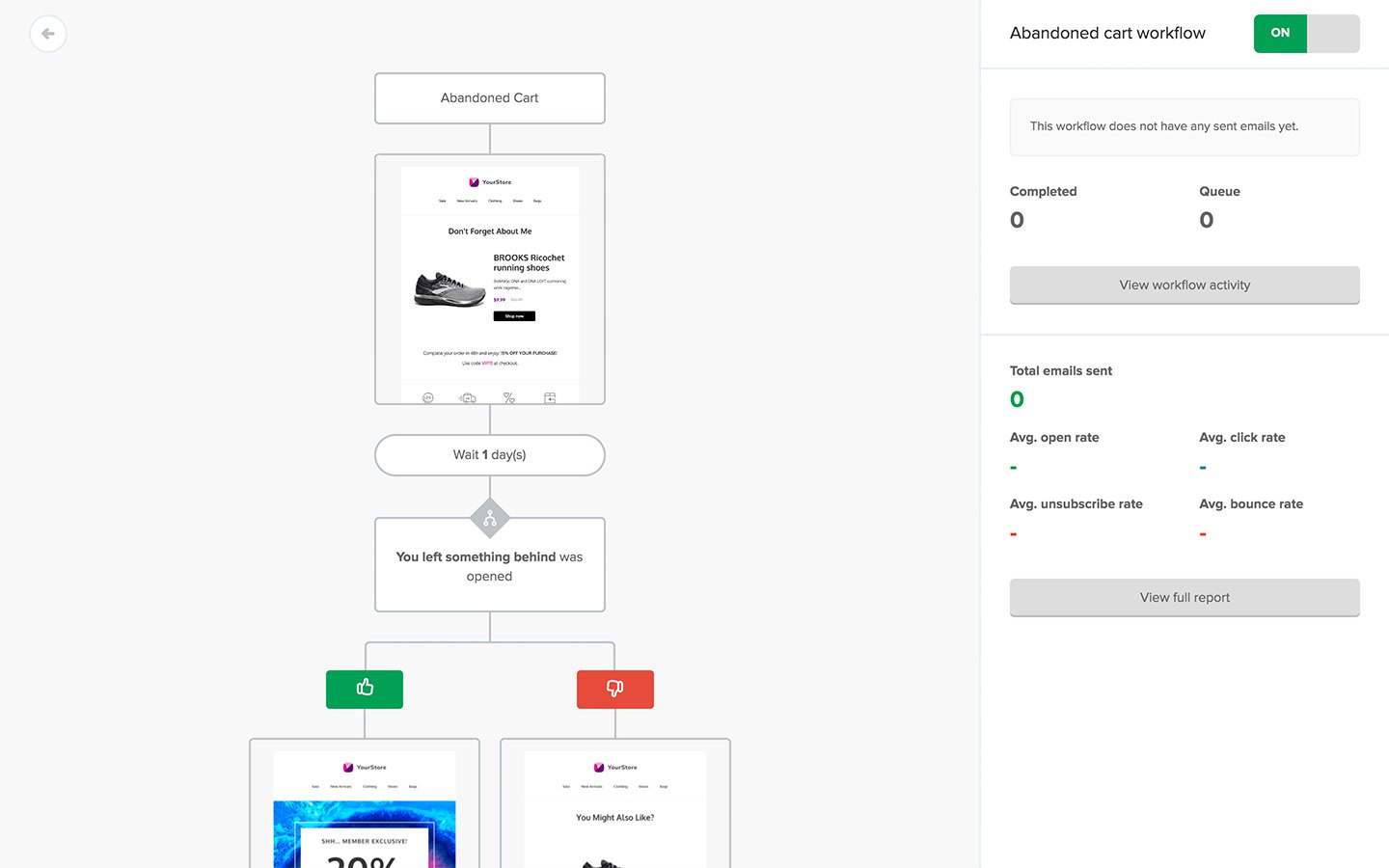 You will not have much choice if you need precise features such as the ability to set up goals and splits based on a customer's behavior. You will not get site tracking here either, but…
…MailerLite provides a Click Map that is also not as detailed as you'd find in SEMrush.
Neither can you use the automation feature to transfer your subscribers to another automation like you would with a top MailerLite alternative… So, what about ConvertKit automation, how does it stack up? Let's start with a visual look at what each of the ConvertKit automation steps helps accomplish:

What a ConvertKit Event does

What a ConvertKit Action does

How ConvertKit Condition works
While it is not as deep as the Drip or ActiveCampaign email marketing tool, as earlier mentioned, ConvertKit's workflow builder is not only snappy but also combines email creation and automation.
That way, you can have everything in one screen with a live preview of how your automation email sequence would look like so you can customize the content accordingly.
Here's what that looks like: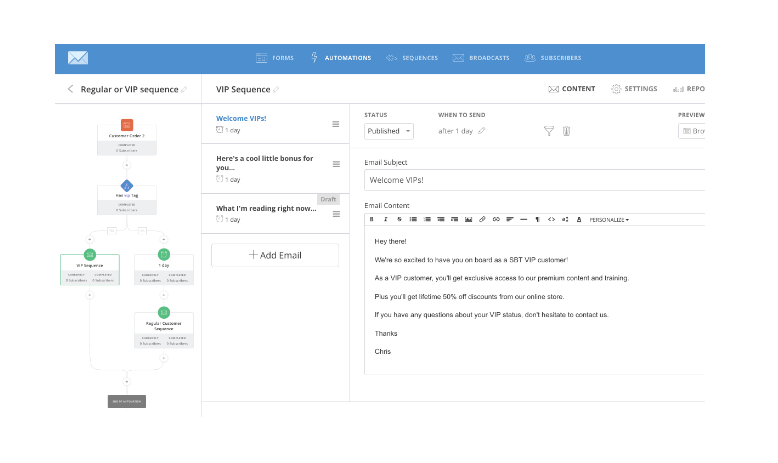 Neat! Now take a look at this example ConvertKit automation for selling an email service: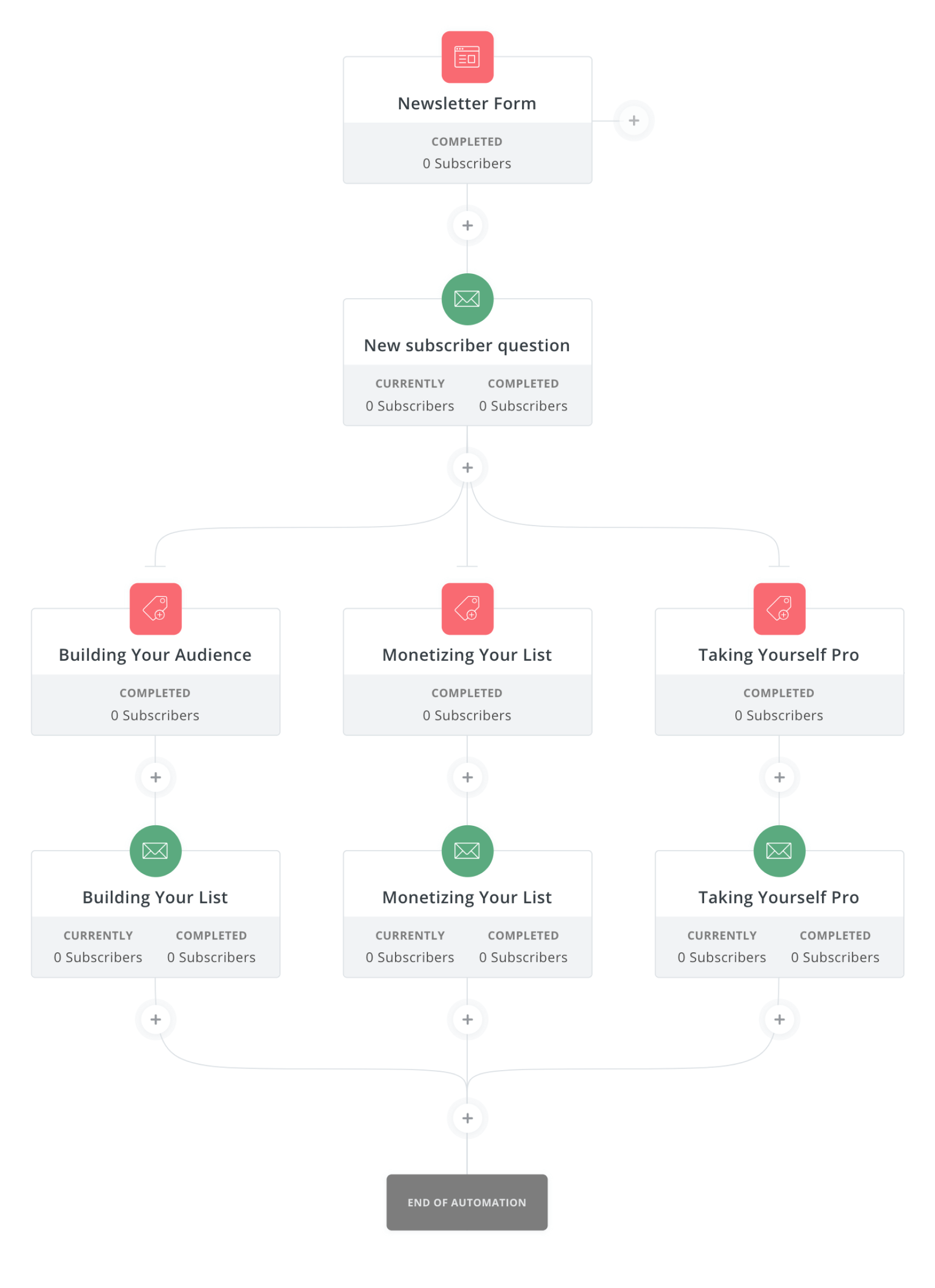 So if you need an easy to work with email provider that offers more advanced sequencing, ConvertKit might be it.
Email Marketing Tool Integrations
When it comes to integrating your choice of best email marketing service with your other online marketing tools, Mailerlite and ConvertKit both will serve you just fine.
Plus, not only do both integrate with Zapier (hence hundreds of other applications/zaps) but each one also offers a developer API, so you can build custom applications to ease and make your integration efficient.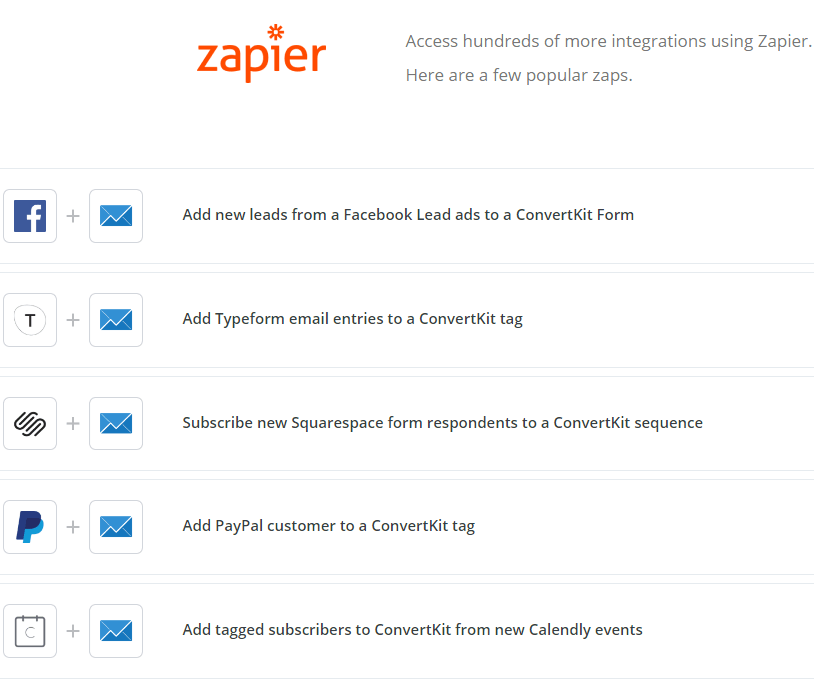 The trick is to checklist what you need or already use elsewhere before signing on the dotted line with either email automation platform. But here are just a few notables that you might find useful: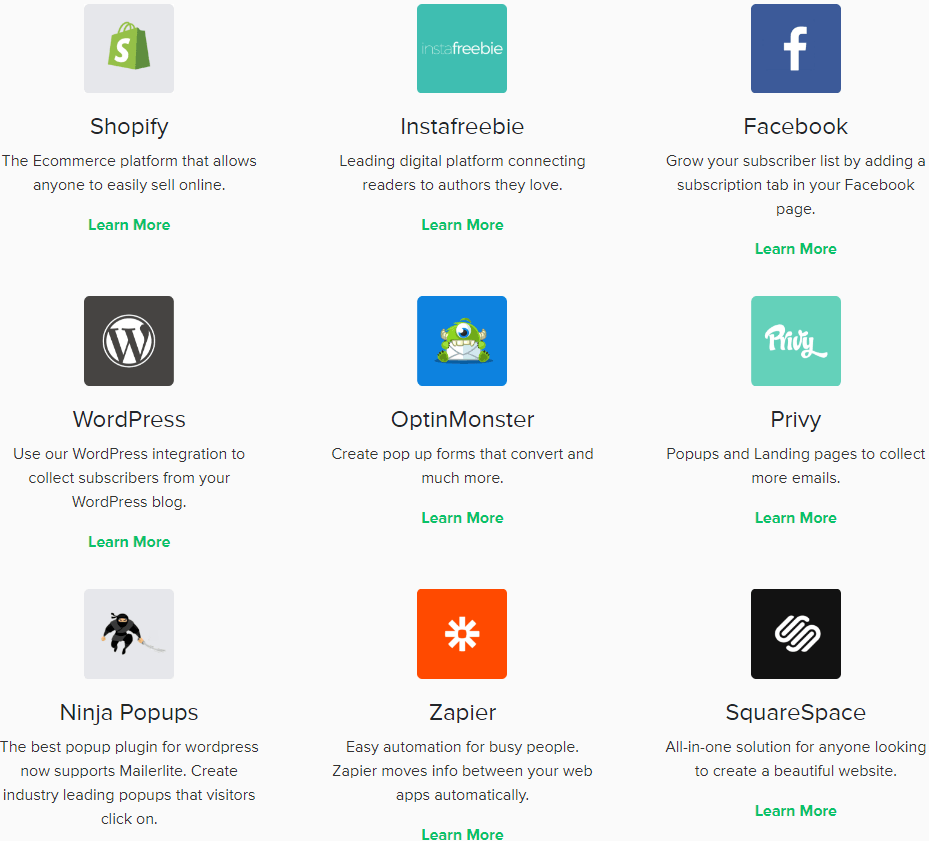 MailerLite also supports WooCommerce, Bloom, WP Subscribe Pro, and Sumo.
What can you expect from ConvertKit?
First and foremost, E-commerce, webinar services, as well as membership and course integrations, Shopify store, Demio, and Teachable, respectively. Or you can search for your favorite applications from over a dozen or so integrations categories.
Alternatively, you can browse to find an integration you like such as the ones shown here: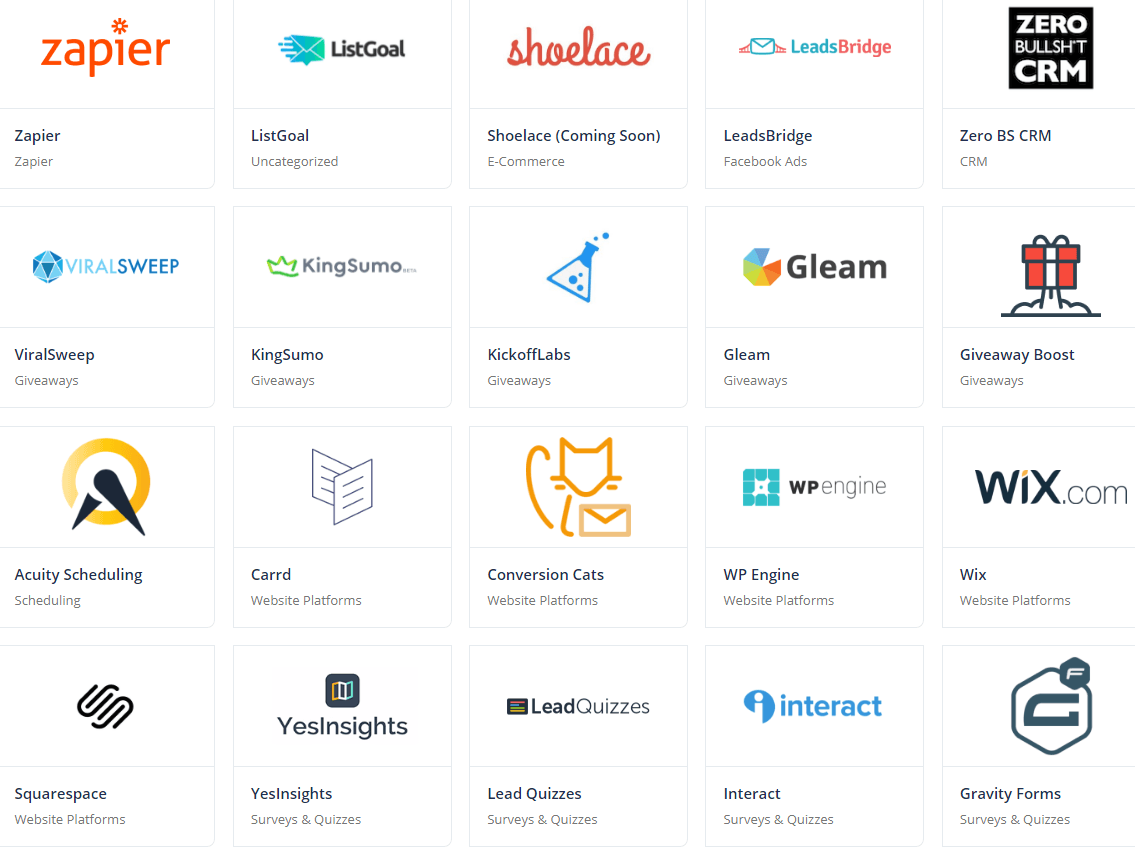 MailerLite vs ConvertKit: Pricing
And here it comes…
MailerLite is decidedly the more affordable email marketing and automation service here, so if you are just starting out and do not have loads of cash to splash on email marketing software, MailerLite may be worth your consideration.
It could be the ConvertKit alternative is still building a portfolio of clients for now only to change its pricing tiers in the near future after gaining ground against competitors. Or perhaps MailerLite pricing will remain the same for the longest time.
Here's a shot showing how affordable MailerLite really is for the bunch of power features you'll get: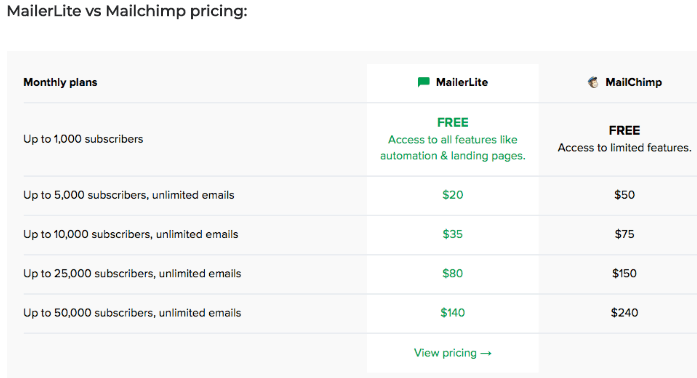 There's more… If you choose the annual plan, you'll get a further 30% cut. Compare that with ConvertKit and the top ConvertKit alternatives around:

Here's the full ConvertKit pricing tiers breakdown: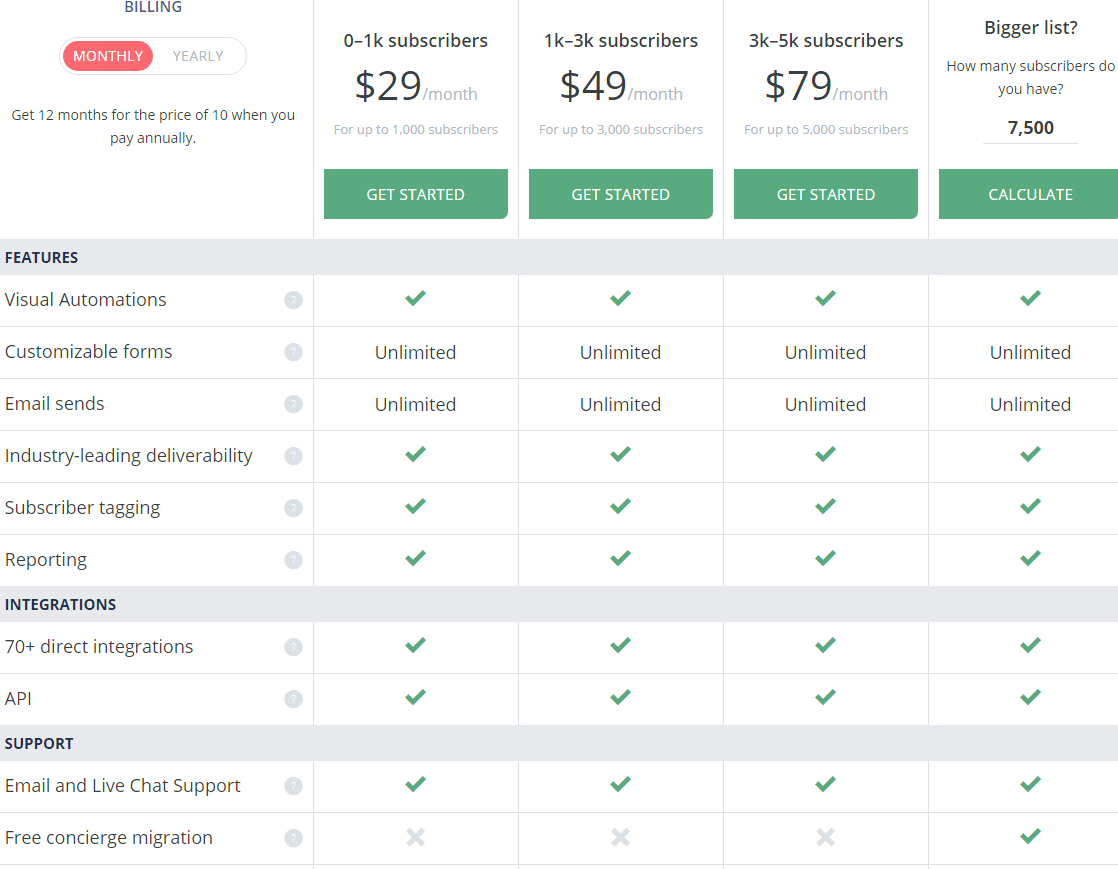 You'll want to compare that to MailerLite pricing right here: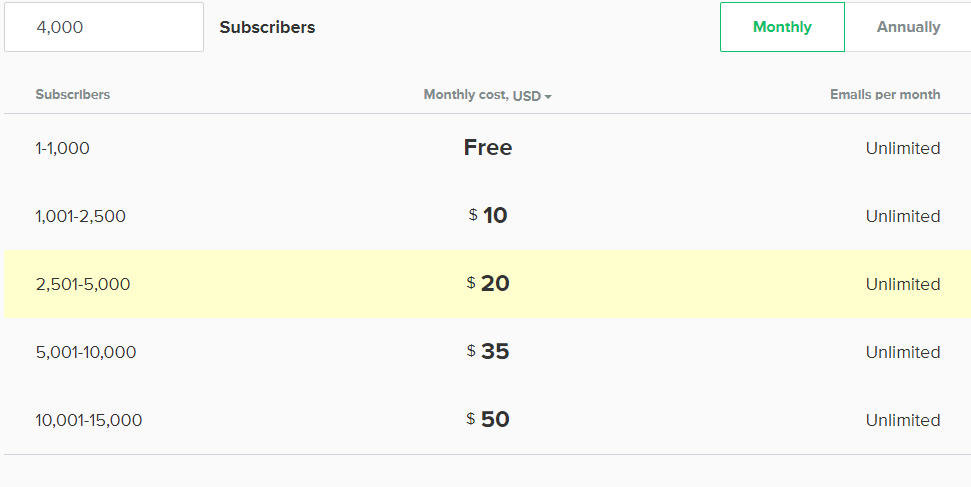 All MailerLite plans include unlimited emails and access to all features—including premium ones.
FAQs about MailerLite and ConvertKit
Question: Is MailerLite any good?
Answer: Yes, MailerLite is a very good and free email and newsletter software that will help you create engaging emails and campaigns, and on the plus side, you can use it for free, until you have 1000 subscribers, which most other similar software don't allow.
Question: Is MailerLite better than MailChimp?
Answer: MailerLite is better than MailChimp in many different fields including allowing better pay rates, better automation and templates, and more modern design, but the reporting feature of MailChimp clearly wins here.
Question: Does MailerLite integrate with Wix?
Answer: Yes, MailerLite integrates with Wix, and it's very easy to connect them together once you have your domain and email matched up with Wix, then you can go to the official site of MailerLite and sign up for this change.
Question: Is ConvertKit easy to use?
Answer: Yes, ConvertKit is very easy to use, even if you are a beginner and you have never created landing pages, campaigns, or emails of any kind. There are already created samples, so you will only have to do the writing.
Question: Does ConvertKit have a free plan?
Answer: Yes, ConvertKit has a free plan which you can use until you have 1,000 subscribers, but this is limited and lasts for a month. That's a determining factor for many new businesses who want to save on email campaigns etc, at least until they have an audience to target.
ConvertKit vs MailerLite Service Provider: Conclusion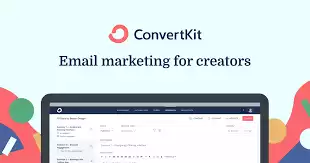 I Personally Prefer ConvertKit
ConvertKit was built for content marketers. That's me! Advanced email automation, sleek pre-built templates, and a dead simple user interface. Because of these factors, I highly recommend ConvertKit for MOST readers here.
Try ConvertKit First
Save 30% for Black Friday!
We earn a commission if you click this link and make a purchase at no additional cost to you.
MailerLite may be the more affordable email service here but it could be you prefer ConvertKit for its more advanced automation builder and lead magnet double opt-in tool benefits.
Perhaps you want the contemporary email and landing page templates that MailerLite offers. Still, you might be more interested in the ConvertKit because you can create branched automations to encourage individual subscribers to take the next step in your email marketing funnel.
It is all dependent on what you'd like to see your small business do better in. So only you can ultimately decide the best email marketing software between ConvertKit and MailerLite.
Bottom Line: I personally much prefer the user-friendly workflow automation with ConvertKit here, (particularly if you use content marketing and/or are a blogger or leverage blog post based distribution) but if price is your primary concern, going with MailerLite is a good option for a very capable email marketing service.
Over to you. Which one will be for you?
Further Reading on Email Marketing Tools