Last Updated on January 11, 2023 by Ewen Finser
Email marketing service providers have become a must use platform for all industries in the 21st century.
Their need has seen a number of companies popping up offering similar and different interfaces to suit user specific needs. However, this has also seen a rise in cutthroat competition between each of these email service providers.
To help you choose a firm that offers services that suit your business/company better, today we pit two titans against each other in an in depth analysis: ConvertKit vs Constant Contact comparison.
My Bottom Line Up Front Summary:
Main Differences Between ConvertKit vs Constant Contact
The main differences between ConvertKit and Constant Contact are:
ConvertKit has more advanced email automation features compared to Constant Contact
ConvertKit offers pre-built landing page templates, whereas Constant Contact does not
Constant Contact has higher email deliverability rates than ConvertKit
Constant Contact has Live Chat support, whereas ConvertKit does not
Constant Contact is generally more affordable than ConvertKit
ConvertKit is specifically built for bloggers, whereas Constant Contact targets traditional small business owners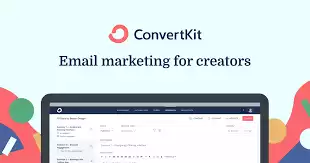 I Personally Prefer ConvertKit
ConvertKit was built for content marketers. That's me! Advanced email automation, sleek pre-built templates, and a dead simple user interface. Because of these factors, I highly recommend ConvertKit for MOST readers here.
Try ConvertKit First
Save 30% for Black Friday!
We earn a commission if you click this link and make a purchase at no additional cost to you.
ConvertKit is perceived to be most basic tool for email marketing automation. The Nathan Barry concept of email marketing with marketing automation capabilities is great, but unfortunately limited in some areas.
However, due to its fair price, ease of navigation and an unmatched user-experience, ConvertKit is preferred mostly by YouTubers, bloggers, podcasters and solopreneurs.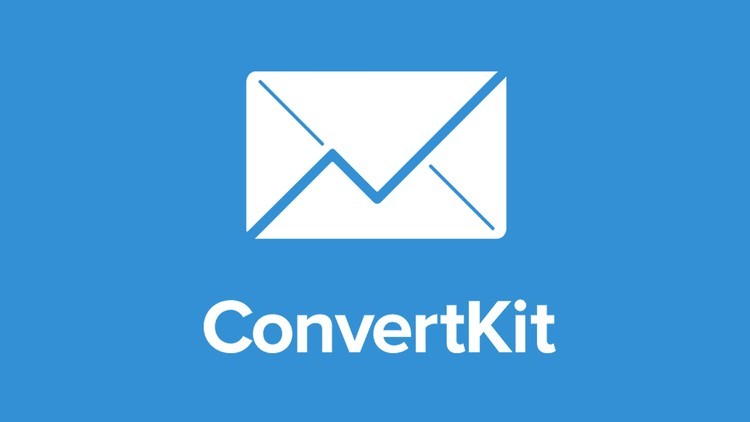 Marketed as an email marketing platform for basic automation, ConvertKit is offers a simplified email sequence builder. It only allows users automate email delivery and audience segmentation.
Remember, this is a platform built for people with content-focused niches. Email marketing automation is its core business. Unlike ConstantContact, ConvertKit comes with a minimal set of features which appeal to an even smaller number of clientele.
Though it may have lesser features, the ones it carries have been tailor-made perfectly to satisfy the target audience.
ConvertKit Features
With a narrow focused target audience, its list of features is smaller and more drawn towards providing better user-experience – something Nathan Barry does really well.
Though ConstantContact has features that are more magnanimous, these features are designed to help infopreneurs get their information out without much fuss.
High-Quality Opt-in Forms: As opposed to its rivals, ConvertKit has built-in opt-in forms (with double opt-in support) that are stunning and mobile responsive. They covert well because they are integrated as a main feature.
Email Integration: The biggest feature by far. ConvertKit solely focuses on email marketing. Each of its tools helps the user capture, design and send automated emails.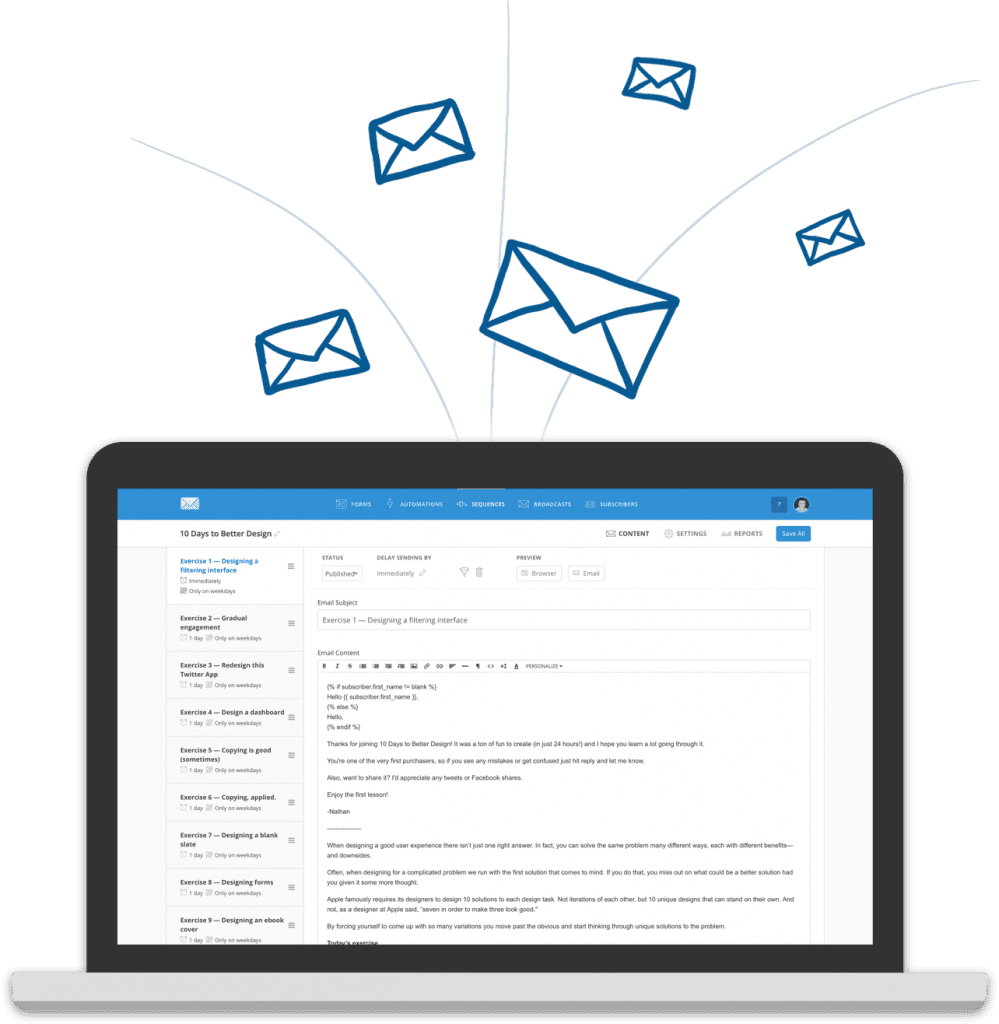 This feature comes with form builder, landing pages and an email opt-in builder. This initiative covers the whole email capture process. Bloggers and the rest of the target market loves this feature since it makes creating and sending emails simple and fast.
Content-Creation Friendly Capture tool: Created by a blogger (Nathan Barry), ConvertKit offers some the best, blogger-friendly email capture tools.
Bloggers using WordPress can simply install the ConvertKit WordPress plugin, this makes it easy to customize post-specific opt-in forms from an integrated drop down menu.
Design posts can be customized to have Photoshop templates as the lead generation feature or what some call the "optin bribe". Marketers already know that having such a lead generation feature is a great way to get lots of subscribers fast.
Email Sequence Builder: This is the core of the ConvertKit marketing software. As opposed to ConstantContact drag and drop template builder, this platform presents its users with a text-focused email editor.
Bloggers and other content creators find it easy to create effective emails since the features makes it seem like they're creating a blog post.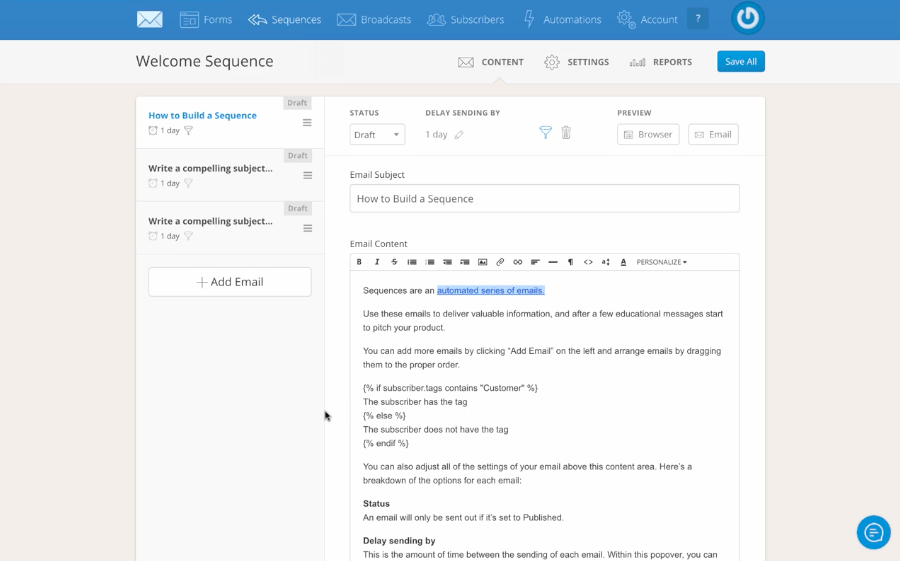 The sequencer has been designed to feature the number of emails in sequence. Moreover; users have the ability to rearrange the sequence by dragging the emails.
What makes ConvertKit stand out when it comes to automated emails is the way you can use tagging and segmentation to make your emails laser-targeted. Properly targeted emails can help skyrocket conversions.
Landing Page editor: With an in-built visual landing page editor, ConvertKit allows users to alter design patterns, customize texts among other things quickly and without any effort. The customization ability is significantly low as this feature only carries four in-built templates.
Changing the CSS is the only option that allows users to customize the landing page to make it their own. To make ConvertKit more attractive, the platform's landing pages are available in the user's domain so that they can maintain the consistency of their brands.
ConvertKit also offers a wide variety of Zapier integration options which you can see here.
Email Broadcasts/Segmentation
Broadcast emails come in handy when ConvertKit users create and send out one-off emails. As stated above, their segmentation abilities are out of this world for a system that comes at their current price.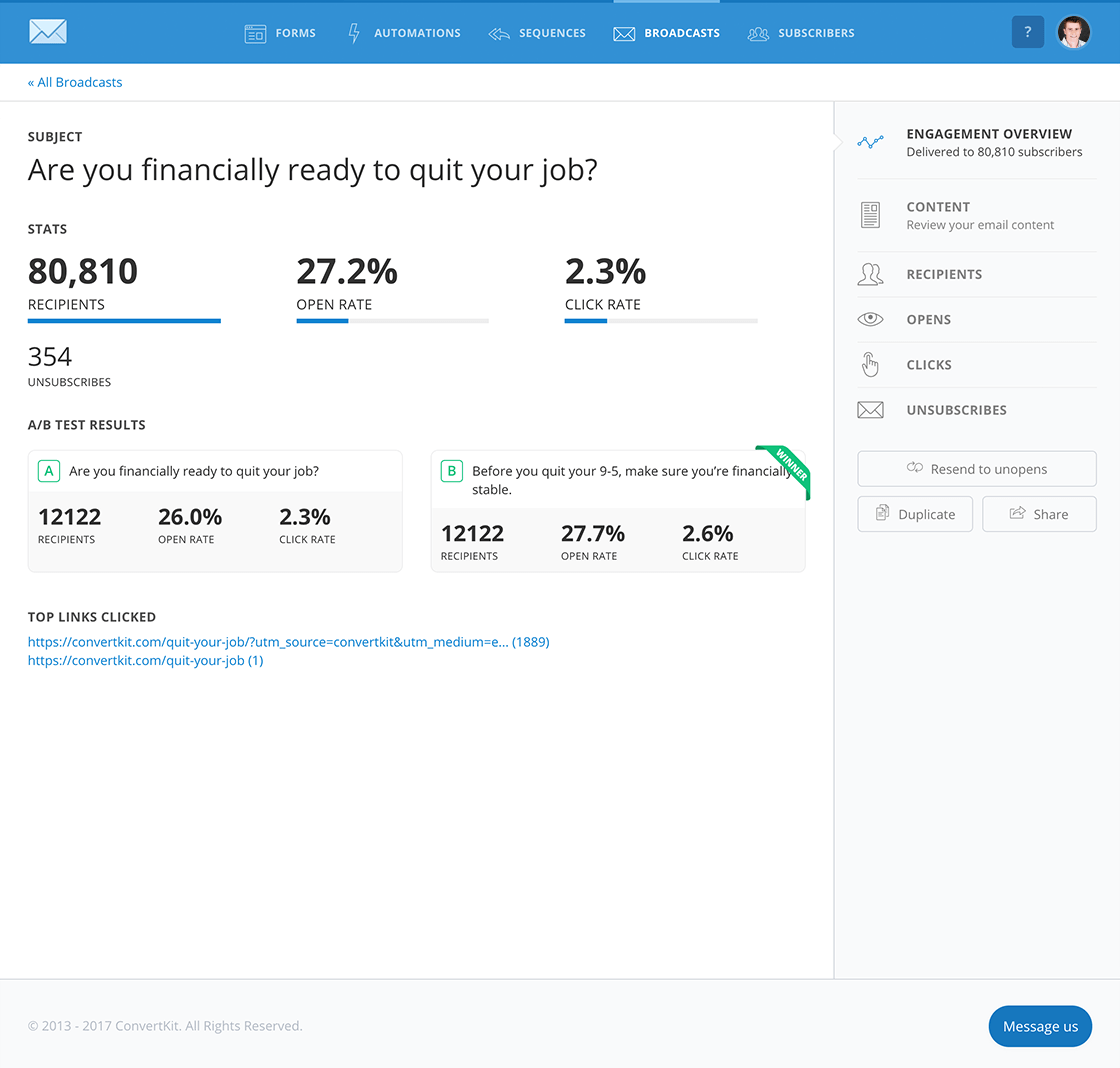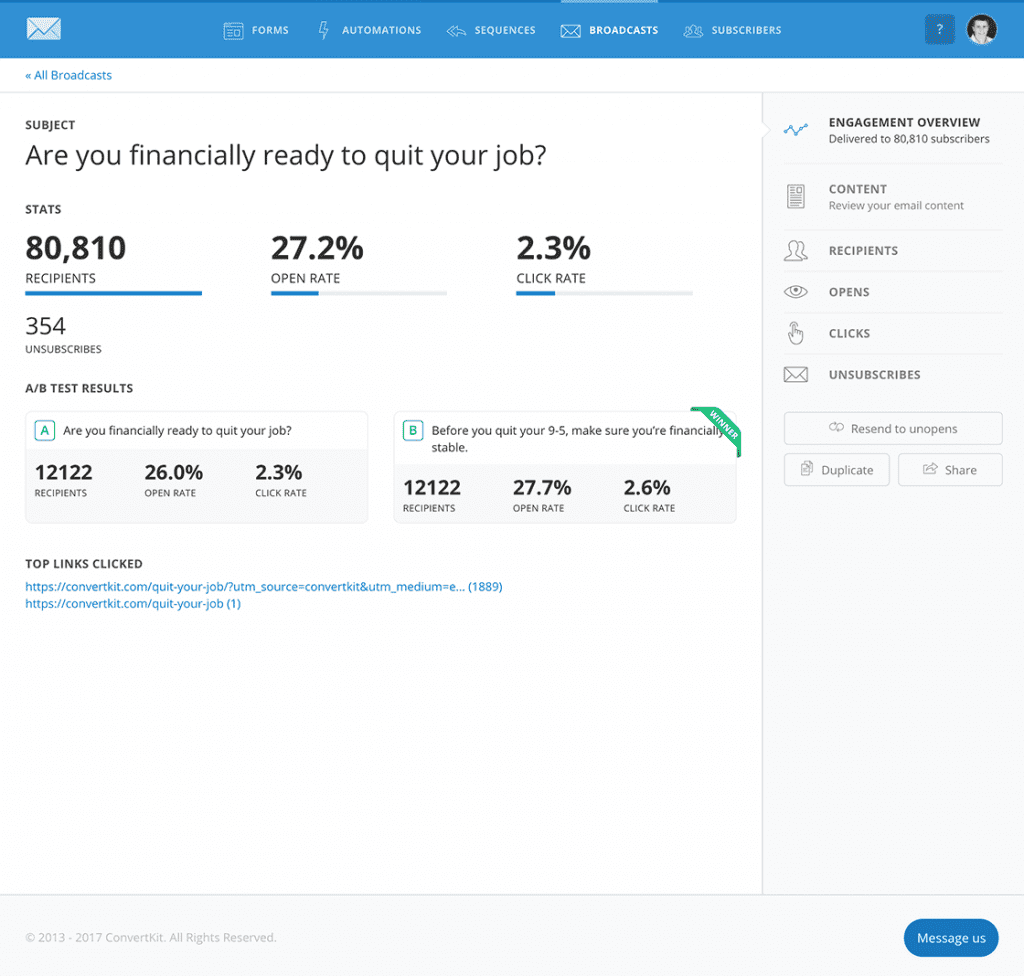 Here, you can classify an audience based on a few parameters such as; purchases, email opens, new subscribers and many others. These segments are saved in this platform for future targeting.
Simplified and Effective Marketing Automation and Autoresponder Sequences
As opposed to what ConstantContact and other platforms offer, ConvertKit integrates a user friendly trigger-based automation builder.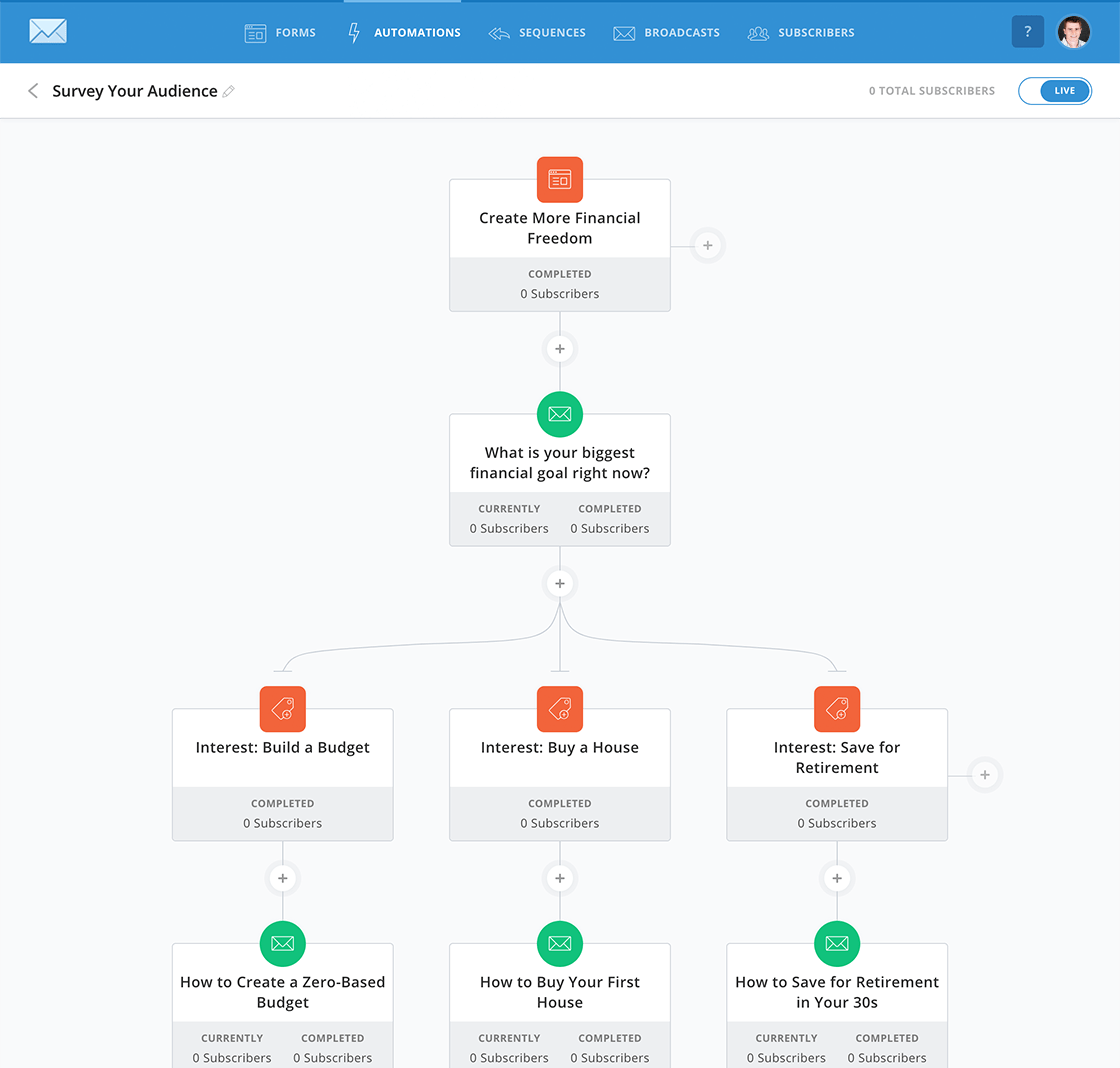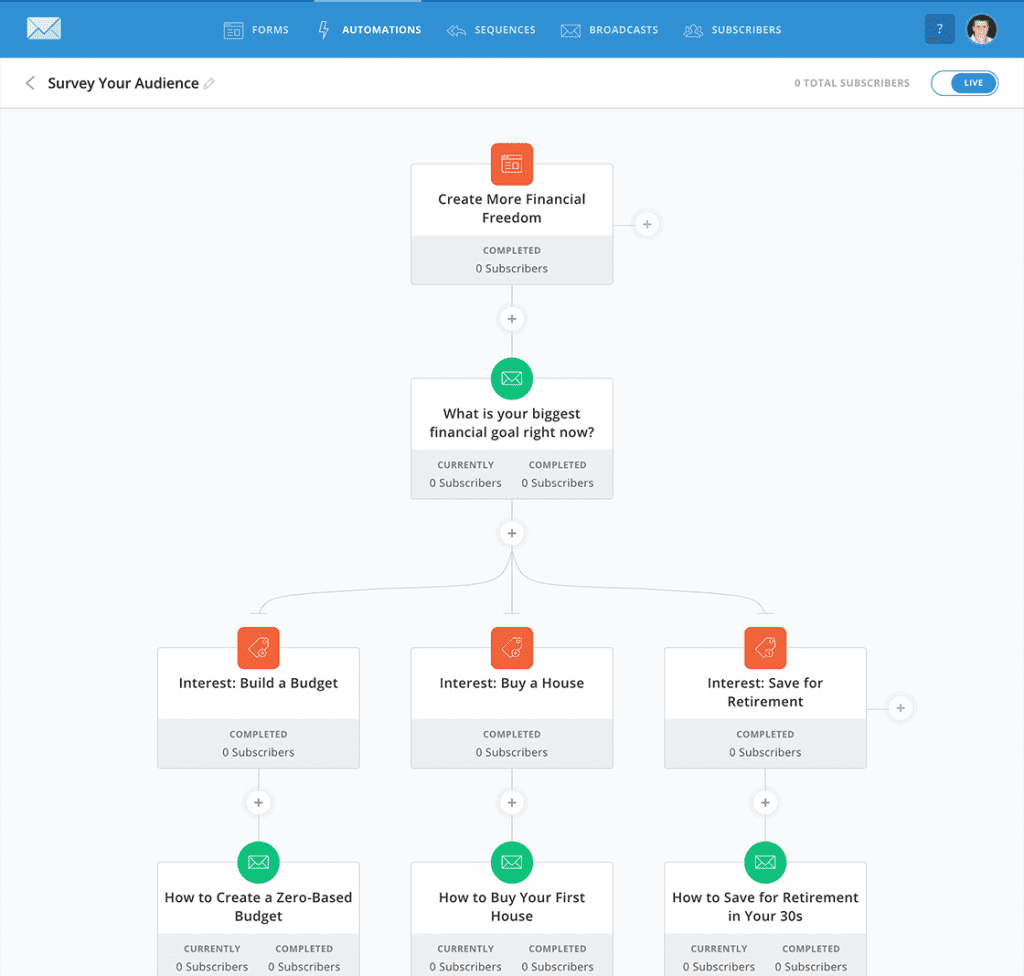 Users can define events leading to particular pages or specific forms after taking an action. The platform allows for a fast, effective and unlimited automations.
ConvertKit Pitfalls
As is everything else in the world, where there's good, there never lacks some degree of bad.
Here are the two biggest ConvertKit cons:
Unfortunately, Nathan Barry didn't consider the built-in analytics as a top feature. Users feel short-changed as they get minimal insight on how their email and sequences are doing.
Since they can't tell whether email subject lines are engaging or if the opt-in form is making any significant difference, users have to study the tedious Google analytics to access this data. This doesn't augur well with most users.
The lack of features such as shopping carts, social apps integration, CRM, drag-and-drop segmentation among others makes this platform unappealing to would-be users, especially not in the content-creation niche. Those coming from high-end CRMs such as HubSpot and InfusionSoft may have a hard time working with ConvertKit
The $29 m/o charges (for 0-1k subscribers) feels a little expensive for just email usage, especially for absolute beginners. That's currently their lowest-priced option. They also have a very short free trial, running for only 14 days as a free plan while its competitor, ConstantContact, goes for up to 60 days.
However, given that it's a niche interface, some may prefer it as it is without what they call unnecessary additions.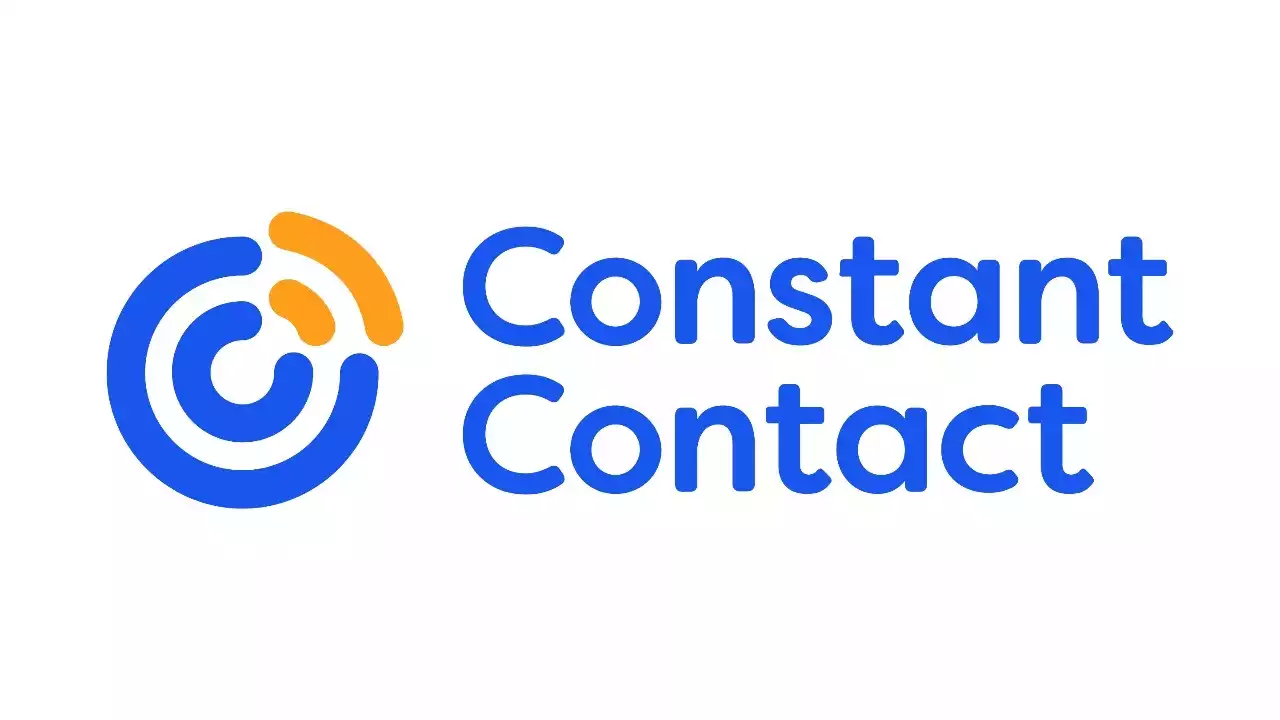 Email Marketing and More, Made Easy | Constant Contact
Whether you're launching an email marketing campaign to engage customers, building an awesome website in minutes, uploading products to your online store, and more, all in one place.
Get 40% Off Now
We earn a commission if you click this link and make a purchase at no additional cost to you.
ConstantContact offers a wider range marketing applications and solutions compared to ConvertKit. These tools are aimed at helping SMEs and nonprofit organizations capture more clients on their mailing lists and forge better relationships.
Features include social campaigns, email marketing, survey management, event marketing, reporting, and offer management among others.
With such an array of features, this platform is much bigger than Nathan Barry' ConvertKit, which specializes in only email marketing and integration.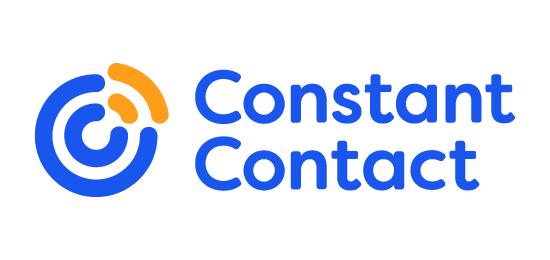 With its email marketing solutions, small businesses on this platform can import customer data from email clients and spreadsheets. Moreover; clients can customize email sign-up forms on social media pages and embedded web pages for the purpose of capturing newer audiences to their mailing lists.
ConstantContact accords users hundreds of customizable templates with easy drag-and-drop elements with real-time reporting features, capturing social shares, click-through rate (CTR), email opens, forwards among many other aspects.
It ensures that users gather contacts from various databases, and adds them in either a singular unified or multiple lists based on certain trigger points without breaking sweat.

To rope in more users, ConstantContact offers one-on-one and online trainings and seminars to help them rope in more audiences and achieve better success.
Unlike its counterpart (ConvertKit) and several other competitors, ConstantContact is not only cost-effective thanks to its flexible pricing, it also provides additional customer service and support, empowering users with more proficiency with the system.
ConstantContact Features
Some of the features that sets this user-friendly interface apart from its peers include:
Event management tools:
A fantastic addition for individuals utilizing email marketing for soliciting attendance to charity events, sports competitions, non-profit events, entertainment shows, and educational seminars.
The Eventspot feature provides users with a plethora of ready-to-use tools to create quick craft email invitations, registration forms, and an event homepage. The online registration takes care of the event management process without the need to manually collect registration info via telephone.
Moreover, users of this feature can integrate a number of payment options in the email's body, prompting attendees to cash in their payments before the event. The feature also allows the user to link the email to Twitter and Facebook pages turning it into an all-around promotion.
Different Templates:
With over 500 properly designed pre-made templates, ConstantContact subscribers don't have to be tech-savvy. You can pick any template that you want from the lot.
The email creation tool is easy to use and it sorts out templates making it easier for you to settle on one that will form the perfect backdrop of your campaign. The templates further divided into niches, informational messages, seasonal and holiday niche, general business promotions, and subdivide further into industry-specific themes.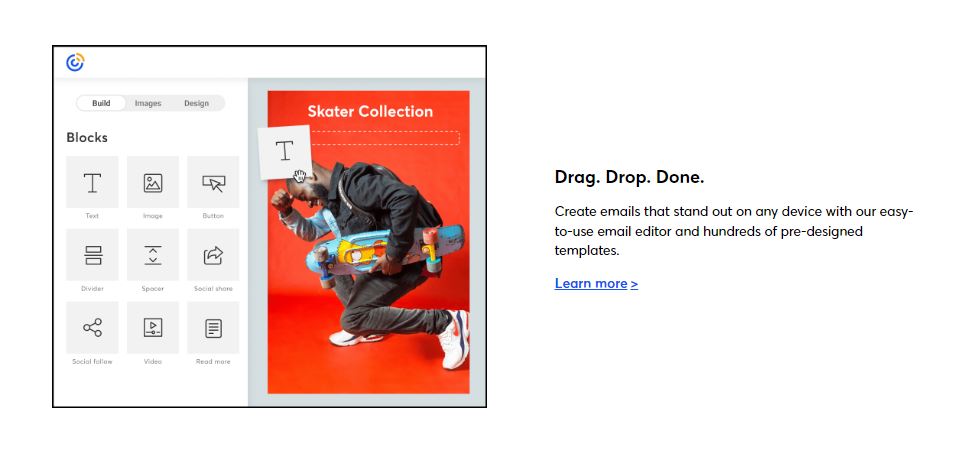 Once you get the correct templates, it gets easier to refine the search by the kind of message you're looking to send. Select a promotional offer, a newsletter, an invitation, or an image showcase.
Add personal images and text through the provided easy-to-use email editor tool to personalize your email. ConstantContact comes with advanced editing functions necessary for building campaigns from scratch.
Social Media Resources:
For social media newbies, ConstantContact Social Media Playbook is a first-rate, easy-to-use tool. It comes loaded with quick simplified videos to enlighten you about the social media world.
Setting up an integral social media campaign is very easy. Users only need to select an email template, come up with a creative call to action, select the targeted contact lists, and press send.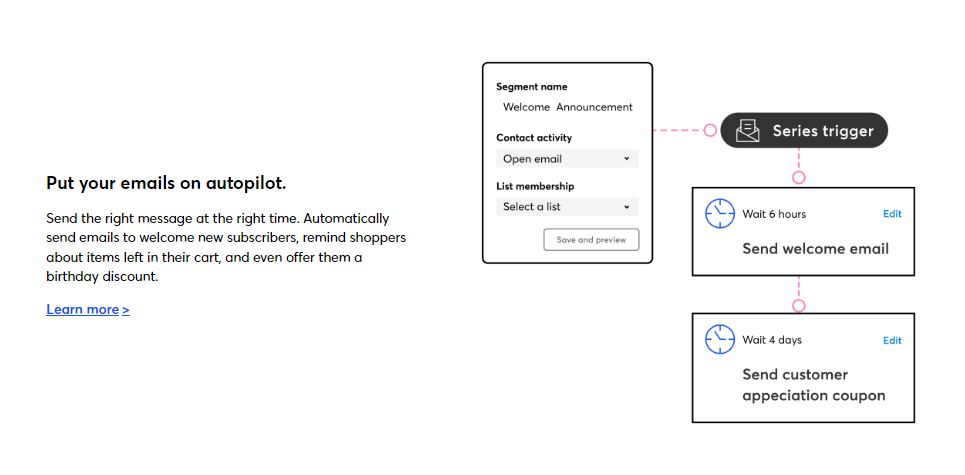 The email links your clients to twitter and Facebook, giving them the chance to share your offer with their social circles thus drumming up new business for you.
Your ConstantContact account enables you to keep tabs on your social media marketing campaigns. Now you can retrieve likes, shares, and site visits data generated be every email sent out.
Comprehensive Learning Materials:
Unlike its counterpart (ConvertKit), ConstantContact offers its users access to comprehensive, product tutorials, on-demand podcasts and webinars, loads of hints and tips and user guides to help them become email marketing gurus.
Moreover; the materials are given out for free and can be accessed from the comfort of your home or office once you become a member. To acquire formal instructions, the company offers live Boot Camp workshops across North America.
These are paid classes but wonderful for networking and learning the latest email marketing concepts.
Constant Contact Pricing Plans
You can start with the free trial for a whopping 60 days. That's unheard of as far as free plan trials go for email marketing. After that, you can pick one of their reasonably priced plans below
With an initial $9.99/month plan for sending 500 and less contacts, the costs start rising steadily to $35/month when subscriber base grows to 2500, and $55 when subscriber base hits 5000. Just like all other email marketing service providers, the price continues going up depending on the number of subscribers and features.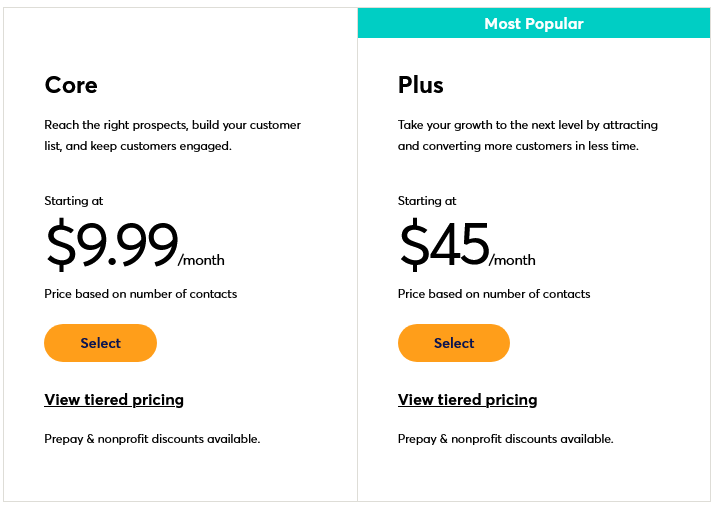 Half or full year advance payments warrants users discounts of 10% and 15% respectively.
Non-profits are accorded bigger price reduction costs when they pay in advance – 20% less for 6 months and 30% less for annual advance payment.
Constant Contact Cons
Just like its rival, ConstantContact misses several critical campaign management features. It fails to factor in triggered marketing campaigns and doesn't have an RSS to email function. These two features are critical, they play the role of automating campaign process that send timely and targeted emails to your subscribers depending on specific actions.
These features are excellent in producing results.
It doesn't have an A/B split testing feature. This is a critical element that lets users send two and more randomly distributed emails to their contacts list. This concept that allows users to track which email campaign has better results.
The Differences Between These Platforms
As explained above, it's clear that ConstantContact has a wider reach compared to ConvertKit. To make the differences even clearer, here a chart that captures the differences in features:
| Features | Convertkit | ConstantContact |
| --- | --- | --- |
| Start pricing | $29 m/o | $20 m/o |
| Bio | Cloud-based lead generation and email marketing automation platform | A wholesome, intuitive email marketing platform with features such as social media marketing, bigger template selection feature, comprehensive learning materials etc. |
| Supported Third-party apps | 18 | 37+ |
| Target Clientele | Bloggers, YouTubers, content-creators small startups | Startups, SMEs and big business platforms |
| Pricing plans | 14 day free trial, then pricing that's based on subscriber numbers | 60-day free trial, two pricing plans based on subscriber numbers and features. Non-profits get a special deal. |
Who Wins? ConvertKit or ConstantContact?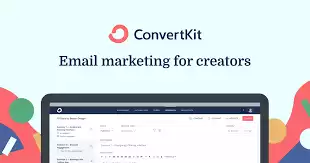 I Personally Prefer ConvertKit
ConvertKit was built for content marketers. That's me! Advanced email automation, sleek pre-built templates, and a dead simple user interface. Because of these factors, I highly recommend ConvertKit for MOST readers here.
Try ConvertKit First
Save 30% for Black Friday!
We earn a commission if you click this link and make a purchase at no additional cost to you.
ConstantContact trumps ConvertKit when it comes to large enterprise businesses (vs small businesses) looking for and end-to-end email service provider with the widest available integrations.
Both options tend to score similarly for deliverability tests, with Constant Contact historically having a slight edge.
The most important thing to note, though, is that both products offer high-quality features. Each is customized to capture different company niches and sizes.
Speaking personally, we are a small business primarily concerned with content blogging, so ConvertKit is the right fit for US.
Neither Works for You? Check Out the Competition
If either of these email marketing tools seem a bit off the mark, there's PLENTY of other options to consider (that our team has evaluated)!
ConvertKit Comparisons
Constant Contact Comparisons
General Email Marketing Guides