Last Updated on January 15, 2023 by Ewen Finser
iContact and GetResponse are competitors providing email marketing solutions. Services provided allow subscriber businesses to send emails and effortlessly manage their mailing lists.
You can use these features to monitor where and how many emails were sent, delivered, unsubscribed or bounced. You can get real time information on how many people subscribed and unsubscribed.
Since business is all about competition and trying to outdo each other, both iContact and GetResponse strive to provide excellent email marketing solutions. Other worthy competitors include Aweber, ConvertKit and ActiveCampaign.
Before subscribing to any platform, go through a few so that you can an informed decision.
Main Differences Between iContact vs GetResponse
GetResponse features a more visual email automation builder, whereas iContact does not
iContact is relatively limited on segmentation options, wherease GetReponse overs many more options
iContact offers a 20% discount for nonprofit organizations, whereas GetResponse does not
GetResponse offers Webinar specific automation funnels, wherease iContact does not
GetResponse is generally at least 30-50% less expensive than iContact at each price tier
In the following comaprisons I'll contract these differences in depth between the two platforms and why it's important to know their value before picking either.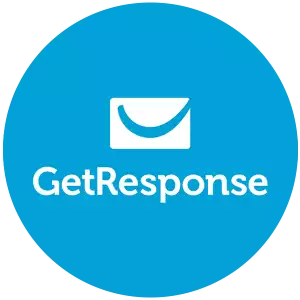 I Prefer GetResponse
Personally, I prefer the more robust marketing automation features that GetResponse offers. PLUS, best in class deliverability rates (near the top of the pack) make it a compelling choice.
Try GetResponse Free
Save 40% (for life) Cyber Deal
We earn a commission if you click this link and make a purchase at no additional cost to you.
Our iContact Honest Review
Of all successful ways of marketing your business, e-mail marketing stands out as one of the most superior. iContact and other platforms offer a plethora of features, pricing schemes, contact and email solutions to help business realize a better ROI.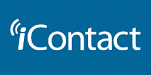 iContact social media tools are almost unrivaled by its competition. With numerous features and unlimited email services, it is one of the better performing platforms on offer today.
However, slight hitches predominantly its limited contact imports and metrics slightly lower its high reputation making it vulnerable to other equally good competitors.
How Does iContact Score Against Rivals?
An SME or a startup with 2500 contacts or less will part with an equivalent of $27.20 monthly if they pay an annual fee.
The annual offer gives a 15% discount compared to the monthly payment option. Unlimited email messaging places iContact a point above the rest who offer capped messaging services based on plans picked. SMEs creating numerous campaigns targeting different sets of subscribers find iContact a friendlier platform.
iContact pricing and Features
As it is similar across the board, iContact pricing plans and email marketing tools are pegged to the number of contacts in the database. Pricing starts at $14 monthly for 500 subs which reduces to $11.90 monthly if you purchase the annual package.
The $32 monthly charge for 2,500 subscribers is the middle-level package which lowers to $27.20 when paid annually. The $52 monthly fee for 5,000 subs is the second top-tier package. It also comes down to $44.20 monthly if you pay yearly.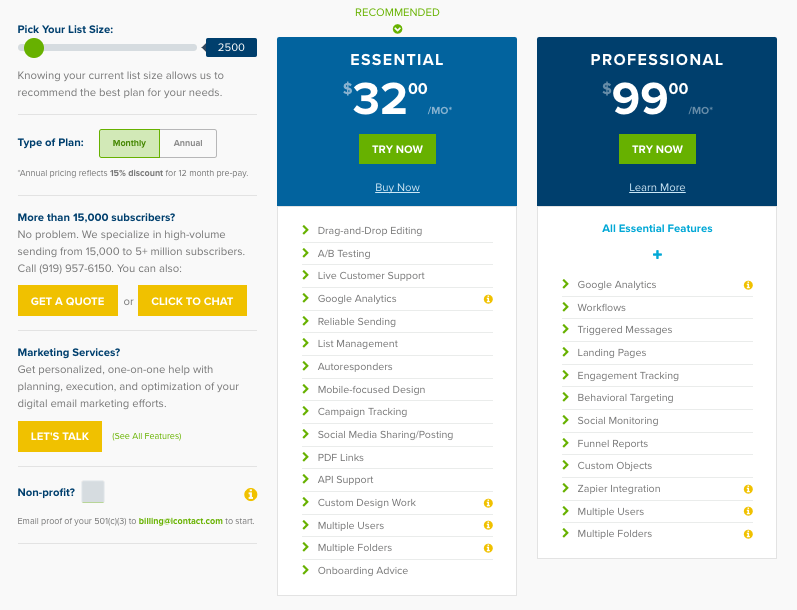 To sweeten the deal, iContact offers a 30-day free trial period for all tiers, allowing would-be users to test-run the product before committing, which we believe to be a brilliant idea.
For specialized businesses with 500 subscribers, the $99 and above Pro plans unlock features such as triggered and workflow messages.
iContact Pro Plan Features
CRM-like features get unlocked at this level. They ensure businesses utilize email marketing, which ropes in workflows depending on a subscriber's actions.
Users will know when subscribers opened or ignored their email and can use this data to tailor targeted campaigns. The plans unlock Google analytics integration on the Pro plan enterprise level. This plan is priced at $19 similar to AWeber and Campaigner packages offering this feature.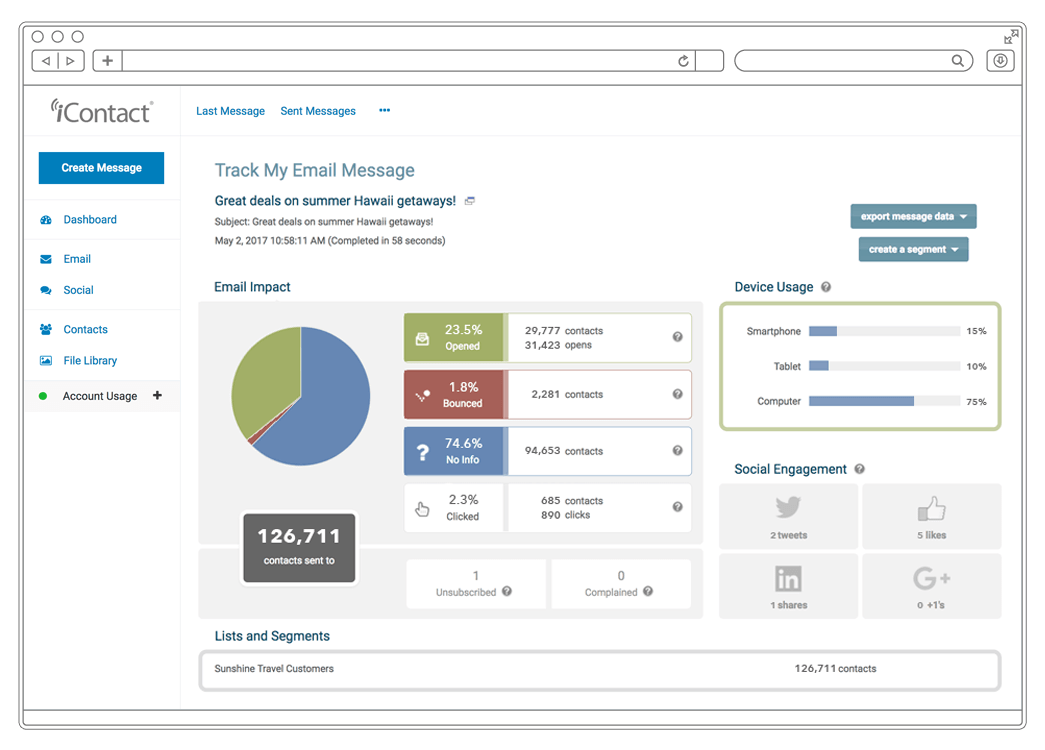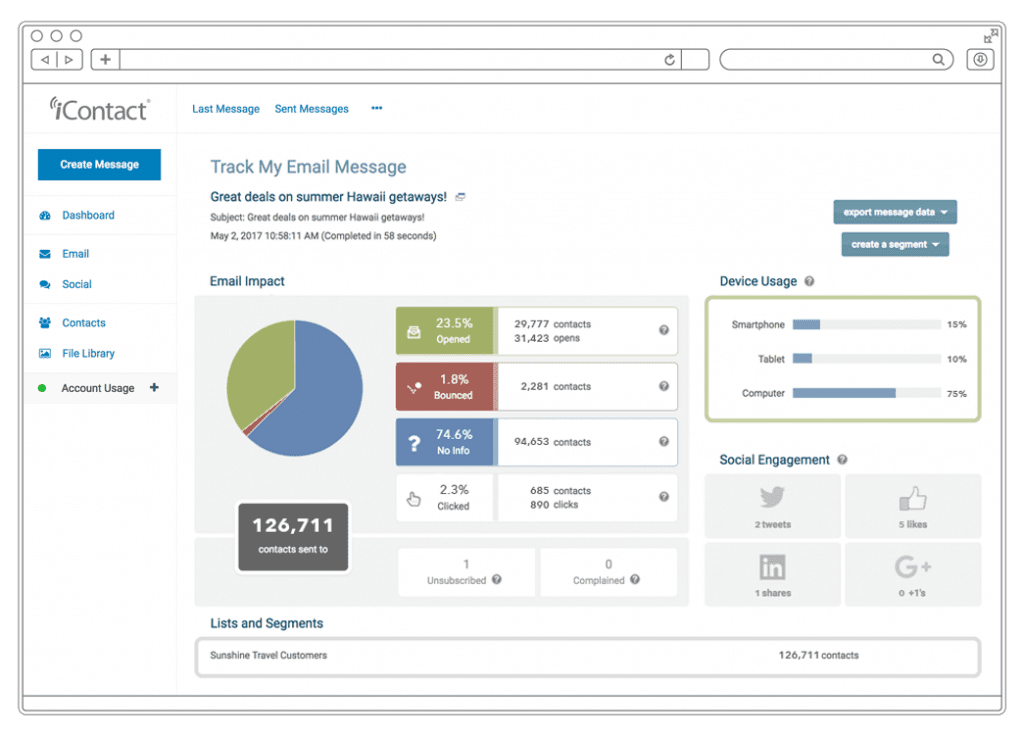 iContact terms and conditions stipulate that all plans are available on a monthly basis allowing users to cancel anytime they feel. However, they don't have a money-back guarantee. Besides, to cancel, you must call the company as there's no way to automatically cancel on site.
iContact Registration
Registering is easy and straightforward. The size of the contact list, an email address and your name is all you require. For clients using the trial period, they don't need to use a credit card.
The dashboard is easy to operate thanks to the well laid call-to-action buttons. With a well-thought-out panel, users easily integrate iContact with social media apps like LinkedIn, Twitter, Google+ and Facebook.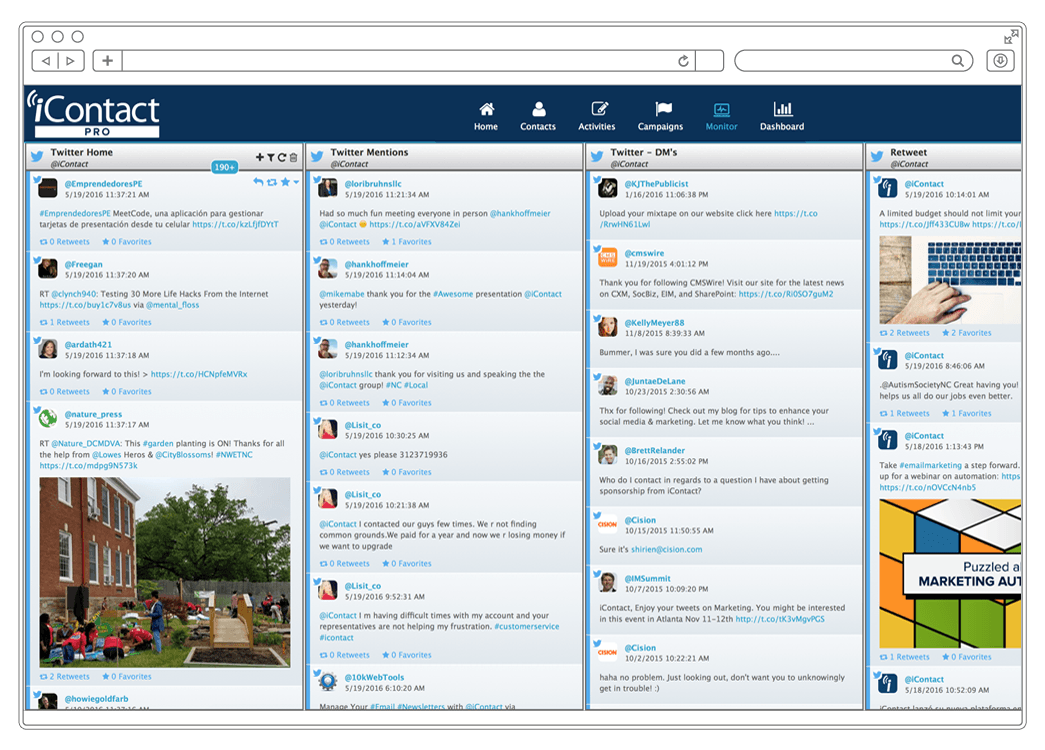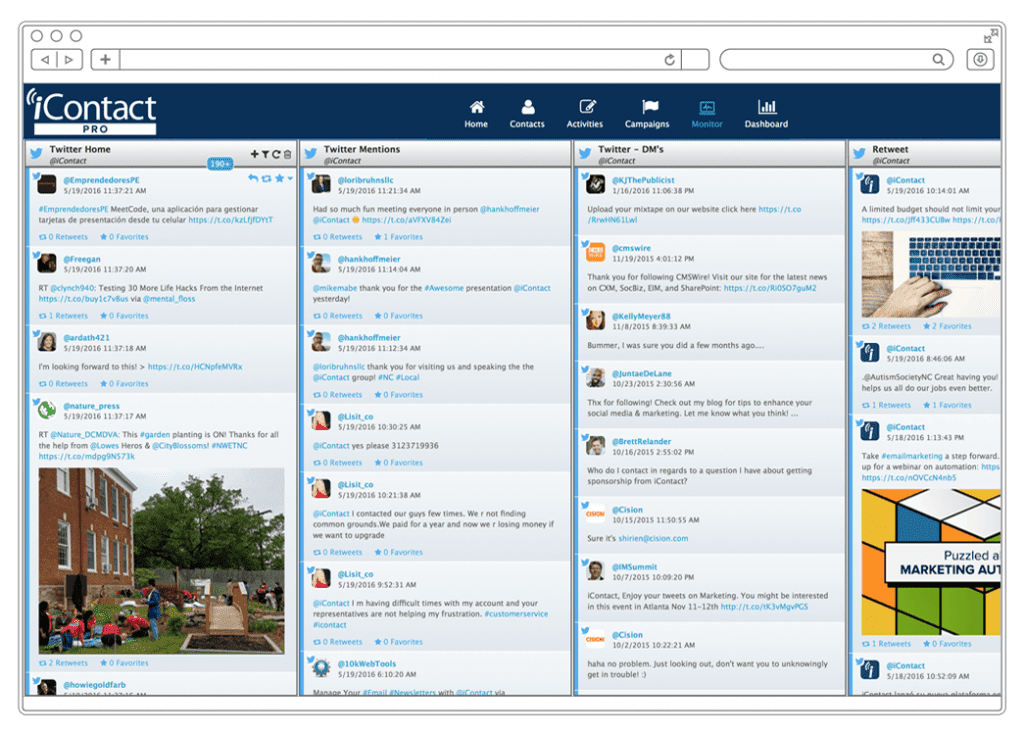 The seamless interface interaction and integration allows users schedule posts, and track analytics.
Moreover; iContact functionality is expandable connecting swiftly with third-party services such as Viewbix, Salesforce and UltraCart. iContact API platforms allow users to develop and customize their own third-party services.
Building Subscriber Lists
iContact has several ways users can add contacts. These include sign-up forms, landing pages, manual entry and uploading XLS, CSV and XLSX files. Unfortunately, unlike Campaigner and MailChimp, users are not able to import contacts from third-party services providers such as Yahoo, Outlook, Salesforce, and Gmail.
Setting up Campaigns
After successfully subscribing to an iContact plan, users get readily availed tools to create an email. The drag-and-drop email creator, HTML editor, and MessageBuilder allows users generate an email from the ground up.
Text-only mail editor and tools designed for importing setup website messages are also available. The MessageBuilder App comes with 679 design templates where each template carries tips and instructions allowing the message color, photo, links and visual elements customization.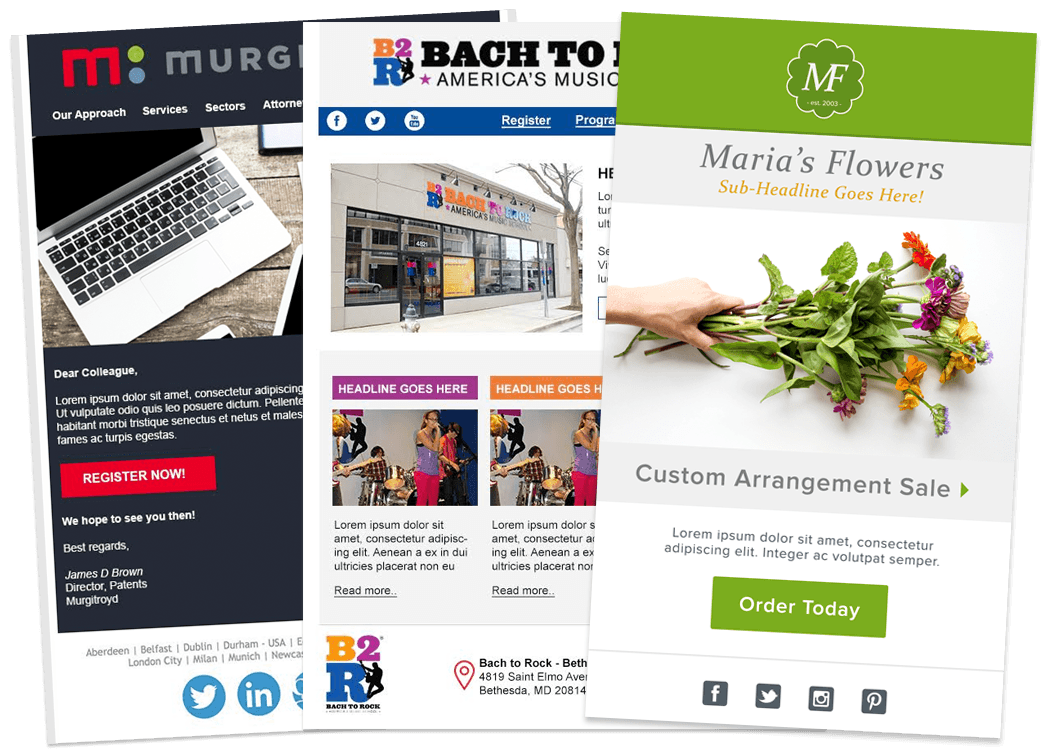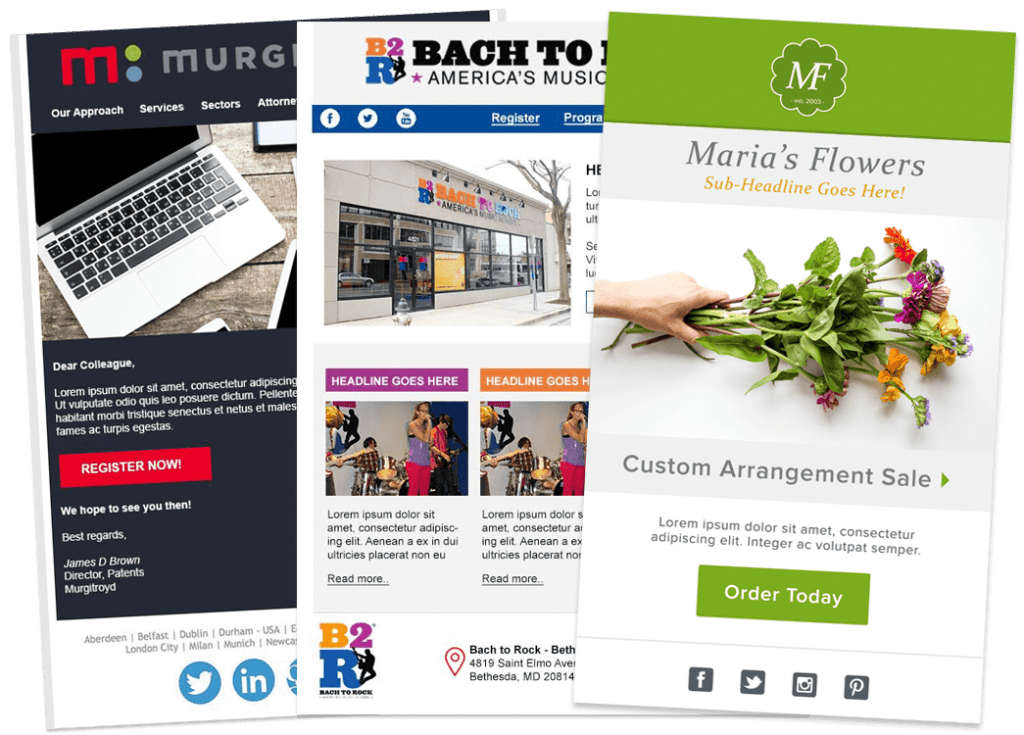 Furthermore, users can develop plain-text emails manually or allow iContact to create the text by leaving the option on Automatic. iContact features an image library with a capacity of 5mb to store files and images used in an email campaign.
To scale up this library space, users may part with 10% or 20% of their monthly fees to access 10mb or 25 MB additional library space.
Surveys are an optional feature for businesses that don't wish to create and send web-coupon and newsletters to submit to their clients. iContact can help you conduct successful surveys and collect the valuable data you're looking for.
After a newsletter campaign is completed, users can either save it or roll it out immediately. The Advanced Mode feature creates on-the-go segments further excluding non-targeted subscribers. The feature makes it easy to send different message versions for A/B testing. Many users recycle messages, branding them differently for newer campaigns thanks to this feature
iContact Downside
Although iContact has many pros, it also has a few defects that need fixing. Users who wish to cancel their plans are not able to do it themselves, they have to contact support. The same applies to users who want to upgrade or downgrade their plans.
The most frustrating issues is the inability to have agents cancel your plans while on live chat. The only way to cancel is by actually calling the company.
Our GetResponse Honest Review
GetResponse comes loaded with plenty of tools and powerful features. It has a massive combination of services that give marketing campaigns bursts of energy, making them efficient, and delivering results.
With a simplified email creation platform, users build breathtaking messages optimized across devices. With this platform, campaigns reach a higher number of people using smartphones and tablets than it was the case sometime back.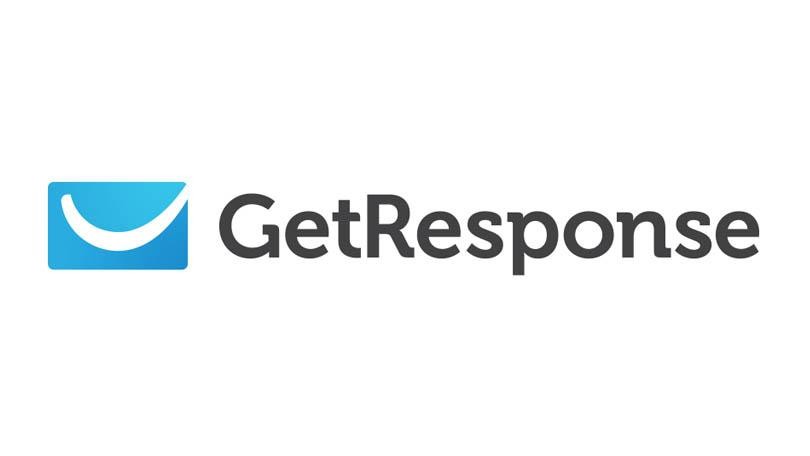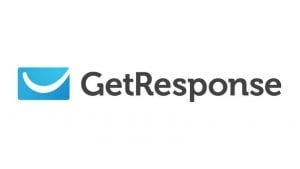 Smart automation turns leads into buyers. GetResponse gives users valuable skills through webinars; they equip them with newer and better campaign strategies which prove useful in attaining better ROIs.
Furthermore, GetResponse accords all its users across different plans with an interface of over 500 professionally-built templates to pick the ones that appeal to their audiences. GetResponse delivers an accurate targeting interface which enables users to drive higher conversion rates thus realizing more sales.
Operating in over 180 countries, GetResponse boasts of its popular yet efficient email marketing platform. With over 350,000 monthly active users, GetResponse chest thumps itself as the world's friendliest email marketing service thanks to the hassle-free professional email creating platform.
Get Response Email Marketing
The Email marketing platform on GetResponse is sensibly created. Users can choose from different templates to draft beautifully-designed and responsive emails.
With the right tools readily available for the creation of comprehensive marketing campaigns, users on this platform easily increase their subscriber engagements which result in increased sales.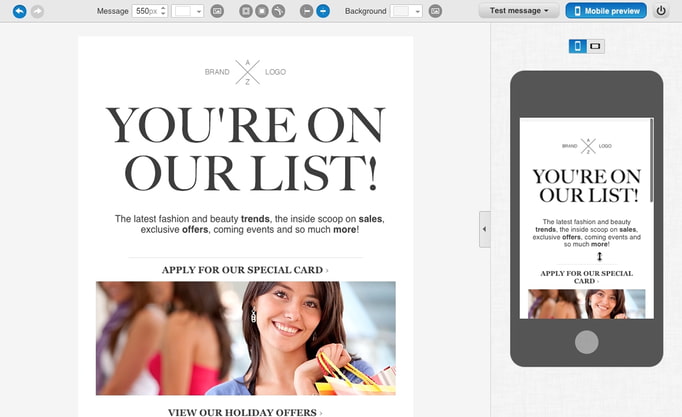 Updated webinars teach users ways to create campaigns in easy steps regardless of whether they're newbies or experts. Newsletters are set up to send announcements or updates to subscriber lists
Autoresponders are integrated for nurturing and educating subscribers while forms are used for growing lists and to deliver to your subscribers' emails.
Get response integrates email marketing features to ensure subscribers get dynamic content; users get:
Advanced analytics
Newsletters with 99.3% deliverability
Mobile-responsive templates
Autoresponders with perfect timing
Sophisticated segmentation list building apps and forms
AB testing
GetResponse Landing Pages
The simple drag-drop landing page creator has been designed to deliver web forms and landing pages that are 100% responsive. The landing pages are integrated with a plethora of professionally designed templates.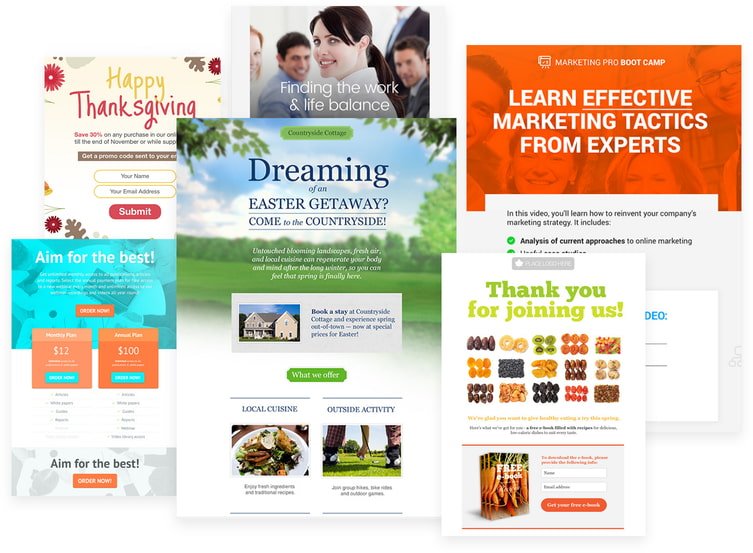 Users can create thank you emails, high-quality opt-in web pages, webinars and sales pages in less than ten minutes even if they are not coders. Landing page features include; mobile design, image editor, 150 responsive templates and custom domains.
GetResponse Webinars
GetResponse webinar solutions have been designed to generate responsive leads. Being the only email service provider that provides wholesome marketing solutions, GetResponse webinars do not only grow leads, they also nurture existing clients.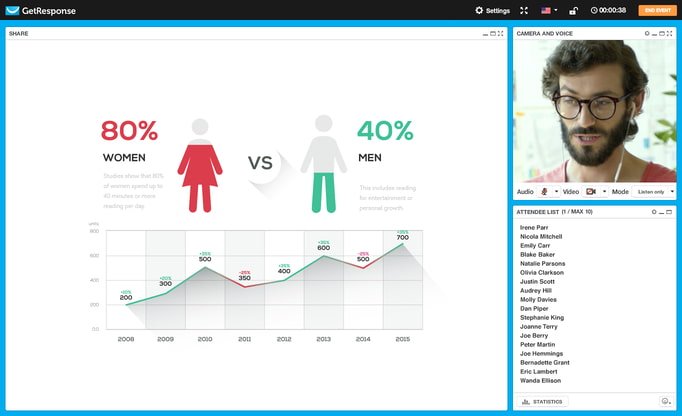 These webinars help in product announcements, hosting training sessions, doing product demos and more. GetResponse webinar features include; presentation sharing, moderation tools, desktop sharing, voice and VOIP camera functions, chat and attendee management.
GetResponse Marketing Automation
The GetResponse marketing automation platform leads to great customer journeys and scalable workflows. Users develop marketing automation workflows with ease using the drag-and-drop creator that tracks real-time subscriber behavior.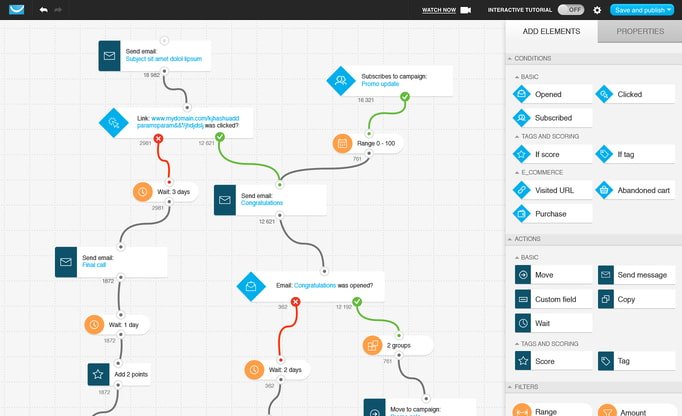 The platform enables users to react to abandoned shopping carts, track sales, trigger specific messages based on customer behavior and track site visits among other features. The marketing automation features include;
Lead tagging and scoring
Tracking and addressing shopping cart abandoners
Setting up campaigns using the drag-and-drop workflow builder
Email marketing automation
Lead segmentation
Tracking web traffic
GetResponse CRM
Users use this interface to create customizable drag-and-drop sales pipelines they use for converting leads into repeat customers. Users on this platform can quickly identify opportunities by using stages and deals that fit into their sales process.
The platform allows users to add comments, notes in their deals keeping track of daily activities enabling them to break their sales and marketing goals. Most notable GetResponse features on this interface include; deals, reminders, pipeline view, notes and stage tasks.
GetResponse Pricing Plans
Users on this platform can choose from four different pricing options. Fortunately, all the plans are distributed without contracts or any obligations. Every GetResponse price plan serves up to a specific contact number list.
The most affordable plan is the $15 monthly for up to 1,000 contacts and 1 user interface. This caters for email marketing, essential landing pages and autoresponder 2.0 features among others.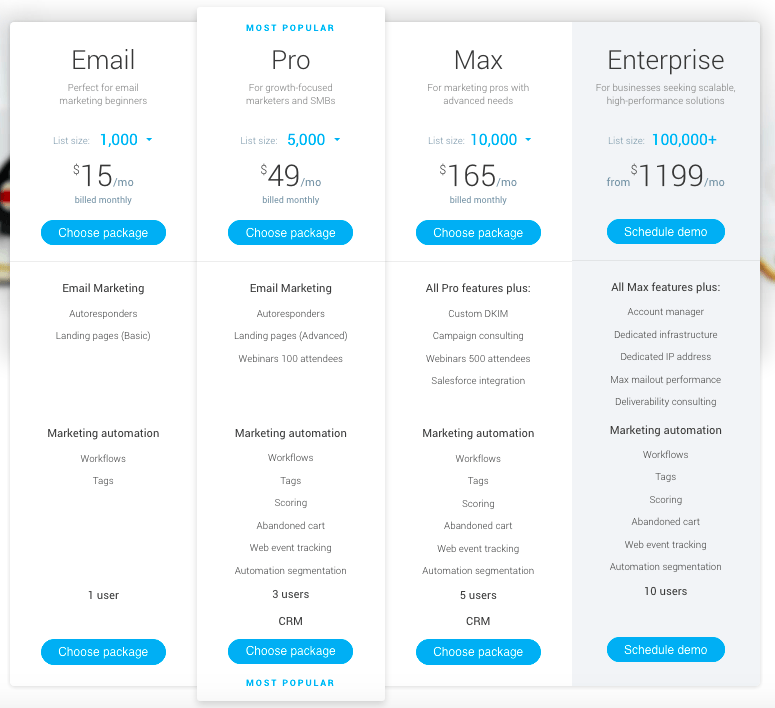 The Enterprise $1,199 monthly plan is the highest. Here, users can reach 100,000+ contacts, get maximum features and gain access to a dedicated account manager. This allows them to have ten users, dedicated infrastructure and many more add-ons.
GetResponse Pitfalls
GetResponse is a vast company that works with multiple huge corporations, SMEs and startups across 182 countries. Their service is designed to provide top-notch solutions for businesses.
Try as they may, they are unable to simplify their platform for small/solo businesses, especially with no IT training who find fault with features such as;
Finding it impossible to create appealing landing pages without prior IT knowledge and experience.
Difficulty getting in touch with the overwhelmed customer support, sometimes going for days
Not-so-friendly UI builder making it tedious to create email and landing page designs
Our Verdict: iContact or GetResponse? Which Marketing Service Wins?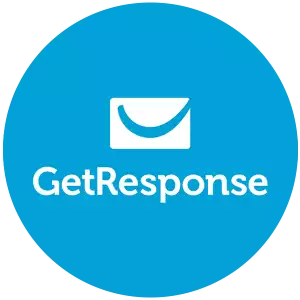 I Prefer GetResponse
Personally, I prefer the more robust marketing automation features that GetResponse offers. PLUS, best in class deliverability rates (near the top of the pack) make it a compelling choice.
Try GetResponse Free
Save 40% (for life) Cyber Deal
We earn a commission if you click this link and make a purchase at no additional cost to you.
Firms using email marketing software have different needs. No software platform can fulfill every firm's demands and wants. It would be a waste of time researching for the perfect all-inclusive software solution that will speak to every user's business requirements.
The reasonable action to take is to customize email solutions to meet specific needs, budget, staff member skills levels and various factors. This review goes focuses on each of these services showing their major features, pros and cons.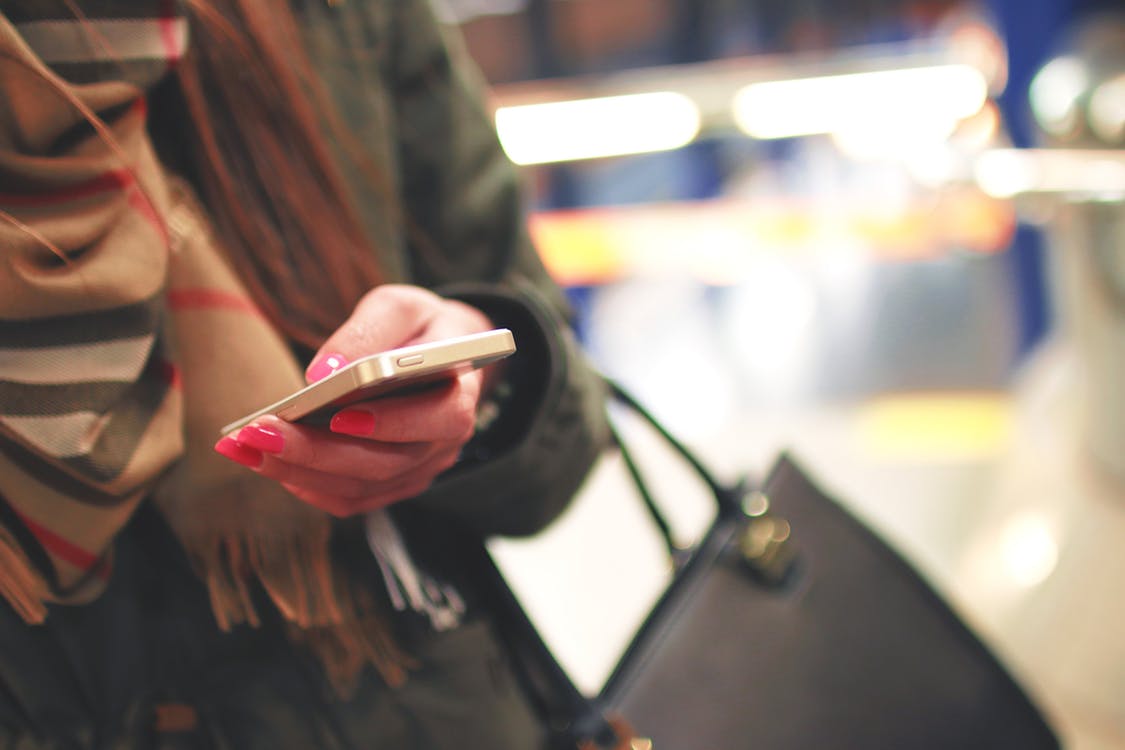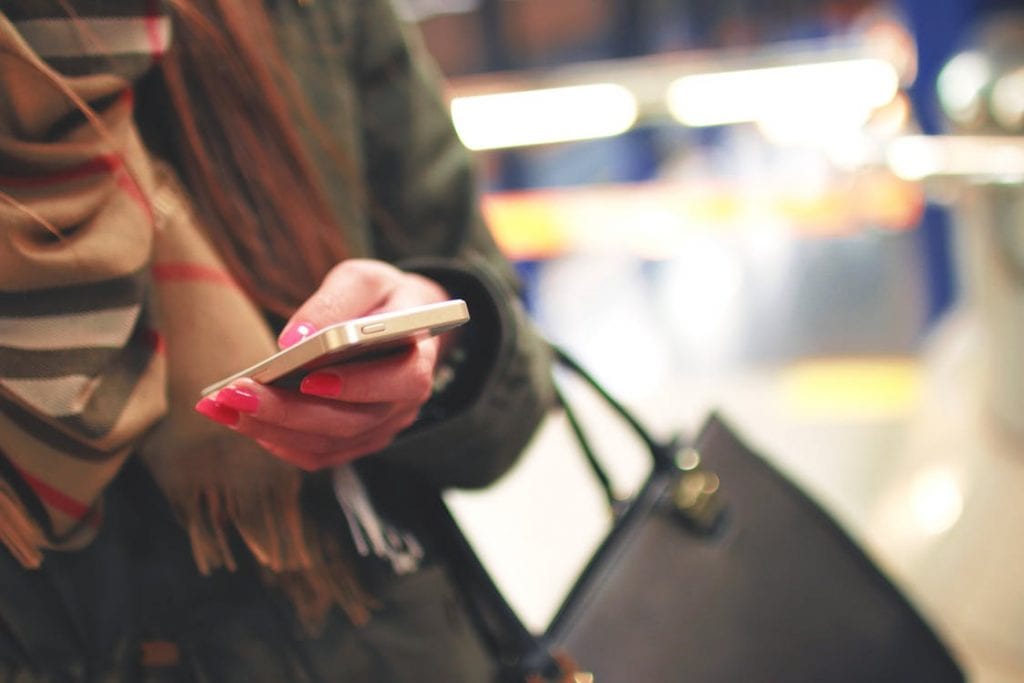 iContact is affordable, has a wonderful MessageBuilder and integrates with so many apps among other features. On the other hand, GetResponse is a multi-faceted service that combines both email marketing and marketing automation. It offers way more than basic email marketing, but also other advanced features like webinars, lead scoring, tracking shopping cart abandonment among others.
Bottom Line: The verdict, therefore, is that GetResponse takes a clear lead due to its extensive features, pricing plans and more advanced automation. It comes out as the clear winner in this contest.
Further Reading on E-mail Marketing Software