Last Updated on January 11, 2023 by Ewen Finser
As marketing managers scratch their heads, wondering where the millions of dollars they were supposed to get from social media marketing are, savvy marketers are relying on a less sexy, less hyped, but predominantly more effective digital marketing channel: email marketing.
There seems to be somewhat of a slow awakening with regards to email marketing happening at the moment. If you look, you'll find it's never the people offering sources and data and case studies declaring how great social media is.
There are plenty of marketing service companies out there vying for your dollars when you decide to invest in your email marketing practices. A lot of their top selling points are very similar, but actually, there are some pretty important distinctions to be found.
The cheapest or free plan with similar features may not be the best for your business. And when you get thousands of email subscribers and customers, it can be tricky to change to a more appropriate one. So to avoid taking up too much of your marketing and IT teams' time further down the line, it's best to do a little research, and get it right first time
If you started your research by Googling "email marketing," I'd put $20 that MailChimp was amongst the top results.
They run a solid search marketing campaign – even if you Google competitors by name, you'll still find MailChimp up there!

Anyway, MailChimp has been around for 15 years and is one of the top email newsletters services out there.. Tech companies don't stay around that long without being incredibly reputable. That feat in itself is likely a massive contributor to its sustained popularity.
There are pros and cons with its popularity, the main con being that it can be treated as if there's no other solution when there really are plenty of others, some of which may be more appropriate for whatever it is you're doing with your business.
In its status as the most popular email marketing solution, you'll also find that MailChimp is the one that's most likely to be able to integrate with whatever CRM you're using for sending emails. It's also known for its ready to use pre-made templates that with a little customization can really bring your email campaign to life. You can choose to use a basic layout, or pre-built theme, either way it's simple to use!
GetResponse is an interesting marketing software tool. It has been around since 1998, but offer precious little information on what they've been up to in that time.
They focus very much on email marketing and tie the related landing page builder, sales funnel, marketing automation, and webinars into this. Similar to MailChimp they too offer a variety of pre-designed responsive email templates that makes designing your email campaign and getting started sending emails that much more easier.
The webinar aspect of their offering is what I find the most interesting. I don't think I've seen that before.
Obviously, there is dedicated webinar software out there, but it not really an intrinsic part of an email marketing platform. As such, if you are looking to create webinars as a core of your business, GetResponse deserves a strong look for this fact alone.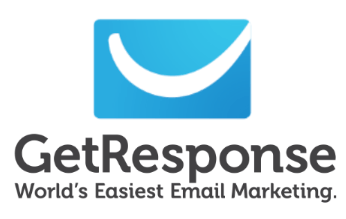 I'm intrigued, and I look forward to finding out more about what's going on with that – I'll try and contain myself until we look at the features in a little bit.
As with MailChimp, and every other email marketing platform, GetResponse are focusing their pitch to customers on simplicity.
Mailchimp vs GetResponse Pricing Plan Options
MailChimp Pricing
As with pretty much all email marketing providers, MailChimp offers its pricing in a tiered capacity.
It's a little different in that its basic model is free (Mailchimp free). Off the top my head, I can't think of any others offering that. Obviously, that's awesome for fledgling small businesses, and a massive draw for getting people into email marketing in the first place.
It's probably no surprise that the more you pay, the more stuff you get included in your package. The pricing isn't completely straightforward though.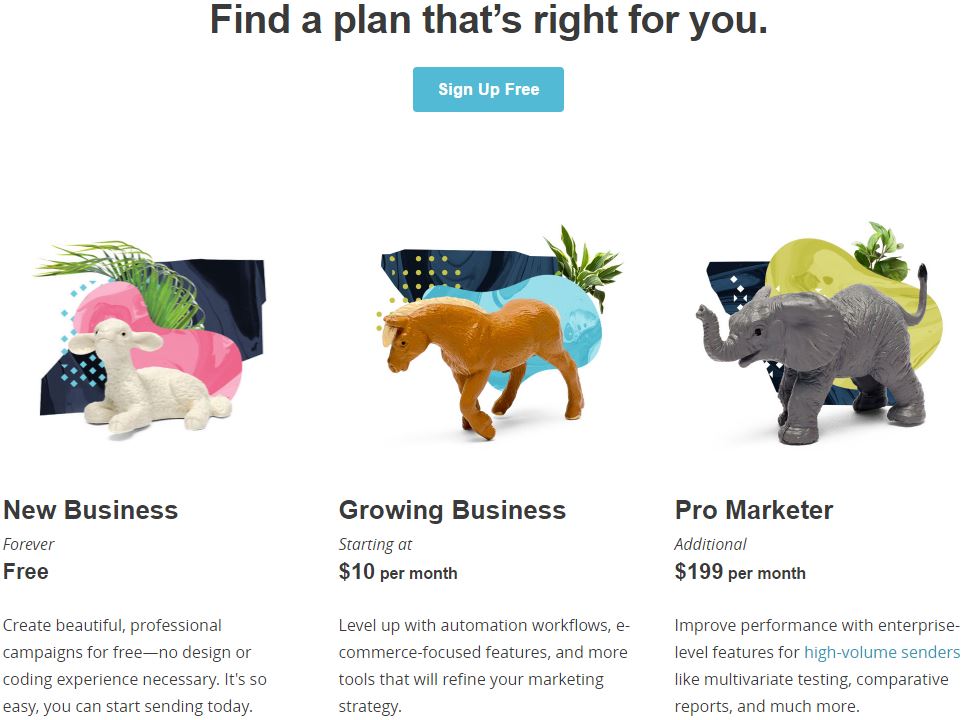 So, you can email up to 2,000 contacts for free, with the basic package. If you want extra stuff, like removing MailChimp's branding, you'll need to go to the next tier up. At the same time, you can go straight in on the second tier with only up to 500 contacts, which will set you back $9 per month.
Does any of that make sense?
I find the top tier of MailChimp's pricing to be the most weird though. If you're on the second tier, and you're satisfied with what's been going on there, the top tier will cost you an additional $199 per month, whatever the number of subscribers you have in your contact list.
We'll look more about what that additional $199 per month gets you later on.
The main thing we'll see as the price increases in MailChimp is increased customization and analytical information.
If for whatever reason you don't want to get into a paid monthly scenario, MailChimp do offer a pay as you go service. Obviously, it works out a little bit more expensive than than paying monthly.
GetResponse Pricing
GetResponse also operates a tiered pricing model, with four packages available. As with others, the cost of each package will depend on the number of people you are looking to contact.
The cheapest of the cheap with GetResponse is $15 per month for their basic package. This allows you to contact up to 1,000 people. It's not a bad package for startups, in that it's cheap, and its main focus is literally to afford you the capacity to email people, and have related – but basic – landing pages.
The basic package also offers a little bit of marketing automation, where you can set up workflows and tagging.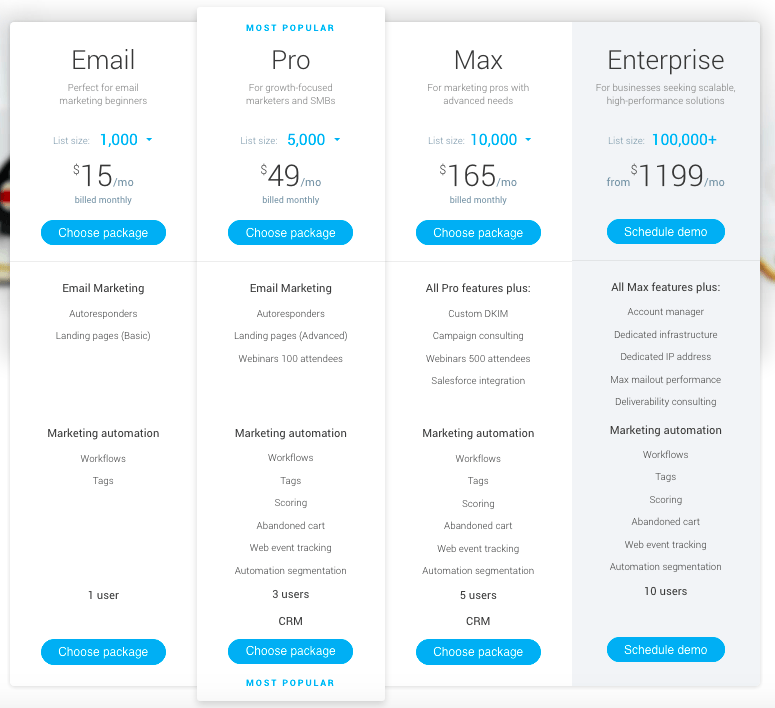 When your business progresses, you can opt to keep that basic package up to 100,000 subscribers, which costs $450 per month.
The basic package is restricted to one user, so, I have to say I'd be very surprised if an operational business with 100,000 email addresses was seriously relying on such basic functionality to conduct its business from an email marketing perspective.
As you can probably imagine, as the pricing moves up through the various tiers, GetResponse adds a whole bunch of extra features to your bundle. We'll take a bit more of a look at them in a little while, but they mostly revolve around an increased offering that should help you refine your email marketing practices, while adding to it.
GetResponse will also kindly give you a discount if you pay for a full year, or a further discount if you pay for two.
Email Service Provider Features
MailChimp Features
On MailChimp's lowest tier – the free plan – you really can't ask for much more in something that'll get you started with email marketing or email campaigns.
And there's nothing better when you're starting out with something, where you have to find your feet and figure out how it all works in your own head, than somebody offering you the basics of email marketing for free.
You can email up to 2,000 contacts for free (free Mailchimp account), which is an impressive amount. The main restrictions on the features offered for free are in terms of customization and data analysis. Realistically, if it's you and your company's first foray into email marketing, that's not a bad thing.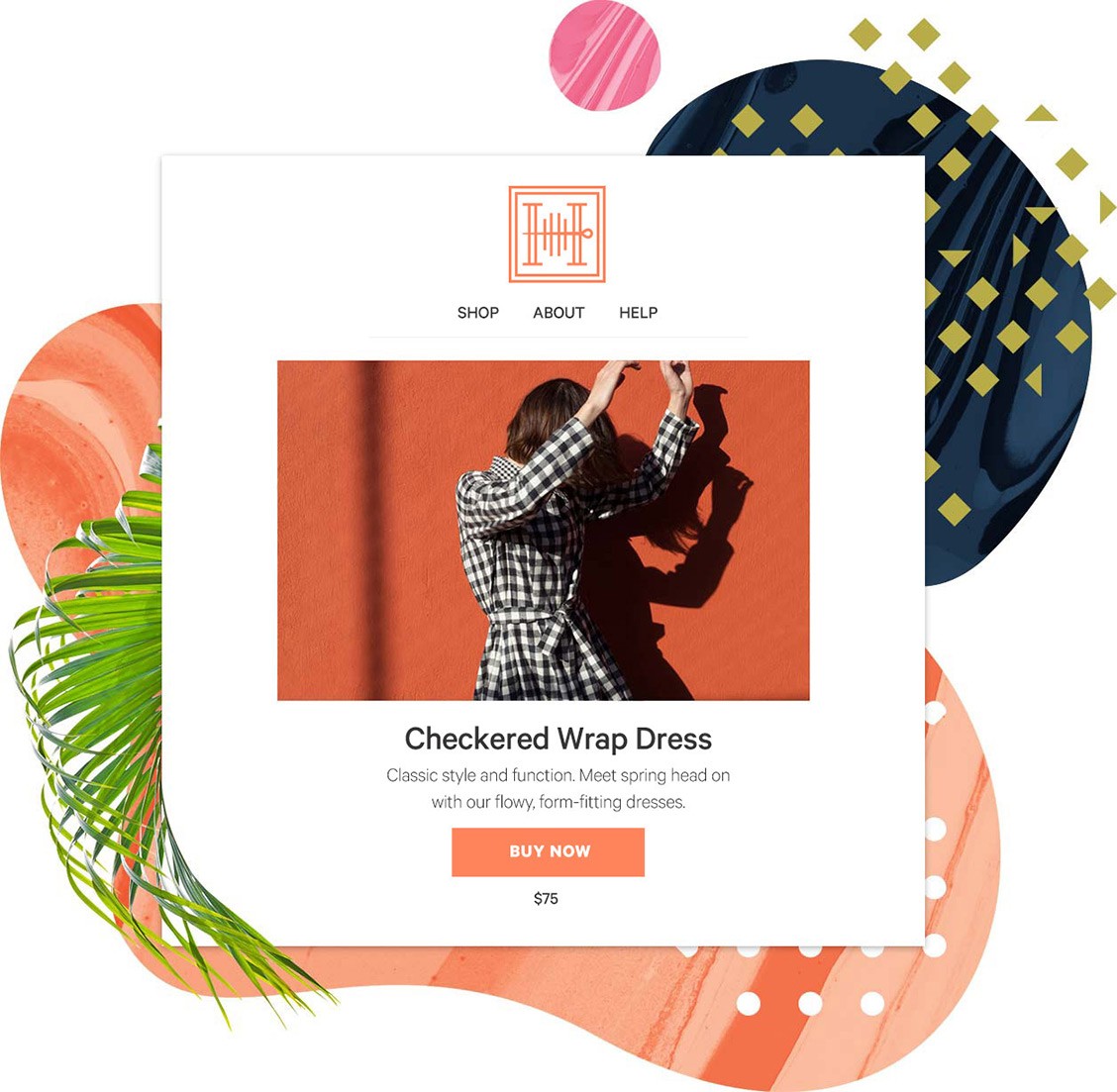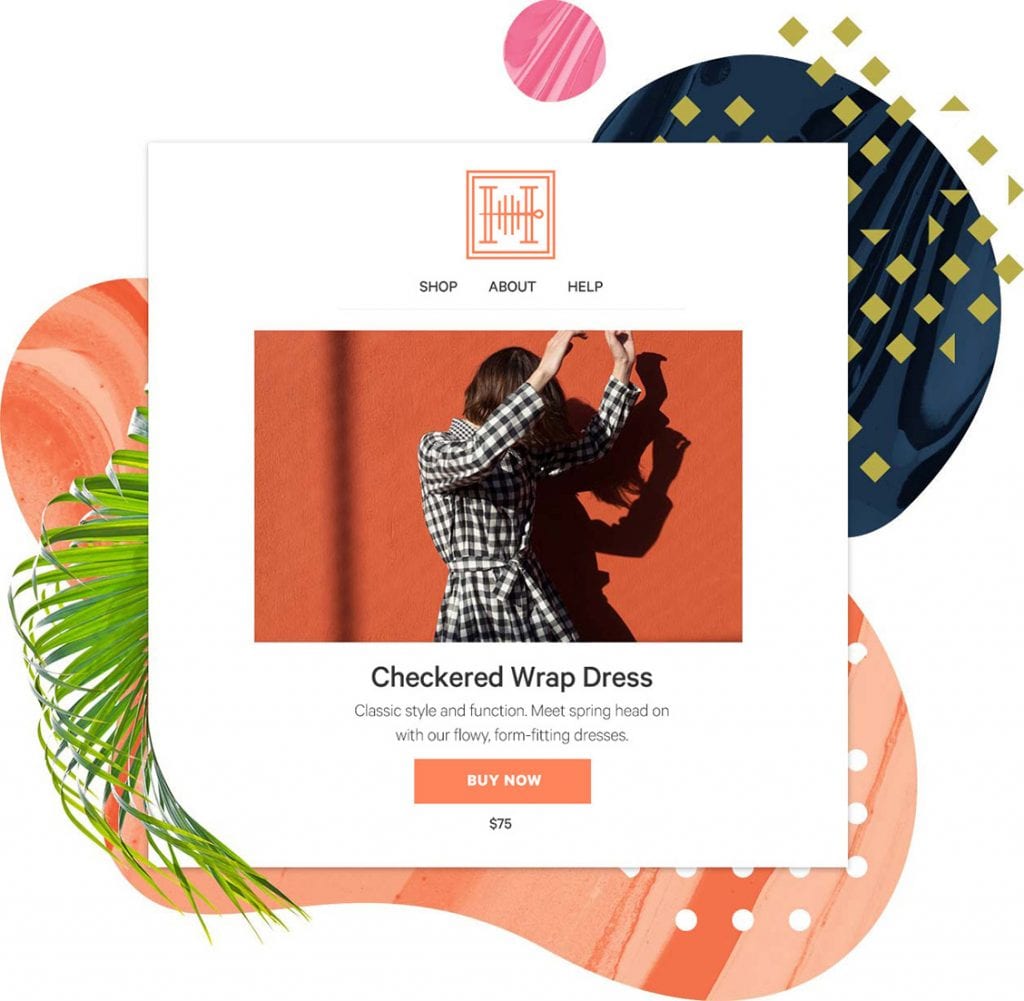 I think it's important to run before you can walk, with anything, so in this case, it's better to develop a feel for how to put a marketing email together, how the MailChimp system works, its terminology, the kind of basic insights it provides, and essentially, get a feel for the overall email marketing process.
It's plenty to get started with, and you can upgrade for additional features as you feel the need, or have the capacity to do so.
When you decide you've got enough of a handle on email marketing with MailChimp, you'll likely want to start expanding MailChimp's capacity for what you can do with it. With the use of autoresponders you can create a complex campaign with ease. The main benefit for your extra cash is the marketing automation offered – very useful for drip campaigns.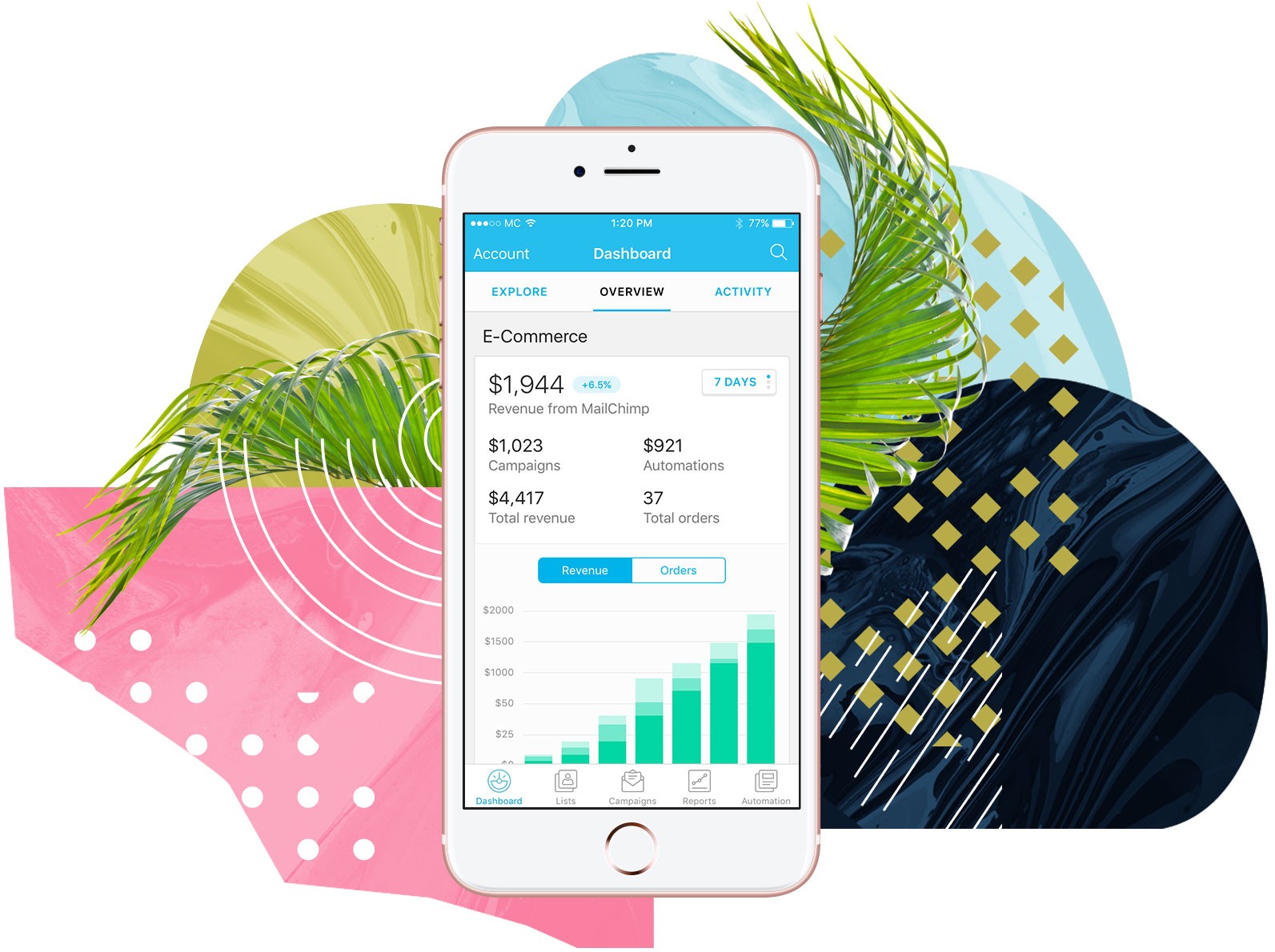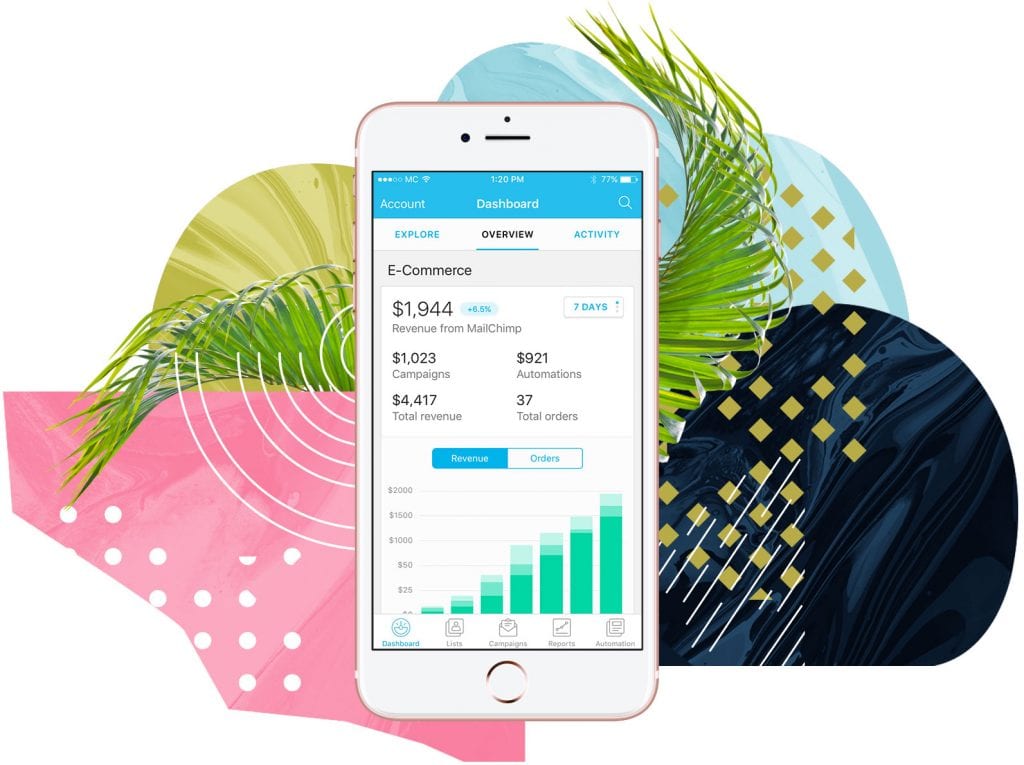 Another bonus that I particularly like at this level are the CRM integrations.
The Pro Marketer tier give a whole bunch of analytics-focused features including some split testing capabilities and click-through rates, but quite frankly, it's only useful to a company big enough to employ a dedicated email marketer.
GetResponse
The first tier of GetResponse offers the most basic of email marketing tools, namely email marketing itself, and some basic email automation.
Moving on up to the second tier, and it gets a little more interesting, with the aforementioned – and rather curious – webinar function. Even since writing about it earlier on, I still find it weird!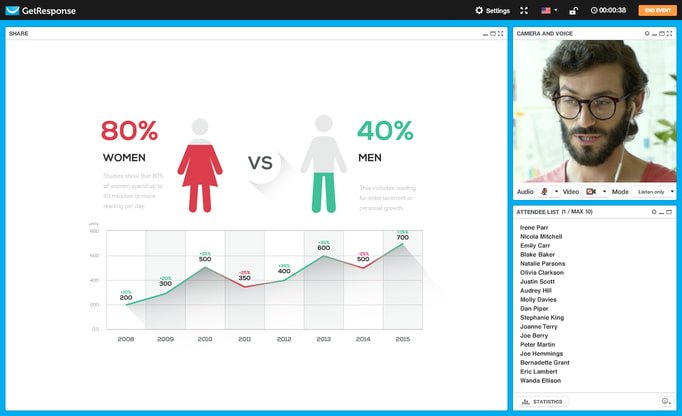 For me, when I think of webinars, I think of training and education. Perhaps this is the indicator for GetResponse's target market? In ten year working in digital marketing, it's certainly not something I've ever needed. I'm not sure of the value in day-to-day B2C marketing.
I have an inkling that it might lean a little bit closer to sales, for example, if you wanted to demonstrate a product to lots of people, or wanted to have a "public" Q&A session about the product being peddled.
Anyway, whatever you might use it for, on the second tier of their pricing, GetResponse's webinars will let you chat with up to 100 people. This tier will also increase the functions available to your automation, so you can trigger things based on cart abandonment, and event tracking from the web. It will let you have up to three users.
The third tier, entitled Max, has the same automation features as the Pro version. The email function has a couple of cool additional features though. Firstly, Salesforce integrations. It's not clear if it's compatible with any other CRM.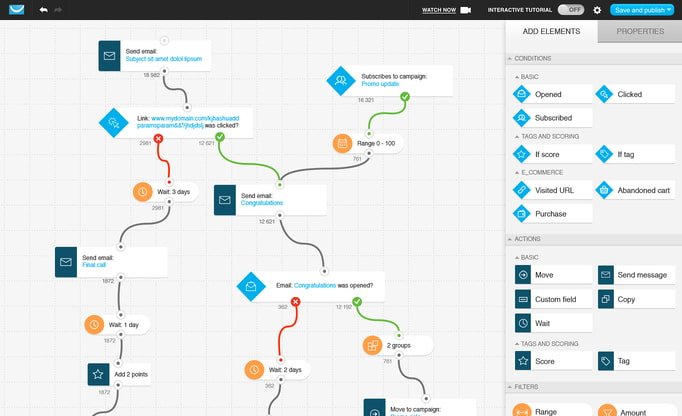 You also get campaign consulting, which seems to mean liaising with an actual person from GetResponse to ensure your success, and your webinar can now have up to 500 attendees.
The Enterprise tier, which is the top tier, gets you a dedicated account manager, and even more personalization of the tools you apply, such as a dedicated IP address.
Email Marketing Software Usability and User Interface
MailChimp
As soon as you've set up and verified your account, and logged in, you can tell one of the key goals of MailChimp's designers is to be as user-friendly as possible.
Particularly with the free version, it does feel a little bit like you're being babysat. It's difficult to make a mistake. As you use it more, and get more comfortable, some users might find this restrictive or annoying. We've all seen disastrous digital marketing campaigns, so in my view, there's no such thing as being too careful!
Some people might not have the capacity to create anything too extravagant, coded from scratch, and that's OK – MailChimp offers plenty of email templates and form templates for you to just insert your own copy and images. The drag and drop feature makes it easy to drop content blocks and photos, ideal for less technical marketers!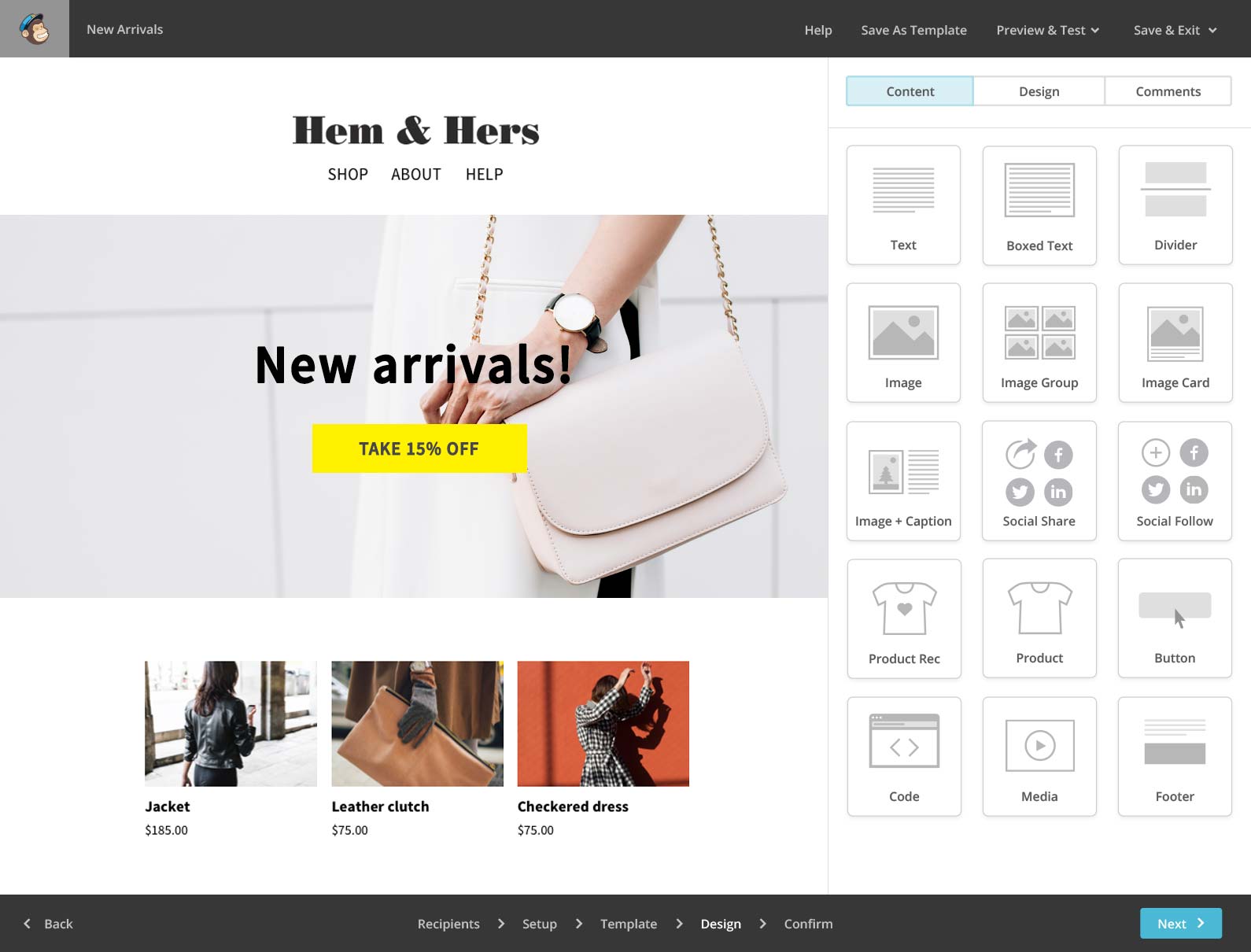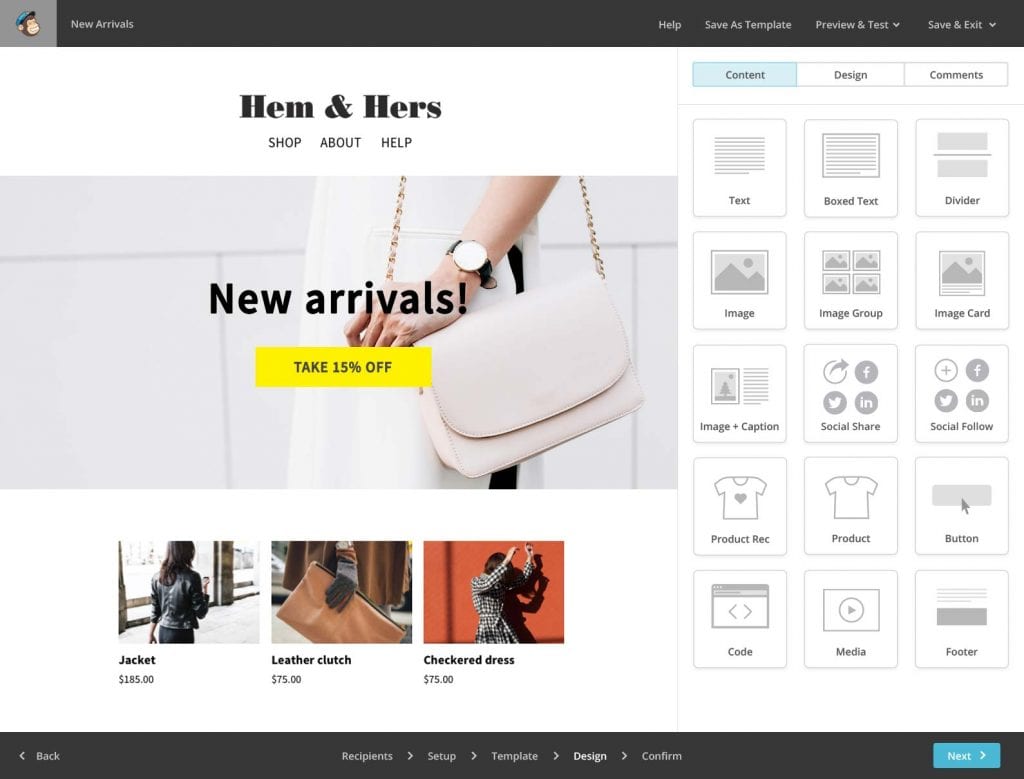 The MailChimp platform has been around for long enough that anything you're mildly curious about, there's a 99.9% chance you're not the first. A quick Google will generally help you out. As with many such things though, if you're paying for the service, their customer service team are likely to give you a little more customer support.
Their own database of queries is actually pretty comprehensive, with a lot of solid advice for email marketing best practices in general, that you can take with you to any other email marketing platform, stuff like data protection advice and the like.
GetResponse
Of all the various email marketing platforms I've looked at over years, more than any of them, GetResponse seems like one that's pushing itself to be more of a CRM marketing software than strictly email marketing campaigns.
It feels like they stripped away everything a CRM would do, just leaving it with its email functionality. That's not a criticism – for some organizations, that's exactly what they need!
Everything is pretty much derived from the menu going across the top of the page. It's all so self-explanatory, if you can't use it, digital marketing probably isn't for you.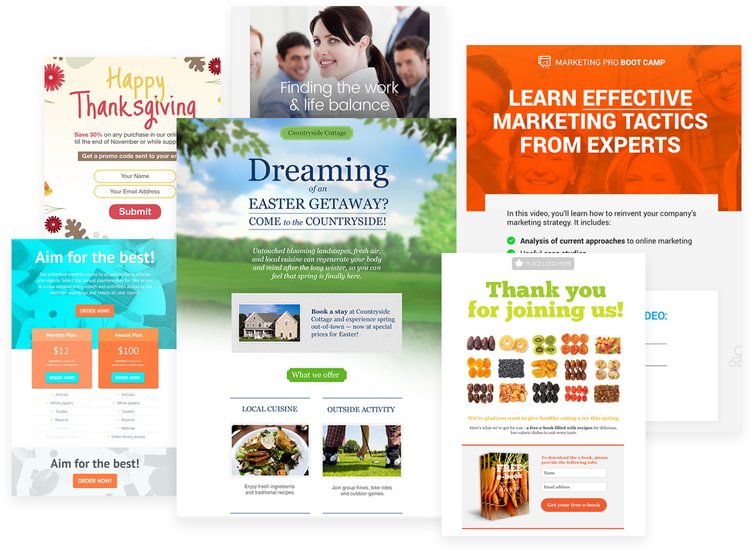 When you log in, it does like you to get right on in there and import your contacts and email list. I've seen this before, and I'm not sure what to make of it. I mean, sure, they want to keep the user enthused about getting into using the program – that it turn boosts their user numbers, and in turn their bragging rights in their own marketing.
Personally, I like to have a mooch around a system before I commit people's contact details to it.
One thing I did like, is that they offer a complimentary consultation session to new users to get their ball rolling. They probably do it via a webinar.
Conclusion: Is Mailchimp or GetResponse Better?
MailChimp Email Marketing Software
There's no doubt that the MailChimp platform is one of the finest email marketing tool offerings around. It's number of users, and length of time in business speaks for that.
The first and second tiers should cover off the needs of the vast majority of businesses, from single person efforts to large businesses.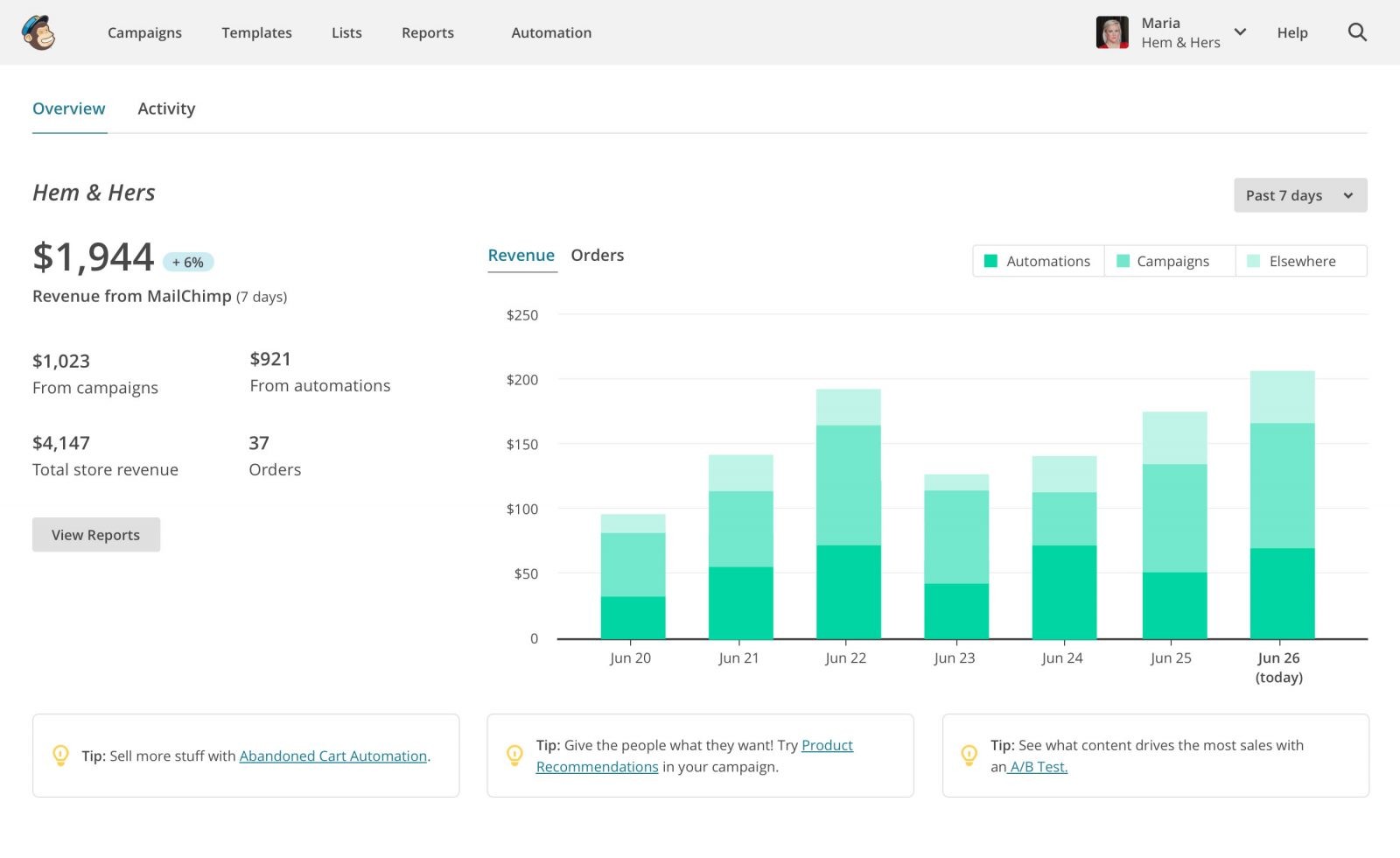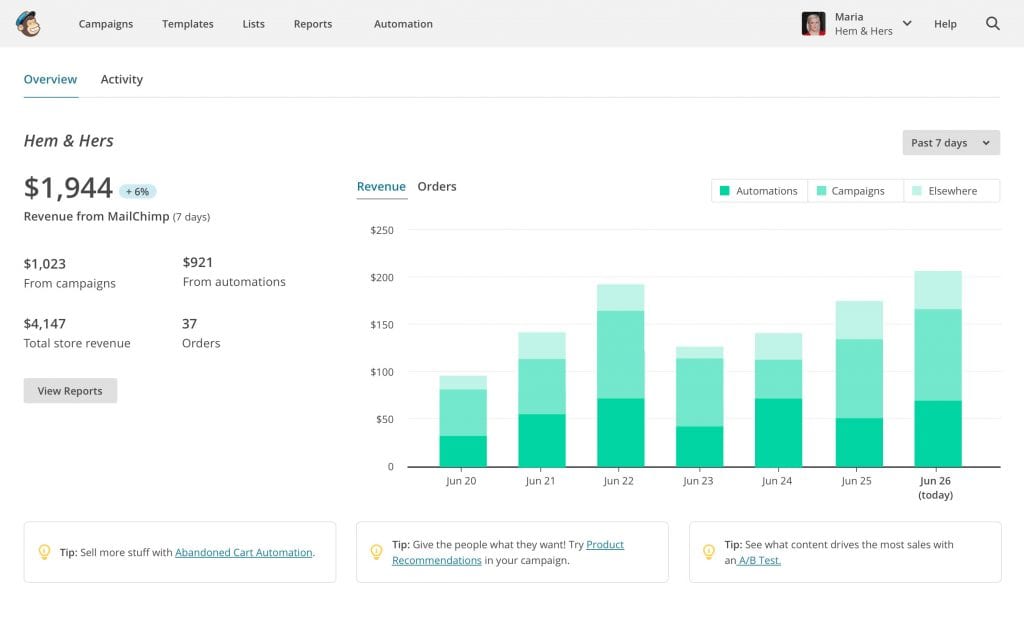 Unless your organization has a dedicated email marketing person, the Pro features will be pretty much wasted. You'll need a dedicated analyst, who can interpret the data, report on it, and, most importantly, make recommendations and act on the data derived from the additional $199 per month that Mailchimp offers. On the other extreme, Mailchimp for free is hard to beat if we are talking
GetResponse Email Marketing Software
I'm still astounded by GetResponse flagging webinars as one of their selling points. It does suggest that it's for more sale-oriented businesses marketing tool, rather than general marketing. I can imagine it being useful for companies who want to provide demonstrations of their product, or training sessions, or perhaps for consultants.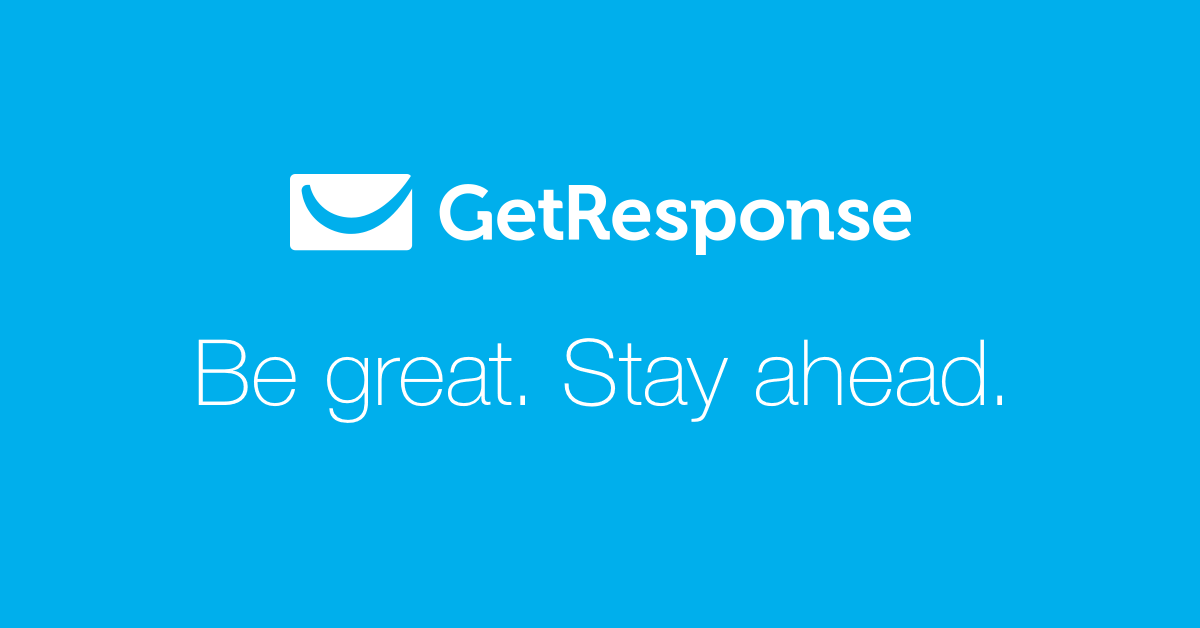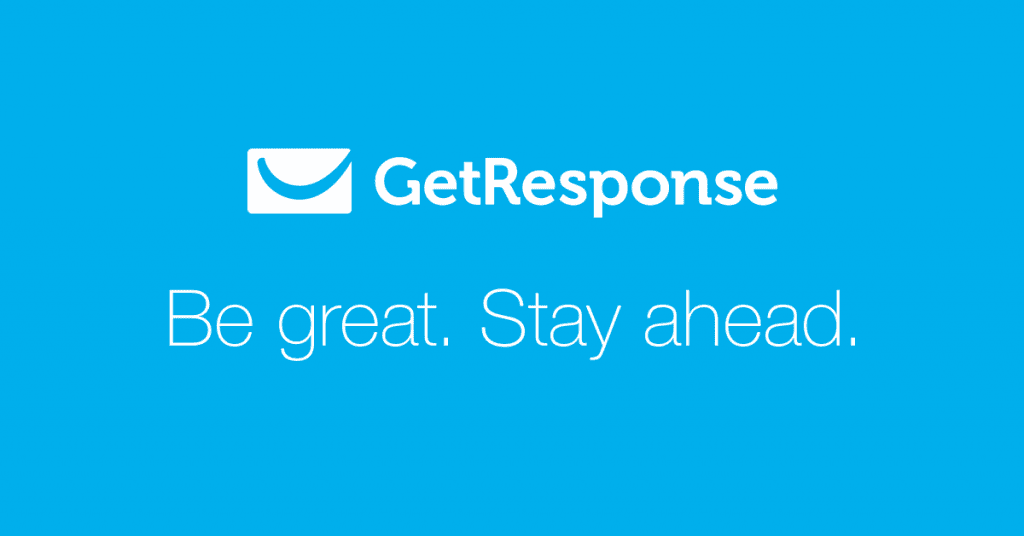 Aside from that, it's still a hugely functional piece of kit. The reports offered on your emails are pretty good. The formating is reminiscent of Google Analytics, so will have some air of familiarity to many people.
Another important feature that GetResponse offers is the ability to use and schedule autoresponders as a true modern marketing tool. You can schedule your autoresponder emails to automatically send based off of your subscriber's interest (autoresponder). This helps build long term relationships with your subscribers with little effort.
Get Response also has built-in email list provision for sign-up forms, opt-in forms (including double opt-in), and surveys. These will be useful in acquiring those precious email addresses, and segmenting them.
Mailchimp
GetResponse
Pricing Options
Three tiers, starting with a free version
Four tiers, starting at $15 per month
Features
– Forms for signing up subscribers
– Data and insights reports

Paid versions:
– Automation
– CRM integration
– Segmentation, targeting and tracking

Pro version:
– Further automation options such as triggering
– Comparative reporting
– Multivariate testing
– Forms for signing up subscribers
– Automation
– Segmentation
– Webinars

Usability
Simple with room to develop technical knowledge as business requirements – and therefore email marketing requirements – expand
Simple with plenty of offers of support
Conclusion
Good for marketers
Good for sales people
MailChimp vs GetResponse Email Marketing Automation: Final Comparisons
As with so many digital e-mail marketing solutions, especially ones related to email marketing, on surface level, MailChimp and GetResponse look very, very similar in terms of automation functionally and marketing tool specs.
As we've seen in this review though, GetResponse will lean more towards a sales-oriented business. Hopefully you'll know whether your organization has a marketing orientation or a sales orientation and sales funnel integrations. If you don't, you should probably find clarity on that before you commit to such products.
I'm sure I've mentioned it in other platform reviews, but it's really important to have a real and grounded understanding of your organization's capacity, in terms of what they can realistically get out of some of the higher tiers.
If you don't have the resources at your disposal to interpret the data, and act upon that interpretation to drive customers your business, paying for those higher tiers really is a massive waste of money.
There are plenty of cases of companies spending plenty of time collating a report on data, for senior management to go "Oh, that's really interesting," and that being the extent of the action. The report sits on a hard drive until it dies.
Bottom Line: I personally much prefer the deeper sales automation (autorespondeR) and slightly better email list deliverability offered by GetResponse here.
I'd advise against being one of those organizations!
If you are still stuck, check out our Mailchimp Alternative guide, to see how other Mailchimp competitors like Aweber, Mad Mimi, ActiveCampaign and more compare (Mailchimp comparison).
Further Reading on Email Marketing Service Options and Marketing Tools