Last Updated on April 22, 2023 by Ewen Finser
I love ActiveCampaign. Heck, I still have a bunch of sites (including this one), leveraging ActiveCampaign.
BUT, for new sites, I'm starting to "play the field" with some different marketing automation solutions, particularly for cross-channel marketing (multi-channel marketing).
Years ago, ActiveCampaign was the only email marketing service that "got it" when it came to marrying user-friendliness with powerful automation. But times have changed. There's a veritable buffet of email marketing tools out there, many with similar (or better) features and layout.
If ActiveCampaign "killed" InfusionSoft, the following are the marketing automation upstarts coming for ActiveCampaign (ActiveCampaign alternative options)…
TL;DR Summary: Skip the full read and get my bottom line up front.
The Best ActiveCampaign Alternative Substitutes are:
1. Best General Purpose: Sendinblue
Summary: The other "blue" marketing automation platform has been slowly sapping customers from services like ActiveCampaign. Sendinblue imitates the best features of AC, but does it for a better price that scales nicely. Not sure how they do it, but it's the truth. They are one of the top new names in the marketing automation space.
Our Pick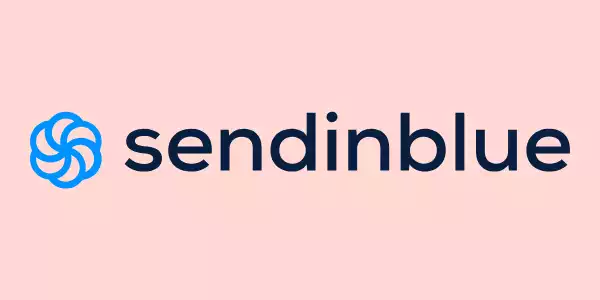 I Personally Prefer Sendinblue
You might not have heard about Sendinblue, but you SHOULD. It has the big box API tools of a SendGrid, the sales automation of an ActiveCampaign, but the user-friendliness of a ConvertKit. Plus, it's relatively cheap in comparison to each.
Try Sendinblue Here
Save 50% for Black Friday!
We earn a commission if you click this link and make a purchase at no additional cost to you.
Sendinblue Advantages
Similar to ActiveCampaign segmentation features, but pricing plans scale better at higher levels (more affordable ActiveCampaign alternative)
Pricing plan based on email sends vs email subscribers
Easier to use and get started with, simple marketing automation
Free plan pricing tier available for unlimited contacts but not unlimited emails (up to 300 sends per day – great to start with)
Heatmap email analytics to improve buyer's journey and isolate "leaks" in your marketing funnel
Smart "send time" optimization marketing tool
Real-time sales alerts (transactional emails)
Sendinblue Disadvantages
Not as many marketing CRM features like lead-scoring and two-way CRM syncing as with ActiveCampaign
Not as many third-party integrations (e.g. ActiveCampaign has more Zapier integration options)
No easy way to implement double opt-in emails
Only allows 1 user per account to start (ActiveCampaign let's you add 3 to start)
Sendinblue Prices: Starts at $0 for up to 300 sends per day, then $25 per month for up to 40,000 emails per month, $39 for up to 60,000, $66 for up to 120,000, and customized pricing available beyond this.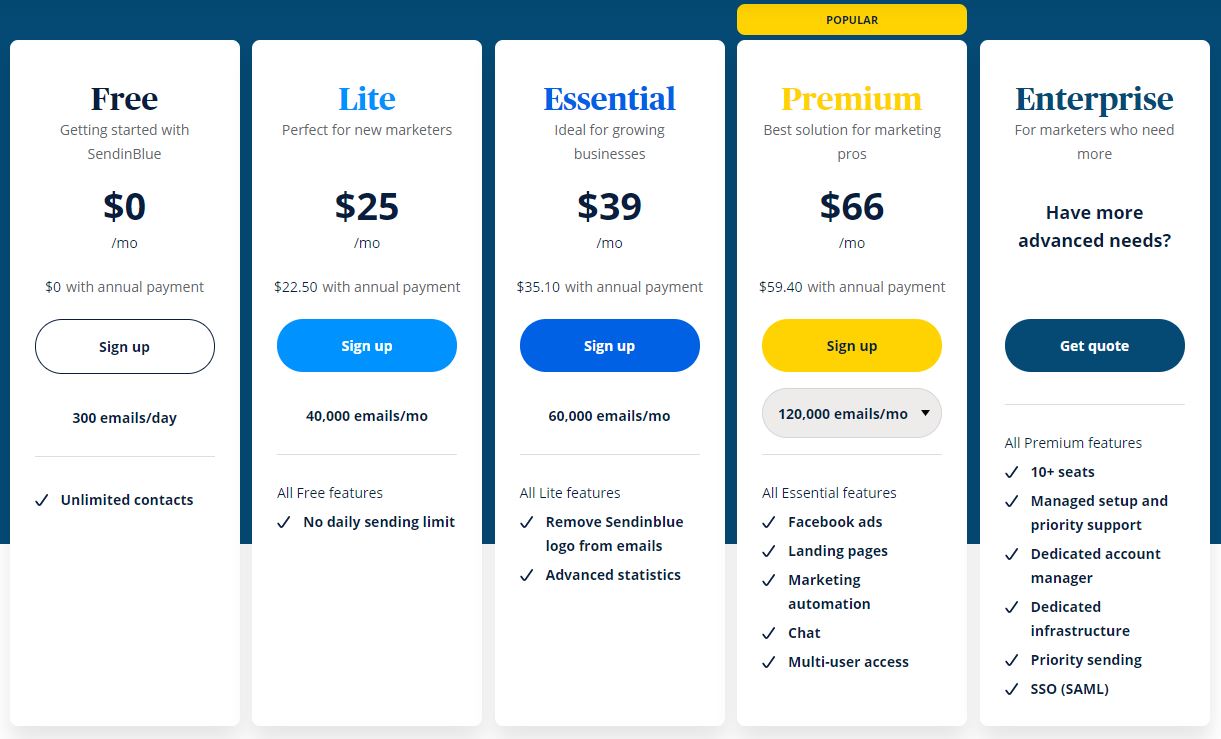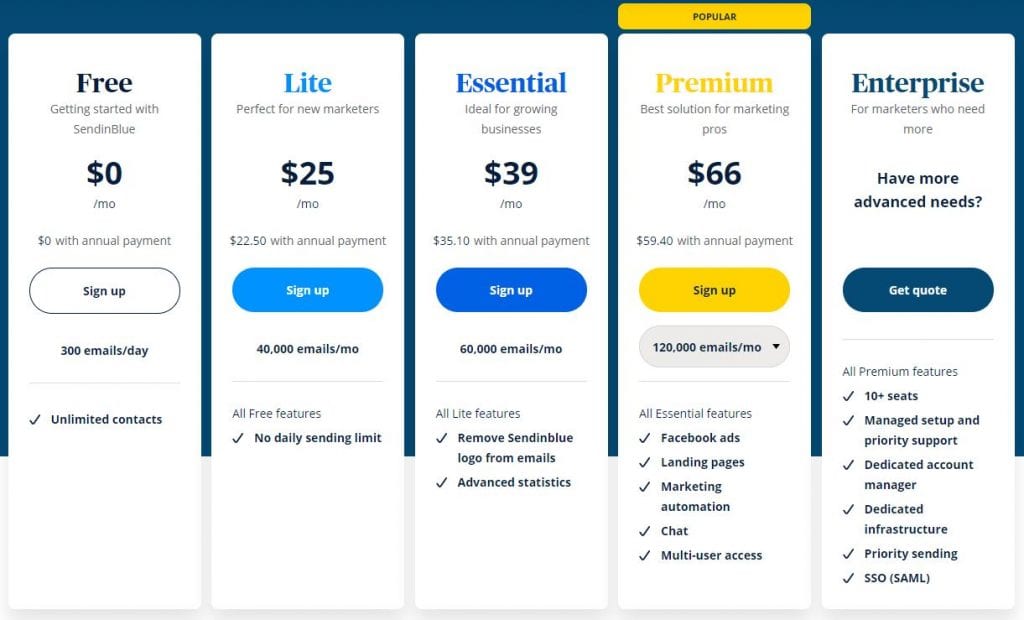 Further Reading:
2. Best for eCommerce: Omnisend
Summary: Omnisend has a very specific use case that makes it perfect for e-commerce sellers (and Shopify email). It's an omnichannel marketing automation platform, built SPECIFICALLY for merchants selling on multiple channels (most brands).
A Special Offer from Omnisend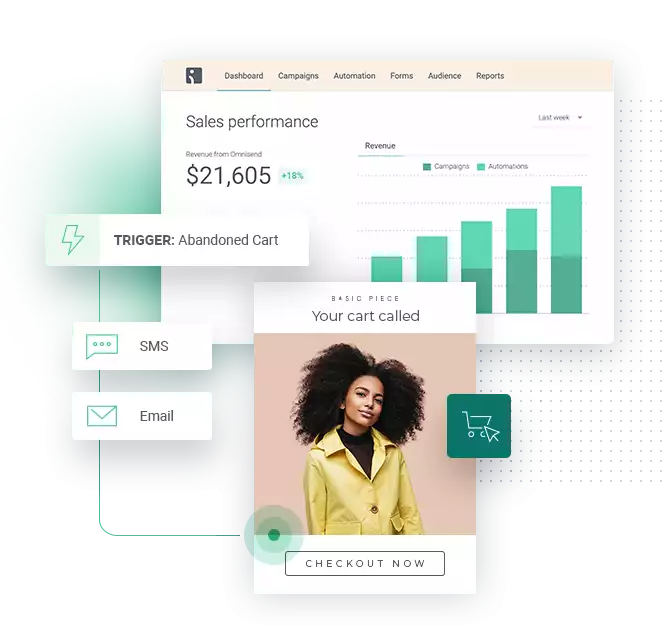 Omnisend Advantages
Purpose built for eCommerce email communications
Dozens of conversion boosting email templates and automations available out of the box
Can be less expensive than ActiveCampaign (depending on which AC plan you compare it too)
Plenty of third-party integrations, just like ActiveCampaign
Easier to use, less cluttered UX / UI compared to ActiveCampaign
Omnisend Disadvantages
Not the right solution if you aren't selling products directly (e.g. not eCommerce)
Less live customer support options
Omnisend Pricing: Omnisend offers a completely free plan up to 500 emails per month along with a free 14 day trial of their paid tiers (Standard and Pro), then a Standard Plan kicks off at $16 per month for up to 500 subscribers (6,000 emails per month), with pricing increases based on subscriber count tier, and finally Pro Plan starts at $59 per month for up to 500 subscribers (unlimited monthly emails), with tiered pricing increases based on the number of contacts (subscribers).
Further Reading:
Summary: If you liked ActiveCampaign for the CRM-lite features, Ontraport is a fully "grown up" CRM marketing software solution for 360 degree contact management and nurturing. It's a tad more technical, but also more powerful.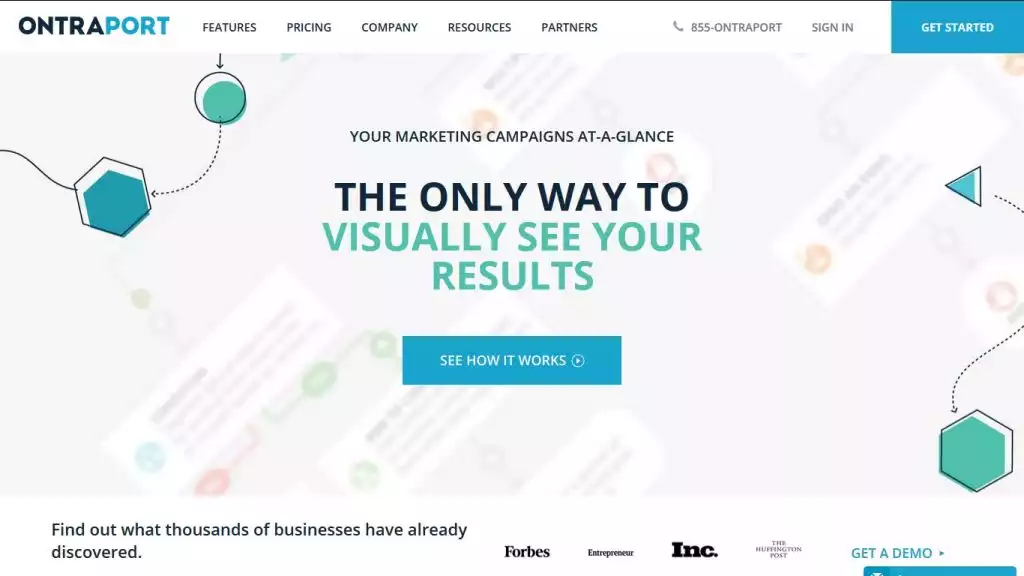 Why Go With Ontraport Here?
A more robust full-scale CRM solution (integrates with everything), visual data analytics, and deep automation and tagging. You can start with a more basic CRM, but eventually you'll need something like Ontraport to continue scaling.
Try Ontraport Free
We earn a commission if you click this link and make a purchase at no additional cost to you.
Ontraport Advantages
More fully in the CRM camp with fleshed out automated workflows
Better predictive analytics built-in for optimal send times
End to end contact and relationship management
Less expensive than similar options from CRM's like InfusionSoft (by Keap)
Strong omnichannel marketing workflows

14-Day Free Trial

to get started
Real-time sales alerts
Long track record in business as marketing services for automated campaign building
Ontraport Disadvantages
A bit more complicated to setup, slightly higher learning curve (compared to ActiveCampaign)
Significantly more expensive than ActiveCampaign
Limited social media CRM features
Ontraport Prices: Basic Plan starts at $79/month, Plus Plan at $147/month, Pro Plan at $297/month, and Enterprise Plan at $497/month.
Further Reading:
4. Best Deliverability: GetResponse
Summary: GetResponse is perhaps the most similar in feel to ActiveCampaign, offering full-scale automation and autoresponder logic at a generally more affordable price (depending on specific tier).
GetResponse Advantages
Basic and Plus plans are LESS expensive than ActiveCampaign
Best in class Webinar automation sequences and landing pages (only email service to my knowledge that offers this)
Fully functional mobile app
Real-time sales alerts
Long track record in business, one of the original lead nurturing marketing automation tools
Industry leading email deliverability rates
GetResponse Disadvantages
Duplicate contacts count against your subscriber limits
Pro and Enterprise plans are MORE expensive than comparable ActiveCampaign plans (doesn't scale as well)
Limited CRM tools compared to ActiveCampaign
Limited social media posting functionality
Not quite as easy to use or intuitive as ActiveCampaign
GetResponse Prices: All plans start with an initial subscriber max of 1000. Price points are "starting at" depending on features. $15/month for Basic Plan, $49/month for Plus Plan, $99/month for Professional Plan, and $1,199/month for Enterprise Plan.
Further Reading:
5. Best for Testing:

SendX
Summary: You probably haven't heard of SendX, but that's because it's still a baby in the marketing software space! However, I'm loving some of the features and automations being built-in as the next generation of email automation services evolves.
SendX Advantages
More affordable starting price (compared to ActiveCampaign pricing) at just $7.49 per month.
Full Free Trial available (no credit card required for free plan)
No limit on email sends per month
Unique Opti-Send Tech deliverability booster
Built-in A/B split testing
Drag and Drop visual email and sequence builder / workflows
Advanced segmentation for targeted marketing campaigns
Built-in heatmap tracking
In-app messages and notifications
500k free stock photos available
Website activity based automations (email sequences prompted by user behavior on site)
Close integration with bots and chatbot triggers
Full spectrum marketing platform
24/7 Email Support, Live Chat Support, and Phone Customer Support
SendX Disadvantages
Very new and relatively unproven versus the big names in the same (although this alone isn't a reason to discount)
Limited third-party integrations (but growing)
SendX Prices: Starts at $7.49 per month (up to 1000 subscribers), then $14.99 per month (up to 2500 subs), $29.99 per month (up to 5,000 subs), $39.99 per month (up to 10,000 subs), and then $44.99 per month (up to 15,000 subs). Enterprise plans and custom pricing are available for larger lists.
Further Reading:
6. Best for Bloggers & Newsletters: ConvertKit
Summary: ConvertKit is tailor made for content site operators and bloggers, with clean AND powerful automation builders and automation tools, easy-to-use optin-in builders and excellent support. It all comes at a bit of a premium price, but can be well worth it if you fit their target demographic.
ConvertKit Advantages
Intuitive and easy to use workflows, even for non-techies
Built with bloggers in mind
Exit-intent and advanced logic email optin functionality
Clean marketing interface
Blog-centric email templates
NEW completely FREE tier plan
ConvertKit Disadvantages
If you aren't a blogger you might be overpaying for the features you get
Generally more expensive marketing software compare to peers
Limited e-commerce marketing tools for marketing campaigns
Each URL / website requires a separate account (no bundling multiple lists like with ActiveCampaign)
ConvertKit Prices: Plans start at $29/month for up to 1000 subscribers, then $49/month for up to 3,000, then $79/month up to 5000, and finally a sliding scale for larger plans.
Further Reading:
7. Best Full Marketing Suite: Hubspot
Summary: If you are looking for a more robust full-spectrum CRM automation platform and marketing Hub (more than just an email marketing platform), Hubspot marketing is the "next level" to look at as an ActiveCampaign competitor. Hubspot CRM has a LONG track record in the space and is known for their 100% FREE CRM (and very expensive add-ons).
Hubspot Marketing Advantages
FREE fully featured CRM marketing platform to start (although payment required to expand to the full suite)
Cost-effective if you combine all your marketing tools with Hubspot (as the name suggests)
Excellent for large sales and marketing teams
Excellent lead management and scoring
Fully automated workflows (and pre-made templates to follow)
Deeper analytics dashboards with more views and segments (compared to ActiveCampaign)
Hubspot marketing hub extensibility
Hubspot Marketing Disadvantages
Starts free, but gets expensive quickly as you scale
Might be overkill for more straightforward businesses (e.g. if you just want email automation via Hubspot email marketing)
Hubspot Prices: FREE CRM, then $50/month Starter Package, $800/month Professional Package, and $3,200/month Enterprise Package.
Further Reading:
Summary: Drip (now part of LeadPages) is one of the first powerful email automation software solutions (founded by Rob Walling). Today, Drip features close integrations with Shopify and eCommerce platforms, positioning themselves as the go-to automation platform / automation tool for digital commerce.
Drip Advantages
Seamless integration with LeadPages and related products (if you need integrated sales pages, this is a great combo)
Closely integrates with Shopify (particularly post fallout from Mailchimp's break-up with Shopify)
Easy-to-implement high CTR opt-in forms (with templates for quickstart)
Clean visual automation builder and subscriber tagging (segmentation)
As the name suggests, built for evergreen "drip campaigns"
Drip Disadvantages
Shifted focus recently towards eCommerce and Shopify store owners (seemingly ceding content sites to ConvertKit – below – another others)
No longer run by the founder Rob Walling, LeadPages (which acquired Drip) founder also exited recently
Drip Prices: Scalable pricing starting at up to 2500 contacts for $49 per month.
Further Reading:
9. Best for Just Email: MailerLite
Summary: The MailerLite email marketing tool is another great platform to consider, with fully automated sequence builders and an attractive pricing model.
Mailerlite Advantages
Generally less expensive at each pricing tier compared to ActiveCampaign
Offers a completely FREE plan for up to 1000 subscribers and/or 12,000 emails per month (whichever is higher)
Easy to use drag and drop email newsletter builder feature
Built-in photo editing and resizing functionality (no need for separate marketing automation software)
Excellent pure tool for email campaigns with no complicated upsells
Mailerlite Disadvantages
More involved setup compared to ActiveCampaign
In order to support their higher delivery rates a as a platform, MailerLite may actually pause your account if it gets an extremely low open rate
Not as many CRM or marketing platform features compared to Active Campaign
Mailerlite Prices: Free version basic up to 1,ooo subscribers, $10/month for up to 1000 (fully featured), $15/month up to 2,500 subscribers, $30/month up to 5,000 subs, $50/month up to 10,000 subs, etc… see here for extended pricing.
Further Reading:
10. Best for Data Nerds:

Sendlane
Summary: Sendlane is a relative newcomer on the email marketing platform scene with a lot of work to do to catch up, but Sendlane is quickly ramping up to be a competitive alternative to ActiveCampaign for email marketing automation.
Sendlane Advantages
Advanced email marketing software ROI tracking capabilities
Better landing page builder and landing pages templates (built-in)
More polished interface (more intuitive, easy to use)
Sales alerts in real-time feature
Built-in predictive analytics to optimize send times
Full spectrum marketing platform
Sendlane Disadvantages
No SMS marketing capabilities
Relative newcomer to the market
Slightly more expensive at each tier than ActiveCampaign
Sendlane Prices: Starts at $25 per month for Basic Plan and fully featured plan starts at $45 per month.

Free 14-Day Sendlane Trial
Sendlane is one of the BEST new email marketing automation services we've tested this year! BUT, don't take my word for it. Try it out for yourself FREE for 14 days (no strings attached).
Get Free Trial
We earn a commission if you click this link and make a purchase at no additional cost to you.
Further Reading: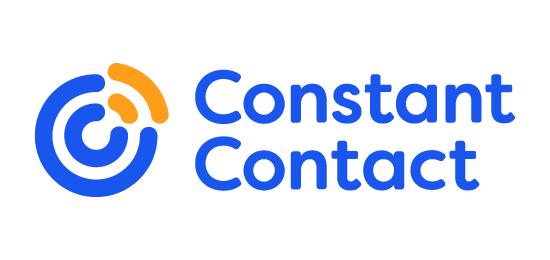 Summary: Constant Contact is another longstanding email marketing industry stalwart. Like Aweber, if you've written off Constant Contact in the past, it's definitely time to take another look as they've added many new automation features in the last few years.
Constant Contact Advantages
Easy to use drag and drop email template builder for email campaigns
Excellent for event based marketing
Built-in split testing capability
Large library of email templates to pull from
Above average email deliverability rates (marketing leading platform)
Excellent customer service
Constant Contact Disadvantages
Relatively expensive compared to the features and functionality offered
Limited tagging capability (not as robust as ActiveCampaign)
Only very basic reporting metrics feature
Constant Contact Prices: Constant contact offers a very basic service starting at $9.99/month for up to 500 contacts (and then scaling up) OR their new Email Plus option which starts at $45/month for up to 5oo contacts (then scaling up).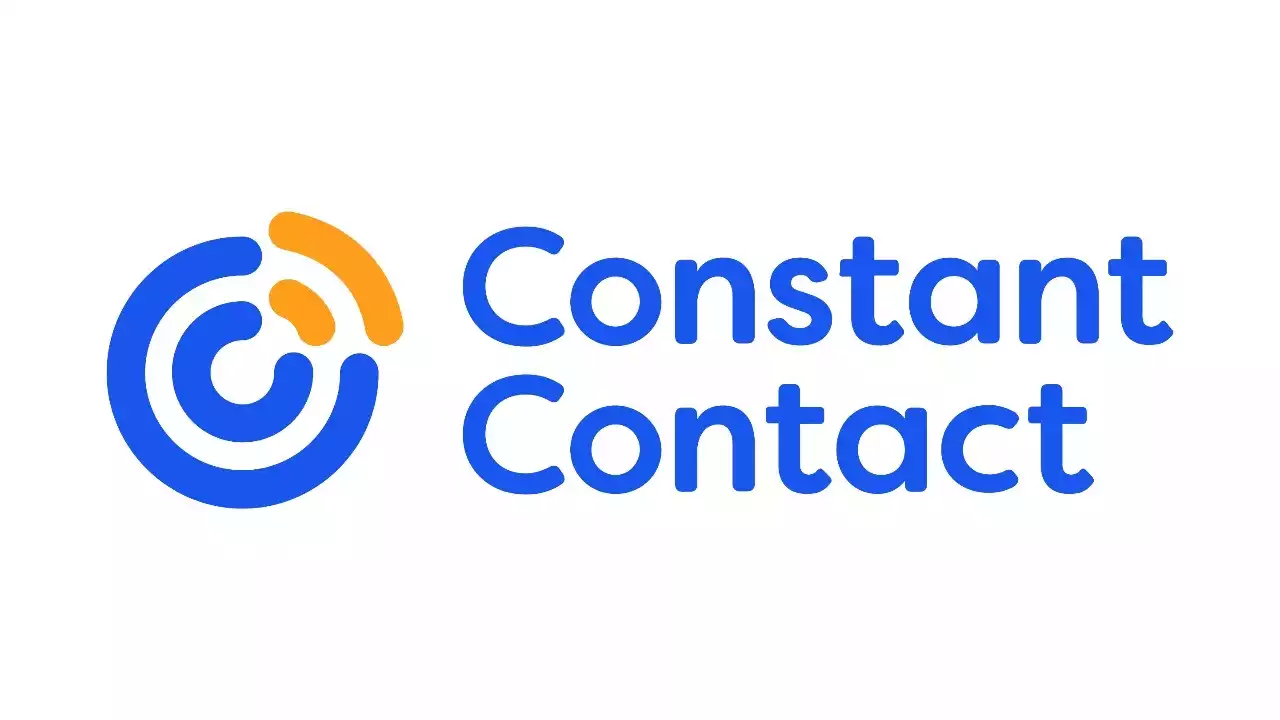 Email Marketing and More, Made Easy | Constant Contact
Whether you're launching an email marketing campaign to engage customers, building an awesome website in minutes, uploading products to your online store, and more, all in one place.
Get 40% Off Now
We earn a commission if you click this link and make a purchase at no additional cost to you.
Further Reading:
Summary: Aweber email marketing software has been in business for quite some time as one of the email marketing service pioneers for small businesses. If you previously wrote Aweber off as not having enough marketing automation features, it's worth checking the platform again. In the past few years Aweber has almost completely revamped their automation offerings (to good effect).
Aweber Advantages
Many integrations (including Shopify, WordPress, PayPal, Facebook, etc…)
Generous 30-day Free Trial period
Offers easy double opt-in functionality for sign-ups
Easy-to-use marketing campaigns and email campaigns (with pre-built use cases)
Over 700+ email templates to use (email templates for every flavor of business)
Long track record in the marketing software space (since early 2000s)
Aweber Disadvantages
Plans start at $19/month, which is higher than ActiveCampaign's starting tiers
Historically slow to respond to marketing automation changes (although this culture may be changing)
Can be difficult to migrate and move lists
Unsubscribers are still listed in your subscription count
Aweber Prices: Basic plan starts at $19/month for up to 500 subscribers, then $29/month for up to 2,500 subscribers, $49/month for up to 5,000 subs, $69/month for up to 10,000 subs, and finally $149/month for up to 25,000 subs. Larger lists can get a custom quote from Aweber.
Further Reading:
Summary: If you are a marketing agency or large enterprise organization, SharpSpring is definitely an option to consider. If you need to drive results for clients, there's really no better automation platform than SharpSpring. It's pricy up front, but you end up saving more with a full book of clients compared to ActiveCampaign. By speaking specifically to larger enterprises, SharpSpring picks up significant slack over AC.
SharpSpring Advantages
While starting price points appear higher, SharpSpring is actually cheaper at $6,000 flat cost for enterprise levels compared to ActiveCampaign
Many dashboard customizations based on unique business needs
Real-time sales alert notifications
Fully accessible mobile app for iOS and Android
Integrates fully with SAP, Oracle, Netsuite, and other large enterprise software suites
Fully rebrandable product offerings for clients (all tiers)
Ability to create and share templates across multiple clients
Advanced branching workflows (more advanced in some cases than ActiveCampaign)
SharpSpring Disadvantages
Not a great starter solution for basic email marketing and bloggers
Relatively expensive compared to some other marketing tools
No specific SMS marketing integration
SharpSpring Pricing: SharpSpring starts at $550 / month for 1,500 contacts, $850 / month for 10,000 contacts, $1,250 / month for 20,000 contacts and custom Agency and Enterprise pricing. SharpSpring also generally charges a $1,800 onboarding fee to optimally set up your system.
Further Read:
FAQs
Question: Is ActiveCampaign a CRM?
Answer: Yes, ActiveCampaign is a CRM (Customer Relations Management) tool that helps you find potential new customers, and build a strong relationship with them that will help you grow your business even more. But, besides that, ActiveCampaign is also an email marketing solution, and one of the first ones that ever appeared.
Question: Is ActiveCampaign better than MailChimp?
Answer: Yes, ActiveCampaign is better than MailChimp because MailChimp only provides email templates and informative charts, while ActiveCampain has everything to make you get more audience and it has better email marketing templates to choose from.
Question: Is Sendinblue a worthy rival of ActiveCampaign?
Answer: Yes, Sendinblue is definitely a worthy rival of ActiveCampaing and they are two of the most used SaaS solutions that not also help you in creating and sending email campaigns, but also take care also of SMS campaigns, marketing and targeting the right audience, and sales in general.
Final Send: What's the Best Alternative to ActiveCampaign?
Overall, the one email marketing platform that stands out as 1) most similar to ActiveCampaign, 2) significantly ahead of the others and 2) for a more scalable price than ActiveCampaign, has to be Sendinblue here.
That said, some specific marketing automation use cases to consider for different marketers:
Further Reading: