Last Updated on April 22, 2023 by Ewen Finser
If you need a good email marketing platform for your latest venture, our Omnisend vs Mailchimp comparison may be able to help you out.
Worldwide email use is set to grow to 4.3 billion users in 2023 (according to this study by Statista).
It's more important than ever to utilize email marketing – and with both the platforms we're looking at today, you can encompass a wide range of marketing tools and automation to make your life much easier when it comes to attracting new customers to your store or business.
We'll be looking at the main differences and similarities between Omnisend and Mailchimp, as well as their features in more detail. If you're stuck between them, keep reading – we'll go into their pros and cons so you can decide which one is best for you.
Bottom Line Up Front Summary: Mailchimp is a solid option if you need to start with FREE, but most users (particularly ecommerce store owners) will quickly outgrow it's limitations and want to upgrade to the more capable marketing automation suite offer by Omnisend here.
Main Differences Between Omnisend vs Mailchimp
The main differences between Omnisend vs Mailchimp are:
Omnisend has SMS campaigns, whereas Mailchimp Mailchimp has a lot of choices for support.
Omnisend has a marketing automation builder that integrates all areas of the platform, whereas Mailchimp offers social media ads or postcard ads
Omnisend doesn't analyze customer behavior to estimate the likelihood of them making a purchase, whereas Mailchimp does.
Omnisend doesn't have a mobile app, whereas Mailchimp doe.
Omnisend doesn't have a website builder, whereas Mailchimp does
The main thing that stood out while we reviewed them both is the marketing automation – this is much easier and more flexible using Omnisend. You can use everything from the platform to create detailed, customized marketing automation.
Whereas Mailchimp only offers pre-made automations that are quite strict in their boundaries (for example, sending an email marketing campaign OR starting an ad campaign). If you want to utilize marketing automation, Omnisend is the better choice.
They also offer different features. Omnisend has SMS messaging, which is a great way to reach potential customers, whereas Mailchimp has social media and Google ads as well as postcard ads. In fact, Mailchimp has more features in general – including its mobile app and the free website builder.
Omnisend vs Mailchimp: The Similarities
They do have a lot in common, too:
They both offer email templates
They both offer contact segmentation
They both have form builders
They both offer integrations with eCommerce platforms
They both have a useful blog with marketing tips
They both have good reporting
They're both useful platforms. We tried them both, so you can see their features in more depth. Let's start with a quick overview, and then we'll look into them both in more detail.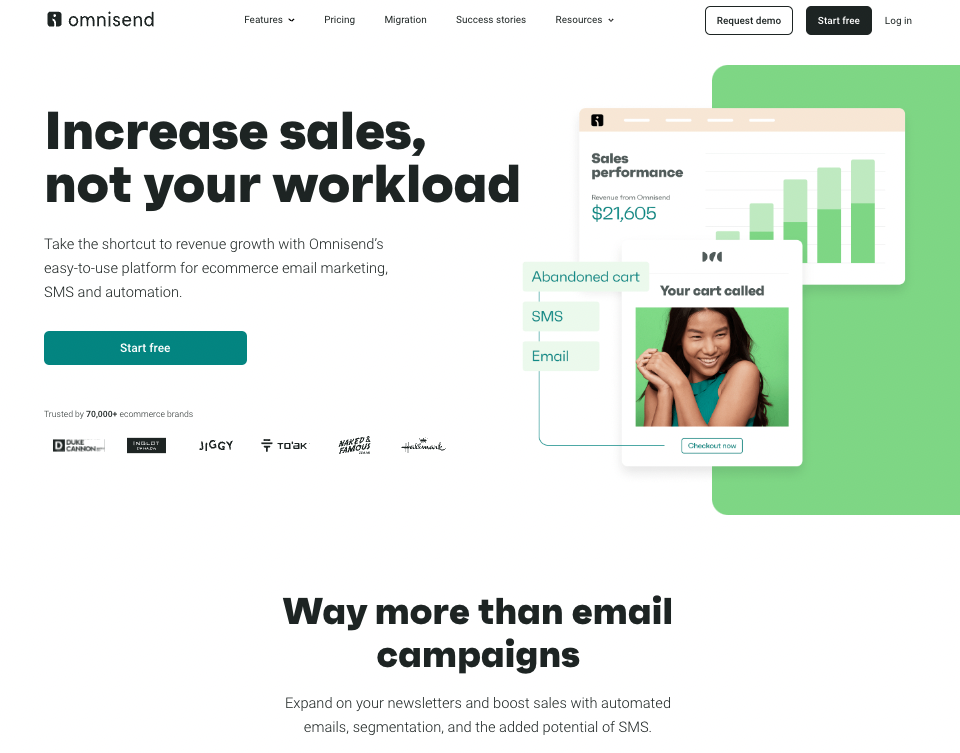 Omnisend was launched in 2014 (previously known as Soundest). It offers email marketing services alongside more advanced tools, like segmentation, marketing automation, SMS marketing, and a form builder.
It's aimed at any-sized eCommerce business wanting to utilize a series of marketing tools in one platform. You do need to link to an eCommerce platform to use a lot of their features, meaning it's not as suitable for individuals setting up an email newsletter or mailing lists. You could still use it for that purpose, but you'll be missing out on a lot of Omnisend's features.
What is Mailchimp?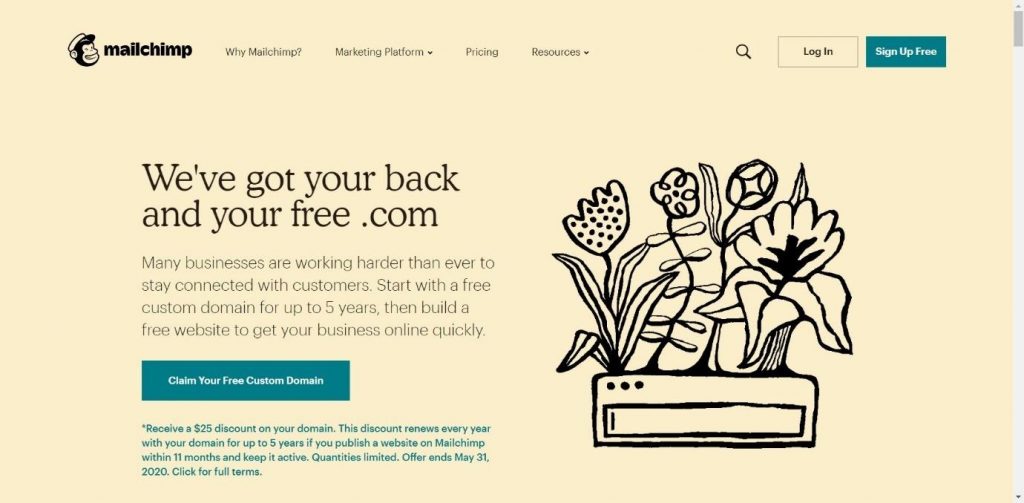 Mailchimp was launched in 2001. It's a popular email marketing service with features like marketing CRM, tagging and segmentation, behavioral marketing, digital ads, postcard ads, and more.
It's aimed at anyone – from individuals to big businesses – wanting to reach out to their audience to advertise their services.
Omnisend – the Main Features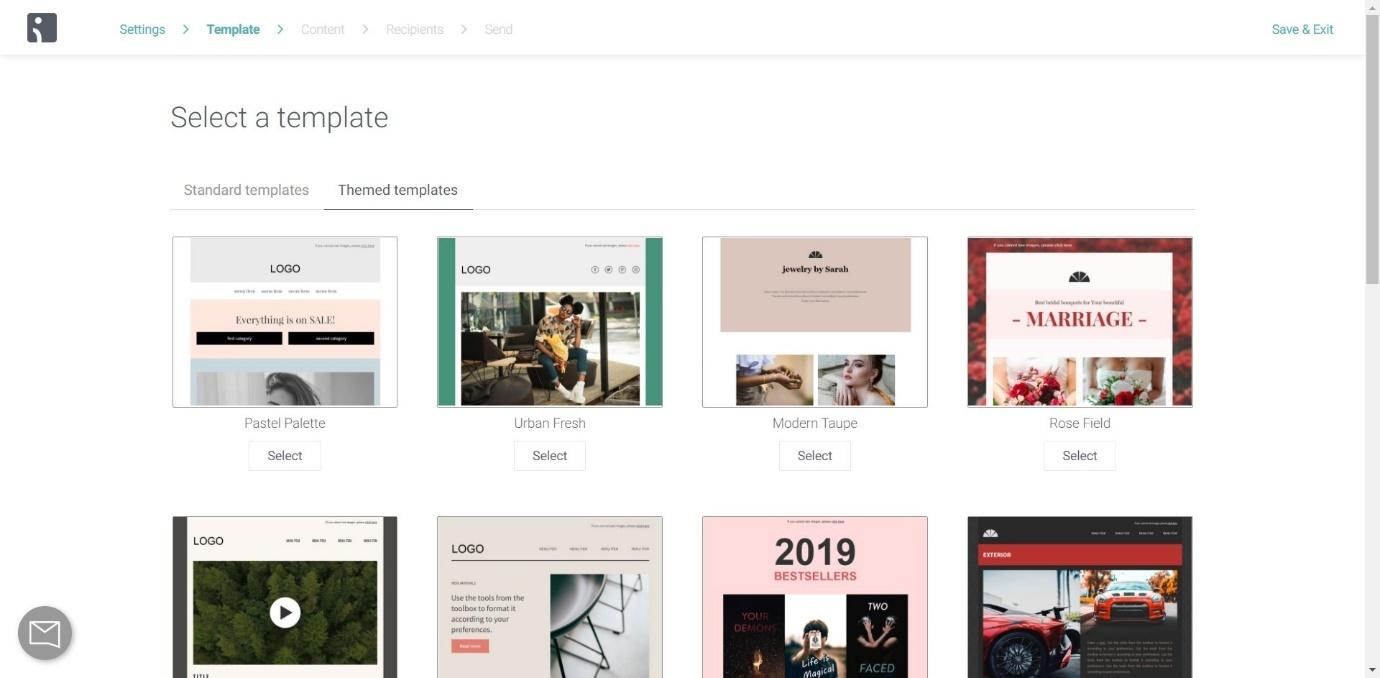 Email Campaigns
To send an email campaign, you have to verify your sender's email address. Once that's done, you can start to create a marketing campaign.
You can choose between a standard template or a themed template. The themed templates (pictured above) are very nice to look at – you can preview them before you choose one.
The editor is incredibly easy to use. Just click on a section on the left to adjust it – you can change everything from fonts, to social links, to logos, to images. Once you're happy with the finished email, you can choose to send it to all your contacts, send it to a particular segment, or schedule it for a later date.
You can also split test your emails, allowing you to easily measure which email performs best. To do this, you must connect your Omnisend account to your eCommerce store.
Omnisend SMS Campaigns
SMS campaigns also require you to connect with your eCommerce store. The text messaging campaigns are detailed and link nicely with the marketing automation features we'll talk about later.
Example texts you can send include cart abandonment texts reminding your customers to complete their purchase, sales texts, order and shipping confirmation texts, and birthday texts. These are pre-made, allowing you to use them immediately.
You can easily collect visitors' phone numbers using the form builder (more on that later too). SMS marketing comes at an extra cost, but this is a subscription tier system starting at $20 of SMS credits per month. If you are on the Pro or Enterprise plan, you get a certain amount of SMS credits for free.
Omnisend Marketing Automation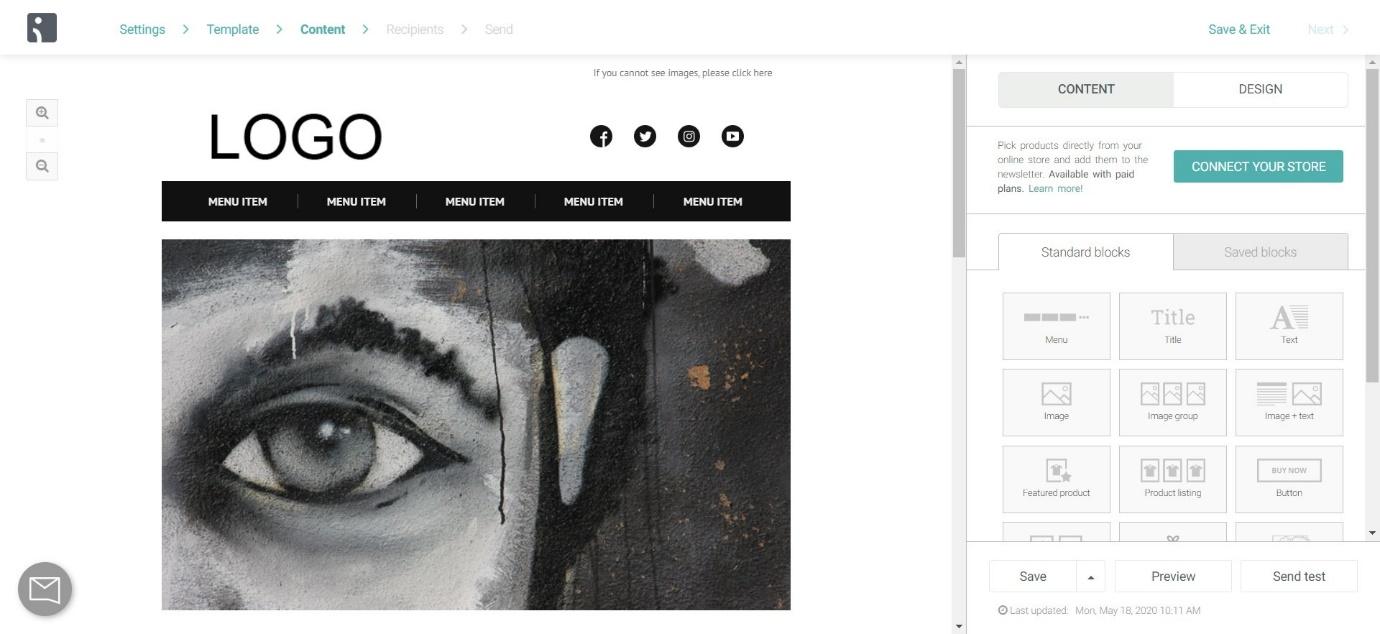 There are a few basic automation templates to choose from. These include welcome emails for new subscribers, abandoned cart recovery, and browse abandonment.
The automation email builder is fairly straightforward. The box at the top shows the start and end conditions for the automation, and each step is laid out underneath. Clicking on the steps allows you to alter them (for example, you can alter the length of time for a 'wait' action). All possible actions are shown on the left; you can click and drag them onto the timeline to add them to your automation.
You can utilize all the areas of Omnisend using the automation – for example, you can incorporate email, SMS, and push notifications.
Contacts
Omnisend offers a lot of ways to capture new subscribers, but if you want, you can import existing contacts from another platform. You can import contacts from .xls, .ods, and .csv files, or you can import them from Mailchimp.
Segmentation is pretty detailed in Omnisend. You can use shopping behavior to segment your customers – for example, you can identify and segment customers who bought a certain product, or customers using a certain discount code. You can also segment them by demographics. You can choose to send very targeted emails to specific segments this way.
Omnisend Form Builder
You can choose from four types of forms:
Popup – customers can enter their contact details in a popup form
Signup box – create a signup widget that is always visible on every page of your website
Wheel of fortune – create a wheel of fortune to capture visitor information
Landing page – create a dedicated landing page to capture information
Each form can be customized with custom fields. They have pre-made themes to choose from.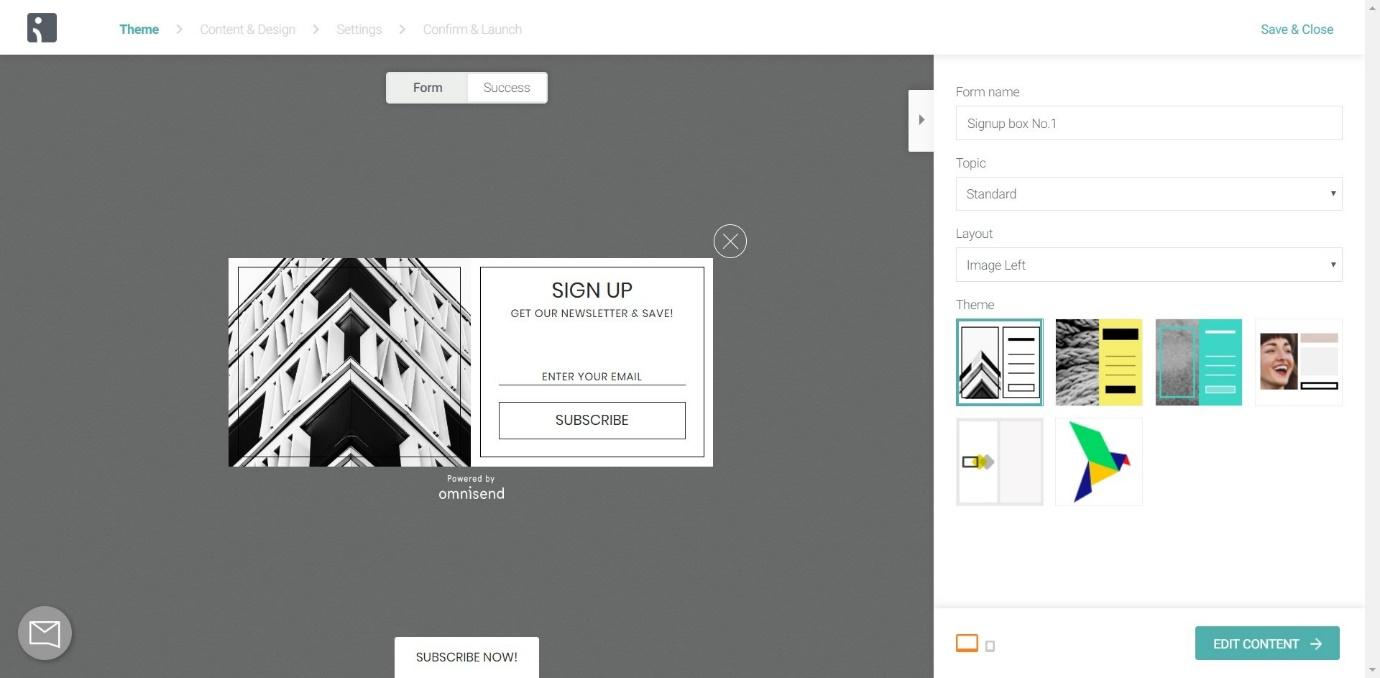 It's very straightforward to use.
Omnisend Analytics
You can view your revenue and contacts on the dashboard, quickly comparing revenue from campaigns and automations. You can switch between email and SMS lists to see their growth, or you can use their advanced reporting to track things in more detail.
The stats are pretty in-depth, allowing you to carefully track which campaigns have performed better using a variety of criteria. This allows you to see why certain campaigns have worked well – using site tracking and behavioral data as well as data for each individual campaign.
Most of Omnisend's features require you to connect with an eCommerce platform. They offer one-click integration with Shopify, ShopifyPlus, BigCommerce, and WooCommerce. They also offer integration via API with any other eCommerce platform (but this is a bit more complex to set up).
They integrate with some other services too, including coupon creation, lead generation, and analytics, and segmentation platforms.
MailChimp – the Main Features
Email Campaigns
There are many plain templates to choose from using MailChimp, or you can choose one of their pre-made themes. They have more choice than Omnisend in this regard, but Omnisend's email themes feel a little more modern and stylish.
You can add new blocks of content to your emails (including text, dividers, images, image groups, share buttons, videos, and sections of code). Then, you can click on each block to edit it. This is very easy to do.
Once you've created an individual email, you can send a preview to yourself, so you can view how it will look to your contacts. You can choose which segment of customers you'd like to send it to, schedule it for sending later or send it immediately, and get a link to your campaign to share on social media. You can split-test emails to track their performance.
Postcard and Digital Ads
MailChimp doesn't offer SMS campaigns within their own platform – you'll have to use their SimpleTexting integration if you want to incorporate SMS into your marketing campaigns.
However, they do offer postcard ads and digital ads.
Postcard ads might seem a bit old-school but used right they can still attract new customers.
You can use MailChimp's' address finder to look up the addresses of existing contacts – if there are contact details missing, they may be able to fill in those gaps. The lookalike finder is also a useful tool. This helps you to target people who aren't yet customers but share similar interests with your existing contacts.
You can choose to send one-off campaigns, recurring campaigns, or abandoned cart campaigns. You can order a free sample postcard to check out how it looks. Pricing starts from $0.75 per card.
You can also create digital ads. These can be Facebook ads, Instagram ads, or Google remarketing ads. You can add five images and a description to your ads, choose your audience, and set your total budget.
Mailchimp Marketing Automation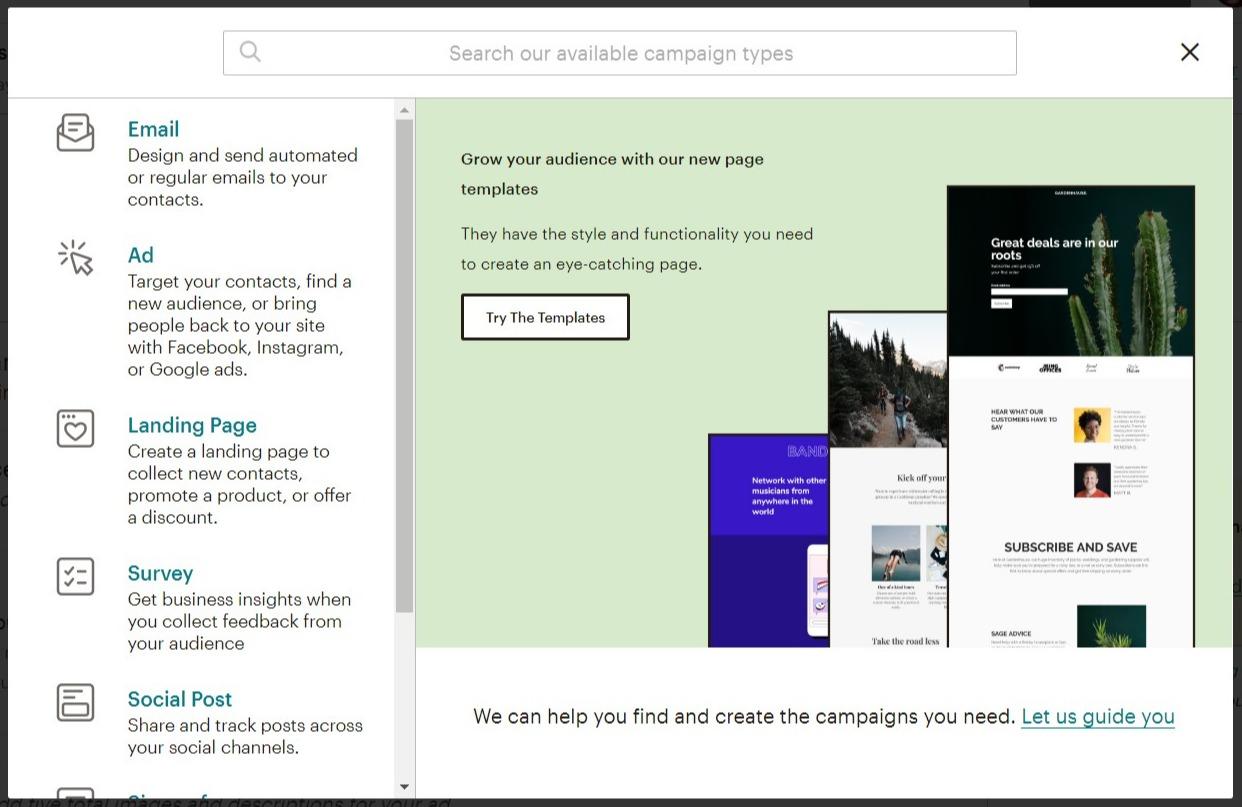 You have to choose between email campaigns and ad campaigns – so you don't have the option of pulling in all the features of MailChimp into one campaign. It also lacks the drag-and-drop automation builder, instead of presenting you with a list format. So, it's a bit less flexible overall.
They do have a lot of templates, including abandoned cart recovery, new subscriber welcome, birthday and anniversary emails, and loyal customer rewards emails.
You can also create social media campaigns, publishing the same post to Facebook, Instagram, or Twitter (or all three). You can then track the performance of your posts (for Facebook and Instagram only), including your post's reach, impressions, likes, and shares. You can do all this within Mailchimp's platform, which is useful.
Contacts
You can add contacts manually, capture them using forms, or import them from .csv or .txt files. You can also import them from Google Drive, Constant Contact, Zoho, and other platforms.
Mailchimp has a lot of options for contact management. You can segment customers based on demographics, location, email engagement, and more. You can add tags to contacts to
They also analyze past purchase behavior to predict the customer's CLV (customer lifetime value). Customers can have high, moderate, or low CLV. This allows you to target certain levels with certain things, for example, enticing customers with a high CLV to make a purchase.
Mailchimp Form Builders
You can choose to create an embedded form, a popup form, or a signup landing page. The form builder is a little less intuitive to use than Omnisend's form builder.
Mailchimp Website Builder
You can build websites using Mailchimp.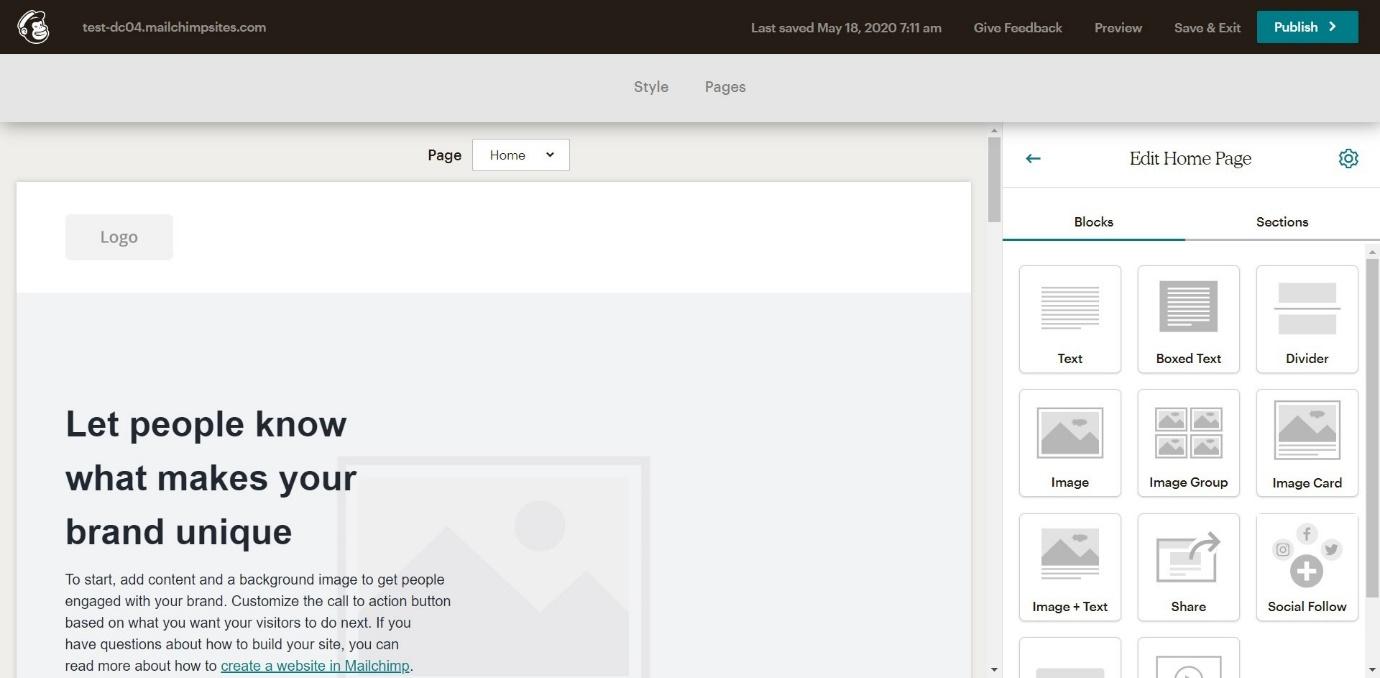 You can drag and drop blocks into each page and then edit them – it's pretty flexible but easy to use. The website builder is free, and you get a .com domain for free for up to five years.
They don't have any pre-made themes to choose from, but given that it's a free tool, that's not much of a problem. Plus, it's easy to use even for beginners.
Mailchimp Analytics
You can track the performance of your campaigns using the desktop or mobile app. They offer growth, engagement, and revenue reports – allowing you to see how well your campaigns are performing.
You can also track how your emails are doing against your competitors – you can compare your numbers to the stats of companies within your industry. Benchmarks will appear in your email reports, so you can see what you need to work towards.
You can also monitor ROI using their revenue reports.
Mailchimp Integrations and Mobile App
Mailchimp have a lot of integrations, including some eCommerce platforms (like WooCommerce, 3DCart, and BigCommerce). They also integrate with many other services, including analytics, social media, ticketing and event management, and finance and accounting platforms.
They also have a mobile app – this allows you to view your reports, monitor your audience, and create emails on the go.
Omnisend vs MailChimp – Customer Support
Omnisend Customer Support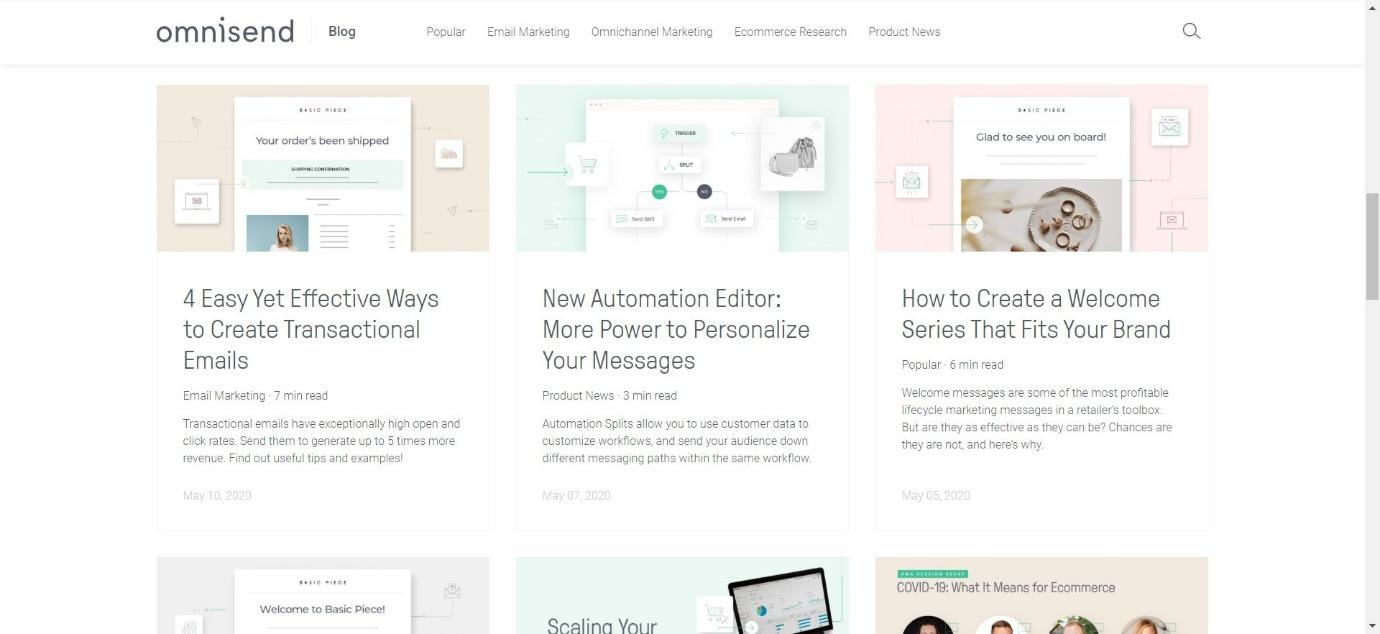 If you need support from Omnisend, you can contact them via email. But you may be able to find the answer in their knowledge base, which has a few articles and guides on how to make the most of Omnisend.
They also have a useful and regularly updated blog, giving you free marketing tips.
Mailchimp Customer Support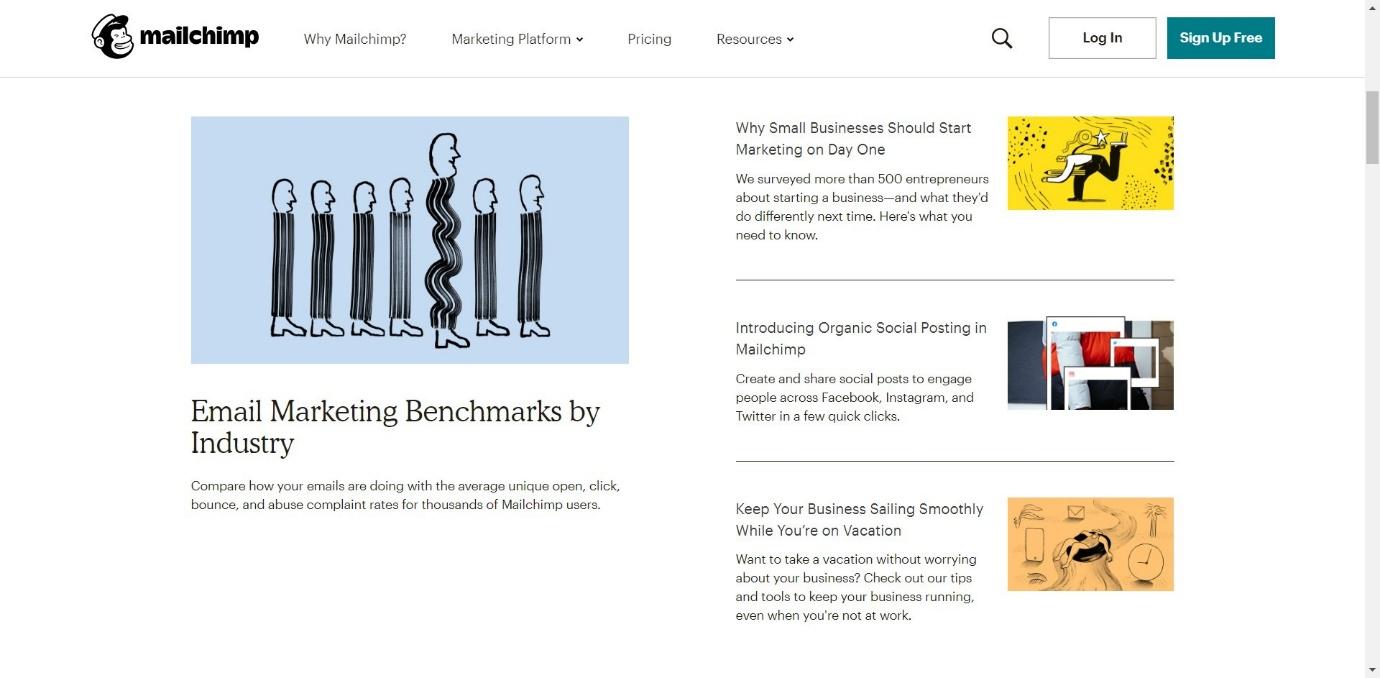 Mailchimp has very accessible customer service, with chat, email, or phone options for contacting them. Every plan gives you 24/7 access to support.
They also have a knowledge base with information on how to use Mailchimp, as well as a regularly updated blog with marketing tips.
Omnisend vs Mailchimp – Pricing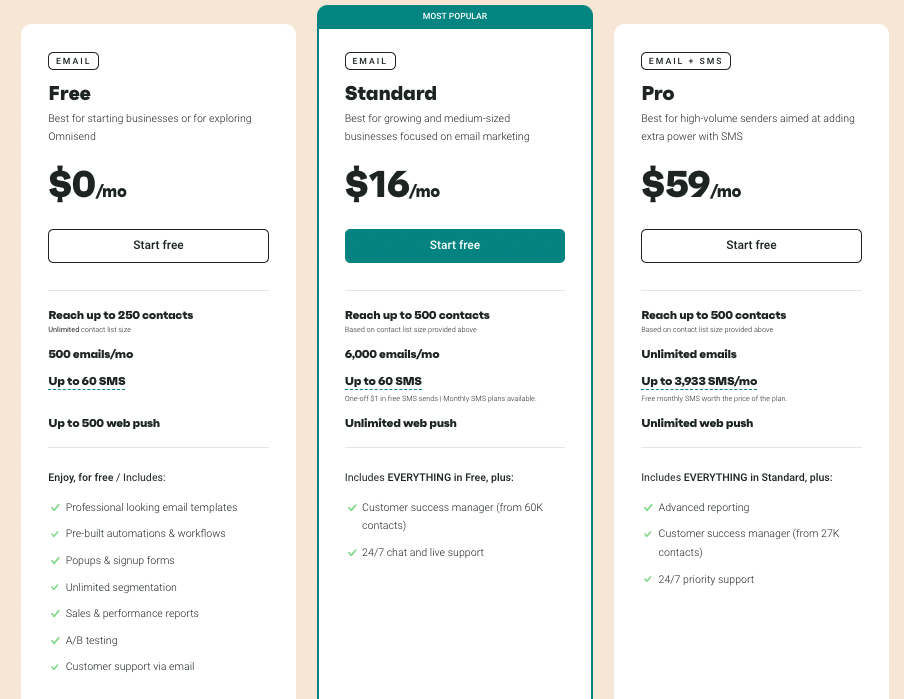 Omnisend has four price plans.
This gives a marketer access to a few features, including:
500 emails per month
Email campaigns
Signup forms, boxes, and pop-ups
Reports
This gives you everything in the Free plan, plus:
SMS campaigns and email marketing automation
Automated email workflows (automated workflow)
Audience segmentation
24/7 email and chat support
Pro Plan – from $59 per month
This includes everything in the Standard plan, plus:
Push notifications
$99 in SMS credits per month
Facebook custom audiences
Google customer match
Priority support
Advanced reporting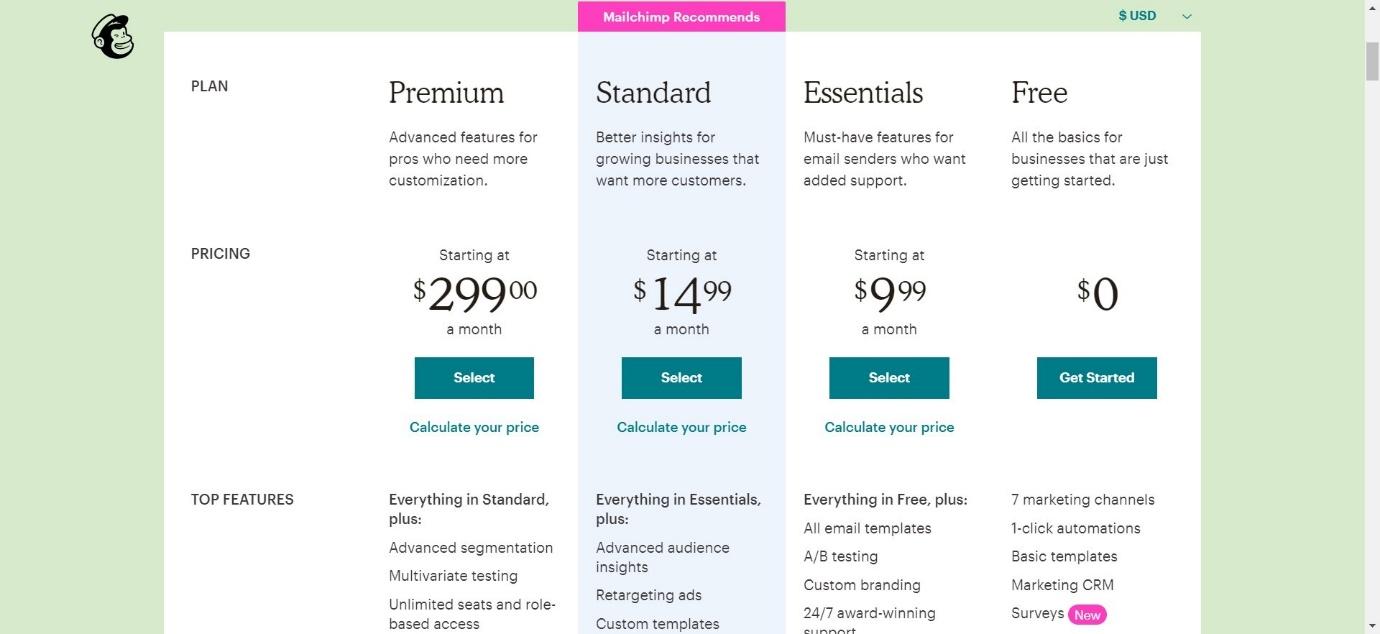 Mailchimp has four pricing plans:
This has a few features, including:
7 marketing channels
1-click automation
Basic templates
Marketing CRM
Surveys
Websites
Custom domains
This has all the features of the Free plan, plus:
All email templates
A/B testing
Custom branding
24/7 award-winning support
This includes everything in the Essentials plan, plus:
Advanced audience insights
Retargeting ads
Custom templates
Behavioral targeting automation series
This includes everything in the Standard plan, plus:
Advanced segmentation
Multivariate testing
Unlimited seats and role-based access
Phone support
Prices vary depending on how many contacts you have (prices above are based at 500 contacts). They don't have a free trial, but you can give their Free plan a go – click here to find out more.
How Much is Mailchimp Pay as You Go?
Mailchimp has always had an interesting "pay as you go" model. This is how it works.
Each email send to an existing subscriber costs 1 credit and you only pay for the emails you send (no monthly recurring charges). It's a fairly simple system that allows you to only pay for what you actually use.
It's a great place to start if you don't know how important email marketing is going to be (yet), but want to give it a low risk shot.
Best Omnisend Discount Codes
Omnisend tends to be more generous with their promotion codes and deals compared to Mailchimp.
Here are some of the top Omnisend deals I'm tracking right now:
Switch from Klaviyo to Omnisend: Save 30% off your first 3 months + get full migration support. If you want to be sneaky, migrate to Klaviyo from your current platform and then apply for the discount (might not be worth the hassle for everyone).
Save 10% Off: Take 10% off your first 3 months with code "YOUFOUNDIT" at checkout.
Omnisend vs Mailchimp – Pros and Cons
Omnisend Pros
Marketing automation is really easy to use and utilizes everything in the platform
Email templates look great
Emails are very easy to put together
Good reporting
SMS campaigns are easy to use
Omnisend Cons
Doesn't have as many features as Mailchimp
Customer service could offer more contact options
Mailchimp Pros
Emails are easy to create
Facebook, Instagram and Google ads work really well
It's handy to be able to post on social media channels using one platform
The reporting, particularly the industry standard comparison, is very detailed
Being able to see the CLV of each customer is useful
The free website builder is great
Mailchimp Cons
The automations aren't as flexible or intuitive to build as Omnisend's automations
Not as many up-to-date templates on the Free plan
FAQs About Omnisend vs Mailchimp
Omnisend vs Mailchimp Conclusion – Which One is Best?
It's hard to decide which one is best here, as they're actually pretty different.nd
Mailchimp is great for a lot of reasons. It has a lot of features that Omnisend doesn't offer. The free website builder is brilliant, and being able to post on social media using the Mailchimp platform is really useful.
Plus, you have the option of ads using Facebook, Instagram, or Google. The free plan is pretty generous, and they have a good selection of templates. Plus, their mobile app is useful.
However, our favorite today has to be Omnisend, especially if you are sending transactional email campaigns.

It may not have the social media integration that Mailchimp offers, but the templates are great, the option for SMS marketing campaigns are useful, and the form builder is a bit easier to use than Mailchimp's.

The crucial thing is the automation builder – it's so easy to use as an email marketing tool, even for beginners, and it pulls in all the features across Omnisend's platform. It allows you to build a completely personalized campaign that works exactly the way you need it for your business with omnichannel marketing.

Bottom Line Up Summary: Mailchimp is a solid option if you need to start with FREE, but most users (particularly ecommerce store owners) will quickly outgrow it's limitations and want to upgrade to the more capable marketing automation suite offer by Omnisend here.

Why Go with Omnisend?

Take the shortcut to revenue growth with Omnisend's easy-to-use platform for ecommerce email marketing, SMS and automation.

Save 10% Off (Audience Exclusive)

We earn a commission if you click this link and make a purchase at no additional cost to you.
However, they're both great platforms, and thanks to the free plans, it's easy to try them both out to decide which one you like best. Do you use Omnisend or Mailchimp? Let us know what you think of them in the comments – we'd like to know if you agree with our verdict or not!
Further Reading on Email Automation
Still stuck? Worried about making the wrong choice and ruining your business forever?
Just kidding. It's not THAT serious. Still, it's a big decision. Check out some of our direct comparisons between Mailchimp and Omnisend vs other tools.
Omnisend Compared to the Competition