Last Updated on October 11, 2022 by DMEditor
Email marketing remains at the top of the list for the best ROI of any marketing strategy. In fact, it's reported that, on average, email campaigns can generate $36 for every $1 spent. That's an astounding 3,500.00% ROI. So if you want to take a cut of this slice, you'll need the best tools to do the job.
So today, we're examining two high-rising players in the email software market – Omnisend vs Constant Contact.
Let's get started!
Bottom Line Upfront
If you're just looking for a quick summary of this review, here it is:
Constant Contact is the best choice if you're a seasoned email marketer looking to send large-scale email campaigns. Its features suite is extensive, providing everything you need to optimize and customize your email campaigns to generate a healthy ROI.
In contrast, for solopreneurs and newbie email marketers, Omnisend is the better choice. The interface is intuitive, and there's a vast range of resources available to help you learn more about email marketing. Moreover, they have a free plan, including all the basic tools you need to launch a campaign.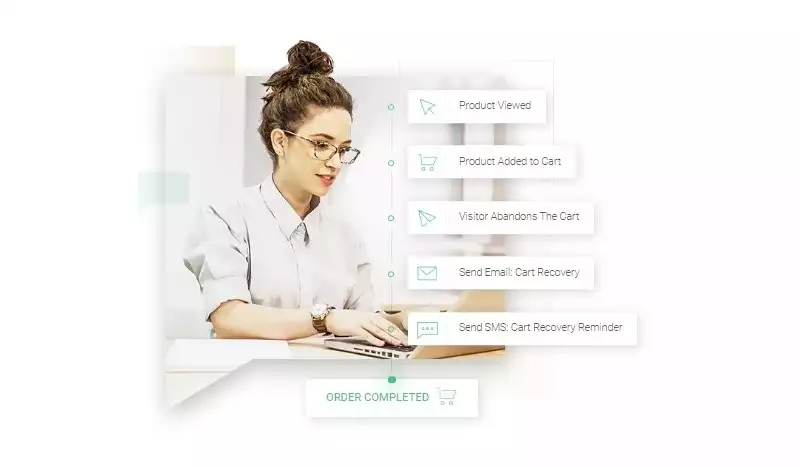 Why Go with Omnisend?
Take the shortcut to revenue growth with Omnisend's easy-to-use platform for ecommerce email marketing, SMS and automation.
Start Free
We earn a commission if you click this link and make a purchase at no additional cost to you.
Main Differences Between

Omnisend vs Constant Contact
The main differences between Omnisend vs Constant Contact are:
Omnisend focuses on email and SMS marketing, whereas Constant Contact provides email and social media marketing. However, it doesn't offer SMS marketing.
Omnisend has just 40 templates, whereas Constant Contact offers over 240 email templates

Omnisend offers a free plan, whereas Constant Contact doesn't

Ominisend offers free options for their paid tiers, whereas Constant Contact's free trial spans 60 days.

Omnisend has around 61 integrations, whereas Constant Contact lists over 350 integrations in its app store.
Omnisend offers 24/7 customer support via in-app chat or email, whereas Constant Contact can only be contacted from 9 am – 8 pm, Monday to Friday. However, unlike Omnisend, they offer phone support.

Omnisend focuses more on multi-channel marketing for businesses with a broader reach, whereas Constant Contact is more suited to those concentrating on just a few channels or newsletter marketing.

Omnisend's automation is more advanced, with conditional splits for your workflows, where Constant Contact doesn't offer such sophisticated automation features.
Main Similarities Between

Omnisend vs Constant Contact
The main similarities between Omnisend vs Constant Contact are:
Both Omnisend and Constant Contact allow you to build workflows to automate your email marketing.

Both tools come with list-growing tools like opt-in forms and popups to grow your contact list.

Both integrate with a wide range of apps and services.

Their pricing plans are roughly in the same price region, allowing you to compare based on features rather than just your budget.

Both platforms offer live chat support.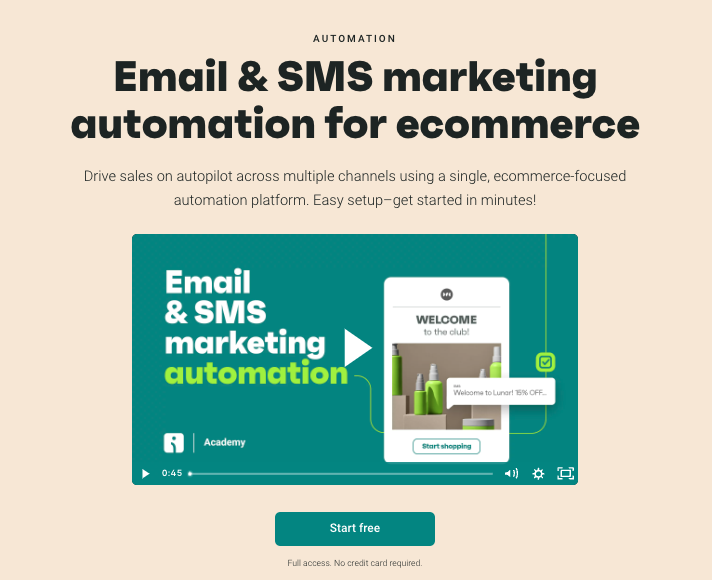 Omnisend is an eCommerce SaaS platform explicitly designed for email and SMS marketing, specializing in automation. They've been in the marketing industry for seven years. Initially, Omnisend only offered an email marketing service, but they've since expanded into omnichannel marketing. Their base is in the UK, but they also have offices internationally.
The company has become famous for its ease of use and intuitive email template builder. In fact, G2 ranked them in its best products for marketers in 2019 and, in the same year, were ranked #1 in the top easiest to use tools in marketing automation software.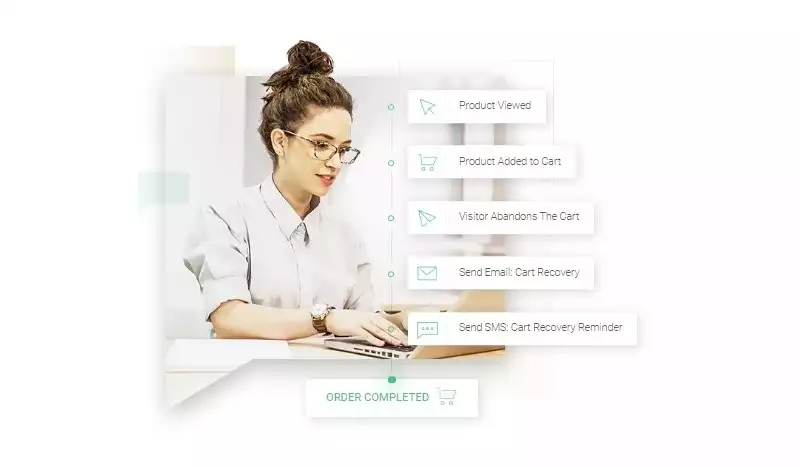 Why Go with Omnisend?
Take the shortcut to revenue growth with Omnisend's easy-to-use platform for ecommerce email marketing, SMS and automation.
Start Free
We earn a commission if you click this link and make a purchase at no additional cost to you.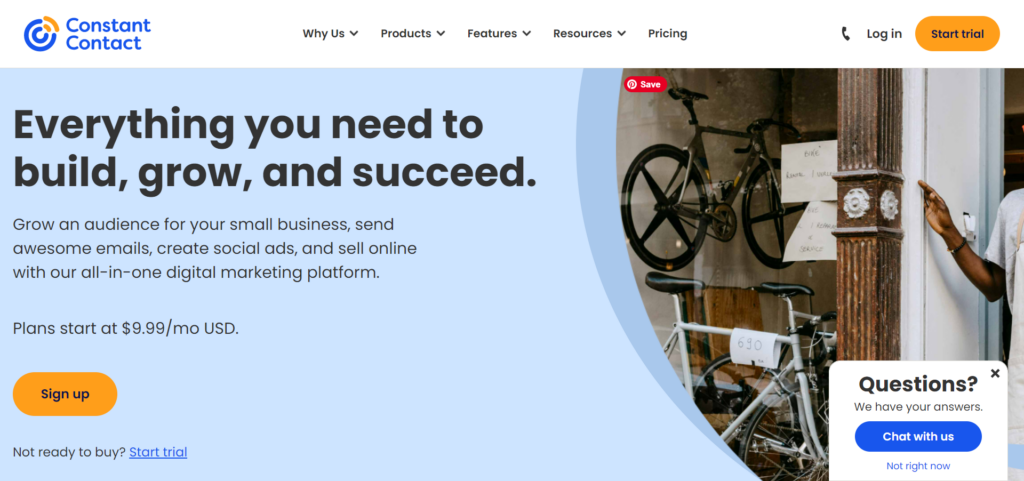 Constant Contact has been an established online marketing platform since the 90s. Initially founded in Massachusetts, the USA, it's grown to have offices based throughout the country. They offer email marketing toolkits, social media advertising, and automation services.
Constant Contact caters to small to large-size businesses and nonprofits and claims to have helped companies generate 99% more conversions from social media ads and an impressive ROI of $36 for every $1 spent on email marketing services.
Omnisend vs Constant Contact: Automation
Automation tools are designed to help streamline everyday marketing operations, making it a crucial function in any marketing tool. That said, let's see what Omnisend and Constant Contact have to offer in this arena:
Omnisend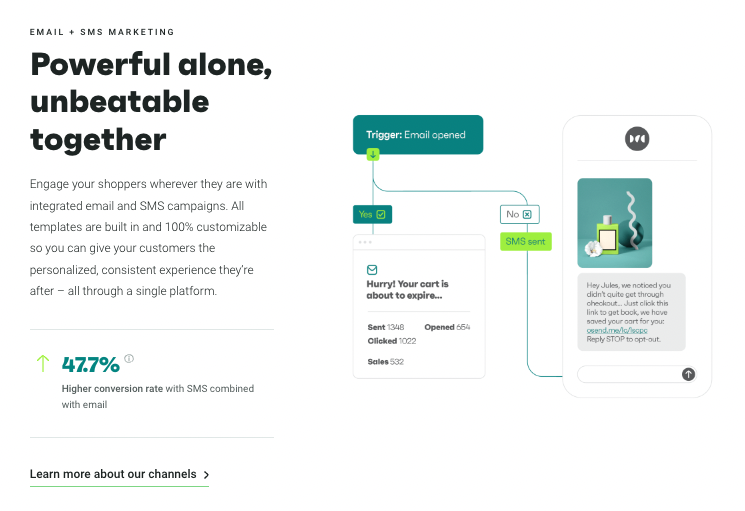 You can configure automated email and SMS responses based on user behavior. For instance, when a new subscriber is added to your customer list, you could send them welcome emails with product recommendations.
Similarly, you can trigger automated messages when:
A product is viewed but not purchased.

When a cart is abandoned

To confirm an order purchase.

Send a shipping confirmation.

Alert customers to special offers and incentives
Omnisend also comes with conditional content blocks and automated audience segmentation. These work together. You can split your audience using Omnisend's filters to send customers down different messaging paths.
All you need to do is set up the right workflow, which will happen automatically. For example, you can automatically move customers who have responded to a certain number of emails into a VIP segment, which could qualify them to receive different newsletters containing more perks.
It also enables you to show targeted content to your audience using conditional content blocks. Here you can send the same email with blocks of content that vary depending on the audience segment.
Let's take a product announcement, for example. In this case, repeat customers could receive a discount, whereas new customers won't receive a discount. Again, it's thanks to the conditional content block that you can make this distinction.
Constant Contact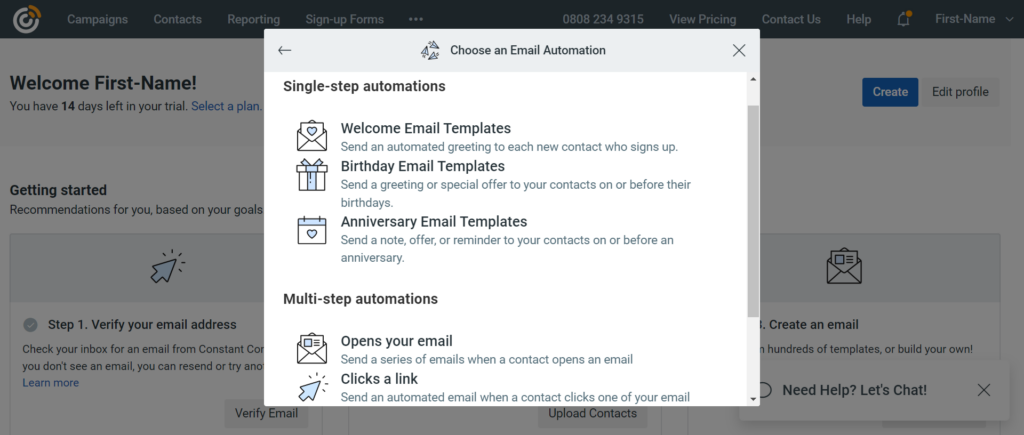 Constant Contact's automaton tools let you set up targeted email marketing campaigns that respond to how customers interact with your emails.
Here's how this works:
From your dashboard, you can schedule emails and create custom triggers. For example, you can create and customize different email templates automatically triggered to send when a specific event occurs. For instance, a welcome email could be triggered when a customer joins your mailing list.
You can also configure these triggers with multiple steps. Sticking with our new subscriber example, let's say your new customer has just received a welcome email. Then the customer clicks on a specific product link in your email. This could now trigger another series of emails recommending similar products.
Of course, this is just one of many examples. You can also set up trigger points for:
Birthday emails with special offers.

Anniversary messages with a personal message.

When a customer makes a purchase.

When a customer opens a specific email.
Constant Contact also has options for resending emails. Here you can adapt the subject line and message and resend it to the same contact to encourage the recipient to open your message.
Constant Contact even provides suggested email times, and you can use subject line A/B testing to optimize your email marketing performance. Here you can test one subject line against another variation to collect data on which performs better to see which is the most effective.
Like Omnisend, you can use contact segmentation to send emails based on audience demographics, interests, and engagement levels. For instance, if a customer has a low open rate, you can design emails specifically to try and re-engage them.
One of the added benefits of Constant Contact is that you can also generate email leads from your social media marketing efforts. For example, you can create and manage Facebook and Instagram ads from your email dashboard and market directly to audience groups that share your brand's interests.
Omnisend vs Constant Contact: Newsletters and Email Templates
The most successful email campaigns are designed with the customer in mind. That said, when it comes to email templates, your top priority should be customization and eye-catching visuals to ensure maximum engagement and a cohesive brand aesthetic.
That said, let's see what Omnisend and Constant Contact have to offer in this domain:
Omnisend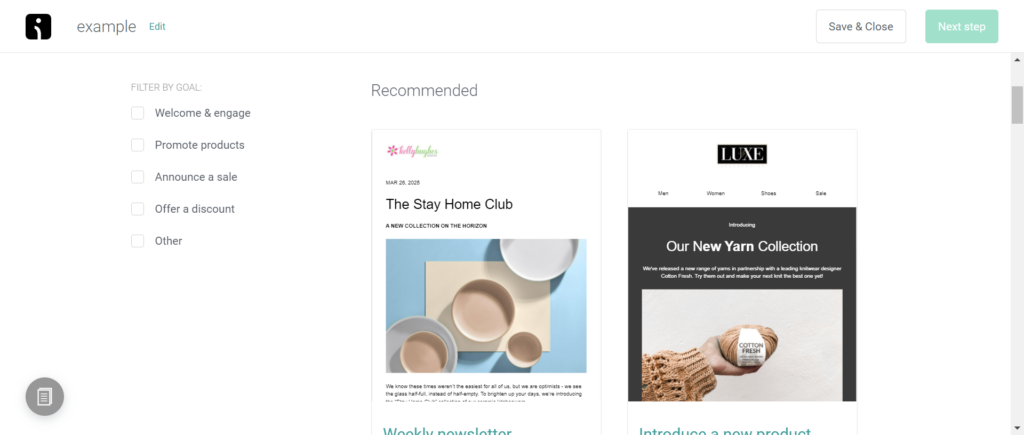 Omnisend's convenient drag and drop email builder makes creating professional-looking emails and newsletters a breeze. It requires no coding, and you can choose from 40 different email templates. In addition, you can customize these templates with your own branding, including logos, colors, and fonts.
You can also adapt the layout, visuals, and products you want to feature. For example, you can highlight various discounts, product recommendations, and incentives based on the recipient with the content blocks discussed above. The same goes for adding customer details, names, and locations.
Lastly, all Omnisend templates are mobile-friendly, so rest assured your emails will look professional regardless of your user's chosen device.
Constant Contact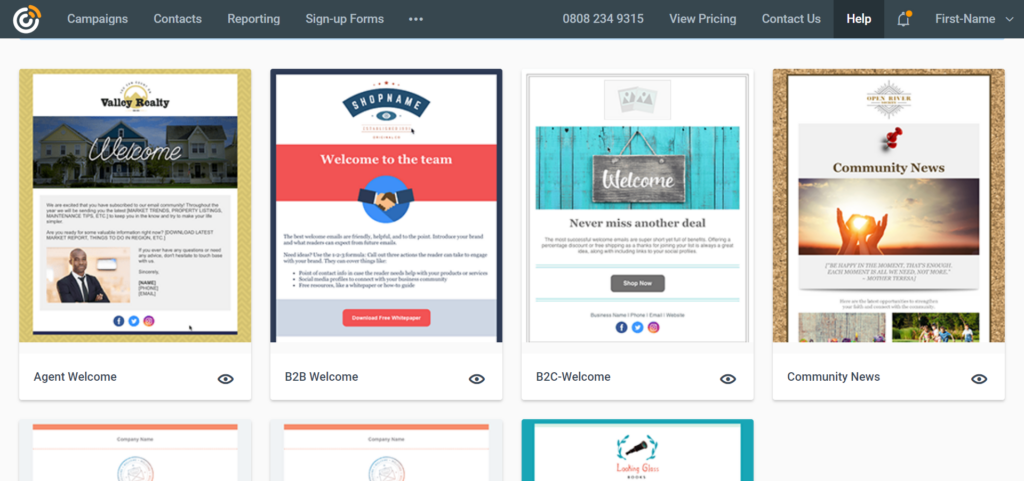 Constant Contact has a huge range of templates available, with more than 240 to choose from at the time of writing.
They also have a drag and drop style email builder that allows you to customize your emails with your branding. However, you can simply enter your website address, and the builder will automatically pull your company's logo, colors, imagery, and social media icons for you.
They also have a free library of stock images you can use, which is one convenience Omnisend doesn't seem to offer. You can also personalize emails based on the customer's name or location. All templates are mobile responsive, and you can embed surveys and products from your site.
Omnisend vs Constant Contact: Forms and PopupsPopups
When segmenting and targeting your audience, capturing your subscriber's data is essential. You want to know who your customers are and what drives them. To this end, you need a persuasive reason for customers to provide those details.
Cue contact forms and popups.
Let's see what these two platforms offer in this regard:
Omnisend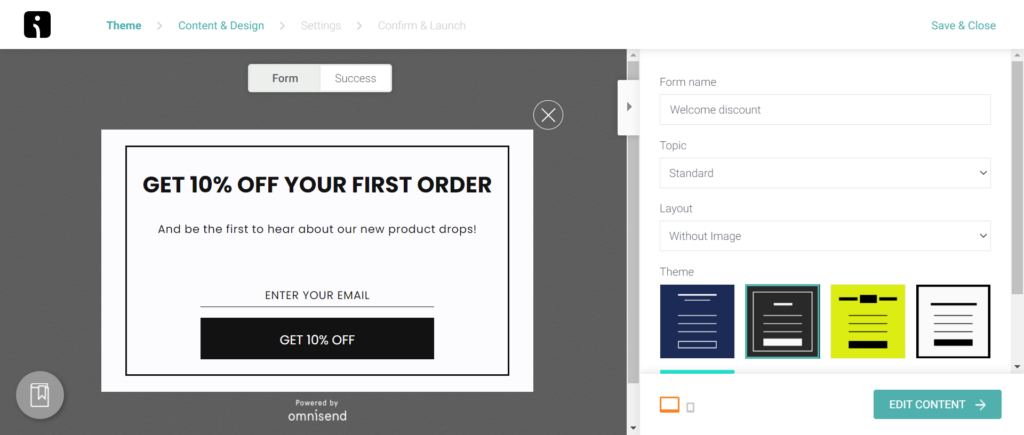 Omnisend has a range of built-in forms you can add to your web pages. For example, you can create customizable contact forms that appear as popups and sign-up boxes. The form/popup editor is simple and intuitive but doesn't include drag-and-drop functionality. Instead, you update content and your form's aesthetic from a sidebar.
When creating popup forms, you can set conditions for when the form should appear. For instance, you could trigger forms to appear when a customer views a certain page when they first arrive on your site, if a customer leaves your site or after a given amount of time spent on a page.
You can use these forms to collect customer data like their name, phone number, email, and socials. From there, you can track sign-up rates, your user's device and location, and the form types that convert best. When creating your forms, you can choose from pre-built themes. Then customize the colors, fonts, images, and texts. All forms are mobile-optimized and GDPR compliant.
You can also create separate landing pages for each campaign and design these using an interface similar to the email editor. Again, basic themes are available for you to customize.
That said, these customization options don't allow you to fine-tune to a granular degree. However, Omnisend's landing pages are already mobile-friendly and sales-optimized, so depending on your needs, this might not be a big deal for you.
Constant Contact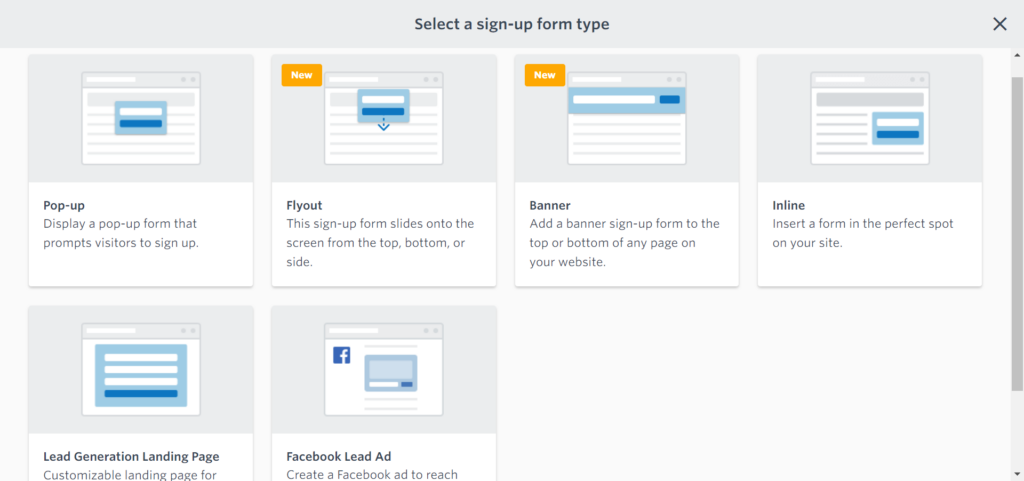 Constant Contact provides an intuitive drag and drop form editor to help you create different types of forms, including:
Inline forms are embedded into your site's website content or blog.

Dynamic forms, which are change in real-time as users fill them out

PopupsPopups, are programmed to appear at a specific time or on exit intent

Fly-outs, are popups that subtly pop up at the left or right corner of the screen

Floating tabs, these remain in the same position even as the user scrolls through your content
And more…
You can easily add text, images, and CTA's to your form to catch your customer's eye. You can also use behavioral triggers to decide when and where customers see your forms. For example, Constant Contact can monitor when a customer is about to leave your page and generate a popup to lure them back in with discounts and offers.
Constant Contact forms come with customizable fields to capture the right data from your audience, such as their name, location, age, email preferences, product interests, etc.
With this data collected, you can retrieve actionable insights into who your customers are. Their details are automatically added to your mailing list. All forms are also automatically optimized for mobile devices.
Like Omnisend, you can also create landing pages with a focused call-to-action. In addition, there are various customizable templates to choose from that you can modify using Omnisend's drag and drop landing page builder.
Omnisend vs Constant Contact: Analytics
For your campaigns to bear the most fruit, you need to clearly understand what you're doing well and, more importantly, what's hindering your performance. To this end, analytics and reporting will be the differentiator between campaign success and failure.
Let's see what analytics and reporting feature Omnisend and Constant Contact have to offer:
Omnisend
Omnisend lets you track the individual ROI generated by each campaign you push out. You can also monitor performance metrics for each campaign to pinpoint exactly where you're doing well and where you need improvement. For example, you can see if you're meeting your KPIs and compare sales, revenue, and performance across different campaigns.
You can also pick from a list of automated reports to document your performance, including:
Campaign performance

Form responses

Customer lifetime value

Automation performance
…and more.
You can also review click maps to see which email content customers engage with the most and track the sales achieved through email campaigns. In addition, you can get visual and actionable insights and filter reports to receive data on specific audience segments.
A cool feature of Omnisend's reporting function is its built-in message reports. These appear in your workflow editor when you design new automations, so you can see at a glance how campaigns have performed in the past. Constant Contact's workflow editor is more basic – it doesn't offer a similar feature.
You also have access to A/B testing. With Omnisend, you can view statistics and suggestions on which channels, incentives, and subject lines are getting the most conversions.
Constant Contact is a little more limiting in this regard, as they only allow for subject line testing. With this info to hand, you're better positioned to optimize your email campaigns and take a more data-driven approach to your marketing.
Constant Contact
Constant Contact also provides valuable insights into the performance of your email campaigns. For example, you can find out who's opening your emails, when, and where. You can compare up to five different campaigns at once. Constant Contact also has a heat-tracking feature to easily see which links attract the most attention. This is the equivalent of Omnisend's Click maps.
Moreover, with their A/B testing function, you can perfect your campaigns across different channels. For example, you can run social media and Google ads directly from the Constant Contact platform and cross-reference them against your email marketing performance.
It's easy to generate reports on different campaign metrics such as click rate, bounce rate, etc. In addition, you can export visual graphs and bar charts as images, PDFs, and CSVs.
Omnisend vs Constant Contact: Integrations
Integrating with third parties is crucial for omnichannel visibility and ensuring that your chosen marketing platform slots in seamlessly with your existing tech stack. So let's find out what integrations Omnisend and Constant Contact come with:
Omnisend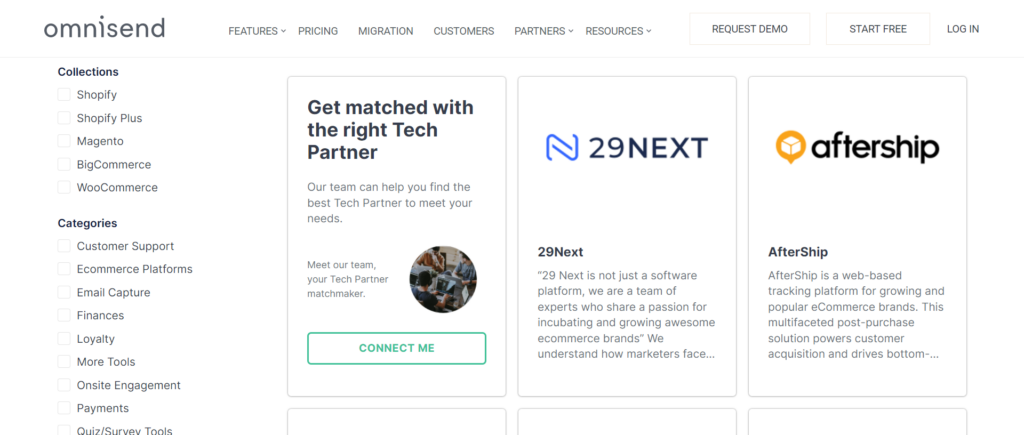 Omnisend has over 60 integrations within its app marketplace. With the potential to add more from third-party vendors. Some popular integrations amongst its listings include:
Facebook

Amazon

Shopify

WooCommerce

MailChimp

Easyship
You can find all the tools you need to carry out advertising, marketing, shipping, etc.
Constant Contact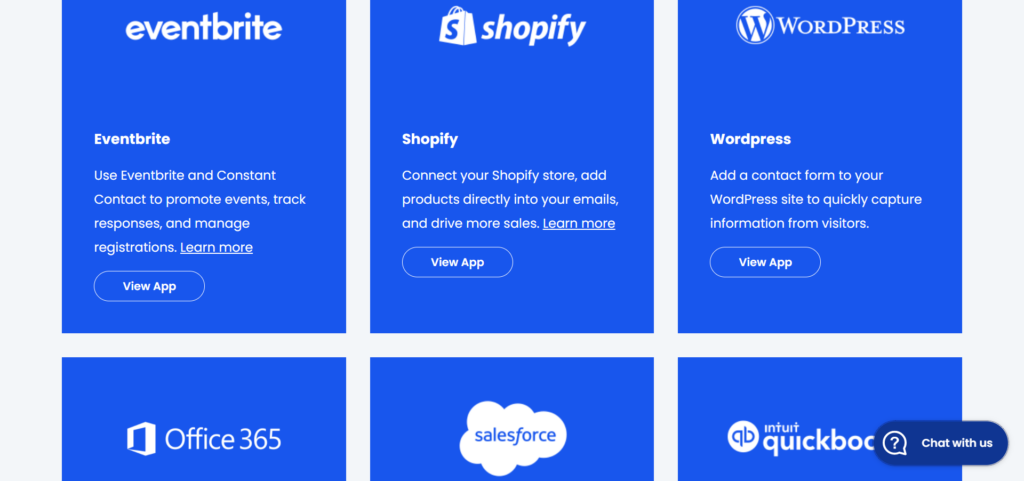 At the time of writing, Constant Contact lists over 350+ integrations in its app store. Some popular apps include:
Gmail

BigCommerce

Eventbrite

Form Stack

Shopify

QuickBooks
Constant Contact's integrations are curated to grow your email mailing list, marketing, and finance management. Notably, they don't have any integrations for shipping and fulfillment.
Omnisend vs Constant Contact: Customer Support
Both Omnisend and Constant Contact have many resources to help kick start your email marketing journey.
Here's what you can expect from each:
Omnisend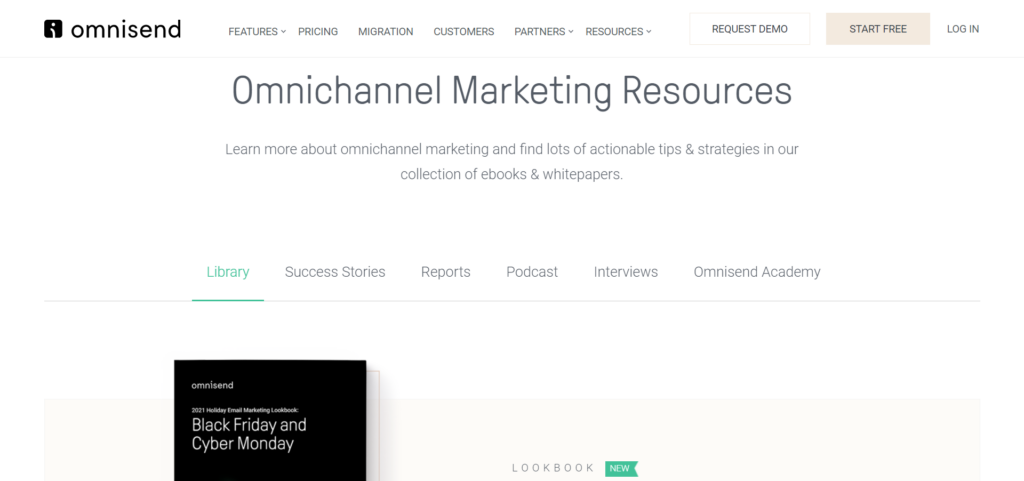 You can contact Omnisend's customer support team 24/7 by email or in-app live chat. However, many answers can be found in their extensive self-help resource library. Here you'll find helpful blog posts, podcasts, reports, and interviews.
As well as a help center with guides and tutorials on how to use the software, Omnisend also has an e-learning academy where you can take video courses on how to optimize your campaigns. Lastly, with Omnisend's higher-tier plans, you'll receive a dedicated customer success manager who can provide tips on scaling your business efforts.
Constant Contact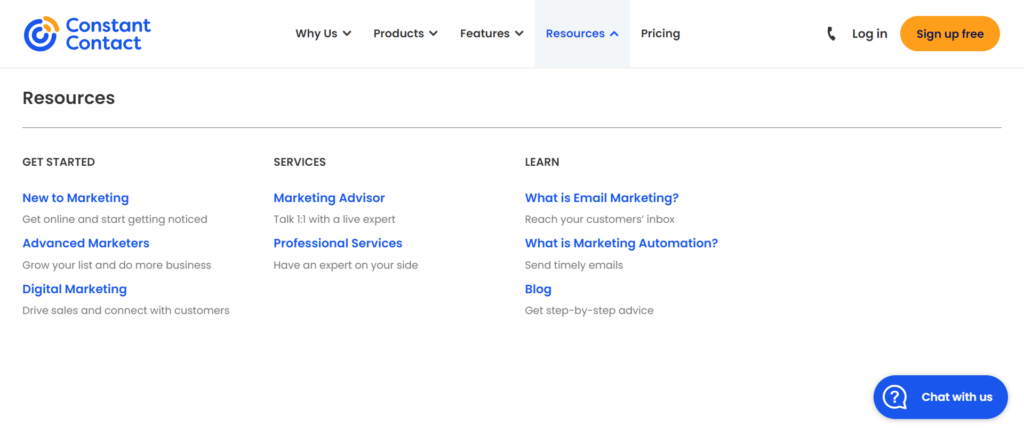 Constant Contact comes with live chat and phone support. Customer support operating times vary depending on your country and what department you're trying to contact. However, generally, they can be contacted from 9 am – 8 pm, Monday to Friday.
Additionally, you can find helpful resources in their product help center. You can also find guides, FAQs, and tutorials online inside their knowledge base. If you choose the Pro plan, you'll also be contacted directly by one of Constant Contact's in-house marketing experts. They'll provide guidance in using and making the most of the platform.
Omnisend vs Constant Contact: Pricing
Of course, all these features are great. But you're probably wondering what the cost is? Let's find out.
Omnisend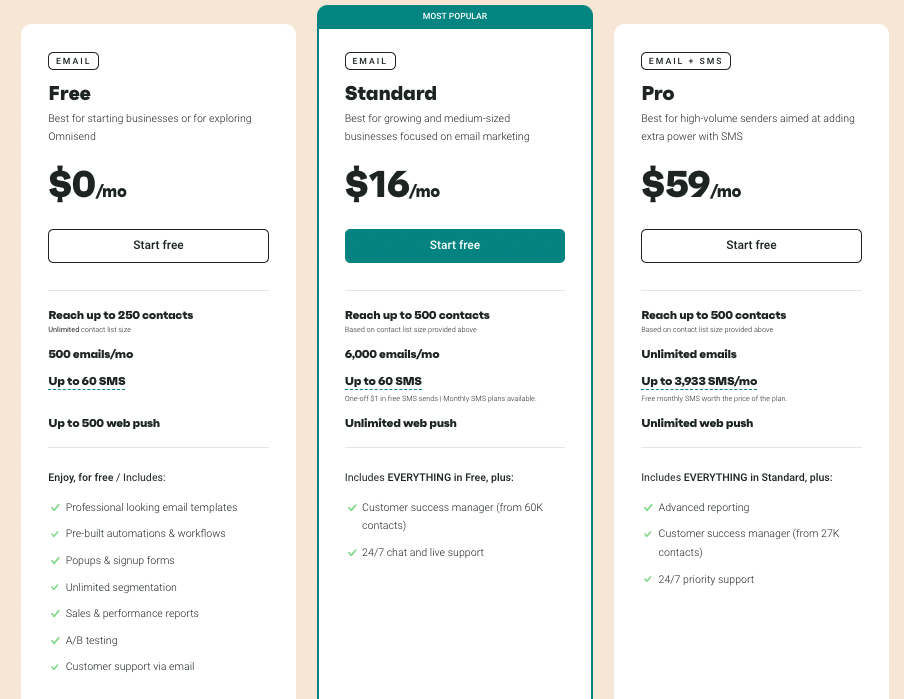 Omnisend has three premium plans based on the number of emails you plan to send per month. Alternatively, you can sign-up for a 14-day free trial or utilize their free plan.
All plans are billed monthly. Or you can opt for yearly billing, though they don't list the price for the latter.
Prices below are based on 500 contacts:
You can send up to 500 emails a month to 250 contacts. You can also send 60 SMS messages. This plan includes all automation services, templates, and campaign tools. You can also create up to 20 audience segments and access their analytics and reporting features.
Moreover, you can use their email and form builder without any restrictions. However, emails and forms are watermarked with Omnisend's branding. You're also restricted to customer support via email.
Standard – starting at $16 a month (billed monthly)
The Standard plan allows you to send 600 emails to 500 contacts each month. In addition to everything in the free plan, you receive 24/7 live chat support, 100 audience segments, and the removal of Omnichannel's branding.
It's also worth noting that if you reach 60,000 contacts, you'll also get a free customer success manager who can advise you on the best marketing strategies for your business.
Pro – starting at $59 a month (billed monthly)
You receive everything in the Standard plan. Plus, you unlock advanced reporting (more detailed reporting on campaigns and automation workflows). You can send an unlimited number of emails to 500 contacts a month and 3,933 SMS per month to 209 countries.
Constant Contact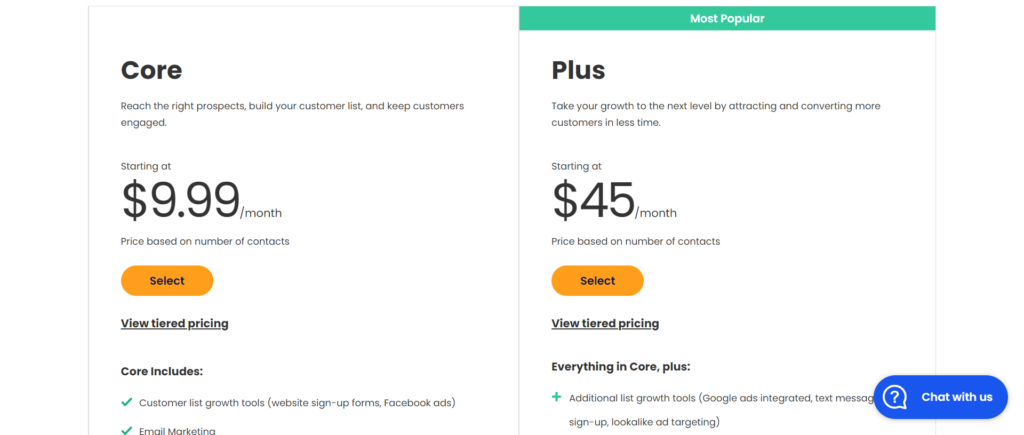 Constant Contact has just two paid plans. However, it does come with a 60-day free trial where you can try out its services. Both plans come with live chat and phone support.
Here are prices based on 500 contacts:
Core- $9.99 a month (billed monthly)
With the Core plan, you can register five users and access landing page, form, and email tools. In addition, you can automate basic welcome messages for new customers and view analytics for your email list, open rate, and clicks. You'll also receive social media and Canva integrations.
Plus – $45 a month (billed monthly)
The Plus plan lets you add unlimited users to your dashboard. You receive everything in the Core plan. In addition, you get additional list growth tools, including a Google Ads integration, text message sign-up, and look-alike ad targeting.
You can also fully automate email marketing for user behavior and access in-depth reporting on conversions and sales. You can create user surveys, and you'll receive a welcome phone call from the Constant contact team to help get you started.
FAQs
Question: How do I Launch a Campaign?
Omnisend: The first step to launching an Omnisend campaign is signing up for an account. Once you've done that, follow these steps:
Connect your store – The wizard will guide you through a brief setup
Create a campaign- Head to the campaign settings, enter your headline, and configure your campaigns.
Design – You'll be taken to the editor, where you can drag and drop visuals and text into your email template of choice.
Preview and test – Preview the email on different devices and send yourself a copy.
Send – Select who you want to send to, schedule the email, and send!
Constant Contact: Again once you've set up an account on constant Contact, you can start sending emails. Here are the basic steps:
Create – Click the create button on your dashboard and select email.
Design – Select a template and use the editor to drag and drop content into your email.
Schedule – Choose when and to whom your email should send to.
Preview and text – See what your finished email looks like and send yourself a copy.
Send – Click 'schedule'. Now your email will be sent out at the given time.
Question: How do I Connect to my Shopify Store?
Answer:
Omnisend: To set up your Shopify store, do the following:
Create an Omnisend account.
Download the Omnisend app from the Shopify store and install it.
Return to your Omnisend account and click connect store.
Now enter your store URL.
Constant Contact: To connect your Shopify store to Constant Contact, do the following:
Copy your store URL.
Go to the integration tab in your Constant Contact dashboard. Search Shopify. Click 'connect store'.
Paste your URL and enter your Shopify login details.
Click install unlisted app.
Question: What Should you Avoid when Launching an Email Campaign?
Answer: Launching your first campaign can be intimidating. So, here are a few tips to keep in mind:
Always have a clear call to action.
Segment your customers appropriately.
Ensure your emails are professional – i.e., spell check, high-resolution images, etc.
Avoid clichés and pitchy sales headlines
Always optimize for mobile.
Omnisend vs Constant Contact: Our Final verdict
So who wins?
Constant Contact provides comprehensive features and tools to create scalable, large-scale campaigns for a reasonable price tag. It's a great tool for businesses that already have an active email marketing strategy and want to streamline their operations. It's also good for large enterprises and experienced marketers looking to grow their contact lists and attract new leads.
In contrast, Omnisend is great if your focus is omnichannel marketing. It's also more geared toward brands and entrepreneurs looking to get started in email marketing. It offers popular integrations and tools to manage campaigns. Plus, it's easy to use, making it great for beginners wanting to get started.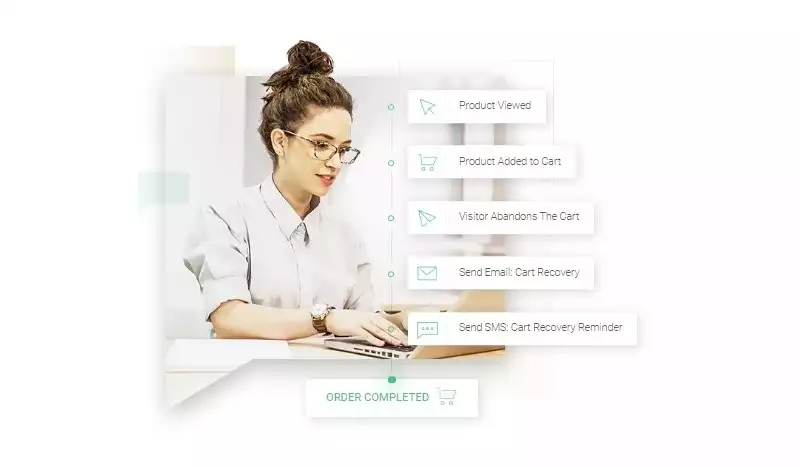 Why Go with Omnisend?
Take the shortcut to revenue growth with Omnisend's easy-to-use platform for ecommerce email marketing, SMS and automation.
Start Free
We earn a commission if you click this link and make a purchase at no additional cost to you.
What do you think? Whose won your heart as the best email marketing platform? Tell us all about it in the comments box below!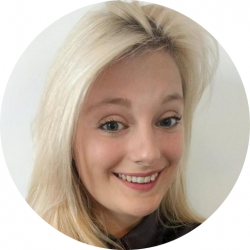 Latest posts by Rosie Greaves
(see all)
Get 40% OFF for 3 Months