Last Updated on January 11, 2023 by Ewen Finser
Our Mailchimp vs Constant Contact comparison will look into all the features offered for each email marketing platform to see which is best for your business. Every business owner understands the impact a top-notch personalized marketing email (personalized emails) can have on conversion rates, whether using automation or not.
What's more, is that the importance of emails as a tool of marketing will continue to grow. According to Statista, email users are expected to grow to 4.4 billion in 2023, compared to 3.8 billion in 2018.
But email marketing campaign goes beyond hitting the send button to numerous prospects on your email list. You need to gauge the effectiveness of your campaign, understand what piques your clients' interest, and strategies that are a waste of resources.
Email marketing tools are designed to ensure that you carry out a successful marketing campaign. There are two popular automation tools you have probably heard about; MailChimp and Constant Contact.
While the two serve the same purpose, they vary to some degree in terms of their email marketing features.
Bottom Line Up Front Summary: Personally I prefer the more affordable pricing structure and the HIGHER DELIVERABILITY rates offered by Constant Contact here. At the end of the day, undelivered emails are ALSO a hidden cost for businesses, making the case even more clear for me (in favor of Constant Contact).
Main Differences Between Mailchimp vs Constant Contact
The main differences between Mailchimp and Constant Contact are:
Constant Contact has a higher email deliverability rate compared to Mailchimp
Mailchimp offers a basic free plan, whereas Constant Contact starts at $20/month
Mailchimp offers more data and real-time reporting fields compared to Constant Contact
Mailchimp is generally more affordable at each price tier than Constant Contact
Before analyzing their differences further, let's understand the two email platforms first.
MailChimp is a popular email marketing software among business owners. It comes with modern features and a wide variety of customizable templates. It enables business owners to send out automated emails that reflect the company's image.
This tool is affordable and provides a free plan that supports up to 2000 subscribers, before getting into the Mailchimp pro plans. The comprehensive analytics tools (google analytics integration as well) provide in-depth insight into the campaign.
Constant Contact, like MailChimp, is an email marketing tool available to business owners. It provides unlimited emails in its basic plan for $20 a month. And you do not have to pay for the first month.
It also provides a variety of email templates. It may not have templates as attractive as those of MailChimp, but it performs its function effectively. The tool is easy to navigate and adopt.
Pricing Plan Comparison
It is always necessary to familiarize yourself with an application before investing your money. MailChimp offers a free plan in addition to their paid plan options, which comes with the basic functions you need to get started. Constant Contact, on the other hand, provides a one-month free trial period of the plan you intend to use.
When it comes to the pricing, the real difference comes in.
MailChimp provides three pricing payment plans. An advanced option of the free plan is the Essentials which starts at $9.99 per month. The next level is the Standard plan which starts at $14.99 per month. The most advanced is the Premium plan, which starts at $ 299. Mailchimp pricing varies with the number of contacts.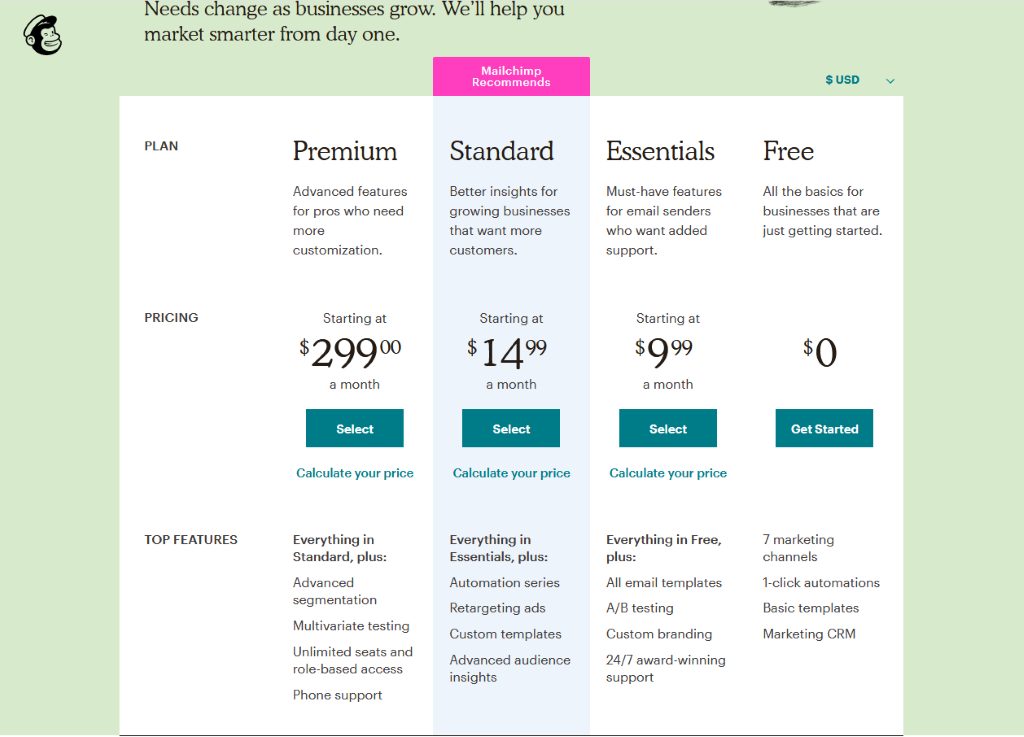 Constant Contact Pricing offers two pricing plans, Email starting at $9.99 per month, and Email plus, which starts at $45 per month. The precise pricing will depend on the number of contacts.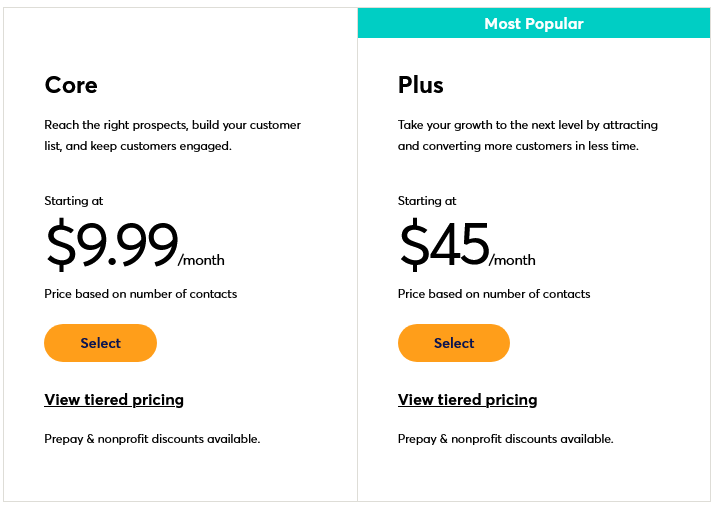 Creating Registration Forms
The registration and sign-up forms are a significant aspect of your email marketing automation campaign. You want it to blend well with your website and appeal to your customers.
Let's take a look at what MailChimp and Constant Contact offers.
MailChimp vs Constant Contact Offerings
MailChimp offers a variety of design options. It allows you to add custom fields, or drag and drop the existing fields. It comes with opt-in messages that are easy to customize and fun to experiment. You could also add a little color, which is sadly complicated by the HEX color code.
With Constant Contact, the fields are pretty limited to the standard tick boxes for personal details. You can change the font, background color, and image banner. It allows you to create a QR code that you can easily link to your sign up form. It also provides opt-in messages.
Email Marketing Service Integrations
Third-party integrations allow you to do more with your e-mail marketing campaign and extend automation capability.
Content management systems (CMS) enable you to create outstanding content that builds brand awareness. Customer relationship management (CRM) will have you targeting the right prospects.
With the eCcommerce platforms, you can use customer information to segment the market (advanced segmentation) and send relevant campaigns. Accounting platforms help with billing and providing discounts to your loyal customers.
Social media allows you to extend your outreach. You can send your emails through these channels to widen your possibility of gaining prospects.
MailChimp is the king of integrations. It provides over 700 possibilities, including most of the major e-commerce tools. Mailchimp users can find options such as Sugar CRM, Zoho, SalesForce, WordPress, BigCommerce, Shopify, Magento, and WooCommerce. It also integrates perfectly with social media applications such as Instagram Ads, Twitter, Facebook, and LinkedIn.
NOTE: Mailchimp recently had a pretty major falling out with Shopify with the end result being that they no longer play nicely with each other. This left many Shopify store owners looking for alternatives.
Constant Contact is a bit limited when it comes to integrations. It only allows for slightly over 450 apps and software. It provides options such as SalesForce, fully Shopify integration, Mailchimp WordPress plugin, ListBuilder as well as social media channels including Instagram, Twitter, Facebook, and LinkedIn.
Getting your preferred apps and integrations with Constant Contact is easier. Unlike MailChimp integrations with apps, you do not need to have the app's name in mind. You can carry out a search based on keywords, business need, and industry.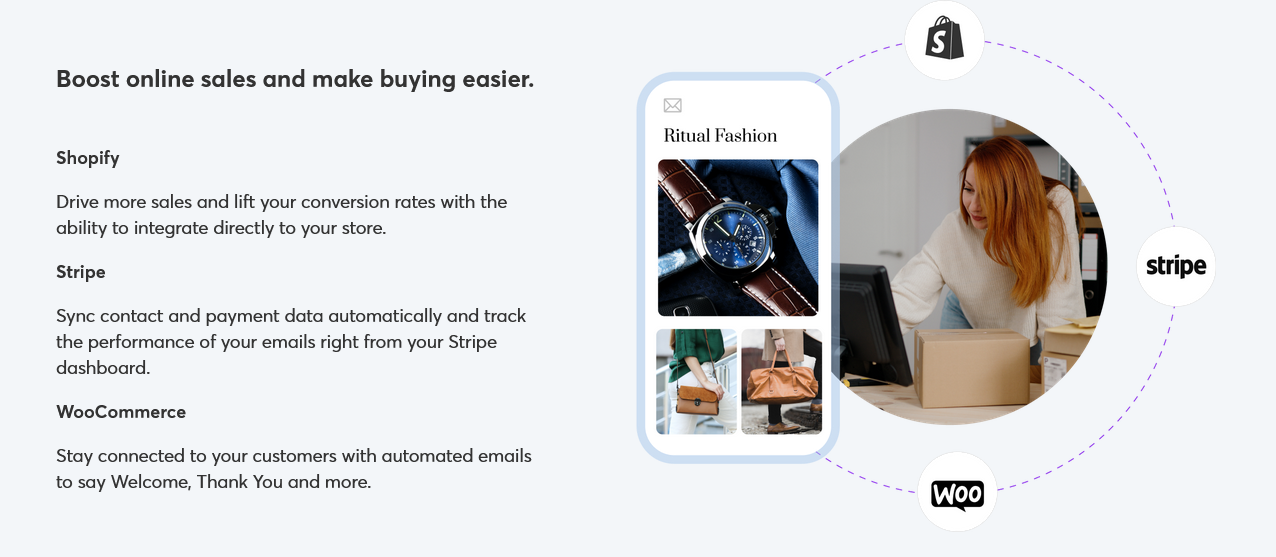 Marketing Automation Features
With so much in your hands, an email marketing platform that automates some processes is preferable. With this in mind, here are how the two digital marketing platforms compare with basic automation feature options.
This time-saving automation is what you get with the MailChimp. You can integrate it with your website, allowing you to send emails to your customers based on their website activities. You can send them product recommendations based on their past purchases. For new client purchases, MailChimp will send a thank you note. In the case of abandoned carts, it will send a kind reminder to the client. It also attempts to re-engage dormant customers.
To enhance your relationship with your clients, MailChimp will automatically reach out to them on special days such as birthdays. You can automatically reach out to loyal customers using special offers. And, of course, it welcomes your new subscribers warmly (welcome emails). However, the automation features in MailChimp are not available for free plan users. You will need to upgrade.
The automation capabilities of Constant Contact are the auto-responders that you can create for new subscribers, reminders for abandoned carts, and follow up emails for dormant clients. It also creates an email series based on the subscriber's behavior patterns.
The Ease of Use Feature
You do not have to be a tech guru to navigate either MailChimp or Constant Contact successfully. They both have clear sections. They have a drag and drop user interface that makes operations easy peasy. You can add images, create emails, and customize without getting a headache.
Constant Contact offers fewer features making it much easier to learn. Besides the simplicity in selecting relevant integrations, it comes with design templates that are displayed according to functionality.
MailChimp, on the other hand, has an easy to use campaign navigation tool. It allows you to move forward and backward to confirm every step of the campaign is as you intended it to be.
Simplicity in Adding Contacts
Adding contacts to your mailing list should be straightforward. Both MailChimp and Constant Contact allow you to add your contacts easily.
MailChimp allows you to add your subscribers by either importing a CSV or tab-delimited text file. You can copy and paste from other files or import your contacts from services such as Google Contacts, Salesforce, and Zendesk. It takes xls, .xlsx,.csv, and .txt file formats.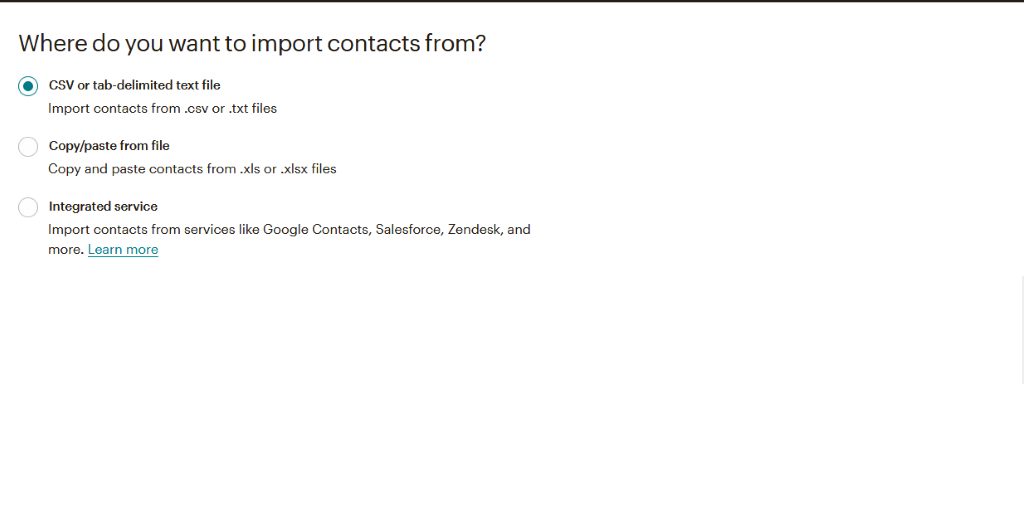 As for Constant Contact, you can type in or paste your contacts one by one. You can also add multiple contacts at a go. You can upload contacts from Gmail, Outlook, or any other app. Constant Contact will accept .xls, .xlsx, .vcf, .csv, and .txt file formats.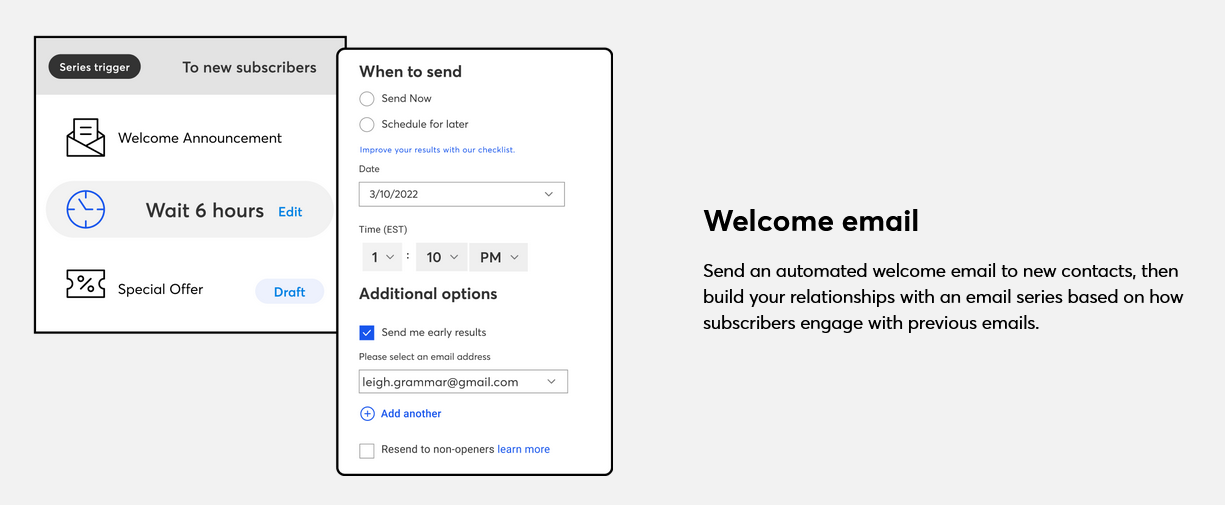 Customer Service and Customer Support
It is vital to have sufficient customer support, especially when dealing with an email marketing platform. You wouldn't want to be stuck in the middle of your campaign with no viable help to get you going again.
MailChimp provides 24/7 email support and live chat help. They also have an extensive knowledge base of videos and documentation that can solve most problems without the need for customer support. For the users with a free plan, you can only get Mailchimp customer support for the first month; from then on, you are on your own.
Constant Contact will provide customer support through phone support, email, and chat support. The option of receiving assistance through a phone call offers a personalized experience. The support staffs also visit community forums during weekends to address any urgent matters.
Rate of Deliverability
Deliverability is a measurement of the success of your email in reaching your targeted audience (arguably the most important feature to look at). An email is considered to be successfully delivered if it does not end up in the recipient's spam folder, which would end up unopened.
MailChimp uses Omnivore, a technology that detects unethical practices in email campaigns. It ensures that the content in emails distributed is appropriate, which increases the deliverability rate.
Constant Contact offers a spam check tool as well. It ensures that your email does not experience any deliverability issue.
You are likely to experience a higher deliverability rate with Constant Contact compared to MailChimp.
Reporting and Analytics Capabilities
You cannot successfully progress with your campaign if you cannot gain insight into what is working and what is a waste of time. Data allows you to make improvements where needed and carry on with effective strategies for small businesses.
MailChimp will provide helpful metrics such as the number of emails opened, the percentage that clicked, and the bounce rate. It makes it possible to use interactive graphs to measure the success of your emails. You can use the click map overlay to understand the point of your email that your subscribers find attractive. And you can capitalize on these sections.
MailChimp further enables you to compare the results of your campaign to the industry averages. You can have a rough idea of how well your marketing campaign is doing. It will show you the revenue you are making from your campaign as well as the average order value. It will show the average performance per hour, so you know what time is best to reach out to your prospects.
MailChimp will also show the locations where most emails are opened so that you can always have insight into the areas where your campaign is strong.
Constant Contact does not provide a click map. However, it will provide reports on the number of emails opened, number of clicks (click-through rate), or how many are forwarded. It also comes with an activity tab. It logs updates, exports, and removals. You can access data based on the device used by the subscriber to open emails and gain information on the most successful subject lines. It also allows you to compare your various marketing campaigns.
Mail Chimp, compared to Constant Contact, provides very comprehensive reporting and analytics regarding your marketing campaign.
Design Feature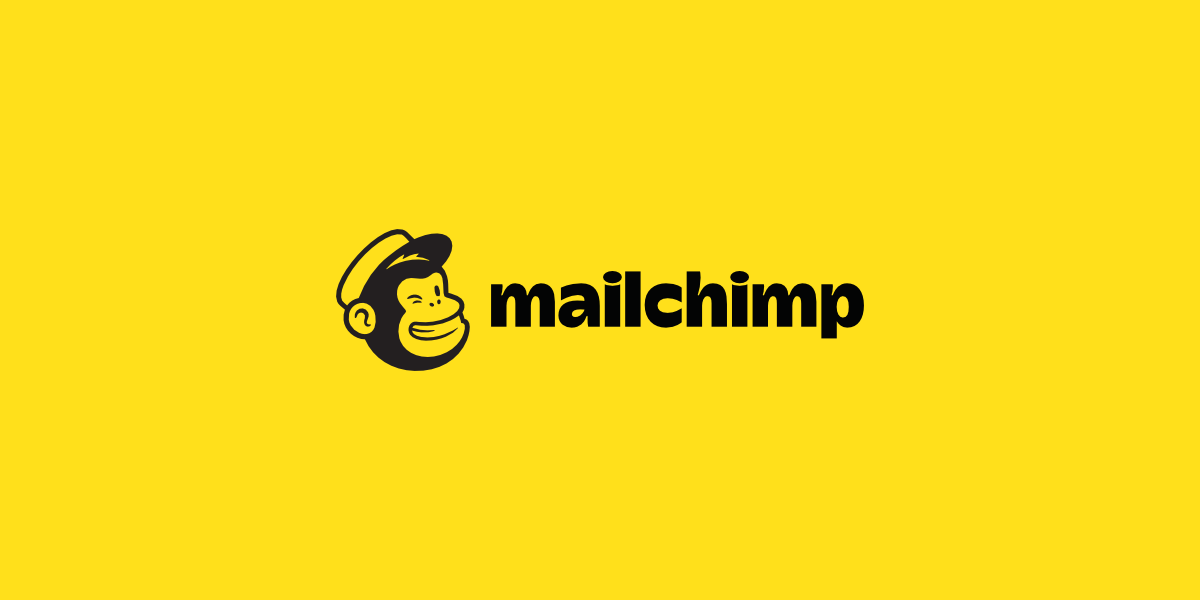 Part of successful email campaigning is sending out emails that are visually attractive to your audience, without consuming too much time in designing.
Both Constant Contact and MailChimp email marketing service providers offer email templates. But Constant Contact has more templates compared to Mail Chimp. MailChimp has the templates organized in categories such as newsletters, notifications, eCommerce platforms, event management, and holidays. It makes it easy to navigate and pick your choice.
MailChimp enables the user to customize a template. It makes it easier to use and more flexible. You can tailor the email to your preference by adding in images and experimenting with different layouts. It also allows unlimited storage of images.
Constant Contact email marketing provides limited 2GB storage of images. However, you can access a gallery of stock images, an option that MailChimp does not offer.
You can create your newsletter in both options using HTML. MailChimp allows you to import the code from a URL or a .zip file. The two options also provide layouts, which are empty structures that will enable you to add texts and images. The layouts that MailChimp offers are of greater ease of use.
Both MailChimp and Constant contact allow you to save and reuse your templates.
The Option to Preview Emails
Both solutions offer the option of previewing your emails for both desktop and mobile platforms before you can click send. You can ensure that there are no silly mistakes that could put off some clients.
MailChimp further provides the option of viewing your email exactly as it will appear to each client. For instance, emails to your Gmail and Outlook recipients could have structural issues. MailChimp allows you to correct them before sending.
A/B Testing
A/B testing allows you to test your sales emails and landing page to determine what works best with your clients, and you can invest your money in an effective approach. You can examine various aspects of the email marketing such as the call to action, subject line, the email content, or images.
MailChimp provides the option of sending different variations to different small segments of your contacts, and you can determine which variation works best.
MailChimp vs Constant Contact: Conclusion
Both MailChimp and Constant Contact are great options for when it comes to finding an email marketing solution. But MailChimp provides a wider variety of advanced functions, especially in reporting and templates as well as other design features and automation. MailChimp will also integrate with more applications compared to Constant Contact.
When it comes to price, MailChimp limits the number of contacts depending on the plan chosen, while Constant Contact offers for unlimited contacts despite the plan you choose.
Both tools are easy to navigate. By creating the option to preview your emails before sending, the tools ensure that you always send a perfect copy. MailChimp further allows for A/B testing and also enables you to see how the email will appear for each client. When it comes to deliverability, Constant Contact has a higher rate compared to its counterpart.
Assess the features of each email marketing software, compare it to your needs, and you will come up with the best solution for your business's email marketing strategy.
Bottom Line Summary: Personally I prefer the more affordable pricing structure and the HIGHER DELIVERABILITY rates offered by Constant Contact here. At the end of the day, undelivered emails are ALSO a hidden cost for businesses, making the case even more clear for me (in favor of Constant Contact).
After reading our MailChimp vs Constant Contact comparison if you're still left with wanting more alternative here are some other related articles you may be interested in the following email marketing automation solutions for digital businesses:
[interact id="61950894e81e4200184210da" type="quiz" mobile="false"]