Last Updated on January 11, 2023 by Ewen Finser
Before we even go into the details about Sendlane vs MailChimp, I bet you can tell right off the bat that MailChimp is the dominant one here. No doubt about it.
While Sendlane might seem like a little-known service, MailChimp is recognized by pretty much everyone in the e-commerce space. In fact, it existed way before online selling to mainstream customers was the in-thing. So, by now, I guess you've probably tried out MailChimp's email marketing services a couple of times already.
Now, with all that experience in the email marketing field, MailChimp is certainly an industry veteran. That means it has had a lot of time to establish itself accordingly.
Speaking of which, one thing that might have substantially propelled MailChimp's success is its progressive innovation. While MailChimp's popularity is partly attributed to its extensive industry experience, continuous reinvention of its digital solutions is the one thing that ultimately placed it at the top.
Yes, that's right. MailChimp is widely recognized as one of the best email marketing solutions today. Ecommerce merchants, small businesses and enterprises are increasingly leveraging its tools to manage their campaigns and reach more customers.
Main Differences Between Sendlane vs Mailchimp
The main differences between Sendlane and Mailchimp are:
Sendlane offers more advanced automation and segmentation compared to Mailchimp
Mailchimp offers a basic free plan, whereas Sendlane does not
Sendlane is generally more expensive than Mailchimp
Sendlane offers split testing, whereas Mailchimp does not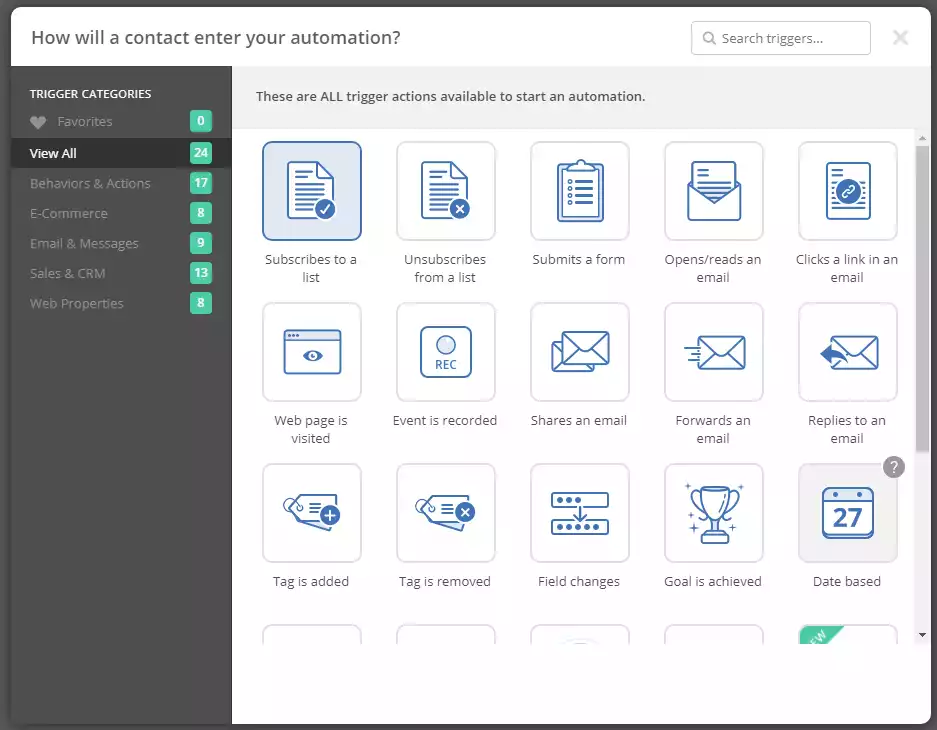 Skip Both. Go with ActiveCampaign Instead.
I personally SKIPPED both of these options and went with ActiveCampaign instead (this site runs on it!). AC offers more automations, more integrations, and SCALES as you grow. Best of all, it's generally CHEAPER at each pricing tier.
Try ActiveCampaign First
We earn a commission if you click this link and make a purchase at no additional cost to you.
Ok, I know what you might be thinking at this point. Since MailChimp has already established an impressive rapport with digital merchants and marketers, why should we even bother to compare Sendlane vs MailChimp?
Why Compare Sendlane vs MailChimp?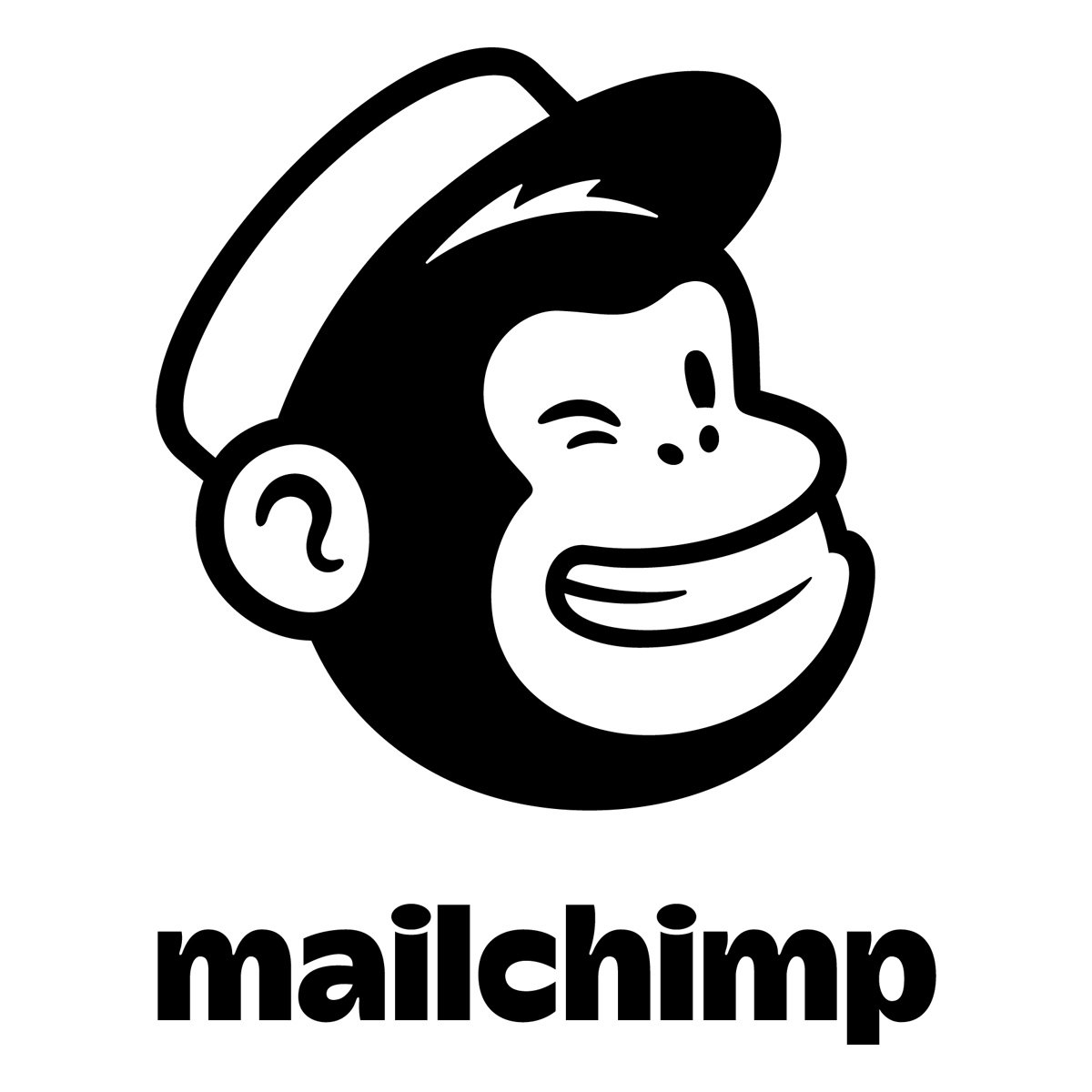 Quite a valid question, I must admit. But, don't make the mistake of writing off Sendlane just yet. It might not be as popular alright, but going by the recent buzz in the digital marketing world, Sendlane is already showing promising signs of challenging MailChimp's capabilities.
Well, although being at the top is a great thing overall, it also attracts its set of challenges. And the principal one is always the difficult task of holding on to the top position.
You see, ever since MailChimp became extremely popular, many competitors have studied it in detail. Over the years, they've been analyzing and monitoring how the whole platform handles marketing campaigns, its strengths, plus of course, the corresponding possible weaknesses.
That sail, MailChimp's weaknesses are the sweet spot for alternative digital marketing solutions like Sendlane. It was, in fact, built to offer you precisely what you can't get from MailChimp. In other words, Sendlane seeks to challenge the elite veteran league of the best email marketing services by capitalizing on their weaknesses.
Very interesting, I have to say. But then again, MailChimp has always expected such moves from newcomers. So of course, you can bet it continues to brace itself for increased competition by repeatedly improving its solutions.
With that in mind, the Sendlane vs MailChimp comparison becomes even more interesting. On one hand, we have a popular veteran service that has taken decades to establish itself as one of the best email marketing solutions. But, admittedly, it also has weaknesses that might not be obvious at first.
Then, on the other hand, we have ourselves a fast-growing email marketing solution that seeks to fill those gaps that veteran services seem to ignore. However, you can expect some weaknesses on its part too.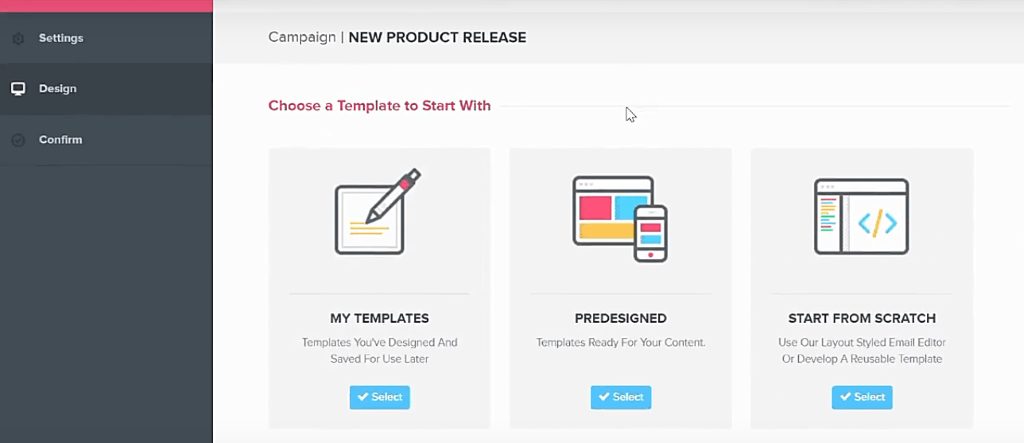 Now, all that begs the question, does Sendlane possibly stand a chance against MailChimp? And most importantly, which of the two is better for your digital marketing campaigns to customers – Sendlane or MailChimp?
Those are pretty tough questions, but extremely valid. That's why we took the time to comprehensively test out both MailChimp and Sendlane. We keenly analyzed their features individually and then weighed them against each other using the standard review parameters for digital marketing solutions.
Well, here's the resultant report. This review piece compares Sendlane vs MailChimp based on their ease of use, contact management, campaign building capabilities, marketing automation, integrations, as well as pricing.
So, without further ado, let's finally put this debate to rest with the ultimate Sendlane vs MailChimp showdown.
Sendlane vs MailChimp – Overview
Ok, I admit I might have referred to Sendlane as a newcomer. But, here's the thing. It's not that new when you come to think of it, because it was founded in 2013. That translates to more than 6 solid years of providing digital marketing.
Well, although 6 doesn't come anywhere close to MailChimp's experience, let's give credit where it's due. That's still a heck of a lot of experience, especially when you consider the rate at which market needs have been changing of late. Only platforms offering the best optimized digital marketing solutions are coping well under such increased pressure.
Speaking of which, Sendlane was built to email marketing experts to take digital campaigns to the next level. And that entails combining smart email functionalities with marketing automation, contact list management, layout design, and real-time reporting.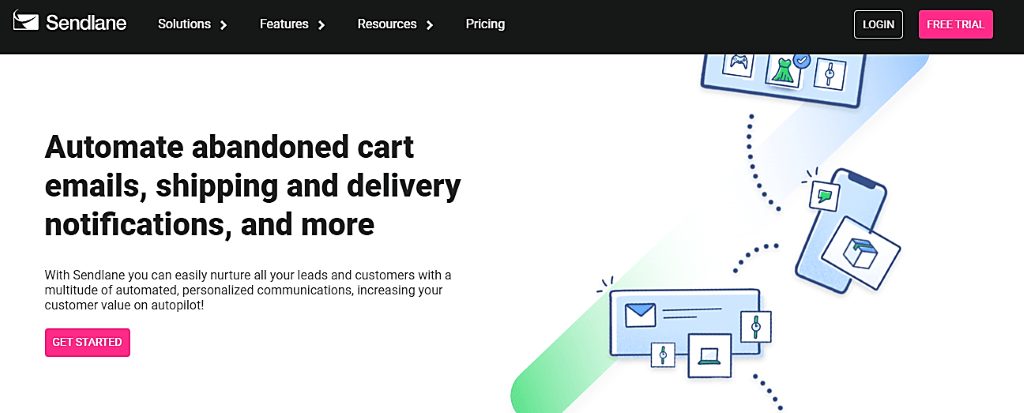 When we dive deeper, it turns out Sendlane goes above and beyond typical newsletter and autoresponder functionalities to offer advanced stuff like deep data integrations, event tracking (real-time tracking), extensive multi-variable segmentation, tagging, behavior-based automation, etc.
In all fairness, therefore, this is not your ordinary email marketing solution. Sendlane seemingly packs the functionalities you'd need to build, run and manage dynamically intelligent email marketing campaigns.
And guess what? It just so happens that you can still take advantage of Sendlane for SMS marketing and targeted pop-ups. Therefore, in essence, Sendlane is more like an advanced digital messaging platform for intelligently automated campaigns.
That said, one fundamentally critical thing you can expect from intelligent systems is heavy leveraging of big data. And indeed, Sendlane is all about collecting data, then diving deep into the subsequent figures to generate valuable insights for automation.
So, in short, Sendlane is worth considering if you're the type of digital merchant or marketer who prefers capitalizing on real-time analytics to drive automated messaging campaigns. And from the resultant campaign metrics, you get to make well-informed decisions about the strategies that work, plus the ones that prove to be less effective.
Not bad at all. Quite a smart tool we have for ourselves here. But, how does it compare against MailChimp?
MailChimp
MailChimp is the type of service that represents the growth we've seen over the years in the email marketing space.
Considering it was founded in 2001, we can agree that MailChimp is one of the oldest, if not the oldest, marketing platforms. As a matter of fact, the two decades of experience proves MailChimp was part of the dot-com bubble.
But, unlike the bubble, MailChimp was not a temporary thing that would fade after some time. It was built for building mailing lists as well as managing the subsequent email marketing campaigns. And from what we've seen throughout the years, MailChimp means business and it's here for the long haul.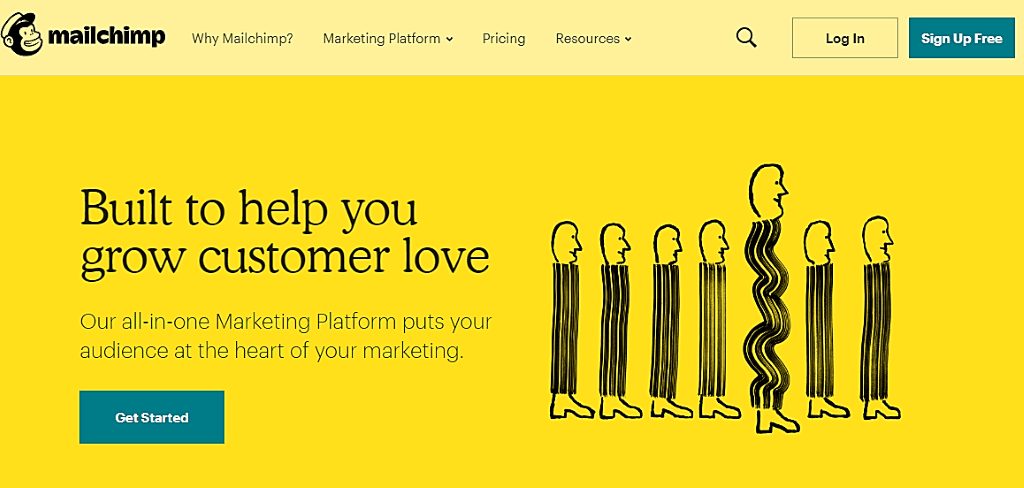 This success is partly attributed to the overall approach that MailChimp uses for its campaign framework. At the center of everything is your audience. MailChimp first helps you set up an audience, then derives critical insights, from which it proceeds to facilitate data-driven marketing across email, social, postcards, landing pages, etc.
And that brings us to the second most important element here. Yes, you've guessed it right- data. MailChimp extensively leverages data when it comes to automation, as well as campaign reporting. In fact, you even get personalized recommendations along with real-time time performance reports.
Thankfully, all these tools are offered through a simple user-friendly interface. And because of that, MailChimp continues to serve all types of users- from beginners to online merchants and advanced marketers.
While all that play a big role in attracting users to its camp, MailChimp's biggest move was opening up its platform to accommodate beginners for free.
Through its permanently free plan, MailChimp avails one-click automation, CRM tools, plus basic marketing capabilities covering all its 7 promotion channels. And you know what? On top of that, you get to build your contact numbers up to 2,000.
Well, considering only a handful of MailChimp's competitors can match up to such generosity, the free plan makes this service extremely popular among beginners. And, in fact, the one market segment where MailChimp can boast of complete domination is the novice target group.
Don't get me wrong though. Beginners are not the only focus here. There's a range of advanced functionalities like segmentation, multivariate testing, ads retargeting, and multi-step workflows, all of which are purposely-built to facilitate senior marketers.
All things considered, therefore, MailChimp is more of a comprehensive email marketing tool for all types of users. Sounds great overall, but could this approach also turn out to be MailChimp's principal weakness?
Let's find out by comparing MailChimp vs Sendlane features.
Sendlane vs MailChimp – Main Features & User Interface
Ease of Use and Campaign Building
Sendlane
Sendlane doesn't waste time during signup. As soon as you register on its main site and then verify your email, it sends you straight to the main dashboard. You don't even need to enter your credit card information.
It's worth noting, however, that there's no free plan here. The best you can get from Sendlane is a free trial of its marketing plus list-building tools. And sadly, this offer lasts for only 14 days. That means you'll ultimately be forced to pay up for one of the packages.
But, is Sendlane really worth the money?
We'll, if a clean dashboard is your definition of a great email marketing service, then I guess Sendlane earns points towards proving that it's indeed worth your money. The dashboard here is not only neatly designed, but also admirably intuitive and user-friendly.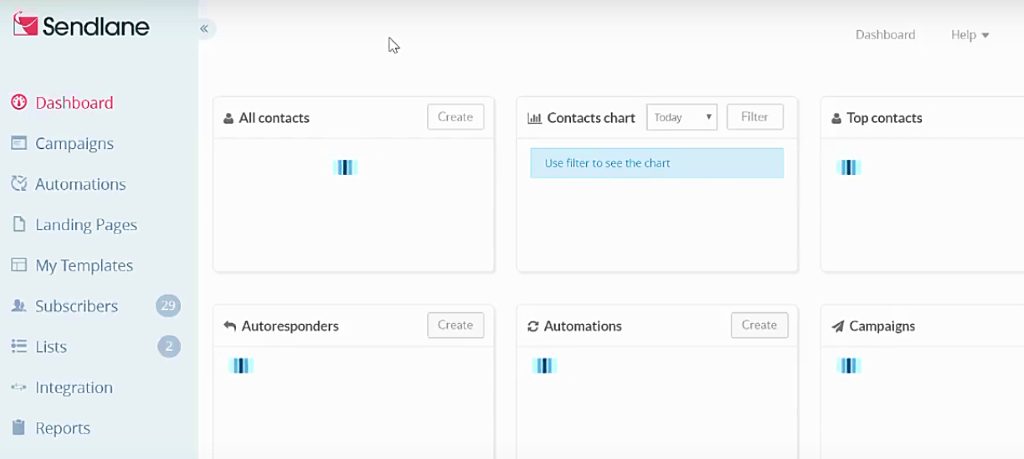 The overall layout is well-organized to offer you a smooth experience without an onboarding process. I especially like how Sendlane labels all its functions to keep everything simple for beginners.
Overall, it should only take you less than two minutes to figure out how the whole layout works. But, in case of any difficulties, Sendlane has placed a red button on its dashboard to direct you straight to its support resources.
Sendlane Campaign Building
If you're eager to get started on your email marketing campaigns, it turns out you can't just jump right into it straight away. There's an approval process that comes after you've imported contacts into your Sendlane system.
Basically, Sendlane's agents will review the first few emails you compose to confirm their authenticity. The whole point here, of course, is preventing the misuse of Sendlane's email marketing tools by spammers or criminals.
This is not exclusive to Sendlane though. If you've used similar digital marketing solutions before, you might have noticed that the bulk of them take their first-time users through a compliance check. The only difference is that while most of the platforms conduct their approvals during signup, Sendlane chooses to apply them as you're launching your campaigns.
Well, because of that, it should take you about a week or so before you can roll out your full email marketing campaign.
And while you wait, you'll notice that navigating around Sendlane's platform is pretty simple and straightforward. Nothing's difficult here, especially if you're experienced in digital marketing.
Don't get me wrong though. Novice marketers should also find it easy to understand what the tools and functions are all about. The only thing that might take time, of course, is learning how to fully leverage some of the advanced stuff like workflow automation.
That notwithstanding, Sendlane does a great job of clarifying the purpose of every single tool, as well as walking you through their corresponding sets of functionalities.
You won't need that though, because the essential features are pretty straightforward. If you're creating an email, for instance, Sendlane grants you a range of pre-built template options for your convenience. And when you need to customize them, Sendlane's template builder editor uses a drag and drop design system.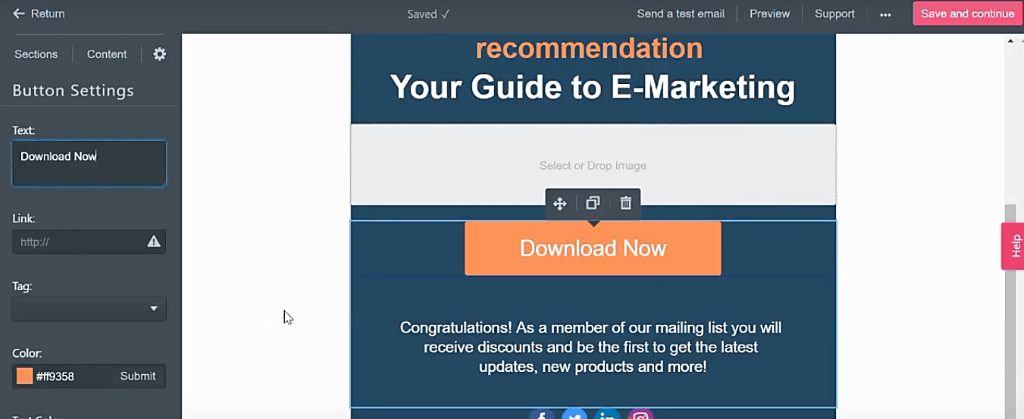 But that's not all. Sendlane applies the same simplified approach when it comes to contact, campaign and automation management. So, in the end, you're bound to have an easy time getting used to this email marketing platform.

Free 14-Day Sendlane Trial
Sendlane is one of the BEST new email marketing automation services we've tested this year! BUT, don't take my word for it. Try it out for yourself FREE for 14 days (no strings attached).
Get Free Trial
We earn a commission if you click this link and make a purchase at no additional cost to you.
MailChimp
Just like Sendlane, MailChimp allows you to register for free. In this case, however, the free option doesn't come with a limited trial period. Instead, you get to use the free version of MailChimp as long as you'd like. It's a permanent package.
Don't get too excited though. The free option comes with limited capabilities that might force you to upgrade to a premium plan in the near future.
Now, whichever you choose to proceed with, it turns out you can't get started right off the bat. MailChimp first checks your account for validity, as well as compliance. You'll also need to specify your site's URL before you can proceed. So, you might have to create a temporary blog or something of the sort if don't have a live site.
MailChimp's approval process also entails checking your contact list, plus the accompanying email campaign draft. And Just like Sendlane, the goal here is to confirm that you're not planning to use the platform for spamming. Only after that will you be able to upgrade to a premium plan.
Now, in terms of usability, MailChimp has always been one of the simplest platforms for email marketing. Recently, however, it went even further by redesigning its entire layout, and the accompanying brand colors
As a result, MailChimp is now lighter, simpler, and much more pleasant to use. Its dashboard comes with a modern uncluttered design, whose elements and labels are refreshingly clear. The navigation process itself is a breeze, as MailChimp has set up its controls to be straightforward and self-explanatory.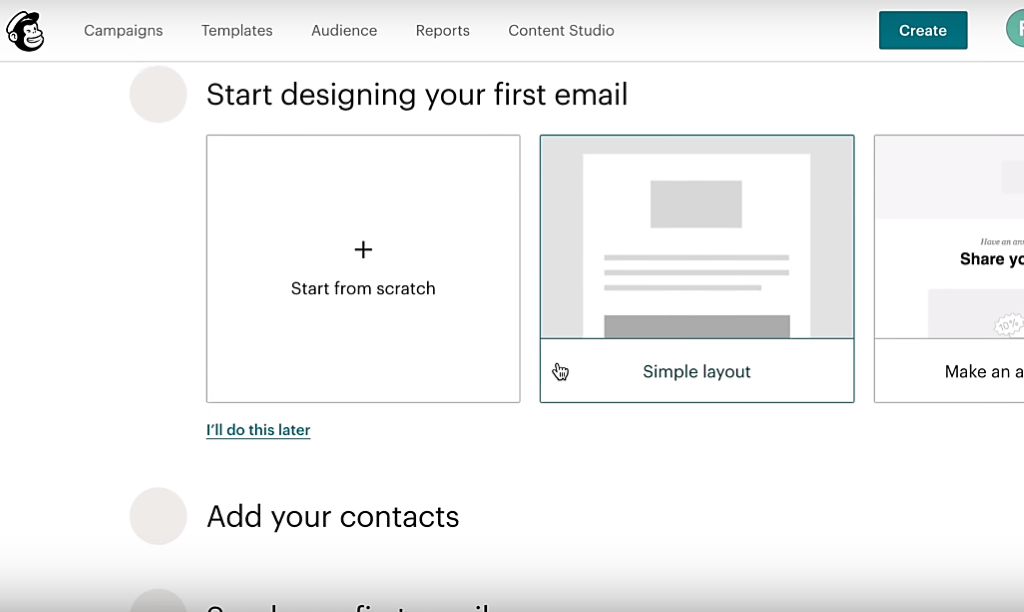 That said, beginners are bound to enjoy the convenience and overall usability of MailChimp's free plan. It offers all the email marketing essentials you'd need to support campaign targeting about 2,000 leads.
MailChimp Campaign Building
You even get basic templates to make your email design process easy. And although the process of creating automation might feel challenging at first, the whole thing is very direct. In fact, apart from advanced automation, MailChimp has built its framework to provide simplified one-click automation. And yes, it's part of the free plan.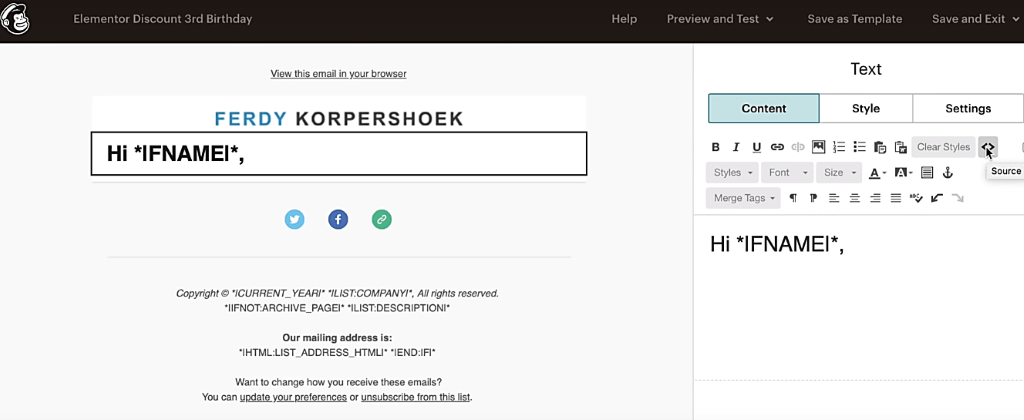 Now, beyond the free level, you get to the level of career digital marketers. MailChimp unlocks its advanced features for high-level marketing when you pay for its premium plans. The more superior the plan you settle for, the more advanced the accompanying functionalities.
Multivariate testing and automation series, for example, is reserved for the most experienced marketers. By the time you get to this level, however, you'll have progressively advanced through the basics and gotten used to how MailChimp works. Consequently, even the seemingly advanced features could eventually turn out to be a breeze.
Sendlane vs MailChimp Ease of Use and Campaign Building Verdict
Both Sendlane and MailChimp are generous enough to get you started for free. But then again, MailChimp proves to be more accommodative with its permanently free package. And the best thing about it is that it comes with decent provisions.
However, that doesn't completely steal the limelight off Sendlane. It shines just as much as MailChimp when it comes to overall ease of use. Both platforms are SaaS digital marketing services that don't require any download, installation or set up. Simply access their main sites, register, and voila. The only delay you can expect is during the subsequent approval process, which is fairly understandable in this era of increased spam campaigns.
Well, after reviewing and comparing their individual dashboards, UI designs, navigation structures, plus the overall layout designs, we can agree that neither Sendlane nor MailChimp distinctly outshines the other. They are both refreshingly simple, and most importantly, easy to use for both beginners and advanced marketers.
Contact Management and Segmentation
Sendlane
Sendlane does indeed offer contact management capabilities, and the whole system is essentially built to grant you granular control over your contacts. Not enough to make you a control freak though. But rather, just what you need to personalize your marketing campaigns, and consequently boost your response rates.
Well, it all begins with Sendlane's Lists section, which is accessible through the main menu. And one of the first things here, of course, is adding contacts. But, it's worth noting that the corresponding numbers depend on your plan's contact volume allowance.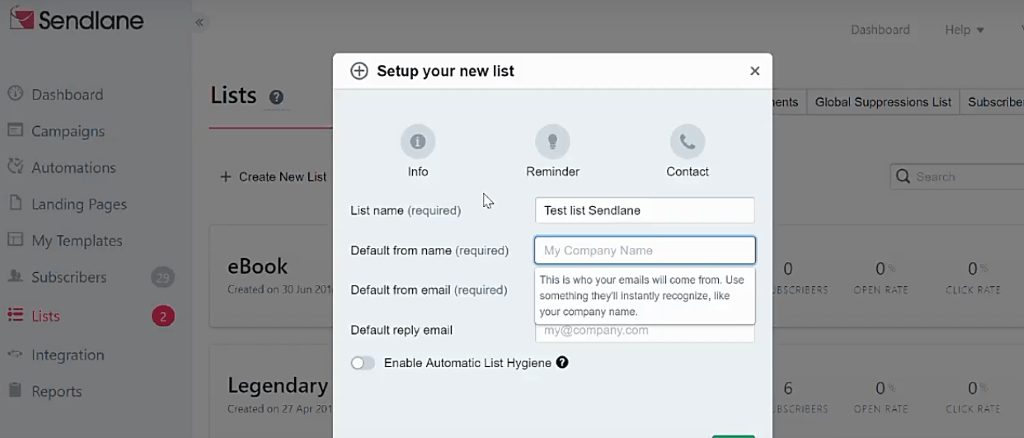 That said, Sendlane is pretty flexible when it comes to adding contacts. In total, it provides five different options for adding new contacts.
You could, for instance, import them in bulk via CSV or TXT files. Sendlane will automatically create a corresponding list of contacts along with their accompanying attributes.
Well, if you're thinking about exporting contacts from other platforms in CSV so you can upload them to Sendlane, it turns out you don't have to. Sendlane allows you to directly import contacts from a couple of third-party applications after you've integrated them.
But, in case Sendlane happens not to offer your app's integration by default, you can take advantage of the platforms API to build your own app integration, and then proceed to import the accompanying contacts.
Sadly, however, that would require advanced tech skills. I guess you might have better luck if you alternatively tried Sendlane's manual option of adding contacts. It's cumbersome alright, but it's simple and it gets the job done without any compatibility issues.
Otherwise, if you're building the contact list directly from your site, you can proceed with Sendlane's web forms (opt-in forms). They add contacts in real-time as soon as they hit the subscribe button on your site.
Once you're done, you can view your contacts profile's from the Subscribers section of your Sendlane account. It offers a simplified view of each subscriber, along with their personal information.
You won't be able to do much here though. The real contact management features are availed on the Lists section, and they offer all the essential control privileges.
Sendlane Contact Segmentation
First off, of course, is contact segmentation. Sendlane allows you to group your contacts into segmented lists based on their shared custom attributes.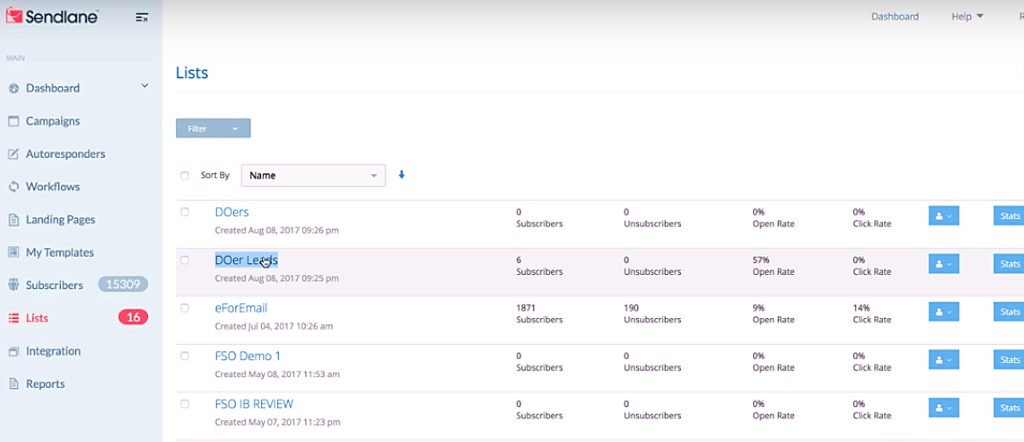 And to help you establish the best possible segmentation parameters, Sendlane goes ahead and collects data about your contacts. Consequently, you get to segment them based on their location, devices, purchase histories, site visits, etc. The more the attributes you use, the richer your personalization framework grows.
Thankfully, you don't have to keep updating your lists. Sendlane handles that for you depending on the thresholds you define. And while it continues adding new subscribers to various lists, it'll also remove individuals whose metrics drop below your segmentation rules.
MailChimp
Unlike Sendlane, MailChimp's contact management occurs through its Audience tab. And while they share several similarities, there are a couple of notable differences between the two platforms.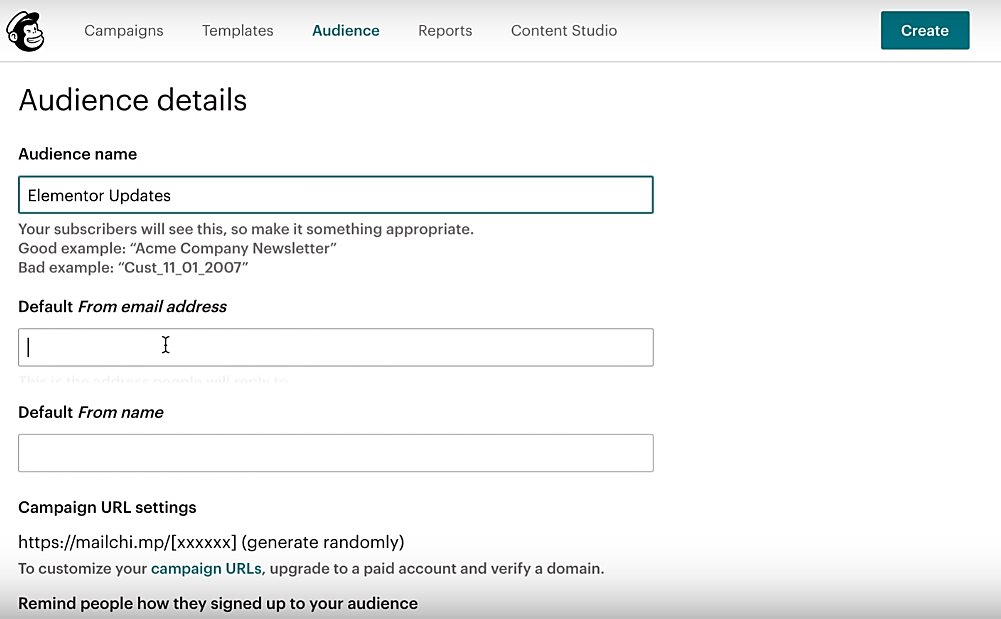 The most outstanding one is the fact that MailChimp's contact management is built like a CRM platform. In addition to the standard contact management capabilities, it goes ahead and provides a dynamic set of functionalities for organizing contacts, as well as engaging them.
That said, MailChimp gives several options of adding your contacts manually and automatically. The simplest manual method, of course, is adding contacts one by one. You get to enter each contact individually while specifying their information through custom fields.
But, if you're dealing with multiple contacts, the most convenient manual option would be importing them in bulk via CSV. Otherwise, you could also import contacts from integrated applications, Google Contacts, as well as your website's subscription form.
So far, so good. But, the most interesting bit is the subsequent contact management process. You can set up Segments to group your contacts, Groups to segment your lists, plus use Hidden Fields to organize everything based on tag-like parameters.
MailChimp Contact Segmentation
That said, your segmentation framework on MailChimp can either be simple or complex. Simple segments, to begin with, group contacts based on up to 5 different parameters. Then complex segments, on the other hand, are much more dynamic with numerous attributes applying to the grouping process.
Speaking of which, it's worth noting that MailChimp draws its segmentation attributes from your contacts' behavioral and demographic data. Consequently, you should be able to create groups based on stuff like purchase history, surfing patterns, email click rate, etc. Then to top it off, MailChimp employs even predicted demographics alongside other numerous insights.

Combined, all these data-points make MailChimp an extremely effective tool when it comes to personalization. You can take advantage of them to build heavily-personalized campaigns.
But, sadly, the whole thing comes at a price. In essence, such a dynamic approach means MailChimp's audience management might seem a bit complicated and confusing to beginners.
Come to think of it, that explains why MailChimp provides a couple of prebuilt segments by default. They save beginners the hassle of setting up their own segmentation criteria, and instead, proceed with MailChimp's default options.
Fair enough. But, all in all, you need to be a well-experienced marketer to comprehensively leverage MailChimp's CRM capabilities through its audience management tools.
Sendlane vs MailChimp Contact Management and Segmentation Verdict
It's admirable that both Sendlane and MailChimp support a host of options when it comes to adding contacts. Apart from entering your contacts manually, you have the option of importing them in bulk via CSV, transferring entries from integrated apps, or generating their profiles directly from your website's subscription forms.
Both email marketing platforms then go beyond that to facilitate extensive contact management functions. Sendlane and MailChimp allow you to segment your contacts based on demographical as well as behavioral insights. And combining such parameters translates to a heavily-personalized marketing campaign.
That said, it worth acknowledging that Sendlane's contact segmentation is simpler and more straightforward than MailChimp's. However, it's not as extensive and dynamic as MailChimp's.
In essence, MailChimp's contact management is more powerful, and it even makes the platform feel like a CRM tool of sorts.
Sendlane vs MailChimp – Pricing and Overall Features
Sendlane Prices

Growth – $35 per month for up to 1,000 contacts, $59 per month for up to 2,500 contacts, $99 per month for up to 5,000 contacts.
1,000s of integrations
Customizable web forms
Pre-built automation funnels (sales funnel)
Customer journey lifecycle
API connections
ROI and conversion tracking
Machine learning open predictability
Email retargeting
Sendlane Beacon
Tags and custom fields
User segmentation
Real-time analytics
Automated list hygiene
Email template library
Drag-and-drop visual email builder
Campaigns and newsletters
Cross-channel marketing
Email marketing automation
Marketing Automation Pro – $150 per month for up to 5,000 contacts, $249 per month for up to 10,000 contacts, $319 per month for up to 25,000 contacts, $449 per month for up to 50,000 contacts, $589 per month for up to 75,000 contacts, $799 per month for up to 100,000 contacts.
All Growth Plan features
Dedicated account manager
VIP migration service
Advanced pre-built automation funnels and marketing funnels
Deep data analytics
API transactional emails
Trigger and event-based automation funnels (sales funnels)
Deep data integrations
SMS marketing
Multivariable segmentation
Trigger and event-based lead capturing
Advanced cross-channel marketing
Enterprise/Agency – Custom Quote
All Marketing Automation Pro Plan features
Dedicated IP address
DKIM and custom domains
API transactional emails
Custom white labeling

Free 14-Day Sendlane Trial
Sendlane is one of the BEST new email marketing automation services we've tested this year! BUT, don't take my word for it. Try it out for yourself FREE for 14 days (no strings attached).
Get Free Trial
We earn a commission if you click this link and make a purchase at no additional cost to you.
MailChimp Prices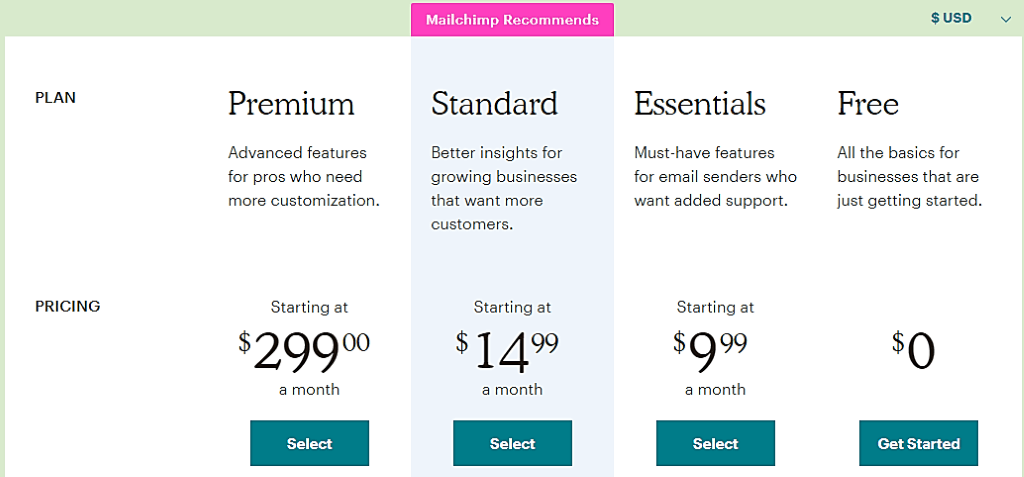 Free

Integrations with more than 200 Apps
10,000 monthly email sends
Smart recommendations
Basic reports
Single-step automation
Pop-up forms
Postcards
Social posting
Facebook and Instagram ads
Landing page builder
Form builder
Basic templates
Content studio
Contact profiles
Tags and segments
Audience dashboard
2,000 contacts
Essentials – Starting at $9.99 per month
All Free Plan features
500,000 monthly email sends
24/7 email and live chat support
A/B testing
No MailChimp footer
All pre-built templates
50,000 contacts
Standard – Starting at $14.99 per month
All Essentials Plan features
1,200,000 monthly email sends
Deliverability by time zone
Send time optimization (deliverability)
Multi-step custom workflows
Custom-coded templates
Address finder
Lookalike audience finder
Purchase likelihood
Customer lifetime value
Predicted demographics
100,000 contacts
Premium – Starting at $299.99 per month
All Standard Plan features
3,000,000 monthly email sends
Phone support (customer support)
Comparative reporting
Multivariate testing
200,000 contacts
Advanced segmentation
Ultimate Sendlane vs Mailchimp Verdict
Now, let's be completely honest about Sendlane vs Mailchimp.
There's no denying that Sendlane is a powerful email marketing platform with solid data analytics capabilities. It's the type of solution you'd want to leverage if you need simple campaign building and automation workflows combined with accurate insights, machine learning prediction, as well as SMS marketing.
However, Sendlane is not as flexible as Mailchimp. Mailchimp attempts to facilitate all user levels- from beginners to advanced marketers- with a little bit of everything. Its one-click automation, for example, is simple enough for beginners while experienced marketers get advanced automation capabilities. And just like Sendlane, it boasts of its own robust insights. Then to top it off, it supports marketing efforts across 7 channels.
Bottom Line: Personally, I use a LOT of marketing automation and am a data nerd, so I prefer going ActiveCampaign instead. That said, Mailchimp might still be suitable if you just need something basic and would rather save the money.

Skip Both. Go with ActiveCampaign Instead.

I personally SKIPPED both of these options and went with ActiveCampaign instead (this site runs on it!). AC offers more automations, more integrations, and SCALES as you grow. Best of all, it's generally CHEAPER at each pricing tier.

Try ActiveCampaign First

We earn a commission if you click this link and make a purchase at no additional cost to you.

Further Reading on Marketing Software