Last Updated on January 16, 2023 by Ewen Finser
In this Sendlane vs AWeber review, we make a detailed comparison of the two best email marketing services for small businesses to find the best.
Bottom Line: If you just want an affordable email service to GET STARTED on, you can't go wrong with Aweber here. HOWEVER, if you want an advanced visual builder (PLUS landing pages) with built-in testing, try out Sendlane here.
Main Differences Between Sendlane and Aweber
The main differences between Sendlane and Aweber are:
Aweber has been around much longer, starting in 1998 whereas Sendlane started in 2015
Aweber is generally more affordable, with generous 30-day free trial and plans starting at just $19/month
Aweber offers more standard email templates than Sendlane
Aweber support team is larger and generally more responsive
Sendlane offers a more visual email automation builder
Sendlane offers moree advanced reporting and analytics
Sendlane offers better landing pages (included free)

I Personally Prefer AWeber
AWeber has improved a LOT in the last few years. Now, they have a much better visual automation builder, with hundreds of free email templates, and generous 30-day trial and a competitive $19/month starting cost.
Buy Now
We earn a commission if you click this link and make a purchase at no additional cost to you.
You probably already know it and can say it without as much as a stutter:
Email marketing is indispensable. It is king of increasing organic and targeted traffic to your website, blog or landing page. You can depend on your bulging email list to grow your reach and credibility, increase audience engagement, boost persuasion, and encourage your subscribers to convert to buying customers.
As a long-term online marketing strategy, email lists can also help you upsell to current clients, check back on former clients or clients whose engagement with you has slipped on a downward spiral.
And getting the best email marketing software can help you accomplish more, effectively, affordably, profitably, and within a short time. Heck, it can make email marketing fun and automatic for you and your marketing and sales.
Here's what you do not want, though:
An email marketing software that doesn't deliver all or a portion of emails to your audience
A provider that limits you from using tags to segment your audience
An email marketing platform that doesn't support email marketing automation such as auto-responding (it's 2019!)
A vendor that is non-responsive and can't seem to help customers promptly via an accessible and easy to use customer service channel, and so on
But then again, there are dozens of AWeber alternatives and email services similar to Sendlane out there that it can spin your head just trying to choose the right one for you.
In this AWeber vs Sendlane review, we'll compare the two top email services in-depth so you can make an informed purchase decision—and save precious time, effort, and money.
Since the services tend to have similar core benefits, we'll focus on the details that make each platform unique; reliability, customer support, special features, integrations, pricing tiers and scalability, and more.
But first, a quick overview.
Sendlane vs AWeber: Overview
AWeber is a pioneering email marketing platform launched in 1998 compared to the 2015-made Sendlane. But while AWeber still has around a 100,000 users, it has seen better days with less innovative competitors than at its current state.
It used to have a sleek interface and commendable user experience, leading hundreds of thousands of customers to sign up and use them for a core email marketing tool in their internet marketing strategy.
Is that still the case? We'll find out.
Sendlane, on the other hand, could have used the opportunity to learn what to capitalize on, learning from the already established platforms out there—like ActiveCampaign, Infusionsoft, MailChimp, ConvertKit and more.
But has Sendlane learned anything from the shortcomings of AWeber alternatives and build a strong suit in itself over the past three years?
Let's get started, shall we?
Set Up and Getting Started
Creating an account is simple in either case.
But it takes another turn when you sign up with Sendlane and verify your email address. You'll be directed to the company's Approval page, where you can see a few more options for getting started with Sendlane.
In particular, if your contacts are active in your other email service, you are required to verify yourself. It can feel like Sendlane wants you to borrow permission (which is what they call it). Not an awesome thing but important towards ensuring the system is cleaned of spam emails that ruin a company's deliverability.
Sendlane usually will provide one-on-one guidance along the process—suitable for you if you are already comfortable with using email marketing software. If you prefer not to do it yourself, Instant Migration by Sendlane will let you import contacts from Sendlane alternatives such as ConvertKit, ActiveCampaign, and MailChimp.
Unlike AWeber's sign up process, Sendlane's can take down an extra business day. If you are moving more than 10,000 contacts, Sendlane welcomes you with a VIP Migration offer. In that arrangement, they'll log into your account and do the entire setup on your behalf (for a fee). And it can take up between 7 and 10 days to get everything ready for you.
Not bad but you'd need to prepare in advance and expect the "delay".
But with AWeber, you are almost assured you can migrate your contacts from any email marketing and automation provider around in a few clicks—including by using CSV files.
Here's a cool detail about Sendlane migration process:
It only imports your active users. So how does it determine who's been warm and which contacts are cold and deeming?
It considers only those that you have engaged within the previous 30 days from the day you choose to do the migration. If a person bounced, unsubscribed or had been purchased, they will not show up on your end as a Sendlane user.
But since April 2018, an AWeber update has sought to fight this not-so-little nag off your shoulder. By adding the capability to search within date ranges to catch and segment active and inactive subscribers.
That way, you can decide whether to re-engage them or cut them lose to save your email marketing service quota and budget. But this doesn't happen right from migration date. Works best if you are already an AWeber user.
AWeber vs Sendlane: Customer Support
Now, one of the strongest suits that has sustained AWeber is its customer support arm. It has to be (the team just won the 2018 Stevie Silver Award for customer service). And boy can they serve and support.
You can jump on a chat, phone call, and email them and expect an actual answer; you can tell the support team knows its stuff—which is great.
Those phone numbers do actually work
Here's more.
You can now reach AWeber via chat around the clock. So in case you miss them between 8 AM and 8 PM ET (Monday to Friday) for a toll-free phone call, you can still get your needs met over a friendly chat on the official website. You can even call in from outside the US using the international number provided.
Feel like you need more help and AWeber webinars, knowledgebase (FAQs), and video guides can help you along just fine. If not and you need an actual user to show you how they handle their AWeber account, simply jump on Facebook and discover the 3100+ fellow users on the Facebook group 'Aweber Marketing Community'—it's pretty active, too.
What if you choose Sendlane?
There are two main ways to go at it:
If you are yet to sign up with Sendlane, you'd only get the option to fill out a form after clicking 'Contact' on their website. But there's also a searchable knowledgebase you can plow into for mine your fill of technical help.
It looks like this: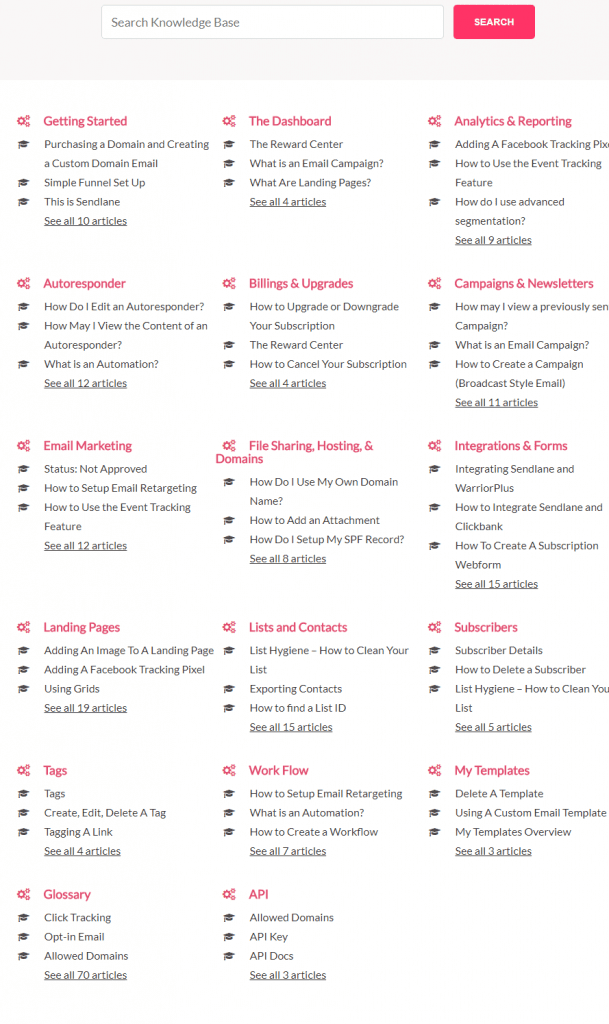 But if you already signed up with the email service provider, there's a chat function from within a user's account to help you get the real-time support you need.


Like AWeber, you can reach Sendlane customer ninjas via social media and they do offer video tutorials on YouTube.
So, in either case, you'd be fine if you need support from an insider, although AWeber is more reliable and assured here.
AWeber Email Marketing Features vs Sendlane Email Marketing Features
Both email marketing service providers have a chunk of similar features and benefits, but wouldn't it be better to focus on what makes each unique instead of what both parties can pull out in almost equal fashion?
Awesome.

Aweber packs a ton of email marketing and automation tools
Both email marketing platforms are list-based at the core but there's a difference.
AWeber has since summer 2017 updated its system to accommodate more flexible and modern tagging—a fresh email automation feature that benefits by making it easy for users to segment, target and personalize marketing messages and entire campaigns based on the tags applied.
From birth, Sendlane has had tagging as a part of its inner circle of power features.
Here are details you do not want to miss, too:
You can use AWeber to manually tag individuals or groups of contacts. You can also assign tags on a form to form basis without breaking a sweat.
But AWeber does count contacts that are already on your list if they take another action based on another list. That's not come-to-Jesus great news because the duplication adds to your contacts list, which can ramp up your quota.
Let's say one contact joins four of your lists. AWeber identifies those as four different subscribers instead of just one.
So if you have a hundred contacts join like our example contact above, you can end up having to upgrade your Aweber subscription to the next higher one without actually adding more contacts in your email list—probably just paying more for no additional value compared to AWeber alternatives.
This is not the case with Sendlane which is a subscriber/contact email marketing platform as opposed to a heavily list-based service like AWeber.
Instead, Sendlane includes filters that will help you to not pay twice for one contact who's in several of your email lists.
Since late 2017 until around May 2018, AWeber's focus has highlighted their determination to catch up with the rest of the email marketing industry by adding more advanced tagging, segmenting and sequencing tools (automation features) to their platform without quaking its user experience.

An AWeber rebirth?
That is all in a strenuous effort to make AWeber more email automation ready and, well, relevant anymore.
During that time, AWeber has released a bunch of updates you can delve into here.
Or maybe we should break down the most important ones right here, huh?
For example:
Like Sendlane, you can now use AWeber to tag and segment your audience when you want to send targeted broadcast newsletters. That means you can now use either service to apply individual tags/labels based on that contact's behavior on your web sites.
You can even tag them based on geographical location, interests, whether they are a prospect or customer, and so on.
AWeber did not support that prior to August 2017, so it is an improvement in the right direction…
…that is, helping you create unique segments and be able to personalize your marketing messages to what interests a particular group or individual while running multiple sequences in one campaign.
In fact, AWeber can now help you tag subscribers based on opens and clicks in Campaigns, send your confirmed opt-in form messages in various languages, and even remove tags based on Campaign opens.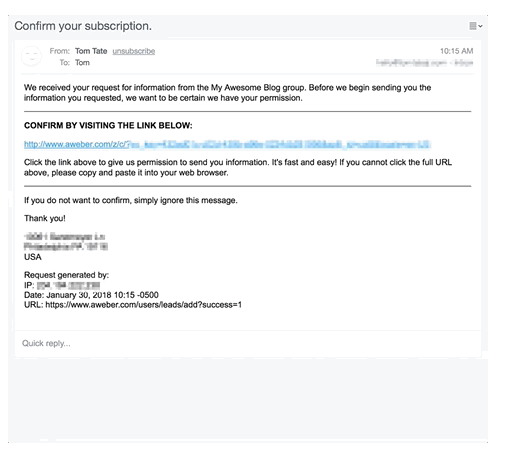 AWeber confirmation message before the update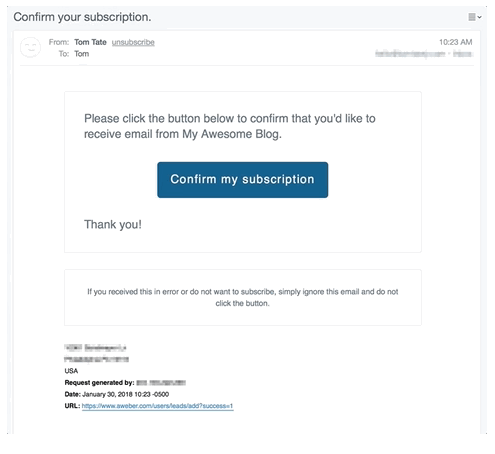 And after the 2019 update (who's smarter now?)
AWeber has stepped up from its linear interface days to somewhat match the automation tools Sendlane offers.
But both are yet to pack on enough email marketing automation gusto to execute dynamic If/Then type of sequences you can with powerful alternatives like ActiveCampaign and Drip.
Also, you don't get a visual workflow with Sendlane or AWeber.
Is that an unfair comparison?
Nope. Because AWeber and Sendlane cost around the same price as Drip and ActiveCampaign.

I Personally Prefer AWeber
AWeber has improved a LOT in the last few years. Now, they have a much better visual automation builder, with hundreds of free email templates, and generous 30-day trial and a competitive $19/month starting cost.
Buy Now
We earn a commission if you click this link and make a purchase at no additional cost to you.
Email Builders and Templates
The first thing you'll notice with AWeber email templates is they come in plenty. And you can choose one based on your industry. Very thoughtful instead of having an uncategorized mess like Sendlane does.
But, not so fast…
…the second thing you'll notice is AWeber email templates look like you don't need them because no one on your list would think you live in 2019. A hefty chunk of those are archaic at best and not suitable for modern sales funnels.
However, if you just need something to kickstart your email marketing with, you can decide to select one and take the time and effort to edit it to your liking. It'll take some time.
AWeber provides a drag and drop email builder. A February 2018 update has since solved the clunky mess of the older generation AWeber email builder. Previously, the Preview Email function had issues laying out your email content.
Apparently, the company uses responsive design elements to design the Preview function. But it now works as it should.
Well, AWeber does provide an offer to build a custom email template for your business at a surcharge.
Or you can opt to subscribe to a third-party email template designs service such as OptinMonster ort Thrive Leads to get things to look and feel right.
However, you can skip the old templates and decide to create plain text or HTML emails without the extra help and cost.
What about Sendlane email templates?
In addition to the above AWeber email template features, Sendlane lets you create new templates from scratch. You can also re-use a template you create or fetch it to re-edit it, saving you time to get things done.
Sendlane now provides over 800 templates to choose from—around the same number as AWeber. But while they are more contemporary in design, you get the feeling that they need an update—more than a brush of paint, too.
But compared to AWeber's builder, Sendlane does seem more modern hence more intuitive to figure out, even when you are time-strapped. And that counts.
Still, while Sendlane supports a variety of contemporary email marketing features such as video and sleek graphics, do not expect social links (why now, Sendlane?), countdown timers and product boxes.
You get to view a preview of your email after completing the editing in Sendlane's drag-and-drop email builder. You can send a test email to yourself before broadcasting it out to your audience as well.
If you are okay with what you created, you can broadcast it immediately or 'Schedule' it. What the scheduling function does is activate 'Optimized Sending'.
Wouldn't you just prefer it if emails reached your target audience when they are most likely to open, read, and click through them?
Yes, that popular ActiveCampaign feature (albeit with less gusto)
That's what Optimized Sending does; leveraging your audience's browsing behavior to automatically send a message to them just when they are likely to engage with it—and probably take up that email's landing page's call-to-action.
There's more.
Sendlane supports email retargeting. You only need to copy/paste a line of code onto the tool for it to start retargeting your vanishing visitors.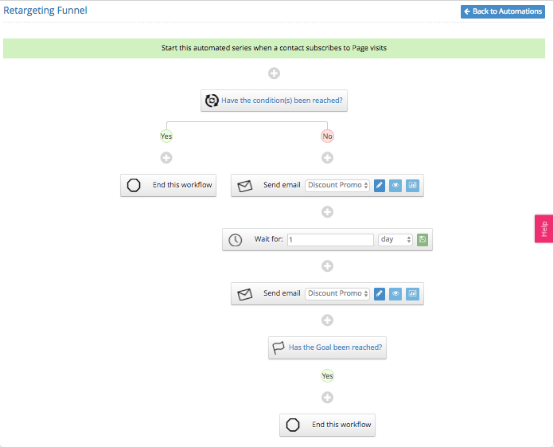 This can help you regain the visitor's attention, further understand what they are looking for, and encourage them to fulfill it on your website by purchasing what you have on offer. Handy!
Forms
Building forms with Sendlane is quite fun compared to AWeber. That's because the latter feels like they set and left their form templates to rot while Sendlane has strived to keep its templates worth a second look from a passing browser.
Away from beauty and the beast anecdotes, Sendlane allows you to
Like its email templates, AWeber offers a ton of categorized form building templates for email list building. And just like the email templates, someone needs to update those time machines. Period.
What's worth some celebration, though, is you can easily create forms that show out as popups, can go off based on a user's action, or can be activated once a specified period of time, say 5 seconds, elapses after a visitor/contact lands on one of your pages.
You can use AWeber to add radio buttons, checkboxes, date fields, and select boxes into your forms—directly from AWeber's form builder.
Remember those form popups that smack your screen after you've read a piece of content past a particular threshold, say 45% through?
AWeber can do that for you, too.
With Sendlane you can do that as well—probably better…
…if you can find the Sendlane form builder in time.
That's because it is literally buried under 'Integrations', close to the bottom of the menu items on the email marketing company's user interface. Now that's not as modern or intuitive as you'd probably prefer it.
Who checks 'Integrations' to create a form in a platform that has a form builder built-in?
Maybe it would be a good idea to have a 'Forms' menu item for that.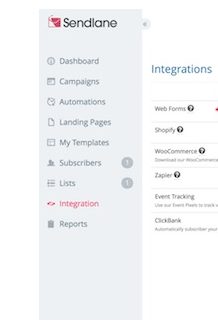 Notice how Sendlane has tucked the form builder into Menu>>Integrations>>Web Forms. Also, notice how 'Event Tracking' seems out of place in the same menu item, too.
However, it seems Sendlane was on to something here; trying to do these:
The form builder does a good job of offering decent form template designs.
But it is not perfect.
Sendlane's form builder does not support various form types such as overlays, popups or slide-ins. What you can expect, though, is to either copy/paste the embed code inline or directly link it to your form.
But unlike the email builder, you can add countdowns, grids, and exit-intent-popups to your form building capacity. Then after creating your perfect form, you can publish it by downloading the HTML in your site or by using a dedicated Sendlane URL.
The form builder does not support drag-and-drop, though.
Tracking and Reporting
Perhaps where AWeber really excels is in its detailed tracking and reporting capabilities.
Here's a screenshot that summarizes what to expect from AWeber email marketing tracking, reporting, and analytics: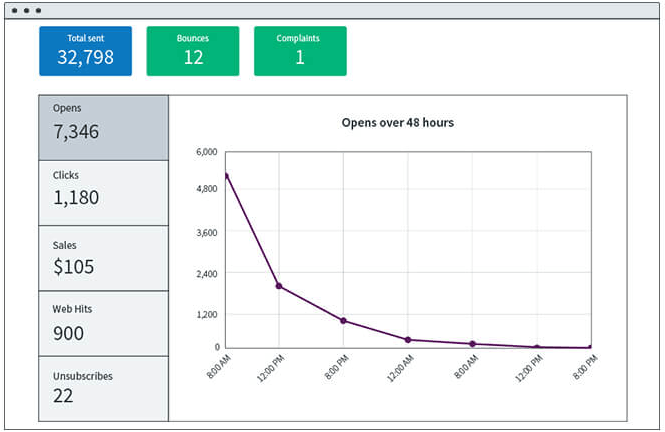 You can track a lot with AWeber.
The company will help you track about 26 different reports:
Take a look for yourself: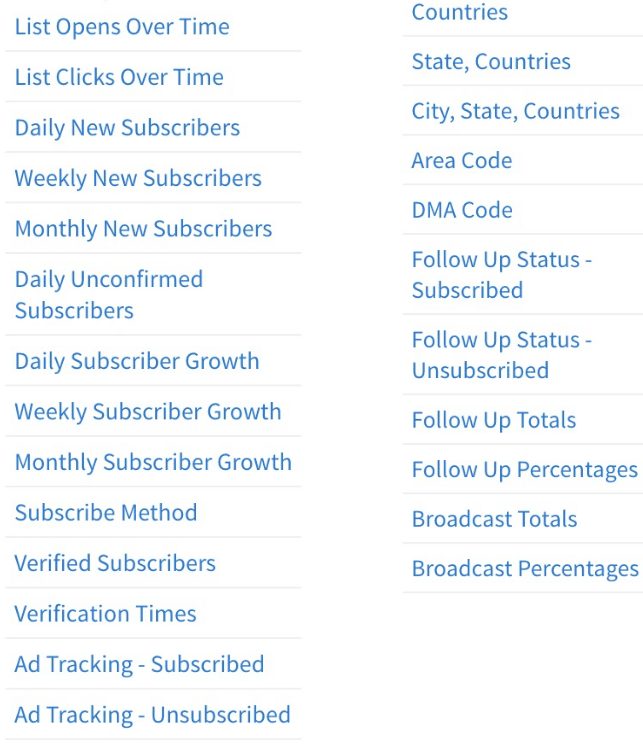 Again, you'll not want to expect appealing data visualization here because AWeber's analytics display does not cause the likes of ActiveCampaign any bouts of Insomnia. But it gets the work done.
Sendlane, on the flip side, whips out its contemporary design to deliver a visually-appealing Reports page. You can easily follow what's on the display because not only is it well-laid-out, but the tool also only shows you a preview of the overall data to avoid cluttering the interface in one swoop.
If you want more detailed data, you can narrow down to a report type. So you can come down to Campaign, Workflow, Autoresponder, and more reports.
Simply click on one of those and a more detailed, yet uncluttered report page will load up.
With Sendlane, you can track what each email campaign brings in so you can determine your email marketing campaigns' ROI. Using 'Event Tracking', you can even tell how many leads you are gaining per email broadcast.
Another good thing about it is it is a real-time tracking and report tool, so you can always keep- tabs with your email marketing changes and use the intel to make data-backed decisions.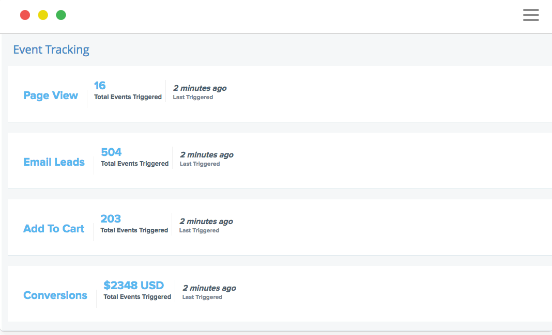 Also, AWeber lets you keep tabs on what's going on when you are away through a seamless mobile app. You can grab an Android or IOS version to stay in the know while on the go.
This is not something Sendlane will provide, so if you need to add mobility to your email marketing tracking and reporting, you might find AWeber to be right up your alley.
Sendlane vs AWeber: Deliverability
But when it comes to deliverability, you'll want to take advantage of the free trials offered by both email marketing services because it can be tricky to measure depending on your campaigns.
You'll not want to go with what either email marketing vendor says.
For example, one email marketing deliverability test by Authority Hacker showed AWeber lagging behind the competition after scoring a mere 30.1% deliverability rate.
Here are the results compared to the best AWeber alternatives around: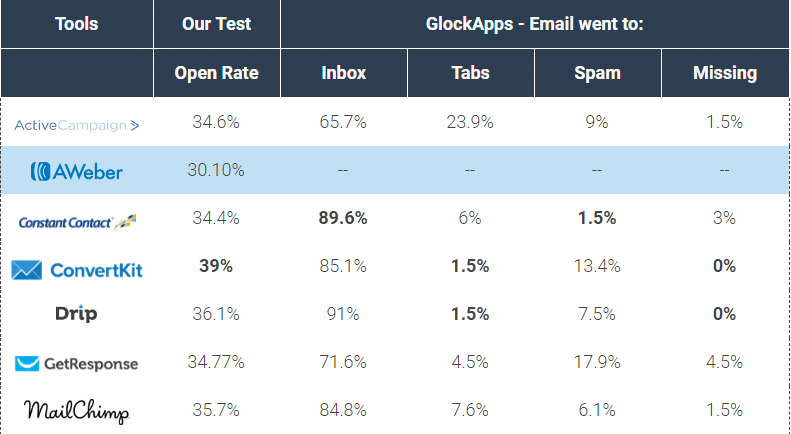 But the company in question won't tell you that, will it?
Perhaps the best you can get are tips to increase your email delivery rate…like this: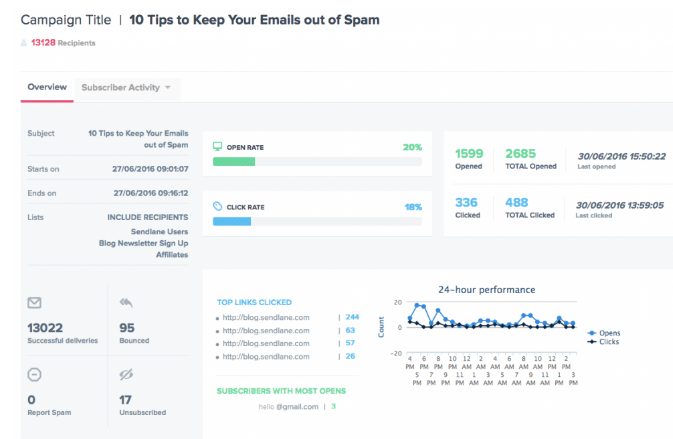 Now, can you test Aweber vs Sendlane emails or forms?
A/B Testing
AWeber won't let you split test your emails and email templates. But you can use it to A/B test your web forms.
Here's how:
You'll need to create more than one form for the function to appear under Forms>>Sign-Up Forms>>Create A Sign-Up Form. Click on the drop-down menu item to reveal 'Sign-Up Form' and 'Split Test Your Sign-Up Form'. There you are.
But the function is pretty much basic for doing much. You are probably going to prefer using a third-party integration to test the effectiveness of your web forms.
You might be better with AWeber, though, because Sendlane does not even offer split testing in the first place, which is so not okay for any email marketing software worth its name.
Here's what the prompt customer support rep had to say about that: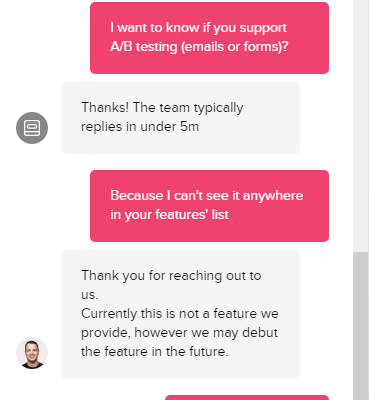 In the future…maybe.
Integrations
One of the best benefits of AWeber is you can integrate it with practically any online marketing tool around—the packs you get for being around as long as AWeber has been around.
AWeber neatly categorizes its integrations so you can easily choose one based on your industry or specific need.
Take a peek: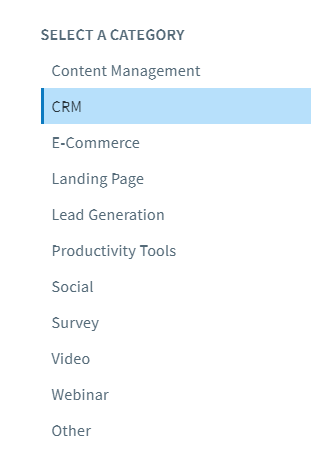 For example, under 'Content Management', you can integrate with WordPress, Drupal, Wix, and SquareSpace among others. Under CRM you can connect Zendesk and Salesforce to your AWeber and so on.
Both email marketing platforms offer API integrations, so you can work with your developer to create an application that would make your integration seamless and efficient.
Sendlane may not have as many integrations as does AWeber but you can integrate your Sendlane with Zapier, which connects you to many more Zaps you might need. So the comparison here will absolutely depend on the integrations you need for your specific business.
Your choice.
Sendlane vs AWeber Pricing
You can 'test-drive' Aweber for a good 30 days free-of-charge. During this time, you'll be free to use all premium AWeber features. Sendlane provides a 14-day trial period. It does not have a free plan, either.
A thing to keep in mind is to occasionally monitor the number of people unsubscribing from your list. AWeber will not do that for you. And neither will Sendlane.
AWeber's system will still count unsubscribes as a part of your contacts quota if you do not remember to manually clean up the list and get rid of unsubscribed contacts. You can also decide to re-engage them, though.
On the other hand, while Sendlane does not charge one contact twice because they are registered in multiple accounts (like AWeber would), but it can also charge you for unsubscribed contacts.
Fortunately, you can use Sendlane's List Hygiene feature to clear the list and make room and budget for more profitable leads.
So how does AWeber compare to Sendlane in terms of pricing?
In either case, there are no contracts, no setup fees, or training fees (like Infusionsoft). You can cancel at any time at no risk to you. But if you stay around past the free trial periods you can expect to foot the bill as shown below.
Here's the low-down in screenshots so you can be the informed judge: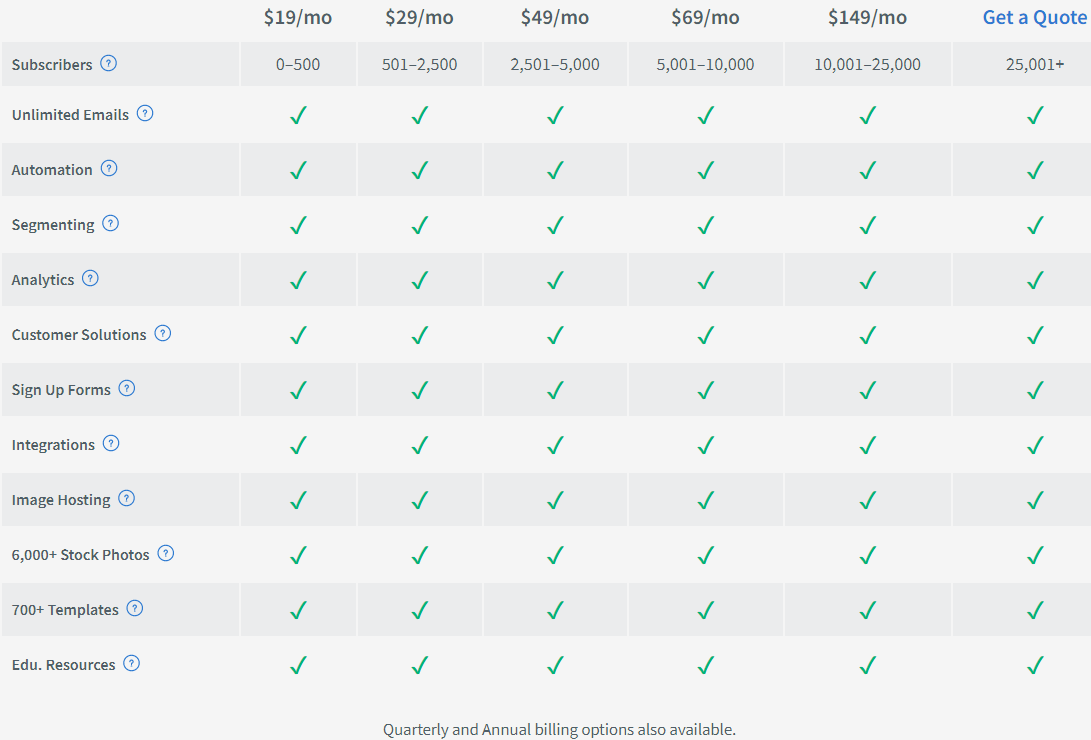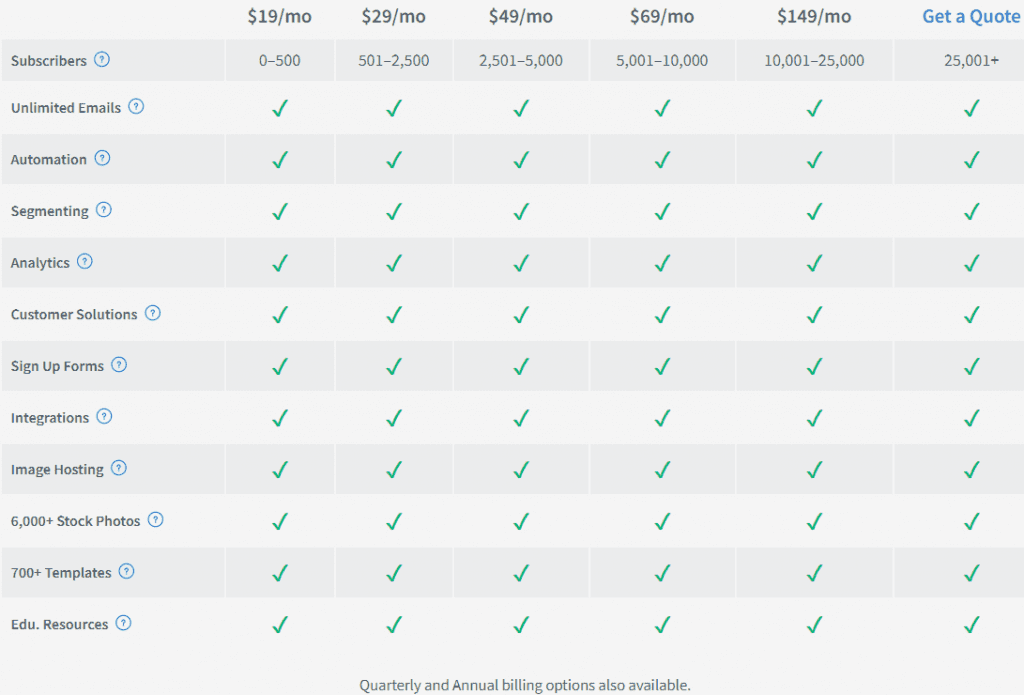 Compare that to Sendlane's pricing tiers: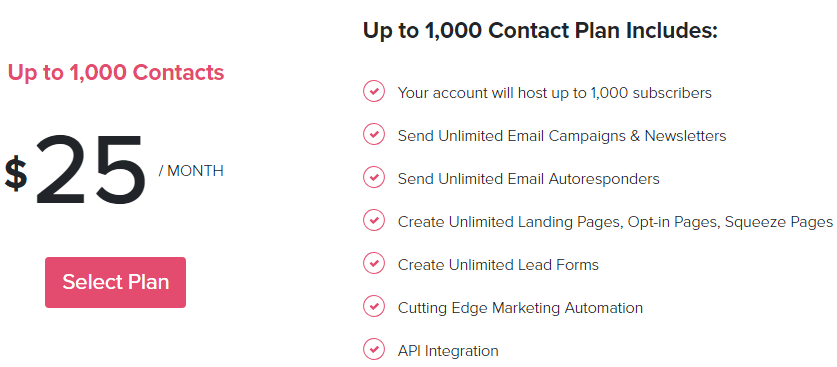 Sendlane will let you register up to 100,000 contacts, which is more than what AWeber can have you corresponding with without resorting to an Enterprise Plan.


Notice if you have less than 500 contacts, Sendlane may seem more expensive. But the tables turn once you start listing more than 500 contacts, up to 1000 where the tables turn again, making AWeber the more affordable email marketing provider on paper.
That's on paper because you might still find the best email marketing features you need are best provided by Sendlane or the other way around.
Sendlane vs AWeber Comparison: So Which One?
So which is the best email marketing software in 2019 between Sendlane and AWeber?
As discussed in this review, both email marketing service providers offer several similar packs. For example, you can use tagging to segment your audience based on their behavior, basic email automation, drag-and-drop email builders, create landing pages with built-in templates, and much more.
But, on one hand, you have AWeber.
It will get you basic email marketing and automation done. If you are just getting acquainted with email automation and have not much use for split testing, AWeber can provide you with a good platform to get better at it.
Go with AWeber here IF… you are on a budget, AWeber can sort you out, too. Plus, you get a full-access, 30-day trial period to see if AWeber can work for you. We recommend you take it up.
As for Sendlane, you can expect more of a funnel hacks approach, with a more modern email marketing user interface, so your learning curve may not consume much of your time.
Go with Sendlane here IF... you have a bit more budget, need A/B testing capabilities, and are fine with no split testing support at all, Sendlane can do your email marketing strategy some justice. Remember, there's a 14-day free trial available.
So at the end of it all, only you can make the best decision based on which capabilities you need to use and which ones can come later.
Bottom Line: If you just want an affordable email service to GET STARTED on, you can't go wrong with Aweber here. HOWEVER, if you want an advanced visual builder (PLUS landing pages) with built-in testing, try out Sendlane here.
Side Note (for Shopify users): If you use Shopify, I would personally recommend going with ActiveCampaign here as it offers tighter automations an integrations.

I Personally Prefer AWeber
AWeber has improved a LOT in the last few years. Now, they have a much better visual automation builder, with hundreds of free email templates, and generous 30-day trial and a competitive $19/month starting cost.
Buy Now
We earn a commission if you click this link and make a purchase at no additional cost to you.
Which one will it be for you?
Related Email Marketing Tools Content