Last Updated on January 16, 2023 by Ewen Finser
If there's one competitive area of digital marketing solutions, it's marketing email solutions. In a time when social media is the go-to marketing option, savvy marketers still know the value of email.
The list of marketing email clients promising this, that and the other can be somewhat overwhelming. We're going to give an honest appraisal of two of the big hitters in email marketing clients.
Even if you decide that neither of these are quite right for your business, hopefully you'll be equipped with some ideas as to what you should be looking for when considering other products.
TL;DR: In almost every case, I keep coming back to the scalability and flexibility offered by ActiveCampaign here as the better marketing automation option. Personally, I ActiveCampaign is the email service I use for this site!
Main Differences Between Mailchimp vs ActiveCampaign
The main differences between Mailchimp and ActiveCampaign are:
ActiveCampaign has more CRM features, whereas Mailchimp is a traditional email list builder
ActiveCampaign is generally cheaper at each tier compared to Mailchimp
ActiveCampaign has dynamic lead scoring, whereas Mailchimp does not
ActiveCampaign integrates with more third-party tools compared to Mailchimp
ActiveCampaign works better with Shopify, whereas Mailchimp had a serious falling out recently
Mailchimp offers a free version to start, whereas ActiveCampaign only has a free trial
Say hi to the MailChimp Email Marketing Service
MailChimp is easily one of the most popular email marketing solutions around, and if you've already done even the littlest of investigation into a solution for your business, you will definitely have come across the name.
Now in its fifteenth year, it has developed a solid reputation as an email tool, for everybody from local start-ups to large corporations. The biggest reason for this is its drag and drop simplicity.

MailChimp quite squarely positions itself as a tool that absolutely anybody can use. A lot of marketers aren't technical, so a user-friendly interface and step-by-step approach is a win.
A lesser-known automation platform by some stretch, ActiveCampaign has been on the go since 2003. In the past year, they've seen some pretty hefty expansion: their userbase has grown by 250%; their number of employees grew by 160%; and they've had two office expansions.
An initial overview of ActiveCampaign gives the impression of a company keen to impress with an onslaught of features.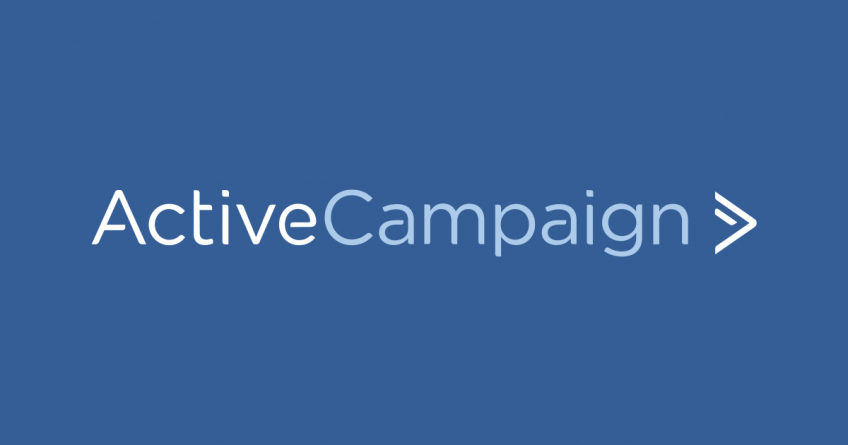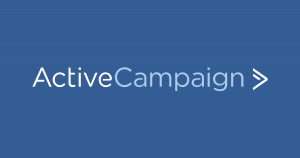 It seems to be more focused on e-commerce platforms for your business, and email marketing as part of an overall digital marketing package, and bringing together automated CRM management (CRM feature options) and intuitive real-time data analysis.
Pricing Plan Options
MailChimp Pricing Plan
As it currently stands, they split their pricing into three plan ranges, with additional mailchimp feature sets available to users when they pay more. How much you pay depends on how many contacts you plan on mailing.
Starting with their free plan, you can have up to 2,000 subscribers, and send them up 12,000 emails per month.
This price point includes pretty basic stuff: sign-up and opt-in forms (both double opt-in and single opt-in sign-up forms) for you to create and customize to increase your subscribers (custom fields); design templates (Mailchimp templates to modify with their form builder); and data insights and reports.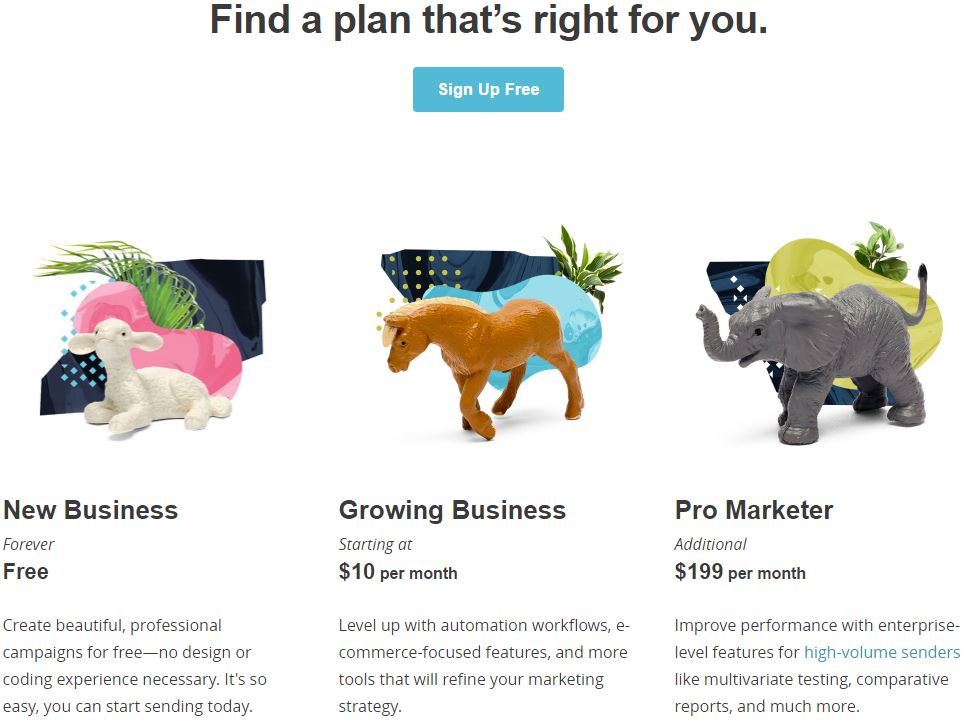 Paid options start at as little as $9. This is a prepay option, that will allow you to send 300 emails. You can have a pay monthly option for as little $10 per month. This will let you have up to 500 subscribers, but you can email them an unlimited number of times.
If you already have 2,000 subscribers from the free version, an upgrade to continue emailing them will be $60 prepaid, or $25 per month.
This basic paid package gives you automation workflows, integrations with a CRM, segmentation of your subscribers, more detailed analytical reporting, and a collaboration feature.
MailChimp's Pro Subscription costs $199 per month in addition to the previous package. This one's for larger companies with an appropriate budget! Essentially you just even more "stuff": e-commerce integrations, multivariate testing, comparative reporting, and automation features specifically integrated with your CRM.
All in all, there are a variety of Mailchimp plans (pricing plans) to suit a variety of e-commerce businesses and blogs.
ActiveCampaign Pricing Plan
The ActiveCampaign service provider has a tiered pricing range, but they don't have a pay as you go option, and don't have a free version (although they do have a 14 day free trial). They also offer a 15% discount to those who pay annually rather than monthly.
The cheapest possible email marketing software option starts at $9 per month, and is termed Lite. For up to 500 contacts, you can send an unlimited number of emails. It also includes:
marketing automation & automation tools
up to three users
They highlight chat and email support – I honestly feel that support should go without saying!
One thing that's clear from examining ActiveCampaign's pricing, is that increments are relative to the number of features offered. Staying with 500 contacts, $49 per month will get you the Small Business package, which is the minimum tier's features, plus…
integrations with your CRM for marketing automation (advanced automation)
in-depth Zapier integration partners
contact and lead scoring
some customization options for your domain and brand
training
SMS marketing
up to 25 users
If you still have up to 500 contacts, for an additional $100 per month, you'll get the Enterprise package, which is the Small Business package, as well as…
an account rep
in-depth onboarding
design service
social data (e.g. Facebook, Instagram, etc…)
phone support
SLA
unlimited users
From that list, it looks like ActiveCampaign has crossed a line from "marketing service provider" to "email marketing agency." Given the costs of some agencies, this looks like a very good deal.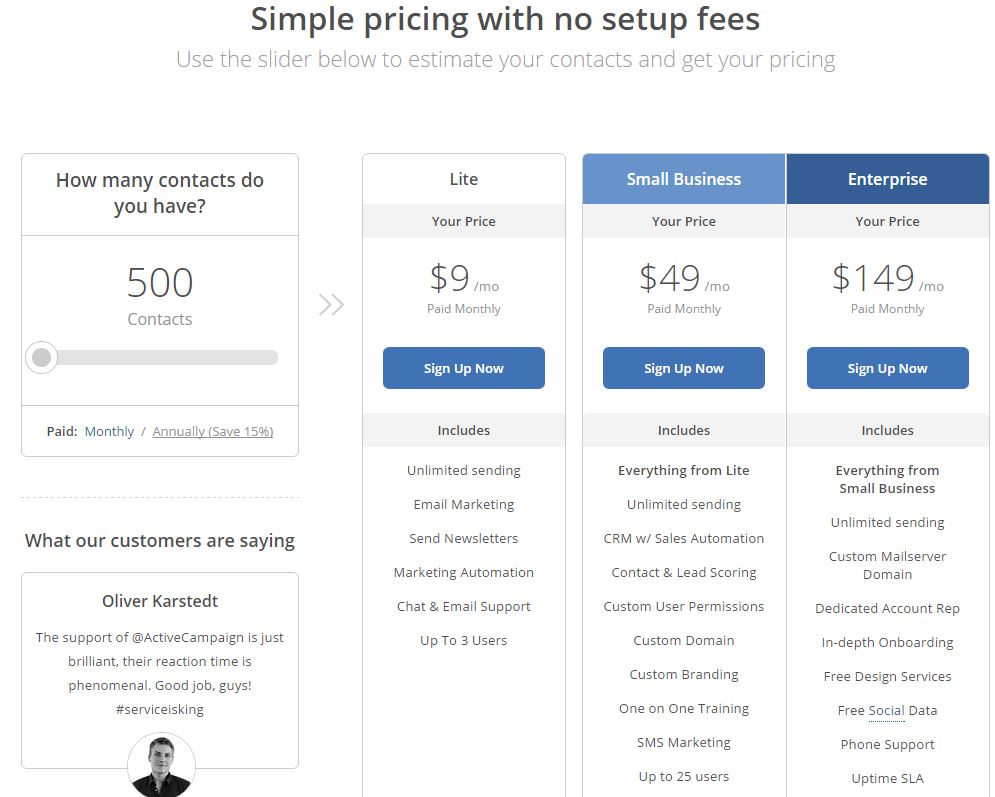 Marketing Automation Features
MailChimp Email Marketing Software
MailChimp definitely aims itself at those getting started with email marketing.
The features of the free version are so incredibly basic, and the descriptions of them on the website are exactly what will draw newbies in – it states their ability to send a relatively large amount of emails, help building the subscriber list, and design without coding knowledge.
This is good for small businesses or sole traders without any marketing background. It's helped by being free, so there's less concern about spending money that nobody has the time or skillset to use effectively.
The features of the cheaper paid MailChimp, without doubt crosses a line into a more professional product, perhaps better suited to a medium to large size business, perhaps with a dedicated marketing employee, or even a dedicated digital marketer.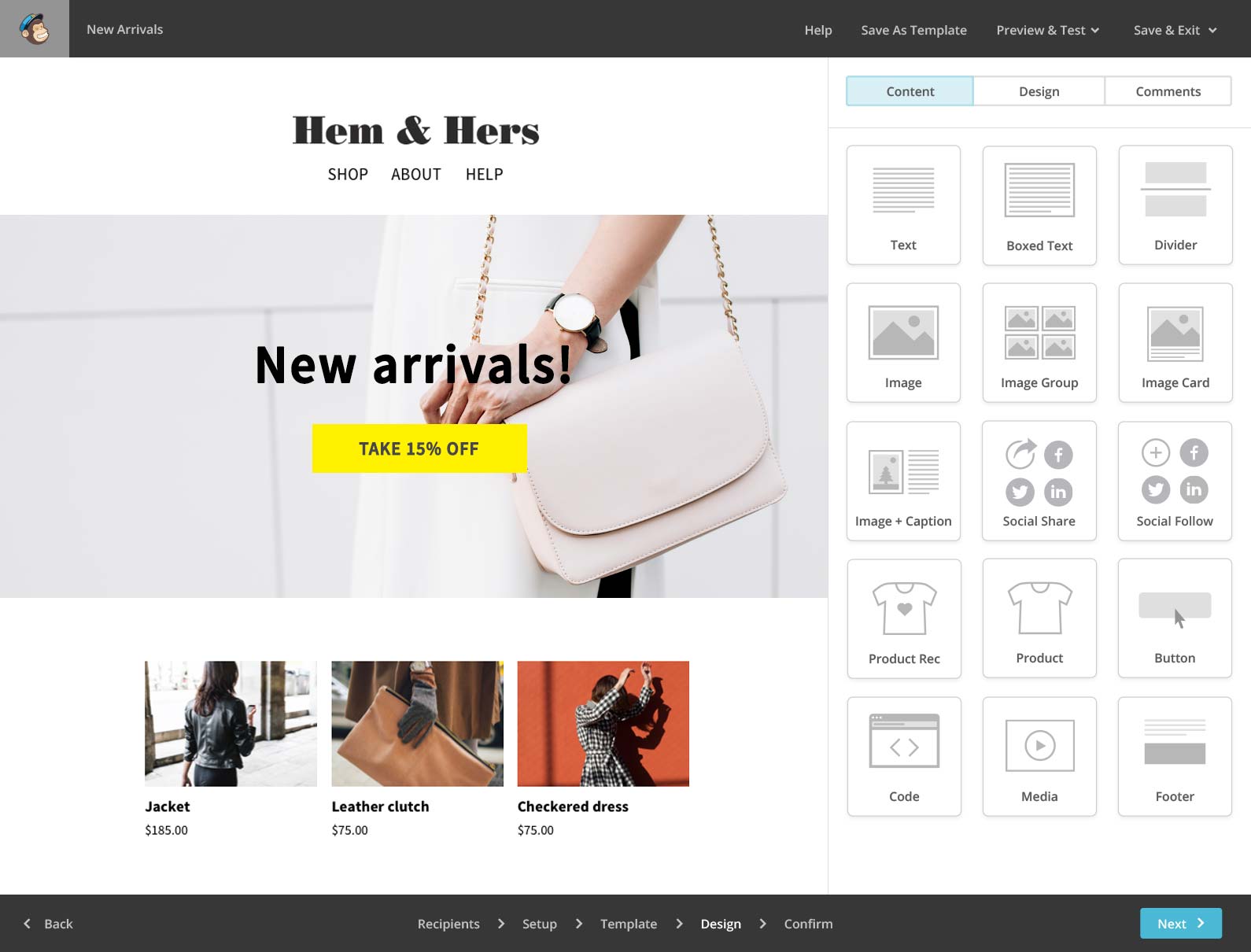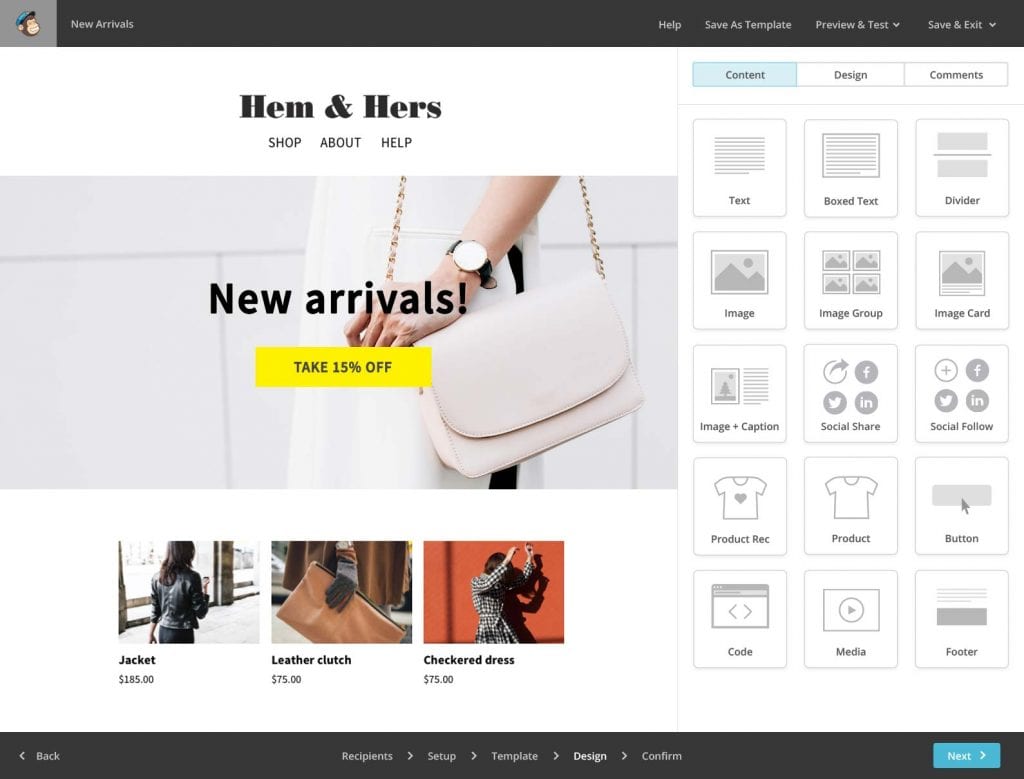 The features at this level are more focused on getting users to integrate MailChimp as a tool to be used throughout the business, and aiding the overall automatization of business processes.
The additional $199 per month for the Pro version of MailChimp is a big ask for any business. Such detailed analysis of email marketing processes is wonderful. But, unless an organization is prepared to invest the time and money into the human resources required to really utilise those features, and turn them around to work effectively for the business, it's a waste.
ActiveCampaign
In the absence of a free version of ActiveCampaign, its marketing automation features – even at its minimal level – are for somebody with at least a basic knowledge of digital marketing.
A couple of features seem to be standard right across their options. Firstly, analysis and reporting doesn't seem to get any more detailed with the pricier tiers. Secondly, they offer a complimentary design service to those on paid versions, so any users outside of their free trial.
This is ideal, particularly for the lower tier, as if an organization is working with a minimal budget, they're unlikely to have any design resources at their disposal.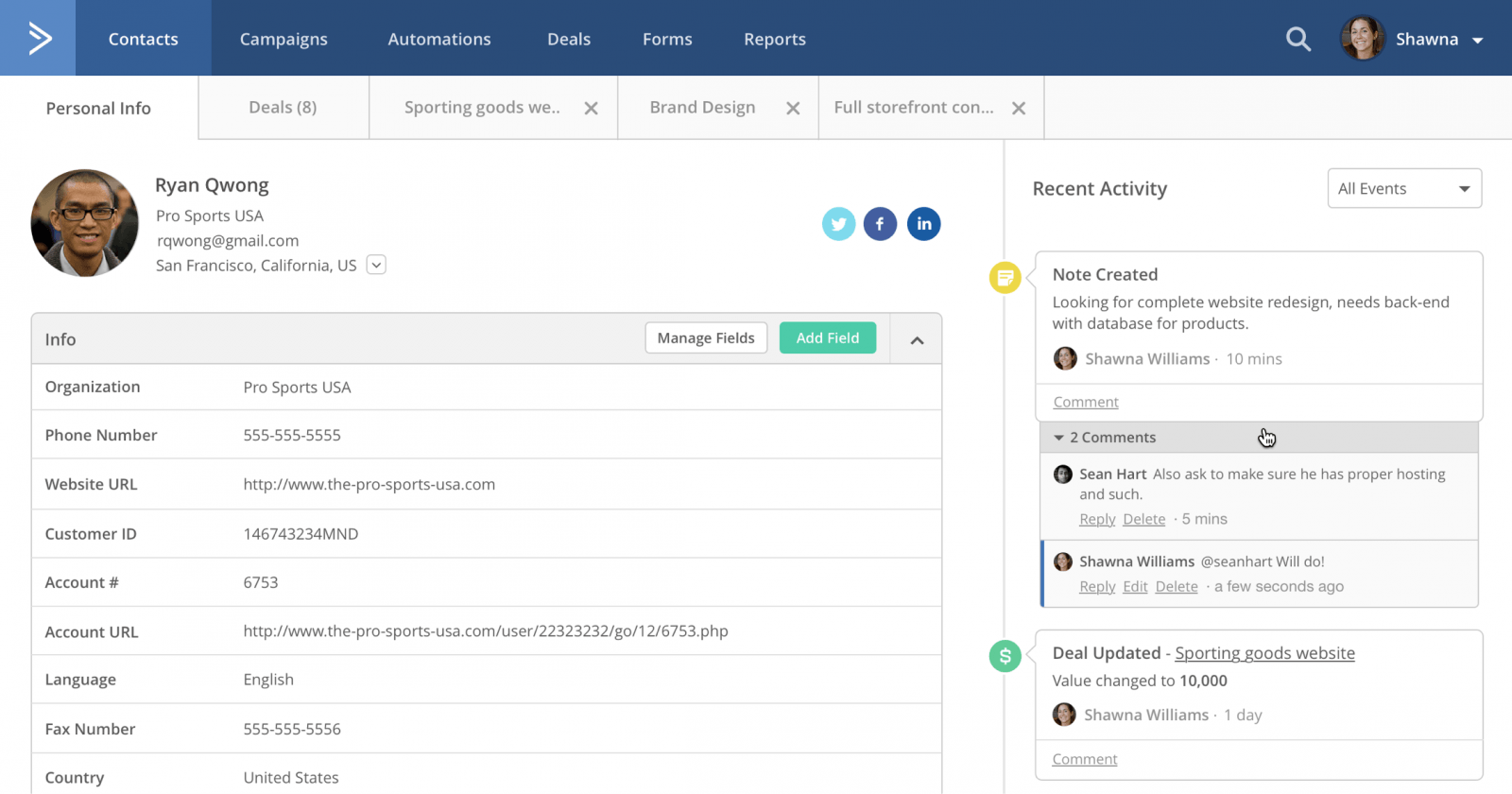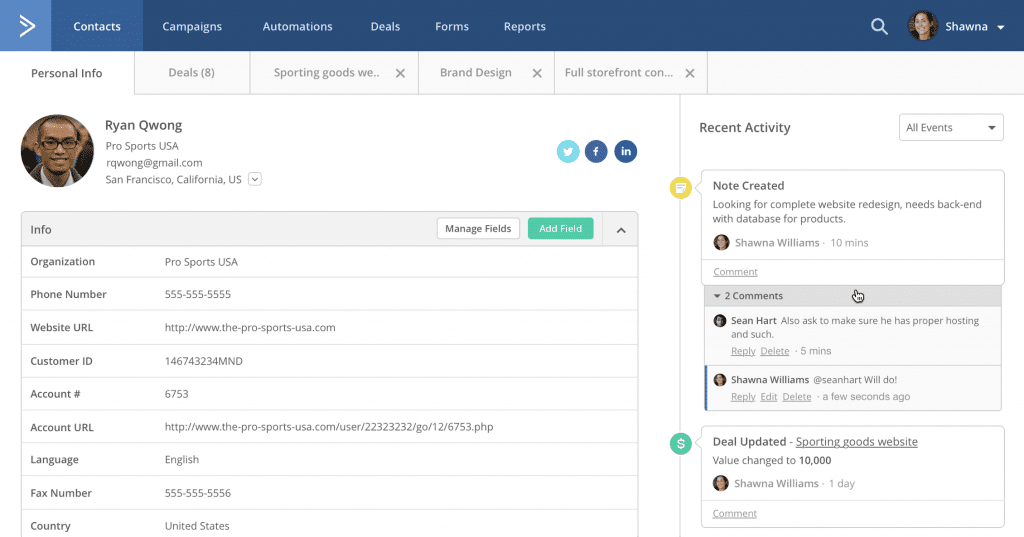 CRM integrations with sales automation is the big leap from the first to second tier. It's the upgrade feature that says "We're here to help you make money." With the customization features on top of that, you're looking at quite a solid package for an SME.
The top level for ActiveCampaign is very interesting. It feels less like an email marketing tool, and more like an email marketing agency, namely due to the inclusion of a dedicated rep for your organization, phone support, and an uptime SLA.
This tier will also collect social data, which collects the social profiles of your contacts. This could be very useful for segmenting your contact list (subscriber list), and therefore allowing you to keep your email marketing focused and relevant to specific contacts.
Marketing Automation Usability
MailChimp
MailChimp is very much championed for its usability, simplicity and intuitiveness when it comes to automation- these are the reasons that it's one of the most popular email marketing tools around, and a somewhat of a go-to brand.
The free plan is a great starting point for developing email marketing skills, getting into some of the terminology involved, and uses very clear and concise language to get you through first steps in this area of digital.
Somewhat of a sneaky aspect is giving the option for the user to undertake a task – for example, removing the MailChimp branding, or including more than 2000 contacts – and then prompting them with an option to upgrade. It can feel a little bit salesy or spammy.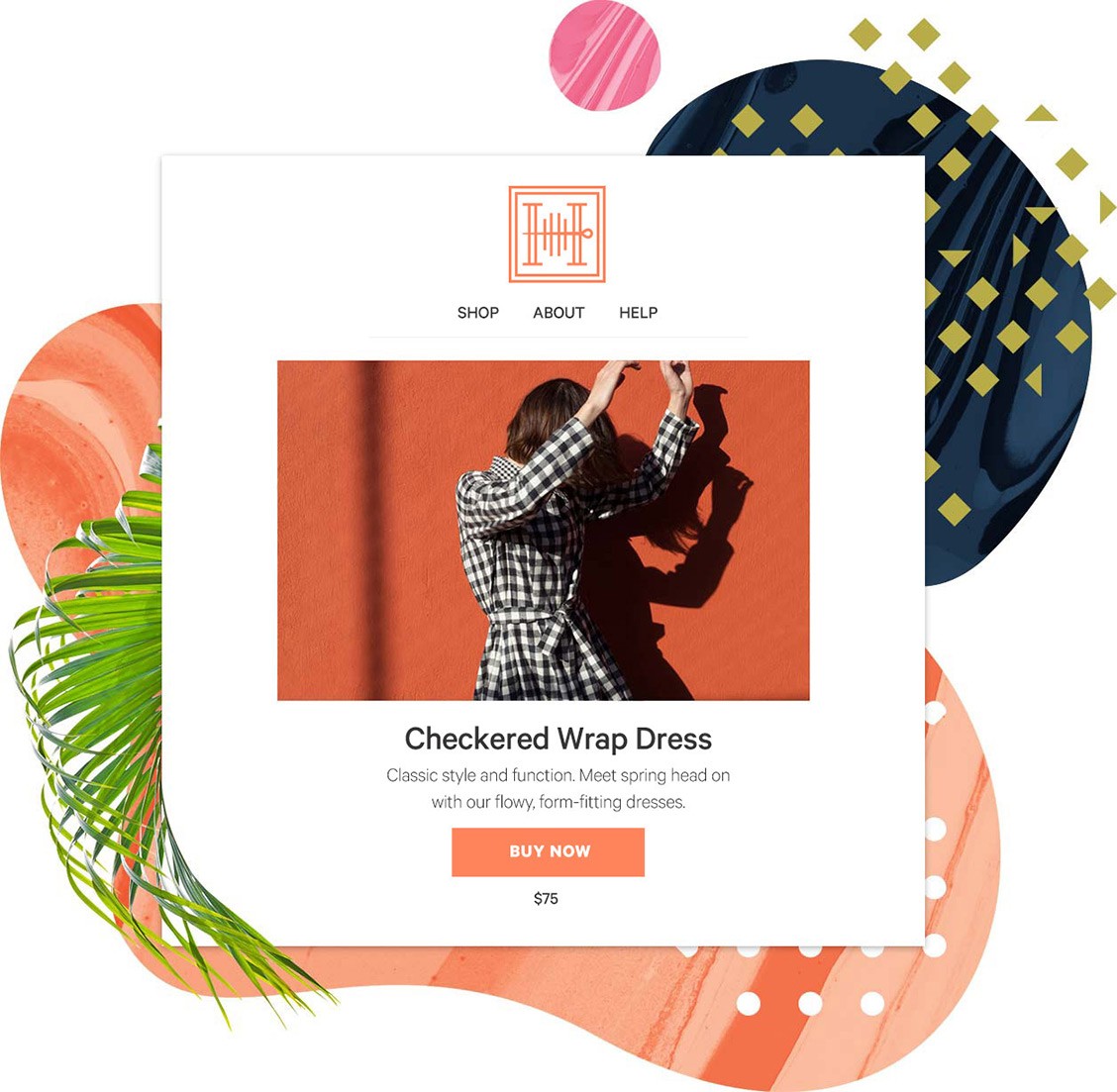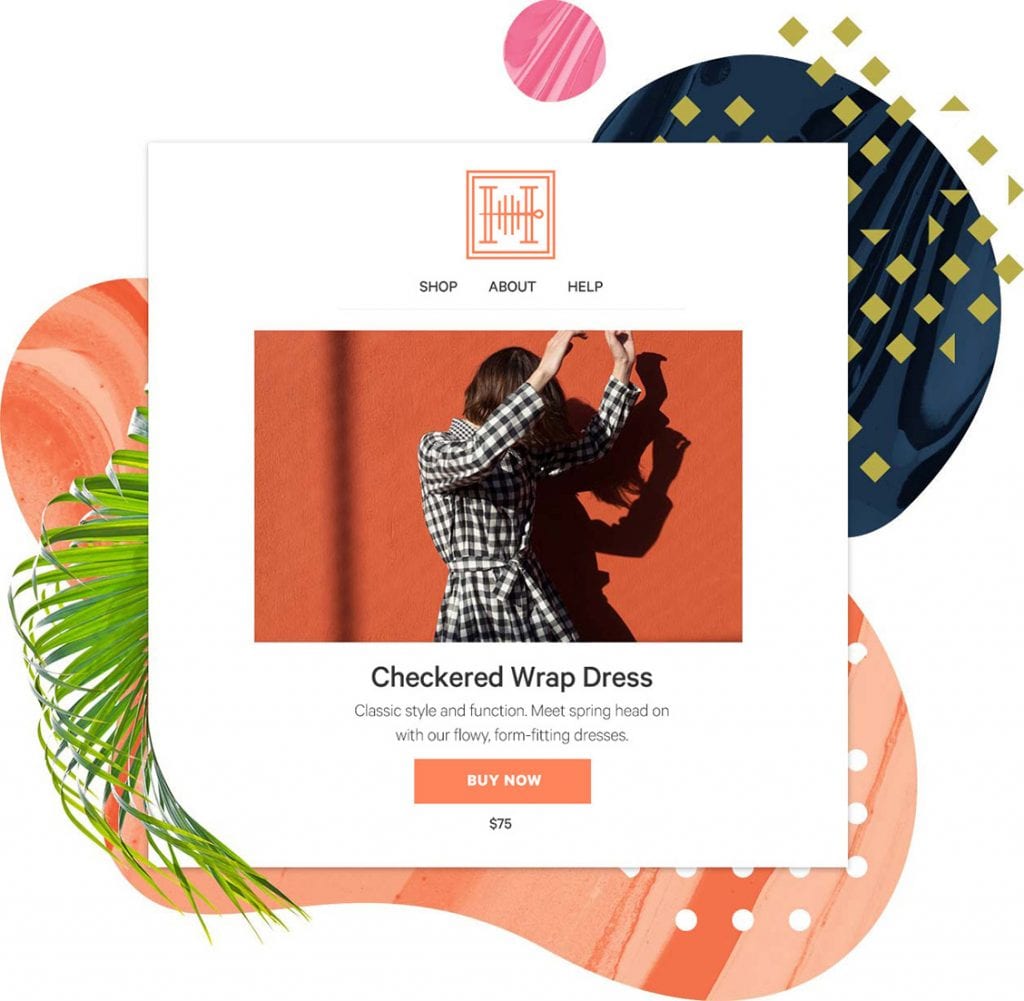 Working your way through a mailing with MailChimp, the instructions are clear and concise. It's very difficult to make a mistake. It can be a little bit fiddly going between an email template and the actual email you want to send. But once setup is completed, MailChimp marketing campaigns can be easily created and tracked.
You can upgrade and downgrade between the paid plan tiers of MailChimp any time you want, depending on your number of contacts and required features. Another somewhat sneaky feature, is that you can only downgrade to the free option once in the lifetime of your account, meaning it's worth being very careful about upgrading or downgrading decisions.
ActiveCampaign Marketing Automation Tool
ActiveCampaign has a generally more business-like automation feature feel to it. There's a distinct lack of the charm and friendliness of the MailChimp's brand persona. But as mentioned above: that's not who it's for, and it is better suited to professionals with some existing knowledge of email marketing.
In terms of the actual process of putting an email together, it's not that very different from MailChimp: a choice of templates, creating your own, work with blocks of media or HTML…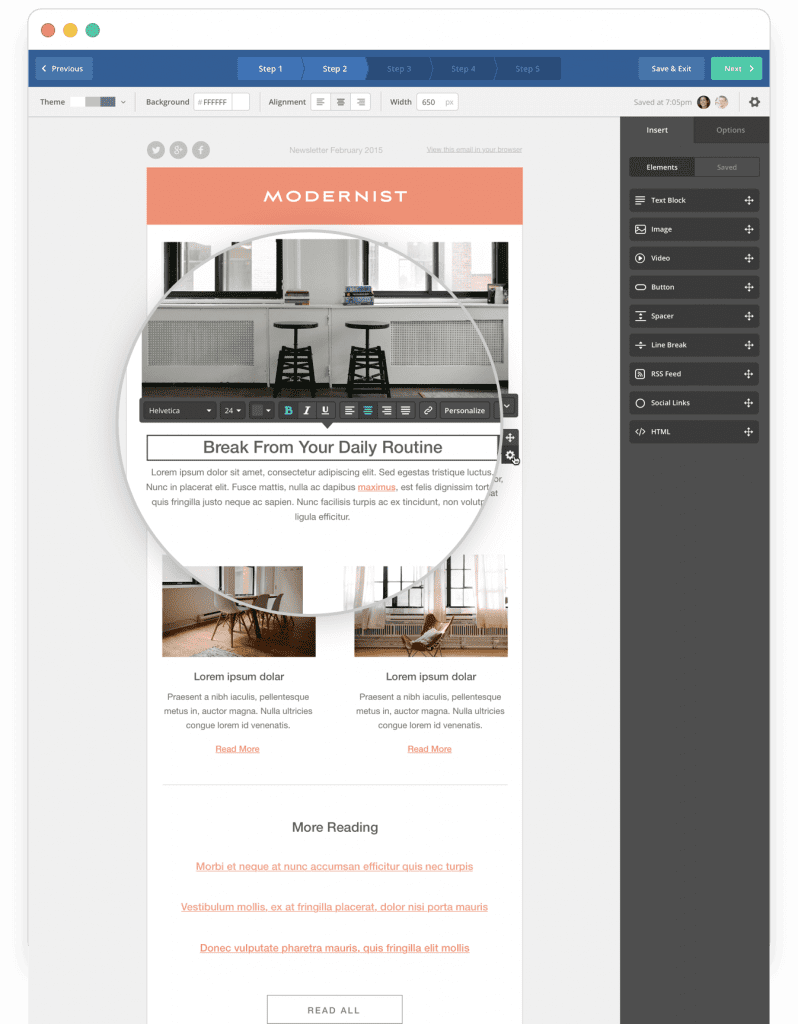 At its minimum tier, users can have direct assistance from their support team via email or chat. It's reassuring to have there. I haven't had to use them, but they appear to be responsive and helpful – you can't really ask for much more than that!
There does not appear to be any restrictions on the ability to upgrade or downgrade your service as required.
A fun feature for users in ActiveCampaign is the ability to export subscriber lists of users who have clicked on specific links. This is useful for remarketing. For example, if you can see a contact has clicked a link about a specific product, you can follow through with another email further highlighting it, or even give them a call, if appropriate. Tracking click-through rates provide valuable information on what your audience is interested in.
In terms of design, logging onto ActiveCampaign hits you with a lot of options of things to look at, which might be off-putting for a newbie.
Conclusion: MailChimp or ActiveCampaign Marketing Automation Platform?
MailChimp Email Marketing Automation
There's a reason MailChimp is one of the the top bulk email service providers, and that's the simplicity of it, particularly at the free level campaign. The additional features at higher priced tiers are intended to help you with processing, as your business and your email marketing skillset, grows.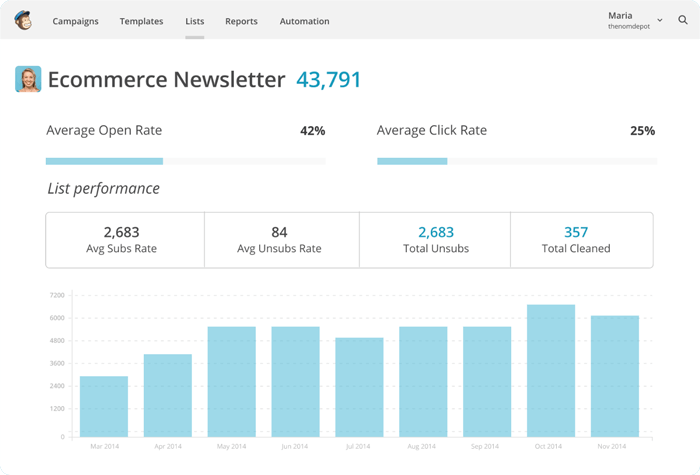 MailChimp is very much a data-focused product, providing the information for the marketing team to analyze, understand, and develop the best way forward to maximise the capacity of email marketing efforts.
In saying that, if you, or your organization doesn't have the resources to exploit that detailed data, then the value is questionable.
ActiveCampaign Marketing Automation Software
ActiveCampaign might not have the brand recognition of competitors, but like a lot of marketing software, the power of this relatively quiet company, should not be used to undermine its ability to produce a great product.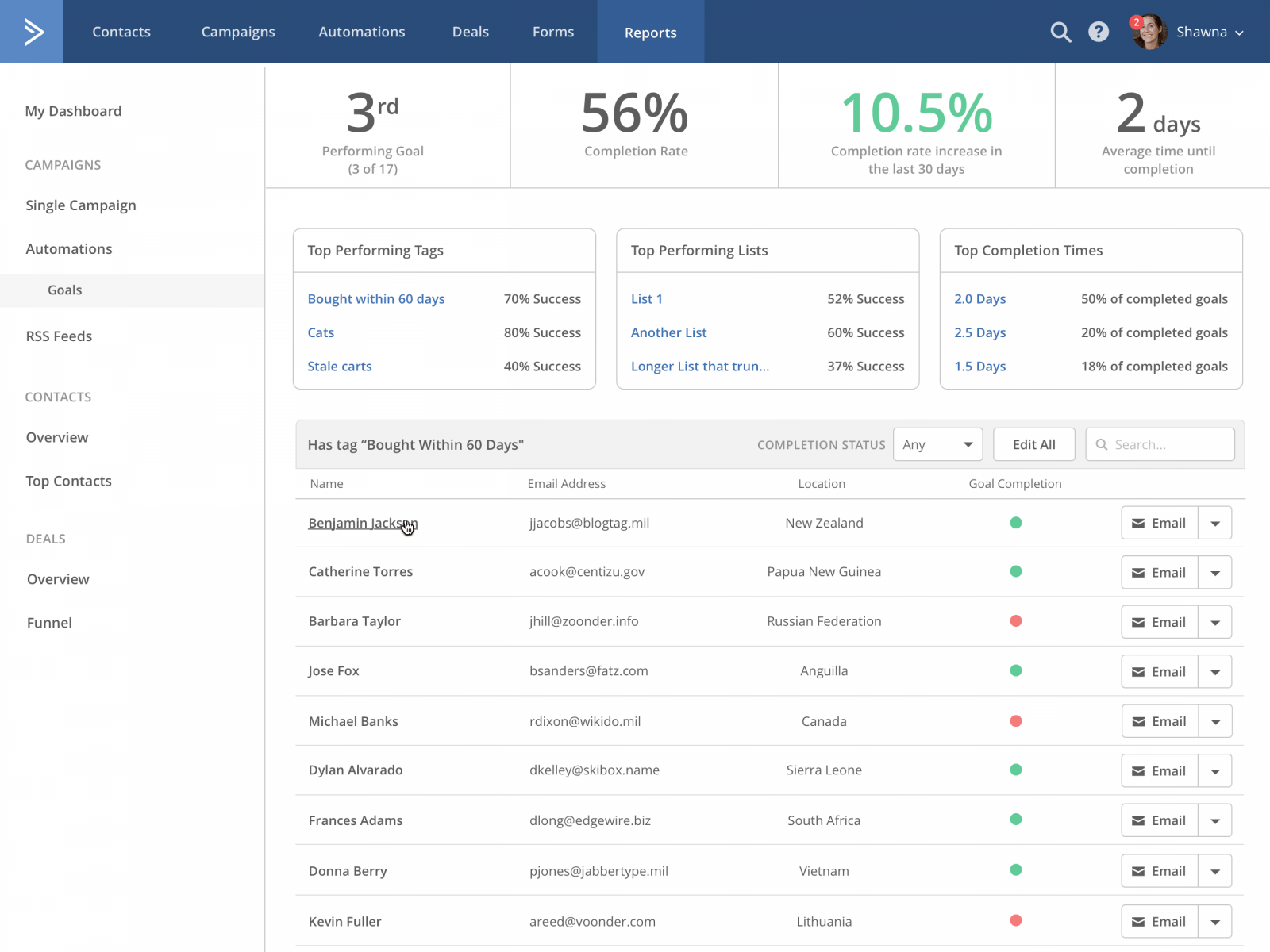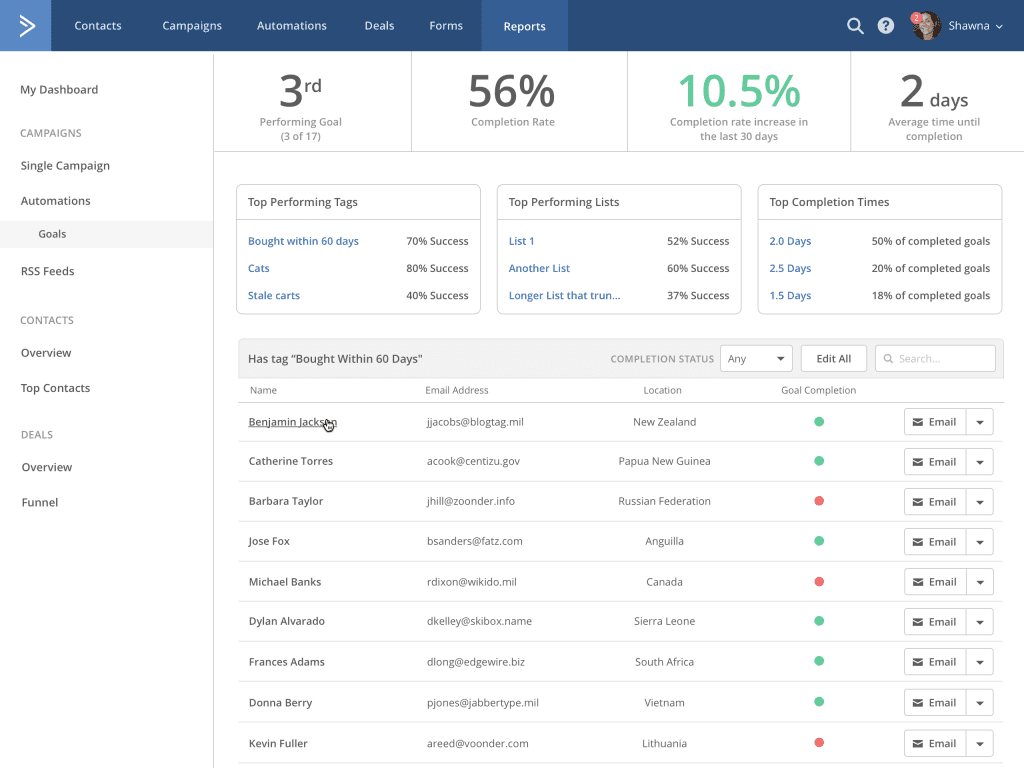 The focus does seem to be sales, and more specifically, the automation of communications processes to generate sales leads. Apart from the social data available to top tier users, excessively detailed reporting just doesn't seem to be a focus.
It would be interesting to find out more explicitly what the account manager for top tier users does to help with delivery (enhancing email deliverability rates).
MailChimp vs ActiveCampaign: Who Wins?
At the core of these products is the same basic function: to send emails to lots of people with high deliverability.
Rather than ask "which is better marketing platform?" it would be more appropriate to ask "which is better for my business?"
If your business has a marketing software orientation, and your emails are intended to provide updates as a form of ongoing keep-warm comms so recipients don't forget about you, MailChimp is likely to be the better product for you.
The free version is also ideal for people new to email marketing, for getting a feel for how it all works.
It has to be reiterated though, MailChimp Pro is impossible to justify, without the resources in an organization to translate the data it produces into actionable recommendations.
If your business has a sales orientation, and your emails are very much focused on more of a hard sell, ActiveCampaign will likely work better for you.
Generally, sales orientated organizations won't have time for getting bogged down with too much data and analysis, and some idea of the general direction of email marketing efforts will be fine.
It feels like this is further evidenced by the level of customer support offered at the higher tier platform, in that they might take some of that work off you, so you can focus more on your content (ideal for content creators).
Bottom Line: In almost every case, I keep coming back to the scalability, better deliverability and flexibility offered by ActiveCampaign here as the better option. Personally, I ActiveCampaign is the email service I use for this site!
Here are related articles on email marketing platform options you may be interested in: