Last Updated on November 19, 2023 by Ewen Finser
No matter what you're building online, you need a landing page. This is how you'll turn visitors into mailing list subscribers if you are applying an email marketing strategy, or users, members and customers in other scenarios.
The more catchy, creative and clever your landing pages, the better. Depending on your brand, audience and what it is you're promoting, you may need a major landing page tool with tons of options or something more simple and streamlined.
With the right landing page software or sales funnel tool, you'll be able to create, publish and track your landing pages in order to optimize the marketing process.
If you're ready to turn your website visitors into high-value leads, there are a ton of programs out there to help get your page software improvement started.
Choosing a landing page builder isn't cut-and-dry, though. There's a lot to take into consideration, from features and pricing to support and integrations.
In this article, we're going to compare two leaders in the landing page and sales funnel field: Instapage review vs ClickFunnels.
First, I'll quickly go over what to look for when choosing this type of tool. Then, we'll jump right into Instapage and ClickFunnels , telling you in detail about each tool, and listing their pros and cons.
After that, we're going to do a deep dive into the main differences between these two tools while also covering their most important features in more depth.
Main Differences Between Instapage vs ClickFunnels
The main differences between Instapage and ClickFunnels are:
ClickFunnels is a full self-contained sales funnel building platform, whereas Instapage is a landing page builder
ClickFunnels has very limited 3rd party integrations, whereas Instapage is built around integrating with 3d party platforms
Instapage offers built-in A/B testing and advanced analytics, whereas ClickFunnels is limited in this regard
How to Choose a Landing Page and Sales Funnel Tool
Landing page software made a huge splash when it hit the market a few years back. Finally, marketers and creative professionals could handle this part of the sales process themselves instead of having to hire a coder or designer.
When you're able to create a landing page with a page builder that's been customized to a specific ad or goal, you have a better chance of converting the visitor. As your advertising and marketing become more effective, your budget, time, and effort will go further.
First, though, you have to understand your business and sales page needs.
Get to Know Your Business
Sales funnel tools may target just a part of the process, like the landing page or pop-up windows, or the entire process from beginning to end, from creating the landing page to email marketing automation and processing the conversion.
If you don't know your business, though, it's going to be nearly impossible to choose the right tool. Here are a few questions to get you more familiarized with your business so you can choose a sales funnel or landing page tool that's right for you:
Do you only need to create landing pages because you already have a CRM or you love? Or do you need the full scope of and functionality?
Do you want a simple tool with no frills or do you want lots of features and options? (Hint: Smaller businesses tend to opt for simpler tools, while bigger businesses – with bigger budgets and larger teams – may get more use out of more complex tools.)
Does your business cater to consumers (B2C) or other businesses (B2B)? While some sales funnel tools will be able to let you target both audiences, some will do one or the other better.
Do you have an in-house or contracted developer who can customize landing pages or do you need to be able to use the landing page builder out-of-the-box without any technical background?
What are the features you definitely need, what are the features you'd like but don't require, it is a and what are the features that you don't need and don't want to pay for in something more than a or something more complex? ?
Landing Page Builder Features
When searching for landing page software, here's what you may want to look for:
The ability to create landing pages without any coding experience
Customizations to make your pages look professional and on-brand
Integrations with the other business tools you use
Analytics per page and A/B testing
Additional sales funnel and email marketing features
When you know your business and are able to find an appropriate sales funnel tool to match, you'll reap all the benefits. This could mean giving your team the information they need to connect with customers, closely tracking the sales pipeline in order to figure out where improvements need to be made, or generating more leads from your landing pages.
Instapage specializes in building landing pages for your marketing and promotional campaigns. It lets you build, host and split test your landing pages in order to see which ones are the most effective.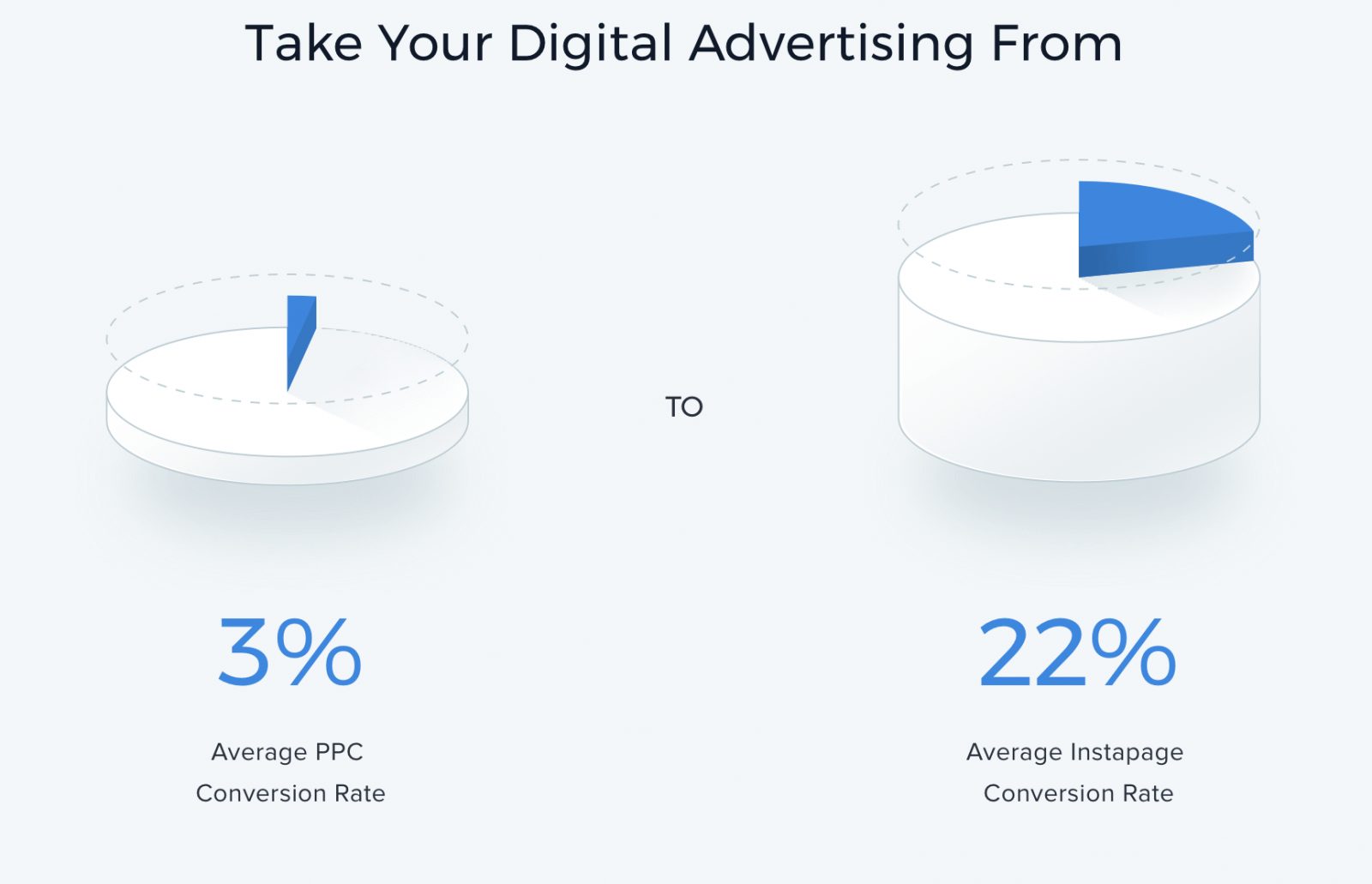 You'll start with an empty canvas, then design your landing page with the drag-and-drop editor. Instapage has both free and paid landing page templates that are customizable so you can make them fit your business and needs.
There's really no limit to the type of landing pages you can design – squeeze pages (simplified landing pages just for collecting email addresses), thank you pages to send e-mail traffic to, webinars (webinar funnel), etc. Here are some of the elements you can add to your pages:
Buttons, images, shapes and videos
Lead capture opt-in forms
Social media links or logos
Timers
Setting up Instapage is easy. You'll either make a simple change to your domain settings or you can use one-click integration if you have a WordPress website.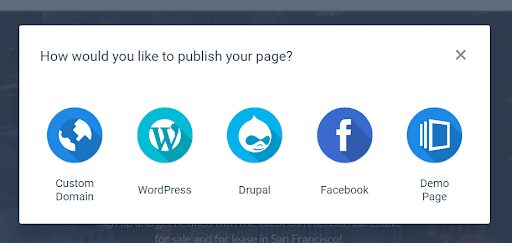 Once it's set up, you'll want to familiarize yourself with heatmaps, one of Instapage's unique analytics tools. You can track the behavior of your visitors, like how far down they scrolled on a particular page or which elements they clicked on. This can help you improve the placement of your page elements for better engagement.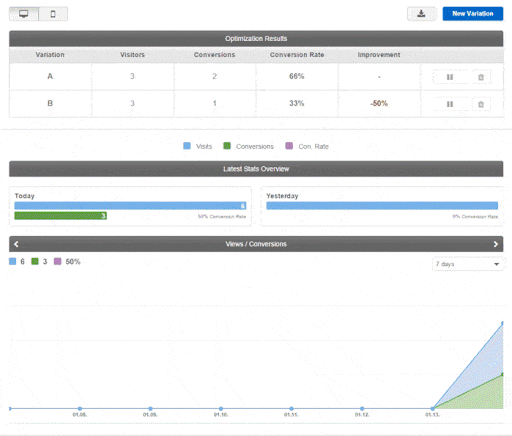 Instapage is specifically for an individual or business that wants to promote their products or services online. If you want to improve the ROI you're getting from Facebook and Google ads, or another advertising platform, Instapage is also a good choice – it has some pretty useful advertising analytics built-in (including Google Analytics).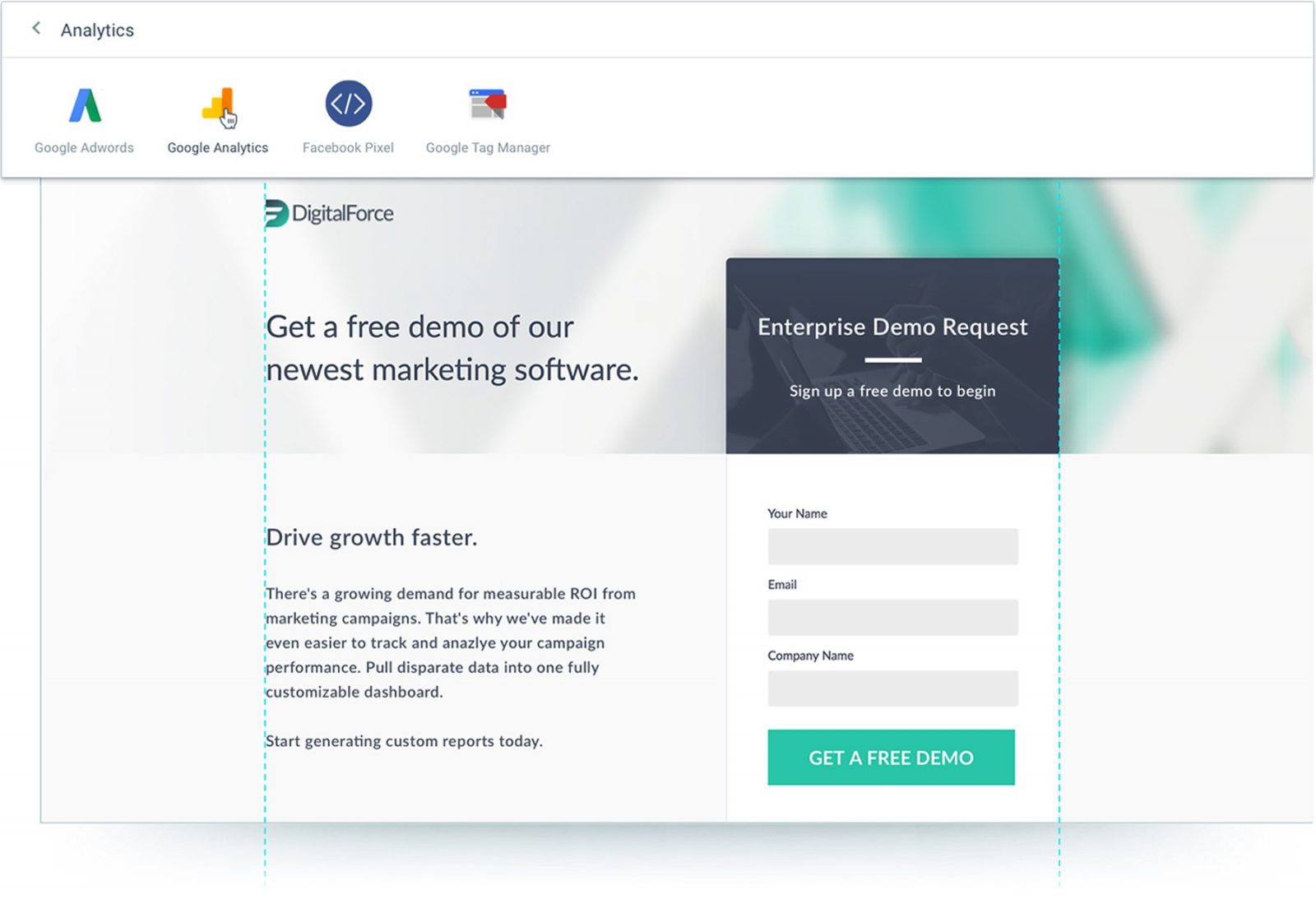 Overall, Instapage is specifically for landing page creation and management, and it's best for medium-sized businesses and enterprises.
Unlike ClickFunnels, Instapage doesn't have the full spectrum of sales and website services – but if what you need is a landing page builder and nothing more (maybe because you already have those other tools in place), it's an excellent, targeted option.
Pros
Excellent for beginners. Even though the landing page builder is so powerful and robust, it's easy to use and flexible, allowing pretty much anyone to create landing pages.
Zero traffic limitations
The landing page builder is fast and you can finish a landing page in just a matter of minutes if you need to.
Thanks to the ability to add CSS, HTML and JavaScript, you can add a lot of customizations to the landing pages if you have the technical knowledge.
There's a huge collection of customizable landing page templates (over 200) to choose from.
Real-time collaboration tools
Seamless integrations with third-party apps, incluading a WordPress plugin for easy publishing on a WordPress site.
Built-in analytics tools
Cons
The biggest drawback of Instapage is that it's only for landing pages and doesn't have any functionality outside of that. If you're looking for a full range of sales funnel tools, you'll have to continue searching even if you opt for Instapage for your landing pages specifically.
Support can take a long time to respond.
Pricing
The monthly Core plan is $129. If you want to pay for the Core plan annually, the price comes down to $99 per month (billed yearly), which is a savings of 23 percent. The Core plan includes the following features:
Conversion analytics
Heatmaps
Instablocks
Mobile-responsive builder
Over 40 integrations
Unlimited A/B testing
You can try the Core plan for free for 14 days, no credit card required.
Pricing for the Enterprise plan is customized to the specific business. On top of the Core plan features, Enterprise plans also include the following:
AMP landing pages
Customer Success Manager
Global blocks
High quality security
Real-time collaboration
Other professional services
Learn more about Instapage here.
ClickFunnels is a website and sales funnel building tool. You can create landing pages and sales pages, then manage all aspects of your sales funnels.
You can create funnels for a few different things, including membership sites, sales and webinars, and webinar marketing.
This tool has the full range of features in addition to create landing pages and sales funnels – it also offers email responders and hosting, for example. Even though what you'll be creating with ClickFunnels is pretty complex, the builder will walk you through it step-by-step so that you know what to do next.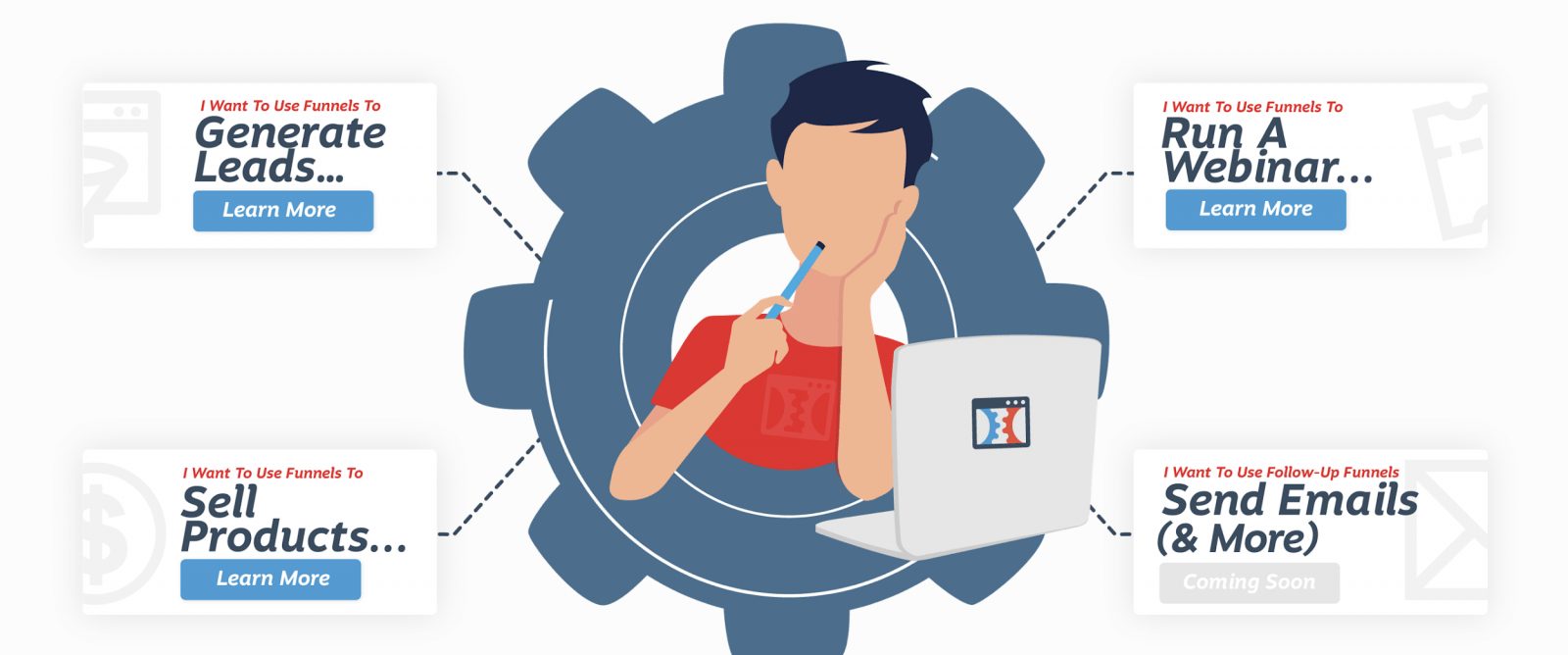 ClickFunnels integrates with a few different payment processors (payment gateway tools), like PayPal and Stripe, which is necessary if you're going to be taking payments online. Additionally, your landing pages can include different price points and options for your customers.
With the ClickFunnels membership sections, you can sell e-courses or set up an area for your team or subscribers to login and access important infoprmation. Some businesses use the ClickFunnels membership site as a place where training programs and information for employees can live.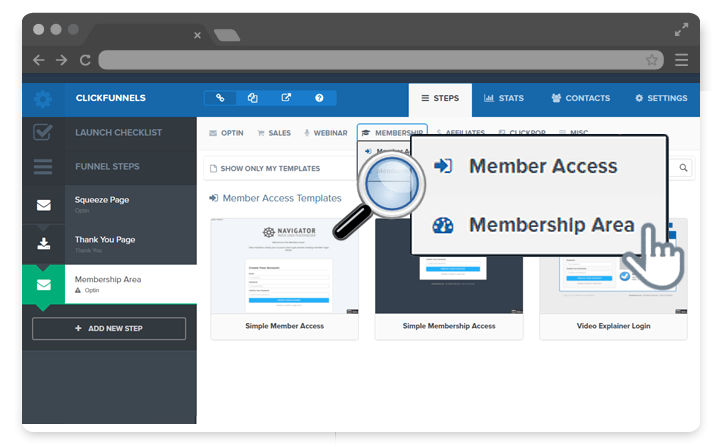 Click Funnels is a good option for businesses or marketers who want to advertise their products or services and improve sales. All sorts of companies use ClickFunnels, from freelancers and small businesses to medium-sized businesses and enterprises. It can be used for any industry and niche, too.
Pros
Sell digital or physical products
You'll have all the features and tools you need in one program in order to create and setup asales funnel builder. There's no need to purchase other applications to use along with ClickFunnels.
If you do want to use other tools, there are lots of integrations available.
The landing page builder is incredibly easy to use and it's super helpful if you want to create simple landing pages quickly.
There are landing page templates that you can customize.
With the page builder, you'll see changes as you make them.
You can add custom code to practically any part of any page, which is great news for coders and designers.
Custom domain integration means that you can put your landing pages, membership site and sales funnels on your website.
Share funnels between people, which is a necessity if your business is creating funnels for other businesses.
There's a ClickFunnels affiliate marketing program in case you want to further monetize your site.
A Clickfunnel tutorial for virtually every business case and free educational content are available to help you improve your skills, perfect your sales processes and increase profits.
Customer support is excellent and agents may even create video screen grabs to help you with your issue.
Cons
While there are lots of integrations available, you can't integrate with a third-party landing page app. Since the landing page builder is so simple, you may not have all the features you want to create highly professional and effective landing pages.
There are a lot of tools packed into ClickFunnels, which can make it difficult to learn at first. Prepare for a learning curve and the time (and money) it'll take to get your team up to speed. For the beginner digital marketer, this may be more software than you need.
If ClickFunnels goes down, your landing pages will too.
Pricing
ClickFunnels is $97 per month for up to 20 thousand monthly visits. Here are the details:
20 sales funnel builds limit
100 pages
20,000 visitors
Unlimited contacts
Unlimited members
3 custom domains
Here are the features that are included:
A/B split testing
All funnels
Email integrations
Opt-in funnels
Order, upsell and down-sell pages
Pop-up boxes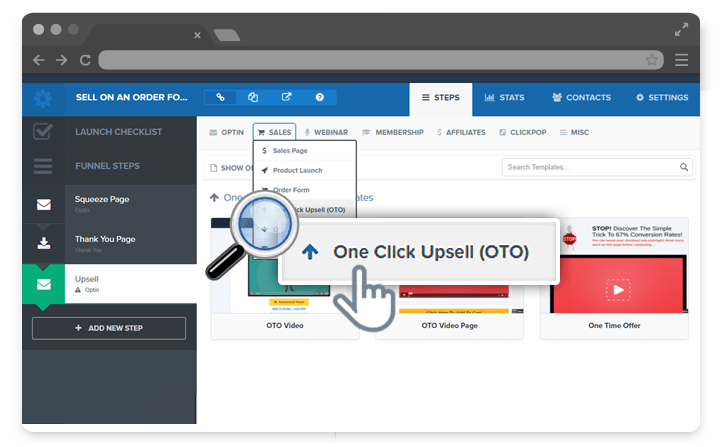 The cost of ClickFunnels is pretty low considering how much it can do. If you're going to take advantage of the full scope of its features, you can't beat paying less than $100 per month.
There's also the Clickfunnels Etison Suite plan for $297 per month. This includes unlimited funnels, unlimited landing pages, visitors, contacts and custom domains. In addition to the regular plan's features, you get a ton more with the Etison Suite, including:
Autoresponder series
Email list management
Visual email builder
Billing integrations
Complete customization
See the full list of features here. You can try out either plan free for 14 days.
Learn more about ClickFunnels here.
Instapage vs. ClickFunnels: Main Differences and Features
The real difference between these tools is their intended purpose. Instapage has a highly focused goal: to create and test optimized landing pages.
ClickFunnels, on the other hand, can handle practically every portion of your sales funnel, even above and beyond landing page creation, publishing and management. It can also send out emails and host webinars (webinar marketing), plus much more.
Instapage and ClickFunnels share a few features when it comes to their landing page builders and their analytics tools, including split testing. In this section, we're going to go over the main features of these tools for the purpose of comparison.
Landing Pages
Every marketing campaign should have a landing page, and marketing teams need a tool that lets them easily create, publish and analyze landing pages. Both Instapage and ClickFunnels have this functionality.
Though Instapage doesn't offer as many features as ClickFunnels, what it does do it does well. Since landing pages are the only function of Instapage, it has a powerful, robust editor for designing, publishing and managing your landing pages.
There are over 100 Clickfunnels templates to choose from and further customize, and all sorts of landing page designs so that you can create pages that match your branding, your audience and your goals. There are lots of ways to customize your landing pages thanks to a seemingly endless selection of fonts and stock photos.
You can also add call-to-action buttons, countdown timers and videos via widgets. Instapage supports CSS, HTML and JavaScript, and the drag-and-drop tools lets you easily add elements and personalize landing pages. You can also import your own landing page templates if you prefer one from another site, like ThemeForest.
Instablocks are Instapage's solution for creating landing pages at scale, and it's most useful if you're paying for digital advertising. Basically, you create and save custom blocks that you can then reuse.
By duplicating the blocks, you can create hundreds of landing pages quickly. Content page blocks, like testimonials, headers and footers, can be turned into a template and reused (reusable templates). Learn more about Instablocks here.
There are global blocks, too, which let you update a specific part of several landing pages at the same time. This is helpful whether you have to update information or you found a call-to-action that performed well and want to change your landing pages to include this new CTA.
ClickFunnels has a basic, user-friendly landing page builder. While it's not a robust landing page creator, that's sort of the point – to be simple and easy to use. The landing pages will do their job when it comes to gathering emails, selling products or hosting webinars.
Design landing pages using the drag and drop editor. You can add different elements, like images or headings, in order to round out your landing page.
You can also add additional elements like a countdown timer, purchase button or video that plays automatically. ClickFunnels landing pages are automatically optimized for mobile, so you won't have to create a separate mobile version.
A/B Testing Marketing Funnels
Both Instapage and ClickFunnels have A/B testing so that you can see which landing pages are performing better over others. When you know which one is getting better results, you can use only that one or create another A/B test to compare the high-performing page to a new one with more content or features.
Both tools let you track visitors, improve conversion rate and enhance the performance of your digital marketing campaigns. You can also edit and duplicate landing pages in order to easily update and test different elements, like buttons, headlines and images.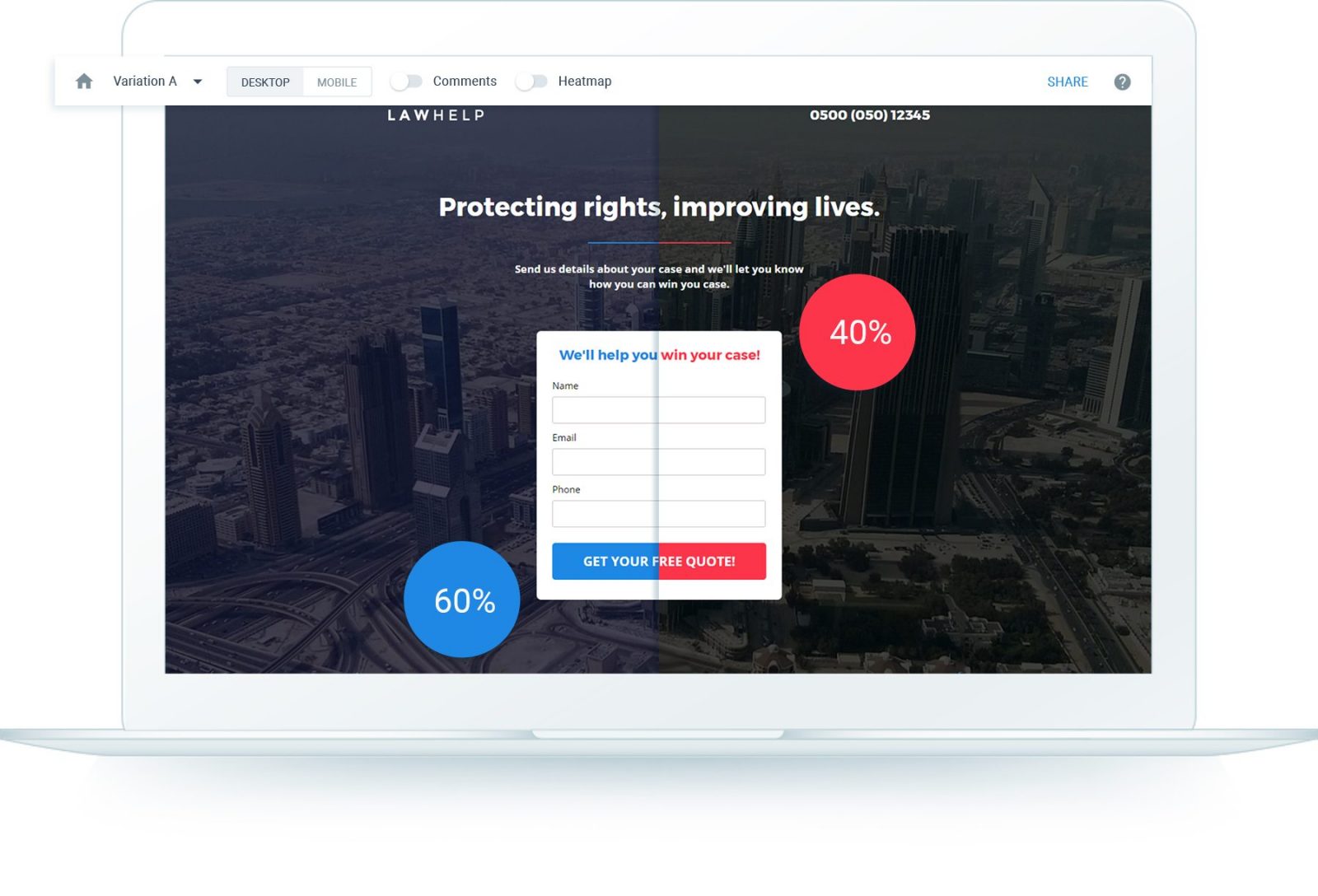 Integrations
Both Instapage and ClickFunnels have integration options. Since Instapage is a landing page-only tool, you'll want to use it along with your other tools. You can easily integrate Instapage with other tools and social media platforms, including WordPress and Facebook.
There are integrations available for everything from advertising, e-mail advertising and marketing automation to analytics, call tracking, live chat and webinars.
Once you capture leads (lead generation), you can export the contact information as a CSV file or you can directly send the information to your lead capture tool of choice (like MailChimp, for example).
Here are just some of Instapage's integrations: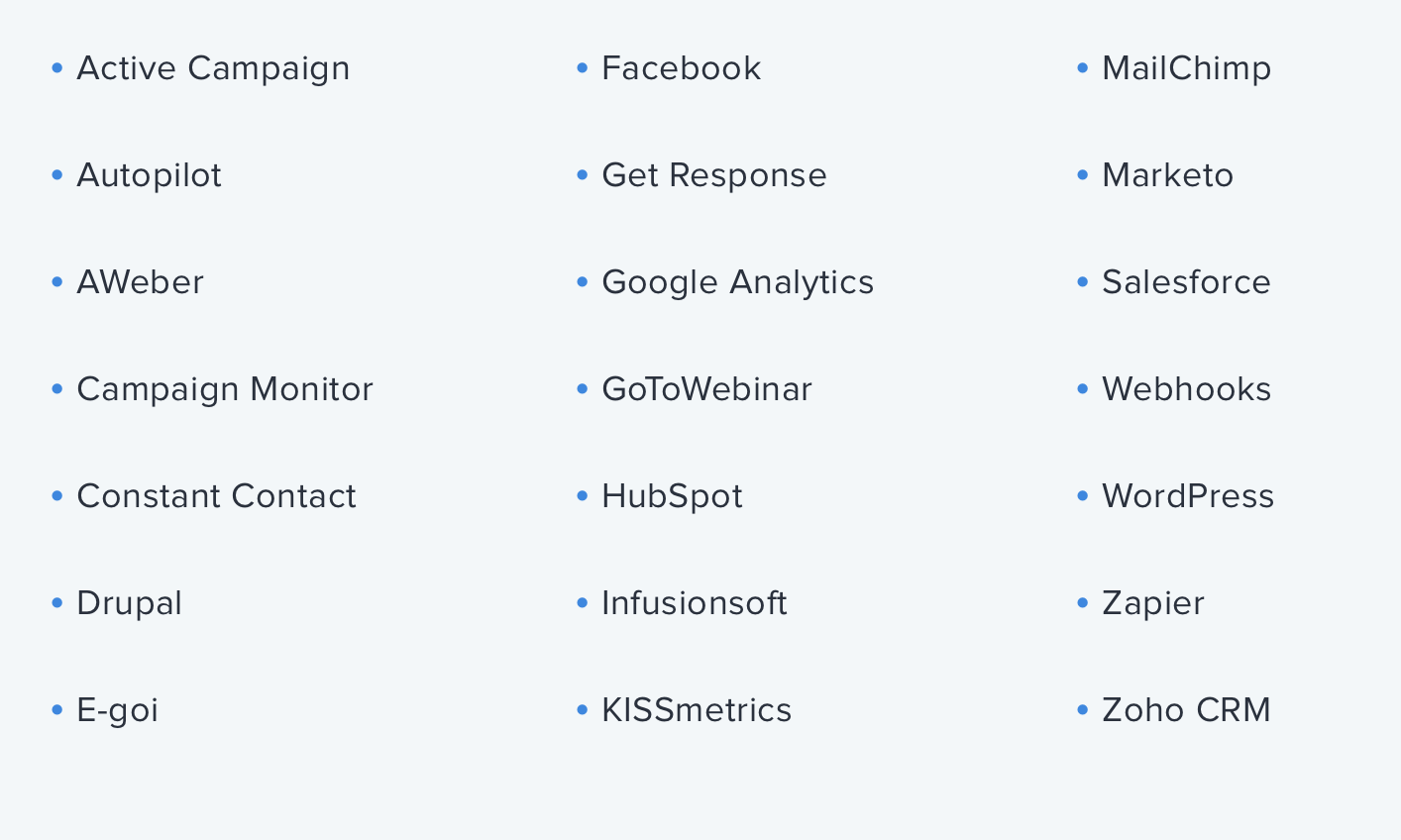 Even though ClickFunnels is sort of a sales and marketing one-stop-shop, you can still integrate with your other tools if you want. These include Constant Contact, Facebook, HubSpot, Infusionsoft, MailChimp and Zapier. Learn more about ClickFunnels integrations here.
Frequently Asked Questions
Is ClickFunnels good for SEO?
One of the best ways to create awareness for your site, which is very used by creative professionals, is with the SEO method. If you are a member of the Clickfunnels community, applying some SEO marketing can be a great and relatively cheap way to attract leads.
Does ClickFunnels work with AdWords?
With ClickFunnels you can integrate your site with Google AdWords, so you can drive your competitor´s traffic to your entire sales funnel.
Why Every Promotion Needs Its Own Landing Page?
One of the main reasons you need a landing page every time you start a new promotion is to ensure the promotions will generate a good amount of conversions due to the landing page. With this method, the expectations of your users by entering your site will match the post-click landing page.
Last Thoughts: Clickfunnels or Instapage?
When it comes down to which tool is better, there's not one definitive answer. "Better" is relative to what you need and how powerful you want your landing pages to be.
Instapage is one of the best landing page creators you'll find. It has everything you need to create, customize, publish and track your landing pages. If that's all you need, then go with Instapage.
Or, if you want a seriously robust landing page builder and you're fine with taking the time to find another marketing tool to use along with it, it may be worth combining tools to get all the advanced features you want.
In general, if you're not creating a membership platform or actually selling something online, you may not need ClickFunnels at all – Instapage (or even WordPress alone) may have enough functionality for you.
ClickFunnels is a robust all-around marketing and sales tool that streamlines and simplifies the beginning-to-end process. It's an absolute competitor in the realm of marketing tools and sales funnel technology.
If you need something for building landing pages, targeting your audience and sending emails automatically – and pretty much any other aspect of your sales funnel – go with ClickFunnels.
Bottom Line on ClickFunnels vs Instapage: These are the specific use cases I'd recommend for either…
Go with Instapage here…. IF you ALREADY use other platforms (like WordPress) and tools (like CRMs + e-mail marketing providers). In short, Instapage does NOT = total conversion. You can JUST use it as a landing page builder, attached to any existing funnel system.
Go with ClickFunnels here… IF you have a business idea / something to sell but do NOT have an existing infrastructure built out. ClickFunnels is a GROWTH hack tool that effectively REPLACES many other systems and tools. It's the fastest path from ZERO.
Remember, you're looking for the right tool for your business, and it's possible that neither Instapage or ClickFunnels will be the perfect fit.
The goal is to get productive software – not the most popular software, not the software that your competitors use, not the cheapest software – but instead the software that's going to give you a great return on your investment.
Other Landing Page Builders Compared
If you are still on the fence, our editorial team has compared Instapage and ClickFunnels against a variety of top sales funnel builder peers for easy comparison shopping.