Last Updated on May 2, 2023 by Ewen Finser
Successful companies and any business owner around the world will all agree that without a good marketing tool, a business can only go so far.
Over the past decade, businesses have adopted marketing automation to measure, streamline and automate marketing workflows and tasks. This has increased their business revenue and enhanced operational efficiency.
Marketing tools and sales funnel software like Clickfunnels and Kartra have become a big part of the internet marketing tools strategies, for several businesses today.
They may be similar in that they provide the same services as email marketing tool, social media automation, landing page templates, and many others. However, they can't be exactly the same marketing tool. There are differences and unique details that will make your decision easier to make.
Bottom Line Up Front Summary: If I had to pick one, I would lean towards the more developed and full-spectrum marketing ecosystem offered by Kartra here. That said, if you are stretched on budget, Clickfunnels is still a decen entry-level solution.
Main Difference Between Clickfunnels and Kartra
The main difference when you compared Clikfunnels vs Kartra is that Kartra is built to run your entire business, whereas Clikfunnels is specifically built for building sales funnels.
The other differences between Clickfunnels and Kartra are:
Clickfunnels has been around for much longer than Kartra
Clickfunnels has more active users than Kartra
Clickfunnels has a wider ecosystem of platform consultations and developers
Clickfunnels has many more free (and some paid) tutorials, whereas Karta is the upstart
Karta focuses on a action-goal oriented gamification of funnel building, whereas Clickfunnels has a simple task based funnel process
What is Clickfunnels?
Clickfunnels is an online marketing automation tool that helps companies market, sell, and deliver their services and products online through effective sales funnels. It was started in 2014 by Russell Brunson out of his own frustrations with internet marketing. Several big brands have tried and tested Clickfunnels making it a reputable and solid marketing tools.
In the past, any business owner or entrepreneurs required the help of web designers – along with thousands of dollars – to create an efficient and profitable website. It seemed like a complicated exercise that would fail without any coding knowledge. Clickfunnels was created to give business owners the power to easily build a profitable website with a few clicks of the button and with an efficient plan for marketing funnels .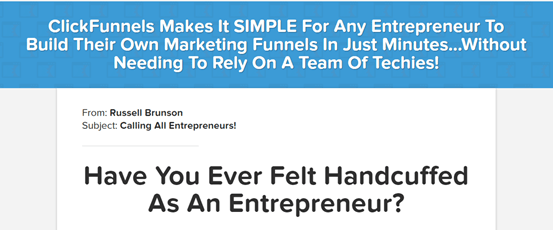 Not only can entrepreneurs set up a website, they can also turn their web visitors into paying customers. They can easily lead them from the start to the end of the sales and marketing funnel.
Kartra was originally an e-commerce tool but re-launched in April 2018 as an all-inclusive marketing platform run by Genesis Digital. Although it's fairly new to marketing automation, it has quickly grown popular. Their aim is for businesses to eliminate the use of multiple pieces of software with multiple fees.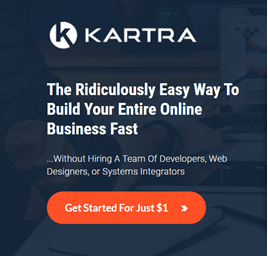 They also aim to make it easy for entrepreneurs to create an online business in very little time without hiring tech gurus and web developers.
Clickfunnels vs Kartra – Which Marketing Software Will You Choose?
Comparing Clickfunnels vs. Kartra, we see that both aim at making it easy to create an online business without expert knowledge (or steep learning curve) on web design or coding skills. Based on their similarities they can each be great alternatives for each other. However, it's in the details and differences that you'll know for sure what suits your business.
1. Sign Up
Signing up on Clickfunnels is a breeze. It takes less than a minute and they offer a 14-day free trial for their funnel builder services (page builder). First, you will click the 'start your free trial' button and then choose a payment plan. On the next page, type in your names and email address. Then fill in your billing information. Your plan will be effected after the trial period.

Kartra funnel platform will charge you just $1 for a 14-day trial with full access to all their features. When you click the 'get started' button, you'll need to type in your email address and choose your payment plan that will be effected after the trial period. You will then fill in your billing details.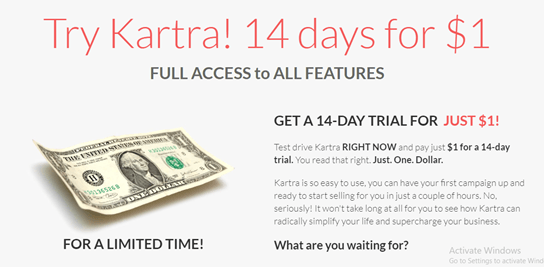 2. Customer Service and Support
Clickfunnels avails a helpdesk where you can type whatever information you may be searching for on their site and they'll pull up an article on the subject. You can also click the blue 'get help' icon at the bottom right of each page. It will prompt you to type in your question and send it. This support is only available from Monday to Friday, 9 am to 5 pm.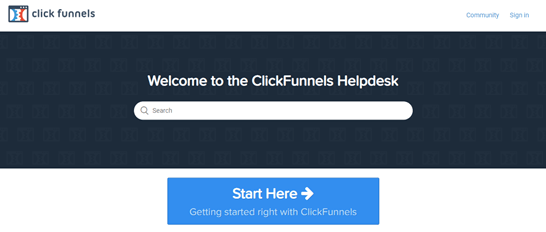 Kartra funnel provides you with answers to frequently asked questions. They also have several articles on different aspects of your account that you may need to know.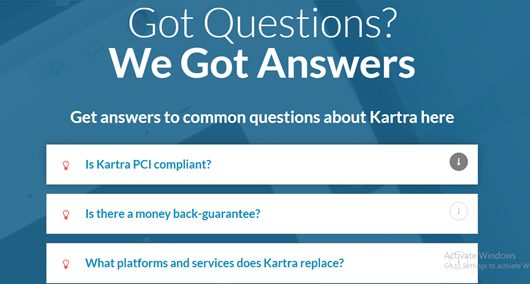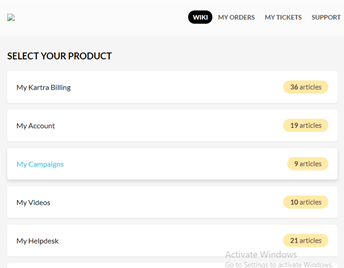 You can also connect with them on their social media platforms on Facebook, Twitter, Instagram, LinkedIn, YouTube and Pinterest.
3. User Experience
Although both platforms are user-friendly and make building funnels and webpages easy, Clickfunnels is easier to use. They understand that entrepreneurs are very busy people who don't have time to waste trying to navigate complicated webpages. Their time would be better spent on more important tasks that enhance business success.
4. Sales Funnels
If your online business does not have an effective sales funnel, it's a no brainer that you are leaving money on the table. The purpose of your funnel is to take your visitor on a journey from the point of awareness to the point of making a purchase.
Clickfunnels provides you with customized funnels to fit your specific business requirements. Depending on your goal, they have funnels for each of them. For example, if you want to sell a product (payment gateways), capture leads (lead generation), sell a service, run a webinar, or be an author. There's a funnel of each of those.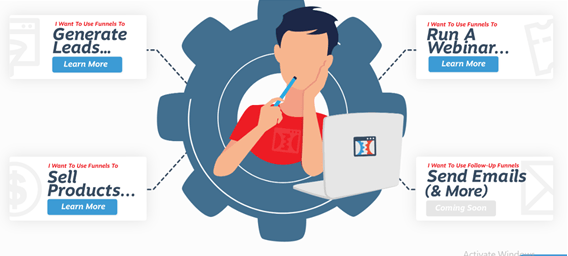 With Clickfunnels, you can launch your funnel within 10 minutes with these steps:
Choosing your desired sales funnel
Tailoring the funnel to your preference by deleting or adding some pages
Using the built-in editor to tailor your pages (if necessary)
Capturing Leads
Adding some physical and digital products
Carrying out split tests for even more conversions
Launch your funnel and visually track your numbers on a chart
Kartra has teamed up with Frank Kern – a world renowned internet marketing consultant – to create their popular elite funnels. Let's look at each of them:
4 day Cash Machine
Imagine a funnel that helps you make money in only 4 days! This popular funnel is custom made for that.
Quick Launch
This funnel launches your product fast and profitably
List Builder
Your email list is the most powerful digital marketing asset you have. The list builder helps you build it with a powerful, simple campaign that features a giveaway.
Kartra has designed these campaigns with all the necessary elements like an excellent copy, emails, thank you pages, landing pages, check-outs and more. They also have the necessary tags, automation sequences and required lists that help you monitor your customers until you close sales. It's all done for you. Your role is to insert your product pricing, name, and images, then click a button to launch.
5. Email Marketing Automation Options
Clickfunnels created Actionetics, a follow-up tool that you can use to create, schedule, manage and deliver emails. However, it is not just autoresponders. You can use this tool to turn visitors into customers by marketing to them based on their particular actions and characteristics in your funnel.
This way, your customers will receive customized and specific messages as required. Using Actionetics, you can design follow-up funnels and forward targeted messages to your visitors using these steps:
Build your list using registration and opt-in forms, pages and order forms
Design a follow-up funnel that's multi-dimensional. This ensures that you reach your prospects, no matter which platform they are on. For example, email, SMS, Facebook messenger or desktop notifications. Actionetics is unique because it cuts across all communication channels.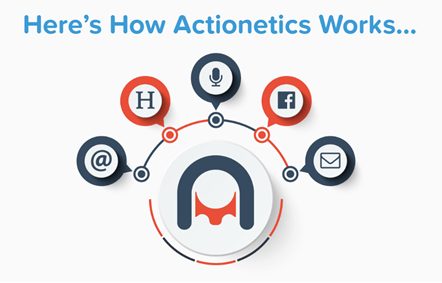 Send a broadcast to your subscribers. It can be by SMS, email, or Facebook message. It can also be on all platforms.
Monitor your statistics and split testing. When you send an email, you'll see which of your prospects took action and what exactly they did. For example, whether they opened an email, bought a product, clicked on a landing page and also how much money each email brought in.
Kartra helps you to design and launch email campaigns that drive clicks and make sales. They provide you with excellently designed templates and necessary components like countdown timers, video thumbnails, testimonials, content blocks and more. All you have to do is drag and drop, copy and paste, then customize your email in a few seconds.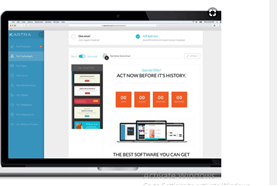 Like Clickfunnels, Kartra allows you to turn on automation according to your audience's behavior. You can automatically assign tags, add to marketing sequences, send follow-up messages, subscribe to and unsubscribe from lists.
6. Affiliate Management Programs
Both platforms have affiliate programs to leverage affiliate marketing. As an affiliate with Clickfunnels, you options to earn commissions on their best selling products. Not just on every sale, you make but you also earn recurring commissions on top of that.
Clickfunnels ensures that you get paid recurring commissions by using what they call 'sticky cookies'. These cookies follow your visitors to whichever device they choose to use. If your visitor registers for a webinar at home but watches it on their phone, sticky cookies ensure that you get paid.
As long as you have an account with Clickfunnels, you're an affiliate by default. If you don't have an account, all you have to do is click 'become an affiliate' and register then login.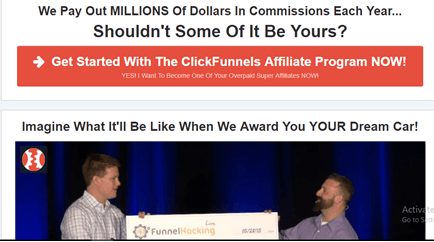 Once you're registered, the first step is to go to the affiliate center on the site and get your affiliate links then start promoting Clickfunnels. You also have the opportunity to win your dream car. You will need to get 100 people to use the software. As long as you maintain that number of users, you receive $500 per month to pay for the lease on your car. If you reach 200 people, you get $1000 per month.
Kartra pays their affiliates 40% for life of every recurring payment made by your referrals while they are still members with Kartra. They will update your commissions when your referrals update their account plans. If you have a network of affiliates, you can earn 10% of every sale and recurring payment made by them.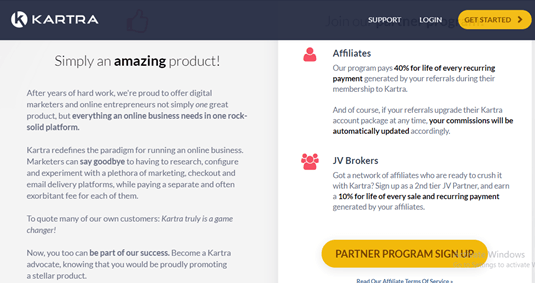 7. Pricing Options
Clickfunnels has two plans on offer. The basic plan costs $97 per month and the Etison Suite plan goes for $297 per month.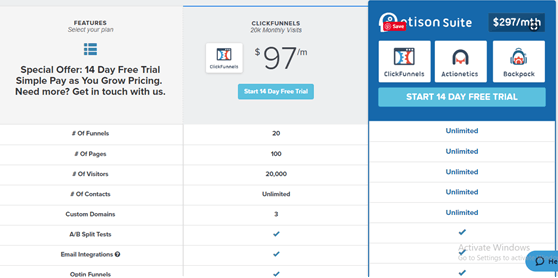 In case you aren't happy with their product, Clickfunnels is happy to give you back your money within thirty days guaranteed.
Kartra pricing offers three different plan options. Starter, Silver, and Platinum. The starter plan is $69 per month . The Silver package is $139 per month and the Platinum plan is a hefty $339 per month . All these plans are billed annually.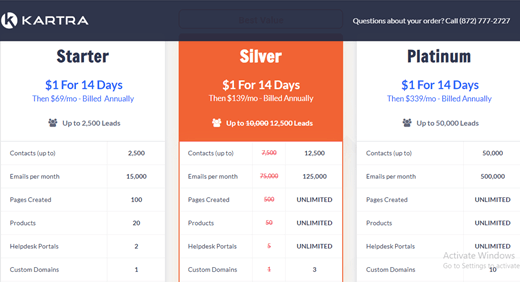 Kartra pricing offers a 30-day money back guarantee if you don't find their services satisfactory. All you have to do is send them an email and their customer support team will do the rest.
What makes Clickfunnels and Kartra Different?
All-Inclusive Plans
Kartra includes all services with all their plans. The only difference is the quantity. For example, all plans include custom domains. Starter plan has only 1 domain, Silver has 3 and Platinum 10. So, for $69 per month, you can access all services. For Clickfunnels, you have to purchase the pricier plan worth $297 per month to access all services.
Video Hosting
Every smart marketer knows that video is the future. With Kartra, you can easily host videos and add extra functions. How cool is that? For Clickfunnels, you would need an external host, for example, YouTube or Vimeo.
Calendar Function
Clickfunnels does not have a calendar function which means that you would have to spend extra on an external provider. However, Kartra has a calendar function which seamlessly integrates with other functions on the platform. You can schedule appointments and live events without a hassle.
All-In-One
Kartra provides you with every single tool you need to build your online business and automate processes. Whether it's email automation, shopping cart design, sales funnels, drip campaigns and more. With Clickfunnels, you can access email marketing with the $297 plan and even then, it is a basic offer.
Integrations
Clickfunnels integrates well with other auto responders – without using Zapier – like Aweber, MailChimp, ActiveCampaign, Infusionsoft, and others. With Kartra, you'll have to connect with Zapier or stick with their automation software.
Reputation
Most entrepreneurs tend to put more trust in a company that has stood the test of time and has a lot of referrals and support. Clickfunnels is a trusted digital marketing tool for MANY bootstrapped business.
That's not saying Kartra is not capable of performing. In fact, their popularity is growing by the day but they still need to build their reputation. Every business starts with nothing and is capable of growing into a market leader.
Made Up Your Mind Yet?
Kartra has only been on the marketing automation scene for a year. However, they are rising in popularity, with some businesses choosing them over Clickfunnels that has been in the market for almost five years.
However, many entrepreneurs who have used Clickfunnels for years are having great success (which Clickfunnels does a great job showcasing). Just like with any other business decision, you must figure out what suits your needs at this time when it comes to internet marketer tools. Which one will you choose? That's entirely your decision.
Bottom Line: If I had to pick one, I would lean towards the more developed and full-spectrum marketing ecosystem offered by Kartra here. That said, if you are stretched on budget, Clickfunnels is still a decen entry-level solution.
Here are some related articles you may be interested in: