Last Updated on May 2, 2023 by Ewen Finser
If you're familiar with the ClickFunnels platform, you'll be fully versed in how aggressively they market themselves.
They certainly don't sell themselves short in their efforts to tell you how great they are, how much time and effort they'll save you as a marketing tool, how much business they've generated for users, and so on and so forth.
I won't for a second question the integrity of their claims with a full Clickfunnels review, but there is an old expression that if something is too good to be true, then it probably is.
Believe it or not there are many great landing page builder and sales funnel options to choose from…

Sorry if you're a ClickFunnels fan.
One of the main concerns about ClickFunnels is associated with the Clickfunnels price and upsells. Can you do the same but cheaper, in a way that won't dominate all of your time? Let's look at a few Clickfunnels competitors for other SaaS software.
Here's the full in-depth sales funnel analysis:
Now, SamCart and ClickFunnels have their differences—the most apparent being: while ClickFunnels aspires to be an all-encompassing marketing automation solution, SamCart is at the forefront of the shopping cart software and checkout page funnel builder solutions market.
If you want to jog up the look, feel and functionality of your sales pipeline, you can opt for SamCart to inject engagement in a potential customer, fluid transitions, and follow up into those for increased conversions. You'll get a selection of checkout page templates and a bunch of customization options you'd be hard-tasked to find better anywhere in the cart and checkout page software scene.
You can also split-test checkout pages, upsells and downsells. And the SamCart One-Page Funnel can help decrease bounce rates while increasing conversions.
But here's where I find SamCart matters as a top ClickFunnels alternative.
Expect to create multiple, different funnels with this marketing tool. You can even have completely different downsell or upsell offers for each that you create.
Not only that, but you can also split-test for each of these offers, a major competitive edge aimed to help you understand what works best for your target customer. That also means you can tell which marketing channels are providing with worthwhile ROI, so you know where to pump more ad money.
What ClickFunnels has in terms of marketing automation tools and email marketing tool solutions, SamCart offers a vital integration with Zapier, which, in turn, provides over 750 integrations to ramp up your digital marketing efforts.
For example, I'll use a line of SamCart marketing platform tracking code to my checkout pages so I can pull in the benefits of Google Analytics pixel, my choice of marketing automation program, and Facebook pixel. From there I can even tell the rate of cart abandonment happening on my checkout pages, where precisely, and find a solution to avoid losing sales.
Get this as well:
SamCart's affiliate tracking is—dare I say—more accurate than Facebook Ads'. So if you want affiliates promoting your products and services, using SamCart will help you pay out what affiliates actually helped you move—no invested interests like with Facebook Ads.
Be sure to make good use of their Basic Plan 14-day free trial (and 45-day money back guarantee). Here are some Pro and Premium benefits you may miss in the basic tier: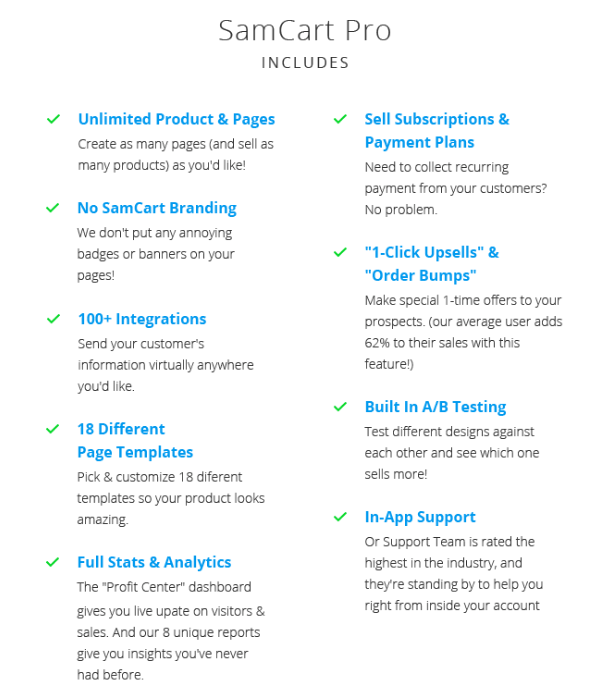 Learn More About the 1-Page Funnel Here
Further Reading:
Need a gorgeous, easy to use, and all-in-one digital products' storefront?
Our Pick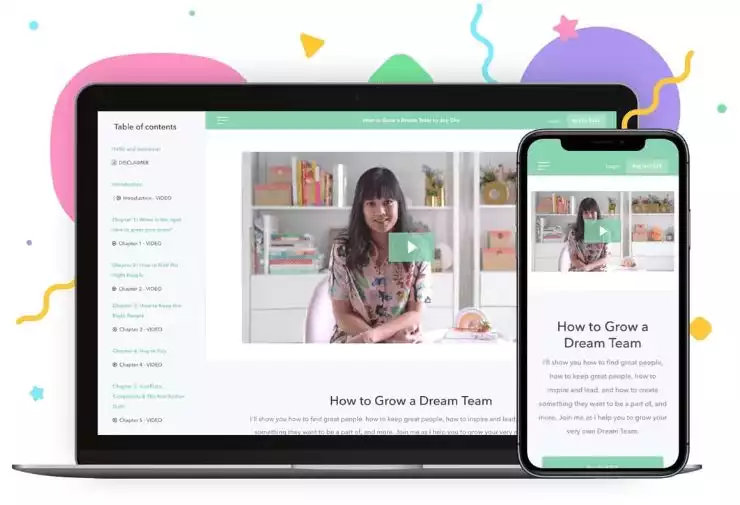 Podia IS Awesome!
I LOVE Podia. Here's why. It's simple to use . Fun. Works for courses, digital products, and memberships like a charm. It's going to be our FINALIST for 2023 Tools of the Year. Need I say more?
Free 14-Day Trial
We earn a commission if you click this link and make a purchase at no additional cost to you.
I find Podia to be a decent ClickFunnels alternative for you if you are looking to have most (pretty much all) of your digital products and online courses in one place. So creative businesses can create memberships, online courses (texts, videos, PDFs, etc.), and digital downloads hosted on a dedicated Podia domain.
There are no file size limits, whatsoever. And you can use whichever language your target audience appreciates.
Here's what else you can scoop up from Podia as opposed to ClickFunnels: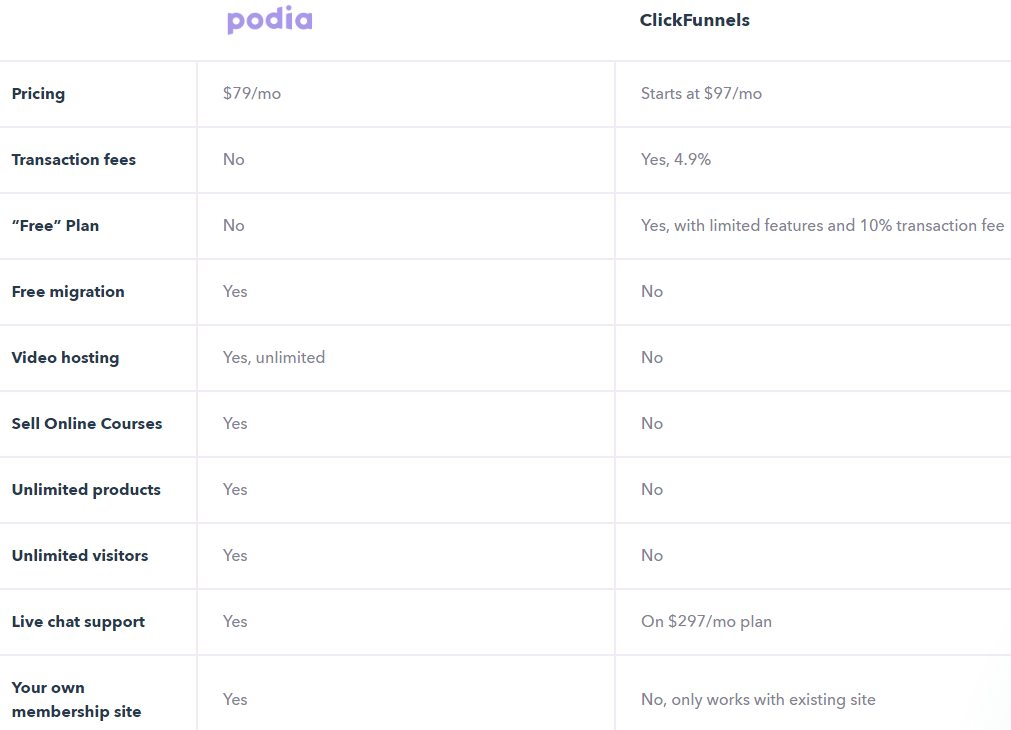 Podia vs ClickFunnels
Compare that to using ClickFunnels or another option where you might have to subscribe to a Vimeo or Wistia account—adding complexity to your entire operation.
Podia goes on to include email marketing and automation integrations with top-notch options such as ActiveCampaign, CovertKit, and Drip via Zapier. Like SamCart, your checkout pages' conversion needs are well catered to.
That means less friction hence decreasing cart abandonment rates—so you can sell more and lose fewer qualified leads to your competition.
Yes, Podia eliminates transaction fees you'd otherwise have to shell out if you used a different platform to help process your sales.
Learn More About How Podia Works Here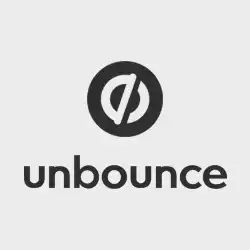 Landing pages and campaigns that convert | Unbounce
Unbounce's Conversion Intelligence Platform pairs your company's know how with machine learning to deliver great results. Get 20% off your first three months + 14 days Free Trial.
Start saving!
We earn a commission if you click this link and make a purchase at no additional cost to you.
Unbounce focuses on conversion through design and layout, rather than funnels. I get that. It suggests it would suit those who are keen to get selling, rather than worry too much about the specific details of the user journey.
Like others, it highlights its drag and drop builder functionality to demonstrate how easy it is to use. That's a feature across all its plans. It does provide you with templates, which is fairly standard in literally anything where design is involved these days.

In that regard, Unbounce has over 125 templates, which I feel is a very substantial amount. Whether or not that amount is actually necessary, and is a different thing. How many of those 125 templates are you actually going to use?
As mentioned earlier, one of my favorite things to see is pieces of software holding hand and seamlessly integrating with one another, and luckily, Unbounce seem very much onboard with this, flagging it up as one of their selling points.
Pricing starts at $90 per month, and that's their 10% discounted rate for paying annually. This tier is called Essentials, and it's aimed at solo efforts and keeps things relatively simple. This is evidenced by the fact that it only supports one user, as opposed to the other which specify that support is offered for multiple clients, implying they're aimed at agencies.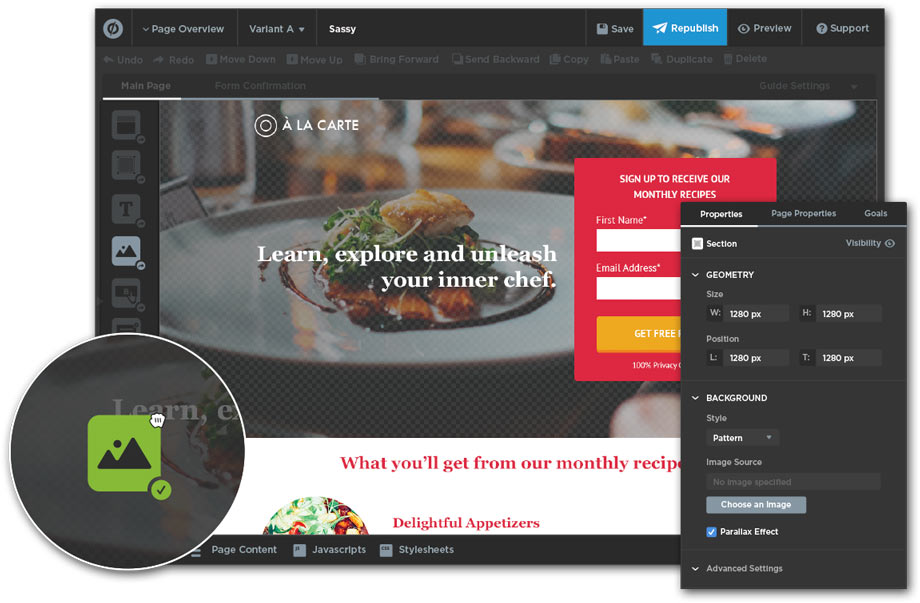 You can publish an increasing number of landing pages and overlays as you pay more. The number of other pieces of software you can integrate Unbounce with also increases. So, the super-big names like WordPress and Hubspot. If you need the more commercial ones like Salesforce and Marketo, you'll need to pay for higher tiers.
Note: Another great feature of Unbounce vs Clickfunnels is that they have an assortment of pre-built templates for live webinar funnels. Not everyone needs this, but if you do, this makes a HUGE difference.
The top tier, called Enterprise, essentially gives you the same as the middle tier, but with the personal service of a customer success manager and a dedicated launch specialist.
Further Read:
Leadpages, as its name might hint at, is focused on providing you with the best landing pages to sell your stuff. And looking through its features, it looks like it's more than capable of delivering.
> You can Read My Leadpages vs ClickFunnels comparison for more direct information
One of the main things that caught my attention is the number of other pieces of digital marketing kit that it integrates with (check out the full list of leadpages integrations here). I'm a big fan of integrating systems, as I find it really helps with streamlining my workflow processes.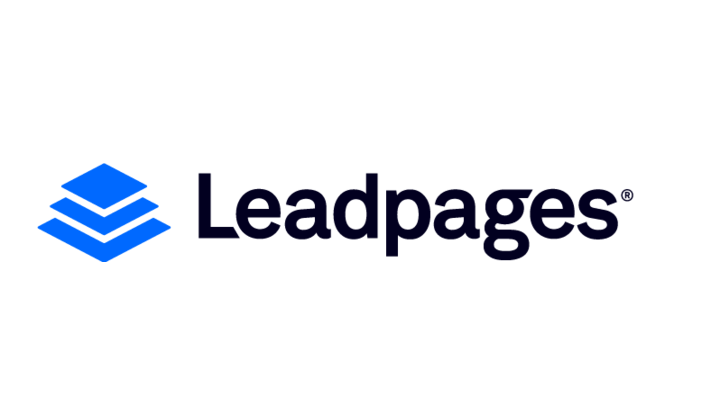 And Leadpages works with all the big hitters. From Facebook and LinkedIn in social media to MailChimp and ActiveCampaign in e-mail marketing, to the big Google digital marketing tools – Analytics and AdWords, to content management systems like WordPress and Wix.
Let's start with Leadpages' pricing. Its basic package is $25 per month when it's paid annually – that's a discount of 32% compared to paying monthly.
The list of features that include is too extensive to go through, but some of my favorite bits that are offered as standard right across the board include responsive design for your landing page, popup forms / opt-in forms, and unlimited traffic and leads. That last point is important, as you'll find other software – including ClickFunnels – taps out a certain number.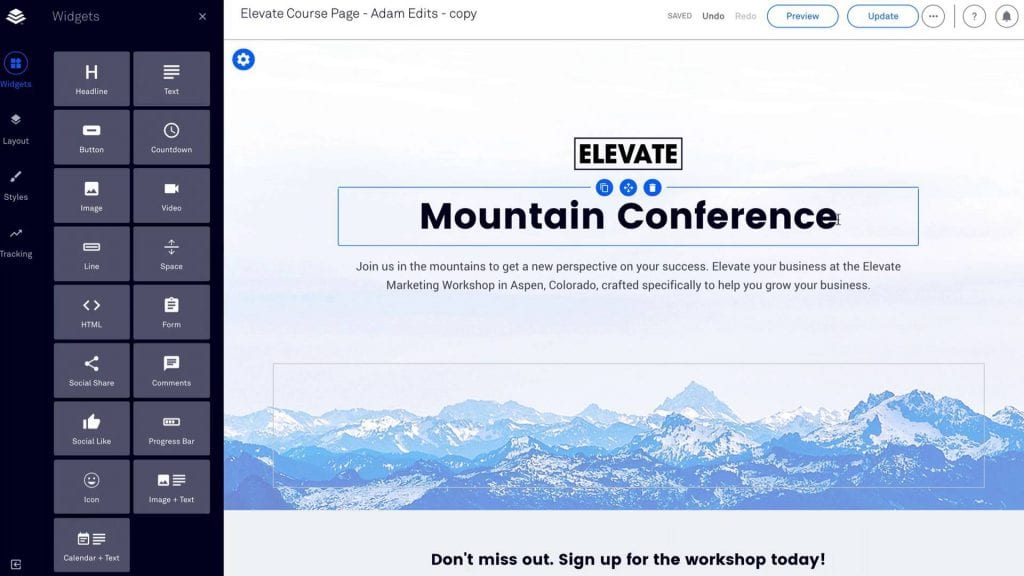 The next tier up seems to be trying to streamline the purchasing process for your plucky shopper, allowing you to add 1-click shopping. It also offers a service to bother customers with text messages to follow up. I don't like that as a shopper, so it's not the kind of thing I would endorse as a marketer.
If you pay annually, that tier works out at $48 per month.
Note: Another benefit to Leadpages is that they acquired Drip (email marketing service). As you might imagine, this makes the combination a great email list + sales funnel combination, with fully featured email autoresponder sequences that tie into landing page offers.
The top tier offers a whole host of stuff for $199 per month. The list of stuff is impressive, but, as I say about higher tiers of other pieces of kit, unless you have the capacity to fully utilize them to really drive your business – and by that, I mean employ somebody to work on that exclusively – it's pretty much a waste of money.
Check the Latest Leadpages Promos Here
Related Content: You can check out my full head-to-head comparison of ClickFunnels vs LeadPages as well.
Thrive is a super-interesting setup. It's predominantly a WordPress theme (Thrive Themes), but it has its own suite WordPress plugin options that are designed specifically to integrate with the theme, and leave you with a totally slick website for selling and marketing your stuff.
Update: More recently they have released Thrive Architect which is aimed squarely at WordPress users. It essentially super charges a WordPress website into having the styling and functionality of a true sales page / landing page software with a simple, easy to use plugin (but for every single page).
Thrive have themselves a blog post that compares their Membership product to ClickFunnels, which I think is pretty great, mostly because they admit themselves that their product does have a couple of shortcoming compared to ClickFunnels.
The main thing it highlights about itself though, is definitely the cost. How much can it save you compare to ClickFunnels? Absolutely freakin' thousands of dollars!
Who doesn't want to get the same marketing results but for a fraction of the cost?
Thrive Membership will cost $228 per year, compared to $1,164 per year for the standard version of ClickFunnels. That's not an insignificant saving, especially for entrepreneurs running a startup with a shoestring budget.
Now, why so cheap?
Well, mostly because ClickFunnels lets you set up set up your website from scratch, and essentially makes the sales funnel / landing page itself the core of your online business. Whether that in itself is right or wrong is a whole other discussion for another time and place.
As you can see below, Thrive includes functionality that can either operate together or as stand-alone features. This is nice – for me – because on some sites I just need the lead capture functionality of the Thrive Leads opt-in form builder, but for other sites I want the full content page builder.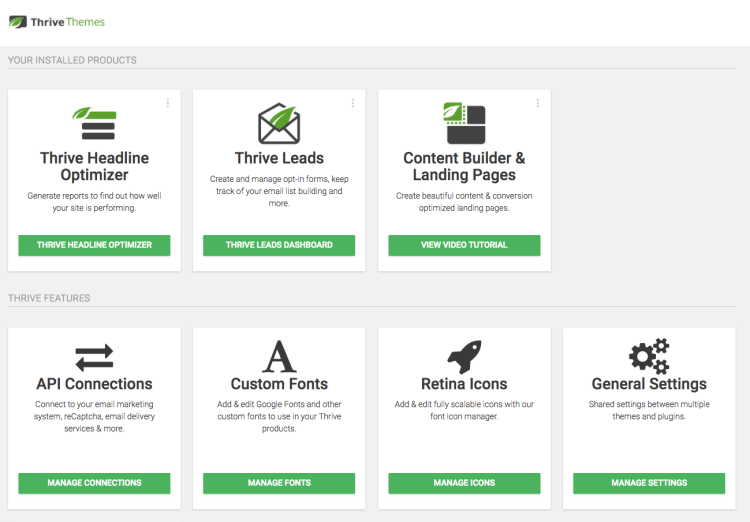 Note: The Thrive Headline Optimizer is itself a GREAT value. It lets you easily do split testing on your headlines in an easy to use WordPress dashboard.
Thrive on the other hand is more focused on the funnel model as a tool to integrate with your website, meaning you need to set up and design your website from scratch independently of its what it does, with your domain name and hosting, and all the other stuff that goes with setting up a website.
That might sound time-consuming, and, well, yes, it probably is compared to the drag and drop nature of ClickFunnels. But, if you don't have the patience to get a WordPress account up and running in a day, I'll do it for half the money you'll save by using Thrive Membership instead of ClickFunnels!
View the Latest Thrive Themes Prices and Promos
Let me start by saying that I cringe every time a word is prefixed with "Insta."
Instapet. Instafood. Instableurgh. Instastoppit. I digress. Putting that infuriation to one side, I'll bring back my professional face and tell you about this.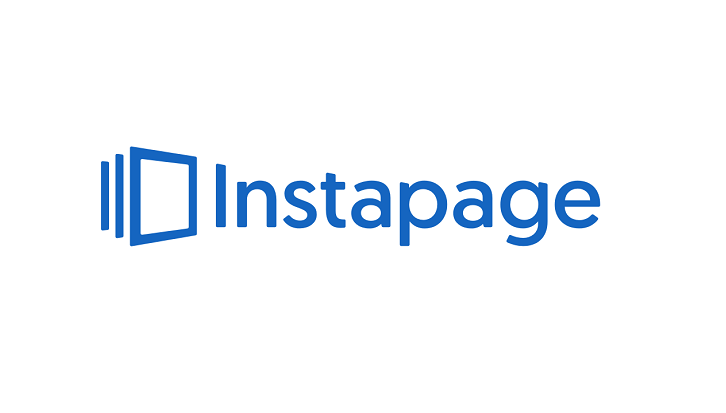 Looking through the funnel builder features, I feel like it's a bit of an odd one, but can't quite put my finger on why. It shares features such as responsive design and A/B testing, but its flagship features seem to be its collaborative functionality, which they say will help streamline the workflow process.
I guess it essentially means that it's its own project management tool. It's not a bad idea really, Siloed information is a common complaint in collaborative work, so anything that tries to remedy that sounds good!
It also strongly suggests that Instapage will be of most benefit to organizations working across remote teams.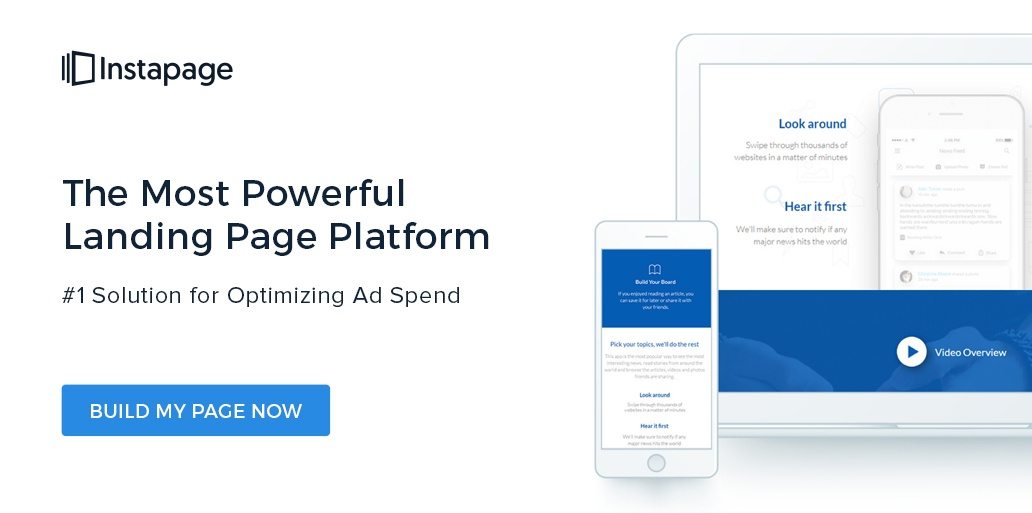 Let's talk instapage pricing. At $68 per month for an annual bill, or $76 to pay monthly, you'll get your core features, so that's your responsive landing pages, a bunch of integrations with other systems, and real time collaboration. I think that's a little pricey, but perhaps it's got a user-friendly interface for both the marketer and the consumer that makes it all worth it.
The Optimization tier has some pretty cool marketing stuff tacked on. One my favorites is the heatmapping, which will measure exactly whereabouts on your lovely landing page that people are clicking. It's not new tech, but I don't recall ever seeing it integrated into a product like this before. You also get A/B testing, which is relatively standard, but it will also change the copy of a landing page based on the user – that's very cool.
Another nice unique feature is that Instapage integrates REALLY nicely with membership site platforms as well.
Further Read:
As is standard with these things, by the time you get to the higher tiers, you get a bunch of features aimed at larger businesses that have the human capacity to manage them.
Check Out this Page for the Latest Discounts and Promos on Instapage
Similar to Unbounce, Landingi – as it's name suggests – is focused on landing sales pages, rather than getting too detailed with the funnel aspect of the sales process.
If that sounds like the sort of thing that would appeal to you and your needs, you might also appreciate the fact that it's considerably cheaper than. As a general rule of thumb though, I'm a big advocate of the perception that you get what you pay for, so let's take a look at this.

Probably the biggest selling point for Landingi is that it gives unlimited landing pages, conversion, lead generation, and visitors, regardless of what tier you're using. That's a pretty sweet deal.
As with other platforms, the primary perk of the higher tiers is the number of other systems it integrates with. It's got all the usual suspects: Hubspot, Salesforce, ConvertKit. There should be enough to cover you and your business!
I mentioned that Landingi was cheaper than Unbounce. It's actually quite significantly cheaper. The cheapest option costs only $29 per month when you pay for 12 months. If you haven't noticed by now, cheaper annual payments is a recurring theme!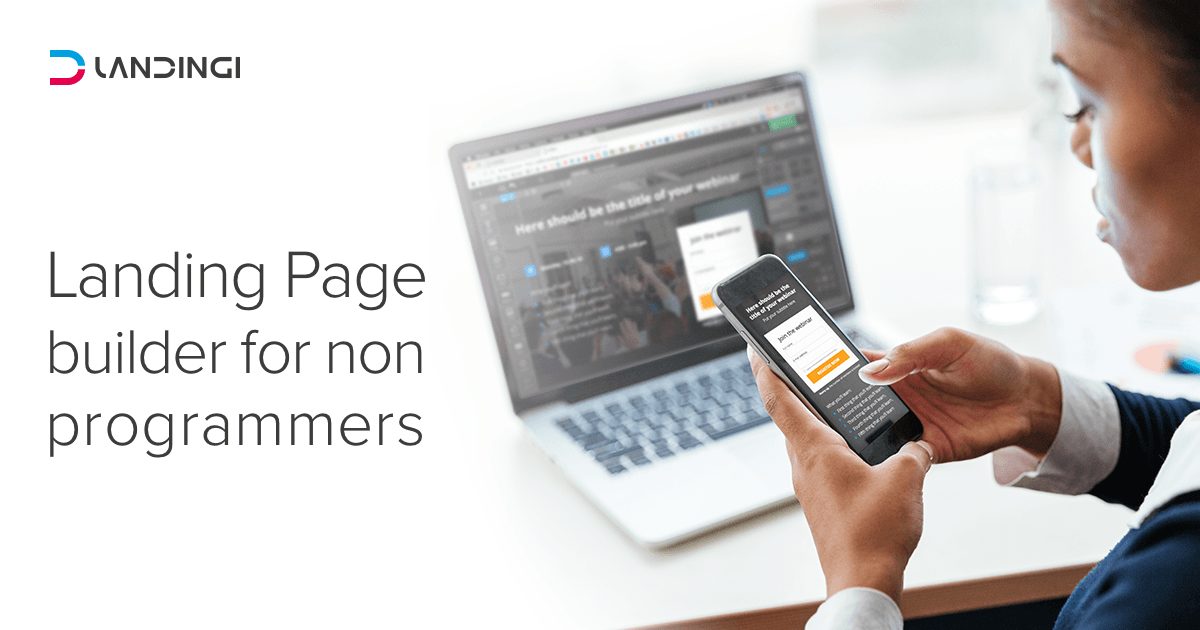 Even going up the tiers, I don't feel like there's anything particularly extortionate about the pricing. The middle tier is $49 per month annually, and features include A/B testing, a campaign scheduler, and a reCaptcha option.
Special Discount: If you use my promo link here, you can save 15% for a limited time.
The top tier is $109 per month annually, and lets you have custom templates and a custom image library, and a few other bits and pieces.
Pipedrive do things a little differently than a lot of the other names on this list, primarily because they opt for a sales pipeline representation model (a true sales funnel builder), rather than a funnel. What they do is so similar, it's really not worth getting upset about it here.
If you're not familiar with it, it is worth looking at – you might find it works better for your marketing automation. Or not.

Anyway, Pipedrive targets itself specifically at small and medium sized businesses, and is very proud of 50,000 of those using its software. They've only been on the go since 2010. I think that's mighty impressive.
Pipedrive doesn't actually label itself as a magic sales funnel or pipeline creator. It very much promotes itself as a Customer Relationship Manager (CRM).
No more than the pipeline model, as with ClickFunnels, the end goal is to drive sales through your website by doing all manner of useful tricks, so it doesn't matter that much right here.
Being aimed at small and medium sized businesses, Pipedrive will have two essential needs:
be cheap
be very easy to use
People running a minimal business won't have the time or the money for something that requires a lot of figuring out, that's going to take them away from their other tasks.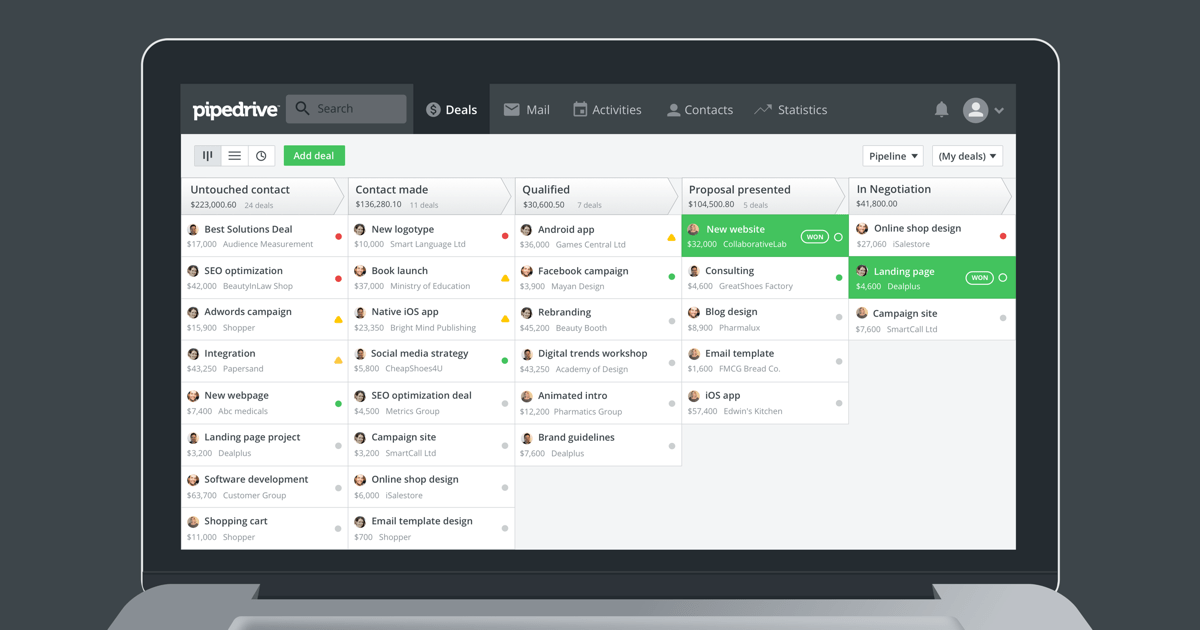 And Pipedrive looks to tick both of those boxes.
Let's take a quick look at the cost. They have three tiers. Its most basic plan version is available for as little as $10 per month. That is per user, but even still, I think that's incredibly respectable. That's their Silver one. At the other end of the scale is their Platinum version, which costs $63 per month. That's still not bad, but I'm not sure if it's relative to the additional stuff you get.
Those prices are also for those paying annually – it's a little bit more if you pay monthly.
Get Started with a First Free Month of Pipedrive
Further Reading:
The style of 10 Minute Funnels is instantly familiar to anybody who has visited ClickFunnels' website, from what they say they can do, to starting their pitch for your business with a video.
They proudly declare that you can get going for only $1! How wonderful!
That's obviously too wonderful, but I found it difficult to find out where their actual pricing lived. I ended up Googling it.

The dollar thing is just for a 14 day trial (see details here), which considering the normality of a free trial these days, seems odd, and a bit tight. Anyway, the paid version starts at $97 per month, while a second tier is available for $197 per month.
So, what difference does $100 make? Well, quite a bit actually. It really depends on the size of your business and what you have the capacity to achieve. The main difference is in the capacity of what 10 Minute Funnels will do for you.
The lower tier has various caps on things, such as the number of visitors taps out at 20,000, you can have a maximum of 20 funnels, 100 pages, and three custom domains. All of these features are unlimited at the higher tier. The lower tier also has 14 pre-made templates for funnels, which bumps up to 36 at the higher level.

These differences point at the higher tier being more beneficial if you're running multiple sales pages on different websites.
Throughout both plans, you're offered an endless supply of analytics, and the simple drag and drop nature of page and funnel construction.
That all looks fine. My one big concern – and it's one I share with ClickFunnels – is the drag and drop nature of things. It's something that reminds me of Wix, which is a hugely popular website builder. But, as a consequence of that lack of control, suffers from very poor SEO. I can neither confirm nor deny that these platforms have similar issues.
Another nice aspect to 10 Minute Funnels is that you get advice similar to the Clickfunnels support (customer support)that you might be use to in terms of tutorials (webinar funnel support, landing page templates, etc…). All in all, 10 Minute Funnels makes building landing pages quite easy.
This is an interesting Case Study that demonstrates how it works

Infusionsoft by Keap features
Speaking of…
Is Keap (formerly Infusionsoft) likely to the full-on ClickFunnels alternative?
The thing with Keap is it's a heavyweight email marketing platform, especially suited to those wanting a powerful customer management system (CRM). And it offers plenty of email marketing tools, elaborate automation funnels, and, well, a price tag to match.
Pricing plans and features you get are based on the number of contacts you have.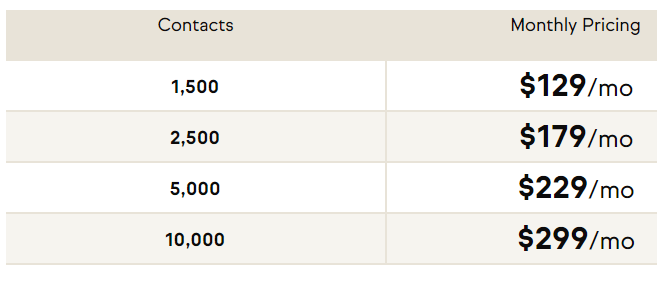 I would consider Infusionsoft if I had a bunch of profitable products, services or clients already.
Hence, I see myself using them as an upgrade from ClickFunnels or say, Klaviyo rather than a horizontal move (direct ClickFunnels alternative).
Keap bundles additional essential benefits and functionalitysuch as authoritative CRM, meticulous reporting, and sales automation (branching) options. After using ClickFunnels for a while, I can tell they are experts at building conversion-oriented landing pages and sales funnels than others—not as great for that "all-in-one" marketing moniker. Definitely some pros and cons to consider here.
But if you have a smaller email marketing and automation budget, ClickFunnels can do just fine—but only best when your focus is on using beautiful, engaging sales and landing pages.
Again, if you are new to the email marketing scene Infusionsoft might feel a bit like a maze—no wonder they require you take up their paid on-boarding training ($299) to get started.
You may still need a dedicated Keap expert to help you realize the very real (to be fair) ROI the service gives—an extra cost you may not be in a position to leak out. That said, the new Keap system is much more user friendly than the old Infusionsoft setup.
Fresh Pick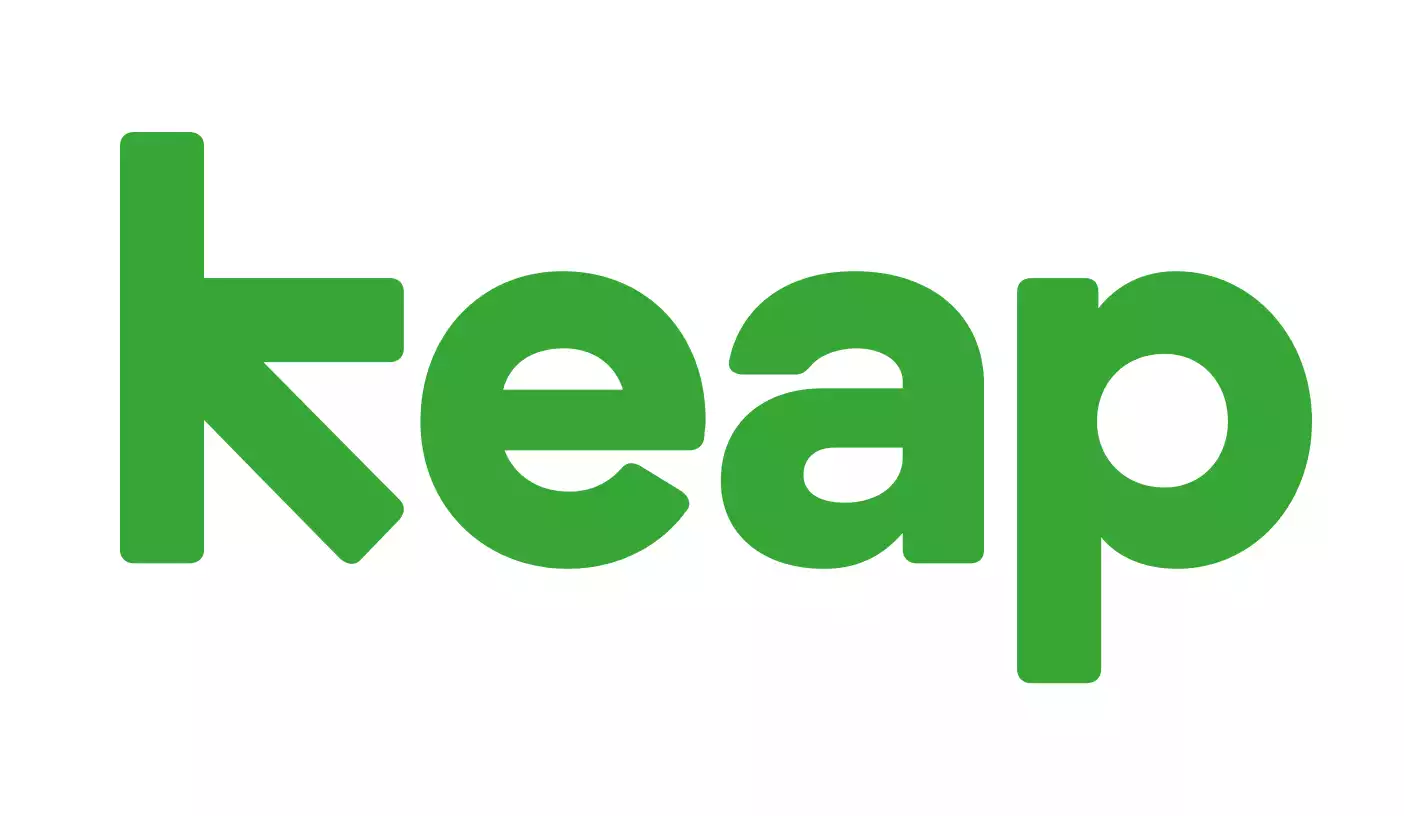 Have You Heard About Keap?
Infusionsoft is better now. Keap is the new name and the system is MUCH easier to use. Fully customizable, expandable based on what you need from basic email automation to advance sales CRM and landing page builder.
Try for Free
We earn a commission if you click this link and make a purchase at no additional cost to you.
Further Reading: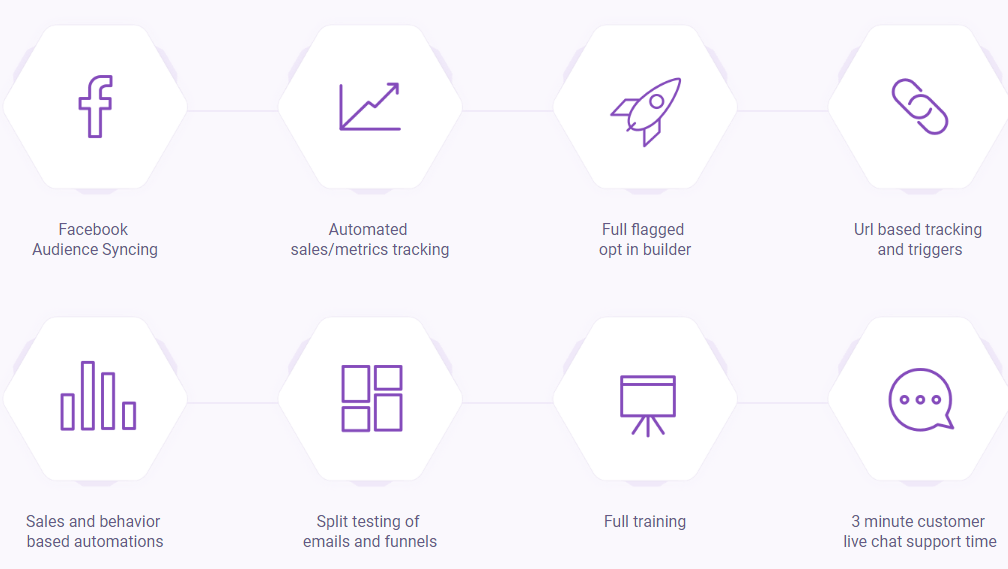 Market Hero features
Like SamCart, Alex Becker's online marketing solution has its forte in the email autoresponders' market as opposed to the all-in-one email marketing and drag n drop automation solution ClickFunnels is marketed to be.
The can expect the pretty standard; ability to create forms, send emails and build automation funnels. But I'll dig deeper into Market Hero's marketing point as a "best revenue-centric autoresponder".
Let's see about that, shall we?
Right in and the dashboard looks and feels clean. That means you can get to work faster, more efficiently, and need less time figure what's where in the system—considering it is richer in features than Aweber and MailChimp, thanks to its extra marketing automation tools.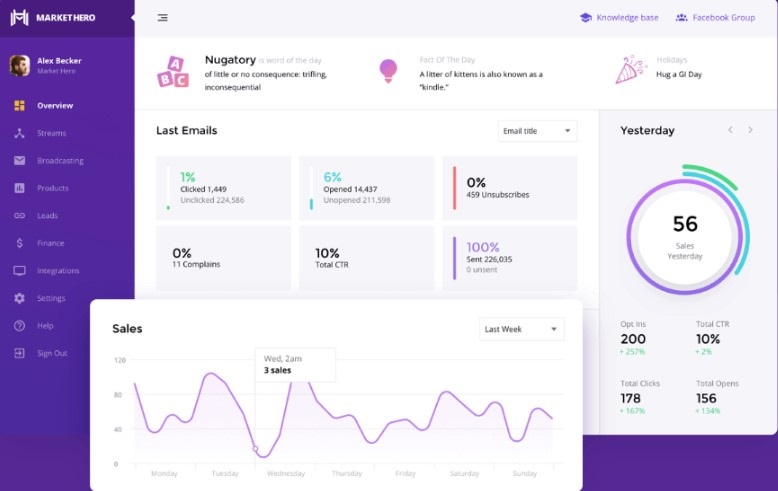 It's hot, alright
Leads/contacts/subscriber management is based on the tag system—which I totally appreciate. You can tag your leads to segment them using the import tool on the dash or manually. The pop-up that shows you the tags also displays their IPs, purchase history, name, and contact of the lead.
From that, expect some pretty powerful ROI calculations to let you know how much your efforts and specific leads are earning you in return. Simply copy and paste the conversion code they provide into your pages to integrate with Market Hero tracking.
And even when leads use a different machine, the platform ensures they are re-cooked so you can follow up on them and persuade them along your funnel. Pretty dang good from my end!
Perhaps Market Hero's sweetest deal is its Messenger autoresponder. It lets you use the power of Facebook Messenger's 80% open rates and at least 4 times higher conversion rate compared to email.
The integration with Shopify is pretty good, too—seeing to it that you get your data, create upsells, downsells, and so on.
Another thing:
Every membership comes with 'free' training like so: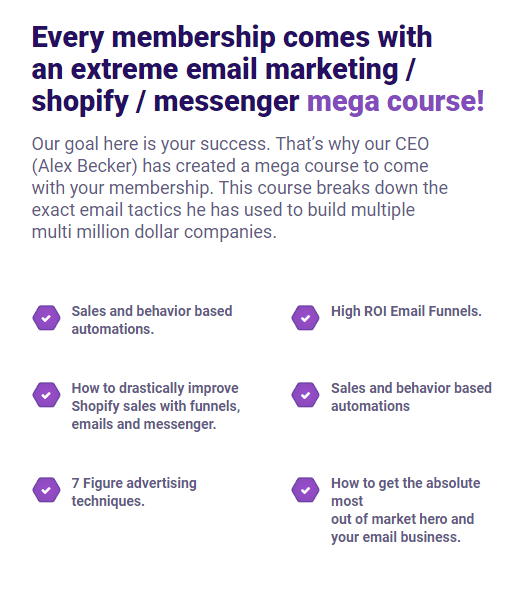 So starters may want to start here before considering industry leaders such as ActiveCampaign, MailerLite, and Infusionsoft.
Further Reading:
Other Clickfunnels Alternatives
While our "official" ranking stands above, here are some other landing page options to at least consider (generally for more specific use cases):
ThriveCart: Very similar to Samcart, ThriveCart has the advantage of a one-time payment up front vs recurring monthly subscriptions.
Ontraport: Ontraport bleeds more over into a classic email-based CRM, but they have powerful funnel building tools and landing pages which can effectively replace Click Funnels for your business. Read my full Ontraport vs Clickfunnels comparison for more details.
OptimizePress: Functions as WordPress plugin, but provides powerful sales funnel functionality. Ideal if you are interested in keeping things in-house with the WordPress CMS. Read our full OptimizePress Review for more details.
Kartra: Kartra is another option worth checking out. It blends more of a traditional sales CRM with a Clickfunnels like drag and drop sales funnel builder. Read our direct comparison of Kartra vs Clickfunnels for more details.
Builderall: A relatively new player on the market, Builderall is literally taking a page from the Clickfunnels playbook and creating a full ecosystem of software solutions for sales funnels. Builderall is super easy to use, but with less of a track record in the market, it's not necessarily easy to port your existing funnels over. Still a good option for starting out.
Thrive Membership
Pipedrive
Leadpages
Instapage
Lowest monthly cost
$19
$10
$25
$68
Highest monthly cost
$49
$63
$199
$203
Main benefits
– Unlimited funnels, visitors, and pages
– Easy to set up as a WordPress plugin
– Self-hosted
– Pipeline focused
– Integrates with other software
– Can be managed from iPhone or Android app
– Unlimited responsive pages
– 160+ templates
– Unlimited popup forms
– Good for project management
– Heatmapping
– Secure and private subaccounts
10 Minute Funnels
Unbounce
Landingi
Lowest monthly cost
$97
$79
$29
Highest monthly cost
$197
$399
$109
Main benefits
– Drag and drop page design and funnels
– Page and funnel analytics
– A/B testing on both tiers
– 125+ templates to choose from
– Integration with WordPress, MailChimp, and Google Analytics
– Targeted overlays
– Unlimited landing pages, domains and visitors across all tiers
– SSL ready
– Tracking pixels
Frequently Asked Questions
What is the best way to get traffic to my post-click landing page?
Any marketing platform can promise you as a business owner, the secret formula to get a lot of traffic on your post-click landing page, but the truth is, the formula varies a lot. There is, indeed, some generalities that can help you out to start increasing your traffic, and one of them is knowing your target. If the type of potential customer you are trying to get is most likely to use social media on a daily basis, a good marketing campaign on Facebook Ads and Google Ads can make a big difference.
Is it easy to cancel Thrive Market membership?
If you are not happy with the performance of the Thrive Market Marketing tool, as almost any other subscription, you can cancel it at any time without generating any fees. Also, if you are new and haven't generated any placed order, you can apply for a full refund. As a business owner, trying a new marketing automation platform and being able to cancel it if it doesn't cover your needs is very valuable.
How do Popups and Sticky Bars Affect Page Speed Performance?
It is normal to be worried about the speed performance of your site. A big delay can make you lose a potential customer. But it is hard to know exactly how much a Sticky bar or a pop up can affect your page speed performance, but normally, they should have a minimal effect when used as directed.
Final Take: What is the Best Alternative to Clickfunnels for Digital Marketers?
This roundup gives you an overview of the options available as Clickfunnels alternatives.
Some are better suited to some organizations than others, and despite the similarities between each of these products, there is no "one size fits all" approach here.
Landingi is probably the most similar to ClickFunnels landing page software (dare I say, almost a knock-off of the Clickfunnels Etison Suite?), but if you are looking for something truly DIFFERENT, might not fit the bill…
What I would recommend above all is making use of all the free trials and introductory offers that comes with each of these until it's clear what you like or dislike about each one.
If I had to Pick One However… I'd start by trying out SamCart Leadpages here. I really like similar user friendliness to ClickFunnels, similar Clickfunnels tutorial lessons, similar ClickFunnels integrations, but at a much better price and with some important UX improvements and in some ways is SO much more simple to use. Not to mention, SamCart is cheaper than the Clickfunnels pricing structure.
IF you are still stuck, we do have a 14-day extended trial for Clickfunnels here if you still want to try it out a bit.
Further Reading on Sales Funnel Builders