Last Updated on January 11, 2023 by DMEditor
Samcart has its own pros and cons, and while it's a great way to increase your sales, the tool itself and the way it works is not for everyone, so today we are going to be looking at the best Samcart alternatives that you can use to increase your sales online.
My TL;DR is…
The best Samcart alternatives are:
Here is a full list of the best Samcart alternatives in depth that you can use to design a modern ecommcere site.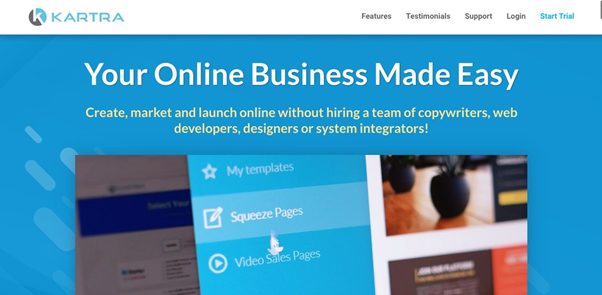 Kartra is an all in one marketing tool that helps you to build high converting sales funnels and landing pages (landing page builder) so that you can easily sell your products or services online. It offers features that let you build and automate your email list, as well as offering membership portal features so that you can run your entire business from Kartra
The Key Features of Kartra
'Drag and drop' checkout page builder
Checkout Pages
Lead Pages
Sales funnel Builder
Email autoresponder
Membership portal
Helpdesk and live chat for your customers
Calendar scheduling
Sell through Affiliates
Integrations and API
The Benefits of using Kartra: A SamCart Alternative
Kartra gives you all the tools you need to run and market your business online. The great thing about being able to do everything on Kartra is that all the different elements of your business will work seamlessly together, and you just have one monthly fee to pay
.It's really easy to use, so it's a great option for beginners. Anyone using Kartra can have their website and online business up and running in just a day or two using the drag and drop page builder.
There are over 500 page and section templates to choose from so no matter the type of design you are looking to create, you will be sure that you can make it happen with Kartra. You can drag and drop all the elements you need to wherever you want them to be, and all the colors, fonts and images can be customized to suit your branding.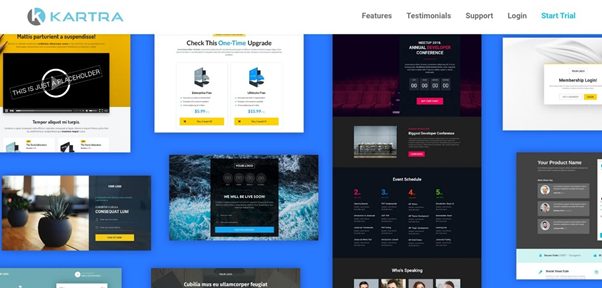 Kartra's packages are 'all-inclusive', so whichever option you choose will give you access to all of Kartra's advanced features. There is a price difference between the packages, and this correlates with the number of contacts and leads you need, as well as the bandwidth.
Kartra's 'starter plan' is just $79 per month (basic plan), and allows you to have up to 2500 subscribers, and send up to 15,000 emails each month. The starter plan also gives you one linked domain, 2 membership websites, and lets you sell up to 10 products and use a total of 50GB of bandwidth. The 'Silver' plan is $149 per month. This plan gives you up to 12,500 leads, 125,000 emails, 125GB of bandwidth, and unlimited pages, products and memberships.
Unfortunately, Kartra doesn't offer a free trial, but you can try it for 14 days for just $1.
The Downsides to using Kartra
The customer support can be a little slow sometimes, although you can usually get a reply within 24 hours.
The other issue we've seen arise has to do with the page view on mobile. The alignment can sometimes be a little off from what you would normally see.
Check Out the Latest Pricing and Plans from Kartra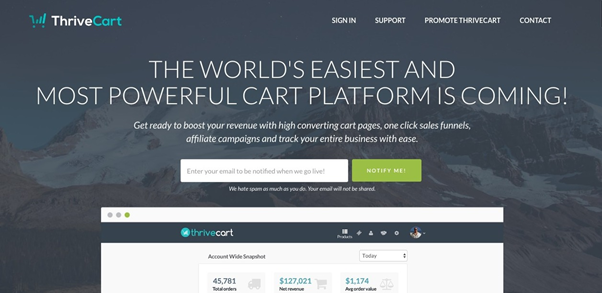 ThriveCart is an intelligent shopping cart page builder that actively works to boost your revenue while your customers are on the checkout page of your product.
It works by drastically reducing the "abandoned cart" rate, by eliminating any doubts a prospective buyer may have AND creating a sense of urgency for a visitor to buy the product, right now!

I Personally Prefer Thrivecart
I've used BOTH tools and they are MUCH better than the other options on the market. BUT between the two, I have to go with Thrivecart. Ability to accept mobile payments + more integrations + ONE-TIME cost (vs recurring monthly).
Thrivecart Special Offer
We earn a commission if you click this link and make a purchase at no additional cost to you.
The Key Features of ThriveCart
1-click bump offers
1-click upsells
Sales Funnel Builder
Embeddable shopping cart
A/B testing
Affiliate Centre
Auto-follow up
Webhooks
Autoresponder and membership integrations
Discount Coupons
Customer hub
Detailed analytics and statistics
Dunning/Auto payment retry
2 factor authentication
2-step cart
Link tracking
Predicted sales
Automatic receipts
Retargeting
Digital sales tax calculation
Subscription management
Unlimited carts
Video carts
The Benefits of Using ThriveCart: A Samcart Alternative
ThriveCart lets you easily create conversion-optimized checkout pages that work to keep your customers on the page and increase the revenue per customer. Since ThriveCart is so easy to use, anyone can get started straight away, and there is no need to know any coding or hire a developer to build your pages for you.
You only need one page to successfully sell on ThriveCart, and your sales page will include absolutely everything you need to persuade your customers to buy from you. All page templates have been designed by marketing professionals, so rest assured knowing they are fully optimized for conversion (that actually increase conversions).
ThriveCart lets you increase the average amount spent per customer by offering one-click upsells and order bumps during the checkout process, so you can increase your revenue without even increasing the number of customers visiting your site.
It's easy to connect ThriveCart to your favorite autoresponder software such as ActiveCampaign, Aweber, GetResponse, ConvertKit, and more. ThriveCart also integrates with Wishlist Member and Membermouse if you wanted to run a membership website.
Once the business owners start scaling their business they can do this effortlessly by using affiliates to sell your products for you. ThriveCart has a sophisticated affiliate center that does all the hard work for you and pays your affiliates automatically, so you can scale your business with no extra stress or effort.
ThriveCart pricing is simple, and there are no monthly subscriptions to pay, it's just a one-off fee for the license. It usually costs $95+/month, but they are currently running a promotion where you can purchase a lifetime license for a one-off payment of $495 for ThriveCart Standard, or $690 for ThriveCart Pro.
ThriveCart Pro includes access to additional features that are not included in the standard ThriveCart package, such as the affiliate center, automatic sales tax calculation, intelligent business projections, and a custom domain name.
The downsides to using ThriveCart
Although it may be cheaper in the long run, the license fee to purchase ThriveCart is quite expensive when you have to pay it all upfront. The page templates are also quite rigid, and there is no drag and drop page builder so you can only enter your own content into the templates available, so they are not completely customizable.
Get the Latest on ThriveCart Pricing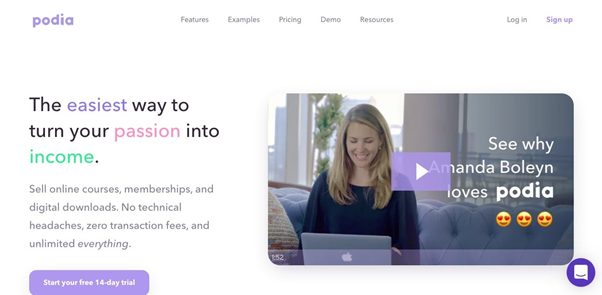 Podia is an all in one platform that allows you to sell courses, digital products, and memberships, all in one place. As well as giving you the tools you need to sell, Podia also lets you host your courses, memberships and digital products, so there is no need for you to connect with any other platforms if you don't want to.
Our Pick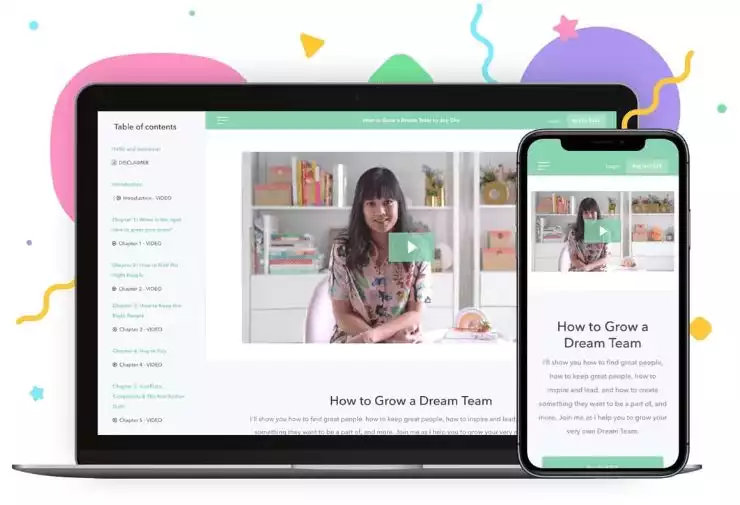 Podia IS Awesome!
I LOVE Podia. Here's why. It's simple to use . Fun. Works for courses, digital products, and memberships like a charm. It's going to be our FINALIST for 2021 Tools of the Year. Need I say more?
Free 14-Day Trial
We earn a commission if you click this link and make a purchase at no additional cost to you.
The Key Features of Podia
All in one digital storefront
Create and sell online courses
Sell and host Memberships
Payment plans
Pre-launch courses
Drip course content
Coupons
Interact with members
Offer multiple membership levels
Connect to Facebook or Slack
Fast checkout
Offer upsells
Upload any file type
Email marketing
Send drip email campaigns
Customizable layouts
Mobile friendly
Affiliate marketing
The Benefits of Using Podia
Podia gives you all the tools you need to run a digital product, online course, or membership business model. It includes everything you need to host and sell your content, and even includes email marketing features too.
According to Podia, they are 'The easiest platform on the planet' to get to grips with. Their page editor is easy to use, and you don't need any knowledge or previous experience to get started. Podia supports all file types, so no matter whether you are uploading videos, images or audio files, everything will happen smoothly using Podia.
You can offer courses in multiple languages and currencies, pre-launch courses, and even leverage affiliates (via built-in affiliate program functionality) to see your own courses when you are ready to scale growth!
Podia's sales pages have been designed and optimized to help you sell your course as successfully as possible, and you can include things like introductory videos, video testimonials, FAQs and coupons to help persuade visitors to buy.
There are no limits on anything with Podia. So you can sell as many courses, products, or memberships as you like, and you will also be pleased to know that there are no transaction fees, so you get to keep even more of your hard-earned money.
If you are selling memberships, then you will be very pleased to know that you can also host your memberships within Podia, so you can easily build a community without having to work with multiple different types of funnel software.
You can offer multiple membership plans, offering different levels of membership to your customers at different prices. You also have the option to create free plans, and then give your customers the option to upgrade to a paid plan in order to view additional content.
If you are planning on selling digital downloads, Podia lets you do this easily and effortlessly. You can upload any file type and sell and many products as you want to. The checkout process is fast and smooth, and you have the option to offer upsells to further increase your revenue.
Podia includes email marketing tools, so you can easily grow your list, send newsletters and updates, send drip campaigns and track your results. Best of all, there are no limits to the number of subscribers you can have.
Podia has two pricing plans, 'Mover' and 'Shaker'. The mover plan is $39/month and includes online courses, digital downloads, email marketing, unlimited everything, zero transaction fees, and 24/7 support.
The 'Shaker' plan includes everything from the 'Mover' plan, as well as memberships, affiliate marketing, embedded checkouts, third party code, and free migration from your previous service providers.
You can try all of the features Podia offers for free, with this 14-day free trial.
Our Pick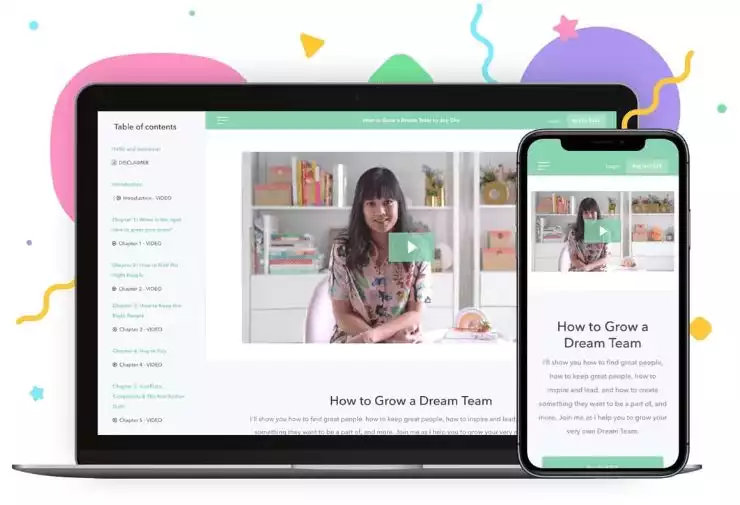 Podia IS Awesome!
I LOVE Podia. Here's why. It's simple to use . Fun. Works for courses, digital products, and memberships like a charm. It's going to be our FINALIST for 2021 Tools of the Year. Need I say more?
Free 14-Day Trial
We earn a commission if you click this link and make a purchase at no additional cost to you.
The Downsides to Using Podia
The design options for pages with Podia are quite limited, which may be a problem for any companies that have very specific branding needs. While it does include email marketing, the system isn't as robust as other dedicated email marketing providers such as ConvertKit or ActiveCampaign.
Check Out the Podia Plans and Pricing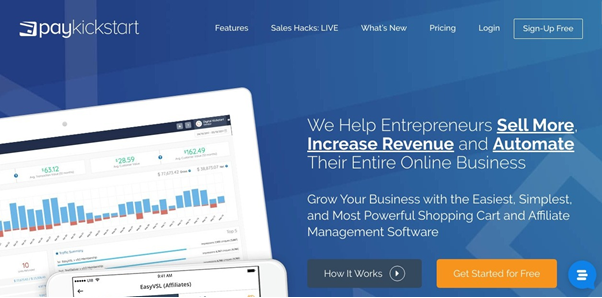 PayKickstart is a powerful shopping cart platform and affiliate management software that helps you sell physical products, digital products, and services, quickly and easily. At it's core, it's one of the better pure payment gateways out there, with minimal feature bloat.
The Key Features of PayKickstart
Built-in payment integrations
Sell digital products, physical products, and services
One-time payments and subscriptions
Free and paid trials
Payment plans
Template library
Checkout pop-up widgets
Checkout form embed
Digital Downloads
1-click upsells
Coupon codes
Order bumps
Subscription saver
Abandoned cart recovery
Pre-filled checkout pages for returning customers
Address auto-complete
Exit-intent popup checkout
Retargeting and tracking pixels
Affiliate management
Instant and delayed affiliate commissions
3rd party integrations
Membership integrations
API
Advanced Reporting
Mobile app
Partner contracts
The Benefits of Using PayKickstart
PayKickstart gives you everything you need to sell your products or services online, and manage your business. It's easy to get started building your first checkout pages, and there is a huge library of high converting templates for you to choose from.
You can choose from either one-step or multi-step checkout pages, and then completely customize your page using the 'point and click' page editor. Your branding, text, and elements on the checkout page can also be customized to give your customers seamless brand experience.
If you are selling to customers in other countries you can also select up to 12 languages to have your checkout pages automatically translated into so that you can cater to a global audience. You can also accept payments in your local currency.
You can easily increase your revenue by offering one-click upsells and order bumps to increase the spend per customer. If you would like to run a sale or special offer you can do this by offering time-sensitive coupon codes for either a percentage or monetary amount off per sale.
PayKickstart enables you to take recurring payments for subscriptions and memberships. You can offer both free and paid trials to your subscriptions or memberships before billing at full price, and there is also the option to offer payment plans for any products or services you are selling. You can do this over any amount of days, weeks or months, depending on what works best for your business.
For any failed recurring payments there is a 'subscription saver' that will automatically rebill your customer or contact them asking them to update their payment details, so you don't lose out on any money from unpaid subscriptions.
When you are ready to scale your business you can start selling your products or services through affiliates. You can decide how much commission you want to pay them, as well as choose whether they are paid instantly or the payment is delayed for a certain period of time.
There is an affiliate management center where your affiliates can log in and see their progress. You can offer them incentives to boost their motivation, and you can view a leaderboard to see who your best affiliates are, and how many sales they have made.
PayKickstart integrates with all of your favorite tools, so you can connect your email autoresponder, membership software, webinar software, fulfillment software, and payment provider, so you can continue to work with the tools you know and trust while using PayKickstart to make payments easy and efficient.
There is advanced reporting software that allows you to view your sales and revenue reports, conversion reports, subscription and churn reports, traffic reports, and affiliate reports, all in one place.
PayKickstart offers three different plans at different price points. The first plan is the 'Basic' plan which costs just $29/month, however, this plan really is very basic and only lets you sell 5 products. It also doesn't include some important features such as order bumps, affiliate center, API, lead tracking, user management, demographics, uptime monitoring, surveys, and the audience builder.
The next plan is the 'most popular' Professional plan. This plan is $99/month and includes the ability to sell unlimited products. All features are included except; demographics, uptime monitoring, surveys, and the audience builder.
Finally, there is the Premium plan for power sellers, which offer all features, and allows you to sell unlimited products and services. This plan is $149/month.
You can try all of the features PayKickstart has to offer by trying it completely free for 14 days!
The Downsides to Using PayKickstart
There is a slight learning curve when using PayKickstart for the first time. There is also no option to accept apple pay as a payment option, and there is no A/B split testing features.
Check Out the PayKickStart Pricing Plans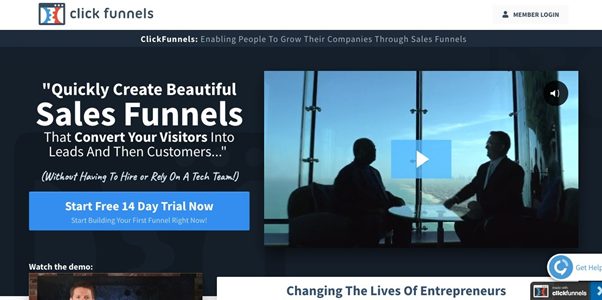 ClickFunnels is an all in one Sales Funnel building software that you can use to build high converting sales funnels, sales pages, websites, landing pages, and membership sites.
The Key Features of ClickFunnels
Create high converting sales funnels
Drag and drop page editor
Smart shopping cart software
A/B split testing
Email integrations
Pop-ups and opt-in boxes
Membership funnels
Membership portal
Upsell pages
Downsell pages
Backpack affiliate program
Actionetics MD email automation software
The Benefits of Using ClickFunnels: A SamCart Alternative
The beauty of ClickFunnels is that absolutely anyone can use it, even with no previous experience. Your sales funnel will guide your visitor through the sales purchase, selling to them, taking payments, and even following up if they leave your page before completing the purchase.
ClickFunnels is really easy to use, and works with a 'drag and drop' page builder. There are lots of page templates for you to choose from, and they have all been professionally designed to convert (and with built in split testing capabilities).
As well as page templates, there are also full sales funnel templates for you to use, and there are different funnel types designed for different industries, so no matter what industry you are in or what you are selling there will be a funnel template for you.
You can customize any of the templates to include your logo and branding, and you can also add your own images and videos to your pages.
Once you have set up your funnel, you can link it to an automated email sequence or Facebook ad, and everything will run for you on autopilot.
As well as using ClickFunnels to sell your products and services, you can also use it to generate leads for your business and grow your email list. With the premium plan, 'Etison Suite' you also get access to Actionetics, which is a sophisticated email autoresponder that works with ClickFunnels etison suite to help you build and manage your emails. You can track opens and clicks, create email series, and even send emails based on location and social media actions.
When you are ready to start scaling your business, you can take advantage of 'Backpack' to create affiliate programs for your products, letting other people do the selling for you and only paying commissions once a sale has been made.
Another benefit of ClickFunnels is that the full plan includes everything you need to run your business, so you would not need a separate website, membership site, email autoresponder, or developer for funnel building since everything is included with the Etison Suite plan.
ClickFunnels is cloud-hosted so there is no need to install any software, and you can log in to your account from any device anywhere in the world.
There are two Clickfunnels pricing plans for ClickFunnels when you look at their pricing plan chart. The basic 'ClickFunnels' package is $97/month, and it lets you build 20 sales funnels, 100 pages, and have 20,000 contacts. You can have 3 custom domains, and unlimited members if you are running a membership site.
The full package is called the Clickfunnels Etison Suite, and costs $297/month. This package gives you unlimited funnels, websites, pages, and domains, as well as access to all features including actionetics and the Backpack affiliate program.
You can try all of the features for free with this 14-day free trial. People love using Clickfunnels for marketing automation since it's a very plug-and-play software.
The Downsides to Using ClickFunnels
The only downside to ClickFunnels is that it is quite expensive. The regular 'ClickFunnels' package doesn't include some important features such as the backpack affiliate software or the actionetics email autoresponder. If you want all the features you will need to go straight for the Etison Suite package which might be quite expensive for someone who is just getting started with their business.
So What's Wrong with SamCart?
If you have a product or service to sell online, then no doubt you are researching the best way to sell it. During your search you will have no doubt come across SamCart, a powerful checkout pages and shopping cart pages builder that can help you make more money.
Sure, you can use a regular shopping cart software like WooCommerce or Shopify, but the thing is, you will still need to do most of the marketing yourself, and it's difficult to offer add-ons and up-sells using this type of software.
Abandoned carts are a huge problem in the e-commerce world, as shoppers get distracted or change their minds and leave without paying.
Studies have shown that some businesses have abandoned cart rates of near 80%, so it makes sense to focus on decreasing abandoned cart rate as a core feature enhancement to boost sales.
And often that can mean using a specific sales funnel or checkout pages building software.
We are going to look at some of Samcarts best competitors to see if there are better Samcart alternatives for you. We will look at the different features each option offers, as well as the pros and cons so that you can decide for yourself which is the best solution for you.
Before we start, let's just have a look at exactly what Samcart is, the features it offers, and how much it costs so that we can make a fair comparison.
Samcart is a powerful checkout page builder software, designed specifically for sellers with one main product or a handful of related products. This makes it a great solution for selling online courses, memberships, ebooks, or limited SKU ecommerce stores.
With Samcart you can build a single page that gives your prospective customers all the information they need to know about your product, as well as eliminating any doubts they are having about making the purchase. This is done by providing social proof and customer reviews, listing all the benefits the product offers, creating scarcity, and eliminating objections by providing answers to frequently asked questions.
Samcart also helps you boost the revenue per customer by offering one-click upsells and order bump offers during the checkout process, increasing the amount each customer spends, and therefore increasing your overall revenue.
You can take one-off payments for your products (payment processors), as well as offering subscriptions and payment plans to your customers. There is also the option to offer both free and paid trials, making this an ideal solution for anyone running a subscription or membership-based business model.
Pros and Cons of Samcart
Pros:
Create high converting sales pages
No complicated sales funnels
Easy to use, even with no experience
Make 2-3 times more money than if you were using a standard e-commerce checkout page
Offer one-click upsells and order bumps during the checkout process
Cons:
No drag and drop page builder
Template designs are limited
No email autoresponder cart software included
Although you can take payments for memberships there is no inbuilt membership portal
Only works with PayPal and Stripe
Quite expensive
SamCart offers two Samcart pricing plans. Firstly there is the Pro plan which costs $99/month, and the Premium plan which costs $199/month. The main difference between these two plans is that the Premium plan includes the subscription saver, and the affiliate centre, which would be important to most people trying to scale their businesses. The Premium plan also includes dedicated training and support if you need any help.
Samcart offer a free 14 day trial if you want to try all the features.
Ok, so now that we have seen what Samcart is and what features it offers, let's look at some of the best Samcart alternatives available, so you can decide for yourself which solution suits your business needs best.
FAQs
Question: Is SamCart legit?
Answer: Yes, SamCart is legit and allows you to pay more attention to your selling strategy rather than the whole set up process, and you can basically sell anything you want and create the whole product with already existing templates, and voila, you are ready to start selling.
Question: Is Podia Better than SamCart?
Answer: Yes, Podia is better than SamCart in many ways including the no transaction fee after each sold product, there are free migrations no matter what plan you choose, and also it costs $39 instead of $99 a month, which is a very good reason to go with it.
Question: Is ThriveCart better than SamCart?
Answer: Yes, ThriveCart is better than SamCart even though they offer similar features to their customers. Many people go with ThriveCart, as there is only one-time payment for using all the features and they also offer two cart software options which some people prefer.
Question: What is cart abandonment?
Answer: Cart abandonment is when users put products in their shopping carts and abandon them before buying.
Question: Can I take payments without a payment gateway?
Answer: Yes. You can use other methods to collect a payment, but most people find it easier to use a payment gateway like Stripe or PayPal.
Conclusion: What is the Best SamCart Alternative?
Building and Selling Courses? Podia is the best option for course creators here.
Our Pick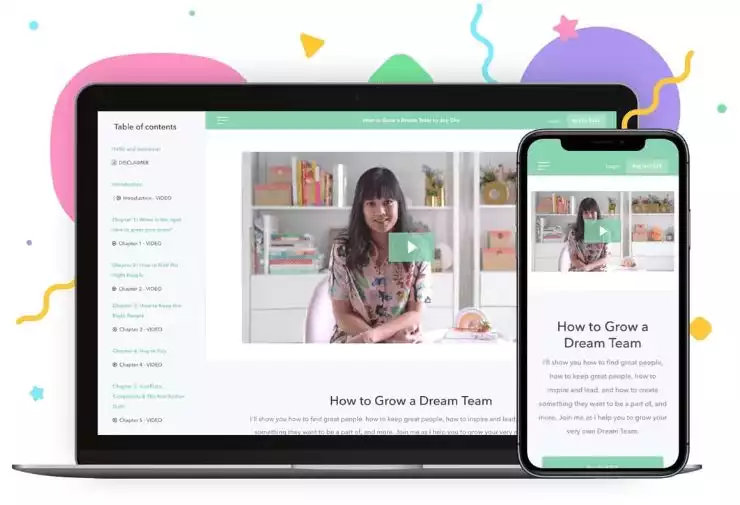 Podia IS Awesome!
I LOVE Podia. Here's why. It's simple to use . Fun. Works for courses, digital products, and memberships like a charm. It's going to be our FINALIST for 2021 Tools of the Year. Need I say more?
Free 14-Day Trial
We earn a commission if you click this link and make a purchase at no additional cost to you.
Looking to Save Money on Recurring Costs? ThriveCart is basically a slightly better Samcart BUT with the lifetime deal (lifetime up front pricing) vs monthly subscription.
Just Need a Checkout Page? PayKickStart covers this at just a fraction of the cost of Samcart.
Best Overall Replacement? Kartra is the best OVERALL alternative. Although it's relatively new, it offers many more features at a lower monthly price.
If you are looking for a Samcart alternative, there are a few good options available to you, but some may suit you better than others depending on your business type.
Overall, we think that the best alternative to Samcart is Kartra. We have chosen Kartra as the winner for a few reasons. Overall Kartra is cheaper than Samcart, at just $149/month for their 'Silver' plan compared to Samcarts $199/month for their premium plan.
Kartra also offers a lot more features than Samcart, so as well as saving money on the monthly subscription price, you will also save money on your email autoresponder, membership software, website, and lead pages, and more. In fact, you can use Kartra to run your entire business with no need for any other cart software options.
You can also customize your pages with Kartra's drag and drop page builder, so you can adapt your pages to suit your branding perfectly. As well as selling products with Kartra, you can also create your marketing sales funnels, using Kartra's high converting advanced funnel templates.
Overall, Kartra offers a lot of value for money. It is very easy to use and includes absolutely everything you need to sell products, services, and memberships online.
If you are on a tight budget and are just looking for a checkout page builder, then PayKickstart is a great option for you. It starts at just $29 per month and offers all of the same features as Samcart, and more, for a fraction of the price.
If you don't want membership software, a website, or autoresponder included, then choosing PayKickstart over Samcart is a no brainer. One of the best features of PayKickstart is that it has a very advanced affiliate center with advanced reporting and the ability to interact with your affiliates and offer incentives to help drive sales.
Hopefully, this review has helped you decide which Samcart alternatives are the best for you. These two options are both great Samcart alternatives, but ultimately it depends on what you are selling and your type of business, so take a look at your business model and future business plans before making a final decision.
You can try Kartra for 14 days for just $1 to check out all of the features it offers before you commit to a plan.
If you would like to try all of the features PayKickstart has to offer, you can try it completely free for 14 days!
Here are some other related articles you may be interested in: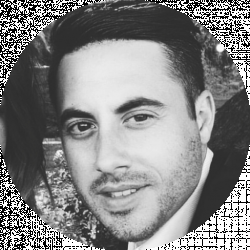 Latest posts by David Borgogni
(see all)