Last Updated on January 16, 2023 by Ewen Finser
We're going to review and compare two of the leading online course creation platforms, Podia vs Kajabi.
The world of online learning is a fast-growing sector. But don't just take our word for it.
Evidence shows that more and more people are turning to e-courses to broaden their horizons. In fact, reports indicate that by 2022 the 'learning online' sector will be worth a whopping $243 billion!
By comparison, just five years ago (2016), the e-learning market amounted to only $46.67 billion. That's a huge leap for the online course biz!
Bottom Line Up Front Summary: I personally prefer the much more accessible, user friendly and affordable Podia platform here. But, if I had a more webinar-based marketing business, I could see opting for Kajabi.
Main Differences between Podia vs Kajabi:
The main differences between Podia vs Kajabi are:
Podia is cheaper and more limited in offerings, whereas Kajabi is much more expensive with more features
Podia's website is easier to navigate and full of intuitive content, whereas Kajabi website is more complex and less user friendly
Podia is a better choice for people on a lower income who are just starting out, whereas Kajabi seems to be aiming itself towards medium-sized businesses
Our Pick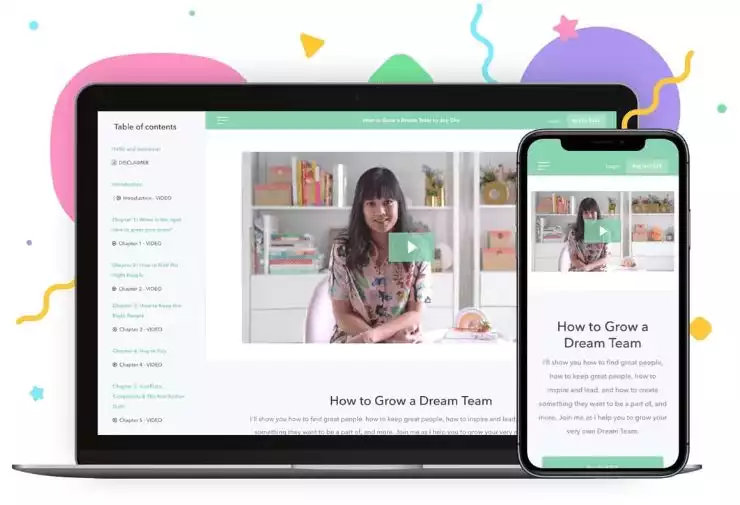 Podia IS Awesome!
I LOVE Podia. Here's why. It's simple to use . Fun. Works for courses, digital products, and memberships like a charm. It's going to be our FINALIST for 2021 Tools of the Year. Need I say more?
Free 14-Day Trial
We earn a commission if you click this link and make a purchase at no additional cost to you.
So, it's a small wonder that floods of course creators and educators are looking for the best software to help them cash in on the trend.
Luckily, there are loads of online platforms out there to help you build, market, and sell your course — each promising something slightly different from the last. But, unsurprisingly, some are more reputable than others. Given the breadth of choice, finding the right learning platform can seem like a cumbersome and time-consuming task.
Just a quick Google search generates an overwhelming choice of online course builders, all offering extensive suites brimming with features and enticing discounts.
So, to help narrow your search, we're going to provide you with top features and key differences to consider.
Does that sound good to you? Fab! So, without further ado, let's dive in!
Hosted Course Creator Platforms
Before we delve into the nitty-gritty of this review, it's worth mentioning that both Podia and Kajabi, are 'hosted' platforms (online course platform).
'Well, what does that mean?' We hear you cry.
In short, a 'hosted course platform' already has the tools and infrastructure you need to create and sell a digital course via your own website. Consequently, you don't have to use lots of different plugins or be especially tech-savvy when it comes to building your online course.
You also don't need to worry about things like software updates, security, maintenance, and so on, as a hosted platform should take care of all that for you.
The key benefit of running your course via a platform like this is that you can focus your energies on getting your course content just right and generating sales via your sales funnel. Rather than wasting your precious time learning and perfecting the technical side of things.
Now we've clarified that, let's take a look at both Podia and Kajabi in greater detail…
A Brief Overview of the Podia Course Platform
From the horse's mouth, Podia tells potential subscribers they can:
"Replace 5+ tools and keep all your products, content, customers, email subscribers, payments, and data in one place."
Podia also says they offer:
"Everything you need to sell online courses, downloads, and memberships without worrying about the tech."
Founded in 2014 by Spencer Fry, it's the newer kid on the block and a smaller operation than Kajabi. It used to be known as Coach. After a seed funding campaign, it rebranded in 2017 and re-emerged on the market as Podia.
Podia also says it's:
"Committed to building the most creator-friendly tools to help you sell online courses, digital downloads, membership subscriptions, and more to your audience."
You can read case studies about real clients who have created online courses and sold them successfully. At the time of writing, it Podia boasts over 25,000 subscribers…they can't all be wrong, right?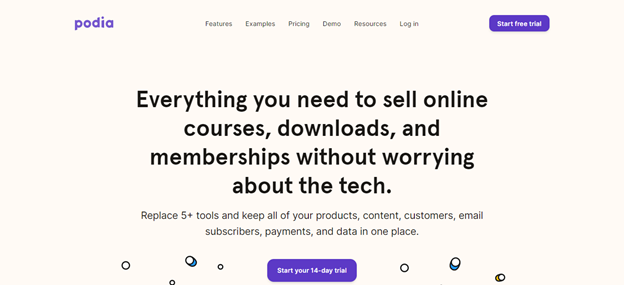 A Brief Overview of the Kajabi Online Course Platform
Founded by Kenny Rueter and Travis Rosser in 2010, Kajabi describes itself as:
"An all-in-one platform that makes it easy to create online courses, launch a marketing campaign, building landing pages, and design the perfect website."
It also promises to provide: "all the tools you need to build a successful online business."
This is a pretty big claim, but from what we can tell…they seem to live up to the hype (as you'll see for yourself as we delve deeper into this review).
Kajabi's stats are pretty impressive:
Over $1,000,000,000 transactions have been processed through Kajabi
Over 41,000,000 consumers are served through Kajabi
Over 20,000 businesses around the world use this platform
If you're keen to subscribe to a company whose vision you share, you'll want to know what their goals are. Kajabi's are as follows:
"We believe everyone has a passion for sharing. And so we created the world's only Knowledge Commerce platform to help people get their knowledge out there and find success. Today, our platform empowers thousands of users everyday [sic] to build life-changing businesses and create an online presence that reflects them."
Its website showcases plenty of stories about real-life "Kajabians" boasting impressive success stories using the platform. From the food entrepreneur who paid off his debt selling online courses to the retired fire chief who now runs his company while living life on the road. These testimonies are nothing short of inspiring.
Now you have a bit of an overview of both platforms, let's look at some of the finer details, including their features, prices, their pros, and more importantly, their cons.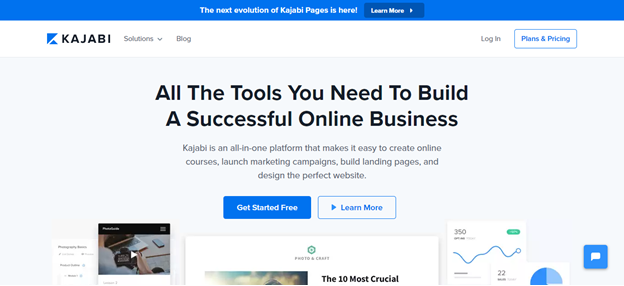 Podia's Features
Podia says you can be up and running with them in just five simple steps. Its website walks you through each step with a breakdown of all the features you'll experience at each level. If we follow their lead, you'll get access to the following:
Feature Step 1
You set up your online store, irrespective of whether you have content to migrate from elsewhere or you're starting from scratch. At this stage, you'll benefit from the following features:
Free migration
Online customer support
The ability to build your own website and add a custom URL (e.g. off of a WordPress website)
11 languages and 22 currencies to choose from
Integrations with Google Analytics, Facebook Pixel and so on (via Zapier integration as well)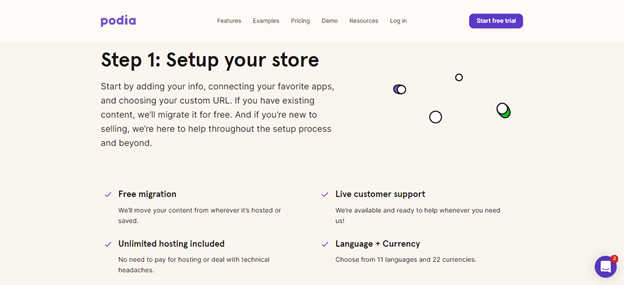 Feature Step 2
Podia allows you to customize the look of your site, so you can ensure it reflects your brand. Here you can add your own photos, videos, testimonials, logo, etc. You'll also enjoy the following benefits:
Mobile, tablet, and desktop-friendly layouts
Live previews, so you can see how it all looks for the student and make changes as you go along
A flexible layout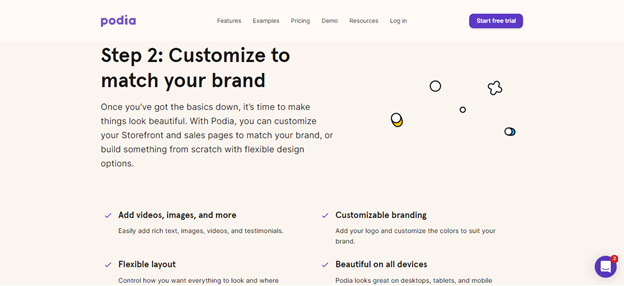 Feature Step 3
Now it's time to add products. This either means migrating existing content or adding fresh content. The most notable of Podia's hallmarks impacting this stage include:
Unlimited bandwidth
The fact you can easily migrate content from elsewhere
You can add unlimited products, including e-books, cheat sheets, PDFs, video and audio files, and so on.
Add membership options
Bundle downloads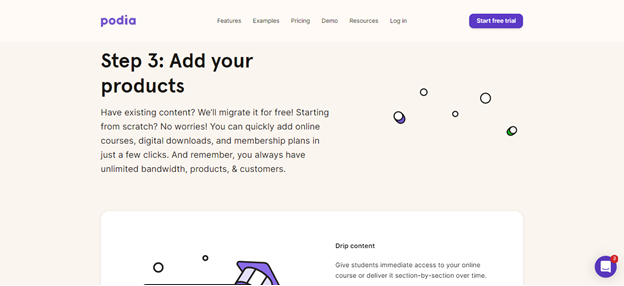 Feature Step 4
Build your email list and start marketing to customers. This is where the below features come in handy:
You can migrate existing student lists
You can create a fresh marketing list
Live chat support
Access to fully customizable sales pages
You can offer an integrated real-time chat option for your customers
Send newsletters
Build sales funnels (marketing funnels)
Metrics to analyze performance, e.g., click rates, open rates, and unsubscribe rates.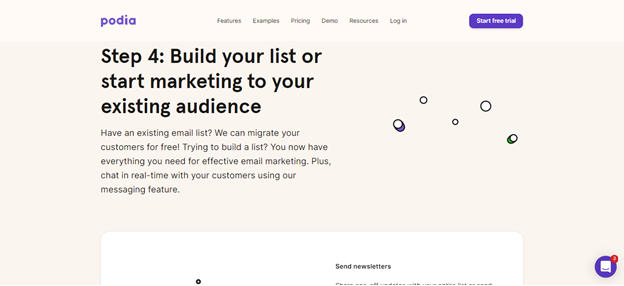 Feature Step 5
Start selling. You have full control over how you sell your courses to customers.
Podia's key selling features include:
Tools to create payment plans
1-Click upsells
Embeds
Affiliate management tools
Coupon creations
You can bundle, pre-launch, and, cross-sell products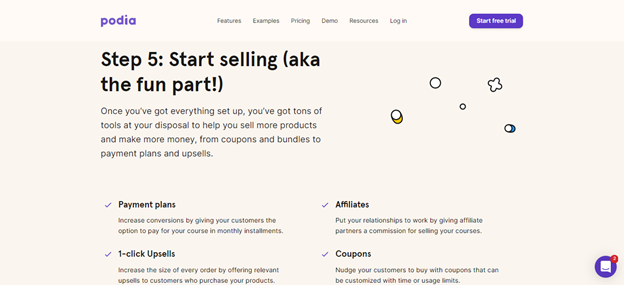 Podia vs Kajabi: Kajabi's Features
Kajabi splits its features slightly differently to Podia, as it divides them into the following categories:
Website
Product
People
Marketing
So, let's take a look at each of these classifications:
If you're setting up your website, you'll get access to the following features:
You can migrate existing content
One log-in for customers
A fully customizable website and URL
You can add your logo, images, and so on
You can create an unlimited number of static pages
There's a built-in blog
Site navigation
You can generate analytics reports per day, week, month and/or by promotional offers
Access to pre-built disclaimers, like a Privacy Policy and Terms of Use that you can customize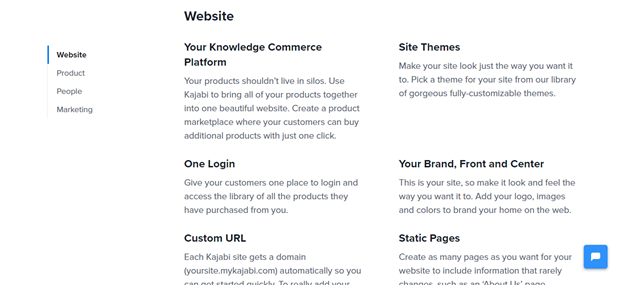 When uploading and/or creating products, you'll get:
Customizable themes that are compatible with mobile, tablet, and desktop devices
You can upload video content, with automatic encoding powered by Wistia
The ability to drip feed content
Multiple options to upload your content, e.g., from Dropbox, Google Drive, or via a URL
A customer comment facility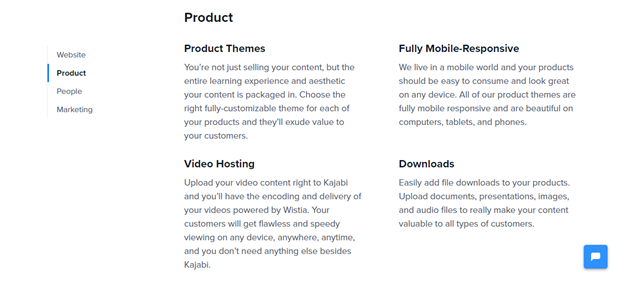 Kajabi's "People" features are mainly customer management tools. You'll get:
A member dashboard, where you can monitor individual member activity and view your customer's list.
A facility to add new members in bulk
A comment moderation facility
You can post announcements to members, which can also be emailed to them
A multi-step checkout page
You can track customers' journeys on your site
Access to 'tagging' and customer segmentation based on user behaviour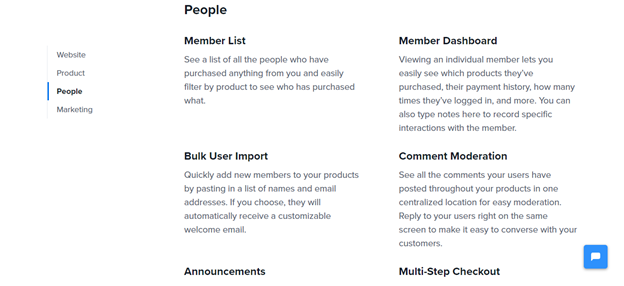 Lastly, the Kajabi "Marketing" option boasts the following features:
Sales Pipelines and pipeline blueprints
A landing page builder and pre-made templates
Customizable opt-in forms
The ability to capture leads
Email broadcasting and analytics tools
You can set your students assessments including homework, quizzes and so on
You can host live or pre-recorded webinars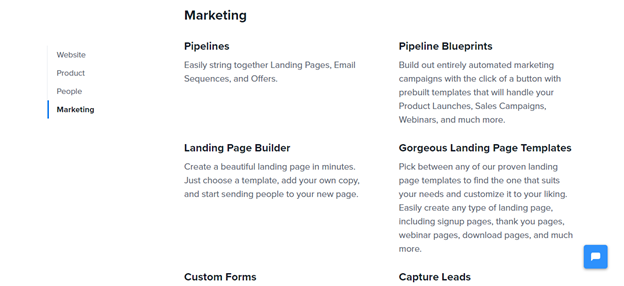 Podia vs Kajabi Paid Plan Positioning
Podia offers a free 14-day trial, but there's no free plan (just a basic plan to start).
During the trial period, you'll get access to all of Podia's features (including those on the paid pricing plan). Once that's over, there are two pricing options to choose from, one's called "Mover Plan" and the other, "Shaker Plan."
Punny, right?
Mover Plan costs $39 per month, and if you pay annually, you save $78 (annual billing)
For this starter plan you get:
Your own storefront to sell online
Online courses
You offer customers digital downloads
E-mail marketing tools
A live messaging feature your students can use to contact you (unlimited course contacts)
Zero transaction fees
Unlimited products, customers, emails sent, sales and files hosted
Support seven days a week
Free migration if you pay annually or when you offer $249 towards the cost of your account
If you opt for the Shaker Plan package, it'll cost you $79 per month, or if you pay annually, you'll save $158.
For that you'll get all the above, as well as:
Membership tools: The capacity to offer your customers a monthly or yearly membership subscription
An in-built blogging facility
An embedded "buy" button so customers can buy from your website without leaving it
Affiliate marketing tools
You can add snippets of code from third parties like Facebook, Olark, Pixel, and so on.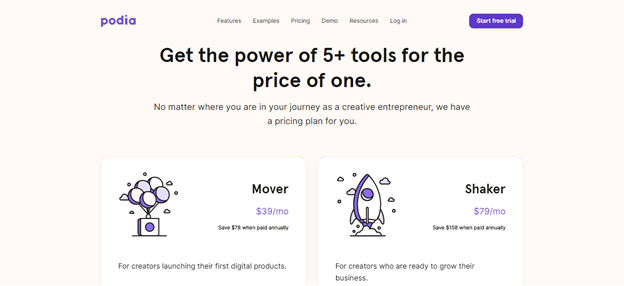 Kajabi Pricing: How Much Will Kajabi Set You Back?
Kajabi has three pricing plans, Basic, Growth, or Pro. All come with a 14-day free trial, but it isn't clear whether you can try each of the three packages for free, thereby providing a six-week freebie.
All pricing plans come with the following marketing feature options:
Unlimited landing pages
Unlimited marketing emails
0% transaction fee
Webinars and events
Ready-to-use templates
You can set assessments and surveys
Access to the Kajabi University
If you opt for the Basic plan, it currently costs you a (discounted) rate of $119 a month (down from $149 a month), billed annually.
For that, you can:
Create three products
Create three pipelines
Store 10,000 contacts
Host 1,000 active members
Run one website
Register one admin user
Access to automation and live chat support
Or, if you go for the Growth plan, currently, it'll cost you a discounted $159 a month, down from $199 a month (billed annually).
For that, you get everything in the 'Basic' plan, as well as:
15 products
15 pipelines
25,000 contacts
10,000 active members
10 admin users
24/7 chat support
Advanced marketing automation
You can remove Kajabi's branding
Access to an affiliate program
To upgrade to the Pro plan, it'll set you back $319 a month (currently discounted from $399 a month), and again it's billed annually.
You'll get everything included with the previous two plans, as well as:
100 products
100 pipelines
100,000 contacts
2,000,000 marketing emails
20,000 active members
3 websites
25 admin users
Access to the Expert Academy
A code editor
It's worth noting: Yes, there's a 0% transaction fee when you sell products via Kajabi's built-in payment processor, but there's still a Stripe merchant processing fee. This is 2.9% and 30 cents for every transaction.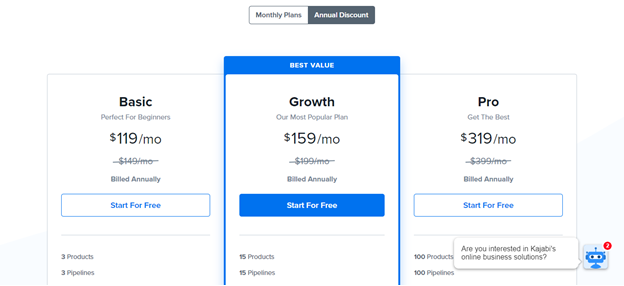 Podia's Customer Support
Podia offers support in the form of live chat, email, or video regardless of which plan you're on. Its website tells us that their average response time is 2 minutes.
You can access live chat support from Monday to Friday, from 9 am to 6 pm. If you need assistance outside these hours, the rest of the time, Podia says they'll still "respond to you 24 hours a day, 7 days a week," when you an email or message via their contact form.
There's also a Resource Centre you can access via Podia's website. Here you'll find tons of informative articles, including titles like: "4 surefire ways to find the best social media platform for your business," and "The 5-step guide for building an online business that runs without you."
There are also "How To" guides on a wide range of titles including: "How to create an amazing membership site," How to create, sell and profit from an online course in 2020" and a range of other guides covering topics such as entrepreneurship, digital marketing, and sales.
Podia also provides customers with toolkits. For example, if writing sales orientated copy isn't your bag, they've created a free kit that does it for you. Just answer a few questions about your business, and they'll do the rest.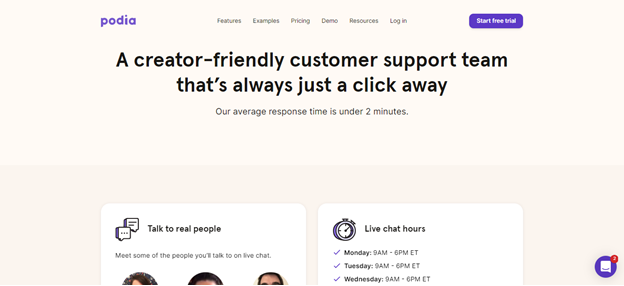 Kajabi's Customer Support
Kajabi offers 24/7 live chat support unless you're on the Basic plan. For subscribers of the Basic package, live chat support is available for fewer hours.
There's also a Help Center where you can type in a question or subject matter, and articles and tips pop up. Featured topics include billing, pipelines, website design, and payment methods. A ubiquitous pop-up chat box is available on the site, or you can click through to the Kajabi Gmail account and send a more detailed question(s) that way.
The 'Quick Answers' section inside the Help Center has topics sorted by categories, like website, marketing, settings, products, people, partners, liquid documentation, mobile, billing, FAQ, and Kajabi news.
Alternatively, you can head over to the Kajabi blog. Over there, they cover titles like: "Fireside Chat: All About Pricing," How to Increase Customer Engagement & Retention Using The Kajabi Mobile App," and "How It Works: Blazing Fast Animation Inside Kajabi Pages."
We mentioned Kajabi University earlier on, and this is basically where you'll find all of Kajabi's step-by-step help guides. For subscribers of the Pro plan, there's also the Expert Academy, which is led by Brendan Burchard, an author, speaker, coach, online trader, and social media influencer.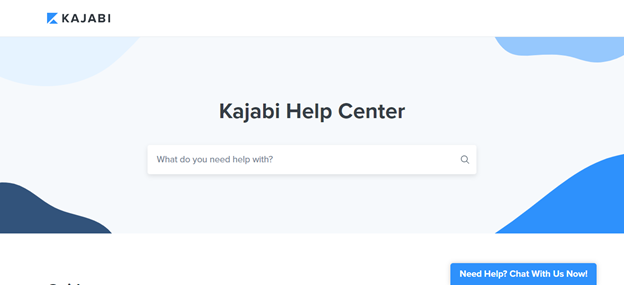 Podia's Pros and Cons
Podia's most notable advantages for courses are as follows:
Its website is straightforward to navigate and use
They offer affordable pricing plans
No transaction fees
End-to-end sales funnel builder for your digital storefront (one-stop shop)
Excellent customer support that includes online training and guides
They provide a beautiful selection of pre-made templates.
You can embed Podia's checkout button on any of your websites
You can create unique posts for your customers/members
Ability to create self-paced courses
Unlimited storage
Access to a 'course player' where you can upload PDFs, videos, audio, and text
But, it's not without its drawbacks:
There's isn't a mobile app
There's no capacity for creating a community area for customers
In comparison to Kajabi, Podia's course builder and product pricing options aren't as flexible
No free plan
Podia doesn't support features such as quizzes and assessments
Kajabi's Pros and Cons
We love that Kajbi has:
Lots of nicely designed themes
24/7 customer support
You can create an entire website
The capability to create an online community and quizzes, and assessments
You can run a blog
An Android and iOS-friendly mobile app
A more extensive choice of subscription options
Transparent FAQs (Kajabi university)
You can use your own custom domain
But the main drawback is that there's:
No free plan
Its transaction fees are expensive
There isn't unlimited storage
It doesn't deal with EU VAT on your behalf
It isn't as easy to navigate website
Our Pick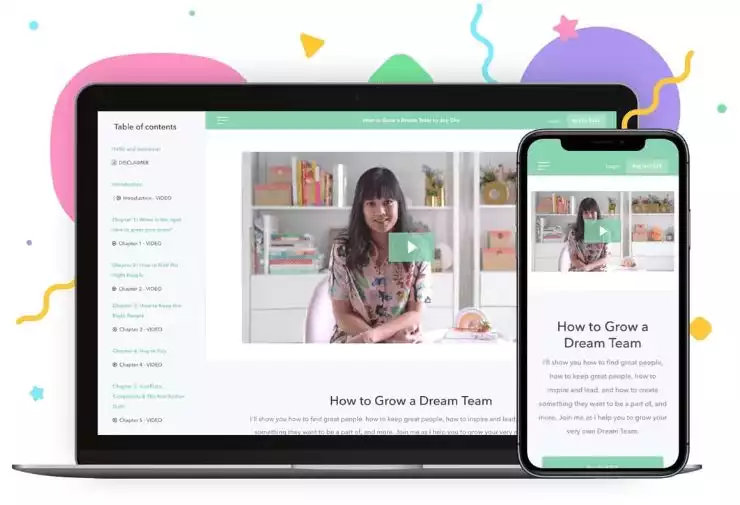 Podia IS Awesome!
I LOVE Podia. Here's why. It's simple to use . Fun. Works for courses, digital products, and memberships like a charm. It's going to be our FINALIST for 2021 Tools of the Year. Need I say more?
Free 14-Day Trial
We earn a commission if you click this link and make a purchase at no additional cost to you.
What Do Others Say About Them?
A quick Google scan tells us the chief complaint surrounding Kajabi is its cost. Elsewhere, there are many positive reviews to be found. People comment on its ease of use, that they can host their own website via the platform, and Kajabi's excellent customer service… just to name a few.
Overall, the platform boasts terrific reviews, and its own website tells the stories of many an entrepreneur who love what they have to offer. Its website tells us they've been featured in the likes of Forbes, Entrepreneur, Inc, CNBC, Time, Success, HuffPost, Engadget, and Business Insider. Impressive, right?
Kajabi's site has its fair share of happy customers who they describe as "thought leaders." The six they feature on their homepage have careers in the following areas: fitness, personal development, marketing, social media, and video content. Although you can see who they are, there are no links that take you to their individual success stories, which is a shame. There are more success stories further down the home page where you can watch short video interviews with each case study.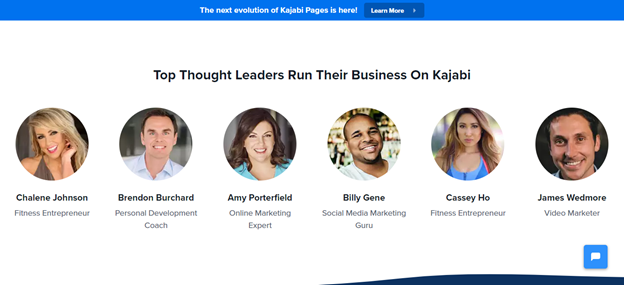 There's little in the way of bad reviews for Podia either. Users like its pricing, design, marketing and membership features. Podia's users are readily apparent on its website and happy to sing its praises. For example, user Becky Mollenkamp says: "Podia solves all of my selling needs by letting me house courses, memberships and downloads all in one place. Plus, the customer service is second to none."
There are links to satisfied customers' own websites. Although yes, these take you away from Podia, it's clear they really want you to see how their platform is helping real-life people.
Instead of household name press reviews, Podia actually reviews itself on its site. Some readers may find this a cynical means of clearly comparing itself favourably with its competitors. However, we thought it's a nice touch and aimed at greater transparency for its customers.
Podia compares itself to Kajabi marketing, saying it's a Kajabi "alternative that's actually affordable." It also distinguishes itself from ClickFunnels, Teachable, Thinkific, and Gumroad. We like that they say: "we want you to choose the best platform for you, even if it's not us."
Our Pick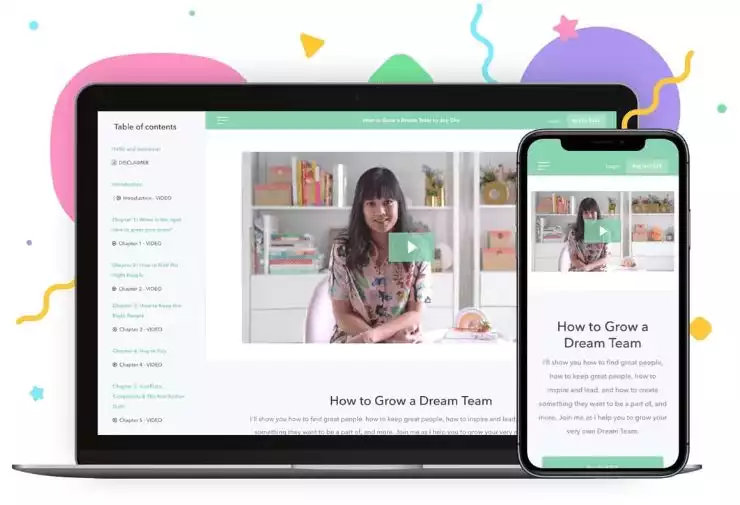 Podia IS Awesome!
I LOVE Podia. Here's why. It's simple to use . Fun. Works for courses, digital products, and memberships like a charm. It's going to be our FINALIST for 2021 Tools of the Year. Need I say more?
Free 14-Day Trial
We earn a commission if you click this link and make a purchase at no additional cost to you.
FAQ: Podia vs Kajabi Frequently Asked Questions
Is there a Kajabi app?

Kajabi is a web-based, "all-in-one" software that gives you the course creation tool functionality needed to make money from selling your knowledge all within one app. Kajabi includes: Website building tools and email marketing tools.
Can I use Podia for my website?

Yes, lots of people use Podia to manage and run their entire business. You can add additional pages like and 'About' page, FAQ's, landing pages, social media links, and any other information that you would like to include on your primary website.
Can you sell physical products on Kajabi?

Kajabi only allows the selling of digital product as they provide a platform for people to sell their knowledge and expertise.
Kajabi vs Podia: Which is the Best Online Course Platform?
So, now you have all the information, which should you go for? Kajabi is much more expensive, but there's an apparent reason for that. It's because it offers so many more features. If you want to run your entire business through it, you can.
Podia is cheaper and more limited in that regard. If you're leaning towards Kajabi, you can test it first to really see if you want to risk the expense. The good news is, there's a 30-day money-back guarantee if you cancel your Kajabi subscription within 30 days of the first payment.
We found Podia's website easier to navigate and full of intuitive content. It was easy to find answers to simple questions about things like customer support, and we liked how they break down the features step-by-step. It doesn't assume you have a vast knowledge base, and the content is well-written.
Overall, Kajabi does have more to offer, particular if webinars are your main marketing channel and you need a marketing tool suited to this.
Still, Podia may be a more natural choice for people on a lower income who are just starting out and trying to get started with a successful online course. It's up to you.
Kajabi seems to be aiming itself towards medium-sized businesses. So if that's you or you intend it to be you, it's a platform you can certainly grow into. Podia may not have been around as long and be a smaller proposition, but that doesn't mean it won't give you what you need.
Before you make your choice, you have to have a clear vision of what you plan to do (in both the short and longer-term) and choose accordingly. Over to you!
Bottom Line: I personally prefer the much more accessible and affordable Podia platform here. But, if I had a more webinar-based marketing business, I could see opting for Kajabi.
Have you ever used either Podia or Kajabi? If so, how did you find these platforms? We would love to hear how you got on with them in the comments box below. Speak soon!
Our Pick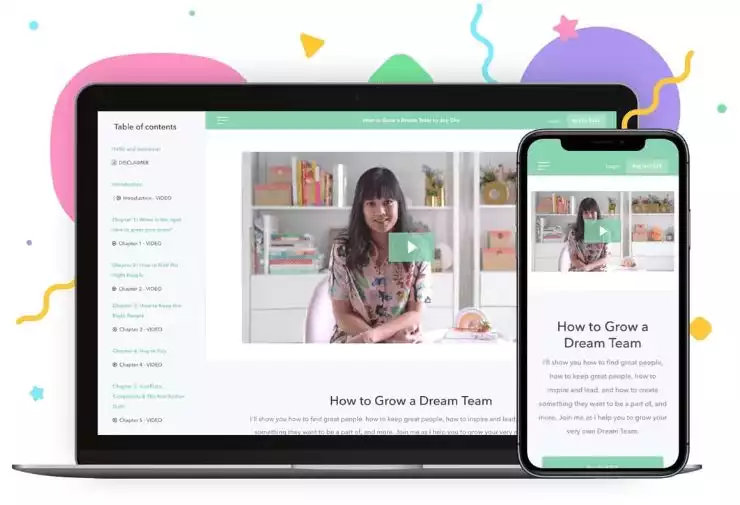 Podia IS Awesome!
I LOVE Podia. Here's why. It's simple to use . Fun. Works for courses, digital products, and memberships like a charm. It's going to be our FINALIST for 2021 Tools of the Year. Need I say more?
Free 14-Day Trial
We earn a commission if you click this link and make a purchase at no additional cost to you.
Further Reading on Online Courses, Course Creation Tools, and Online Course Platforms: