Last Updated on June 1, 2023 by Ewen Finser
If you have skills that you know other people will want to learn and if you'd like to earn money from sharing your expertise, teaching an online course is a fantastic option.
Practically anything can be the subject of an online course, whether you're an expert coder, marketer or writer (or calligrapher, home chef, jewelry maker, and on and on).
When you have something you do really well, you can bet that there will be beginners, enthusiasts or professionals who want to learn from you. Should your course become popular, it could even turn into your full-time job instead of just a side gig.
Having the background and experience is just the beginning, though. You need a tool that will allow you to share all of that knowledge with your audience. There's a lot that goes into creating a course:
Quiz and survey creation
Email providers and marketing
Web design, domain name and web hosting
Hosting for your content and videos
Payment processing
That's not even the full list! The good news is that there are online platforms that cater to the course creator. When you choose a platform that handles all of this for you, you can focus on what really matters: creating an interesting, quality course for your audience.
Bottom Line Up Front: If you are in a bit of a hurry, my overall top recommendation for solo creators is the SUPER easy to use Podia platform here. If you are a larger enterprise, Thinkific is ideal here OR if integrations with other tech platforms are critical, Teachable here will do the trick.
Continue reading for the full details…
10 of the Best Kajabi Alternatives | Kajabi Competitors
The online course solution you choose will fit your requirements and goals. If you want to earn a full-time income from your courses, you'll need a tool that will help you reach the largest audience possible. If you want a lot of engagement with your students, you'll want to look for a tool that has interactive tools. Or, if you want to create a course to keep your existing audience interested in your content, you'll need advanced marketing tools.
Here are 10 of the best Kajabi alternatives to consider.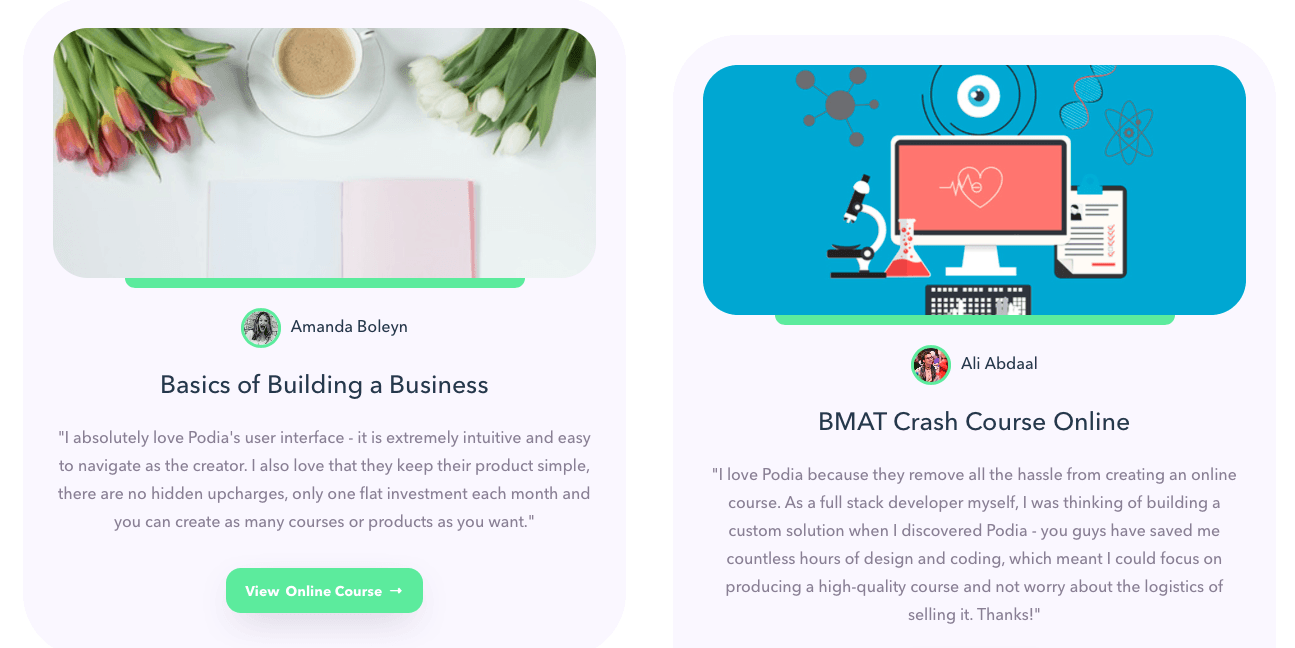 For creators with several different digital products, Podia is an excellent solution. You can add online courses, digital downloads and membership sites to your online storefront. Once you've created your online course using Podia, you can either pre-launch it to start gathering interest and collecting emails or you can publish it. If you have supplementary resources, like checklists or e-books, you can bundle them with the course or sell them as a separate download.
All of the storefronts on Podia share a similar template, making this a good option if you want to get your products up without worrying too much about customization or design. Your shop's landing page will have an overview, a section for "What's Included," a content section, your creator bio and a FAQ area. You can create a separate landing page for each of your digital products.
If you want to create a membership site, you can offer members an assortment of content, benefits and plans to choose from. When you have an update or new product coming out, use the membership managment functionality to share the announcement with your community.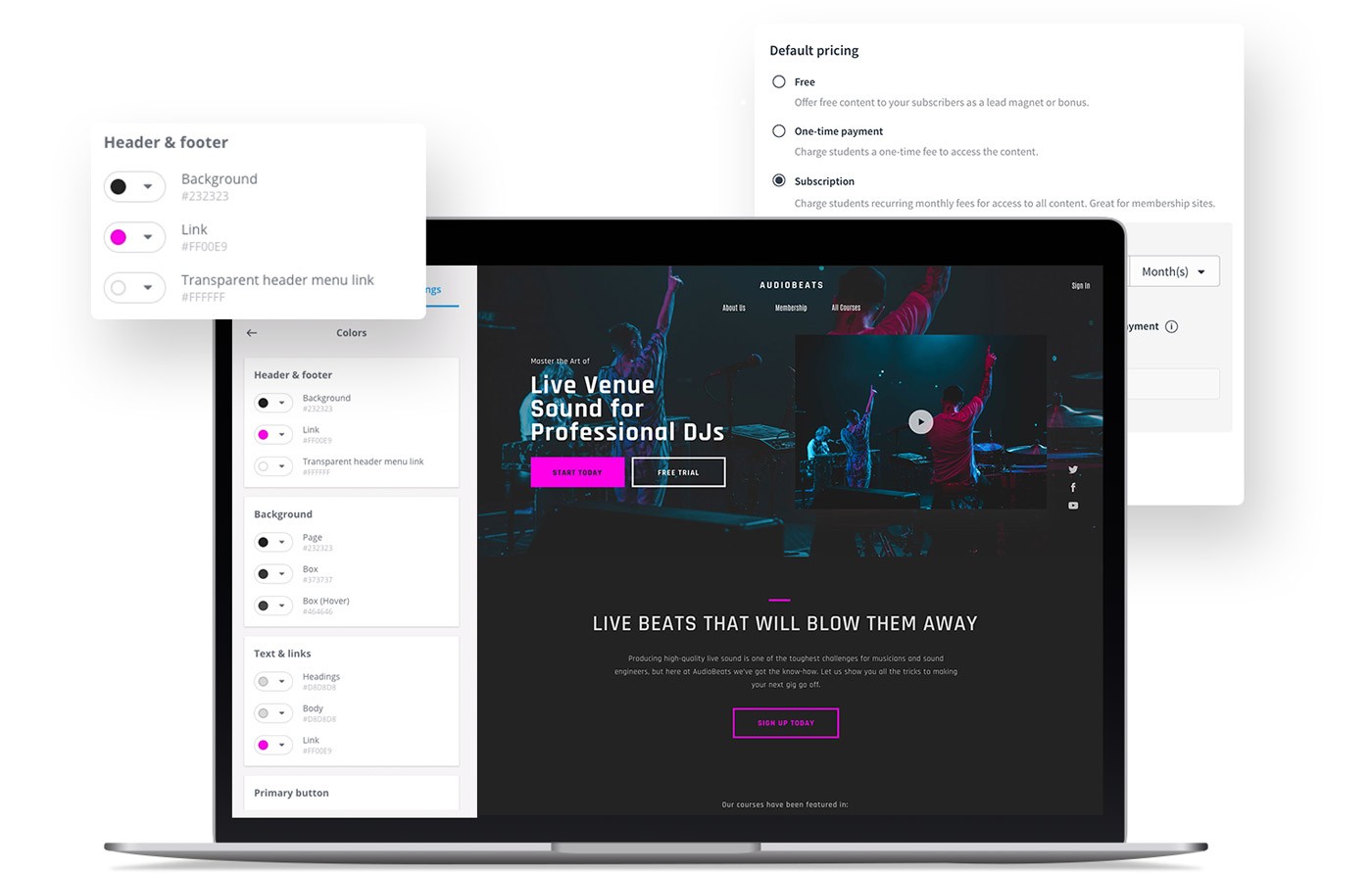 Thinkific is great for creators who need a lot of flexibility when developing their course. Your first step is to choose a template for either a digital download, flagship course, membership bundle, mini-course or webinar replay.
The template will give you tips for creating a quality course and they're auto-populated with sample downloads, instructor messages, surveys and quizzes. You can leave the template the way it is or add or remove whatever content you want. To add social proof to your digital creations, allow students to review your courses and then add the feedback you like to the landing page.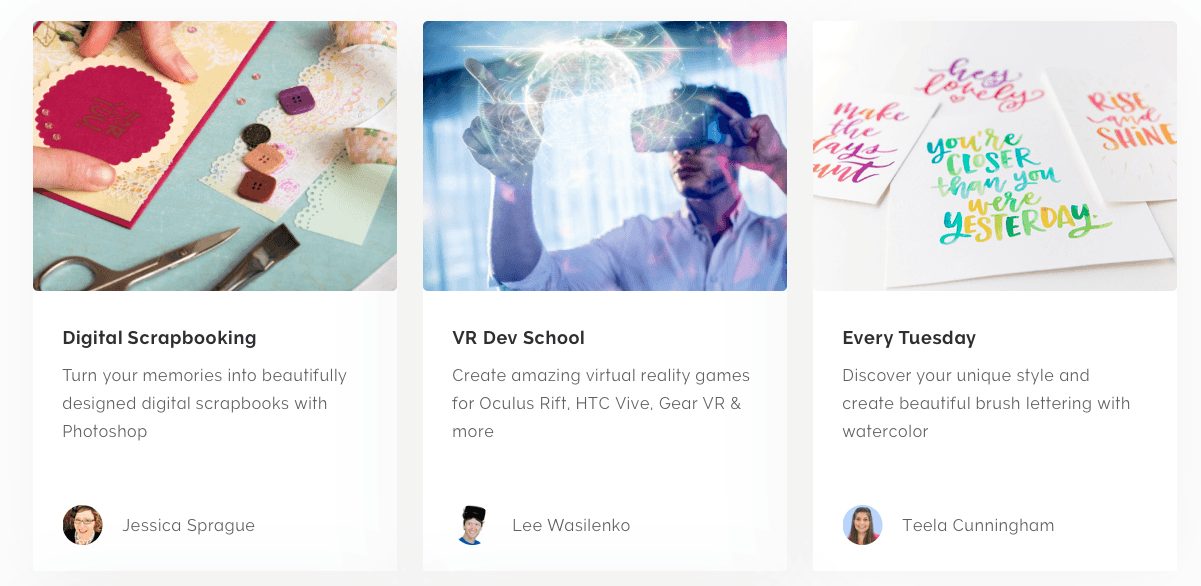 If marketing is your biggest concern, consider using Teachable for creating and promoting your course. When building your course, you can customize the experience to match your brand and to create compelling sales pages.
Then, add content from services like Dropbox, Google Drive and OneDrive. If you have coding experience, the Power Editor will let you customize the look of your course even more.
If you have a loyal following, you can add some students as affiliates with Teachable's built-in affiliate program. You'll add the affiliate and then they'll get a portion of the course sales they're responsible for.
Teachable also has email marketing features. You can contact a student when they take an important step, like enrolling in a course or using a coupon; gather student feedback via forms and surveys; and stay connected to students even after they're finished a course.
Compare Teachable Pricing Plans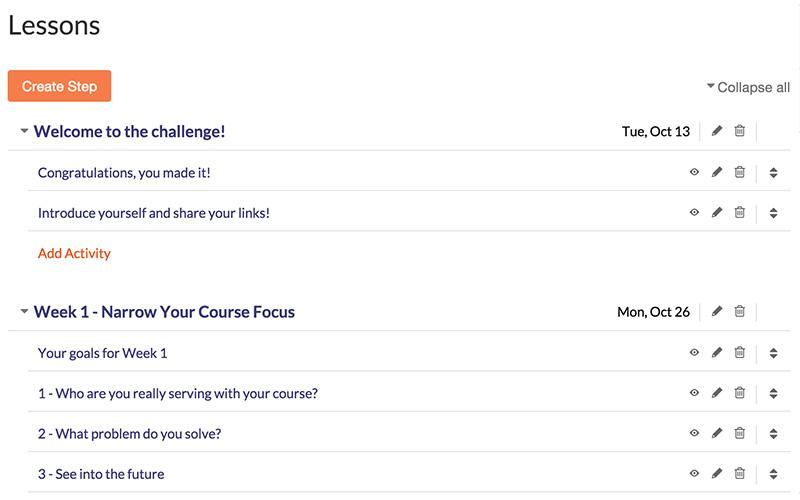 While many online course platforms on this list are geared toward the creator who wants to offer self-paced courses, Ruzuku takes a different approach: webinars that you host live. Ruzuku has native video streaming functionality, allowing you to host a webinar and interact with your audience live. If you prefer, you can also use Ruzuku along with a third-party streaming service.
Notify your audience that a webinar is coming up, then go to the Events page to start when you're ready. You can add PDFs to your webinar, too, and students can view your presentation on their screen while the webinar is taking place.
There will also be a live chat window to the side of the screen so that you can interact with your viewers during the webinar. Once you're finished recording, you can share the webinar with anyone who wasn't able to attend live.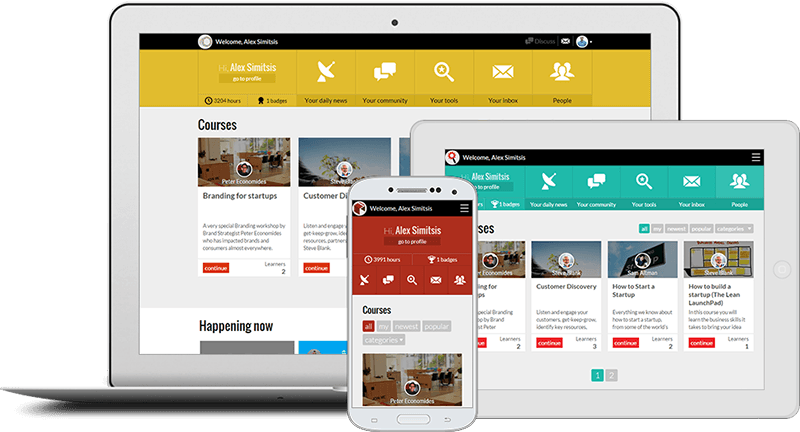 If you want to create an entire online school instead of just a single course, consider Learnworlds. You can set up your online school, create a course catalog and add instructors. You'll act as the administrator of the school by deciding how many courses to offer and which pricing options are available to students. There's even the option to create a branded app for your online school. Students will have their own public profile where they can show which courses they're taking and showcase their achievements.
You can upload videos or use ones that you have on Vimeo, and add other course content from SoundCloud or YouTube, among other apps. Once you've added a video to Learnworlds, you can edit it by adding images, interactive buttons, your logo, pointers, titles and text. To round out your courses, Learnworlds has the ability to create e-books, too, complete with headings, images, links and videos; or you can import an e-book you've already created, too.
View Learnworlds Pricing Plans Here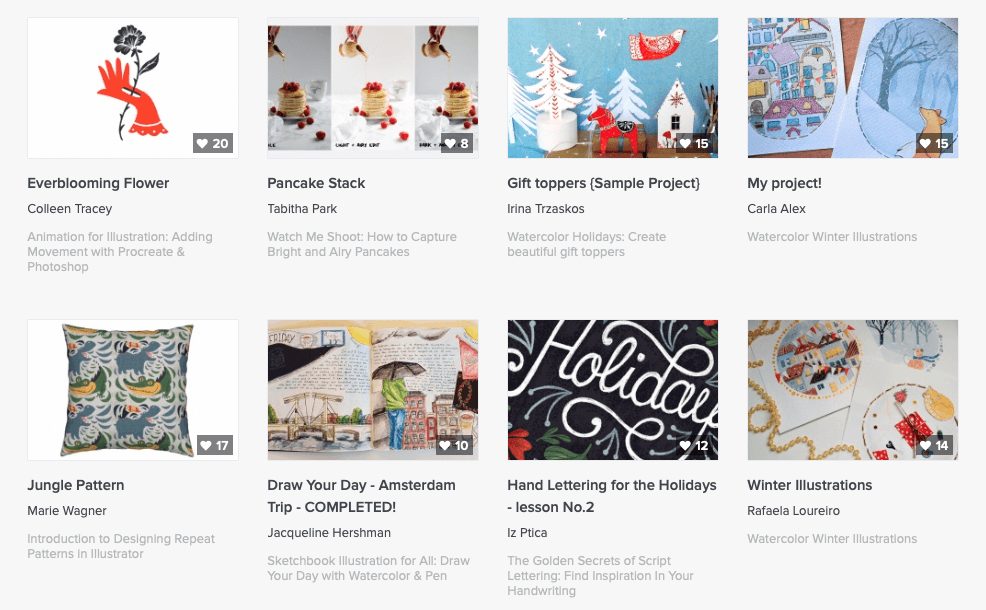 Creative types will want to give Skillshare a try because this platform seems to appeal to students looking for guidance with things like design, photography and writing. Skillshare is popular amongst artists and creative entrepreneurs who want to share their knowhow, and there are classes here on all sorts of fun, interesting topics, including cooking, marketing and even doodling.
Each Skillshare class has three distinct parts:
20 to 60 minutes of video segmented into lessons that last up to five minutes
A practical project so that students can get hands-on experience
Community discussion during which students can share their work
The practical project could be something like a writing exercise in a creative writing class or a social media post in a marketing class.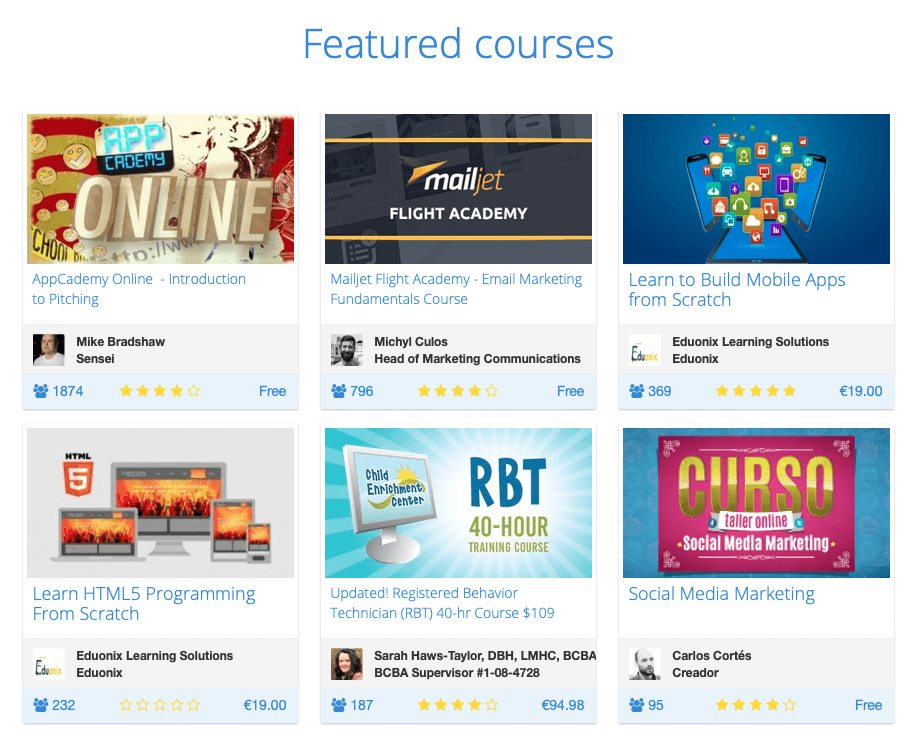 To start our list, we have a traditional MOOC, which stands for massive open online course. Eliademy is an online course marketplace with templates for creating a MOOC, following a traditional format with lessons, lectures, quizzes and graded tests, and discussion threads. Each element of the class is on a separate tab.
You can add images and text to your classes; share content from third-party sources like SlideShare or Vimeo; and even sync with Evernote to add notes. The Discussions tab lets your students engage in a community forum where you can also make announcements about your course. Once the course is over, you can offer your students an online or printed certificate.
You can create courses in several different languages, including French and Italian, and you have the option to target a specific country with your course, too. Eliademy has a large audience with a massive number of students. Popular classes are in arts and design, business law, social sciences, technology, and philosophy.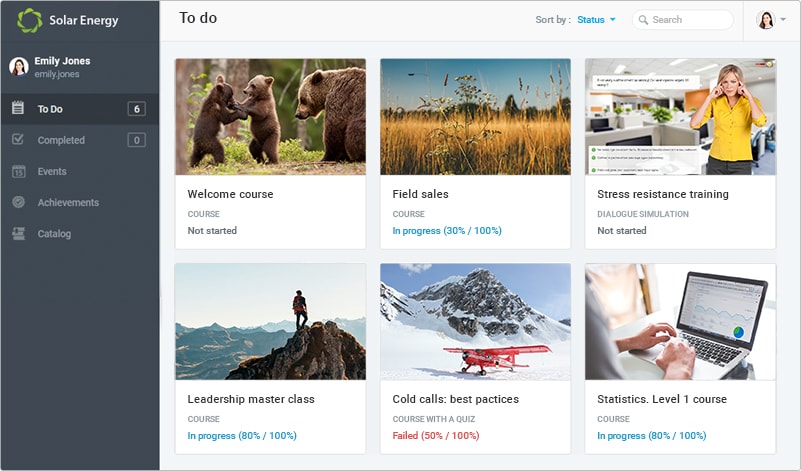 iSpring Learn is an LMS that's commonly used by large companies that need to train their employees in a streamlined way. Training programs can include gamification, learning paths and analytics. Employers can set company goals, view employee progress and determine what areas of training need to be improved. There's also a mobile app that allows employees to take training courses while traveling or if they don't have an Internet connection.

If you've never created a course before and you don't yet have an audience, you may want to start with Udemy. There's a lot of support for both creating and marketing your online course. To start, Udemy offers insights so that you can see how well your course topic will perform. A Google Analytics-like feature will show you the popularity of a topic, the search volume and similar keywords. Additionally, you can see how many courses already exist for a topic, find the top earning courses per category and discover the best promotion channels for your course.
Courses on Udemy need to have a video that's at least 30 minutes long, plus five lectures. You can also add assignments, exercises, discussion prompts and quizzes. Not sure that your content is good enough? Submit it for a review to get feedback and suggestions. You can also check out the Teach Hub, where you'll find lots of advice, tips and tricks. In the StudioU Facebook group, instructors trade ideas and ask for opinions.
Once your course is live, you may still have difficulty making your initial sales. You can use one of Udemy's customized marketing programs in order to have your course featured in their emails, to join the affiliate marketing program or to take part in Udemy discounts.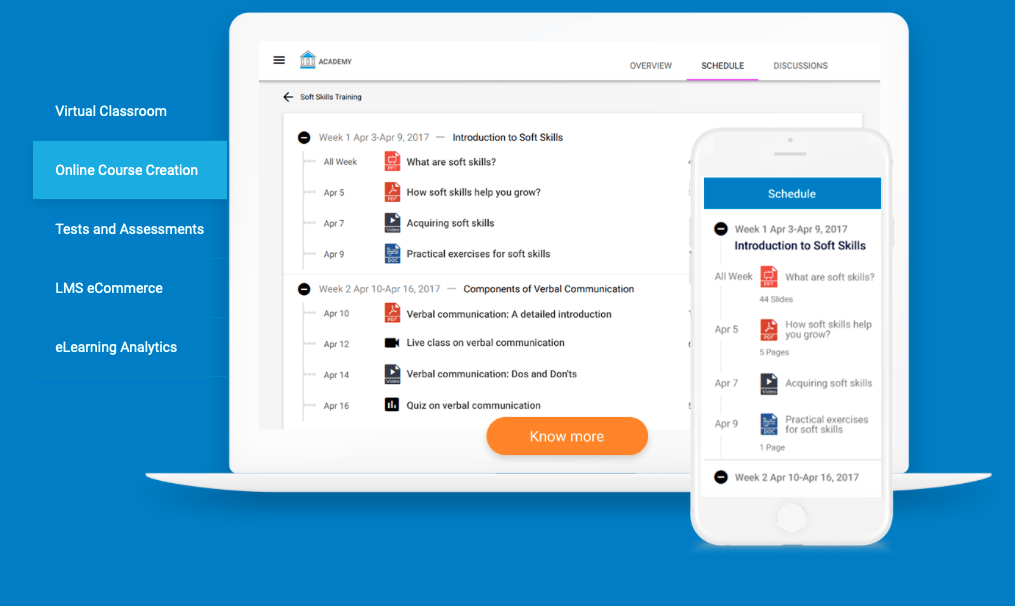 WizIQ has the ability to create self-guided courses as well as live classes. One virtual classroom can have over 200 attendees and you can add files, presentations and videos to your class. WizIQ's virtual classrooms are used by professors and tutors, as well as by businesses that need to train their employees.
The live classes are a little different from other live webinars because they have some traditional teaching tools, like whiteboards. You can also include live chat, polling for real-time feedback, screen sharing and YouTube streaming in your classes. With the Raise Hand feature, students can ask questions live.
5 Best WordPress LMS Plugins to Try
If you already have a WordPress website that you run, you may want to simply integrate your course with your established website. In this case, you'll need an LMS plugin. You'll be able to then pull your content together and deliver it to your students.
The biggest benefit of using an LMS plugin for WordPress is that you'll have no limits – you can create whatever sort of course you want with the features and functionality of your choosing. On the other hand, these plugins require you to have some tech skills. The installation and setup process aren't super easy. You'll also be responsible for site maintenance and security, not to mention performance.
If you think you can handle all of that, consider these four LMS WordPress plugins:
Businesses, training organizations and universities opt for LearnDash because you can create a course that meets your standards. There are a lot of options for student engagement, too, like forums, awards and certificates. One of its drawbacks is the limited shopping cart feature – you may want to use a different shopping cart plugin for more functionality.
LifterLMS is pretty easy to use, as far as LMS plugins go. You'll be able to sell online courses and also create a membership site. In order to access more advanced features like quizzes, you'll need to either purchase an add-on or upgrade your plan.
Sensei has functionality for course creation, student management and marketing. Choose from Sensei's themes or create a theme that integrates with your WordPress theme. There are a lot of features with the basic plan and even more through Sensei's extensions.
This is another user-friendly LMS plugin, mainly thanks to the drag-and-drop course designer. While it's not very feature-rich, it is easy to use and can help you get a basic course set up even if you've never designed one before. You can also accept PayPal or Stripe payments from students.
LearnPress is a plugin that easily extends WordPress into a de facto course site. With over 20,000 active installs, LearnPress is somewhat of a hidden gem. The basic version is FREE to try, but the premium features require payment.
Types of Course Creation Platforms
There are two primary types of course creation platforms: course marketplaces and course creation software. We're also going to talk about learning management systems.
Course Marketplaces
In this type of platform, the course is part of the marketplace's catalog. While you can usually customize your course's landing page (and, of course, the content), not much else can be customized. Often, you can publish your course for no cost, but the marketplace will take a share of any sales you make. The biggest benefit to joining a marketplace is that it will already have a student base. For that reason, marketplaces are best for new course creators who don't have an audience yet.
Course Creation Software
When you use course creation software, you'll have access to tons of customization options, including creating branded landing pages and choosing from all sorts of content formats. You'll also have lots of marketing tools at your fingertips. Course creation software generally comes with a monthly fee and possibly transaction fees as well.
Learning Management Systems
A learning management system (LMS), while similar to other online course creators, is used mostly to train employees or in a school setting. We wanted the majority of this article to focus on course creators who want to earn money by selling courses. However, since you may also be interested in an LMS, we didn't want to skip over them entirely. We've included a few LMS platforms in this list and we also have a small section about LMS plugins for WordPress.
How to Choose an Online Course Tool
While you'll have specific needs, here are a few features that a lot of course creators want in their platform:
Support for different types of media, including audio, images, PDFs and video.
The ability to create both live and self-paced courses.
Some amount of real-time engagement with students.
Marketing and payment tools, including the ability to offer different payment plans to students.
Support for custom domains, web hosting, backup and security.
Accessible customer service agents and a self-service database with things like tutorials and other free resources.
As you become more adept at creating your online courses, your needs may change. Advanced online course creators are often interested in the following:
Complete control over branding, marketing and promotions.
Total ownership of customer information and the ability to export user emails.
Freedom to create any prices you want for your courses.
Ability to choose any and all policies related to things like forum commenting and refunds.
Also, while we don't list the prices for the tools below, pricing is going to be a consideration for a lot of people. The best pricing plans are pay-as-you-grow, which means that as your audience grows and more people purchase your classes, you'll pay more to use the platform. Find out if the tool you're interested in has pricing tiers, discounts for annual vs. monthly pricing, and a free option or trial period.
What is Kajabi?
Answer: Kajabi is an online course creator, but it does so much more than that. This all-in-one platform can also create landing pages and websites, and launch marketing campaigns. Not only can you create digital projects with Kajabi, but you can market and sell them, too.
Kajabi Features
Create online courses with quizzes and surveys
Templates for landing, sales and webinar pages
Drag-and-drop, code-free landing page editor
Automated or live event webinars
Membership sites
Customize content delivery
Funnel campaigns from the simple to the robust
Native email provider with marketing automation
Website builder and hosting
Cart and payment processor
Marketing Automation
If you're a busy entrepreneur or you only have your course as a side gig, you may not have a lot of time to dedicate to it. Kajabi can practically handle your marketing for you thanks to Pipelines.
This marketing feature lets you connect your landing pages to checkout pages so that you convert more people with your course launches or other special offers.
There are also several "if…then" marketing automations you can set up. For example, if a student hasn't been active in a while, Kajabi will automatically unsubscribe them from your list. If they fill out a form or complete an assessment, they can receive a custom email or be auto-registered for an event.
Why You May Want a Kajabi Alternative
Kajabi is a great solution if you want a set-it-and-forget-it course, something you can market passively instead of actively.
But if you're looking for a different type of online course platform, like one that will support live webinars, let you create an interactive classroom or will offer you a lot of hand-holding as you launch your very first course, Kajabi may not have the features you're looking for.
Final Thoughts on the Top Alternatives to Kajabi
Bottom Line: If you are in a bit of a hurry, my overall top recommendation for solo creators is the SUPER easy to use Podia platform here. If you are a larger enterprise, Thinkific is ideal here OR if integrations with other tech platforms are critical, Teachable here will do the trick.
In order to choose the online course platform that's perfect for your skills, audience and goals, you'll want to take a few things into consideration. Think about your budget, design skills and the amount of time you can dedicate to building a course.
Also think about your current audience (if you have one) and how much you could potentially earn with your course.
If you're not entirely sure this is the right path for you, the best option is a course marketplace.
Where it's lacking in customization and flexibility it makes up for with the ability to get a course up and running fast and access to an already-established audience. You can test the waters before taking the time to create a more in-depth course.
Whatever your reason for creating an online course – to stoke your passion for teaching, to grow your audience or to earn income on the side – there's a course creator or marketplace out there that's perfect for you.
Here are some related articles you may be interested in: