Last Updated on June 1, 2023 by Ewen Finser
Today we are going to be looking at two popular online learning platforms: Podia vs Teachable compared.
Creating and selling online courses is a great way to share your knowledge and expertise and build authority around your brand. Online learning is becoming more and more popular, as people look to learn new skills in an affordable and efficient way.
Bottom Line Up Front: If it's the great value you're looking for then Podia is the obvious choice for you. You can run your entire course and membership business with this software for one simple monthly fee, so overall it's better value for money than Teachable.

Our Pick

Podia IS Awesome!

I LOVE Podia. Here's why. It's simple to use . Fun. Works for courses, digital products, and memberships like a charm. It's going to be our FINALIST for 2021 Tools of the Year. Need I say more?

Free 14-Day Trial

We earn a commission if you click this link and make a purchase at no additional cost to you.

Main Differences Between Podia vs Teachable

The main differences between Podia and Teachable are:

Podia has an email autoresponder built-in, whereas Teachable does not have an autoresponder
Podia offers a full membership site model integration, whereas Teachable does not offer full membership site integration
Teachable offers built-in quizzes and course completion certifications, whereas Podia does not offer course certificates
Podia doesn't add transaction fees to their paid plans, whereas Teachable adds transaction fees
Podia offers an unlimited everything option for unlimited courses, whereas Teachable does still has course limits
So how do you get started?
Well, the first thing you need to do is choose a reliable platform to host and sell your courses online.
We will be looking at each of these platforms in detail to see what features they offer, what their pros and cons are, and how much they cost, so you can decide for yourself which one is the right choice for you and your business.
Before we get stuck into the review, let's just look at why selling courses is such a great way to scale your business.
What are the benefits of selling online courses?
Digital Courses are a source of passive income. After the initial hard work of creating your course, you can sell it as many times as you want with little extra work on your part. If you can't market your course yourself, you can sell it through affiliates and use affiliate marketing instead of in return for a commission.
High-profit margins. Digital courses have the potential for very high-profit margins. There is, of course, the cost of your time in making the course, as well as the monthly cost of any software you use to host the course, but after this expenses are very few
You can sell online courses on any subject. Whether it's learning to play the guitar or learning to code, there is an online course out there for anyone. No matter what your expertise is, there will be people out there who want to learn the skills you have!
Online courses are becoming more and more popular as time goes on, as people look to further their careers, expand their knowledge, or simply learn a new hobby. Many people actually prefer learning online because it can save time and money on things like transport, and the overall cost can be a lot lower than a University degree, for example.
Learning online also gives students the flexibility to study in their own time, so they can learn a new skill without it interfering with their existing career.
Now that we've looked at some of the benefits of selling online courses, it's time to get what you came here for the review!
Podia vs Teachable High-Level Overview
Just in case you're in a rush, we are just going to go through the main differences between Podia vs Teachable so that you can get a quick overview if you're short on time.
You can host and sell memberships with Podia
Podia lets you bundle your memberships with your online courses
You can sell digital downloads with Podia
You can give your student's course completion certificates with Teachable
Teachable offers graded quizzes
Teachable offers an overall better learning experience for students
Teachable has course compliance features
Podia vs Teachable – Which One is Better?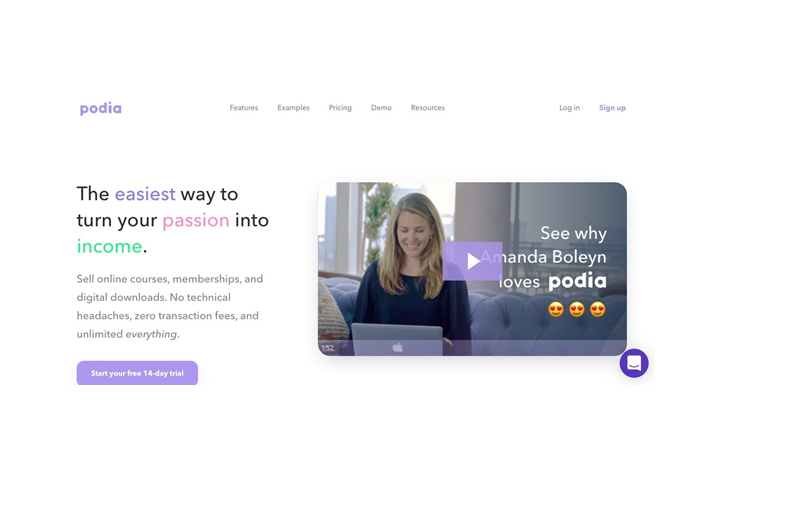 Podia is an all-in-one online course platform that lets you easily sell courses, memberships and digital downloads to your audience.
You can run your entire course business on Podia, so there is no need for you to spend extra money on a website (platform for blog post marketing), hosting, payment software, or email marketing software – Podia includes absolutely everything you need for a simple monthly fee.
The platform itself its really easy to use, so anyone can get started straight away even with no previous experience! The Podia Editor lets you completely customize your storefront and sales pages.
During the editing process, you can add images, rich text, videos, and testimonials to your pages, and you edit and reorder the elements until they are just the way you want them to be. You can also see live previews of what your pages will look like in real-time, within the editor, so there are no surprises when the time comes to publish.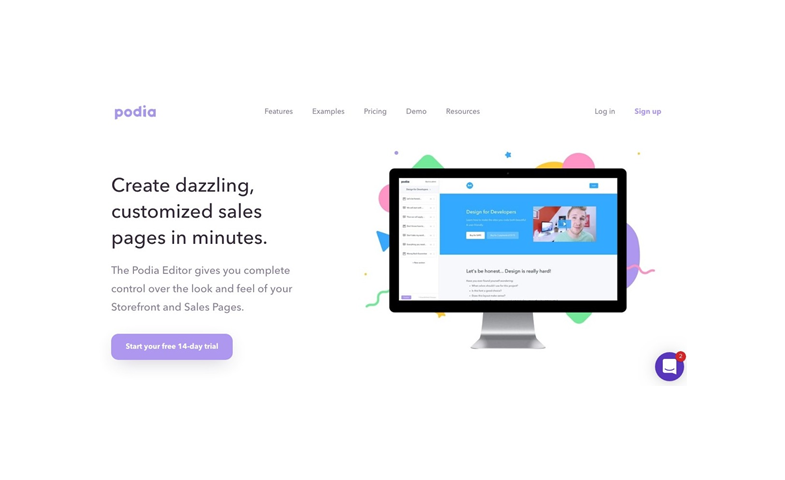 According to Podia, they are 'the easiest platform on the planet' for creating online courses with their learning management system. One of the great things Podia offers is 'Unlimited Everything', on their courses, meaning you can create and sell as many courses as you want (unlimited courses), with no extra cost involved.
There is the option to offer your students all of your course content at once, or deliver it once section at a time with the drip content feature. Your course content can be offered in any format, and you can even include quizzes as a fun way to help.
You can upload any type of file to your course, including less common file types like .sketch, EPUB, and MOBI.
As well as offering courses, Podia gives you the option to sell and host memberships. You can offer different levels of membership with different perks and prices for each level including the option to offer a free membership to generate interest and promote your paid plans.
You can bundle your memberships and online courses to give your followers an extra reason to sign up with you, Podia is the only platform that currently offers this option!
Podia gives you the option to sell, both your memberships and courses through affiliate marketing, allowing you to scale your business with minimal effort, as your affiliates will do the hard work of selling for you, and you do not need to pay them any commission until they have made a sale.
There is no need to have separate email marketing software, as it is included in your Podia account. The email marketing software allows you to send drip email campaigns to your subscribers and students, send newsletters, and track your results, and the best thing is that there are no limits, you can have as many subscribers as you want for no additional cost!
You can have a lead capture box (lead magnet) on your homepage or pre-launch page that will allow you to grow your email list to use for your launch, or for future campaigns.
Our Pick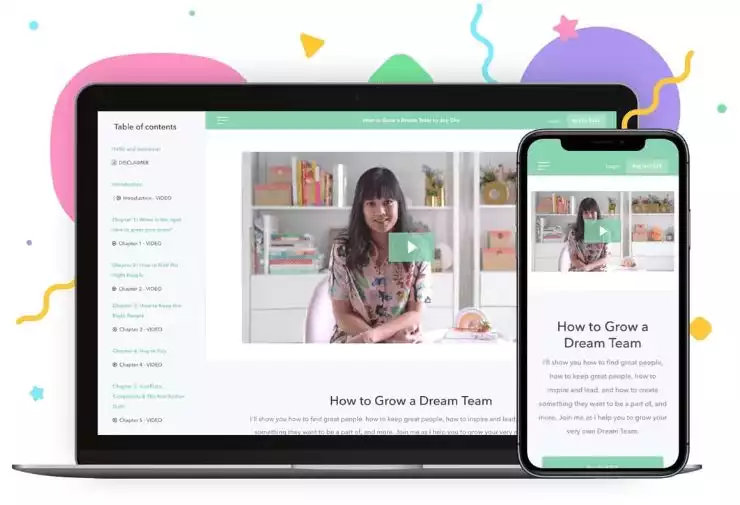 Podia IS Awesome!
I LOVE Podia. Here's why. It's simple to use . Fun. Works for courses, digital products, and memberships like a charm. It's going to be our FINALIST for 2021 Tools of the Year. Need I say more?
Free 14-Day Trial
We earn a commission if you click this link and make a purchase at no additional cost to you.
The Main Features of Podia
Host and sell online courses
Host and sell memberships
Mix and match page editor
Customizable layout
Mobile friendly
Live previews
Prelaunch courses
Drip course content
Upload any file type
Coupons
Multiple membership plans
Bundle products and memberships
Interact with members
Connect Facebook or Slack
Sell any type of digital downloads
Fast checkout
Email marketing
Send drip email campaigns
The Benefits of Using Podia
Super easy to start with, gets a quality storefront up quickly
Sell both online courses and memberships. You can even bundle your courses with your memberships to give visitors an extra reason to purchase from you
Offer free and paid memberships and different levels of paid membership with access to different content
Includes everything you need to run your online course and membership business (landing page, opt-in, etc…)
Includes email marketing software for no extra charge with no limit to the number of contacts you can have
No limit to the number of courses you can have
Easy to use page editor
Sell digital downloads of any file type
The Downsides to Using Podia
While the page builder is easy to use, and it's easy to reorder the elements of your page, it's difficult to completely customize your pages which may be a problem for anyone of has very specific brand requirements.
You will notice that most Podia storefront options look similar because the customization features are limited.
The other downside to using Podia is that although email marketing software is included, its features are limited, so if you are sending more sophisticated email sequences you may want to use a dedicated marketing automation email autoresponder like ActiveCampaign.
Teachable Review 2020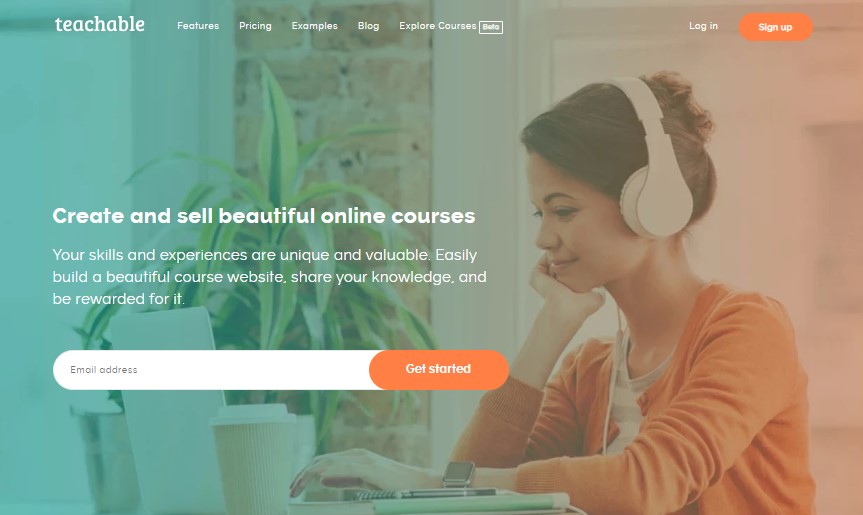 Teachable is a powerful yet easy to use online course building platform that lets you effortlessly create and sell beautiful online courses. It is one of the most popular course building platforms out there with over 68,000 instructors and over 18million students using the platform.
Teachable is really easy to use, and you can have your online school set up and running in a matter of hours. One of the best things about Teachable is that you can actually get started for free, so literally anyone can use this software with nothing to lose. It's a great option for anyone just starting out, as well as more advanced online course providers.
Your courses are guaranteed to look professional with Teachables user-friendly website builder. The user interface is intuitive to use, and the page builder is 'drag and drop' so anyone can use it, even with no previous experience.
If you want to make more advanced customizations that's no problem, you can dig into the code with the power editor! You have the option to create your courses in any format including PDF, video, image, text, audio, and you can directly import your content files from Dropbox, Google Drive, or OneDrive.
All pages are fully responsive, so your students will be able to view their content on desktop, mobile, or laptop so that they can keep learning on the go. When you start an account with Teachable you are given a free Teachable domain (yourname.teachable.com) but you can also easily add your own custom domain if you wish.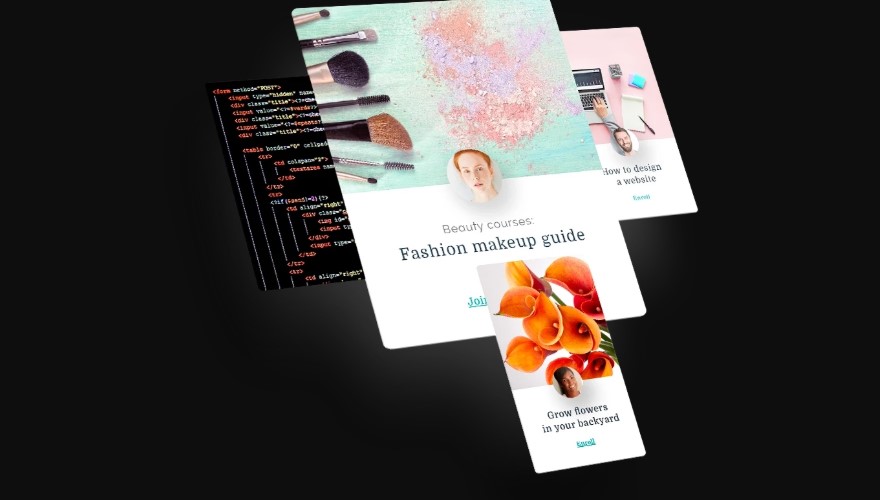 To create an engaging experience for your students you can include quizzes within your course, and you can offer certificates of completion for when a student completes their online course.
To ensure your students are taking in all the information you have provided you can enable course compliance on your courses so that students have to take lectures in a certain order, watch at least 90% of a video before skipping on, or pass a quiz at a certain score before progressing to the next level. You can also set a maximum number of attempts at the quiz, and you will be alerted when your students max out on this limit.
To help you understand your students and create a better online course in the future you can include feedback surveys and Google forms in your course material.
You can ensure that your students receive the right email communications from you by segmenting your student lists allowing you to send specifically targeted emails based on their previous actions.
When it comes to actually sell your courses there are lots of options and features to make this easy for both you and your students.
You can create coupons and promotions to incentivize sign-ups during a launch or pre-sale period for example, and there are advanced monthly pricing options too, so you can offer one-off payments, set up a payment plan, or subscription, and even offer your courses as a bundle for a separate price.
To boost sales you can also sell your courses through your own affiliate program, allowing you to make more sales, and scale your business while your affiliates do all the hard work of actually selling.
Teachable works with both Stripe and PayPal, so you can accept payments for your courses in over130 international currencies, and even accept multiple currencies for a single online course if you need to. You can integrate your school with almost any other application, including MailChimp integration, Aweber, Infusionsoft and any other marketing tool via Zapier integration.
Your teachable account comes with built-in easy to read reporting tools so you can always see exactly how your school is doing. The dashboard gives you a snapshot of signups and revenue across your selected time period, and you have access to important insights such as student completion rate by course type.
The Main Features of Teachable Online Course Platform
Create beautiful online courses
Create engaging multimedia lectures
Mobile and tablet compatible page layouts
Make advanced customizations with the power editor
High converting sales pages
Connect your own domain
Reach students in any language
Quizzes
Course completion certificates
Course compliance
Student feedback
Integrations (integrates with many third party tools)
Student list segmentation
Coupons and promotions
Advanced monthly pricing options
Affiliate program
Advanced reporting and insights
Analytics integrations
Multiple instructor support
SSL certificate
Live chat support for real time interaction
Instant updates
The Benefits of Using Teachable

It's very easy to create beautiful sales pages, and courses and pages are highly customizable
Create an engaging experience for your students by offering multimedia courses and including quizzes and live chat support to help them learn

Give your students a certificate upon completion of their course
Offer one-off payments as well as payment plans and subscriptions
Bundle your courses to offer added value to your students
Sell your courses through affiliates
There is a completely free plan available with no credit card required, so you can test the waters if you are new to course creation without any commitment
Very intuitive and easy to use, even for beginners
Very trustworthy and secure platform to use
The Downsides to Using Teachable
The free plan on Teachable is quite limited and does not offer all features, so if you want to use advanced features or sell through affiliates then you will want to go for a paid plan straight away.
There is no email autoresponder included with Teachable, although you can easily connect your favorite email marketing software.
Podia vs Teachable Pricing Plans Compared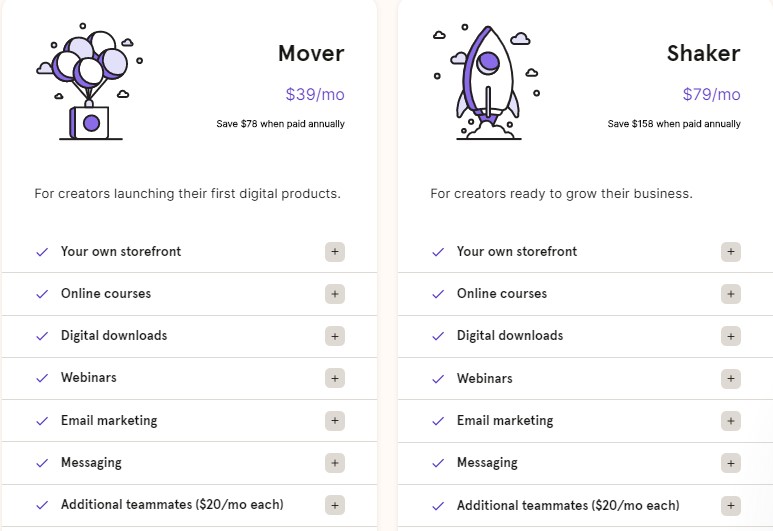 The Podia course platform has two monthly (or annual) pricing plans: 'Mover' and 'Shaker'. The pricing plans are really simple to understand, and with either plan there are no limits to the number of courses you can create the number of students you can have or the number of emails you can send.
The 'Mover' plan is $39/month and includes online courses, digital downloads, email marketing, zero transaction fees (unlimited transaction), unlimited everything, and 24/7 customer support and customer service. The 'Shaker' plan is $79/month and includes everything from the Mover plan, as well as Memberships, embedded checkout, affiliate marketing, third party code, and free migration.
If you would like to give Podia a try and check out all the features available, they offer a 14-day free trial which you can sign up for here.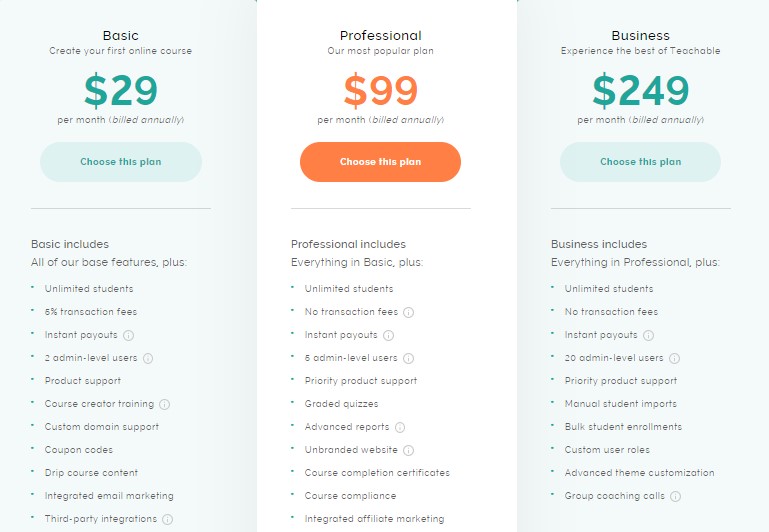 The Teachable course platform offers a free plan, and three different paid plans. The free plan is quite basic, but it does include integrated payment processing, student management, lecture comments and live chat support, and basic plan quizzes, so it's an ideal option for anyone starting out. Because this plan is free the transaction fees are higher, at $1 + 10% per paid course (there is no charge or commission on free courses) and you can only have 10 students.
The 'Basic'plan costs $29 per month and include unlimited students, 5% transaction fees, instant payouts, 2 admin-level users, coupon codes, drip course content, integrates affiliate marketing, integrated email marketing, and third-party integrations.
The Professional plan is the most popular plan and costs $79/month. This plan includes everything in the basic plan as well as zero transaction fees, 5 admin-level users, graded quizzes, advanced theme customization, advanced reports, unbranded website, course completion certificates, and course compliance.
Finally, there is the 'Business' plan. This plan is suited to very large organizations, as it allows 100 admin-level users, bulk student enrollment, and custom user roles. It includes all of the features from the Professional plan, as well as priority product support (customer support).
If you would like to give Teachable a test drive, you can try out their forever free plan here.
Our Pick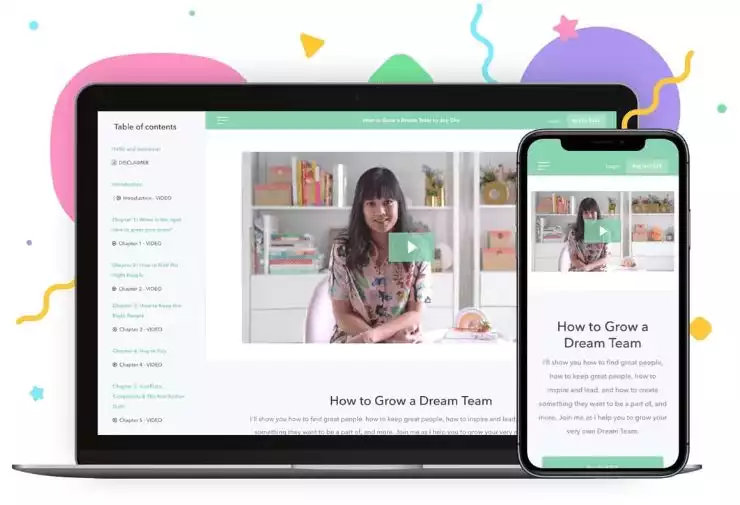 Podia IS Awesome!
I LOVE Podia. Here's why. It's simple to use . Fun. Works for courses, digital products, and memberships like a charm. It's going to be our FINALIST for 2021 Tools of the Year. Need I say more?
Free 14-Day Trial
We earn a commission if you click this link and make a purchase at no additional cost to you.
FAQs About Podia vs Teachable Online Course Platform
Do I have to pay any fees for a free course on Teachable?
No, there are no fees to pay on free courses that you offer your students. You can offer free courses on either Teachable's free or paid plans.
Do I need to pay an extra fee for hosting with Teachable?
No, there are no other fees to pay. Your courses and sales pages are hosted directly on Teachable so you don't need to pay any additional hosting fees.
Can I use Podia for my website?
Yes, lots of people use Podia to manage and run their entire business. You can add additional pages like and "About" page, FAQ's, landing pages (all-in-one landing page builder) social media links, and any other information that you would like to include on your primary website.
Can I build a sales funnel with Podia?
You can build an entire sales funnel with Podia, without the need for any other software. You can find more information about how to build a sales funnel in Podia here.
How do I pay my affiliates with Teachable?
You can use "Back Office" to pay your course affiliates automatically and create reports of your sales and payouts. If you would like to do this manually then you can simply disable the back-office features and do it yourself.
Do I own all the data on my Teachable account?
Yes, you own all your data and course content. You are free to download it any time should you wish to move to another platform in the future, and you can cancel your plan at any time.
Our Verdict: Podia vs Teachable
After looking at both Podia vs Teachable in great detail, it's clear to see that either of these platforms would be a great choice for anyone running an online course business. They are similarly priced for the features they offer, but there are a few key differences that may mean one of these platforms will suit you better than the other.
Firstly, Podia offers memberships as well as courses, for the same price as Teachable's professional plan, which is a big bonus if you actually need memberships as part of your business. This could potentially save you lots of money from purchasing separate membership software, as it's all included in with Podia.
The other thing Podia includes is an email marketing software, which allows you to easily get in touch with your students and grow your email list with no extra costs involved for you.
Bottom Line: So in conclusion, if it's the great value you're looking for then Podia is the obvious choice for you. You can run your entire course and membership business with this software for one simple monthly fee, so overall it's better value for money than Teachable.

Our Pick

Podia IS Awesome!

I LOVE Podia. Here's why. It's simple to use . Fun. Works for courses, digital products, and memberships like a charm. It's going to be our FINALIST for 2021 Tools of the Year. Need I say more?

Free 14-Day Trial

We earn a commission if you click this link and make a purchase at no additional cost to you.

Once you start to look past value for money though, there are several benefits to using Teachable that you simply don't get with Podia.
Teachable offers a better overall learning experience for your more traditional students, offering features like graded quizzes, course completion certificates, and course compliance, which means your students are likely to have a higher success rate overall as they are given the push they need to complete the course.
So, if the value for money and the ability to offer memberships appeals to you then give Podia a try, it's a great tool for selling memberships, courses, and digital product offerings online. Podia offers a free 14-day trial so you can try all the features before committing.
BUT… If a more traditional learning experience is important to you, and you want to create an online course business, then Teachable is the platform for you.
Teachable gives you all the tools you need to create an engaging learning experience for your students. It is also highly customizable, so you can make your Teachable school match your company branding perfectly. It's easy to build your sales pages and courses so there will be no confusing learning curve as you get started. Overall Teachable will give you a stress-free online course business that you can be proud of.
Sign up for Teachable's free plan here so you can have a look around and see if this is the right tool for you.
Further Reading on Course Builder Platforms & Online Course Creator Tools