Last Updated on June 1, 2023 by Ewen Finser
Online education is becoming the new normal. Not only that, but anyone can be an instructor with online courses! Why is online learning such a huge industry?
Online courses are convenient — students can access your courses anytime and from anywhere, as long as they have an internet connection.
Are you ready to teach online courses? The best place to start is by using a learning management system (LMS platform). Two platforms are taking over the whole industry: Teachable and LearnDash. But which one should you choose?
Bottom Line Up Front Summary: Both of these platforms are excellent options. If you are already using or most familiar with WordPress, go with LearnDash here. It's more customizable and user-friendly for WordPress centric creators. That said, if you haven't worked with WordPress (or just don't like it), the easier to use out of the box system is definitely Teachable here.
Here, we offer a comparison of both products and will recommend which one you should use.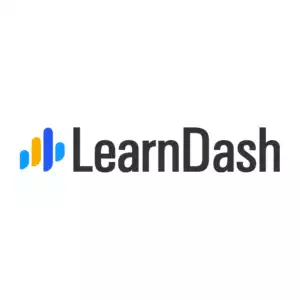 WordPress LMS Plugin by LearnDash
The most trusted WordPress LMS plugin, created by learning industry professionals with Fortune 500 experience. Transform your site in less than 5 minutes.
Get LearnDash
We earn a commission if you click this link and make a purchase at no additional cost to you.
Main Differences Between Teachable vs LearnDash
The main differences between Teachable vs LearnDash are:
Teachable focuses on building and selling online courses, whereas LearnDash focuses on online course creation.
Teachable is its own separate platform, whereas LearnDash is an LMS plugin for WordPress.
Teachable doesn't offer learning assessments, whereasLearnDash does.
Teachable doesn't support integrations, whereas LearnDash does support many.
Things to Keep in Mind
You may need third-party marketing tools to support some of the functions required by these platforms
You can sell your courses with both platforms
Both platforms include e-commerce functionality
More Information About Both Platforms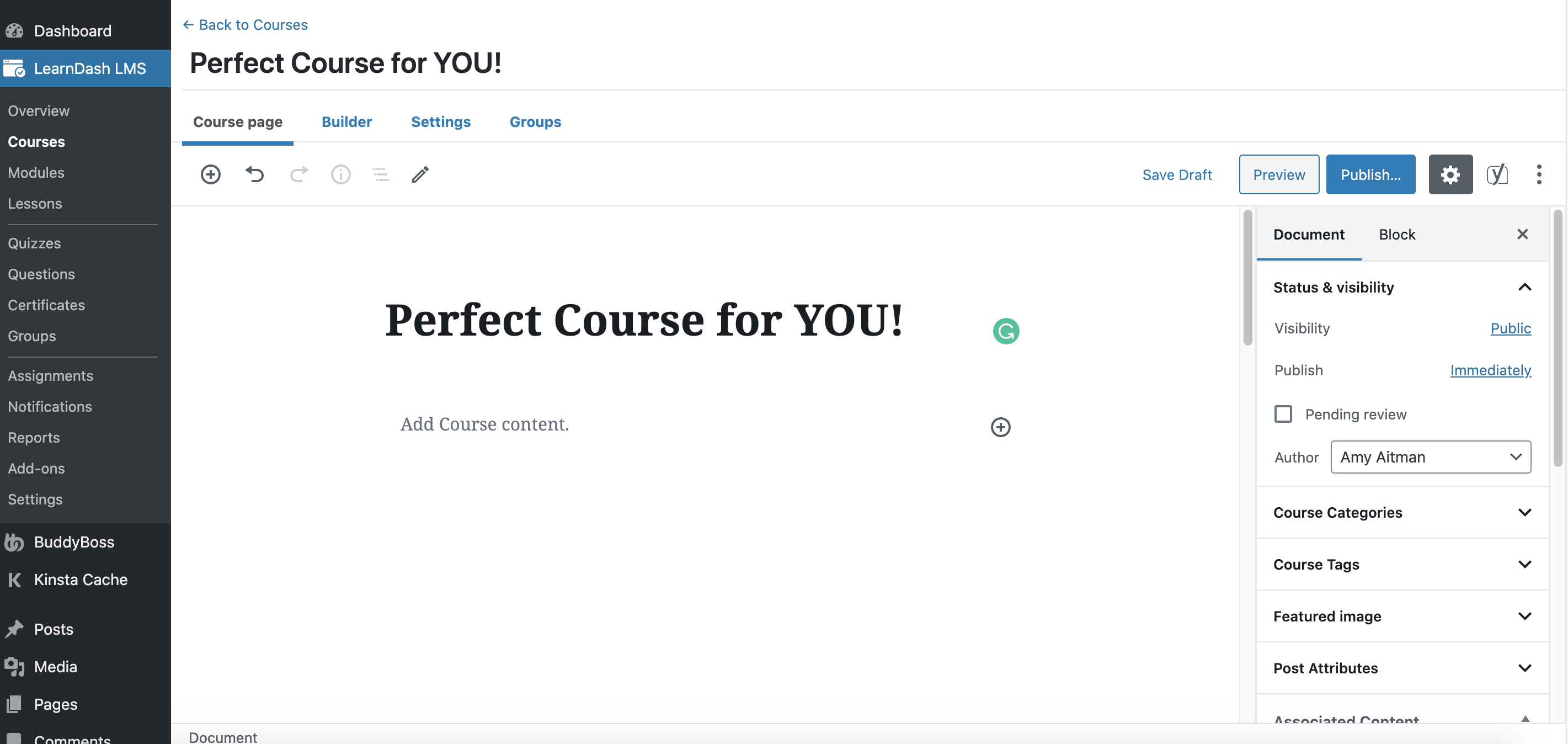 LearnDash and Teachable have core differences as an online course platform — LearnDash is a WordPress plugin and Teachable is its own platform. This means certain audience members may benefit from one over the other in this regard.
For example, if you want to host a website and your course on the same system, the LearnDash plugin is your best option.
Hosting a website for your course has many benefits; you can write blogs and produce other free content while keeping your course as a paid option. If you're familiar with WordPress site management, you'll be glad to know that LearnDash's content creation platform looks similar to WordPress' (almost like a WordPress theme).
Since LearnDash is powered on WordPress, you also have a wide variety of options if you want to host other functions such as marketing, different membership levels, and payments (payment gateway). You can find these options on the dashboard.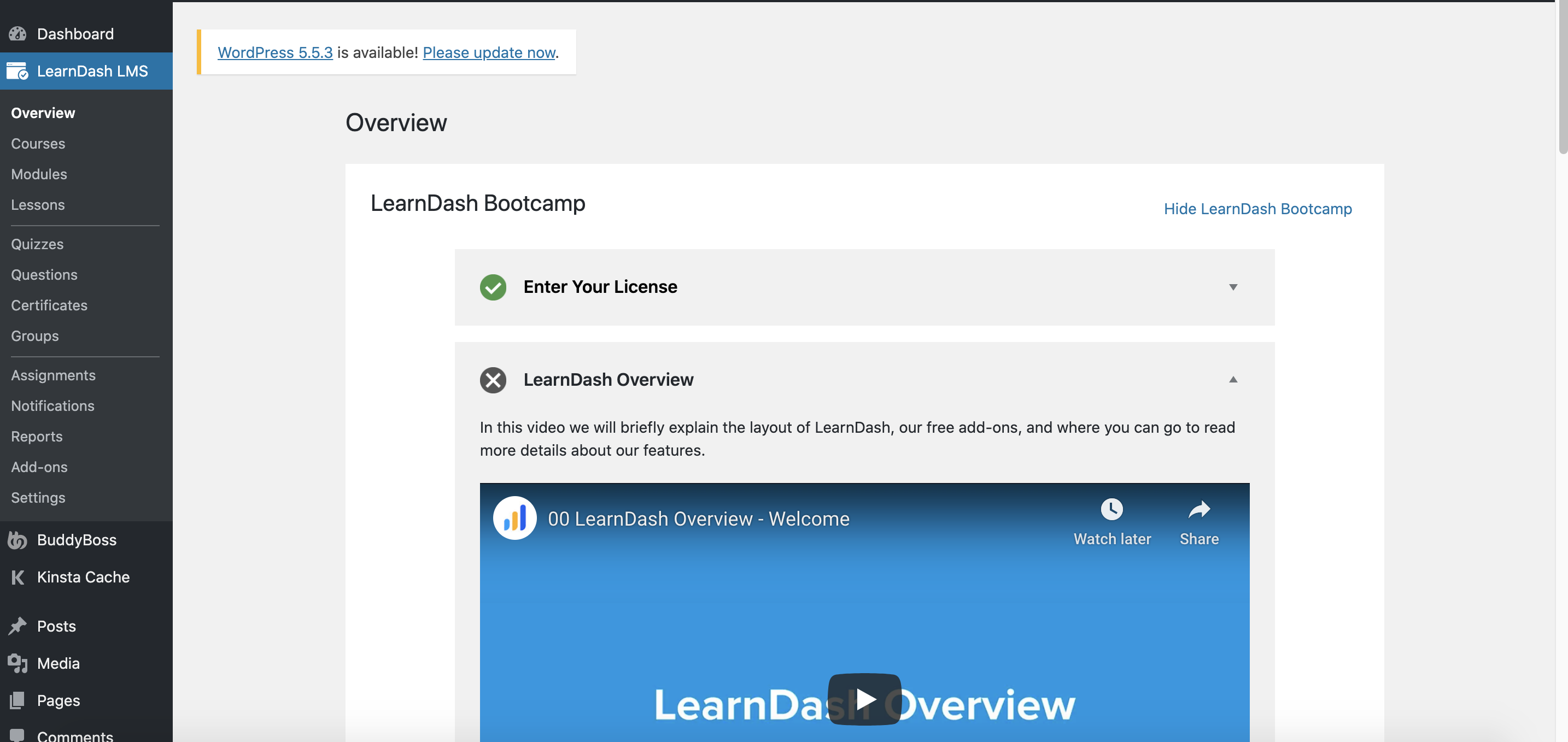 Teachable is the place where serious course creators should try. You can create and publish courses, accept payments, and you can even host different marketing campaigns such as email newsletters. You can also navigate these functions on their dashboard.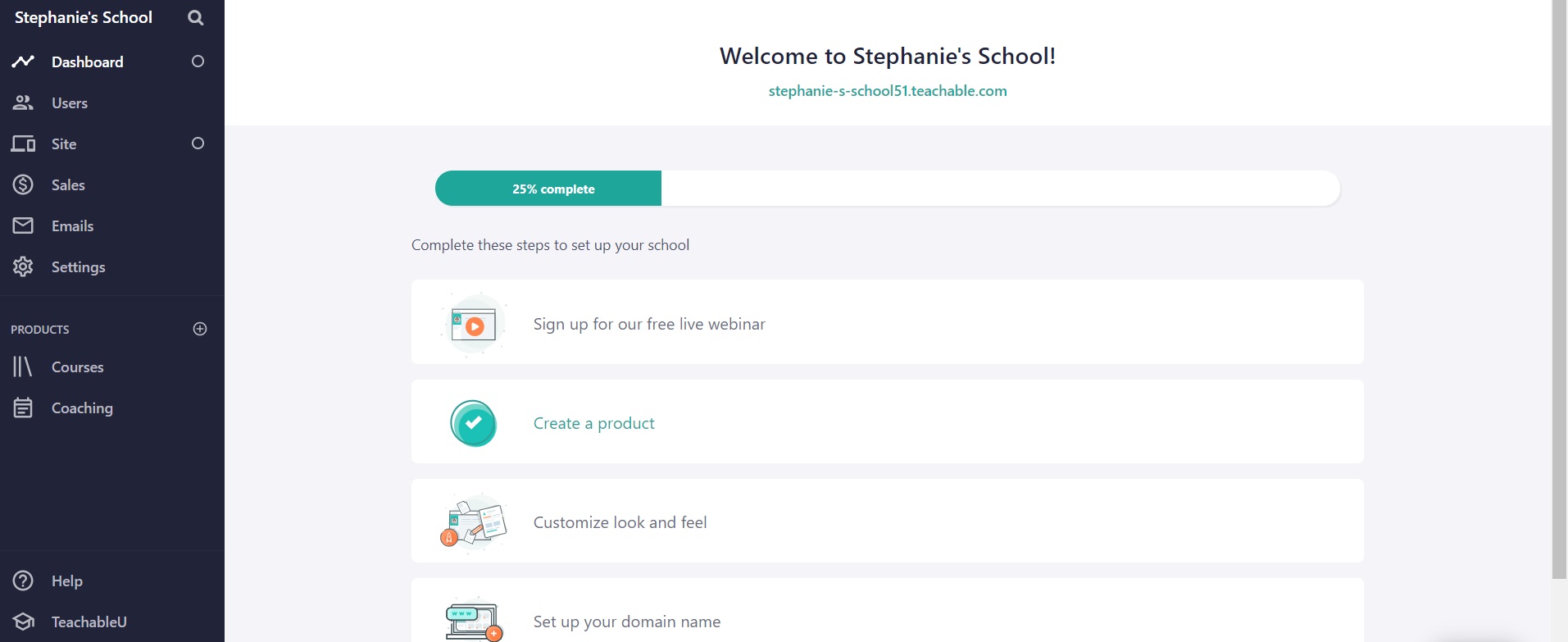 While this isn't a good option if you're also looking for content creation, Teachable is a great platform for course creators — especially new ones.
Teachable has multiple program options: Basic, Pro, and Business. We'll talk more about these options in other sections.
Each platform is different and both appeal to different course creators. Because of this fact, both platforms are tied in this section.
Customer Support
What if you need to contact customer support? Which platform has the best support options?
The support you receive from Teachable depends on the plan you purchase. Email support is available for all plans and everyone can access their education library TeachableU. When signing up, all users will be able to watch a webinar that shows you the product and But live chat is also available for those with Pro and Business accounts.
LearnDash only offers email support; however, their email support has restricted times — Monday-Friday and from 7AM – 4 PM.
Both companies have pretty poor customer service options, but Teachable definitely offers more than LearnDash. They win this round.
Marketing Capabilities
Marketing is the key to course success. Do these platforms have integrated marketing functions?
If you rely heavily on email, you'll appreciate Teachable. They have their own email automation functions to communicate with users within the platform and send your newsletters. As an alternative, you can integrate Teachable with your preferred email service provider using custom APIs or a third-party tool such as Zapier.
Teachable also supports other integrations. For example, you can integrate Facebook Pixels and Google Analytics to track your performance on the web and on social media. Teachable is also unique because you can brand your courses, adding your logo and other personalized details.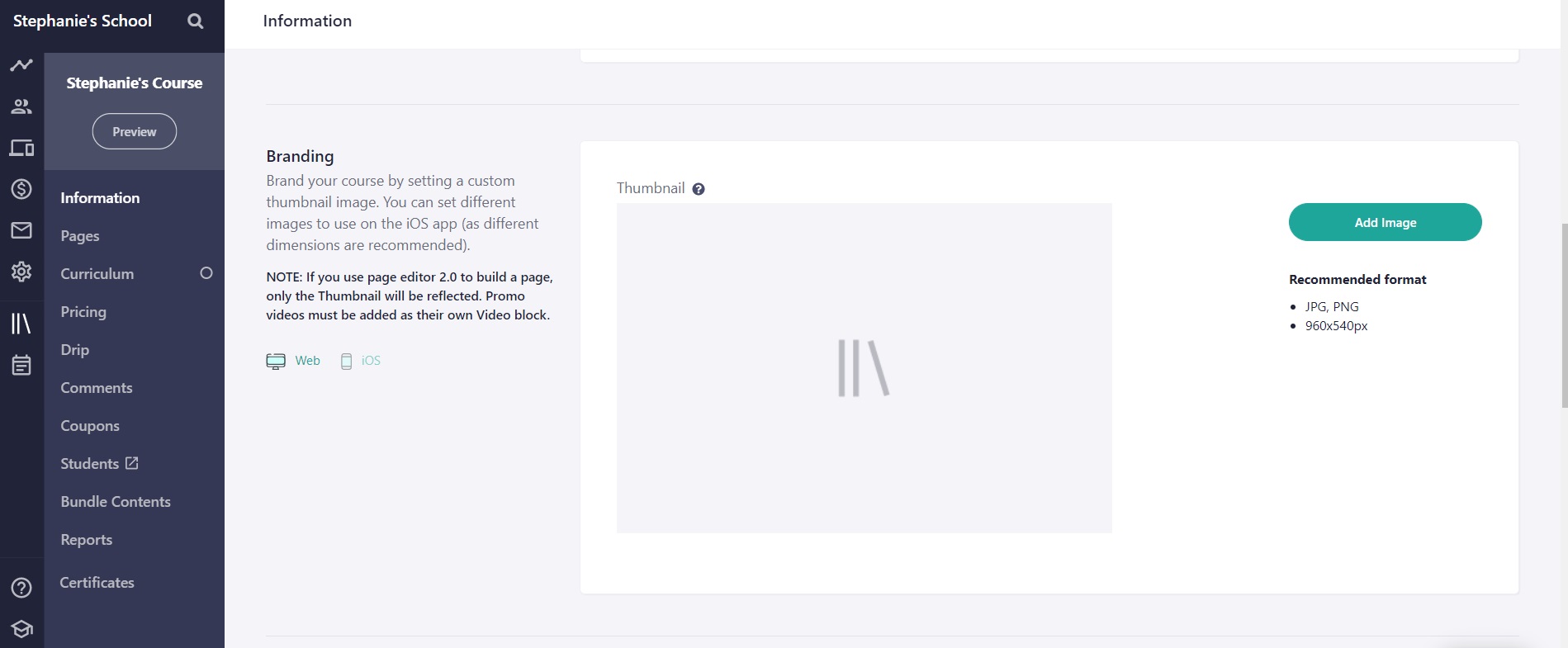 Teachable has some weaknesses in this department. For example, this isn't the ideal option if you focus heavily on content creation. They also don't have the option to integrate your CRM, though you can contact their customer support and inquire about additional integrations.
LearnDash is convenient since it's a WordPress plugin. You get the world's most powerful CMS system on WordPress, where you can create content and optimize your website for SEO.
But LearnDash offers other marketing functions. For example, if you have a CRM, you can integrate your existing CRM to LearnDash by using Zapier or another third-party tool.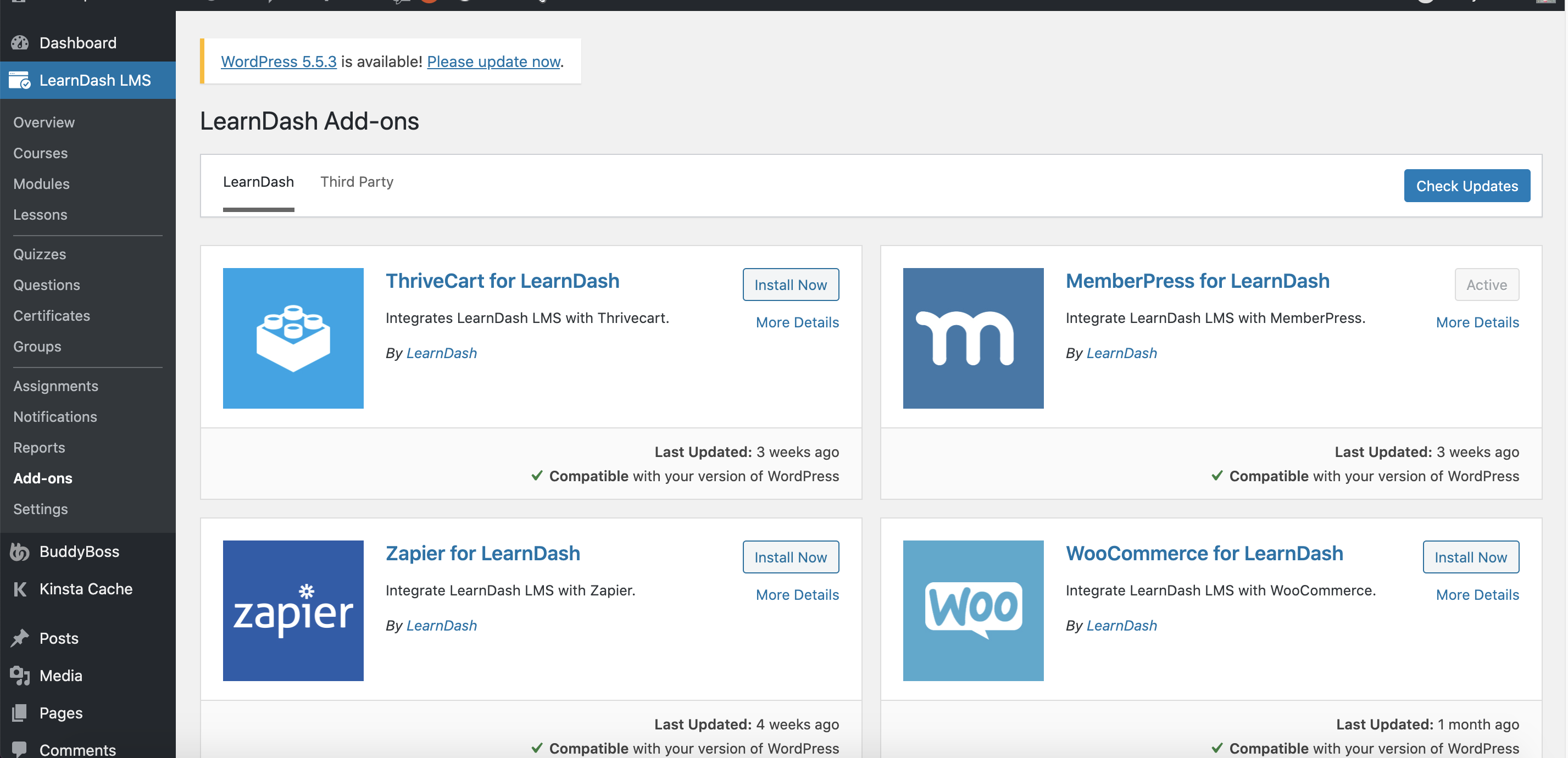 LearnDash also supports additional integrations. For example, you can handle email communication with their notifications add-on or you can integrate MailChimp or an existing email automation program. You can also integrate your WordPress website with Google Analytics. You can also add Facebook Pixel to any WordPress website.
LearnDash definitely supports more marketing functions than Teachable. Teachable is ideal if you only want to host email marketing campaigns and track your performance on the web and social media.
Learning Reinforcements
Learning reinforcements, such as quizzes and other assessments, are essential for both instructors and students. Which platform offers the best reinforcements?
LearnDash supports quizzes at any level of the course. They also have a variety of assessments you can choose from, including:
Timed assessments
Multiple choice quizzes
Submit any type of media
And more
LearnDash's platform is also more user-friendly than Teachable. You can add course content, quizzes, and other reinforcements on one page.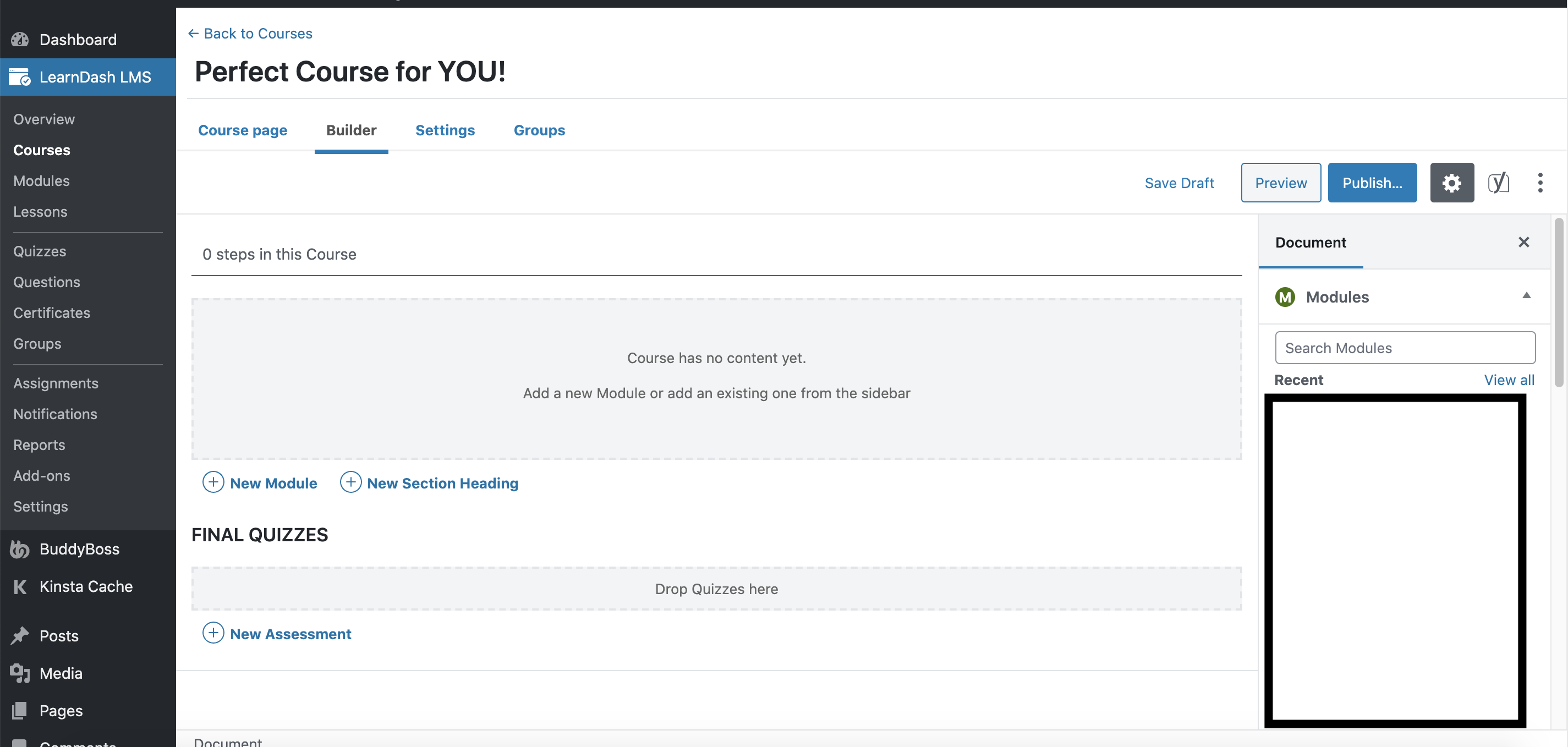 LearnDash also supports homework assignments after each lesson (if desired). You have access to a grade book where you can track student homework and quiz success. You can also track student progress directly on the platform. Instructors can also issue report cards and they include certificates to reward students after course completion.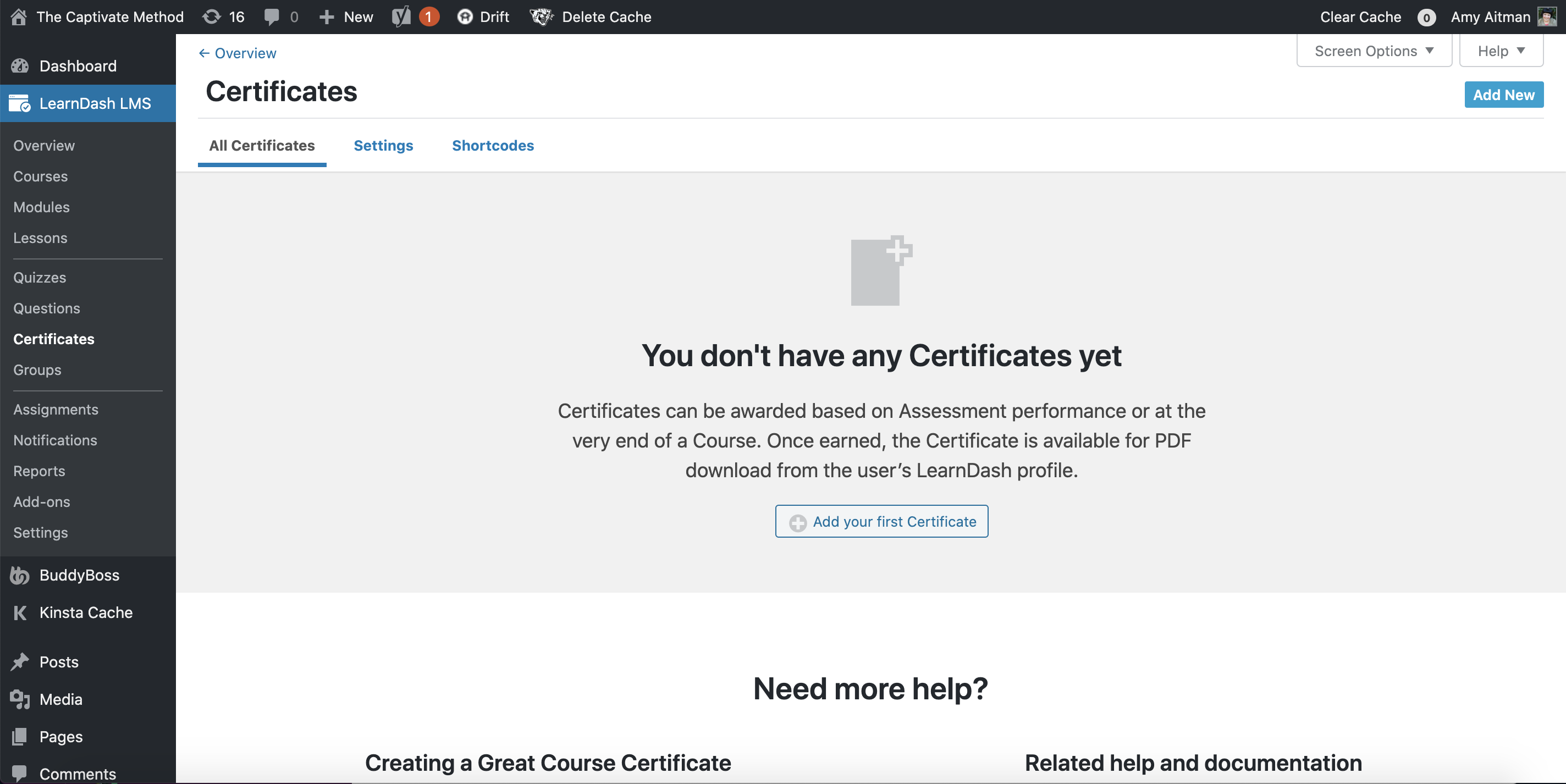 Teachable also offers assessments, but they don't offer as many options as LearnDash. For quizzes, you can either opt for true/false or multiple choice. You can also give homework assignments. While Teachable offers certificates, they don't offer comprehensive grade books or the option to hand out report cards.
You can access these reinforcements in the curriculum section of your course.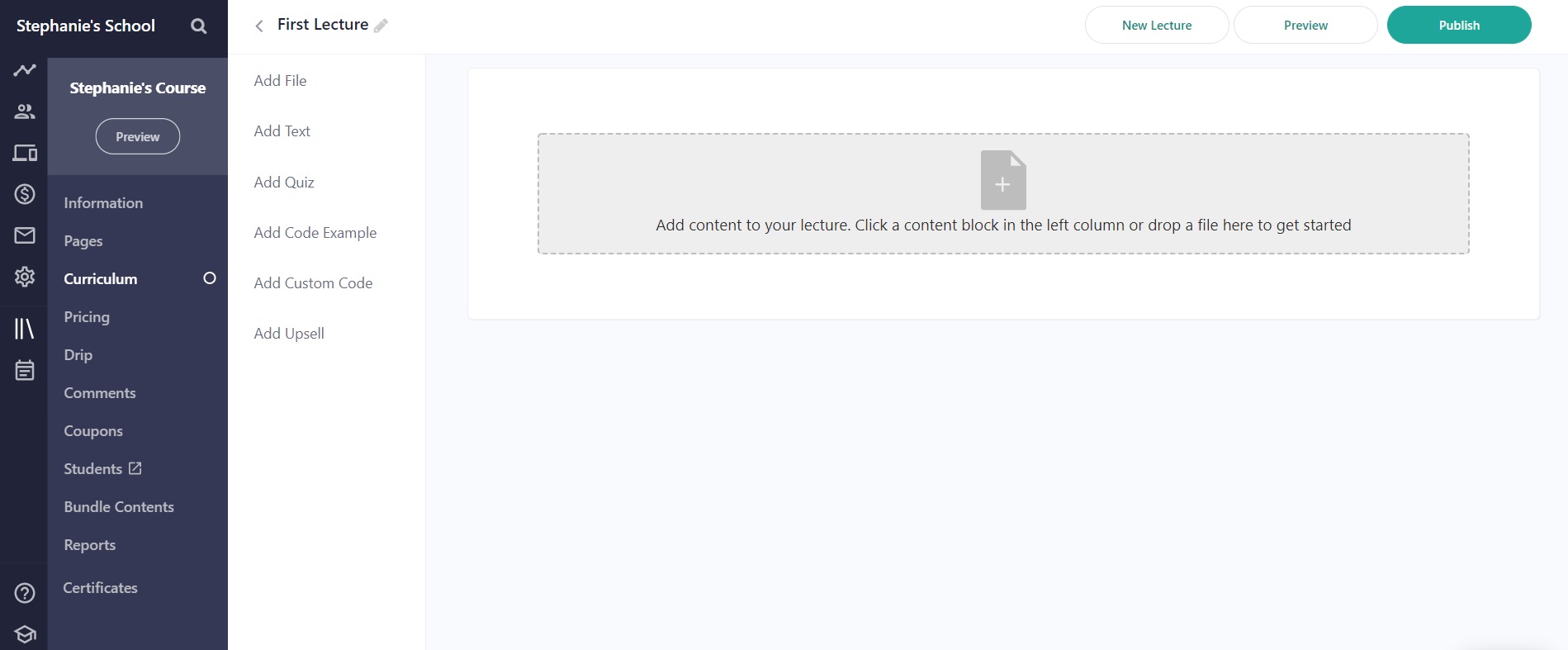 While Teachable offers powerful assessment options, they don't compare to LearnDash. That's why LearnDash wins this round.
Design
Which platform has the most user-friendly design? First, let's look at customization.
Since LearnDash is a WordPress plugin, there's a huge selection of UI/UX as well as responsive themes you can choose from.
If you choose to custom make your own course, LearnDash has an easy drag-and-drop builder for those with limited design skills (though this tool is lacking in flexibility). Not only that, but LearnDash can integrate with your existing theme. You can also code your own theme if you prefer.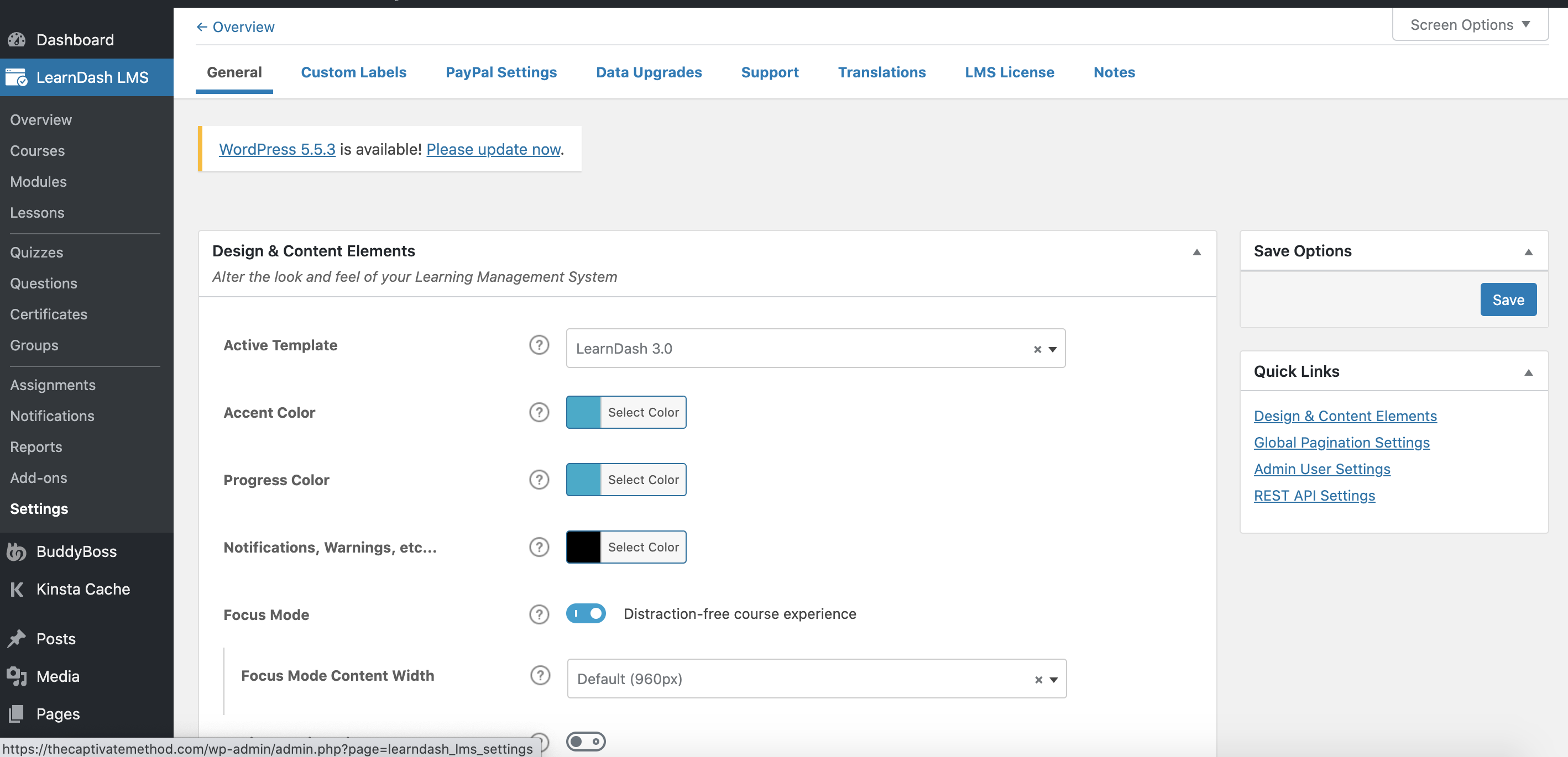 Teachable offers different themes, but your options depend on your plan.
The Basic plan has limited theme options. Not only that but if you choose the Basic plan, the Teachable watermark will be on your course. The Pro and Business plan include page builders to customize your course. You can also code your own course if desired.
While you can choose and create your own course design with both platforms, LearnDash offers more options and flexibility for an affordable price. For Teachable, you need to invest in the expensive plans to truly customize your course (or to at least get the Teachable watermark off of your course).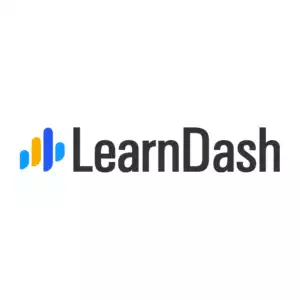 WordPress LMS Plugin by LearnDash
The most trusted WordPress LMS plugin, created by learning industry professionals with Fortune 500 experience. Transform your site in less than 5 minutes.
Get LearnDash
We earn a commission if you click this link and make a purchase at no additional cost to you.
FAQs
Question: What Is an LMS?
Answer: A learning management system (LMS) is a software program where you can create and host online courses. LMS services, such as the two we're reviewing, allow instructors to create, administer, report, track, deliver and even automate online courses.
Question: How Much Does Teachable and LearnDash Cost?
Answer: Teachable has three different pricing tiers and offers both annual and monthly pricing:
Basic: $29/month (annual) and $39/month (monthly)
Pro: $99/month (annual) and $119/month (monthly)
Business: $249/month (annual) and $299/month (monthly)
LearnDash also offers three pricing tiers and their pricing is annual. The prices are:
Basic: $199
Plus: $229
Pro: $329
LearnDash is definitely the cheapest option of the two. But it's important to note that LearnDash doesn't offer a free trial while Teachable offers a 14-day free trial for their Professional plan (not for their Basic and Business plans).
Question: Are There Any Other LMS Options?
Question: Who Should Use LMS Platforms?
Answer: Anyone who wants to create online courses will benefit from using an LMS for course creation. While indie instructors are some of the biggest consumers, workplaces are also using LMS platforms for their employee training.
Question: Do These Platforms Take a Percentage of Your Earnings?
Answer: Teachable takes 5% of your paid courses on the Basic plan. They don't take out any earnings for the Pro and Business plans. It's unclear is LearnDash takes a percentage from your courses or not.
Teachable vs LearnDash: The Final Verdict
The LearnDash course creation platform definitely wins this round. Not only are they more affordable but they offer more in terms of marketing, integrations, design, and more learning reinforcements. They do lose points for not offering a free trial and for their limited customer support options, but LearnDash definitely offers more for your money.
That's not to say no instructor should choose Teachable. LearnDash is convenient for instructors who already have a WordPress website. If you want to build a course from the ground up, Teachable may be the best option for you.
Want to learn more about building courses? We offer a course platform guide here!
Further Reading on Course Creator LMS System Options & Course Builder Tools: