Last Updated on June 1, 2023 by Ewen Finser
If you're trying to find the best course-building platform for WordPress, you've probably come across LifterLMS. It's a WordPress plugin that enables users to design, publish, and sell online courses and website memberships. The question is – is LifterLMS any good? Is it easy to use for both course creators and students? And is it worth trying out? Well, this is one of the things we will cover in this LifterLMS Review.
Here's the bottom line up front: LifterLMS offers some impressive features, especially for students. The social media-style communication tools for students are ideal for boosting engagement, and it's designed to be easy to use from a creator's perspective, too. The downside is that it's pretty expensive if you want to unlock some of the more interesting features.
Keep reading to find out more – we've tested LifterLMS ourselves, so you can have a read and see if you think it's the right option for you! We've also included some frequently asked questions and alternative platforms to take a look at.
Let's go!
What is LifterLMS?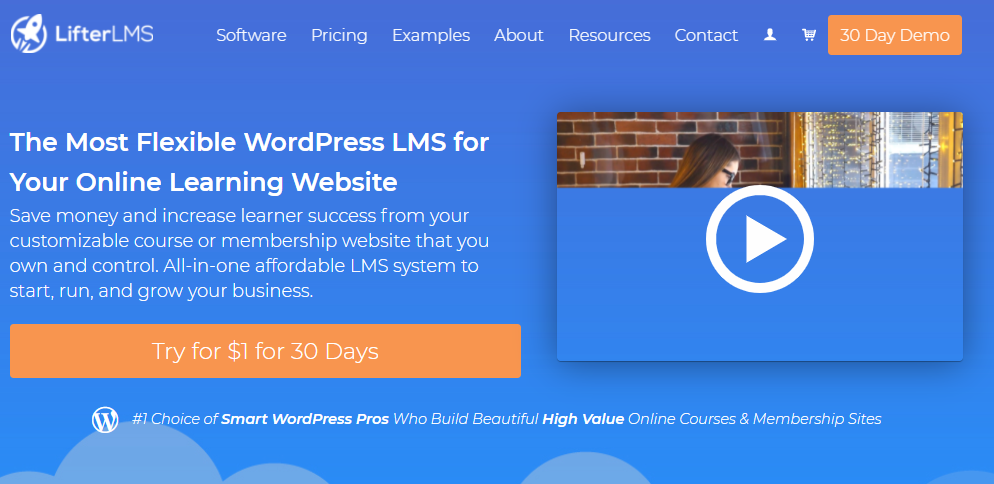 LifterLMS is a Learning Management System plugin for WordPress. It allows you to create interesting, varied courses and membership sites for your online course. Students can track their progress, earn badges and certificates, and connect with others in social-media-style posts and messages.
It was launched in 2014 and is ideally suited for any WordPress users wanting to create in-depth, creative courses for students. It's also suitable for those wanting to create membership sites with some content locked for paying members.
The Pros and Cons of LifterLMS
Let's take a look at what we like about LifterLMS, as well as what we think could be improved.
Pros
Offers a demo for $1, so you can try-before-you-buy
Course creation is simple
Easy to create membership sites with exclusive content
Students can connect
Plenty of add-ons available so you can add more content for students
Cons
The bundles can get pretty pricey if you want to unlock more features for multiple courses
LifterLMS – the Main Features
LifterLMS has a lot of tools and add-ons to look at – let's take a look in more detail.
User Experience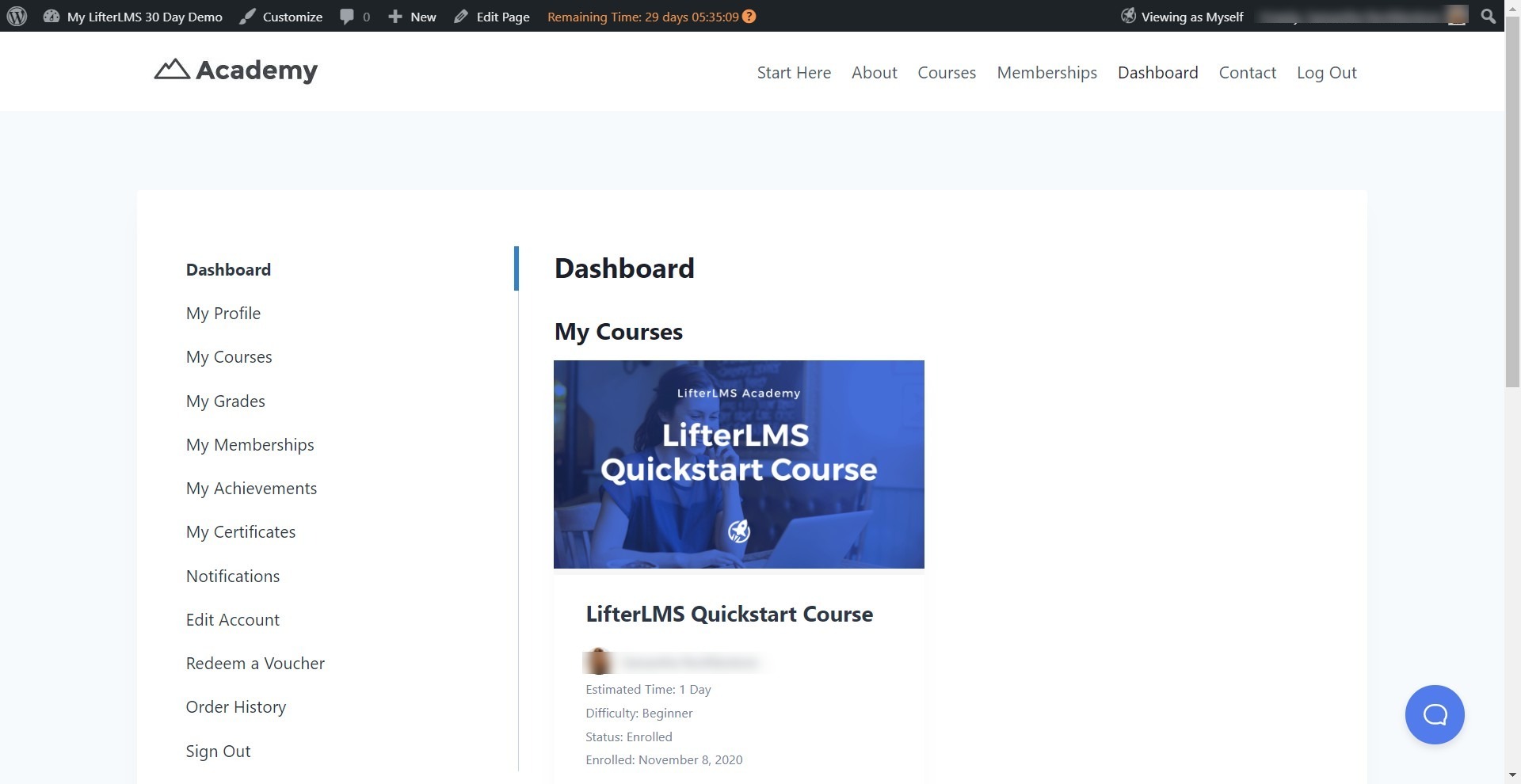 The signup process is simple, and you can sign up for a free 30-day demo for $1.
Generally, we found it to be fairly easy to use although it does feel a bit overwhelming at first. The support is good though, with plenty of tutorials and videos to help point you in the right direction. You don't need to have a WordPress account yet to use the demo, so if you're undecided on whether to go for WordPress or not, you can still get a feel for how LifterLMS works.
Course Creation
The course builder is easy to use: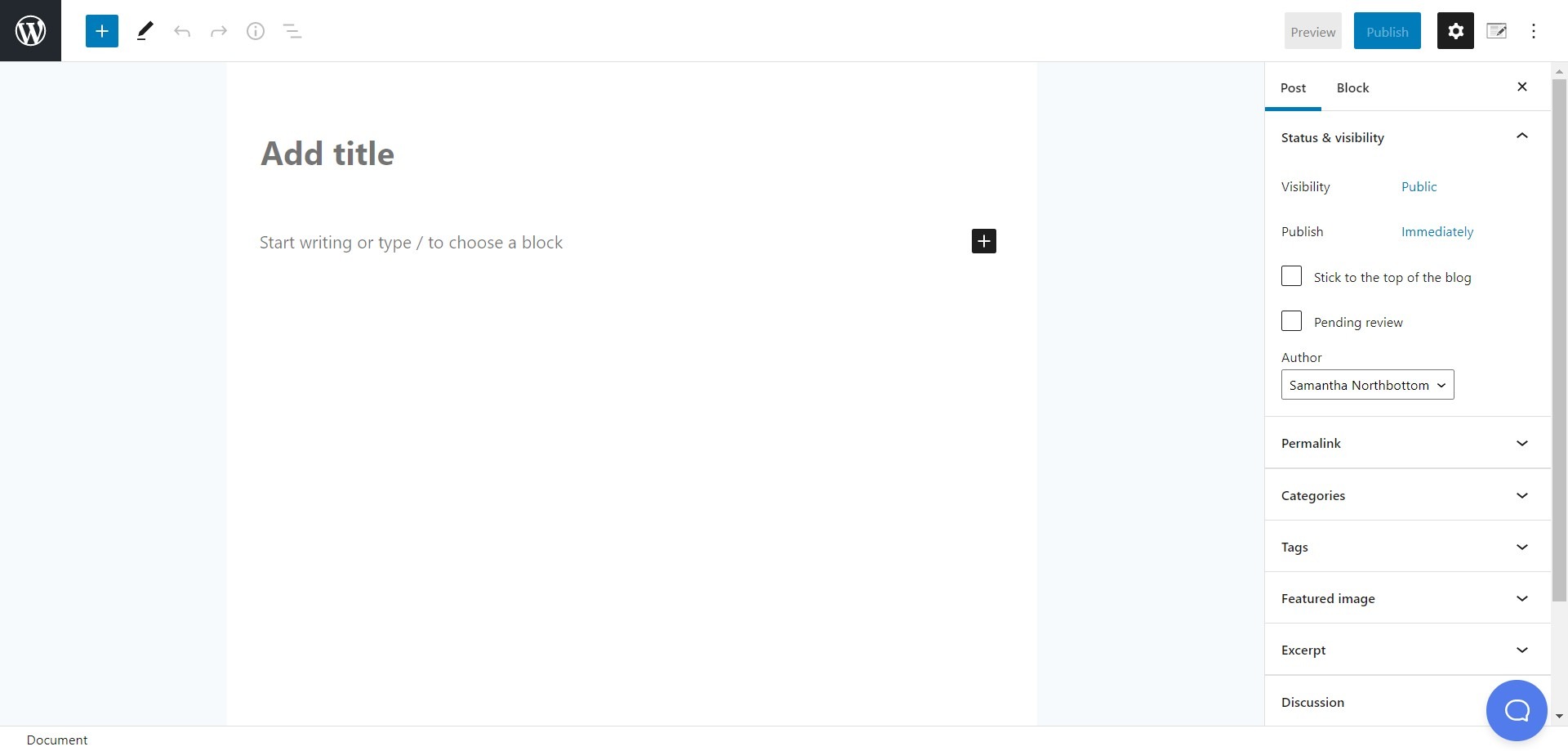 You can add blocks of content, which can include:
Video
Audio
Text
Images
Quizzes (with or without timers)
Downloadable content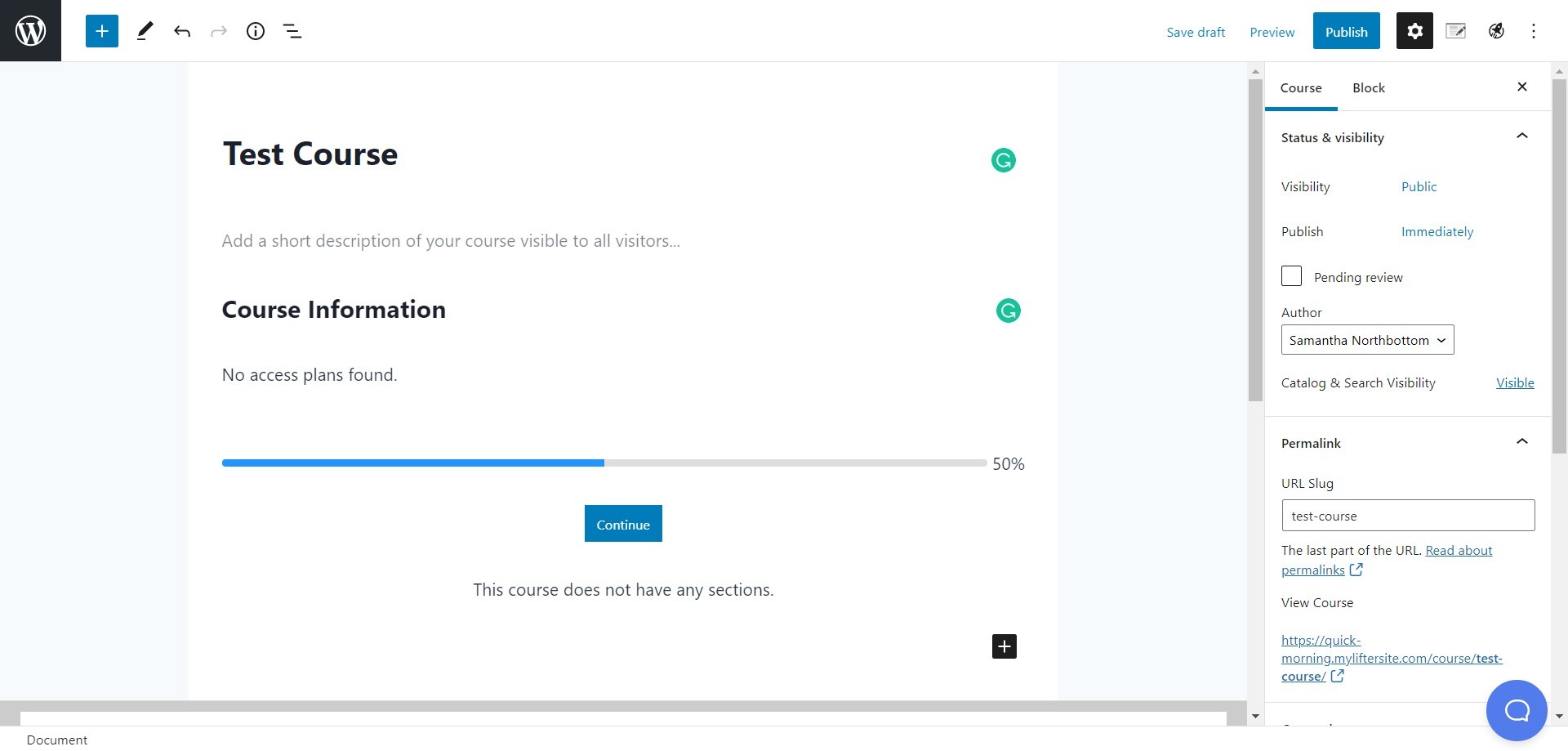 You can also play around with fonts, text size, colors, and so on.
You can make more lessons available over time for your students, helping them to focus on the stage they're currently completing. You can have course prerequisites (for example, you can require the completion of a certain lesson or course before you can unlock the next one).
If you like, you can create a multi-instructor platform, assigning multiple instructors to a course. If you have courses on another platform, you can import them into LifterLMS, and you can export your courses too.
LifterLMS offers royalty-free certificate backgrounds and achievement badges, so you don't have to design them yourself from scratch.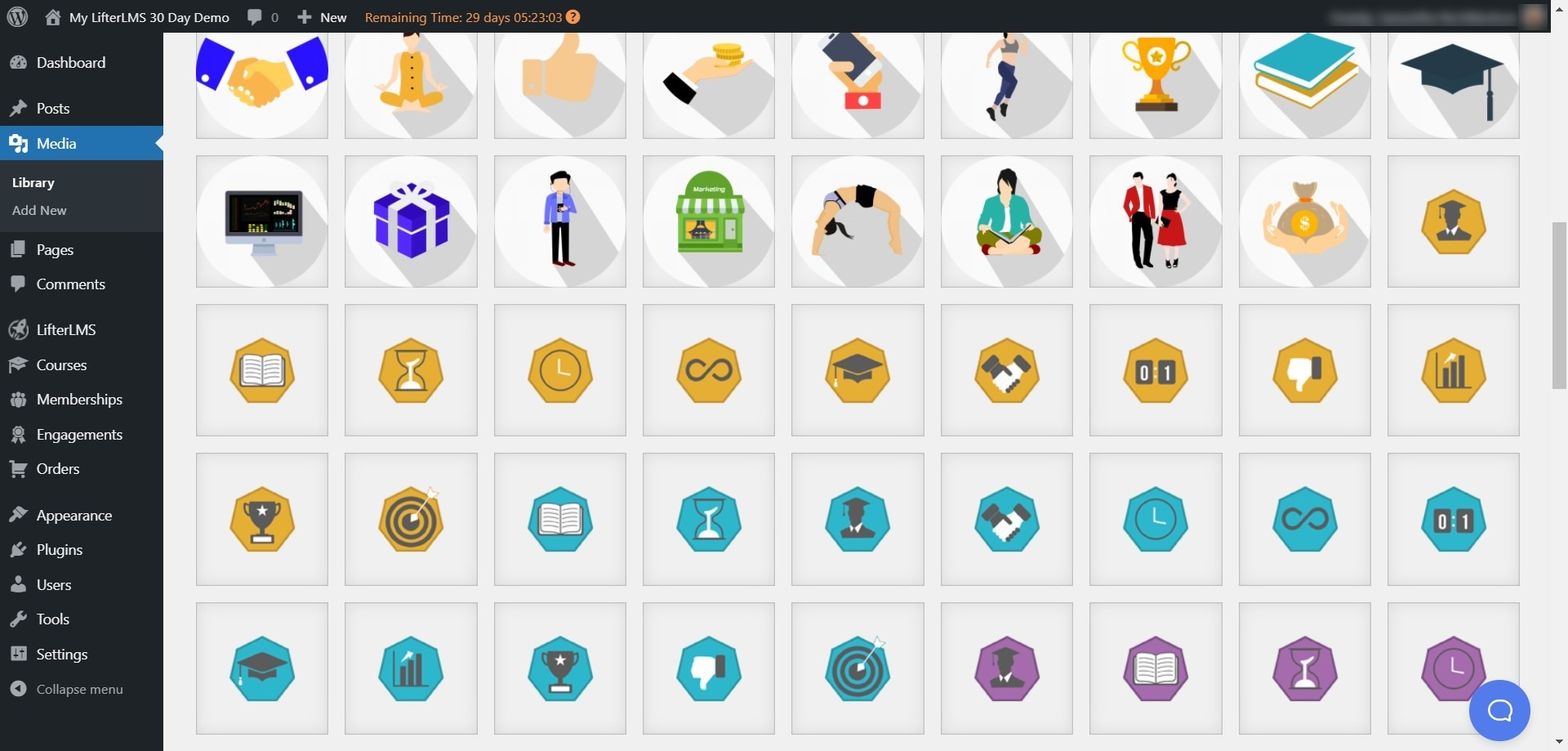 You can also collect course reviews. This is a great way to encourage potential new students to join you.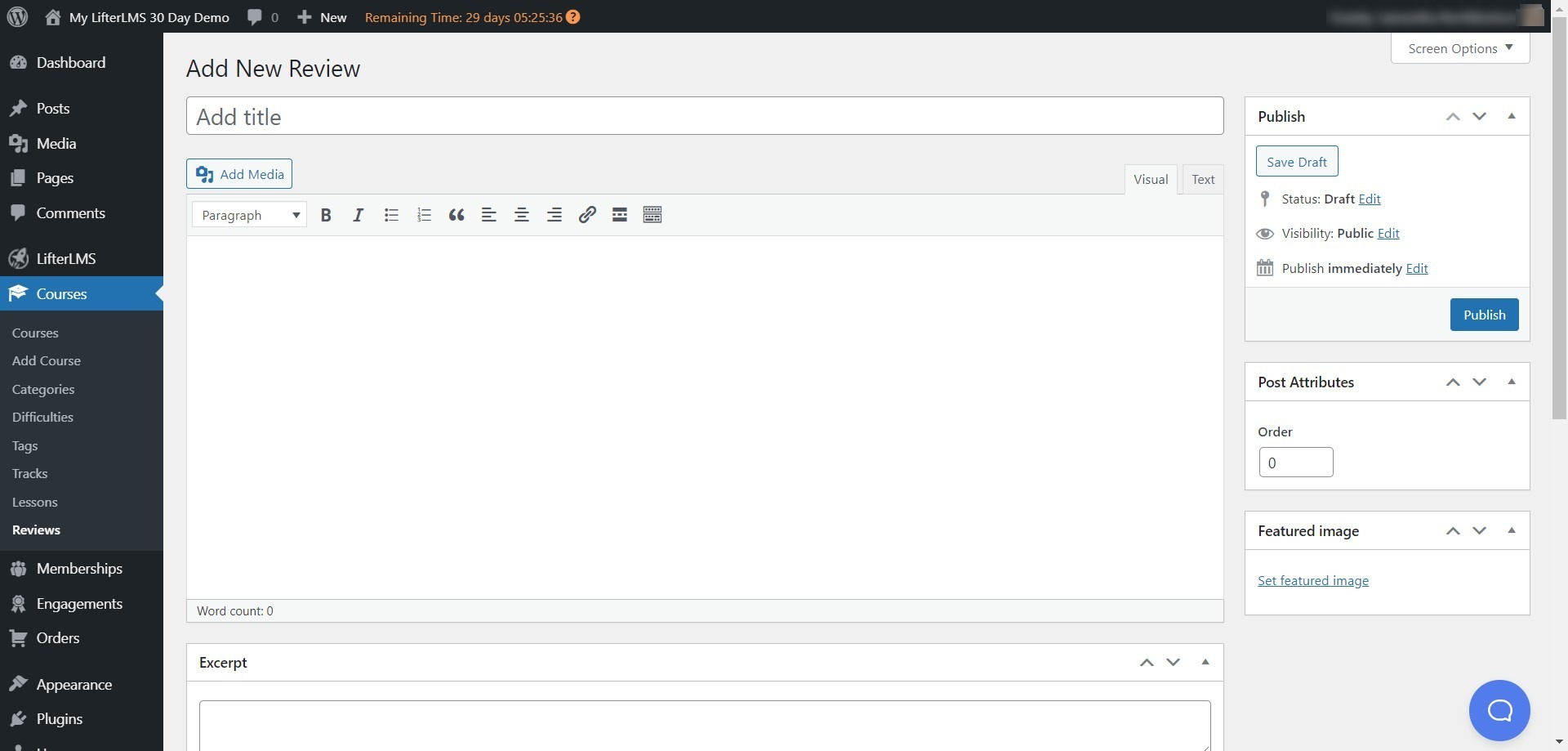 You can view some examples of courses created on LifterLMS on their examples page. It's a good opportunity to see the diverse types of courses that you can create.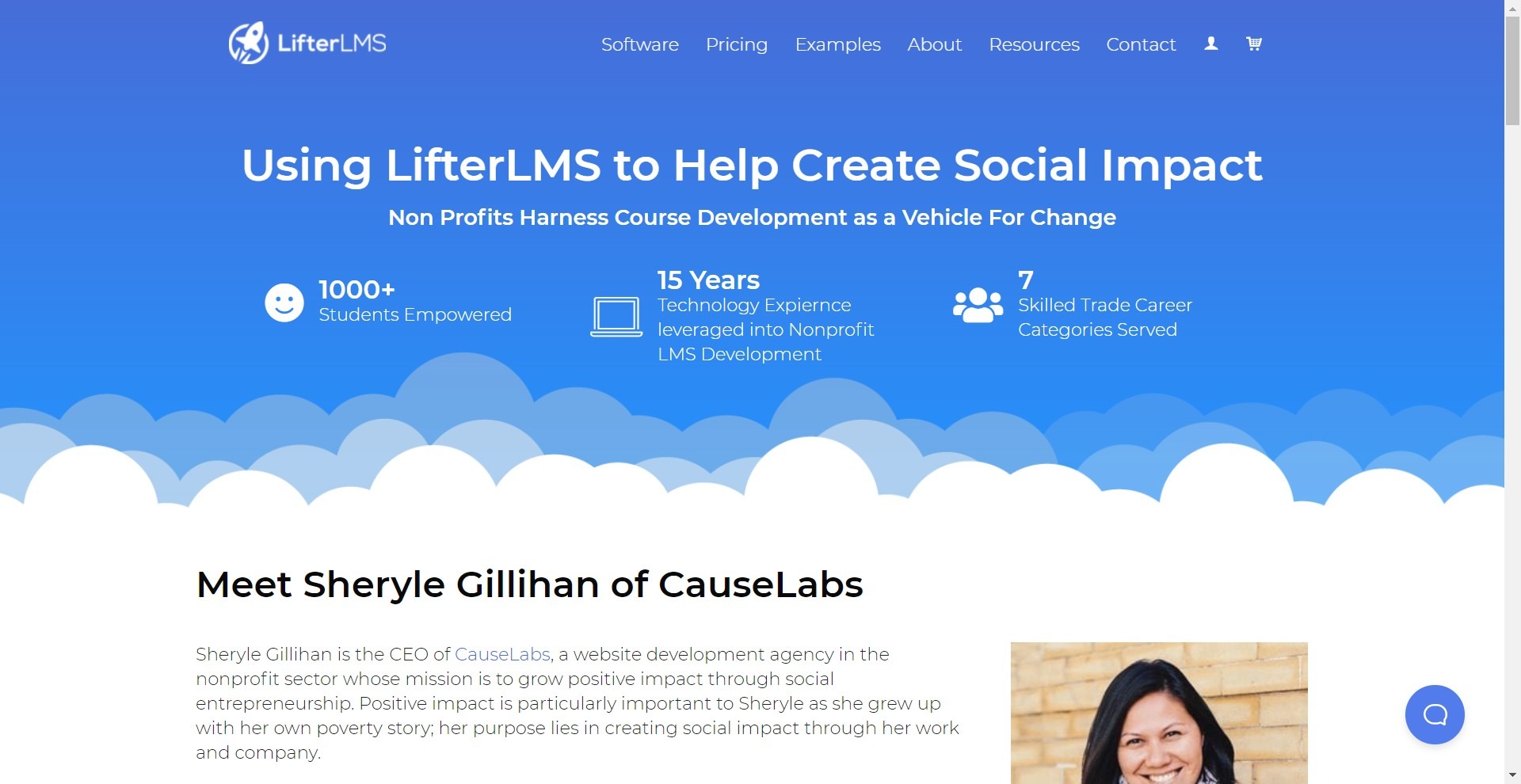 Payment Methods
One strength of LifterLMS as an online course platform is the flexibility around payments. Students can pay using credit cards or PayPal (and can easily switch payment method if they want to) and you can offer different types of payment structures, including:
One-time payments
Recurring payments
Payment plans
Subscriptions
The checkout process for this learning platform is designed to be really smooth and simple for students with a one-screen checkout page. The simpler it is for a student to complete the checkout process, the better, as they'll be more likely to go through with their purchase.
You can offer free courses besides for your paid elearning course options – this is a great way to encourage potential students to buy other courses from you – or offer course bundles, which is an excellent way to increase order value. You can also offer upsells in the form of private coaching. Many people find putting out a sample course is a great way to get people to trust they know what they are talking about.
If you want to, you can run the occasional promotion by offering discounts or coupons. You can even offer partial scholarships for students on a low income.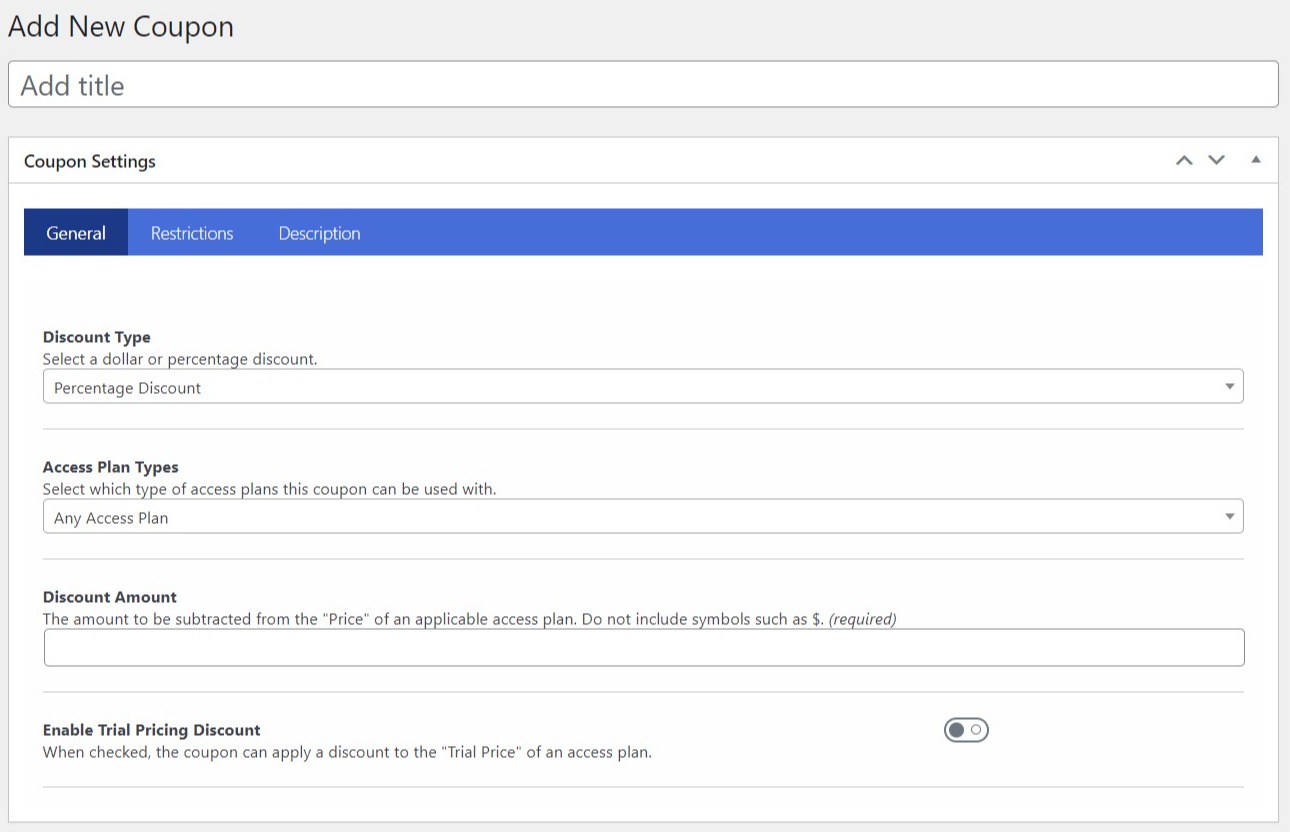 LifterLMS allows you to sell courses from any country, in multiple currencies.
The eCommerce Dashboard is really useful. You can view sales analytics and create custom reports, which can be downloaded and emailed to other team members. If you need to, you can view a detailed breakdown of all orders.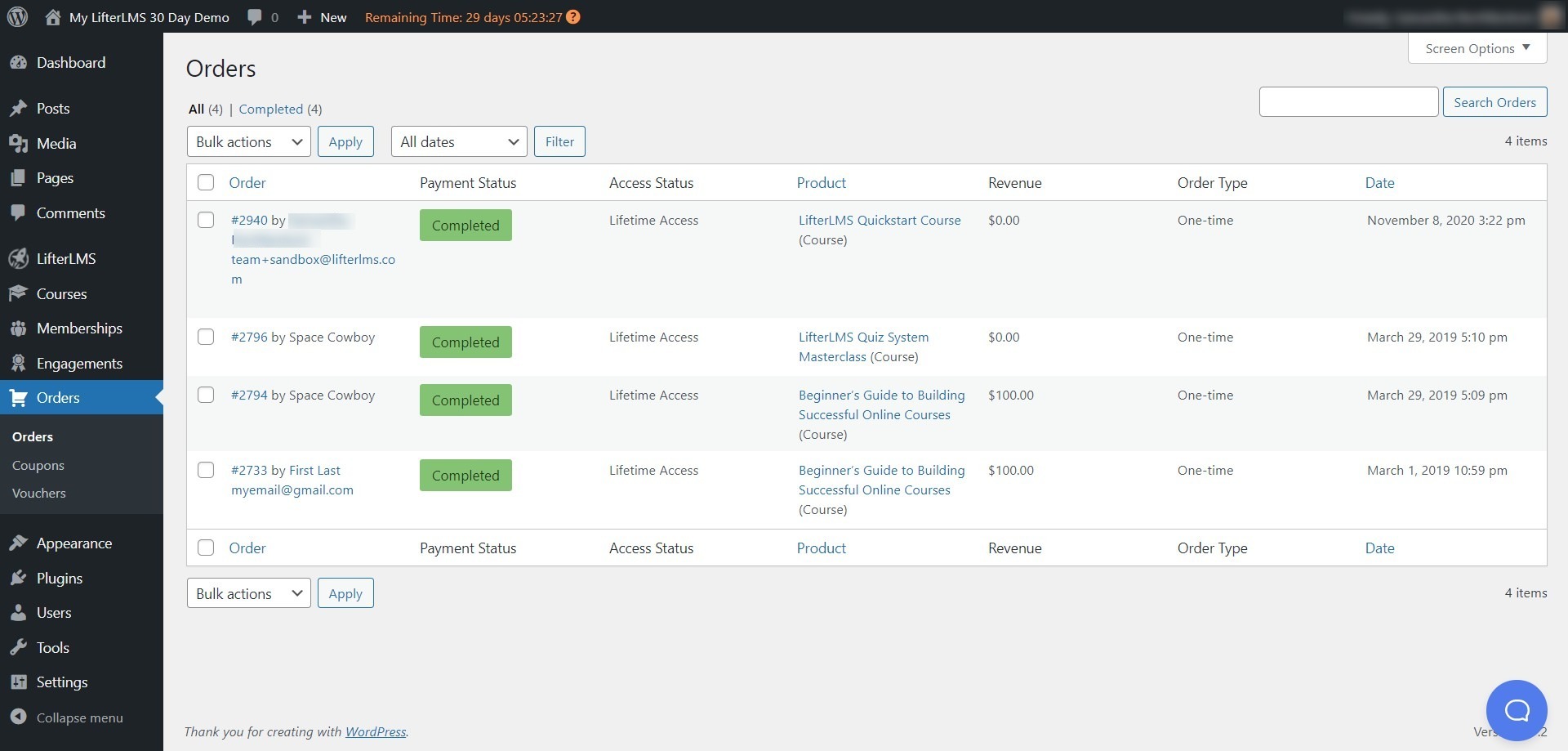 Student Features
There are several features to keep students engaged. The Student Dashboard allows them to easily track their activities, and discussion areas help to connect students to each other – this introduces a social media-like element to your courses, which may help improve student completion rates (some of this is locked behind an additional payment, however).
Students can earn achievement badges and printable certificates. You can also send them personalized emails, offer private 1:1 coaching or content for a higher price, and send them personalized text messages.
Memberships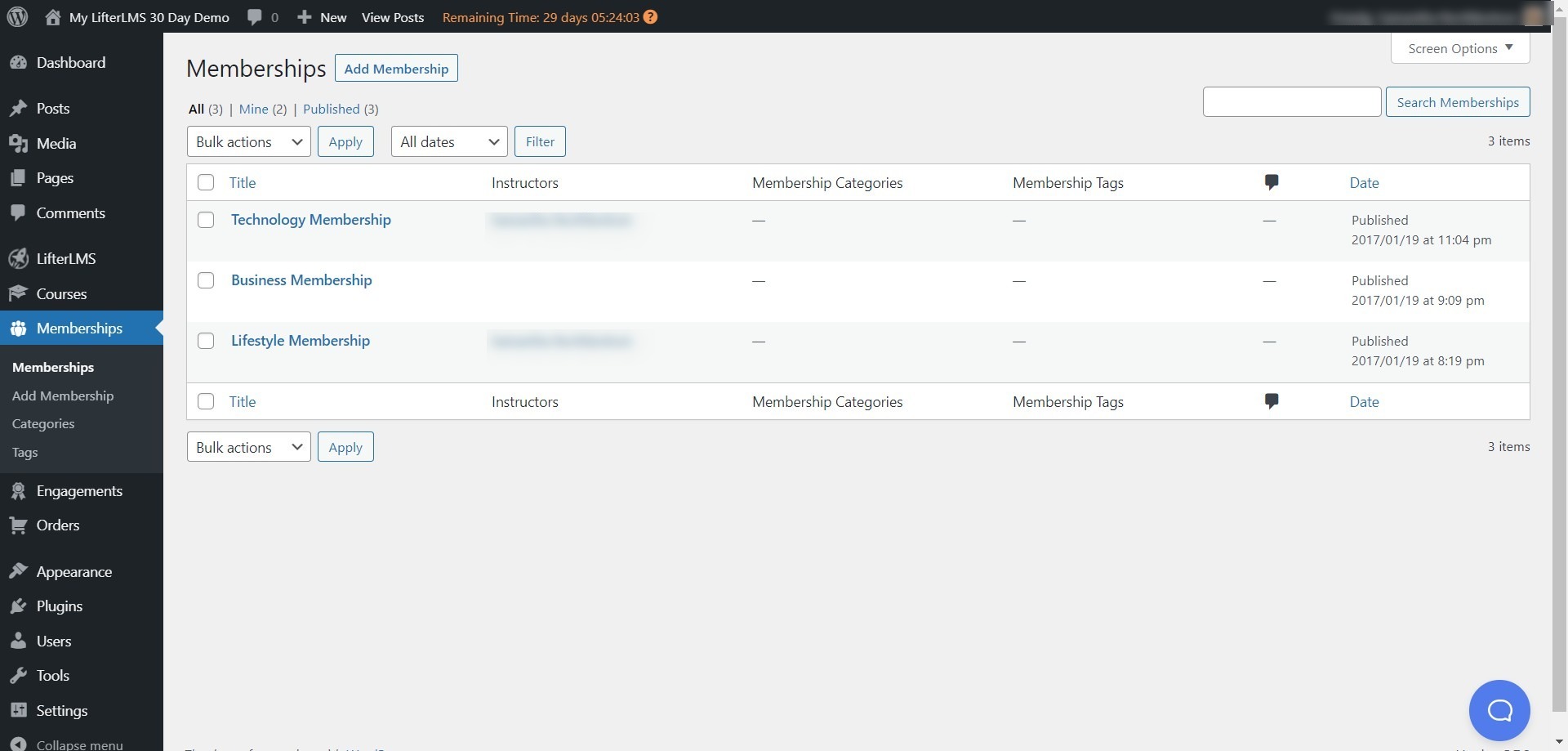 If you want to build a membership site, LifterLMS is a good choice. You can build a traditional membership site that restricts everything except the sales page, so only paid members can access any of the content. You can create course bundles to increase revenue, and offer automatic enrolment – this essentially makes the enrolment process super easy for potential students, decreasing the chances of them backing out at this stage.
You can also choose to lock down certain parts of your website. For example, you can offer some free blog content, but keep certain posts restricted to paid members. Or you can lock a forum behind a paywall, meaning members wanting to connect to others will have to pay for access.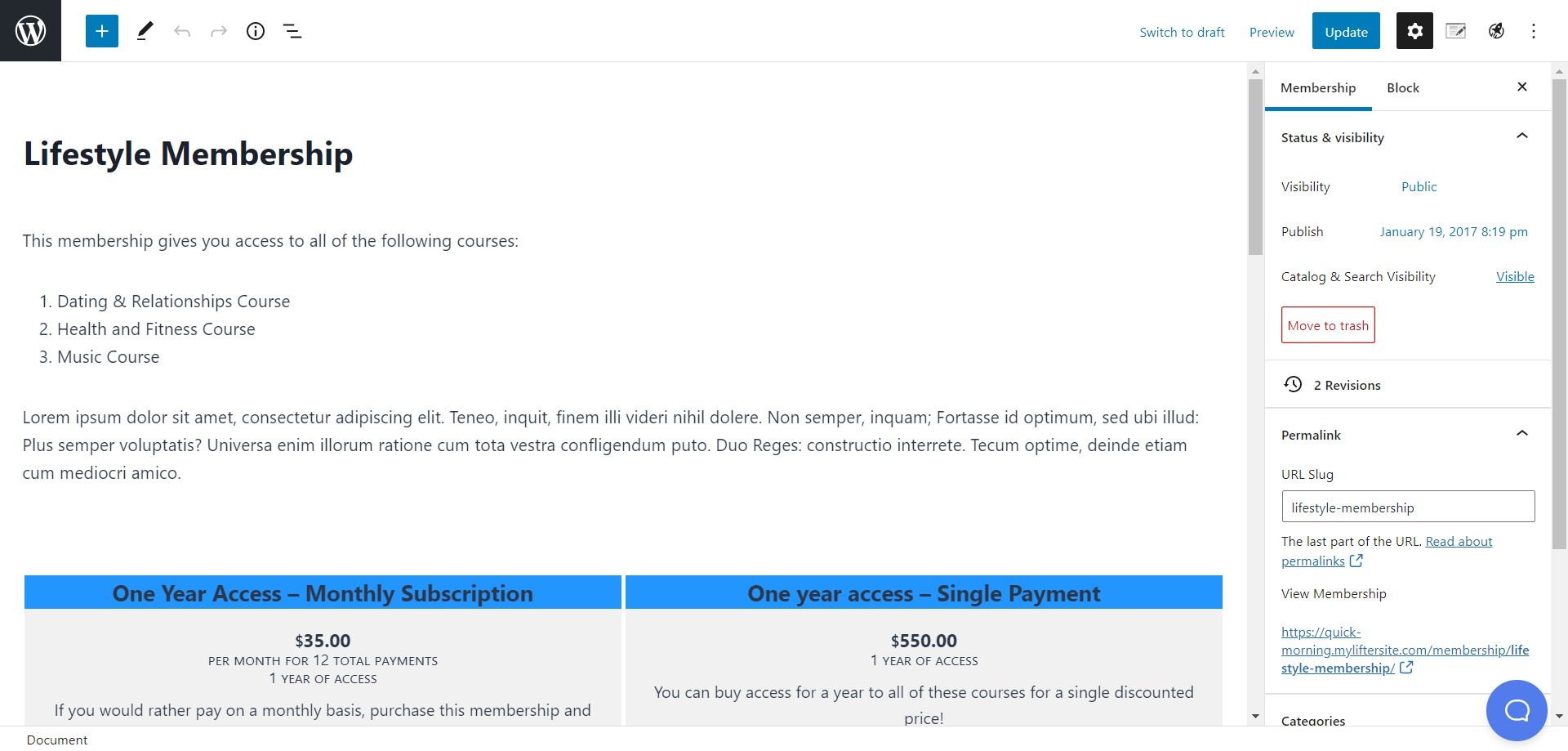 If you want, you can add private group discussions relating to your courses, or even offer a different pricing structure for members. This is great if you offer several courses and you want to tempt people into a monthly membership scheme, so they can save money over time.
Security/Course Protection
There are several things in place to help protect your course content. Only enrolled students can view your content, and you can lock down members-only content even further. You can allow learners to create their own passwords, and create custom messages for non-members trying to access restricted areas of the site.
You can also require new students or members to agree with certain terms and conditions before they can join, and these terms can be customized to suit your needs.
Add-Ons
You can purchase several add-ons, which you can get in the form of bundles. These include:
Groups – offer courses and memberships to groups and organizations with group management features and a 'Group Leader' role
Advanced Tests – Create graded exams
Advanced Assignments – Allow students to submit essays
Advanced Videos – Create professional-looking videos for your courses
Social Learning – Allow students to learn together using a social-media-style platform
Private Areas – Publish specific content for certain students or members
PDFs – Create PDF course content and certificates
Integrations
There are a few integrations, including:
PayPal
WooCommerce
Authorize.Net
ConvertKit
Gravity Forms
WPForms
Ninja Forms
Formidable
Twilio
LaunchPad
Support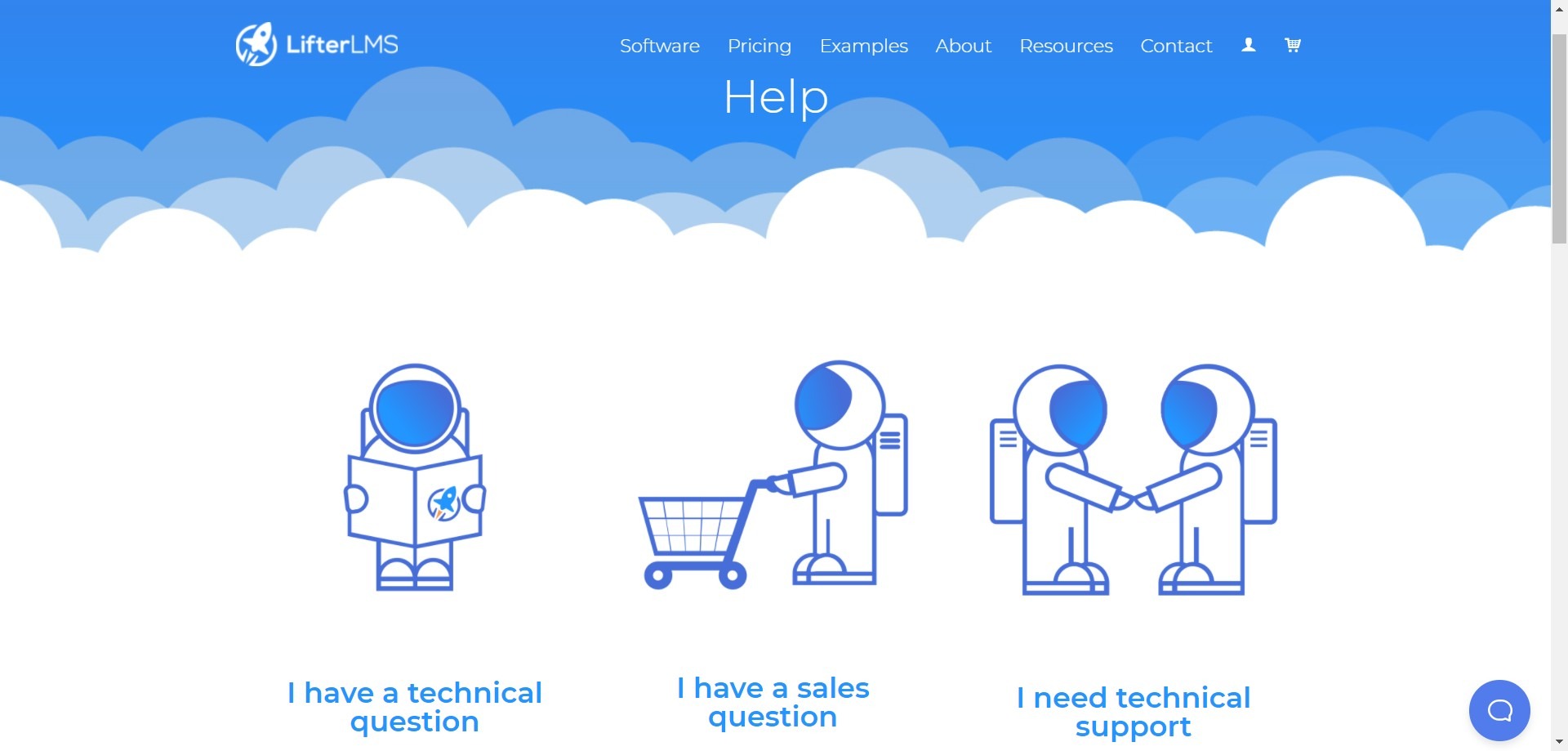 LifterLMS has a knowledge base with some information about their products. You can also submit a ticket if you have a specific issue. They are fairly fast to respond, and the customer support team is helpful.
There are video tutorials for certain features that appear when you're navigating around the platform, which is helpful for new users.
Pricing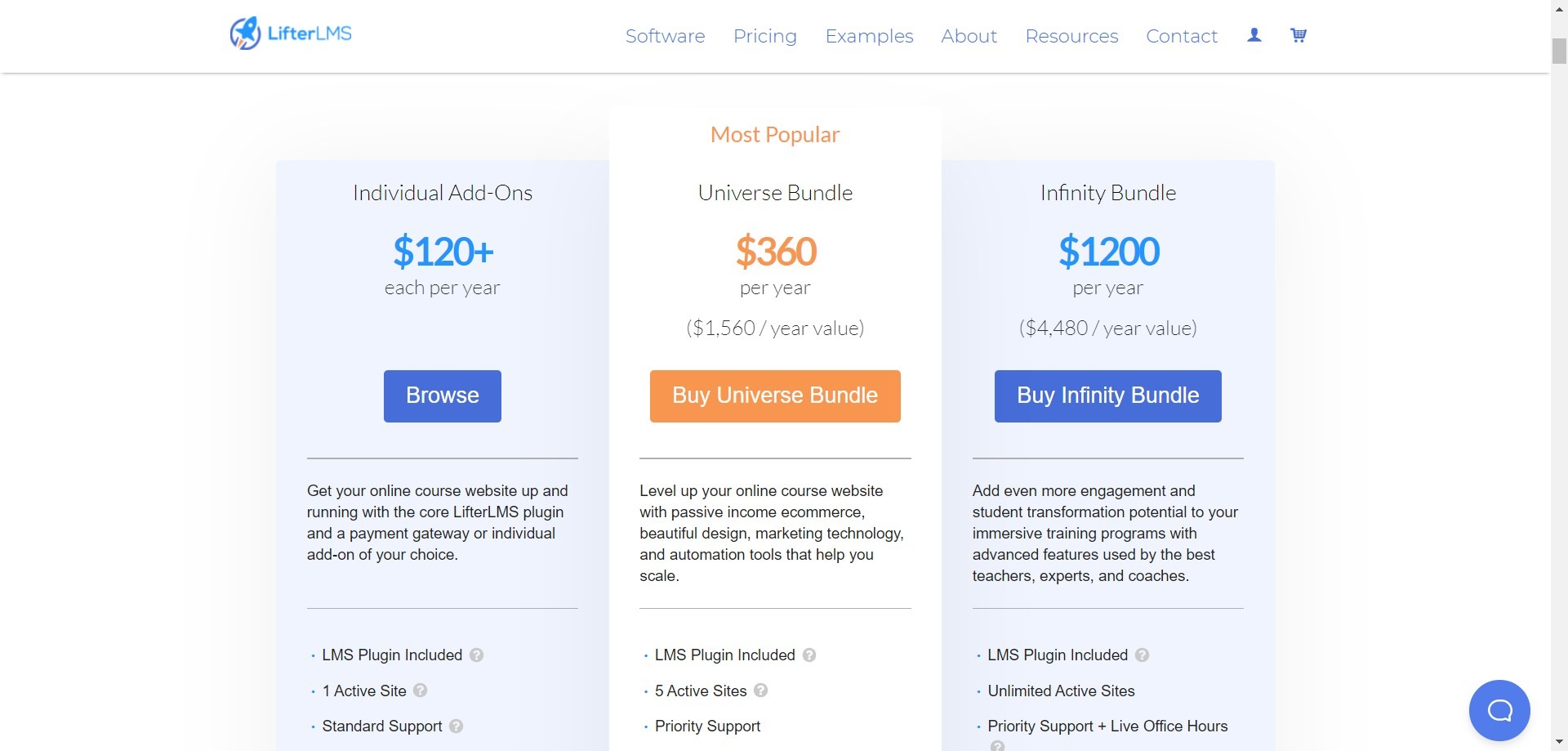 There are three bundles to choose from:
Individual Add-Ons – $120+ each per year
1 LifterLMS Add-On
LMS Plugin
Standard Support
Universe Bundle – $360 per year
5 Active Sites
LMS Plugin
Priority Support
Design Add-Ons
eCommerce Add-Ons
Marketing and CRM Add-Ons
Form Add-Ons
Infinity Bundle – $1200 per year
LMS Plugin
Unlimited Active Sites
Priority Support + Live Office Hours
Up to 3 Tech Support Accounts
Design Add-Ons
eCommerce Add-Ons
Marketing and CRM Add-Ons
Form Add-Ons
Advanced Quizzes and Assignments
Private Coaching Features
Social Learning Features
Advanced Video Features
Custom Fields Features
Groups Features
We won't lie – the bundles can get pretty pricey, especially if you go for the Infinity Bundle (which has the most features). If you're just getting started, you might find the initial cost a little prohibitive. Individual add-ons are also pretty expensive ($240 per year, for example, for the Group functionality). So the bundles do work out cheaper, but they're a lot to pay for upfront.
LMS platforms can be pricey in general though, so LifterLMS isn't alone in that respect. You can try out their 30-day demo to get a feel for it before you commit to a bundle – find out more on their pricing page.
There are some great Learning Management Systems out there, both on and off WordPress. Here are a few we'd recommend:
LearnDash – LearnDash is a popular LMS for WordPress users. It's really easy to use and there are good marketing features available to encourage new students. Read more in our LearnDash Review.
Sensei – Sensei is another great option for WordPress users. It's perfect for developers and offers a ton of customization options, so if you want something really flexible that works for you, check out our Sensei vs LearnDash comparison for more info.
Teachable – Teachable is a dedicated LMS platform rather than a WordPress plugin. It has some great features, and it's a pretty intuitive system to learn. You can read more in our Teachable vs LearnDash comparison.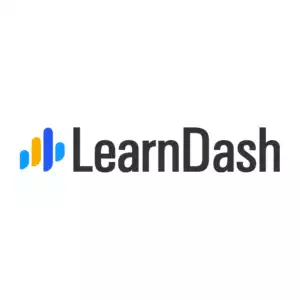 WordPress LMS Plugin by LearnDash
The most trusted WordPress LMS plugin, created by learning industry professionals with Fortune 500 experience. Transform your site in less than 5 minutes.
Get LearnDash
We earn a commission if you click this link and make a purchase at no additional cost to you.
FAQs
Question: Can I get a refund if I'm not happy with my LifterLMS add-ons?
Answer: You can apply for a refund within 30 days of your purchase/subscription if you're not happy.
Question: Is there a LifterLMS mobile app?
Answer: No, there is not a LifterLMS mobile app at the time of writing.
Question: Can I offer my courses in different languages?
Answer: Yes – the main LifterLMS plugin as well as all the add-ons are fully translatable. Their translation service is maintained by users and contributors – you can find out more on their FAQ page.
LifterLMS Review: Final Thoughts
We think that LifterLMS is a good choice if you're a WordPress user already. It has a lot of excellent features to keep students engaged with the learning process, and the option of upsells could bring in a bit of extra money in sales.
The platform itself is easy to navigate, and the support provided is useful, especially if you're new to course creation. The fact that you can test out all the features for $1 is great, and you get 30 days to decide if you want to go for it.
However, there is a downside – some of the features are locked behind extra payments, and the money can soon add up. If you go for a bundle you could stand to save some money, but if you're just starting out, it may be a little out of reach, especially if you factor in monthly WordPress fees.
You might decide that the content you can create – and the flexible payment options you can offer students – makes it well worth the investment. It might be worth giving the demo a go, just to see if you like it first. If you've used LifterLMS, we'd love to hear the details. How do you get on with it? How do your students like the courses? Leave us a comment below with your thoughts!