Last Updated on November 15, 2023 by Ewen Finser
Come to think of it, the process of selecting a suitable online learning platform for your online courses is a lot like internet dating.
Why?
Well, for starters, a Google search on "best online course building platform", "online course platforms", "online learning platforms", or "online learning sites" is bound to generate an overwhelmingly extensive list of options for tutors.
Then to make matters worse, every single platform is seemingly shouting, "Pick me! I'm the best!"
And that, of course, always comes with a corresponding list of "exclusive features", plus a maybe a couple of discount offers to get you started.
So, chances are, you might be tempted to sign up with the wrong platform. And that would subsequently mean compromising your online courses, turning off potential learners, as well as wasting money plus time.
Certainly not the outcome you'd want as an online tutor. You need an online course platform capable of not only providing you with the best tools for building online courses, but also effectively supporting the corresponding online learning and tutoring processes.
In other words, you cannot afford to settle for anything other than an online learning platform that can adequately facilitate the growth of your online tutoring business.
But, how do you find the best online course building platform? Where you even begin?
Admittedly, the fact is, selecting an ideal one can be a bit challenging and cumbersome. It takes a lot of time and effort to scrutinize all the possible options.
But, thankfully, we've done that for you already. Our online courses section features detailed reviews of a wide range of platforms that you might be interested in both as a tutor or learner. And in case you're torn between two or more seemingly solid options, we've also included comprehensive comparison reviews of the most popular online learning platforms.
Now, to help you sort through the numerous possibilities, here's a detailed guide to finding the best online course building platforms.
But first, let's explore the three types of online course platforms available today.
Types of Online Course Platforms
Online Learning Marketplaces
By now, I bet you've already sampled at least one online learning marketplace. I'm talking about the likes of Udemy and SkillShare, which are arguably two of the most popular ones today.
That said, an online learning marketplace is essentially an extensive platform that sells numerous online courses from various tutors. In simple terms, it's like an Amazon of sorts, which entirely focuses on online learning.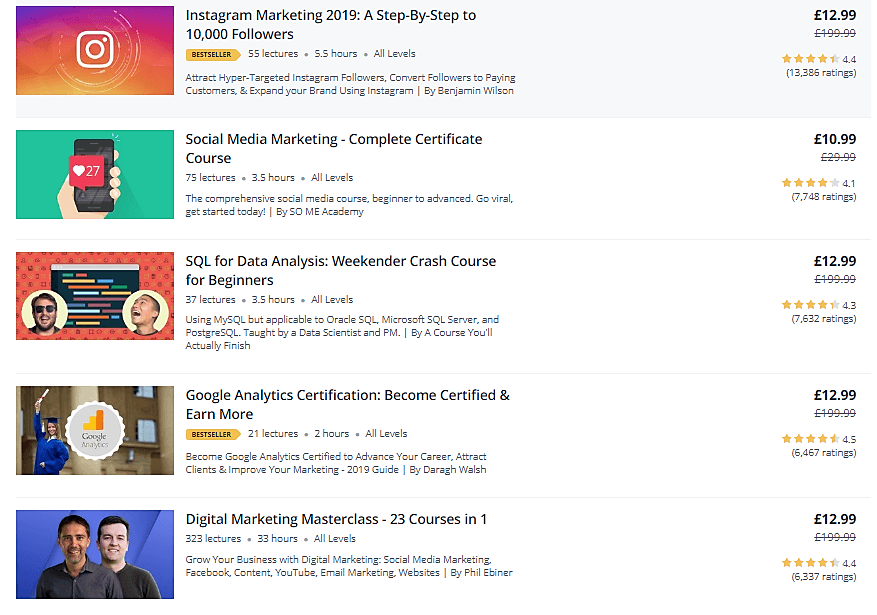 The best thing about such a framework is this- you get to capitalize on a large market audience right off the bat. The marketplaces do the marketing heavy lifting for you by building a considerable amount of regular traffic.
Consequently, you're only left with three jobs- creating online courses, convincing prospective students to buy, plus managing the subsequent learning process. It really is that simple.
And you know what? Online learning marketplaces even handle payments for you. They basically come with all the online course selling tools, complete with full payment processing capabilities.
Speaking of which, the sites pretty much generate their revenues from commissions they deduct while processing payments. So, expect zero up-front costs as you sign up and build your online courses.
Now, in all fairness, there are a couple of drawbacks that come with having your online courses sold alongside others on an already established ecommerce site.
For starters, you can bet that you won't have a lot of control over your online courses. Marketplaces come with very limited management and selling features. The principal privileges lie with the admin team, and they reserve the right to change their policies at any time.
Online learning marketplaces are also quite inflexible when it comes to nurturing your relationship with your learners. Since the customer technically belongs to them, you don't get the functionalities you need to engage your students freely over the long haul.
Self-hosted Online Learning Platforms
Self-hosted online learning platforms are the opposite of marketplaces.
Instead of distributing all the online courses from one centralized platform, every user gets tools for selling courses directly from their own websites. Some platforms achieve this by offering online learning functionalities through add-ons, which you should integrate with your site. That means you end up hosting something like an online school.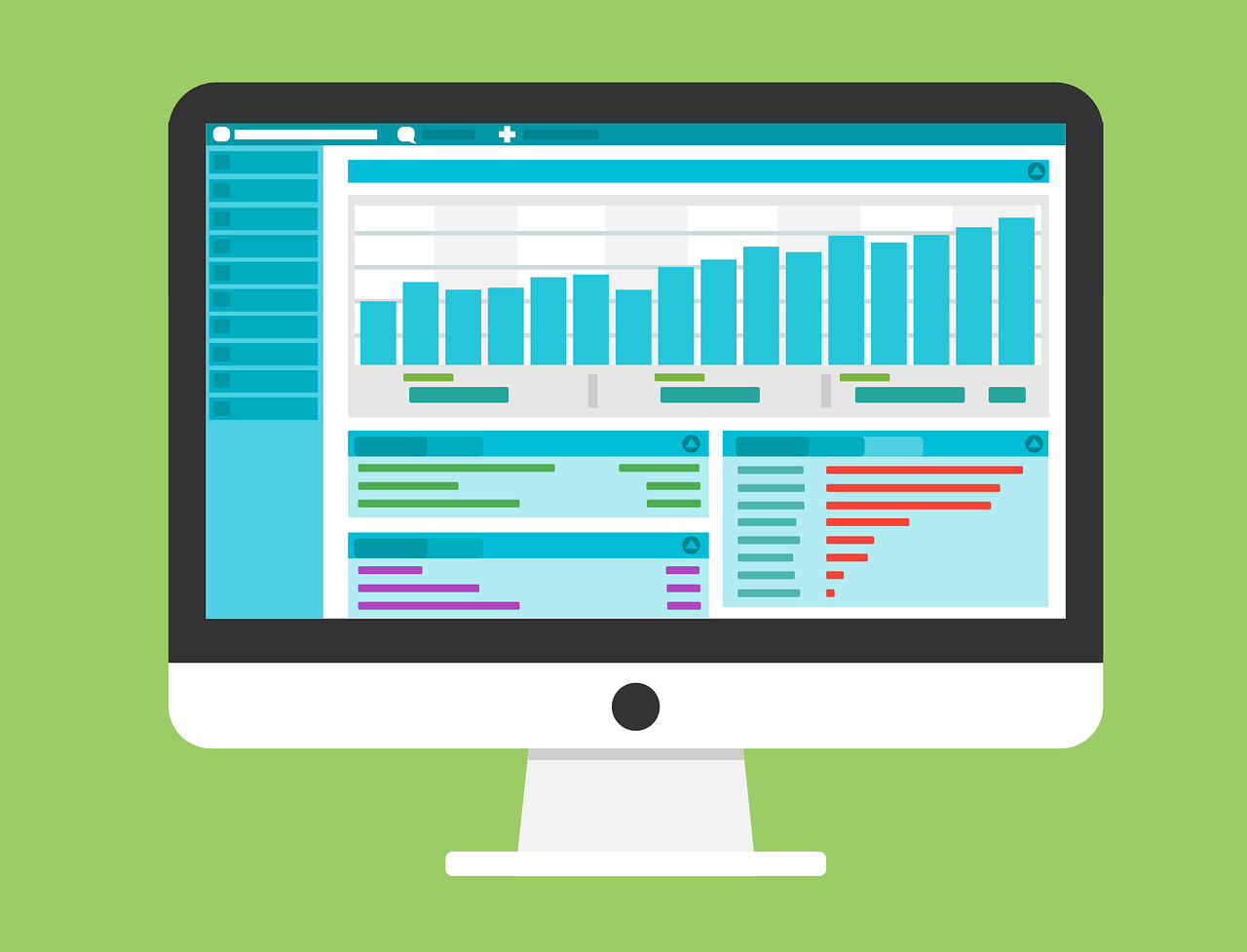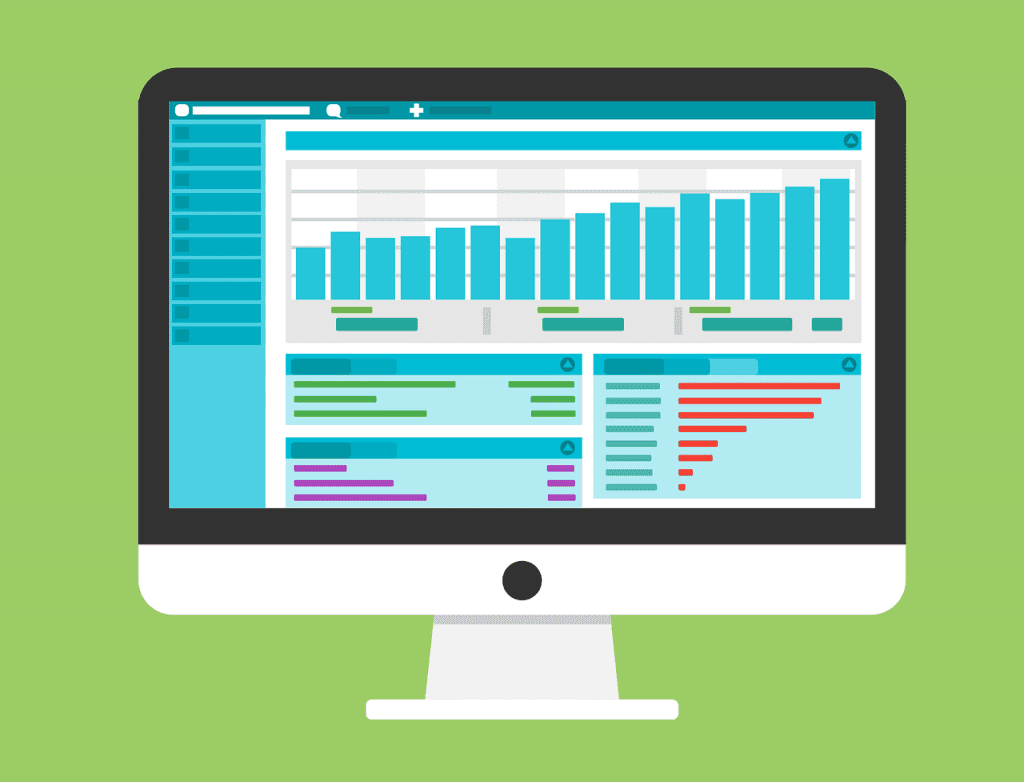 Well, that translates to full control privileges. As the principal admin of your online courses site, you get to determine the whole learning framework, including the corresponding course pricing schedule. And thanks to your uninterrupted admin access, you can freely customize the entire website.
Sadly, that's not something that can be achieved by just anyone. It turns out you need a considerable amount of technical skills to create a self-hosted learning site. And that's the case even when you're working with a codeless website builder.
It's also worth noting that self-hosted online learning platforms are costlier than typical course marketplaces. Apart from recurrent subscription charges, you'll possibly incur costs as you acquire additional plugins for your site. But, that depends on the specific platform you choose.
Third-Party Hosted Online Learning Platforms
While self-hosted platforms provide solutions for your own site, third-party hosted online learning platforms keep the courses on their sites. In essence, they allow you to build your programs and host them on the original vendor's website, from where you also interact with your students.
Therefore, all things considered, this is more like a blend of online learning marketplaces and self-hosted online learning platforms.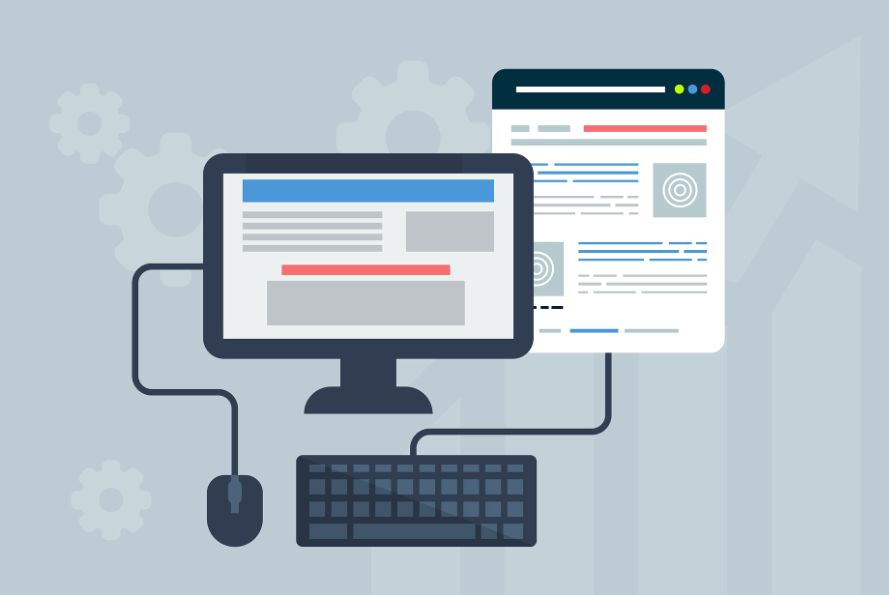 Most platforms in this category come with in-built website builders accompanied with site hosting capabilities. Consequently, you get to build an entire online learning site from the ground up.
Thinkific is a perfectly good example of one. As a matter of fact, our Thinkific review details how you can effectively leverage its pre-designed website themes to quickly set up your own online school.
Well, the best thing about the whole setup is that it saves you from the complexities of hosting your own online learning site. The vendors provide you with an extension of their platform, complete with all the standard online school components.
In addition to that, you get a dashboard for managing your entire learning system- there are tools for building online courses, organizing them accordingly, setting up sales pages, marketing your businesses, you name it.
But, let's face it. Your online courses are still held by a third-party, considering you essentially "rent" space from a vendor to sell your program. And that ultimately translates to restricted control.
How to Choose the Best Online Course Platform for Tutors
Analyze Your Market
Before you even start looking at your online course platform options, you have to survey the market to get a good picture of what's out there.
Start off by assessing your competitors. Discover the popular tutors in your specific field, and then examine their individual approaches.
Which platforms have they leveraged? How have they set up their online courses? Can you identify any weaknesses or opportunities you can capitalize on?
As you proceed from one online tutor to another, you'll be able to get a good idea of the learning tools available in your field, plus their corresponding features.
And while you're at it, try to pay attention to your competitors' students too. How are they interacting with their tutors? Which tools are they using to learn? What are their preferences?
The goal here is to establish your target audience's needs. So, you might as well enroll for a couple of the most popular courses to assess their overall learning experiences.
Then to supplement that, consider the more direct approach of inquiring from your target audiences. You could, for instance, issue questionnaires through social media or email to find out the specific learning features your students are looking for.
Assess Your Needs
Although most service providers attempt to serve all types of online tutors, the fact is, finding a one-size-fits-all online course building platform is impossible. Online learning and teaching experiences are too diverse to fit into a single platform.
Quite simply, what seems to work well for someone else in your field may eventually turn out to be disastrous for you. So, don't be tempted to hurriedly sign up for just any online course platforms, even they seem to be popular among your competitors.
Instead, take time to critically assess your needs based on your online course objectives. Some of the questions you should ask yourself include:
What type of apps are you planning to use on your online course platform?
Which customer support channels would you prefer?
How many online course programs are you looking to build?
What relevant technical skills do you possess?
Do you have any experience with online course platforms?
How much are you willing to spend on the entire online course building project?
Would you be comfortable hiring a techie to tweak the online learning platform?
How long are you planning to leverage the online course platform?
What type of students are you looking to host?
Any specific preferences when it comes to course delivery media?
How would you like to communicate with your students?
Which digital marketing channels would you use to promote your online courses?
What kind of onboarding would you need for familiarizing yourself with a new online course platform?
Now, we've barely scratched the surface here. However, I bet you've already caught the drift by now, and you should be able to conduct a deeper self-analysis.
Eventually, detailed documentation of your online tutoring needs will help you define your platform feature requirements.
Match Your Requirements with the Platform Features
Remember the online course building platforms you've identified through your competitors? Well, combine them with other seemingly dominant options, and then list them down on a spreadsheet.
For a comprehensive list of options, you could search for additional platforms from our online learning site reviews. We continue to provide unbiased reviews of the biggest brands in the industry, including the promising entrants.
Once you have all the possible options, proceed by filling the adjacent spreadsheet columns with each online course platform's features. You could easily lift those details from the platforms' websites, plus our review pages.
Some of the critical feature assessment questions at this stage include:
Does the online course platform seem to be simple and intuitive for both students and tutors?
What course structures, formats, and media does the online learning platform support?
Will your students be able to pace themselves as they advance through your learning modules?
Are the online lessons delivered through live web conferences or pre-recorded media?
What pricing options does the online course building platform provide?
What kind of media can you embed to supplement your online lesson delivery?
How is the student enrollment process structured?
What marketing features do you get to help you promote the online courses?
Does the online learning platform come with student assessment features?
Can you build and deliver multiple online courses at a go?
How much will it cost you to build and host your online learning programs over the long haul?
All in all, the more the features you review on each service, the better your chances at finding the best online course building platform.
Now, when you're done listing each platform's features, go to a new column and start over from the top. This time, however, identify each platforms provisions that meet your needs. Use your requirements documentation as a guide for matching every single feature accordingly.
Next, go ahead and weed out the platform options that fall short, beginning with the ones whose features fail to match up to your most critical requirements.
That said, you should particularly focus on online course building platforms that are friendly to beginners. They ought, for instance, to offer a simplified way of building online learning websites and selling the corresponding courses without any coding skills.
Don't get me wrong though. While eliminating the technical bit could limit your web design options, it's still possible to customize your site quite considerably without touching a line of code. Your selected online course building platforms, therefore, should provide a perfect balance between simplicity and design flexibility.
In other words, you should be able to tweak various parameters to come up with a unique website outlook. A great platform allows you to even introduce additional functionalities above its inbuilt features. And this mostly comes in the form of integrations with external services.
Speaking of which, some of the essential integrations you should look out for include marketing solutions, list building services, and analytics engines like Google Analytics. The best online learning platforms are capable of embedding with solutions like MailChimp, ConvertKit, plus CRM, and social media sites.
Apart from that, you should keep an eye out for platforms that support Zapier. Well, in case you're wondering, Zapier is particularly outstanding because it acts as a bridge to a host of other external solutions. In simple terms, an integration that provides hundreds of other integrations.
Moving forward, another important factor to consider is customer support. The best online course platforms don't just provide a FAQ section for answering questions. Since you might need some kind of onboarding as you build online courses, go for platforms that offer comprehensive support.
The system should be holistically structured to guide you accordingly through your online course building and delivery journey. That means combining a team of responsive dedicated customer service agents with an active community of tech experts and other tutors, plus an informative knowledge-base with all the relevant resources, tutorials, and guides.
Review the Lesson Delivery Options
All things considered, your overall fundamental objective is building online courses, and subsequently delivering them through lessons. So, of course, it goes without saying that you should pay special attention to the lesson modes supported by each selected online course platform.
That said, plain text lessons are arguably the easiest to compile. In fact, you should be able to build your online courses quickly, and even save time for subsequent marketing.
However, although it doesn't take much to skim through plain text, your students are bound to have a hard time with this mode of learning. Text-based lessons are usually boring, and they typically feel like books- as opposed to learning environments.
In addition to that, there's always the risk of losing your hard work to copyright infringers. All it takes to steal such content is simply copy-pasting the text.
Compare that with, say video lessons. Recording and editing a complete lesson might require some level of technical skills, but let's face it- video lessons are the in-thing now. Online learners love them for their graphical illustrations, aesthetic appeal, as well as their deep levels of engagement.
And that should be enough to convince you to settle for online course platforms that support video lessons. But, don't stop there.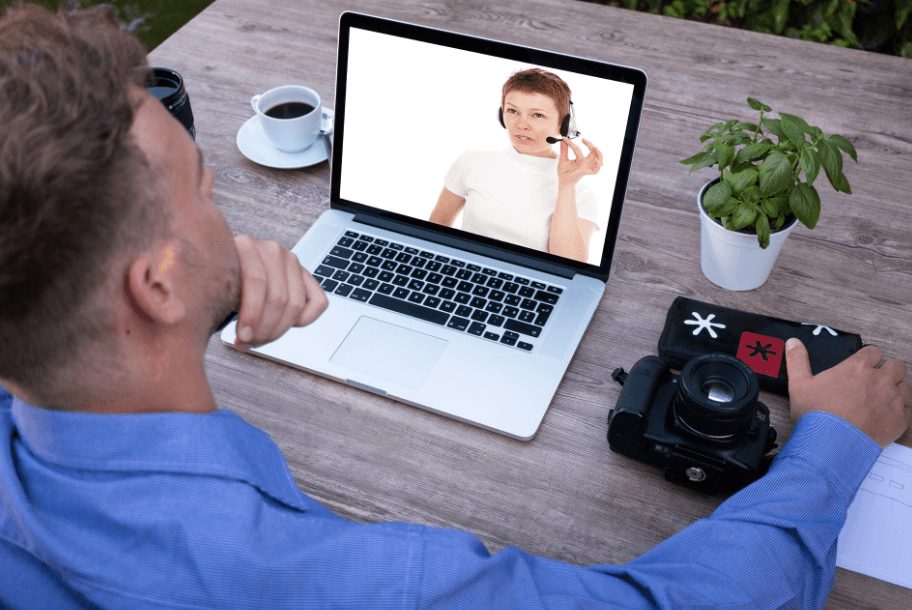 The best online learning platforms do not offer video lessons only. They go ahead and avail additional content media, including text, plus images. As a result, therefore, you get the freedom of capitalizing on mixed forms of lesson content to train your students adequately.
Compare the Features with Pricing
When a platform's online course building features happen to meet your requirements, you should then proceed to the one thing that ultimately makes the difference between what you can potentially settle for, and the unaffordable options you leave out.
If you take time to explore the wide online learning space, you'll notice that the platforms avail their resources for prices that vary quite extensively. And that's not all. Even their pricing schedules are structured quite differently.
While online learning marketplaces deduct commissions off your transactions, hosted platforms, on the other hand, often offer several subscription plans at varying price points.
Personally, I prefer this structure because of its scalability. You can start off with a low-priced plan, and then grow progressively into the costlier upper bracket of packages.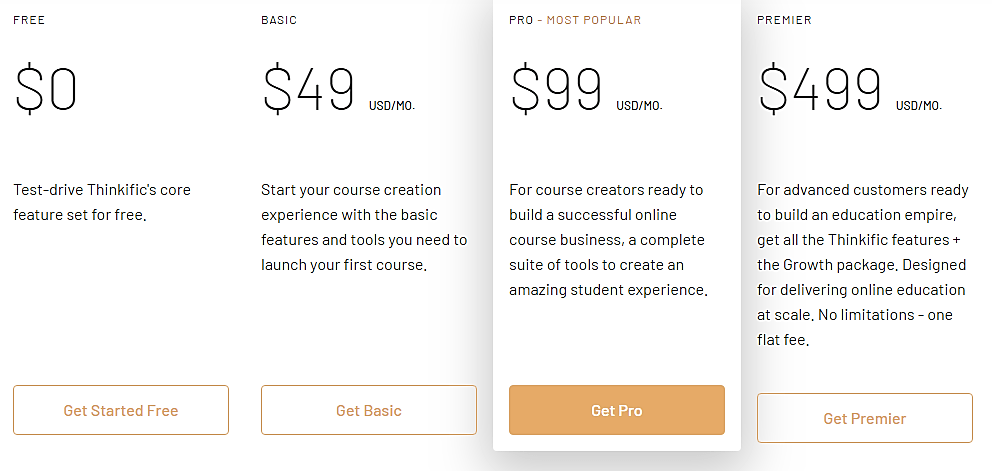 Thinkific, for instance, even provides a free plan for beginners. But, you don't get a custom domain along with several other advanced features. You can only access them as you sequentially upgrade from one plan to another.
Now, in addition to such feature tiers, you should also evaluate platforms based on their subscription periods, and the accompanying pricing discounts. Some solutions accept payments on a monthly basis, others prefer charging annually, while most of the flexible ones provide both options. This particular category of platforms, as a matter of fact, typically offers discounts to annual subscribers.
All in all, the best online course building platforms offer a wide range of powerful features at reasonable prices- which ultimately translate to favorable ROI.
Some of the Best Online Course Building Platforms
Thinkific is, undeniably, one of the most established hosted online learning platforms. It's built to offer you a simple but comprehensive system of building and selling online courses.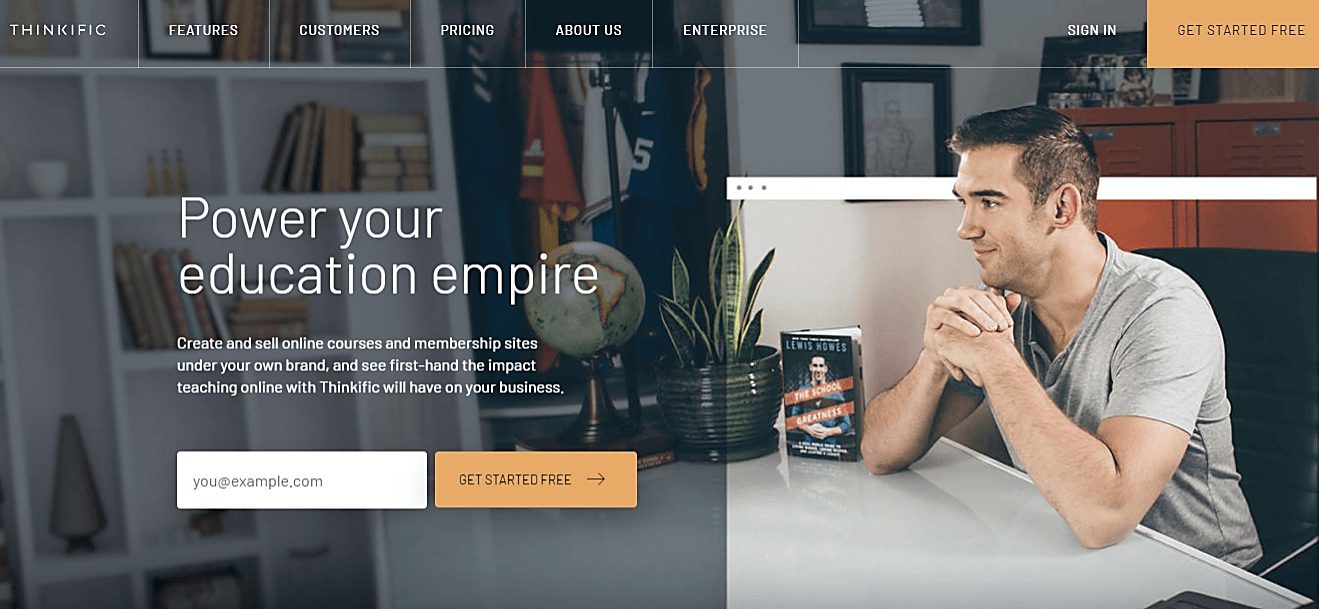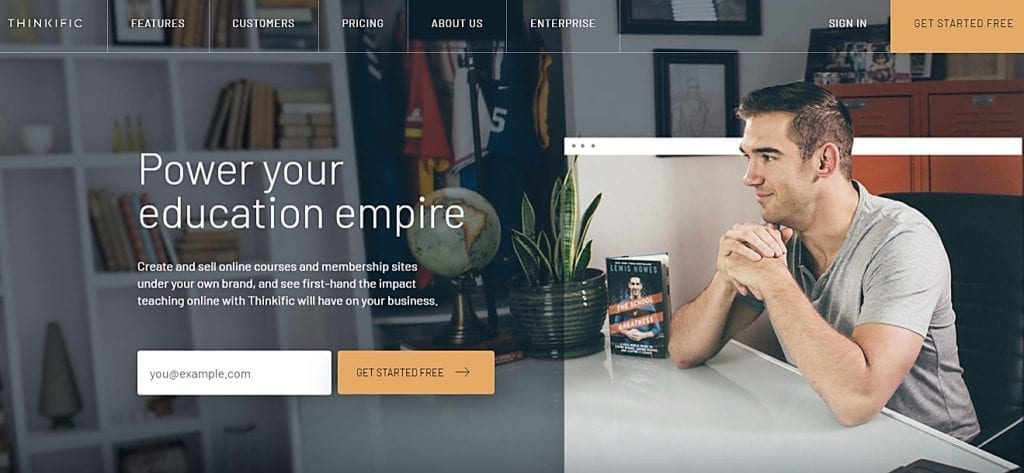 At the top, Thinkific is pretty reliable when it comes to creating and hosting online learning sites. You can take advantage of its robust site builder, along with the accompanying templates, to set up an attractive, personalized website without any coding skills.
Thankfully, this level of flexibility extends to even the course delivery process. You're free to train your students through surveys, PDF, text, quizzes, videos, and numerous other content types. Then to optimize student engagement, Thinkific supports lesson locking, learning paths, as well as certificate issuing.
Sadly, it turns out Thinkific is not that powerful when it comes to sales and marketing. It only offers basic functionalities for upselling, checkout, taxing and course promotions.
Its corresponding pricing, however, is admittedly reasonable. It shouldn't cost you much to build and sell online courses on Thinkific. Unless, of course, you choose to opt for advanced features like webhooks, bulk emails, and white labeling.
In a nutshell, therefore, Thinkific is a versatile online course building platform for beginners as well as intermediate tutors. You should consider it if you need to sell courses through your own website.
Kajabi
Kajabi is another online learning platform that takes an all-inclusive approach. Apart from website building and hosting, it offers a diverse set of features for creating, marketing, and selling online courses, as well as interacting with students.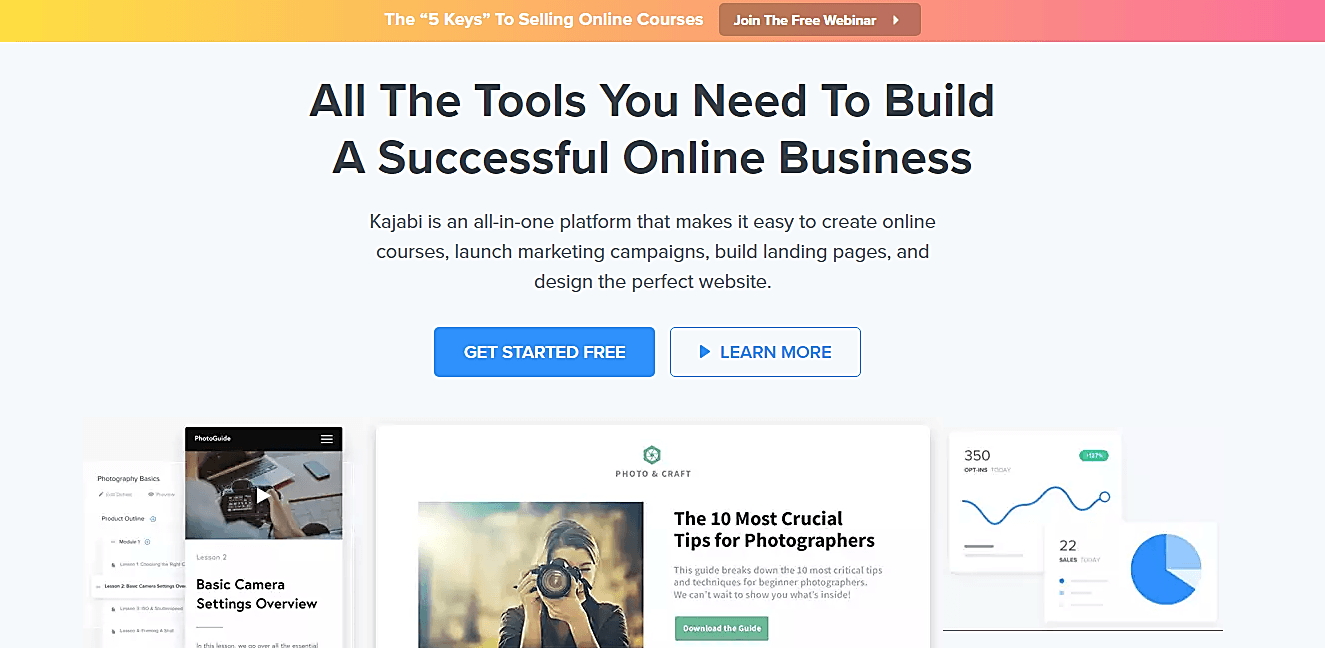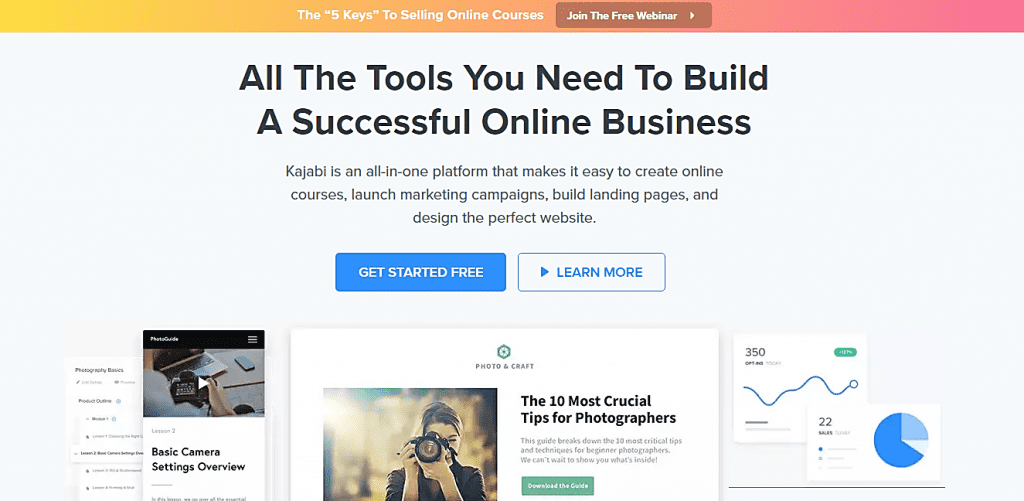 After setting up courses with various forms of content, Kajabi helps you optimize your students' experiences through its learning paths, automations, assessments, and forums, among other engagement features.
Personally, the thing I like most about Kajabi is its powerful website builder. It offers an array of customization options through a clean editing layout, which, as a matter of fact, is simple enough to be understood by novices right off the bat.
Now, for sales and marketing, Kajabi comes with what it calls a sales pipeline builder. It's specially developed to facilitate the creation plus management of sales and marketing workflows- from lead generation to successful conversions.
Then to supplement that, you also get email marketing automation capabilities. You can capitalize on this to reach out to various prospective students, and try to convince them to enroll for your online learning program.
Unfortunately, the pricing here is a bit on the upper side. The cheapest Basic plan starts at $149 per month, with a 20% discount option for annual subscribers.
From the look of things, Kajabi is seemingly suitable for experienced tutors who need online course building capabilities, with a dash of customer relationship management features.
Udemy
Unlike Kajabi and Thinkific, Udemy is an online learning marketplace. But, it's not a regular one. Udemy is, in fact, one of the most expansive course marketplaces on the web.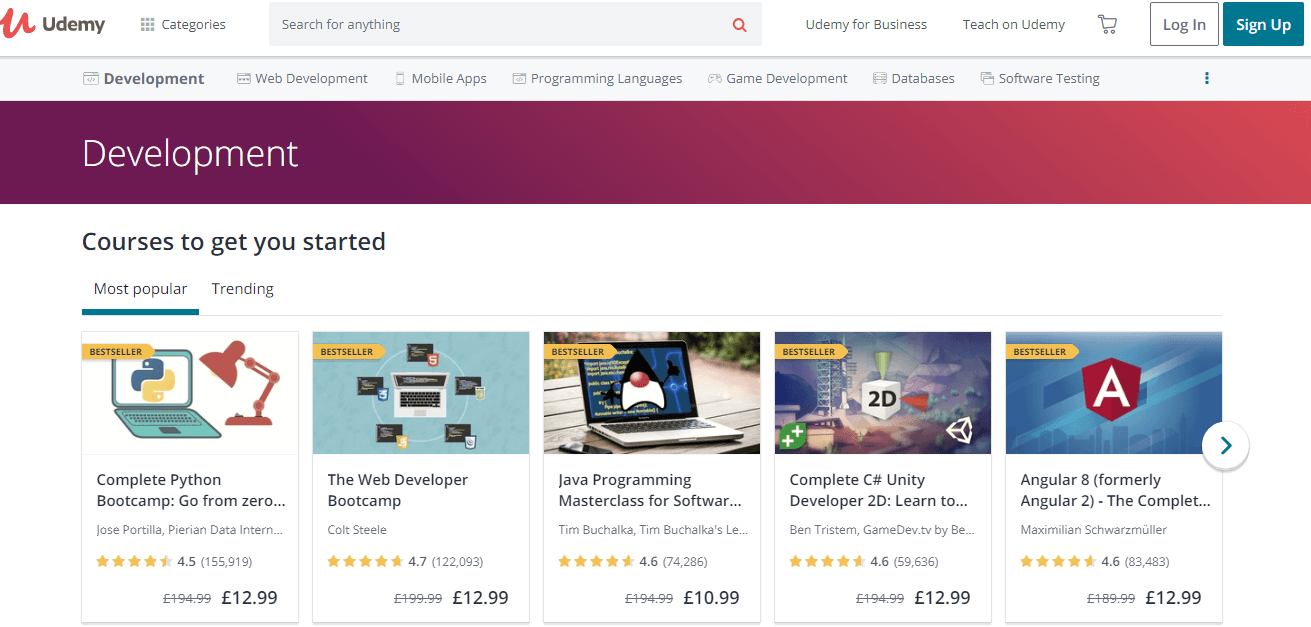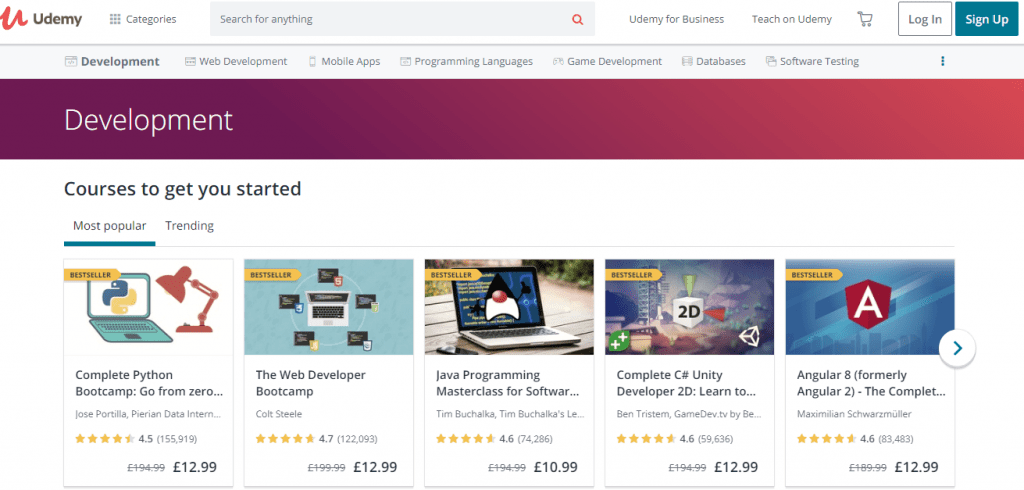 While you might not be able to create a website, Udemy allows you to set up a wide range of online courses. You can then subsequently sell them to either your own audience or the marketplace's main traffic.
Well, I'd prefer the former because it grants you 97% of the profits, while Udemy takes 3%. Quite a contrast compared to the 50% you retain if you happen to sell your online courses through the main Udemy marketplace.
All in all, Udemy is worth considering if you're a small-scale tutor who prefers selling online courses directly through a marketplace, as opposed to creating a dedicated e-learning site.
Summary of Course Platform Criteria
Online Learning Marketplaces

An online learning marketplace is basically a large platform selling many online courses from multiple creators.
You get to take advantage of the marketplace traffic over the long haul.
Online learning marketplaces take care of payment processing.
Registration is free.
Online learning marketplaces make commissions off your online course sales.
Marketplaces dictate your management and selling capabilities.
They are not flexible.

Self-hosted Online Learning Platforms

Self-hosted online learning platforms offer functionalities for hosting and selling online courses on your site.
Some platforms provide embed with your website through plugins.
You get to create and run your entire online courses website.
Self-hosted online learning platforms are very flexible when it comes to site control.
You cannot customize them accordingly without technical skills.

Third-Party Hosted Online Learning Platforms

Third-party hosted online learning platforms are a combination of online learning marketplaces and self-hosted online learning platforms.
Your online courses are hosted on an extension of the vendor's platform.
They offer dashboards for course management.
Third-party hosted online learning platforms are not entirely flexible.

Choosing the Best Online Course Platform for Tutors
Analyze Your Market

Begin by examining your main competitors and their respective online course frameworks.
Find out the online tools your target students are leveraging, and then define your target audience's needs.

Assess Your Needs

There is no one-size-fits-all online learning platform.
Online learning needs vary extensively for both students and tutors.
Avoid blindly registering for popular online course platforms.
Evaluate your needs thoroughly in line with your online learning goals.
Use your needs to define the corresponding online learning platform requirements.

Match Your Requirements with the Platform Features

Prepare a list of all the online course building platform options.
Come up with their respective features.
Pick the platforms with features that meet your requirements, while eliminating the ones that don't.
Online course platforms should offer simple, non-coding site builders with flexible customization capabilities.
The best solutions support numerous external integrations and additional functionalities.
Customer support should be dynamic enough to assist you adequately as you build and sell your online courses.

Review the Lesson Delivery Options

While plain text lessons are simple to build, students are bound to have difficulties coping.
Online students enjoy video lessons.
The best online course platforms support mixed content lessons with videos, text, images, etc.

Compare the Features with Pricing

Online learning marketplaces charge sales commissions, while hosted platforms come with subscription-based pricing schedules.
Evaluate online learning platform pricing based on their package features, subscription periods, and overall discounts offered.
An ideal online course building platform should provide favorable ROI.
Now that we're just getting warmed up, allow me to introduce you to the real deal- we have comprehensive reviews of all the major online course platforms. So, feel free to proceed if you want to learn all the interesting facts about various solutions.
Top Online Course Platforms
These are some of the most popular LMS systems, many of which our editorial team has tested, reviewed, and compared:
Thinkific: A platform that lets you create, market, and sell online courses. It's particularly well-suited for entrepreneurs and small businesses because of its ease of use, robust course-building features, and strong marketing tools.
Teachable: Offers a comprehensive set of tools for creating and selling online courses. Its key selling proposition is its simplicity in course creation, integrated payment processing, and built-in marketing tools.
CourseCraft: Known for its intuitive interface, it provides a simple but powerful platform for course creation. Its key selling proposition is its 'no coding required' approach, making course creation accessible to everyone.
LearnDash: A WordPress plugin that turns your website into a powerful learning management system. Its key selling proposition is its flexibility, allowing you to create custom learning paths and quizzes.
Kajabi: An all-in-one platform that helps you create, market, and sell online courses. Its key selling proposition is its ability to handle everything from course creation to marketing, sales, and customer management.
Podia: A platform that offers course creation, membership sites, and digital downloads. Its key selling proposition is its simplicity and the fact that it doesn't charge any transaction fees.
Canvas: A comprehensive LMS that's popular in the educational sector. Its key selling proposition is its extensive feature set, including course authoring, grade books, and discussion forums.
Moodle: An open-source LMS that's widely used in the education sector. Its key selling proposition is its flexibility and customizability, along with its extensive community support.
TalentLMS: A user-friendly LMS that's great for both eLearning and staff training. Its key selling proposition is its extensive customization options and built-in course marketplace.
SAP Litmos: A robust LMS with a focus on corporate training. Its key selling proposition is its scalability, mobile-friendly design, and pre-packaged content.
LifterLMS: An all-in-one course management system for WordPress. It allows you to create, sell, and protect engaging online courses. It offers a range of features including gamification, engagement triggers, course bundles, and recurring subscriptions.
Learnworlds: A powerful, easy-to-use and reliable training solution for individuals and enterprises. It allows for creation and selling of online courses, while also providing interactive learning experiences.
Ruzuku: A user-friendly course creation platform. Ruzuku offers unlimited courses, student management, teleconferencing features, and supports various types of content.
Sensei: A powerful WordPress plugin for creating courses. It allows you to write lessons, create quizzes, and set course prerequisites. It also manages course progress and grading.
WP Courseware: A complete LMS plugin for WordPress. It allows you to create unlimited courses, modules, and units, and also provides a drag-and-drop course builder.
Udemy: A well-known platform hosting courses on a wide variety of subjects. It allows anyone to create and sell courses in different languages, and it has a large audience base for course marketing.
MemberPress: A WordPress membership site plugin that can be easily turned into a LMS. It enables you to create, manage and track membership subscriptions and sell digital download products.
Tutor LMS: A complete, feature-packed, and robust WordPress LMS plugin. It allows you to create and sell courses easily with a drag and drop course builder and a multitude of other instructional features.
FreshLearn: A robust platform with many capabilities and an impressive suite of features that allow you not to only create courses, but also it gives you access to lots of tools for marketing and selling the course.