Last Updated on June 1, 2023 by Ewen Finser
As a tutor, having an online presence is essential to help ensure that your lessons are properly stored for future reference. Conducting online classes helps to organize and save your course materials through various platforms.
These classes can be reviewed not only by current students, but also by future pupils, as well.
Through an online platform, tutors can be able to capitalize on their class materials and expand their audience. However, this venture is only possible with efficient software that offers friendly features for its users. With that in mind, I have selected two popular platforms to look into today:
Mighty Networks
Bottom Line Up Front: Thinkific vs Mighty Networks have been developed for the same purpose, to enable tutors to share their class material on an online platform. Mighty Networks stands out as the more efficient software over Thinkific. This is due to its feature of being able to integrate social networks with the platform to increase a tutor's audience.
That said, there are other software options out there that you can consider to help you out with your online tutoring. Three alternatives that offer the same service include:
Main Differences Between Thinkific vs Mighty Networks
The main differences between Thinkific vs Mighty Networks are:
Thinkific focuses on providing a platform for online classes, whereas Mighty Network focuses on providing a community for its tutors.
Thinkific offers a free version for users, whereas Mighty Network does not offer a free version.
Thinkific does not offer an app, whereas Mighty Network offers a mobile application.
Recommended Buying Guidelines
The transition from older conventional ways of tutoring to an online platform can definitely be a confusing task. After all, every software out there has unique features that serve a different purpose. Purchasing the wrong software can not only be financially draining, but it can also prevent your brand from growing.
Here are some guidelines that will help you to choose the right software:
Identify Your Needs
Being aware of what exactly you want the software to do for you will save you from paying for features that you do not need. These could be to focus on capitalizing on your course material or to focus on building a community around your brand, for instance. Identifying these needs will help you separate any features that are necessary from those that aren't.
Check for Updated Tech Tools
As a tutor, keeping up with the market requires you to have updated features that are aligned with the current trends. These features could help with integration with other applications in the future, too, to help your brand grow.
Compare Their Costs
As a starting business, maintaining low initial expenses will help to shorten the timeframe of attaining a Return on Investment (ROI). With that in mind, you'll want to be sure that what you pay is a reasonable price in the market.
Research the Support Team
What type of reviews does the support team of the software have? Do they address issues quickly? Checking the reviews of the current users of the software in question will save you from possible setbacks from the software administrators.
Perform a Quality Check
When you narrow down a software that you want to use, be sure to use the free trial first to determine how well the features work. Also, since your clients will need an easy-to-use interface to access the course, testing out the software from the perspective of one of your students beforehand is essential to ensure that it is user-friendly.
Mighty Networks and Thinkific are great choices for an online tutoring platform. They both provide quality services and address most issues found with tutoring online. Today, I'm going to go ahead and elaborate on their features and outline their pros and cons for you. That way, you'll be able to make a better decision for yourself.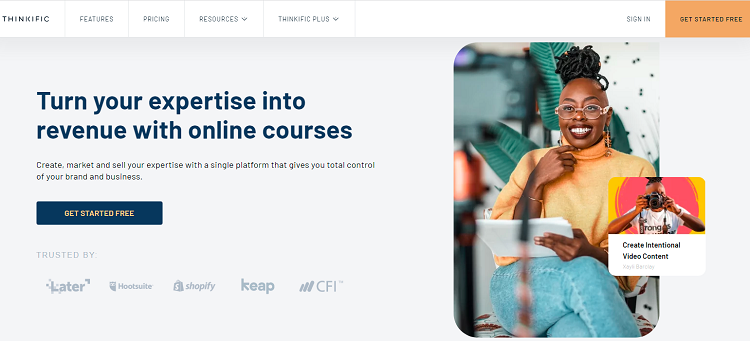 Thinkific focuses on helping individuals share their course materials online. This software ensures that users can create a brand for themselves. It does not require a huge fan base to start and helps to market your program, and many users find Thinkific to be a great option for capitalizing on their course materials due to its e-commerce features.
The Main Features of Thinkific
Page Builder: Thinkific page builder allows users to customize their landing pages. The platform supports custom domains, meaning that users can access both CSS and HTML.
Marketing Tools:

Users are presented with various ways of marketing their courses. Thinkific offers coupons and

payment plans

to help tutors attract more members to their courses.

Assessment and Certificates

: Thinkific also allows tutors to create comprehensive assignments and give out quizzes to members. This feature enables courses to have aptitude exams and even issue certificates upon completion.

Progress Tracking

: Thinkific generates reports about the progress of a member. This action is conducted by assessing completed assignments and exams to validate their progress.

Live Lessons:

Tutors can decide on whether to use recorded videos for their courses, or if they prefer to use video conferencing.
Pros of Using Thinkific
Advanced Customizations:

Users can customize their pages to fit their brand. It also allows them to add personalized websites onto the platform, as well.

Good Support Team:

Their support team responds quickly to requests and questions from the software's users.

Best for E-Commerce:

Thinkific allows payments from 100+ countries, all without any transaction fees.

Easy-To-Use Interface:

The layout design of the platform is easy for both the average startup and for general management.
Cons of Using Thinkific
Weak Security:

People who have not paid for the subscription can sometimes access course materials. A subscriber can find the content URL by using the "View Html" feature on their browsers and easily share it with anyone.

Fixed Payment Design:

The checkout process has a relatively standard design, and unfortunately, the layout cannot be modified based on how the user wants it to be.

Limited Media Size Upload:

Thinkific does not support PNG images and only accepts JPG. Users have to upload average-sized photos with poor quality.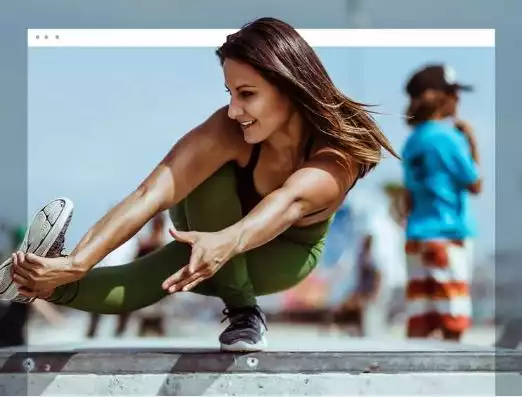 A Focus on Mighty Networks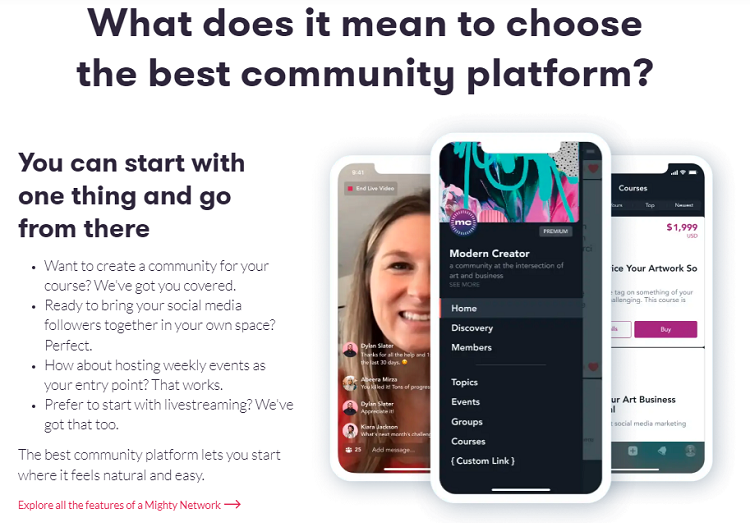 Mighty Network was developed to help businesses create a community around their paid online courses. The software integrates with social sites for its users to be able to have a following on their brands. These brands that have a large following on social sites can easily convert the numbers into course material sales with Mighty Networks.
The Main Features of Mighty Network
Ambassador Program:

This feature enables tutors to market their courses through existing members. The members can refer the course to their friends and can even

get rewarded

. This feature helps to grow the number of members within a course, leading to more profit in your pocket.

Facebook Pixels

: Mighty Networks allow users to monitor conversions from ads on Facebook. Users can be able to distinguish whether the marketing campaign on Facebook is working, or they need to change the demographic target market.

Hidden Subscription Plan

: This feature is essential for tutors who are moving from another platform to Mighty Networks. They can transfer their current members to Mighty Networks through a customized subscription plan for each client. These plans can be edited by having each subscription plan set to different timeframes, depending on how many months the client has remaining.

Test Questions for New Users:

Tutors can draft up to five questions and attach them to their landing page. These questions can act as merits to distinguish if the new client is suitable for the course or not. Hence, a tutor can manage to organize their members to courses that they qualify for.

Enabling and Disabling Page Search Indexing:

When this feature is turned off, posts from members and their profiles will not be visible by search engines. Only the landing page of the course will be searchable, and members can be hidden.
The Pros of Using Mighty Networks
A Community-Based Platform:

Tutors can build a community around their courses from social media websites such as Facebook. This will ensure that their brand is easily recognized by the market.

Encourages Member Interaction:

Members in a course can interact with each other and discuss different topics. The tutor can assign individual topics to members within a group and can successfully manage to have a personalized interaction with members.

Offers Video Streaming:

Apart from uploading videos, tutors can also engage their members through streaming within Mighty Networks. This can be also done through the mobile application. Members will find it convenient to have an all-in-one app.

Seamless Platform Integrations:

Mighty Networks allows the use of features from other platforms. These features include the ability to access Facebook Live which can allow tutors to reach out to more members, for instance, or the integration with Crowdcast to

promote virtual events

.
Cons of Using Mighty Networks
Navigation Difficulties:

The platform design slightly differs from other social sites. This means that new members may find it difficult to navigate through the course, which may affect their interaction and engagement.

Lack of Design Features:

Tutors end up having a basic landing page for their courses. The platform offers only a limited number of colors, and the design tools offer a standard format to arrange the page.

Manually Created Discount Codes:

Mighty Network does not automatically give new members discounts through codes. The tutor has to manually create a plan for a discounted subscription for a member.
Alternatives to Thinkific and Mighty Networks
Some alternatives out there are equally as good as either Thinkific and Mighty Networks. Being aware of what they offer will increase your awareness of what good software can and should offer you. Here are some of the options.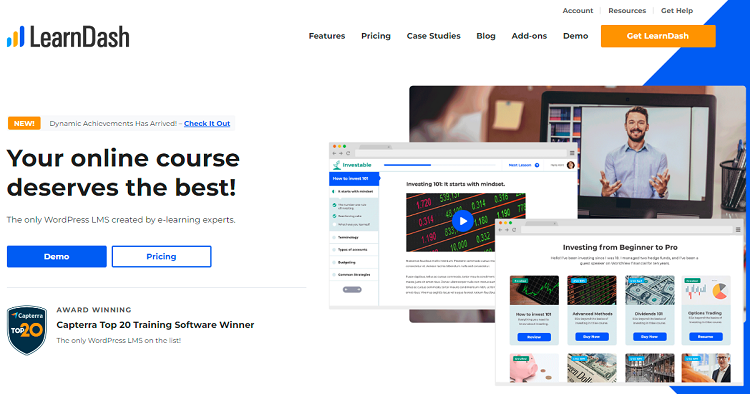 LearnDash focuses on creating course content with WordPress and offers a platform to sell them. The software ensures that the content created is of good quality to help with achieving high sales.
Pros
Interface is easy to use and does not require any training

Content creation is simplified to pick and drop builders

Software automatically sends emails to members by using engagement triggers
Cons
Payment options are fairly limited

Has poor customer service

Editing quizzes or lessons is cumbersome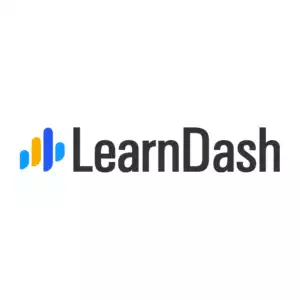 WordPress LMS Plugin by LearnDash
The most trusted WordPress LMS plugin, created by learning industry professionals with Fortune 500 experience. Transform your site in less than 5 minutes.
Get LearnDash
We earn a commission if you click this link and make a purchase at no additional cost to you.
TalentLMS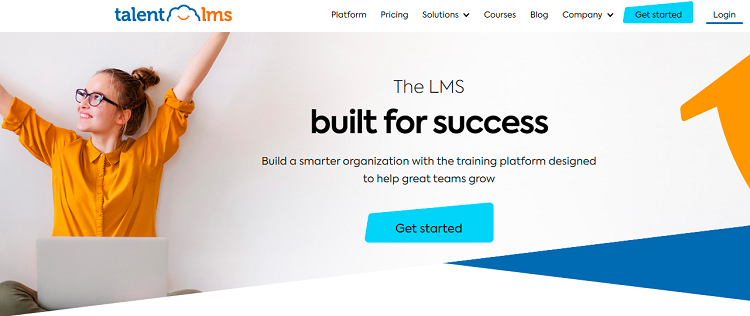 TalentLMS is developed for companies to train their staff members effectively. The platform helps to track the progress of every staff member. Afterward, it then reports back to management.
Pros
Allows users to create various branches of one program for easy navigation through the coursework
User interface (UI) is easy to use and does not require training

Mobile application is available to users

Software generates a detailed report on completed training for future review
Cons
Changing the design of the UI and adding items is not easy

Is a more expensive option than other platforms offering the same services

Discussion forum is not robust enough to build a community based on the course.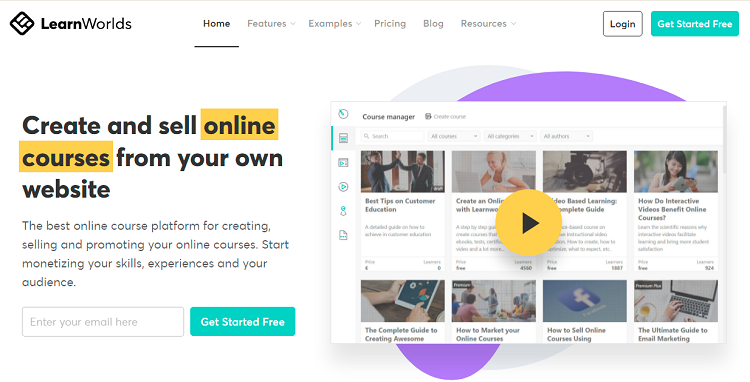 The software focuses on e-commerce, as well as building a community for members. LearnWorlds has a wide range of features that are all reliable. For the most part, though, this software is a solid alternative for Mighty Networks.
Pros
Has excellent support that responds timely without delays

Platform is easy to use and navigate through

Has a comprehensive website builder to design your pages to match your brand

Accepts a good number of payment options for its users
Cons
Platform is more expensive than other alternatives

Users may pay for features that they do not need

Takes time to achieve a return on investment (ROI)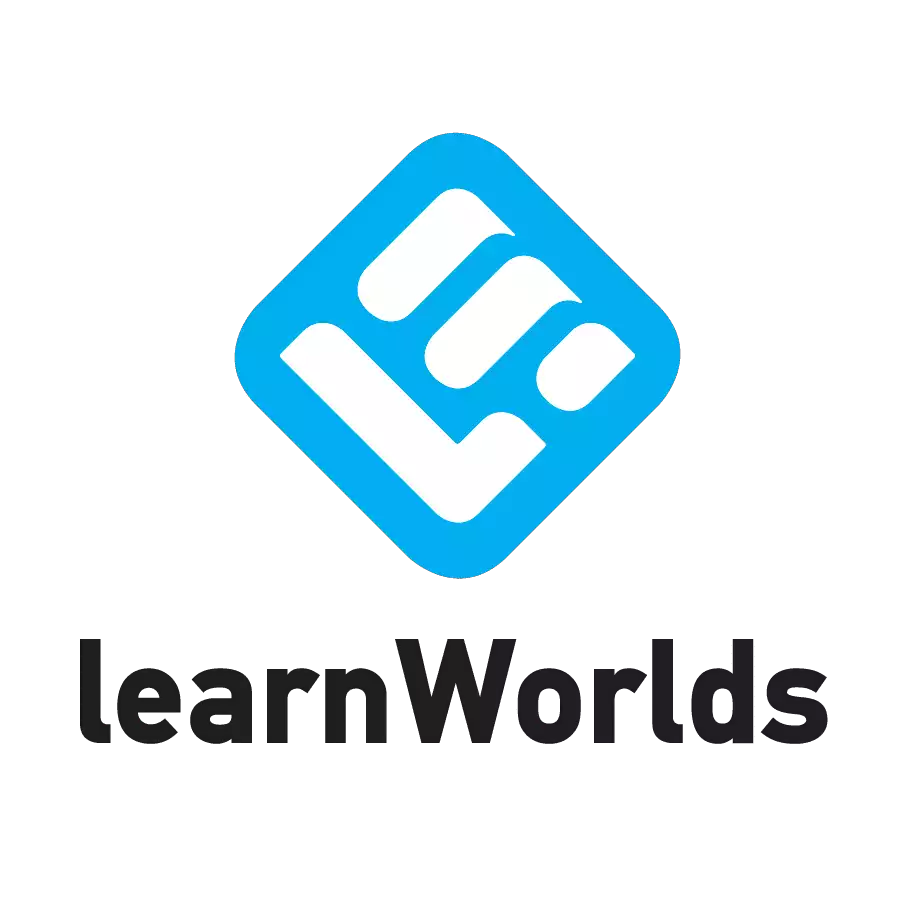 How to Get the Most Out of an Online Course Software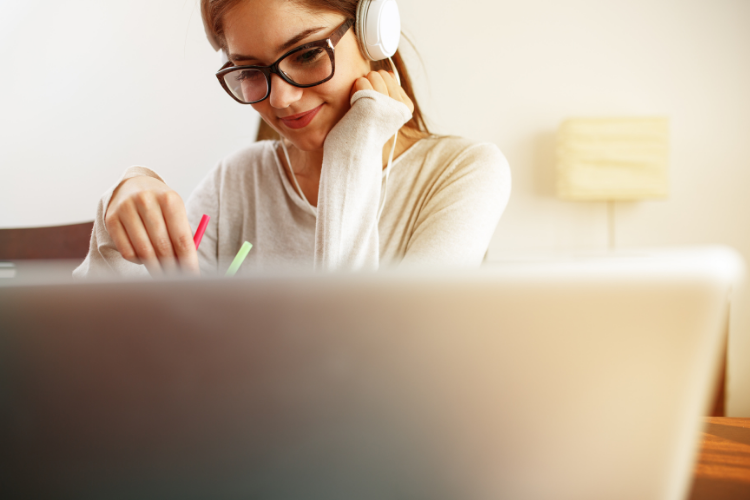 As a new user, it can be difficult to keep up with market trends in the online courses industry. Fortunately, this software has made it easy by including features that help users be competitive with larger brands. Here are pointers to observe while using an online course platform.
Complete the offered training.

Most people dive into course building without actually understanding the tools offered by the software. Knowing how to use features from the software, though, will help keep you ahead of the competition.

Facilitate contact between yourself and your clients.

You want to make sure that your members can easily communicate with you.

Set clear goals for the members.

Don't forget to establish what members will achieve upon completion of the course. This incentive will allow them to see the value of the coursework – and they may even give referrals to their friends!

Ask for reviews.

This strategy is a great way to have

quality control

of your course material. Members of the course can give you insight into the difficulties they may have experienced during the coursework, as well as what they liked about it.
FAQs
Question: Can I Develop my Website on Thinkific?
Answer: Yes, you can. Thinkific offers its users complete control when it comes to designing their pages.
Question: Who are the Usual Users of Mighty Networks?
Answer: The users are generally large businesses, non-profit organizations, and freelancers.
Question: Does Thinkific Offer an API?
Question: Between Thinkific and Mighty Networks, which One is Better?
Answer: It depends on your business model, as both platforms are effective in delivering your content to clients and e-commerce. However, after reviewing both, I find myself leaning toward Mighty Networks.
My Final Thoughts
Mighty Networks vs Thinkific are both highly reliable software options to use. For instance, they both offer different marketing incentives to ensure the sales of course materials and have a good interface. I find that Mighty Networks is preferable for building reputable brands while Thinkific is great for attaining sales.
That said, in my opinion, I find that the Mighty Network software is the preferable option. This is based on the fact that it's a community-based software, and because of that, it has lots of marketing features for its users. However, you really can't go wrong with either software!