Last Updated on April 22, 2023 by Ewen Finser
If you want to build a website, blog, eCommerce store, or membership site, you might be wondering where to start. First, you'll need to find a decent website-building platform, which is where my Bubble vs Webflow comparison comes in!
Bubble and Webflow are powerful platforms that offer advanced tools while not requiring you to know code. I've built a few websites in my time, and I can tell you that finding a decent platform to work with is half the battle! A good website builder can distinguish between a smooth experience and a total headache.
I'll give you my detailed thoughts on each platform, directly comparing their features and looking at categories like integrations, customer support, and pricing.
The Bottom Line Up Front
This is hard to call, as both platforms are quite different. However, if I had to pick a favorite, it would be Webflow. It's a lot easier to use, and the whole platform is nicer to navigate.
Bubble is a powerful tool, however, with plenty of features for those with more experience.
Main Differences Between Bubble vs Webflow
The main differences between Bubble vs Webflow are:
Bubble is more complex, whereas Webflow is a little more user-friendly.
Bubble is more customizable, whereas Webflow is a tiny bit more restrictive.
Bubble allows you to collaborate live with other team members, whereas Webflow doesn't have the same collaboration tools.
Bubble's analytics are better, whereas Webflow relies on Google Analytics.
Bubble's pricing plans are steeper, whereas Webflow is a little cheaper.
What Is Bubble?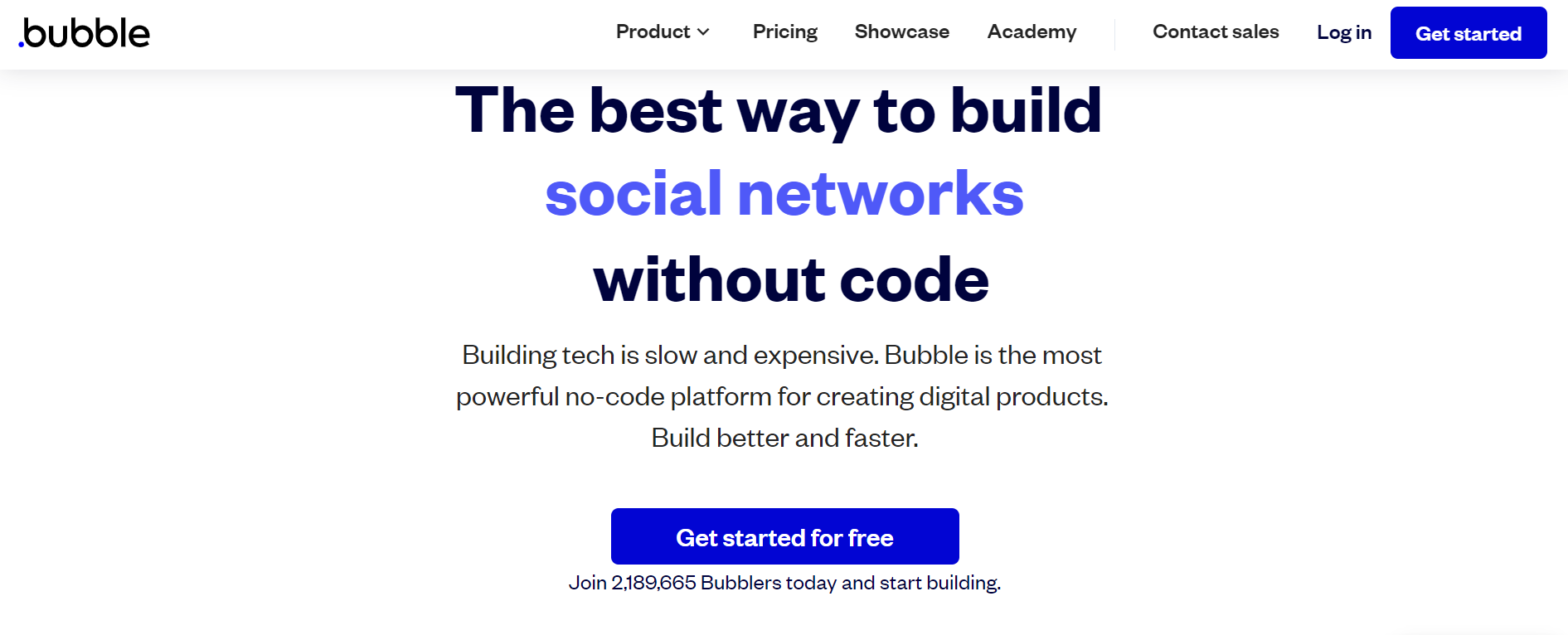 Bubble is a software and app development program. It enables users to build complex web apps without knowing code. It's hugely customizable and offers a ton of interesting features.
I'd recommend Bubble for those already experienced in web design or those wanting more customization than other web-building platforms can offer.
What Is Webflow?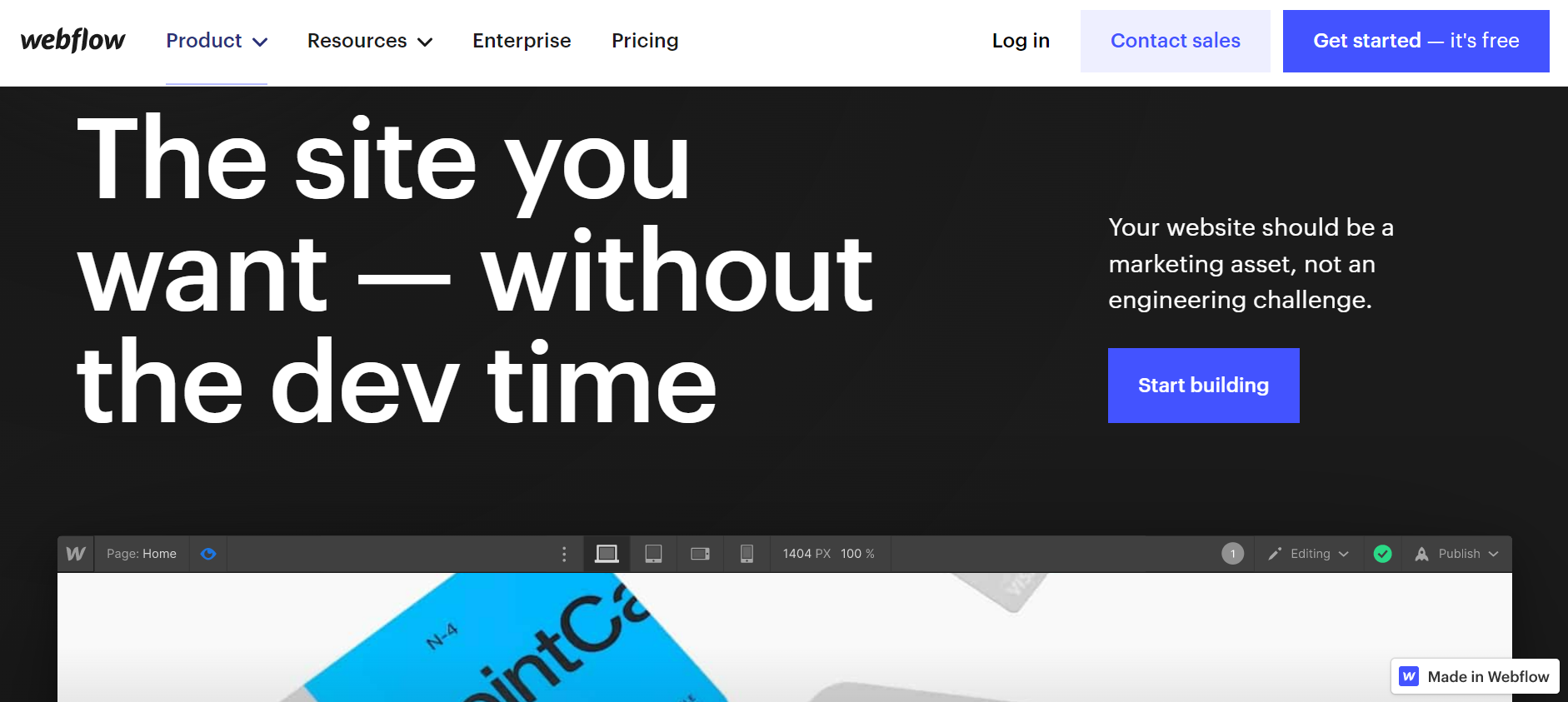 Webflow is a website builder, enabling you to build websites, blogs, eCommerce stores, and membership sites. It has an easy-to-use drag-and-drop builder and allows you to create custom animations for your site. Webflow is excellent for people with no web design experience.
The Main Features of Bubble
Here's what I thought about the main features of Bubble.
UX
Signing up for Bubble is incredibly easy to do. However, once you're in, the initial screen is a little overwhelming: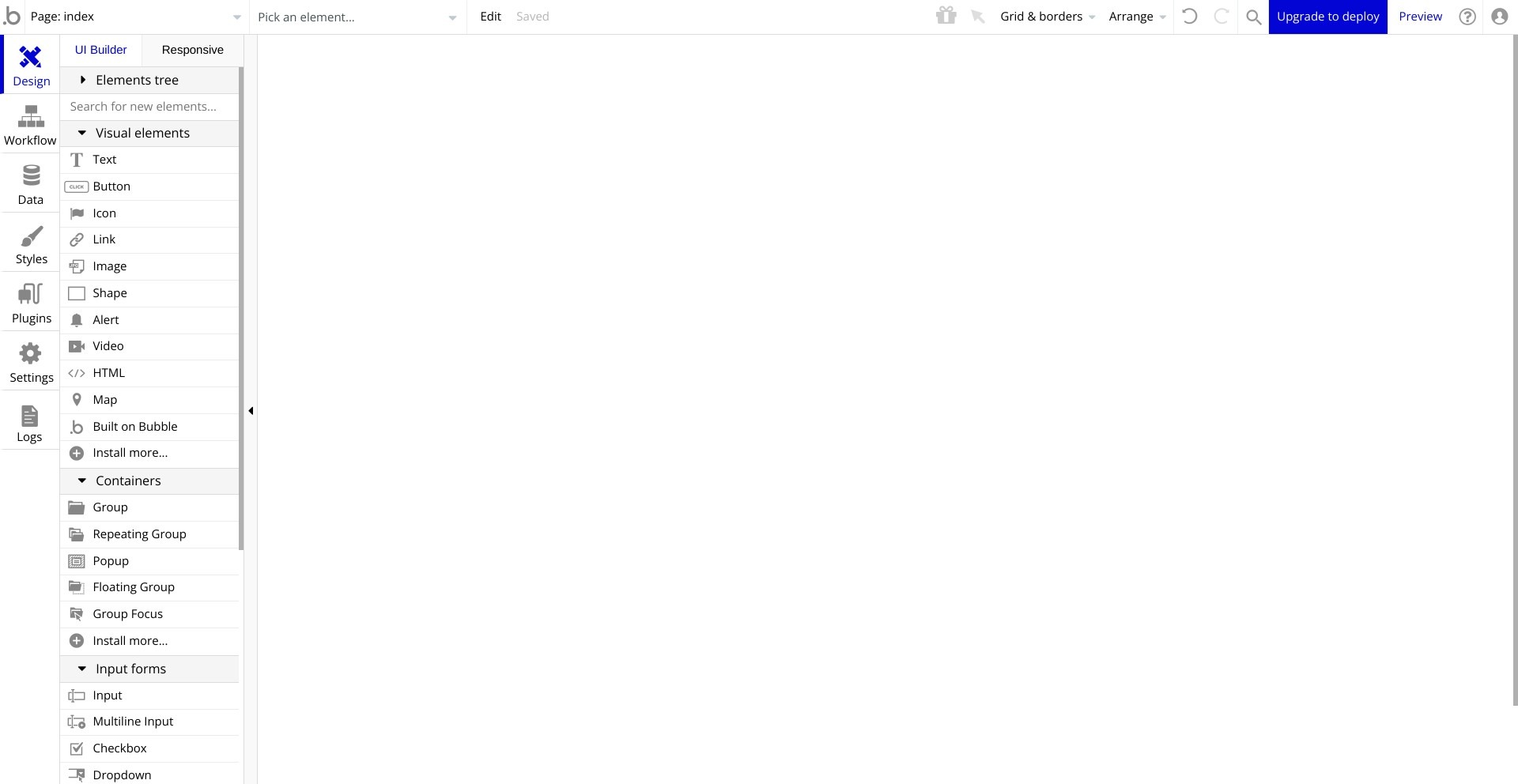 Not the most welcoming first view! Installing a template makes it easier, but it could provoke blank page syndrome, that's for sure. I'd recommend picking a template at the setup stage. This isn't made obvious, but it's not easy to pick a template later, so doing it at the setup stage gives you a better idea of the possibilities of the app.
I'd say it's not the most beginner-friendly platform out there.
Web Builder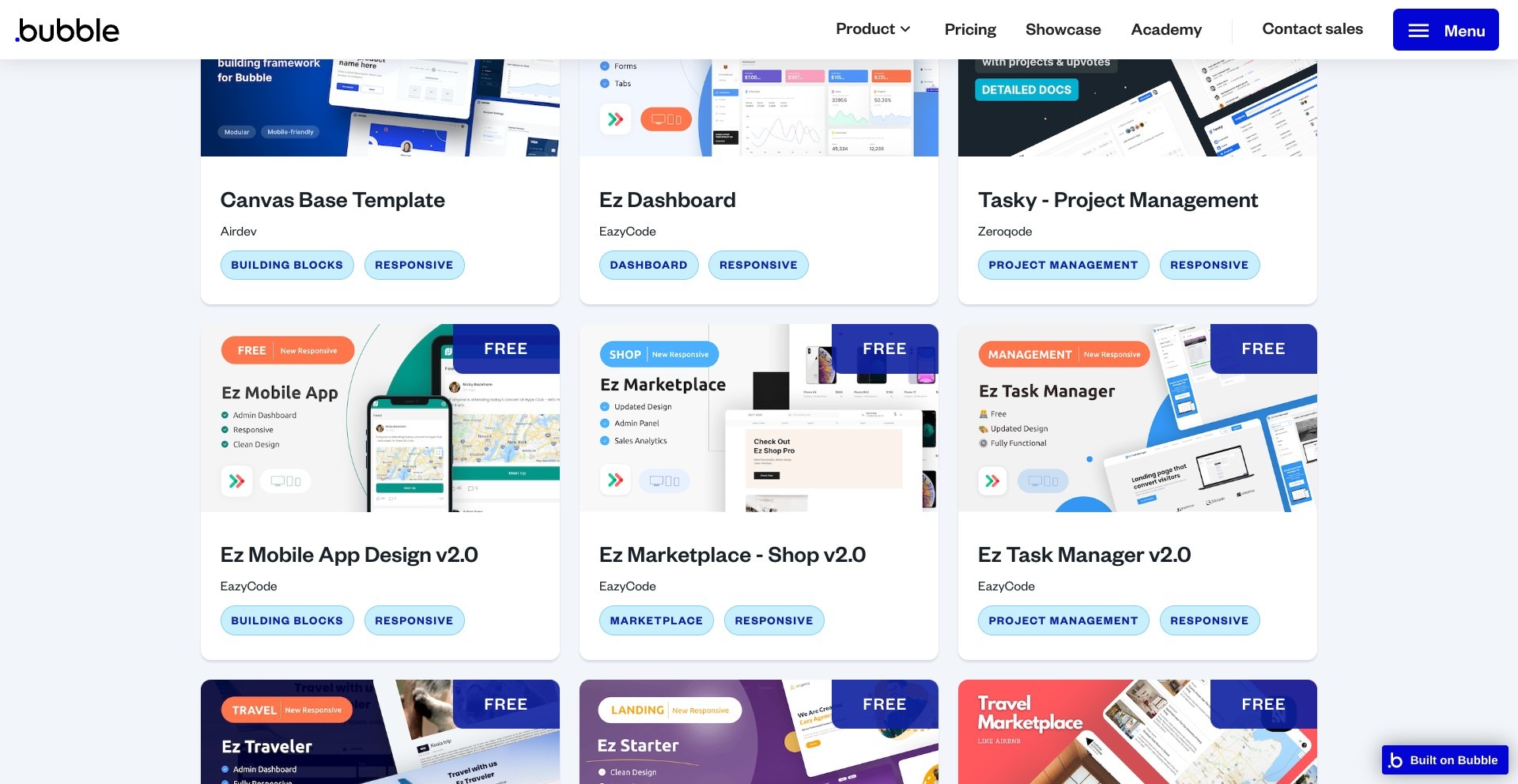 Bubble allows you to create apps as well as websites. Some of the options include:
Blog
Directory & Listings
Landing Page
Online Marketplace
Online Store
Portfolio
Professional Services
Social Network
There is a wide range of templates, including free and paid templates. These must be installed before you create a new app so that you can choose them at the 'setup new app' stage.
A massive pro of Bubble is that your resulting website (or app) will be hugely customizable. More tech-savvy users will enjoy the flexibility Bubble offers. Adding elements to a page involves dragging and dropping, although it doesn't just 'drop' where you want it to go (if you've ever used a website builder before, you might be frustrated that you can't just put elements wherever you want them).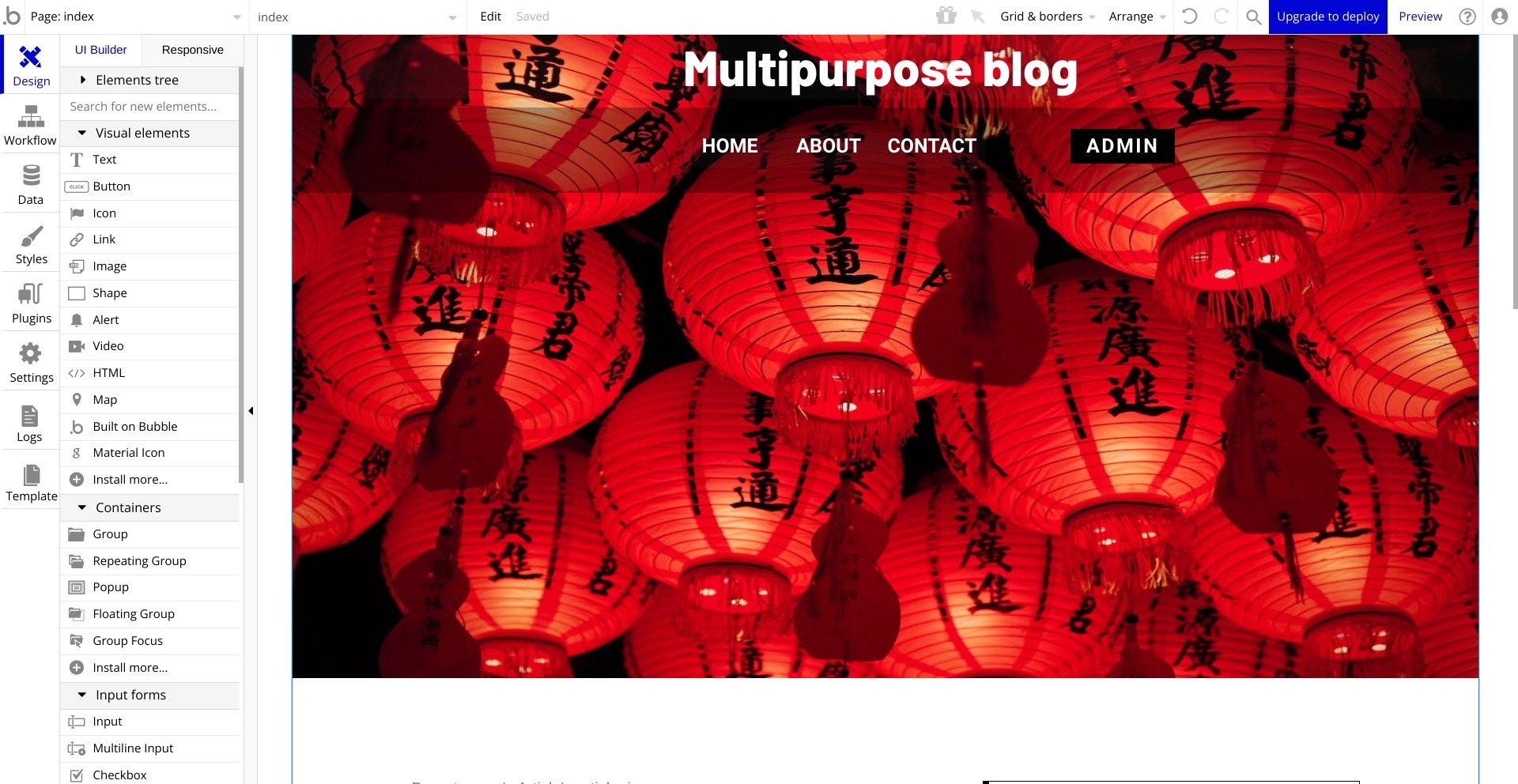 I like that you can set up styles. This means you can create consistency across all your pages.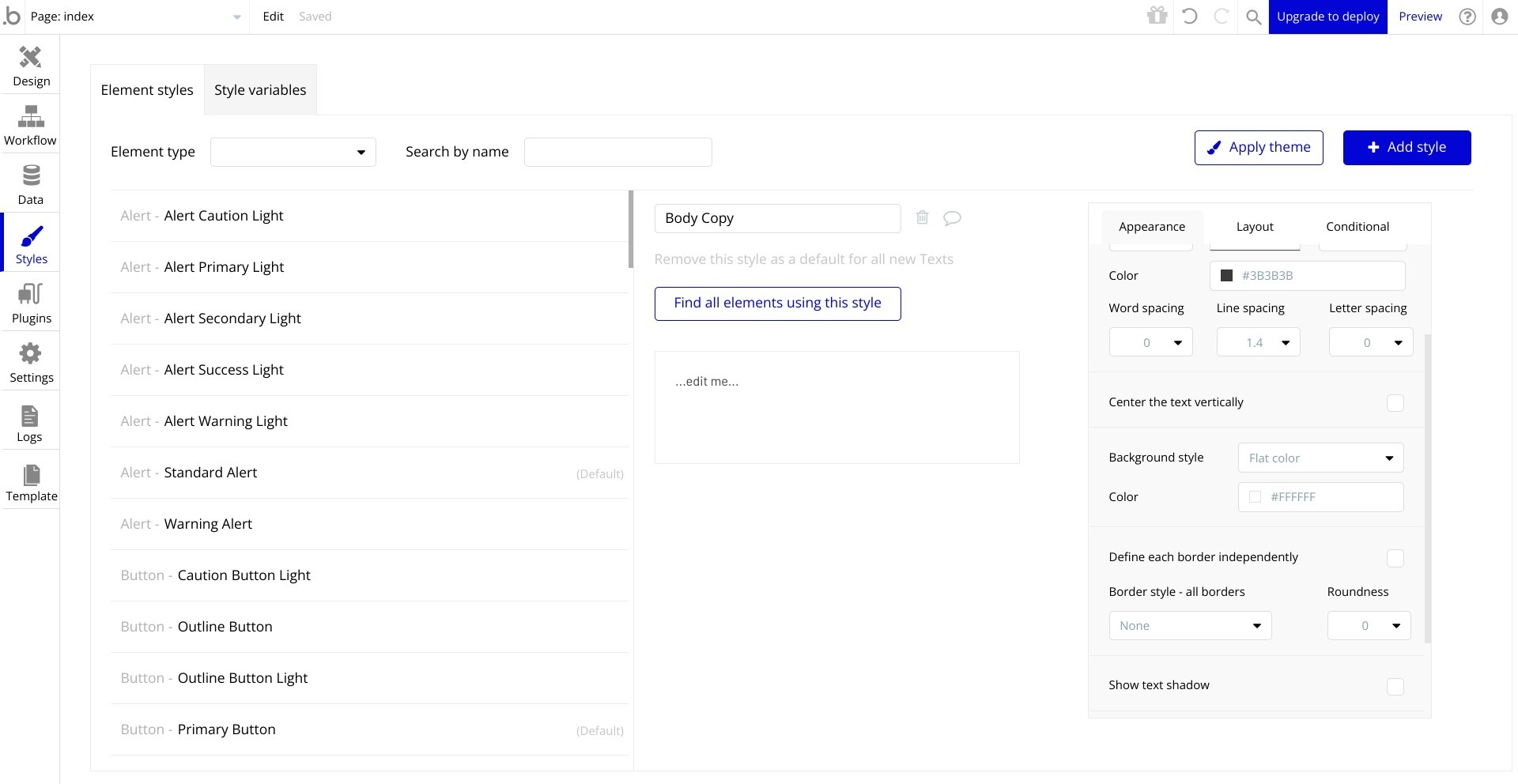 Everything can be customized here, or you can use one of their pre-built themes: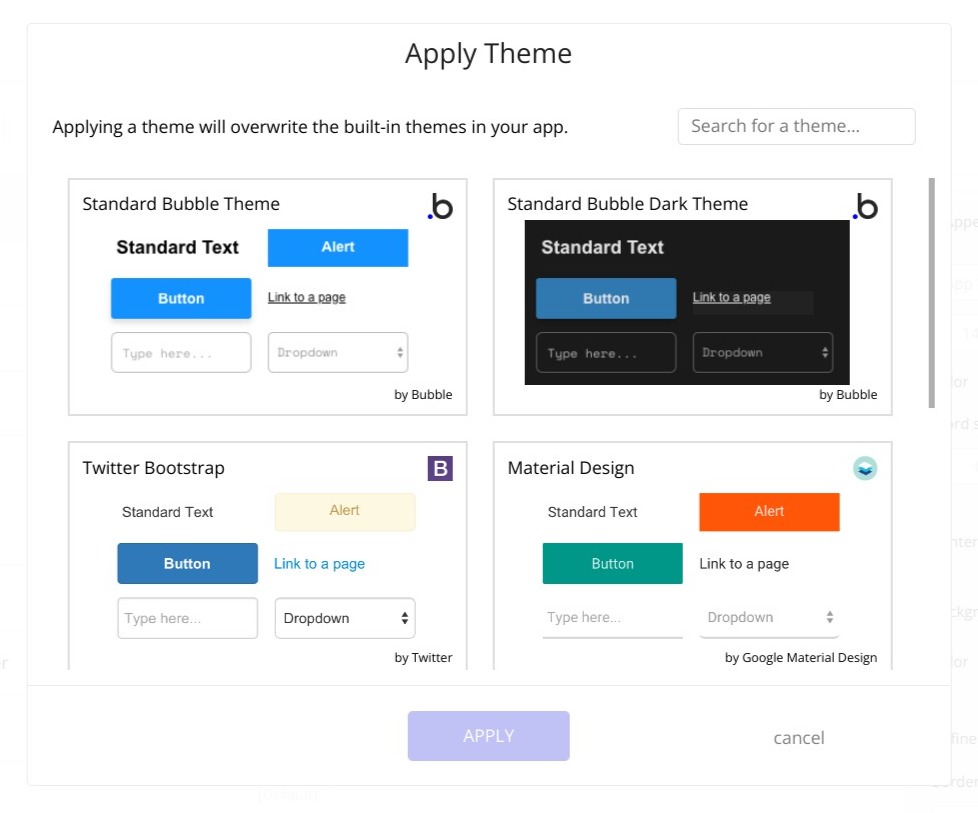 You can add many elements to your website, including images, links, icons, buttons, videos, maps, checkboxes, etc. You can also add plugins: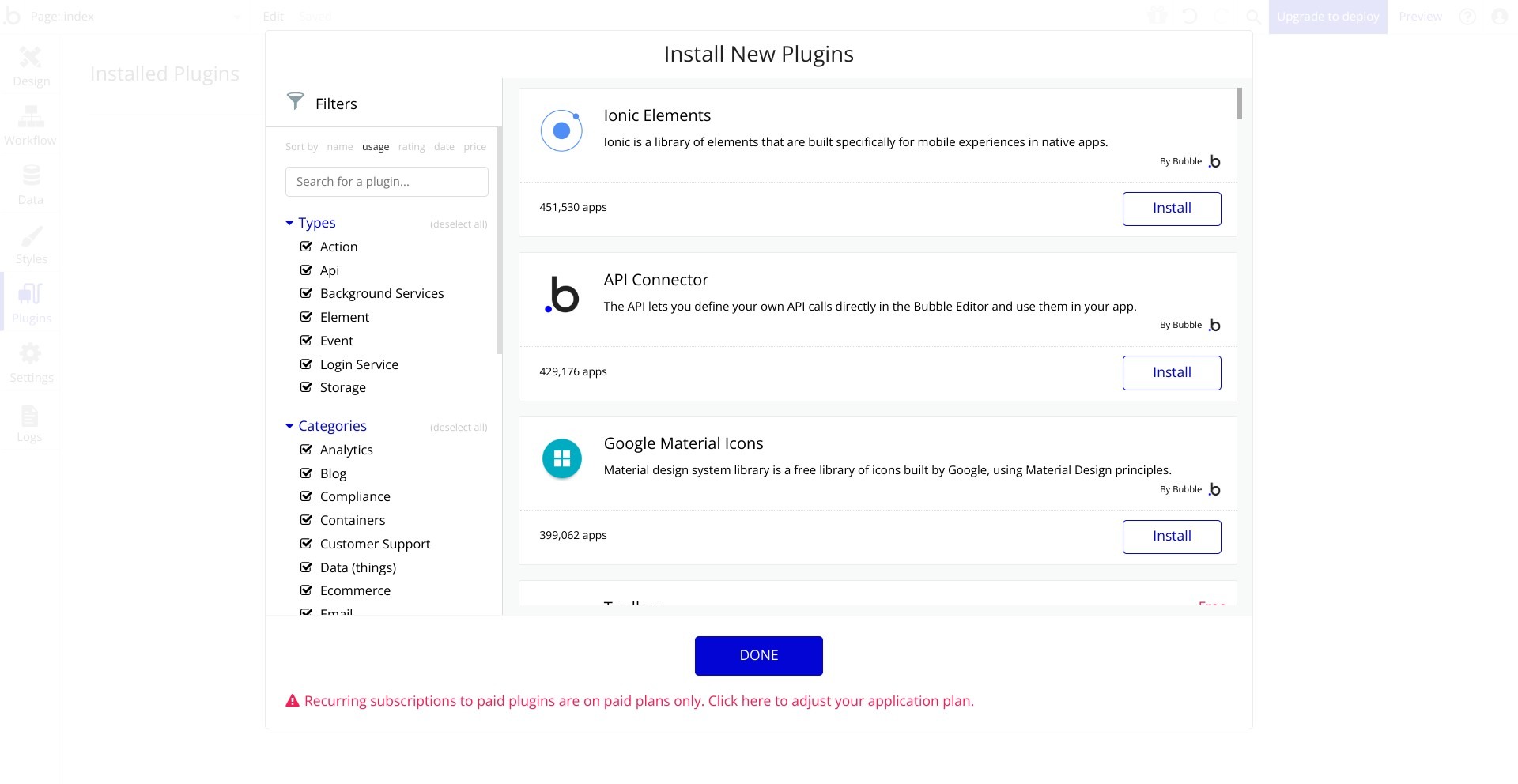 There are thousands of plugins, ranging from analytics to blogging to eCommerce to social media platforms. But, again, it shows the possibilities within Bubble: you can build just about anything you can think of if you're willing to put the work into learning how to use the platform correctly.
You can also add Workflows. This useful feature allows you to set up events in response to specific triggers. Clicking User Is Logged Out, for example, brings up a range of options: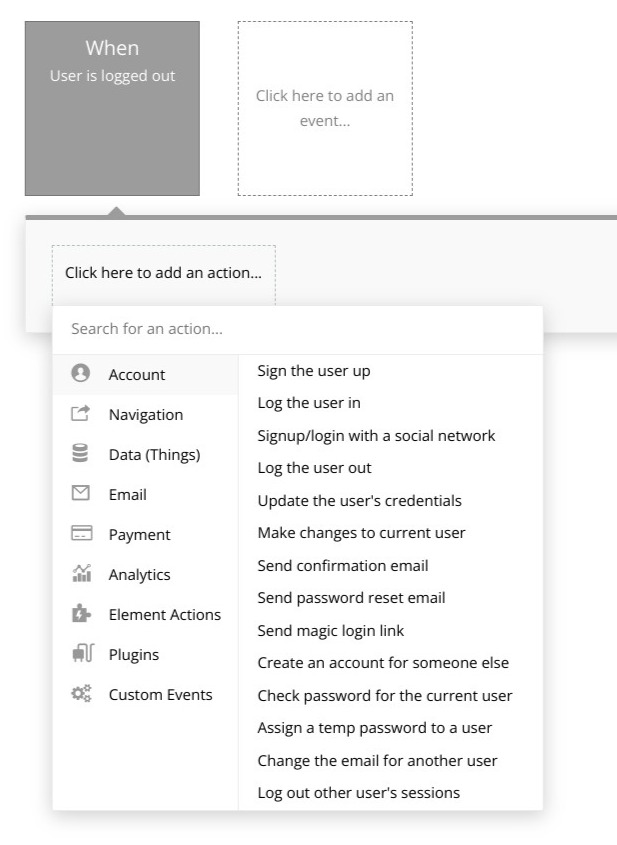 The difficulty is that it may be hard to envision the outcome. If you're new to web design or need ideas, dealing with a platform like Bubble will be more difficult.
Still, I was impressed with the sheer number of options available on the Free plan (although it's worth noting that you will have to pay to deploy your new app or website). Plus, if you're a more experienced user, you'll probably get on better with Bubble.
Dynamic Content
You can use dynamic content using Bubble, giving your users a more personalized experience. This includes email services: you can send emails to users, integrating with email marketing services. Using Workflows, you can trigger certain emails to be sent, for example, when a new user creates an account or someone abandons their shopping cart.
You can also integrate with apps like Stripe and Braintree. This enables you to build a checkout cart, or even create a more complex site, for example, a crowdfunding platform. There are a lot of possibilities here.
Collaboration
What I like about Bubble is that it allows you to collaborate with others. If a team of people works together on an app, for example, Bubble makes this much easier. Up to 40 people can work together at once, working in real-time, even if you're scattered in different locations across the globe. This makes it so much easier to work with others.
Analytics
I should also mention analytics. You can run detailed reports on Bubble, even narrowing down which areas of your app or website users are most drawn to. This information is extremely valuable. For example, you can measure when people are using your website, when the peak times are, and more.
The Main Features of Webflow
Here's what I thought about Webflow.
UX
Webflow does feel a little 'friendlier' than Bubble. It's easier to understand and navigate, and you can easily view your site as you build it.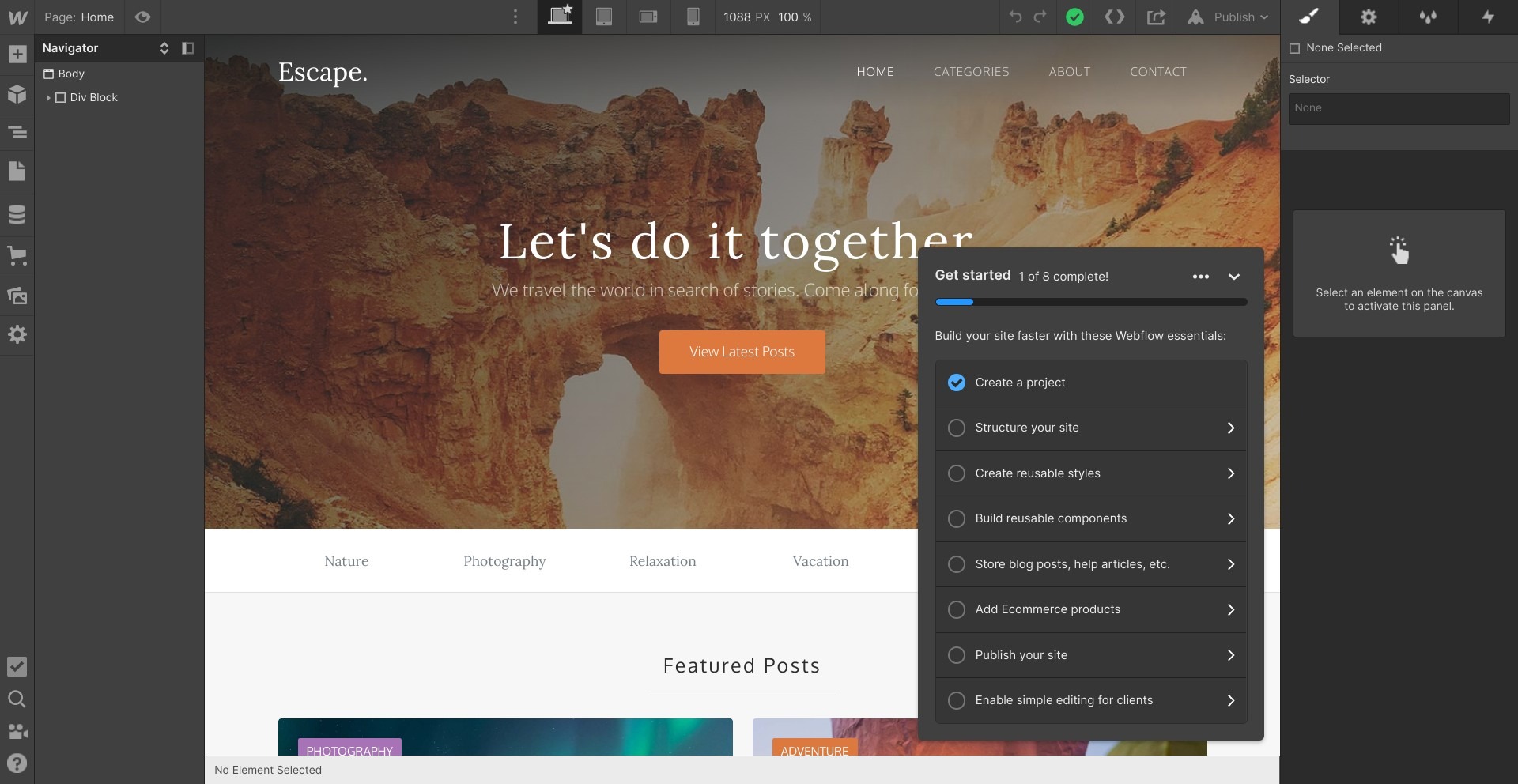 It's also packed with 'Getting Started' tutorials, which will walk you through the platform's main features.
Web Builder
The web builder is pretty intuitive: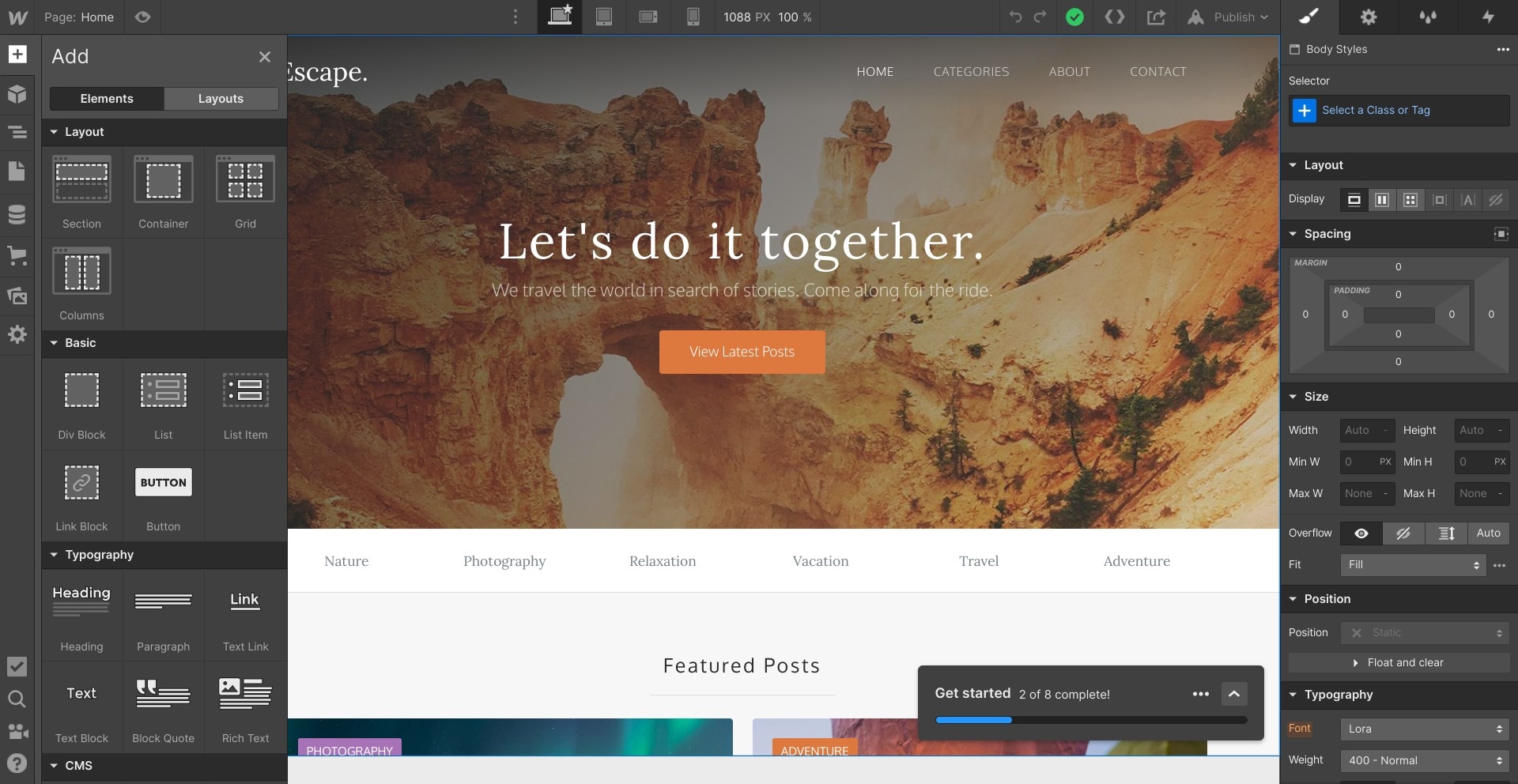 You can add build sections, containers, and grids to build the main structure. Once the structure is in place, you can add content blocks. This includes text, links, buttons, images, videos, forms, and social media components. Each piece of content can be customized, too. For example, you can change fonts, backgrounds, borders, and so on. You can also change the style sheet, which will apply those changes to each page of your website.
There's a good range of templates, too: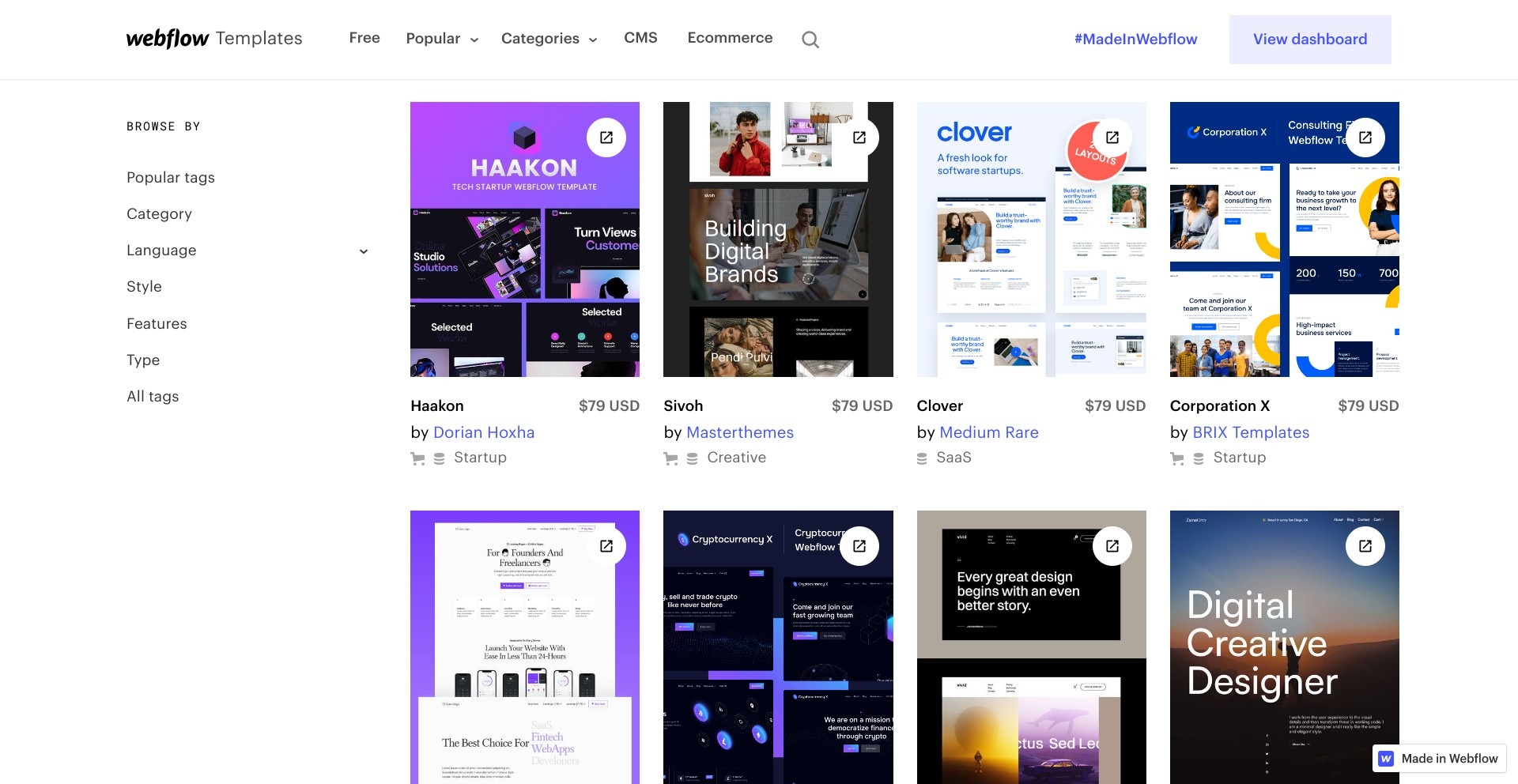 These include free and paid templates under a range of categories.
I like the eCommerce features in Webflow. For example, you can build a shopping cart that suits your business, create transactional emails to send when specific triggers are hit (for example, sending a customized invoice when an order is made), and create custom checkout flows with individual product variants.
Payment methods for customers include Stripe, Apple Pay, Google Pay, and PayPal. It automatically calculates taxes, too.
You can create custom 'interactions' (or animations). You can build progress bars, for example, create a locking grid effect, and build Micro Interactions (for example, you can make an image wobble when a cursor tracks over it). These can be built from scratch and are a nice bonus if you want to create a beautiful website.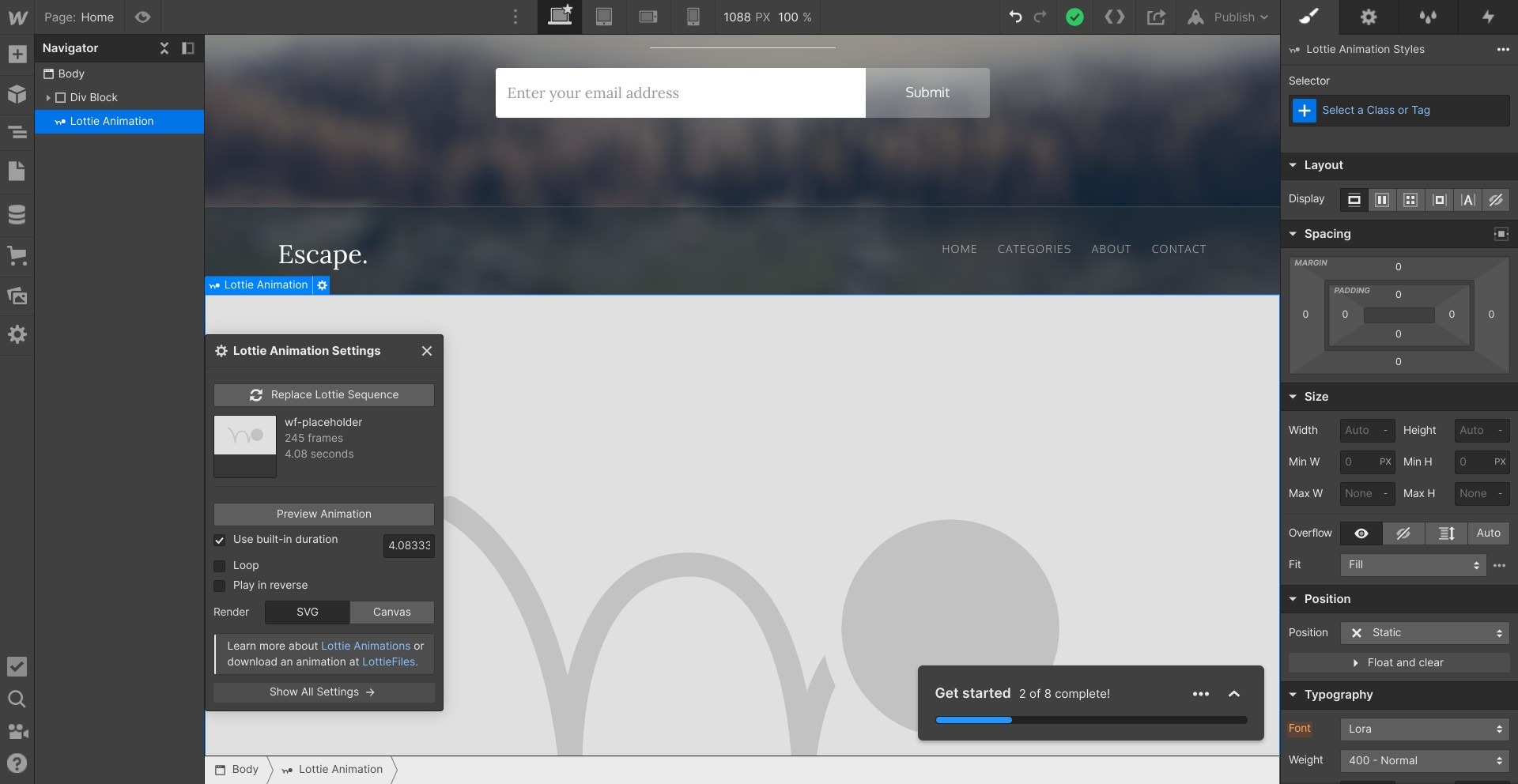 This is another part of the platform to get your head around and has a separate learning curve, so if you're a total beginner, it could take some practice to understand this properly. You can also offer memberships, creating only available content for subscribers.
CMS Tools
I like the content management tools provided by Webflow. It makes it very simple to deal with specific tasks (for example, you can change the title of a blog post or article, and it will instantly update across the site). In addition, you can invite teammates and clients to upload content, giving some members editor's privileges so that content can't be uploaded by everyone.
Analytics
The analytics aren't as robust on Webflow as they are on Bubble. With Webflow, you need to link up with Google Analytics to access any data, and it's not as in-depth as the reporting in Bubble.
Bubble vs Webflow Integrations
Integrations are pretty vital to make the most of both Bubble and Webflow. Here's how they compare:
Bubble
There are some excellent integrations for Bubble, including:
Asana
Facebook
Gmail
MailChimp
Google Maps
Slack
Steam
Stripe
Twitter
Zapier
YouTube
Webflow
Webflow has some great integrations, too, including:
Zapier
Shopify
Twitter
Instagram
Facebook
Gmail
Bubble vs Webflow Customer Support
Let's move on to how customer support compares.
Bubble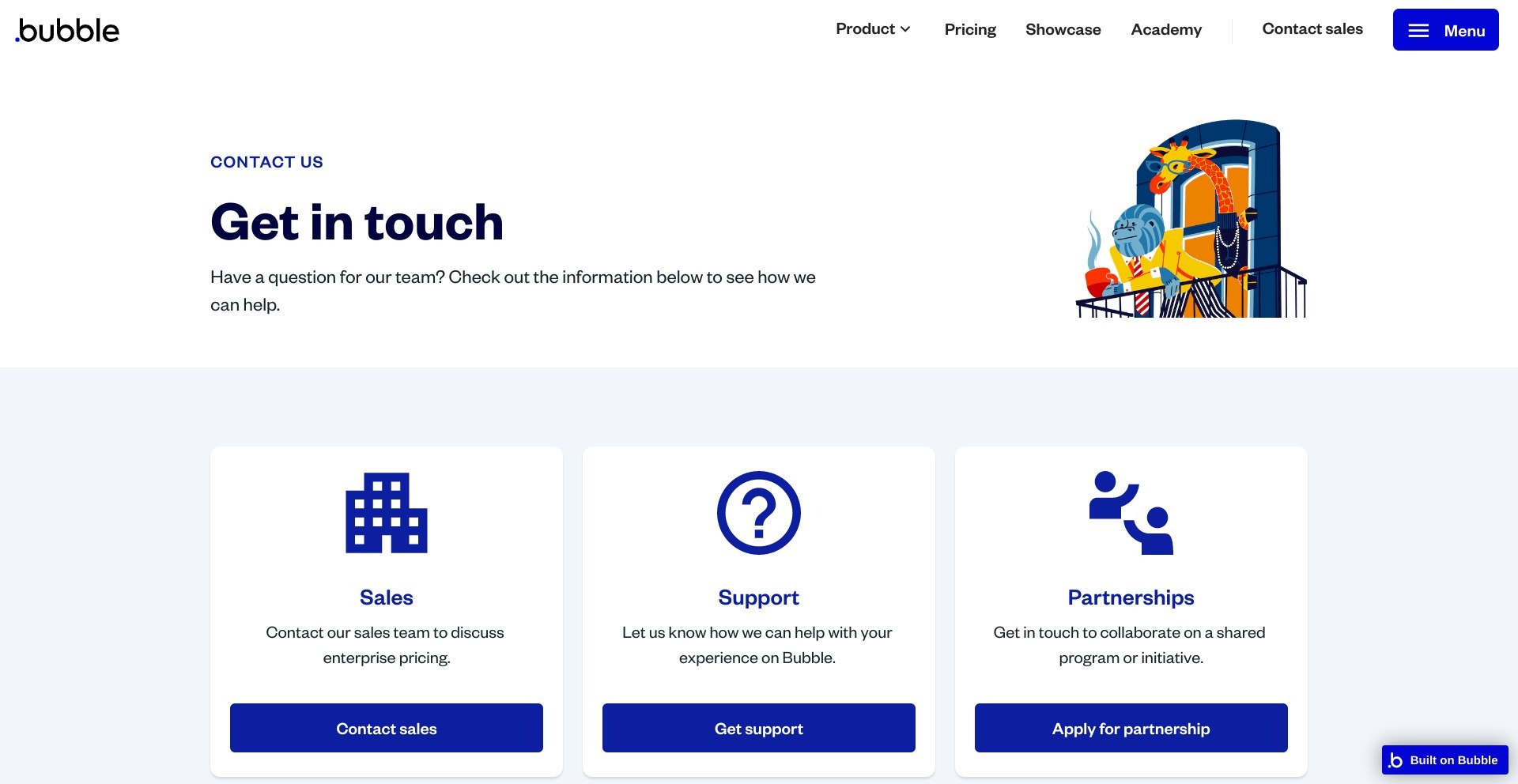 The Bubble Academy is pretty good – it will walk you through how to use the platform, and it's very useful (especially if you find the platform itself overwhelming). Plus, the customer support team is pretty good. Anyone can find support by submitting a ticket, and they're pretty responsive. Support improves as you go up the price tiers (more on that later).
Webflow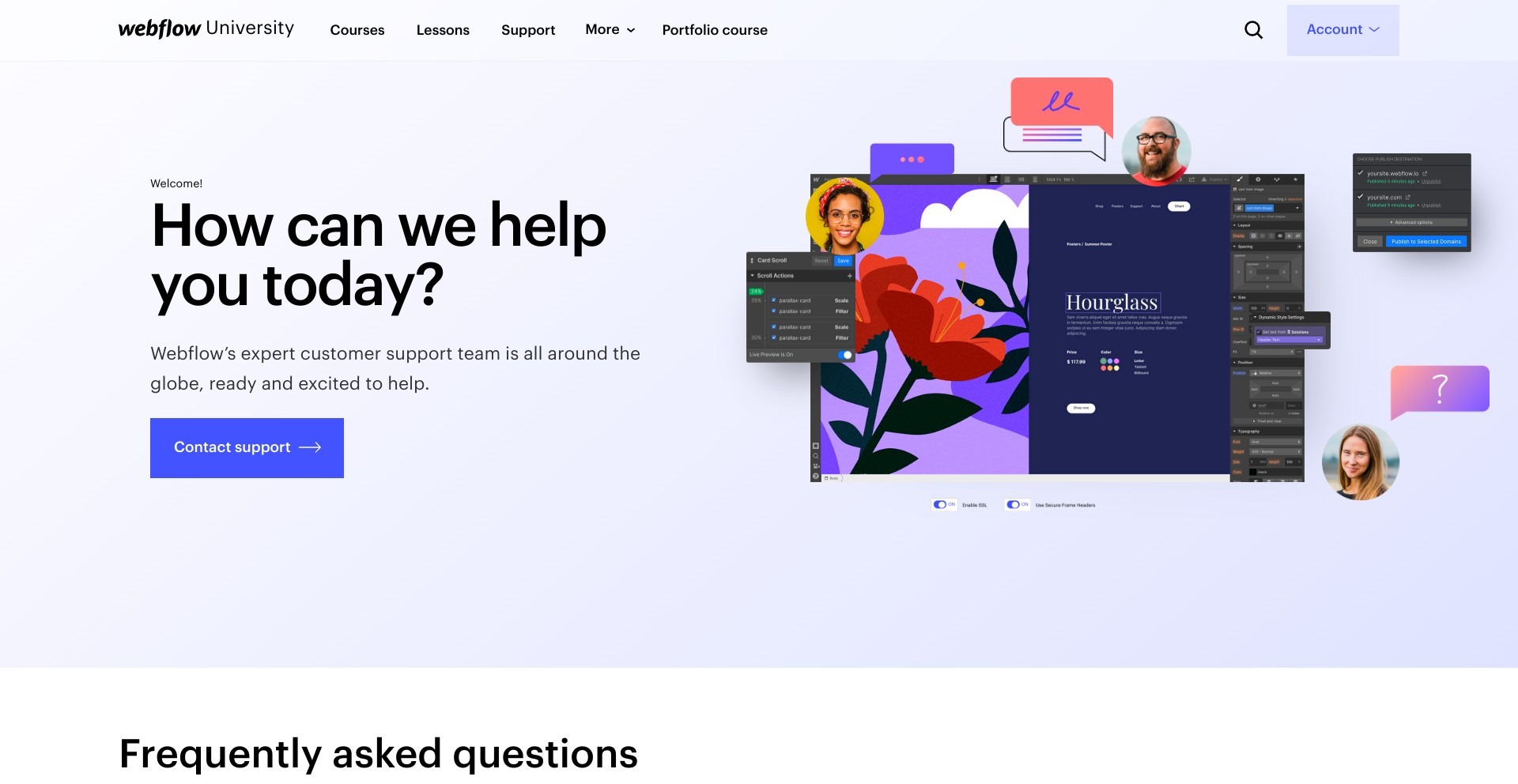 Webflow University is excellent for newbies. You can use it to teach yourself how to use the platform, and it's very user-friendly. Regarding customer support, you can email their team or reach out to other users in the forum.
Bubble vs Webflow Pricing
How do they stack up in terms of pricing?
Bubble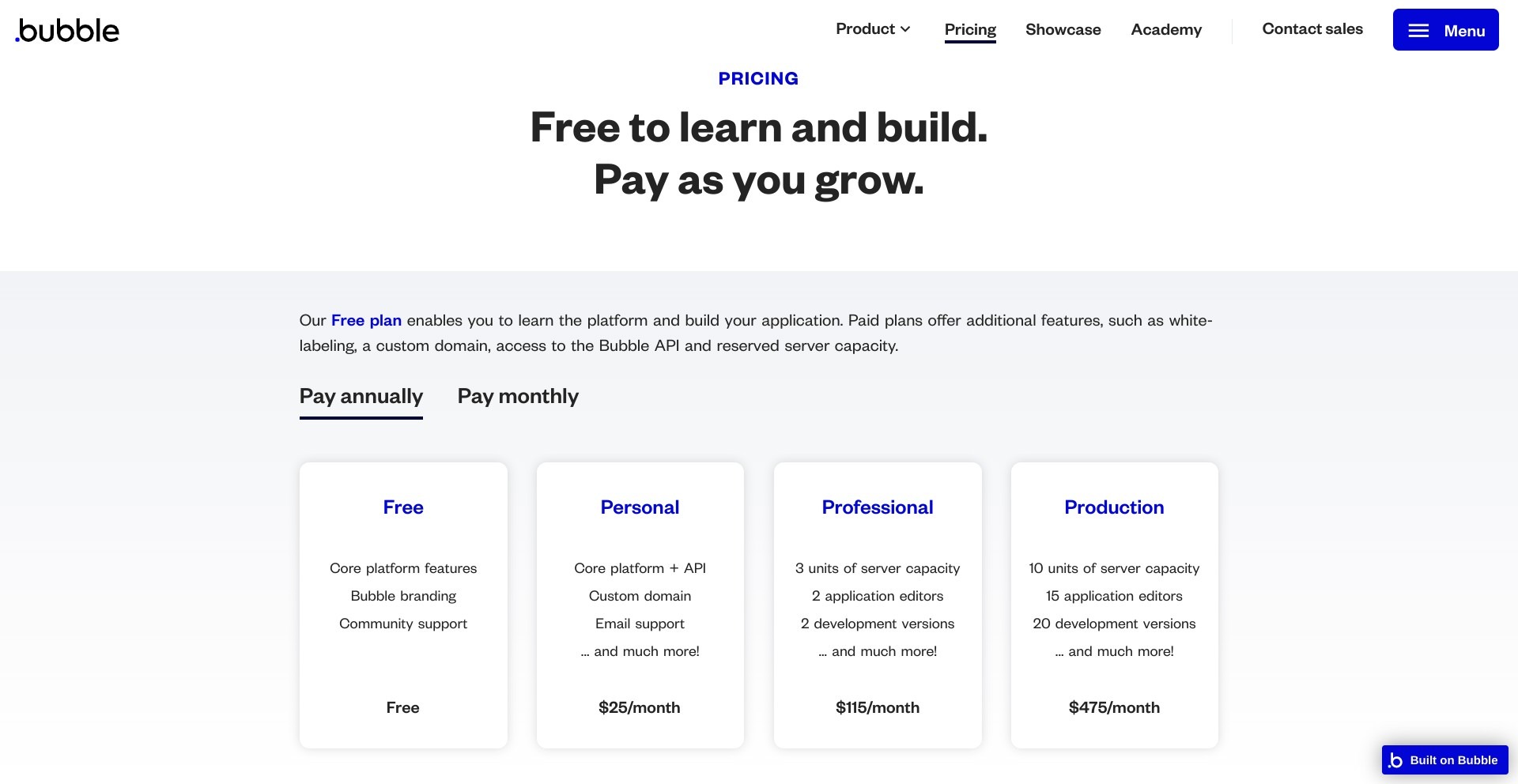 There are four price plans to choose from:
Free – $0 per month
Core platform features
Bubble training
Community support
Personal – from $25 per month
Core platform + API
Custom domain
Email support
Professional – from $115 per month
Everything in the previous plans
3 units of server capacity
2 application editors
2 development versions
Production – from $475 per month
Everything in the previous plans
10 units of server capacity
15 application editors
20 development versions
It's worth noting that the Free plan allows you to build your website or app, but you'll need to upgrade to another plan to deploy it. The pricing jumps significantly between Personal and Professional, but you get a lot more server capacity for your money. You can find out more on their pricing page.
Webflow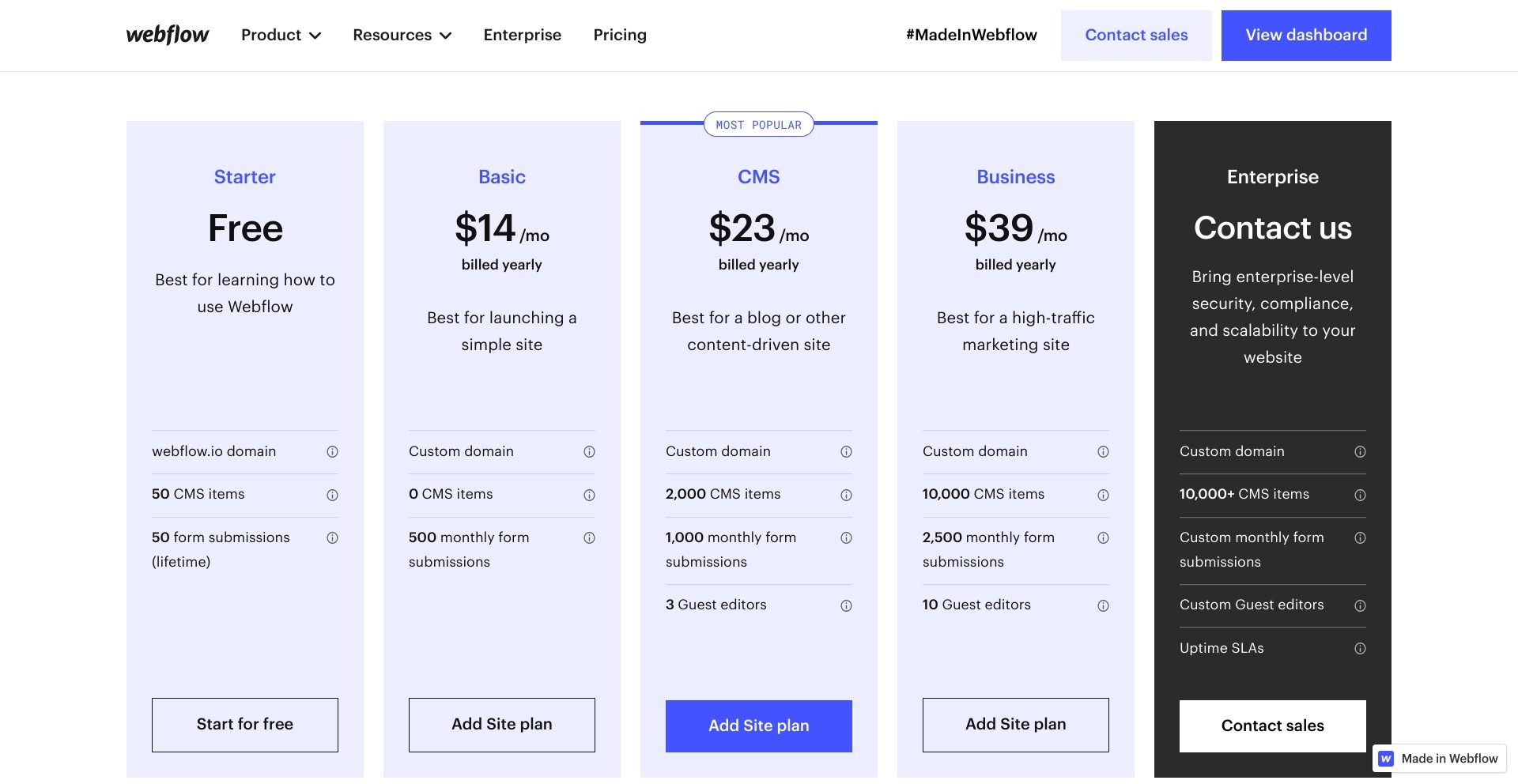 There are five price plans on Webflow:
Starter – $0 per month
Webflow.io domain
50 CMS items
50 form submissions
Basic – from $14 per month
Custom domain
0 CMS items
500 monthly form submissions
CMS – from $23 per month
Custom domain
2,000 CMS items
1,000 monthly form submissions
3 guest editors
Business – from $39 per month
Custom domain
10,000 CMS items
2,500 monthly form submissions
10 guest editors
Enterprise – price on request
Custom domain
10,000+ CMS items
Custom monthly form submissions
Custom guest editors
Uptime SLAs
As you can see, the pricing varies depending on what you're after. For example, if you're running a website that publishes many articles, you'll want to pick the CMS plan, to begin with. You can find out more on their pricing page.
Bubble vs Webflow Alternatives to Try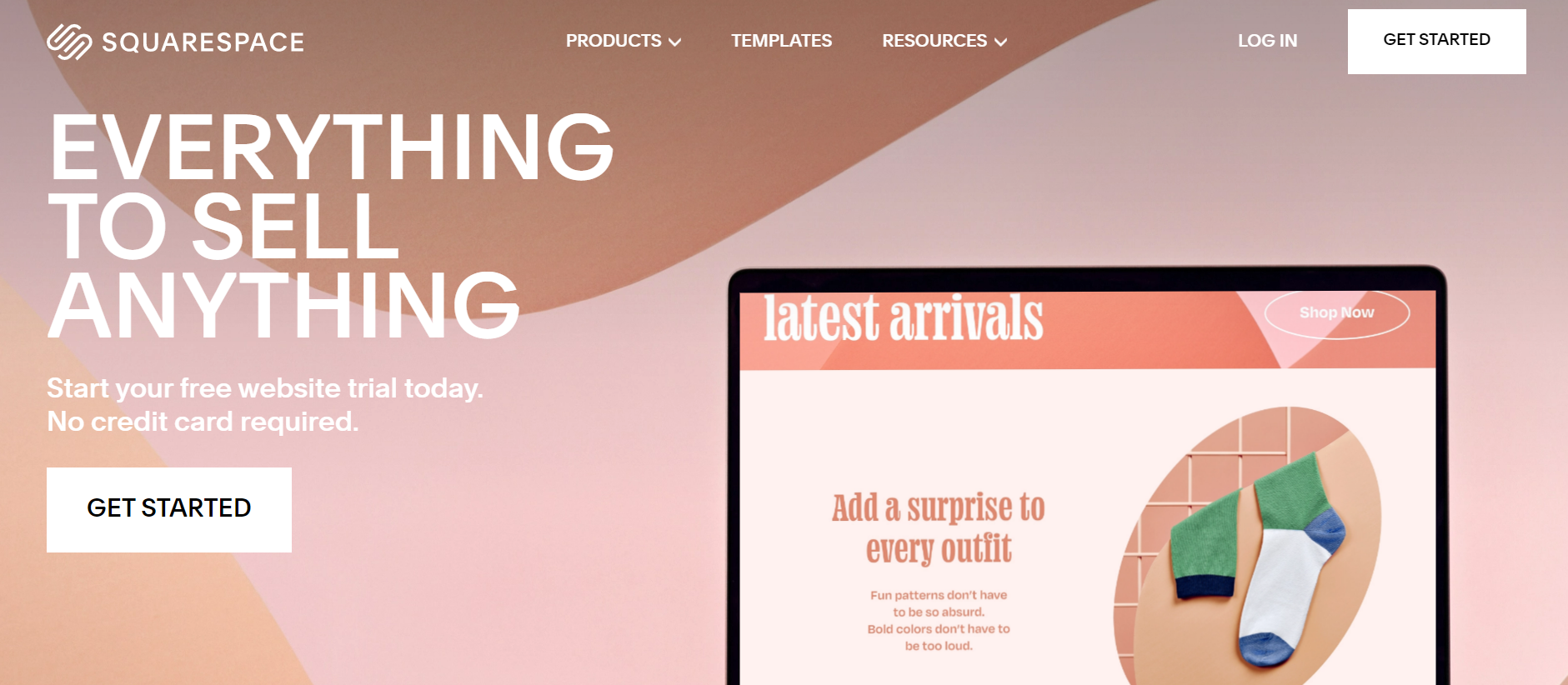 Not feeling Bubble or Webflow? You can check out some alternatives instead:
Wix: Wix is a good choice if you want an easy-to-use website builder. It enables you to build websites using a drag-and-drop editor, and it's great for beginners. You can find out more in our Webflow vs Wix comparison.
WordPress: WordPress is beloved by content creators across the globe, and it's pretty customizable, especially if you're willing to invest in some widgets. You can read more in our Webflow vs WordPress comparison.
Squarespace: a popular platform, Squarespace enables you to build a website or eCommerce store. They have a great range of templates to choose from, too. Please find out more in our Webflow vs Squarespace comparison.
FAQs
Question: Can I create a mobile app using Bubble or Webflow?
Answer: Unfortunately, at the time of writing, you can't build a mobile app using Bubble or Webflow.
Question: Can I cancel my account easily?
Answer: Yes, it's straightforward to cancel your account using Bubble or Webflow by going to their respective websites 'account' section.
Question: Are Bubble or Webflow good for SEO?
Answer: Yes, both platforms have tools built in to enable you to improve SEO. For example, you can quickly add meta descriptions, optimize links, and more.
To Sum Up… Which One Is Better?
If I had to pick one, I'd go with Webflow. The user interface is much better (cleaner and less cluttered) and feels less daunting while offering some powerful tools. It's great if you want to build a membership site or a website to publish content, and I love the idea of being able to build custom animations.
Bubble, however, has some real power. If you have web development experience, you may get on well with Bubble. There's so much customization on offer here, and you can collaborate with team members more quickly. You may find that Bubble suits your needs more than Webflow.
The good news is that both have free plans, so you can test them before deciding!