Last Updated on April 22, 2023 by Ewen Finser
In this review, we'll drill down into the main differences between Webflow vs Squarespace website builder suites, their features, their prices, the support they offer, and their pros and cons.
Bottom Line Up Front Summary: It might take a bit more to learn, but the objectively better tool to build lightning fast and highly functional websites is definitely Webflow here. That said, for non-technical folks (or anyone intimidated by the Webflow learning curve) Squarespace might be a better option here.
Main Differences between Webflow vs Squarespace:
The main differences between Webflow vs Squarespace are:
Webflow may require a basic understanding and knowledge of coding, whereas Squarespace is a better fit for non-coders and complete newbies
Webflow allows for more flexibility and customization, whereas Squarespace is more limited to what can be changed
Webflow has six pricing plans available to choose from and pricing can be higher depending on how many sites created, whereas Squarespace has four plans and a 14-day trial and is often viewed as a good value for the money
Every entrepreneur needs an online presence and, in particular, a professional-looking website. This is the perfect platform for selling your products and/or services and reaching out to your audience.
Building a website is way less complicated than it used to be. These days, there are dozens of website builders out there, all promising amazing things and easy-to-use features, but how true is that?
If you're unsure what we mean by 'website builder,' it's an online software platform that gives you the tools you need to build your own website without writing a single line of code.
In light of all that, we're going to focus on two popular website builders: Webflow and Squarespace. Does that sound good to you? Let's jump right in!
Webflow vs Squarespace: Who's Webflow?
Founded back in 2013, it now boasts over one million users and has pulled in $75m in crowdfunding. It lists its backers as Funders Club, Accel, Draper Associates, Y Combinator, Silversmith Capital Partners, and Rainfall. Its customers are pretty impressive too, including the likes of Facebook, CBS, Dell, Twitter, and NASA.
One of the first things you see on Webflow's homepage is; "break the code barrier. Build better business websites faster. Without coding." So, it's pretty evident what this site builder's USP is.
Webflow also describes itself as wanting to: "envision a world where everyone can create powerful, flexible websites and apps as easily as they create documents today. Because the only thing better than the internet is the internet, we can all create for."
Sounds great, right?
Webflow is used by a variety of business owners, freelancers, agencies, and marketing teams. Its biggest perk (or at least one of them), is that it allows you to design, build, and launch your website for free. Of course, there are paid-for aspects that unlock extra features, but we'll look at those later on in this review.
Webflow is a fully customizable platform. However, it stands out from some of the other web builders because developers tend to gravitate towards this solution, even though you don't need any coding skills. Don't, however, let that put you off. Read on and check out its features before dismissing it out of hand.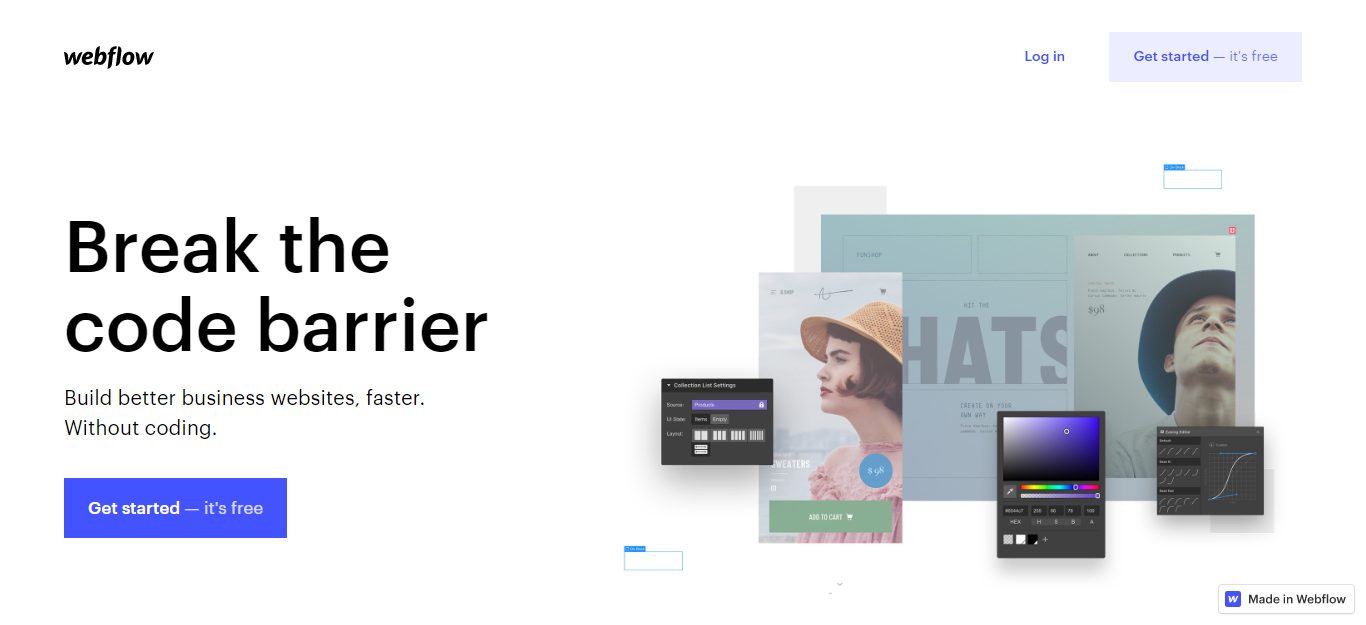 Now, let's look at what Webflow does:
Webflow vs Squarespace: Webflow's Key Features
You'll see some of Webflow's features in our Webflow Pricing section. Namely, because it's impossible to explain all the pricing plans without referring to the features you get with the paid-for plans. However, here's a little look at some of the more notable features Webflow has to offer.
Webflow separates its features into three categories: Build, Launch, and Grow Within each of those categories are a variety of features, so let's have a quick peek at some of those now:
Build Features & Style Editor (Web Design)
As you've probably already guessed, Webflow's design process features allow you to create your website without writing any code. Put simply, you design your site, and Webflow handles the coding. This is what makes it possible for you to either launch your website or hand it over to your developers.
Webflow's 'Build' features allow you to create your website's structure. It's here you can add all your content. You can either do this manually using the Webflow API or from a CSV (Comma-separated-values file). You'll also find the content management system where your website editors, developers, and designers can get your site up and running.
You can also use Webflow's 'Build' tools to set up your eCommerce store. Here's where you design your home page, shopping cart, and checkout pages for your online store. Webflow says you have; "control over everything" and that you can "shape your customer's experience every step of the way, and build a modern eCommerce website – all without writing a single line of code."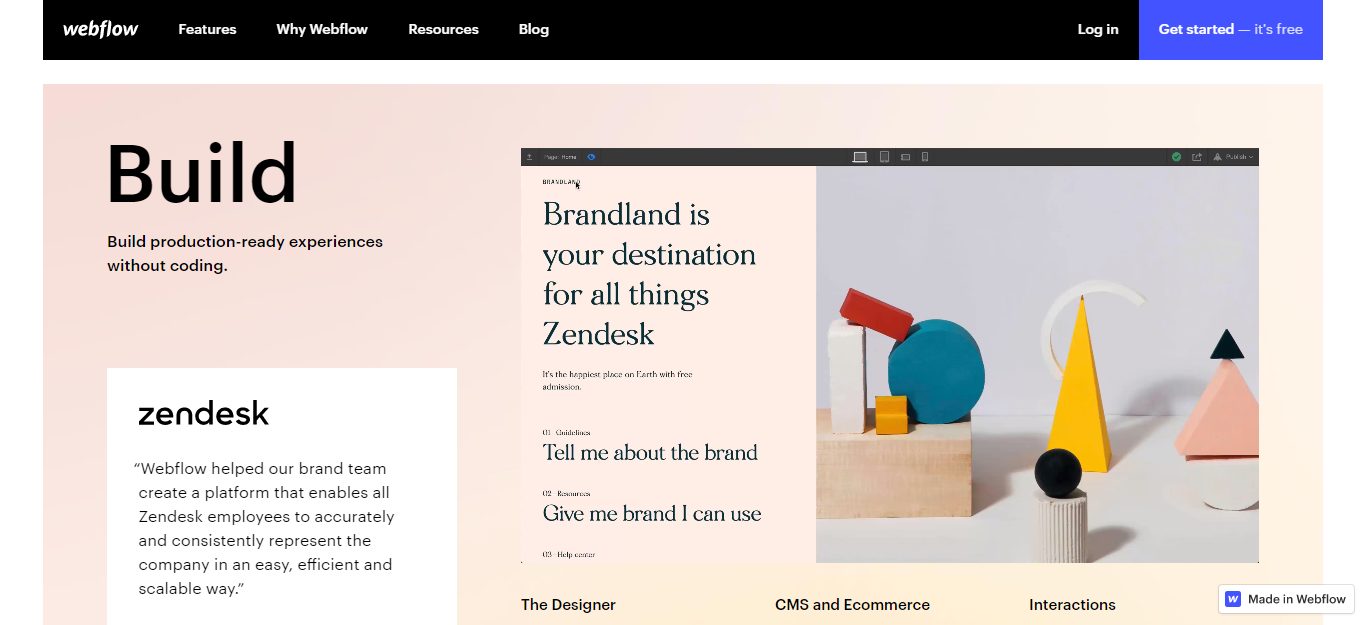 Launch Features
The 'Launch' features help you manage your website's content with ease. Webflow's editor allows you to write and edit directly from your site's pages. This means you don't have to navigate a backend system like you do, say, with WordPress.
Webflow's editor also allows you to manage your SEO without needing a plugin. You can even share and collaborate with others as you modify your content (before publishing it on your site), and track all the changes being made. That way, you and your team should avoid overlapping as you edit your work.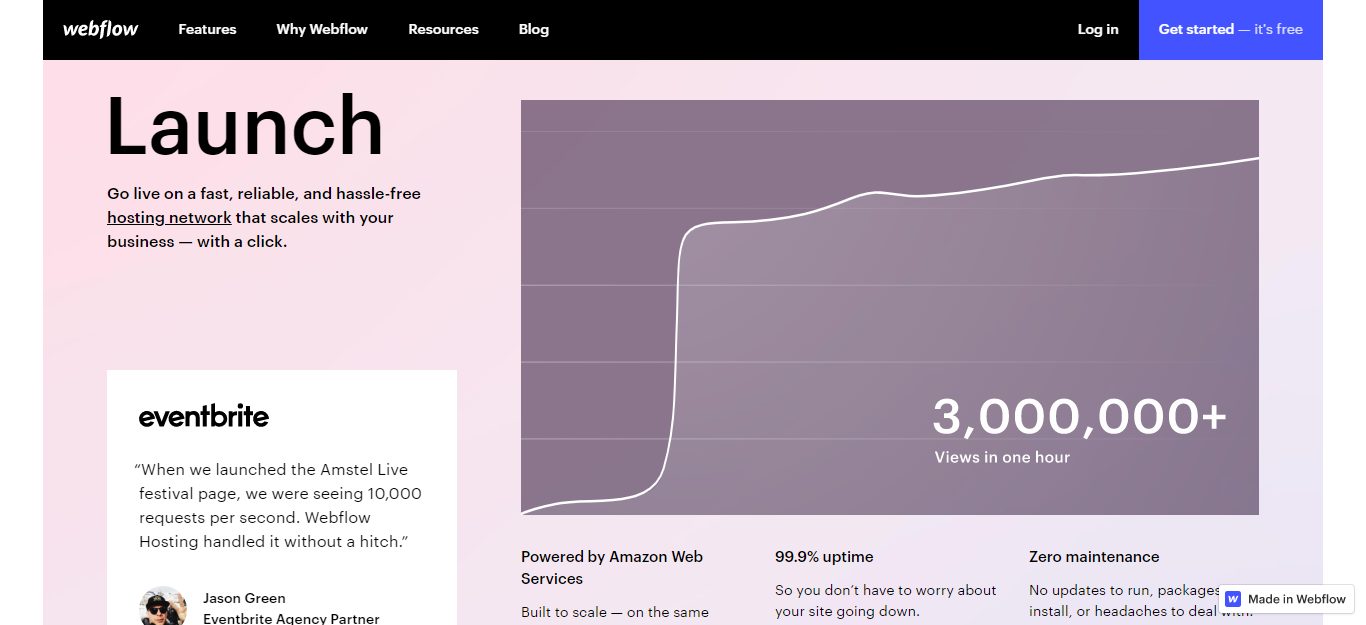 Grow Features
The 'Grow' features allow you to create, launch, and repeat your marketing campaigns. This automates some of your more repetitive tasks so that you don't have to handle them manually. These features are valuable time-savers.
You'll also find built-in SEO optimization tools, including automatic XML sitemaps, canonical tags, 301 redirects, and metadata controls.
You can also access Webflow's built-in integrations to connect with marketing tools you're already using, including Google Analytics, Google Optimize, Zapier, and MailChimp. Just to name a few!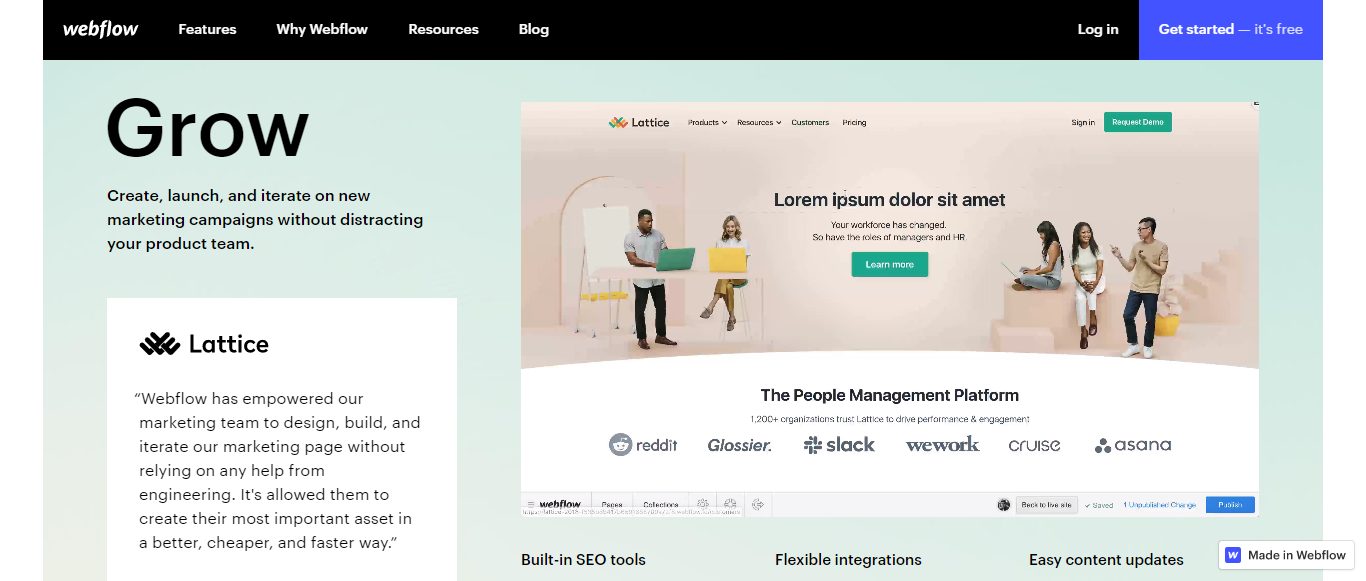 Other Features
You can host your site via Webflow after buying a web domain. You can do this through them, GoDaddy, Google Domains, or wherever else you prefer to purchase a domain. It's up to you.
Then once you've done that, you'll need to buy a site plan (see pricing packages), or you can set up a client billing schedule. So, if you're building a site on behalf of someone else, your client pays you, and you can add a little on top to make some profit. Once you've done that, you're ready to connect your custom domain and publish your site.
Webflow vs Squarespace: Who's Squarespace?
Squarespace bills itself as "the leader in website design," telling us that by using it, you can "stand out online with a professional website, online store, or portfolio. With Squarespace, you can turn any idea into a reality." Its homepage boasts images of award-winning designs in a variety of categories, including blogs, real estate, food, drink, weddings, and online stores.
Founded in a college dorm back in 2003, Squarespace is aimed at creatives who want to build their own website without having to be tech-savvy.
A first look at Squarespace's website tells us it's very image centered. There's next-to-no jargon, which makes it more attractive to dive into than sites brimming with unfamiliar terminologies.
Like Webflow, Squarespace doesn't require you to have any coding knowledge. In theory, you should be able to create a website pretty quickly, just open an account, choose your templates, edit them, and off you go. Voila, you have your site.
More than two million people use Squarespace. You can see examples of different sites run by real customers in different niches, including photographers, musicians, restaurant owners, artists, and other small businesses. This is pretty useful for giving you a flavor of what you can do for your own business with the help of Squarespace.
Webflow vs Squarespace: Squarespace's Key Features
Squarespace offers lots more features than Webflow (and many of its competitors). Some of these we'll mention later in this review when we describe their plans and how much they cost. As with all these things, you get more if you pay more.
Squarespace's suite of features boasts over 40 tools! But, for the purposes of this review, we'll look more at how Squarespace splits its features in its pricing section. It does this by categorizing them into three areas: Core, Marketing, and Commerce. But, a quick summary here won't hurt!
The Core Features
These include all you need to build your website using their ready-made templates. If you buy a yearly plan, you also get a year's domain registration thrown in.
Squarespace walks you through how to SEO optimize your content, so you can pepper your content with keywords. You can also get to know your audience better with their basic website metrics. This permits you to track your site visits, visitor geography, and so on.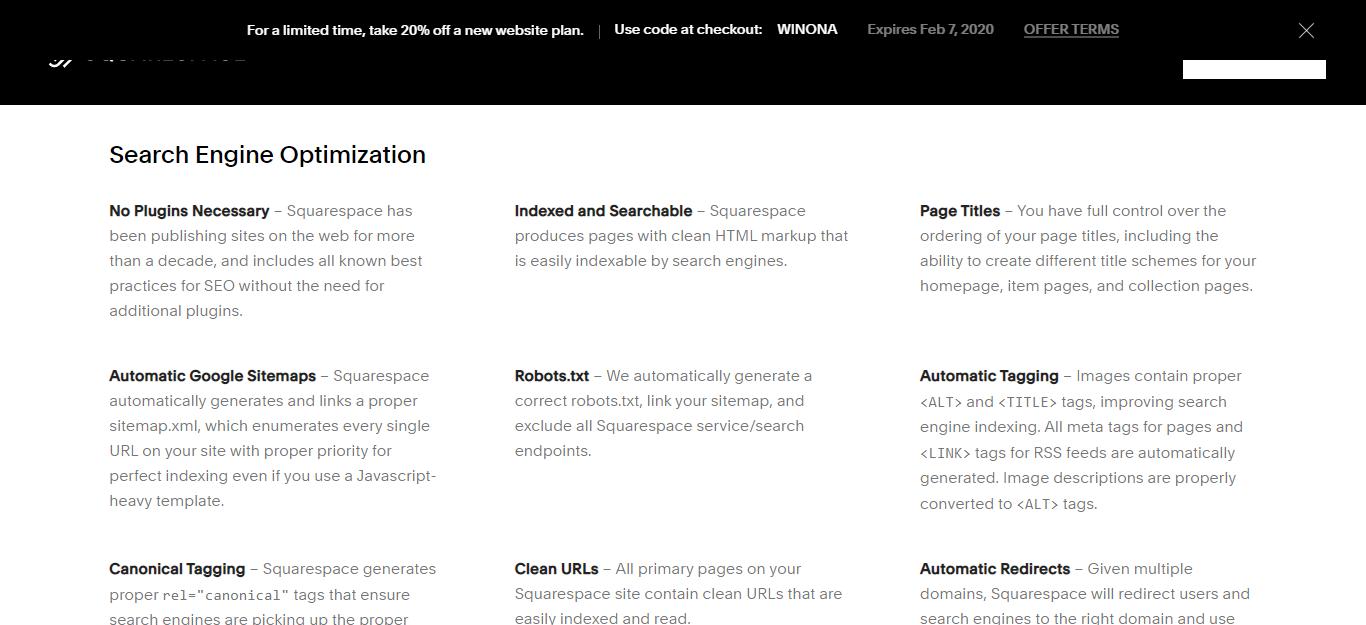 Marketing Features
These tools are designed to help you drive traffic to your website. Then you can use Squarespace's analytics tools to measure the success and engagement of your marketing. You can watch your campaign's performance in real-time, analyze the metrics, and compare them to your website activity.
In terms of email marketing, there are tons of email templates you can tailor to use for any audience. It's easy to modify these templates to promote your latest blog posts. There's a neat editing feature where you can slot in photos to highlight your standout content. They're also simple to customize to reflect the aesthetic of your online brand. In theory, you can have an email blast designed and sent within minutes!
Some of Squarespace's more advanced marketing features allow you to send automated welcome emails with new-member discounts. These work wonders for engaging new subscribers.
You can either import your email list, create a new one from scratch, or do a combination of both.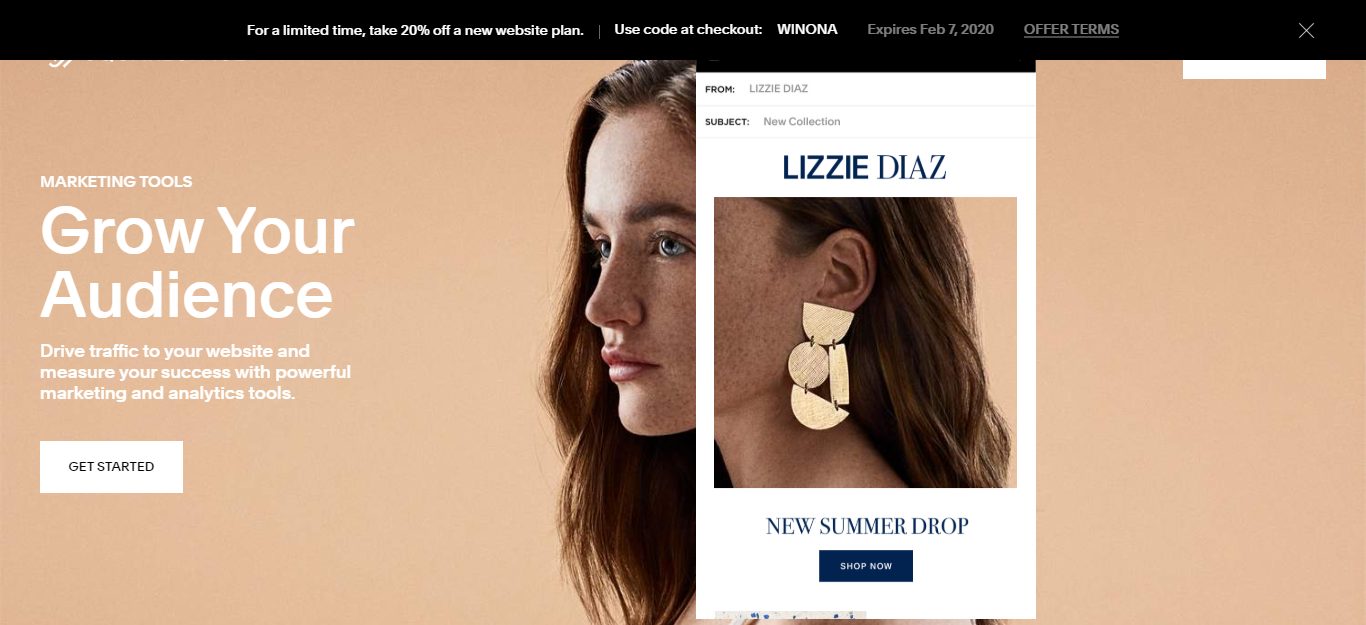 Commerce Features
As you may have already guessed, here's the kit you need to run eCommerce stores. You can sell a limitless number of products whichever pricing plan you go for.
Squarespace's templates for eCommerce stores are designed to allow customers to zoom in and quick-view your products. If you're already selling elsewhere, you can even import your products from platforms like Shopify, Etsy, and Big Cartel – just to name a few. There are multiple payment gateways to choose from and a customizable checkout page you can modify to reflect your brand.
It's also worth giving a special mention to Squarespace's 'Blog' feature. The only significant competition this blogging tool has is WordPress. Here you can tag posts, categorize them, save drafts, enable comments and moderation, and customize URLs.
And, no decent blog is complete without captivating images, which you have access to in abundance in the form of Unsplash and Getty libraries. These high-quality stock images come integrated with Squarespace, so they're easy to find!
But, if this is something you're struggling with, never fear, there's a handy guide on how to access and upload photos, walks you through the process step by step. They also offer advice on selecting images that best suit your messaging, so you don't have to be too literal in your approach to photography.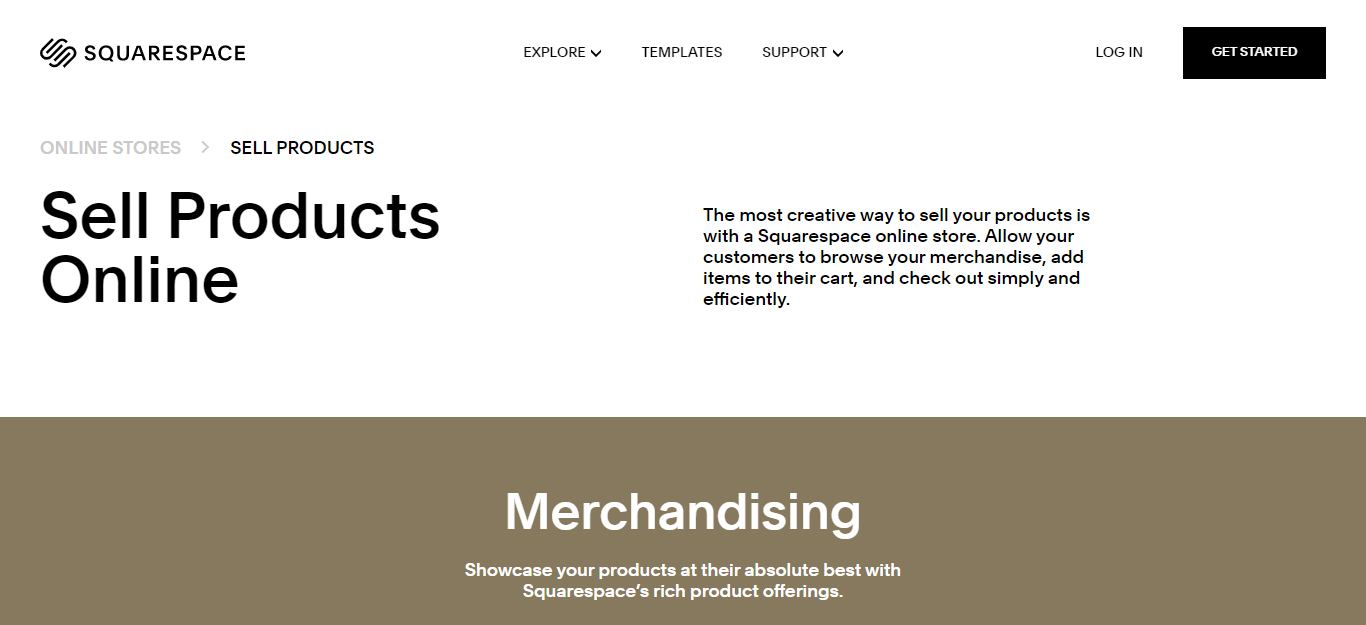 Webflow vs Squarespace: How Much Will Webflow Set me Back?
Since Webflow's offer is somewhat different from other site builders, its prices reflect that, in that, they are higher. Also, there are quite a few price plans: six in total!
There are three price plans for websites (Site Plans) and three for online stores (Account Plans).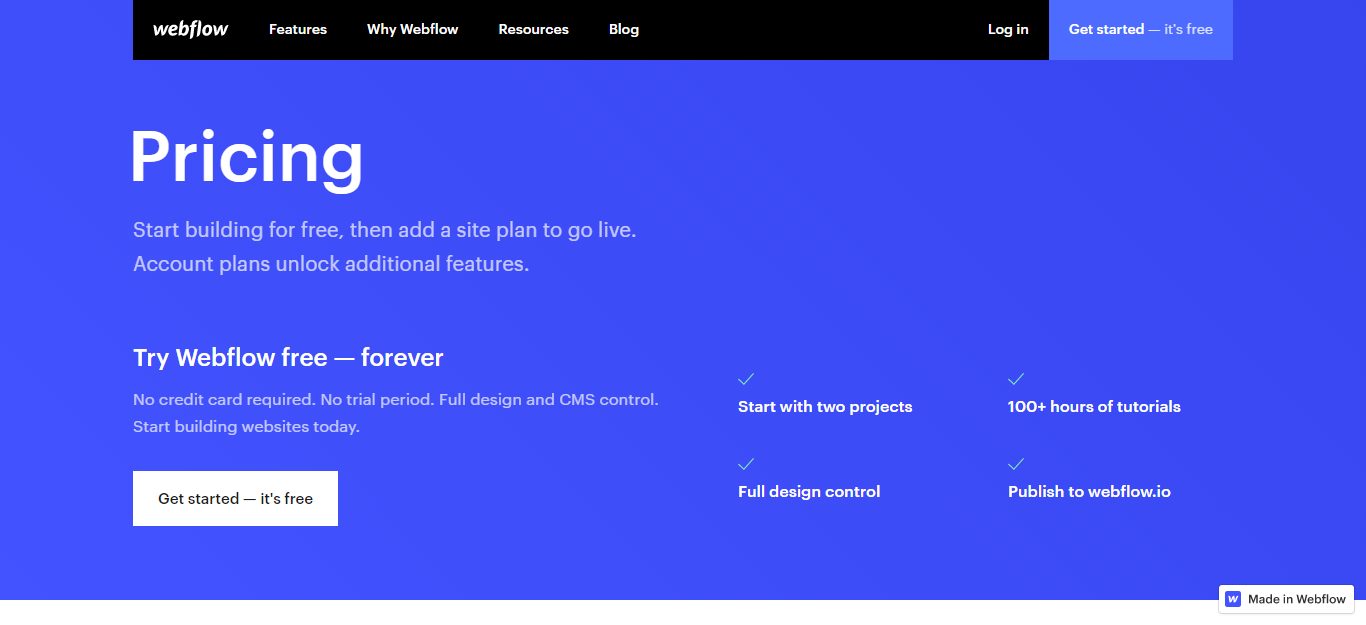 You can, however, build a website for FREE. This plan won't cost you a dime, and it never expires – win-win! You get full web design and CMS control, 100 free tutorial hours, and you publish your site to webflow.io.
But, for those who want more, let's look at their paid-for plans in greater depth:
Site Plans
These are aimed at anyone wanting a blog, personal site, or business website. Prices are split into three plans: Basic, CMS, and Business. All three of these plans entitle you to:
Fast page loads via a tier 1 content delivery network, Amazon Cloudfront, and Fastly.
Password protection and enhanced security
Advanced SEO controls
Automatic page backups so you never lose work
Immediate scaling – irrespective of how many site visitors you get
This is $12 a month if you opt for annual billing, or $15 a month if you pay on a month-to-month basis. It's the one to go for if you want a basic site and don't need a CMS.
You get:
Webflow hosting
You can connect your web domain to your website or buy one from Webflow
A free SSL certificate
CDN (Content Delivery Network)
25,000 monthly visits
500 form submissions
This costs $16 a month if you pay annually or $20 a month every month. It's the one to go for if you're a professional blogger or have a content-driven site. For this you get everything in the 'Basic' plan, plus:
100,000 monthly visits
1,000 form submissions
2,000 CMS items
Site search
3 content editors
Limited CMS API
This costs $36 a month if you pay annually, or $45 month for monthly billing.
It's the one to go for if you have a blog or marketing site that attracts lots of visitors. For this you get everything in the previous two plans, plus:
1,000,000 monthly visits
Unlimited form submissions
10,000 CMS items
Site search
10 content editors
Full CMS API
Form file upload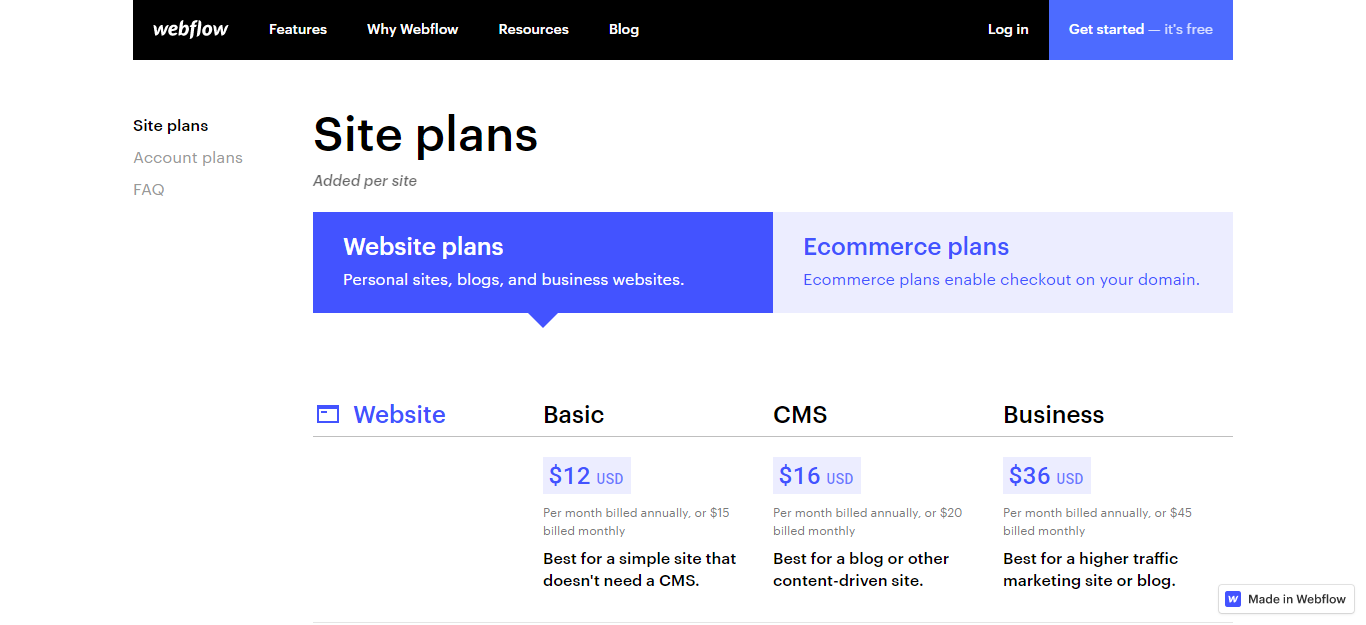 The Ecommerce Plans
These are split into three packages: Standard, Plus, and Advanced.
The Standard costs $29 a month if you pay annually or $42 a month for month-on-month billing. This package is best suited to new businesses getting off the ground.
For this you get:
All the features from their CMS Plan plus:
Design features, including a custom checkout, product fields, shopping cart, email customization, and an integrated CMS for blogs.
Payments: 2% transaction fees, Stripe powered payments, automatic tax calculation, Apple Pay and Web payments, PayPal support.
Marketing features: integrations with Facebook, Instagram, Google Shopping, Google Analytics, MailChimp, and custom code.
Management tools: three staff accounts, $50k yearly sales volume, and the ability to configure standard shipping rules.
This costs $74 a month when you pay annually or $84 each month, month to month. It's aimed at businesses who deal with higher volume visitors and sales and need additional features to power that. For this, you get: all the elements in the Business Plan, plus everything in the Standard Plan and:
Unbranded emails
0% transaction fees
10 staff accounts
$200k in yearly sales volume
This costs $212 a month if you pay annually or $235 month otherwise. It's aimed at businesses with high volumes of sales and visitors. For this, you get everything in the Business Plan, everything in the Plus Plan, and: 15 staff accounts and unlimited yearly sales.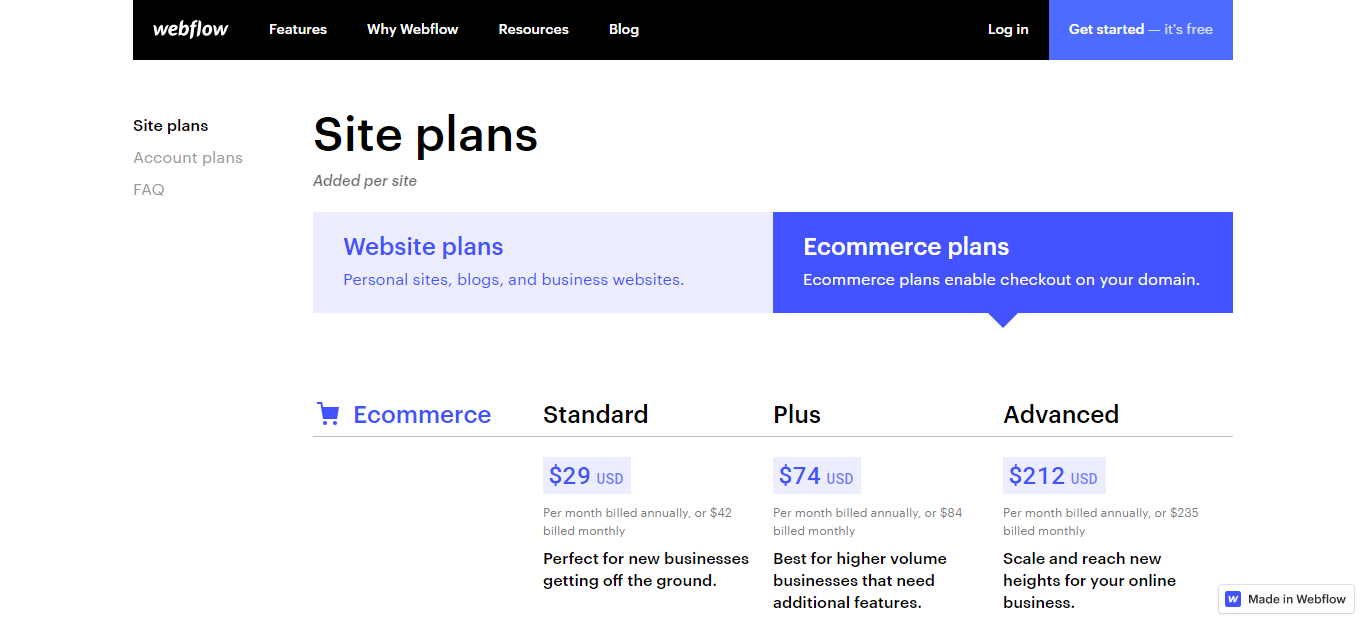 Account Plans
These plans fall into two separate categories: Individual Plans and Team Plans, and each of these is split further into three different price plans.
All the Account plans include:
Unlimited hosted projects
Client billing tools
Customizable interactions & animations with no Javascript coding needed
100+ responsive design themes and responsive template library
3D transforms, rotate objects in 3D space
Global swatches where you define key colors as variables so that each time you change the color, every instance of that color updates
Access to custom fonts and you can upload your own fonts (custom typography) or add free Google Fonts
Flexbox – to build responsive layouts in a visual interface
Reusable symbols
Prices are split into three plans: Free, Lite, and Pro.
Yes, it's free forever, and there's no credit card needed. For this, you get free staging, free client billing, and up to two projects. (Unhosted sites you build in Webflow. You can then publish them to Webflow.io or pay for a site plan to go live using a custom domain.)
This costs $16 a month if you pay annually or $24 a month otherwise. This plan allows you to export your code and unlock more pages for non-hosted projects. You also get the same features as the Free Plan, plus:
10 projects
Enhanced staging
Code export
You can transfer unlimited projects to teams (or anyone with a Webflow account).
This costs $35 a month if you pay annually or $42 a month otherwise. The Pro Plan is recommended for freelancers who are active on their site and designers who need more features if they're working on multiple projects. For this you get everything in the Lite Plan, plus:
Unlimited projects, white labeling (remove Webflow branding, add your own), and password protection.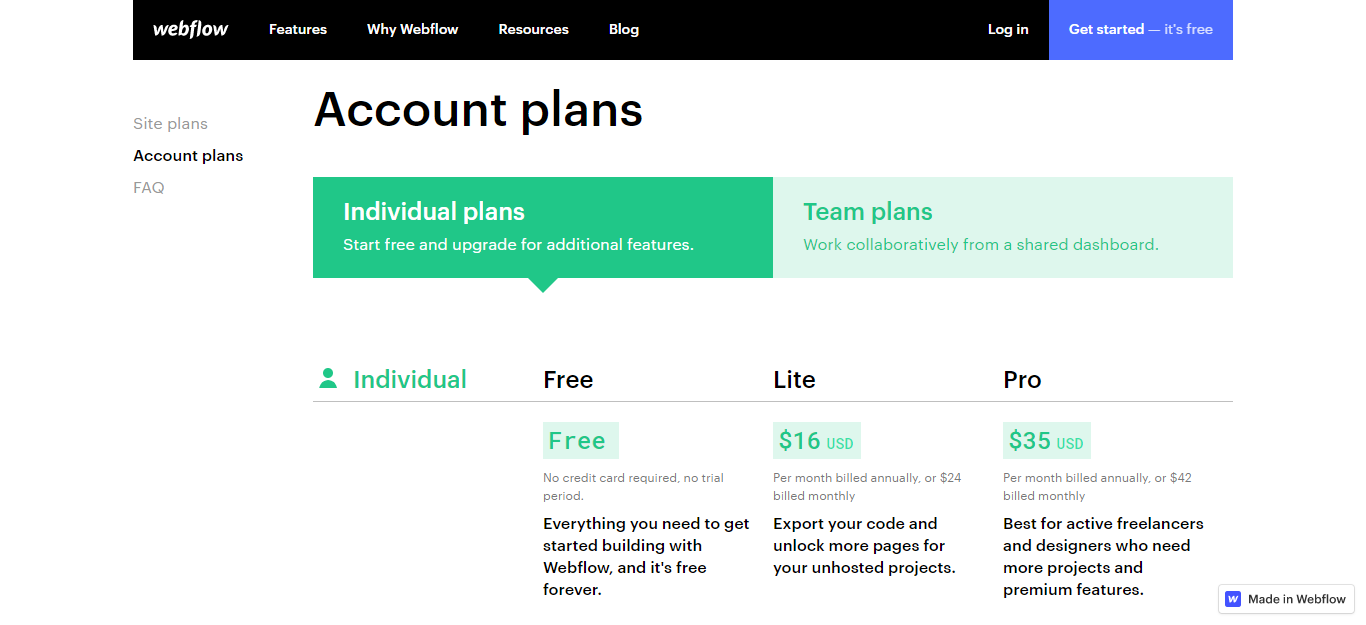 These plans are best for anyone who needs to work collaboratively with others on their projects, as you can do so conveniently from a shared dashboard.
Prices are split into two plans: Team Plan and Enterprise Plan.
Team: Costs $35 a month per person if paid annually or $42 a month otherwise, with a minimum of two people per team. For this you get all the features from the Pro plan plus:
Unlimited projects, client billing, enhanced staging, code exportation, white labeling, site password protection, and a team dashboard.
The Enterprise Plan: This a bespoke plan with no prices available. You have to talk to Webflow directly to get a quote. However, you get everything in the Team Plan as well as customized features that aren't listed on the Webflow's site. This plan is ideal for teams of 25 users or more.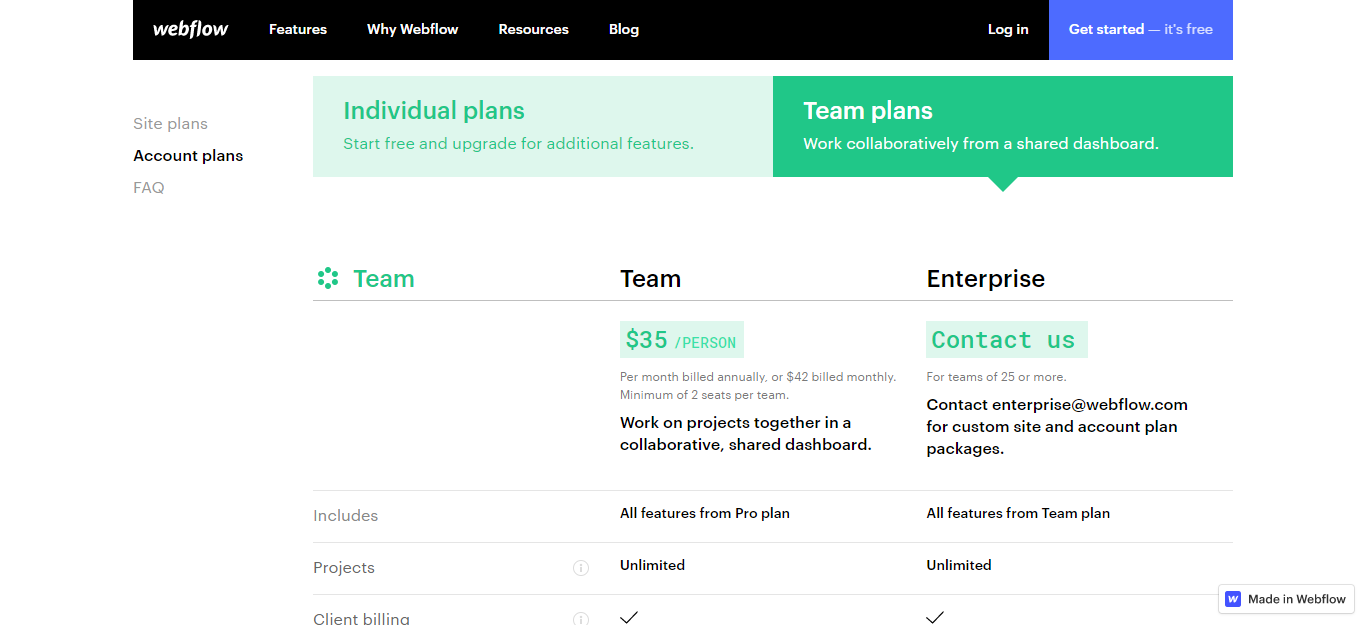 Webflow vs Squarespace: Squarespace Prices
There are four plans, and billing is cheaper if you pay annually. The four programs are Personal, Business, Basic Commerce, and Advanced Commerce. There's also a 14-day free trial.
This costs $12 a month if you pay annually or $16 when you pay each month. For this you get:
Free custom domain
SSL Security
Unlimited bandwidth and storage
SEO features
A wide choice of pre build template options
Two contributors
Mobile-friendly websites
Basic website metrics
Squarespace third-party extensions
24/7 support.
This costs $18 a month if you pay annually or $26 a month otherwise. For this you get everything in the Personal Plan, plus a whole lot more, including:
Unlimited contributors
A professional Gmail email account and G Suite
Premium integrations that allow you to build a customer base and sell via Instagram
Complete customization with CSS and JavaScript
Advanced website analytics
$100 Google Adwords credits and promotional popups and banners.
Finally, if you're planning on selling via your site, there are lots of commerce features you can use. These entitle you to a fully integrated ecommerce store, 3% transaction fees, you can sell an unlimited number of products, and accept donations.
This costs $26/mo if you pay annually or $36/mo otherwise. For this you get everything in the Business plan, plus:
0% on transaction fees
Powerful eCommerce analytics (specifically built for eCommerce site use cases)
Secure web checkout on your domain
Merchandising tools such as customers being able to join a waitlist
You can sync your products with Facebook's product catalog and tag products in your Instagram posts.
This costs $40 a month if you pay annually or $46/mo otherwise. For this, you get everything in the Basic Commerce plan, plus:
Abandoned cart recovery
Gift cards
You can sell and manage subscriptions
Advanced shipping that automatically calculates shipping rates with different carriers
Superior discounts that are automatically applied at checkout
Commerce APIs
Limited availability labels you can place on products that are low in stock (this works wonders for increasing a sense of urgency and demand).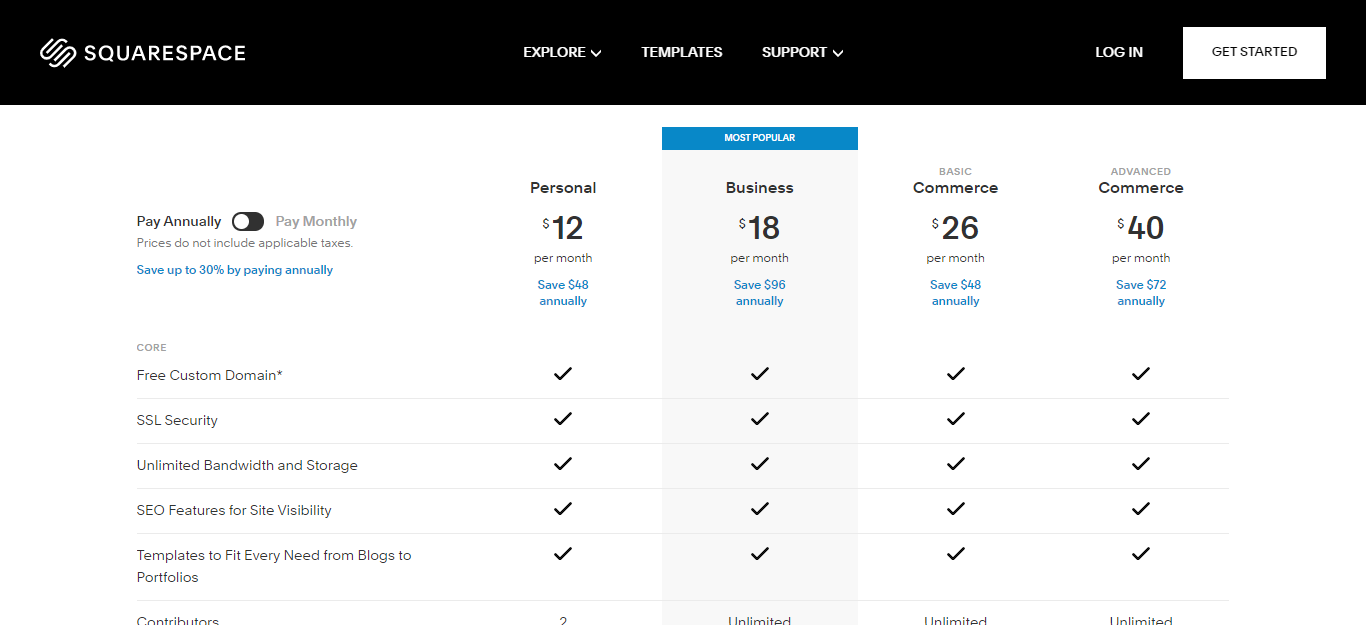 Webflow Support
Webflow offers what looks like a lot of support via its site. There are hundreds of website template choices, so you don't have to create anything from scratch.
There's also the Webflow University where you can watch or read guides on a variety of topics, including things like the basics of 'CMS,' 'Design,' and just 'Getting Started' in general. Webflow University is also where you can ask questions on Webflow's forum and access their informative blog content.
There are even ebooks available if you're after something more in-depth, for example, "Web Design 101" and "The Freelance Web Designer's Guide."
If you want to contact Webflow directly, you can phone them Monday to Friday, from 6 am to 6 pm PST. Webflow says it aims to respond within 24 to 48 hours. You can also email for help via their site.
BUT: having a more in-depth look at their customer support policy tells us that they're quite clear about what they will help you with and what they won't. You can get help with Webflow Designer, CMS, and its tools and features, Webflow's Dashboard features and accessibility, and Webflow's hosting performance and uptime. However, you're on your own if you need to contact them about custom code, SEO, or 3rd party integrations. The same applies to visual/UX/UI design questions and changes made by malware or installed extensions, and code that's exported from Webflow into other platforms.
That said, Webflow does encourage you to use its forums and helpful articles and suggests where you can find the answers to the topics you can't talk to them about.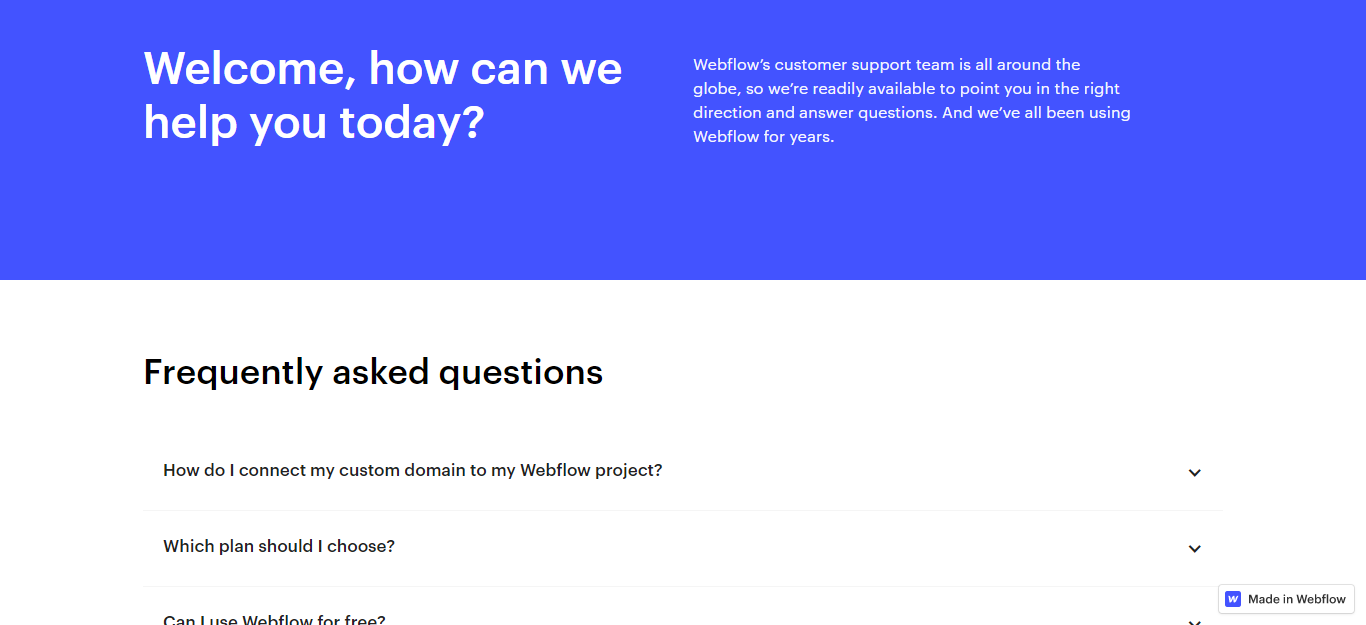 Squarespace Support
Squarespace's customer support is 24/7 and award-winning. There are handy guides, forums, webinars, and help and support area where you can type in your query or topic to search for the info you need.
Their guides cover subjects such as 'Transferring a Domain to Squarespace' and 'Increasing Your Site's Visibility to Search Engines.' That's as well as guides on 'Getting started,' including detailed online advice about account queries, billing, and analytics.
The video tutorials cover similar topics. But, only in video format, which comes in handy if you prefer learning visually and auditorily. Helpful videos include 'Adding Products to Your Store,' 'Building a Restaurant Site,' 'Deleting a Page,' and 'Adding a Background Image.'
Although just like Webflow's support, Squarespace's advice pushes you towards answering your own queries via the Squarespace site. But despite that, you can still contact a real human if you need to.
Squarespace's email is monitored 24/7, and real-time live chat is open Monday to Friday, from 4am to 8pm Eastern time. You can also contact Squarespace via Twitter.
Webflow vs Squarespace: Webflow's Main Pros and Cons
First, let's start with the website builder advantages…
The Pros
No coding required
Excellent levels of design customization
A fantastic choice of templates
A drag-and-drop editor and drop-down menu options
Great for designers and those familiar with design
Now for the drawbacks of the Webflow website builder…
The Cons
It feels pretty complicated for first-time users to navigate, so it's not newbie-friendly.
The costs are high if you only have one website to create
No live chat support
Support is limited to specific topics
Webflow vs Squarespace: Squarespace's Main Pros and Cons
Again, let's start with the pros of the Squarespace website system…
The Pros
Attractive and contemporary templates
Good value for money
Broad access to free and high-quality stock images from Unsplash or you can buy from Getty
You can upgrade, downgrade, or cancel your plan at any time
Wide-ranging and multi-channel support
Access to 600 Google fonts and 1,000 Adobe fonts
The Cons
Now for the disadvantages…
There's no app store
Some of the jargon is confusing
Templates rely heavily on images
Slower page loading speeds
Webflow Reviews
A quick scoot around the web tells us that Webflow scores highly. However, the majority of the reviews we saw were from designers who love the capabilities and flexibility that comes with using Webflow.
But, some reviewers say the hosting price is higher than other sites. Designers also love that you don't have to hire a web developer, so they can be as creative as they want without incurring higher costs.
Webflow's website tells us that Facebook users rate it as 5 stars, as do Glassdoor users, and G2 reviews come in at a 4.5-star rating.
More specifically, reviewers comment on the funny bits in the tutorials, and some say that Webflow is basically light years ahead of any other builder out there.
Squarespace Reviews
Squarespace reviews really well across the board. Users love the attractive templates, access to tons of fonts, and how easy it is to customize their website. Its fans tend to be people who haven't built a site before and don't have any design experience.
But, some reviewers complain about hidden costs, and that they found it difficult to reach a customer service rep. Then, when they do, they've come away feeling frustrated as they haven't received a solution to their problem.
Website Builder Comparison Frequently Asked Questions:
Overall: Webflow vs Squarespace

Bottom Line Summary: It might take a bit more to learn, but the objectively better tool to build lightning fast and highly functional websites is definitely Webflow here. Get started with a free trial to see for yourself. That said, for non-technical folks (or anyone intimidated by the Webflow learning curve) Squarespace might be a better option here.
Webflow isn't for newbies. You may not need coding (front-end coding / front-end developer or back end), but you do require a certain level of skill and ability to navigate the design tool itself to set up a website. So, if you're coming to this completely fresh, you either need some outside help or you're better off with Squarespace.
But if you want real flexibility, it's worth investing the time into understanding Webflow and how it works because you can customize pretty much everything.
Also, some people may find Webflow's prices are too high, especially if they're not using half the functions they're paying for. It really does depend on how much customization you actually want (both now and in the future).
But, if you can get to grips with Webflow and create the site you've always dreamt of without hiring a developer, it's a great choice. This is especially true of the 'Free plan' if you're a stand-alone blogger who doesn't yet have to handle a high volume of views.
Whereas, Squarespace is way easier to use as a website builder if you're a beginner. Website building doesn't have to be difficult. You can still be creative, but Squarespace takes less time to navigate, and its support is more comprehensive. The templates look lovely, but bear in mind…they're pretty fixed in terms of design.
However, if you're a creative wanting to showcase their art, e.g., you're an artist who wants useful templates to display your work, Squarespace is the ideal option.

Easy to Use Option

When to Go With Squarespace?

There are definitely a few very GOOD reasons to go with Squarespace. First, it's really easy to use. You do not need to be technical to create beautiful modern websites. While you sacrfice some customization, it's the fastest and easiest way to get a website live (I've tested ALL the platforms).

View Plans, Pricing, Promos

We earn a commission if you click this link and make a purchase at no additional cost to you.
Whether you go for either platform, we recommend trialing it first to get an overview of how it works before committing to a paid plan.
Now you've read this review, it's over to you. Good luck creating the site you always dreamt of! Have you used either Webflow of Squarespace before? If so, we'd love to hear whether you would recommend either of their services in the comments box below. Speak soon!
Further Reading on Website Builders and Website Builder Comparison Articles:
[interact id="61950894e81e4200184210da" type="quiz" mobile="false"]