Last Updated on December 1, 2022 by DMEditor
Scalability, security, support, and speed- The 4 S's of web hosting. Everyone admits that they're extremely critical- but what do they even entail in the first place? If you're here, then I bet you've already tried checking out a couple of hosting providers. The good thing with today's web is that it provides numerous hosting solutions. A quick Google search alone reveals thousands of companies.
Sorting through them using the 4S's would be easy. But, it turns out they all promise the same thing- optimal scalability, security, support, and speed. Pretty confusing, don't you think?
Admittedly, the stakes are quite high. If you entrust the wrong provider with your website, then you might as well start considering your business plan compromised. Even search engines won't be on your side there- because they only favor well-optimized websites.
I'll tell you what though. I've been there. And I know how overwhelming it can get, especially when you're starting off.
So, we've done the homework for you. We took the time to try out pretty much all the dominant players. If you've heard about a hosting solution, you can be certain we've already sampled it. And we continue to monitor how their features are progressing over time.
That said, we're going to help you find the best hosting for your website. But, before we even get to that, what exactly should you expect from a hosting provider?
What Should You Expect From a Website Hosting Provider?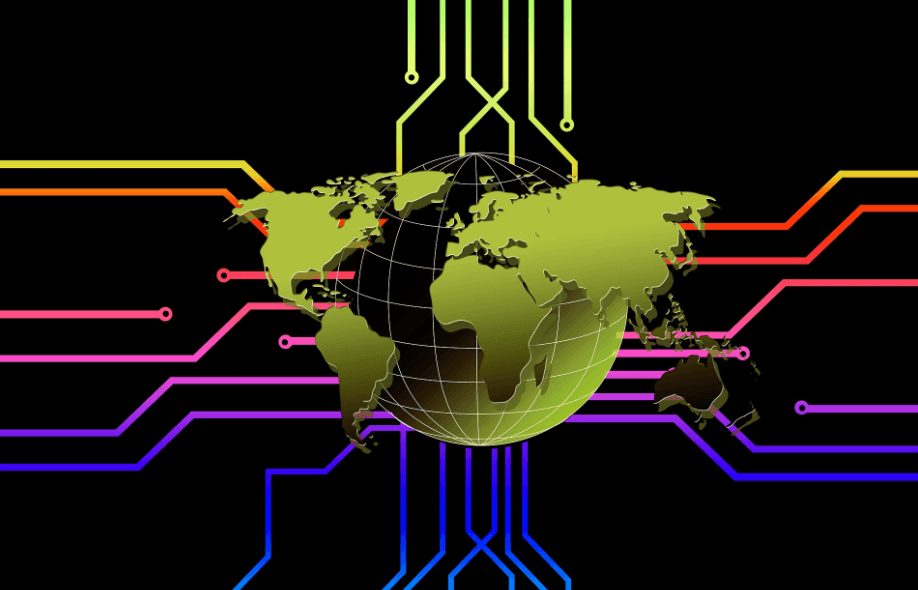 Think of web hosting as parenting. A provider is basically your website's mum and dad. It gives rise to the whole site and goes ahead to provide a home so the pages stay live on the internet.
For this to proceed smoothly, your website has to be supported accordingly. Therefore, above everything, you should expect the following foundational provisions from your hosting provider:
Domain- This is essentially the address that visitors access your site through. A good hosting solution should be flexible enough to allow you to freely select a suitable domain name plus its prefix and suffix.
Server- Well, of course, it goes without saying that you'll need somewhere to host your site. And that's precisely what a web server does. It's a machine that not only holds and publishes your site's content but also coordinates resources and flow of traffic.
Storage Space- Speaking of content, your site will essentially be a combination of code, text, videos, images, and other media files. Your hosting solution is expected to dedicate adequate storage space for all these components.
Well, that spells out the three primary functions of a web hosting provider. But, make no mistake. It's barely anything to go by when it comes to selecting a perfect option for your site. The most effective approach here would be breaking them down to evaluate each critical variable independently. So, without further ado, here's how you choose the best hosting solution…
How to Choose the Best Hosting For Your Website
Type of Website
Remember the last time you went shopping for new clothes? I bet you didn't blindly consider just any store. You must have gone directly to places with adult-sized stuff, and specifically for your gender. Now that's pretty much how things run in the hosting world. The web is quite extensive and diverse, with websites that are structured differently. Each of the resultant types has its own unique set of hosting needs.
Magento-based sites, for instance, have specialized Magento hosting providers while their WordPress-based counterparts go for a completely different set of solutions – the likes of WP Engine and Kinsta. Therefore, you should seek to understand your website before you even start reviewing solutions offered by various providers. In other words;
What kind of site are you creating- a blog, personal website, social site, or perhaps an e-commerce site?
What platform are you looking to base your site on- WordPress, Magento, Shopify, or any other?
What type of script will you be running?
What's the size range of the expected traffic volume?
Any specific applications you think you might be running on your site?
In a nutshell, this helps you get a rough idea of the resources that you might require for the long haul. What you need for your particular type of website should ultimately be the reference point as you evaluate what various providers offer.
Type of Hosting
Let's revisit that shopping scenario for a moment. Imagine you happen to find different fashion stores that cater to your specific gender and body size. That's barely the first step. At this point, you'll want to analyze deeper to know who exactly deals with your preferred fashion style.
Would you want to shop for formal suits? Or are you looking for a laid-back summer wear dealer? Now, when it comes to the web, hosting is similarly styled differently. There are varying server environments, each with its own mode of operation and resource allocation. Some of the terms you'll see providers using include:
Shared Web Hosting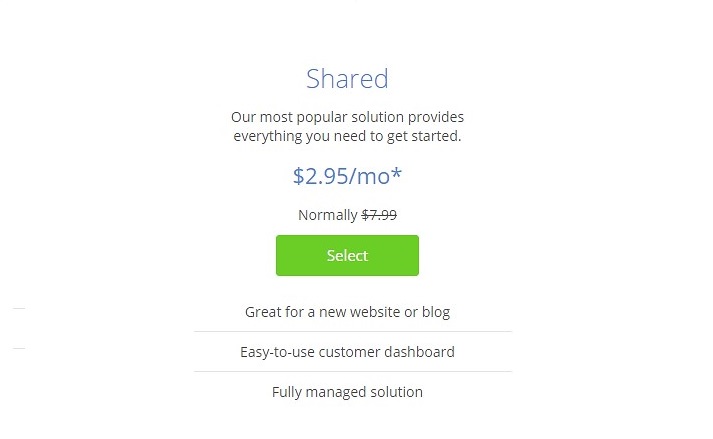 Just like the name suggests, this refers to a setup where you end up sharing the server resources with other websites.
Confusing? Ok, here's the thing. Instead of getting an entire server to yourself, you squeeze into it along with other websites- Each user only gets a portion of everything. Consequently, you'll be forced to split the server resources and share them with your counterparts.
The good thing about shared web hosting is this- since providers bundle multiple websites in one server, you can bet the whole thing is super inexpensive.
If you check out our comparative reviews of BlueHost, DreamHost, and SiteGround, for instance, you'll notice that shared hosting is the cheapest offering in their range of packages. BlueHost starts at just $2.95 per month while DreamHost charges $4.95. SiteGround, on the other hand, offers the service for $3.95 per month.
Therefore, shared hosting would be a good option to try out if you're looking for a conveniently affordable solution. It's particularly ideal for startups and websites with relatively low traffic volume. They should survive fairly comfortably with shared bandwidth and disk space.
That said, the biggest downside is the reduced performance that comes with communal servers. But, don't get all worked up. The best providers have a systematic way of managing the servers in real-time to ensure the resources are allocated accordingly.
Dedicated Web Hosting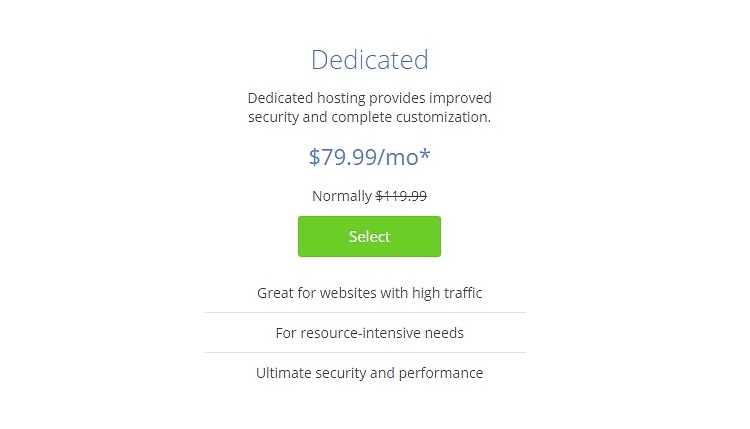 This is the opposite of shared hosting- you get the whole server plus its resources. That means you don't have to worry about sharing the disk space, bandwidth, and other allocations with third parties. Attractive, right? Especially since it translates to increased performance plus optimal security and uptime. You even get a lot of resource control privileges for your site.
Now that's perfectly suitable for fast-growing sites like established online businesses. They can subsequently host a relatively high traffic volume at all times without compromising overall performance.
Sadly, it's not all good news here. I bet everyone would go for a dedicated web hosting, but it happens to be pretty costly. By giving away the whole server to just a single user, providers incur comparatively high overhead costs which they then offset to subscribers.
Come to think of it, that's why BlueHost goes ahead to charge at least $79.99 per month for dedicated hosting, while DreamHost quotes $169, and SiteGround starts at $269. So, as you get excited about its prospects, don't forget that dedicated web hosting is typically reserved for enterprises with relatively deep pockets.
Starter Pick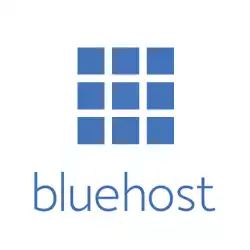 Why I Chose Bluehost?
It's a very affordable hosting solution, Bluehost allows you to build a site with WordPress which gives you complete control and flexibility over your website.
View Bluehost Promos & Discounts
We earn a commission if you click this link and make a purchase at no additional cost to you.
Virtual Private Server Web Hosting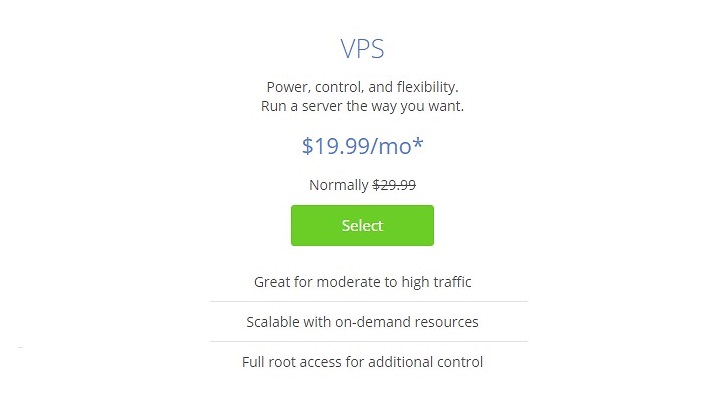 Commonly known as VPS, virtual private server hosting is more or less a fusion of shared hosting and dedicated hosting. Although you get to share a server with other websites, the provider grants you a dedicated portion with all its corresponding resources.
In other words, only the hardware is allocated to multiple users. Each site then gets its own distinct computing resources. It almost feels like dedicated hosting since you enjoy the freedom of exclusivity.
As a result, you'll be able to capitalize on the benefits of both shared and dedicated structures. The high performance associated with the latter, for instance, comes at a considerably cheaper cost. And the same applies to associated control privileges plus flexibility.
Speaking of which, VPS hosting is especially recommended for websites that are frequently scaling their resources. You can upgrade when you notice increasingly huge traffic surges without necessarily incurring significant costs.
Cloud Hosting
Both dedicated hosting and VPS hosting come with admirable scaling capabilities. But, let's face it- we are talking about one server here. That means that you can only stretch as far as the server's resources allow. Anything beyond that point potentially involves substantial cost increments.
Unless, otherwise, your site is running on something they call cloud hosting. It's a specialized configuration that methodically mitigates the physical limitations of a single server.
How?
Well, here's the thing. Instead of a standard server configuration, you get to host your site on a systematically linked framework of multiple servers. That fundamentally means leveraging different resources from various servers at a go.
Consequently, you can automatically upscale and downscale extensively depending on your changing website needs. And yes, it's all considerably cheaper than dedicated hosting. However, the number of providers who offer this type of solution is fairly limited.
Server Reliability and Performance
Usually, a solid website should be able to host traffic even when you're sound asleep in the middle of the night. You can expect your visitors to always stream in from different time zones across the globe.
While such a consistent flow of traffic would be a great thing overall, it comes with a condition. That your site has to be accessible 24/7. And that, of course, depends on its server's reliability.
Well, reliable servers can only come from a hosting provider whose systems have been well provisioned against potential disasters. In case of a serious server malfunction, the underlying framework should be able to automatically switch to alternative resources without affecting your website's uptime.
Otherwise, a downtime could result in immense losses. And if you thought a single day's outage wouldn't be that bad, then get this- 24% of enterprises globally incur an average loss of between $300,000 and $400,000 for each hour of downtime. More shockingly, the costs can stretch to more than $5 million in 14% of the organizations.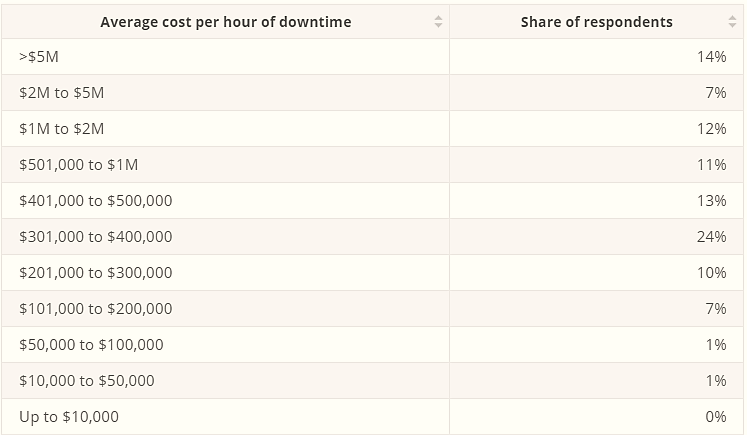 Now, selecting a hosting provider with at least 99% server uptime rate might not be as simple as it seems. Pretty much all of them now come with such a "guarantee". And although an additional "assurance" of downtime compensation would be nice, it's still not enough to go by.
You can only be sure about all that after conducting relevant tests. But, unfortunately, that might turn out to be a cumbersome process since it typically requires you to monitor multiple sites over a prolonged period of time.
Thankfully, however, you can alternatively rely on our up-to-date test scores. We continue to keep tabs on the major hosting providers to give you the proven statistics.
Normally, uptime goes hand in hand with server performance. You should comprehensively evaluate both aspects to make a well-informed decision. Otherwise, you might end up with a hosting service that manages to keep your website online, but with extremely poor responsiveness and loading speeds.
Now, responsiveness basically describes how fast a server processes your visitors' requests before it starts availing the site data. And the best parameter for measuring this is Time To First Byte (TTFB).
In a nutshell, a comparatively short TTFB value translates to high performance. A long TTFB, on the other hand, means the server is not optimized for quick webpage loading.
Well, you can run the tests on various measuring tools available on the web. Or alternatively, take the much shorter route of relying on our comprehensive hosting test reviews.
And while you're at it, keep an eye out for supplementary features that hosting providers commonly leverage for boosting website speed. The best solutions offer technologies like CDNs and super caches to minimize the amount of time it takes to load your webpages' content.
Security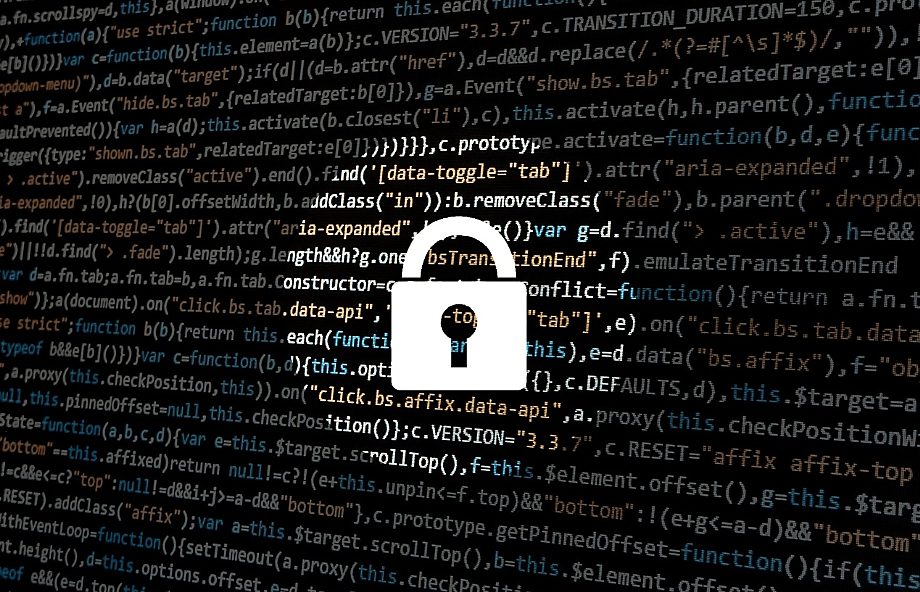 On average, there's a hacking attack every 39 seconds in the US. Now imagine the sheer amount of attacks that are being orchestrated at the moment.
And if you assume that such hackers will ignore your site to focus on large enterprises and organizations, here's the sad truth, 43% of the cyber attacks are launched against small businesses. As a matter of fact, 64% of companies have already been victims of web-based attacks.
The result? Well, let's just say that businesses are expected to lose about $2 trillion in 2019 alone. And you can bet that cybercriminals will not be slowing down any time soon. It's all systems go for them. Now, protecting your site from all this mess begins at the base level- its hosting framework. And that entails numerous protective measures.
The most basic thing you've got to look out for is data encryption. Your hosting provider should not only implement end-to-end data encryption but also complement it with an SSL certificate for your site.
Well, come to think of it, the certificate can also be a strategic marketing tool. It has been proven that web users often trust sites with "https" as opposed to just "http". And that's not all. Google also tends to favor websites with valid SSL certificates when ranking the search results.
Apart from encryption, your hosting service should also come with a full-time monitoring protocol. It must be able to detect malicious activities early enough to prevent a potential attack on the network. And to further reinforce that, the hosting provider needs to set up a strong firewall for the entire system.
But, don't be fooled. That's barely enough to protect your site at all times. Since hackers are consistently sharpening their skills, they might eventually discover a weakness they can capitalize on to infiltrate the system. Therefore, the hosting provider should stay ahead of them by persistently patching vulnerabilities as soon as they are discovered.
While you review the preventive features and hope for the best, it's also a good idea to consider the worst- what happens in the event of an actual breach.
According to a worldwide security study by The Ponemon Institute in conjunction with IBM, it takes an average of 197 days to discover a breach. Then guess what? More surprisingly, it takes an additional 69 days to contain the whole thing.
Your hosting provider's statistics, of course, should be nowhere near those numbers. A breach should be picked up immediately it occurs and subsequently mitigated swiftly to minimize the damage. Thankfully, there are a number of hosting services that boast of a clean record of breaching cases. So far, their systems have proven to be too strong for malware and hackers.
Well, although such a reputation can be a guarantee, it goes without saying that the web host should additionally offer regular site backups. We're are talking about both automatic and manual backup capabilities that cover all the website files, programs, code, plus media. And each backup instance, for your information, should generate a distinctive version that you can revert to in the future.
Speaking of which, the restoration process should be simple enough to be executed by a single click through the control panel.
Essential Admin Features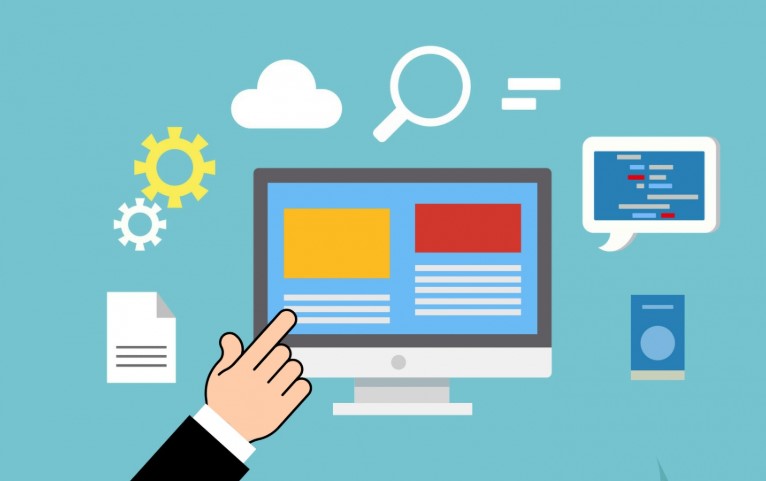 Although we've already explored the most critical functionalities, there are some additional essential admin features that an effective hosting service is expected to provide.
If you want to make your life a heck of a lot easier, for example, you should settle for a system that offers a one-click installer. The whole point is simplifying the installation processes by automatically launching a setup wizard with just a single click.
From our reviews, you can learn the type of site details you should enter before leaving the installer to handle the rest. Technically, it'll proceed to transfer files from your selected directory to the host's servers without necessarily involving a programmer.
And speaking of which, it's always advisable to go for a hosting provider whose control panel includes FTP/SFTP Access. This overcomes the common restrictions on standard file managers by allowing users to safely transfer large amounts of files.
And while you're at it, you might also want to check for .htaccess File Access. It's capable of managing your site's administrative privileges, from password authentication to redirects. In other words, you can implement changes across the entire site with just a couple of clicks.
That said, the ease of controlling all these processes depends on how the control panel is set up. Fortunately, many hosts continue to leverage the well-known cPanel, which is admittedly user-friendly.
But, make no mistake. That's not the only control panel in the market capable of delivering a simple organized interface. Quite a number of hosting providers have instead built their own custom panels, some of which are arguably more interactive than cPanel.
Whichever you prefer, the secret to picking a perfect control panel is pretty straightforward. Forget about the colors you fancy and instead prioritize on the navigation process. You should be able to figure out the main controls without referring to the support documentation. And when you click on anything, the whole system ought to respond swiftly with smooth transitions.
Now, let's also be honest here. You might not be able to master all the functions right off the bat. And even if you do, there are still numerous technical issues that you might face in the future. Well, that's precisely when customer support comes in handy.
Most people, of course, usually turn to the knowledge base for answers. An ideal one should be comprehensively detailed, with relevant articles, videos, and tutorials. Some hosts even supplement that with support forums where experts share notes, tips, and hacks.
When it comes to urgent matters, however, direct support would be more effective. That's why apart from technical documentation, the best hosting providers have implemented multiple support channels that are accessible 24/7. We've tested services that have full-time dedicated agents covering their email, live chat, and telephone lines.
Cost
And finally, here comes the price factor. Now, it goes without saying that there are numerous "free" services on the web. But, as you probably recognize by now, there's always a caveat. The best-provisioned solutions will always come at a cost. The corresponding pricing schedules, however, might differ from one provider to another.
While some of them come with different sign-up and monthly subscription fees, the bulk of the paid services usually charge uniform renewal fees for each plan. Their annual subscription packages are typically cheaper than the corresponding monthly billing options.
But, don't be so sure about the amounts you'll pay over the long haul. Some providers impose hidden secondary charges that you might not be aware of as you sign up. So, you should make a habit of always assessing the terms of conditions for each plan before proceeding to pay.
And while you're at it, pay keen attention to the upgrade, renewal, and refund policies. You'll notice that some providers, for instance, charge exorbitantly for package upgrades while others simply require you to cover the price difference. The best, however, is gracious enough to even refund you the difference as soon as you downgrade your package.
When it comes to comparing the actual pricing across various providers, you should make your decision based on the relative cost in regards to features offered on each plan. A favorably priced hosting solution is structured to provide superior functionalities at a reasonable price.
Unfortunately, as you'll eventually find out, comparing all these variables with their corresponding plan pricing can be very tedious. It'll probably take you quite some time to follow up on all the schedules and subsequently evaluate their multiple price points.
But, you know what? We've already handled that for you. Our hosting reviews that compare different hosting services feature even the pricing details. And yes, we're also keeping tabs on the hosts in case they change their pricing schedules.
Summary
What Should You Expect From a Website Hosting Provider
The Domain is the web address that accesses your site.
The Server is the machine that allocates and manages resources, plus stores your site's information.
Storage space is where you save your site's code, text, videos, images, and other media files.
Choosing the Best Hosting For Your Website
Type of Website

Understanding what you

need for your

specific website type

should

consequently help you to holistically assess what each

provider offer

s

.




Type of Hosting





Shared Web Hosting is a system where your site shares the server plus its resources with other sites.




Dedicated Web Hosting allocates an entire server plus its resources to a single user.




Virtual

Private Server H

osting is a combination of shared hosting and dedicated hosting.

While the server hardware is shared between several sites, each user is given dedicated computing resources.




Cloud Hosting is a well-synced network of machines that allow users to leverage resources from several servers concurrently.




Server Reliability and Performance

24% of enterprises

worldwide

suffer

an average loss

of

$300,000-

$400,000 after

60 minutes of web downtime

.




Go for a hosting provider with at least 99% uptime

score

after conducting rele

vant

tests.




The most accurate indicator for server responsiveness is

Time To First Byte (TTFB).




Look out for complementary technologies that hosting providers usually capitalize on to minimize web loading times.




Security

On av

erage, there's a hacking attempt every 39 seconds.




Small businesses are targeted by 43% of the cyber-attacks.




By the end of 2019, data breaches are expected to cost businesses $2 trillion.




Apart from encryption plus the corresponding SSL certificate, your hosting provider should implement measures for preventing attacks, identifying and

patching vulnerabilities, strengthening passwords, plus detecting and containing breach incidences.




Regular automatic and manual full site backups with multiple restoration points should be part of the pa

c

kage.




Essential Admin Features

FTP/SFTP Access allows helps you conveniently move

large amounts of files.




.htaccess File Access is suitable for coordinating your web

s

ite's administrative controls.




For simple and structured installation, go for a service that provides a one-click installer.




The control panel should have a clean, simp

le and organized interface with a straightforward navigation framework.




The best hosting providers run a complete support system that encompasses a comprehensively detailed knowledge-base, plus 24/7 telephone, live chat and email support.




Cost

Free hosting comes with limited functionalities.




Annual subscription is usually cheaper than the corresponding monthly subscription.




Some providers have separate fees for signups.




Analyze the T&Cs to determine potential hidden costs

,

plus

understand

package renewal, refund and upgrade policies.




Compare various pricing schedules according to their corresponding features to make an informed decision.



Well, all things considered, you're essentially halfway there. You can now go ahead to read our comprehensive hosting reviews to discover all the crucial details- including stuff they don't want you to know.
Here are some other related articles you may be interested in:
Web Hosting Guides
Web Hosting Alternatives
Web Hosting Comparisons
Web Hosting Reviews