Last Updated on May 2, 2023 by Ewen Finser
Hostgator is a mainstay in the web hosting services space, having been around for over 2 decades. But is it really the best hosting option?
Marketing gurus have promoted them for years, even in spite of at times subpar service. NEWS FLASH: web hosting is MUCH better "on the web" in 2020 than in 2010.
So what is a webmaster to do?
I found myself in this predicament a few years back. I ended up doing an inordinate amount of research on web hosting companies (including spreadsheets) before I come up with a list of finalists. I tend to spread our web hosting accounts across a few different hosting provider options for diversification.
All this being said, below you will find my running list of the top web hosting alternatives to HostGator.
Note: This Hostgator alternative list is updated frequently, as I learn new information on better service provider web hosts.
Summary: Faster speeds (in general, very comparable or better in price – depending on the precise plan – and with an almost identical management dashboard as a Hostgator alternative, Dreamhost is the IDEAL Bluehost hosting provider substitute, particularly for WordPress site owners.
Best of all, Dreamhost is still an independently owned and operated hosting company, unlike Bluehost which was acquired years ago by hosting services conglomerate EIG hosting services (rumored to drive down quality in the hosting industry, cut costs).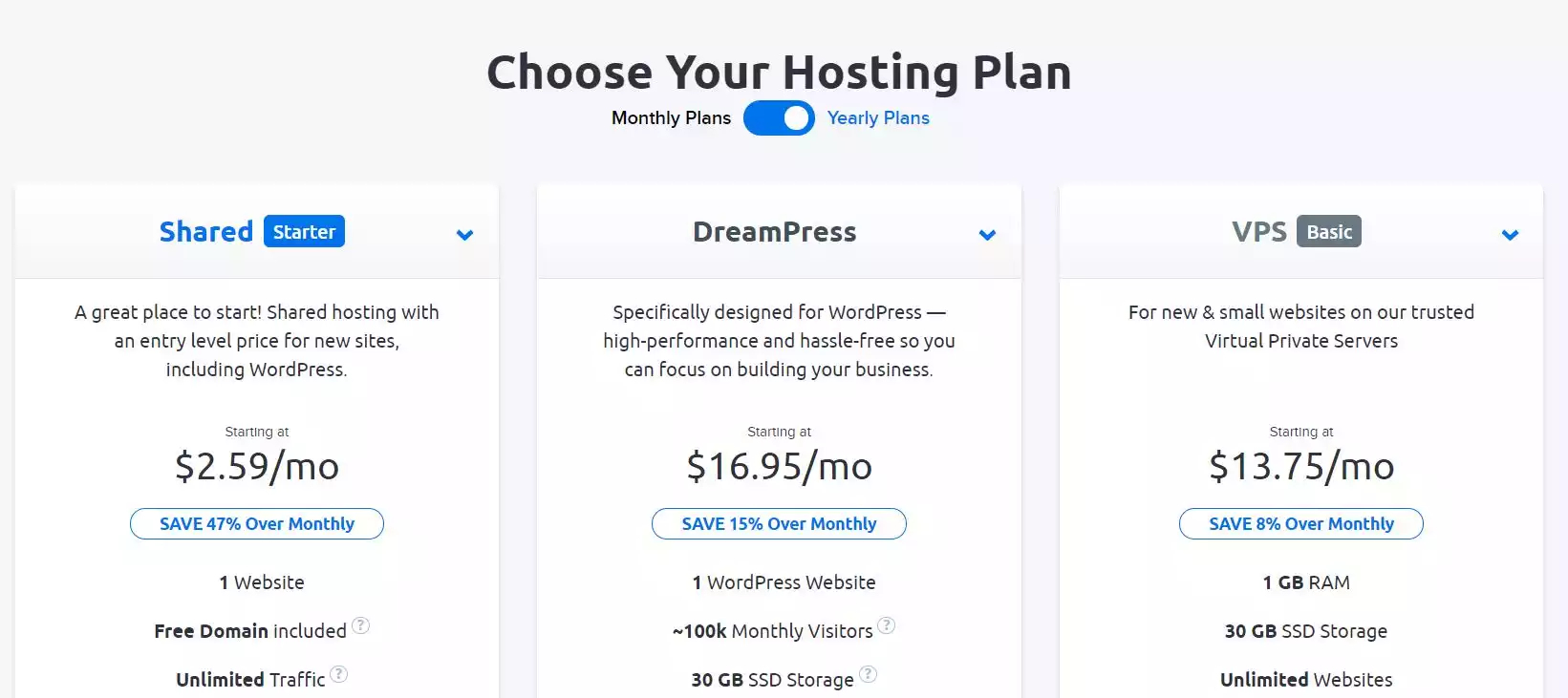 I Personally Prefer Dreamhost
Dreamhost offers essentially everything that HostGator offers, except at a LOWER starting price point. Packages include Wordpress Hosting and WooCommerce Hosting, without compromising on price.
Check Current Deals
We earn a commission if you click this link and make a purchase at no additional cost to you.
Dreamhost Advantages
Typically clocks in around 440 to 460ms load time in our periodic testing (vs around 650ms loading time for HostGator)
Still independently owned and operated
Has Managed WordPress hosting plans (WordPress website)
Has Managed WooCommerce store hosting plans
Uses cPanel control panel
Dreamhost has one of the cheapest entry-level hosting plans out there (affordable hosting plan / shared web hosting)
Dreamhost Disadvantages
Only offers 2 shared hosting plans (Bluehost has 4)
Only offers customer service between 5 AM and 10 PM PST (Bluehost is 24/7)
Dreamhost Prices: Dreamhost gets started with their basic shared hosting plan at $2.59 per month (vs $2.75 for Bluehost). Managed WordPress Hosting and WooCommerce Hosting gets started at $16.95 per month.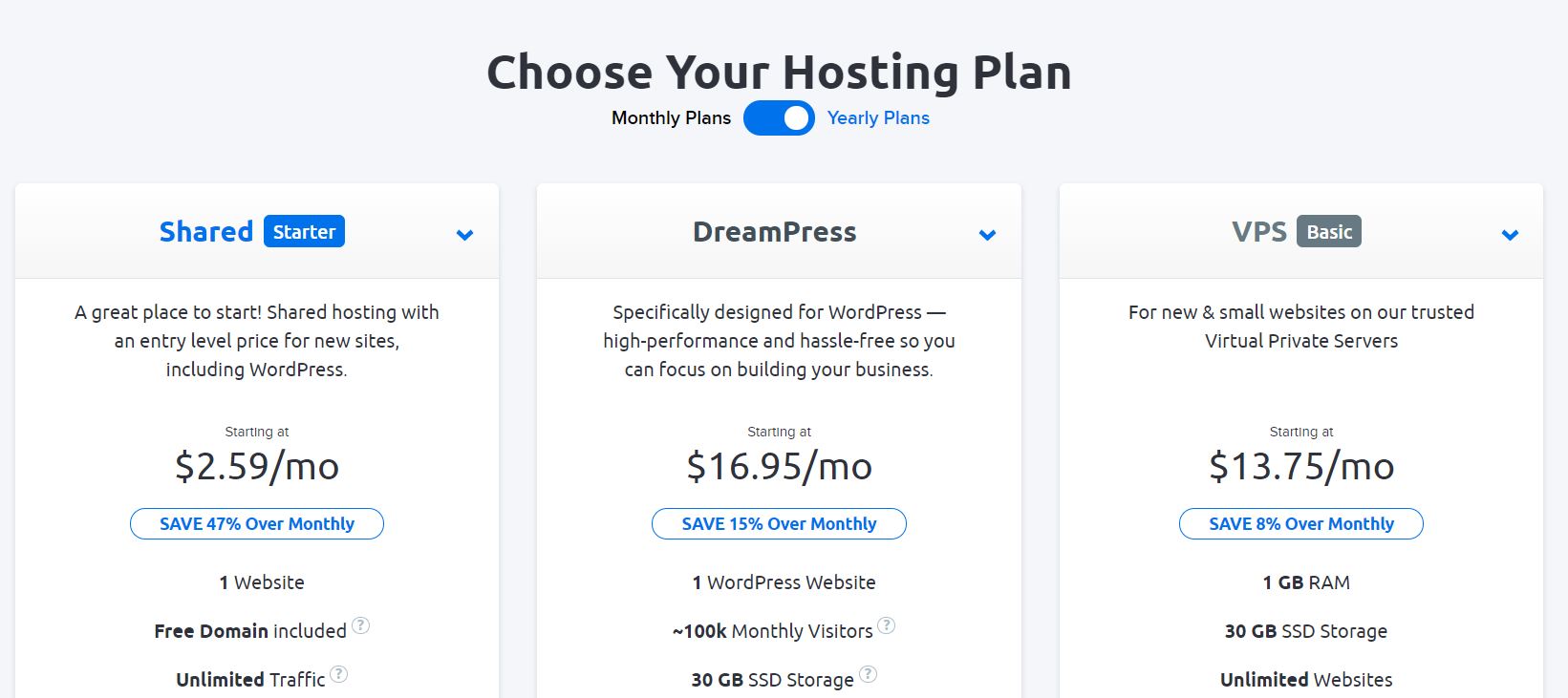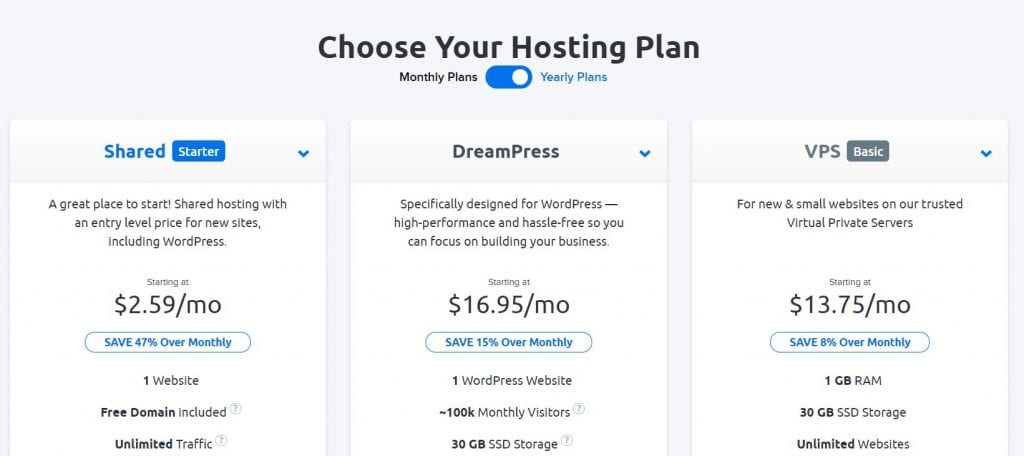 Further Reading:
Summary: Cloudways hosting provider isn't the most well-known, but if you can get your hands dirty a bit technically with your hosting service, it offers the most value for the money.
Cloudways Advantages
The best pure value for the money (if you can get technical)
Completely managed hosting solutions
Extensive server customization options
Free Wildcard SSL certificates
Among the leaders in site uptime
Many different hosting solutions and hosting options for different needs
Unlimited staging areas
Team collaboration options
More global cloud server locations
Better 1-click install options
High-quality SSD storage
Complimentary backup
Custom management dashboard (does not use cPanel or similar)
True cloud server environments
Cloudways Disadvantages
Entry -level plans can be more expensive compared to Bluehost (especially with promotion periods)
No 1-800 contact number for customer support and customer service
Cloudways Prices:
Summary: If you are trying to stretch your dollar but still get top of the industry performance, SiteGround is the hosting provider market leader here among hosting companies. Ideal for WordPress sites, with easy-to-scale starter plans for as low as $3.95 per month (first year).
SiteGround Advantages
Best value Managed Hosting provider for WordPress
Outstanding value for starter sites and small business sites (more features compared to Hostgator shared hosting)
Free Let's Encrypt SSL certificate integration
1-Click WordPress installs and website builder
Able to launch with Elementor builder and others (one-click)
Generally faster server response times than HostGator
Responsive customer support, including live chat, live call, and email support (customer support typically responds within 1 hour)
Uses cPanel control panel
Real-time site uptime monitors
Free daily automatic backup daily
e-commerce site customized hosting for WooCommerce
SiteGround Disadvantages
First-year pricing jumps up considerably in the second year (almost double in many cases), so be sure to re-evaluate each year if it's still the best option
Shared hosting is quite affordable, but dedicated hosting options are less affordable in relation to peers
SiteGround Prices: Shared Hosting, WordPress, and WooCommerce hosting plans all start at $3.95/month for Startup Plans, $5.95 for GrowBig Plans, and $11.95 for GoGeek Plans. Cloud Hosting starts at $80/month and goes up in 4 tiers to $240/month.
Further Reading:
Summary: Kinsta is the BMW of managed WordPress hosting, with all the features of a WPEngine but at a more affordable price point with plenty of tiered hosting options for different users (and disk space needs). If you've ever been frustrated with HostGator customer support and customer service, get ready for the white glove web host treatment!
Kinsta Advantages
Extremely responsive support staff with deep technical knowledge (better than HostGator)
Free migrations and "hack fix" guarantee
Automatic daily automatic backup
Outstanding uptime across many benchmark tests
20+ regional Google Cloud data centers (more data center locations = faster local access)
24/7 support, including live chat support
Easy to configure email accounts
Free automated backup
Site cloning (available on "Pro Plan" or higher)
Multiple price break points on plans (much more than WP Engine, for example)
Lightning-fast reliable speeds (one of our sites went from 1.7 second load time on Hostgator to 0.77 seconds after switching to Kinsta)
100% managed WordPress hosting provider
Kinsta Disadvantages
Kinsta Prices: Starts at $30/month for 1 WordPress install up to 20,000 visits per month, then $60/month for 2 installs and up to 40,000 visits, $100/month for 5 installs and up to 100,000 visits, and then incraesing in increments of $100 for 10 installs (250,000 visits), 20 installs (400,000 visits), etc…
Summary: A2 is a direct competitor to HostGator in the "budget hosting companies" category in the hosting industry, with plans starting at just a few dollars per month. While A2 Hosting does less hand-holding with support, they offer a variety of plans at perhaps the best pure value of any hosting account option here.
A2 Hosting Advantages
Affordable and reliable entry-level pricing, without skimping on core features (basically the same price as HostGator)
Now offers Managed WordPress hosting as well
WordPress Managed Hosting is cheaper than HostGator's
Much fasters than HostGator (2.84 server response time vs 3.94 for HostGator in our testing)
Free SSL certificate included
In-house optimization software included (including for WordPress)
Money-back Guarantee refund policy
A2 Hosting Disadvantages
Smaller user base compared to HostGator (could be an acquisition target)
Shorter track record in the industry compared to HostGator
A2 Hosting Prices: Hosting packages start at just $2.94/month for Shared Hosting, then $9.94/month for Reseller Hosting, then $5/month for VPS Hosting, and finally the Dedicated Serving Hosting starts at $99.59/month. There are typically 3-tiers within each of these categories as you grow.
Further Reading:
Summary: InMotion Hosting is another direct web host competitor to HostGator with similar selling points to A2 Hosting, but with a bit more scalability on the higher-end for large sites.
InMotion Hosting Advantages
WordPress Managed Hosting is cheaper than HostGator
VPS and Dedicated Servers are cheaper than HostGator
24/7 Phone Support
More modern infrastructure compared to HostGator (InMotion is more reliable)
Free SSL certifications
Includes free domain (also acts as domain name registrar and TLD domain names)
InMotion Disadvantages
More limited Live customer support compared to HostGator
Generic Shared Hosting is not as cheap as HostGator
InMotion speed tests were not decisively faster than HostGator (although not slower in any test, just marginally better by a few milliseconds)
InMotion Hosting Prices: WordPress Hosting starts at $5.99/month, Business Hosting at $6.39/month, then $21.04/month for VPS Hosting, then $105.69 for Dedicated Server.
Further Reading:
Summary: What does a super premium managed WordPress host get you? Well, try WP Engine. From complimentary Genesis themes, expert support, and robust staging environments, WP Engine is almost the complete opposite of HostGator.
WP Engine Advantages
Likely the highest level of security available for WordPress
Fully featured staging areas with excellent version control
Tech support that is both tactfully and technically above HostGator's
Live chat support
Excellent control panel interface (custom-built, not cPanel)
Laser provider focus on WordPress sites and webmasters
Ideal for larger traffic sites north of 100,000 visitors per month
Simple pricing structure (no complicated loopholes)
Automated and regular free backup options (can custom schedule interval of backups)
Scalable services
WP Engine Disadvantages
One of the most expensive web hosting provider options, especially relative to HostGator
Tight security criteria mean that they have a "blacklist" of plugins that you may need to remove
Limited flexibility on pricing tiers, with big jumps from the initial entry point if you need to scale up
Probably overkill for a customer just launching their site with limited initial traffic
WP Engine Prices: Begins with the Startup Plan at $35/month, then the Growth Plan at $115/month, and finally the Scale Plan at $290/month. Custom packages for larger businesses are also available.
Further Reading:
Summary: Originally called TrafficPlanet Web Hosting, WPX is another highly awarded Managed WordPress Host, offering an outstanding support team (many technical issues resolved before you even need to ask) and transparent web host pricing models.
WPX Hosting Advantages
Amazing support, willing to solve any problem
Free site transfers (end-to-end)
Hardened WordPress security features
Completely managed WordPress hosting services
Built-in server caching (WPX Cloud)
WordPress staging included on ALL pricing tiers
Free SSL
Simple pricing structure (no games, gimmicks, or massive jumps after a year)
WPX Hosting Disadvantages
More expensive entry-level hosting compared to the HostGator plan
Some plugins might not work due to security settings
WPX Hosting Prices: Starts at $24.99/month Business Plan (up to 5 sites), then $49.99/month Professional Plan (up to 15 sites), and finally $99/month Elite Plan (up to 35 websites + unlimited bandwidth / unmetered bandwidth).
Starter Pick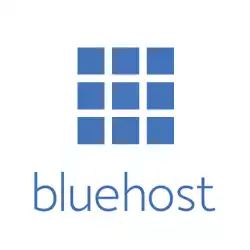 Why I Chose Bluehost?
It's a very affordable hosting solution, Bluehost allows you to build a site with WordPress which gives you complete control and flexibility over your website.
View Bluehost Promos & Discounts
We earn a commission if you click this link and make a purchase at no additional cost to you.
Summary: Bluehost sometimes get's a similarly bad rap to HostGator as a web hosting service, but offers some compelling reasons to consider in lieu of HostGator (mainly competing on price as one of the top Hostgator alternatives).
Bluehost Advantages
Long track record, not a fly by night operation
Dedicated WordPress hosting plans
Easy to use for beginners
Free domain deals
cPanel UA interface (HostGator also uses cPanel)
Free domain registration (domain registrar)
Cloud Hosting plans available
Bluehost offers seasonal deals that are among the steepest web hosting discounts
Bluehost Disadvantages
Acquired by Endurance Internal Group, one of the largest web hosting aggregators (typically drives down quality after acquiring, commoditizes service for hosting companies) and the SAME parent company of HostGator (uptime generally takes a hit)
Comparable speeds to HostGator
Higher than average customer turnover
Bluehost Prices: Shared hosting starts at just $2.75/month, then $19.99/month for VPS hosting, and $79.99 for Dedicated hosting.
Further Reading:
Frequently Asked Questions
Where are DreamHost servers located?
DreamHost is a web hosting company located in the United States but can be a dedicated server for anyone in the world.
Is Bluehost only for WordPress?
Bluehost is a web hosting company available not only for WordPress. But keep in mind that it is a top service provider recommended by WordPress.org.
How Long Will It Take To To Set Up an Inmotion Account?
Your Inmotion account will be activated on the same day of the purchase. The basic hosting package features will have between 1 to 2 hours to configure. The more advanced configurations of the hosting solution can take from 1 to 2 business days.
Final Take: So What's the Best Alternative to Bluehost?
So after all that, which is the right hosting account solution for you? My overall best similar (but better) Hostgator alternative is definitely DreamHost available here.
But beyond the overall pick as Hostgator alternatives, I break it down something like this: