Last Updated on April 22, 2023 by DMEditor
Looking for the best of the best in website builders? Compare features, functionality, and pricing here.
Every single business requires high quality, professional-looking website. Actually getting one up and running is incredibly overwhelming, though. Web design can be complicated, making it easier to keep pushing this task off for as long as possible. There's so much to learn that a lot of people have no idea where to start.
Here's the good news: you definitely don't need to have the technical knowledge or coding experience to build a great website. With a website builder, you can handle everything on your own.
Think of it this way: the longer your business goes without a website, the more money you miss out on.
Your website is sort of like another employee – a full-time employee who's never going to take a break or a day off, and who handles everything from marketing and sales to customer service around-the-clock.
Is that the type of employee you would turn away? We didn't think so.
What is a Website Builder?
A website builder is pretty much what it sounds like: a tool to help you build your website from scratch. The best website builders are intuitive and easy to use, even for beginners. Most builders include templates and features that help you create a great-looking, functional website that's in line with best practices and regulations. Website builders are primarily for small businesses that need a website but don't yet have the budget to hire a developer.
Budget and Pricing
The website builder program alone doesn't represent the entire scope of website pricing. You also have to consider things like:
Domain registration
Hosting
Images
Copywriting
Templates and plugins that cost extra
Most website builders will have the option of a free plan, but that's not necessarily the way you want to go. Free plans are usually limited when it comes to how much traffic they can handle, the features you can access when designing and the level of customer support you'll receive. It's usually worth it to upgrade to a paid plan and you'll likely find one that fits your current traffic requirements. Then, as your business grows, you can scale your plan, too.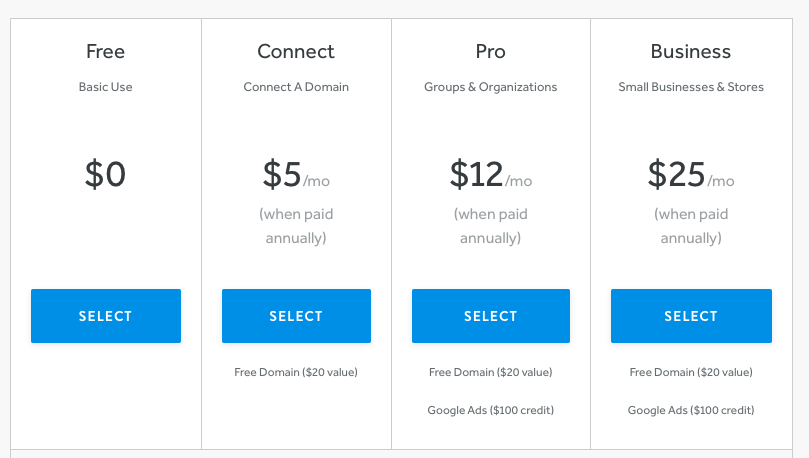 Photo: Weebly
For businesses with a very small budget, look for website builders that let you bundle services together. For example, HostGator has both hosting and a website builder so that the cost is rolled into one.
Another thing to consider when comparing website builder costs is whether or not the provider takes a transaction fee. If you're going to be selling products right from your website, you don't want to pay a percentage every time you make a sale. Sometimes, you can avoid those transaction fees by upgrading to a higher plan.
You also want to think about their refund policy and free trial offer. Many services will refund your money within 14 to 30 days of purchasing a paid plan. Or, they may offer a free trial period so you can test the tool before paying for it. Some providers will even offer both – a free trial period and a full refund within a certain timeframe.
When it comes to setting your budget, don't skimp if you don't have to. You're going to get a lot of value out of your website and that value comes with a price tag.
Requirements and Questions to Ask
Before we can start talking about which website builder features to look for, you have to understand your business and what you need your website to do. In this section, we're going to guide you through answering some important questions about your business needs.
What's your timeline for getting your website up?
If you need a website up and running by tomorrow afternoon, you'll want to find the simplest tool that bundles as many services together as possible. If you have a lot of time, though, you can play around with a more advanced tool that has extra customization options.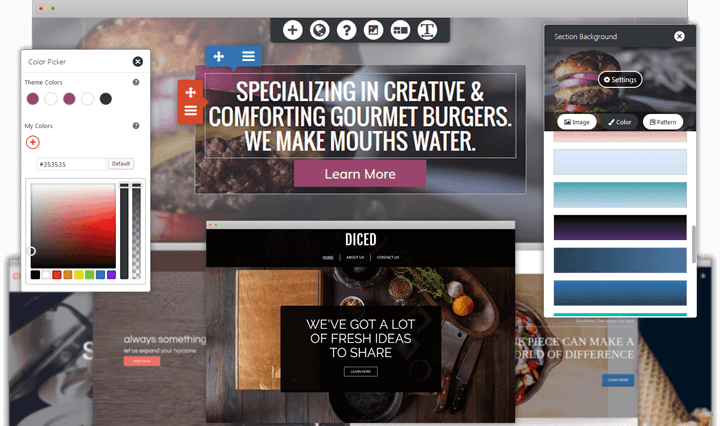 Would you prefer a fully-hosted builder?
If you don't want as many bells and whistles as something like WordPress affords, consider a fully-hosted builder. Examples of this are Weebly and Wix. These builders are usually easy to use, but the drawback is that you're limited to just the features they offer.
If you want something down the middle, consider BoldGrid. This website builder is actually built on top of WordPress, meaning you can take advantage of WordPress' customizations but use a drag-and-drop builder when designing.
Do you need every little detail to be just right?
For business owners who want a ton of flexibility and customization options, look for a website builder that has a lot of templates to choose from and that lets you tweak several areas of those templates. One of the best website builders for this is WordPress, which is an open source website builder. However, while you have maximum control over your website with WordPress, you're also entirely responsible for it, even if you screw it up by changing the code in the back-end editor.
Do you need to build a staging website?
A staging website is what you'll use to test new designs before you make the changes live. You can change the layout, try out a new theme or use a new plugin, then see what it'll look live before actually publishing the results.
Will you be selling products directly from your website?
If you're going to be selling products from your website, you'll need ecommerce features. These may include checkout functionality and a shopping cart, plus the right design options to encourage people to go through with a purchase.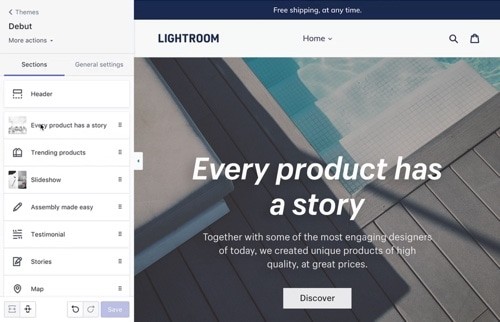 Photo: Shopify
How much design experience do you have?
Even though most website builders are specifically made for people who don't have coding expertise, that doesn't mean all website builders are super easy to use. Some will still have more of a learning curve than others. If you've never built a website before or if you're not very computer-savvy, look for a drag-and-drop builder with easy-to-understand design options and a lot of theme templates.
What media types do you need to put on your website?
Ecommerce sites may want to include explainer videos to clarify information about their products. Photographers will need a stunning photo gallery. Writers may want a blog. Brick-and-mortar stores will need a map so that customers can easily find their location. Whatever types of media you need, make sure to only move forward with a website builder that can support them.
You may also be able to find a website builder with an integrated photo library. This way, you can shop for stock photos that have the proper copyright for use on your website.
Ease of Use
Even the most difficult website builder will be easier to figure out than learning how to code a website from scratch. With just a little bit of CSS or HTML knowledge, you may even be able to make small tweaks to your website. For example, I was able to change the pattern on the menu bar and remove some of my templates features by editing the coding on my WordPress site – and I'm definitely not a coding expert by any means.
If you want the easiest website builder out there, look for one with a drag-and-drop designer. Also, consider if you want the ability to make changes on-the-go, in which case you'd want the website builder to also have a mobile app.
Features
Now that you have a better idea of your business' needs, it's time to dive into the different features many website builders offer. A good approach is to keep a list of the features you (a) need, (b) want but don't require, and (c) definitely don't want and would rather not pay for.
Ecommerce
We mentioned e-commerce earlier, but let's get into it more here.
The best, most reliable e-commerce solution is one that's fully-hosted, like Shopify. Here are some of the perks that these type of e-commerce website builders offer:
Templates and designs to customize the look of your store
Ability to upload an unlimited number of products
Complete inventory management and order tracking
Marketing solutions to reach more customers
Evergreen or limited-time coupons, discounts and sales
Integrated payment solution for your customers
Ability to add third-party payment gateways if you prefer
Powerful statistics to track and improve your performance
Management for backups, software and updates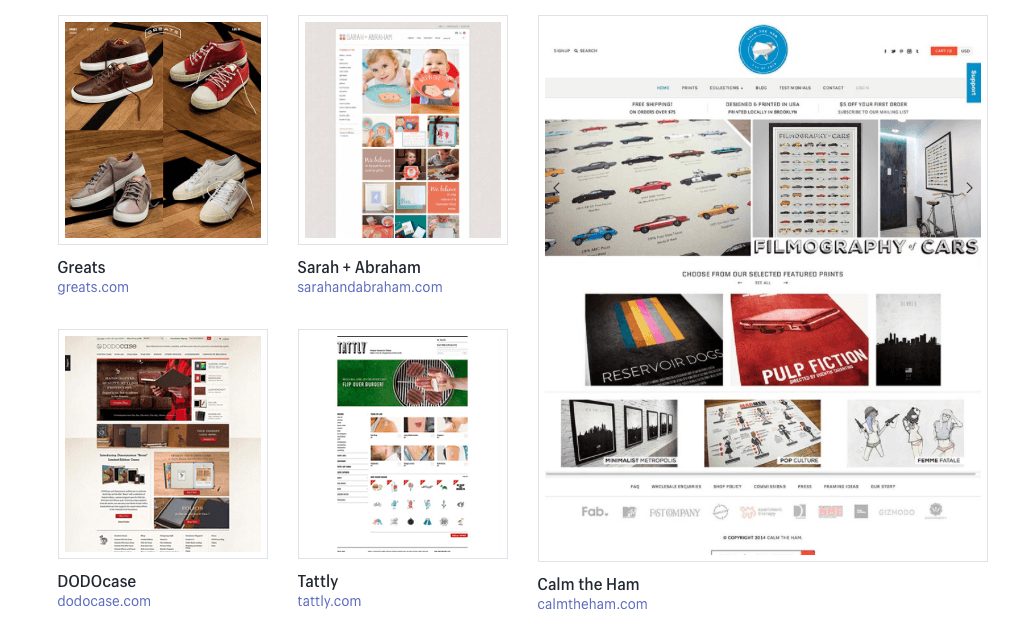 Photo: Shopify
Some e-commerce owners will have more complex needs than what something like Shopify can handle. If you're going to be selling products from your website, consider these questions:
Do you need your customers to download digital products as soon as they make a purchase?
Do you want to allow VIP customers to access restricted parts of your website?
Are your products complex? For example, do they have numerous variations or customization options?
Do you only want to reach customers in specific markets?
When it comes to more complex e-commerce needs, you may need a website builder with more flexibility. A WordPress website with a WooCommerce plugin may let you create a more custom experience for your customers.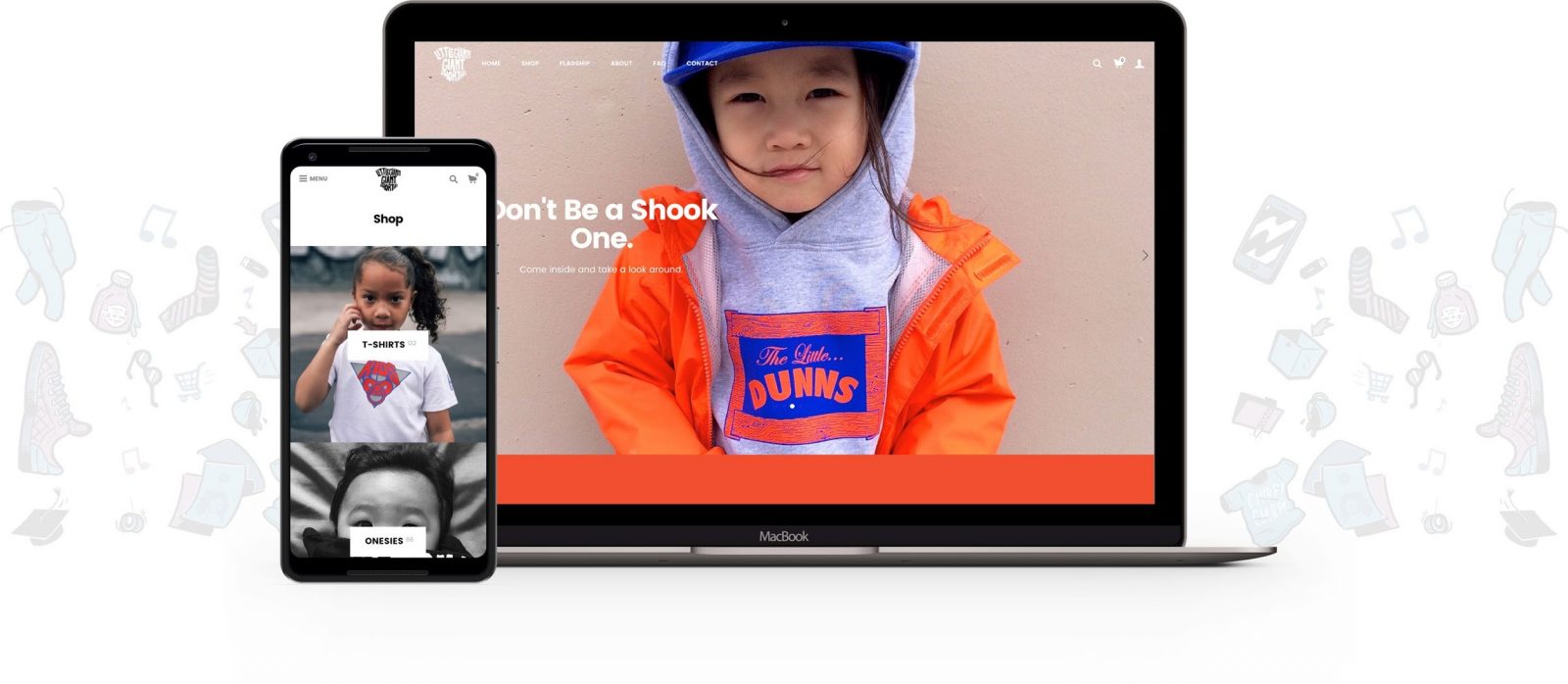 Photo: WooCommerce
But If you're looking for an e-commerce alternative that is more dynamic, webflow would be a good option to consider. Think of it as a SaaS toolkit that acts as a hybrid between content management systems like WordPress, and standard site builders like Wix.
Themes and Templates
Finding a website builder that has themes and templates you like is a big part of the decision making process. Your website builder will have themes available, either free or paid, that you'll then customize. How much you can customize depends on the builder and/or the theme you choose. Before paying for a website builder, explore the themes they have available. If you like the website builder but aren't impressed with their themes, find out if you can import a theme you buy from another company, like ThemeForest. I personally love the themes from Restored 316 and each one comes with documentation and step-by-step guides for making customizations.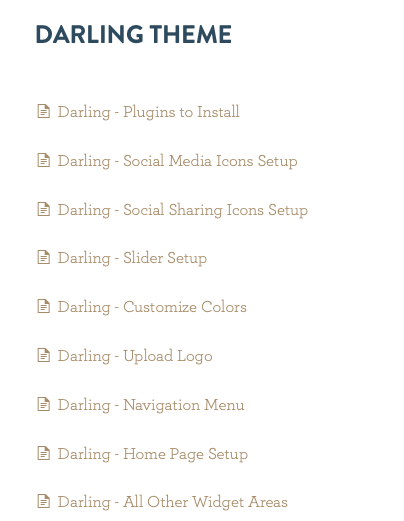 Photo: Restored 316
Also, don't be too wooed by website builders with thousands of themes available. A lot of those themes may look cheap or outdated. If you don't have the best eye for design, having all of those options can be overwhelming. You don't need hundreds of themes – you need one that will make your business look fantastic.
There's a lot to consider when choosing a theme. Here are three important areas that will have a large impact on your website's first impression.
Content Width
There are two types of content width options: full-width and boxed-width.
Full-width means that the background image will stretch to the full width of the computer screen. Full-width websites are modern and creative. They're ideal for businesses that care a lot about design and aesthetics, or that have an image-heavy brand.
Boxed-width means that the content has a frame around it. These websites aren't as modern as full-width sites, but they are traditional, making them a good option for business-oriented brands. Think of these websites as having a border around the content that boxes it into a smaller space.
Both widths will look fine on a mobile device. Full-width sites tend to be more responsive, meaning they adapt to the screen, while boxed-widths remain pretty much the same when viewed on a mobile device. Either way, your website will do fine on mobile.
Homepage Header
The type of homepage header you have will depend on your brand. This decision isn't design-centric; instead, it's strategic. You need your header to immediately tell your customers what your brand is about. Think of the header as your website's first impression.
A static header image with no content is basically a large graphic or image. These headers are best for businesses that need a visual to attract customers, like a hotel, restaurant, or wedding photographer.
A static header image with content is the best option if you're not sure what type of header is best for you. You'll get an image that's overlaid with a headline, description, and call-to-action.
A slideshow header is best for brands that either has a lot of products to show or a lot of audience segments to cater to.
A video header is best if you need a better way to succinctly explain your brand's mission.
Note that you don't necessarily want to lean toward the flashier header types if these won't accurately reflect your brand. Even if you think this type of header makes a better appearance, it could end up hurting your company if it doesn't complement your brand.
Menu Bar
You may think the menu bar is just a generic part of your website, but the design here really matters. The menu is what people are going to use to find their way around your website. You want a template with a clean, easy-to-read menu that doesn't have a color or pattern that gets in the way of visibility.
Consider the position of the menu bar, too. A fixed menu bar is good for a website with a ton of content, where the user has to keep scrolling. A top horizontal bar is best for shorter websites. If you have a visual-centric website with large images, a side vertical bar will stay out of the way; this is also a good option if you have a ton of menu options to include.
Mobile
Whatever website builder or template you choose, it has to be able to create mobile-responsive websites. With so many people viewing websites on their mobile devices, this is no longer an option, it's a necessity. Otherwise, you'd have to edit your website separately using a mobile editor, which is an unnecessary nuisance.
Plugins and Integrations
Some website builders like WordPress (and other, more simple ones) will have a library of plugins that you can access to really build out your website. A plugin is a sort of like an app for your website. It'll add features and functionality that don't come out-of-the-box with the builder or theme.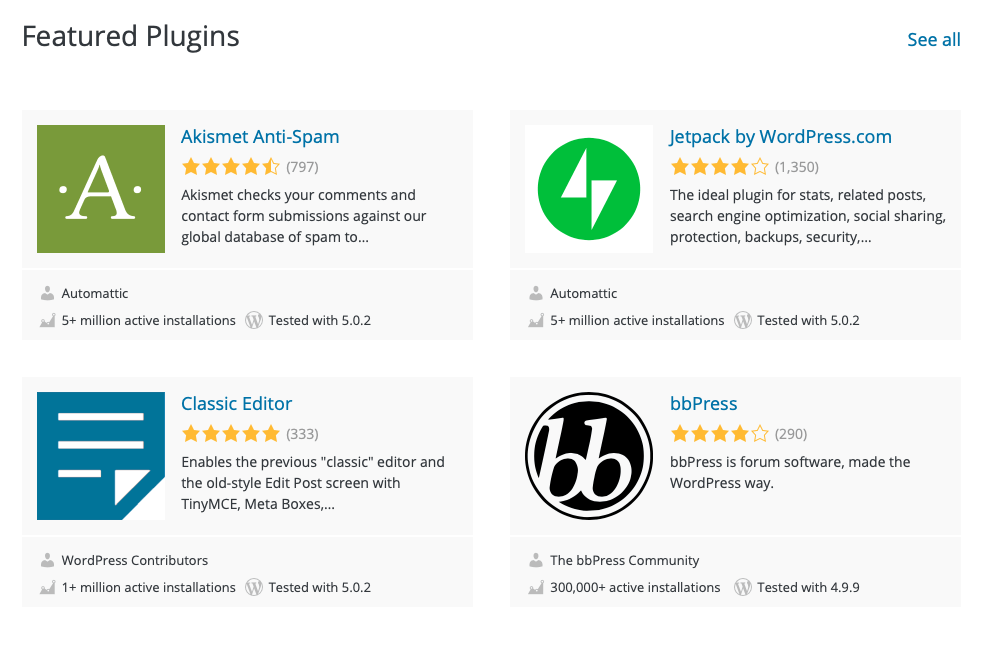 Photo: WordPress
Also, if you'll need to connect your website with third-party services, like Google Analytics or MailChimp, make sure that the website builder you choose is compatible.
Memberships and Accounts for User
There are many reasons why you may want your website to have a members-only area. For example, you may want to offer online courses to paying members.
On the back-end of your website, you may also want the ability to add multiple users. For example, if you run a blog, you may want each author to have their own login information.
Language Support
Some websites will let you translate your text into different languages. WordPress, for example, will let you create a multilingual website, which is a huge benefit if your audience is global.
Lack of Advertisements and Branding
When choosing a website builder or deciding which plan is best for you, make sure to find out if they include their own branding or advertisements in some of the plans. In free plans, it's possible that the website builder will put their logo on the bottom or include an advertisement in the main part of your website. Often, upgrading to a higher-priced plan gets rid of these elements.
SEO
Building a website is a necessity, but you actually need people to find that website, too. The best website builders will have SEO features in order to optimize your site. You want to look for a builder that lets you easily update the meta data, like the image alt tags and the meta headline and description for each page. You also want a builder that gives your sitemap to search engines so that they can include your website pages in search results.
Marketing
If you want to run ads on your website, you'll want to look for a builder that has some of this functionality either built-in or via an easy integration with a third-party tool. However, keep in mind that integrating advertisements usually requires a developer or the ability to work with custom code.
Management
You've chosen a website builder and your website is published and ready for the public to see. You're still not done, though. Websites require management and maintenance, and while you may have the chops to design a site, you don't necessarily know how to keep it healthy.
Yes, you can figure out how to take care of all of this yourself and then pray that nothing goes wrong, or you can work with a website builder provider who handles this for you. Another option is to work with a customizable builder like WordPress and then hire a specialist who can keep it running smoothly and troubleshoot any issues that pop up.
Customer Support
Even the most intuitive, drag-and-drop website builder will have a learning curve. And builders with a lot of features will have even more to get used to. Either way, you want to make sure that there's enough support available to help you out when you get stuck. That type of support includes live customer service agents who can be reached by chat, email or phone, plus a self-service database with guides, tutorials and answers to your FAQ.
You can explore the self-service area ahead of time, but you won't necessarily know how reliable customer service is until you need them – and by that point, it could be too late. A good alternative is to read customer reviews and to pay attention what a majority of them say about customer service. There are bound to be some positive or negative experiences that are outliers, but what you want to take to heart are the experiences that numerous customers share.
Final Thoughts on the Best Site Builders
Choosing the right website builder isn't about getting the one that has every feature under the sun. Instead, it's about finding the website builder that's easy for you to use, that will let you design a website that reflects your brand, and that's within your price range. It's also important to use a website builder that will scale with you as your business grows. After all, the goal isn't to stay in the same place, but instead to expand, cater to a larger audience and increase your sales.
Here are some other related articles you may be interested in:
Site Builder Comparisons
Best WordPress Themes and Builders
Site Builder Guides
Logo Design Tools