Last Updated on July 9, 2022 by Ewen Finser
Launching a website today is SO much easier than it used to be. This is thanks to services like Squarespace. But Squarespace is not always the best option for every business.
I'm frequently asked by offline business operators and side hustlers if Squarespace is a good option. Kudos for Squarespace for getting the word out!
That said, as your business grows and matures, you may find the functionality lacking. Squarespace takes the friction out of launching a business, but not necessarily growing a business.
I've tried most of the website building platforms out there (somewhat of a geek here), so I was put together a list of my top Squarespace alternatives below:
1. Wix: Best Overall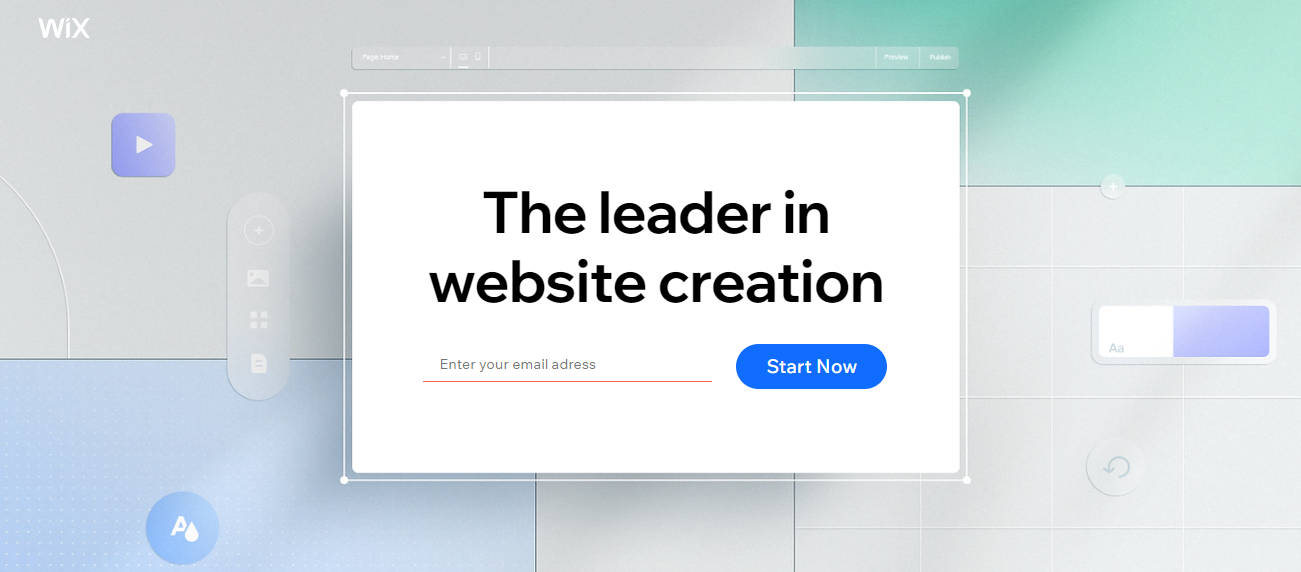 Summary: Wix is a very fierce Squarespace competitor but offers better SEO optimization out of the box and more templates to choose from.
Wix Advantages
Easier to use than Squarespace, especially for beginners or non-technical founders
True drag and drop functionality
Offers better multilingual support for more languages than Squarespace
Excellent SEO features for better visibility out of the box (if you haven't tried Wix recently, they've made the most improvements here)
Built-in membership site functionality
Easy to use mobile app for on-the-go management (unlike Squarespace)
Wix Disadvantages
More of a closed ecosystem (no open source marketplace or dev support, think Mac vs PC)
More limited customer support & technical support compared to Squarespace
Further Reading:
2. Shopify: Best for eCommerce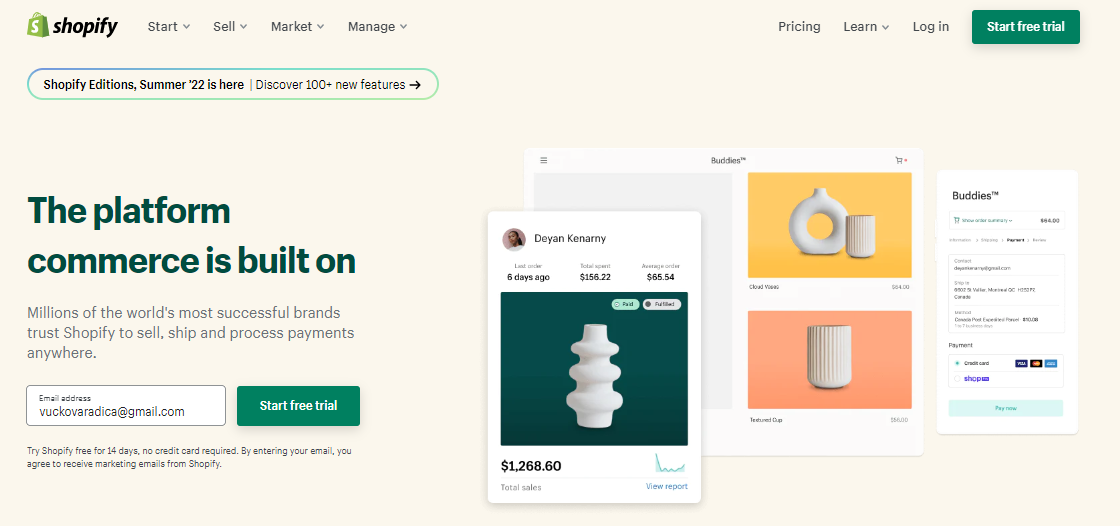 Summary: If you are building a physical product eCommerce business, Squarespace has some basic functionality, but serious operators will eventually NEED to gravitate towards Shopify. Why not start with Shopify?
Shopify Advantages
Simply put, the best & most popular eCommerce store builder on the market
Massive third-party app ecosystem (there's something for everyone)
Well-funded, best in class technology (staying power)
Building out internal logistics solutions and supply chain expansion
Easy to get started with third-party dropshipping apps (if needed)
Familiar look and feel for customers
Easy affiliate program add-ons
Seamless checkout experience
Shopify Disadvantages
Not as easy to use with a steeper learning curve (but also 10x more functionality and features)
Some SEO limitations out of the box and not built for content marketing
Further Reading:
3. ThriveCart: Best for Digital Products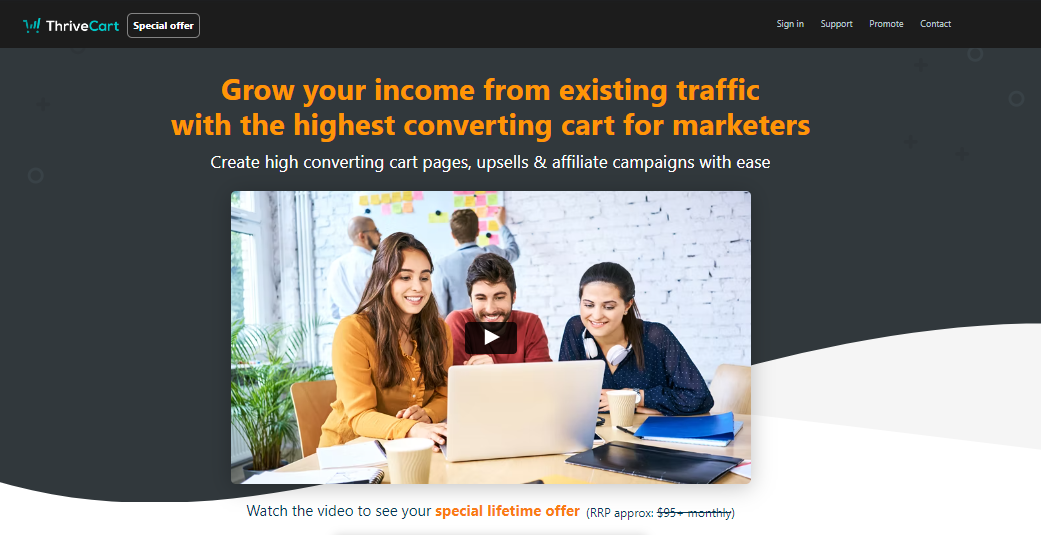 Summary: If you are selling information like courses, ebooks, or downloadable products, ThriveCart is the answer with a well-designed (tried and tested) sales funnel building platform. Also features a unique one-time up front cost (instead of monthly recurring or transaction fees).
ThriveCart Advantages
Extensively optimized landing pages, sales funnels, and upsells out of the box
One-time up front pricing versus recurring subscription
No transaction fees (so zero incremental costs over time)
Great for selling educational products, courses, reports, or ebooks
ThriveCart Disadvantages
Up front pricing means a relatively large initial commitment vs a monthly subscription you can cancel
Not suitable as a CMS alternative, just laser focused on the ecommerce sales funnel problem
Further Reading:
4. WordPress + Elementor: Best for DIY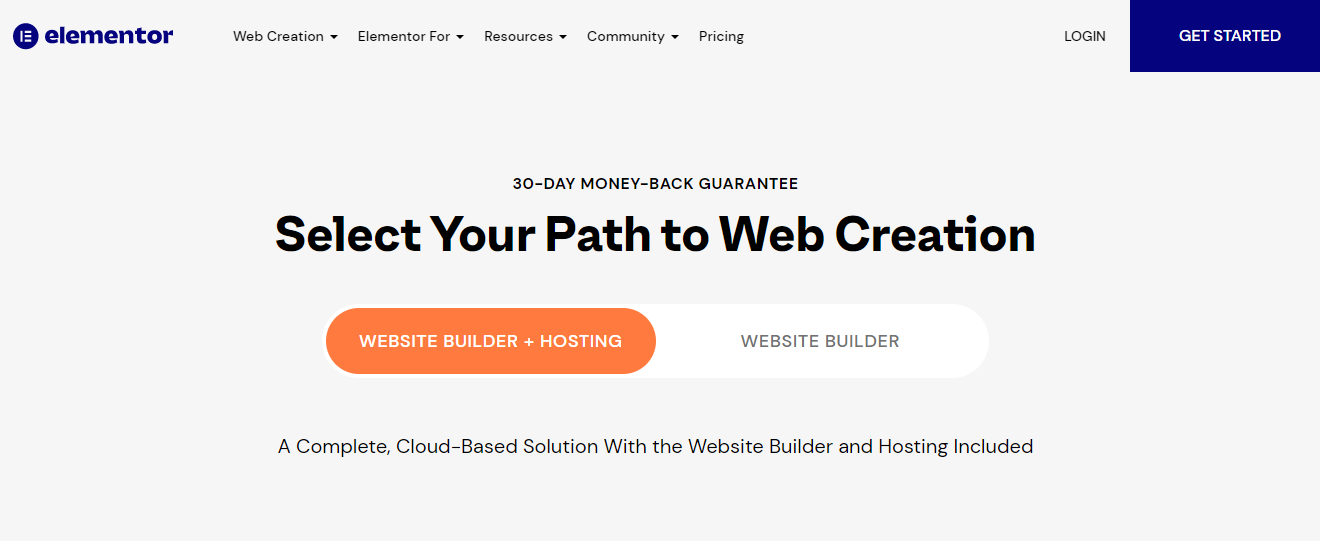 Summary: Elementor is a straight replacement for Wix, it's actually a streamlined WordPress theme framework. In short, it makes creating high-end looking multi-functional websites incredibly easy with WordPress.
Elementor Advantages
Easy to use, drag and drop functionality, similar to Wix
Works with WordPress, works with all WordPress plugins, themes, tools
Ability to save custom built templates for future usage
Growing ecosystem of Elementor Developers and Front-End Designers (e.g. search Upwork for "Elementor" and see what shows up)
Elementor Disadvantages
Some learning curve to get used to, it still requires some basic WordPress knowledge
Relatively new to the market to Wix, although it's quite popular among the WordPress crowd
Elementor Prices: Pricing starts at $49 per year (1 site), then $99 per year (3 sites) and caps out at $199 per year (1000 sites).
Further Reading:
5. Webflow: Best for Design Customization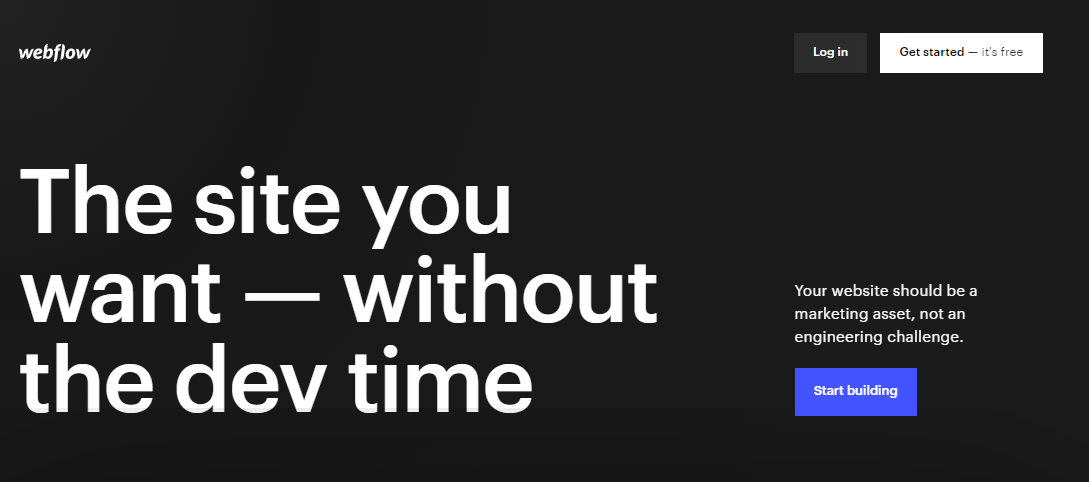 Summary: Webflow is a great new CMS (and eCom store) builder, promising a revolutionary way to design high-end websites even with just a base level of technical jobs. Offering much more capability and functionality compared to Wix, Webflow has a slightly steeper learning curve.
Webflow Advantages
Offers the most functionality relative to skills required
One of the fastest-growing new CMS platforms online
Small investment in learning the system yields BIG capability improvements
Lightning fast, modern tech stack
Planty of tutorials (will make you a better website designer)
No bloated (or unsecure) plugins or themes like with some WordPress setups
Webflow Disadvantages
Not nearly as simple as Wix to use (some design chops requried / willingness to learn)
Pricing structure (two tracks) is a bit more complicated than Wix
No plugin ecosystem like WordPress
Webflow Prices: Webflow has a two-track pricing system, one for Website Plans (think content CMS) and one for Ecommerce Plans (with checkout cart functionality). Website plans start at $12/month and Ecommerce plans start at $29/month.
Further Reading:
6. Duda: Best for SEO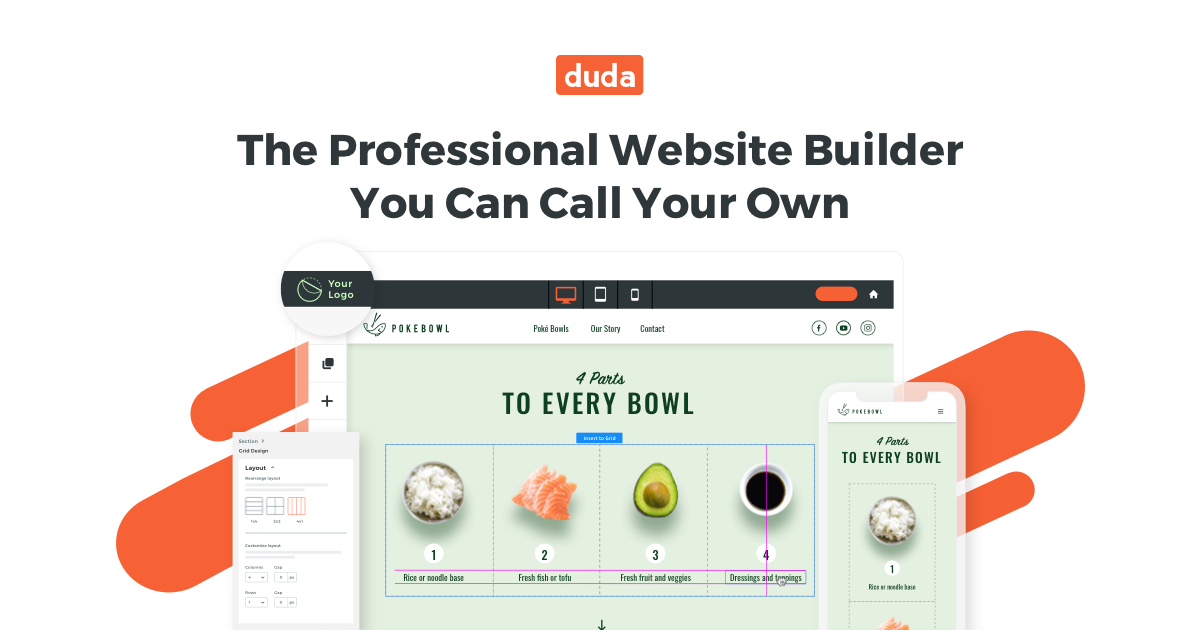 Summary: Duda is growing drag and drop website builder. Similar to Squarespace, it's relatively limited in terms of advanced functionality, but perhaps easier to build with as an all-in-one website builder.
Duda Advantages
Hosting, domain name, and site security are all included
Ability to white label stats and analytics dashboard
Deeper collaboration tools for client management and team delegation
Ability to export site code and content, Squarespace does not allow this
Better real-time customer support and agency support
Edit any site element, including HTML, CSS, and JavaScript
Scores higher on Google Lighthouse speed tests (compared to many Squarespace instances I tested)
mobile responsive templates (versus just "mobile-friendly" on Squarespace)
Extended 30-day free trial available (fully featured)
Better for eCommerce with the ability to scale more products for less money than Squarespace
Duda Disadvantages
More limited third-party "app" ecosystem, in comparison to the Squarespace burgeoning landscape
Fewer templates (around 100 vs 300+ and growing on Squarespace)
No completely free plan as of this writing
Duda Pricing: Duda features a 3 tier pricing layout, starting at 14 per month for 1 site license, $22 per month for exanded "Team" access, and $74 per month for Agency access (8 sites included).
Further Reading: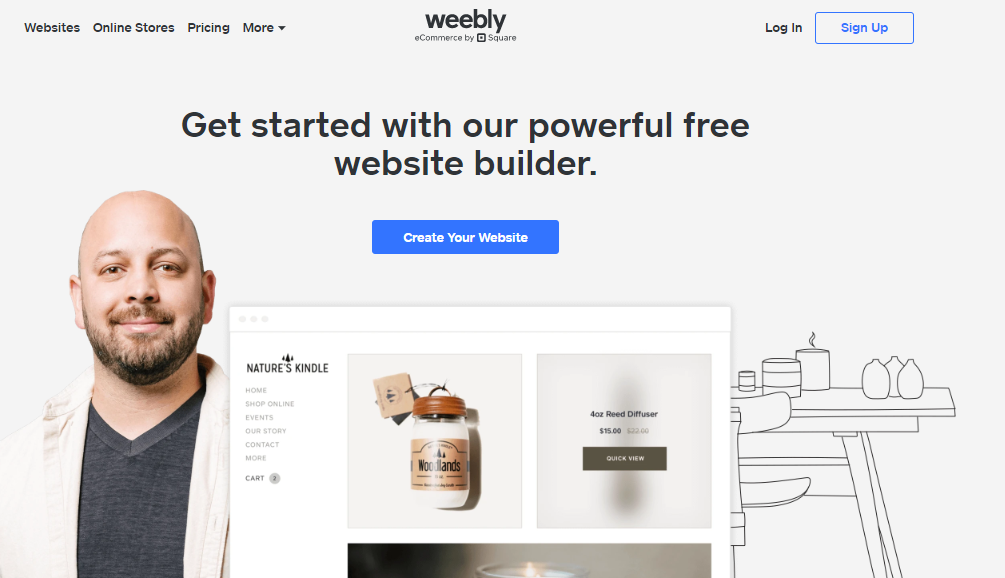 Summary: Weebly is perhaps THE most similar CMS and website builder in comparison to Squarespace. Recently acquired by payments giant Square, Weebly now boasts a closer e-Commerce integration compared to Squarespace.
Weebly Advantages
Intuitive, easy-to-use drag-and-drop website builder (very similar to Squarespace in form and function)
Also offers a free website plan if you are willing to let Weebly run advertising
Offers 40 pre-built templates and themes
Slightly more capable eCommerce site builder compared to Squarespace
Owned by Square (payments), with seamless integration
Weebly Disadvantages
While similar to Squarespace, Weebly has considerably less market share
Note as many theme templates compared to the Squarespace ecosystem
Weebly Prices: Free Basic plan (Weebly gets to serve their ads), then $5/month for Connect Plan (if you already own a domain), $12/month for Pro Plan (free domain, no Weebly ads, Square payments and cart), and $25/month for Business Plan (inventory management tools, auto tax calculation, etc…).
Further Reading:
Summary: Webnode is a lesser known site builder, but it offers some interesting features including outstanding multilingual support for both stores and marketing blogs, setting it slightly apart from Squarespace.
Webnode Advantages
Great for starter store fronts and marketing presence
Excellent multilingual capability (easy to toggle between languages in backend)
Includes email accounts on all plans
Cheaper entry-level plans compared to Squarespace
Webnode Disadvantages
Struggles with very large information architecture (not as scalable)
Fewer out of the box features compared to the Squarespace basic plans
Smaller user base, so may be a bit more of a gamble
Fewer guides and resources for beginners to learn
Webnode Prices: Webnode really promotes people to sigh up on the FREE PLAN here. Then, you can choose your own adventure depending on if you are eCommerce oriented here, OR sticking to a standard website (with premium features) here. The Standard Plan on both is $12.50 per month, with the high end plans capping out at around $30 and some lower tier offerings for "just the website, no ecommerce" plans.
Final Cut: So What's the Best Squarespace Alternative?
If you are on the fence still, here's a quick cheat summary:
There you have it! Feel free to comment below if you have any suggestions or experiences to share.