Last Updated on April 22, 2023 by Ewen Finser
Today we are going to be comparing AWeber vs ActiveCampaign, two powerful email marketing, and marketing automation tools that can help you grow your business.
If you're looking for one of the most affordable ways to market your business, then email marketing with an email service is definitely the way to go.
Email marketing continually outperforms other marketing channels, with an average ROI of 42:1, that's a massive $42 for every dollar you invest, so if you only have a small marketing budget for your business, it's well worth your while to allocate that budget to email marketing.
Main Differences Between AWeber vs ActiveCampaign
The main differences between AWeber vs ActiveCampaign are:
ActiveCampaign has CRM features as well as email marketing and automation features, whereas AWeber is solely an email marketing and marketing automation tool
AWeber has over 700 email templates to choose from, whereas ActiveCampaign only has around 25 premade email templates to choose from
ActiveCampaign has messaging features, so you can easily contact your customers by SMS, site messaging, and more, whereas AWeber doesn't include any messaging features

I Personally Prefer AWeber
AWeber has improved a LOT in the last few years. Now, they have a much better visual automation builder, with hundreds of free email templates, and generous 30-day trial and a competitive $19/month starting cost.
Buy Now
We earn a commission if you click this link and make a purchase at no additional cost to you.
Most email marketing tools these days also include automation features, as well as other tools like landing pages and signup forms to help you grow your email list organically, so in general, you get a lot of bang for your buck.
The main reason why email marketing works so well is that every person on your list has willingly signed up and wants to hear from you, unlike other marketing channels such as PPC, direct mail, or magazine and newspaper adverts.
And if they don't want to hear from you anymore, they can easily unsubscribe, which is why email marketing is so popular with consumers as well as B2B.
So, without further ado, we are going to check out exactly how AWeber and ActiveCampaign can help you grow your business. We will be looking at all of the features they each offer, as well as their pros and cons, and customer reviews, so you have all the information you need to decide which one of these email marketing automation tools will be the best option for you and your business.
AWeber vs ActiveCampaign In-Depth
Aweber Email Marketing Platform Overview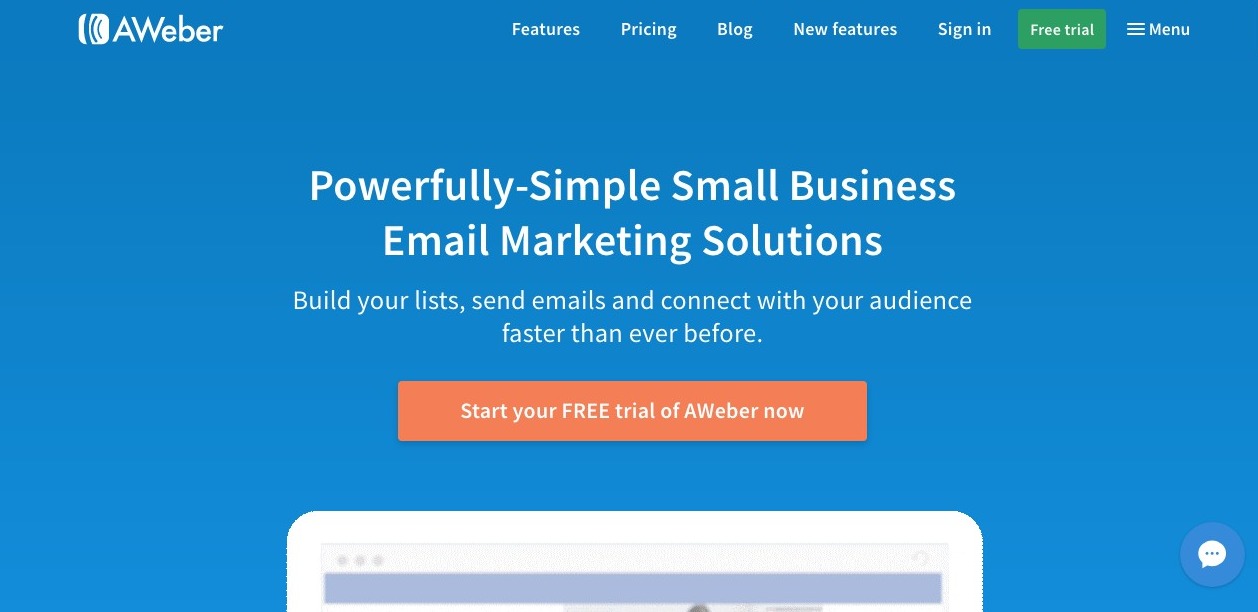 AWeber is a simple yet powerful email marketing tool that enables you to connect with your audience and grow your business with beautiful, professional-looking emails.
It also features analytics and A/B testing features that allow you to really get to know your audience, and continually work to optimize your campaigns over time.
The company was founded back in 1998, and since then, they have served over 1,000,000 entrepreneurs and small businesses, helping them accelerate their growth through email marketing.
The Main Features of AWeber
Drag and drop email editor
HTML templates
Email automation
Tagging
Team Hub
Split testing
Autoresponder follow-ups
RSS to email
Integrations
Sign up forms
Email API
Mobile apps
Customer service
Subscriber management
Subscriber segmenting
Email tracking
Email deliverability rate
Free 20-day trial
Email Marketing with AWeber
AWeber enables you to easily create beautiful email campaigns with their simple drag and drop email editor tools. The drag and drop editor is so simple that anyone can use it, even with no experience.
You can create your emails from scratch, or if you prefer, you can choose from over 700 professionally designed mobile-responsive email templates. You can easily add your own images, change the fonts and colors, and add all of your branding elements such as your logo so that your audience instantly recognizes your emails as part of your brand.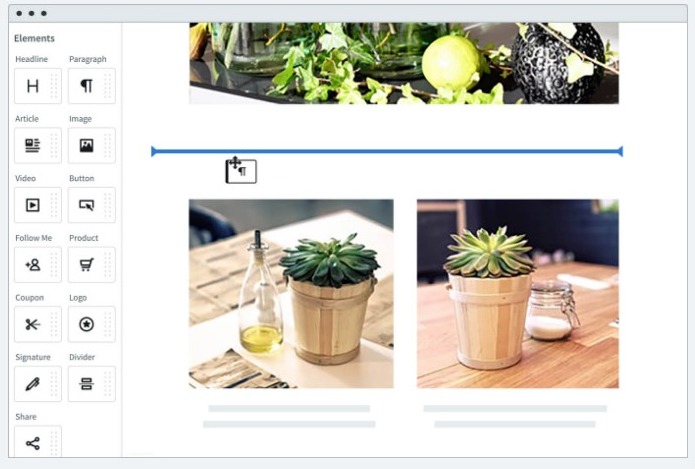 AWeber also enables you to automatically create new emails from your blog posts every time you hit publish, with their RSS to email feature, so your audience can always stay up to date with your latest emails.
When it comes to subscriber management, AWeber gives you everything you need to view and track information about your subscribers, as well as segment and manage your list in any way you choose. You can use the segmentation features to send targeted emails to groups of your subscribers based on data such as their personal preferences, geographical location, or any other data you have collected from your subscribers.
Automation
AWeber's automation features allow you to build automated email workflows with the drag-and-drop automation builder.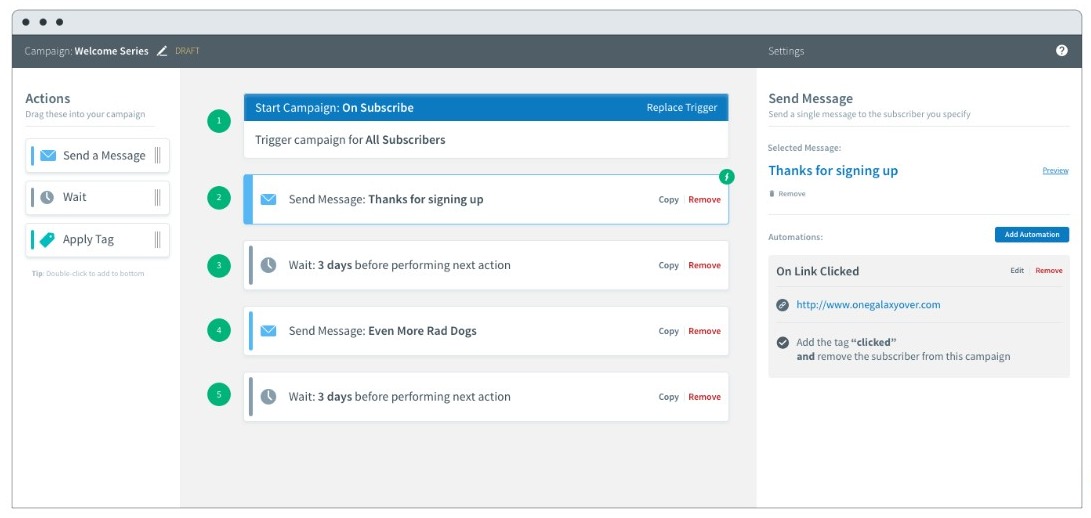 You can tag your subscribers and also create triggers that send different campaigns to subscribers based on actions they have taken, such as where they signed up, and certain links they have clicked on within your emails.
You can also create personalized welcome emails for your subscribers when they sign up to your list, as well as email courses, lead nurturing campaigns, and any other types of email series that would work for your business.
Sign Up Forms
To help you grow your list organically, AWeber also includes sign up forms so that you can collect emails from your subscribers while they browse your website, or in your social media posts.
You can easily create your sign up forms using AWeber's intuitive form builder, and each form can be completely customized to suit your branding.
You can create custom fields to collect useful data from your customers, and the forms can even tag and segment your subscribers into different groups depending on which forms they fill in and if they give different answers.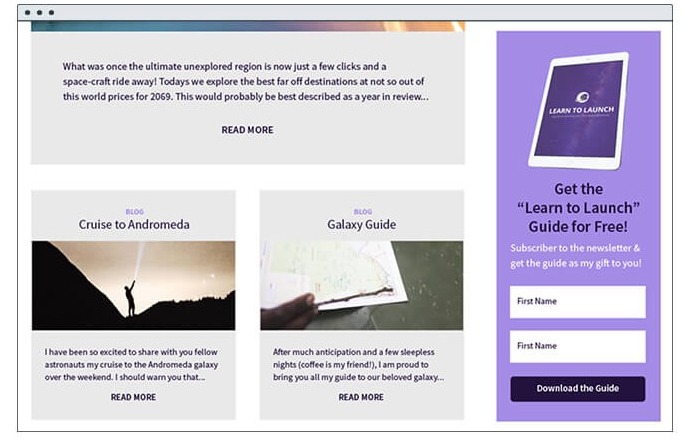 The opt-in forms are dynamic, so you will look great on any device, and you can choose exactly where the forms will appear on your website, including using pop-ups, pop-overs, and light box forms, as well as embedding your forms within your blog posts.
If you don't have a website yet, then AWeber can host your sign up forms for you, giving you a link you can share on social media or directly with your networks, so you can start growing your list before your business or website launches.
If you already have a list that you have built with another email marketing service, then you can easily move your subscribers over to AWeber, and there's no need for your subscribers to opt-in again on your new list.
Analytics and Reporting
AWeber provides all the data you need to see exactly how your email campaigns are performing, such as opens, bounces, clicks, web hits, unsubscribes, and sales.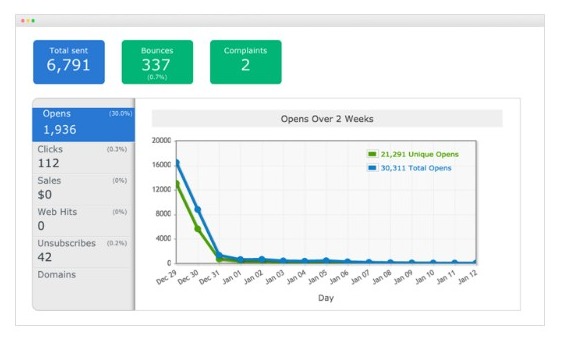 You can use A/B split testing to see which emails are getting the best response from your audience, and continually optimize your campaigns. You can be confident that your emails will make it to your subscribers' inboxes, and not their spam folders, with AWeber's industry-leading deliverability rates.
AWeber also has a suite of mobile apps that you can download, so that you can easily see how your campaigns are performing while you are on the go.
Customer Service and Reviews
AWeber has an award-winning customer service team available seven days a week to help you with any issues or questions you might have about the software. You can get in touch by phone, email, and chat.
They are doing pretty well for independent customer reviews and have won a range of awards for their customer service. They also have an impressive score of 8.5 out of 10 on TrustRadius.
The Benefits of Using AWeber
AWeber is an affordable option for small businesses and entrepreneurs who want to grow their email lists and create professional email campaigns to promote their businesses.
RSS to email enables you to automatically create email campaigns from your latest blog posts.
Easily create automated email campaigns and email series with the drag and drop automation features.
There are over 700 pre-made email templates to choose from, which is much more than any of its competitors.
You can choose from single or double opt-ins for your subscribers.
Good reporting features, with a mobile app available so you can check on your campaigns while you are on the go.
They offer a free 30 day trial, so you can give the software a try before deciding if you want to go ahead with a paid plan.
The Downsides to Using AWeber
Although AWeber is reasonably priced, there are still cheaper options out there that offer the same features. There is also no free plan available, which other email providers offer to help small businesses out when they are getting started.

All of AWeber's plans offer access to all features from day one, so the price of your plan will simply depend on how many subscribers you have.
0-500 subscribers = $19/month
501-2,500 subscribers = $29/month
2,501- 5,000 subscribers = $49/month
5,001 – 10,000 subscribers = $69/month
10,001 – 25,000 subscribers = $149/month
If you would like to find out more about everything AWeber has to offer, check out their website here.
ActiveCampaign Overview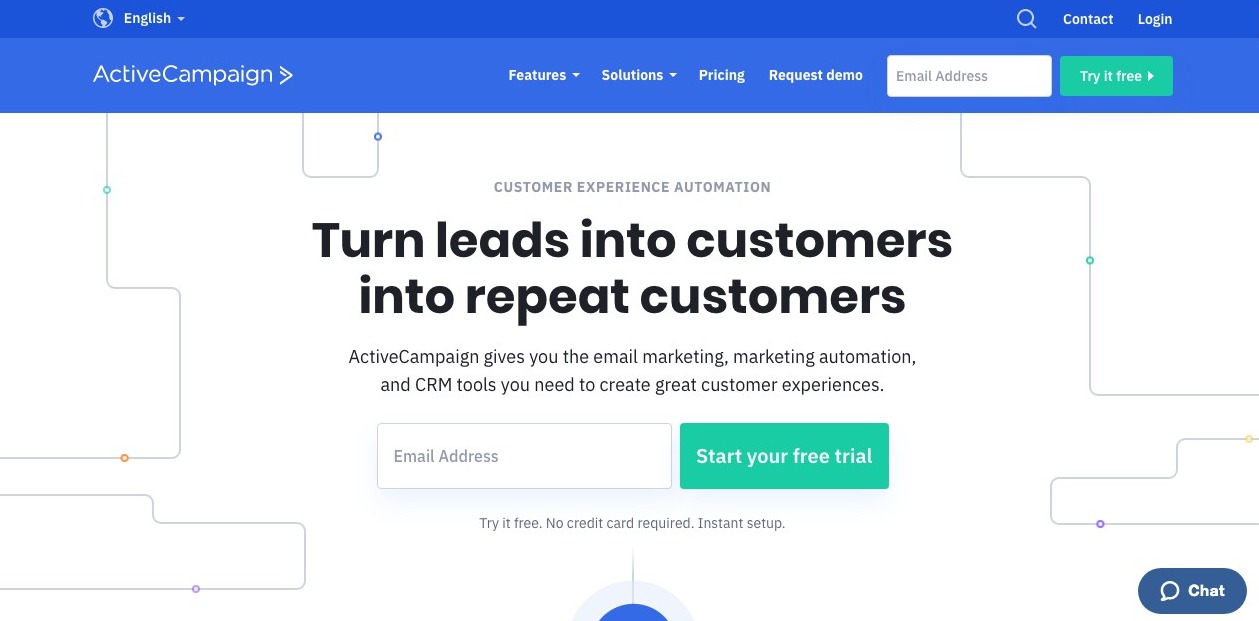 ActiveCampaign is a suite of email marketing, marketing automation, and CRM tools that you can use to connect with your audience and create personalized and memorable customer experiences.
The software has been used by over 90,000 small businesses around the world, and the business is continuing to grow, with offices around the world in Dublin, Indianapolis, Sydney, and Chicago.
ActiveCampaign's CRM software enables you to grow your business by recording all interactions with your customers as well as automating your daily tasks, enabling your team to prioritize closing deals, and making more money.
The Main Features of ActiveCampaign
Email marketing
Subscription forms
Dynamic content
Email segmentation
Split testing
Marketing automation
Site tracking
Event tracking
Automation goals
Automation map
Attribution
Split action
Sales and CRM
Gmail extension for Chrome
Contact and lead scoring
Mobile App
Salesforce App
SMS
Site messages
Facebook Custom Audiences
Conversations
Machine Learning
Win probability
Predictive sending
Email Marketing with ActiveCampaign
ActiveCampaign makes it easy to build your own email campaigns and newsletters using their drag and drop email designer, which enables you to create beautiful, professional-looking emails in just a few minutes.
If you don't want to create your own emails from scratch, you can use one of the pre-made templates available. There are over 25 to choose from, and they are fully optimized, so all you need to do is add your own images and text, and you are ready to go.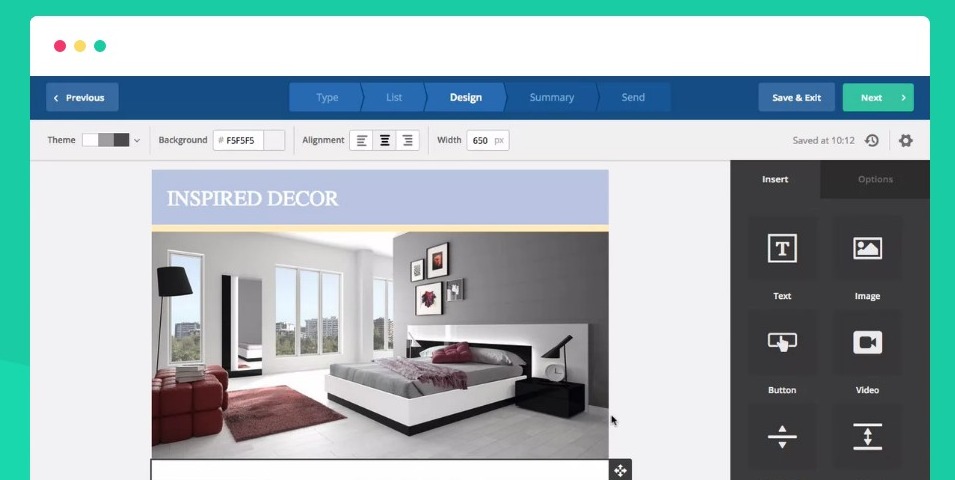 You can make sure that your audience is receiving exactly the type of emails they want to receive, but utilizing the segmentation features. You can also personalize your emails even further by using the dynamic content features to include information such as your contacts name, City, and mentioning any recent purchases they have made, so then they open the email it will feel like it was written just for them.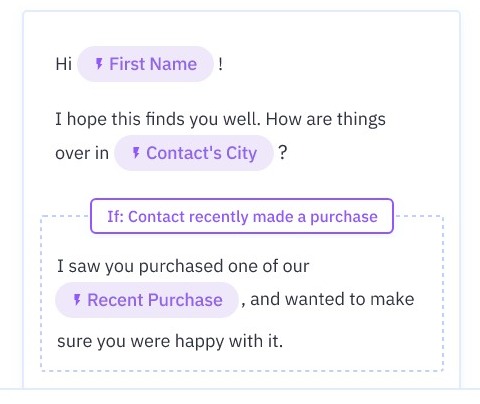 Marketing Automation
ActiveCampaign's marketing automation features take all of the time consuming repetitive tasks such as sending welcome emails, and nurturing your leads off your hands, so you can focus on the areas of your business you love. You can use the automation features to find the most engaged contacts within your CRM, set up a welcome email series, and much more.
The drag and drop automation builder lets you build advanced automations in just a few minutes, and allows you to create workflows dependent on actions your contacts have taken, such as whether or not they have visited a certain page on your website, or whether they have opened a previous email from you.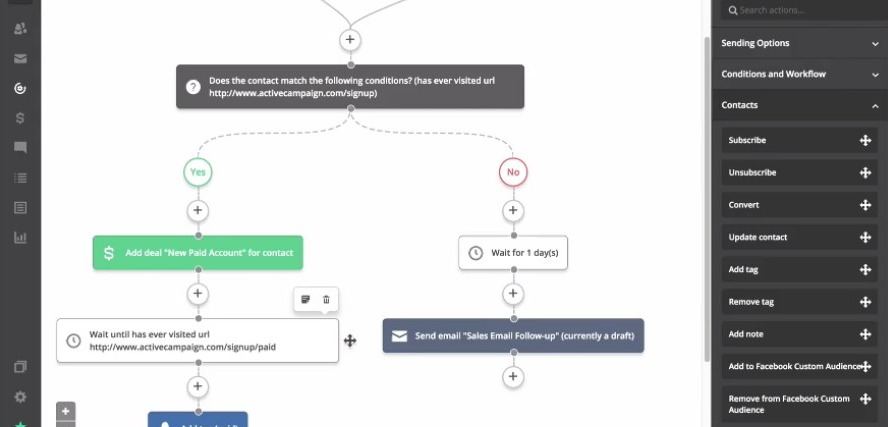 You can also view all of your automations from a 'birds-eye view' so that you have a clear overview of everything, and you can make changes with the click of a button.
CRM
As well as email marketing and marketing automation feature ActiveCampaign also includes powerful CRM software. The CRM enables you to keep track of all the interactions your contacts have with your business, from the moment they sign up to your list, to the moment they make a purchase, allowing your sales team to provide a personal experience to each customer as well as being able to step in at exactly the right time to close a sale.
The automation features mean that no customers will slip through the net, and everyone will receive the same personal service. Their welcome emails can be automated, as well as nurture sequences, and you can trigger notifications to be sent to your sales team at the ideal time for your business, such as when they sign up to your list, or when they visit your website, so your sales team can strike when they are at their most engaged.
Whether you use Gmail or Outlook for your emails, you can connect it to ActiveCampaign, so that all of your emails are tracked to your contacts, and you can check back through them at any time. This also means that if one team member is away for any reason, another team member can easily catch up with what is going on with the client without having to start from scratch and ask the same questions again.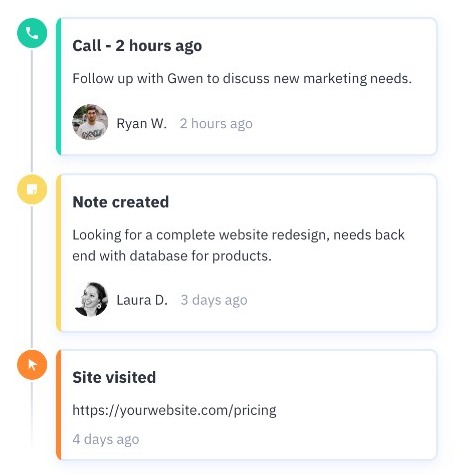 ActiveCampaign has a CRM app for iOS, so you can check on your leads and update deals while you are on the go. You can also integrate the CRM with the other sales tools you are using for your business, such as Calendly, Zendesk, Unbounce, Facebook, and more.
Messaging
ActiveCampaign's messaging features allow you to contact your customers in a variety of ways, no matter where they are. SMS marketing enables you to send out any urgent messages that you need your customers to see right away, such as special offers, appointment reminders, or important news.
You can also utilize the site messaging features to connect with your customers when they are at their most engaged – as they browse your website. The messages you send can be customized with their name or any other data you have previously collected from them, as well as interactions they have already made with your business.
There is a 'Conversations' live chat tool too, which you can embed on your website so that you can easily answer any questions a visitor might have as they browse your website and address any issues that might have otherwise put them off making a purchase. All of the conversations you have with a customer will be tracked in your CRM so you can easily view past conversations if you need to.
Last of all, there are Facebook custom audiences feature that lets you follow up with your visitors after they have left your site with Facebook ads.
Customer Service and Reviews
If you need to get in touch with the support team at ActiveCampaign, you can do so by email or live chat. There is also a support center on their website where you can find answers to the most frequently asked questions. As for customer reviews, ActiveCampaign performs pretty well, with an impressive 8.8 out of 10 stars on TrustRadius.
The Benefits of Using ActiveCampaign
ActiveCampaign includes all of the email marketing and marketing automation tools you need in one place.
CRM software is included too, so you can keep on top of all your leads, and take advantage of machine learning capabilities and automation to save time while closing as many deals as possible.
You can personalize all of your marketing campaign using dynamic fields, so each customer has an experience unique to them.
The Site messaging and live chat features allow you to chat to customers when they are most engaged with your business, as they browse your website, so you can quickly answer questions and overcome any objections to increase your overall conversion rate.
ActiveCampaign has great deliverability rates when it comes to emails, so you can be sure that as many of your emails as possible land in your contacts inbox instead of their spam folders.
ActiveCampaign offers a free trial, so you can check out the software and everything it has to offer before committing to a paid plan.
The Downsides to Using ActiveCampaign
The CRM features are not included with the 'Lite' plan, so if you need these features, you would need to go for the 'Plus' plan straight away.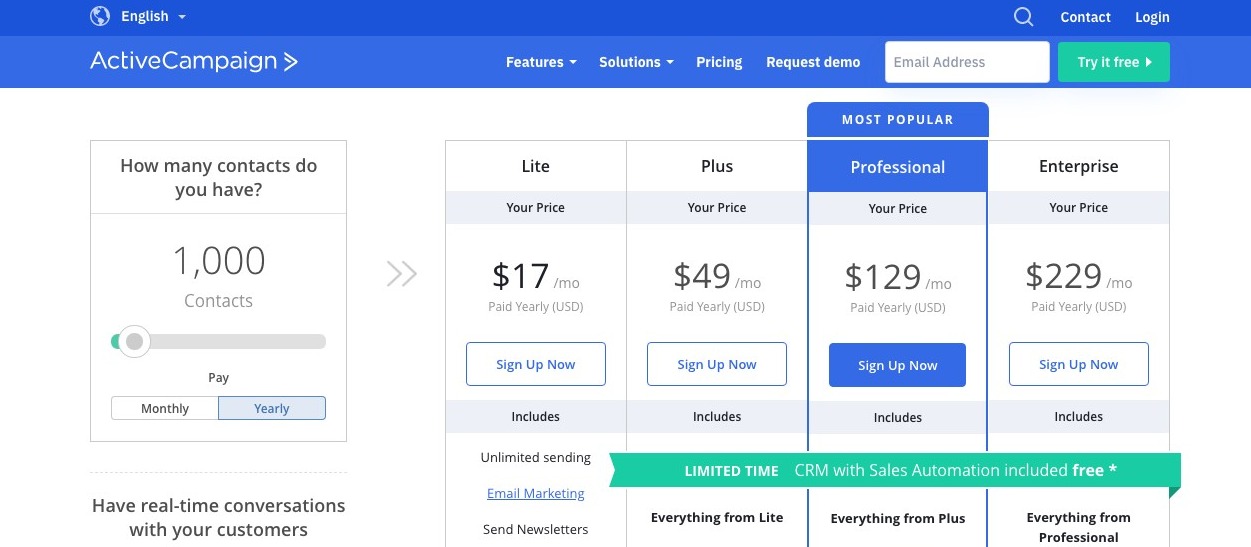 ActiveCampaign has four different plans available: Lite, Plus, Professional, and Enterprise. The pricing varies based on how many contacts you need to have, but for easier comparison between Aweber and ActiveCampaign, we are viewing the pricing for 1000 contacts.
The Lite plan costs $17/month for 1,000 contacts. This plan includes unlimited sending, email marketing, marketing automation, chat, and email support, and up to 3 account users.
The Plus plan costs $49/month for 1,000 contacts and includes everything from the Lite plan, as well as CRM, contact & lead scoring, deep data integrations, custom user permissions, custom branding, one on one training, SMS marketing, conditional content, and up to 25 users on each account.
The Professional plan costs $129/month for 1,000 contacts and includes everything from Lite and plus plans, as well as Site messaging, attribution, predictive sending, win probability, split automations, and up to 50 users.
The Enterprise plan costs $229/month and includes everything from the previous plans, as well as custom reporting, custom mail server domain, custom domain, dedicated account rep, in-depth onboarding, free design services, free social data, phone support, uptime SLA and unlimited users.
If you would like to give ActiveCampaign a try, you can visit their website and take advantage of their free trial here.
AWeber vs ActiveCampaign Frequently Asked Questions:
Is AWeber a CRM?
No, unfortunately, AWeber does not have all the functionalities required for it to be used as a CRM. However, it does have many integrations, so you can easily integrate the software with another CRM such as HubSpot or Salesforce.
If I reach my contact limit, will ActiveCampaign automatically upgrade my plan?
No, your plan will never be upgraded without your permission. You will receive an alert when you are close to reaching your contact limit, and then you will have the option to upgrade if you wish to do so.
Are there any setup or onboarding fees with AWeber?
No, the only fees you will ever need to pay are for your monthly plan.
How does ActiveCampaign's free trial work?
ActiveCampaign offers a free 14-day trial so that you can test the platform and see how everything works. There is no credit card required and no obligation to move onto a paid plan if you don't want to continue using ActiveCampaign you can just let your free trial expire. The free trial lets you have up to 100 contacts and send up to 100 emails. You also have access to all of the features listed on the Professional plan.
The Verdict: AWeber vs ActiveCampaign – Which one of these email marketing and marketing automation tools is the winner?
AWeber and ActiveCampaign are both great tools when it comes to email marketing, but there are a few differences with the other features that might mean one is better than the other for your business.
If it's just email marketing you need at an affordable price, then AWeber is the way to go.
They offer all features included with all of their plans, so the only difference in the pricing is the number of contacts you need to have on your account. It offers a simple solution for automated email marketing, so you can easily grow your business without getting bogged down with tech.
And then there's ActiveCampaign.
ActiveCampaign is an amazing tool, and if you run any service-based business, then this is the tool for you. The CRM features allow you to keep track of all your leads and automate a majority of your sales process for a very reasonable price, what's not to love?
In conclusion, they are both great tools, so in this case, it just depends on your needs!
If you would like to check out AWeber, click here to visit their website, and if you feel like ActiveCampaign might be the one for you, then visit their site here.
If you're still undecided and looking for a marketing automation tool with CRM features, then check out HubSpot, a completely free CRM tool that can help you grow your business by building meaningful relationships with your customers. We compared HubSpot vs ActiveCampaign side by side in this review.
If it's just email marketing software you're looking for, then check out Sendinblue and Sendlane to see if one of these tools could be the right email marketing solution for you and if you run an eCommerce business using Shopify, check out our article on the best email marketing services for Shopify.
Further Reading on Email Marketing Automation Tools \: