Last Updated on January 16, 2023 by Ewen Finser
If you've been spending some time looking for the right email marketing software, you have probably already noticed that there are so many to choose from.
Well, today we are going to compare Sendinblue vs Activecampaign, two of the best email marketing tools around, to help you decide which one is right for you.
It's exhausting trying to look through them all. With so much choice, how can you know which one is the best? We will compare Sendinblue vs ActiveCampaign features and functionality and you be the judge!
Bottom Line Up Front: Overall I think it's a no brainer if you are just getting started with marketing automation, but there are clear cases to go with either. If you are looking for a straight foward email marketing automation tool for your business then you should without a doubt choose Sendinblue to get started. That said, if you are looking for a scalable "CRM-like" marketing platform for lead scoring and advanced logic, ActiveCampaign is the better marketing automation option to scale (ideal for rapidly growing businesses).
Email is becoming more and more popular, with the number of email users predicted to reach 4.3 billion by 2022. The ROI of email marketing is MASSIVE, with a whopping $38 return for every $1 spent.
That's huge!!
Having an email list is very important, and should not be overlooked as a marketing tool for your business.
Why?
Well… When you have an email list, you own all of that data. You can email them whenever you want to, and no one can take it away from you.
If you don't have an email list, and you are just relying on social media to contact your followers, you need to think about what would happen if your social media account got shut down? Or hacked?
You would lose all your followers and have no way to contact them.
Scary, right?
Aside from all that, you can use your email list to build rapport and trust with your audience, by providing value to them in your emails, ensuring they will be excited to receive the next one from you.
So one of your main marketing focuses should be growing your email list so you can stay in touch with the audience, build a relationship with them, and advertise to them in the future.
ActiveCampaign SCALES
Take the best email automation and mix it with all the best parts of a CRM. Result: ActiveCampaign. While I call it a "lite CRM", AC is no lightweight. I've been with them for years and LOVE the endless integrations and expandability.
Try ActiveCampaign FIRST
We earn a commission if you click this link and make a purchase at no additional cost to you.
Sendinblue vs ActiveCampaign: Why should you be using an all in one email marketing tool?
Sendinblue and ActiveCampaign are not just email marketing tools, they also allow you to build relationships with your customers through email marketing campaigns, marketing automation, multi-channel marketing, SMS, and chat.
73% of millennials prefer to receive marketing communications from businesses by email, and now that more businesses than ever are using email marketing to communicate with their customers, you need to be sure that your contacts are always excited to receive; the emails you are sending, so they open and read them every time.
When you use things like personalization, dynamic content, and send time optimization you can increase the open rate and engagement of the emails you send. You can also take advantage of A/B split testing, so you can find out what's working best for your audience, and work to continually optimize it.
A premium email marketing tool like Sendinblue or ActiveCampaign, can streamline your whole communication process, and make it more effective overall. You can target your customers more precisely by segmenting them and sending them emails tailored for their demographic, resulting in a higher overall open rate.
So let's get stuck into the review, shall we?
Why should you use Sendinblue for your email marketing platform?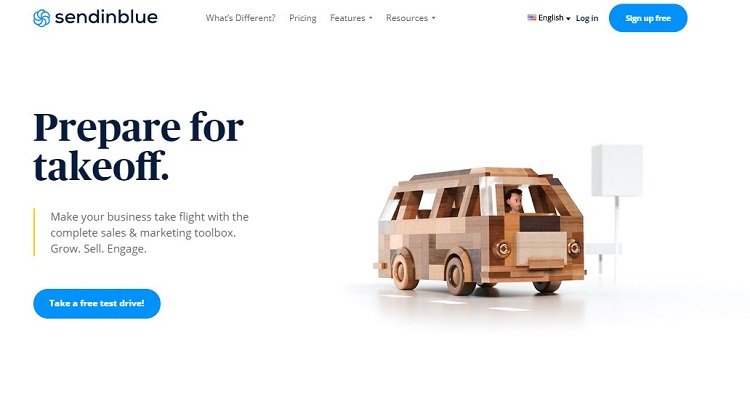 Sendinblue is a popular email marketing tool that helps you effectively communicate and build relationships with your audience by using email marketing, SMS marketing, and chat. Sendinblue has multiple use cases as an email marketing solution but shines most as a leader in transactional emails and e-commerce marketing.
It also serves as a CRM, so you can keep track of all your customers, and you can create landing pages, sign up forms (opt-in forms), and launch Facebook ads, so this tool really does handle everything.
The main feature list of the Sendinblue marketing service are:
Email marketing
SMS marketing
Chat
Marketing Automation
Transactional Emails (transactional vs informational)
CRM
Landing pages
Sign up forms (single and double opt-in)
Facebook ads
Open and click through reports
Email heat maps
A/B testing
Real-time statistics
Send time optimization
API
Plugins
GDPR Compliant
Let's look at email marketing first…
The Sendinblue email marketing feature makes it super easy to create beautiful, professional looking marketing campaigns without the help of a designer or developer.
The email page builder is intuitive and easy to use, all you need to do is drag and drop the elements where you want them and you are good to go. There's also a huge library of over 70 email templates for you to choose from if you want to make it even easier, and all of the templates are GDPR compliant, so that's another thing you won't need to worry about.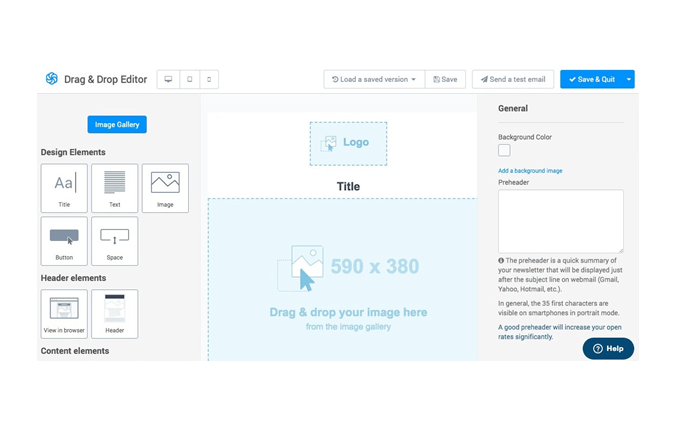 You can personalize the content in your emails, which can increase your open rates by up to 26%! Some examples of things you can personalize are the recipient's name, gender, birthday and more, in fact, any information that you have collected in your email sign up form can be used to personalize your emails, so it's up to you!
The list segmentation engine is one of the best features of Sendinblue, as it lets you send different emails to different groups from your list, resulting in your customers receiving more relevant emails to them.
You can segment your list in a few ways. Firstly by socio-demographic information such as their job title, area or residence or gender, and also by behaviors and actions they have taken on previous campaigns such as click-throughs or past purchases.
Once you have crafted the perfect email, the next step it to get it sent out to your list. Send time optimization lets you pick and schedule the send time that your audience is most likely to open and click through your emails.
This is another area where segmentation is really useful, as each contact will have slightly different optimal opening times based on their demographic.
The SMS marketing feature allows you to contact your list directly by SMS with targeted messages. This is perfect for any urgent messages that you want to get out to your lists, such as flash sales and promotions. You can also use the SMS feature to keep your customers updated with transactional messages relating to their order, such as shipping updates and order confirmations.
Just like with the emails, SMS messages can be personalized too, which will help to build trust with your customers.
After you have sent your SMS campaign, you can measure your performance with key engagement metrics so you can quickly identify any problems and see where you can make improvements for next time.
You can use the chat feature to connect with your customers in real-time as they are browsing your website. This can help you to increase conversions, as it's another element that builds trust with your audience. You answer any questions they might have about your products or services and walk them through any problems they might be having on your website.
It's surprisingly quick and easy to set up and install a chatbox on your website, and can be done in a matter of minutes- all you need to do is copy the snippet of code and paste into the header of your site, and you are ready to go. You can also personalize your chat box with your brand colors, as well as your logo and business name.
You can build custom landing pages for your campaigns using Sendinblue. There are lots of templates to choose from, or if you prefer you can design your own using the drag and drop page builder. You can also add follow up pages, such as thank you pages after your customer has entered their data.
Sendinblue also works as a CRM system, with a centralized data system so you can have everything in one place. You can make notes about your contacts, such as if they need a follow-up call or add notes from your previous meetings.
You can also organize your contacts by their lead source, or where they are in your conversion funnel, so you are always able to send them relevant information and campaigns.
What are the benefits of using Sendinblue?
Good value email marketing tool
Send automated email marketing campaigns
Email and SMS personalization
List segmentation based on user demographics
Send time optimization allows you to schedule your email campaigns to be sent out at optimal times to increase open and click-through rates
CRM system to keep all of your contacts and their notes and details in one place
Create beautiful landing pages and follow up pages for your audience
Advanced reporting features such as email click heat maps and real-time statistics for email and SMS opens
Live chat with your customers as they browse your website
GDPR Compliant
Build and launch Facebook ads campaigns by connecting with Facebook
There are no limits to the amount of contact you can have, just the amount of emails you can send each month, which varies by plan
What are the downsides of using Sendinblue?
There are very few downsides to using Sendinblue. It's a great all in one tool for email marketing automation, and it's very affordable. There are just a couple of things it could do better.
Firstly there are no alerts features for when someone subscribes or unsubscribes. The other downside is that although there are third-party integrations, the options are fairly limited.
Sendinblue offers a free plan, which has no limit to the number of contacts you can have but does have some limited features and only allows you to send 300 emails per day.
The free plan also doesn't include features like Facebook ads, send time optimization and chat, so they get all of these features you would need to go straight to the premium plan, which is $66/month, which is still pretty reasonable when you consider all of the features and automation that is included.
Now that we have discussed benefits, downsides, features, and pricing of Sendinblue, how does ActiveCampaign measure up? Let's dive into ActiveCampaign and compare Sendinblue vs ActiveCampaign.
Why should you use ActiveCampaign for your email marketing?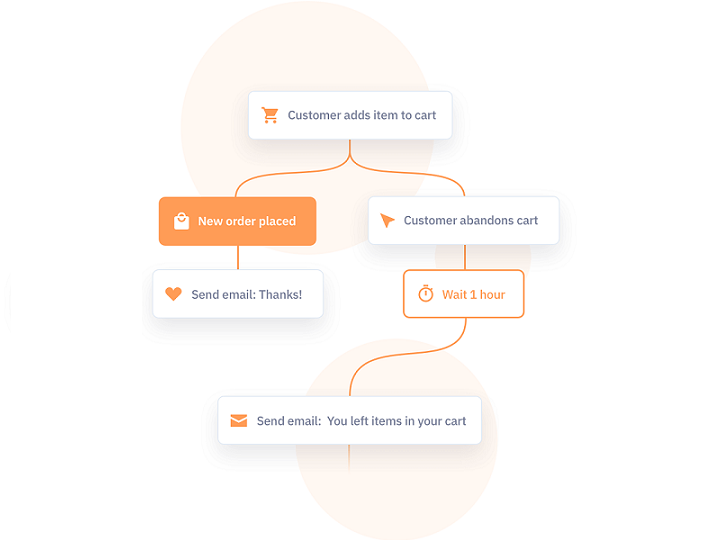 ActiveCampaign is an email marketing automation tool that gives you everything you need to start growing your business through email marketing, including CRM and messaging features, SMS and lives chat for on your website.
The features included allow you to create campaigns that are truly personal to your customers so that you can build and grow your relationships, and in turn, grow your business.
The Key features of ActiveCampaign are:
Dynamic content
Subscription sign-up forms
List segmentation
A/B split testing
Marketing automation
Site Tracking
Sales and CRM
SMS
Site messages
Facebook custom audiences
Conversations
Win Probability
Predictive sending
iOS CRM app
The email marketing features in ActiveCampaign help you to build email newsletters and professional-looking email campaigns that will capture the attention of your audience.
You have full control over all of the emails you send, so you can choose to send out a broadcast email to your whole list, or you can send targeted emails to small segments of your list. You can also send triggered emails to people, so if they visit your website, make a purchase, or engage with other content then you can automatically send a follow-up email.
Email autoresponders allow you to automatically deliver lead magnets, email courses, or a welcome email series to your customers, so once it's set up it will all happen on autopilot for you. You can also create automated email funnels, to help turn your leads into paying customers.
Scheduling allows you to send email campaigns on specific dates and at specific times, so you can plan your content calendar ahead of time, to make sure you are always a step ahead.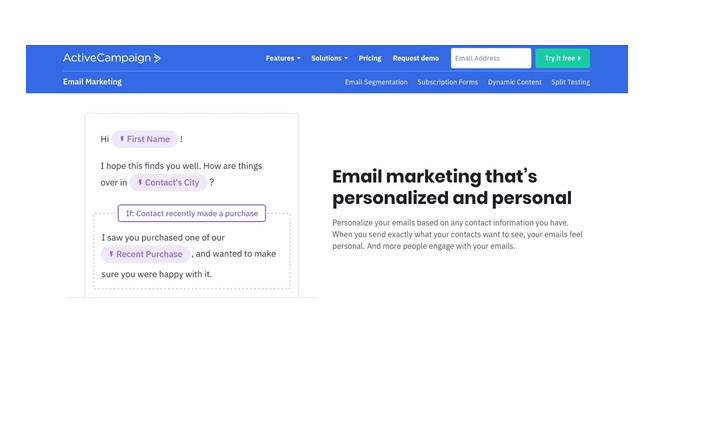 You can personalize emails with your contacts name, birthday or any other information you have collected about them, and you can also send them different information based on actions that have already (or have not) taken with you, such as making a purchase, and geo-tracking features allow you to capture your customers geographic location when they sign up to your list, allowing you to send geographically targeted campaigns if you need to.
Split testing allows you to see what's working and what isn't, so you can keep tweaking your emails until they are perfect, and ActiveCampaign also saves a revision history of your emails, in case you want to go back to something you have used before that worked well.
ActiveCampaign's built-in CRM system lets you stay on top of your leads, and even lets you automate some of your sales tasks, freeing up more of your time to work on other ways to grow your business.
You can easily integrate ActiveCampaign with all of your favorite apps such as Unbounce, Zendesk, and Calendly, so everything can run together smoothly, and no matter where you are in the world you can keep running your business from the palm of your hand with ActiveCampaign's iOS app.
The site messaging feature is designed to let you contact your customers while they are browsing your website, so you will be able to deliver a message to them when they are most engaged. You can send them messages about things like special offers, events or announcements.
There is also a feature called 'Conversations' which allows you to have real-time conversations with your customers via a live chat feature on your website, and email.
Conversations lets you view all your interactions with one customer in the same place, even if they have started a separate live chat and email conversation. As soon as the customer enters their details in the live chat form they are uploaded into your CRM, so you have a record of everything that has been said in the conversation.
There is no need to worry that you will always have to have someone in the office to respond to customer messages, since there is a 'Conversations' app for iOS and Android, so you can respond to your customers and provide a great experience from wherever you are in the world.
What are the Benefits of using ActiveCampaign?
Automate your email marketing campaigns
Automate email sequences
Create great-looking email with an easy to use drag and drop page builder
Give contacts exactly what they want to see with email segmentation
Send personalized emails
Create sign-up forms, and automatically start email welcome series or deliver a lead magnet
Site tracking so you can follow up with your website visitors if they have left without making a purchase
SMS messaging features
Site messaging
Win probability tells you the likelihood of success for your campaign so you can save money and have more success
Keep track of all leads and customer notes with CRM
Use conversations to chat in real time with your customers and keep a record of all interactions with them for future use
ActiveCampaign SCALES
Take the best email automation and mix it with all the best parts of a CRM. Result: ActiveCampaign. While I call it a "lite CRM", AC is no lightweight. I've been with them for years and LOVE the endless integrations and expandability.
Try ActiveCampaign FIRST
We earn a commission if you click this link and make a purchase at no additional cost to you.
What are the downsides to using ActiveCampaign?
ActiveCampaign doesn't have a landing page builder, so if you want separate landing pages you will need to create them yourself or use another landing page software. There is also sadly no free version of ActiveCampaign, although they do offer a free 14-day trial so you can give it a try before you commit to a plan.
ActiveCampaign Pricing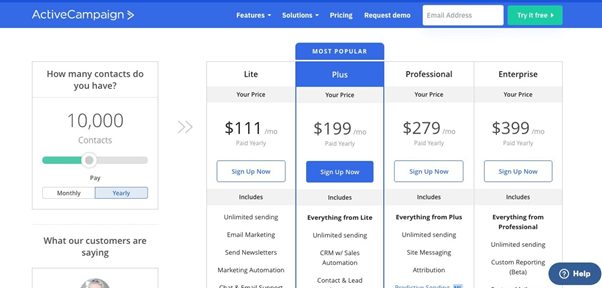 The pricing for ActiveCampaign is actually a little confusing. There are four basic plans; Lite, Plus, Professional, and Enterprise. Each of these plans has different features, the most basic being the 'Lite' plan, which doesn't include a lot of the key features such as the CRM and sales automation, SMS, and Site messaging.
If you are a business then you would probably at least want to go for the 'Plus' plan so you can use the CRM features.
After you have chosen which plan fits your needs, you then need to enter the number of contacts you need, and it will give you your price. So if you have 10,000 contacts and you want to go for the 'Plus' plan then it would cost you $199/month paid yearly. If you have 25,000 contacts the cost would be $319/month paid yearly.
Sendinblue vs ActiveCampaign: How to use email marketing automation tools to your advantage
Using email marketing automation tools like Sendinblue and ActiveCampaign can save you a lot of time, and help you to grow your business on autopilot. Once you have set up any email sequences, transactional emails, and welcome emails that you want to send to your customers and subscribers, you can sit back and relax because it will all run on autopilot for you.
Features such as site messaging and personalized emails will help you to increase your conversion rate as you build trust and rapport with your customers. You can also use follow up emails to remind customers if they have forgotten to complete the checkout process and still have items waiting in their basket on your website.
CRM systems allow you to stay on top of your sales process and keep a record of all conversations with your customers. You can then follow up at a later date always ensuring that you are providing the best possible service to your customers.
You can also use the CRM to schedule follow up calls for your team to complete, ensuring no time is wasted and your team is working like a well-oiled machine.
Price comparison of Sendinblue vs ActiveCampaign
To give you an easy to understand price comparison of Sendinblue and ActiveCampaign, we are going to look at the 'Professional' plan from ActiveCampaign, and the 'Premium' plan from Sendinblue, as these are the plans from both companies that include all of their features.
As an example, we will assume we are looking for a plan suitable for a business with 10,000 contacts.
The ActiveCampaign price for the Professional plan will cost $279/month.
The Sendinblue price for the Premium plan will cost $129/month.
Sendinblue also offers a free plan, which has limited features and does not include automation but does give you access to the CRM, reporting, segmentation, unlimited contacts, email personalization and an email sending limit of 300 per day, which could be perfect for small businesses just starting out.
Unfortunately, ActiveCampaign does not offer a free plan.
Overall Sendinblue has a better and more clear pricing structure, as there is no limit to the number of contacts you can have, just the amount of emails you can send each month.
For both ActiveCampaign and Sendinblue you have the option to pay either yearly, or monthly. Both companies offer quite a substantial discount if you choose to pay yearly, so it's well worth doing if you can manage to make the whole payment upfront.
Sendinblue vs ActiveCampaign – Which is better?
Both Sendinblue and ActiveCampaign are very good tools for email marketing and automation, and either one of them will help you to streamline your sales and marketing process. They both have very similar features with only minor differences between the two.
But after looking closely at both of these tools, overall Sendinblue is the better tool for the average business. This is because Sendinblue offers excellent value, particularly since it doesn't charge by the number of contacts you have.
The pricing for Sendinblue is considerably cheaper than ActiveCampaign and offers almost exactly the same features for less than half the price. There is also a free plan on Sendinblue, which is perfect for individuals, or small businesses just getting started who are working with a shoestring budget.
Sendinblue also includes landing pages, which is a great addition, as well as live chat on your website so you can talk to and assist customers while they are on your page to help them with anything they need.
Bottom Line: Overall I think it's a no brainer if you are just getting started, but there are clear cases to go with either. If you are looking for a straight foward email marketing automation tool for your business then you should without a doubt choose Sendinblue to get started. That said, if you are looking for a scalable "CRM-like" marketing platform for lead scoring and advanced logic, ActiveCampaign is the better option to scale (ideal for larger enterprises).

ActiveCampaign SCALES

Take the best email automation and mix it with all the best parts of a CRM. Result: ActiveCampaign. While I call it a "lite CRM", AC is no lightweight. I've been with them for years and LOVE the endless integrations and expandability.

Try ActiveCampaign FIRST

We earn a commission if you click this link and make a purchase at no additional cost to you.

Recommended Reads: