Last Updated on November 15, 2023 by Ewen Finser
Are you looking to start email marketing for your business?
It's likely you're feeling very overwhelmed with the amount of email marketing solutions out there, who mostly market themselves using very similar selling points, and there's a good chance you're finding it a bit confusing.
You're not the first!
It's a common scenario, and it's important to get the right product for your business and objectives from the outset, rather than starting using a product taking the time and maybe the money to get it set up, and then in a few months or years realizing "Actually, this isn't doing quite what I need it to do."
Finding the right email marketing software doesn't have to be a pain. Here, we'll take a look at just two solutions on the market to at least try and narrow your options down. Let's get to it!
Bottom Line Up Front: I personally prefer the more advanced segmentation, lite-CRM functionality, and price scalability offered by ActiveCampaign here. That said, if you have a blog platform and want to "tell stories" with automation, ConvertKit is an extremely user friendly option here.
Main Difference Between ActiveCampaign vs ConvertKit
The main differences between ActiveCampaign and ConvertKit are:
ActiveCampaign SCALES
Take the best email automation and mix it with all the best parts of a CRM. Result: ActiveCampaign. While I call it a "lite CRM", AC is no lightweight. I've been with them for years and LOVE the endless integrations and expandability.
Try ActiveCampaign FIRST
We earn a commission if you click this link and make a purchase at no additional cost to you.
ActiveCampaign has actually been on-the-go for quite some time, and it feels like they've been kind of tapping away in the background, getting things in order, before having an explosion of success and expansion in the past year.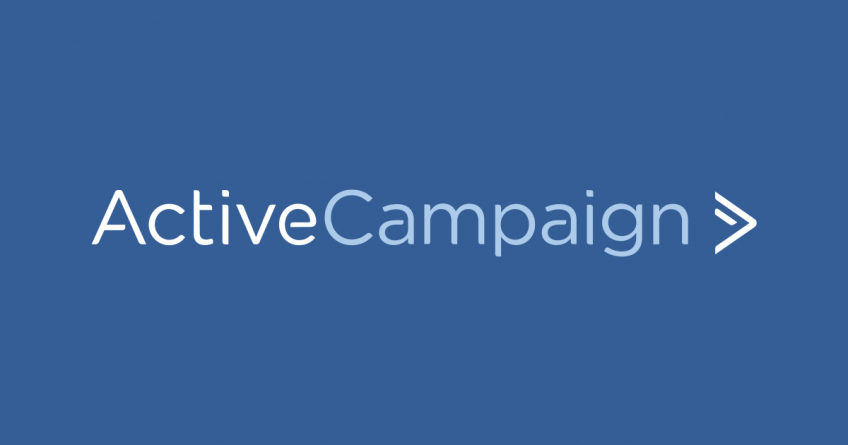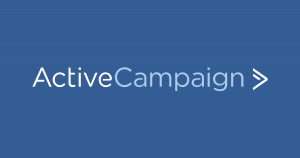 They've been on the go since 2003 – 20 years is a long time in tech!
The last year's successes have included two office expansions, a 250% increase in their user base, and a 160% increase in their number of employees.
Impressive stuff!
At first glance, Active Campaign seems to trot out the usual lines email marketing services do such as unlimited emails, but there is an implication that it's strongly geared towards the e-commerce aspect of your business.
Lead scoring lets you track engagement, funnel progress, and know who to follow up with and turns AC into a genuine multipurpose marketing platform. Active Campaign's sales CRM with automation makes it easy to keep track of contacts.
They boast a lot of features, implying how great they'll be in generating sales for your small business as it scales into something more. But they all do.
ConvertKit is a very different style of company. Started 8 years ago in 2015, they've truly embraced contemporary startup culture, with a fully remote working team of 24, who are located across 17 countries.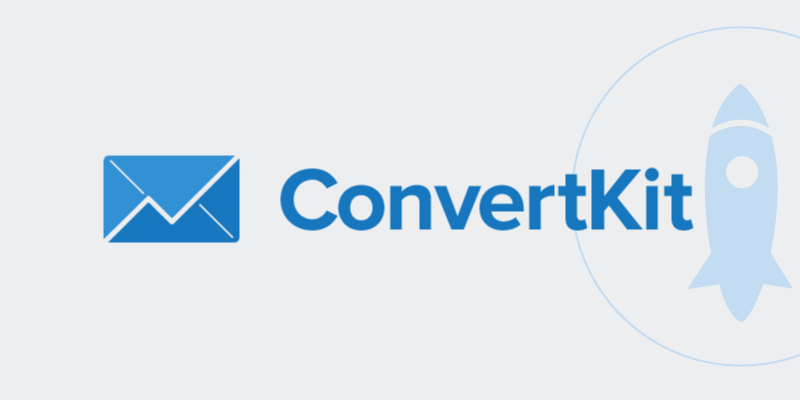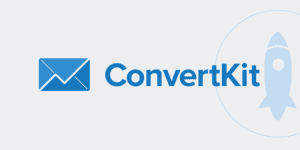 So how does a startup position themselves as distinct in a marketplace as saturated as email marketing solutions?
While other companies have a tendency to be the single solution that every company should be using, ConvertKit position themselves – fairly exclusively – as being the best solution for professional bloggers.
It's an interesting niche to aim for. The idea of a "professional blogger" isn't as popular as it once was, now that literally anybody can do it, but I'm sure ConvertKit know what they're doing, and wouldn't be aiming at such a niche if there wasn't money to be made.
ActiveCampaign vs ConvertKit Pricing Options
1. ActiveCampaign
ActiveCampaign has a reasonably versatile pricing system. As is standard with such marketing tools, they employ a tiered pricing system, with additional features available to increasingly priced tiers.
The price will be relative to the features you want to be included, and the number of subscribers you have.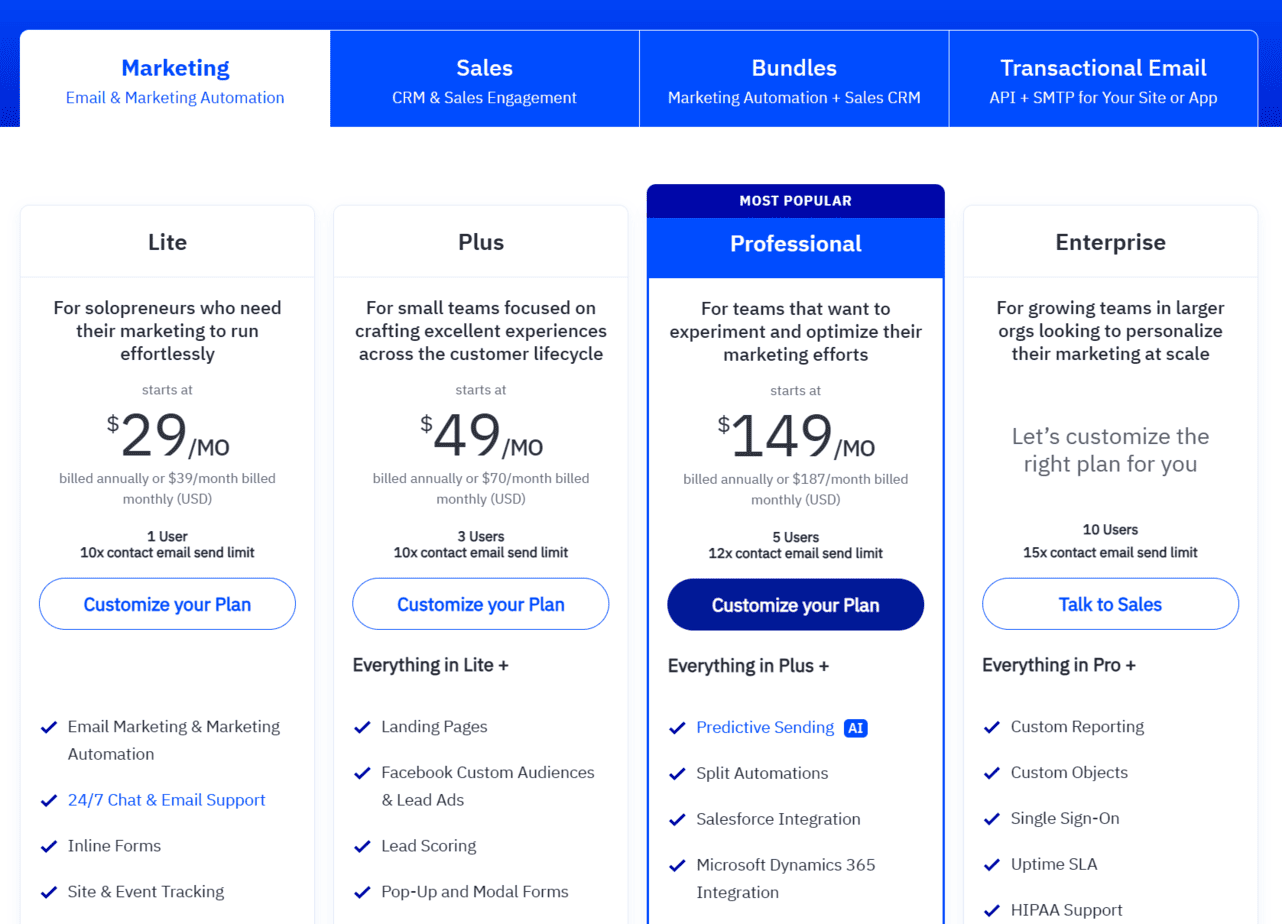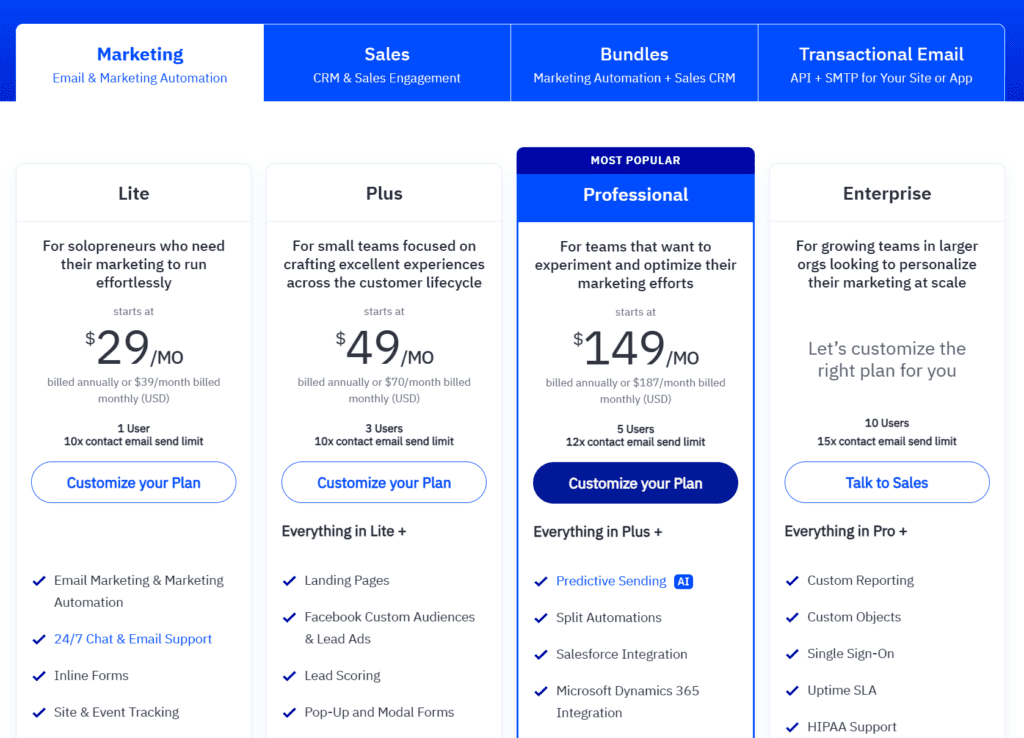 There's a 15% discount to those who pay annually, rather than monthly. I can see that being a big draw for many prospective users!
Pricing options start from only $29, which will let you send to up to 1,000 contacts. This will give you your core email marketing features, which should get you a solid functional start in utilizing the channel.
It's useful to keep the same number of subscribers when looking at different tiers, so the additional cost can be kept relative.
So, sticking with 1,000 subscribers, the next tier up is $49 for their Plus version. The next level up is called Professional, and costs $99 per month, and the top tier is called Enterprise, which costs $149 per month.
Keep in mind, all of these prices are for just 1,000 subscribers. There's a good chance that if you need the number of features offered in the Enterprise package, you'll be relying on a lot more than 1,000 subscribers to keep your business afloat.
It's hard to fault the pricing system. The relativity of the costs looks right. The cost per subscriber decreases as you increase the number of subscribers. You need 2,500 subscribers before the seconds tier increases in price, and 5,000 before the third and fourth tiers do so.
2. ConvertKit
ConvertKit retains the standard tiered pricing system, with three options available to you.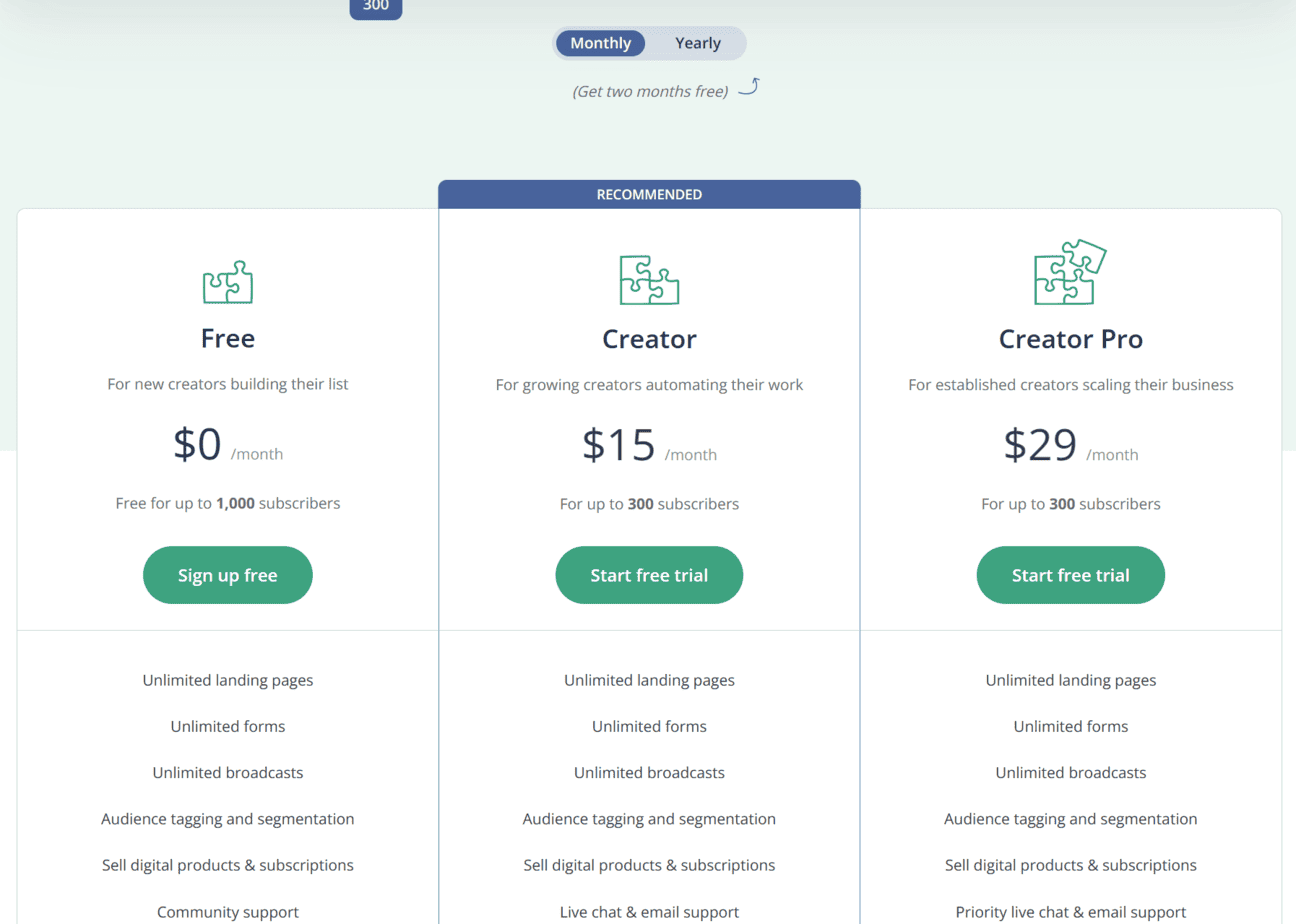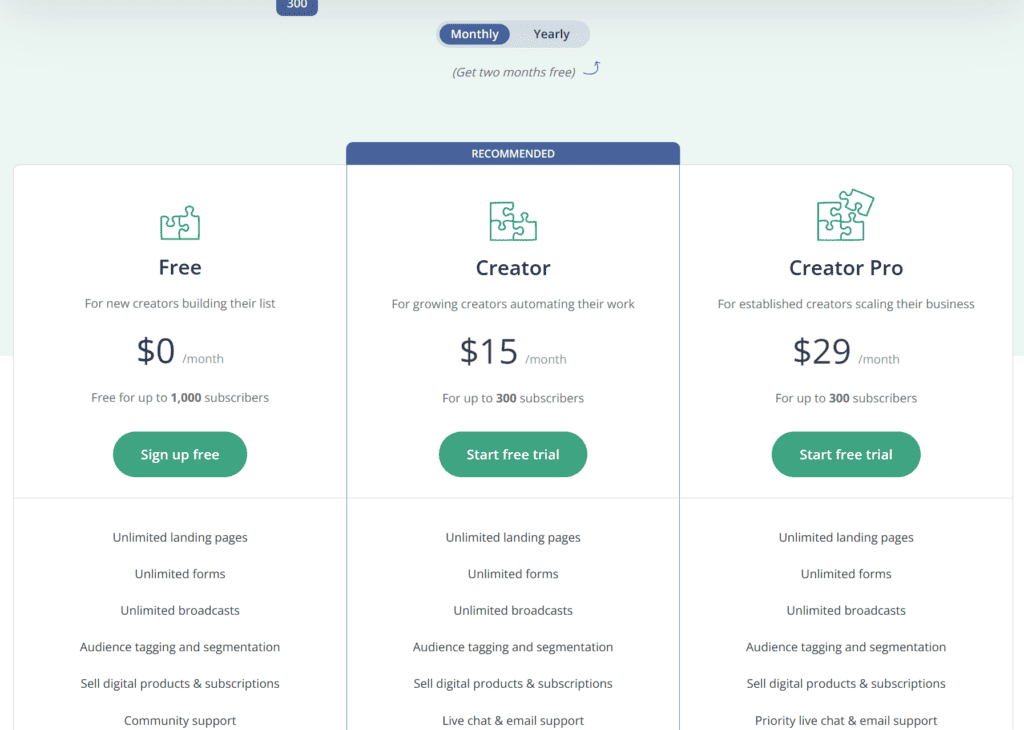 The interesting thing across these three tiers is that there aren't any actual additional features available with the increasing cost of the packages.
You are literally paying for being able to send to additional subscribers. I couldn't find any indication of any extra stuff for your extra dollars.
I can't decide whether that's a good approach or a bad approach. In one sense, it certainly adds transparency to their pricing options, and it's clear from the outset what you'll be getting across each tier.
It can also be interpreted as ConvertKit not desperately trying to present an all-singing, all-dancing package that users may not even need, giving a sense of honesty, as in "This is what we do, we focus on doing this really well – take it or leave it." I can see that would be of benefit.
The actual pricing of the tiers looks like this.
| | | | | | | |
| --- | --- | --- | --- | --- | --- | --- |
| Subs | 1,000 | 5,000 | 10,000 | 45,000 | 95,000 | 125,000 |
| Free | $0/m | | | | | |
| Creator | $29/m | $79/m | $119/m | $319/m | $619/month | $799/m |
| Creator Pro | $59/m | $111/m | $167/m | $447/m | $807/m | $899/m |
Each tier also includes a free trial for your first month of subscription, which is useful, but you do need to make sure you'll have time to implement it and use it to try and gauge how valuable it will be to your business before initiating that trial.
So far, it's an interesting scenario they're presenting.
It should also be noted that 5000 subscribers is not an outrageous number for any blogger, or company to have on their email list, so if you are growing your business, ramping up your email marketing efforts, you will probably get to this number eventually (if you are not already). Keep that in mind when it comes to overall cost.
Service Provider Features
1. ActiveCampaign
The core features available for ActiveCampaign users are everything an organization would need to be able to deliver functional, regular, professional, and – most importantly – converting email marketing.
From the outset, you'll have unlimited sending capability and some marketing automation functionality. Set your email marketing automation rules from scratch. You can build automation that delivers a welcome email after a contact joins a list and then applies tags to that contact based on how they interacted with the welcome email.
In theory, you can build out some super complex sales funnel marketing campaigns that will work on autopilot.
You'll also have access to analytical data at every level: going to the next tier doesn't appear to unlock any additional or deeper data functions.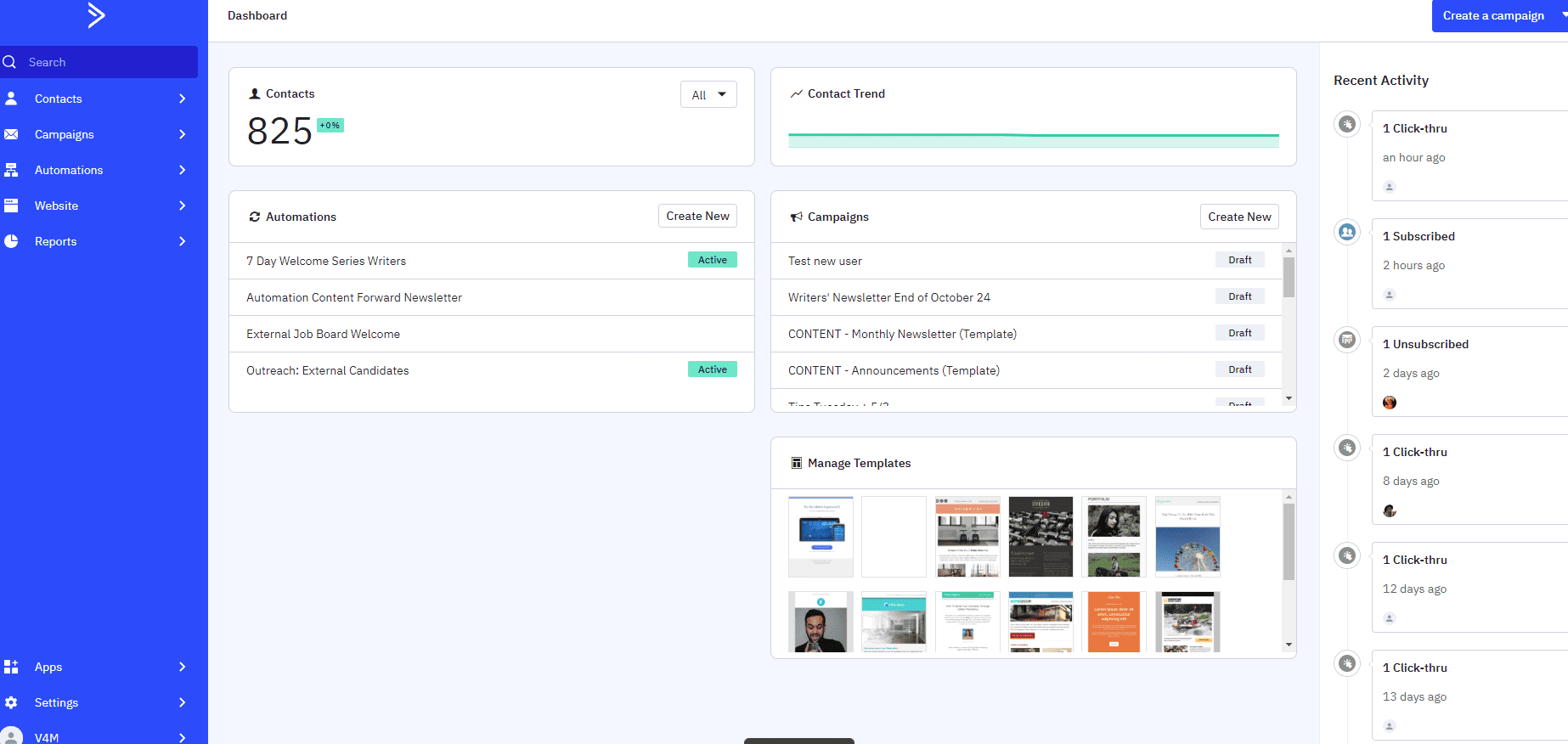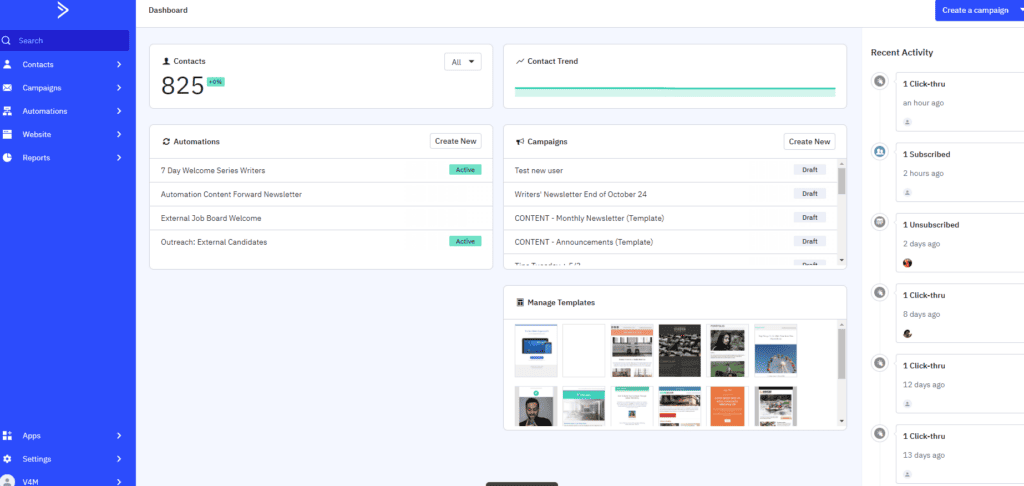 Once your free trial is over, and you start giving them some dollars, they'll include complimentary design support.
I think this is a very important feature, which should help you develop optimized email marketing campaigns, to make sure you get the best conversion rates possible. I find a lot of organizations underestimate the value of design in the marketing process.
These design tools can come in handy when you are doing an email drip email campaign, or just want to brand your messages to build brand awareness.
At any stage in the lifecycle of your email marketing, design tools are important.
If your email software doesn't include more options to create visually stunning emails, it probably won't work for most companies long-term.
The most distinctive selling point from the second tier upwards is CRM integrations with sales automation tools. Some other integrations include Zapier, ClickFunnels, WooCommerce and Salesforce.
Your digital marketing manager might need some IT support to get it set up, but it is setting your email marketing up to be a sales machine.
By the time you hit the top tier of any software with a tiered pricing system, you do expect quite a bit of bang for your buck. ActiveCampaign looks to deliver on that.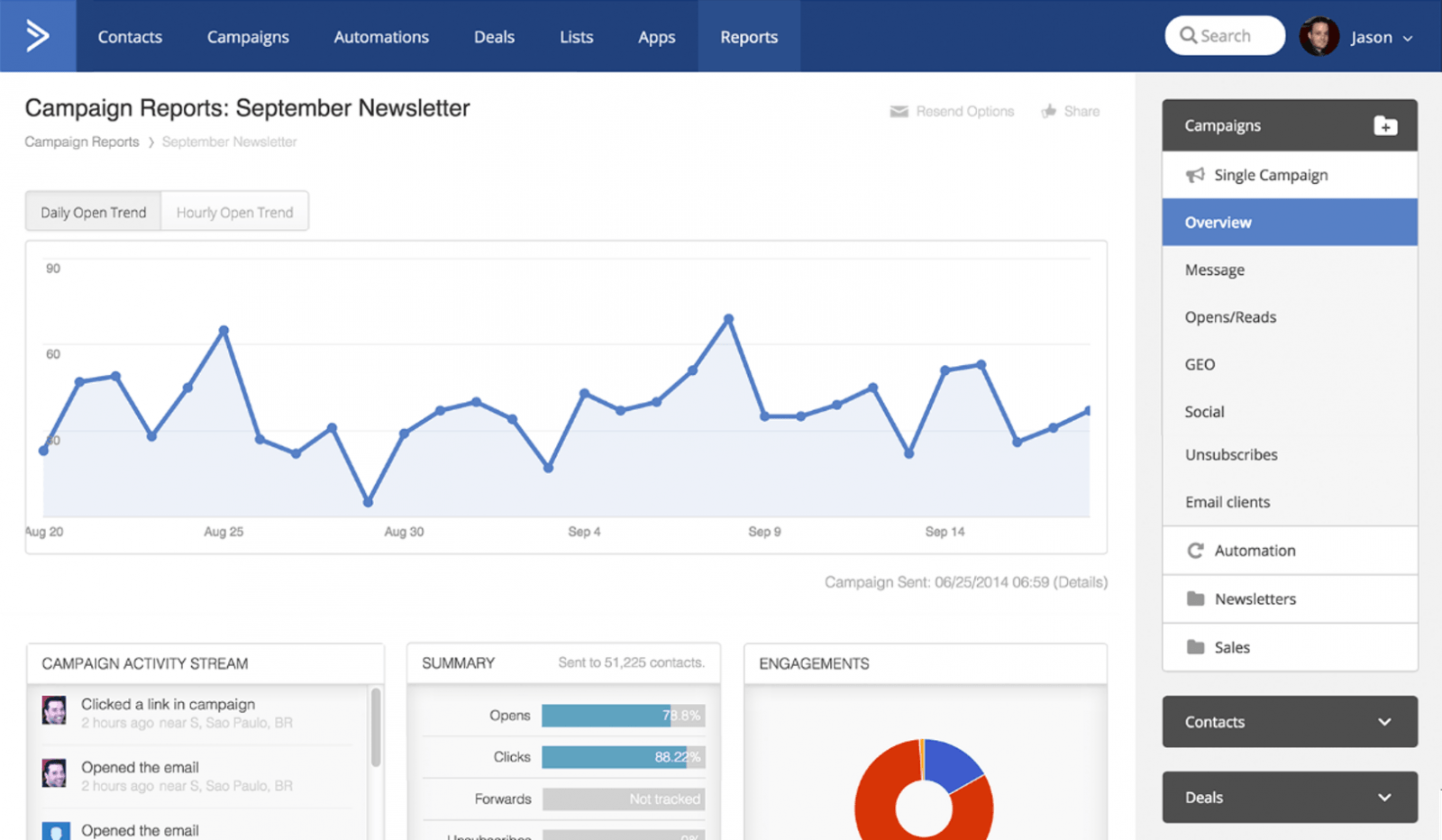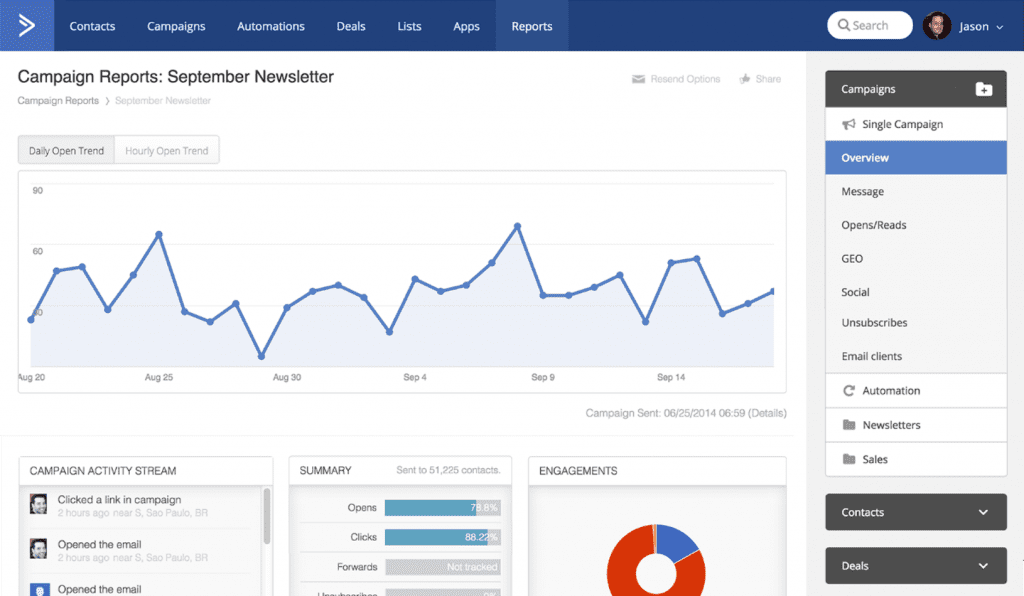 At their top tier, their delivery looks a lot more like an agency looking after your email marketing, with a dedicated account rep. As everybody knows, agencies are really expensive, but this costs buttons in comparison.
If for whatever reason, a company didn't want to handle their email marketing in-house, I'd definitely say this looks like a very viable alternative.
2. ConvertKit
The unique selling point that really stands out with ConvertKit is their plugin for the WordPress blogging platform.
WordPress is one of the most popular blogging sites in the world, largely due to the customization features courtesy of its open-source development.
One of the best features for WordPress for less technical users is the ability to use plugins for everything from data collection to aesthetic elements.
For ConvertKit to develop this is smart on their part, especially with their focus on bloggers.
They offer a forms feature, which will allow you to create either an embeddable opt-in forms (ConvertKit has a default double opt-in vs single opt-in) that you can paste wherever you like, or a dedicated landing page builder to optimize for subscribers. There are also integrations available such as Landing Lion, a landing page automation builder that can integrate with ConvertKit.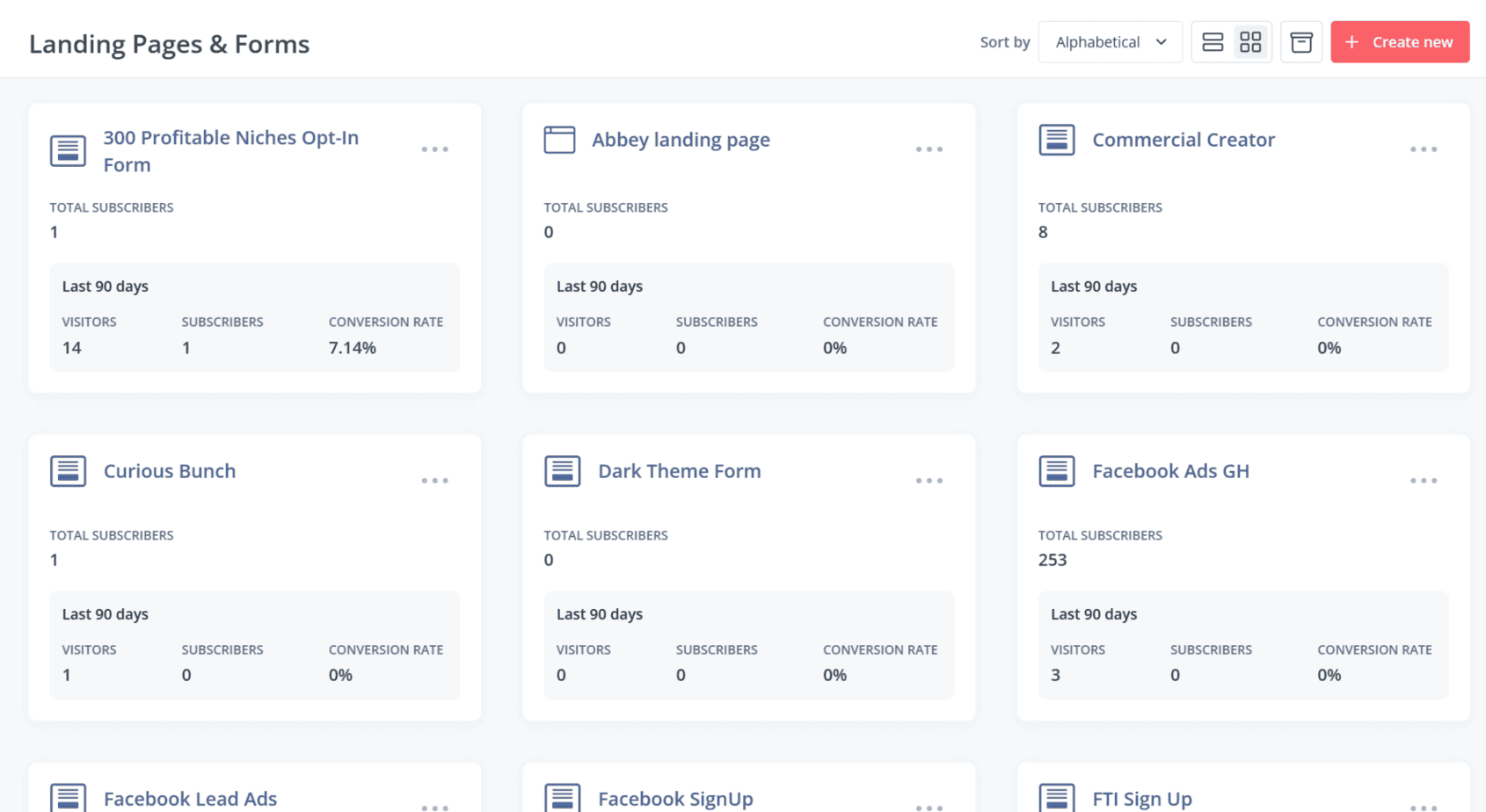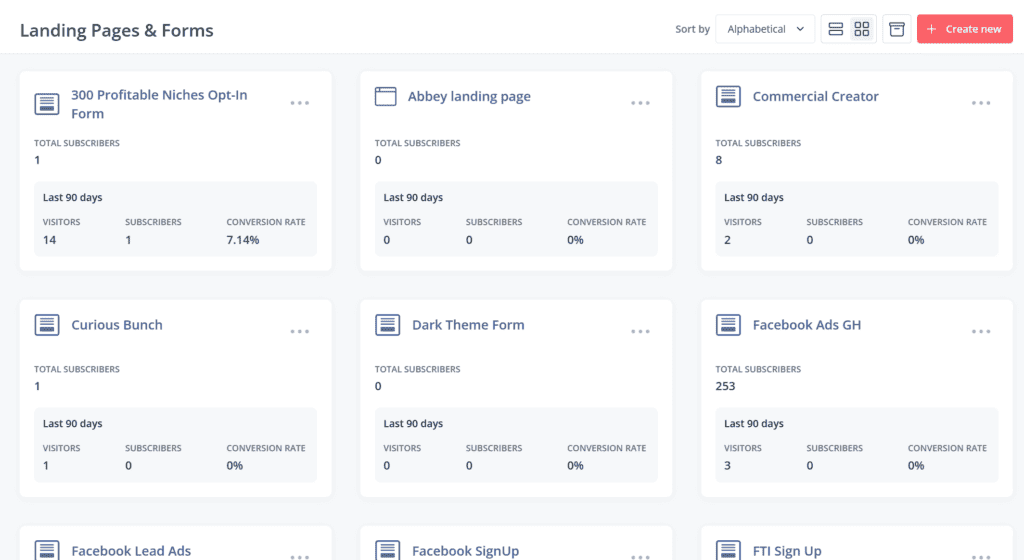 ConvertKit seem proud of their "automated sequences" feature. This is their automated email marketing function.
It allows you to set up an "if this, then that" approach, whereby you set up the email you want triggered to send when your visitor undertakes a certain action.


If you're looking for analytical data and related reports for your blog audience, you may need to look elsewhere.
It doesn't look like this is what you're supposed to be using ConvertKit for, as it doesn't seem to be something they support.
One little quirk that left me uncertain is that you can't just go ahead and start emailing people.
You need to import your subscribers, and then contact their support team to let them know that you want to send emails, which they will enable.
I'm not sure what to make of that. Does it mean that you shouldn't sign up without an existing subscriber list?
ActiveCampaign vs ConvertKit Usability
1. ActiveCampaign
The ActiveCampaign email marketing platform is definitely a business-orientated product. This is evident from several aspects of its presentation.
It's fine for new users, there's nothing scary about the process of getting it up and running. In saying that, I do feel it would be best suited to people with some knowledge of digital marketing, especially with emails.
The instructions in provides in getting you set up aren't super-friendly, but they're on-point. Whether or not this appeals to you, really does depend on your own personality, but it does set a more professional tone than other e-mail marketing solutions.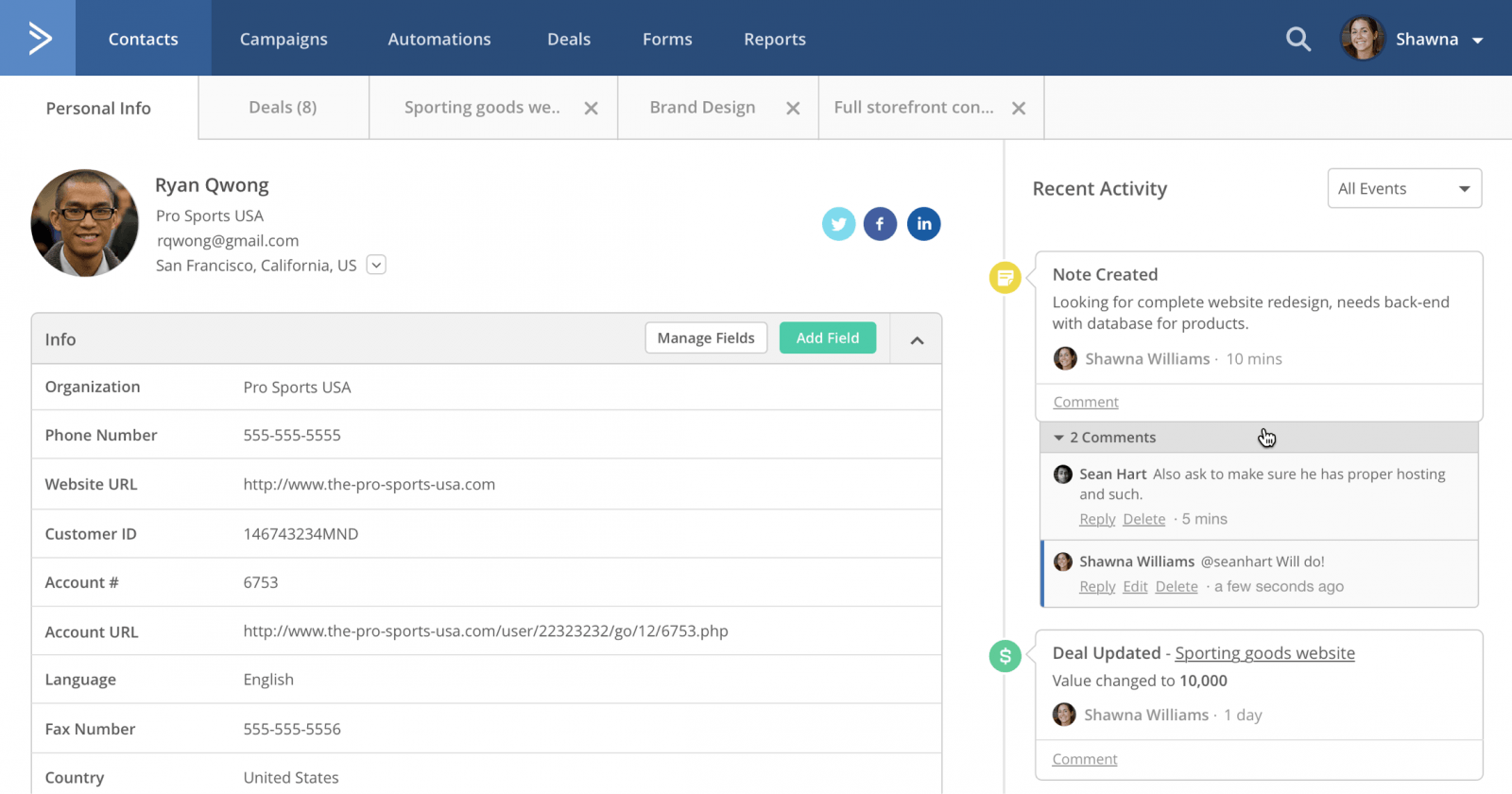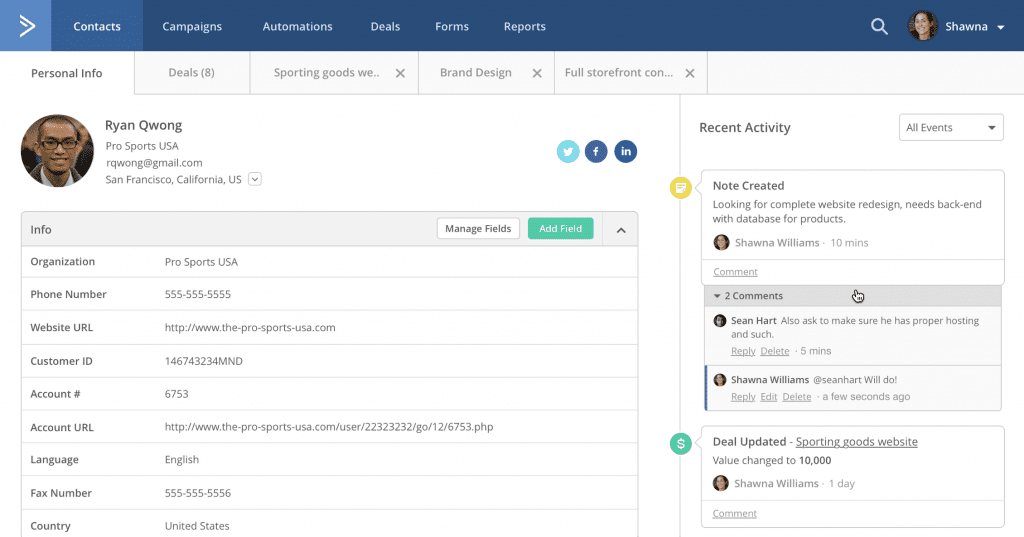 In terms of its core function of putting an email together for mass consumption, it's similar to other marketing platforms. You can choose an email template and insert your own content, if you'd prefer to work with HTML and customize things a bit further, you can certainly do so.
One of my favorite features – and this is not something that's available in every email marketing solution – is the ability to export lists of recipients who have clicked on specific links, with their email addresses.
Some people are a little creeped out by the Big Brother nature of that, but, if you have placed a link for a number of products in a marketing email, this function allows you to work out a different list for remarketing, so you can follow up with an email focused on the product they showed an interest in.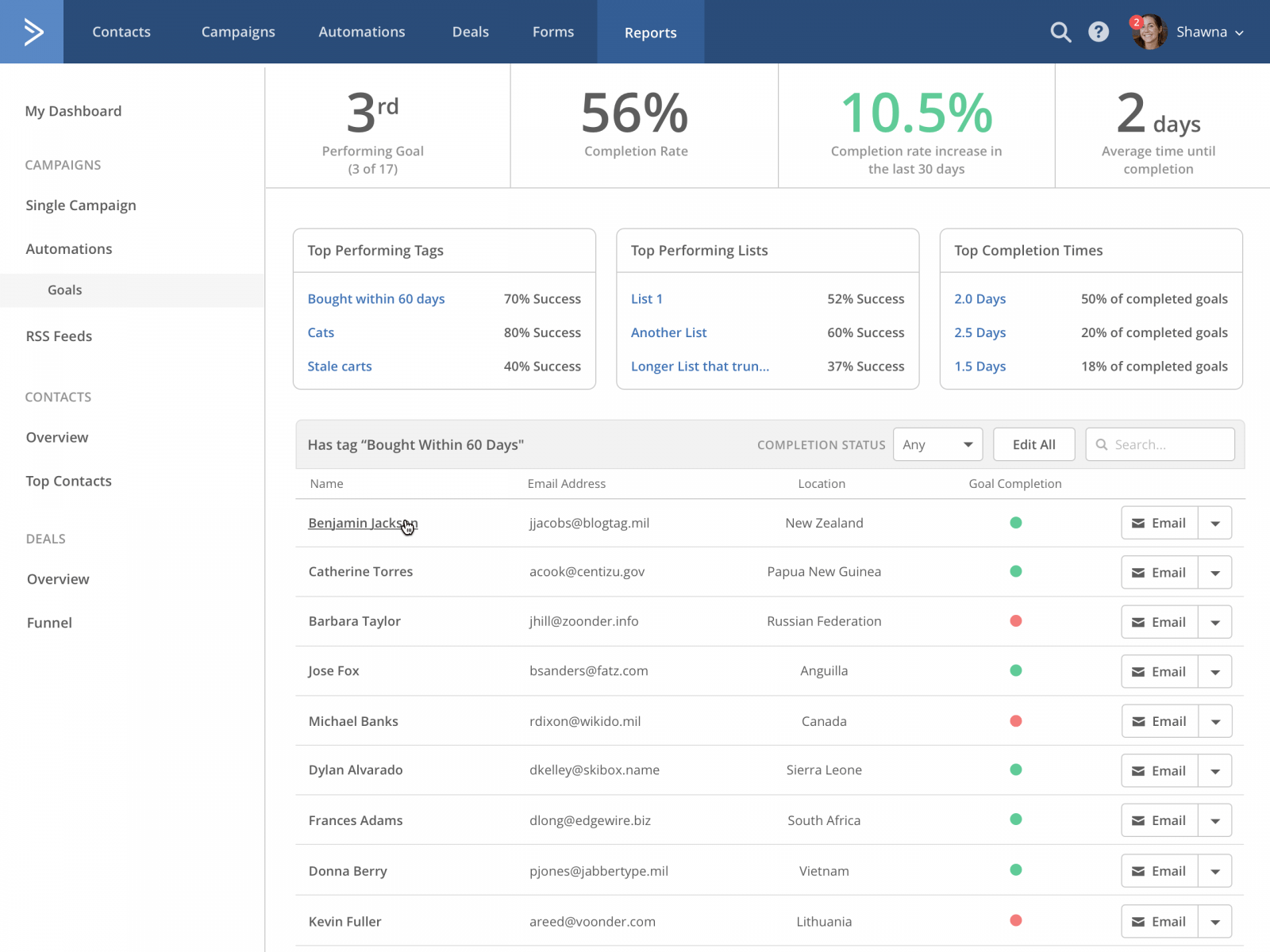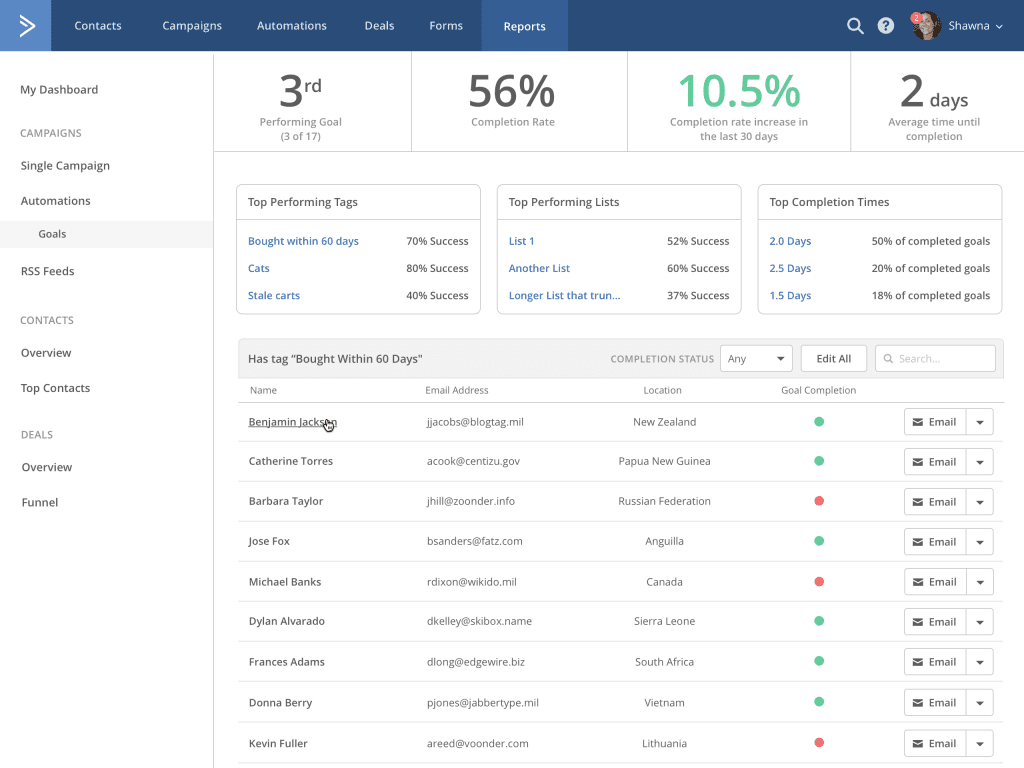 If you do get stuck, ActiveCampaign offers a range of support levels across their tiers. They weren't required for this review, but they seem well-regarded!
2. ConvertKit
ConvertKit really utilizes a drag and drop functionality throughout its use. This makes it pretty easy to use – very friendly for less-technical users.
Simplicity is a key point that all email marketing service providers highlight in promoting their product, but I don't think I've ever seen anything as simple as this before!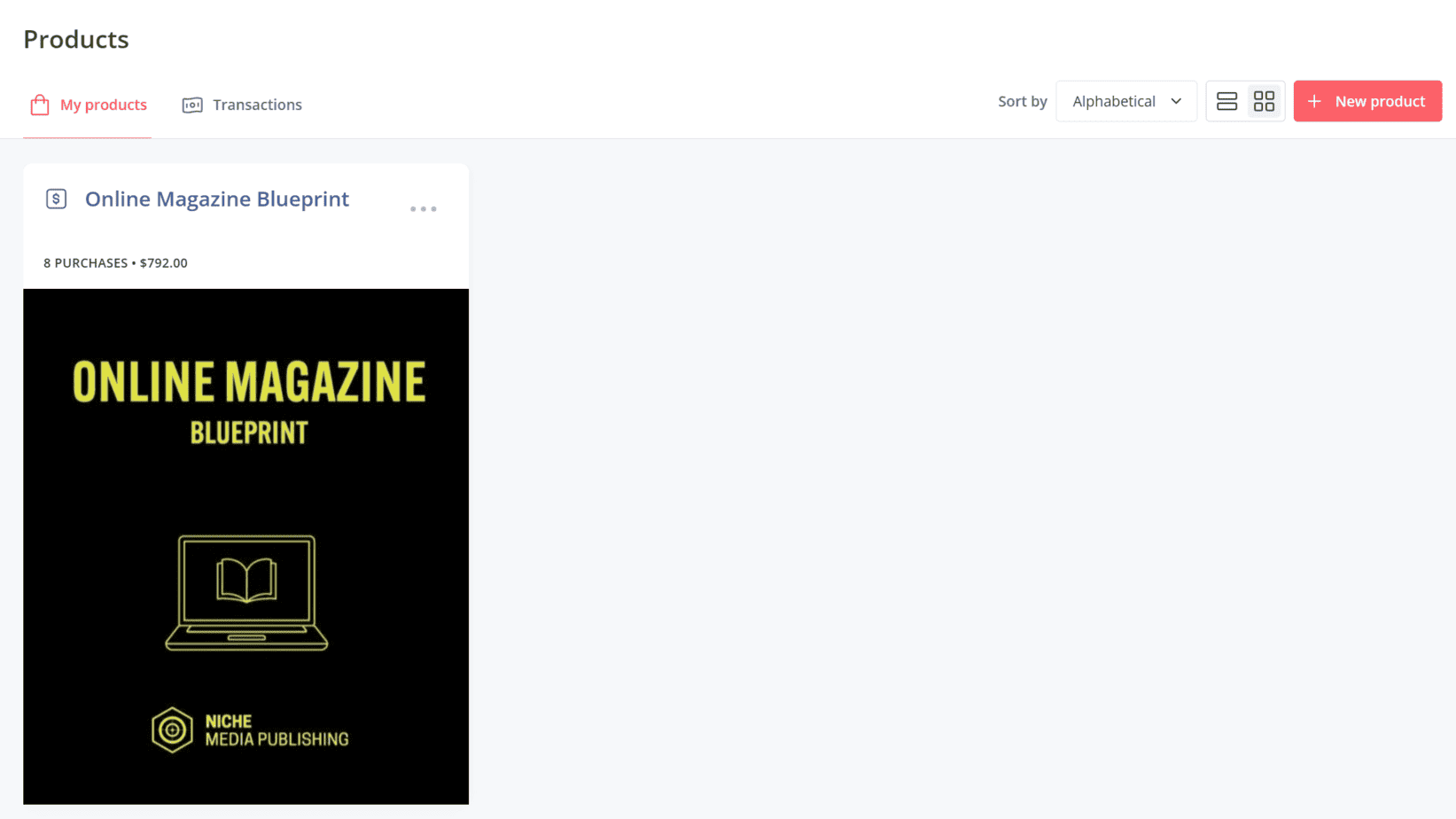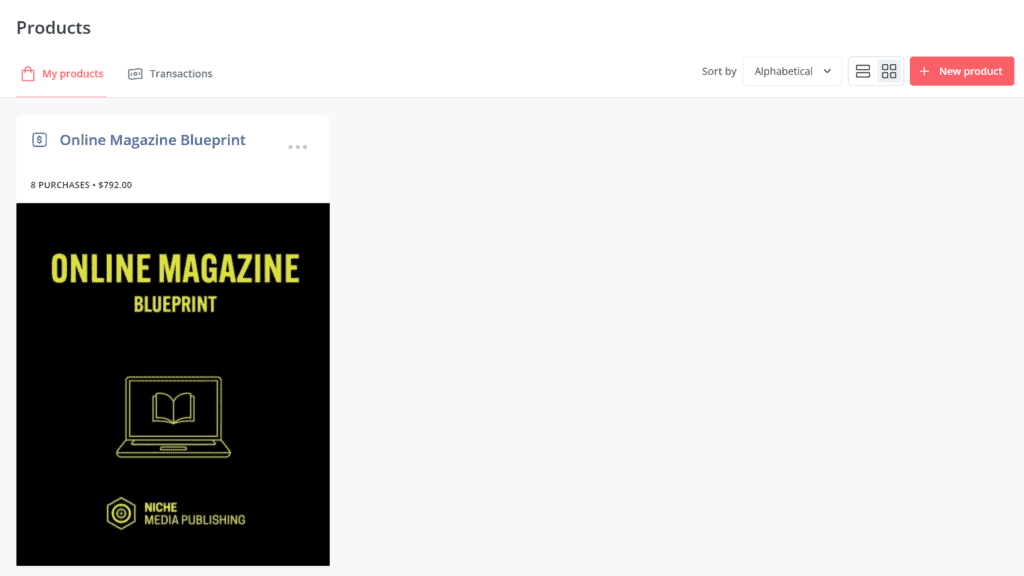 So yes, in terms of creating your emails, and relevant triggers to send relevant emails, it's next to impossible to go wrong with ConvertKit.
In saying that, it does feel like a bit of a one-trick pony. It's functionality beyond sending emails and marketing automation tools feels pretty limited. If you're using it in conjunction with other software to track things, for example, Google Analytics and its custom URL builder, that might work for you and would be something I'd strongly recommend.
But, at the same time, it doesn't feel like that's the kind of product ConvertKit is intended, or is trying to be. It's very focused on getting subscribers, and emailing them, and it does that perfectly well.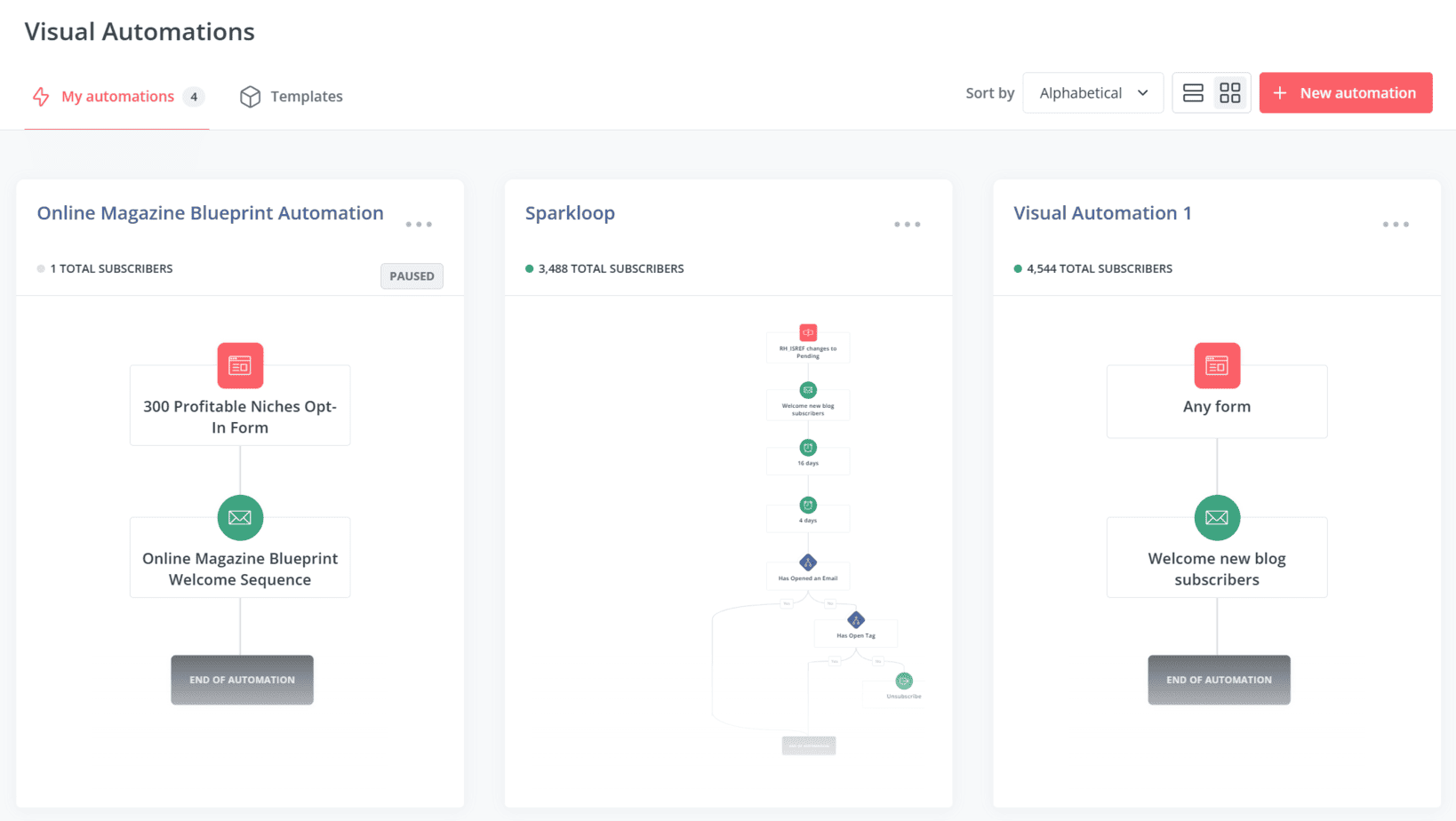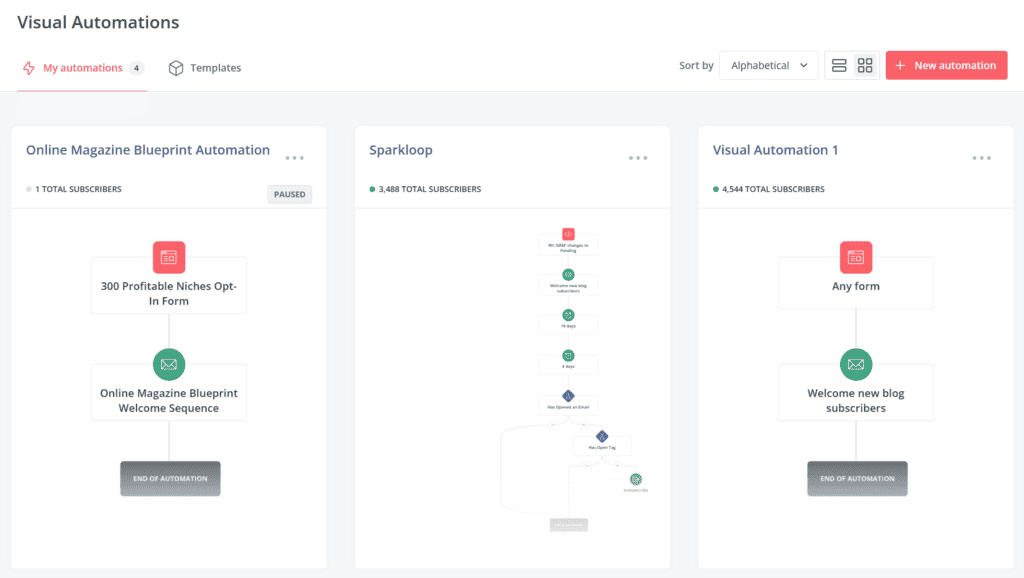 I can see how that works perfectly adequately for bloggers or content creators (like newsletter operators).
ConvertKit does say that it can be used elsewhere for other business objectives, and I can see that, but, if you have a retail company for an example, that relies heavily on sales, I can imagine them wanting a lot more data at their disposal to optimize and refine their email marketing efforts.
The fact that you need an existing list of subscribers might be off-putting and does make it feel like it's for those who have been blogging professionally for some time.
Conclusion: A Side by Side Comparison
1. ActiveCampaign
Although not as brash about promoting themselves as competitors might be, I can see ActiveCampaign as being quite a powerhouse in what it can deliver in the context of email marketing.
As an email marketing tool, ActiveCampaign can be a great addition to your overall marketing plan and strategy. While email marketing is the focus here, it can also be used as a sales CRM, and can integrate with many other marketing platforms so you have many options when it comes to your digital marketing objectives.
If at ANY point, you plan on building out a large visual automation flow and will need to track lead magnets, ActiveCampaign is THE lightweight automation solution.
It's something I stress regularly with any product that comes with a tiered pricing structure, but you have to be very careful and conscious of what's being offered.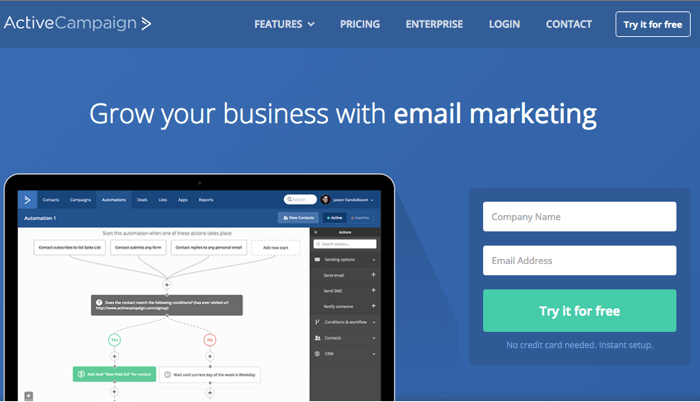 ActiveCampaign can provide you with a wealth of data including click-through rates, open rates, and deliverability.
You also have the option to integrate with Google Analytics to capture greater insights on user behavior. These are key metrics to measure when running marketing campaigns.
To get the most out of that data, you need somebody to interpret it, and translate it to quantifiable actions for you to understand your audience's behavior in relation to marketing emails so you can optimize your efforts for them.
I would say this is a great tool for sales-orientated businesses, with the caveat that you have the person mentioned above on hand.
2. ConvertKit
ConvertKit is an excellent tool for bloggers. There's no doubt about that. That's what they're focused on, and what they've achieved.
Although it claims that it can be applied to any business, and that's probably true, I do feel most businesses, especially those with products to sell, will need something more powerful, with more functionality with their CRM system to be effective. While it is super effective for bloggers, it is not as much as an all-in-one marketing solution as much as ActiveCampaign is.
When making a choice for the best email marketing software tools, you might also want to consider the entire online sales funnel you are after. Think about your sales goals as well as your marketing goals.
For bloggers who just want to grow their email list, ConvertKit is an excellent tool, but other companies might have to think about the bigger digital picture here.
It might work OK for companies whose digital marketing objectives are focused on disseminating information, rather than pushing sales of stuff.
It's a fledgling company, and what it does, it does very well, and I certainly can't fault it. I can definitely see its application for bloggers, but it may need to revise its offering if it wants to attract a more diverse userbase.
I'd recommend this for doers.
| | | |
| --- | --- | --- |
| Email Marketing | ActiveCampaign offers advanced email marketing features, including automation, segmentation, personalized and dynamic content, and split testing. | ConvertKit provides basic email marketing features, with the ability to create and send beautiful, simple emails. It lacks some advanced features like dynamic content and split testing. |
| Automations | ActiveCampaign excels in automation. It offers complex automation workflow, CRM, and lead scoring. | ConvertKit's automation features are simpler and more straightforward, focusing on automation rules rather than complex workflows. |
| Pricing | ActiveCampaign pricing starts at $29 per month for 1,000 contacts and increases as the contact list grows. It's generally more expensive. | ConvertKit offers a free plan for up to 1,000 subscribers and its pricing starts at $29 per month for up to 1,000 subscribers. It's more affordable for smaller lists. |
| User Interface | ActiveCampaign's interface is robust but can be complex and overwhelming for beginners. | ConvertKit's interface is user-friendly and intuitive, great for beginners. |
| Customer Support | ActiveCampaign provides 24/7 live chat and email support but no phone support. | ConvertKit offers email support and live chat during business hours. It also offers a weekly live training. |
| Integration | ActiveCampaign integrates with over 150 apps, including popular ones like Shopify, WordPress, and Zapier. | ConvertKit integrates with fewer apps (around 80), but includes key integrations like Shopify, WordPress, and Zapier. |
Final Comparisons: ConvertKit vs ActiveCampaign
ActiveCampaign SCALES
Take the best email automation and mix it with all the best parts of a CRM. Result: ActiveCampaign. While I call it a "lite CRM", AC is no lightweight. I've been with them for years and LOVE the endless integrations and expandability.
Try ActiveCampaign FIRST
We earn a commission if you click this link and make a purchase at no additional cost to you.
Both ActiveCampaign and ConvertKit are great marketing automation tools. At their heart, they do the same thing: email a lot of people at the same time.
In saying that, with their functionality, what they can do for you and your business, they couldn't be any more different!
ActiveCampaign could not be any more geared towards moneymaking businesses. I'd definitely say it's worth a look if you sell a lot of products. It's a funny thing with the balance of the tiers. At the start, it's pretty limited, and anybody could probably skate by on it.
Take Advantage of the ActiveCampaign Free Trial Offer here
The Plus and Professional tiers would need somebody in-house to get the most out of it, but then at the Enterprise tier, it feels like there's so much looked after, from their end, you could scale back your in-house needs a little.
On the other hand, ConvertKit is aimed so squarely at content creators, bloggers, and newsletter operators, and with the lack of any real technical stuff, could easily be managed by just one person.
Check Out the Latest ConvertKit Promos Here
If you want to compare other marketing automation tools like Constant Contact, AWeber or Hubspot, check out the articles below.
ActiveCampaign SCALES
Take the best email automation and mix it with all the best parts of a CRM. Result: ActiveCampaign. While I call it a "lite CRM", AC is no lightweight. I've been with them for years and LOVE the endless integrations and expandability.
Try ActiveCampaign FIRST
We earn a commission if you click this link and make a purchase at no additional cost to you.
Here are some related articles you may be interested in:
FAQs
Question: What is ActiveCampaign good for?
Answer: ActiveCampaign is good for creating marketing funnels, designing your email campaigns, capture lead data, link your social media accounts and manage them directly, and keep track of your leads in CRM, among other different features as well.
Question: Does ActiveCampaign has an affiliate program?
Answer: Yes, ActiveCampaign has an affiliate program which allows you to earn 30% from the link once someone purchases directly through it.
Question: What is ConvertKit used for?
Answer: ConvertKit is used for designing landing pages, email campaigns, integration with other tools you might need for creating successful email marketing campaigns, and you can also design email sign up forms that will pop up on the website, so you can get customer's data and send newsletters as well.
Question: Can I try ConvertKit for free and keep all the data when I choose a paid plan?
Answer: Yes, you can try ConvertKit for free, and once you get the desired results, you can come back and select the plan that works for you, while keeping all the data from the previous campaigns and customers intact.
If you are still not quite decided on ConvertKit and want to see how it stacks up compared to peers, check out these related comparisons:
Similarly, see how AC stacks up versus top peers:
Other Email List Providers by Use Case
Here's some other recommendations from our editorial team based on specific platforms, business models or use cases: