Last Updated on January 11, 2023 by Ewen Finser
In an era where digital marketing is so heavily focused on social media, it's easy to forget the power of email marketing.
Social is so loud about how great it is, so gets a lot of buy-in from senior management. But there are actually quite a few studies indicating that the humble email trumps Facebook and Instagram when it comes to conversions and conversion rate optimization (CRO).
When you decide you want to enter the realm of mass email marketing, you might be a little overwhelmed by the options available. We'll take you through a couple of them to see if they're right for your business and objectives.
Even if they're not quite right for you, it should give you an idea of the thinks you should be looking at from other vendors.
Let's take a look at ConvertKit vs MailChimp.
Main Differences Between Mailchimp vs ConvertKit
The main differences between Mailchimp vs ConvertKit are:
ConvertKit doesn't count duplicate subscribers, whereas Mailchimp does count duplicate subscribers
ConvertKit is better suited to bloggers and storytellers, whereas Mailchimp is better for ecommerce selling
Mailchimp allowes multiple sites on one account, whereas ConvertKit requires a separate account for every site
Mailchimp is list centered, whereas ConvertKit is subscriber centered
It's pretty likely that you started your research into mass mailing solutions with a Google search, in which case you will definitely have seen this name.
Even if you started your research by asking others for ideas, I'd be surprised if at least one hadn't mentioned MailChimp.

It's kind of the grandaddy of email marketing solutions. It's been around for 15 years, so has had plenty of time to develop as a platform. A key attribute to its longevity is its simplicity. It's very much designed with simplicity in mind, so even the least technical person can use it to create in depth Mailchimp autoresponders (for example).
Essentially, a non-technical person who can follow instructions will be fine.
As the years have gone by, they've developed it beyond just sending emails, incorporating elements to work more as an automated marketing solution (automated emails / autoresponder service provider) for evergreen autoresponder campaigns.
At what feels like completely the other end of the spectrum, ConvertKit started in 2015, and employs 24 people across 17 countries.
It might sound like they're only a baby, but every company was once. ConvertKit position themselves as a smart startup, who are aiming to dominate the email marketing efforts of professional bloggers, specifically offering automation focused email marketing service provider.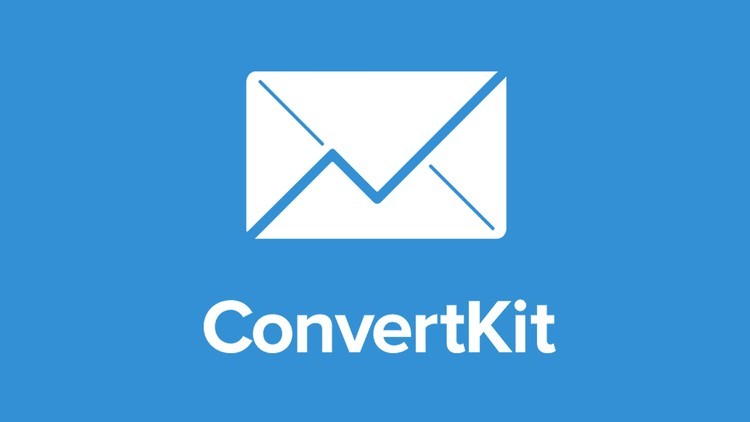 There's not a lot of background information available about ConvertKit. Its founder, Nathan Barry, has a blog with some interesting posts about how he built up the business. But obviously, you'll want some third-party info telling you exactly why you should be considering this.
The ConvertKit website has some information, but I honestly don't feel like it markets itself very well. It repeatedly says it's for bloggers campaigns, but beyond that, it essentially says: we're simple to use and different.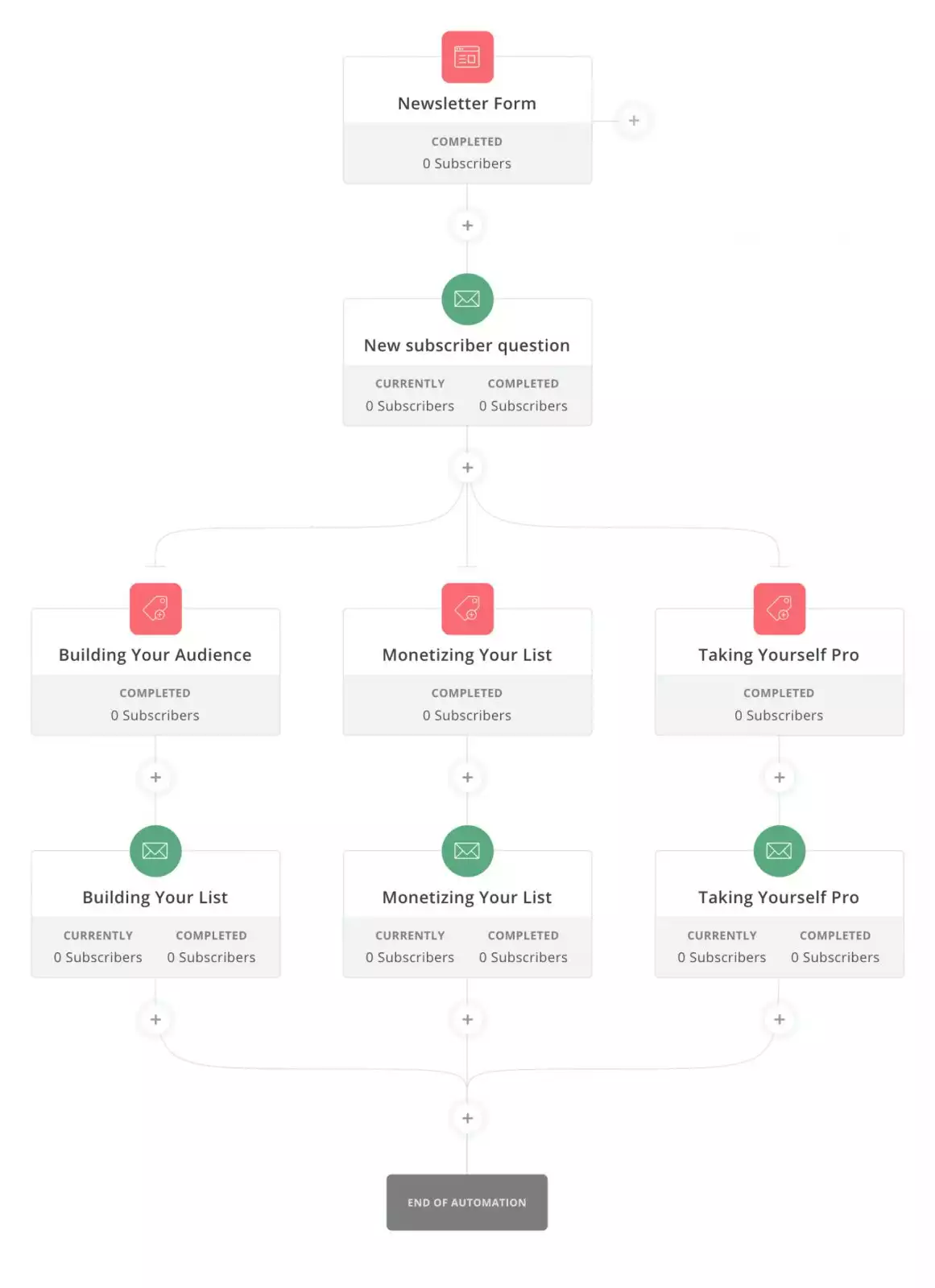 Are You a Blogger?
ConvertKit is NOT for everyone. BUT, if you are a blogger, author or digital product owner, ConvertKit is uniquely suited to tell your story. It's DEAD SIMPLE to use and makes automations… well… easy!
Try Convertkit
We earn a commission if you click this link and make a purchase at no additional cost to you.
Email Marketing Tool Pricing Options
1. MailChimp Pricing
MailChimp's pay monthly accounts run on a freemium model, so it's a tiered pricing situation, where the first tier is free (free plan). The higher tiers offer more features, and the cost to you depends on how many subscribers you want to email with your email marketing tool.
Let's use 1,000 subscribers as the base number for looking at pricing. If you're self-employed or are running an SME, that's probably a good number for a developing business.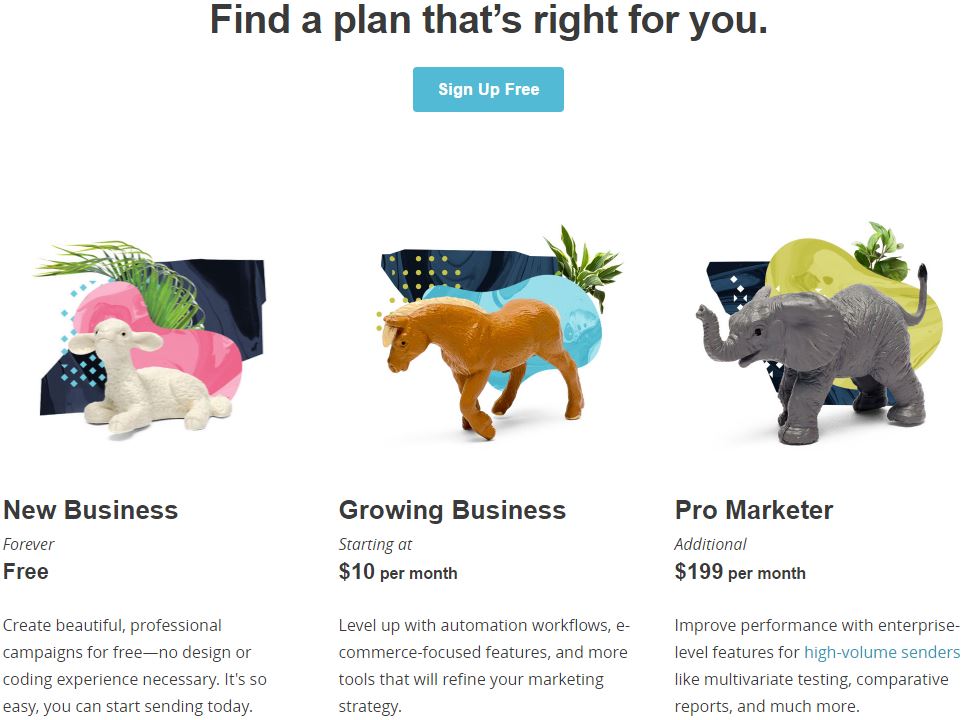 With Mailchimp's first tier option, you can email those subscribers for free – you can have up to 2,000 subscribers on the free version (free plan). You can send 12,000 emails per month, so this could be emailing your 1,000 subscriber 12 times, or sending different segments emails that are relevant only to them, up to a total of 12,000.
In addition to the email function, you'll have customizable forms for subscribers to sign up (lead magnet), design templates (email templates), and some data reports.
With the first paid tier, 1,000 subscribers will cost you $15 per month. For this money, you'll be treated to some unlimited sends, marketing automation features, CRM integrations, subscriber segmentation, more detailed reports, and a function to work as a team.
With 1,000 subscribers, it's unlikely you'd pay for the top tier, which costs a flat rate of £199 per month on top of the cost of the previous tier. This is very much aimed at large companies. This will get you e-commerce integrations (e-commerce store), and a suite of testing and reporting features to refine your email marketing efforts.
MailChimp also offer a prepaid option, which will get you second tier features. To email your 1,000 subscribers would cost $30.
2. ConvertKit Meail Marketing Tool Cost
ConvertKit has three pricing tiers, based on the number of subscribers you have. They don't have a free option.
UPDATE: ConvertKit recently announced a new FREE PLAN for users. This is a game changer and helps level the playing field with Mailchimp.
From what I can make out, the only difference between pricing tiers is the number of subscribers you have. They don't appear to offer any additional features to higher volumes of subscribers. I've never seen anything like that before, and I'm not sure what to make of it!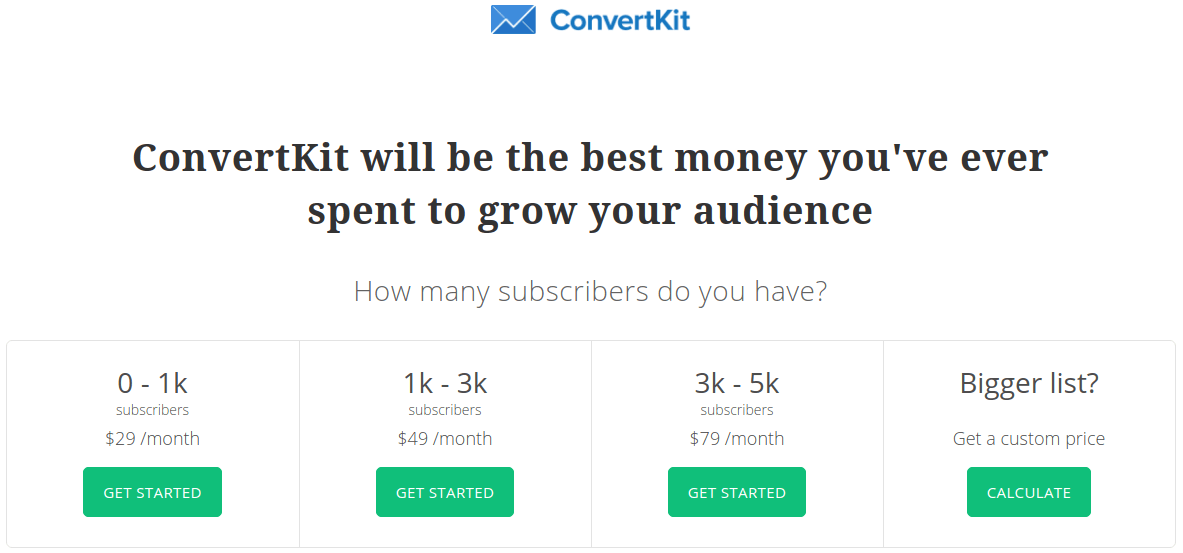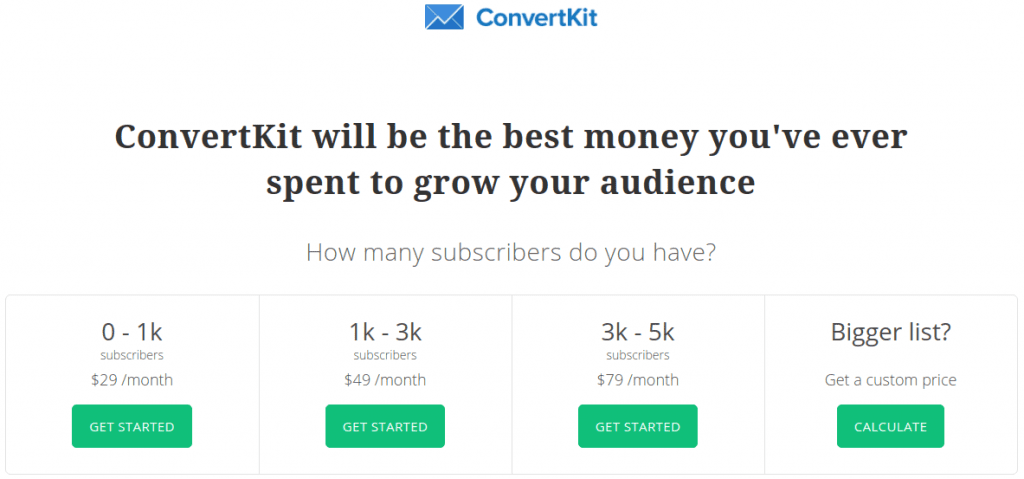 So, what does ConvertKit offer for each of its tiers? The most important one you probably want to know is the number of emails you can send per month. That's unlimited. While it's exciting to be able to send as many emails as you want all the time, remember it's not a license to spam your audience.
So what else do they include as standard? Well, firstly a month's free trial. This is useful, in that anybody with a large number of subscribers doesn't need to commit to an expensive plan, without a month to explore its features, and ensure their relevance to their objectives.
The features that are included in all pricing tiers have some standard stuff that you'd expect, and some other nice touches. The most obvious one is for creating forms. The other features seem to focus on sequential email campaigns, rather than creating and sending ad hoc.
Marketing automation is included, and a subscriber management section.
An interesting aspect when you first sign up, is that you won't immediately have permissions to send emails – another aspect that I'm not entirely sure about. You need to import your existing subscribers, then contact their support team, who'll approve your sending permissions.
Automation Features
1. MailChimp
One of the reasons MailChimp is so popular is the free version.
For those new to email marketing, that's going to be a big draw. As mentioned, social media is hailed as the sexy digital marketing channel, so there's a chance there could be some reservations about something less sexy like email marketing.
The amount of features offered by the free version, as well as the strength of the MailChimp brand, are plenty to entice the self-employed and SMEs. They're less likely to have the marketing budget for innovative risk, or a dedicated marketing person with the knowledge to make full use of the additional features.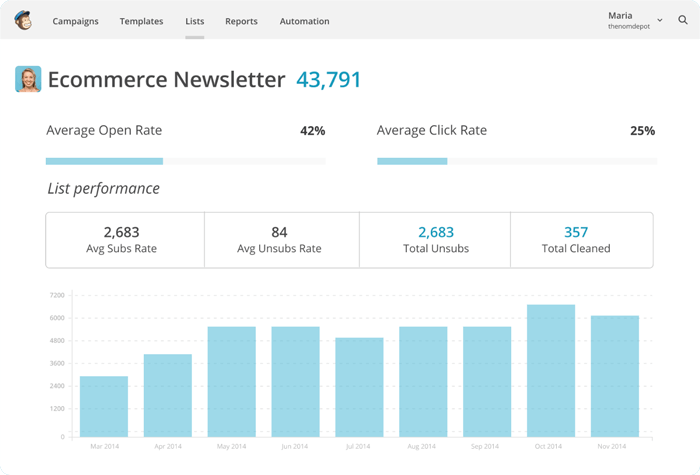 The features available for the paid version of a MailChimp account do take things to a more professional level: you get what you pay for. With the CRM integration feature in particular, they're indicating that this product is aimed at a larger business.
The additional features such as the marketing automation platform, targeting and tracking are useful, but would be best suited to an organization with a marketer to maximize the benefits of those tools and automation techniques.
The Pro version is a big ask – I don't envy a marketer trying to get the buy-in from their director for this.
While the list of features sure does sound impressive, and in the right hands and organization, would be a useful set of tools for drilling down and analyzing audience behavior, it would take an organization and director who have the time and patience for audience analysis to agree to an additional $199 per month.
The benefits of MailChimp are scalable depending on your business.
2. ConvertKit
As its focus is on bloggers, ConvertKit have developed a plugin for the WordPress blogging platform.
As WordPress bloggers will know, plugins are literally the most simple and convenient way of getting the technical elements of running a blog done. This says that ConvertKit know their audience: bloggers, focused on writing rather than technical stuff.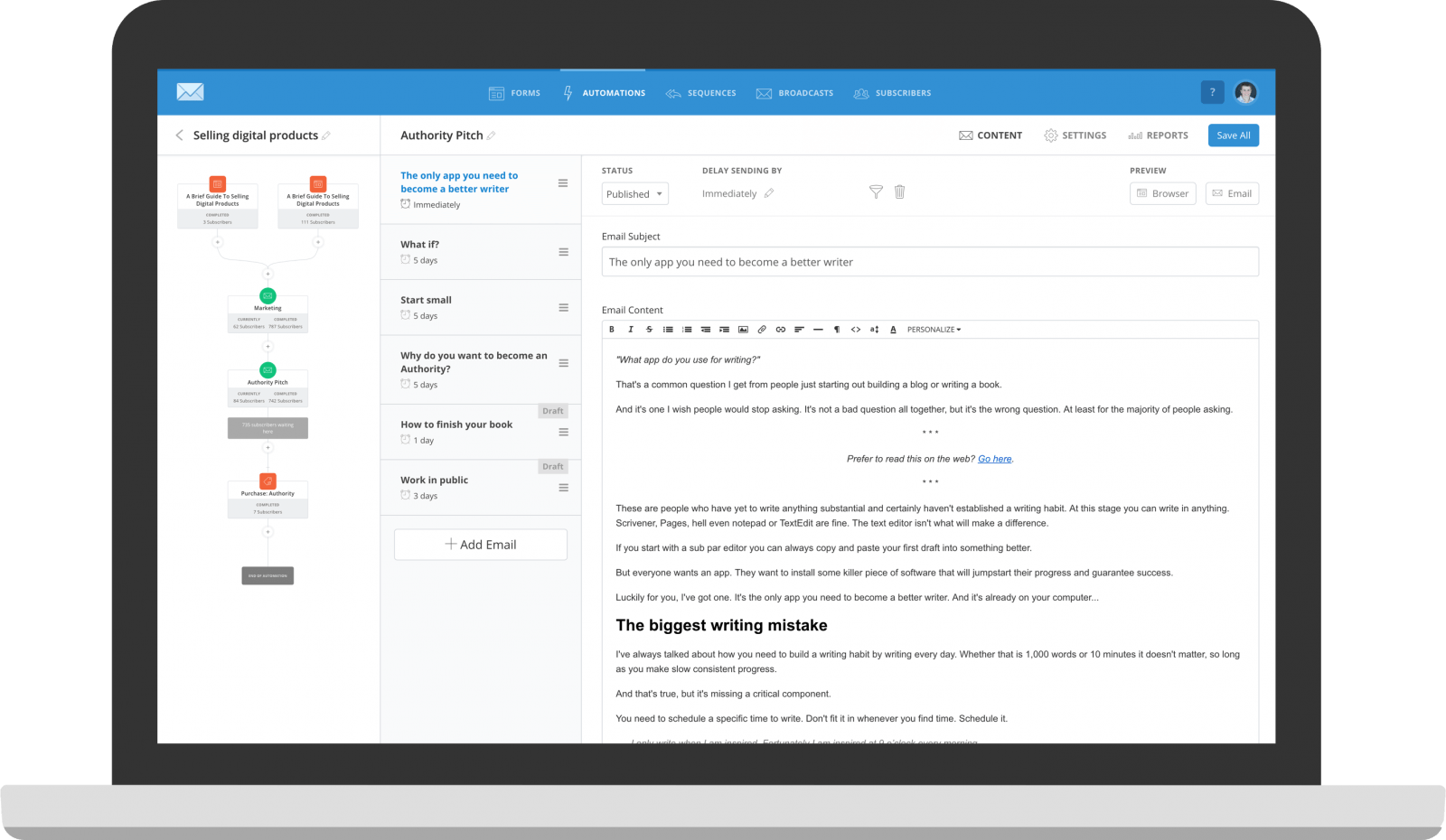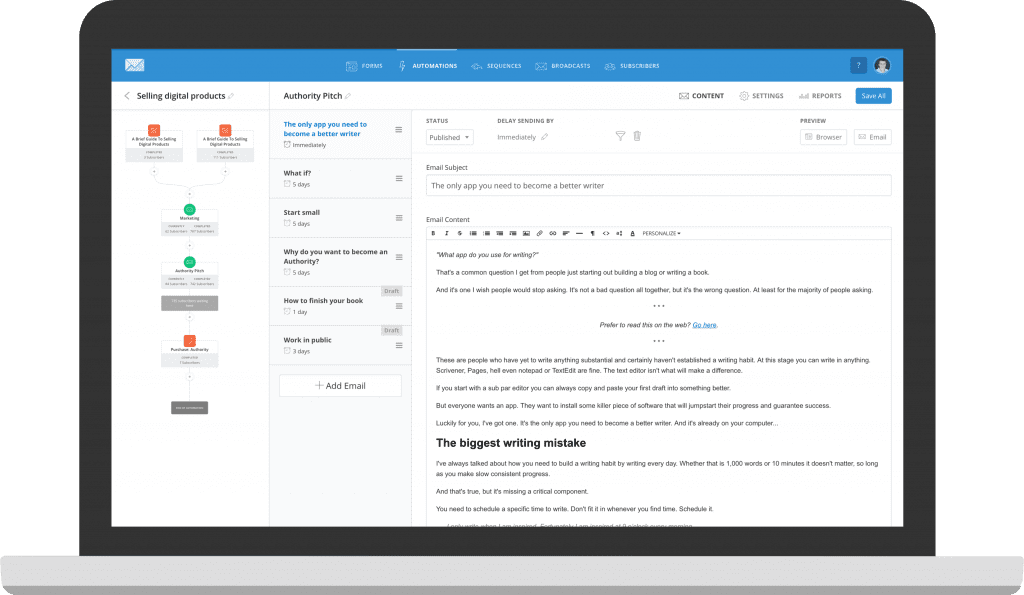 The forms feature is pretty cool. It allows the user to create either a dedicated landing page for signing up, or a form that they can embed on their blog.
Going through the list of features, it seems to go for an "if this, then that" approach. Its forms are designed to trigger initial emails.
It has a feature called 'sequences,' where the user/blogger can actually set up a sequence (it's not just a clever name) of emails that are triggered to send at certain points along a subscriber's engagement journey with the blog. These can be segmented as the user sees fit.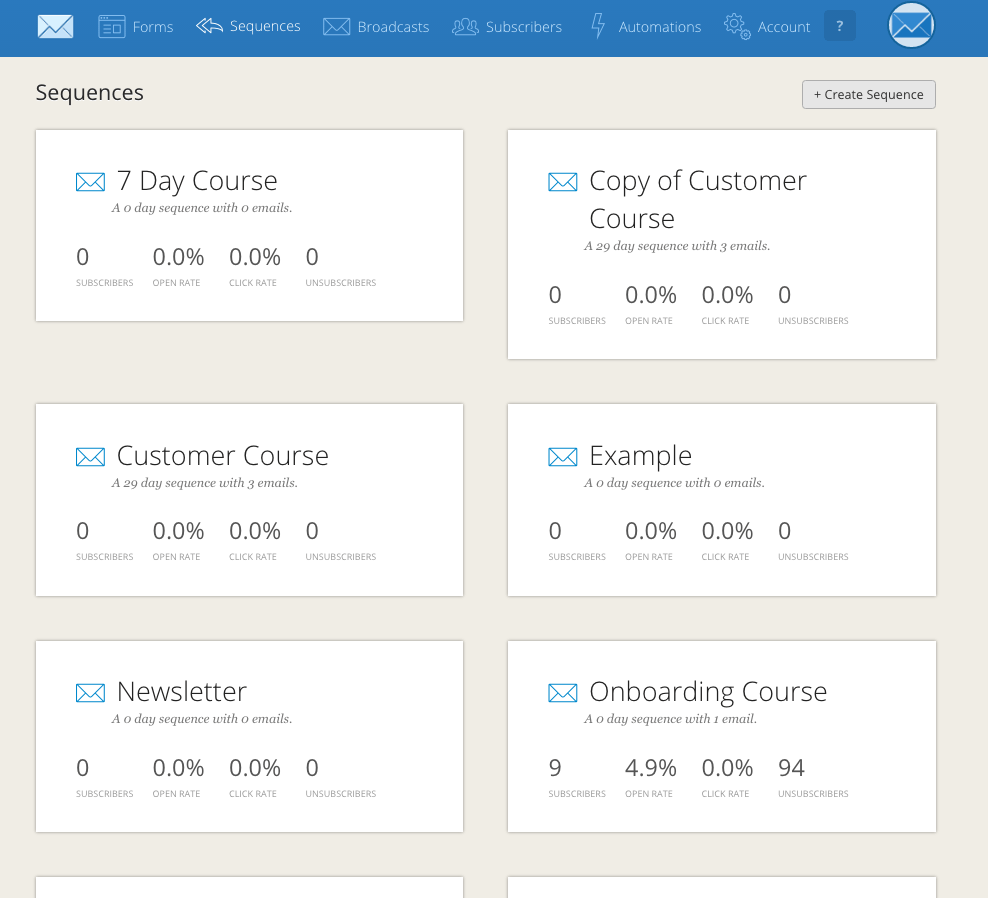 If your blog has a large following, it really is best to have calls-to-action automated like this.
In terms of data analysis and reporting, ConvertKit looks to be very light. While the very first thing you see when you log in is a graph showing your subscription performance, with opt-in forms performance, but not really much else.
I couldn't find anything that indicates advice on open rates or click-through rates (CTR). I feel like anybody getting into mass email marketing will want some indication of whether people are even opening their emails.
ConvertKits calls one-off emails that are sent manually as required 'broadcasts.' They don't seem to come with a great deal of versatility in terms of design.
Usability Pros and Cons
1. MailChimp
Not all marketers are super-technical, even digital marketers. Even now, there are some companies who are still in a period of digital transformation, where their business is not digital native, and there might be some apprehension surrounding digital marketing tools.
For businesses like this, MailChimp's free version is an ideal starting point. It's intuitive enough anyway, but the clarity with which it walks through steps are incredibly helpful. It's a great "first steps" approach to email marketing, hence its popularity.
There's not a single element of the email creation process that isn't straightforward and easy to use. On your first few turns, the steps walking you through are very straightforward.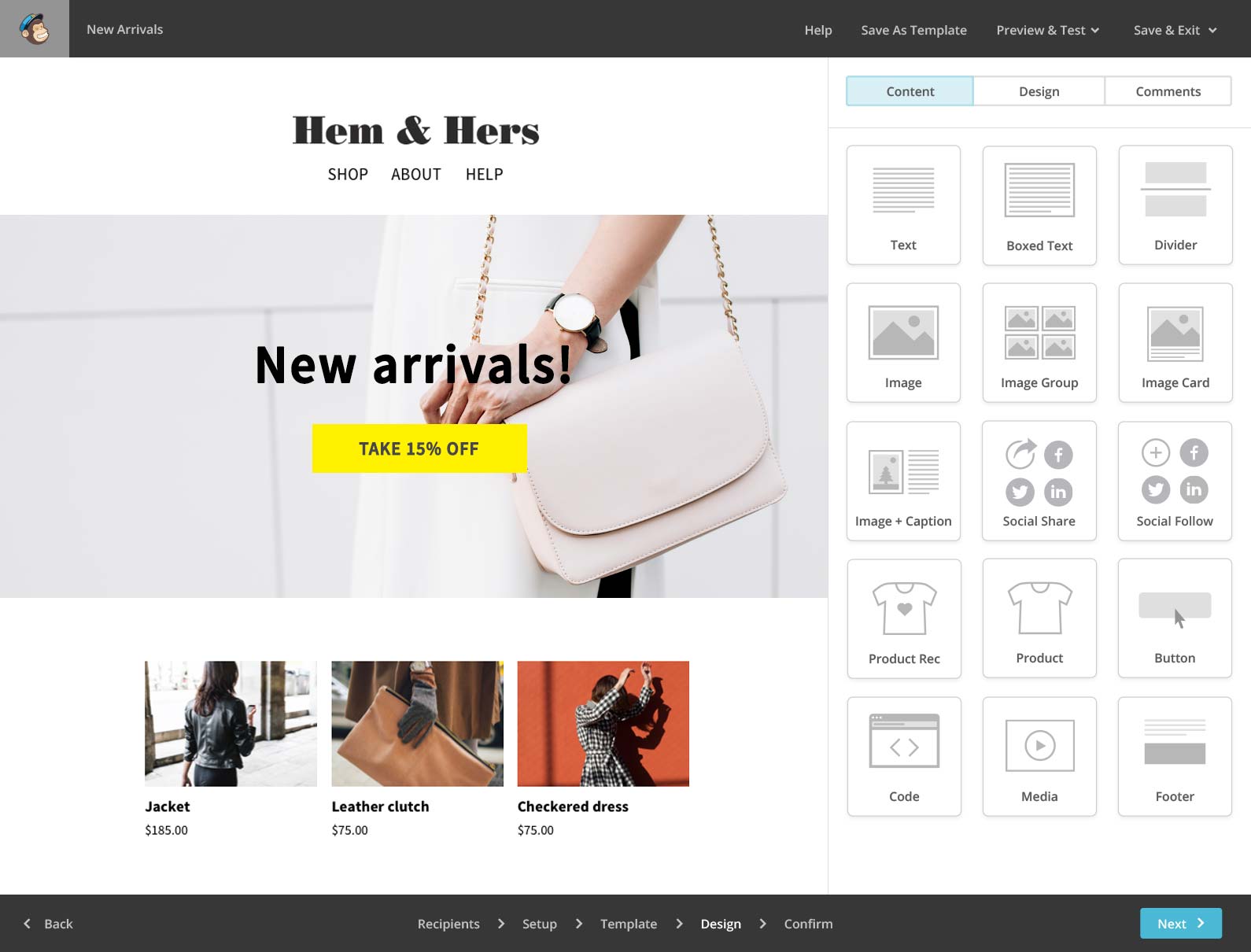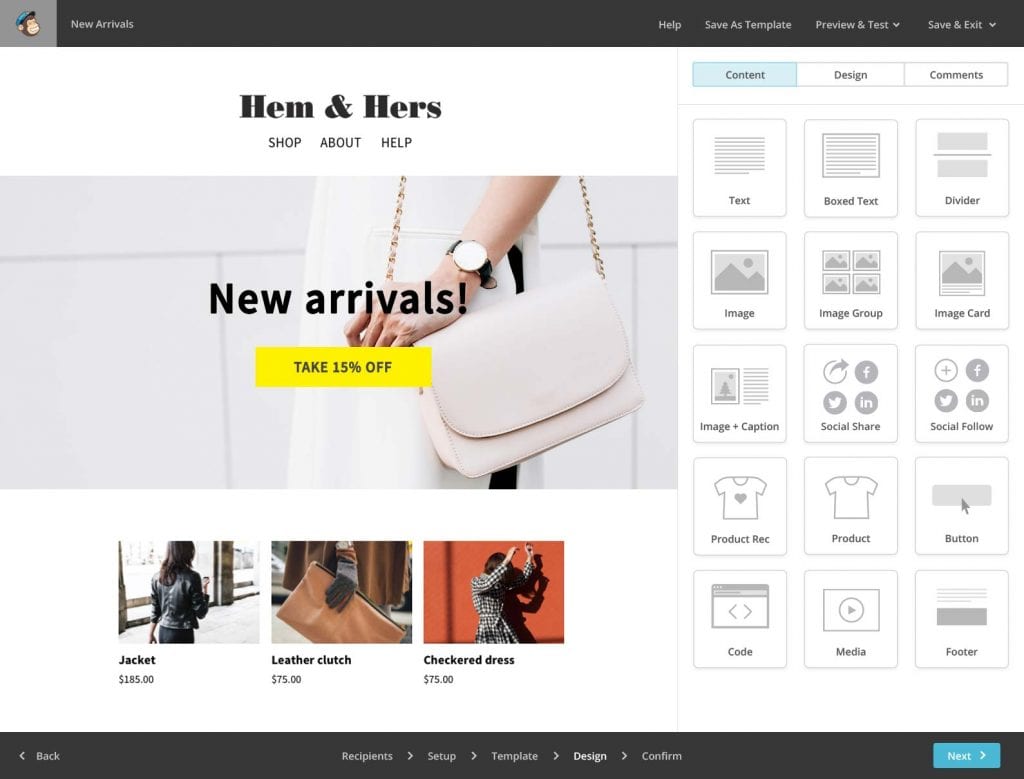 In the event that you happen to get stuck on anything, it's been around for long enough that it's unlikely you're the first person to encounter a hiccup – a quick search through their own website, or the wider internet will see you right.
Friendly and all as it is, it doesn't miss a trick in trying to upsell. I'm not a fan of that. You might try and do something, for example, remove MailChimp branding from your emails, at which point you'll be told you need to upgrade. It feels like a hard sell trying to pass itself as soft. I don't like it.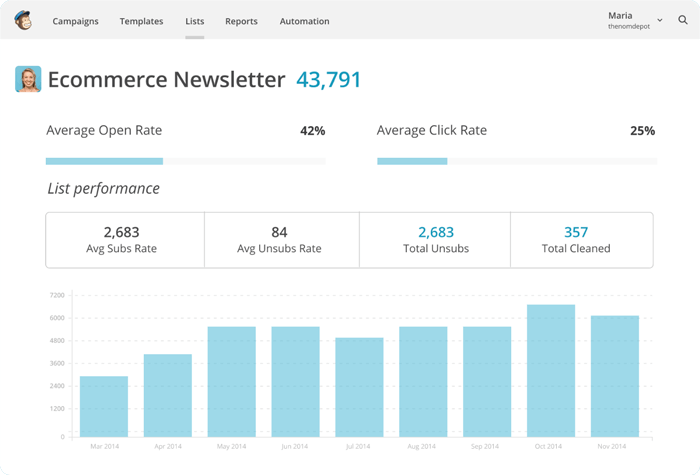 You can upgrade and downgrade between the top two MailChimp tiers as you see fit. Of course, when you reach 2,000 subscribers for your enterprise, you won't have a choice. The cheapest option for over 2,000 subscribers is $25 per month – that translates to $60 on the prepay option, which sounds like pretty poor value.
Another – somewhat sneaky – element to MailChimp's friendly demeanor, is that you can only downgrade to the free option once in the lifetime of the account. So you'll need to pay attention, and choose carefully when undertaking such tasks.
2. ConvertKit
Simplicity is a recurring selling point that ConvertKit highlights throughout its marketing. It relies heavily on drag and drop functionality – it's difficult to get things easier than that!
It's pretty limited in the depth of its functionality, but that's kind of the point. It's not supposed to be a Swiss army knife of marketing functionality. It is literally for signing up subscribers, and emailing them.
And it does that very well.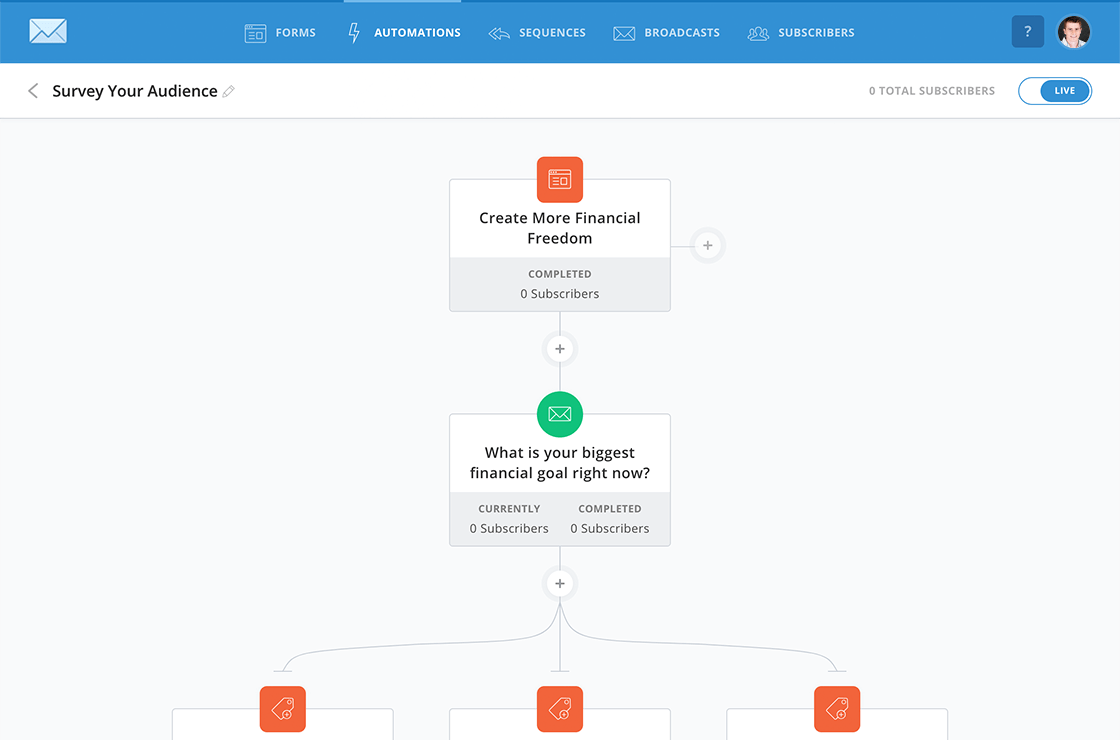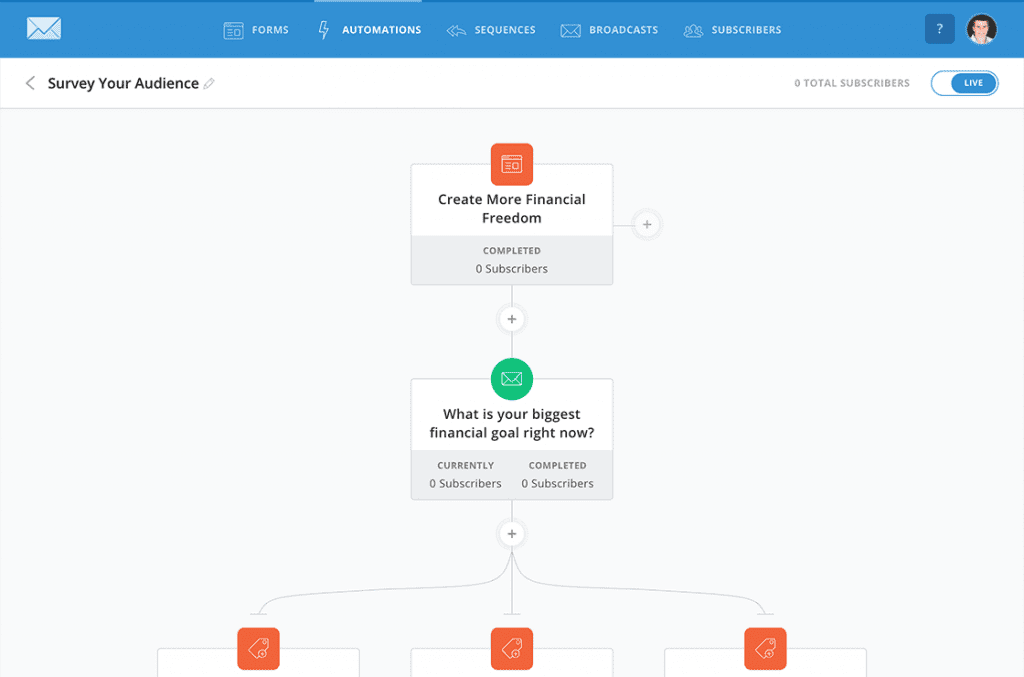 It should be pointed out that the ConvertKit may not be an ideal option for somebody who wants to incorporate such a tool in their blog from the outset. As part of the approval required before you can send emails, you need to have a subscribers email list.
Conclusion: ConvertKit or Mailchimp?
1. MailChimp
MailChimp has an awesome array of tools, that will see most companies through their email marketing needs, whether it's a solo venture with the free version, or a digital team sharing the duties within a team in a large organization.
The increasing cost and features of the tiers should mirror your company's growth, and the capacity and distribution of resources to digital and email marketing.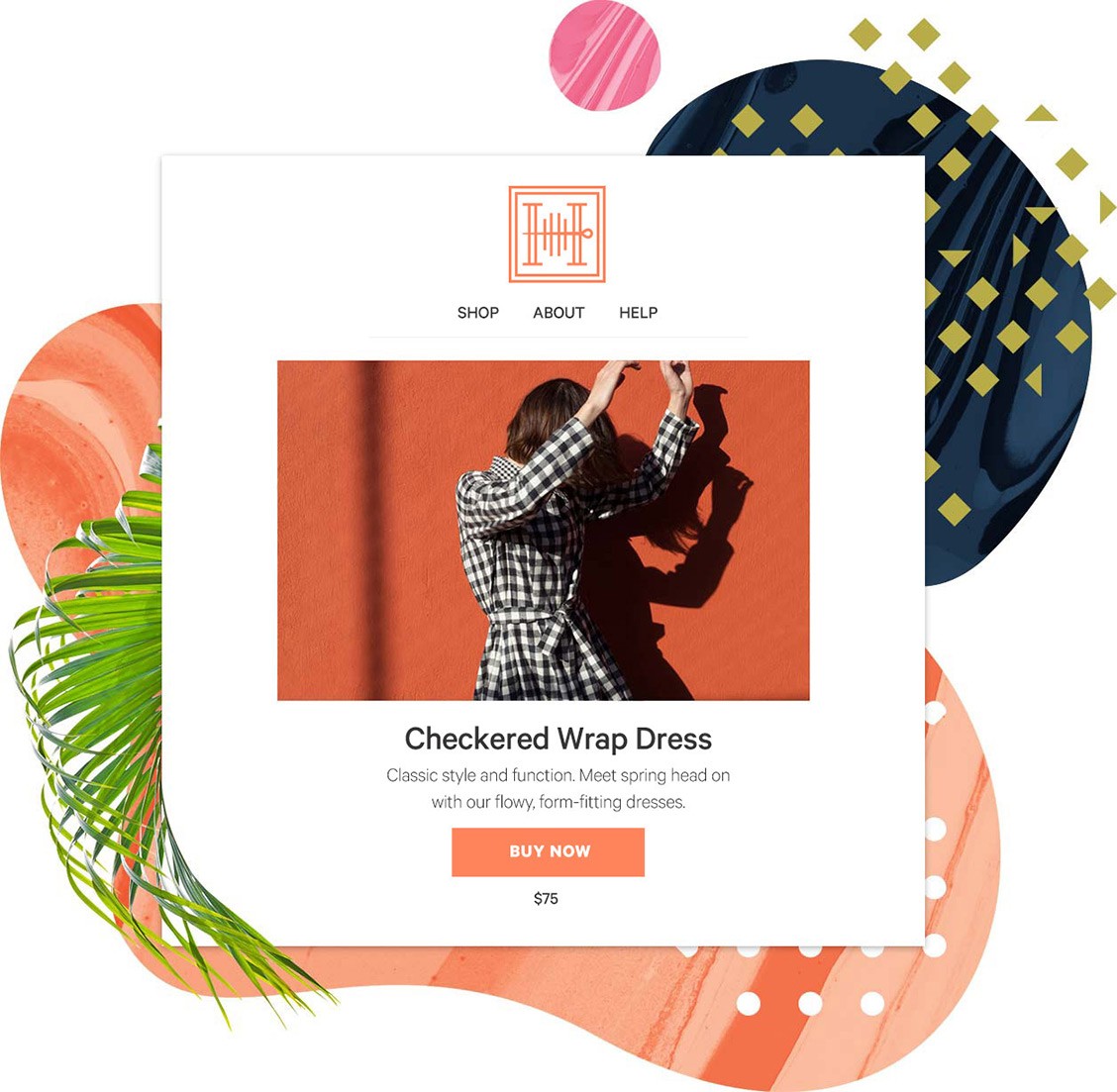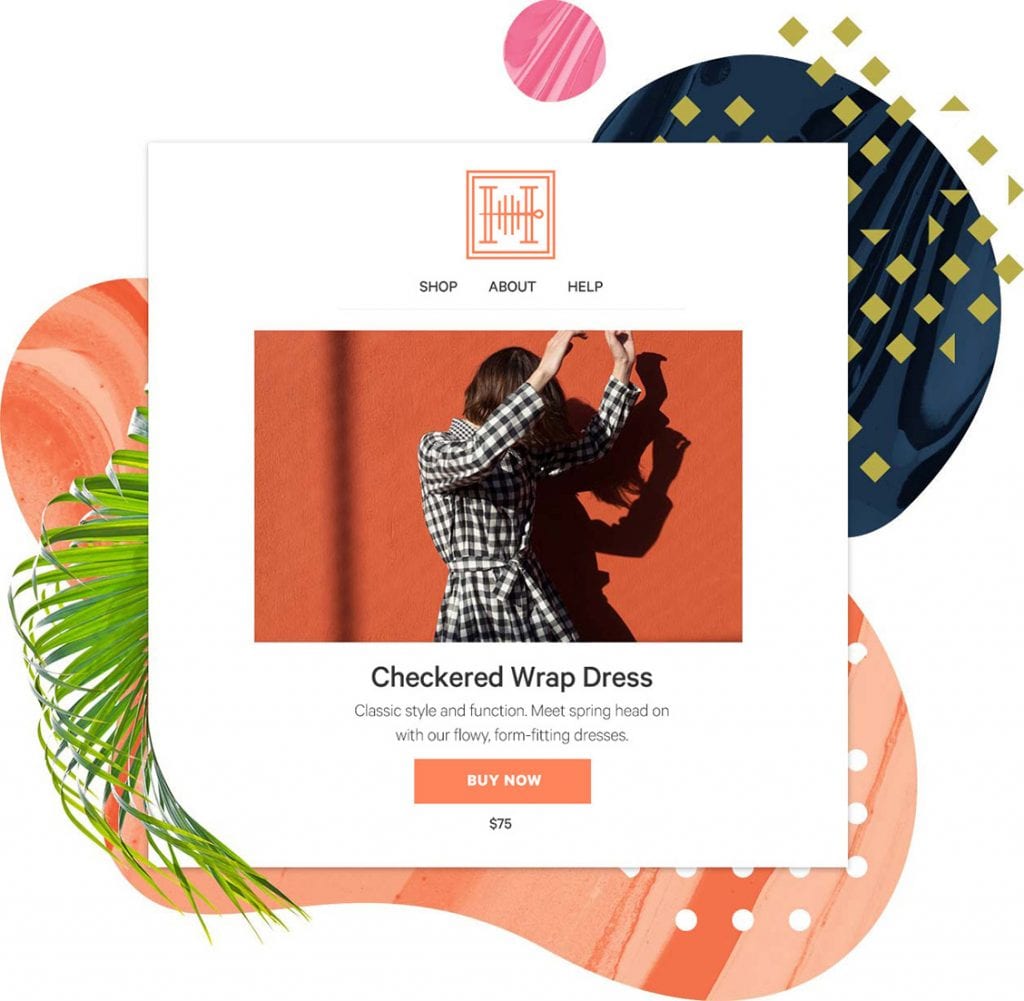 MailChimp is very much data-driven, and the level of detail it can tell you about your recipients at the top level is phenomenal. But, if your company doesn't have the human resources to analyze that data, and use it to steer the nature of your email marketing efforts, it's a waste of time.
If your business is in the business of making money, the e-commerce features and CRM integrations will also be major advantages in keeping all of your data tracking together.
2. ConvertKit
ConvertKit aims itself at bloggers. It's very explicit about that.
It does say that it can be used for other things, but everything from its features to its design points at writers rather than technical people.
Perhaps it would work well for other websites run for creative enterprises such as art or music, where the people running the website are focused on creating art or music, rather than enjoying the technical end of digital marketing.


In saying that, what it does, it does well. There's plenty of praise around the internet for it. As such a fledgling company, it will be interesting to see where they go and how they develop their offering to win more market share.
If the primary objective of your email marketing efforts is to get subscribers and track their numbers, you can't go wrong with ConvertKit.
Mailchimp
Convertkit
Pricing Options
Three tiers, starting with a free version
Three tiers, starting with a free version
Features
– Forms for signing up subscribers
– Data and insights reports

Paid versions:
– Automation
– CRM integration
– Segmentation, targeting and tracking

Pro version:
– Further automation options such as triggering
– Comparative reporting
– Multivariate testing
– Forms for signing up subscribers
– Automation
– Segmentation
– Set up sequence of triggered emails
Usability
Simple with room to develop technical knowledge as business requirements – and therefore email marketing requirements – expand
Simple and intuitive


Conclusion
Good for marketers
Good for bloggers
Final Comparisons of Mailchimp vs ConvertKit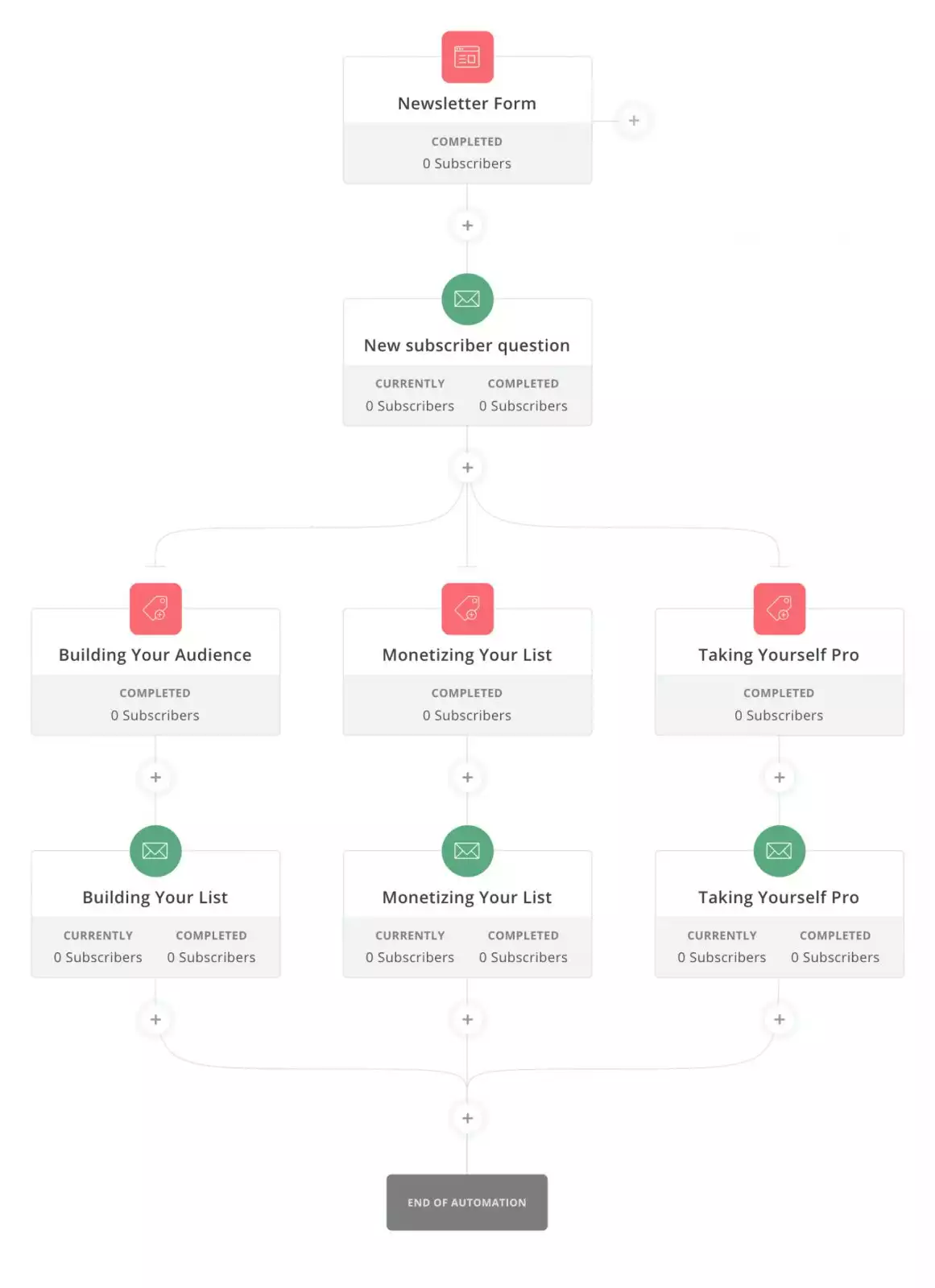 Are You a Blogger?
ConvertKit is NOT for everyone. BUT, if you are a blogger, author or digital product owner, ConvertKit is uniquely suited to tell your story. It's DEAD SIMPLE to use and makes automations… well… easy!
Try Convertkit
We earn a commission if you click this link and make a purchase at no additional cost to you.
Both of these products are intended to do the exact same thing: send emails to a large list of people.
If it was that simple, there wouldn't be the need for these two – or the infinite number of – distinct mass email solutions.
The most important things in looking at any kind of a digital marketing solution, including when comparing Convertkit vs Mailchimp, are:
Is this right for the audience I'm trying to appeal to?
Do I have the appropriate resources to implement this solution?
Considering MailChimp and ConvertKit in this context and in the context of this ConvertKit vs Mailchimp comparison, we see that while they are the same, and one as easy to use as the other, they are different.
MailChimp is absolutely right if your objective is marketing. By marketing, I mean developing a relationship with your audience, getting to know them via the reports and analysis, and if you're generally comfortable with quite a hands-on approach to building your Mailchimp lists.
In a same-but-different way, if your objective is literally to trigger emails to send, with the appropriate message, at the appropriate times (optimal email deliverability), to the appropriate audience, and you're less concerned with the minutiae of the details, then ConvertKit is absolutely right for you.
Further Reading on Email Marketing Platforms
Here are some other articles where we compare Mailchimp and ConvertKit to other popular email marketing platform and automation options:
[interact id="61950894e81e4200184210da" type="quiz" mobile="false"]