Last Updated on April 20, 2023 by Ewen Finser
The ultimate showdown, MarketHero vs Mailchimp. Find out which email marketing platform is right for your business. In this review, we'll look and compare two. Let's dive in!
Email marketing is essential for nearly any business in almost every industry, so it's crucial for entrepreneurs to use the best possible autoresponder available to them.
The stats speak for themselves; 93% of B2B marketers use email marketing.
Let that sink in for a sec.
So, if you don't already have some sort of email marketing software at your disposal, this needs to change.
Unsure which one to choose? Luckily for you, here in this review we'll look and compare two of the biggies, MarketHero and Mail Chimp. Let's dive in!
Who's MarketHero?
In short, MarketHero wants to be the world's best revenue-centered autoresponder and email analytics system.
Although MarketHero hasn't been around as long as MailChimp, it aims to stand out from the crowd by helping entrepreneurs generate more money from their leads. In fact, it's home page tells you, you can build a $1,000-$5,000 business in as little as 30-60 days!
Like other email marketing companies, MarketHero also allows you to send emails, automate your campaigns, and create opt-in forms.
If you're an absolute beginner when it comes to email marketing, never fear- MarketHero offers a step by step blueprint in the form of the 8 x 2.0 Academy. Founder, Alex Becker launched this email marketing video course himself- so rest assured, the content is A-grade stuff.
This coupled with the fact MarketHero offers its customers an in an incredibly user-friendly interface; you're sure to be up and running in no time at all!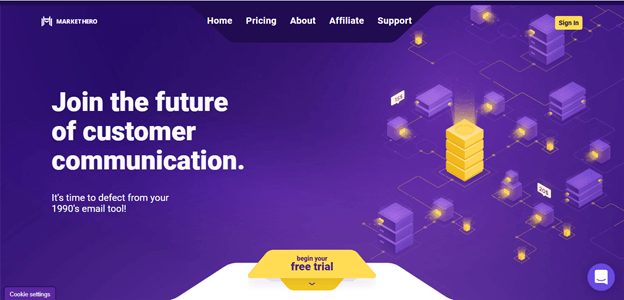 How Much Will MarketHero Set Me Back?
On first glance, MarketHero seems reasonably priced. You have the option of paying either monthly or yearly. If you go for monthly, fees start at $19 a month for 1,000 contacts, or $194 annually- so, if you're good at math, you'll have noticed that by yearly, you'll enjoy 15% off.
Like MailChimp, the more contacts you want to email, the more it costs. The MarketHero website offers structured payment plans spanning up to 100,000emaill subscribers for $950 a month. If you boast more than 100,00 contacts, reach out to MarketHero directly, and they'll hook you up with their bespoke Enterprise Bundle.
Unfortunately, Market Hero's prices are somewhat of a sticking point for small businesses with larger email lists. Say, for example, you have 10,000 contacts, this would cost you $129 a month. Although the pricing is clearly structured, it's relatively expensive in comparison to its competitors.
Try Before You Buy?
There's an option for you to experience a limited free trial. By 'limited' we mean the number of emails you're allowed to send will be restricted. However, you can still get to grips with the whole of Market Hero's platform before committing any of your hard earned cash.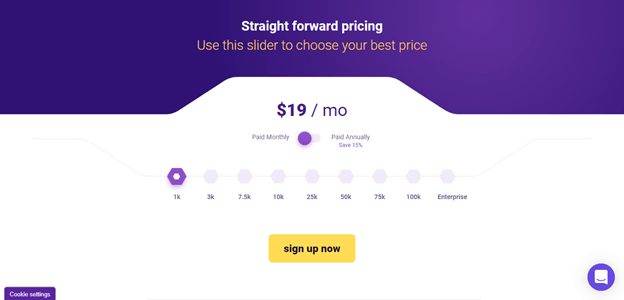 Market Hero's Main Features
MarketHero's main features include:
Advance sales tracking: Market Hero's the first program to actively track every transaction and conversion made across the entirety of your business.
Lead ROI calculation: You can see how much each lead is worth to you over time. MarketHero ranks how valuable your customers are to you. Say, you have customers who you email and they never open your emails or click through, MarketHero will tell you which customers aren't as valuable to you, so you can focus your energy on those who are.
Long-term calculation: Your leads are always re-cooked with every email you send them. This means, no matter what machine your leads use, your tracking is never lost and remains accurate.
Copy and paste: you won't have to do anything complicated. Just copy and paste Market Hero's conversion code onto your web pages, and you're all set!
Message enabled autoresponder: Your customers are likely to use Facebook Messenger every single day, and MarketHero knows that which is why they've developed an autoresponder specifically for Messenger. So, not only are you able to set up engaging auto responses for your emails, but you can also extend your reach to Facebook Messenger too. After all, Facebook Messenger boasts an incredible 80% open rate and a click-through rate that's four to ten times higher than email (on average). So, this function's pretty hot!
MarketHero loves Shopify! If you're using Shopify to run your e-commerce business, then MarketHero enables you to segment your email list, so you can send them content tailored to suit their specific needs. You'll also get the figures behind your sales, abandoned carts, activity on your site, etc. All these metrics will help you to perfect your email marketing campaigns and boost conversions.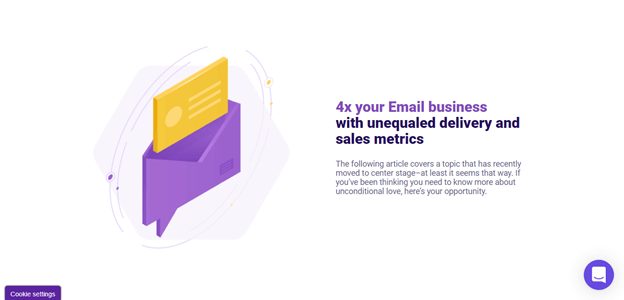 MailChimp
MailChimp's one of the best-known autoresponders on the market and has been around since 2001, making the brand somewhat of a veteran for email marketing software.
It first started life as a side project for owners Ben Chestnut and Dan Kurzius and is still 100% owned by them today. At the time, their main business was web design for high profile clients, and MailChimp was just an add on for smaller firms.
Fast forward to today and MailChimp now has seven million customers around the world!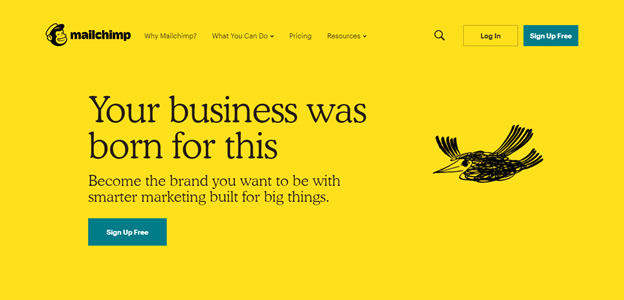 Who's MailChimp?
They call themselves the "always-on marketing platform for small businesses," that sends more than 600 emails on behalf of clients every day.
They're big on providing a creative and flexible work culture for their teams and cultivate their staff by training them at Mailchimp University! This allows their employees to secure an MBA style qualification- how awesome is that?!
If how a firm treats its staff is vital to you, this is certainly worth noting. In addition to this, they also partner with nonprofits in their hometown of Atlanta and offer clients of theirs with charity status a whopping 15% discount.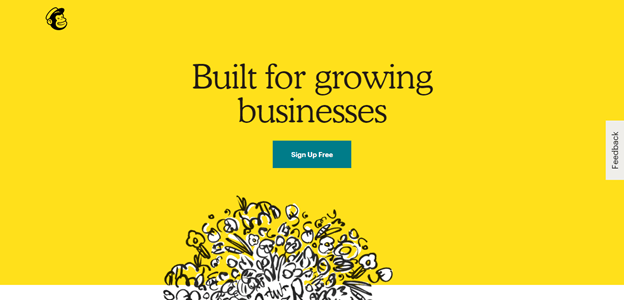 How Much Will MailChimp Set Me Back?
There are three pricing platforms, $0 (The Forever Free Package), The Grow Package- starting at $10 a month, and the Pro Package starting at $199 a month.
You should also be aware: The price of a custom domain sits at $99 for each pricing platform.
Let's delve into these in a little more detail.
The Forever Free
Unlike MarketHero, you can actually use MailChimp for free. Forever.
The downside to doing this is that you can't do a free trial, but if it's free to start with and you like it, there's no problem right?
However, you should be aware that some users report that moving onto one of MailChimp's priced plans once they've started on the Free Forever bundle, a challenge.
If your business is small, the free package may be the one for you. You can email up to 2,000 subscribers for free and send up to 12,000emailss a month. There are free guides and tutorials, and you get free email and chat support for the first 30 days.
However, you'll have the MailChimp logo and branding plastered on everything you send out, which can seem a little amateurish.
You can create email campaigns and landing pages for free and develop pop-up forms and postcards as well. To print, stamp and send postcards around the world, you're looking at spending as little as 75c per card— a nice touch.
In terms of email marketing automation, you can set and forget abandoned cart campaigns, order notifications, product recommendations, and welcome emails.
You can also optimize your business with segmentation tagging, basic reports, and A/B testing.
There's no catch. This platform really is free forever. MailChimp doesn't even ask for a credit card, so long as you have no more than 2,000 subscribers.
The Grow Package
This option starts at $10 a month and has all the features the Free Forever subscribers get. However, you'll enjoy the added bonus of sending unlimited emails to up to 12,000 subscribers. You can also remove the MailChimp footer from all your communications, and access MailChimp's full email and live chat support. There's also an audience look alike finder and an address finder to help extend your reach.
Unlike MailChimp's free option, you can choose which time zone you send your emails, and you'll get a set of predicted audience demographics. This info is excellent for helping you tailor your content to meet the needs of your following.
Top Tip: There's a useful calculator on MailChimp's website which gives you a price based on your number of subscribers and emails you send each month.
So, for example, if you have up to 500 subscribers on this package, you'll get access to all the above features for $10 a month. However, if you go up to, say, 2,500 subscribers, your price goes up to $30 a month. Check the calculator out for yourself to get a feel for how much you'll need to spend.
The Pro Package
Starting from $199 a month, this payment package is best suited for bigger businesses. You can enjoy an unlimited number of subscribers and send as many emails as you want. For companies with extensive email lists, this is hands down the savviest choice.
You get everything the Grow Package offers plus Premium support, advanced segmentation tool, and multivariate testing.
The Pro Package also has a calculator that works out a structured pricing plan according to your subscriber numbers.
There's also an option to pay as you go; which is useful for businesses who only send a few emails every now and then.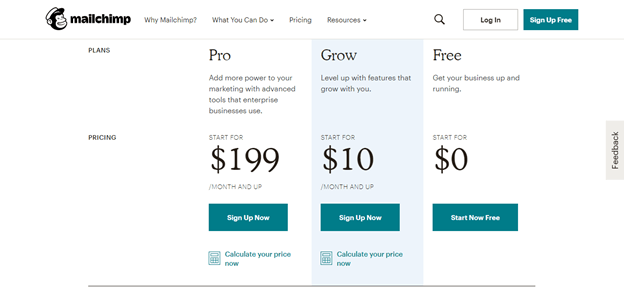 What Does it Look Like?
Like MarketHero, MailChimp has an incredibly user-friendly interface. It does, however, look slightly more dated than MarketHero's counterpart.
It's especially useful for newsletter creation. It's drag and drop editor allows you to create these kinds of emails in minutes. The screen also displays how many messages you've sent that month and to how many people. However, MarketHero's interface is more visual, brighter, and easier to view- so its swings and roundabouts really.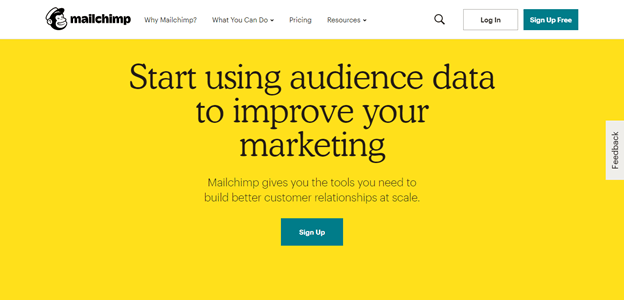 MailChimp's Main Features
They're really hot on spammers. MailChimp won't allow you to set up a paid account straight off the bat, as they want to check you've set up everything correctly from the get-go.
As such, you'll have to activate your account first, so MailChimp knows you're not a spammer. You'll also need a website or blog, to verify you're operating your business from a valid URL.
In addition to all the above, MailChimp also has a mobile app. Here you can create and send emails from the convenience of your iOS or Android device. You can also remarket your brand via Google ads, and add promotional codes to your emails and landing pages- what's not to love about that?
Email templates: There are lots of models to choose from, most of which have a drag and drop option. You can use these templates to create all your email campaigns, and there are a drag and drop option for photos which you can resize.
Some users say they'd like to see a greater array of templates and designs. However, if you're new to the game and have limited design skills, MailChimp makes it easy to create simple and professional looking emails.
When you collect data from your customers, each piece of information you acquire is given a label. This is what MailChimp calls a 'merge tag.' These merge tags can then be used by you to send out personalized emails to your subscribers.
What it lacks, however, is advance sales tracking, lead ROI calculations, a Shopify integration, tag-based customer segmentation, and user training. Their tips are more generic, whereas MarketHero offers tailored training to help businesses create effective campaigns.
Some reviewers say MailChimp offers too many menus to find specific pieces of information- as such, navigating your way through MailChimp's software can be a challenge. Also, although it's excellent, MailChimp continually updates itself, if you're an infrequent user, you may struggle to keep up with the changes.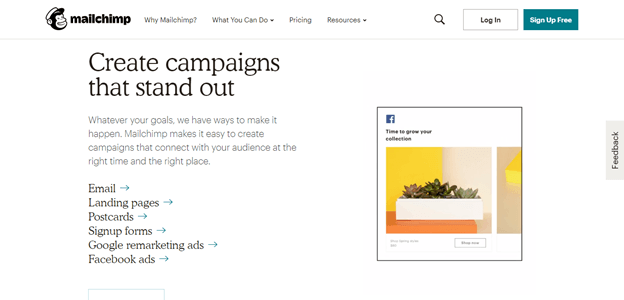 MailChimp vs MarketHero Final Thoughts
MailChimp has been around a while, it's well-known, and users generally report that it's easy to use. However, it comes in slightly more expensive overall.
Also, if you want an autoresponder to show you how your business is doing in greater detail, you're better off with MarketHero. This solution enables you to track sales and conversions and take greater control over the marketing of your business.
Ultimately, whichever you choose, you need to have your business's end goals in sight. It may be attractive and appealing to go for the MailChimp Free Forever for now, but if you want to grow your business and maximize sales, consider what you'll need in six months or a year's time. In light of that, it might be worth making the initial outlay with a more comprehensive and up to date package provided by a company like MarketHero.
Have you got any experience using MailChimp or MarketHero? If so, we'd love to hear your thoughts in the comments box below. Speak soon!
Here are some other related articles you may be interested in: