Last Updated on May 2, 2023 by Ewen Finser
DesignCrowd and 99designs are two design crowdsourcing platforms that connect people looking for professional graphic design services.
Main Differences Between DesignCrowd and 99Designs
Here are the main difference between 99Designs and DesignCrowd is:
Design Crowd is cheaper by about $60 in most cases, whereas 99Designs is more expensive
99Designs typically attracts MORE freelancers which leads to better designs overall
99Designs tends to deliver more consistently good designs, whereas DesignCrowd can be hit or miss
99Designs has some categories (like video and animation) that DesignCrowd does not have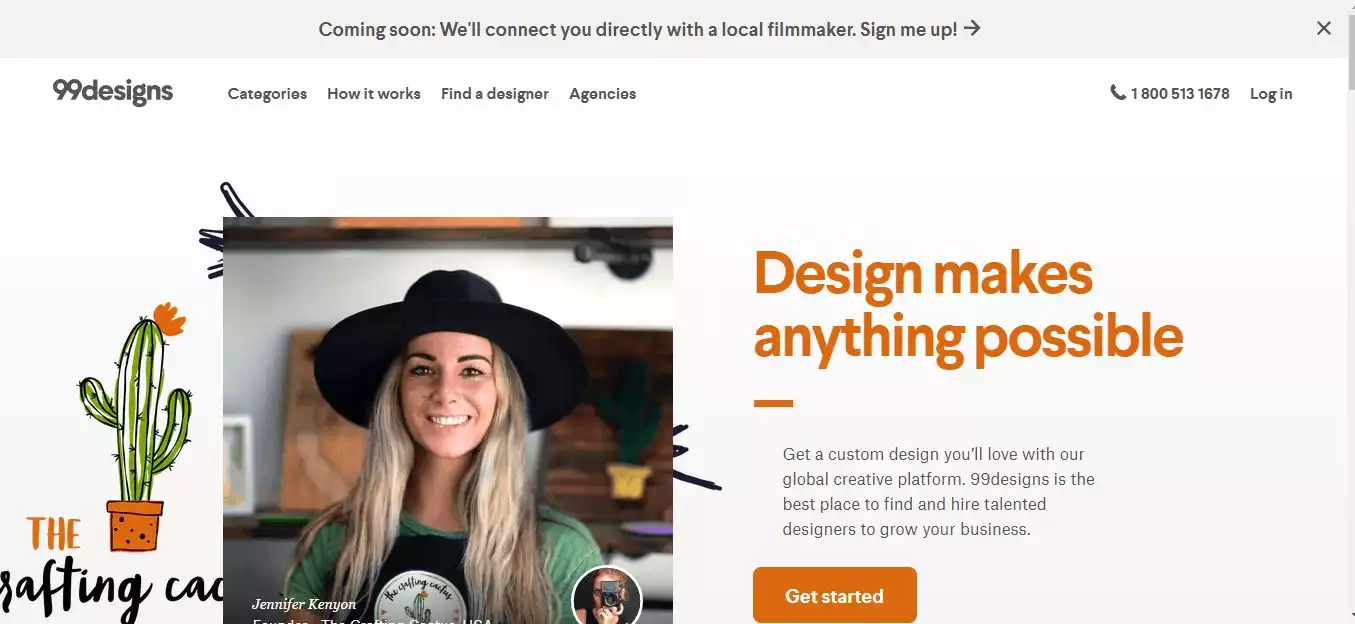 Why I Use 99Designs
I know I want my logos to look NICE, but I don't know how to describe what I want… Sound familiar? Let someone else sweat it! 99Designs literally takes the guesswork out of it and delivers clean, professional, crowd-sourced designs. #win
Get Started
We earn a commission if you click this link and make a purchase at no additional cost to you.
Designers create digital assets like logos, web design concepts, and any other graphic visual to help start-ups and Entrepreneurs create the marketing materials needed to promote and sell their business online and in printed marketing materials.
As a small business owner who is not at all artistic, I used the DesignCrowd service to create a logo for my writing business.
My review today will be based on my personal experience using DesignCrowd and crowdfunding graphic design services in general, and recent reviews of 99designs written by my colleagues to create a fair comparison between the two.

Now, let's review how crowdsourcing works.
Crowd-what-now?
For those unfamiliar with the process of crowdsourcing, specifically when using crowdsourcing platforms for graphic design services, here's a simple breakdown courtesy of DesignCrowd.com: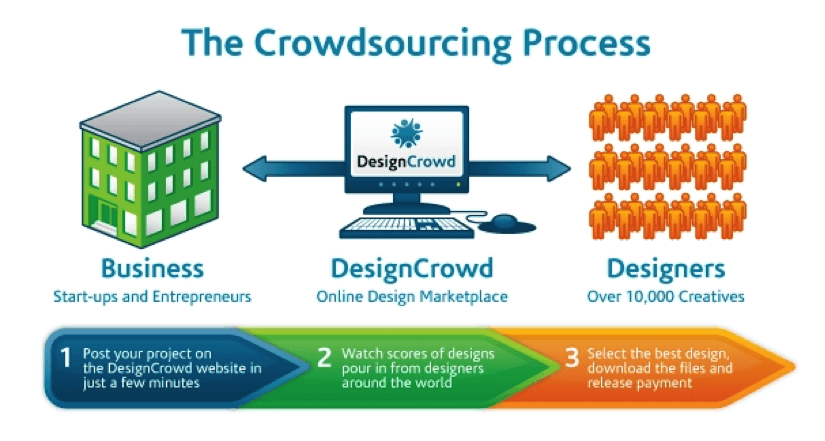 When explaining this concept to my mother (who is as technologically savvy as I am artistic), I told her to think of a big room filled with designers ready to enter your design competition. You tell them what you want, when you want it, and how much you are willing to pay. Based on your specifications, they create their best work, submit it for consideration, and you choose the best one.
If you find a design that works for you, awesome! The winning graphic designer receives the agreed-upon money for their design from the crowdsourcing platform directly, and you are emailed the files and all the copyright information that is required to reproduce and use the images.
When you don't find that perfect representation of your vision, it doesn't mean you must settle for second best. Most crowdsourcing platforms offer a full refund if none of the designs work for you.
The Benefits of Crowdsourcing Platforms
It's a low-risk venture.
What do you have to lose? If you don't like any of the submitted designs, you don't pay at all. This isn't true when you hire professional design services; whether you like their work or not, you are charged for their work.
It's more affordable than the alternative.
Small business owners need digital assets like a logo and an attractive website design to gain the attention and business of their target market. Crowdsourcing is the affordable way to obtain these digital assets for a reasonable cost, without engaging professional designers who charge more per hour to create the same thing.
It's a qualified talent pool.
Most logo design crowdsourcing platforms require designers to apply to join their online community. This means you won't waste time reviewing amateur work, and you will have access to talented designers from around the globe.
Here's how the online graphic design marketplace works:
The process used by most crowdsourcing platforms is straightforward:
Customers fill out a design brief detailing the project, timeline, and how much they would like to pay the designer.
Designers submit their work to the customer's account on the crowdsourced design platform for consideration.
The customer picks the best design, and the prize money is given to the designer.
During the billing phase of the questionnaire, you can decide whether to guarantee your project, also referred to as a contest, which means you are obligated to purchase at least one of the submitted designs. Designers tend to seek out these contests more since a design will be chosen, increasing the chances they could get paid.
You certainly don't have to guarantee your logo design contest; however, you may want to personally invite some top-rated designers to submit a design to ensure they are aware of your project.
This shows them you are an actual business owner looking to purchase the right design, and not some 15-year-old kid messing around on a crowdsource platform wasting designer's time with a bogus logo design contest submission.
DesignCrowd vs 99designs
Now that we are all on the same page regarding how crowdsourcing works, welcome to the main event! It's time to invite DesignCrowd and 99designs into the ring to find out which online graphic design marketplace offers the most value and creates the best designs.
In this corner: DesignCrowd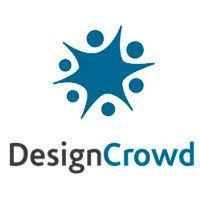 DesignCrowd is an online marketplace providing logo, website, print, and graphic design services for an affordable cost by providing customers access to a virtual team of 570,713 designers from around the world.They pride themselves on using a "Crowdsourcing 2.0" platform model that makes great design affordable for their customers and ensures all designers get paid fairly for their work.
Opposite corner: 99designs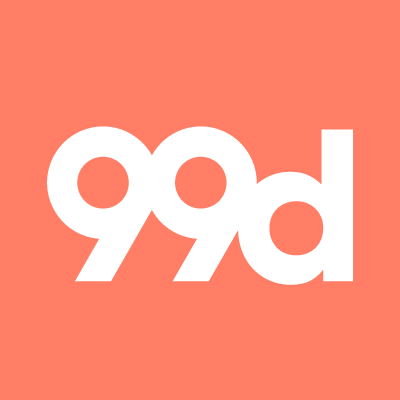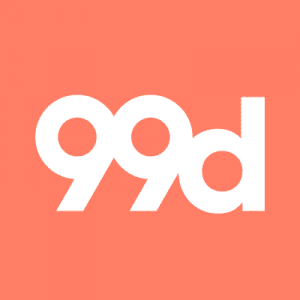 99designs claims to be the world's largest online graphic design marketplace with a virtual team of over one million freelancers.They have helped over 364,571 businesses grow and average over 4 million visitors to their website each month. They are one of the first graphic design online marketplaces which many other platforms like DesignCrowd try to emulate.
DesignCrowd vs 99designs on Process
Both platforms follow the typical crowdsourcing process listed above. Let's start with the design brief.
This is DesignCrowd's form: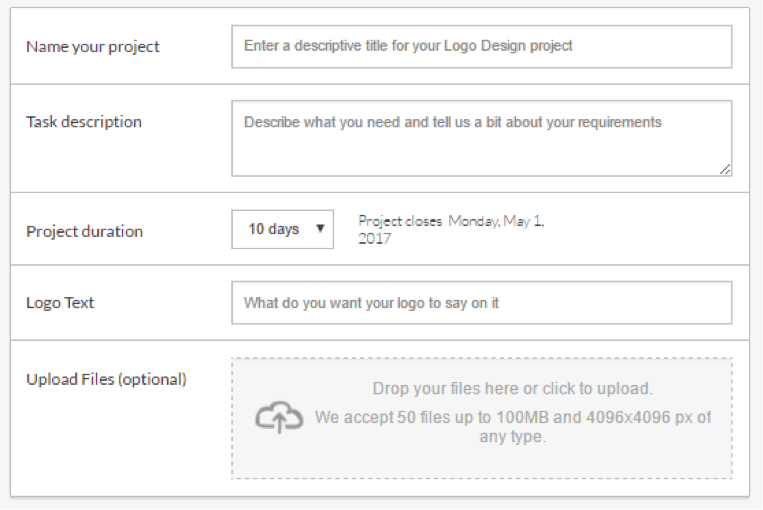 …and 99designs form: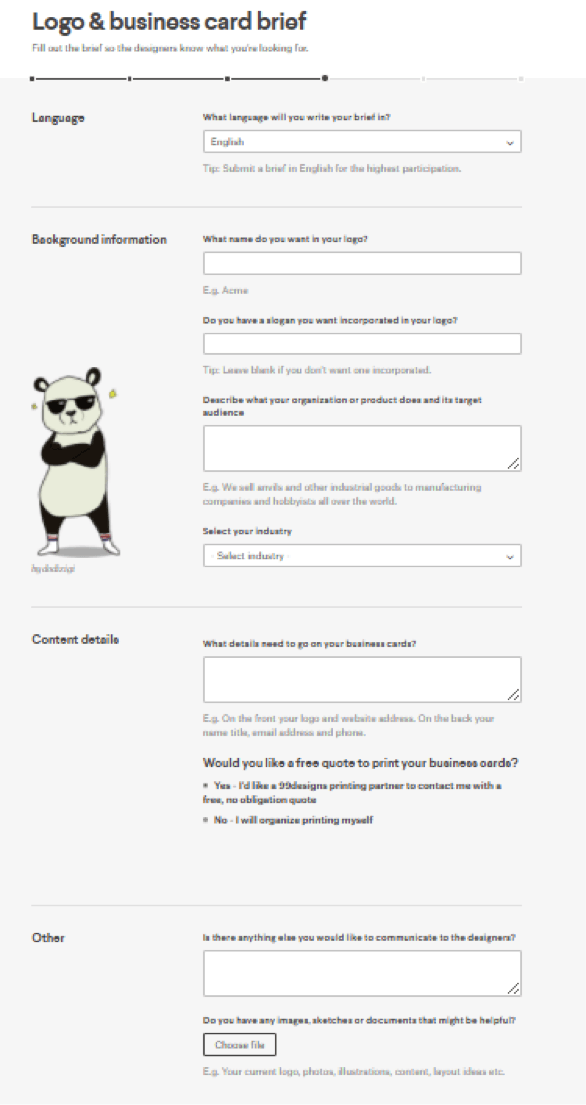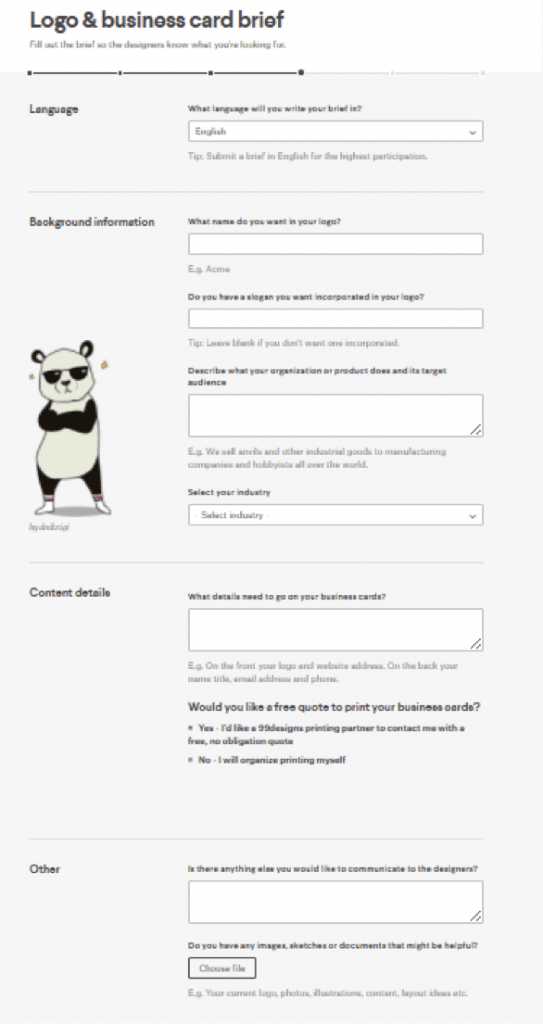 As a customer that went through this process, I learned the more information you can provide about your vision, the better your outcome. When you communicate well with designers initially, they spend more turnaround time creating your vision rather than asking about it.
Before arriving at this form, 99designs asked me to select some designs and colors I liked so they could get a better ideas of my overall taste in advertising. Here are some of the logo and color choices: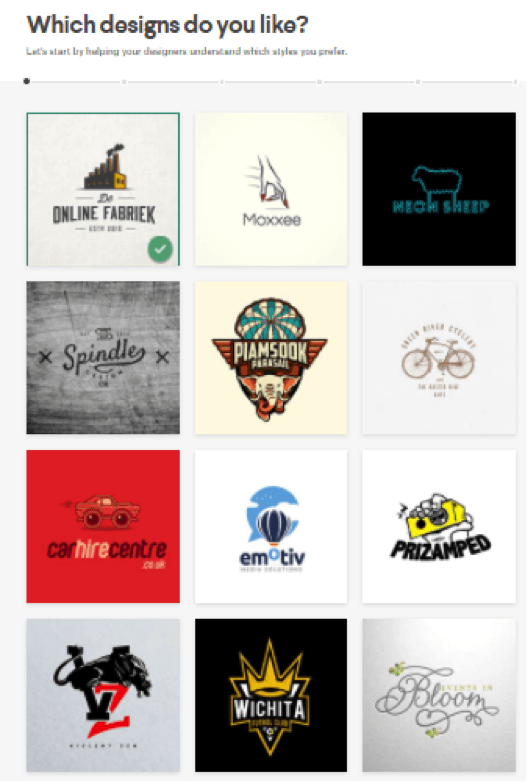 Based on my choices, they determined the style I would most like to see: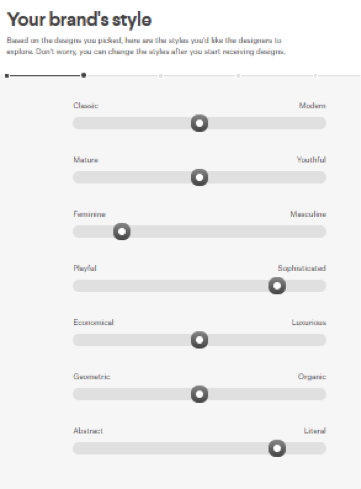 I thought this was neat, and their assessment was spot on as well.
Next, they asked which colors I would like to see incorporated into my logo: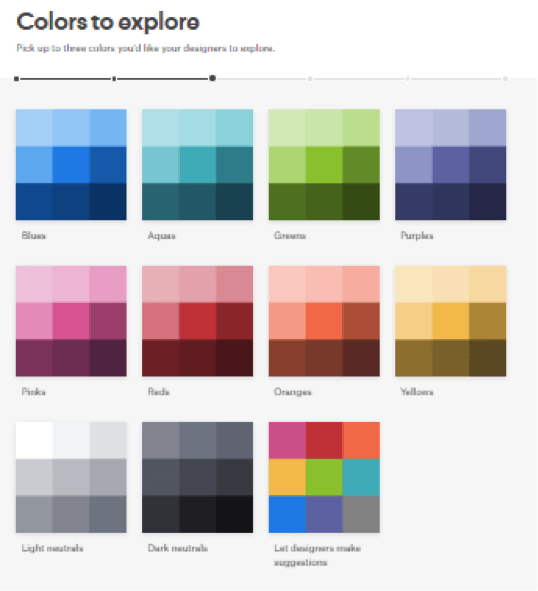 Design Process Winner: 99designs
In this round, 99designs is the clear winner. Their design brief creation process is thorough and thoughtful, which is important when beginning any design process.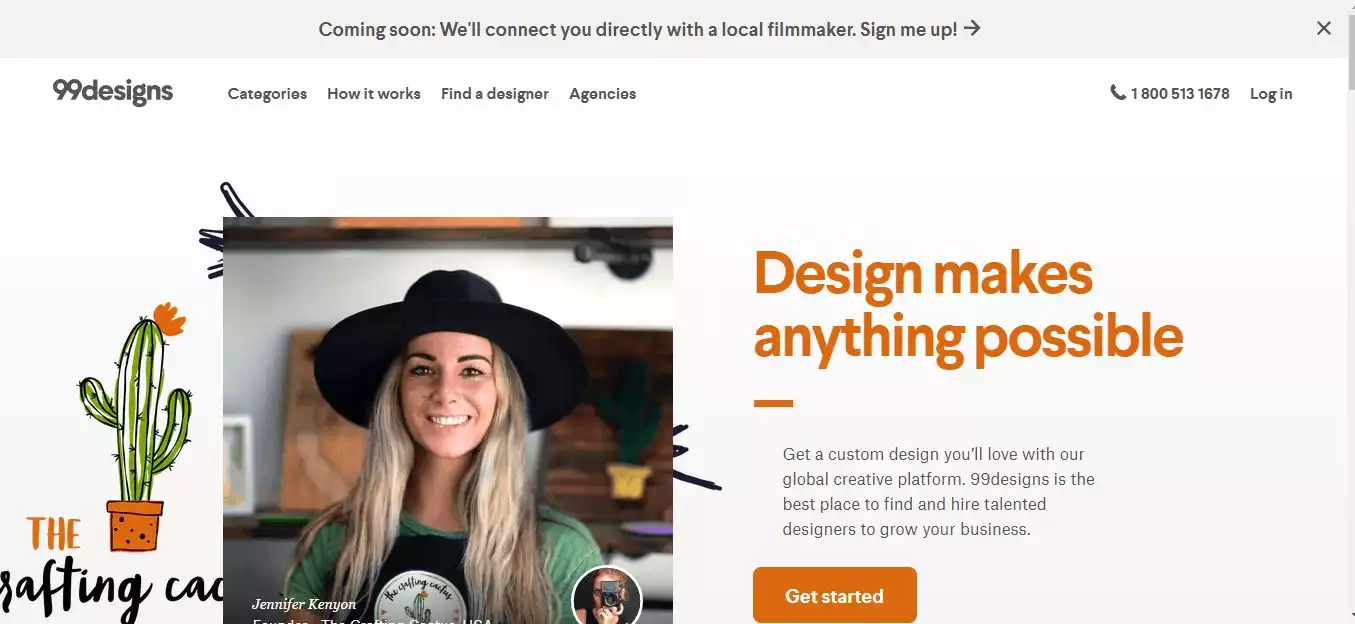 Why I Use 99Designs
I know I want my logos to look NICE, but I don't know how to describe what I want… Sound familiar? Let someone else sweat it! 99Designs literally takes the guesswork out of it and delivers clean, professional, crowd-sourced designs. #win
Get Started
We earn a commission if you click this link and make a purchase at no additional cost to you.
DesignCrowd vs 99designs on Price
Before you can start connecting with designers though, you must first select a package. For designing a logo with Design Crowd, here are your choices: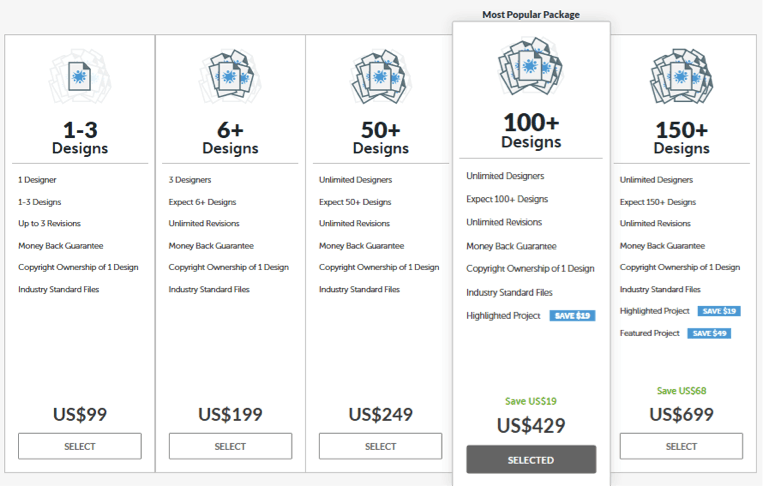 Compare this to 99designs pricing structure, also for logo design: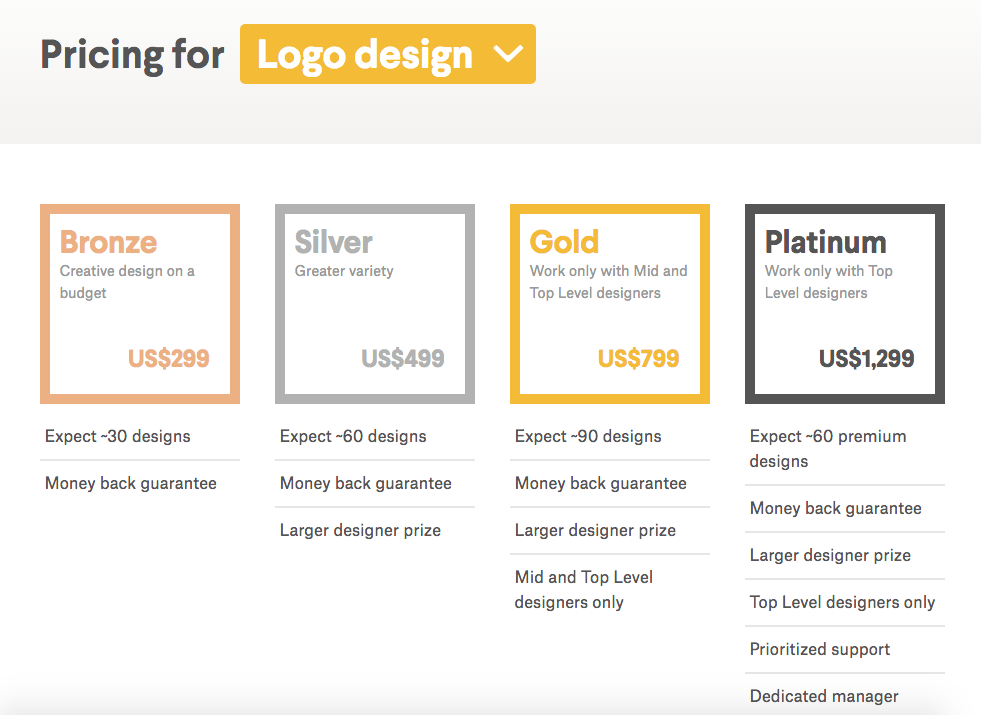 Now, keep in mind this pricing is for logo design; there are separate pricing estimates for things like landing page designs, Facebook banner advertisements, and even car, truck, or van marketing wraps.
Be Careful! Pricing Can Be Deceiving
Here's where comparing the two platforms simply based on price can get tricky. DesignCrowd purposefully keeps their pricing lower than 99designs to attract new customers who want the best deal.
If you look closely, though, the best deal only has the option of working with one designer that will provide up to 3 designs.
What are the chances one designer will create your perfect logo?
For an extra $100, the next pricing level gets you a total of 3 designers and six designs. Still, not many.
My DesignCrowd Pricing Experience

As I mentioned before, I used DesignCrowd to create a logo. I am ridiculously cost conscious, which is another way to say cheap, so I initially considered those first two tiers. After going through the process, I'm so glad I didn't.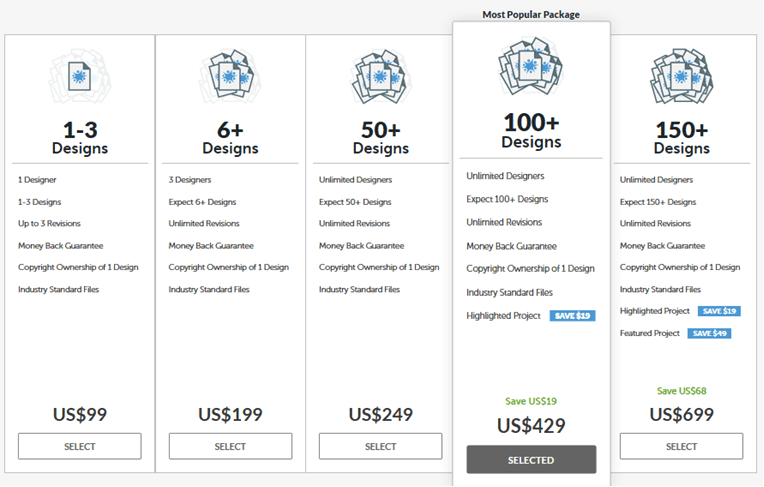 I purchased the $250 package and did not offer a guarantee. Since I signed up for DesignCrowd's newsletter, they sent me a $50 credit which I used for this content. Woohoo! Extra money for me. I was surprised that DesignCrowd attached on a "transaction fee" during checkout.
While it wasn't a lot of money (around $15), I later found out they are the only marketplace to charge this kind of fee. In any event, for $200 I received 59 designs from over 30 different designers which gave me plenty to choose from so I was pleased.
I chose three designs and worked with each designer to make revisions before selecting my final logo. The designers were pleasant over email, always turned the work around quickly, and revised each design to my specifications. In the end, the added cost to review more designs was worth it.
Online Reviews of 99designs Pricing

Many online reviewers claim 99designs has the best and largest pool of designers, estimated to be over one million, which helps justify the higher cost when compared to DesignCrowd.
One online reviewer noted that while 99designs is not the cheapest crowdsourcing option available, it shouldn't automatically be discounted since expert professional graphic design services are, and she argued they should be, more expensive.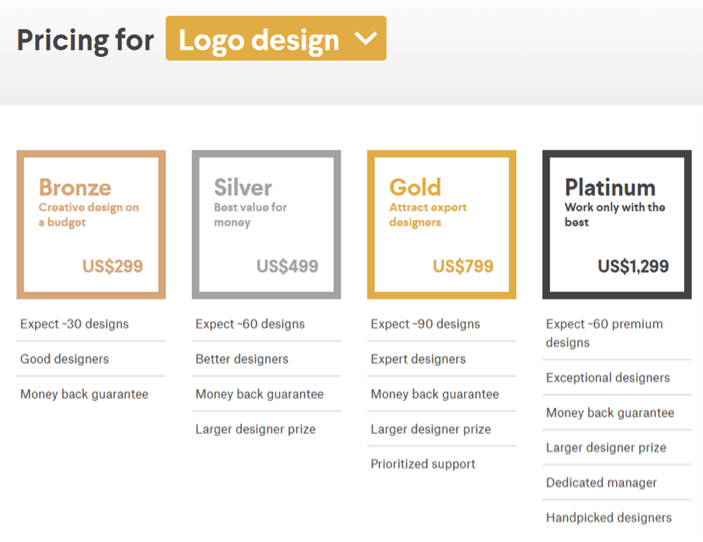 99designs appeals to me as a business owner with its good-better-best-expert-exceptional approach to their pricing. Instead of hoping the best designers notice when you post a project, this ensures your brief appears to those you want participating in your contest.
Either way, 99designs offers a money back guarantee so if you don't like any designs, you get your money back, so it's worth the risk to give them a chance.
Winner on Price: tie
I hate to call this one a tie, but really, it depends on the customer!
If you have the money to spend and a vision for your business, I would recommend 99designs since they are the more expensive option but have the best designers according to online reviews.
If you are a new startup that needs the basic marketing materials to get your business up and running—DesignCrowd is the affordable option for you right now. In a few years when you have the capital to invest in your business and have grown as a brand, 99designs can help you then.
Final Round: It's All About Designs
DesignCrowd
What do you think of these logos? They were the winning designs from recent DesignCrowd projects. You can see below each logo how many designs were submitted, and how many designers participated in the design contest.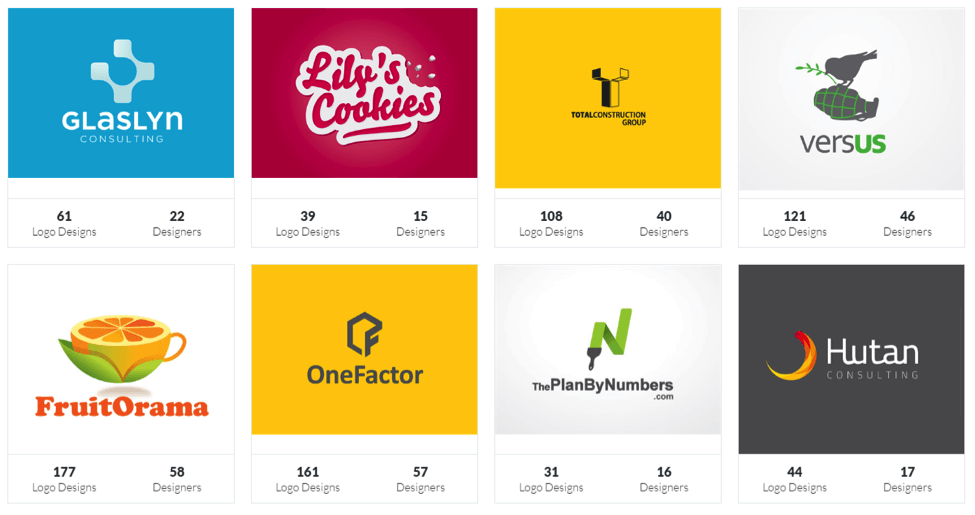 99designs
Here is a sampling of winning logo designs from 99designs: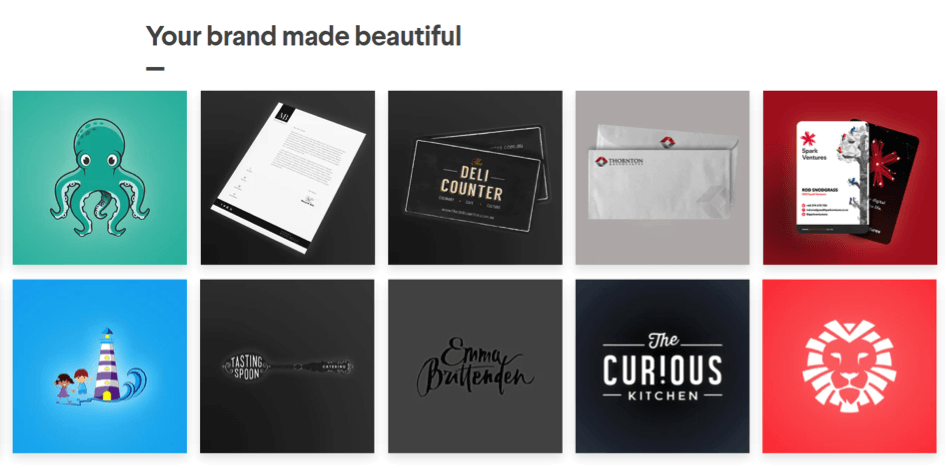 Just from this small sampling, which group do you feel showcases a better product?
I will let you make that call. Personally, I like them both and am curious to see if I gave 99designs the same information I provided DesignCrowd if the designers could come up with anything better than my current logo.
Final Winner: 99designs
Based on my research, personal experience, and reading the reviews of the online business community that has used their logo maker services, 99designs has won this contest with DesignCrowd.
Yes, they are more expensive, but overall reviewers love the designs, and this platform received the most online praise from business owners worldwide.
Bottom Line: I found 99Designs to be an overall better experience in this head to head match-up. While pricing could be the key concern, be sure to check this page for the latest deals and promos on 99Designs.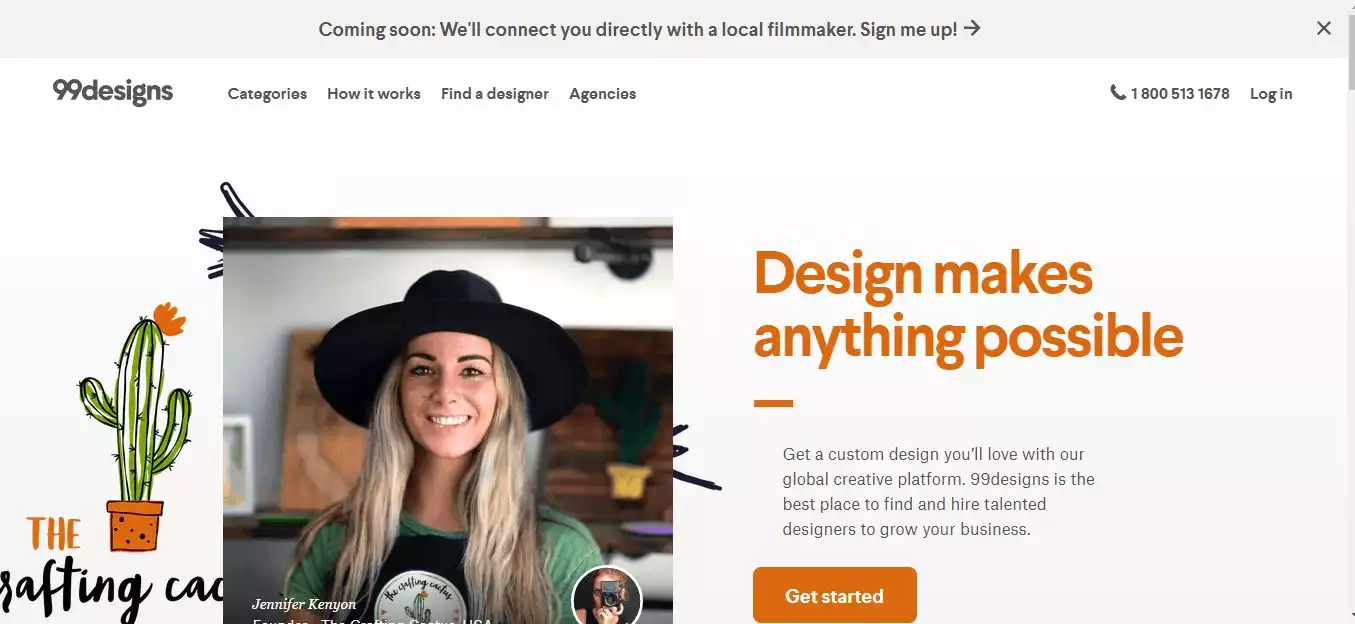 Why I Use 99Designs
I know I want my logos to look NICE, but I don't know how to describe what I want… Sound familiar? Let someone else sweat it! 99Designs literally takes the guesswork out of it and delivers clean, professional, crowd-sourced designs. #win
Get Started
We earn a commission if you click this link and make a purchase at no additional cost to you.
Further Reading: