Last Updated on January 11, 2023 by Ewen Finser
If you are a small digital business owner like me, I'm willing to bet you are not super excited about shopping for accounting software. I would gladly pay someone to walk with me all day to account for my writing business but last I checked, no one was willing.
So, the next best option is to have that kind of luxury at my fingertips using full-service accounting software. In this article, I'll compare Xero and FreshBooks, two of the most popular entry-level accounting software platforms for digital businesses today. My review is based on the experience of actual users, industry experts, and my experience with one of their major competitors.
Main Differences Between Xero vs. Freshbooks
The main differences between Xero vs Freshbooks are:
Xero costs $9 a month and is more expensive, whereas Freshbooks costs $4.90 a month and is cheaper.
Xero is more for small and medium-sized businesses and accounting practices, whereas Freshbooks is more for individuals who need help with paperwork.
Xero is rated as very easy to use by its customers, whereas Freshbooks is rated as a bit difficult to understand if you have not used software like that before.
Xero has very great support, whereas Freshbooks is a pain when it comes to dealing with your account or canceling a subscription.
What is Cloud Accounting Software?
If you have ever completed a bank transaction online, checked a credit card statement, recorded your business cash-flow or logged into a website to view reward point status, you have used cloud accounting software. Cloud accounting software provides access to your data anytime, anywhere, from any device connected to the internet.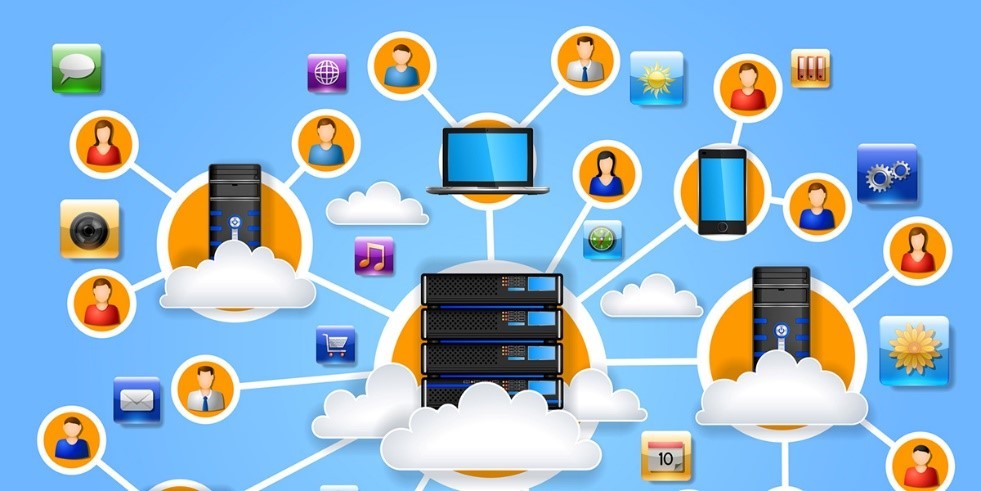 Image Source: Bond Andiola & Company
Instead of your server "living" in the back room of your business, it "lives" on a cloud like in the picture above. Before the advent of cloud technology, if you wanted to access your accounting data it involved traveling to your business to log in to view your financial records. Using the cloud, you can access this same accounting information in your pajamas on a Friday night at 11 p.m. from your tablet in bed.
Traditional Business Accounting Software vs Cloud
I don't know about you, but I would much rather have that kind of immediate access to my financial records than travel across town to get the same information. If you run a digital business, it's time to step-up your accounting game by getting rid of the old, traditional business accounting software and use cloud-based accounting solutions. Here's why:
| | | |
| --- | --- | --- |
| Features | Traditional Desktop Software | Cloud software |
| Cost | Customized software is expensive and quickly becomes obsolete. | Low monthly payment (most are less than $20/month). |
| Upgrades | Costly and complicated upgrades. | Upgrades completed automatically. |
| Access | Few people have access to financial information. | Access to important financial information and customer data is allowed based on role. |
| Location | Information is only available on the desktop or external hard drives that can travel. | Information is secure on a cloud with restricted access that is available 24/7/365. |
| Backups | Must be performed manually and are time intensive. | Occur automatically without prompting. |
| Reliability | There is a risk the desktop computer where the software "lives" could be damaged by accident, stolen, or destroyed by a fire or natural disaster. | The information is safe and secure in a cloud, only requiring an internet connection. The data is accessible anytime, from anywhere. |
Cloud accounting software takes away the burden of accounting for your business, which is fantastic news to creative folk like me, so owners can focus more on making money than accounting for it.
Now, let's compare Xero and FreshBooks to see which software is best for your business. First, what's your platform?
| | | |
| --- | --- | --- |
| Platforms Supported | Xero | FreshBooks |
| | | |
| Web-based | Yes | Yes |
| iPhone app | Yes | Yes |
| Android app | Yes | Yes |
| Windows Phone app | No | No |
OK, so far, it's a dead heat. If you own a Windows phone and on-the-go access is important to you, it's time to start exploring other options.
Who Uses Xero and FreshBooks?
This is an important question; if you are a small business owner, would you want the same accounting software McDonald's uses? Probably not. You want something that makes your life easier, not complicates it by providing unnecessary options every time you try to create and send invoice.
The good news is both Xero and FreshBooks cater to the needs of freelancers and small businesses to create customized, affordable options. For small business owners, these two products are a great match.
Xero vs. FreshBooks Match-up
Here's a little cheat sheet to start the comparison, with another one to follow at the end of my review:
| | | |
| --- | --- | --- |
| Support | Xero | FreshBooks |
| Phone support | No | Yes |
| Online support | Yes | Yes |
| Knowledge base | Yes | Yes |
| Video tutorials | Yes | Yes |
Both Xero and FreshBooks offer small businesses affordable, cloud-based platforms that help simplify the sometimes-tedious task of accounting for your business. They are similar in many ways: including price, user experience, and how they work. To help find the best fit for your business, let's look at them individually to find out how they are different, and most importantly, which one will work for you.
In This Corner: Xero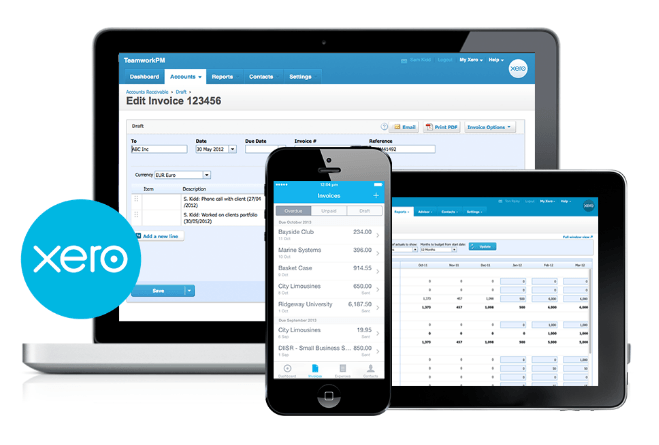 First, I like this company because their slogan is "Beautiful Accounting Software."
No really, it is:
I mean, come on, that's genius! I have never used beautiful and accounting in the same sentence because, well, that's absurd. This bold statement catches your eye and grabs your attention. OK, Xero, I'm listening.
About Xero
Xero offers cloud-based accounting solutions for small to mid-sized businesses. Known for being user-friendly and yes, having an attractive interface, it is one of the fastest-growing Software as a Service (SaaS) companies globally boasting over 862,000 subscribers worldwide. Founded in New Zealand in 2006, Xero's mission is to help small businesses thrive through better tools, information, and connections.
Who Xero Helps
Xero specializes in accounting solutions for small businesses and is the popular choice of retail, e-commerce, high-tech, nonprofit, legal, hospitality, coffee shops, and advertising industries.
What Xero Offers
Xero covers the basics like handling payments, invoicing, and expenses; and it provides additional features like inventory management tools, purchase ordering, and bank reconciliation. This means it's easier than ever to manage your business from your desktop by connecting Xero to your bank account for seamless transactions, reconciliations, and reporting. Note: As of right now there is no good Xero mobile integration for on the go accounting.
How Much Does Xero Cost?

This is the most recent Xero account pricing information from Xero's website.
Starter: Limited to send five invoices, five bills, and 20 transactions per month
Standard: Includes unlimited invoices, bills, and bank transactions and includes a payroll for five employees
Premium: Features unlimited invoices, billing, and bank transactions as well as payroll for ten employees accounts. It also includes multiple currency support.
With the Standard and Premium package, you can also create customizable purchase orders, payroll direct deposits and checks, and there is a federal and state e-file and e-pay option.
This is also from their website:

Why Users Like Xero:
Customers give Xero high ratings for its intuitive interface (many have said that it really is beautiful), and its excellent customer support that is available 24/7/365 via email, live chat, and on-site support.
They also love their online accounting bookkeeping community which boasts a blog and community forum page. Their comments and feedback regarding ways to improve Xero's interface have created dialogs with company representatives online, and some of these conversations have led to additional upgrades to improve the user experience.
Xero's 5 Best Features:
Full accounting features and tools that support multiple currencies and tax rates.
Real-time financial reporting with a dashboard to quickly view bank balances, invoices, bills, and expense claims.
It is easy to use and has an attractive (OK, beautiful) interface.
There are more than 500 integrations including Square, Stripe, and PayPal.
Xero features a secure collaboration option that allows owners the ability to invite employees like a bookkeeper and accountant to view financial records online. Owners can invite an unlimited amount of people to collaborate, with their access controlled by an administrator.
Now, the competition.
Meet, FreshBooks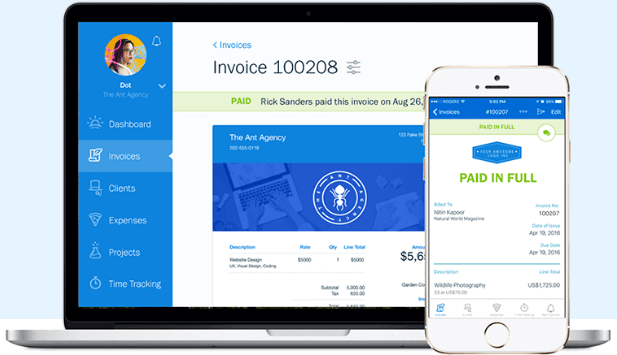 FreshBooks is a cloud-based accounting service application designed specifically with the small-business accounting owner in mind. It features an easy-to-use interface and customers rave about how the mobile app makes it easy to manage their business on-the-go.
About FreshBooks
Over 10 million people have used FreshBooks to send, receive, print, and pay invoices. Developed by a small business owner who was tired of tedious invoicing practices, FreshBooks has an intuitive interface and is built around five areas of functionality: invoicing, payments, time tracking, reporting, and expense management.
Who FreshBooks Helps
This cloud-based accounting solution is popular with contracting, legal, consulting, personal services, and creative agencies in large part because of its time-tracking feature.
What FreshBooks Offers
FreshBooks appeals to people like lawyers and psychologists and other professionals that bill customers for their time and expertise. Online reviewers love how it takes complex accounting principles and makes it understandable to the typical business owner. One reviewer commented: "FreshBooks is a simple cloud accounting application designed to help small business owners to get organized and get paid."
FreshBooks features options for time and expense tracking, online payments, a variety of accounting reports, taxes, and automatic updates.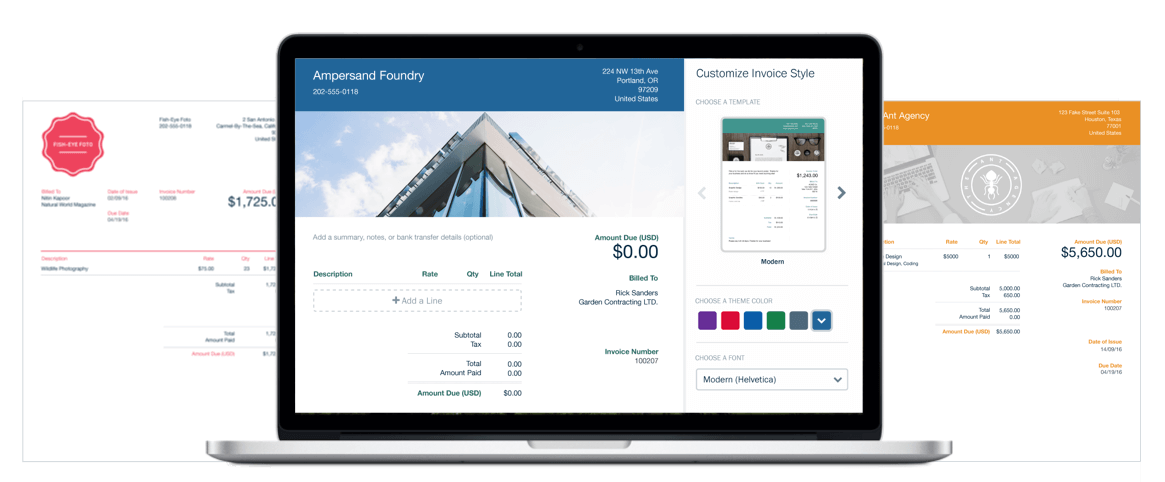 You can also customize a FreshBook invoice, there is an option to send payment reminders, and with FreshBooks you can manage different rates of multiple projects.
How Much Does FreshBooks Cost?
Here is their current pricing plans:


All plans include unlimited invoices you can customize, automatic late payment reminders and fees, features to help you track time, data that is 100% secured and automatically backed up, and invoice status tracking and updates. You can also add and categorize expenses, accept online credit card payments, and it works on any device: computer, tablet or mobile, ios and android.
Why Users Like FreshBooks:
Online reviewers appreciate how accounting for the business is made so much easier with FreshBooks. They like the guided step-by-step wizard and help boxes that appear each time you perform a task like adding a new customer or creating a new invoice. Time and again, ease of use came up in online reviews of FreshBooks with many calling it the best in the industry.
FreshBooks' 5 Best Features:
Reviewers love FreshBooks' app with many claiming it's the best available because of its ease of use, excellent customer service, and the ability to do everything on-the-go.
The time-tracking feature allows for easy management of billable hours providing the needed data to back up the invoices.
Freshbooks offers a wide variety of integrations and add-ons.
For those that want it, is a snail mail invoicing (vs online invoicing) option.
Estimates are easily converted into invoices once projects are complete.
FAQs
Question: Is Xero good software for startups?
Answer: Xero is a good software for startups and on the plus side, it makes record keeping really easy and headache-free. On the plus side, Xero is made to specifically suit your needs and have the opportunity to grow your business without tossing an old software once you have outgrown it, and once your business needs increase.
Question: Is Xero safe to use?
Answer: Yes, Xero is safe to use, and they run daily backups of your information which is encrypted and safe on various locations online, and you can rest assured that no one else will get.
Question: How can I learn Xero?
Answer: Xero is not that easy to learn if you've never worked on a similar software before, so you might need to watch lots of videos, use the company's tutorials and even sign up for a course on platforms like Udemy.
Question: Is there a free version of FreshBooks?
Answer: Yes, there is a free version of FreshBooks where you can try all the features for 30 days without paying. The good thing about it is that it saves all your data, so you can pay for an upgraded plan whenever you are ready without losing anything.
Question: Is FreshBooks good for freelancers?
Answer: Definitely, yes, Freshbooks is good for freelances and allows them to get paid on time and contact clients easier and require payment which they can make however they want. Also, with FreshBooks, you can easily track all your previous payments and be ready to do your taxes in just minutes.
The Bottom Line – Xero vs Freshbooks
First, here's a cheat sheet that highlights their differences:
| | | |
| --- | --- | --- |
| Features | Xero | FreshBooks |
| API | No | Yes |
| Authentication & Security | No | Yes |
| Balance Sheet | Yes | No |
| Bank Reconciliation | Yes | No |
| Billable Hours | No | Yes |
| Currency Conversion | Yes | No |
| Data Import | No | Yes |
| Electronic Payments | No | Yes |
| Expense Claims | Yes | No |
| Expense Tracking | No | Yes |
| Invoice Management | No | Yes |
| Invoices | Yes | Yes |
| Mobile Integration | No | Yes |
| Payroll Management | Yes | No |
| Project Tracking/Project Time | No | Yes |
| Receipt Management | No | Yes |
| Sales Tax Management | No | Yes |
| Time and Expense Tracking | No | Yes |
| Timesheets/Timesheet Mgmt | No | Yes |
Source: GetApp
Either Xero or FreshBooks will help business owners appear more professional and help better manage your finances while efficiently categorizing your expenses. The bottom line is this: if your digital business needs accounting software to charge customers for time, FreshBooks is the cloud-based software solution for you. On the other hand, the ability to invite an accountant or bookkeepers to review financial records is a great advantage to choosing Xero. If you are more interested in whole-business financial management for accounting and bookkeeping, Xero is the online software for you.
Here are other related articles you may be interested in: