Last Updated on January 11, 2023 by Ewen Finser
Running an ecommerce website is fun. Even its challenges can be oddly entertaining. But, there's this one thing that we all like to hate- bookkeeping. I know the feeling because I've been there too. It's the most boring side of an eCommerce business.
And quite cumbersome, especially if you are a business owner running multiple stores. That's why it wasn't surprising to learn through a survey that 40% of U.S. small business owners believe that bookkeeping and taxes are the worst part of business ownership. 47% hate the costs involved, while 13% are driven crazy by the administrative headaches and the consequent time consumption.
Another 13% hate the fact that the entire thing is complicated for any ecommerce business, 10% are bored of the ever-changing compliance issues, and 8% just don't want to see the paperwork involved. Come to think of it, they have every reason dislike it.
As a matter of fact, because of the corresponding complexities, 40% of these entrepreneurs are spending more than 80 hours every year on tax filing. Only 28% are managing to keep it below 21 hours- and I'm guessing it's because they've hired dedicated accountants to do the heavy lifting. Quite a headache, right?
TL;DR: My bottom line up front is that the best OVERALL solution for the Shopify ecommerce platform is to integrate with Freshbooks here, but a good fallback is Quickbooks Online here if you carry significant inventory.
Now, let me stop you there. It might be extremely boring, I admit.
But, you know what's even more boring? Yes, you're right- losing your business.
Accounting is, by far, one of the most essential activities when it comes to running a business. It not only helps you keep tabs on all the business financials, but also forms the foundation for informed cost and revenue management.
Consequently, it's practically impossible to grow your business without a stable accounting framework. That's the hard truth. But, here's the deal. It's not that complicated after all. As a matter of fact, you don't need a full-time accountant.
Your online store can even survive without one for the long haul. And a good, well-streamlined accounting software would be a great place to start. Think about it. Imagine software that acts as your bookkeeper, automatically capturing all the relevant details in real-time as transactions occur (including any transaction fee involved).
Then it goes ahead to facilitate continuous tracking of all the financial channels and sales channels, including your bank account. And to top it off, you get reports with information about the overall progress of your online store. Sounds cool, right? Well, let's look into three of the best accounting software for Shopify-based stores.
Top Shopify Accounting Software At a Glance
These are the best accounting software solutions for Shopify:
FreshBooks is another prominent business accounting software that continues to dominate both online and offline business spaces.
IF you tried the old FreshBooks Classic (pre-2016), it's worth giving FreshBooks another look. They've revamped the user interface and aesthetics, now featuring a much more approachable feel.
Interestingly, these UI shifts came with reduced capabilities for reports, time tracking and client portal.
That said, FreshBooks takes a "less is more" mentality. This makes it perfect for startup Shopify stores, particularly ones that can't spend excessive budget on premium bookkeeping and still need some element of DIY.
FreshBooks is like QuickBooks that the average person can use.
Admittedly, FreshBooks does not match up to the likes of Xero or QuickBooks. But, it's still a neat accounting software that can sufficiently cater to small business accounting on Shopify.
If you'd be interested in a service with impressive client management and time tracking tools, plus efficient billing and invoicing, FreshBooks is certainly worth a try. For further comparisons of the cloud-based accounting software check out Xero vs Freshbooks or Wave vs Freshbooks.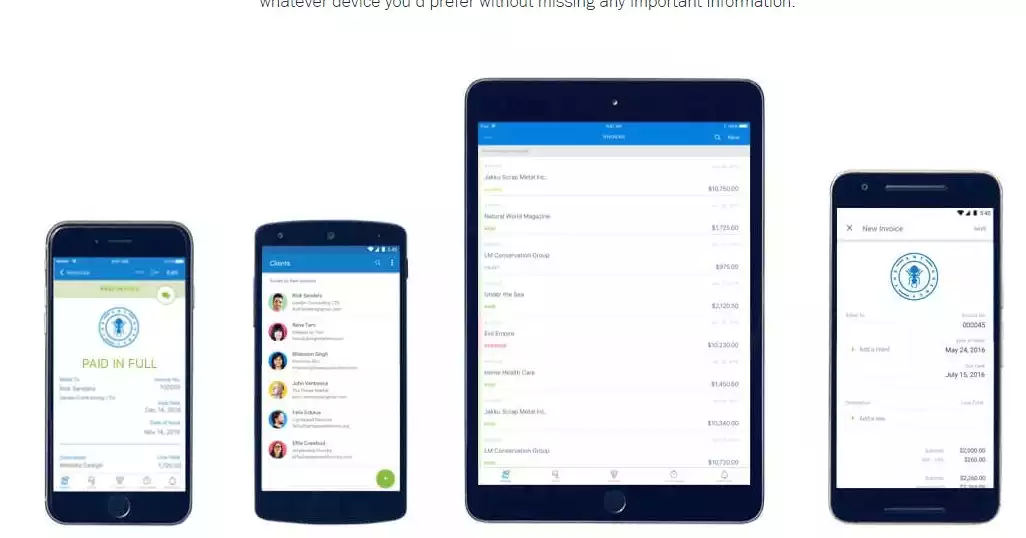 I Personally Prefer Freshbooks
I personally prefer the more user-friendly, feature-rich, and mobile-ready software suite offered by Freshbooks. You get what you pay for and Freshbooks is well worth it, IMO.
Try Freshbooks Free
We earn a commission if you click this link and make a purchase at no additional cost to you.
Its user base of more than 5 million users is currently capitalizing on these features:
FreshBooks Dashboard
The newest version of FreshBooks has a dashboard that primarily showcases graphs with graphical information about spending, total profit, and outstanding revenue.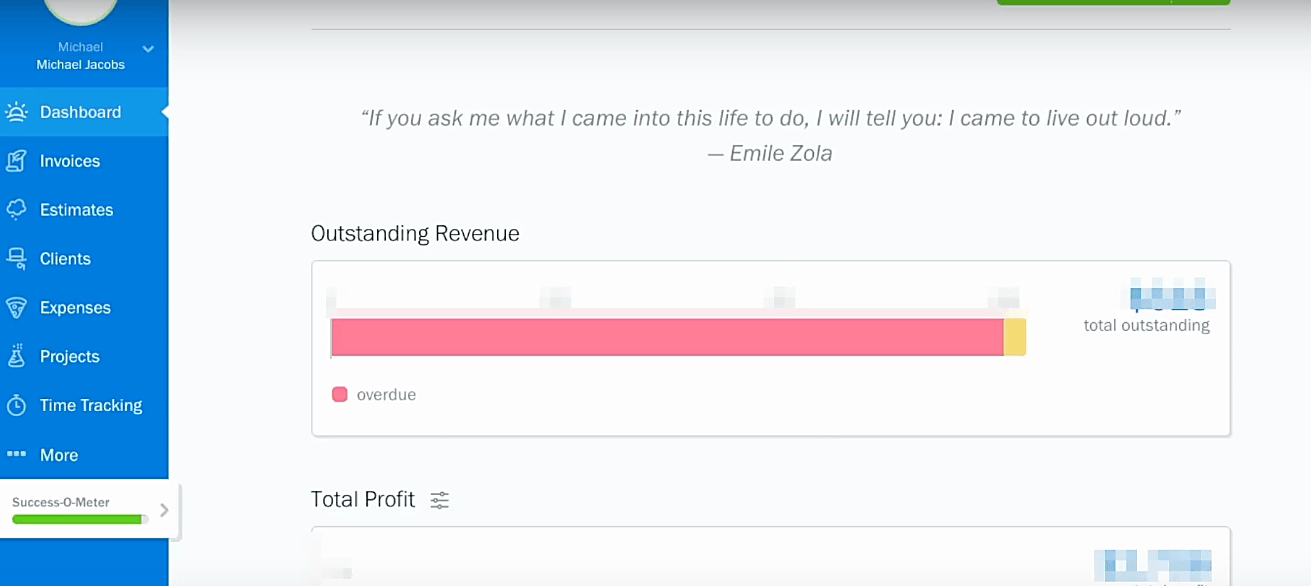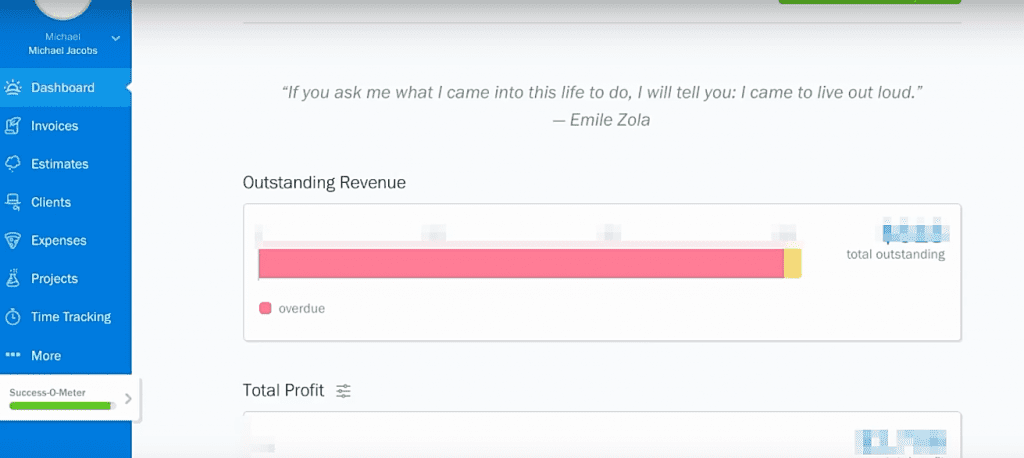 Then, at the top is a create option while the bottom part of the dashboard features advanced reports.
FreshBooks Project Management
The project management feature is particularly suitable for online stores with multiple employees. It substantially improves overall coordination by allowing you to not only set new projects, but also allocate them to workers or customers accordingly.
Then, of course, comes the tracking process. And one element that stands out most here is the discuss tool, which increasingly facilitates communication between all the parties. It supports message sending, plus attachments and corresponding reminders. I
n the end, users can review an entire project and prepare a relevant invoice in line with the predetermined billing rates.
FreshBooks Expense Tracking
Tracking your store's expenses is fairly simple and flexible on FreshBooks. If writing down the details manually is not your cup of tea, you can take advantage of its live bank feeds. Alternatively, you can proceed by importing your bank statements as well.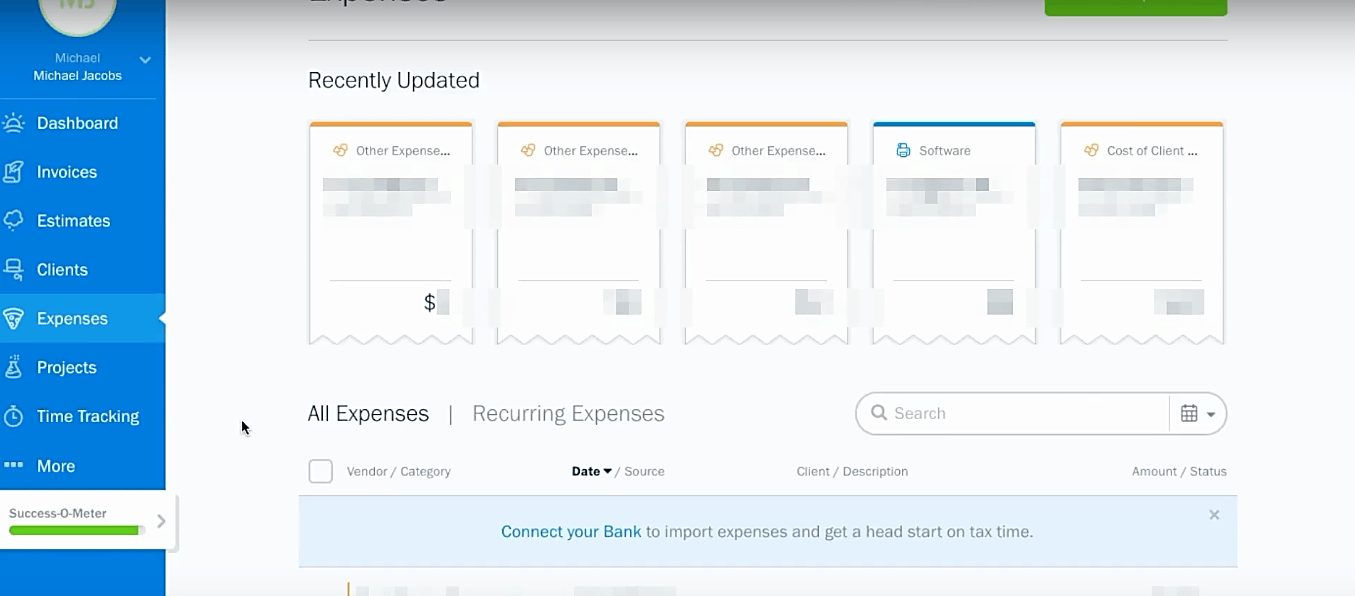 The manual option allows you to introduce categories, totals, descriptions, vendors, and images. And to streamline your tax filing process, the category section is built to mirror IRS categories.
Quite handy, right? And here's the bad news. While it's possible to isolate personal spending from business expenses, it turns out that you cannot set any of them as subtractions.
FreshBooks Contact Management
Contact management on FreshBooks provides for primary customer information plus details about their connections to your business.
The consequent data is used to generate relevant charts, which can be viewed on the contact's page. Some of the elements you'll be able to track right off the bat include money in draft, outstanding amounts, and total cash overdue.
Proceeding past this level grants you access to a full client list, plus a directory of customers who've been active lately. And get this- in addition to tracking various customers, this section can be used to launch late fees charges and reminder invoices.
FreshBooks Invoicing
Right off the bat, you'll notice that the number of invoice templates is limited to two.
But, on the bright side, at least they can be adjusted accordingly. As you start using the e-commerce software solution, it becomes evident that its capabilities depend on your user package.
Premium users, for example, have access to late fees and reminder invoices. Surprisingly, however, you cannot attach notes and conditions as you send an invoice via email.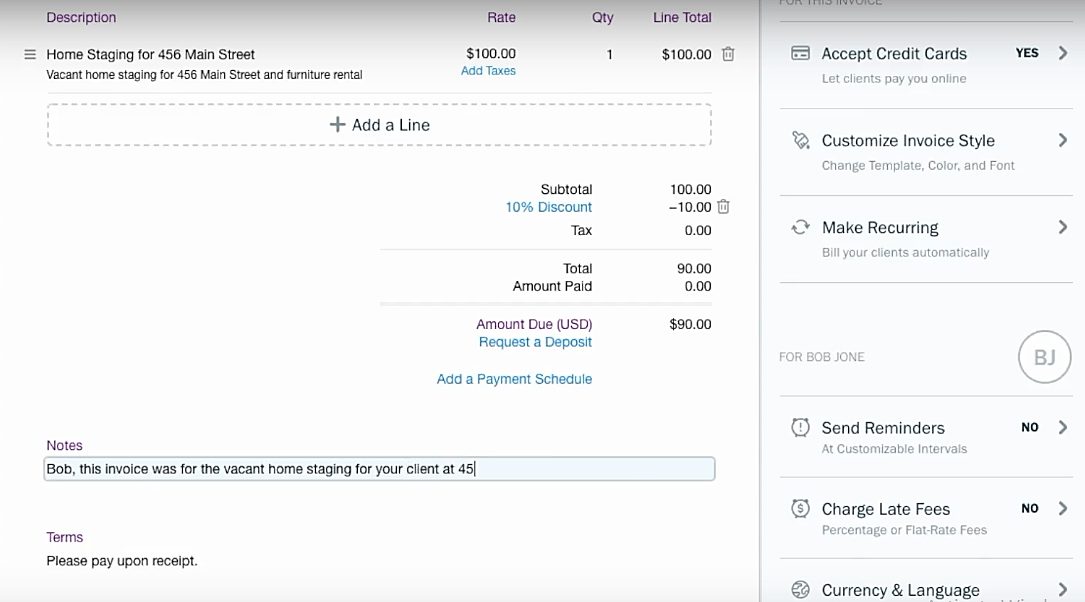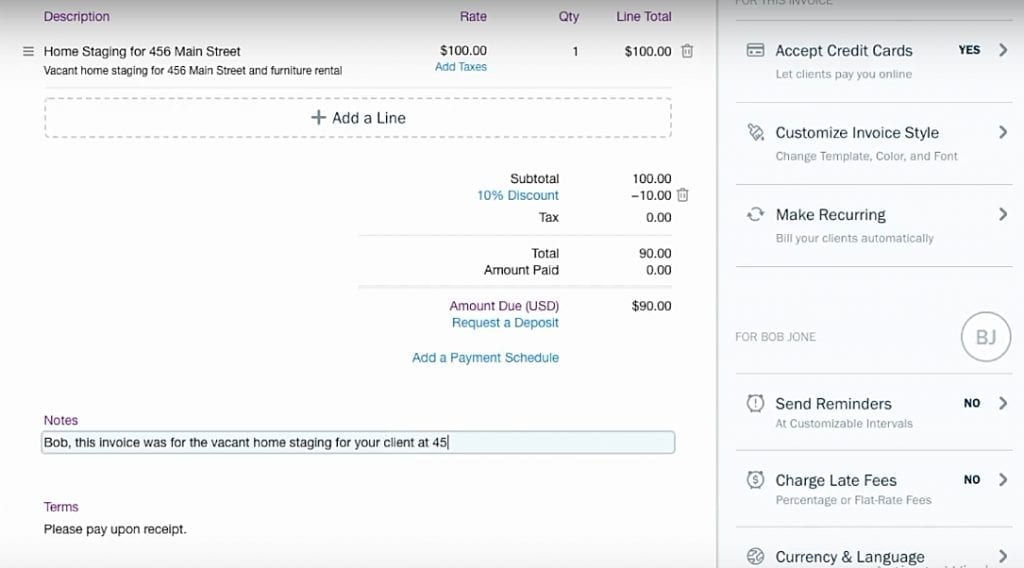 Fortunately, there's a way out. And it requires you to enter all the notes manually on custom emails for each client. That's cumbersome, I know- but hey! It gets the job done.
Oddly enough, the updated version of the software eliminated an email marketing automation feature, which was a default provision on the previous Classic version. But, on the bright side, you get a cool chatting tool, which is attached to a log with details of all the actions taken on the invoice.
FreshBooks Estimates
FreshBooks also comes with an Estimates feature, which allows you to send direct estimates to various clients.
If a single one applies to multiple clients, you can easily duplicate it to save time. And to make things much easier, you can simply transform the estimates into invoices for additional processing.
FreshBooks Client Portal
Customers, on the other hand, can access both invoices and estimates via FreshBooks' client portal. After viewing, they can proceed to save, print, pay, and even include notes in case of any questions.
FreshBooks Reports
Previously, FreshBooks provided 24 different reports. They might not have been as many as Xero's or QuickBooks, but they availed all the crucial information. Well, of course, I assumed that the new version would come with additional reports plus comprehensive information all round.
Oddly enough, all the reports were compressed from 24 to 7. At the moment, therefore, you get time entry information, expense report, invoice details, accounts aging report, sales tax summary, plus profit and loss statements.
Not quite comprehensive, I admit. But, it should serve a typical small business accounting requirement well enough.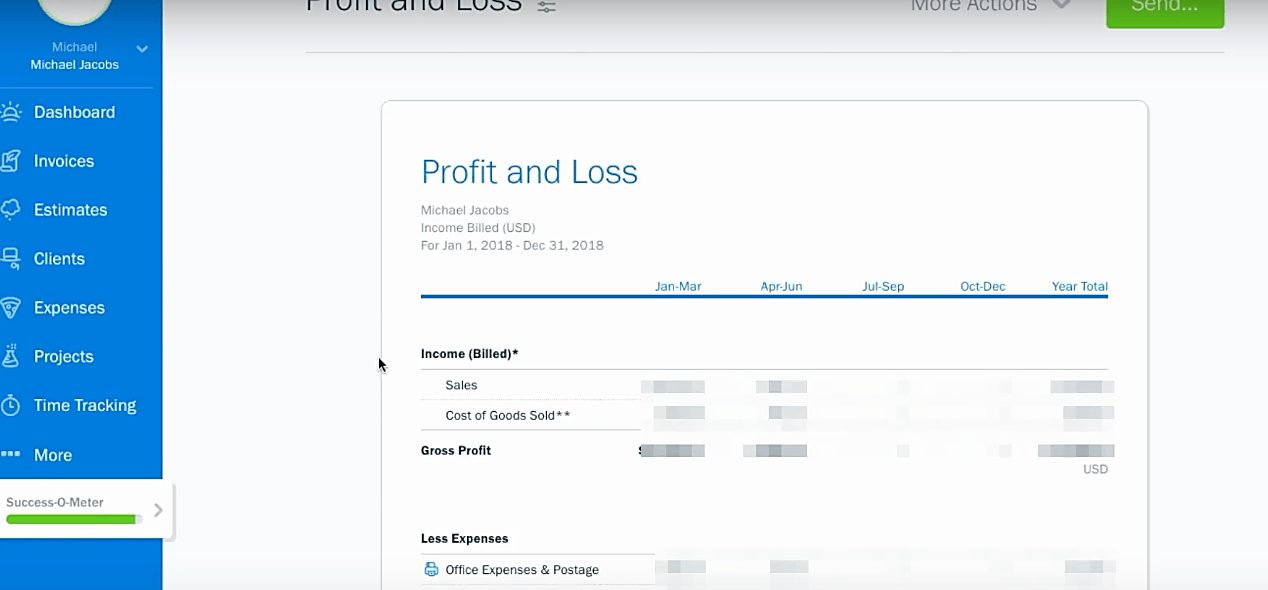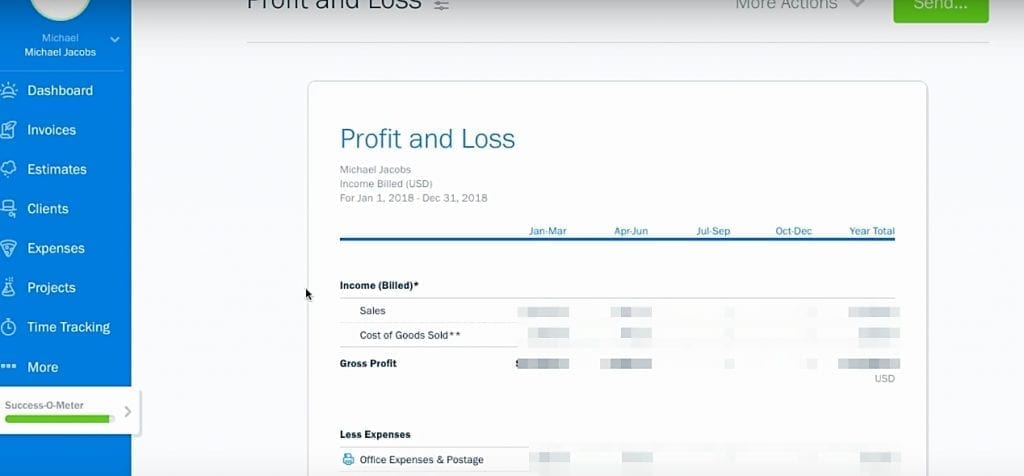 Learn More About FreshBooks Here
Further Reading on FreshBooks vs Other Accounting Apps:
If you've heard of Xero, then you've definitely come across QuickBooks at some point in your business career.
In full, this solution is known as Intuit QuickBooks, and its origin can be traced as far back as 1984. Its developer, Intuit, first launched Quicken at that time, then followed it up with QuickBooks in 2002, before ultimately introducing QuickBooks Online barely 24 months later.
In the past three decades, QuickBooks has grown substantially to dominate the market as the most advanced accounting solution for both an e-commerce store and offline stores.
QuickBooks Online continues to enjoy the limelight thanks to its wide range of features including more than 200 integrations, numerous currencies, payroll support, inventory management provisions, flexible invoicing, etc.
As a result, it has attracted a whopping 2.2 million users, including Shopify store owners as an integrated Shopify accounting system. Fair enough. But, what exactly does it offer Shopify stores?
Dashboard
QuickBooks' dashboard is basic and informative. In addition to an array of tabs and quick actions, you get an overview of key metrics like sales, profit and loss, accounts, expenses, and invoices.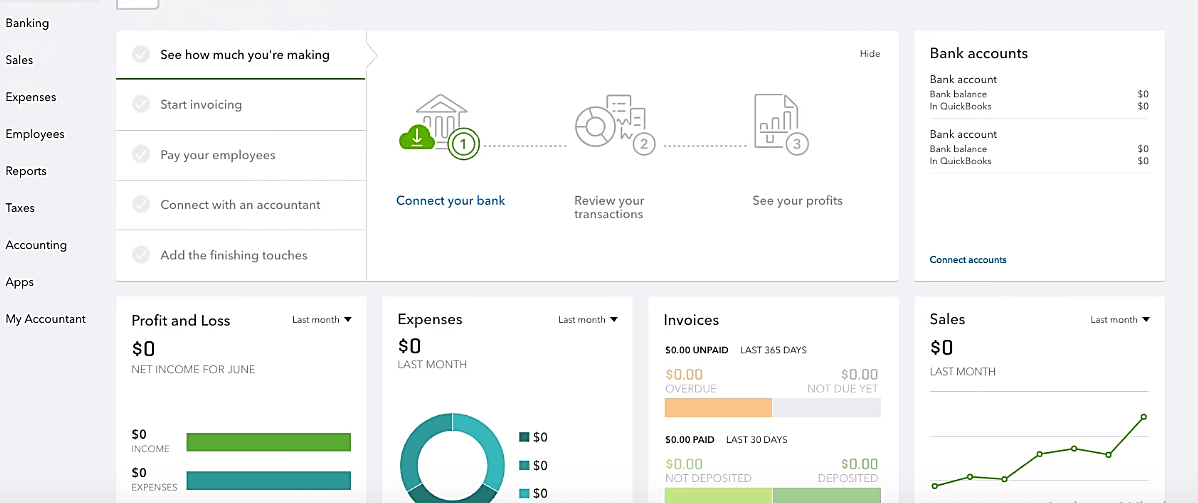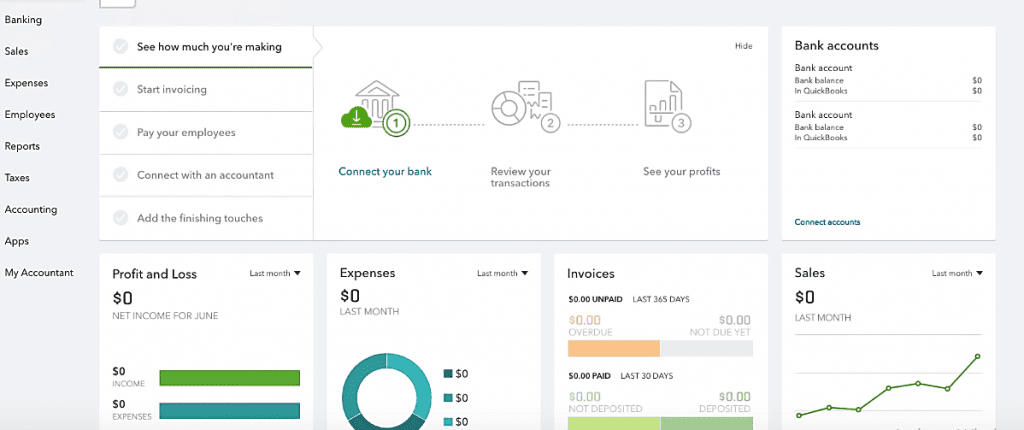 At the lower end of the screen is a "see all activity" task, which launches a complete audit log plus details of recent activities.
Contact Management
Just like Xero, QuickBooks' customer management system is excellently developed with an extensive framework for saving and coordinating customer details.
Some of the data it holds includes default tax codes, attachments, opening balance, default payment terms, preferred payment modes, shipping address, billing address, and contact names.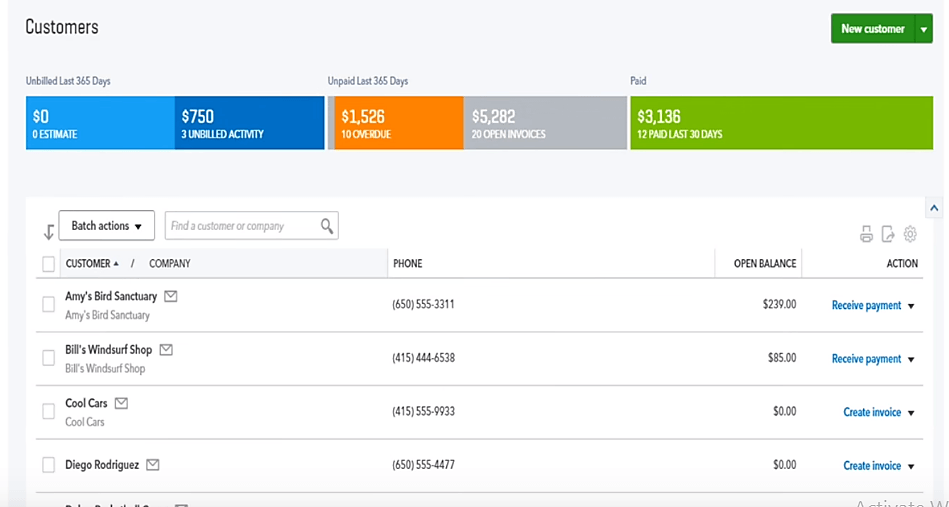 And to further streamline everything, it supports customer-specific attachments. But that's nothing compared to its email capability, which allows users to send multiple emails to different customers at the same time.
Bank Reconciliation
Bank Reconciliation is particularly simple on QuickBooks Online because of its live bank feeds feature. Well, it would have been easier, but here's the thing- its duplicate transaction detection capability, which existed in previous versions, was removed.
Consequently, you're forced to follow up on each transaction manually. But, at least you can still define your own bank rules. Apart from that, you can track expenses by importing bank statements to combine them with different sets of user-defined expenses.
If you need to organize them further, the system allows you to embed receipts and classify various sets of expenses (like cost of goods sold, etc…).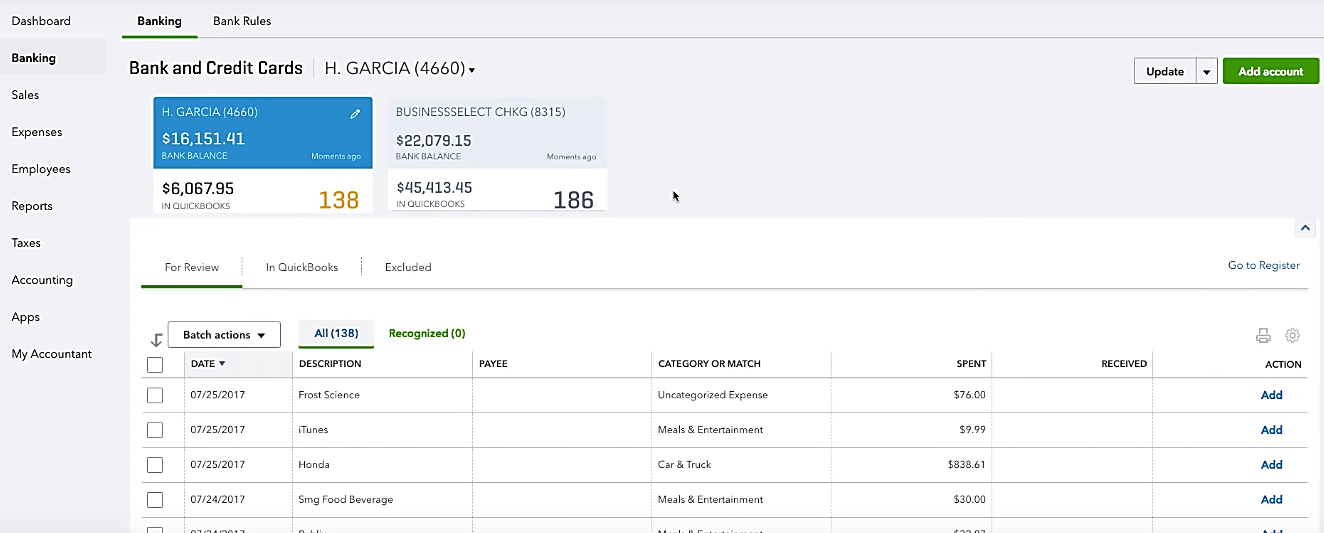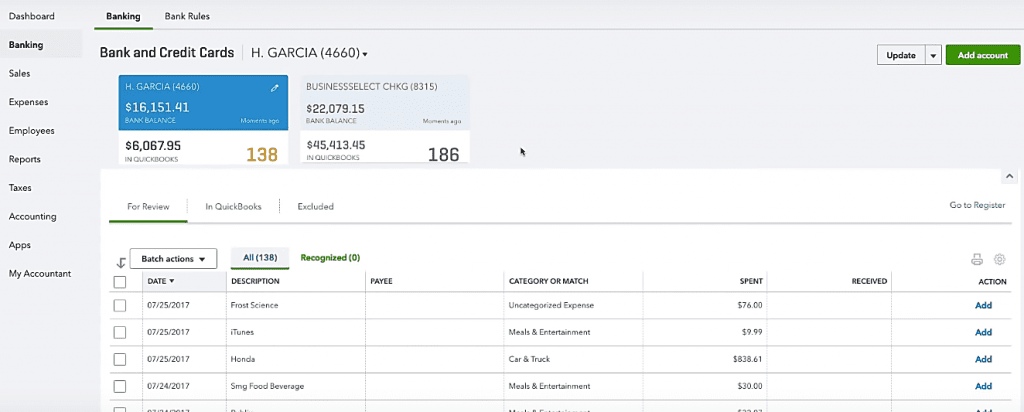 The best thing about QuickBooks' bank reconciliation, however, is the simple fact that it leverages its own connector to enable live feeds.
The alternative, Yodlee, which has been widely adopted by other solutions, is notorious at violating certain banking terms and conditions.
Client Portal
QuickBooks Online is not just about businesses. It also caters to customers by streamlining business-client communication. Through its client's portal, your customers can log in to view their invoices, pay, save, print, and raise queries. Sadly, that's all it can do. It does not provide access to customer estimates.
Estimates
Drafting estimates is fairly straightforward. The whole procedure should only take you a couple of minutes before you send them as PDFs via email. You can even convert them to invoices to save time when you're requesting for payments.
Well, unfortunately, QuickBooks doesn't place this function in its own distinct tab. Consequently, the management and tracking capabilities are quite limited.
Invoicing
The invoicing feature here has always been admirable. Nevertheless, they redesigned it in 2016 and improved it even further. At the moment, therefore, you get a comprehensive invoice customization portal with all the tweaks you'd need to personalize your invoices.
All you need to do is simply choose one of the five invoice templates, or import a pre-designed one from your PC before firing up.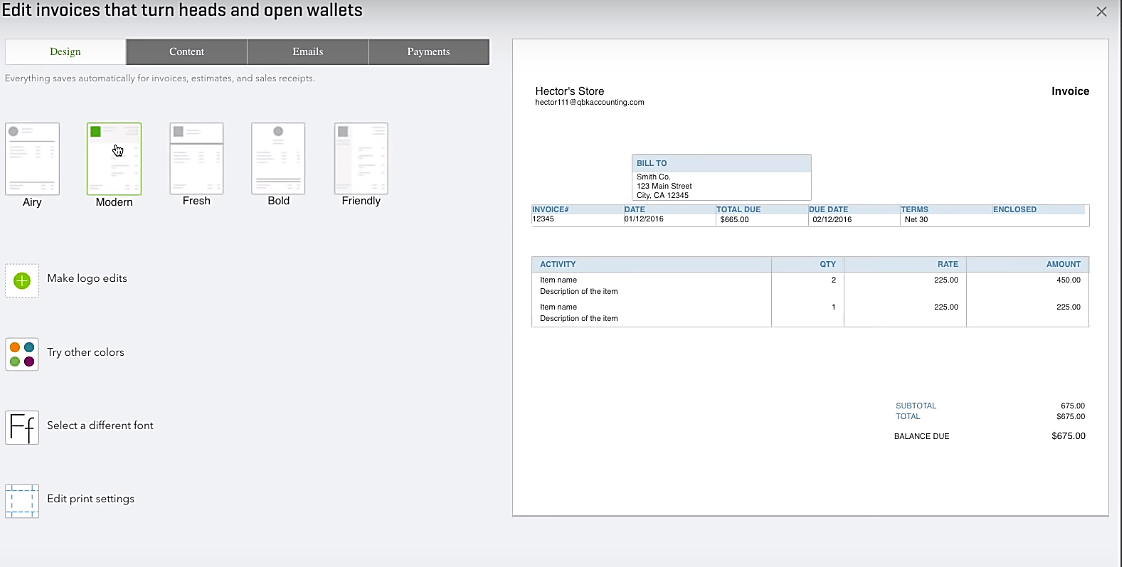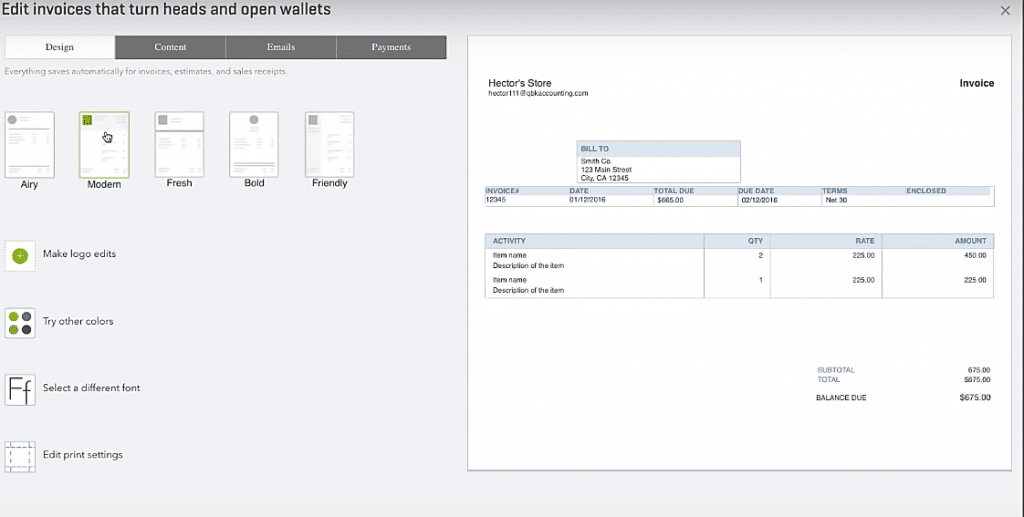 Some of the elements you can adjust include columns, footers, headers, font size, font type, logo placement, logo type, and much more. You can also attach documents, include discounts and shipping costs, plus set up default texts to accompany all the invoices.
If customers fail to remit the corresponding payments on time, the system allows you to follow up with relevant reminders. It's also possible to send invoices that recur after a specified period of time. Come to think of it, such a feature is particularly useful to subscription-based businesses.
And guess what? QuickBooks Online will even save you the pain and restlessness that sets in when you're unsure about the status of your invoices. As soon as they are sent, the system tracks every single invoice to keep you posted immediately an action is taken. Note: My only small nitpick with QBO is that they require credit card for payment (of the subscription).
Not all of my online businesses have a dedicated credit card and we rely on tools like PayPal (which isn't supported for billing payments, even though they accept credit card options as an intermediary).
Reports
QuickBooks Online doesn't hold back any information about your business. It provides a solid framework for reporting, which ultimately produces a wide range of customizable reports on literally anything about your financials.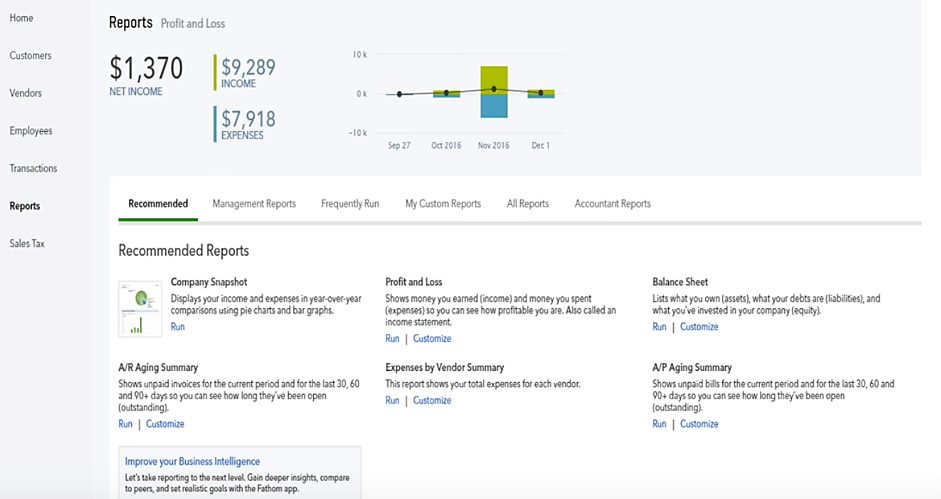 The amount of details you can access, however, depends on your specific user package. While the Plus plan, for example, offers 75 reports, the Simple Start plan can only generate 27.
Compare Quickbooks Pricing Plans Here
Further Reading on QuickBooks vs Other Business Cloud Accounting:
#3 Xero
Xero accounting software is not only popular among Shopify store owners. It's predominantly renowned across all industries in the e-commerce store space, and rightly so.
Business owners and accountants love it for its wide range of accounting tools, which have been bundled in one suite to form a full-stack accounting system.
So, it handles everything from payments in more than 160 currencies, multiple payment gateway / POS software (point of sale) integrations, to paperless expense management, and bookkeeping.
To be specific, Xero offers the following features:
Dashboard
The dashboard itself can be customized dynamically, and it comes with an attractive interface outlining your principal accounts information.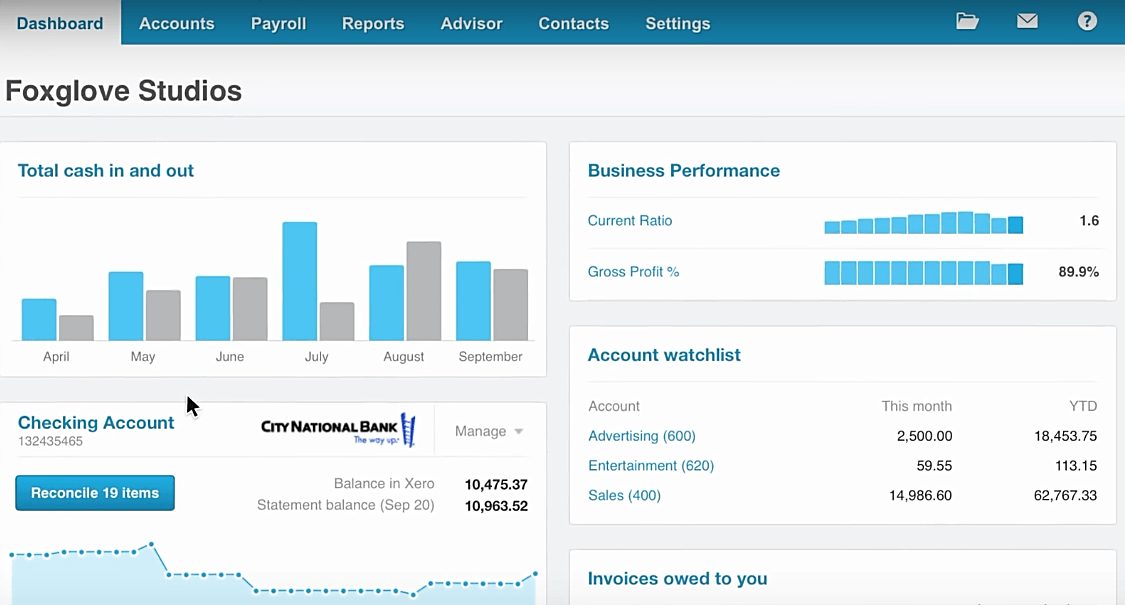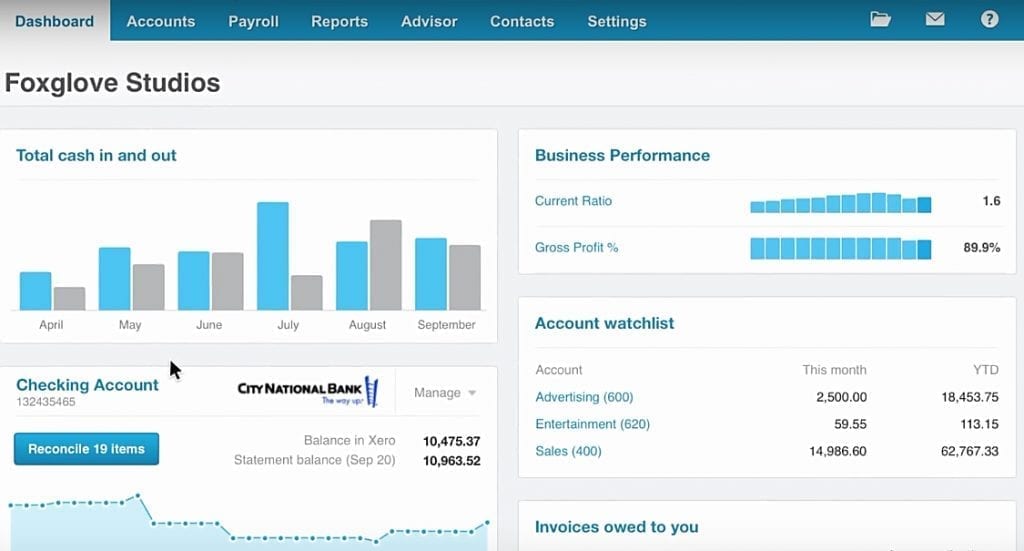 Some of the details you can track from here include expense claims, pending bills, invoices that are yet to be settled, bank accounts, plus other critical performance graphs.
Reports
Xero means business when it comes to reports. The system can generate 65 different ones, 20 of which are payroll related.
So, of course, you should expect detailed reports about everything. From depreciation schedules and comprehensive budgets, to aged payables and basic balance sheets.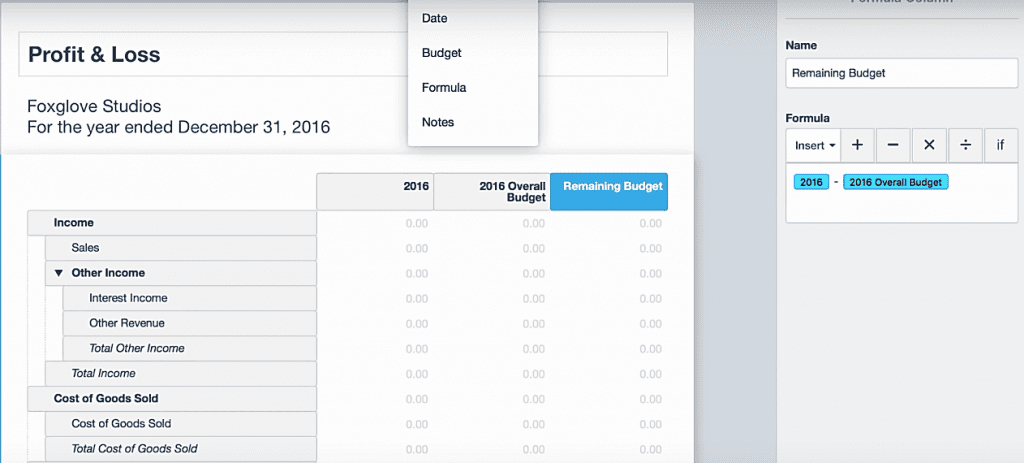 But, interestingly, one report you won't get here is the profit and loss statement. Thankfully, you can obtain such details from the income statement report.
Otherwise, you'll enjoy working with Xero's reports because they are holistically adjustable, and can be generated based on varying periods of time. The system also allows you to introduce journal details, and star selected reports for convenient access.
Xero Payroll
Xero's payroll function is well-structured and quite dynamic. Apart from adjusting pay schedules, you can monitor employee earnings, time-off requests, paid vacations, sick days, bonuses, overtime, deductions, and benefits from one central system.
But, here the kicker- it turns out that this feature is only availed to users based in the U.K, Australia, New Zealand and selected American states.
Xero Inventory Management
In addition to the applicable images, products can be captured by their tax rates, accounts, prices, and codes.
The option of tracking inventory, on the other hand, follows up on the number of products committing to quotes, the average costs of buying, and the available stocks with the inventory Surprisingly, Xero will not send an automatic email to give you a heads up about diminishing product stocks for inventory management.
Xero Chart of Accounts
It turns out that Xero reviews your industry and type of business before setting up a chart of accounts by default, which saves a lot of time with customer service. Well, of course, you don't have to put up with that version.
The system grants you the benefit of importing a unique pre-prepared chart of accounts, or alternatively, personalizing the default version with your own integration scheme.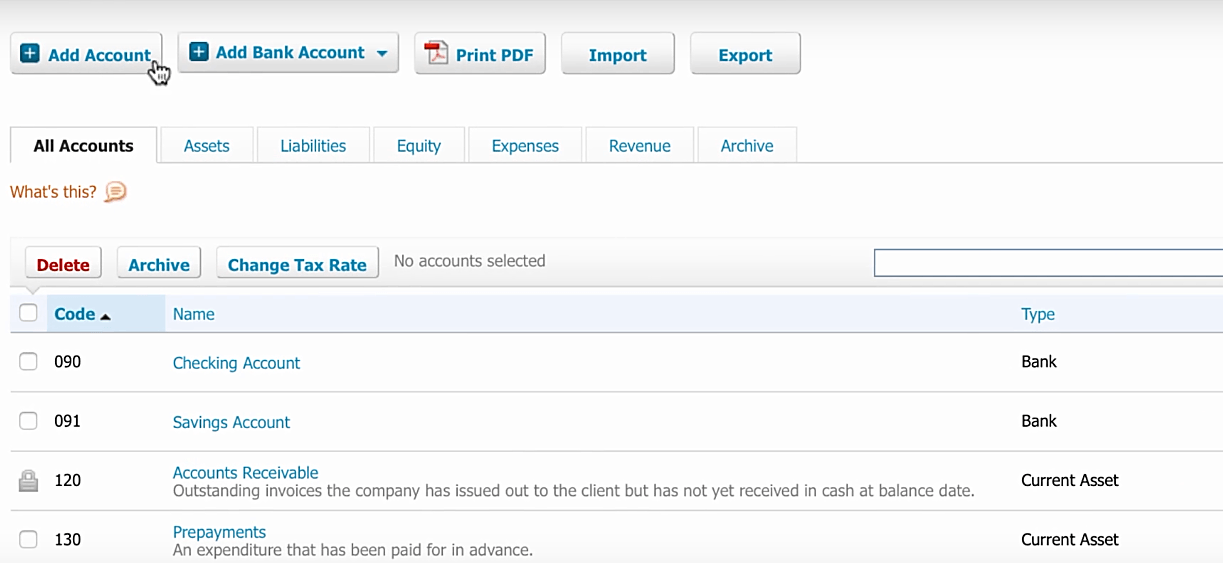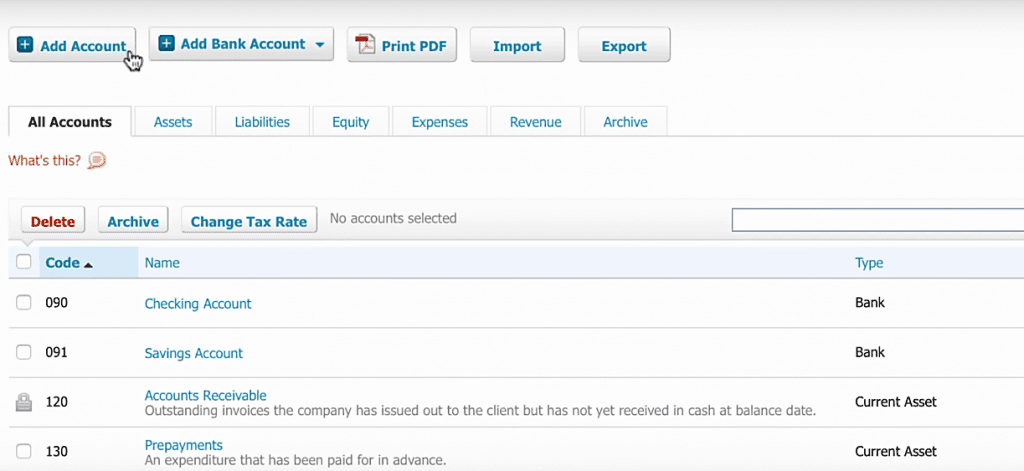 It's also possible to set up fixed asset accounts before running depreciation.
Bank Reconciliation
This is where things typically go wrong, particularly for manually controlled accounting systems. Consequently, it's always advisable to leverage a well-streamlined automated solution. Thankfully, Xero provides precisely that.
One of its automated features is categorization, which identifies and groups transactions as they roll in. For optimal accuracy, it recalls the categories placed on previous transactions as it assigns clusters to the new ones.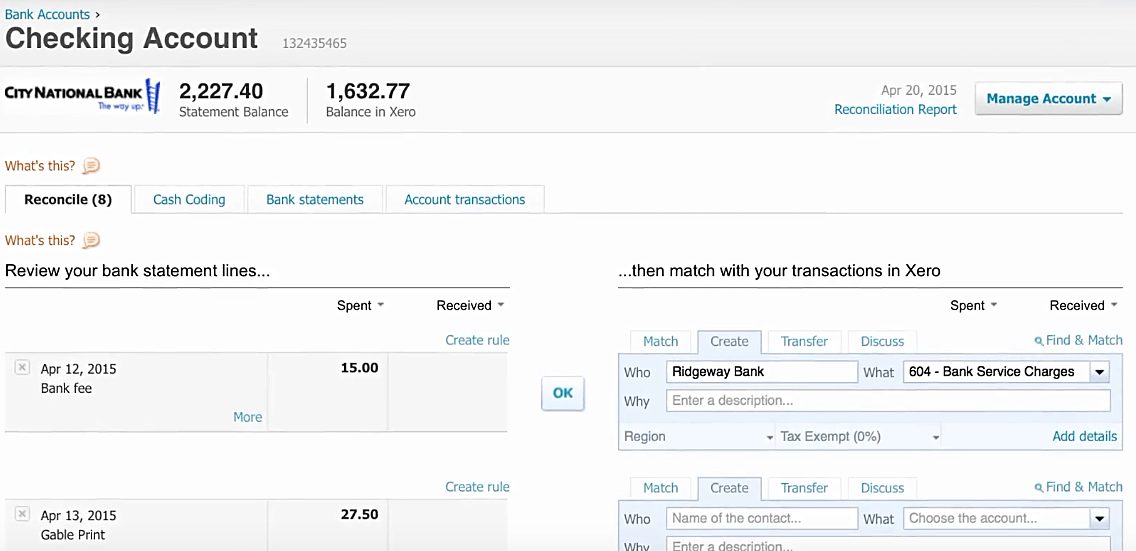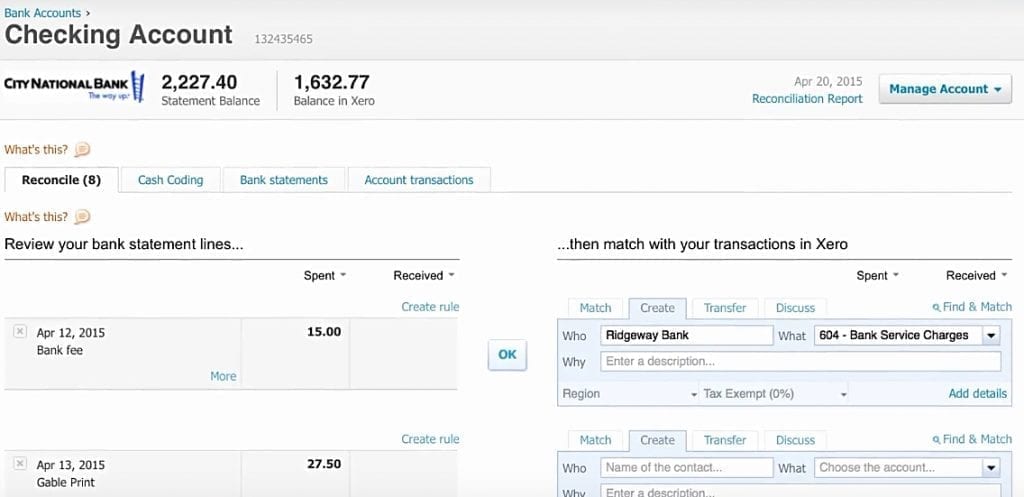 Then get this. You get an effective bank rules function, which comes in handy as you separate transactions and payments. Unfortunately, you'll be forced to approve the transactions distinctively by clicking on them one by one.
And if you intend to manually attach your bank statements, the system requires you to first link it with your bank account. But then again, the link you'll have established to track your bank's live feeds should suffice.
Invoicing
At first, I was pleased that the invoicing feature on Xero is seemingly as comprehensive as they come. In addition to previous invoice cancellation, it supports bulk invoices, and default payment settings. Then it also provides automatic invoice reminders plus recurring invoices.
Unfortunately, things are not that promising when we switch over to the invoice templates. Now, let's be honest here. Everyone expects multiple invoice templates on an accounting software of this magnitude.
Oddly enough, Xero provides only one. And to make matters worse, it's nothing close to an attractive layout. On the bright side, however, at least you can upload your own templates to adequately personalize invoices to be sent to customers.
Estimates
Xero's estimates are satisfyingly simple and straightforward. You're allowed to set the default estimate rules, and conveniently transform estimates into invoices. Sadly, just like invoicing, you won't find two templates here.
Contact Management
After the slight disappointment I had suffered on estimates and invoicing, I was quite pleased to notice that Xero seemingly makes up for everything through a holistic contact management framework.
As a matter of fact, I'm convinced that Xero might be the best when it comes to accounting contact management. Why, you ask? Well, for starters, it has all the primary contact details you'd expect, including customer sales tax and discounts. But that's not all. The system then goes a notch higher by providing smart lists and contact groups.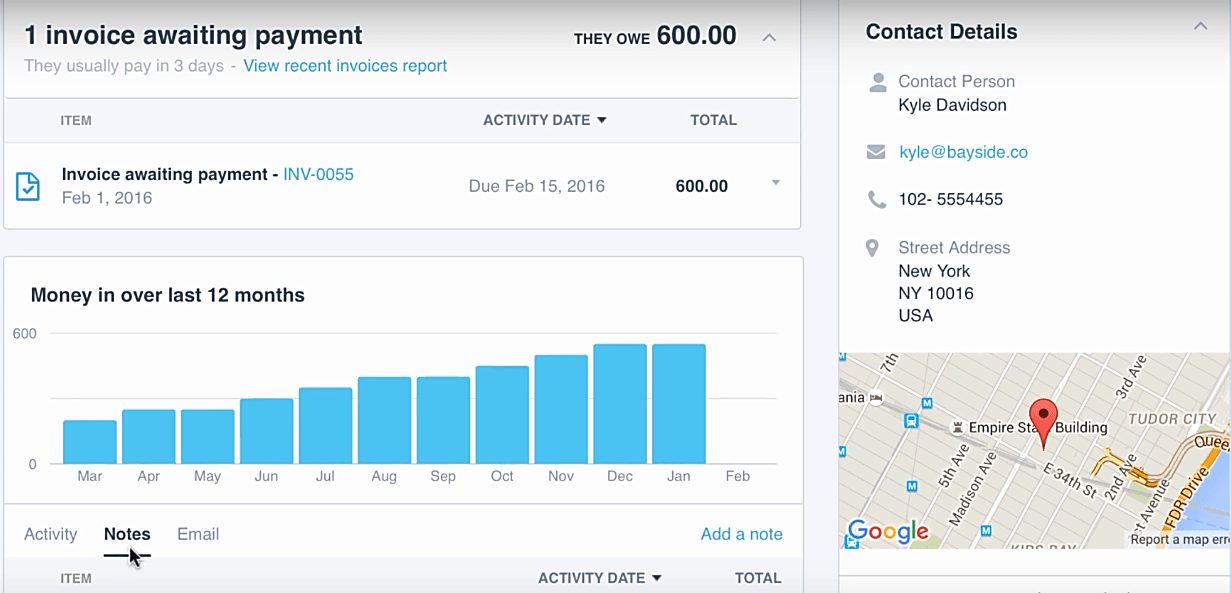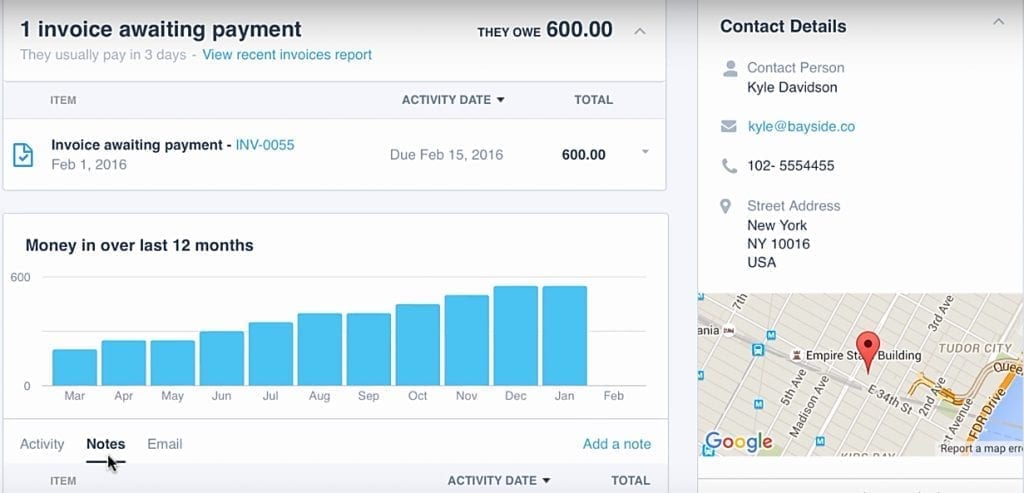 Now, this is the point where accounting merges with marketing. It turns out smart lists drive target marketing by helping you identify and go for specific groups of customers.
You can, for instance, capitalize on it to single out customers from a certain low-sales location, and consequently target them with discounts. Additionally, you can take use it to send multiple invoices simultaneously.
Accounts Payable
Quite simply, accounts payable is the opposite of invoicing- and Xero goes ahead to facilitate all the relevant billing operations. Purchasing orders, for example, can be produced, and subsequently morphed into bills accordingly.
And since most businesses process their supplier's recurrent payments on a periodic basis, the system supports creation recurring bills. Fairly simple, to say the least. But, it can be simpler, especially if the invoices you're receiving from suppliers have been prepared by Xero.
All you need to do to avoid the repetitive tasks is just save the invoices as draft bills. It's also possible to link crucial documents or the bills' pictures with Xero, allow recurring bills, and submit payments in batches.
How To Integrate Xero with Shopify
You think filing taxes is most difficult part of bookkeeping and accounting?
Well, picture this. You've spent years using one accounting software. As a result, it holds volumes of critical financial data, and it keeps expanding regularly. Then, right when you're scaling up your business, you realize that you might have to supplement the accounting software with another solution.
Probably a secondary accounting software, or one that effectively streamlines the whole financial management structure. Whatever approach you choose, one thing's clear- you'll have to facilitate a flow of data from one system to another. It sounds simple in concept, but totally complicated when it comes to the real thing. You see, the problem with accounting software is that they are built with limited integration capabilities.
Essentially, count yourself lucky if you're able to link it to another third-party app via integration right of the bat. If you can't, copying the data manually might seem like the most feasible way to establish the link. And that would be extremely difficult and cumbersome, especially if you're dealing with large volumes of data. Then, to make matters worse, you'll be forced to continuously export the details manually with each new transaction- when they both start running consequentially.
I'll tell you what though. You can save yourself all that trouble with a few clicks. And all it takes is a connector app like Zapier for easy integration. This simple addition alone acts as a bridge.
It fundamentally forms a real-time integration link between two accounting systems, or alternatively, between an accounting app with another supplementary third-party software.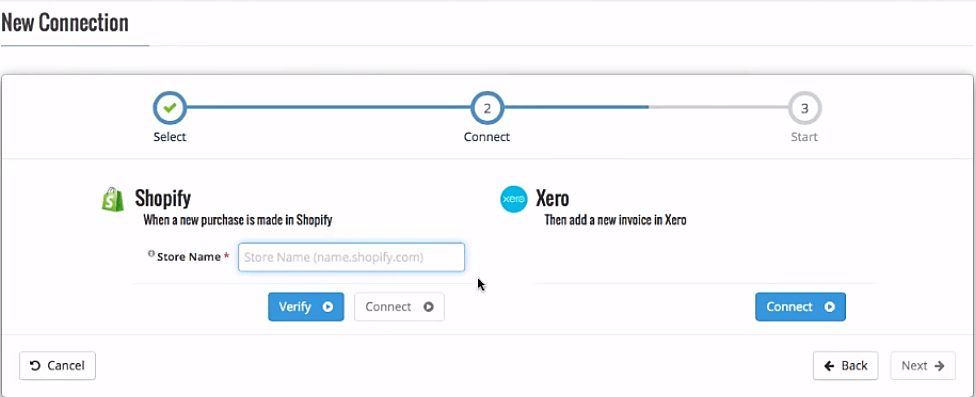 In the end, various services are able to integrate and communicate with each other effectively. Consequently, all the data transfer occurs automatically, and the probability of error reduces significantly.
Further Reading on Xero vs Other Accounting Apps:
#4 Bench.co: Best Managed Accounting for Shopify
Bench.co is unlike all the other options in that you get a dedicated account rep and team to manage your books. This is SUPER helpful if you have business nuances that make standard accounting tools sub-optimal, even if they are generally well designed.
Bench essentially works – like Botify – getting better over time. Your first few months their accounting team might have a bunch of questions regarding categorizations.
However, their team gets better over time (using a combination of human intervention and accounting automation). The other thing that I LOVE about Bench is that they charge monthly fees based on expense volume tiers (not based on revenue OR number of transactions).
Bench.co has the benefit of a pleasant user interface, strong automation AND a great accounting team to fill in the gaps, all for the cost of a mid tier software solution.
This means you aren't punished for GROWING. As you can see below, Bench pricing is fairly competitive, even with some of the popular software solutions: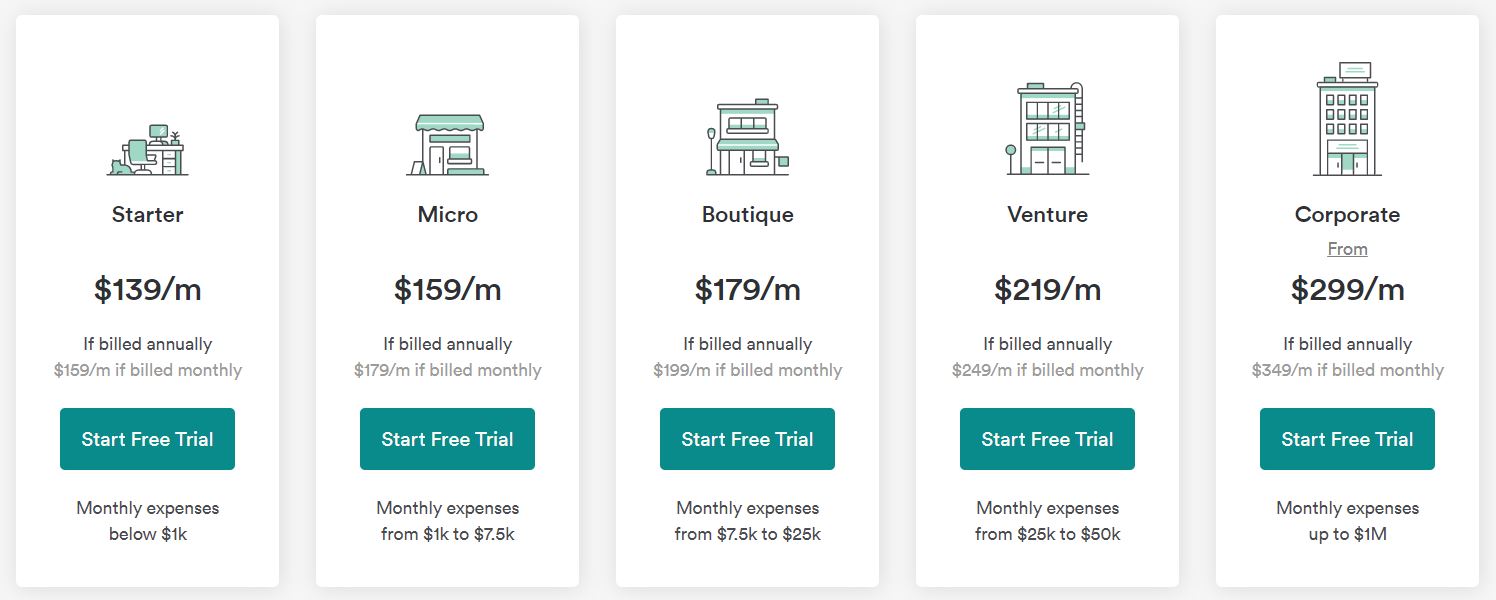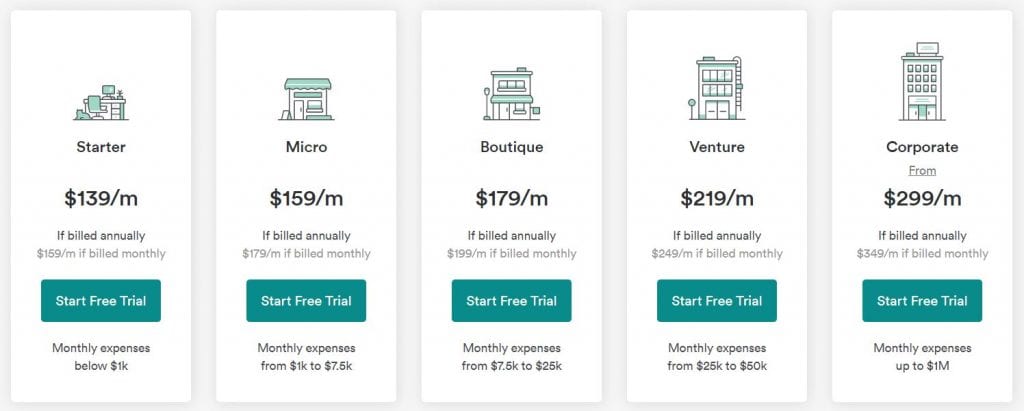 #5 Botkeeper: Best Automated Accounting for Shopify
Botkeeper is an innovative AI based accounting system that "learns" your business without the need for too much manual setup.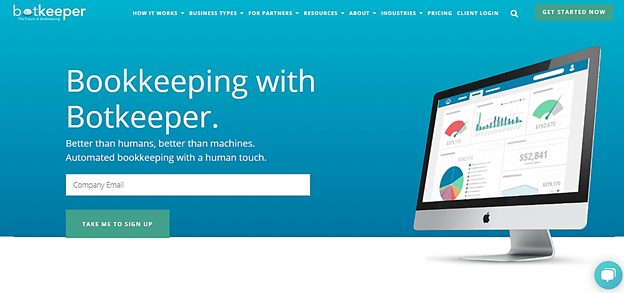 The software was founded in 2015 to give businesses the privilege of capitalizing on artificial intelligence while relying on remote accounting professionals to help automate and validate income and expenses.
Hence, Botkeeper is more of a full-stack accounting system that automates your regular bookkeeping operations through the power of machine learning and AI, with reinforcement from an accompanying team of expert accountants. It's capable of handling all the essentials, leaving you to focus more on other business processes.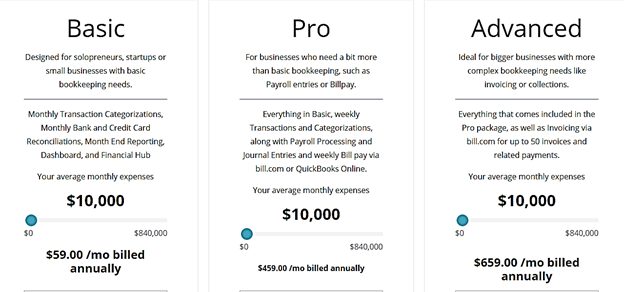 They DO have specific Shopify app integrations and can work within a Shopify POS payment processor to collect all the relevant data required. We now use
Botkeeper for many of our businesses and it's truly a game-changer, saving us significant overhead and saving us more time as it "learns" our businesses better. Be sure to check their latest pricing plans here.
Further Reading: My Full Botkeeper Review.
Honorable Mentions – eCommerce Accounting Runner's Up
Here are some other ones worth mentioning. They may fit for specific e-commerce platforms and e-commerce business setups:
Frequently Asked Questions
Is Excel an accounting software?
Excel is a great tool for collecting sales data or any other financial statements of your e-commerce business, but it is not an online tool that can be connected directly to your site. That's why, many Shopify sellers are looking for a more user-friendly, and modern accounting software.
How secure is my information with Xero as a business owner?
As with any serious accounting tool, you can be sure that your information is safe. Xero offers some non-disclosure agreements for its customers, ensuring that all your discussions and engagements with any financial institution as well as your customer data are confidential.
Can I access QuickBooks Online on my mobile phone or tablet?
This Shopify accounting tool is compatible with any web-enabled mobile device, such as iOS or Android. To have a better mobile experience, you can download their QuickBooks Online App.
So, Now What?
When choosing an accounting system that works best for your business and your budget it's important to consider the size of your business, your industry, your employees, whether you sell products or services before you make a final decision. If you are looking for a simpler solution, you can choose one without the extra features.
On the other hand, if you foresee your business growing pretty quickly, choosing a solution that's able to scale with your business would be the best option.
Whether you are drawn to Xero's contact management system with customer profiles and smart lists or Freshbooks project management feature that helps you set new projects.
Or even QuickBooks Online multiple integrations capabilities, mobile app and payroll support. Whatever option you choose make sure it setup accordingly to match your business structured.
Bottom Line Summary: I personally prefer the intuitive interface and "Web 3.0" feel of Freshbooks. So, if you are still stuck, you can't go wrong with Freshbooks here as my pick for the best accounting app overall. Once you've scaled up to support a part-time bookkeeper or bookkeeping service, upgrade to QuickBooks here.
Make your choice, and of course, feel free to share your experience in the comment section. What your favorite accounting software for Shopify? Which features appeal to you? How has it improved your store's bookkeeping? Any improvements you'd want to suggest?
Further Reading On Shopify Integrations