Last Updated
Before you proceed using Botkeeper, you might want to pay close attention to this Botkeeper review since the solution happens to directly affect the two things you can't afford to compromise in your business- finance and accounting. 
Yes, that's right. Even for a promising business working with great products and enjoying a rich market, your success over the long haul ultimately comes down to how well you organize your accounting and finances. 
Sadly, however, this is easier said than done.
Accounting and bookkeeping are, admittedly, two of the most complex undertakings for most businesses. There's a heck of a lot of numbers and variables you need to keep up with to generate accurate reports for informed decision-making.
Otherwise, any errors here could substantially compromise your decisions, leading to slipping margins, cash flow issues, and decreased revenue growth.  
Well, it turns out that such problems are more common than you might presume. Most businesses- including large enterprises- have, at one point or another, experienced challenges in bookkeeping and accounting.  
Even when you hire professional accountants, the entire process will still be cumbersome, with repetitive and tedious manual data entry, visualization, analytics. So, of course, you can expect human error from time to time. It's only natural in a human-centric accounting industry. 
Not anymore though, because as it turns out, recent advancements in tech are changing how we are handling our finances. Accounting is not just about QuickBooks anymore. Bookkeeping tools have now managed to cross the artificial intelligence barrier.   
Well, Botkeeper happens to be one of the few revolutionary tools on the forefront, as it continues to automate data entry along with some of the essential functions that were previously human-controlled.  
In simple terms, we're are seemingly crossing into the world of computer-controlled bookkeeping, which should translate to fewer errors, as well as increased accuracy, speed, and reliability, plus deeper insights.  
According to the company website, Botkeeper is a highly intelligent bookkeeping software that combines machine learning with advanced human-assisted automation, skilled accountants, and AI to help businesses manage their financial data.  
Therefore, in other words, you can think of it as an automated data solution that saves you from the tedious process of manual bookkeeping.  
Sounds like a dream, right?  
Ok, how about we separate the facts from fiction? This Botkeeper review explores the main functions to reveal the whole truth about the software.  
How does it work? How much does Botkeeper cost? What features and tools should you expect? Who is it suitable for? And how reliable is it as an automated bookkeeping solution?  
Let's find out…. 
Botkeeper Review – Overview/ How It Works 
For a while now, some eCommerce businesses have been leveraging freelance professional accountants (accounting profession) who are based on the web. This model has proven to be cheaper and far more convenient as opposed to hiring permanent resident accountants.  
Why am I bringing this up?  
Well, interestingly, this is the model Botkeeper is built on. But, instead of leaving it at the professional accountant level, it goes ahead and throws in a couple of solid AI tools.  
The software was founded in 2015 to give businesses the privilege of capitalizing on artificial intelligence while relying on remote accounting professionals.  
Hence, Botkeeper is more of a full-stack accounting system that automates your regular bookkeeping operations through the power of machine learning and AI, with reinforcement from an accompanying team of expert accountants. It's capable of handling all the essentials, leaving you to focus more on other business processes.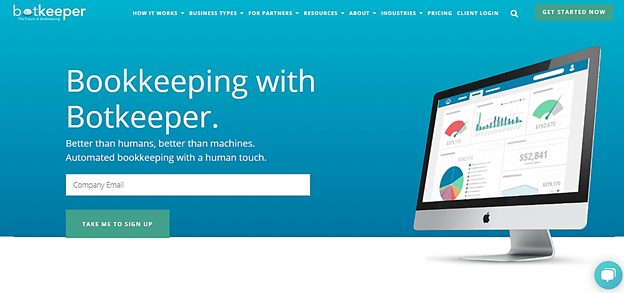 And what exactly does that entail?  
Well, make no mistake. Using Botkeeper isn't about just plugging the software and leaving it to figure out everything by itself. Not at all.  
Since the system is fundamentally controlled and managed by Botkeeper's expert accountants, they'll take the time to study your business before full deployment. This initial process might take a couple of weeks, in which the company gets to assess your bookkeeping needs, before finally embarking on customization.  
The deployment process itself involves migrating all your bookkeeping operations to Botkeeper, integrating all the core applications, configuring the entire framework accordingly, and then cleanup comes last.  
In the end, Botkeeper is expected to sync with your all sales and financial data sources to provide a 360-degree view of your business.  
But that's not all. Botkeeper was essentially developed to take care of all your bookkeeping with more accuracy and efficiency than a regular bookkeeper.  
As long as everything is integrated perfectly, the machine-learning system Botkeeper rides on proceeds to intelligently generate relevant data from both your financial and non-financial tools. All that is then collectively analyzed in detail.  
Consequently, the system maintains a consistent flow of solid reports, whose insights you can rely on for informed decision-making.  
Botkeeper doesn't stop there though. At the end of every month, the system further organizes everything by reconciling your business accounts, categorizing your business transactions, and creating comprehensive visualizations.  
The resultant reports are counter-checked by Botkeeper's professional accountants to confirm that your books are accurate, tax-compliant, and completely clean. In case of any issues, the figures are tweaked accordingly before the final close.  
And speaking of which, Botkeeper always sends alerts when your books are due for the month-end close. It will let you know as soon as all the monthly reports are ready for your review. Then using the books, you should be able to assess your core financials, as well as make actionable business decisions.  
It's worth noting that these tools are open to all types of businesses. Botkeeper continues to target not just small businesses and startups, but also enterprises and franchises. Plus, it goes beyond e-commerce retail to support pretty much all the primary business categories, including real estate, agriculture, professional firms, manufacturing, construction, finance, SaaS, non-profit, restaurants, etc. Nearly all organizations are free to try out Botkeeper.  
And get this. Even accountants and bookkeepers are encouraged to join the bandwagon. Although some perceive Botkeeper to be a replacement for finance professionals, it turns out the system actually helps accountants serve their clients better. It offers them specialized tools for managing their clients, automating data entry, streamlining financials, as well as generating accurate books and financial statements for filing their clients' taxes.  
Botkeeper Review – Main Features 
Ease of Use 
While bookkeeping can be dynamically complex, Botkeeper is seemingly built to be as straightforward as possible. The deployment process itself is as simple as purchasing the software, entering your business information, and voila! The experts at Botkeeper will handle the rest.  
Now, to be more specific, the system will require you to link it with your business accounts as soon as you sign up. Then once you're done, Botkeeper will schedule a deployment call with one of its experts, who'll try to learn more about your business.  
But, make no mistake. A single call won't be enough. That's just the first step to assessing all your financials and accounting variables. Eventually, the whole process should take about 30 days, during which specialists keenly review your bookkeeping needs based on your transactions framework. And after that, you should be able to unleash the full power of Botkeeper.  
Well, it won't take you long to realize that the learning curve here depends on your accounting experience. Professional accountants and bookkeepers should have the easiest time getting started as most of the in-built functions are pretty straightforward and self-explanatory.  
Don't get me wrong though. I'm not saying other users are bound to have a hard time with Botkeeper. Not at all.  
On the contrary, Botkeeper attempts to simplify bookkeeping for everyone. While some of its tools might seem challenging as you deploy the system, Botkeeper comes with a thorough onboarding process. Your assigned specialist will walk you through the system's accounting processes and tools to help you figure out how everything works. So, no worries if you're relatively new to accounting and bookkeeping.  
That said, one of the things you'll notice about Botkeeper is that all the core functions can be managed directly from its functional and beautiful dashboards interface.
If you need to customize the system, for instance, the dashboard allows you to set up widgets according to your data sources, define goals for specific widgets, as well as personalize your email and SMS notifications. It's also possible to automate dashboard exports, plus configure your preferred bookkeeping date ranges, and many other variables.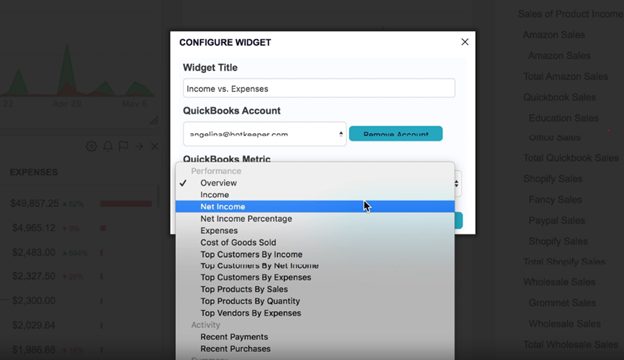 While desktop serves as the primary dashboard access, Botkeeper also comes in the form of mobile apps. You'll find the Botkeeper Financial Hub application on both the iOS App Store and Android's Google Play. You can use either to customize your system dashboard, as well as track all your business financials.  
In the meantime, Botkeeper will keep digging into an extensive range of relevant data sources for detailed insights. It'll also feed data into your accounting software, reconcile your figures, and categorize transactions like expenses, bills, plus invoices.  
Then to safeguard all the data, Botkeeper tops off its software tools with human reviews. There's a team of senior accountants who'll give you the much-needed assurance by checking everything and ensuring compliance, plus data accuracy.  
Bookkeeping and Accounting Tools 
Some of the functions and tools that make Botkeeper a powerhouse in bookkeeping and accounting include: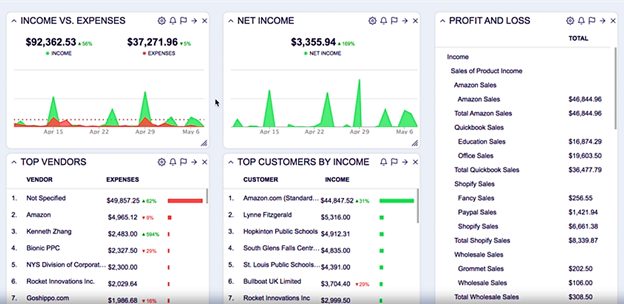 ScanBot: The ScanBot tool provided by Botkeeper is capable of lifting financial data directly from a photo of a receipt or invoice taken from your smartphone.  
Report Builder: This is the part of Botkeeper's financial hub where you go when you need to view detailed insights, as well as set the system to produce critical reports about your key finance parameters.  
Document Manager: The document manager is accessible from both the web browser and Botkeeper's mobile app. It allows you to securely save, view, and customize your system documents.  
Dashboard: Botkeeper boasts of an interactive dashboard, which features both financial and non–financial data. It grants direct access to your key performance indicators, trending analytics, and data visualizations for 360-degree tracking.  
Month-End-Close: At the end of every month, Botkeeper's expert accountants will review your books, and then forward everything to you for final confirmation before closing. The system will send you alerts to keep you posted about the proceedings.  
Automated Bookkeeping: Botkeeper's machine learning engine and AI facilitate automated bookkeeping, which entails comprehensive financial reports, account reconciliations, plus categorization of transactions. The company's team of specialists picks up from there and counter-checks the data while correcting any anomalies. This ensures tax compliance and error-free accounting.  
Fixed Assets Accounting: Botkeeper is built to consider even your fixed assets as part of the business accounting process. It keeps a neatly-arranged log of, among other asset variables, the depreciation rates of your business' fixed assets.  
Credit Reconciliation: To streamline the books accordingly, Botkeeper proceeds to reconcile transaction instances involving credit cards with the corresponding internal transactions.  
Multiple-Entity Accounting: Botkeeper goes beyond your core business pipeline to cover even the supplementary entities that form part of the entire organization. You can, for example, automate accounting for your associates, affiliates, subsidiaries, or perhaps a holding business, alongside the parent company.  
Accounts Receivable: Botkeeper takes note of all invoices due to your business, from which it analyzes the figures and then generates reports about your accounts receivable.  
Payroll Administration: Botkeeper will help you streamline your internal compensation framework for employees by maintaining a consistent schedule, keeping a detailed log of all the employees data, and categorizing every transaction instance for all of your employees accordingly. 
Inventory Tracking: Botkeeper integrates with your online store to keep tabs on the items involved in each transaction, and then generate detailed reports about the subsequent stock levels of every single product.  
Revenue Recognition: Botkeeper acknowledges revenue instances and enters the corresponding transaction details using the cash method or accrual basis standards.  
Custom Chart of Accounts: It's possible to combine your accounting info, and subsequently generate personalized financial statements plus cumulative report charts with actionable insights.  
Customer Invoicing: Botkeeper is capable of helping you with your billing operations by forwarding all invoices to their respective clients and customers.  
Reporting and Analytics 
Bookkeeping, at the end of the day, is mostly about reporting all the financial transactions. Hence, bookkeeping software ought to provide specialized reporting tools that accurately analyze all the critical financial variables, and then generate easy-to-understand but detailed reports, as well as chart visualizations.  
The good thing about Botkeeper is, it doesn't restrict your reporting capabilities. It offers unlimited custom reports to help you track all the relevant financial parameters affecting your business. Such reports are available on the "Financial Hub" of the Software.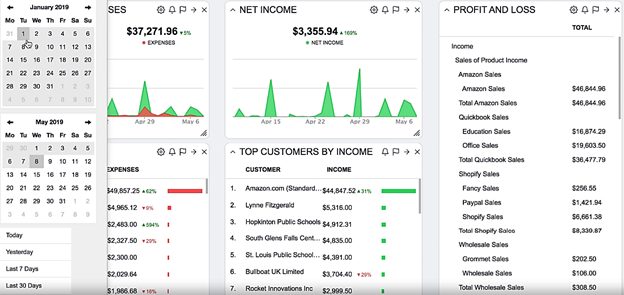 Now, for the sake of clarity, the Financial Hub refers to a Botkeeper tool that offers a 360-degree view of your entire business, while facilitating secure document management and storage, streamlining task and project management workflows, plus safeguarding data integrity.  
From this vantage point, the system manages to pull data from both financial and non-financial sources and then prepares insightful reports to help you make informed business decisions. Its intuitive dashboard displays your key performance indicators (KPI) metrics, trending analytics, and data visualization charts.  
As long as you customize the software's tools based on your preferences and business needs, Botkeeper will proceed to automate all your bookkeeping reporting and analytics functions.  
The machine learning and AI system work hand-in-hand to eliminate the need for hiring a permanent bookkeeper. It's great at reviewing your business metrics as well as the overall financial performance.  
And apart from typical profit and loss reports, some of the elements you can track include cash flow, accounts payable, job performance, inventory levels, credit, fixed assets, etc.  
The trick is to take advantage of the report builder since it provides just the right tools for configuring all these insights. It allows you to customize your Botkeeper reports, and consequently have the system focus only on selected data points.  
Data Security 
Financial information is one of the most sensitive forms of data today. And considering Botkeeper processes a heck of a lot of it from a wide range of businesses, data security should be a primary concern for all users.  
Thankfully, Botkeeper does its part by applying 256-bit encryption to protect user data. This, for your information, is pretty much the same type of encryption that's typically employed in online payment processing. So, you can bet it'll keep your data secure during storage and transmission.  
Botkeeper doesn't stop there though. It turns out the company rides on Amazon Web Services cloud infrastructure. That means its servers are protected by some of the world's best data security tools. Amazon combines a host of specialized features like multi-level firewalls, instance isolation, network monitoring, multi-factor authentication, HTTPS access points, etc.  
Integrations 
Deploying Botkeeper should be a walk in the park since it's a very flexible platform. And most importantly, it comes with an extensive range of third-party app integrations.  
If you're running an online store, for instance, you should find it easy to integrate Botkeeper with eCommerce platforms like BigCommerce, Shopify, Magento, and WooCommerce.  
You can also have Botkeeper dig into your social data by integrating it with Twitter, Facebook, Instagram, and LinkedIn. Then when it comes to digital marketing, you might want to consider embedding Google Ads, Salesforce, Kissmetrics, MailChimp, Constant Contact, HubSpot,  Insightly, etc.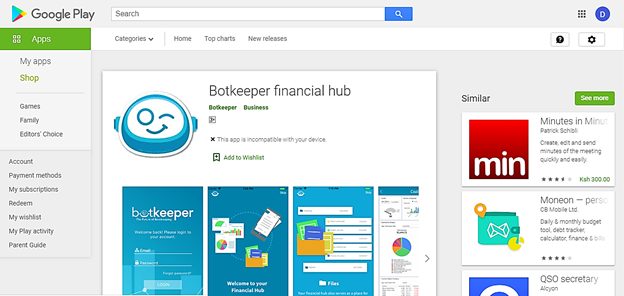 That said, some of the notable Botkeeper integrations include:
QuickBooks Online
Insightly
ABBYY
Dropbox
Google Sheets
ePages
Shopify
Clover
FreshService
First Advantage
Constant Contact
Chargebee
Expensify
Twitter
GitHub
BigCommerce
WooCommerce
Freshdesk
Zendesk
Campaign Monitor
Google Analytics
Salesforce Pardot
Linkedin
Acuity Scheduling
HubSpot
Gusto
Base
Pipedrive
Adobe Sign
Google Drive
Stripe
Infusionsoft
Bullhorn
Salesforce
Box
G Suite
AWS Marketplace
Magento
Weebly
Salesforce Desk
Bamboo HR
Act-On
Google Ads
Mailchimp
Paywhirl
PayPal
Instagram
Google Sheets
Good Data
Etsy
Volusion
Square
Jira Software
Greenhouse
Facebook
KissMetrics
Chargify
Orderful
Hootsuite
OneDrive
Office365. 
Botkeeper Review – Customer Support 
Customer support is one thing you're bound to enjoy here, as Botkeeper comes with multi-level specialized support to assist you with your accounting, bookkeeping and technical issues.  
In fact, the whole experience begins as soon as you sign up for the service. Botkeeper will immediately assign you a technical expert, who'll review your business structure, and subsequently help you migrate the entire bookkeeping framework to Botkeeper. They also provide onboarding assistance, as well as customization of essential system components.   
Then once the entire system has been deployed accordingly, Botkeeper proceeds to hand your account over to an expert team of experienced accountants known as a Bot Team. Your dedicated account manager acts as the primary contact personnel, while the rest of the accountants continue to support your core bookkeeping processes. So, in case of any issue, you're free to get in touch with them for quick assistance.  
The contact channels here are email, live chat, and phone. Botkeeper allows you to reach out at any time 24/7, and its support team will promptly get back to you. 
Then get this. If you'd want a much faster response, you might want to give Botkeeper's Bot a try. Yes, that's right, the system offers you automated support via email and live chatbots, all of which are incredibly intelligent and extremely responsive.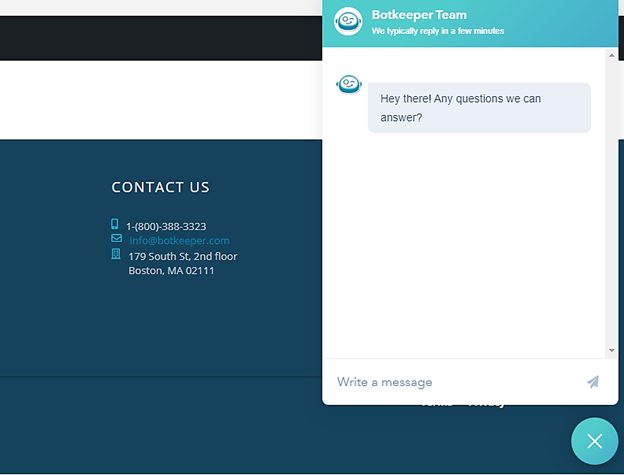 Now that's a nice touch, especially considering the Botkeeper knowledgebase, which would be the alternative option, provides very shallow information about the service. You'll only find the basic resources.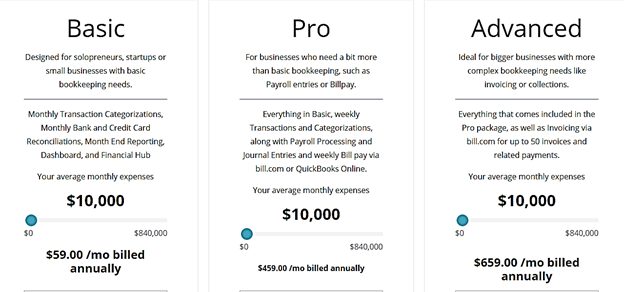 Basic: The Basic package targets small businesses, startups, and solopreneurs with just the essentials. The pricing here starts at $59 per month with annual billing for average monthly expenses worth $10,000. It then increases as you stretch the expense bracket until it hits a price of $2,940.30 per month with annual billing for the package, with average monthly expenses worth $840,000.  
It comes with features like unlimited connections and transactions, the Botkeeper Financial Hub, a custom dashboard, bank and credit card reconciliations, transaction categorization, standard or custom chart of accounts, profit and loss, balance sheet, and cash flow statements, as well as cash or accrual basis bookkeeping. 
Pro: The Pro package is built of growing businesses that need more bookkeeping automation capabilities.  The lowest it can cost, however,  is $459 per month with annual billing for average monthly expenses worth up to $10,000. The pricing then increases with the corresponding monthly expense allowance, until it hits $3,340.30 per month with annual billing for the package, with average monthly expenses worth $840,000.  
This gives you capabilities likes comprehensive accounts payable tracking and reporting, Bill Pay via Bill.com or QuickBooks Online for up to 10 payments, payroll Processing and journal entries unlimited connections and transactions, the Botkeeper Financial Hub, a custom dashboard, bank and credit card reconciliations, transaction categorization, standard or custom chart of accounts, profit and loss, balance sheet, and cash flow statements, as well as cash or accrual basis bookkeeping. 
Advanced: Advanced is the most superior package and it serves large enterprises that typically rely on complex bookkeeping systems.  The cheapest price here is $659 per month with annual billing for average monthly expenses worth up to $10,000. The cost then increases with the corresponding monthly expense allowance, until it hits $3,540.30 per month with annual billing for the package, with average monthly expenses worth $840,000.  
Some of the accompanying features include invoicing via Bill.com up to 50 invoices and related payments, detailed accounts receivable tracking and reporting, comprehensive accounts payable tracking and reporting, Bill Pay via Bill.com or QuickBooks Online for up to 10 payments, payroll Processing and journal entries unlimited connections and transactions, the Botkeeper Financial Hub, a custom dashboard, bank and credit card reconciliations, transaction categorization, standard or custom chart of accounts, profit and loss, balance sheet, and cash flow statements, as well as cash or accrual basis bookkeeping. 
Botkeeper Review – Pros and Cons 
Pros of Botkeeper 
Botkeeper combines artificial intelligence, machine learning, and accounting specialists to automate all your bookkeeping processes.  
Botkeeper provides detailed and accurate reports about your business finances. The resultant insights come in handy when you need to make critical business decisions.  
Botkeeper eliminates the need for hiring a permanent resident accountant.  
Once you sign up for the service, Botkeeper gives you a deployment expert, who analyzes your bookkeeping needs, and then helps you roll out the system.  
Botkeeper boasts of a wide range of pre-built integrations. You can easily embed it with eCommerce platforms, digital marketing systems, accounting software, analytics tools, payment processors, etc.  
Botkeeper is capable of lifting data from both financial and non-financial sources. This increases the depth of the resultant insights.  
Every single user account is managed by a dedicated account manager, along with a team of expert accountants. Apart from helping you in case of any problems, they ensure constant data accuracy.  
Botkeeper consistently generates accurate monthly close-out reports.  
User experience is great, thanks to well-optimized customer support and high marks for customer service.  
Botkeeper caters to different types of users across all the main industry categories. Even accountants get tools for managing their client services. 
Cons of Botkeeper 
Botkeeper doesn't offer free trials. The lowest it can go is $59 per month for the Basic package.  
The revenue recognition capabilities here are pretty basic.  
Comprehensive accounting is only possible when you integrate Botkeeper with an accounting tool like QuickBooks Online or Xero.  
The Botkeeper knowledgebase doesn't provide detailed resources. Its articles are quite shallow.  
Botkeeper integrates with only a handful of eCommerce platforms.  
Botkeeper is fairly new in the accounting scene. 
Botkeeper Review Frequently Asked Questions
Does Botkeeper work with other accounting software?
With Botkeeper, you can connect with the most important software accountings, like QuickBooks Online.
What industries does Botkeeper work with?
Botkeeper suits almost any kind of business. They pair you with a lead accountant and bot to help you accommodate your needs.
Does Botkeeper have any references?
Yes! There are many testimonials and references you can get of BotKeeper to help you decide. You can read them here.
Other Botkeeper Alternatives to Consider
That said, be sure to measure BotKeeper against the competition. Specifically:
Sage Intacct
Bench.co
Quickbooks Online
Freshbooks
Xero
Local CPA Firms
Botkeeper Review – Ultimate Verdict 
Accounting is a very competitive space with numerous possible software options on the web. Botkeeper, however, has managed to set itself apart from the rest by stretching beyond the boundaries of standard bookkeeping solutions.
It relies on the power of machine learning and artificial intelligence to automate the core bookkeeping processes for all types of businesses.  
Then to top it off, it assigns you a team of extensively-experienced accountants, who counter-check the resultant system data to ensure accuracy. So, all in all, Botkeeper is capable of helping your business survive for the long haul without hiring an accountant.  
Plus, there's no denying that machine-generated reports are much more accurate and less prone to errors than human-generated books.  
Bottom Line: We now use Botkeeper for many of our businesses and it's truly a game-changer, saving us significant overhead and saving us more time as it "learns" our businesses better. Be sure to check their latest pricing plans here.
I guess the future of bookkeeping looks bright for AI-driven accounting. Only time will tell.  
And now, your thoughts?  
Further reading: