Last Updated on January 11, 2023 by Ewen Finser
For companies looking at tools to get themselves started into an automation feature and email marketing, the number of solutions out there seems endless.
Worse than that – it can be really difficult to see the value of one solution over nanother marketing campaign tool. They all sound so similar!
Personal Anecdote: I have a bunch of sites on the ConvertKit free trial version and absolutely HATE that they lock you out with a squeeze page (that you cannot get out of – even to log into another dashboard). Fix this, Convertkit…. 2020 UPDATE: ConvertKit FINALLY launched a completely FREE version

which you can check out here

.
One of the absolute top names in such software is ConvertKit. Surprisingly, for such a well-regarded piece of kit, the company only started in 2015! Their growth is quite likely down to their focus on professional bloggers. Not every organization has a blog though, and not every blogger will gel with ConvertKit, even if it is designed for them. With these points in mind, here are a few great alternatives to ConvertKit for your email marketing software consideration.
TL/DR Overview: My top alternative is the much more scalable and comprehensive

ActiveCampaign here

. It's suitable for a simple blog OR a complex ecommerce business. Most importantly, it scales WITH you whereas ConvertKit might not be a great tool after just starting out.
The 7 Best ConvertKit Alternatives
These are the best ConvertKit alternatives listed in order of priority.
ActiveCampaign SCALES
Take the best email automation and mix it with all the best parts of a CRM. Result: ActiveCampaign. While I call it a "lite CRM", AC is no lightweight. I've been with them for years and LOVE the endless integrations and expandability.
Try ActiveCampaign FIRST
We earn a commission if you click this link and make a purchase at no additional cost to you.
In the context of email marketing solutions, ActiveCampaign feel somewhat like underdogs, but they've been around for 14 years, so they're obviously pretty savvy with what they're about!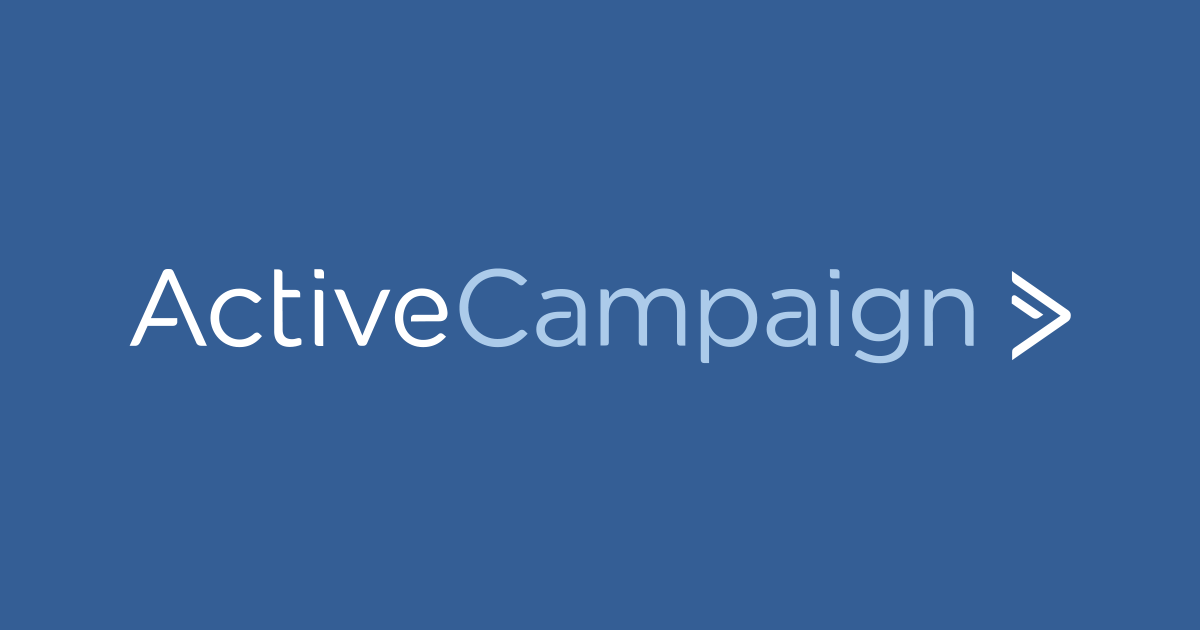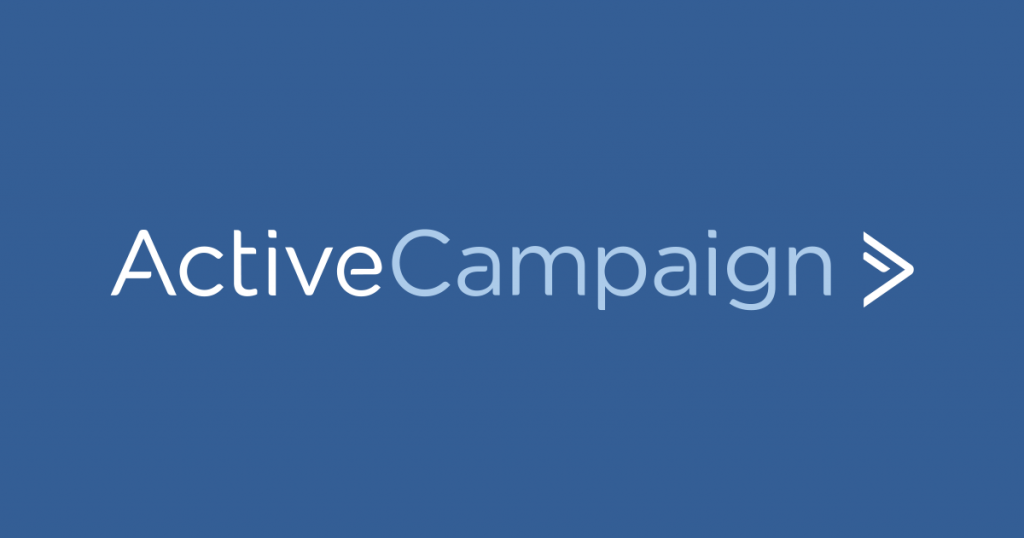 ActiveCampaign does look remarkably like every other solution claiming wonderful things for email marketing.
But, on second glance, we can see that it's positioning itself just slightly differently, in that it regards itself as an automation tool, rather than focusing on being an email marketing tool.
When you look at thing more closely on that second glance, it gives the impression – somewhat like GetResponse – that it's trying to operate as a lighter CRM, focusing on all of your company's e-commerce.
Best of all, ActiveCampaign has some great pre-built sales funnel and email templates so you can easily modify for your unique selling proposition. You can still integrate with professional landing page builder software and MANY other 3rd-party shopping carts.
You can play with ActiveCampaign for a free trial period of 14 days, just to see how you get on with it. If you decide to stick with them, as with many such companies, they offer a 15% discount to those who pay annually for the pricing plan.
Starting prices are impressively cheap, the lowest rate being $9 per month for up to 500 contacts. That really is for skin and bones email marketing stuff. I think the best thing on offer here is that the don't have a cap on how many emails you can send to your 500 contacts. That's pretty great!


Sticking with 500 contacts as an example, starting at $49 per month, ActiveCampaign moves beyond being an email marketing tool, and you can see it extending into the aforementioned CRM territory (with a full featured automation workflow).
One of the things I LOVE about ActiveCampaign is the ability to ADD as many lists (or sites) as you want, as long as you are in your subscription tier. ConvertKit is completely backward in this regard. There is no such thing as a ConvertKit "shared" account. Each dashboard is tied to a separate account (and payment!).
As well as that though, ActiveCampaign themselves feel like more of an agency, rather than just a service provider, especially with the inclusion of one-on-one training, but also the custom domain and branding they'll help you with. They throw in text marketing for good measure.
On what they call the Professional tier, you get all the other stuff, and, what I personally feel is not enough for the extra monies they want from you. The main addition is attribution to help you track your user journey… which you should be able to track through literally any analytics software anyway.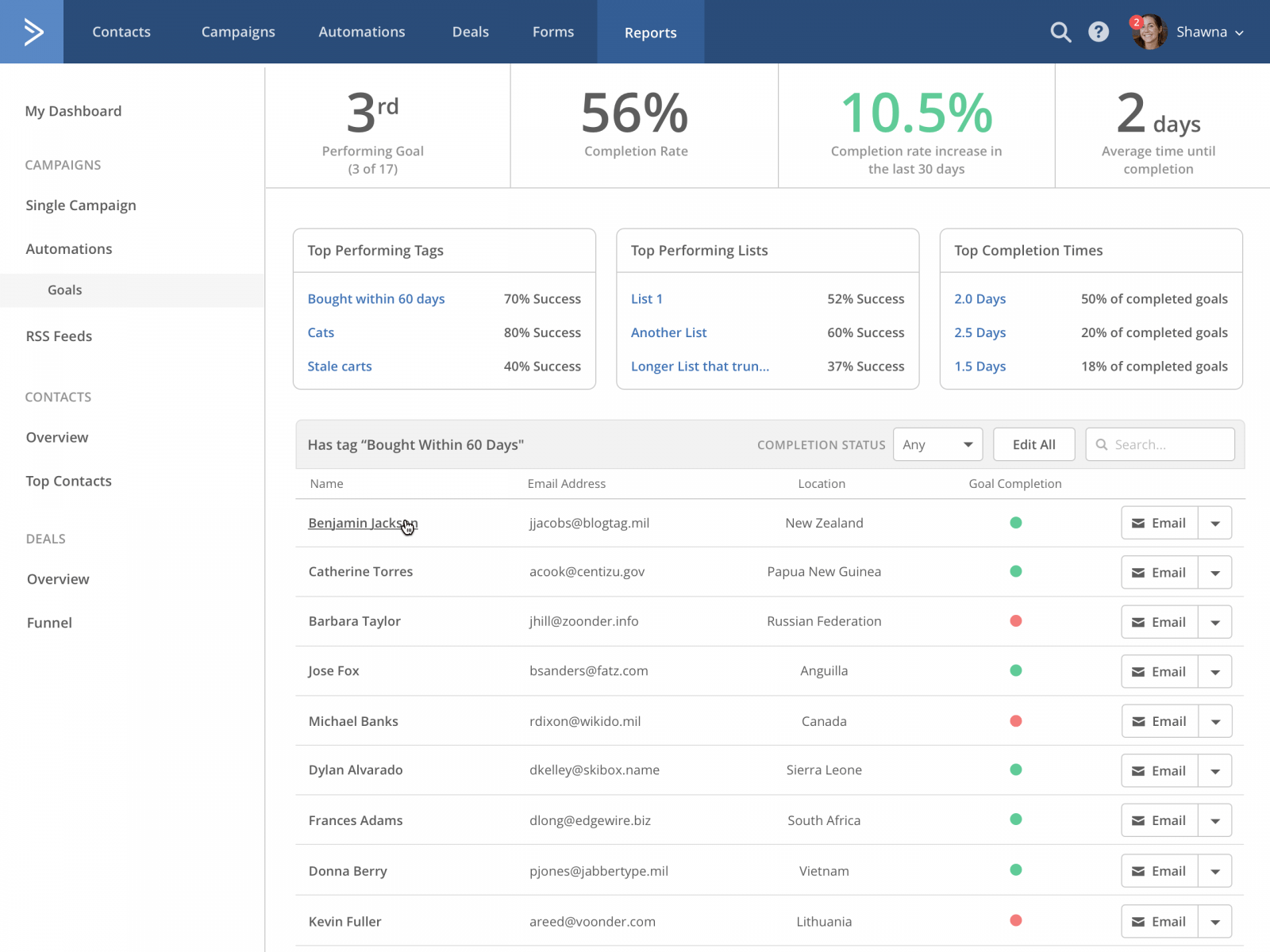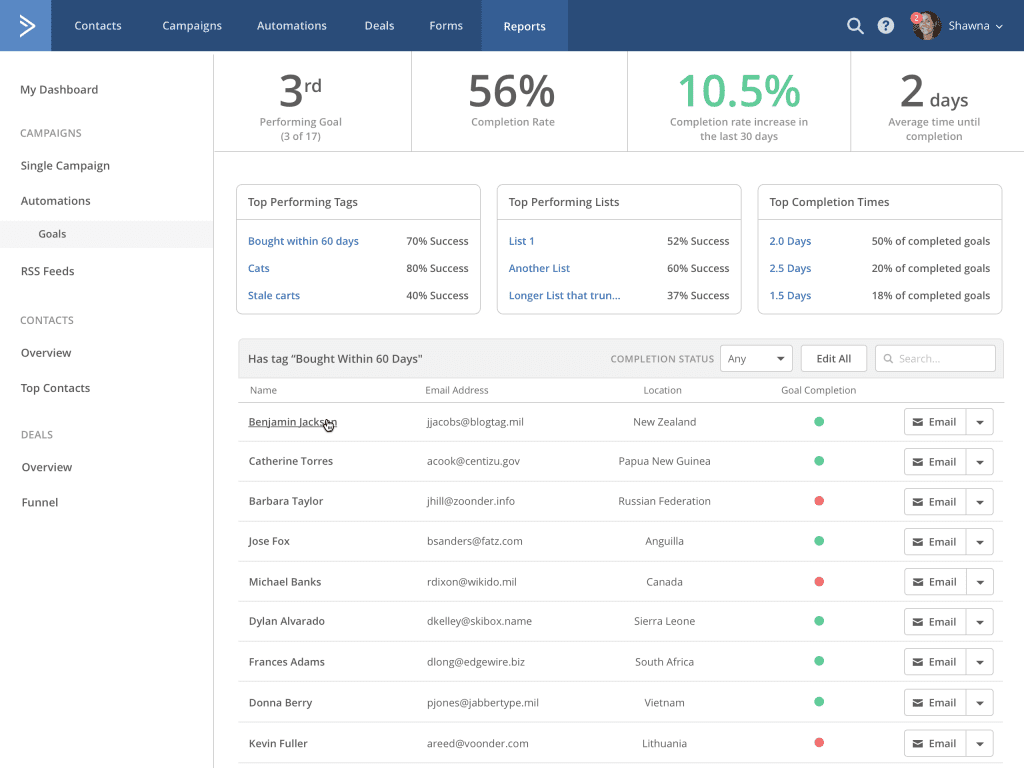 It also include site messaging, which is essentially a pop up where you can suggest a call to action or present opt-in forms to your site visitor (single opt-in or double opt-in). The form builder is also customizable and can be tweaked for optimal click-through rates to increase conversion rate.
Still with 500 contacts, ActiveCampaign's Enterprise tier is their top one for $149 per month, and at this point, you're into full on agency level stuff. The main agency-like features of this tier are an account rep, and an SLA. You also get a designer and social data.
From what I can make out, the social data is like the demographic information that Google Analytics will provide you with. In use, ActiveCampaign is a pretty straightforward email marketing platform. It lacks perhaps the warmth of other interfaces, but the visual workflow and visual automation is logical throughout.
This makes it feel very much like a business only, no-nonsense piece of kit. Not that that's a bad thing. I know some people get sick of some interfaces' sickly sweet, borderline condescending tone.
ConvertKit vs ActiveCampaign: As an alternative to ConvertKit, I guess it could work for some professional bloggers. My line of thought would be that it would be best suited to those who use their blog as an aggressive sales and marketing tool. It's not everyone, but they do exist.
Get Started Trying Active Campaign Here
Further ActiveCampaign Reviews:
Our Pick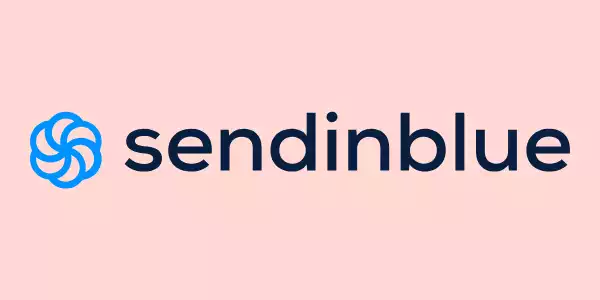 I Personally Prefer Sendinblue
You might not have heard about Sendinblue, but you SHOULD. It has the big box API tools of a SendGrid, the sales automation of an ActiveCampaign, but the user-friendliness of a ConvertKit. Plus, it's relatively cheap in comparison to each.
Try Sendinblue Here
Save 50% for Black Friday!
We earn a commission if you click this link and make a purchase at no additional cost to you.
Sendinblue is a very competent alternative, but what makes it especially interesting is that their pricing is based on a volume of "emails per day" instead of subscribers.
This is a super innovative pricing model, perfect for those brands where you are "building a list for the future" but don't actively do promotions all of the time.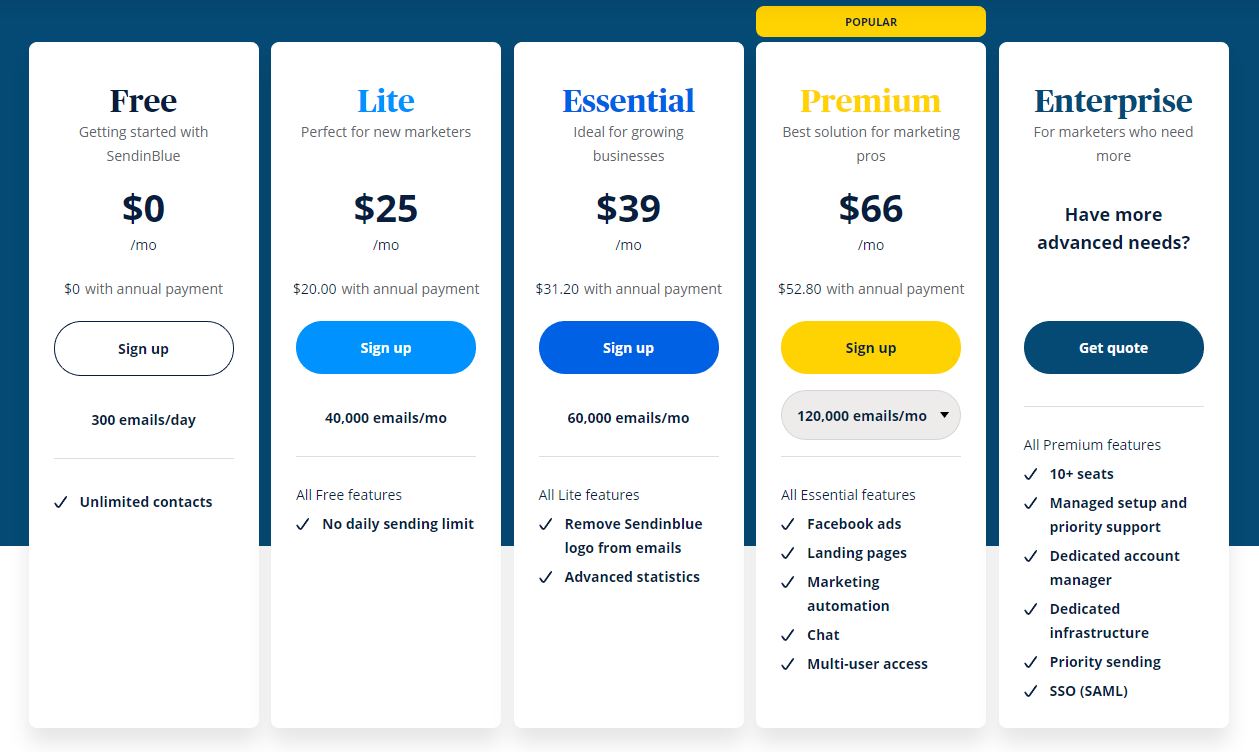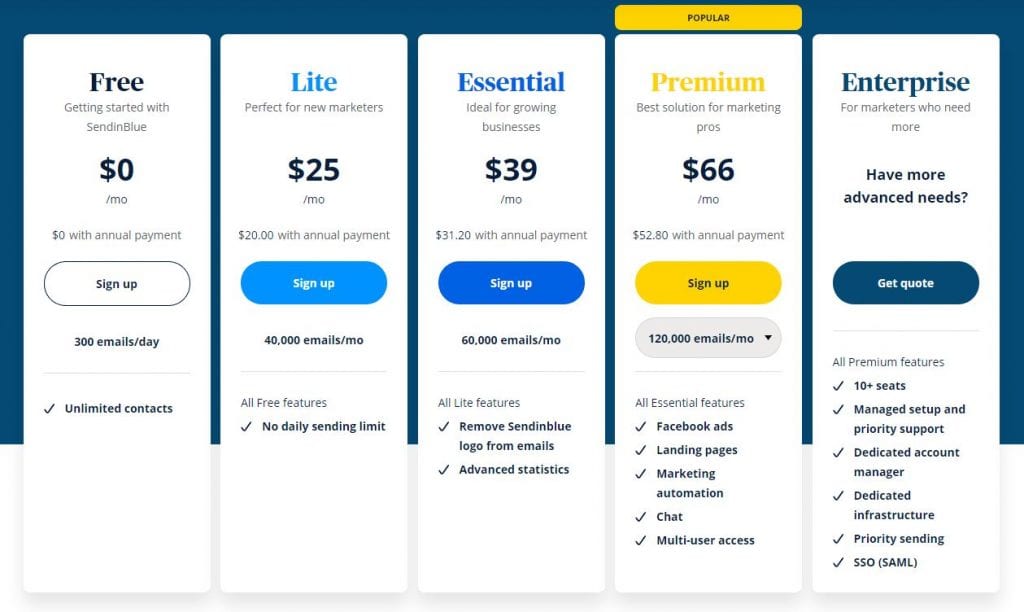 Sendinblue definitely has features that set them apart like SMS campaigns, transactional emails and deliverability which are fundamental for any advanced marketing platform for the modern email marketer. SendinBlue, admittedly, continues to solve a wide range of problems. But, there's one particular challenge that underlines SendinBlue's fundamental objective.
SendinBlue was launched in 2012 to essentially address a major issue that small and medium-sized business had been facing. Digital merchants simply needed decent email marketing automation capabilities on a budget.
Sendinblue pricing starts at $0 for up to 300 sends per day, then $25 per month for up to 40,000 emails per month, $39 for up to 60,000, $66 for up to 120,000, and customized pricing available beyond this. What stands on the most is the fully featured FREE version for up to 300 sends per day. Very few email service providers use this generous model, let alone an advanced marketing automation platform like Sendinblue.
Get Started For Free with Sendinblue Here
Further Sendinblue Reviews:
GetResponse is an email marketing solution that I will stand up and admit that I don't fully "get."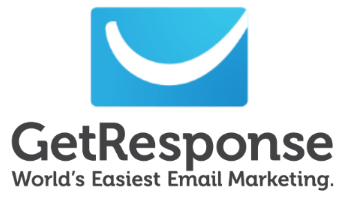 They've been around since 1998, so they're obviously very good at what they do. That's the extent of the information I can find out about them. At the front and center of them informing prospective customers about what they do, is email marketing and automation.
No problem there, that's pretty standard. However, the bit where they lose me is their second and tier and upwards products.
They highlight functionality for webinars as one of the key features.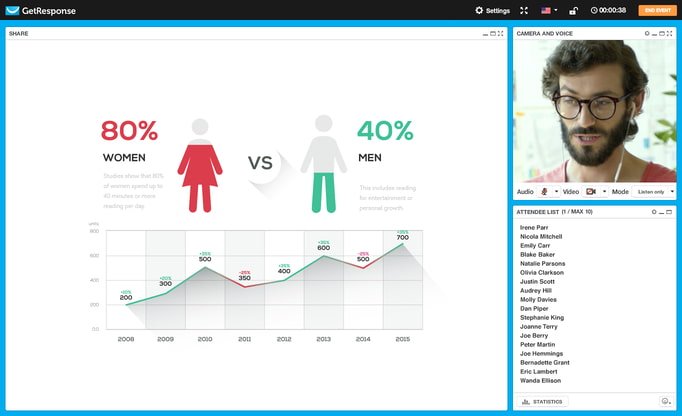 Now, don't get me wrong, I'm sure they wouldn't be promoting it as a feature unless there was demand for it.
However, in my 10 years of marketing experience, across a range of industries, I've never thought "Hmm… I think I need a webinar" – nor has any company ever tried to sell it to me as an important digital channel. I'm going to stop myself there on webinars.
Let's talk about pricing. Everybody loves to talk about pricing. Pricing for GetResponse starts at $15 per month for up to 1,000 subscribers. That gets you the completely basic package, which is essentially landing pages and a little bit of automation.
If you opt to keep that minimalist package, but your subscriber list increases, you'll have to spend more monies – it costs $450 for up 100,000 subscribers.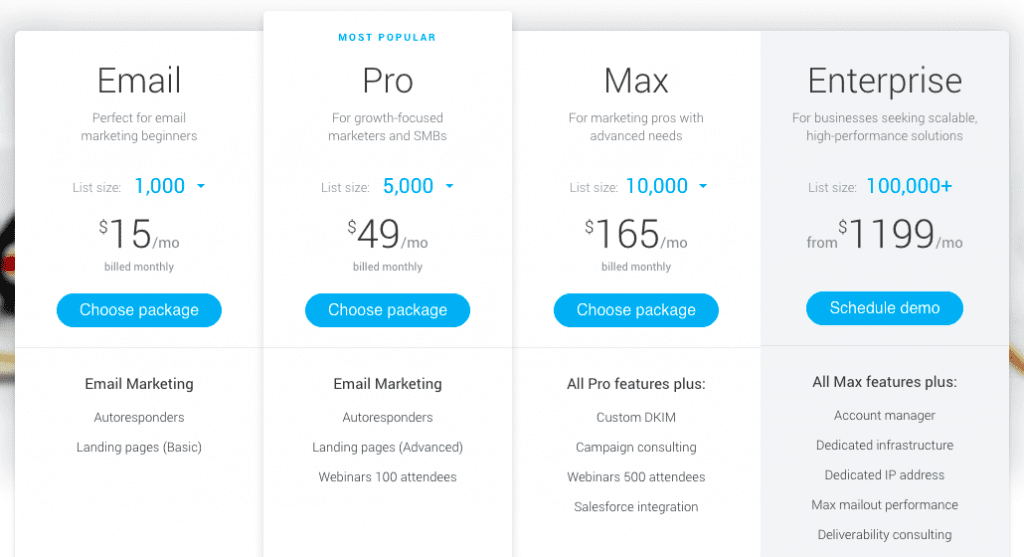 Moving up to the next tier starts at $49 per month for up to 5,000 subscribers. You're now able to have webinars with up to 100 attendees, and you have an increase in the functionality of your marketing automation.
Visitors to your website will get emails if they ditch their shopping cart, and it will segment your automation processes.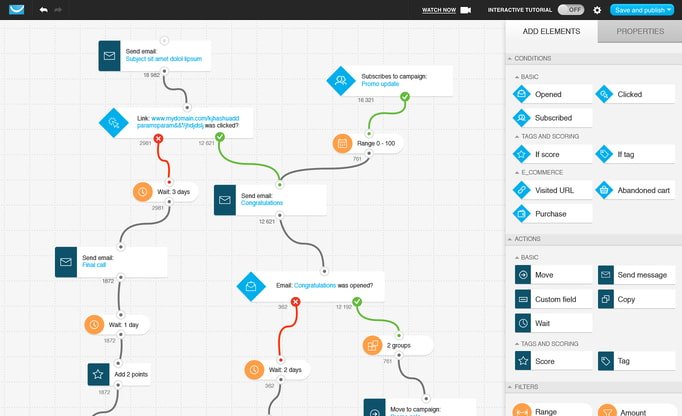 I'm a big fan of software products that integrate with one another – it's pretty common among the most popular ones. In the case of GetResponse, when you hit the third tier, it'll integrate with the ever-popular Salesforce CRM. While that is great, to see, it would be nice to see a few other integration options available.
Speaking of CRM, of all the email platforms I've played without throughout my career, when you're using GetResponse, it does give the impression that it wishes it was one. You know how CRM's come with email functionality? It's like they stripped away everything else a CRM would do, leaving just that, but still trying to fulfill the objectives of a CRM.
That's not a criticism. In fact, it's precisely what some businesses need – I'm thinking of startups or small businesses (with growth potential) in particular, who don't have the resources for a full-time CRM person. I can see how GetResponse might match some of CovertKit's appeal for professional bloggers.
Its CRM-esque feel makes it quite business-oriented, but the lightness of that would make it feel manageable. It's also slightly better than the ConvertKit pricing positioning, but similar in terms of tiers.
In the case of professional bloggers whose objectives lie in providing their intended audience with information, GetResponse's webinars might actually be of use to them in generating a more personal interaction with who they're trying to reach.
Start Your Free Trial of GetResponse Here
Further GetResponse Reviews:
MailerLite is a web-based email marketing service that principally targets bloggers, freelancers, plus small to medium-sized businesses.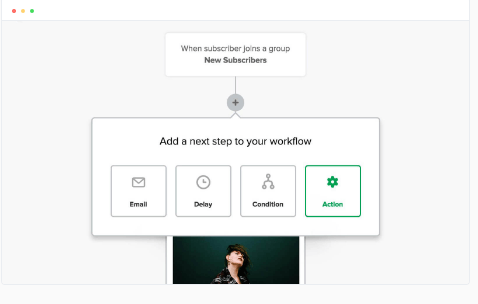 When it comes to CMS and e-commerce platforms, for instance, you should be able to embed MailerLite with all the dominant systems. There's a plugin for WordPress users, as well as a compatible MailerLite Shopify app for e-commerce stores (Shopify integration).
Otherwise, you can also integrate the email marketing service with e-commerce stores on Squarespace and WooCommerce. All things considered, MailerLite's service strong point is, of course, it's considerably cheap pricing, plus the simple, intuitive tools.
The affordable pricing model makes it a reasonable email marketing solution option for budget-minded users. The type of users you'd expect here include bloggers, creatives, freelancers, solopreneurs, small business owners, as well as marketing beginners.
MailerLite Prices are: Free version basic up to 1,ooo subscribers, $10/month for up to 1000 (fully featured), $15/month up to 2,500 subscribers, $30/month up to 5,000 subs, $50/month up to 10,000 subs, etc… see here for extended pricing. Further Reading: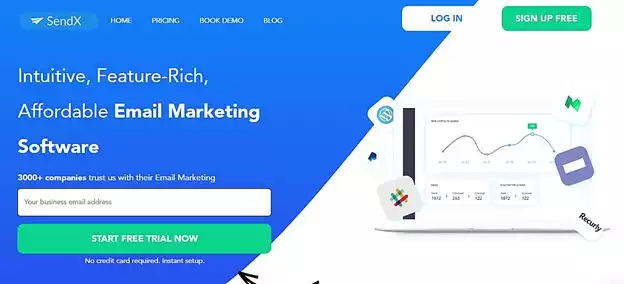 Is SendX Worth the Money?
I was skeptical. It's new. After testing it out for a months, I can safely say that SendX is WORTH IT. Unlimited email sends, dead-simple UI, A/B tests, 25+ pre-built automation triggers, and hundreds of templates and free images.
Try SEndx Free
We earn a commission if you click this link and make a purchase at no additional cost to you.
SendX is a NEW player on the market (added to this list recently), BUT it offers a TON of automation features. It's like ConvertKit (usability) mixed with ActiveCampaign (functionality), all grown up! SendX doesn't automate emails alone. The automation capabilities extend to its forms, pop-ups, and landing pages too.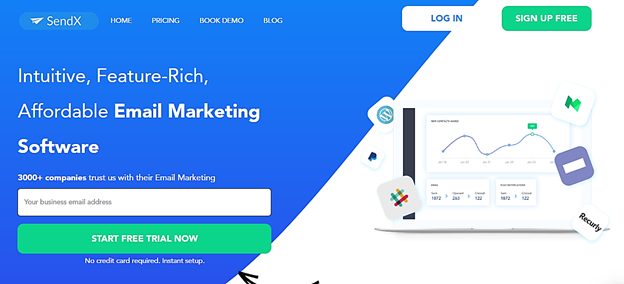 As for SendX, it might not exactly be what you'd call an "all-in-one digital marketing suite", but for a good reason. You see, by focusing entirely on email marketing, SendX eliminates all the complications that its omnichannel competitors often come with.
So, all in all, SendX is a perfect solution if you're the type that prioritizes simplicity in email marketing, with simple (ConvertKit-like) automations.
View Full SendX Pricing Plans & Promos
Further Reading:
Campaign Monitor started in 2004. That's a while ago in tech terms, and they've had a solid expansion rate since then.

They claim 150,000 companies worldwide use their product. While that might not seem the most massive number when you think about the number of businesses in the world, and the number of internet users, the list BuzzFeed and CocaCola among those companies.
Perhaps they're gunning for quality over quantity? It looks like it's touting the same features and selling points as everything else we've looked at. Let's see if we can tease out what might be different, and more appropriate – or not – for you.
Pricing
Like ActiveCampaign that we've just looked at, prices for Campaign Monitor start at $9 per month for 500 contacts. However, at ActiveCampaign, you have unlimited sends to those 500 people. At Campaign Monitor, it's capped at 2,500 email per month. For some businesses, that could be a deal-breaker, but let's look at more stuff.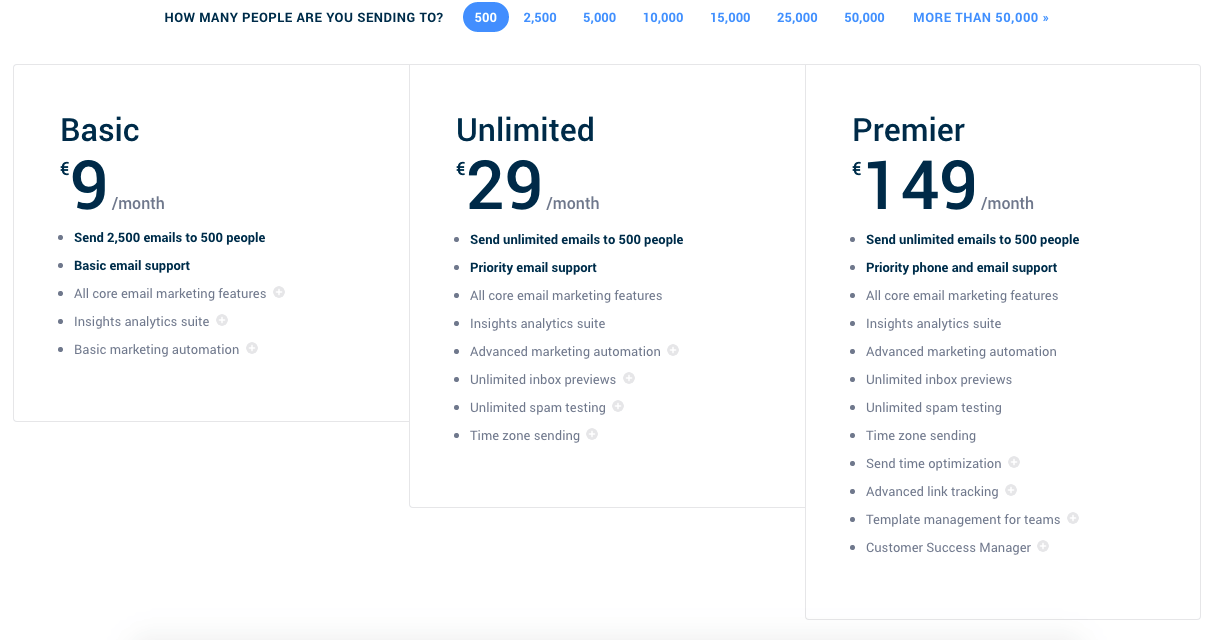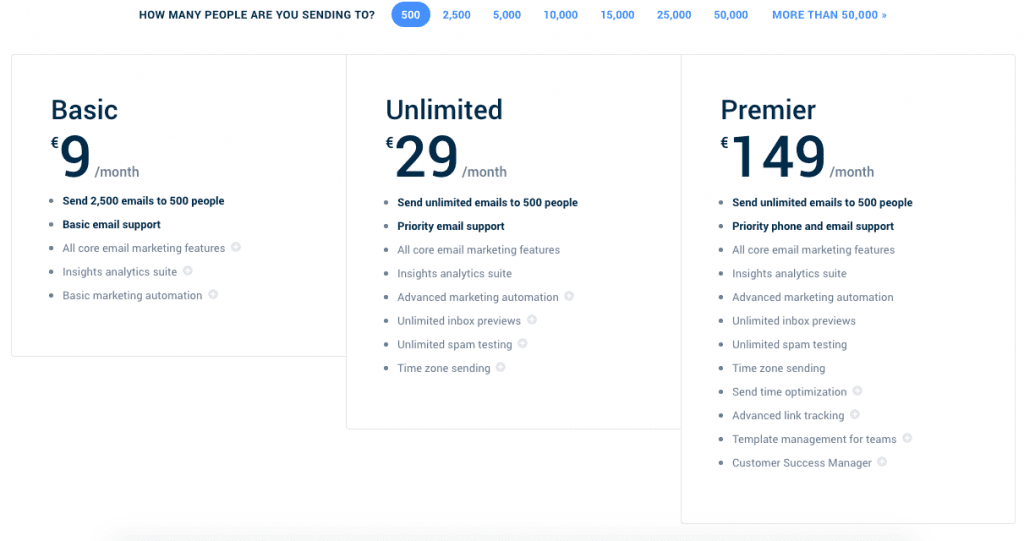 They highlight their drag and drop email building functionality – not too unlike MailChimp really. They also highlight their data analytics.
Again, nothing too groundbreaking in terms of email campaigns. If you bump up how much you're willing to part with to $29 per month – again looking at 500 contacts – you get all the stuff from the earlier tier, plus a few other bits.
The other bit that stands out to me is access to a deliverability expert. You might be surprised to see how many people get over-excited about being able to email large numbers, they forget that at the other side of that large numbers there are actual people.
And to send an appropriate marketing email that people will want to open at all, and then engage with what you send them, that's where good communications knowledge comes in.
Think about the number of emails that go into your own spam folder, or even ones you just delete when you see the subject line.
Why would you want that to happen to your own marketing emails that you're trying to get to reach people?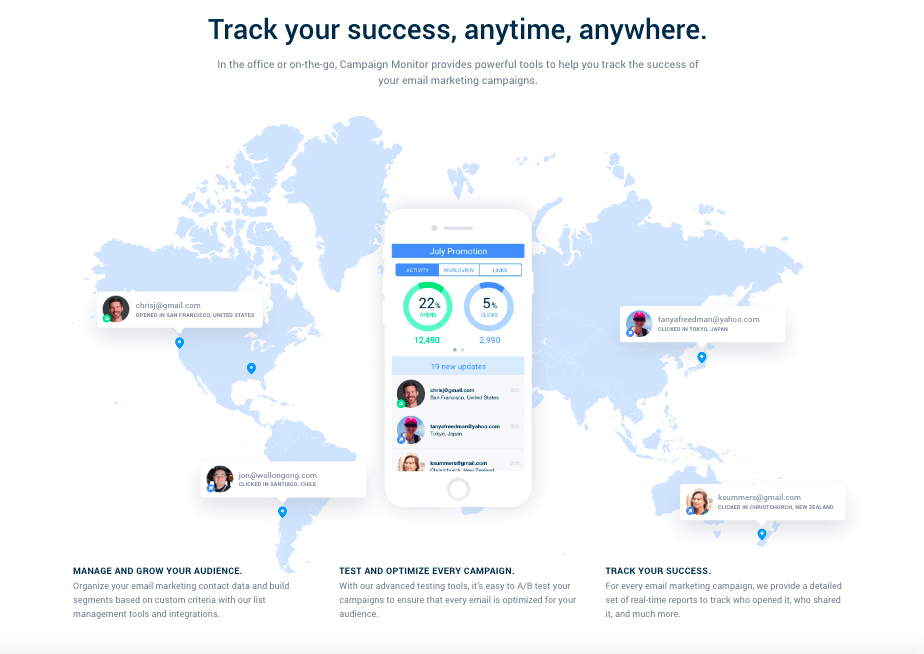 Another cool feature offered at this tier, that I haven't seen featured elsewhere, is time zone sending. We all know how important it is to get the timing of your email right – sending a marketing email while you're at work doesn't make sense if your audience is most likely to be at work too.
With time zone emailing, it doesn't matter where in the world your recipient is located, it will send to them at the time you specify, in their own time zone. It's incredibly clever! The Premier tier starts at $149 for 500 contacts, up to $989 per month for up to 50,000.
It's quite a jump from the middle tier, which I feel is mostly to cover the cost of the Customer Success Manager that comes with these campaigns. You get some other bits, but I can't see them being behind the massive price hike: things like template management, send time optimization, and advanced tracking.
Campaign Monitor's usability feels solid. As soon as you log in, it wants you creating an email. Not in a pushy way. The tone of the language used in getting you through it is actually very warm and friendly, and never comes across as condescending.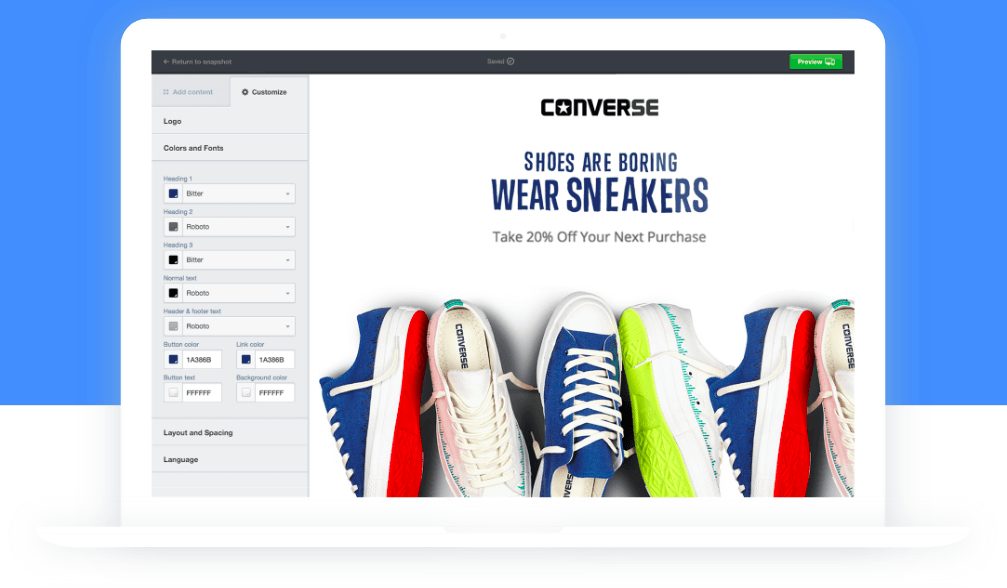 The layout of the interface is easy to navigate, and there aren't really any major surprises. As with anything else like this though, it's best to take your time and figure out what you're looking at. The one thing that's lacking in Campaign Monitor is integration with other software.
It's not necessarily a bad thing. It does keep it very much focused on being an email marketing tool, and doing that really well.
Relative to ConvertKit, I feel like the benefit of Campaign Monitor to a professional blogger will depend on the objectives of the blogger themselves.
If their intended outreach is regular outreach campaigns, rather than being too sales-focused, Campaign Monitor is certainly worth a look.
Further Campaign Monitor Reviews:
Let's get this one out the way good and early. If you haven't heard of MailChimp, you've probably never received a marketing email, and if you've never received a marketing email, you probably have never used the internet. I don't know why somebody printed this listicle off for you.

MailChimp is kind of the grandaddy of email marketing. It's one of the oldest – it's been around for 15 years – and by far the most popular. They're relatively aggressive in their own marketing, so there's a good chance it was near the top of your search results when you first started looking for solutions!
It's pretty easy to identify the reason MailChimp's popularity, apart from it aggressive marketing though. It's entry level tier will allow you to email up to 2,000 subscribers for free. That's right – free! Isn't that what everybody wants to say to their budget holder when they're proposing new solutions?
The free Mailchimp plan version is a handy tool. Apart from its freeness, it does all the basic things that an email marketing tool should do. Apart from the actual emailing bit, it allows you to create a sign-up form – that's probably the bit that's most important for getting started. There's no point in having the most aesthetically pleasing, informative emails, if you don't have anybody to send them to!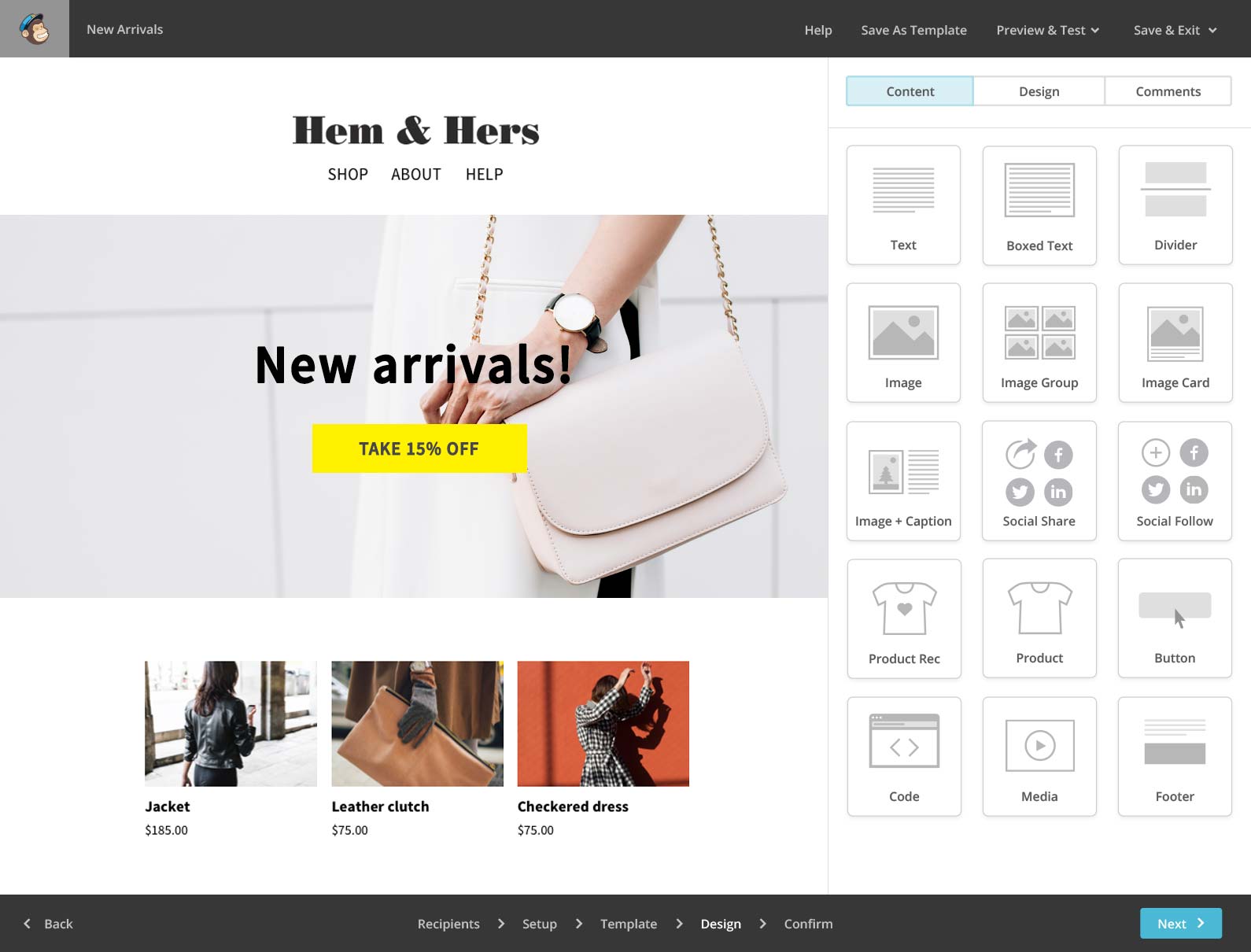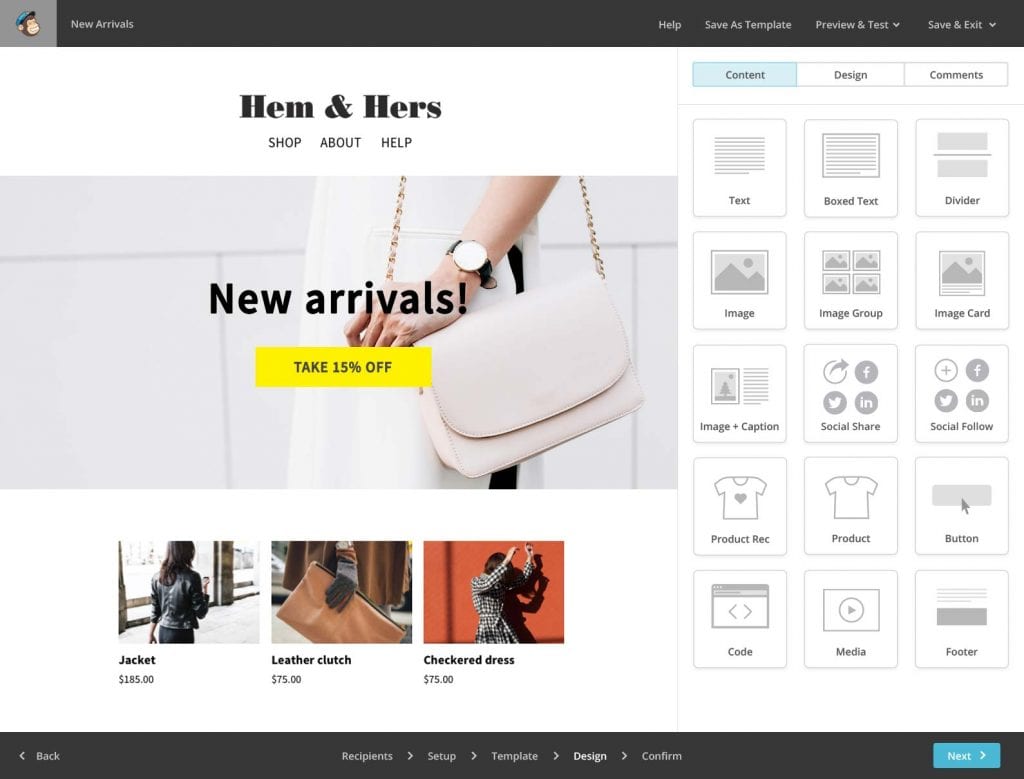 MailChimp comes loaded with a bunch of email templates to get you started, if you're not into tinkering with HTML. Most of them are pretty good, but will still need a bit of amending to make them align with best practice.
Because it's one of my favorite things in general, one of my favorite things in MailChimp is the analytics it provides, even at its entry level. It's not as detailed as some other solutions, but if you're using the free plan, it's likely you don't have time for being dedicated enough to email marketing to interpret all the data it could provide you with.
Mailchimp Pricing
If you get over 2,000 subscribers, you'll need to start paying a few dollars. The lowest is $9 per month, and that will give you the same features as the lower tier, but you can contact more people.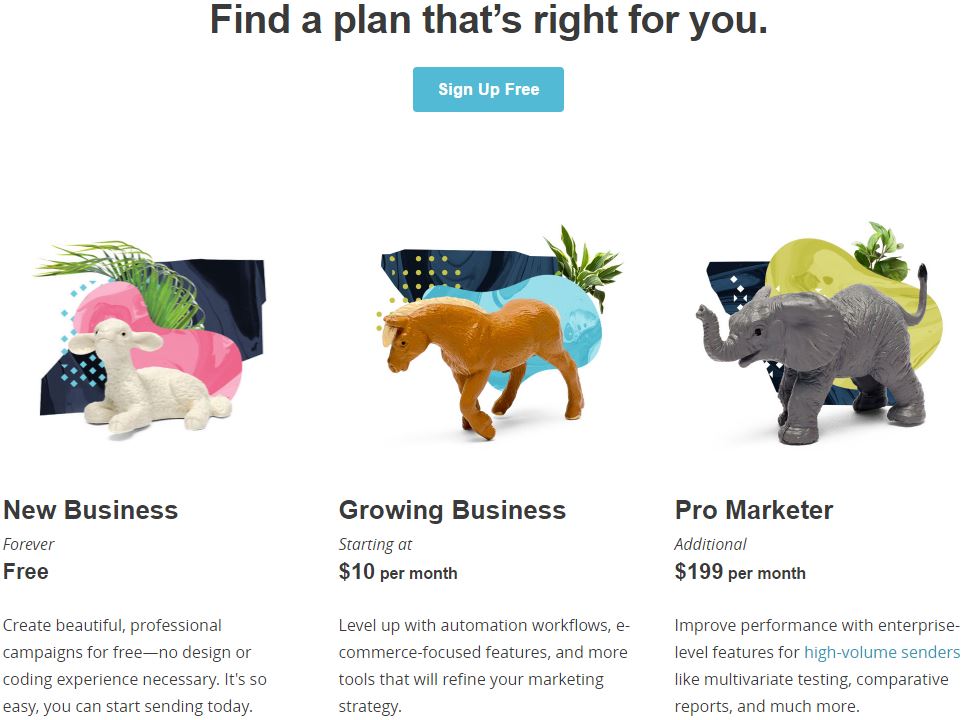 Moving up to the middle tier, and I feel it's where MailChimp starts looking more like a business platform rather than one aimed at the likes of professional bloggers. Firstly, it allows you some integration with CRM systems – typically used by companies selling stuff.
It also allows team collaboration. Again, not something typically associated with bloggers. And finally, MailChimp's top tier is an exceptional piece of kit, that costs $199 per month, in addition to whatever you're paying at the tier below.
It primarily offers even more analytics, but to be honest, if a lone blogger was making the most of all it offers and that it can do, they wouldn't have any time for blogging! This is definitely aimed at large companies with a dedicated email marketer in the house.
Further Mailchimp Reviews:
Best ConvertKit Alternatives: ESP Honorable Mentions
I would be remiss to not mention these other challengers, although perhaps not as established or similar, they are definitely worth mentioning.
Drip: I actually really like Drip for simple funnels, particularly for digital product owners, bloggers (true bloggers), and as a very intuitive visual automation builder. They also offering Live Chat support, which ConvertKit doesn't have. The other nice thing about Drip is that they were recently acquired by LeadPages, meaning that they have excellent integration support and technically you can do an A to Z funnel implementation. You can learn more about Drip here.
Constant Contact: IF you just need a basic autoresponder, Constant Contact is a good option e.g. if you didn't use enough of ConvertKit's features and couldn't justify the price.
Sendlane: Sendlane is a relatively NEW entreant to the market. They feature similar automations and user tagging flows, but are most squarely aimed at eCommerce brands (great option for Shopify owners). Check out more here or read my full Sendlane Review.
Other ConvertKit Competitors (That I don't Necessarily Recommend)
There are a few solutions which I haven't mentioned, but are worth discussing briefly.
Aweber: They really used to be the entry level market leader. I used them for over 3 years (2012 – 2015). The main problem is that they were VERY behind the email marketing automation transition. In many ways, ConvertKit, ActiveCampaign, etc… are a RESPONSE to the service failings of providers like Aweber. A good example of a similar (at the time) service that DID change with the times is MailChimp. The fact is, Aweber is just now starting to build out decent automation funnel builders. In general, they are still not as user friendly or as seamless as ConvertKit and the like.
Frequently Asked Questions
Can I import my existing subscribers into MailChimp?
Using the MailChimp Alternative enable you to import and update your contacts by using the import tool, so if you are thinking about moving to this marketing software, importing your contact shouldn't be a problem.
How is an ECRM different than a traditional CRM?
When you hear about CRM or Customer relationship management, it is referring to a platform to serve B2B sales teams. This means that it is recommended for sales teams and not eCommerce brands or customers. On the other hand, an ECRM or e-commerce Customer Relationship Management platform is especially for any eCommerce store looking for a tool to collect customers' information so you can have a better idea of which one is your potential market and help you get useful unlimited contacts.
What customer behavior does Drip track?
If you are looking for some email marketing software that also helps you as an ECRM, Drip is a great choice. With this marketing software, you have the ability to track and save your customers´ preferences and use that information for your marketing campaign or email campaign.
Conclusion: Which is the Best ConvertKit Alternative?
Mailchimp
GetResponse
ActiveCampaign
Campaign Monitor
Lowest Monthly Cost
Free
$15
$9
$9
Main Benefits
– Free to send to up to 2,000 contacts
– Ideal starting point to the world of email marketing
– Features of increasing tiers represent what a growing businesses should be doing with their email marketing
– Good all-rounder

– Webinars function
– Salesforce integration
– Ideal for education or demonstration-focused business objectives
– Essentially a light CRM

– Unlimited sending, even at entry level
– Essentially a light CRM
– Top tier feels like it transitions from SAAS to agency
– Training provided
– Good focus on data analysis
– Can send an email at the same time, regardless of time zone
– Top tier comes with a customer success manager
We've looked a good selection of marketing service alternatives to ConvertKit here, and what I hope we've done is highlighted that the tools you use should depend on your own business objectives.
Most come with some kind of initial trial period, so I'd recommend putting some time aside in your day to maximize your time getting a feel for each one, to determine which is the best for what you're doing.
Bottom Line: I really like GetResponse as the best alternative for solopreneurs, authors / publishers, and anyone looking to ease into sales automations with minimal brain damage! You can sign up for GetResponse here (I do receive a small commission). Beyond that, I think ActiveCampaign is THE best scalable email pltaform and functions as a lite-CRM for marketing campaigns.
ActiveCampaign SCALES
Take the best email automation and mix it with all the best parts of a CRM. Result: ActiveCampaign. While I call it a "lite CRM", AC is no lightweight. I've been with them for years and LOVE the endless integrations and expandability.
Try ActiveCampaign FIRST
We earn a commission if you click this link and make a purchase at no additional cost to you.
Additional Email Marketing Automation Guides
Run a Shopify Store? Check out the Best Email Marketing Software for Shopify.