Last Updated on August 26, 2022 by Ewen Finser
In this post, we will be comparing Vertical Response vs Constant Contact to help you determine which email marketing solution is best for your business.
As a business owner, manually carrying out your marketing may not always have the best results. With numerous business meetings and pending reports at hand, getting the time to draft and send out professional emails to your prospects and existing clients can be difficult.
A poorly constructed email can discourage a prospective client from doing business with you. It could also cause a long-standing customer to lose interest in your business. It could strain your relationship with clients. Customers want to feel valued, recognized and appreciated. They want to receive personalized emails and feel that you had them in mind when drafting the content.
But with a large customer base, manually creating personalized emails to each client is not humanly possible. And manually creating an email for each lead can be exhausting.
Luckily, we have email marketing solutions.
These are software that assists with your email marketing campaigns. They help with the planning and execution of your marketing strategies. The solutions ensure that your campaign builds customer loyalty, creates new leads, and promotes brand awareness.
There are two popular players in the field of email marketing solutions: Vertical Response vs Constant Contact. The two serve a similar purpose. But their features are differently advanced.
Let's take a more in-depth look at the two solutions.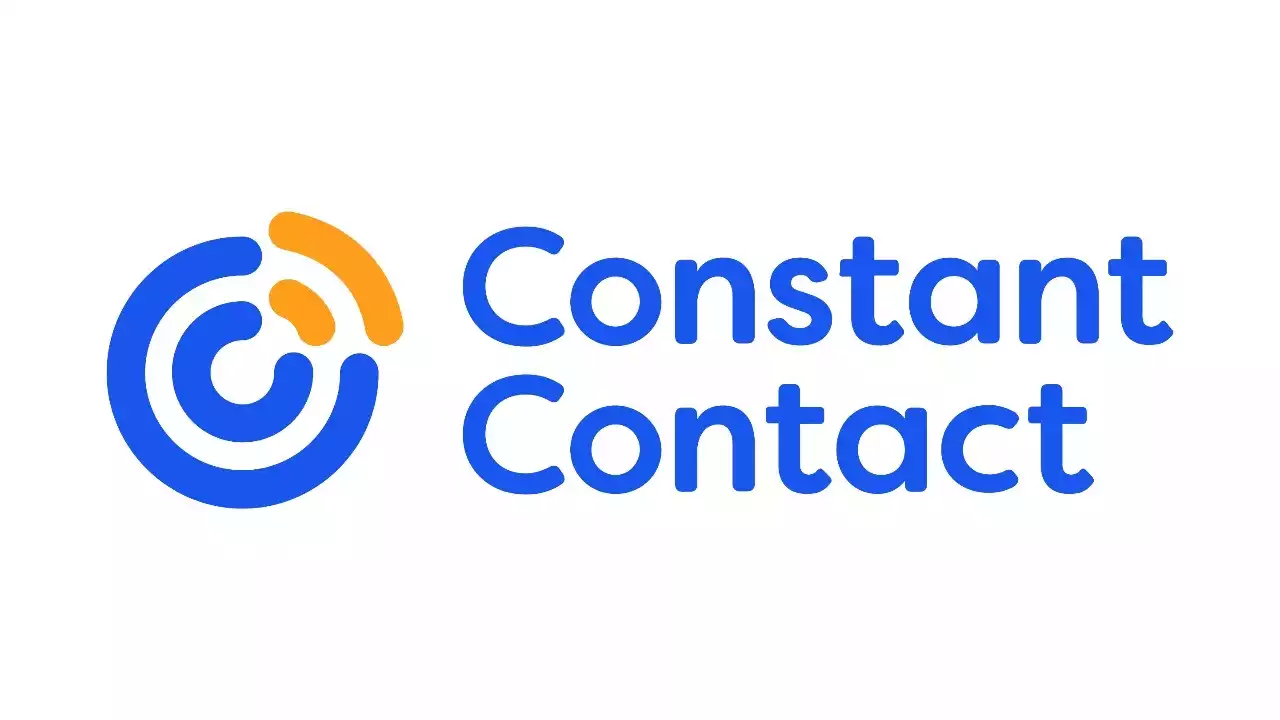 Email Marketing and More, Made Easy | Constant Contact
Whether you're launching an email marketing campaign to engage customers, building an awesome website in minutes, uploading products to your online store, and more, all in one place.
Get 40% Off Now
We earn a commission if you click this link and make a purchase at no additional cost to you.
Vertical Response vs Constant Contact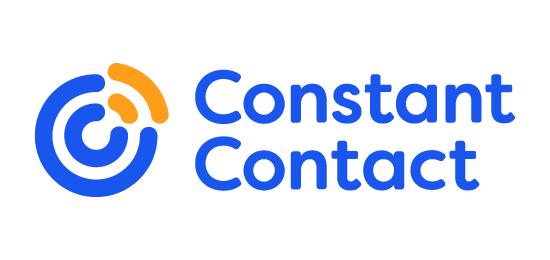 Constant Contact has been in operation for over 20 years. They are a modern email marketing tool that has been evolving over the years. They come with additional features such as an event management tool, surveys, and social campaigns, which you are unlikely to find in other solutions.
The tool combines automation, professionally pre-prepared templates, user-friendliness, and a high deliverability rate that makes it a favorite among business owners.
Vertical Response
Vertical Response is a newer email marketing solution that is a subsidiary of Deluxe Corporation. It comes with advanced reporting and automation features, affordability, and excellent email previewing and A/B testing capabilities. It also comes with a feature for creating a professional landing page that takes your marketing campaign a notch higher.
Let's take a deeper look at the two solutions.
Their Ease of Use
If you are not an IT expert, a complicated email marketing tool might turn out to be torture. You want software that is easy to maneuver, without spending too much time trying to figure out basic functions.
Constant Contact is easy to use. The features are easy to locate and understand. It provides basic reports that are easy to understand and interpret. Constant Contact has powerful mobile features that let you work on your campaign while on the go.
Vertical Response, on the other hand, has a lot of features that can make the email marketing platform rather complicated. When you have more than one campaign on your dashboard, it could become cumbersome.
Email Preview Feature
Once an email has been delivered to your recipient, correcting any mistakes is impossible unless you resend a corrected version. And it would undermine the seriousness of your business. You should always ensure every email sent is error-free.
Vertical Response provides a test kit. A test kit gives a preview of the email as it will appear to the recipient through different apps and browsers that they are likely to use. A link checker allows you to identify broken links before sharing them with your recipients. You can also view the subject line as it will appear to the client. The best part is that you can easily make edits in the test kit without wasting too much time going back and forth.
Constant Contact, on the other hand, allows you to preview your emails. But it is not as advanced as the test kit feature in its counterpart.
How Much Does Each Cost?
When it comes to pricing, and comparing Vertical Response vs Constant Contact both provide a sixty-day free trial period. For Vertical Response, they offer 60 days of free usage where you get all the core email features. Constant Contact will give a month's trial period of the plan you intend to purchase.
From there on, the Deluxe company charges $11 per month for the Basic plan. But you will need to purchase their test kit credits. The Pro package starts at $ 16 and comes with 10 test kit credits per month, A/B subject line testing and an automated email series.
The Pro+ package begins at $196 per month and comes with the same features as the Pro package and some extra benefits. All packages have unlimited landing pages, and you can send unlimited emails. The exact prices of each will depend on your email list size.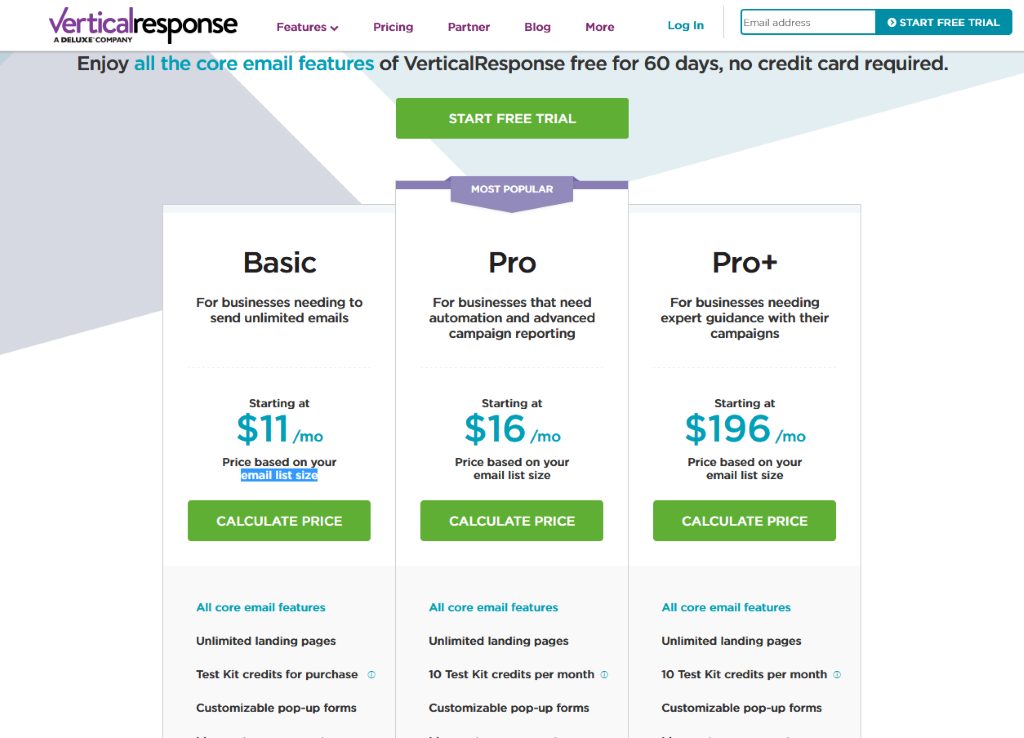 Constant Contact provides two payment plans – Email and Email Plus. The cost per month for the Email plan begins at $9.99 per month while Email plus starts at $45 per month depending on the number of contacts. The Email plan comes with basic e-commerce features while the Email Plus has advanced e-commerce features. The pop-up forms for the Email Plus plan are customizable, and it comes with extra powerful and beneficial features.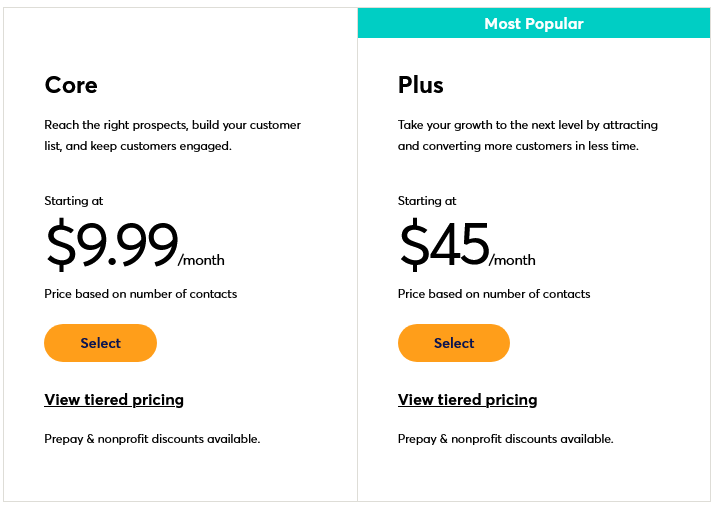 Automation
Automation is a time-saver when it comes to email marketing. Both solutions provide automated services.
Constant Contact will improve your relationship with your new clients by sending a welcome email. Depending on where your contacts click, it will trigger an email series. It also resends emails to non-openers and automatic reminders to clients who abandon carts.
Vertical Response will also send follow up emails to non-openers. It triggers an email series based on the subscriber's behavior with your previous emails. An automated welcome note for new subscribers keeps them interested. This solution also reengages dormant subscribers.
Reports
Reporting is an essential aspect of any email marketing tool. It enables you to track the progress of your email marketing campaign. In case a strategy is not working, you can spot it early enough, change tactics, and avoid losing subscribers and customers.
Constant Contact comes with real-time reporting on the subscribers who open the emails, the bounce rate, unsubscribe rate, the number of clicks, and those sharing your email. It will also provide tools to compare various marketing campaigns.
Vertical Response provides essential analytics to help you improve on your email campaign. You can see the subject lines and links that receive the highest response, access data based on geographical location, browser, and device used. Like Constant Contact, you can compare the performance of your campaigns and lists. It also shows which domains your clients are using and how each performs.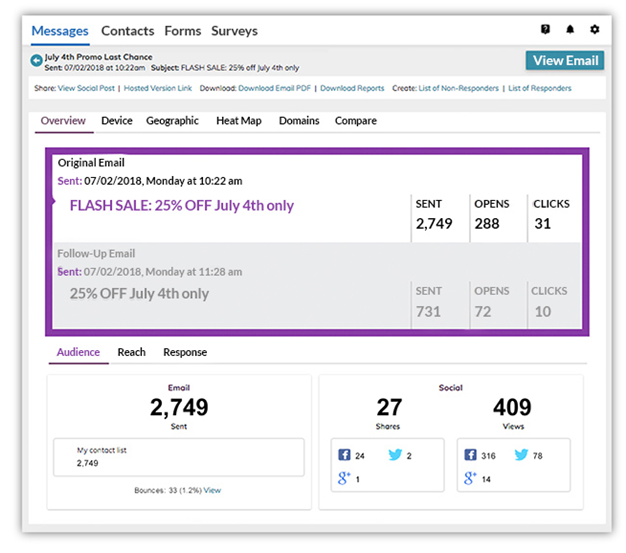 Integrations
Integrations with third-party applications allow you to do more with your email marketing campaign. Integrating with social media channels widens your reach.
Both Constant Contact and Vertical Response allow for integrations. With Constant Contact, it provides 468 business tools such as Shopify, QuickBooks, and Xero, and so much more. A drop-down menu will enable you to sort through the numerous apps and get the best tool for your needs. It also connects with Facebook, Instagram, LinkedIn, and Twitter.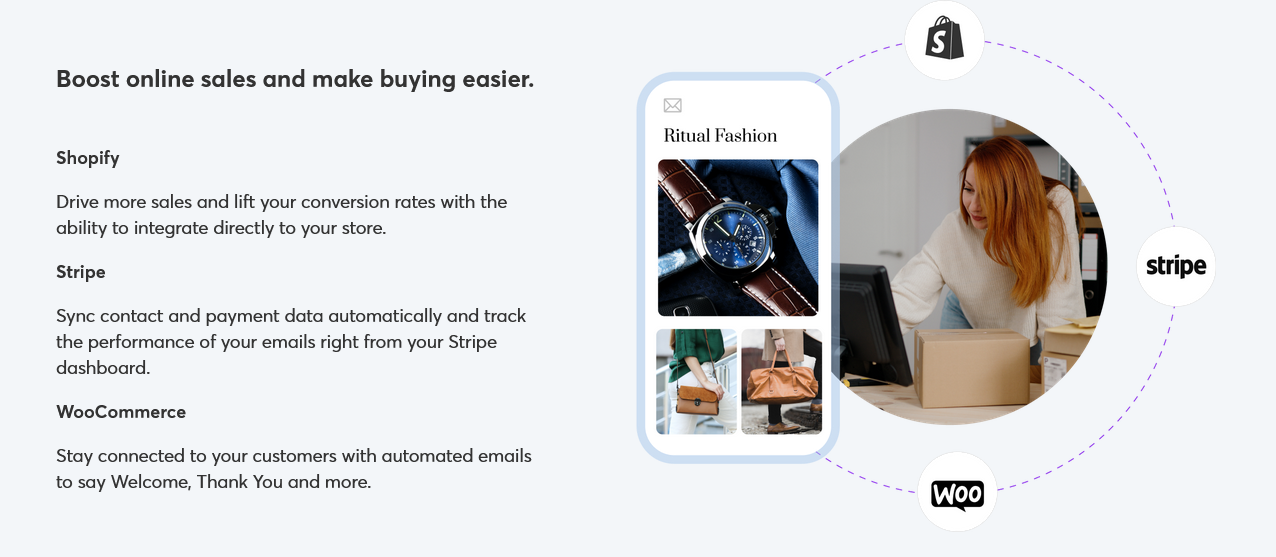 Vertical Response provides a smaller selection for apps and software; you can sync with your email marketing tool. They are 34 and include tools such as WordPress, SalesForce, Zapier, and SurveyMonkey.
Email Templates
An email template provides an easy solution to composing your emails without the need for advanced IT skills. Templates save time while ensuring that your emails are professional and eye-catching. Both Vertical Response and Constant Contact provide customizable templates.
Vertical Response provides a flexible layout and pre-formatted content blocks. Content blocks are the building blocks of your email. They allow you to add content to your emails, such as images and text. This tool has a straightforward editor that further makes your work easier. You can improve the appearance of your email using the provided free images and graphics that are easy to edit. If you need to create your template, you can use HTML code.
Constant Contact provides a wide range of email templates which you can customize by adding images which are provided in the gallery or from your 2GB image storage. The email editor uses drag-and-drop, which makes it easy to customize the email to suit your company's image. If you would like to create your template from scratch, you can use HTML code.
Uploading Contacts
Constant Contact makes uploading your contacts easy. It provides the option to upload your contact list from your storage such as Gmail, Excel, and Outlook. It can take .xls, .xlsx, .vcf, .csv, or .txt file formats. You can also type or paste one by one or add multiple contacts in one step. People who unsubscribe or remain inactive even after follow-ups are automatically removed from your contact list.

With Vertical Response, you can add in your contacts manually by typing. You could also upload from other applications such as Gmail, Yahoo, Outlook, AOL, and Constant Contact. You can upload files in the format of .csv or .txt. with a maximum size of 1GB.

Registration Forms
The appearance of the registration form can motivate a prospect to sign up to your emails.
The fields Constant Contact are the standard tick boxes where the client can add in their details. With Constant Contact, you can experiment with different fonts, background colors, and image banner. You can also add a QR code.
With Vertical Response, you can also create an embeddable form where clients can add in their details.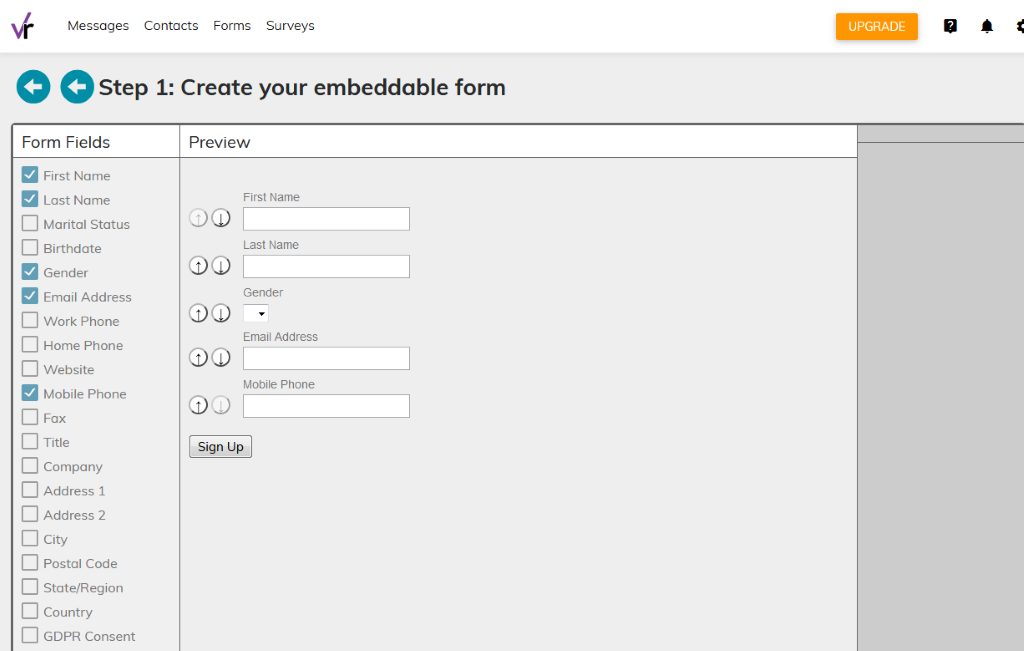 You could also design a form from a provided variety of themes. It allows you to add the form fields and change the font.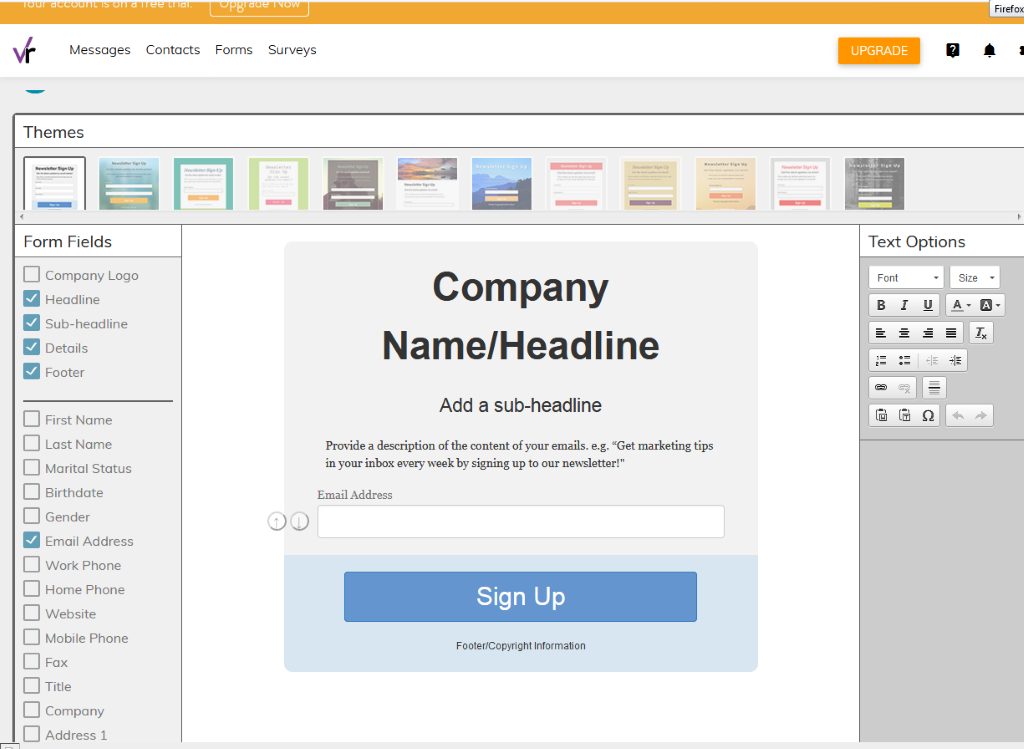 Deliverability
Your email marketing campaign will be a waste of time if your subscribers do not get the emails in their primary folder. Few people pay attention to what is in their spam.
Constant Contact comes with a spam check tool that ensures your emails do not get to the spam folder. It successfully delivers up to 98% of your emails to every domain of your email subscribers.
Vertical Response also boasts of a high delivery rate.
A/B Testing
A/B testing is an excellent way to tell how different aspects of your email affect open rates. It helps you optimize your campaigns. The subject line, for instance, has a direct impact on your open rate.
Vertical Response allows you to use A/B testing to determine the most compelling subject lines. You can test with different wording and lengths to find out the best approach.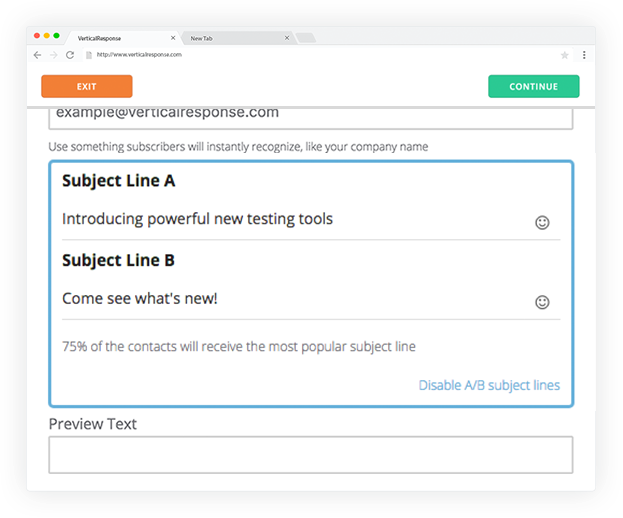 Customer Support
Sufficient customer support is essential when dealing with any software or app. You need the assurance that there is someone you can talk to in case the need arises. Constant Contract has strong customer support. You can get them through a phone call, emails, or Twitter. You could also get help from the community or look at video tutorials.
You can make your enquiries with Vertical Response through a phone call, live chat, or email. You could also source your answers from their vast knowledge base.
Vertical Response vs Constant Contact: In Conclusion
Both Constant Contract and Vertical Response are viable tools for email marketing. They come with advanced features that enable you to upgrade your campaign. The main differences are in automation, cost, reporting capabilities, email previews, and testing, and the available tools for integration.
Constant Contact has additional features such as event management tool, surveys, and social campaigns. Vertical Response, on the other hand, has additional features such as test kits and the creation of landing pages.
Both options provide an easy-to-use platform, with Constant Contract being the simplest. They both give the option of previewing your email before sending, but Vertical Response comes with a test kit that provides more advanced features.
Vertical Response also provides advanced features in the collection of data and reporting and provides A/B testing as well.
Both solutions provide automation of emails that make your work easy while saving time. The ready email templates also make your work easier and give your emails a professional look. They provide the option to customize the templates or make new creations using HTML code.
You can integrate the tools with third-party software, but Constant Contract provides more options than Vertical Response. It also has a drop-down menu for easy maneuverability. The registration forms for Constant Contract are a bit basic, but Vertical Response provides attractive and professional themes.
All your campaign efforts will be pointless if the emails are not delivered. Constant Contract has a high deliverability rate, but Vertical Response also ensures that your emails land in the primary folder. You can expect adequate support when using both solutions in the form of telephone calls and emails.
The prices in both options are affordable. Constant Contact has a basic monthly plan of $20, and it provides a one-month trial period. The basic plan for Vertical Response is at $11, and you get a 60-day trial period.
All in all, both Constant Contact and Vertical Response are good investments.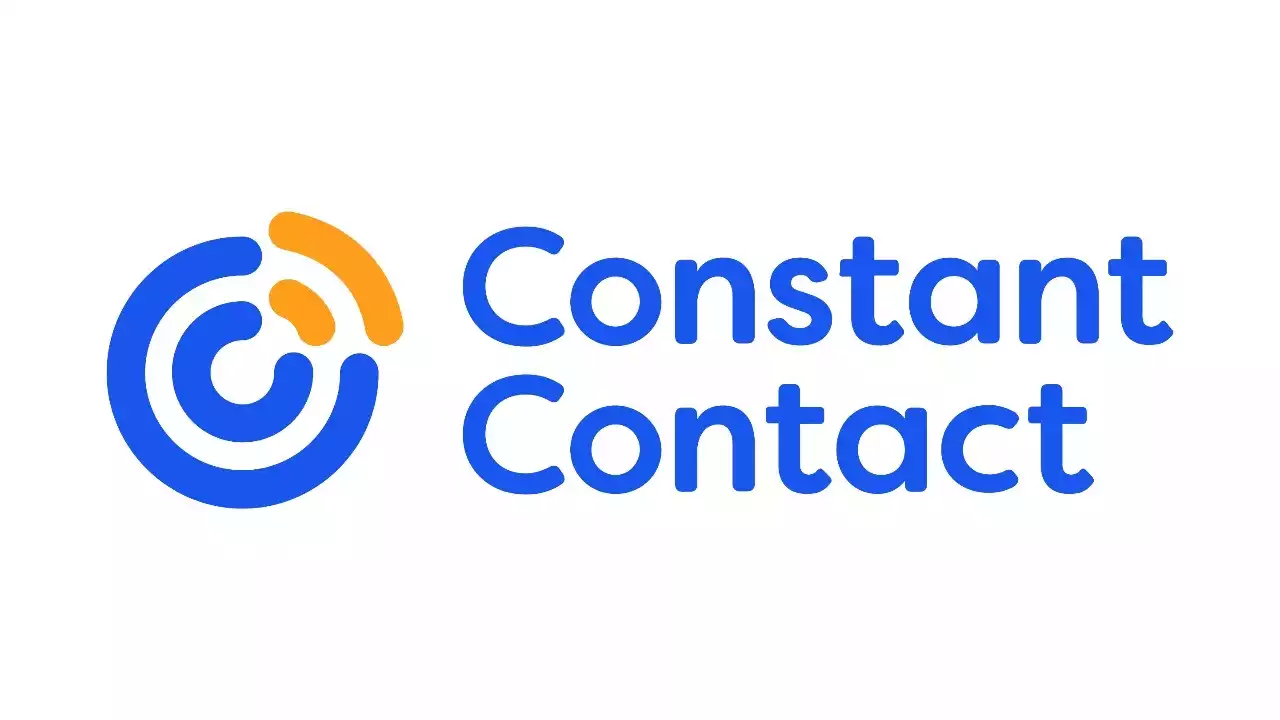 Email Marketing and More, Made Easy | Constant Contact
Whether you're launching an email marketing campaign to engage customers, building an awesome website in minutes, uploading products to your online store, and more, all in one place.
Get 40% Off Now
We earn a commission if you click this link and make a purchase at no additional cost to you.
Here are other related articles you may be interested in: