Last Updated on January 11, 2023 by Ewen Finser
If you're not using e-mail marketing to engage with your following, this needs to change.
The truth is, as many as 93% of B2B marketers utilize email to send their content. So, if you're in the B2B industry and still don't have a platform to launch and manage your email campaigns (Read: marketing campaigns), you'll be left in your competitor's dust.
Sorry, for the bluntness- but it's true.
Luckily for you, we're here to help you with that. In this article, we're going to review both GetResponse and Constant Contact. They're both industry leaders and excellent pieces of email marketing software; but which email marketing service is best for your business?
Ultimately, that's over to you to decide which marketing solution is best but hopefully, this info makes the choice a tad easier.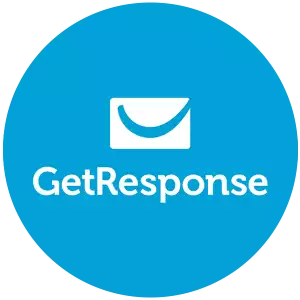 I Prefer GetResponse
Personally, I prefer the more robust marketing automation features that GetResponse offers. PLUS, best in class deliverability rates (near the top of the pack) make it a compelling choice.
Try GetResponse Free
Save 40% (for life) Cyber Deal
We earn a commission if you click this link and make a purchase at no additional cost to you.
Let's dive in.
What's GetResponse?
In short, GetResponse is an email marketing platform and email marketing solution for entrepreneurs wanting to grow their business and it's now available in as many as 27 languages!
In CEO Simon Grabowski's words, GetResponse is a "multinational team of tech geeks. Among us, you'll find experts in various fields who stay creative and open to new knowledge and experiences. That's why we have been successful in conquering markets all over the world for more than fifteen years."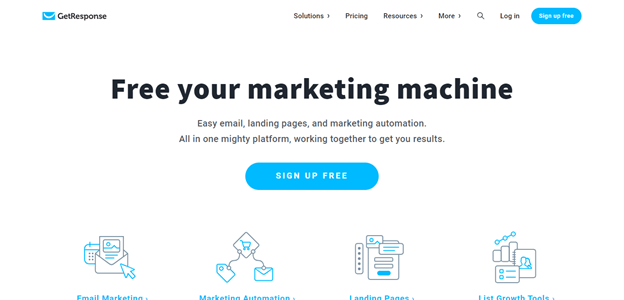 So does Grabowski's claim live up to scrutiny?
The GetResponse marketing platform has more than 350,000 customers spread across 183 countries. The company operates across the globe with offices in the: U.S., Canada, Malaysia, Russia, and Poland, and has more than 300 "passionate professionals" on their team. It's definitely one of the larger autoresponders in terms of market share.
GetResponse offers a customizable solution to suit the needs of both small and large companies. It doesn't matter what kind of enterprise you're running if you want to launch high-impact email marketing campaigns, GetResponse can help you with that.
GetResponse's campaign management platform helps entrepreneurs build laser targeted subscriber lists. That's in addition to sending newsletters and video emails that resonate and engage with your audience.
You can also buy spam-free marketing automation features, responsive email design, gain access to hundreds of email templates, make use of their landing page creator, and utilize their statistical analysis tools.
Possibly their biggest claim to fame is that they have the highest deliverability rate in the industry, at 99%. They engage with more than a billion subscribers each month!
You'll also have access to "five-star" customer service, with a 24/7 live chat feature.
Not to mention, GetResponse's email customer support is also available in seven different languages:
English
Polish
Russian
French
German
Spanish
Portuguese
Presently, phone support is only available with their enterprise account.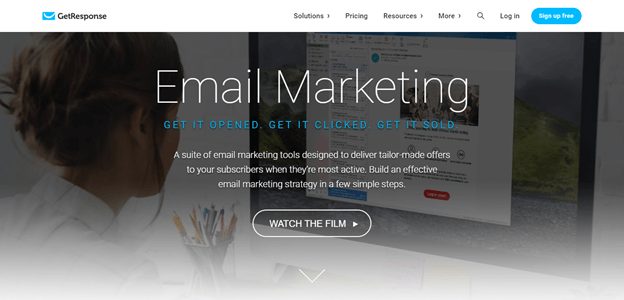 How Much Will GetResponse Set Me Back?
Its newsletter tool has four different price points. The package you'll need will depend on how many subscribers you have/ want to reach. 1,000 is the lowest option at $15 a month, and this creeps up to 10,000 subscribers for $65 a month.
Here's a price list for GetResponse:
With all the packages below you can send unlimited emails. You'll also get access to all of GetResponses features and unlimited image hosting.
If you have over 100,000 subscribers, you'll need to contact GetResponse directly for a custom quote to suit your bespoke needs.
GetResponse also offers a 30-day free trial, so you can try it first without risking any money.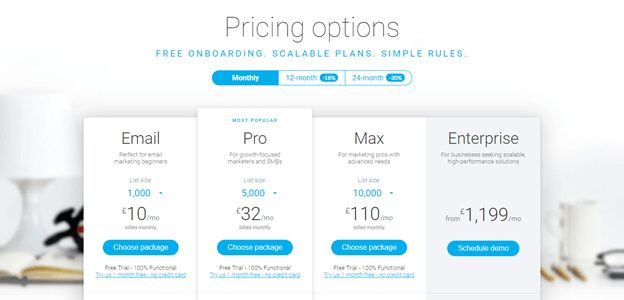 Other Features
Other GetResponse features include 1000+ free iStock images and over 500 easy to use pre-made templates. There are, however, only seven fonts to choose from.
The general view is that GetResponse's list automation is more potent than most. You can add plenty of conditions when it comes to segmenting your subscriber list. Once you have this up and running, it'll section off your list automatically.
They also have a landing page editor, which is quite rare amongst newsletter tools. This enables you to split test different designs and see which achieves the highest conversion rate.
There are also design and spam testing tools that are pretty simple to use to improve how you send emails. With other software, these kinds of resources are both expensive and hard to get to grips with, but fortunately, that isn't the case with GetResponse.
GetResponse can also work with many other 3rd party tools and services via zapier integration.
Pros of GetResponse
If you want to capture customer leads in addition to launching e-mail marketing campaigns, GetResponse is a great email marketing tool to use. Not only do they offer a landing page editor, but they also have flexible opt-in forms (sign-up form), a Google Analytics integration, and automation for list segmentation and split testing. All these features help you to capture and nurture your leads.
Not to mention, you can also host webinars. These make for fantastic lead magnets, if you haven't already got a freebie to entice people to subscribe to your email list, a webinar could be just the ticket. Perhaps you could provide a mini-training session? Or, host a live Q and A?
Not to mention, if you work in e-commerce, GetResponse has loads of features to help drive sales. It integrates with platforms such as Shopify and Magento, creates abandoned cart marketing campaigns, and delivers email content based on the purchase history of your subscribers.
You should note: these features are only available from the PRO plan upwards.
If you need sophisticated automation, GetResponse also has a automation workflow builder with an excellent user interface. This helps you automate a range of tasks including the sending of emails, contact tagging, data updates, segmentation and assigning lead scores.
BUT, contrary to GetResponse's claims, if you're searching for robust and reliable deliverability rates, some reviews say there's room for improvement. Also, if you want a free plan, forget it, GetResponse only offers a free trial for 30 days (no free plan here!). If you want a free newsletter service, you're better off going elsewhere.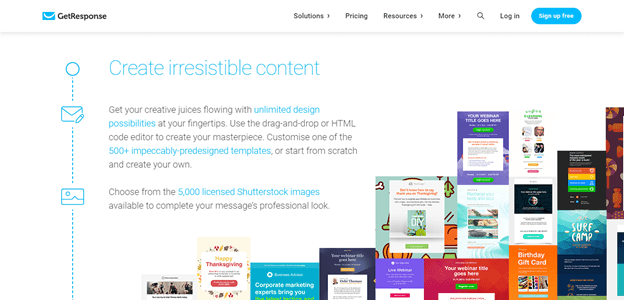 Building Email Campaigns with GetResponse
There are more than 500 design templates you can use to brand your business's email campaigns. They come in 22 categories including:
Arts and entertainment
Education
Financial services
Health and beauty
Real estate
Webinar invitations
Digital marketing
Legal services
Fitness and wellness.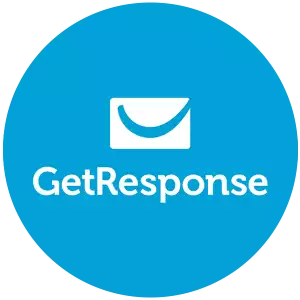 I Prefer GetResponse
Personally, I prefer the more robust marketing automation features that GetResponse offers. PLUS, best in class deliverability rates (near the top of the pack) make it a compelling choice.
Try GetResponse Free
Save 40% (for life) Cyber Deal
We earn a commission if you click this link and make a purchase at no additional cost to you.
However, some users report these templates to be a tad basic and outdated. Yet these they can be customized to do all the following:
Add payment options using PayPal
Add or remove text blocks, preheaders, and image blocks
Add social media sharing buttons, customized buttons, and CTA buttons
You can build an e-mail template from scratch, either with a blank canvas template or by accessing and modifying the HTML code.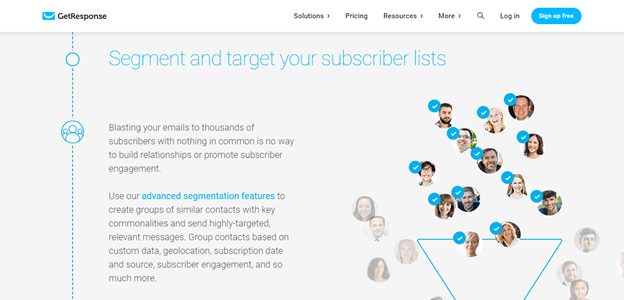 Who's Constant Contact?
Constant Contact has been making its mark on the email marketing world for over 20 years. From humble beginnings, it first launched from a cramped attic based in Brookline Massachusetts. Whereas now, it boasts offices in both the US and the UK and has over five million small business customers.
Owned by Endurance International, it claims that: "every day we challenge ourselves to find new ways to deliver on the promise of Endurance's mission: help small businesses navigate the promise, power, and potential of the web."
Payment plans start at $20 a month and provide access to over 400 e-mail templates. These packages slowly creep up to the Email Plus package priced at $45 a month. Users are given access to images purchased via Bigstock, although there's no information on their website about how many photos you can access.
Constant Contact also offers users customer support via live chat, and potential clients can make use of their free monthly trial so you can try before you buy!
Constant Contact claims that as many as 98% of emails sent to customers reach their inboxes, which is pretty impressive when you consider that only 77% of regular emails do.
Clients are also offered a range of intuitive marketing tools, mainly designed to help small business and nonprofits expand their customer base and include email and event marketing, social campaigns, reporting, and survey management.
All of these can either be bought independently or as part of what they call the 'Constant Contact Toolkit'. Put simply, this is just an integrated suite of marketing tools to use at your convenience.
Plus, businesses can import customer data from spreadsheets or email platforms, such as MS Outlook or Gmail. Email sign up form options can be embedded or personalized on Facebook or webpages to capture new contacts and build email lists.
Template features include drag-and-drop elements and real-time reporting features that track clicks, forwards, social media shares and email open rates.
You can access both online or in-person training and seminars to improve your company's marketing efforts.
Most importantly, there's no limit to the number of emails you can send each month. Plus, users report the software is easy to use and that their template options are well designed.
BUT, many users complain that Constant Contact's price points are higher than their competitors.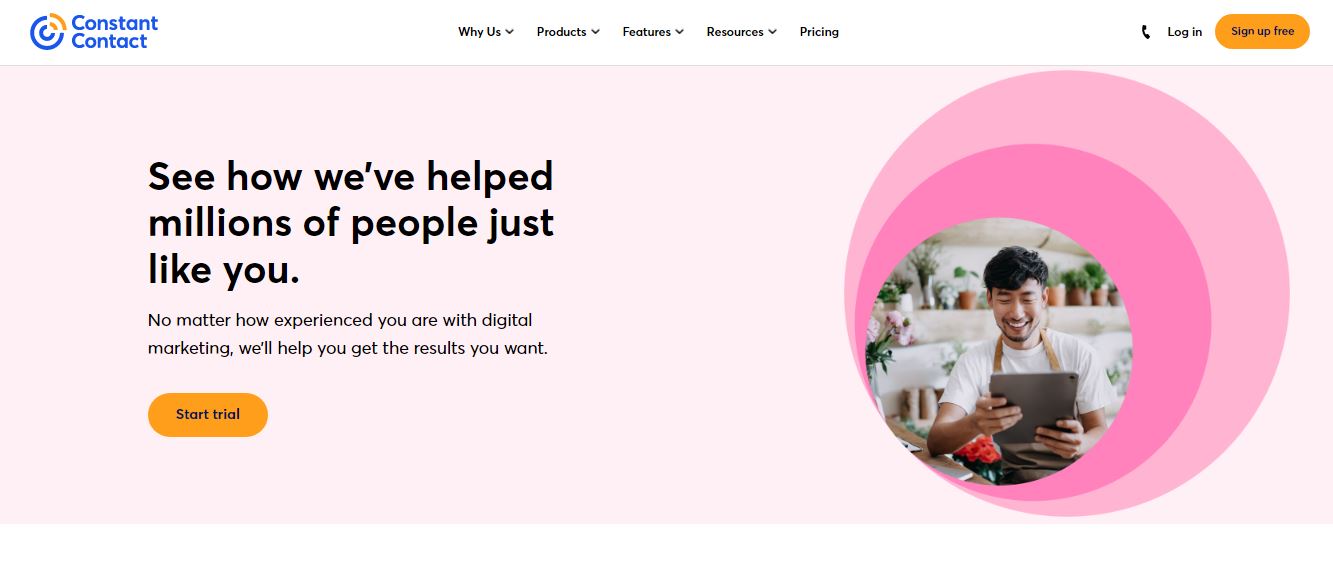 Email Campaigns
Their email marketing automation series first greets new subscribers with a timely welcome email. This triggers the rest of your email series depending on where contacts click,.
Not to mention, Constant Contact also automatically segments contacts so you always send the right messages to the correct people. Last but not least, this software also re-sends emails to non-openers (without you having to do a thing!). As such, Constant Contact has grown into one of the better email services specifically for autoresponders.
The following data is updated automatically so you'll be kept fully abreast of the success of your marketing campaigns:
Unsubscribes,
Inactive emails,
Bounce rates,
Open rates,
Click through rates,
Knowledge is power. Once you start tracking these metrics in your autoresponders, you can then make the necessary improvements to your email marketing strategies.
Email Plus
This upgrade allows small businesses and nonprofits to put their marketing on autopilot with personalized, scheduled and targeted emails. You can also ask for customer feedback via social media and emails containing online polls and surveys. There's also an option for nonprofits to collect and track their donations online.
How Much Will Constant Contact Set Me Back?
Similarly to GetResponse, the price you'll pay for Constant Contact depends on the number of subscribers you have (or want to have).
Their basic pricing plans are as follows:
If you're handling more than 10,000 e-mail subscribers, you'll have to contact Constant Contact directly, and they should give you a custom quotation.
Alternatively, you can opt for their Email Plus Plan. This entitles users to more sophisticated features like:
Surveys
Registration forms
Coupons
Just to name a few!
This plan starts at $45 per month and entitles you to between 0-500 e-mail subscribers.
For $60 per month, you can have 501-2,500 e-mail subscribers
For $80 a month you're entitled to 2,501-5,000 e-mail subscribers
Last but not least, for $110 per month you can have as many as 5,001-10,000 subscribers.
Again, if you have more than 10,000 subscribers, you'll have to contact Constant Contact directly to get a customized quotation.
You'll be pleased to hear that there aren't any setup fees. Not to mention, you'll also enjoy a 60-day free trial (for up to 100 subscribers).
You should also note: at the time of writing, customers can enjoy a 10% discount on their payment if they're willing to prepay six months in advance. Alternatively, you're entitled to a more significant discount of 15% when you pay a year in advance.
Are you managing a nonprofit organization? If so, you'll enjoy further discounts- with 20% off when you pay for six months and a more substantial 30% discount when you make an annual payment.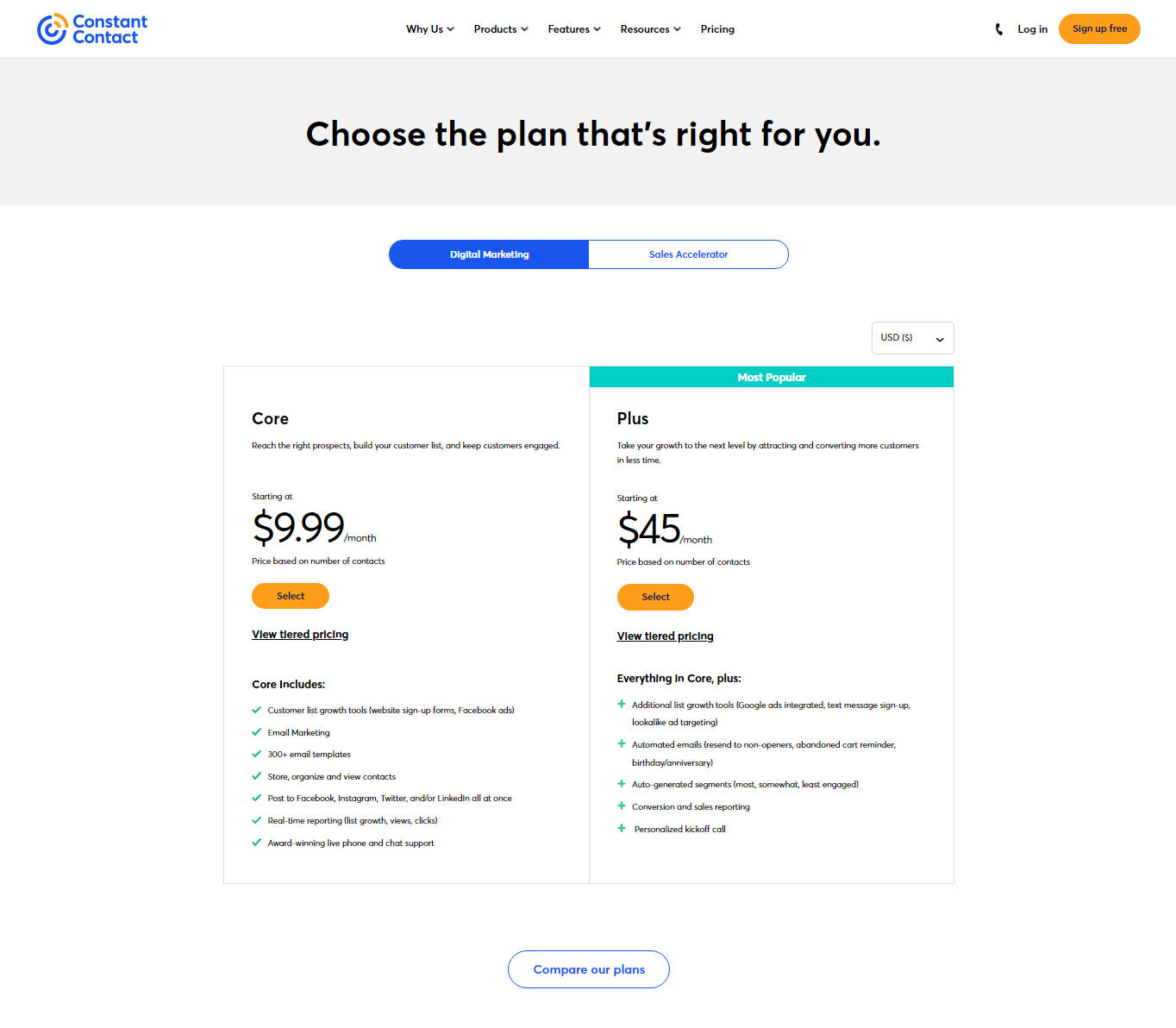 Final Thoughts: Constant Contact or GetResponse?
In short, GetResponse is the better choice if you also need software or a marketing service to publish top-notch landing pages or sales funnels. With GetResponse, you can have these live in just a matter of seconds.
Also, if you lack creativity and/or the coding skills to craft your own beautifully designed email templates, you can make good use of over 500 models made available to GetResponse's users.
However, you should be aware that duplicate contacts count towards your monthly limit. As such, you'll need to regularly monitor your email list and clean up accordingly.
Whereas, Constant Contact's major selling point is its free 60-day trial. People love that they're granted ample time on the free plan to familiarize themselves with the product before committing any of their hard-earned cash.
Constant Contact is also a great marketing service if you already have email lists on Gmail and Outlook because it's incredibly simple to import these contacts. However, some Constant Contact users complain about the limited storage space.
Bottom Line: For most users, go with the more fully featured marketing automation tool with more automation features e.g. Get GetResponse here.
Do you have any experience using either of these e-mail marketing tools and marketing service options? If so, we'd love to hear your thoughts in the comments box below. Speak soon!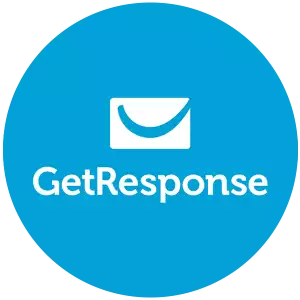 I Prefer GetResponse
Personally, I prefer the more robust marketing automation features that GetResponse offers. PLUS, best in class deliverability rates (near the top of the pack) make it a compelling choice.
Try GetResponse Free
Save 40% (for life) Cyber Deal
We earn a commission if you click this link and make a purchase at no additional cost to you.
Here are some other related articles on email marketing service options that you may be interested in: