Last Updated on January 11, 2023 by Ewen Finser
You've done some basic research into choosing a new email marketing tool. You've seen that two platforms, in particular, get mentioned a lot: Campaign Monitor vs GetResponse.
Bottom Line Up Front:
I'll be honest, I was expecting this to be a much closer battle than it was… While Campaign Monitor isn't a bad option, GetResponse just does it better. The interface is more intuitive, the customer support is better, the form builder's are more modern and it comes with built-in landing page builders. It's really a lite-CRM. And if you think it costs more, it doesn't. It's actually cheaper. Check out the pricing plans here.
Both are well-known email marketing tools that also offer marketing automation. In other words, they're built for digital marketers who may want more than just the basics of being able to send emails. I researched and wrote this comparison review to find out which tool is better.
I've evaluated and broken them down in 10 categories:
Pricing
User interface
List management
Analytics
Sign-up forms
Automation
Integrations
Customer Support
Unique Features
At the end, I'll summarize the main strengths and weaknesses of both tools, and help you decide which email service provider is the best for your situation.
Pricing and Plans
Both Campaign Monitor and GetResponse offer multiple plans, and each of those plans has different features. This makes them tricky to compare. Additionally, the price of each plan depends on how many contacts you have.
So let's start by comparing them head-to-head at a high level, looking at a common scenario: The cheapest plan that lets you send broadcasts and create autoresponders.
| | | |
| --- | --- | --- |
| # of Subscribers | | Campaign Monitor "Basic" Price |
| 0-1,000 | $15/month | $29/month |
| 1,001-2,500 | $25/month | $29/month |
| 2,501-5000 | $45/month | $49/month |
| 5,001-10,000 | $65/month | $89/month |
To further make comparing difficult, you'll notice that both tools up their prices at different numbers of contacts. For example, Campaign Monitor charges the same for 1,000 and 2,500 subscribers but charges less for 500.
What we can say from this table, is that in general, the two tools cost comparable amounts. GetResponse is a bit cheaper in certain situations, and is also the only one that offers an enterprise plan. Finally, I'm going to break down the types of plans each tool offers now. You'll see that GetResponse offers more features at every level of plan, which means that in general it provides more value than Campaign Monitor.
Campaign Monitor
There are 3 plans to choose from:
I've summarized the most important features in each plan below:
| | | |
| --- | --- | --- |
| Basic | Unlimited | Premier |
| Broadcast emails | Advanced automation (Workflows and segmentation) | Send time optimization |
| Autoresponders | Time zone sending | Advanced link tracking |
| Email support | Priority support | Template management for teams |
| | | Premier email and phone support |
If you're primarily interested in automation, note that there aren't any real automation features available until the "unlimited" package.
There are a few more aspects of Campaign Monitor's billing that you should note:
You can pay by the campaign – Good for infrequent senders.
You can pay by the year – The default billing period is monthly, but you can get an annual plan by contacting sales.
You can create an account for free (free plan) – It has full functionality, but only works for up to 5 subscribers.
Emails are throttled if you exceed your subscriber limit – If you go over the limit, you get the decision to pay for extra emails or upgrade. You won't be automatically charged.
GetResponse
GetResponse has 4 plans to choose from:
Unlike Campaign Monitor, there's a minimum list size for each plan, but there's a lot of overlap between the plans. For example, you can choose from any of the three bottom plans with a list size of 10,000.
| | | | |
| --- | --- | --- | --- |
| Email | Pro (3 users) | Max (5 users) | Enterprise (10 users) |
| Broadcast emails | Webinar software (max 100 attendees) | Webinar software (max 500 attendees) | Dedicated account manager |
| Autoresponders | Landing pages (advanced) | Campaign consulting | Dedicated IP address |
| Landing pages (basic) | Advanced automation (scoring, automatic segmentation) | | Dedicated infrastructure |
| Basic automation (workflows and tags) | CRM | | |
| | E-Commerce features | | |
There's clearly more features at every level than Campaign Monitor.
Again, let me point out some other important billing details:
Annual discounts – You can pay for 12 or 24 months and receive a significant discount. No need to contact sales, just pick your billing period when you sign up.
Free trial – GetResponse has a 1 month free trial with no credit card needed to sign up.
What happens if you go over your subscriber limit? – You aren't given a choice, you will be automatically charged for the extras.
Pricing summary: GetResponse wins in terms of features offered per plan and general cost, but the question is how good are the essential features compared to Campaign Monitor, and are those extra features actually useful to you?
That's what we'll find out through the rest of this review.
Account and User Interface
Any tool, no matter what kind, should aim to be simple to understand and use. I'll quickly break down the main user interface of both tools so you can see if you like the look of either.
Campaign Monitor
When you sign-up, your dashboard will only consist of a welcome message that points you towards creating your first campaign (email):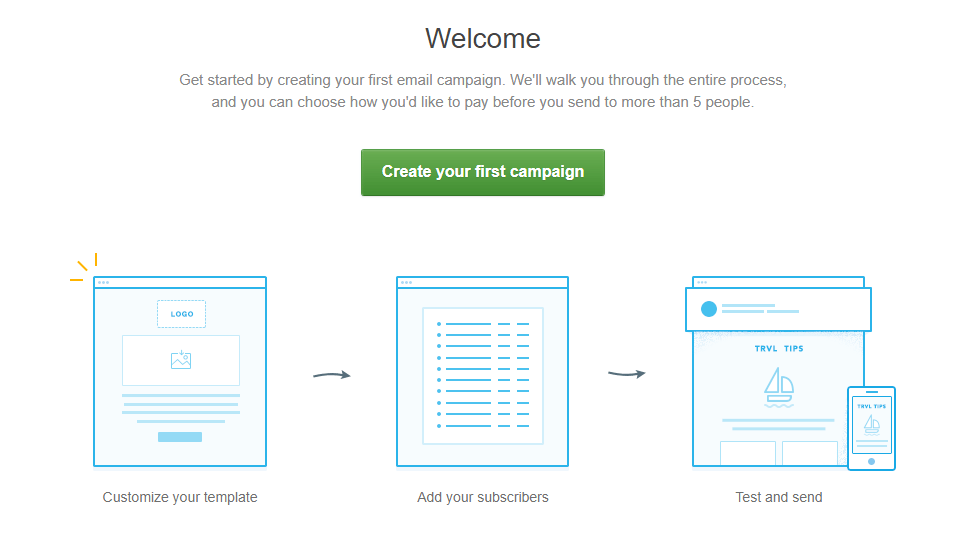 During this process, you will be taken to your subscriber's page to add some.
Most of the navigation in Campaign Monitor revolves around the top menu bar:



The labels are clear enough to find what you're looking for without prior experience with the tool.
Within some tabs, there are further navigational options in the far right panel. These aren't very well highlighted in my opinion, and could be easier to find.
Finally, the dashboard is quite plain when you login each time, just a list of your recent campaigns: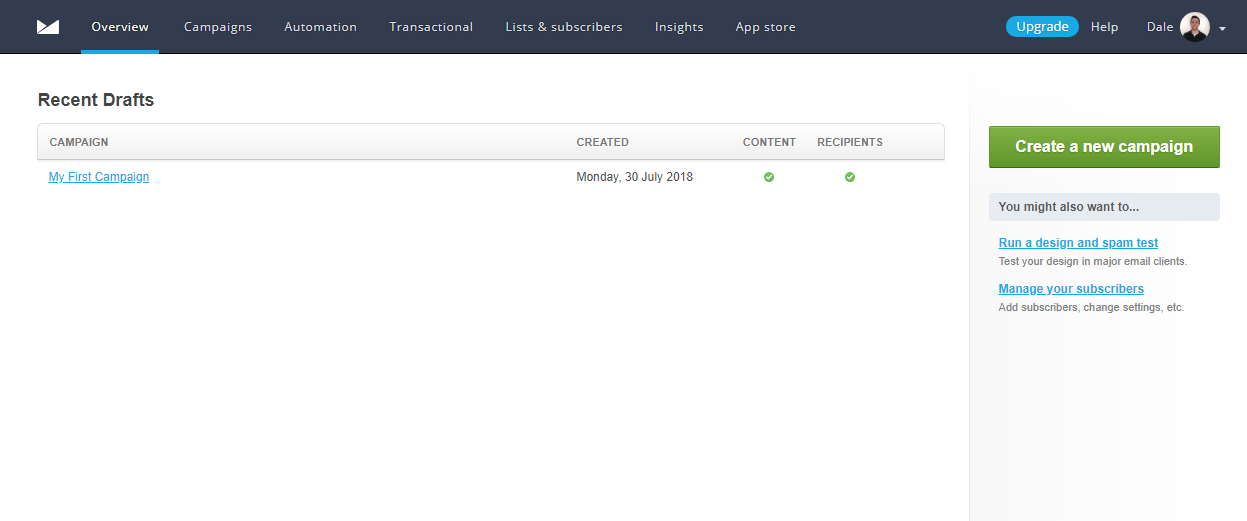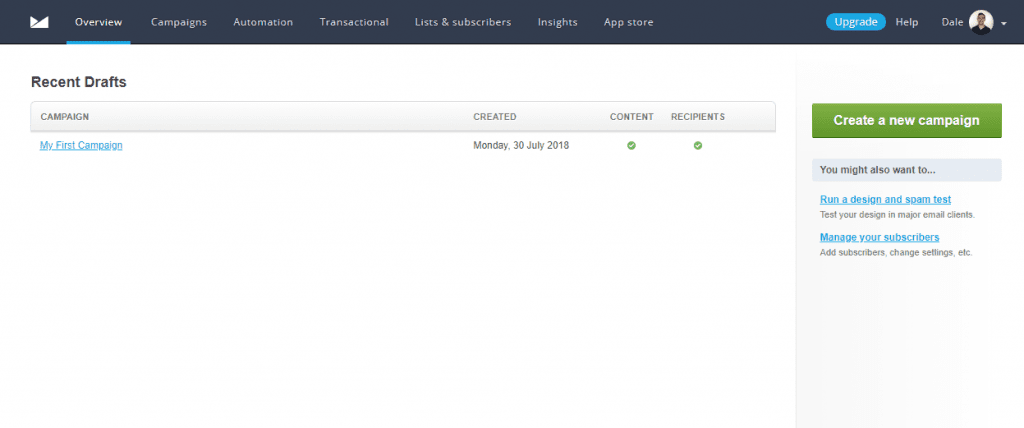 Overall the basic user interface is reasonably easy to navigate, but you will run into a few spots where you'll have to resort to the help materials to figure out how to do something that you want to do.
GetResponse
After signing up, there's an optional guided tour that will point out a few key areas of the tool, with brief explanations.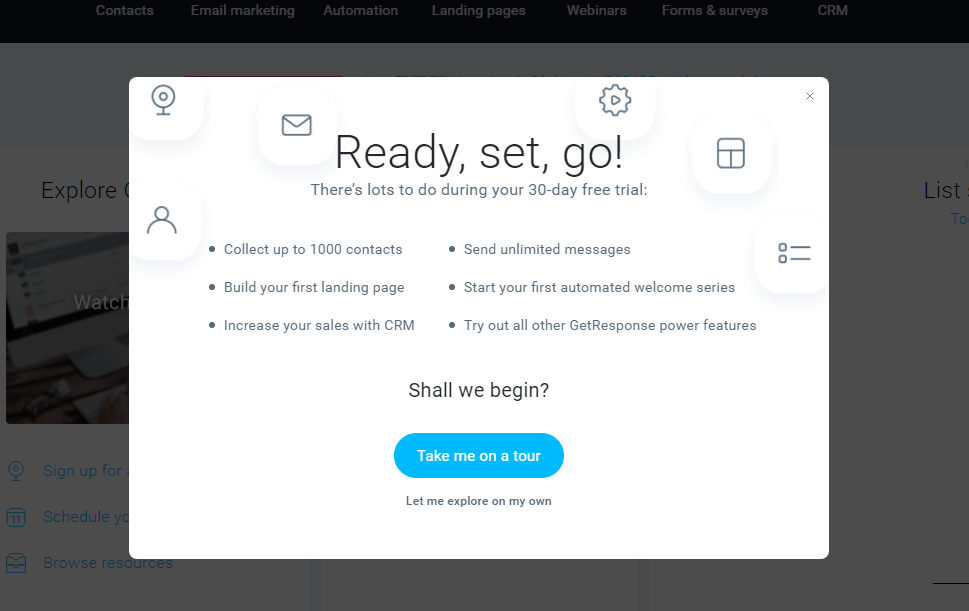 Again, there's a navigational menu along the top, but it's much larger and very clear, with appropriate icons: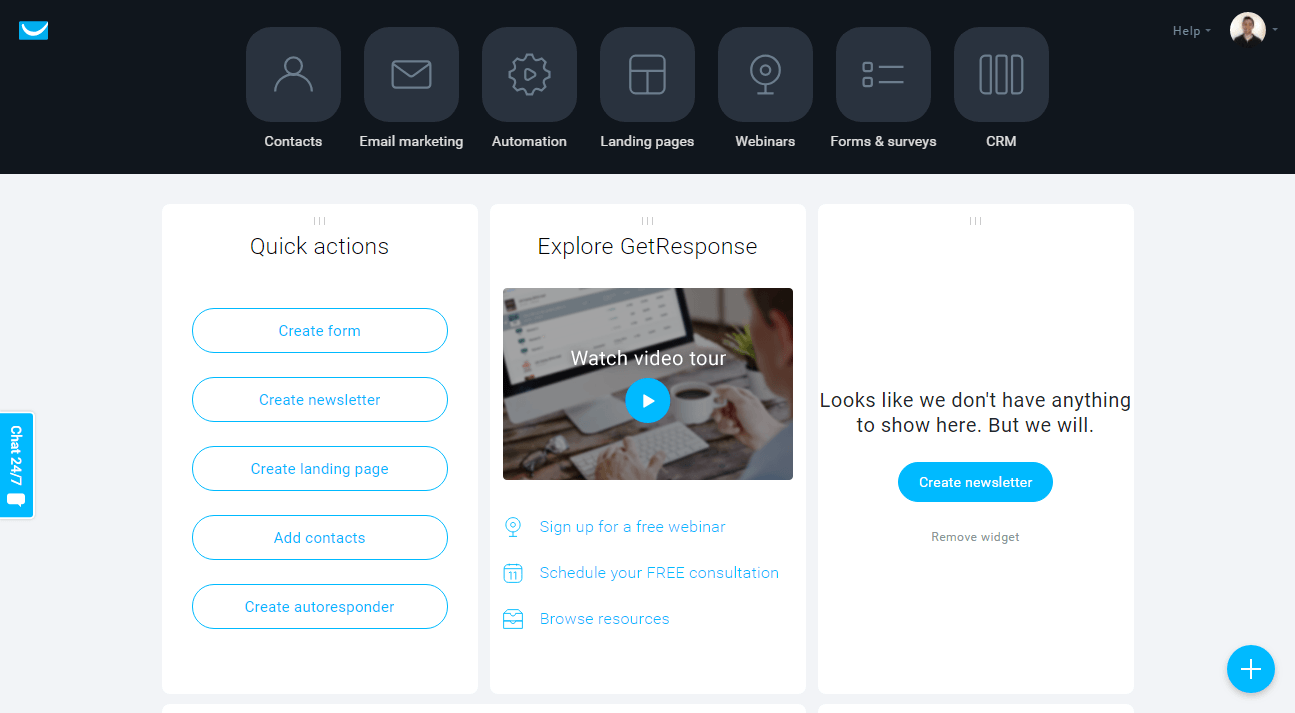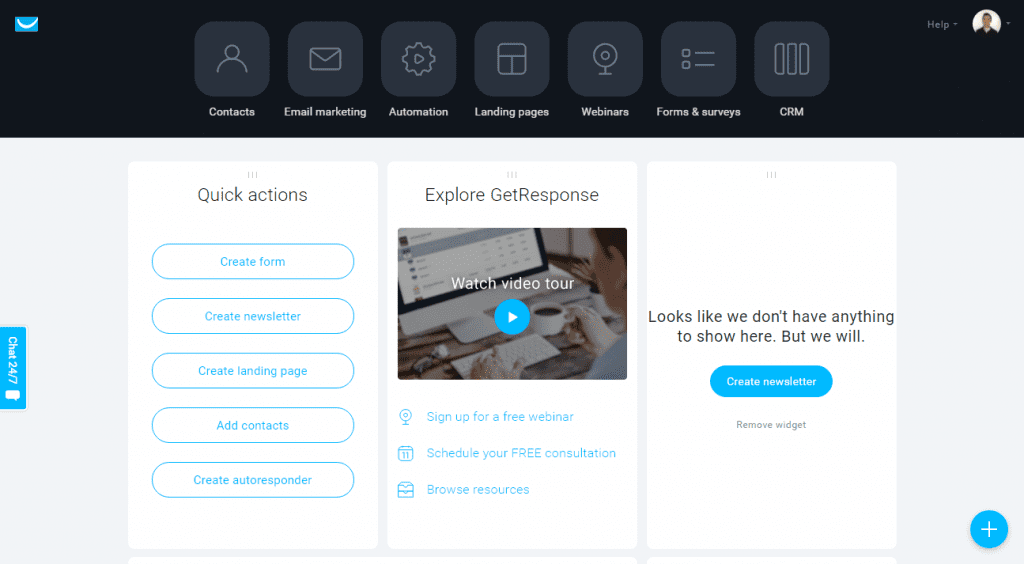 The dashboard below when you log in consists of widgets. By default, there are a few informational widgets, but you add your own custom widgets to the page.
There are several widgets to choose from: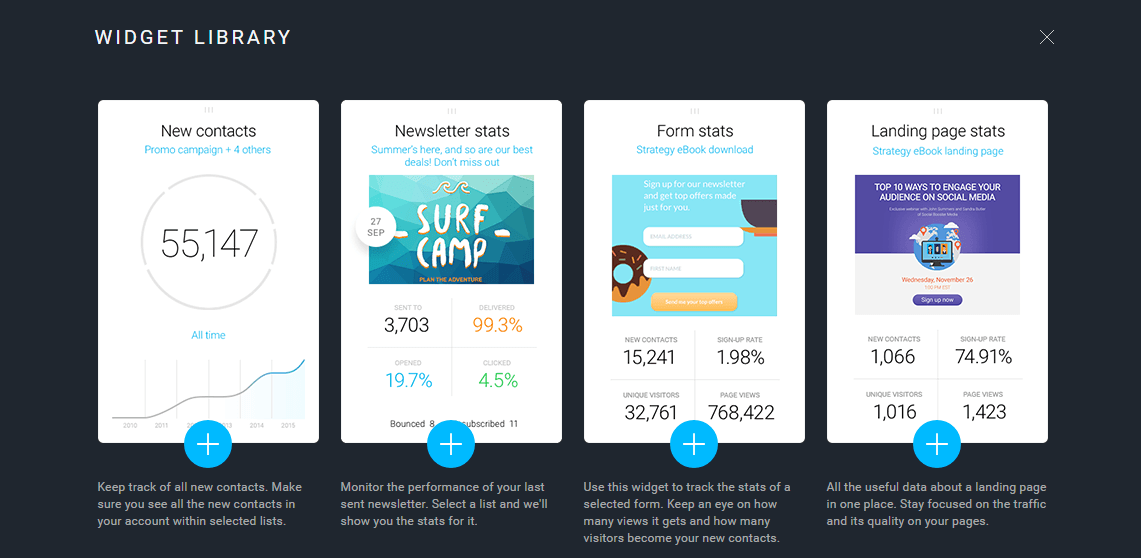 This is a unique feature that very few email marketing tools offer, and lets you quickly see the data that's most important to you. GetResponse undertook a massive redesign in the past year or so, and I'd say it paid off. You'll be able to find almost everything you're looking for, even if you skip the tutorial, a sign of a good design.
Lists and Contacts
A good place to start when migrating to a new email marketing tool is adding existing subscribers.
Campaign Monitor
Adding new subscribers in Campaign Monitor is a bit clunky. On the positive side, it's one of the few tools that still lets you choose between single and double opt-in when importing a list.
Just copy and paste them in, or upload a spreadsheet of some kind: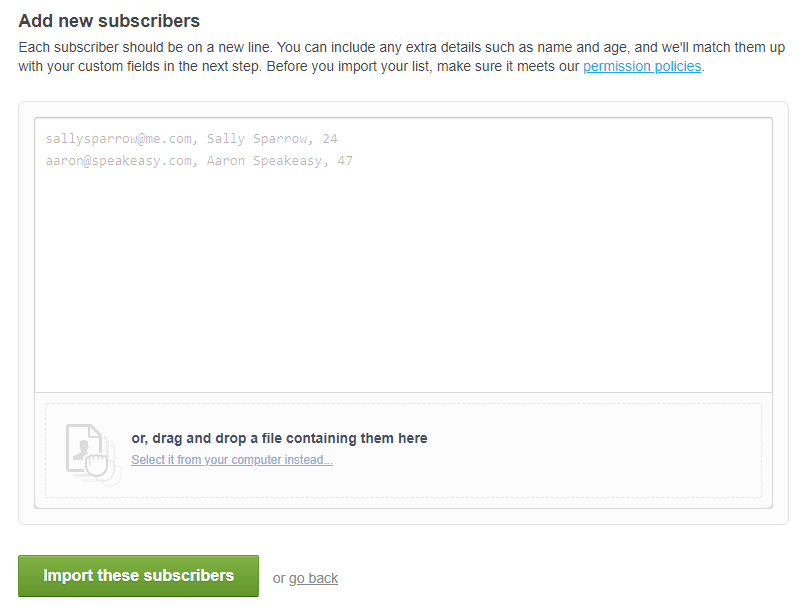 The big issue I have with Campaign monitor is that there's no way to see all of your subscribers. The interface is list-centric, meaning that you have to go into each list to see the individual subscribers. Any time you create a new list, you need to add them from scratch, you can't just import existing subscribers that you have in your account. This is a big negative if you already have multiple lists that you'll be bringing to a new tool.
GetResponse
You manage your subscribers in the "contacts" section of your menu. This brings you to a list of your lists. Above the table is a clear "add contacts" button, which will bring you to a simple form to add contacts.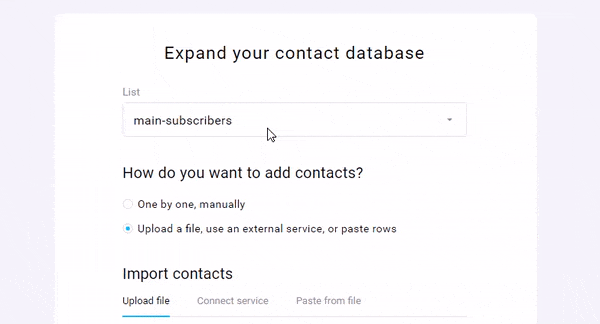 As expected, you can upload a file with subscribers. You don't need to get new opt-in froms subscribers as long as you verify that you have permission already to add them to a list. The tool will automatically pick up column names from your file, and you can verify or correct them if they're incorrect before importing the list.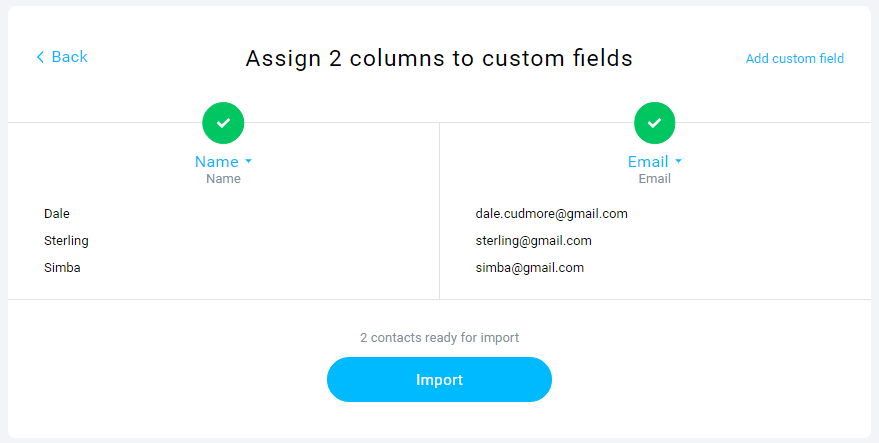 You do need to assign each import to a specific list, and you can't choose multiple ones. However, there is a link above the original list of lists that will let you see all of your contacts. From there you can copy or move them to different lists.
It's a little hidden, but all the functionality that might be needed is there.
Creating Emails
Now let's take a look at sending a basic email, and more importantly, the email editor. If all you're going to be sending are plain text emails, this isn't too important.
Campaign Monitor
To create an email in Campaign Monitor, you create a new "campaign". This will prompt you to choose an email template: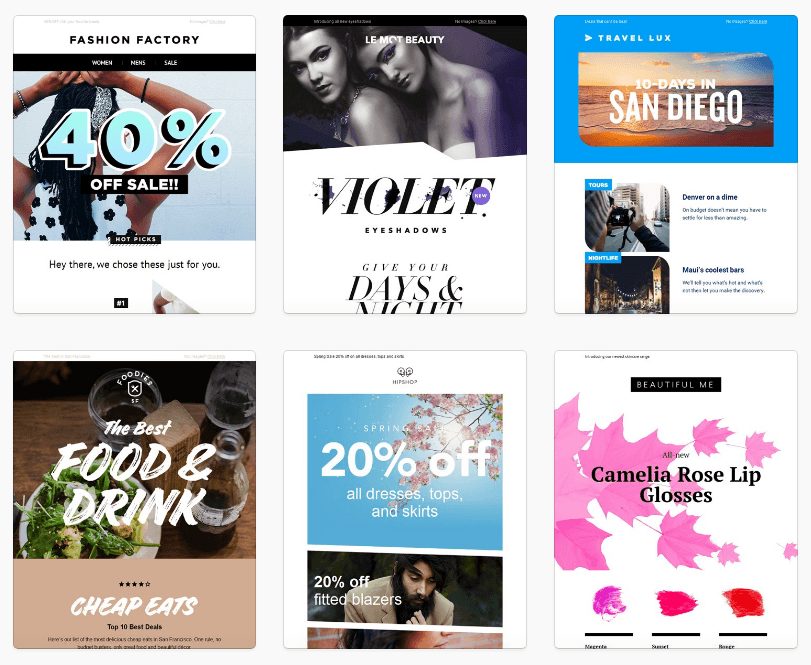 There's a huge variety in modern-looking responsive templates. It's about as good as it gets for email templates. Picking a template will take you to the email editor: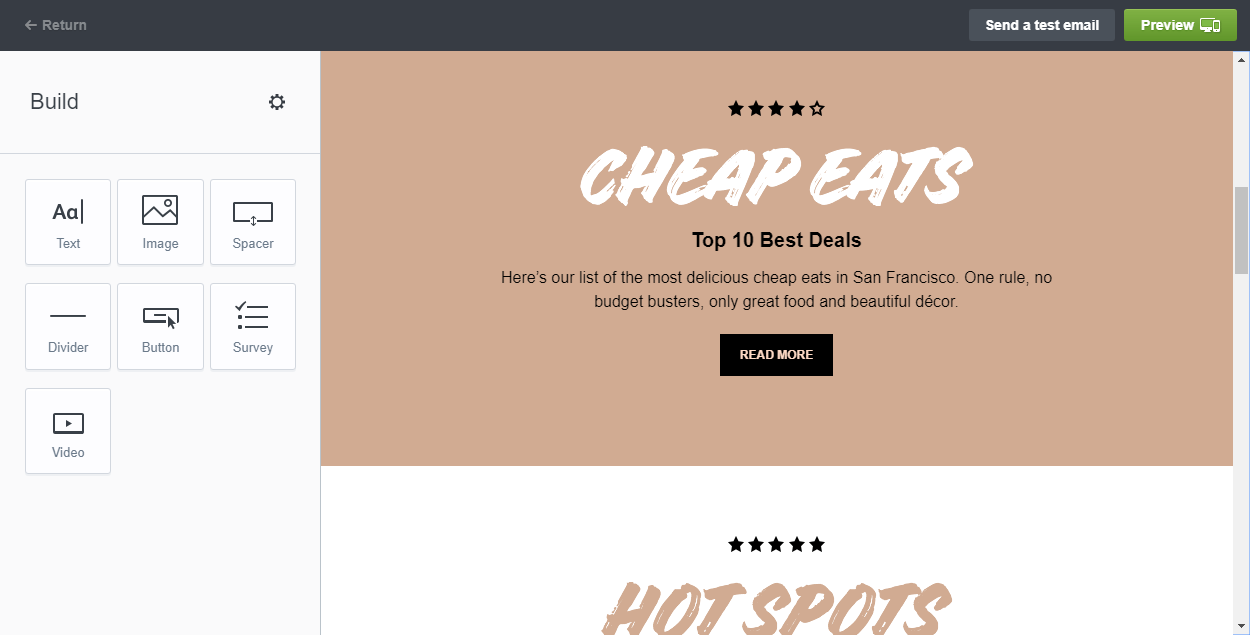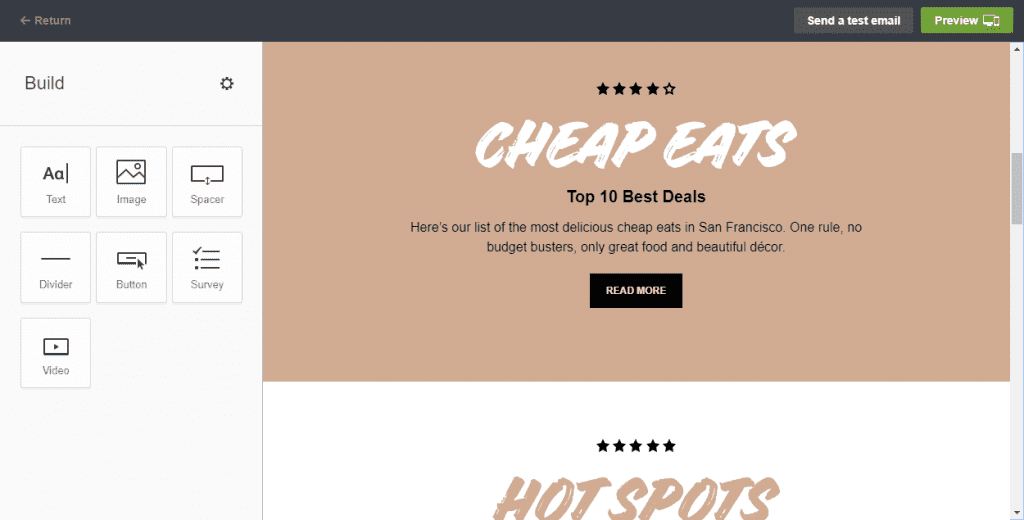 It's simple and intuitive to use. Personally, I love minimalist design. It has only the essential features that satisfy most marketers. However, if you're looking for advanced features like e-commerce integration, GetResponse may be a better choice.
GetResponse
In GetResponse, all email-related activity is found in the "email marketing" menu option. There are over 500 fully responsive templates, with modern designs: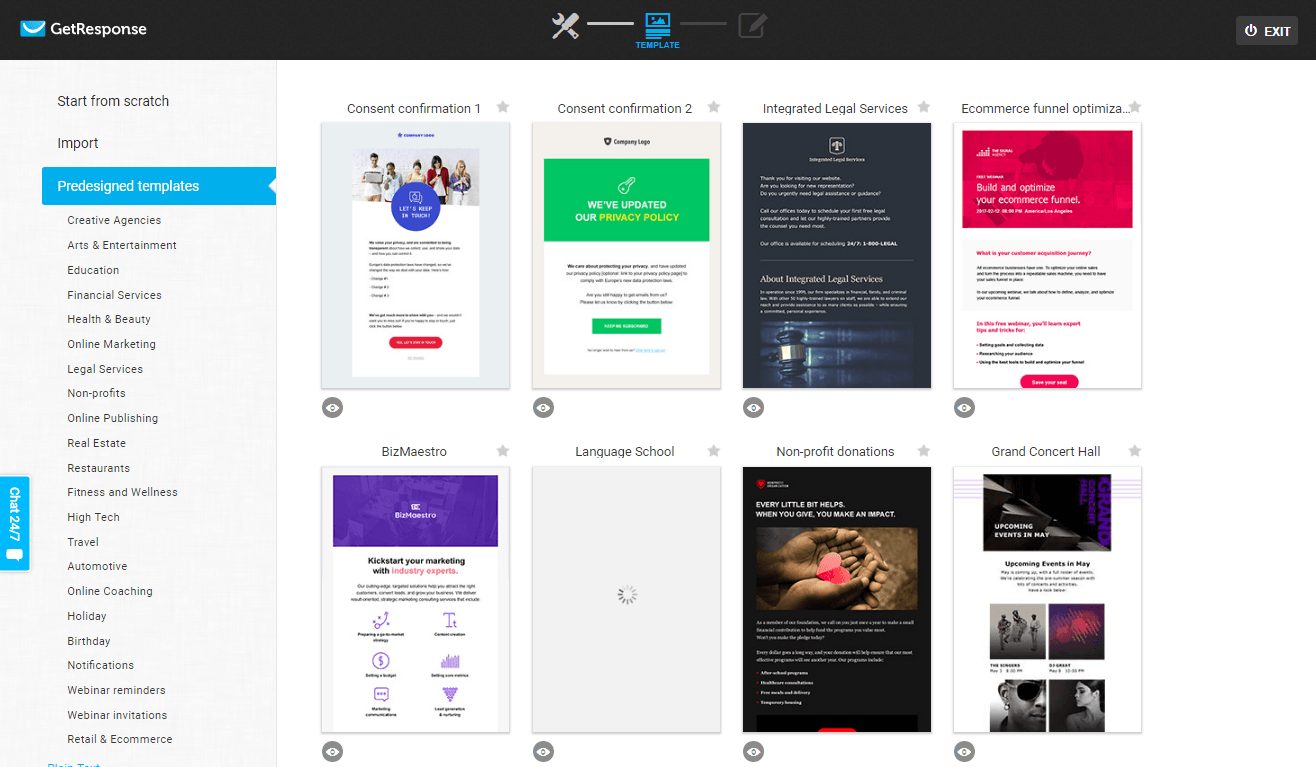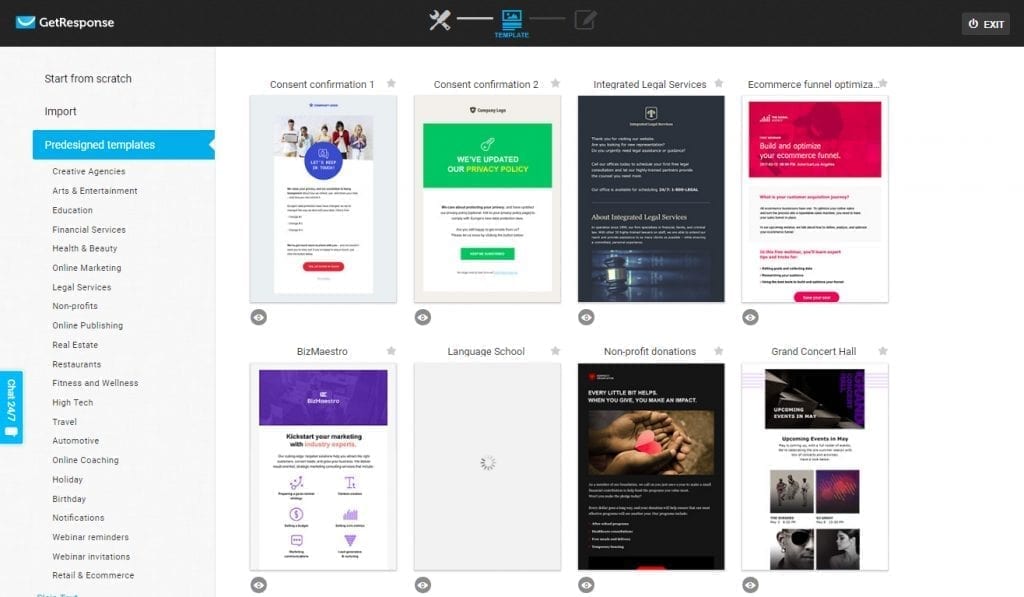 When you choose a template, you'll be taken to the drag-and-drop editor. It will show you a mobile preview on the right side of the screen: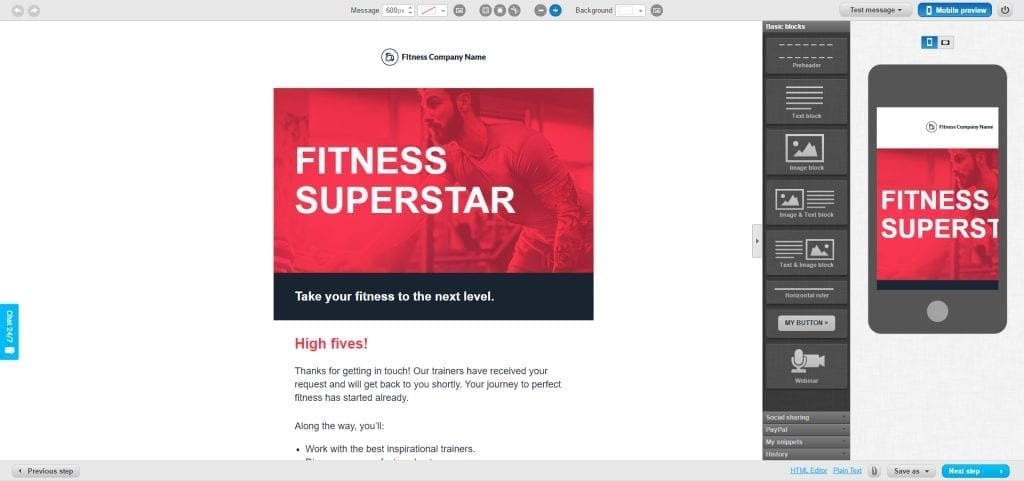 On top of the basic elements, certain plans come with advanced integration features (and widgets for emails) for e-commerce. That's a specific thing that most won't need, but GetResponse is one of the few who offers it. Overall, I'd say that creating basic emails in both Campaign Monitor and GetResponse are straightforward and well-designed. There's no big edge either way.
Reporting and Analytics
Being able to track basic stats about your emails' performances is a basic expectation of email marketing tools.
Let's see how they stack up.
Campaign Monitor
For some reason, Campaign Monitor named their reporting and analytics "Insights" on their menu. You can get a summary for your campaigns or automations (both reports are separate) that looks like this: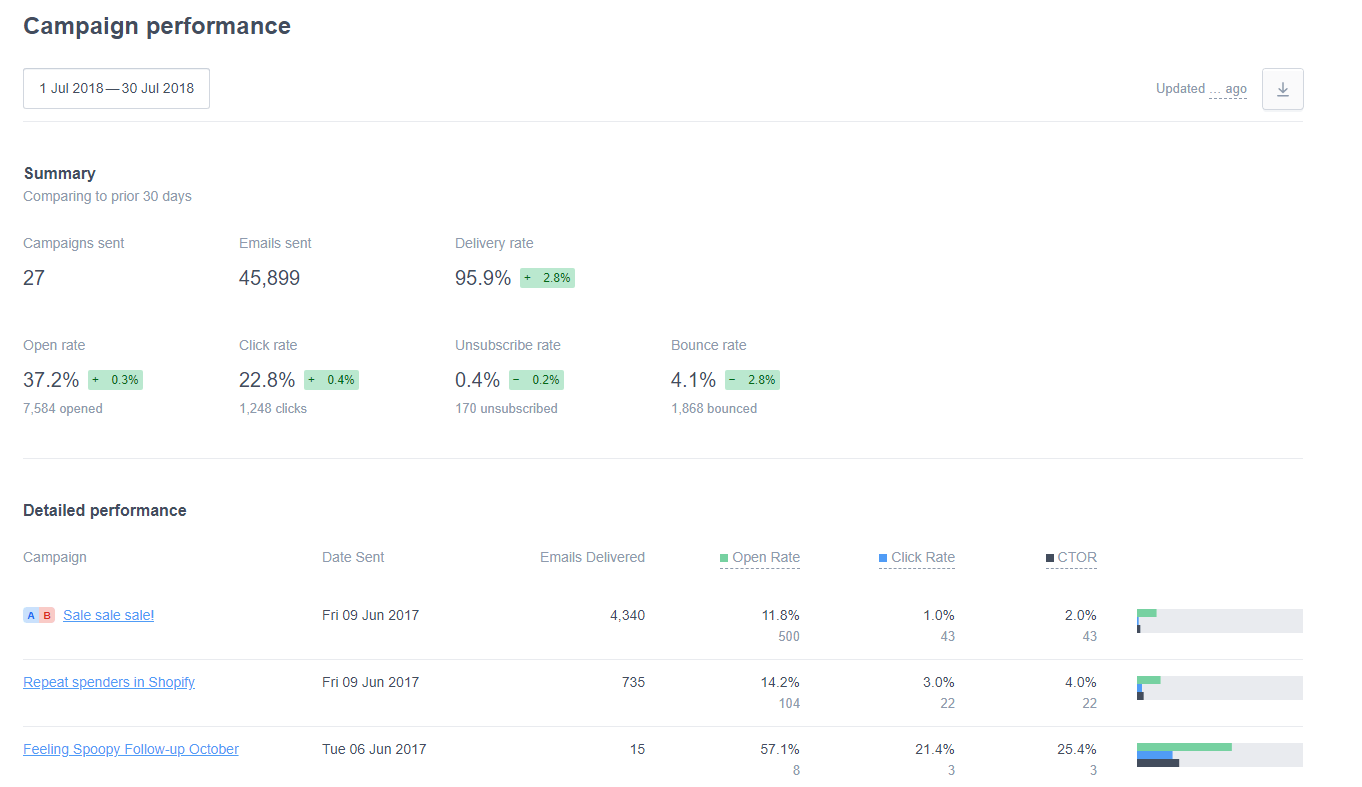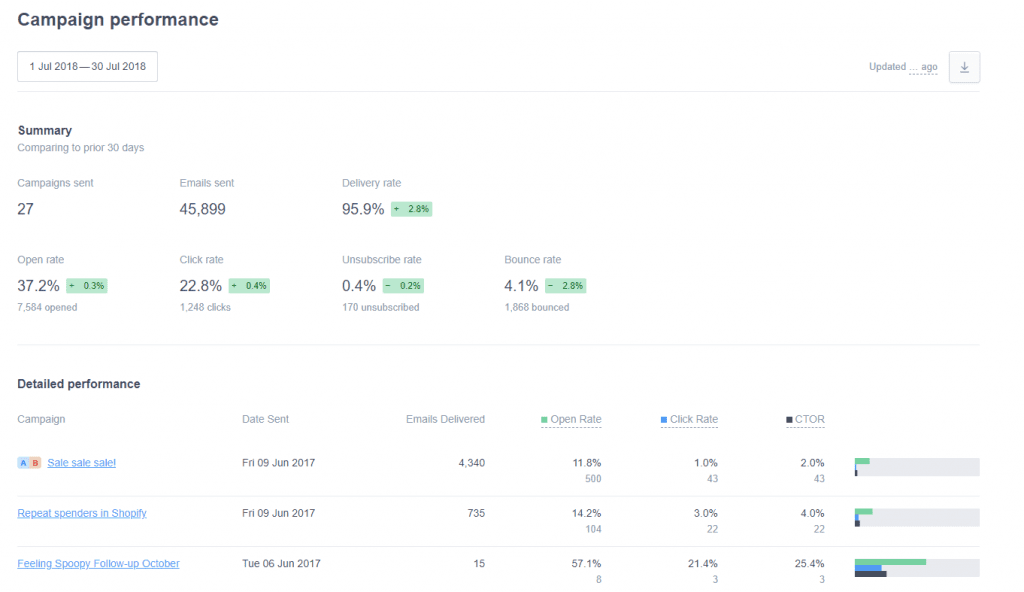 It gives you an overall summary, and then a breakdown for each email including:
Emails delivered
Open rate
Click-through rate (and subsequently conversion rate)
You can also generate reports by lists, segments, engagement, or geography.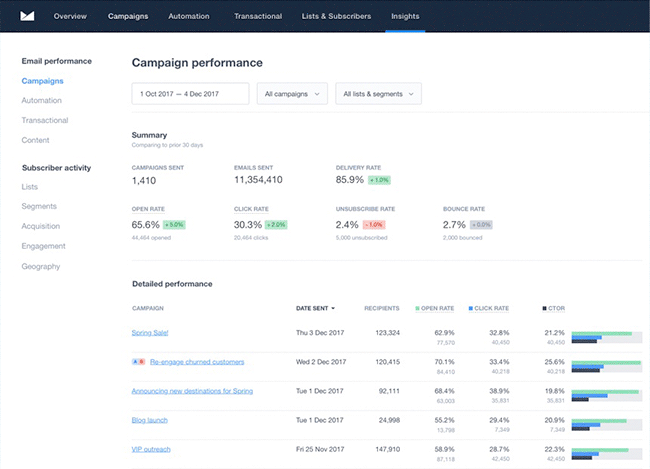 All the basic information is there, I don't see any big things missing.
GetResponse
GetResponse features real-time analytics for each email you send:


They have several other reporting features, like being able to break down email performance by device type.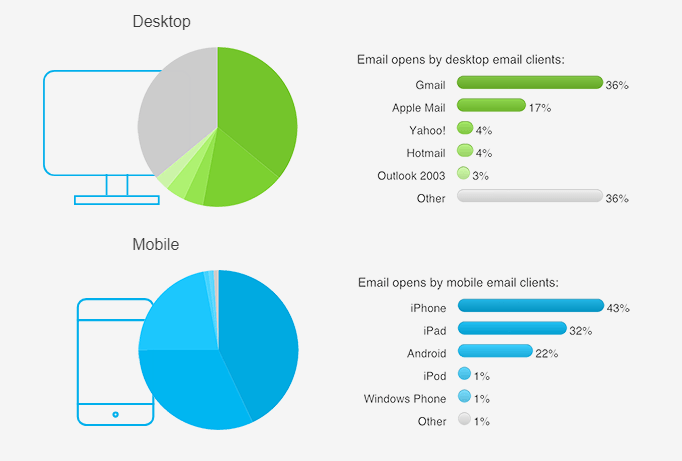 You can also see social media sharing stats for each email. Finally, you can set up automated reports to automatically email you a summary of an email a certain time after it has been sent. Again, there are the basics, and a tiny bit more. I'd say both tools are at a similar level for reporting, and both have the essentials.
Adding New Subscribers to Lists
The last of the basic features that you look for in an email marketing tool is being able to add new subscribers to lists going forward.
Campaign Monitor
Campaign Monitor has nice API documentation if you have the ability to create a custom form on your website (or elsewhere). Aside from that, the in-tool form creator is a bit disappointing.
First, it's hard to find. The navigation link to the form creator is tucked away on the far right of the screen after you've navigated to a specific list on the subscriber's page. I had to look up where to find it. Once you're in the editor, there are only two basic fields to choose from: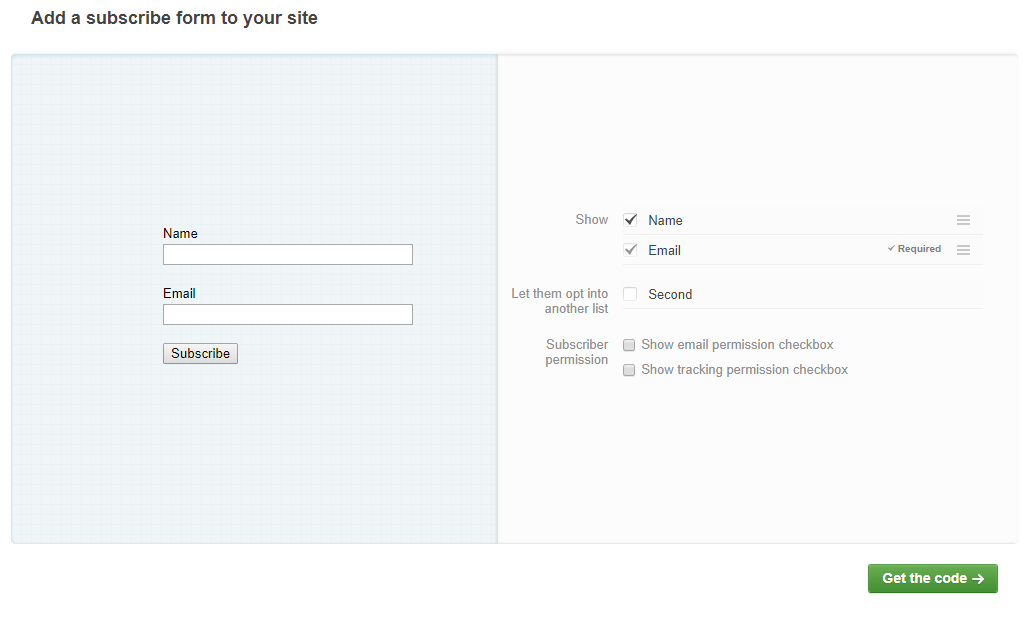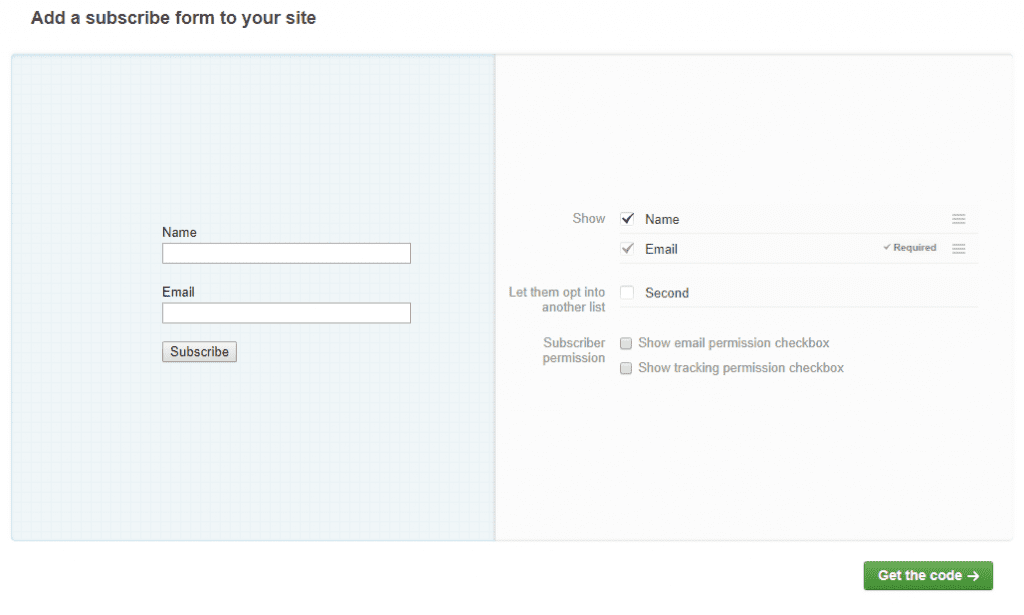 There's also no styling applied or styling customization available. If you don't know CSS yourself, you're out of luck and will be stuck with a plain form. There is a WordPress form plugin, but the reviews are terrible and it seems like it's not worth the trouble to try and get working.
If you have no coding ability of your own, and need to add signup forms to your site(s), this alone may make GetResponse the best choice for you.
GetResponse
GetResponse has an API for developers that has good documentation.
More importantly, is the form builder. It's very easy to find because there's a "forms and survey" menu option, which is the obvious location for it. There are hundreds of reasonably attractive form templates to pick from: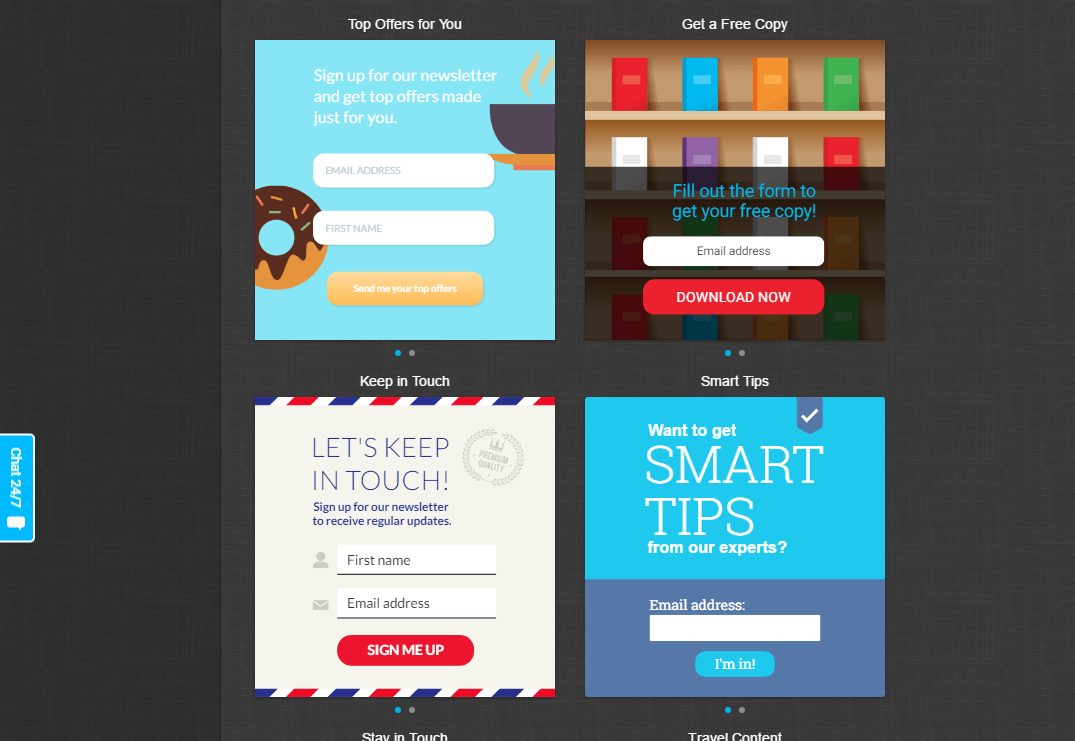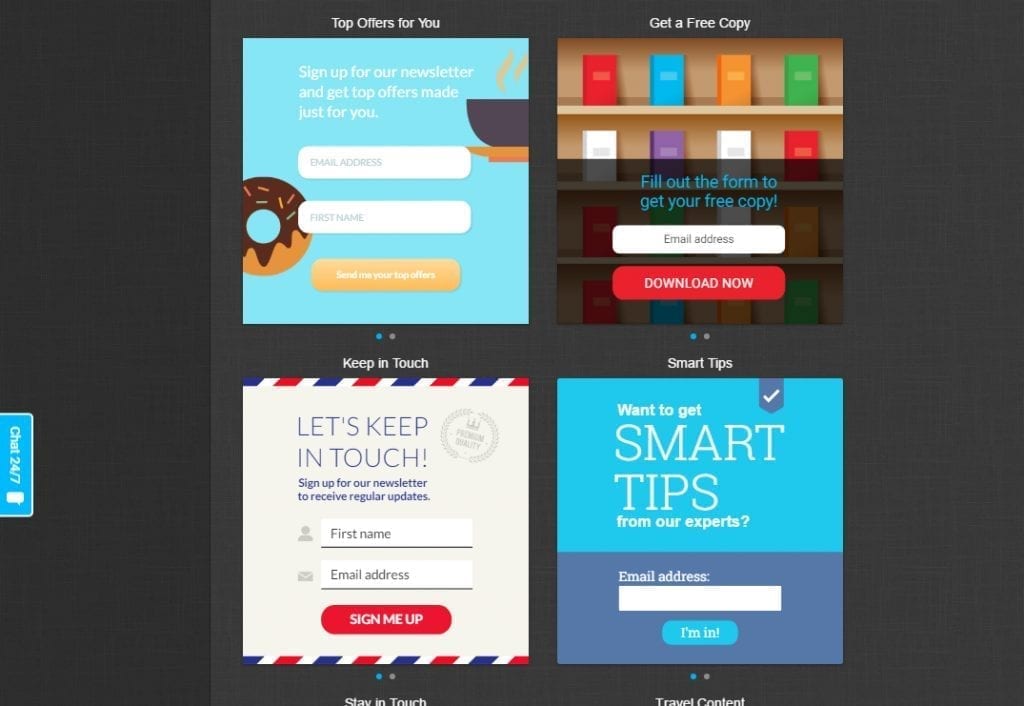 Once you pick a template, you can customize it using a drag-and-drop form editor. There are several fields to choose from, and you also have good control over style and layout. GetResponse is the clear winner if you're going to be using forms that aren't custom-made and hooked up through the API.
Email Marketing Automation
Automation is the part that all marketers get excited about. It allows you to have incredible flexibility in your email marketing campaigns, and send behavior and demographic-driven emails.
Both of these tools offer some form of automation, so let's take a look at how powerful each is.
Campaign Monitor
Note that Campaign Monitor does not offer automation on their cheapest plan. It's only on the "unlimited" plan that these features become available.
Segmentation
Segmenting a list allows you to group together contacts that share an interest, based on a behavior or attribute (age, country, etc.). They allow you to send more relevant emails for a better email marketing return on investment. The segment tool is again hidden away like the forms tool. It's found on the right sidebar of each individual list page.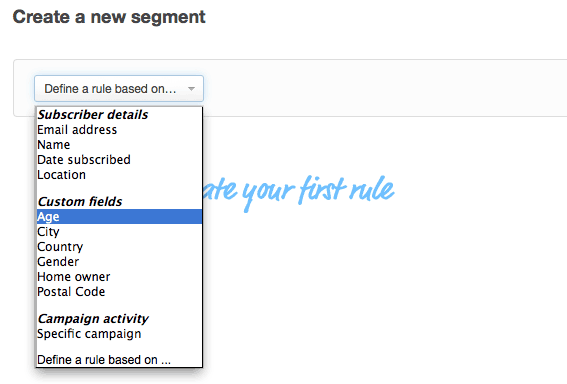 The segments you can create will depend on the information you collect for your contacts. But you can segment for any attribute that you collect.
You can't create segments based on behavior here, but you can send to contacts with certain behaviors using workflows (you'll just have to repeat the filtering each time).
Workflows
Workflows are easy to find, as they fall under the "automation" tab as expected. But, Campaign Monitor calls them "journeys" instead of workflows, which every other tool uses. Each journey has to be assigned to a particular list to begin with.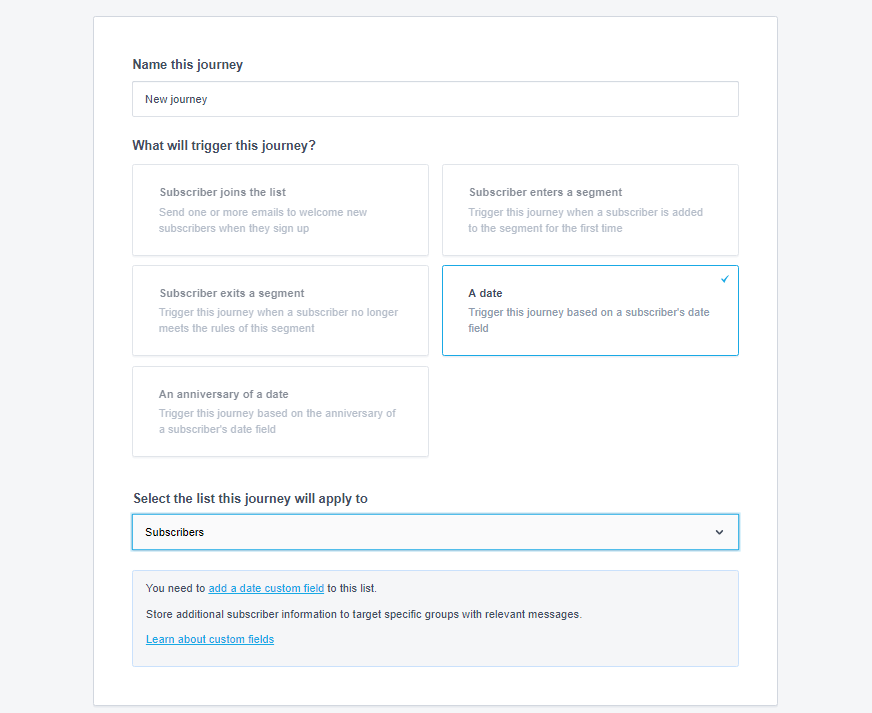 While there are examples and guides that explain how you should build a journey, there are no templates. All journeys are built from scratch. Templates often save a lot of time if you use automation, so that's a negative.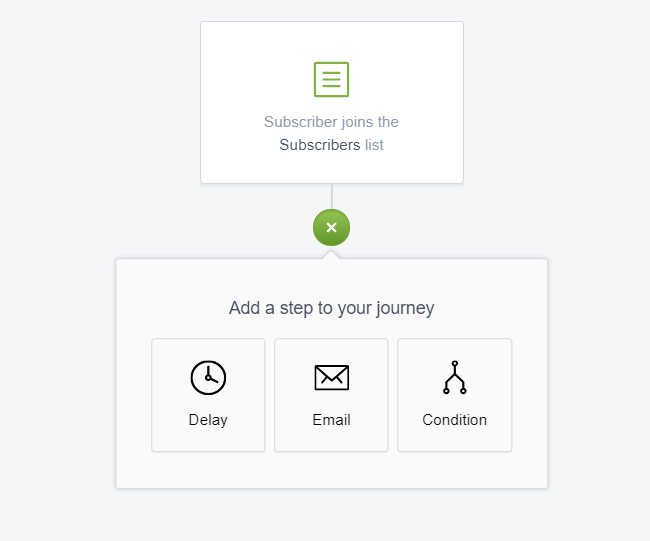 There are two types of triggers you can use each step of the journey:
Time delays – Used to create autoresponders.
Conditions – A limited amount of options based on subscriber behavior.
These are what most consider to be the basics of email marketing automation. You can make simple branches based on those limited options: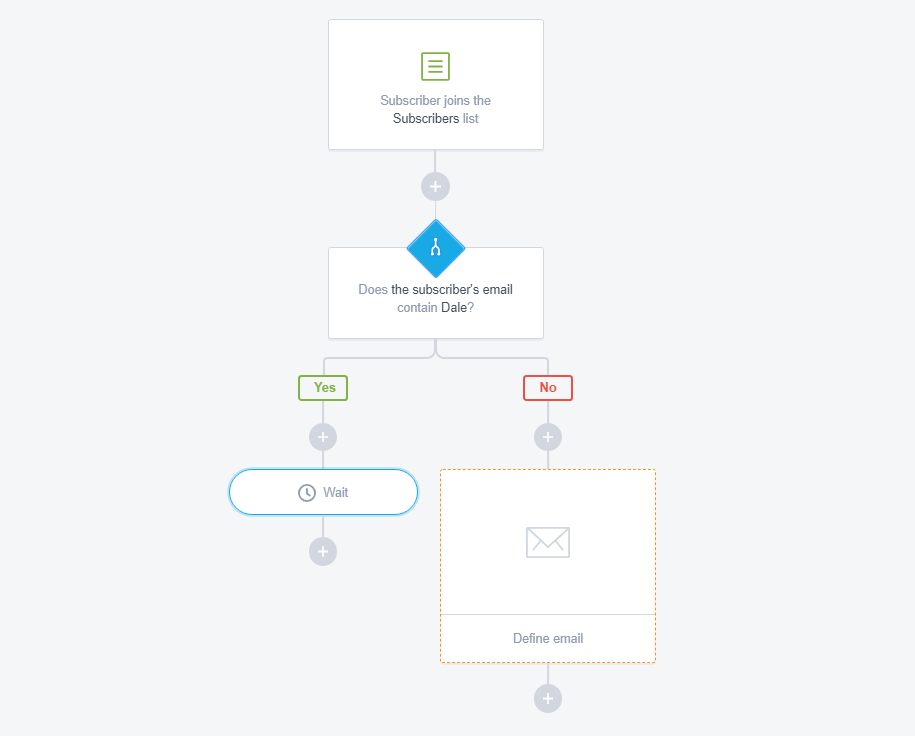 When you want to add an email to send at some stage, it's rather clunky. To actually add content, it redirects you back to the emails you've created for campaigns. In my experience, this scrapes the bottom of what is possible with email marketing automation, and I'm not too impressed.
GetResponse
Automation in GetResponse is again separated into segmentation and workflows, but there are some big differences.
Segmentation
Segments are made through filters in GetResponse. When you go to your list of contacts, you can use the search to apply conditions that subscribers must meet, and then save that as a "custom filter".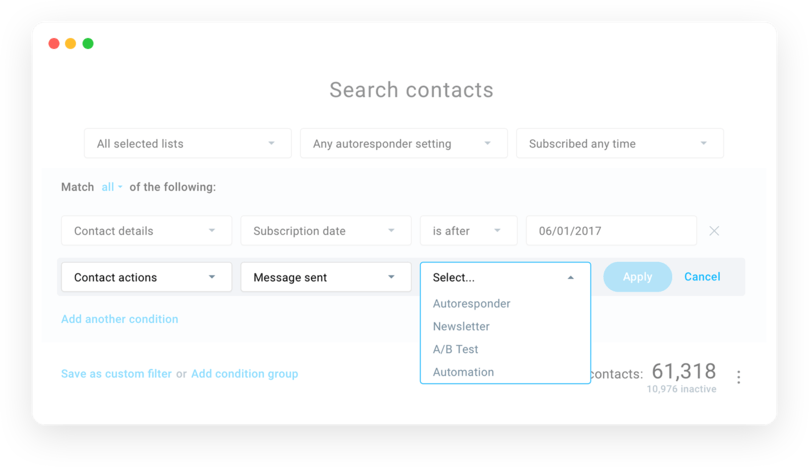 You can then apply that filter, or segment, to any future message when you're choosing the recipients. This could be more intuitive, but the functionality works well once you understand it.
Workflows
Here's where GetResponse really shines in comparison to Campaign Monitor and most other email marketing tools. In your "automation" section, you start by choosing to build a workflow from scratch or choose from many pre-made templates.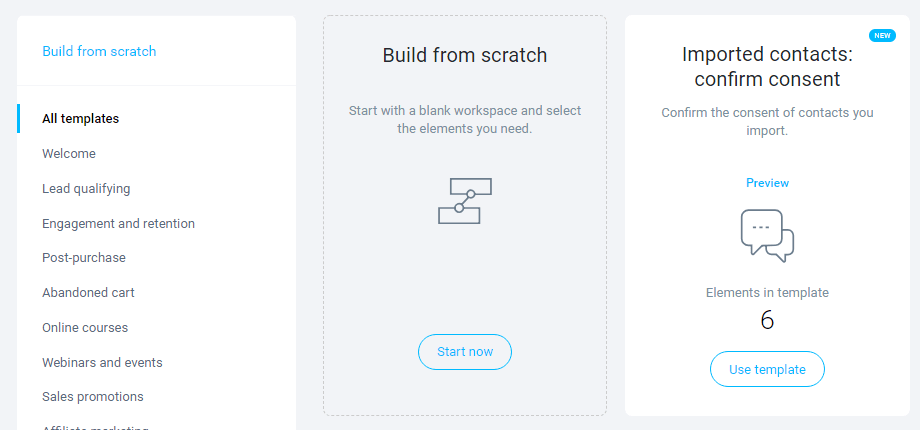 There are several conditions that you can choose from to act as a trigger for an event.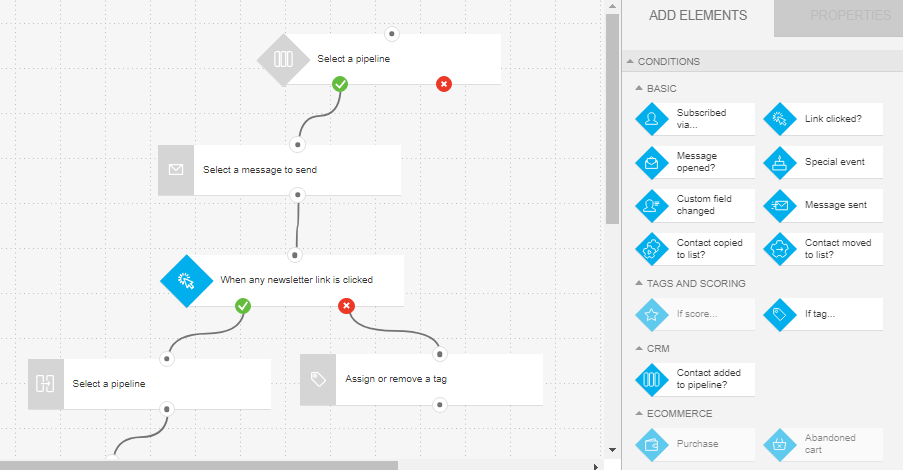 This includes:
Opening an email.
Clicking a link.
Sending a message.
Contacts being added to a list or pipeline.
Contact is tagged.
A purchase is made or cart is abandoned (on certain plans).
Here's the full list that you can drag-and-drop to the workflow: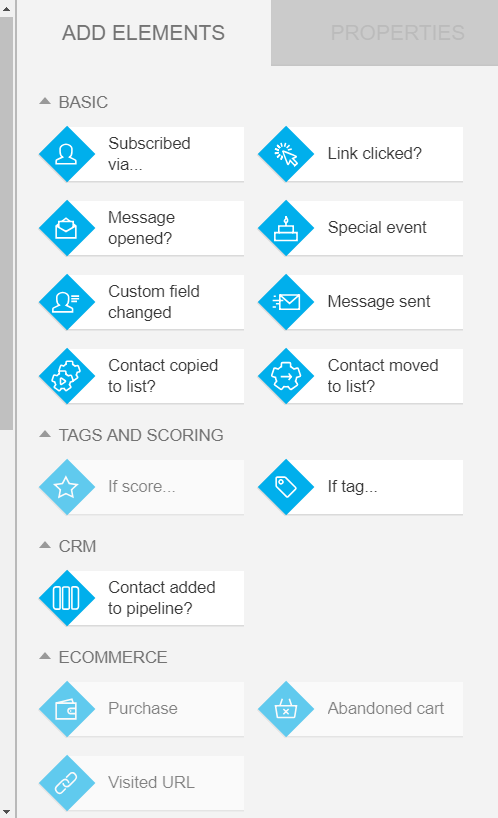 On top of the basic wait and send message actions, there are also more that allow you to move contacts to other lists, or to add tags: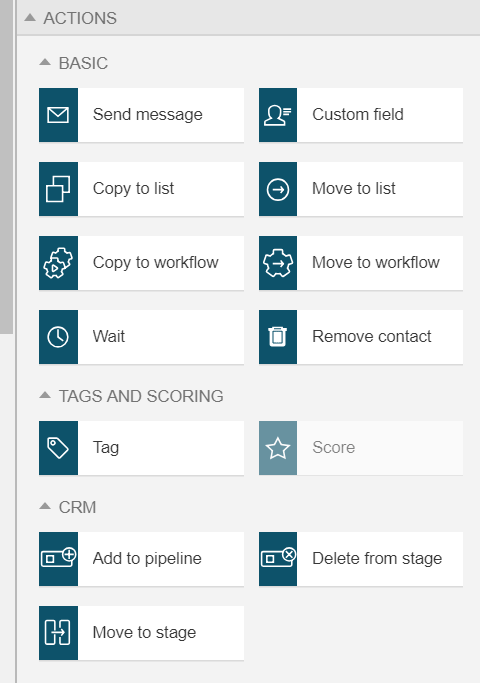 You can connect any 2 elements by clicking their endpoints, one at a time. I wouldn't say that workflows are perfect in GetResponse, but they are very good. I don't have any major complaints other than some minor user interface issues, but I think most marketers will be happy overall.
Integrations
Email marketing never exists in a vacuum, so the easier it is to integrate it with your website and other tools, the better. Both tools here do a good job doing this through their integrations.
Campaign Monitor
You'll find integrations in Campaign Monitor's "app store," all in one place. The "store" has a beautiful design, and it's easy to search for any particular integrations you're looking for.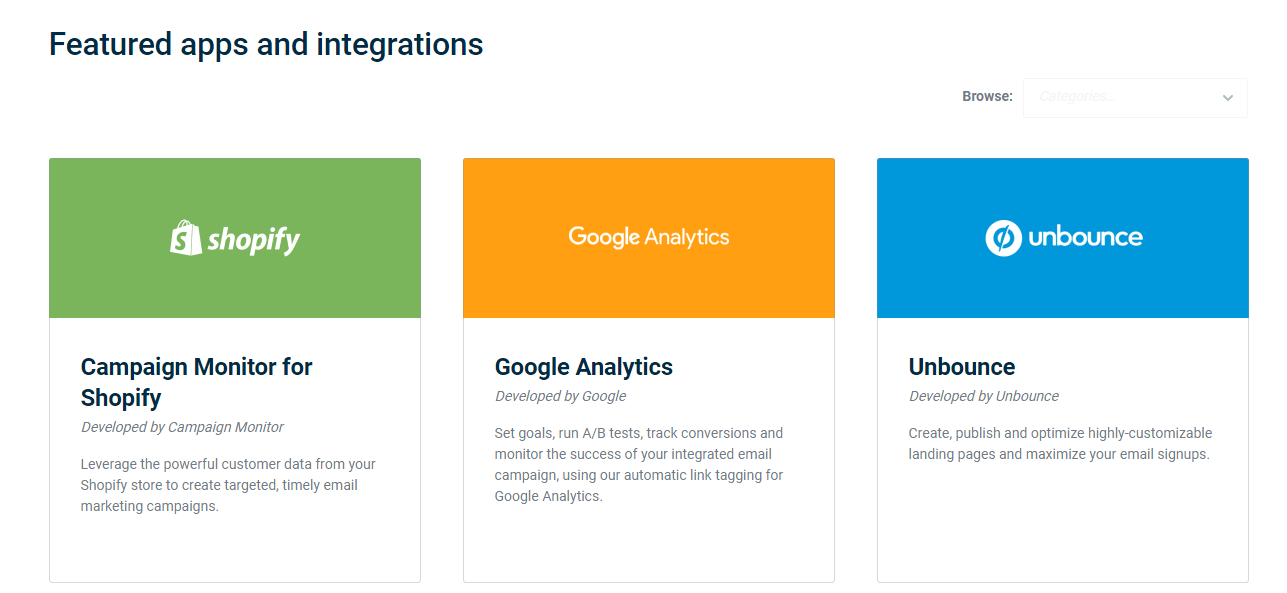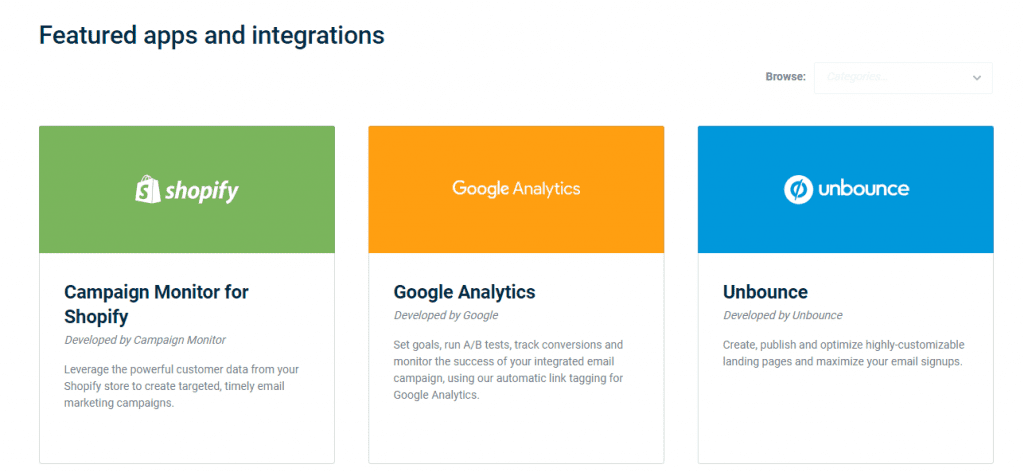 There are hundreds of integrations, covering all major tools and many lesser-known tools.
GetResponse
Here's a full list of GetResponse integrations, which has well over 100 integrations. This covers all major tools and CMSs (WordPress, Joomla, Drupal), and many more.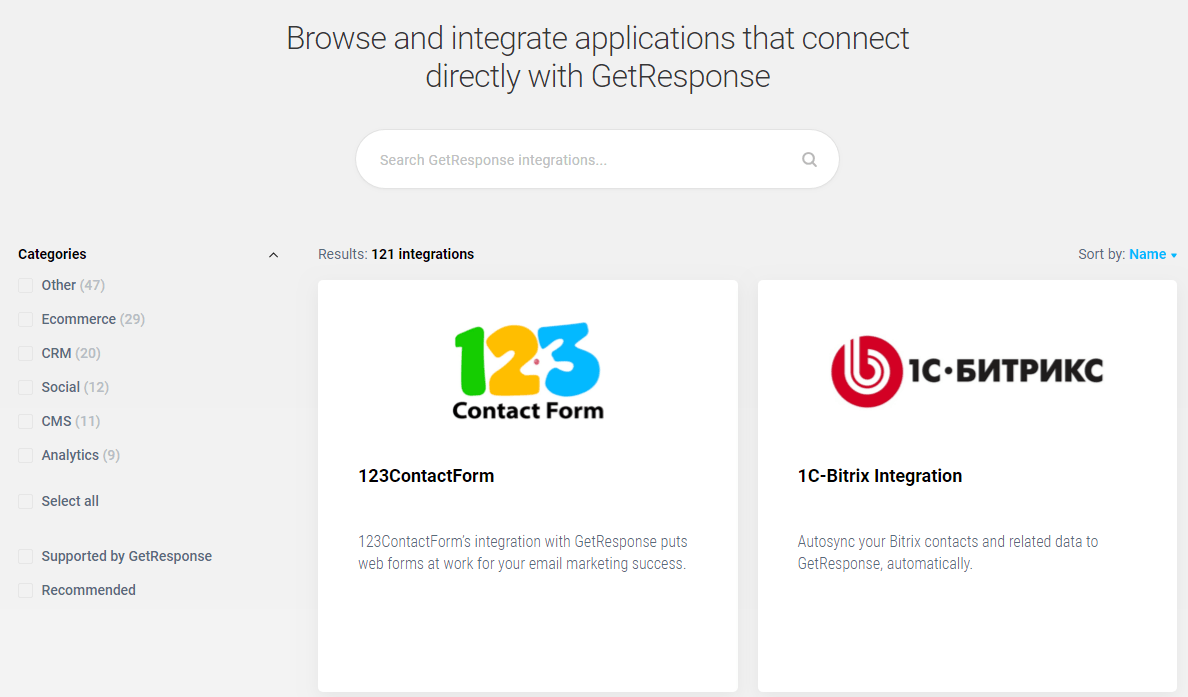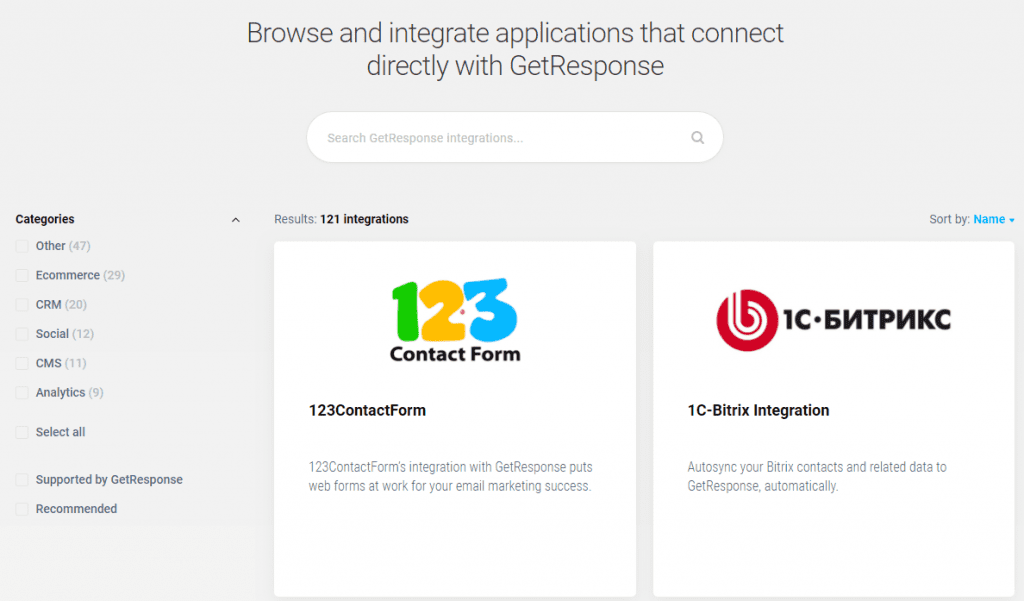 Once you have an account, you'll find that the integrations aren't in one place, they are spread out. For example, the form integrations are located in your "forms" section, which makes sense.
Overall, both have plenty of integrations, and there are no major differences.
Support Options
If all goes right, you won't need support, but it's nice knowing it's there if you do.
Campaign Monitor
Support is lacking for Campaign Monitor. The two bottom plans only come with email support. No live chat or phone. The knowledge base makes up for it a bit. It has a nice design and hundreds of help articles, but the quality of those articles is lacking. Most are brief and lack instructional images.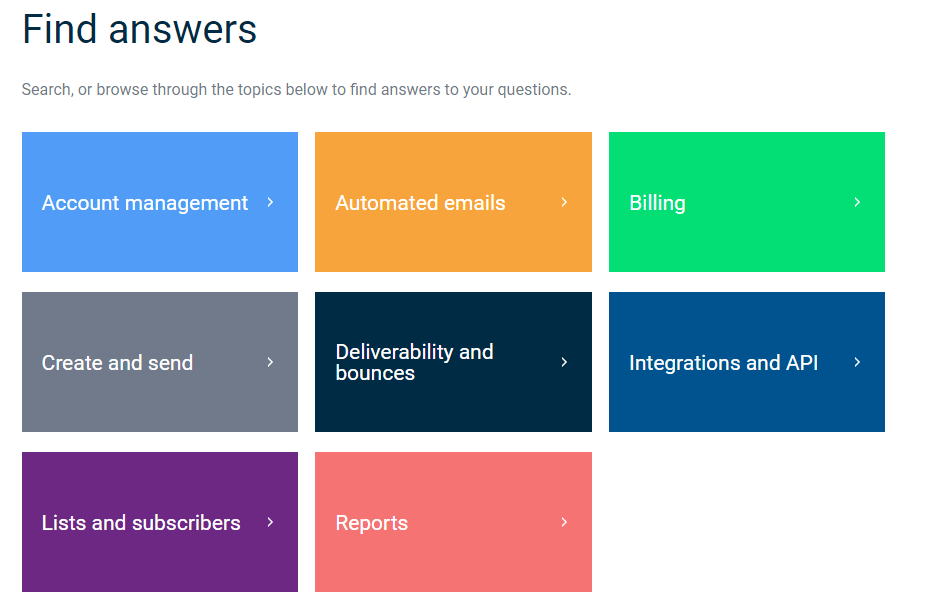 In short, don't expect any instant help on Campaign Monitor.
GetResponse
GetResponse offers email and 24/7 live chat help, which is a big advantage over Campaign monitor.
Their knowledge base is also pretty good. It's a bit ugly, but they claim to be working on it as of writing this article.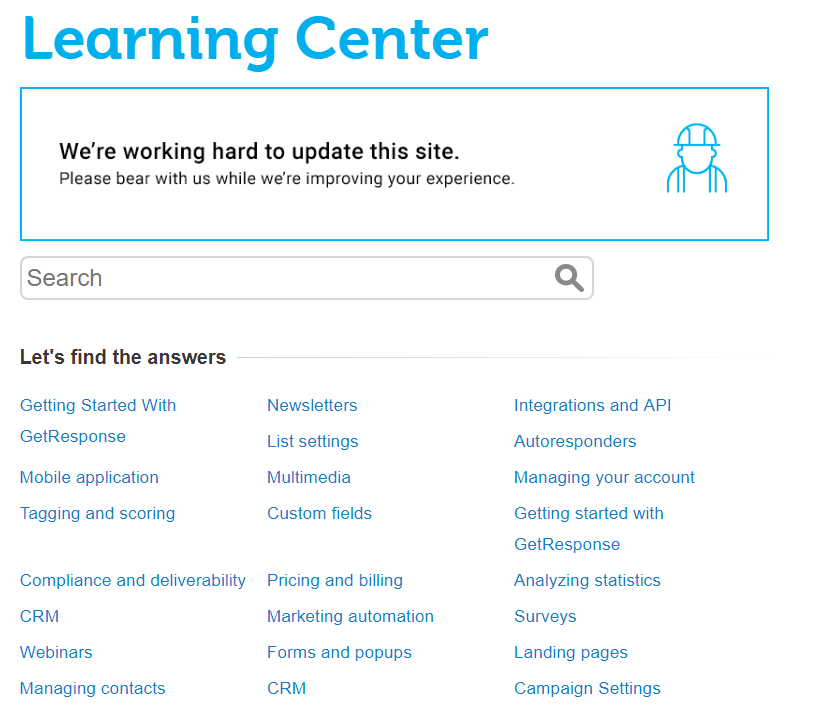 There are hundreds of helpful articles that are well-written for the most part.
Additionally, they also hold educational webinars for new users on a regular basis to show them how to use the tool.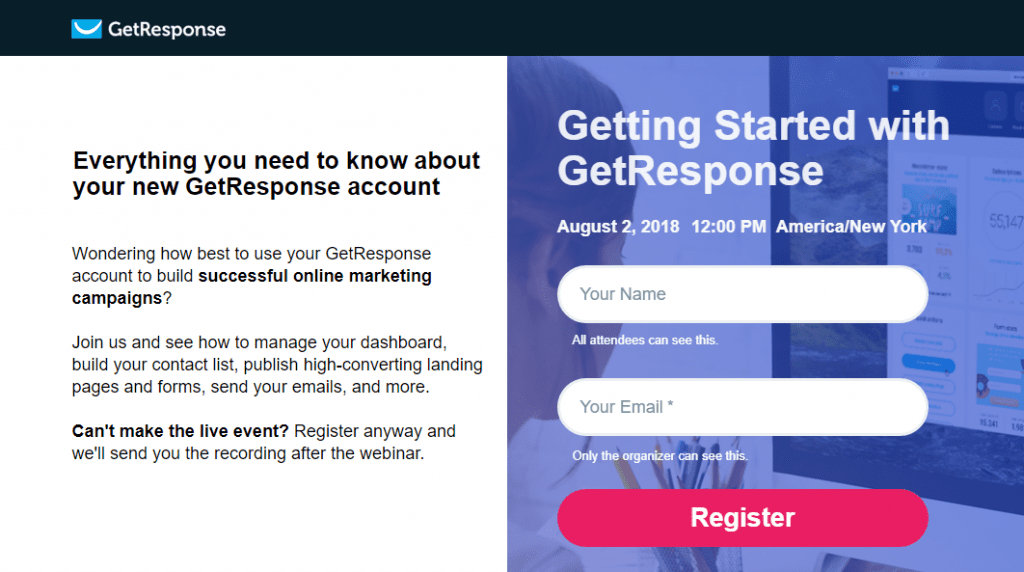 GetResponse's support is by no means perfect, but miles better than Campaign Monitor.
Unique Features
I'll keep this section brief, as these won't interest a high portion of users. Campaign Monitor doesn't offer anything significant that GetResponse doesn't. However, GetResponse has a few that Campaign Monitor doesn't.
Landing Page Creation
While GetResponse isn't known for their landing page creator, they have a good one that stacks up to many tools specifically built for that purpose. They have over 110 responsive templates that can be customized in a drag-and-drop editor, and they allow A/B testing as well.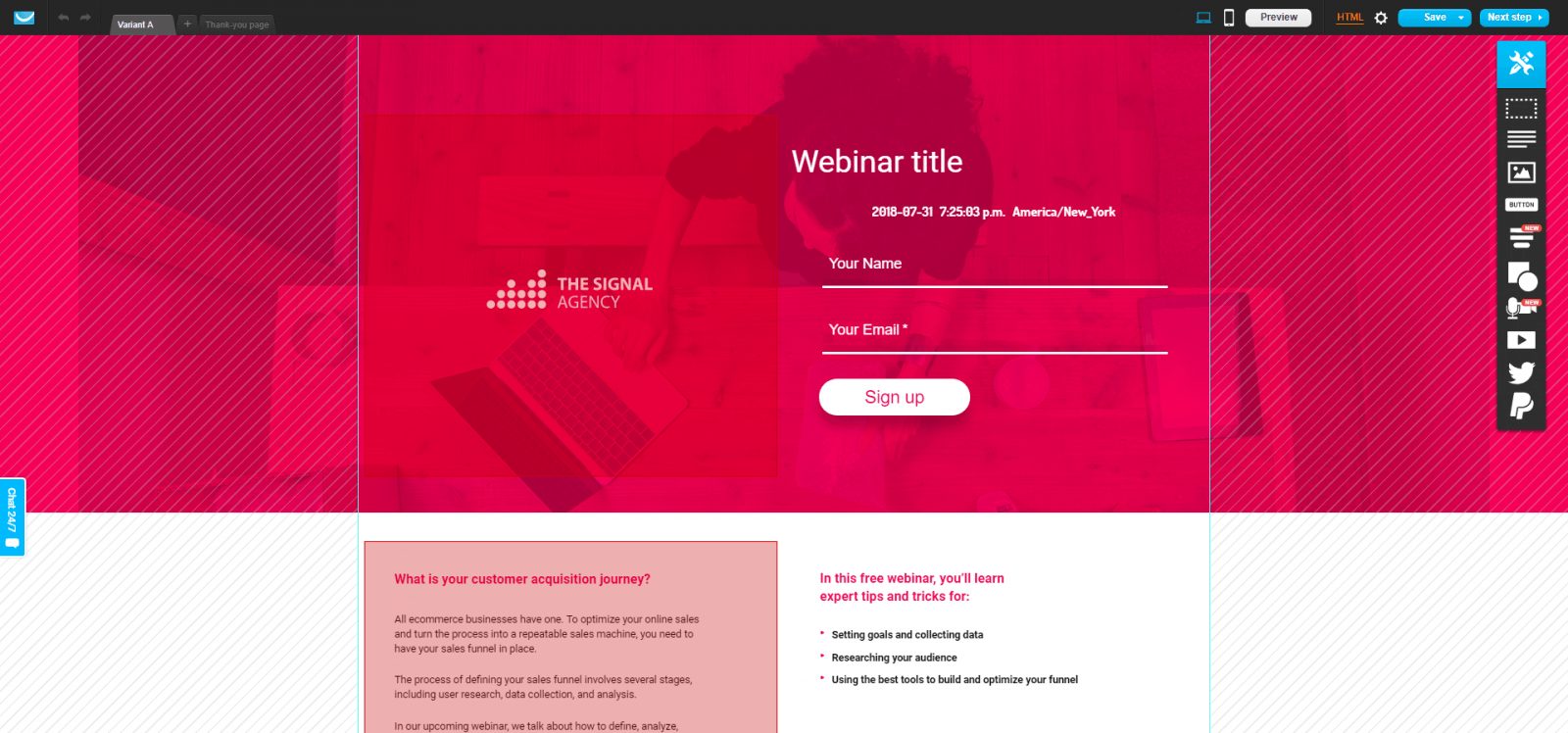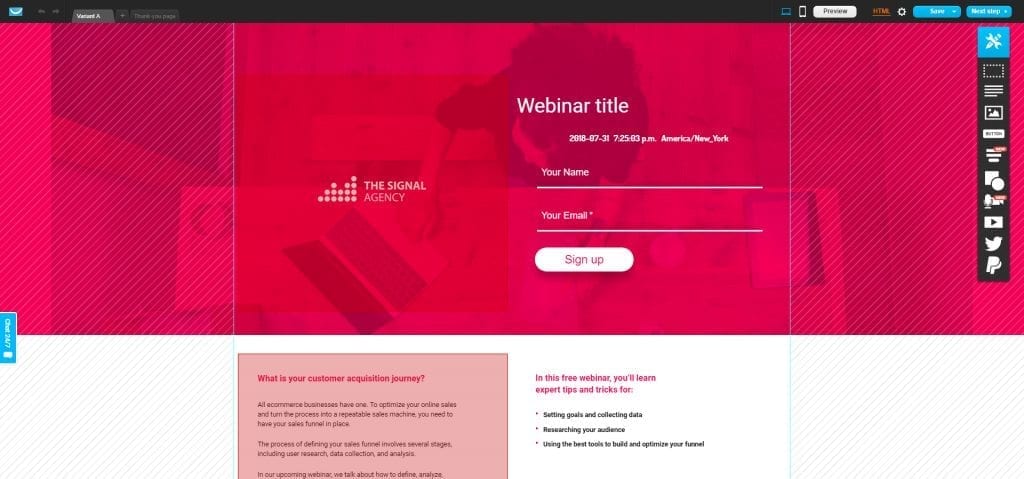 Landing pages and email marketing go hand-in-hand, so this is a valuable extra.
Webinar Hosting
Starting from the "pro" plan, you can create and host webinars through GetResponse.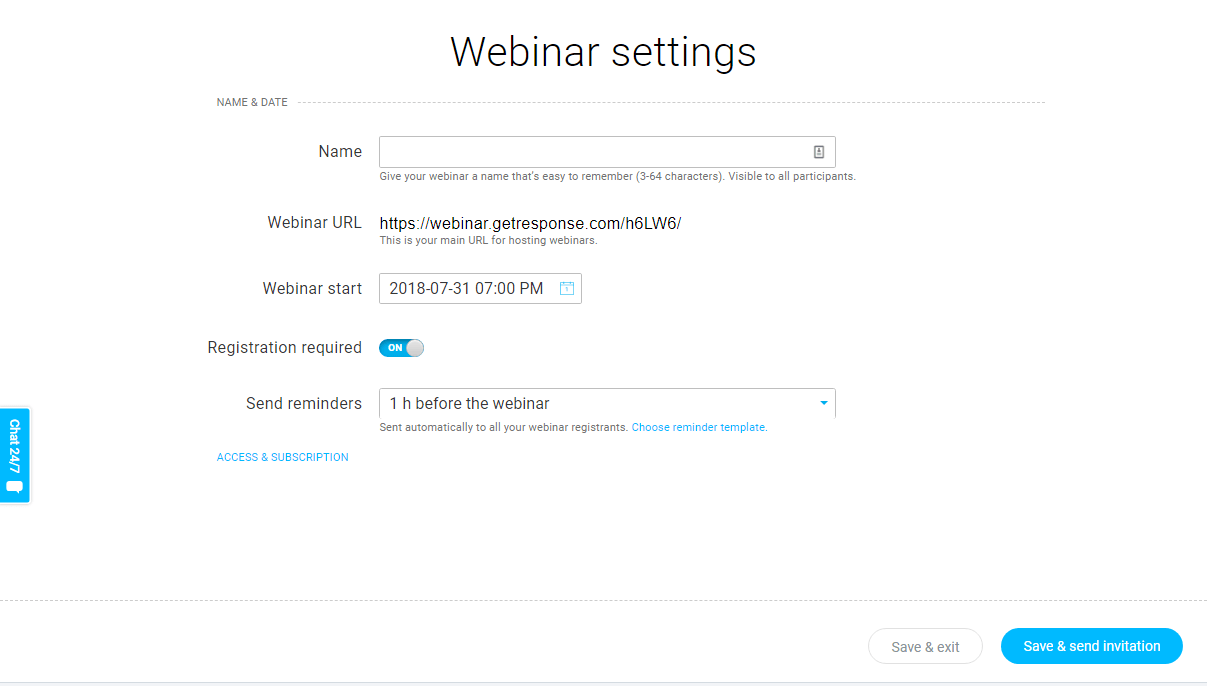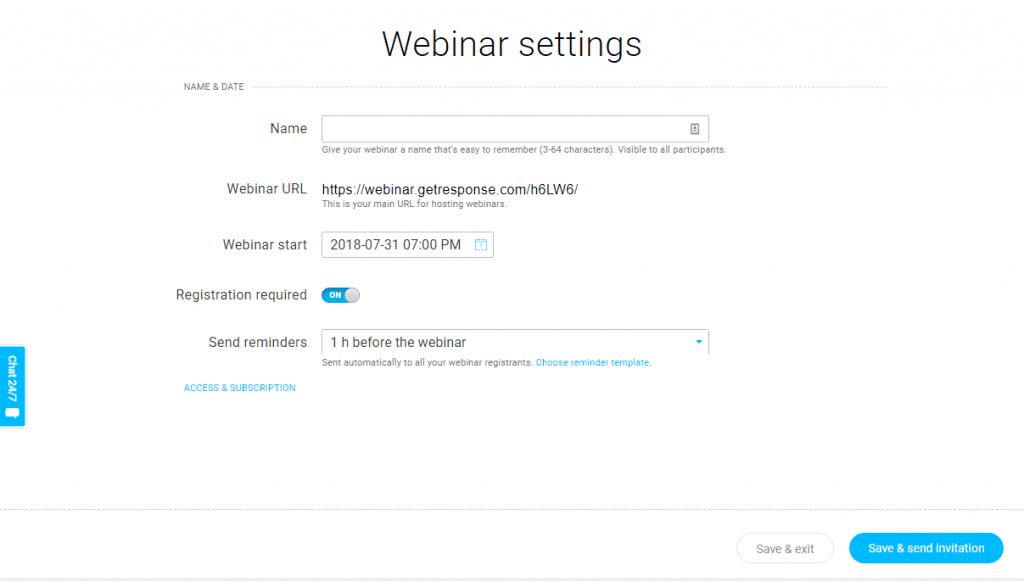 It takes very little time, and it's easy to integrate with your email forms and landing pages. There are specifically landing page templates for webinars that connect with just a few clicks.
CRM
On GetResponse's "pro" plan, you get access to the CRM (customer relationship management) tab of your account. It's far from a full-fledged CRM, but has some basic functionality that can be useful to teams. It allows you to create pipelines to keep track of deal progress: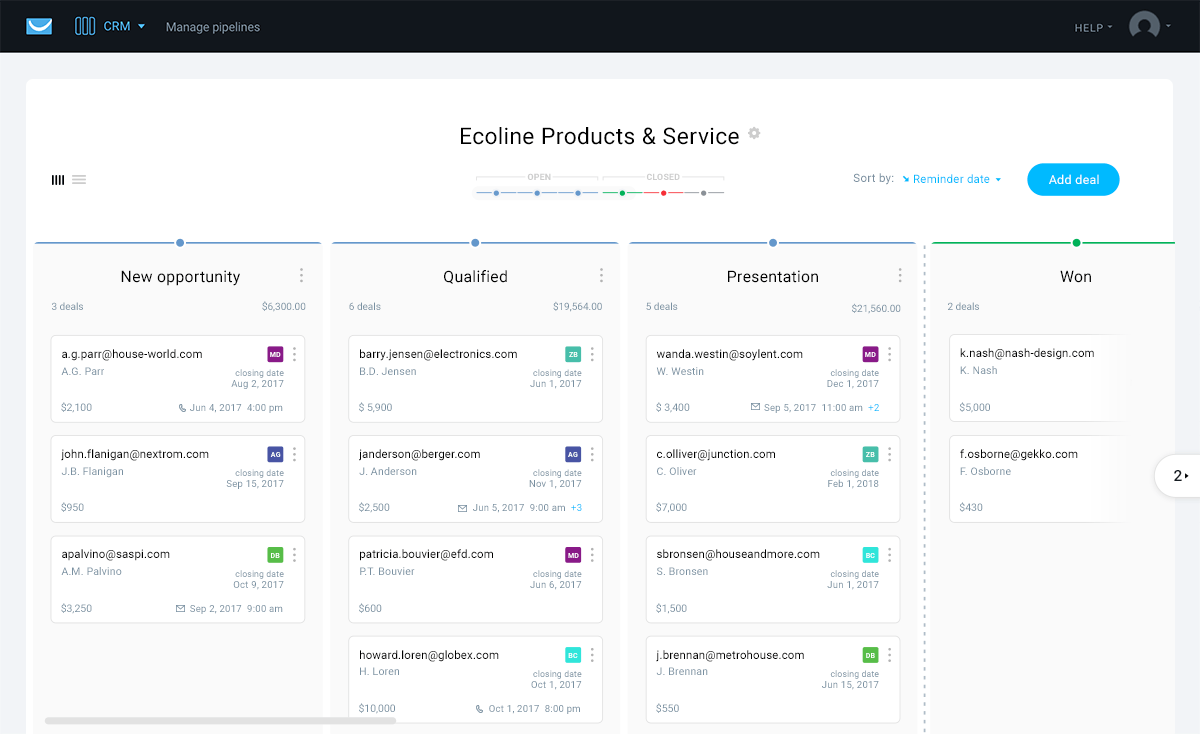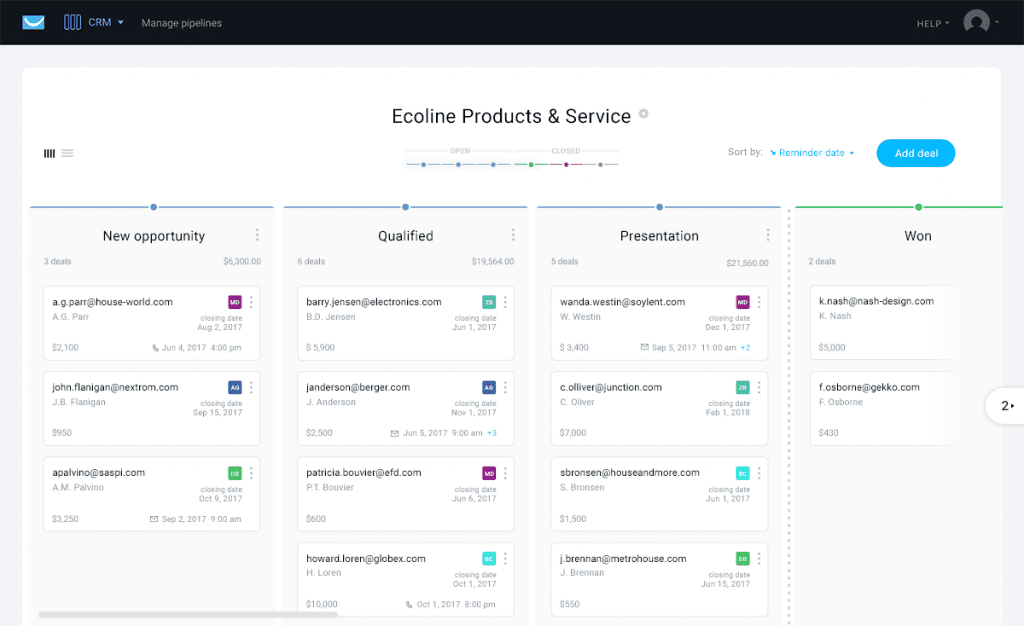 You can schedule tasks, assign team members, and drag-and-drop tasks to the next stage when complete.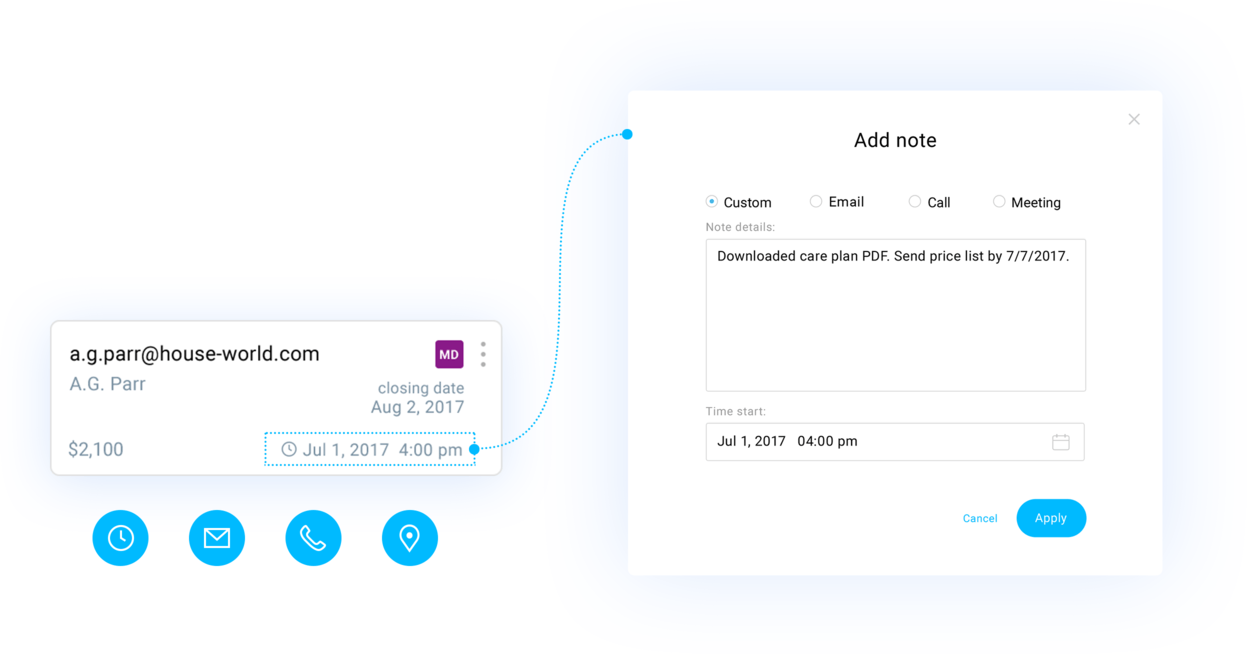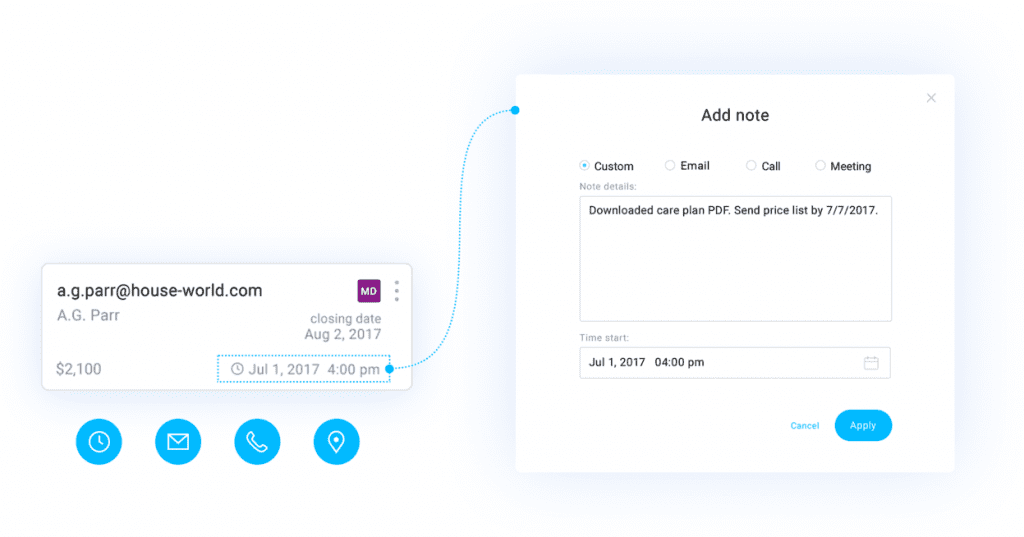 It's a good starting point if you're not sure if you need a full CRM like HubSpot yet, and is already integrated into a tool you use.
Campaign Monitor vs GetResponse: Who's The Winner?
If I had to pick a winner, I'd say that GetResponse is better than Campaign Monitor for most marketers, including small businesses just starting off.
However, Campaign Monitor has many happy customers, so it's not like it's a terrible choice either. To understand my viewpoint, let's summarize everything we've looked at in this review:
In 6/10 categories, GetResponse is the clear winner. In the other 4/10, I'd say they're tied.
Bottom Line: There's no clear area to me where Campaign Monitor is clearly the better option, which is why I'd say that GetResponse is better than Campaign Monitor for almost all marketers.
If you don't like GetResponse for any reason, I would keep researching other email marketing software tools.
Further Reading on E-Mail Marketing Software