Last Updated on January 15, 2023 by Ewen Finser
Choose an efficient, ideal email marketing tool that will ace all your marketing campaigns, fast. We will compare Sendlane vs GetResponse features, functionality and price to help you make your decision.
The market is awash with a plethora of email marketing tools, and most of them, if not all, claim how efficient, reliable, and functional they are. However, a few live up to these claims.
That's because the competition is stiff, and their usefulness keeps changing over time with new email marketing tools gaining control with more powerful yet effective features. Perhaps the most ideal of tools should be simple and intuitive.
That's what Sendlane and GetResponse are – highly intuitive, simple yet powerful email marketing automation tools that guarantee the success of your e-commerce stores. Thanks to great features and well-designed email marketing capabilities.
Main Differences Between Sendlane vs GetResponse
The main differences between Sendlane and GetResponse are:
GetResponse offers much higher deliverability compared to Sendlane
GetResponse has a much longer track record, whereas Sendlane is relatively new
GetResponse has a more customizable pricing plan compared to Sendlane
Sendlane is more approachable and user-friendly compared to GetResponse
If you are torn between choosing these two software's, this comparison will help provide a clear understanding of what each email marketing tools and its services. And how they differ from each other in regards to their functionality efficiency and reliability.
Remember, GetResponse is a powerful all-in-one email marketing automation software that provides solutions ideal for both large and small businesses, as well as marketers and brands. It's simply a poster child for all email marketing tools on the web.
On the flip side, Sendlane is an intelligent, behavior-based marketing automation tool designed for content creators, e-commerce owners, software as a service app (SaaS), and digital agencies.
Let's look at each of these email marketing tools separately, and in great detail.
Ready? Let's get started!
Sendlane came into the limelight in 2013 through founders Zak Meftah, Jimmy Kim, and Anik Singal who had a combined digital marketing experience of 35 years.
They teamed up and designed an email marketing tool that caters to online digital marketers and e-commerce stores as well as agencies. But the journey wasn't too rosy as they ran into problems along the way with other email service providers.
But that didn't stop them.
Since then Sendlane has evolved numerous times to what it is right now. Sendlane is now a powerful marketing automation tool that has recently revamped itself into a next-generation marketing tool for digital marketers and agencies alike looking to succeed in their online businesses.
Through automation and segmentation features (includes typical autoresponder service), Sendlane has proved to the world they can help your business achieve a lot more and even maximize your sales.
And with their services averaging 3 minutes in response time, it's no doubt assembling provides the best customer service in the industry.
Sendlane vs GetResponse: What Makes them Uniquely Different?
They came up with a product that grows your business, reaches your audience, and automates your email marketing campaigns to achieve your objectives. Here's how Sendlane team have ensured your business grows when you employ this email marketing tool:
The software tracks the behavior of your customers and ensures to send personalized messages depending on how well they interact with your website.
The tool collects contact information of your website visitors through custom fields to allow segmentation of users and automation of emails to optimize for a greater business strategy.
It provides real-time analytics to enhance your marketing strategies, and also remain one step ahead of your competitors in regards to making strategic decisions for your business.
Finally, Sendlane allows for cross-channel marketing capabilities. This tool updates your Facebook ads and listens through the attendance of your webinar and what they're talking about.
Besides growing your business, Sendlane is designed to reach more customers within more channels through the help of email marketing automation, SMS marketing,  intelligent integrations, and also email retargeting – where highly targeted engaged visitors to drop out of your sales funnel but are driven back to finalize the action you want them to take.
And when your business manages to reach more customers, Sendlane helps you automate every step of the customer's journey through transactional communications, abandoned cart emails, tagging, and segmentation, not to mention conversion and ROI real-time tracking.
Upsides and Downsides of Using Sendlane Marketing Tool
Upsides
It makes marketing feel more personal and relevant through tagging and segmentation features, which allows you to target and market to a specific group (or segment) of customers.
Provides 24/7, 365 days a year of reliable and efficient customer support
Profound customer response that averages 3 minutes
Provides a wonderful experience and solutions for all your email marketing campaigns.
Downsides
The Sendlane pricing model is based on the number of contacts your website can reach. In other words, costs soar higher depending on the number of contacts your websites can reach. This contact based pricing model is expensive to maintain especially if you just started.
There are not many downsides to Sendlane. The marketing tool is still new in the market, though it's working very hard toward providing efficient, reliable services.
Introducing GetResponse

Compared to Sendlane, GetResponse is an all-in-one mighty platform that employs marketing automation tools, beautiful landing pages, and easy-to-use emails – to achieve growth and success of online businesses and e-commerce stores campaigns.
Besides being an all too powerful and highly responsive email marketing tool, it's the poster child for all email marketing software since its inception 22 years ago.
Founded by Simon Grabowski in 1997 initially as a high-tech SMS solution for enterprises and marketing campaigns, GetResponse has a wide base of customers thanks to its powerful email marketing platform that provides tools to digital marketers, agencies, and online stores alike.
GetResponse services and features are easy to use and also cost-effective to businesses looking to create affordable, highly responsive email marketing campaigns. Today get a response is a force to reckon with numerous customers across the world. Judging from the solutions they provide, GetResponse is a marketing machine that suits your business needs.
What Makes GetResponse Uniquely Different?
The team behind GetResponse online marketing solution hand a goal to help grow online businesses through designing of online campaign management tools that help gross sales maximize return on investments and even help succeed all your marketing campaigns. Not to mention, help deliver five-star customer service.
GetResponse provides over 50 powerful yet easy features you can employ in your e-commerce services. These features typify GetResponse in all ways.
They encompass email marketing, which aptly covers auto-responders, email templates, opt-in forms, timely emails, and deliverability of your message across to your subscribers.
Here's more of what GetResponse does:
It helps send out professional email campaigns well-designed and highly responsive.
It allows marketing automation to enhance scalable workflows that ensure your customer's behaviors are well tract, including when they drop out of your sales funnel or fail to complete a purchase.
It creates highly responsive and beautiful landing pages that convert.  If you want to grow your online sales and attract new customers each time, having beautiful landing pages as necessary. GetResponse has over 150 landing page templates.
GetResponse also provides webinar support by providing a complete webinar marketing solution to help generate leads – which help keep customers engaged throughout. This feature not only brings in new leads but also nurtures existing clientele. Put it another way, GetResponse can easily help turn visitors into repeat customers through webinar integration.
If you want to understand every stage of a customer's journey. GetResponse customer relationship management (CRM) feature allows digital marketers to collect, nurture, sell and repeat the process to ensure they don't drop out midway of your sales funnel.
Upsides and Downsides of Using GetResponse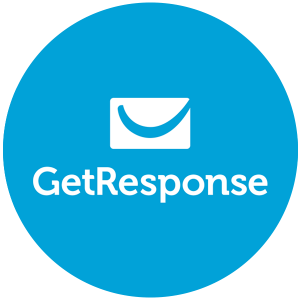 Upsides
It provides enterprise solutions where you can send out a lot of emails or multiple campaigns to a larger database with a few clicks.
It integrates with hundreds of services that you use on a daily basis.
It allows managing of your own account just the way you like. So you can easily customize your content deliver arcuate and timely messages regardless of your time zone. It makes easy to carry out a multinational email campaign when providing a wonderful experience.
It creates quality emails through powerful design tools with drag-and-drop ease.
Analyses and optimizes your website for better results.
Creates a healthy contact list through list building and management features.
Downsides
It's not so easy to personalize email layouts
It has a steep learning curve
It provides a service that's based on subscriber lists
Sendlane vs GetResponse: Price Comparison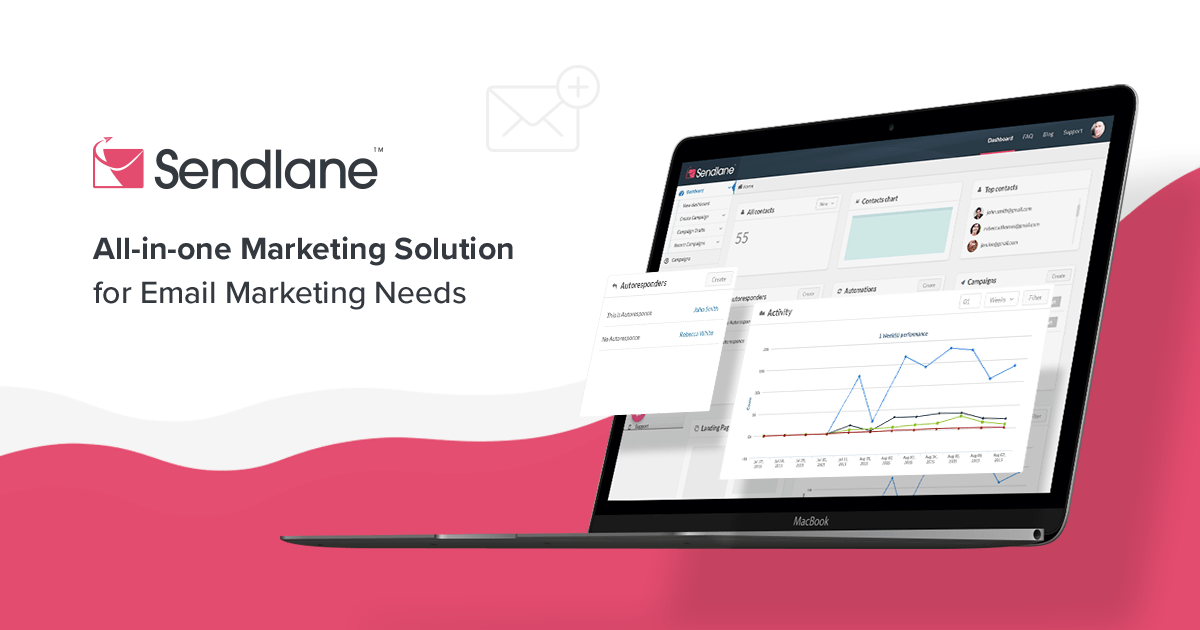 In spite of boasting superior technology and a great email marketing solution platform, users have little to speak about GetResponse rates. Why? There are a lot more pricing then again the pricing model is based on subscriber count.
This model is a lot more expensive compared to a pricing model that allows users to choose and purchase an affordable package – inclusive of ideal features they need for their email marketing campaigns.  But it never happens so.
So expect costs to soar higher when you choose the number of subscribers to target with your email campaigns. For example, if your customer list size is 4600, you're expected to pay $79 every month when you buy one of the four pricing plan categories – think Essential Plan.
If you want to target a customer list of 5100 members, you will pay $99 each month for the same Essential pricing plan.  While get response brings in more business than any other form of marketing out there, their pricing model is repulsive and could do with some revisions.
The downside is, you will always end up paying more as long as you're targeting a larger subscriber list compared to someone who just started out. If you're sending out emails to a list of 300 subscribers, expect to pay $49 a month on the same Essential plan.
A similar experience mirrors itself on Sendlane pricing model, but different all the same. What differs with GetResponse is the amount of money you will pay every month depending on the number of contacts you want to reach.
Sendlane has a specified segmentation of subscribers and ones you reach a certain number of contacts, you pay a specified amount of money from a pricing plan category. In other words, it limits you to one particular pricing plan depending on the number of contacts you want to reach on your e-mail marketing campaigns.
For example, if you are targeting to send out emails to 2500 contacts, you are limited to buy Growth plan that costs $49 a month.
However, if you are to target 5000 contacts with your email campaigns, you unlock the marketing automation pro plan that attracts $125 on a monthly basis. This plain unlocks all Growth plan features including those of Marketing Automation Pro plan combined.
Verdict:
You are better off choosing a GetResponse marketing tool that allows you access to all their pricing plans despite the number of subscribers you want to target for your campaigns.
Sendlane vs GetResponse: Ease of Use

Both email Marketing tools are easy to navigate and use. However, GetResponse has much dominance in the market thanks to years of experience on its sleeve, and what it brings to the table in regards to features and streamlined customer experience.
GetResponse is a multinational team of technology experts with years of experience under their belt. They have experts in various fields with portfolios heavy from experience, knowledge, and creativity.
This gives them an upper edge in the game, which makes them the most successful email marketing and email automation service for nearly 15 years and counting.
Their professional team's hurdle together to create high-quality online marketing solutions aptly designed to empower entrepreneurs and digital marketers alike. It's no wonder GetResponse user interface and experience are deliberately designed to create an effective and responsive environment.
The tools features are highly refined thanks to consistent deliverability rate of over 99%, which is the highest in the industry today. You can bet your bottom dollar it's easy to navigate the tool's features and solutions – all-in-one mighty platform.
On the flip side, Sendlane is one big family that came together to create a rich email marketing tool, and they're all working in various fields but based in a similar environment. It's understandable since they're still very new in the market compared to GetResponse.
However, the team has done a wonderful job in providing the great user interface and user experience, which allows users to explore relevant solutions fast and easy. You could say they've turned their passion into a wonderful team that provides incredible email marketing solutions – in spite of their being young in the game.
Verdict:
If you are looking for a mature email marketing solution with years of experience under the sleeves, GetResponse is your best bet. It has the ability to provide great marketing solutions thanks to its multinational team of experts.
Sendlane vs GetResponse: Which Is the Best for Your Email Marketing Campaigns?
You cannot overstate the importance of these two email marketing solutions. They all achieve similar goals in an effective, highly responsive, and professional environment.
But honestly speaking GetResponse is an overall powerful and comprehensive tool that can steer the growth of any online business and e-commerce stores to greater heights. It's equipped with efficient features and functional tools that help organize and analyze all your email marketing campaigns.
Also, you can do so much with this tool – employ auto-responders, carry out webinars, perform marketing automation services, create beautiful landing page designs, analyze auto-funnels, and even create powerful marketing campaigns – all-in-one platform. Never mind GetResponse team has achieved the highest deliverability rates in the industry.
However, it's important to spend as much time with both tools to understand what they bring to the table, and how they can grow your business before making a buying decision. Of course, it's challenging to find the right email Marketing solution that meets all your 100% needs. But you can find one that suits you perfectly. GetResponse sounds like a perfect fit.
Bottom Line: GetResponse offers more powerful automation (today) with significantly higher deliverability rates. This is why my overall pick is GetResponse (Free Trial available here). Sendlane is still a tool to watch, just not quite where GetResponse is today.
Here are other related articles you may be interested in: