Last Updated on January 15, 2023 by Ewen Finser
Marketing is vital for your business, but it can be so time-consuming. With our Sendlane vs Ontraport comparison, we'll be looking at two marketing automation services to see which one is right for you.
How many tasks do you have to think about?
Email marketing, marketing analytics, autoresponder, membership sites, landing pages, CRM, SMS campaigns …
All of these things take time to set up and run.
Do you want to boost engagement from your customers?
Increase your revenue?
Manage your customers and contacts and use that data meaningfully?
You're not alone.
9 out of 10 marketers say that any tool that enables them to review, analyze, and act on customer data would be "valuable" to their business.
A marketing automation platform might be just the marketing tool that you need!
Bottom Line Up Front Summary: Either one would be a good choice, but the better deliverability rates and in-depth automations proves out that Ontraport offers just that little bit extra here.
These marketing services are smart – and efficient. They could free up time for you and your team, and help your business to run more smoothly.
You could save some serious time and headspace (which everybody needs more of) … if you choose the right one.
Why Do You Need a Marketing Automation Service?

You might be wondering what a marketing automation service is.
Marketing automation platforms offer different things – so it depends on what you need. Usually, they offer automation, email marketing, and detailed reporting and analytics.
Some offer landing pages, form builders (opt-in forms), and SMS campaigns, too.
A big plus is that they help you to manage your contacts, offering grouping and segmentation to help you to target them directly with marketing campaigns under one marketing platform level view.
Many offer lead scoring. The marketing software application will calculate how likely a customer is to make a purchase (potential customer) with you depending on the actions that they take (opening links in an email, for example). They can then send a targeted email campaign to them. This is IDEAL for e-commerce applications where you are directly selling in your marketing funnels.
This is an amazing tool that could make a huge difference to your sales!
They should save you time. The idea is to streamline your work processes, making them more efficient.
They should also save you some headspace. Having to manage so many different things can become complicated very quickly. A good marketing automation service will help you to manage everything in a simple, easy-to-understand way.
Everything you need in one place for your convenience – no more having to remember dozens of passwords for different websites!
It should also help you to improve your marketing. By getting to know a new platform, you should be able to identify areas that need improvement, and then work with the service to make those areas stronger, hopefully resulting in more sales and growth for your business.
Let's take a look at Sendlane and Ontraport to see which one is the right choice for you.
Why Should I use Sendlane vs Ontraport?
Sendlane describes itself as a 'powerful email platform, built by marketers for marketers'. So why should you consider using it?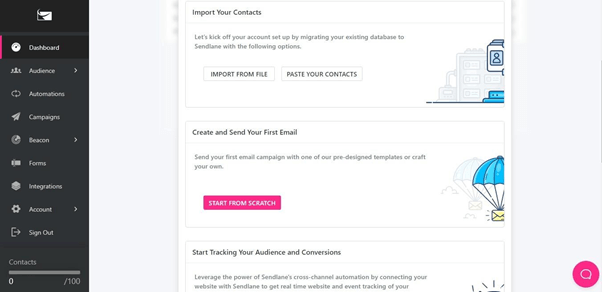 Signing up for Sendlane is very simple. All you have to do is answer a few simple questions about the kind of business you run, and then you get a 14-day free trial, so you can test how it works.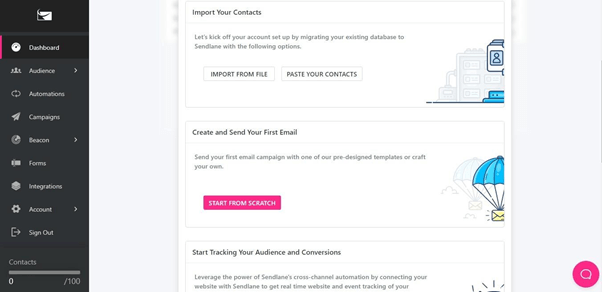 Creating an email is straightforward. You can choose who to send it to (you can choose from Tags or Lists, depending on which group of people you would wish to email). Then you can choose from a selection of premade templates.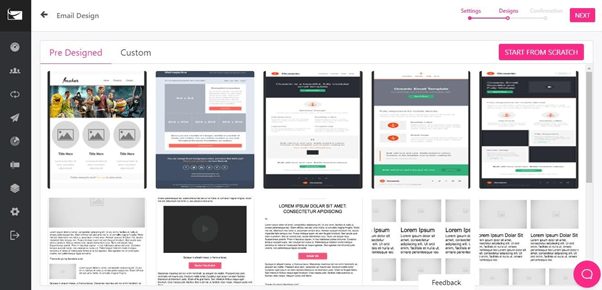 You can use the drag and drop editor for images, add text, add links, and add call-to-action buttons, which you can edit to suit your needs. You can then preview your email before you send it out, testing how it looks on mobile and desktop.
You can click to enable tracking on your emails – this will show you the number of people that have clicked on your email.
The 'audience' section lets you view and edits your contacts. You can organize them by tags, or in lists. You can also import contacts from another email list, but it can be a little tricky to do.
You can also set up automations. These are processes that will happen automatically depending on the situation. Basically an advanced autoresponder. For example, if you want to recommend similar products to a customer who has recently made a purchase, setting up automation will do that for you every time.
There are a few pre-designed automation, but you can also start your own from scratch. This felt pretty simple to use when we tested it, although as with any platform, it can take a bit of time to get used to it if you've never set up automation before.
You can also set up campaigns – again, it's easy to use, with a drag-and-drop editor. You can schedule the time that you wish to send them.
They also have something called Beacon. To install it, you have to copy and paste a few lines of code into the header of each page of your website.
Beacon will then track on-site activities, conversions and events to show you exactly how your customers are navigating your website, enabling you to target them specifically with campaigns that will interest them.
This is a great tool which could make a huge difference in your understanding of what your customers want.
You can also create forms with Sendlane. This again is very simple to do, and you can create forms to insert into your emails depending on the information you need to capture.
Lastly, there are integrations. Sendlane integrates with a decent amount of apps and marketing services, including Shopify, Facebook Custom AudFiences (Facebook Ads), Stripe, ClickFunnels (ideal for funnel building and funnel hacks system), and Webinar Suite.
The customer Support section is okay – it's not hugely detailed when it comes to helping you set up. There is a search box in the corner at all times to help you quickly grab information about the platform as you need it, which helps.
The Knowledge Base has a collection of articles to help guide you through the process, and you can send them messages through a form if you have any problems. We felt that some detailed tutorials or videos may help new users. Once you sign in, you're kind of thrown into the deep end!
What Are the Benefits of Sendlane?
Integrate with other tools: Facebook Custom Audiences, Stripe (great for e-commerce applications), ClickFunnels (marketing funnels)
Compatible with Google Analytics
Simple to use, with an easy drag and drop editor and drag and drop email builder
A beacon is a great marketing tool that allows you to see a customers' journey through your website and allows you to sends targeted emails based on that
Autoresponder systems and Automation are fairly easy to set up
What Are the Downsides of Sendlane?
Not that many email design templates to choose from
The support section is lacking slightly
Migrating contacts from other marketing services can be difficult and time-consuming
Why Should I Use Ontraport?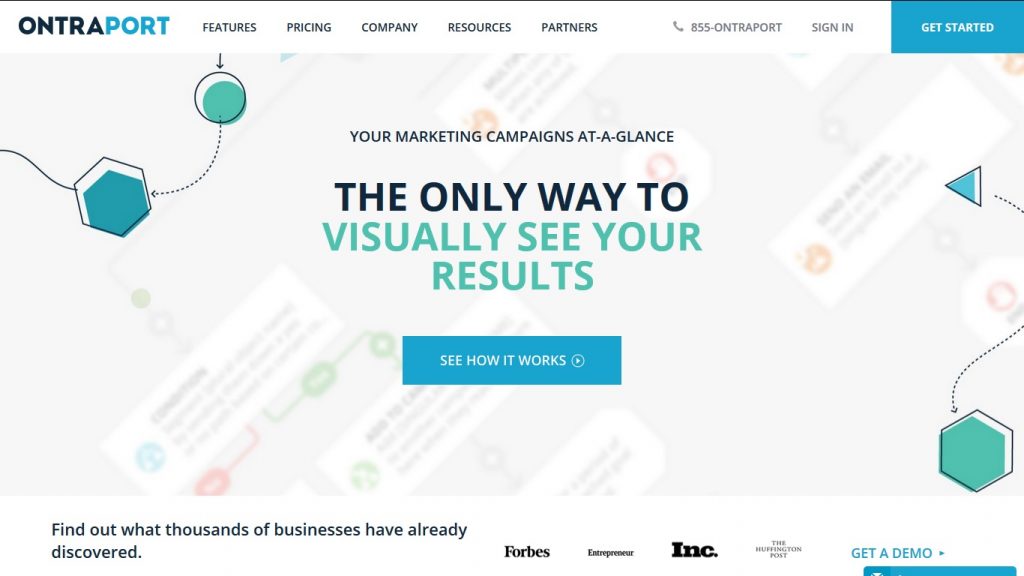 Ontraport offers a lot of features at a decent price. They focus on CRM (customer relationship management), with a great system for managing customers.
Signing up is a very simple process, requiring a little information about the kind of business you run and what you want to achieve from Ontraport in the next 30 days.
The great thing about Ontraport is that it immediately directs you to the Help Centre, leading you to a checklist to help you get started:
Going through this list should help you to explore what Ontraport has to offer whilst helping you get to grips with it.
Contacts are organized in Groups, and Ontraport offers a tour through this, to show you how it works. This didn't always work properly, which was frustrating – the help box kept disappearing, and we had to abandon it in the end.
You can search through, filter, and organize your contacts based on very specific criteria – from products purchased to tracked link clicked, to their date of birth, to the timezone they live in.
If you want to set up a campaign, the pre-made templates are great. You can use the free templates provided, or you can purchase additional design templates. These walk you through setting up a campaign from start to finish, and you can edit each step to suit your needs.
It looks complicated, but if you can get to grips with it, it could really streamline your work processes. You can add specific triggers, add email campaigns, send an SMS, add the contact to a new list, or add a tag to the contact.
You can also add filters: stopping or pausing, sending your contacts down two different paths, or setting your goal, amongst others.
The 'Performance' section allows you to see how well each marketing campaign is performing. It tracks contact flow (how your contacts are moving through the campaign), sales funnel conversion, lifetime value, goal conversion time, and goal conversion point.
You can add a checklist, print your campaign, and share it with others. This is a great, simple way of sharing information with your colleagues or employees.
To create an individual broadcast or an email campaign is pretty easy. First, you choose to create an email from scratch, or choose a premade template:
The emails are built using a block-based editor, and it's simple to add blocks of text, images, links, voucher codes, and logos.
Another powerful marketing tool that Ontraport offers is sales automation: it captures leads (customers who are likely to make a purchase) using lead scoring and divides them amongst your sales team.
If you can spare some time to set this up properly, this could save huge amounts of time and marketing efforts later, and will hopefully lead to more sales.
They also offer landing pages, which can either be hosted by Ontraport or on your own domain. They offer a range of templates, or you can create your own from scratch using a block builder. This is a really handy tool, as you can track the performance of your landing page.
You can also use their integration with PilotPress to create a WordPress-based membership site (subscription sites). You can create membership levels, too, and you can integrate your Ontraport landing page with your existing WordPress site, too (with the WordPress plugin).
The built-in analytics are great – you can track your campaign performance in real time, using filters, so you can see how each step has performed.
They also offer split testing for non-Ontraport pages, campaigns, emails, and landing pages. You can also use Google Analytics, too, if you'd prefer.
On the integration front, they offer a decent amount, including Facebook Custom Audiences, Clickbank, Shopify, WooCommerce, and Twitter Lead Generation cards.
So what are the overall Pros and Cons to consider?
Benefits of Ontraport Service Provider

Offers a lot of features and tools – you get plenty for your money
The landing page builder is great and easy to use
The email builder is also simple to use
Good customer support in terms of videos, tutorials, etc
Strong support team with plenty of experience in customer support (if you need a live person)
Campaigns are powerful if you can learn how it works
Sales automation is helpful, saving you time and hopefully gaining you sales
Higher email deliverability rates (deliverability monitored closely)
Social media integrations for omnichannel advertising and marketing
Downsides of Ontraport
The help tutorial didn't work properly
Not the nicest looking dashboard – we had to do a lot of scrolling through text to get to what we needed
Although the pricing is simple, it soon mounts up if you have a lot of subscribers
Sendlane vs Ontraport – How to Make the Most of Them
Before you go, you might be wondering – how do I make the most of these platforms? Here are a few tips:
Take time to get to know the platform. Before you dive in, go to the Knowledge Base and see if you can find any tutorials to help you get started. Getting to know the platform beforehand will help you to use your time more efficiently when you get down to work.
Utilize your contacts properly. Are your contacts properly tagged or segmented? Are you happy with the categories they're in? Getting your head around your contact list will help you use the platform properly.
Consider what campaigns you need. Whether you're offering money off to new customers or trying to rescue an abandoned cart, think about the common scenarios or problems you'd like to fix.
Make offers your customers can't refuse. What's in it for your subscribers if they sign up to your mailing list? Is it coupons? Exclusive email content? Think of ways to keep your customers happy – and then automate that process so that you don't have to think about it again.
Take time to learn analytics. If you're new to marketing automation, the terms may be a bit confusing. Take your time, and learn what it all means – it could really make a difference in terms of sales if you understand how your campaigns are doing.
Sendlane vs Ontraport – Price Comparison
So how do the prices of Sendlane and Ontraport stack up?
Sendlane offers three plans – Growth, Marketing Automation Pro, and Enterprise/Agency. For 5000 contacts, the prices are:
Growth is $79 per month ($948 paid annually). It includes a good amount of features, including email marketing automation, cross-channel marketing campaigns and newsletters, real-time analytics, and the Beacon feature.
Marketing Automation Pro is $125 per month ($1500 Paid Annually). It offers all of the features that Growth has, plus Trigger and Event-Based Lead Capturing, SMS Marketing, and a dedicated account manager, as well as a few other extra features.
Enterprise/Agency offers all of the above, plus custom white labeling, API transactional emails, DKIM and custom domains, and dedicated IP access. There is no set pricing for this – you will have to call and set this up.
The prices go up on a sliding scale depending on how many contacts you need.
Ontraport's pricing looks like this:
Ontraport offers Basic, Plus, Pro, and Enterprise.
As you can see, Ontraport's pricing is a little simpler, with no sliding scale for the number of contacts you need.
Both Sendlane and Ontraport offer a 14-day free trial. They're pretty similar in price, however, Ontraport offers more features on its basic plan than Sendlane, but fewer contacts. The price of both starts to mount up pretty quickly once you get to 10,000 contacts.
Sendlane vs Ontraport – Which Marketing Software is Better?
It's a close one, but on balance, we're going to go for Ontraport.
Both platforms offer some great features. At its core, the automation and campaigns on both Sendlane and Ontraport work really well. They both have simple to use email building tools, too. They both offer decent analytics and a good amount of integrations.
Ontraport has some drawbacks. The first being the price, which stacks up fast if you want 10,000 contacts.
The second big drawback is the interface – compared to other similar platforms, it's not particularly easy on the eye. You can find what you need, but there's a lot of scrolling involved, and it doesn't feel very intuitive.
There are also a lot of plus points for Sendlane's e-mail advertising – Beacon is an amazing feature which could really help you to understand the journey of your customers or clients through your website. It's also pretty simple to use.
However, Ontraport offers so many additional great features and custom fields. The landing pages (and landing page templates), the sales automation tool, and the integration with membership websites mean that you can have everything in one place.
Although the tutorial we tried to use didn't work properly, which was annoying, we were able to access a lot of customer support during our free trial, including video tutorials – this was clearly laid out and simple to find.
Ontraport marketing software could really streamline your work processes, freeing up time for you and your team to complete more important tasks. Having everything in one place means these tasks take up less brain space and less time, both of which are pretty valuable assets – and hopefully, it will help to boost your sales.
Bottom Line Summary: Either one would be a good choice, but the better deliverability rates and in-depth automations proves out that Ontraport offers just that little bit extra here.

Further Reading on Marketing Automation Platforms

Here are other related articles you may be interested in: