Last Updated on April 22, 2023 by Ewen Finser
In this SE Ranking review we are going to talk you through all of the features this SEO toolkit offers, as well as it's pros and cons, and (of course), the pricing, so that you can decide if this is the right tool to help you grow your business.
If you are a business owner with a website, then SEO should be high on your list of priorities.
Today we are going to be reviewing a tool that could be a game-changer for your business when it comes to SEO; SE Ranking.
So why is SEO so important?
Good question!
Of course, you can use paid advertising to promote your business, but ranking well in search engines can give you a far higher return on investment.
In fact, organic SEO is about 5.66 times better than paid search ads, offering longevity and better conversions for your campaigns.
In the State of Inbound report 2018, 59% of marketers said their highest quality leads came from inbound marketing practices such as SEO.
So by making sure your website ranks well for your keywords in search engine results pages (SERPs) you can ensure that you have a steady flow of quality, organic traffic from people who actually want what you have to offer.
Good SEO also helps you to build trust and authority with your audience. People trust Google to deliver them the most accurate results for their search query, so if your website pops up in the first three results on the SERPs, people will trust that you are an authority on your subject, and will be far more likely to click on your link.
It's not all straight forward though, and it doesn't happen overnight like paid advertising. SEO is a long term strategy, and a good SEO campaign can take between 6 and 12 months.
To make things easier for you it's well worth investing in SEO software to help you find profitable keywords that you can rank for, perform competitor research, audit your pages, check backlinks, and much more.
So without further ado, let's get stuck into the review, so you can decide for yourself if SE Ranking is the right tool to help you with your SEO.
SE Ranking Review – Is SE Ranking worth the investment?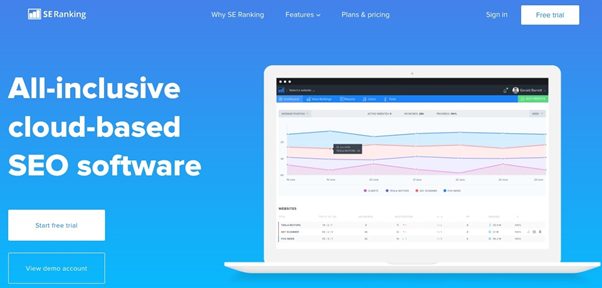 SE Ranking is an all in one SEO toolkit that can help you effectively run and manage your SEO campaigns whether you are an agency, business owner, or SEO professional.
The software has been designed so that anyone can use it, regardless of their expertise or previous experience. You can also choose a plan based on your needs, so unlike with other SEO tools you aren't paying a premium price when you don't necessarily need all of the features.
SE Ranking features a keyword rank tracker that lets you track how well your keywords are performing in various search engines. As well as the keyword rank tracker, there is backlink checking and monitoring features, on page audits, a keyword suggestion and grouping tool, and a marketing plan tool.
For agencies and SEO professionals there is also a white label option to help you create branded reports for your clients, and a unique 'Lead Generator' tool to help you gain new leads for your business, but more about that later.
Let's take a look at all of the features SE Ranking has to offer…
The Key Features of SE Ranking
Website audit
On-page SEO checker
Backlink Checker
Backlink Monitoring
Keyword Suggestion Tool
Keyword Grouper
Page Changes Monitoring
Marketing Plan
SEO/PPC Competitor Research
White Label
Lead Generator
SEO Reporting Tools
API
Social Media Management
As you can see, SE Ranking provides you with all the tools you need to work on your SEO campaigns, as well as some extras that aren't usually included with other SEO tools, such as social media management features. Now, let's take a closer look at each feature to see how it all works.
Keyword Rank Tracker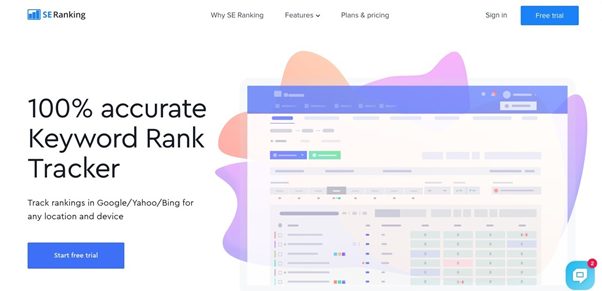 SE Ranking's Keyword Rank Tracker prides itself on being 100% accurate, tracking keywords in all major search engines including Google, Bing, YouTube, Yahoo, and Yandex. Keywords are tracked by all locations and analyzes results for both desktop and mobile traffic on Google.
The tool tracks SERP rankings, together with Maps, and Google Ads positions, and as well as tracking your own keywords, you can also use this tool to track your competitors' progress. You can add up to 5 competitors to view side by side with your data and get a visibility rating with all competitors sorted by a score based on your keywords.
SE Ranking provides complete data on each keyword including search volume, traffic forecast, KEI, number of search results, competitiveness, suggested bid by Google, and more. No matter whether you are working on one keyword, or thousands, SE Ranking is well equipped to meet your needs.
Website Audit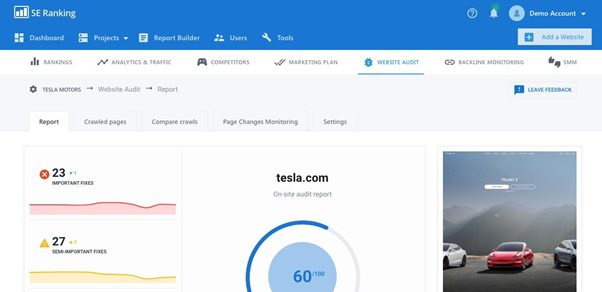 The website audit feature crawls every page of whichever website you would like to audit (either yours or your competitors) and evaluates the site against all key parameters including:
Domain overview and website health
Parameters per page
Meta tags and headings
Image optimization
Link analysis
Usability
You can then access all of the important data presented to you separately on a detailed dashboard. This gives you actionable steps you can take to quickly resolve any issues, along with a 'to do' list of things you can improve.
You can enable automated reports and schedule rechecks so that your site is constantly under review, enabling you to ensure it is always performing at its best, and, if you are worried about protecting your server, you can set limits and restrictions on the analysis, as well as being able to control the crawling speed by altering the scanning depth, the number of requests, and number of pages to scan.
On-page SEO Checker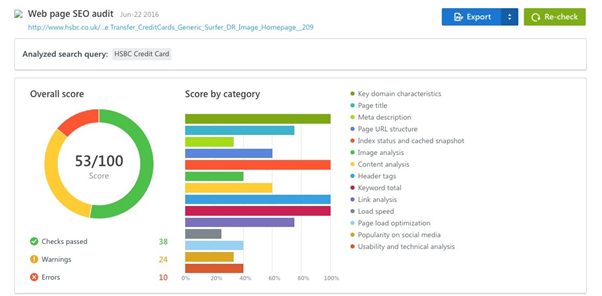 The on-page SEO checker gives you a detailed report on how well your homepage is optimized for a particular search query. Each report comes with a list of requirements and fixes you can take action on to improve your SEO.
The parameters that area analyzed for each page are:
Domain characteristics
Title and meta description
URL Structure
Index status
Image analysis
Link analysis
Header tags
Page load optimization
Keyword density
Popularity on social media
Usability
Technical analysis
Content analysis
The data is presented under subheadings for each category so it's easy for anyone to read and understand. You are given the total amount of checks undertaken, the number of checks that have passed, and then anything with warnings for things you need to adjust or fix, and finally the errors.
As you start to go through your site and fix the errors you will see that your overall score will start to improve, and you can continue to work on these things over time until you reach 100/100.
Backlink Checker
The backlink checker will provide you with a complete list of backlinks from whichever domain you wish to search. Each backlink is evaluated against 15 key SEO parameters:
Backlink URL
Backlink status (found/not found)
Domain Authority by Moz
Server location
Alexa rank
External links
Date backlink was first discovered
Date of last backlink check
Referring domain link popularity
Domain trust
Destination URL
Anchor text
IP
Social popularity
The backlink checker works well for competitor analysis too, allowing you to research and check the backlinks for any other website. If you are doing research for your own website though, you can research which links are the strongest, and disavow any weak links or links to that could potentially be damaging to your SEO.
The backlink checker tool is highly accurate and lets you find new backlinks as soon as they are added, so there is no delay.
Backlink Monitoring
When you are working on a link building campaign you will find SE Ranking's backlink monitoring tools particularly useful.
The backlink monitoring tool lets you manually or automatically import lists of your backlinks, and you can easily filter out the links you don't need leaving you with an accurate list of the links you do need.
If you would like to disavow any bad links that could harm your SEO you can do this easily with just a couple of clicks by marking the links you would like to disavow. The tool then generates a 'ready to go' disavow file to make things easy for you.
To help with your budget, the backlink tool allows you to assign a cost to each link, letting you easily estimate the total cost of your link building campaign.
Keyword Suggestion Tool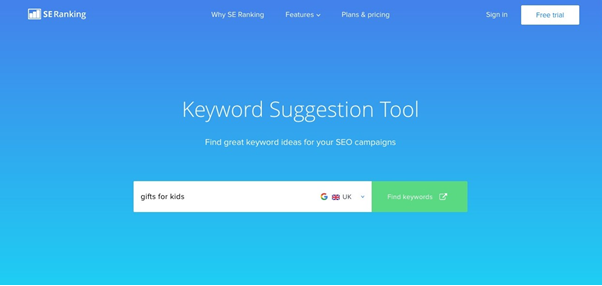 The keyword suggestion tool helps you find profitable keywords for your campaigns. SE Ranking has the largest keyword database available, with over 2 billion unique search queries, as well as suggestions from Google, Bing, and Yahoo! Which are updated each and every month.
Using this tool can go a long way to helping you rank well in the SERPs, by allowing you to choose the right keywords for each page that you are working to optimize. SE ranking provides you with a list of the profitable long tail and short keywords in order of popularity, so you can choose which ones work best for you.
To use the tool, all you need to do is enter a keyword or URL, and you will be given a list of similar keywords, as well as related keywords and long-tail keywords to choose from, along with their monthly search volume, cost per click, competition, KEI, number of sites showing in SERPs, and traffic cost for each word.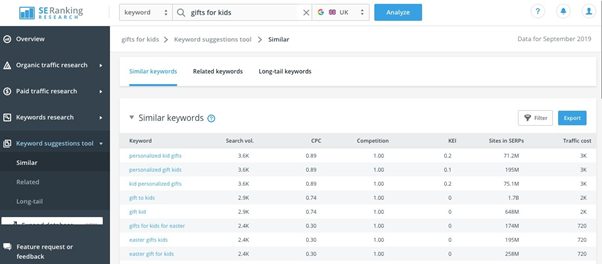 Keyword Grouping Tool
SE Ranking's keyword grouping tool helps you find groups of similar keywords that you can use throughout your site. This tool can save you hours of time, as you won't need to do any of the research manually because SE Ranking can get all the data you need in seconds.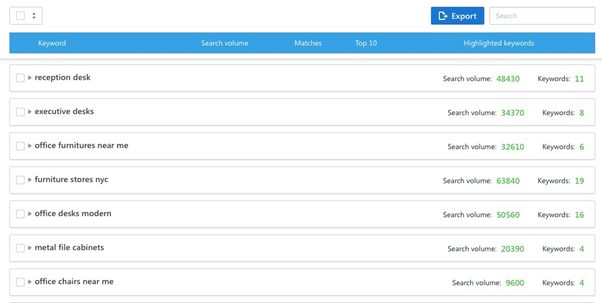 Using a professional keyword grouping tool like this can also help you eliminate any mistakes that can often happen when completing this sort of task manually.
The tool also helps you to expand your semantic core by providing you with new keyword variations, and synonyms, as well as closely related keywords, and you can even check the search volumes of clusters of keywords, allowing you to prioritize without having to use other tools to complete these checks.
The grouping options are flexible, allowing you to group keywords by things like country, language, or location, and you can easily adjust your clustering settings to fit your needs depending on the accuracy you require.
A list of keywords highlighted by Google is provided for each keyword, which you can use to expand your semantic core, or simply to better understand the SERP results.
Page Changes Monitoring
The page changes monitoring tool can be used to alert you whenever changes are made to your website. The things that are monitored are:
Comfort
On-page audit
Grouping and selective monitoring
Scheduled checking and reporting
This data lets you be fully aware of any changes that may threaten to harm your SEO, and allows you to prevent drops in score and relevance that can be caused by unauthorized changes to your pages.
Marketing Plan
The marketing plan feature gives you a detailed checklist of all the things you need to do for your SEO campaign. Whether you are completely new to SEO or a seasoned professional, the marketing plan will provide you with a comprehensive strategy that you can put in place and start implementing immediately.
The checklist includes:
Strategy and pre-launch care
Keyword research and implementation
On-page optimization
Off-page optimization
Social media management
And you can even add your own tasks to the list if there is anything else you would like to include, for example, if there are any specific tasks that need doing related to the project you are working on.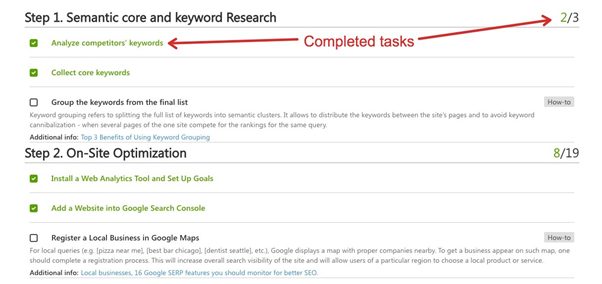 As you can see, the list provides you with all the things you need to do for each step of the process. Once a task has been completed you can check the box, and it will turn green. The counter on the top right of each step shows you how many tasks you have completed for each step, so you can easily view your progress.
SEO/PPC Competitor Research
The SEO/PPC competitor research features let you find your competitor's keywords for both organic and paid ads in search results. You can also get a full list of competitors, and even historical advertisers for any keyword or search query you choose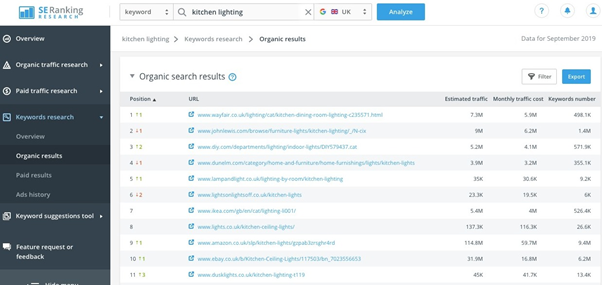 Data is presented clearly, in easy to read diagrams and graphs, giving you an at-a-glance view of your results before you go deeper.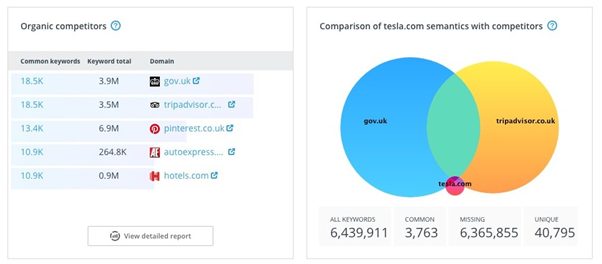 B2B Features
SE Ranking offers some outstanding B2B features for agencies and SEO professionals that will allow you to present your strategy and results to your clients in the most professional way.
Firstly, SE Ranking offers the ability to white label the entire platform, letting you offer SE Ranking and all its features to your clients under your own brand name and own domain. There is no link to SE Ranking, so your clients will have no idea that the software they are using is white labeled, they will simply think it is yours.
You can add and manage users, giving them different levels of access depending on their role, and you can set up automatically generated reports to be sent with all of your own brandings. In fact, you can completely customize your colour scheme, logo, and add a custom header and footer to your site, making it completely unique to you.
There is a powerful report builder that you can use to create professional white labeled reports to present to your clients. You can customize the reports to show just the data you need, and you can schedule reports to be sent out automatically to selected email addresses.
Since SE Ranking is on the cloud, there is no need for any hosting. Your domain just needs to be in your domain registrar account, and you are ready to go.
Another great B2B feature that SE Ranking offers is the lead generator. You install an on-page SEO checker widget to your website, and your visitors can enter their details to receive a completely free audit of their site. The audit report is emailed to them automatically, so you do not need to do anything, and you will have a stream of hot leads coming in that you can offer your services to, or add to your email list.
Social Media Management
SE Rankings Social media management tools let you streamline your social media management by auto-posting updates to all of your social networks from one place in just a few clicks.
The tools also help you to find the best times to post to each platform based on engagement, and lets you know the type of content that is getting the best results
The Pros and Cons of SE Ranking
Pros:
Flexible plans that suit beginners and experts alike
All the tools you need to manage your marketing campaigns
Easy to generate professional reports
White labeling features for agencies and professionals
Highly accurate
Includes social media management tools
Marketing checklist helps you stay on top of your marketing campaigns
All data is presented in a clear way that is easy to read, and graphs and diagrams are shown too
Cons:
Pay more for access to all the features and tools
Some audit reports are slow to generate
Social media management tools are basic compared to some dedicated social media management platforms
SE Ranking Pricing – How much does SE Ranking cost?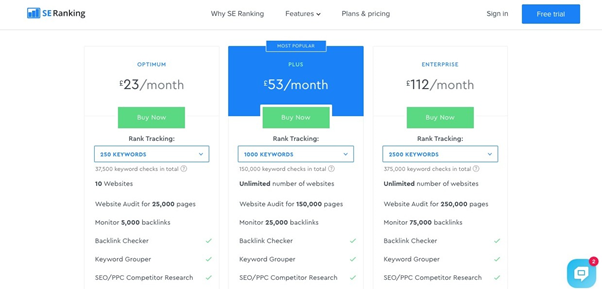 There are three main plans for SE Ranking; Optimum, Plus, and Enterprise.
The Optimum plan is the most basic plan they offer and starts at $23/month. This plan is largely aimed at business owners who are handling their marketing in house, and includes 250 keywords (this can be increased for an additional fee), 10 websites, audits for 25,000 pages, monitoring for 5,000 backlinks, backlink checker, keyword grouper, competitor research, on-page checker for 150 pages, marketing plan, custom reporting, social media management and analytics, and sub-accounts. This plan does not include and B2B or white labeling features and doesn't let you monitor pages for changes.
Next up is the most popular 'Plus' plan which starts at $53/month for 1000 keywords. This plan is great for agencies and professionals as it lets you monitor an unlimited amount of websites, audit 150,000 pages, and monitor 25,000 backlinks. As well as all the features from the Optimum plan, this plan also includes the B2B and white labeling features but doesn't include API.
And finally, we have the Enterprise plan which starts at just $112/month for 2500 keywords (remember, you can increase this for a small additional fee) You can audit 250,000 pages, and monitor 75,000 backlinks. Of course, this plan also includes all of the features from the other two plans and has the added benefit of API.
If you want to try out all of the features SE Ranking has to offer you can take advantage of the free 14 day trial.
Conclusion: Is SE Ranking worth the money?
After looking at all of the features that SE Ranking offers it is clear to see that this tool offers excellent value for money, but would we recommend it?
Yes, definitely!
Compared to other SEO toolkits, SE Ranking offers great value for money, since it not only includes all of the features you need to run your SEO and marketing campaigns but also additional features such as white label reporting and social media management tools, which is really what sets SE Ranking apart from its competitors.
The white labeling features mean that SE Ranking is a great option for agencies and SEO professionals who want to offer a professional branded experience to their clients. The platform is fully customizable, so your clients will think everything is owned and created by you. You can schedule automated reports to be sent to your clients, saving you hours of time each month from manually creating reports and sending them individually to each client.
Another great feature SE Ranking offers is the lead generation tool, which you can embed into your website to collect hot leads. Your visitors will enter their email address and domain, and they will automatically be sent an audit report of their site, giving you a hands-off way to collect hot leads and grow your list, and giving you credibility with your web visitors.
The marketing plan tool is another particularly useful feature that helps you to stay on top of your campaigns and ensures that best practices are followed.
Overall, SE Ranking is a fantastic tool that will go a long way to helping you grow your business through SEO and digital marketing. The low entry price means that it's a great option for any smaller businesses or anyone just starting out, and your plan can grow with you as your business grows, giving you true flexibility.
We think it's definitely worth the investment, and you can try all of the features for FREE for 14 days to see how you get along with it, but you can trust us when we say, you'll love it.
Frequently Asked Questions About SE Ranking
What is included in the free trial for SE Ranking?
The free trial includes everything you need to get a taste for using the software, including Keyword Rank Tracker, up to 250 keywords and 5 websites, Backlink Monitoring, On-Page SEO Checker, Page Changes Monitoring, SEO/PPC Competitor Research, marketing plan, website audit, Google analytics and search console integration, SEO potential, social media management and analytics, report builder, sub accounts, keyword suggestion tool. Some features are limited. If you would like to also access features such as the backlink checker, search volume checker, index status checker, parameter checker and keyword grouper, then you will need to get in touch with SE Ranking directly and they will arrange this for you.
Can I customize my SE Ranking account?
Yes! As long as you are using a plan that includes white-label features you can customize the colours, logo, header and footer of your account. You can also completely customize your reports, so your clients will only see exactly what you need them to see.
Does SE Ranking Have API?
Yes, but only on the Enterprise plan. The enterprise plan starts at $112/month and gives you access to all features, including API.
Can I upgrade my subscription whenever I want?
Yes, you can easily upgrade your subscription at any time from within your account. Simply click on 'Subscription' within your user settings are, and click 'upgrade account', here you can choose which plan you want to upgrade to. The additional amount you will need to pay will be automatically generated, and you will see your new price on the checkout page.
SE Ranking Alternatives
If SE Ranking isn't quite what you are looking for, here are some credible alternatives to SE Ranking worth checking out.