Last Updated on January 23, 2023 by Ewen Finser
This SEO comparison is looking at SEO PowerSuite vs SEMrush side by side to figure out what their strengths and help you decide which one will be the best SEO tool for your business.
Online visibility is important for any business. You can't attract traffic, make sales and generate profits by ignoring your SEO. Two big players in the SEO market are SEO PowerSuite and SEMrush, so which one will it be for your business?
Are you a newbie and looking for user-friendly and easy-to-navigate SEO tools? Or are you an established agency that has a big budget and requires a wide range of features? Before we explore these two powerful tools, let's look at their background.
Bottom Line Up Front: Cost aside, the better overall SEO suite is definitely SEMrush in my view, with easier to use and more relevant SEO tools. SEO Powersuite will suffice early on, but eventually there will be SOME reason to switch to SEMrush. As one of the market leaders, SEMrush is constantly adding new features (like Traffic Analysis) and – as a cloud based platform – is generally more accessible and easier to use.
Main Differences Between SEO PowerSuite vs SEMrush
The main differences between SEO Powersuite and SEMrush are:
SEMrush is a cloud-based platform, whereas SEO PowerSuite is a classic downloadable SEO software tool
SEMrush has a Traffic Analysis tool, whereas SEO PowerSuite does not have a similar SEO tool
SEMrush has dedicated Keyword Research tools, whereas SEO PowerSuite has more site audit tools
SEMrush has dedicated PPC tools, whereas SEO PowerSuite does not
SEO PowerSuite is generally LESS expensive compared to SEMrush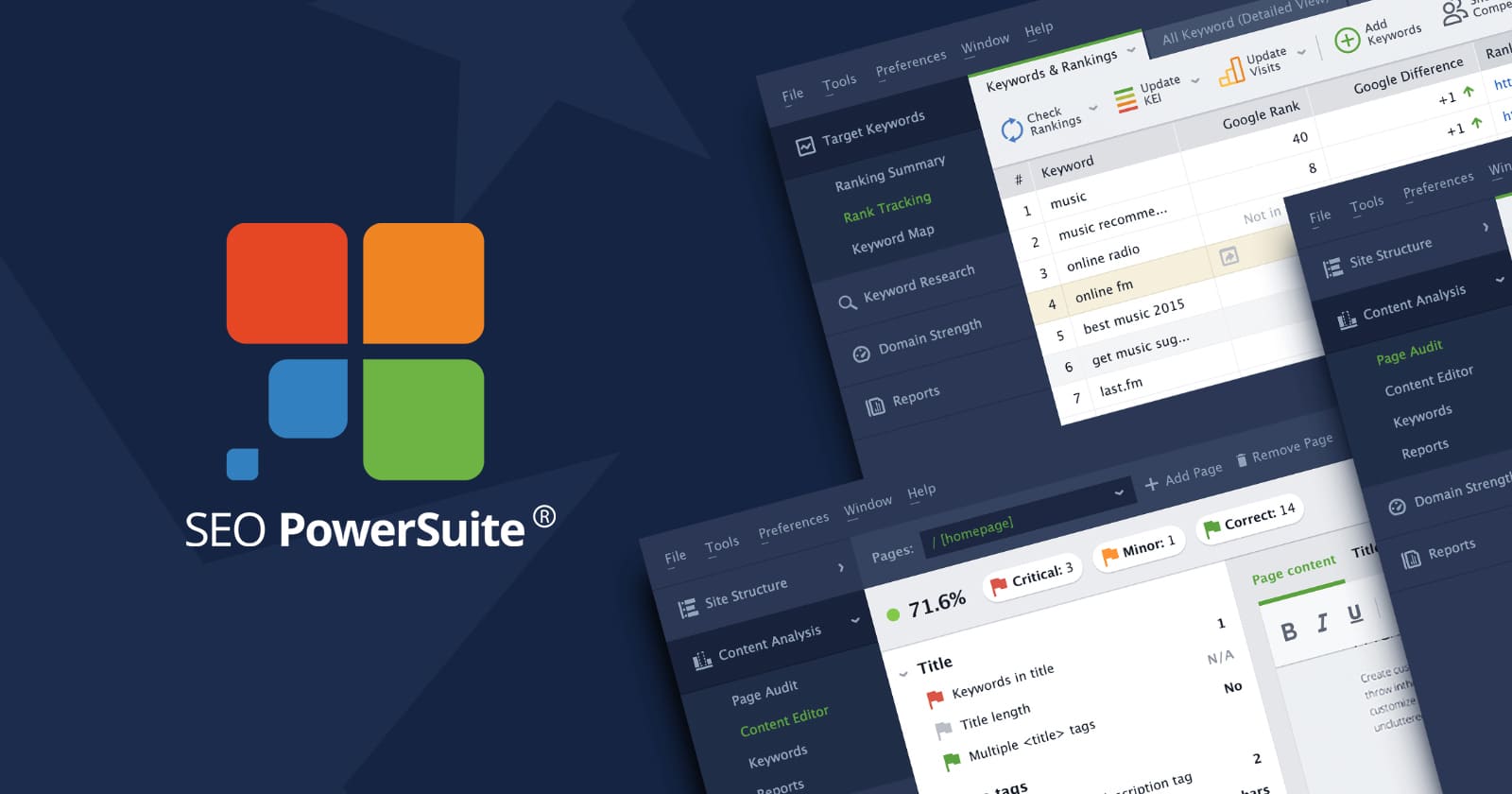 SEO PowerSuite is a professional SEO software company and website promotion SEO toolkit that helps digital marketers and Search Engine Optimization experts with full-rage SEO campaigns. Basically, it's an all-in-one SEO platform with SEO tools that helps online businesses rank in the top search engines.
SEO Powersuite was founded in 2004 by Aleh Barysevich and has served over 2,000,000 users to date. These users include established companies like Microsoft, Heineken, Disney, Amazon.com, HP, Mastercard, Audi, Nestle, and IBM.
Dmitri Melnikov and Oleg Shchegolev founded SEMrush in 2008. It started as a small company of IT and SEO specialists. They had one mission – to bring fairness and transparency in online competition with equal opportunities for everyone. The company has grown into a world-leading, all-in-one marketing platform, serving 4 million users globally. Their popular clients include eBay, Booking.com, and Quora.
Now that we know a bit about them, let's compare their tools and features;
Sign Up
Signing up to SEO PowerSuite is easy. All you have to do is type in your name and email address then click on 'send me the software'. This download is a free version of SEO PowerSuite. It doesn't require your credit card details or any commitment.
SEMrush signs up process are also easy. Simply click the 'sign up' button at the top right of the home page. Then fill the form with your name and email address.
User Interface
The intuitive SEO PowerSuite interface is rich with advanced-level features. However, it's easy to use for newbies and experts alike.
For SEMrush, the interface seems a bit confusing at first. It's overwhelming and cluttered, but with the time you get the hang of things.
Main Features and Tools of SEO PowerSuite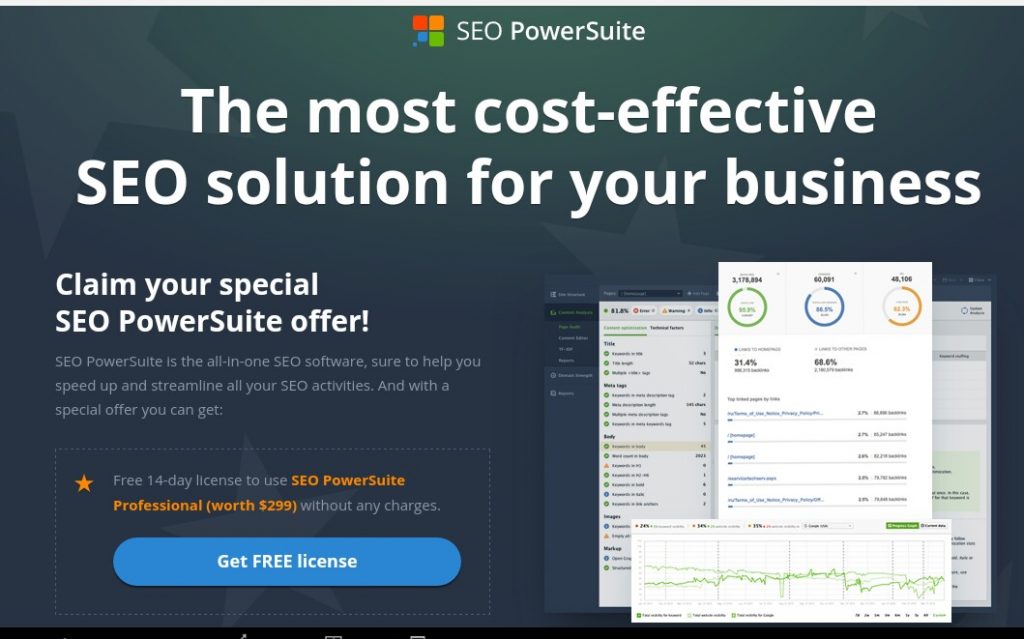 SEO PowerSuite is comprised of 4 powerful tools which provide efficiently and result-driven SEO. Each SEO tool is responsible for a specific stage in the SEO cycle.
Automatic Rank Tracker
Accurate Ranking Data
Rank Tracker helps users make informed SEO decisions by rank tracking actual results from your SEO campaign. It creates graphs to show your site's progress as well as keyword tracking to gauge the effectiveness of a particular SEO strategy. It also shows you if your site has moved up or down in the SERP overview.
Rank Tracker gives you results from 327 search engines like Yahoo, Google, Bing, and others. You can analyze up to 10 competitor websites and view several pages ranking for the same keyword. Rankings also appear in vertical search results like news, videos, and images.
Profitable Keywords
SEO PowerSuite usse 18 in-built keyword research tools like Wordtracker, Google AdWords Keyword Planner for content planning and others to find all profitable keywords and keyword suggestion ideas that could be missing from your SEO campaign.
Search Engine Friendly
Reliable safety features like human emulation and proxy rotation ensure that you can perform several searches without interruptions or violating search engine policies. It also has an inbuilt anti-CAPTCHA service for automatic CAPTCHA recognition.
Autopilot Rank Tracking
Rank Tracker runs automatically on predetermined dates and times. All you have to do is set it up once. You can schedule rank checks, data exports, report delivery, and several other tasks. The tool can run the tasks whenever you need them (daily, monthly).
SEO PowerSuite and SEMrush Alternatives
SEO SpyGlass
SEO SpyGlass performs powerful backlink audit functions and uncovers your competitor's strategy e.g. how they are going about link building.
Discover Backlinks
In a matter of minutes, SEO SpyGlass will provide you with several links from WebMeUp database which is the largest backlink index on the internet. It will also give you links from Google Analytics and search engines.
Detect and Neutralize Harmful Backlinks
Harmful backlinks come as a result of your competitors' negative SEO or your own errors with link building. With SpyGlass, you can detect them immediately with an anti-penalty link audit. This tool checks the link quality against Google factors. It also checks link presence to focus on only live links.
Link Quality Analysis
SEO SpyGlass helps you to analyze your backlink profile. You can check against over 50 backlink factors which include anchor texts and keywords, domain age and authority, social signals i.e. Facebook, LinkedIn, Twitter and others, Alexa and traffic statistics, sitewide links and link networks.
Analyze Your Competitors' Techniques
Get ahead of the competition and boost your link building strategy by analyzing up to 5 competitor websites. Not only will you discover the value of each backlink of your competitor, but you will also discover successful link building activities in your niche.
Website Auditor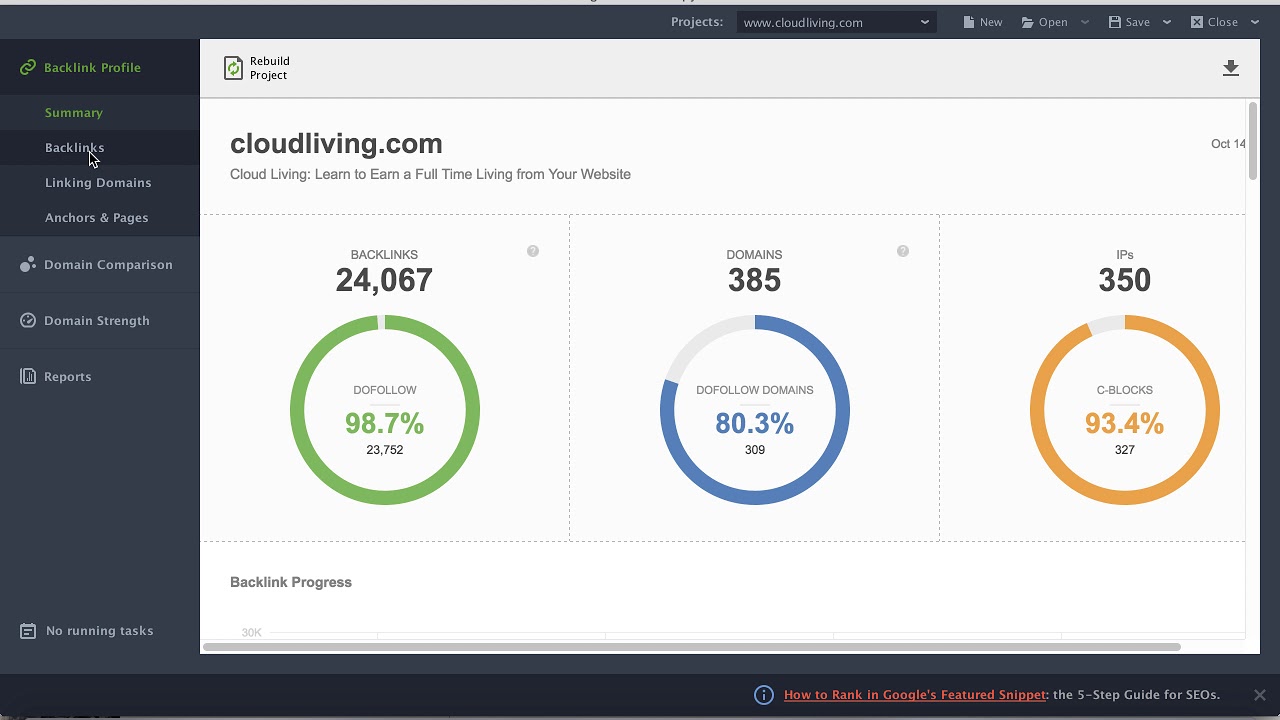 SEO Health Check
WebSite Auditor automatically performs an SEO-health check of your entire site. You can immediately spot and correct any issues undermining your search rankings. This tool checks all your web pages against several on-page factors. It also crawls the pages and organizes them in a tree-like list.
It will find and fix broken links. It also fixes descriptions and titles that are duplicated, too long, or missing. Other functions include checking HTML code for errors, controlling the internal link structure and eliminating page loading problems.
Boost Site Indexation
WebSite Auditor will get your site indexed and ranked in search engines quickly and none of your content will go unnoticed.
Optimize Page Content
Keyword stuffing triggers penalties. WebSite Auditor helps your site to rank high and remain search engine friendly by calculating the proper keyword density. It calculates this by analyzing your top 10 competitors. This tool gives you step-by-step recommendations to optimize your page content and shows you how well your pages are optimized.
Monitor Social Metrics and Traffic Statistics
WebSite Auditor monitors important social metrics on your site, like the most shareable pages and the networks where your content is in demand. It also shows you the traffic statistics for each page.
LinkAssistant
Manage Links in One Place
LinkAssistant manages your link data in one convenient area. This solves the problem of manually browsing through thousands of links or repeating your link research because of lost data. The data is sorted, filtered, and easy to browse. You can add an unlimited number of links and store all kinds of link data.
Find Relevant Link Opportunities
LinkAssistant pushes your sites higher in search engines by finding the best link opportunities. You can easily find out who does not yet link to your site but links to niche competitors or top-ranking sites. You can also use advanced filters to focus your search.
Verify Your Links
LinkAssistant automatically monitors your links to make sure they are in place, still effective and still bringing SEO value to your site. It also ensures that your links have the desired anchor texts and that your website won't be harmed with a Google penalty.
Manage Email Correspondence Directly
LinkAssistant keeps all your correspondence in one place and collects contact information for domains that link to you. In case some links need to be changed or removed, you can easily find the contacts of webmasters and send such requests.
Main Features and Tools of SEMrush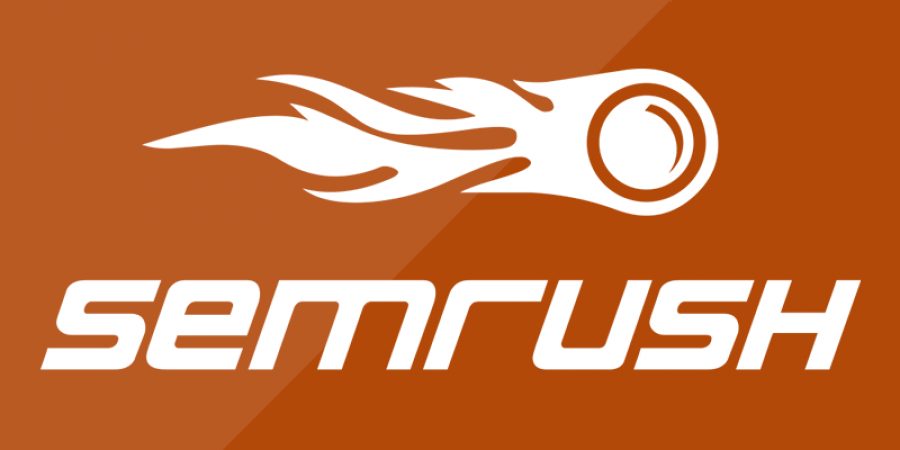 Position Tracker
Track Your Ranking
With the Position Tracker, you can monitor your search engine position locally, regionally and nationally for any keyword in Google's top 100 results. You can also access updated data daily that shows how your optimization has improved your keyword rankings over time.
Group Keywords with Tags
You can manage various search terms with the 'keyword grouping' feature. You can group them using brand names or specific words. You can add the same keyword to various groups and each keyword can have a maximum of five tags.
Target All Devices
Customers access the internet using various devices. They use tablets, smartphones, and desktops. Which device works best for your website? On your tracking campaign, which device will statistics be taken from? Tablets, smartphones or desktops?
You can see your position in mobile and desktop on a graph. Keyword rankings from particular devices give you an idea of how your website performs on the different devices so that you can focus on more effective channels.
Discover the Local Competition
It's important to know your local competition. Don't underestimate new players in the market. You can add 10 domains to your tracking campaign.
The 'Competitors Discovery' feature in the Position Tracking tool is key. It will show you your local competitors that rank for the same keywords in Google's top 100 results. You can tell which websites are driving away traffic from your site. You will also identify new keyword opportunities.
Keyword Research Tool
The Keyword Research feature in SEMrush helps you to identify the most suitable keywords for SEO and PPC campaigns. You will access tried-and-tested keywords that have helped your competitors' sites rank in Google's top search results. You get reliable information on every keyword. For example, a number of results, volume, CPC, and trend. You will find out which successful sites use which keyword. You can analyze this data for both mobile index and desktop.
In case you didn't know, long-tail keywords are 70% of the total search traffic? SEMrush collects keywords with a search volume of 10 queries each year. You get the long-tail keywords when you display your results in the SEMrush keyword research by volume in ascending order.
Your content must be keyword rich for your pages to appear in Google's top results. Update your web content with high-value keywords plus their variations for effective optimization. To obtain related keywords, SEMrush simply analyzes domains that rank in Google's top 100 search results for a particular search term, then gives you a list of common keywords.
Businesses with international strategies benefit from SEMrush's good SEO and PPC opportunities. You can adapt appropriate keywords for whatever region you're targeting among the 26 SEMrush regional databases. SEMrush also provides keyword research in 16 languages with their keyword tool.
On-Page SEO Checker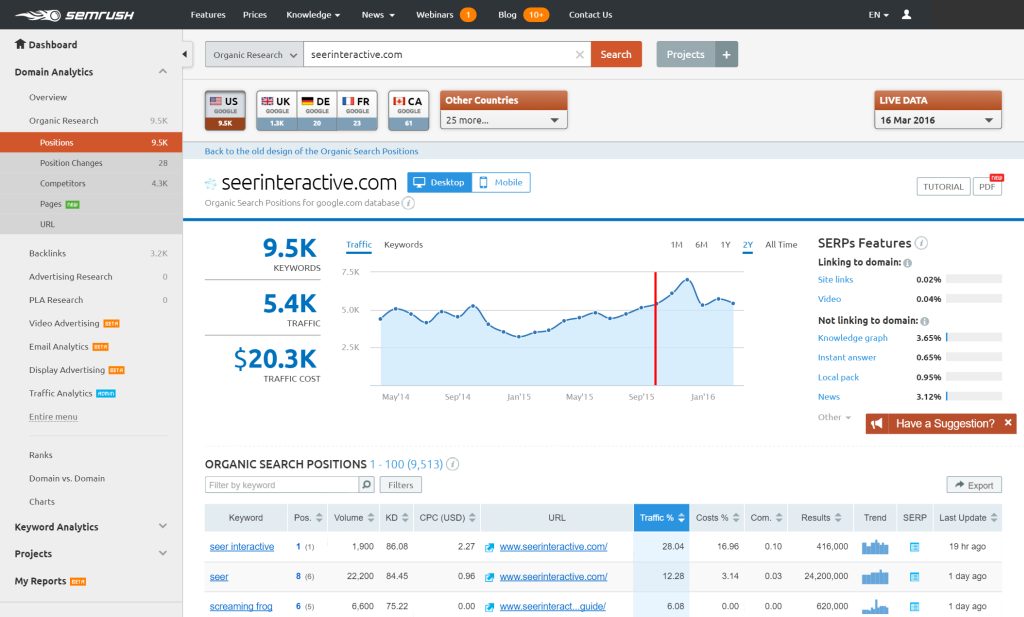 SEMrush's on-page SEO checker analyzes ranking factors that may be affecting your site's performance. After analyzing and collecting information, the checker gives you recommendations to improve your site's performance. This tool can perform a comprehensive comparative analysis of Google's top 10 performers.
Backlink Analysis
With a database of over 1 billion backlinks, SEMrush can find domains referring to your site. The SEO software evaluates your backlinks and informs you if you are at risk of being penalized (backlink checker). SEMrush's Backlink Audit Interface will locate and give you the email address of the website owner. You can then send them an email, requesting them to remove the bad link.
Site Audit
SEMrush's site audit tool performs an in-depth and high-speed audit. You can add missing tags, detect error pages, find duplicate pages, optimize external and internal links, and fix other SEO issues. The analysis report will highlight urgent issues that need immediate attention.
With the site audit tool, you can monitor your site's progress regularly. You can tell that you're on the right track when your ranking position is going higher. You can fix hreflang issues for international SEO.
SEMrush has a unique tool called Batch AMP Audit. AMP (Accelerated Mobile Pages) dominate global search results on mobile. AMP Audit provides an in-depth audit, on-demand crawls and an overall view in one single report.
SEO Software Reporting
SEO PowerSuite provides a flexible platform to create professional and impressive reports. You will impress your clients and share them with your colleagues in PDF and HTML. The reports come in several different languages. You can save them for print out, send them via email and upload them to a website.
With SEMrush, you can build, manage and share customized PDF reports. You can gather all the SEMrush data you need in one report and design it with personalized branding and commenting features. You can also schedule them to go out as often as you want (daily, weekly or monthly).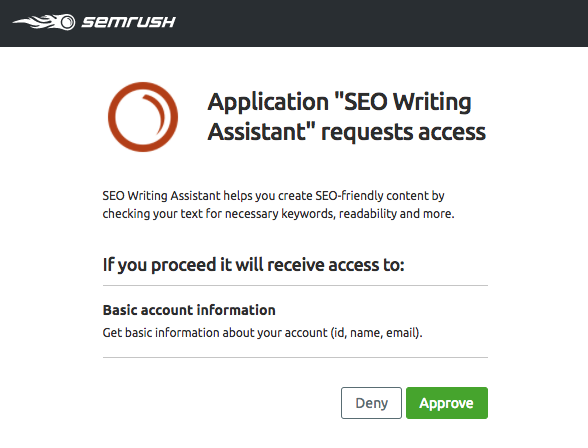 SEO PowerSuite pricing consists of 3 plans called 'editions'. First is the Free SEO PowerSuite edition which you can download immediately on sign up. Although it can perform all SEO process functionalities, you won't be able to save your projects with history.
The SEO PowerSuite Professional edition is the best package for webmasters and website owners who don't operate with large amounts of data and create client reports. You can acquire it for a one-time purchase price of $299.
The SEO PowerSuite Enterprise edition is the perfect fit for big and small SEO agencies, digital marketing companies and website development agencies that require export statistics and provide customized/branded reports to their clients. This edition costs $699.
SEMrush has 4 monthly payment plans. In-house marketers, freelancers, and startups with a tight budget will benefit from the Pro Plan at $99.95 per month. The Guru Plan is the most popular, especially with growing content marketing agencies. It has all the features in the Pro Plan plus historical data, extended limits, and historical data at $199.95 per month.
If you have a well-established agency, an e-commerce project or a business with a huge web presence, the Business Plan is ideal. At $399.95, you get all the features in the Guru Plan plus API access, white-label reports, Google Data Studio Integration, extended limits and sharing options.
The Enterprise plan is customized to fit the needs of your specific business. It comes with on-site training, custom keyword databases, custom limits, and other add-on feature you may require. You should contact SEMrush directly for a custom quote.
Customer Support
You can request for free support from SEO PowerSuite by submitting a support ticket to the customer support team. The platform also has a wealth of information in their video tutorials, blog and knowledge base.
Alternatively, you can fill in the form on their customer support page and their staff will contact you.
Some Other SEMrush Tools
SEO Writing Assistant

The SEO Writing Assistant tool will optimize your text content for your targeted keywords while you write. It fine-tunes your content's readability and maintains your brand voice in each piece of content. It has a plagiarism checker which determines the percentage of copied words within a text and identifies the original sources from the internet.
Social Media Poster
Connect and post content across all social networks from one tab with this tool. You can schedule and manage your Facebook, Twitter, Instagram, LinkedIn, and Pinterest posts several weeks in advance.
You will save time with social media automation features and photo editing features. No need to check your social media pages several times a day to monitor likes or shares. You can find an analysis of the page performance in a table in the analytics tab.
SEO PowerSuite Pros
Reliable Rank Tracking tool
Quickly see your site's rating and strength
SEOPowerSuite Cons
SEMrush Pros
Easily identifies keywords with high traffic potential
Easily shows your competitor's organic rankings
Checks high-ranking pages for winning ideas
Finds thousands of your competitors with a single seed URL
SEMrush Cons
The user interface is cluttered and can be overwhelming for newbies
The Backlink tools are not as robust as other platforms and the backlink analysis reports have inaccurate data
The keyword difficulty metric is unreliable
SEO PowerSuite vs SEMrush: Bottom Line
However, SEMrush has some tools to offer that SEO PowerSuite does not, like the SEO Writing Assistant and Social Media Poster. These may benefit some agencies. After analyzing all the features in each platform, choose the one that you believe will help you achieve your business goals.
Bottom Line: Cost aside, the better overall SEO suite is definitely SEMrush in my view, with easier to use and more relevant SEO tools. SEO Powersuite will suffice early on, but eventually there will be SOME reason to switch to SEMrush. As one of the market leaders, SEMrush is constantly adding new features (like Traffic Analysis) and – as a cloud based platform – is generally more accessible and easier to use.
Here are other related articles you may be interested in: