Last Updated on January 23, 2023 by Ewen Finser
For quality and useful content creation, you need a powerful keyword tool. It should also help you gain trust and prominence with search engines. So choose the best one for your needs.
As you know, creating a new website takes a lot of time especially coming up with the process. You have to consider creating content for your new website, work on your marketing strategies, web development, and design – there's simply not enough time to tackle every step of the process.
While the process seems difficult, you need to come up with a plan on how to create quality and useful content for your new website.
TL;DR: While SEO beginners just started out will do fine with Raven Tools, more advanced SEOs and marketing teams are better off leveraging the features and scalability with SEMrush here (14-day free trial included).
Our Pick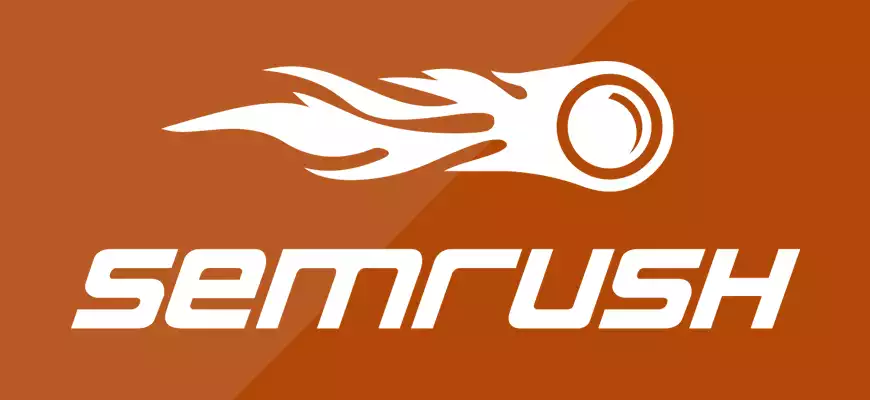 SEMRush is My SEO Swiss Army Knife
I use a LOT of tools. Probably more than I need to. There are a few that are truly indispensable. I have a SEMrush tab open EVERY day as I work. Keyword searches, technical audits, competitor analysis? It does it all. Try it out for free.
Get 14 Days Free
We earn a commission if you click this link and make a purchase at no additional cost to you.
Make sure to spend enough time researching the best keywords for your content. This will help you shape your content and also set a map for your new website and what you intend to achieve from it. When you do this upfront, you'll have a clear idea of the content you need on your website.
However, you don't have to beat yourself up if you can't come up with quality keywords to guide your content strategy. You can take shortcuts by employing the use of effective keyword analysis tools in the market. But first, it helps to know that any effective SEO analysis tool provides key benefits:
Chooses the right keywords for your content creation and keyword planner
Boosts your search engine ranking
Help understand your competition's keywords
Identifies keywords with the highest search volume
We equally know keyword researching using a keyword analysis tool helps you create a content calendar based on a keyword you have chosen. With the right tool at your disposal, you can execute the ride content strategy for your new website.
These keyword analysis tools are the in thing today for anyone with an online business presence. Why? It helps you plan and come up with a most useful, quality and engaging content with high conversion rates. Both Raven Tools and SEMrush fall under keyword analytic tools that'll aid your digital marketing needs, making them ideal tools for your content strategy.
In this post, we will look at the key differences between these two tools, and compare them against each other (and see how they can be useful in your content creation strategies).
Let's get started.
What is Raven Tools?
Raven Tools market itself as the best search engine optimization tools in the market. It serves agencies, in-house marketers, freelancers, media companies etc. This keyword analysis tool is also used to provide white label marketing reports to aid with reporting and content creation.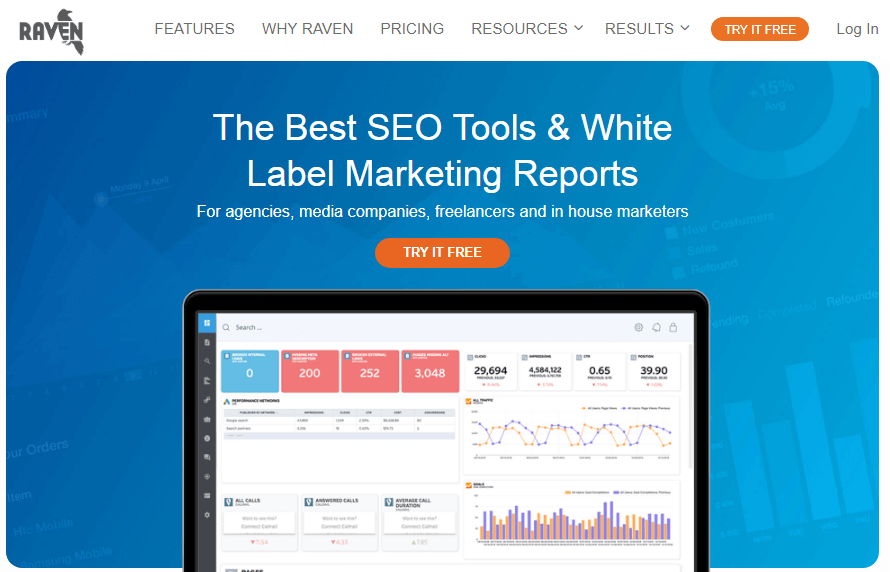 The idea behind the creation of this marketing tool was to help businesses create better content and collect powerful data from more than one source.
What Raven Tools brings to the table is flexibility, scalability, and the ability to satisfy every marketer out there. For your keyword insights and competitor research analysis, Raven Tools prides itself the ability to meet your needs even exceed your expectations.
What We Love About Raven Tools
Signing Up
Getting started on Raven Tools is simple, and it is free to try. The process is straightforward.
Sign up for a 14 day trial period providing personal details including your full name, address, and password and boom, you are in. However, the raven marketing platform will take you through a process why you'll answer a few simple questions before you get started.
This includes asking for your website URL, what your SEO and online marketing expertise is, how you'd describe your marketing skills, connecting to your social media accounts, and lastly, it lets you choose the most important task you'd want to accomplish today.
For instance, would you want to create an automated report? Or get insights on your website? or compare your site to competitors? Discover link building opportunities? etc.
Getting started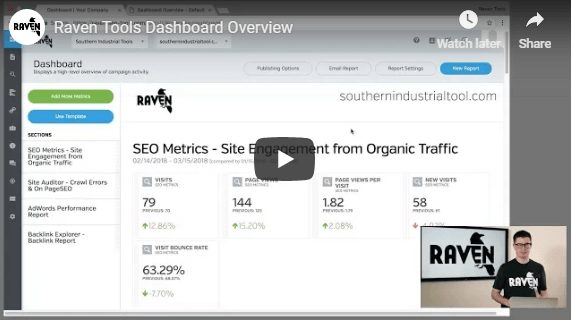 Once you're through with the formalities, you are ready to start. It takes you through the dashboard while you're able to see the performance of your website in the form of site metrics, social media metrics, and SEO metrics.
If you're a new user and are unable to navigate through the dashboard, there's a help video you can play to familiarize yourself with a dashboard. It provides you with a review of the tool and how it analyses the performance of your website.
User interface
The Raven Tools user interface is simple and easy to use. It's not complicated and anyone can use it. There's a logical menu that takes you around the dashboard, and which provides a helping hand for any new user.
You can easily access everything from a dropdown menu that provides information about your website's performance and metrics in regard to competitor research, keyword research, link building, and rank tracker among other features.
There are contrasting colors on the menu to help you differentiate on which buttons to press and take action. (Screenshot of the menu)
Data organization
The fact that Raven Tools replicates google analytics website makes it easier to navigate and organize data on one page. So it makes it easier for a new user to access all in the information they need without having to worry they'll get lost in the information. In other words it easier to find whatever you're looking for on the Raven Tools platform.
Easy setup
As previously mentioned on the sign-up, getting started in Raven Tools is easy-peasy. It is simply a cakewalk because all you need is link up your account with various social media accounts, and connect them with your website. Automatically the data you need will populate itself for your easy analyzing. No coding. Just simple and easy set-up.
Reports Automation
This feature allows you to create automated reporting. How many times have you had difficulty creating a report or even scheduling it? Raven Tools helps you create a report template for each of your accounts, and set it up even provides a schedule report whenever it is ready. As a user, you just need to check in for any updates and voila!
Other things we love about Raven Tools:
You can easily edit your reports and other variables including a number of items presented in a table, even create a comparison between time periods, and sort order.
Creates a complete integrated marketing report by integrating all your social media, AdWords and analytics accounts. This makes everything easier for a user.
Customizes reports. Depending on whether your report is intended for external or internal use, you can choose to either add or remove certain modules on your report.
What We Don't Love about Raven Tools
Downtime
Sometimes the system can go down and this makes it unreliable for some time. It is stressing enough especially if you have a time-sensitive report you need to send out and you can't access part of the system.
So if you're running Raven Tools and sharing it with other multiple clients on a regular basis, downtimes can prove an issue. This can fail to update your reports in real-time or even limiting access to your website.
Limited Platform Integration
Though Raven Tools provides a decent amount of data on various social media accounts, it is rather slow on adding some accounts on their platform. For instance, Instagram does not feature on the Raven Tools platform. They are here to develop an integration for it. To some users, this is unfortunate.
Communication on Updates
Raven Tools rarely updates users on any changes on the platform. A lot of users want to experience new changes on the platform, but also get informed about them when that happens. One day you navigate your dashboard and find something was moved unexpectedly and a change was implemented without your knowledge. This doesn't go well with users.
Plans & Pricing
When you start with Raven Tools, the first 14 days are free thanks to a trial period. From thereon you are charged $39 a month to access Freelancer Plan, which allows three (3) domains, 1 user, and 7,500 position checks of your website.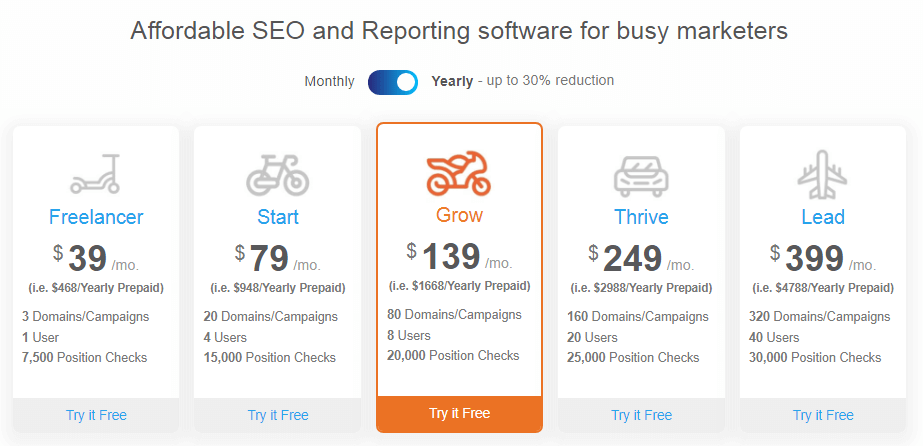 The pricing feature comprises Start, Grow, Thrive, and Lead plans. Users are charged on a monthly basis with the highest Lead plan going for $399 a month. It, however, gives you access to over 30,000 position checks.
What is SEMrush?
SEMrush, according to its website brief, is an all-in-one marketing toolkit for digital marketing professionals. Founded by Oleg S. and Dmitry Melnikov, SEMrush has grown into a software as a service (SaaS) company that's a force to reckon with in regards to SEO marketing analytics software subscriptions.
SEMrush provides intelligent data that revolves around creating effective and useful content strategies, lead generation, topic research, site audit (I REALLY love their audit tool), among other features. For all your analytics report SEMrush is the go-to tool that will help you research competitors for a particular keyword or domain, research traffic, and even data.
With SEMrush, you're able to see which keywords your competitors are bidding on and how much traffic their efforts are generating for them.
What We Love about SEMrush
Getting started
Registering on SEMrush platform is straightforward and easy. The only difference is that SEMrush doesn't take you directly to start your SEMrush free trial instead it lets you register, and simply create your account. It's as simple as that.
From here-on it sends you directly to get a set of tools that will be of use to you. To put it another way, you let you choose your area of interest by selecting a tool you need for either SEO (competitive analysis + on page), advertising, social media, content marketing, competitive research, etc.
User interface
It is easy to navigate and its dashboard almost bears a resemblance as that of SEMrush. Is clean, simple and easy to use. There's also a logical manual to help you get around the dashboard and familiarize yourself with the features at hand.
Highly customizable
If you want to have a general overview of your website with different forms of statistics, just need to customize it to your liking and you have exactly what you're looking for. Customizing helps you monitor the rank tracking of specific keywords (keyword rank tracker) for your content creation and strategy. This is because it highlights competitive keywords and where your website ranks on it.
Regular updates
Compared to Raven Tools, which rarely communicates to users about updates or any form of changes on their platform, SEMrush provides regular updates which are really useful for users of the platform.
What SEMrush does is, it scans your website and report any errors immediately. Then goes on to show how you can optimize the website for excellent SEO campaigns. This is particularly helpful and useful as it could pose a problem with google.
Excellent NEW on-page optimization
SEMrush has really stepped up their game when it comes to on-page optimization for related semantic terms. It's not just about keyword density. Now it's about topical coverage. SEMrush helps you better hit the mark here.
Backlink profile data analysis
Sometimes you want to know whether a website should link back to yours. The problem however is, you really can't tell whether the backlink emanating from the said website is toxic or useful for your website. SEMrush does a very good job of IDENTIFYING the link building targets and giving you some basic data on link health, too. You will still need to do anchor text analysis and some manual review, but it can build a truly comprehensive initial backlink data set.

SEMrush provides a tool that analyses backlinks even provides a score to the website that's providing the links. This feature also allows you to see what sites your competitors are linking back to.
Other things we love about SEMrush
It provides analytic reports on time – It allows you to observe position changes of domains, discover new organic competitors, see competitor's best keywords and even employ them in your content strategy.
It performs advertising research – It helps you localize your ad campaigns, discover new competitors and AdWords, uncover your competitor's ads strategies and budget, etc.
It employs display advertising strategy – You are able to view this place from different devices, sport new publishers and even do competitor analysis for display ads and paid rank tracking positions.
It integrates flawlessly with Google Analytics and Google Search Console, making it a true "one stop shop" for all your SEO metrics.
What We Don't Love about SEMrush
Bloated Information
The SEMrush platform consists of too much information, which can easily overwhelm a first-time user. This is perhaps the only downfall you'll experience on this platform.
When there's so much information, users can find themselves going down a rabbit hole with no end. You may find yourself particularly focusing on a few elements including domain research, competitor's keywords, as well as keyword research.
Improvement of training videos
While SEMrush falls short on enough training material for new and existing users, Raven Tools also fails on this area. SEMrush help video goes straight into training without considering the audience might not necessarily be familiar with the terminology and tools used.
For a new user, this might be confusing. Might even lead to guesswork and experimenting on a few features before you can get your way around the platform.
Less data on less trafficked keywords
SEMrush is data-rich. You can find almost any data you need regarding a particular keyword, especially competitive keywords. However, it is difficult to find good data unless trafficked keywords. It's important to have more accurate stats on keywords considered less trafficked. You MAY decide at some point to invest in a stand-alone keyword research tool because of this.
Plans & Pricing
When you start with SEMrush, you are charged $99 on the first month on the Pro plan. There are four main pricing plans on SEMrush including pro, guru, business, and enterprise. Unlike Raven Tools, SEMrush does not provide a trial period.
It only allows you to get started on a normal account, but to experience other features you need to upgrade to a plan of your choice and immediately subscribe. Each pricing plan comes with different features best suited for your needs.
However, if you need to choose the enterprise pricing option, you will need to contact support to get the right amount you need to pay every month (depending on a custom solution that fits the marketing needs of your business). So no price info is indicated for the enterprise plan.
Which between the two tools is ideal for you?
To make an informed and proper decision, you need to compare these tools and identify the key differences in regards to their features, pros and cons, and the uprising features. Both tools are highly reliable and effective social management tools.

The above tools are well suited to keyword research and in identifying the most competitive keywords while keeping an eye on traffic and paid health of your website.
When it comes to Raven Tools, it is simply a one-stop solution for all your digital marketing needs. It makes marketing and monitoring your social media accounts easier as well as your email campaigns and google tools among other things from one place.
Also, the user interface is easier and enjoyable to use and makes creating reports fast. It really cuts down on time taken to navigate through features and the dashboard itself. If you have internal and external teams and need to send them a report riven tools is ideal for that.
On the flipside, if you're keen on mining backlinks and growing a backlink portfolio then SEMrush is the ideal go-to toolkit your need. In regards to usability, SEMrush has a higher advantage over Raven Tools based on a number of features and performance.
Conclusion: SEMrush or Raven Tools?
Both tools have different pricing structures and features that make them unique.
However, if you're just starting out and want to pick a toolkit that will help analyses your keywords, monitor your traffic and create a useful and quality content strategy, then Raven Tools is your ideal tool for you. After the SEO basics, it's a bit underpowered.
Bottom Line: with SEMrush here to equip you with a variety of tools to make your online search campaign easier and effective. It is definitely worth considering for all your keyword searching and site audit needs.
Here are some related articles on other great tool options and comparisons that you may be interested in: