Last Updated on January 23, 2023 by Ewen Finser
While the survival of online-based businesses depends on many factors, SEO quality is, by far, the most crucial one here. No doubt about it.
TL;DR: If you are primarily doing backlink analysis, the stronger option here is SpyFu. However, for all other users (including keyword research and competitive analysis), SEMrush is the better overall option here.
Imagine this. You've just launched an extremely promising online enterprise. The whole concept behind it rocks, your staff is perfect at handling customers, the site looks like it has just bagged several design awards, and you're able to process orders in a jiffy.
Main Differences Between Spyfu vs SEMrush
The main differences between Spyfu vs SEMrush are:
SpyFu provides unlimited search results on higher price plans, whereas SEMrush still caps each tier
SpyFu has over 10 years of competitor data, whereas SEMrush goes back to 2012
SEMrush has many more capabilties as an SEO platform, whereas SpyFu is more limited to competitor analysis
SEMrush has a Traffic Analysis tool, whereas SpyFu does not
SEMrush has a better overall keyword research tool compared to SpyFu
Everything seems pretty solid, and in perfect harmony. But sadly, you're simply not getting those sales. The traffic itself makes your site feel lonelier than the North Pole.
And it might feel like it doesn't make any sense at all. Because as far as you're concerned, you've spread a couple of seemingly good keywords around the site to get Google's attention.
That should suffice, right?
Well, here's the thing. A couple of keywords will indeed get you noticed by Google and other search engines. But the problem with Google is that it's exceedingly way more popular than all the prom queens and kings combined.
Get this. Google alone is handling more than 3.5 billion search queries per day. So, of course, it makes sense why each business establishment is desperately trying to win over its attention.
And the result has been? Google ranking results according to relevance and overall SEO quality.
Consequently, even when Google lists your business within the search results, there are possibly millions of other sites ranking better than yours. Websites that have an edge over your online store when it comes to SEO quality.
And you know what? Internet users have this bizarre tendency of never proceeding past the first page of the search results. Even when they're desperately searching for something. Explains why 91.5% of the clicks always go to sites on the first page.
Now, you could throw in the towel and focus on alternative traffic sources. Search engines are not the only pool for prospects, right?
You bet they're not. You can say that again. But here's the kicker. With an average close rate of 14.6% leads generated through SEO are considered the warmest.
Well, I admit that 14.6% might not sound that great at first. Until you compare it with the average web conversion rate of 2.35%. Even more impressive when you shift to the top 25% of the converters, who only manage a rate of 5.31%.
Now, combine that with the 91.5% click-through rate going to first pagers. Astonishing, isn't it?
Well, that's why 61% of marketers are prioritizing on SEO and expanding their organic presence. Quite a large number, to say the least, but only the very best will manage to hold on to the top search ranks.
This refers to the league of legends that have not only perfected their strategies, but also know how to engage smart SEO by leveraging just the right tools.
I'm talking about things like SEMrush and SpyFu. Certainly two of the biggest, most advanced keyword research tools on the web.
But, which of the two gives you the best chances at that number one ranking spot?
Now, that's a tricky question because they are distinctively different with varying provisions. I'd like to cut to the chase and give you the winner, but your final choice will depend greatly on your site's needs, SEO framework, and strategic outlook.
I tell you what though. How about reviewing their features head-to-head to establish the most suitable deal? That would be a much more strategic approach, right?
So, let's jump right in……
SpyFu vs SEMrush: Overview
Internet users love Google because it never misses the mark. Not even once. If something is on the internet, be sure Google will send its top dogs to sniff around and avail results.
The hunting is built on specific algorithms which rely entirely on site data to generate relevant results. This is the point where marketers realized that SEO would be much easier if they capitalized on the same data to beat the system.
Using your gut for SEO quite simply couldn't cut it, and still doesn't. Unfortunately, it turned out that the data framework was quite extensive and increasingly complex. Using it fully required specialized scientific approaches.
And that's how they started coming up with tools like SpyFu and SEMrush.
SpyFu is the elder brother here. Its founder, Mike Roberts, first introduced it to the market in 2006 as a solution seeking to help marketers transform their PPC and SEO strategies.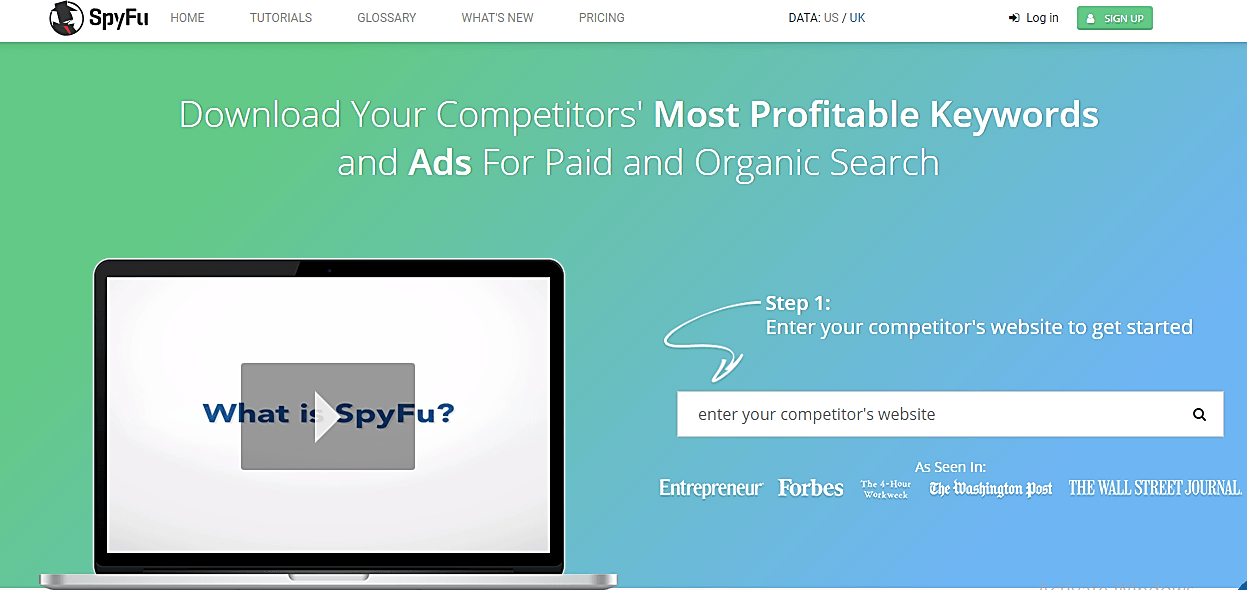 It has since grown to be a prominent player in the whole keyword research and keyword planner space, providing cutting-edge technologies to power search engine marketing.
To achieve this comprehensively, SpyFu is not only about keywords and search trends. It extends its offerings to cover paid ads, organic search, and competition intelligence. All these through a single, centralized, user-friendly interface.
And speaking of the interface, SpyFu works with a simple, straightforward principle. You just enter a domain address in the search bar and hit search. You'll then get valuable information on backlinks, organic ranking history, Adwords history, top Adwords buy recommendations, top keywords, shared keywords, keyword difficulty, competitor analysis, and monthly domain authority overview.
SEMrush, on the other hand, was only an idea until 2008. A small group of IT and search engine optimization specialists came together to streamline competition over the web, seeking to make it transparent and fair with equivalent opportunities for all players.
A decade of trailblazing experiments has seen SEMrush grow exponentially, and position itself as a comprehensive digital marketing management suite.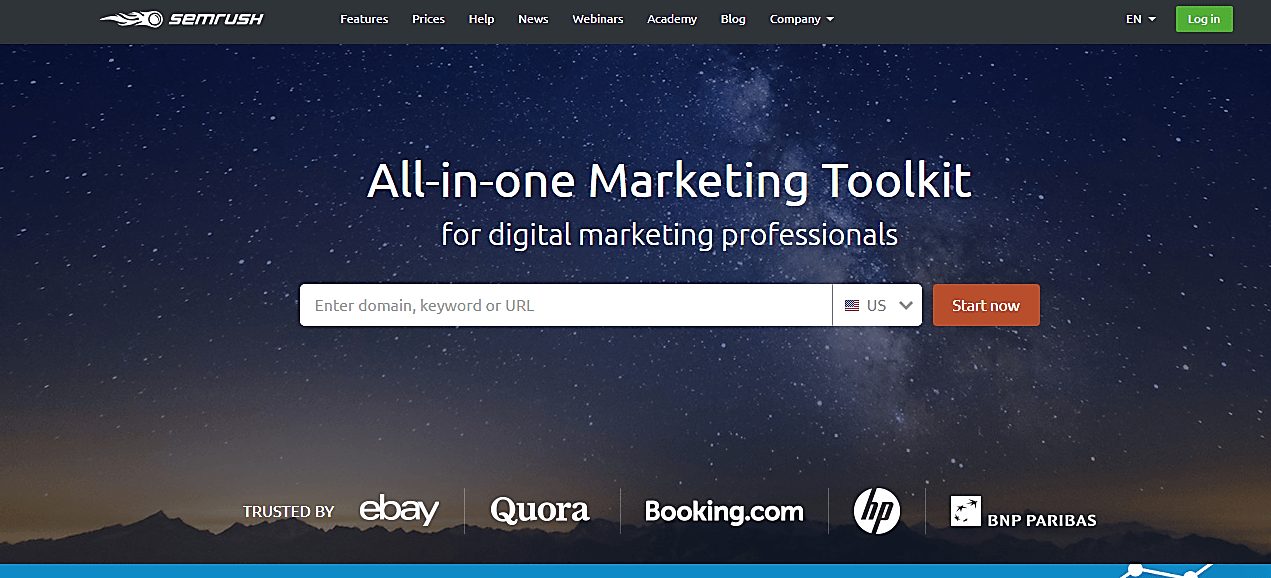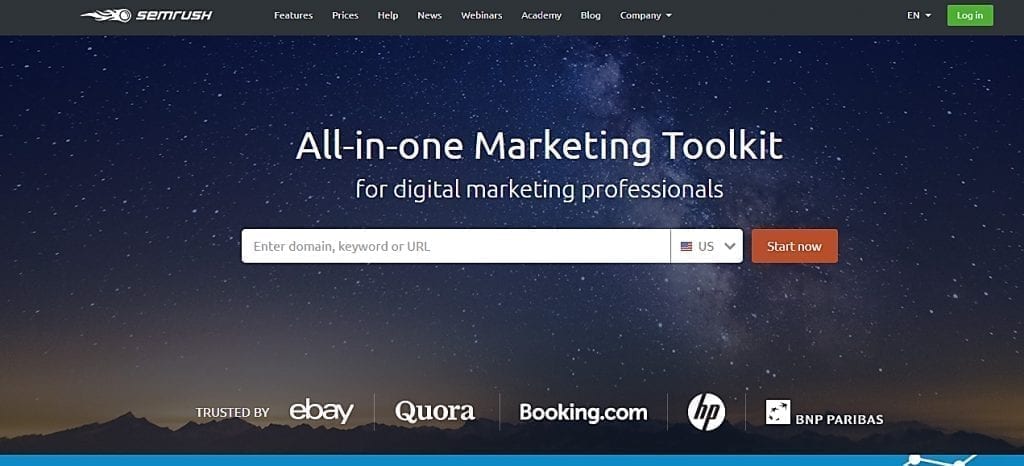 Just like SpyFu, this tool continues to provide valuable data, which marketers leverage to inform their search engine marketing strategies. It also goes ahead to analyze your competition, to generate information about their traffic trends, campaign success, ads they are running and the corresponding spending, plus keywords they rank for.
But that's not all. Keyword research and competition analysis is just one part of the whole suite. SEMrush also offers site audit tools, position tracking, and backlink profile assessment.
All these features on a single platform have helped SEMrush attract quite a substantial following over the years. It currently hosts more than 2 million users on 140 databases globally.
Verdict
Fair enough. But let's be honest. SEMrush and SpyFu sound like similar services right off the bat. However, make no mistake. They are actually quite different when you go past the basics into the nitty-gritty. The part where you eventually establish what's best for your website.
So, let's see how their features weigh against each other.
SpyFu vs SEMrush: Features
Keyword Analysis
SpyFu means business when it comes to keyword research. That's something you'll notice as soon as you log into the system. And the best thing overall is the fact that everything is broken down into the finer details that matter.
The Overview tab, to begin with, presents you with exactly what you need before delving into the rest of the data. It displays the general information about a specific site's SEO outlook, focusing on not just its organic keywords, but also the corresponding click value.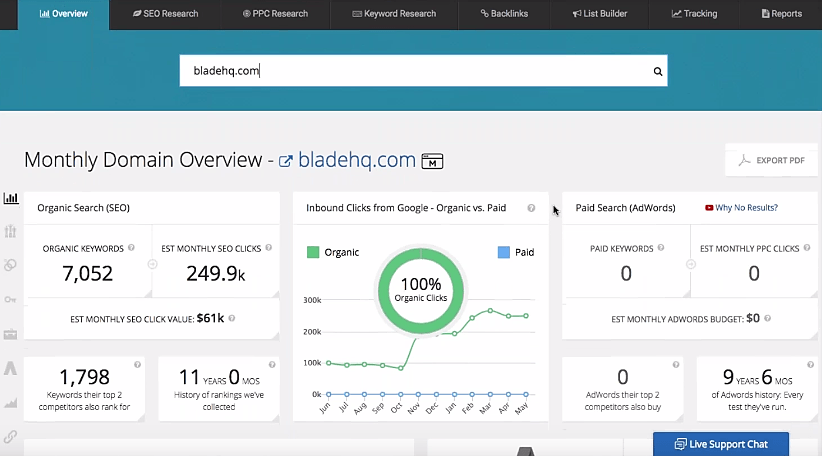 And you know what? You can run pretty much any domain address you think of.
SpyFu also analyzes the information to display your site's top rivals and their respective organic keywords. But that's something we'll review shortly.
For now, let's move on to what is turning out to be my favorite keyword feature on SpyFu. The service pretty much serves as both the boxing ring and the referee. The only difference being the fact that it doesn't only host two-way contests. It goes beyond that to help you compare multiple sites at the same time.
They basically go head-to-head in a keyword contest, allowing you to view how their respective keyword strategies impact their ranking.
And since numbers and words are too boring, SpyFu displays all the relevant info in form of an elegant Venn diagram. I found this pictorial presentation quite handy in assessing and interpreting the performance of various keywords.
Then there's Keyword Research and SEO Research. Two separate tabs with seemingly similar definitions, but different functions.
Keyword Research is all about the specific groups of keywords that are driving traffic to a website. You can use it to identify particular keywords related to your site's niche.
SEO Research, on the other hand, shows you all the keywords relevant to a website's SEO. The specific sets of words that affect a site's ranking.
And perhaps surprisingly, you can even go back in time. SpyFu also lets you dig through past records to establish previous keywords, and their subsequent change over time.
SEMrush is an Amazon forest in itself. Basically, everything bundled up in one solution. So, it's understandable if it takes you longer than SpyFu to find your footing in keyword research.
And don't be misled by the Keyword Analytics tab. It's not the only element dealing with keywords here. The Organic Research tab under Domain Analytics is also incredibly useful.
And it does exactly what you probably assume by now. It will show you the specific keywords that a website is ranking for.
Well, of course, the list might be long and quite confusing. That's why SEMrush also comes with a filtering tool to help you pick out specific sets of keywords that match your desired parameters.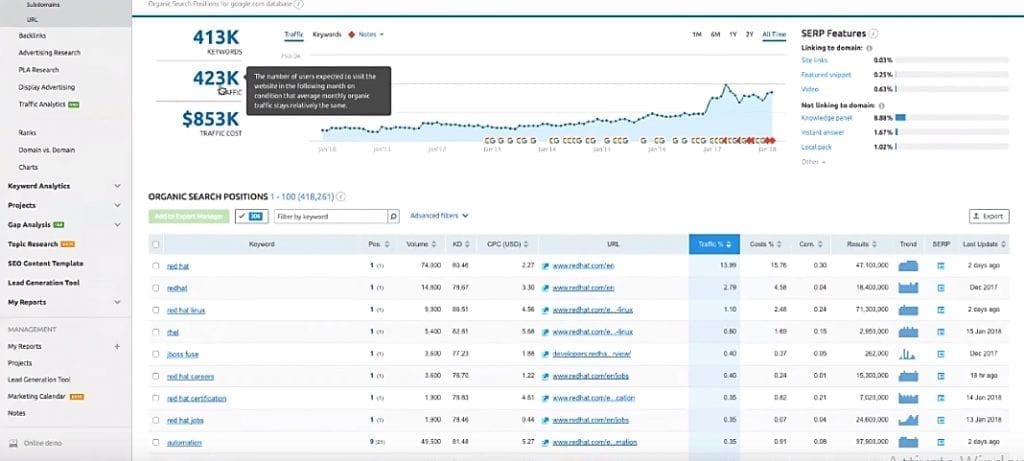 You can also track how various keywords have affected a site's overall rankings through the Position Changes tab. And that includes information on keywords that might have been dropped or lost.
Now, let's move on to the Keyword Analytics tab. This is where you come if you're unsure about the keywords to capitalize on for the best possible ranking.
For every word typed, the system scans through search engines to show you other related suggestions that rank well. That's how you establish both primary and secondary keywords.
Fairly good, but not as impressive as the new Keyword Magic Tool by SEMrush. This is the mother of brainstorming keywords. Thanks to its extensive filters and powerful metrics, you can accurately determine the precise keywords that would actually boost your site's organic traffic.
Verdict
It's quite obvious that both SEMrush and SpyFu are extremely handy in Keyword research. And very similar too. In fact, it almost feels like their developers simply copy pasted each other's keyword research provisions, and then maybe edited the names for branding purposes.
They both provide SEO overview, domain versus domain keyword assessment, keyword tracking, keyword rank history, plus powerful metrics for keyword suggestions. So, in a nutshell, it's a tie here.
Competition Analysis
It's no secret that the business landscape is often a race between enterprises with identical solutions targeting the same prospect base.
Now, of course, I'm all about fair play when it comes to contests. And to some extent, this is regulated by commercial legislation.
But get this. Search engine ranking is an open front. No rules apply here. Ok, maybe on branding. But everything else is open to dirty tricks. Including using your competitor's brand as keywords to rank better.
How's that? Well, the cool thing is that SpyFu and SEMrush can be war engines with considerably lethal ammunition for this.
Notice the word "Spy"? Certainly a James Bond of sorts we have here. That's why I was super excited to try out its provisions for combating competitors.
SpyFu doesn't beat around the bush when it comes to competition analysis. It goes for the jugular by granting access to the valuable info your competitors would do anything to protect.
By now, you're aware that for starters, you'll gain insight into your competitors' keywords. This should help you establish the keyword strategy that your site should be emulating.
Sounds juicy. But that barely scratches the surface here. SpyFu's aggressiveness extends past this to give you all the details about your competitors' respective SEO strategies.
I'm talking about things like the organic growth of your selected keywords against other sites, competitors bidding on your PPC AdWords, backlinks that are boosting other sites' rankings, overall competitors' ad performances, marketing campaigns by other domains plus their corresponding impact, and more.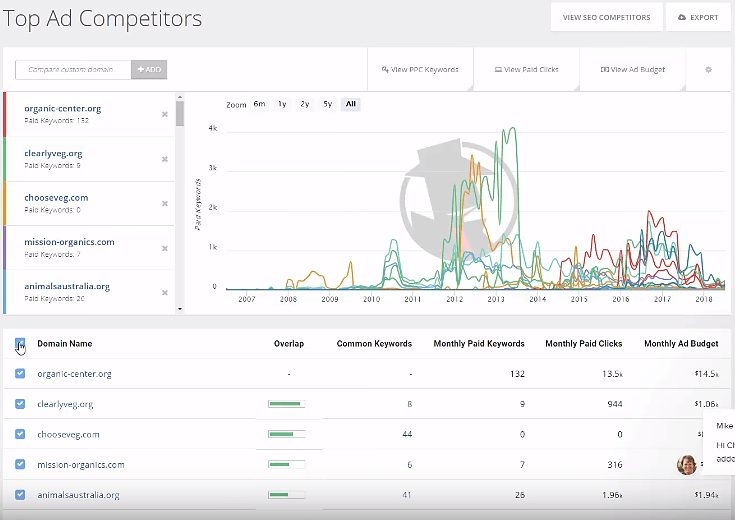 And you don't even have to keep refreshing the reports to stay up-to-date. SpyFu essentially handles that by sending notifications when your competitors change their strategies.
Come to think of it, this is quite a lot of data to follow up on. That's why SpyFu uses lists, graphs, and charts to simplify everything for quick interpretation.
SEMrush
SEMrush will also give your competition a headache. It doesn't only go into the specifics of where your competitors are succeeding. It also delves into areas that they are failing, to help you identify spots that you can launch a counter strategy from.
And speaking of which, SEMrush doesn't let you go alone. It gives you valuable tips on how to beat your competitors on their strengths and weaknesses.
As we've seen with SpyFu, the analysis doesn't only apply to keywords. That's just a single component of the whole equation. SEMrush also covers the whole SEO strategy, identifying all the areas of interest.
In essence, you'll get historical data to establish any algorithmic ranking patterns and possible ranking penalties in the past, the ability to see other sites that share the same position with yours relative to your main competitors, insights on new opportunities, reports on the overall performance of your competitors' organic and paid search campaigns, review several domains side by side to determine comparative power, plus view updates on developing competitors.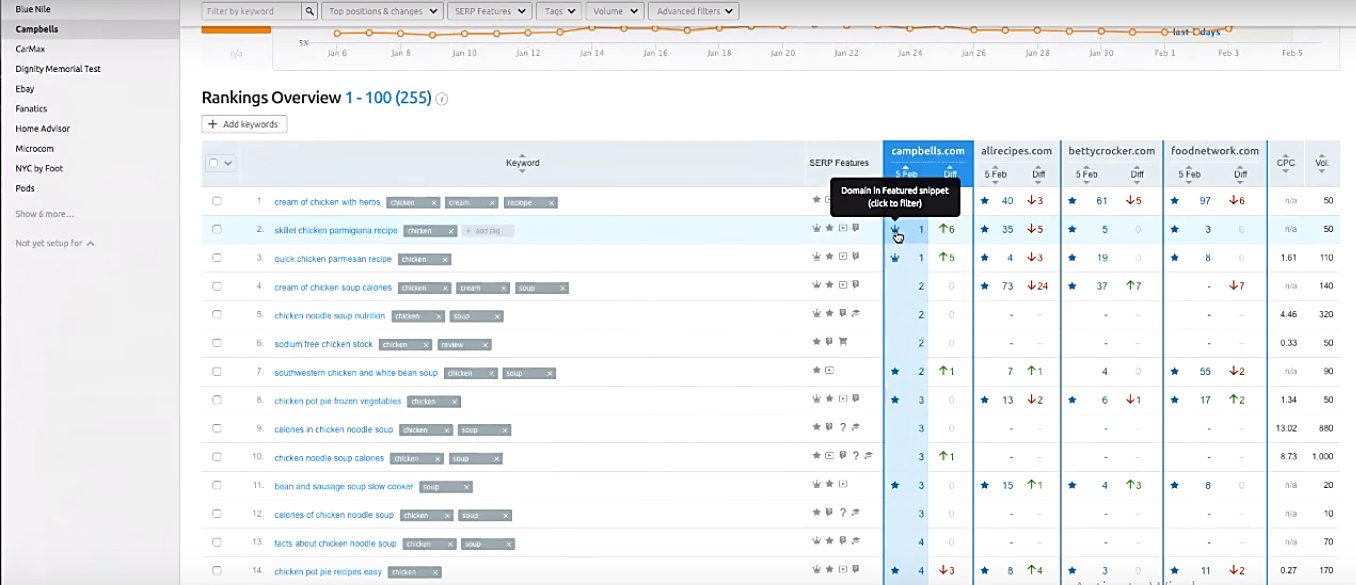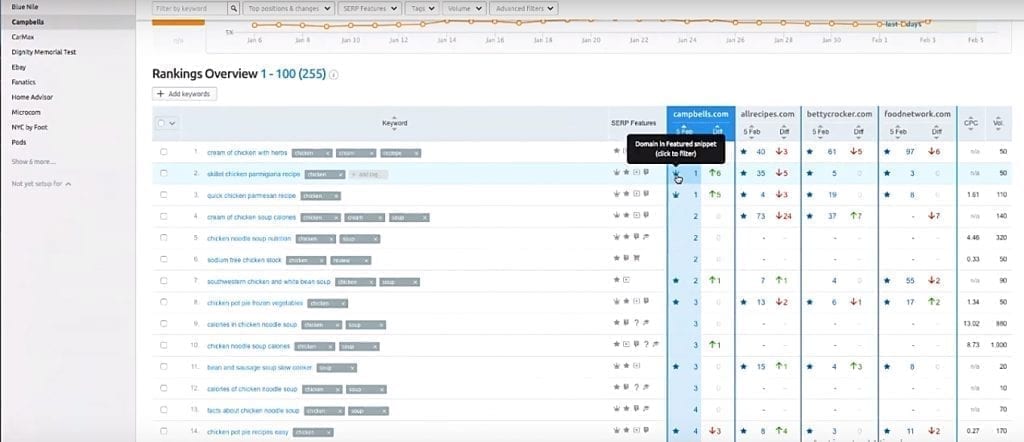 The consequent information is served in lists, graphs, and charts. Pretty much like SpyFu.
Verdict
As we've seen, SpyFu and SEMrush are very thorough in competition analysis. It even gives you chills when you think that your competitors might be leveraging them against your site. They both assess keywords and the corresponding SEO strategy, including paid search campaigns. The subsequent reports help you identify ROI, strengths and weaknesses, plus possible opportunities you can take advantage of.
That said, SEMrush generates slightly more detailed information than SpyFu. It digs deeper into some elements to identify certain aspects that might have been left out by SpyFu. Take the brief report on top organic competitor keywords, for instance. While SpyFu leads at the list level, SEMrush goes ahead to identify the precise number of common keywords shared with organic competitors.
Link Review
Apart from keywords embedded in content, link building is another element that is, without doubt, universally critical to SEO. According to Andrey Lipattsev, Google's Search Quality Senior Strategist, links and content are two of the most crucial determinants of a site's ranking on Google.
And that's why 41% of large corporations are prioritizing on link building, although they consider it as the most difficult SEO tactic.
So, to make everything much simpler, SEMrush and SpyFu also come with a myriad of features to support link review.
SpyFu
SpyFu has quite a number of helpful provisions for assessing not just your links, but also your competitors' overall link framework. In the end, it adds up to a comprehensive report of their entire SEO structure.
First off, you'll be able to view a solid list of the external links from any site. Plus, of course, a corresponding list of inbound links from other domains to that specific site. And to make the whole picture clearer, SpyFu further breaks this down into types of inbound links leading to the site.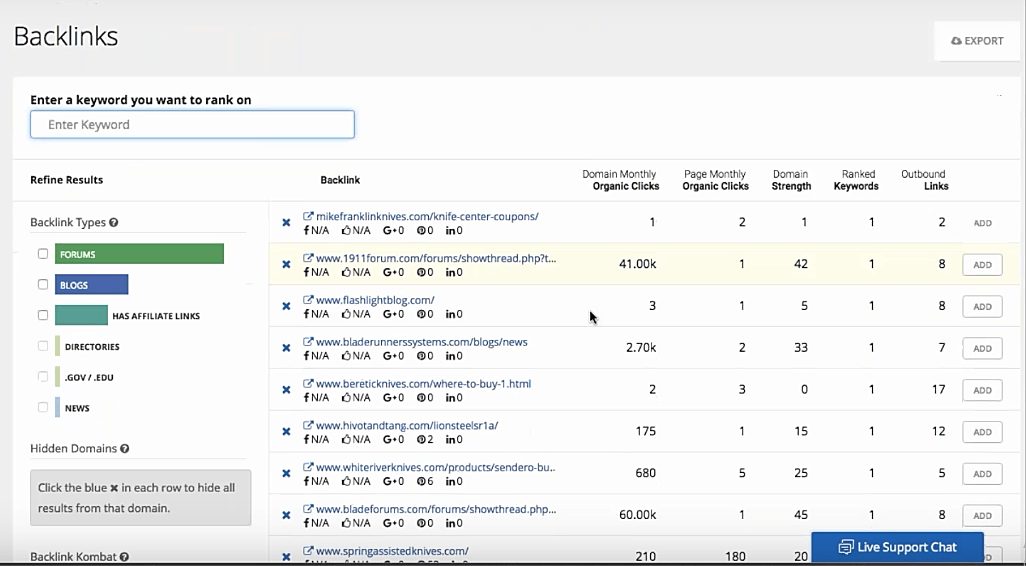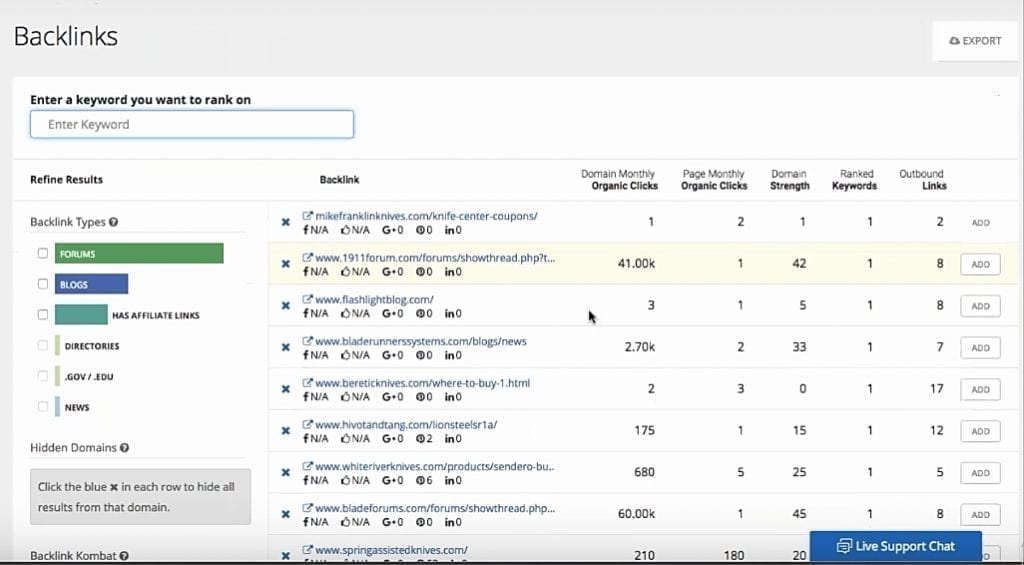 To top it off, you'll gain an insight into social statistics, traffic estimates, and overall strength of each link. And to drill down to the most important links, you can use the filtering tool to sort through the mess.
SEMrush
SEMrush is also fairly decent in link review. It crawls through websites to identify incoming links, then generates information on their performance against competitors, all link sources, plus overall link strength.
Through this tool, you'll get to know the specific IP addresses of your site's backlinks, content marketing types that generate the backlinks, the sources of your competitors' strong backlinks, plus if your backlinks are actually genuine or spam.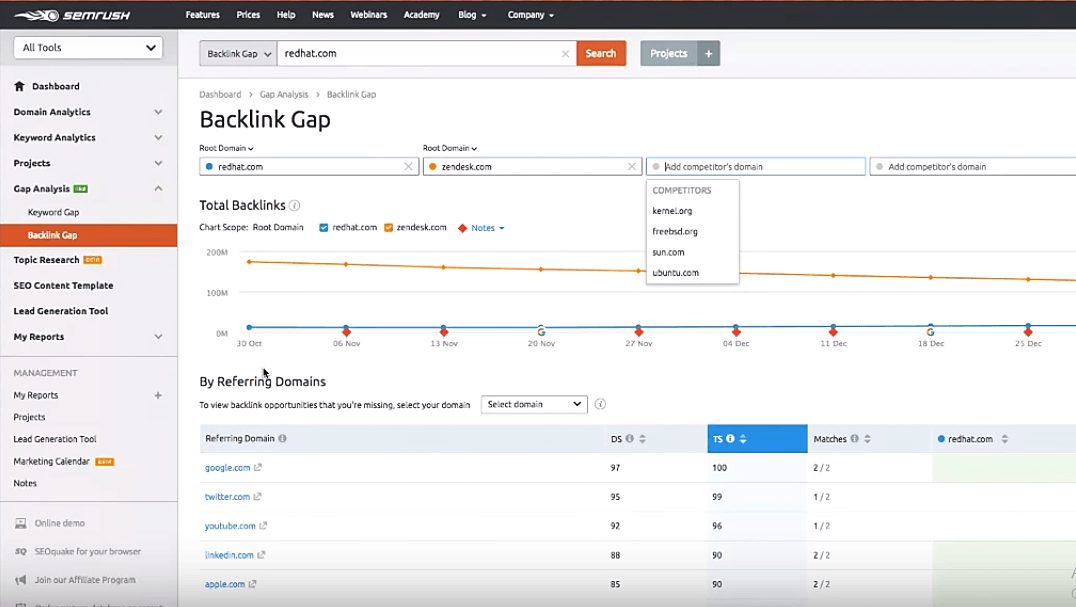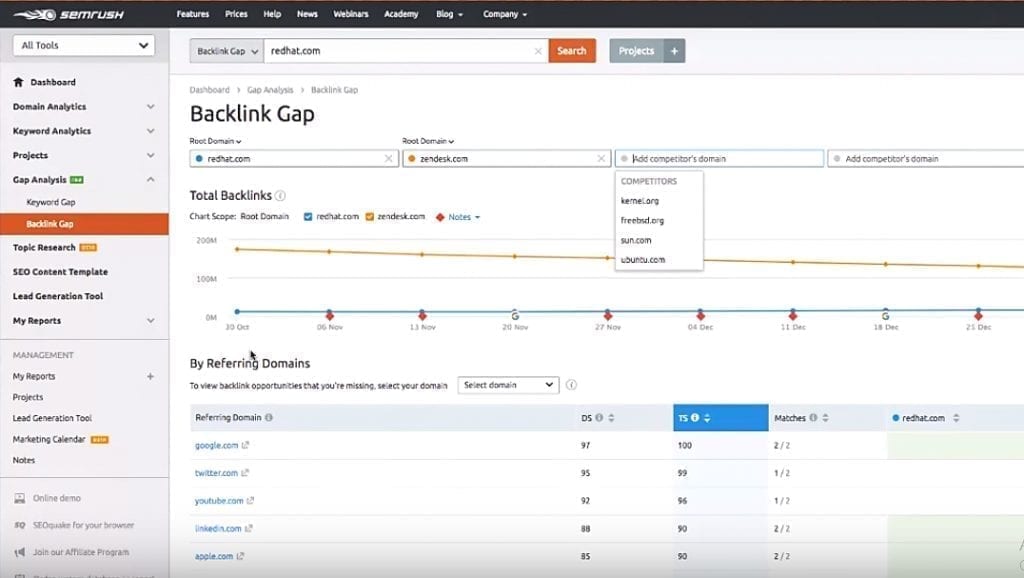 Verdict
For tools that principally market themselves as keyword research solutions, their link review features are quite remarkable, to say the least. They both generate detailed reports on inbound and outbound links for any website.
However, a closer scrutiny reveals that SpyFu's backlink reports are more detailed than SEMrush's. In the overview, for instance, SEMrush generates backlinks with the link URL and anchor text. SpyFu, on the other hand, goes ahead to show page organic clicks, domain organic clicks, and the corresponding keywords.
Overall Features
SpyFu
API access

Custom branded reports

Backlinks profile exports

Introduce your own keywords

Adwords advisor reports

In-depth SEO reports

Sales leads filtering

Export advanced contact information

More than nine years of Adwords history

More than nine years of organic ranking history

Unlimited backlink results

Data exports

Paid keywords analysis

Organic keywords analysis

Backlink search assessment

Keyword research

Domain research
Review competitor ranking

In-depth insights into ad campaigns

Keyword metrics tracking

Compare several websites

Pie chart and line graph display

SEO metrics assessment

Review competitor ad texts

Review competitor organic strategy

Track site ranking

Keyword research

Backlink tracking

AdSense analysis

Advertising research

Organic research

Crawl audit tool

Comparison of domains by keywords

Position tracking

Domain-specific keyword ranking
SpyFu vs. SEMrush: Pricing
SpyFu
The bad news here is that SpyFu, unfortunately, does not offer a free trial. That makes it technically impossible to take it for a test drive. You'll have to pay to use it.
But, here's the good news. The service comes with a 30-day money back guarantee. Therefore, even when you're forced to pay to try it out, you can still request for a refund if its provisions turn out to be underwhelming.
That said, there are three principal plans- Basic, Professional, and Team.
Basic- Costs $33 per month if you pay yearly, or $39 per month if you choose to proceed with the month-to-month option. Some of its provisions include:
10 AdWords Advisor PPC report

10 small domain SEO report

10,0000 top lists results

5,000 weekly tracked keyword rankings

250 sales leads and domain contacts

Unlimited search results

Unlimited domain overview PDFs

Unlimited data exports
Professional- Costs $58 per month if you pay yearly, or $39 for the first month then $78 per month thereafter if you choose to proceed with the month-to-month option. Some of its provisions include:
All

Basic

features

White labeling

30 AdWords Advisor PPC report

10 medium domain SEO report

30 small domain SEO report

50,000 top lists results

Custom branded reporting

10,000 API rows returned

15,000 weekly tracked keyword rankings

500 sales leads and domain contacts
Team- Costs $199 per month if you pay yearly, or $299 per month if you choose to proceed with the month-to-month option. Some of its provisions include:
All

Professional

features

White labeling

Unlimited AdWords Advisor PPC report

10 large domain SEO report

30 medium domain SEO report

Unlimited small domain SEO report

5 user accounts

75,000 top lists results

10,000 API rows returned

40,000 weekly tracked keyword rankings

2000 sales leads and domain contacts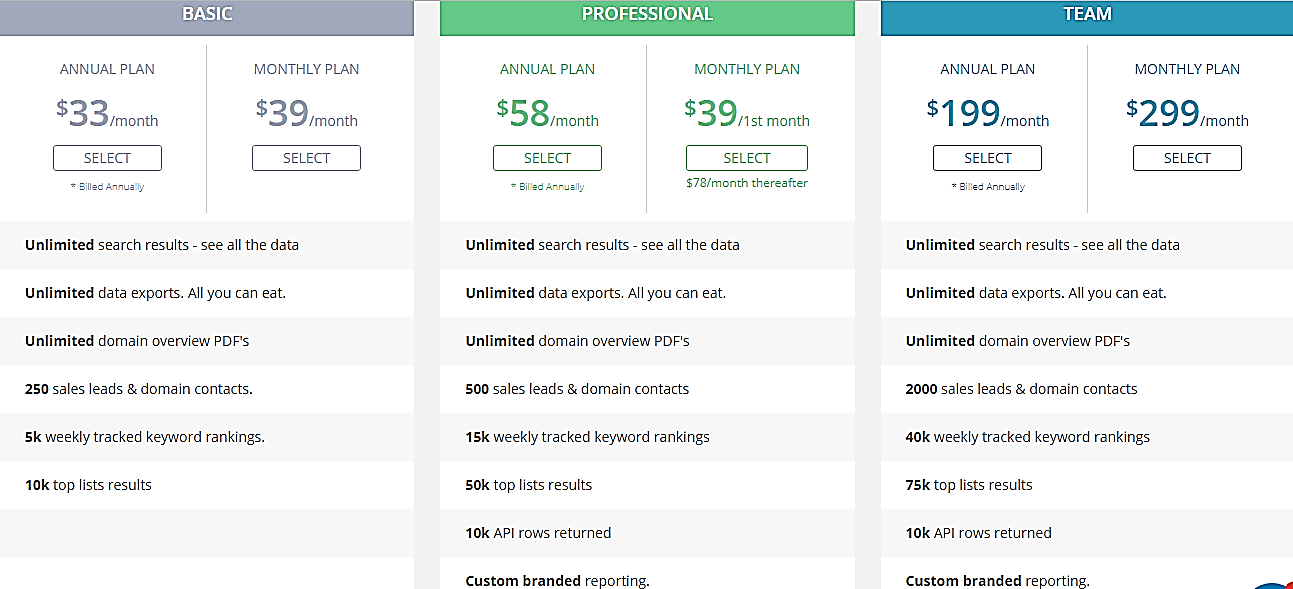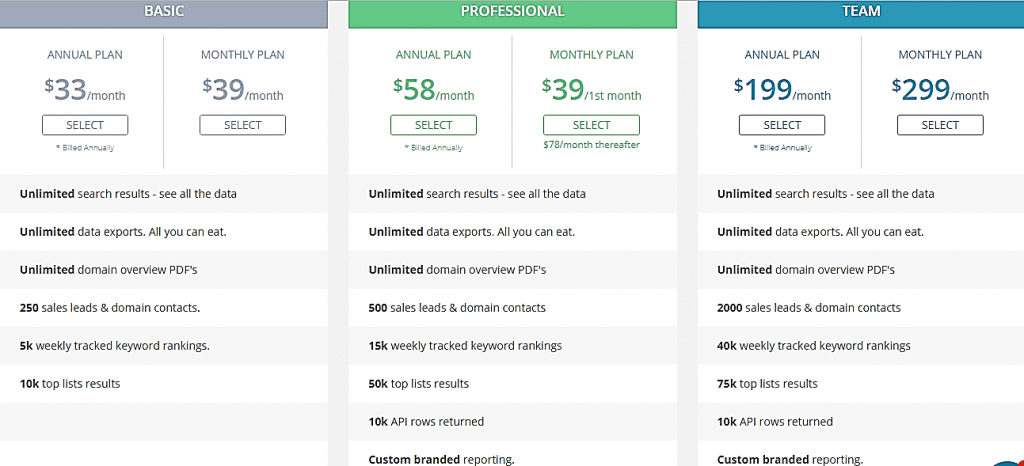 SEMrush
Thankfully, SEMrush is a bit open to the whole free-trial concept. But it's limited to 14 days, and only applies to SEMrush Pro. However, if you're lucky, you might stumble upon an offer from its affiliate partners, which essentially extends the trial period to 30 days.
If you're satisfied with the features, extended use comes in 4 different packages.
Pro Plan– Built for startups and freelancers with a limited budget. It costs $99.95 per month, or $999.40 if you prefer paying annually to save $200. In addition to SEMrush standard features, you'll be provided with:
5 scheduled PDF reports

Crawling for up to 100,000 web pages

Tracking for up to 500 keywords

5 projects

3,000 reports per day

10,000 results per report
Guru Plan– Ideal for developing marketing firms plus small and medium enterprises. It costs $199.95 per month, or $1999.40 if you prefer paying annually to save $400. In addition to SEMrush standard features, you'll get:
Historical data

Branded PDF reports

20 scheduled PDF reports

Crawling for up to 300,000 web pages

Tracking for up to 1500 keywords

50 projects

5,000 reports per day

30,000 results per report
Business Plan– Optimized for enterprises with a large web presence, e-commerce projects, and large agencies. It costs $399.95 per month, or $3999.40 if you prefer paying annually to save $800. In addition to SEMrush standard features, you'll get:
Product listing ads

Historical data

Branded PDF reports

50 scheduled PDF reports

Crawling for up to 1,000,000 web pages

Tracking for up to 5,000 keywords

200 projects

10,000 reports per day

50,000 results per report
Enterprise Plan– on the other hand, is a custom package for heavy users with extensive needs. Instead of quoting a fixed price, the team at SEMrush is willing to negotiating with prospective users. In addition to SEMrush standard features, you'll get:
Add-on features upon request

Unlimited crawling of large websites

On-site training

Custom keyword databases

Custom limits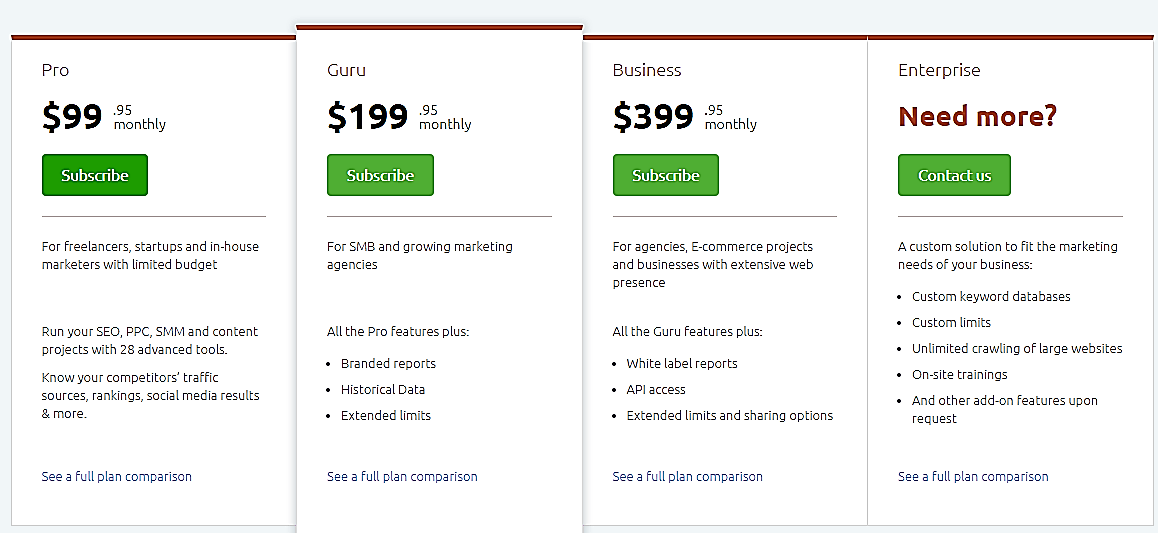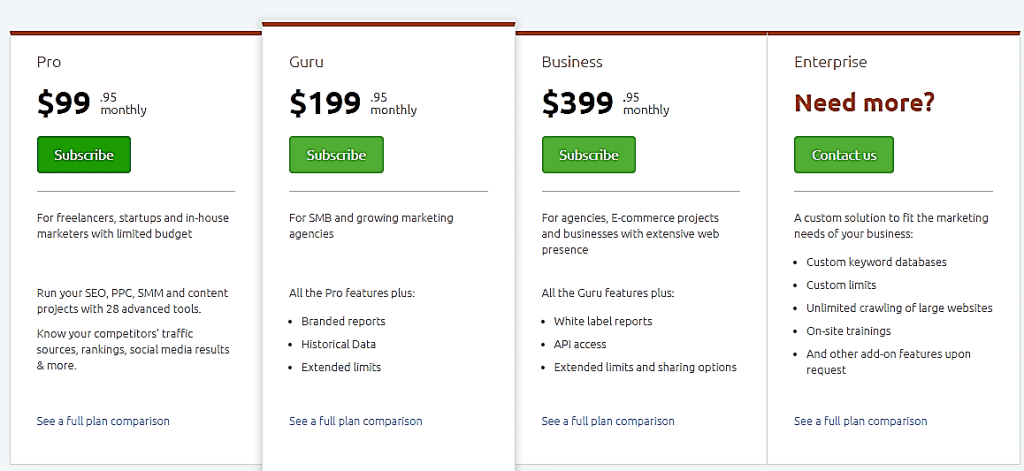 Verdict
Although it only spans two weeks, you've got to appreciate the free trial offer by SEMrush. SpyFu might argue that their money-back guarantee is risk-free, but the simple truth is that it can never match up to SEMrush's free trial.
However, all things considered, SpyFu beats SEMrush in the price wars. It's cheaper and perfectly affordable for small and medium scale users. Large-scale users, on the other hand, are better off with SEMrush's Enterprise plan, which can comfortably accommodate custom needs at a negotiated price.
Keyword Research Tool
Features
Pros
Cons
Price
SpyFu
• Gives you competitor's data
• Gives data for any website you want
• You can easily discover profitable keywords
• Track your work on Google search
• See what competitors do and what works
• Overwhelming amount of reports
•The estimations could be more thorough and accurate
• Basic Plan – $39/m; $33/m (annual plan)
• Professional Plan – $78/m, $58/m (billed anually)
• Team Plan – $299/m; $199/m (billed anually)
SEMrush
• Business intelligence data and site auditoring
• Provides backlinks
• Analytics will help you get higher ranked than SERPs
• Suggests long tailed keywords and it rates difficulty of keywords
• It is great for SEO analysis on your site
• Plans are a bit costly
•Your clients will know that you are using it for creating reports
• Pro Plan – $99.95
• Guru Plan – $199.95
• Business Plan- $399.95
• Enterprise Plan – not stated
SpyFu vs SEMrush: Summary
Overall, SpyFu and SEMrush have proven to be two of the most powerful SEO tools within the digital marketing arena. Both having extensive offerings and features that, depending on your business, may be a better fit than the other.
You be the judge.
It's a tie! Sort of.
SpyFu and SEMrush both equally measure up when it comes to SEO overview, domain keyword assessment, keyword tracking, keyword suggestions and rank history.
Both are GOOD tools, but which one is a great tool for YOU?
Where SEMrush wins. Although both provide competition analysis, SEMrush generates slightly more detailed information than SpyFu's list view by identifying the number of common keywords shared with organic competitors.
If you are the type of person who would rather experience the software first-hand, then SEMrush wins with its free trial offering. Whereas, SpyFu might argue that their risk-free money-back guarantee is also something to consider.
Where SpyFu wins. Although both tools provide link-review functionality. Taking a closer look, SpyFu's backlink reports are more detailed and comprehensive than that of SEMrush's. SpyFu provides backlinks with the link URL and anchor text, which is more valuable when paired together.
For small and medium scale users, SpyFu beats SEMrush when it comes to pricing. It's a more affordable price-point. On the other hand, for large-scale users SEMrush's Enterprise plan could be a better option as this plan can accommodate the user's custom needs at a negotiated price.
Now that we've covered all the fundamental elements, which of these two do you think would be ideal for your site? And why?
Additional Research on SEO Tools